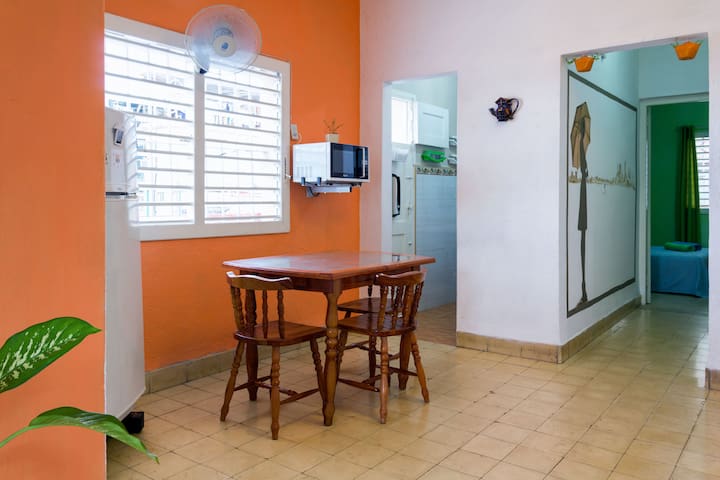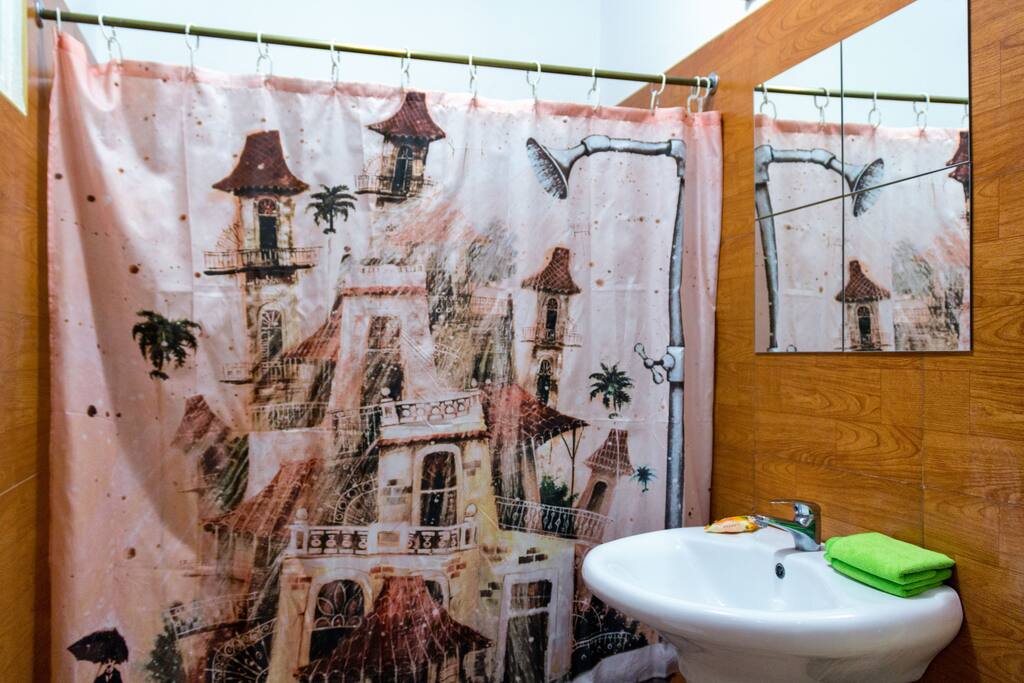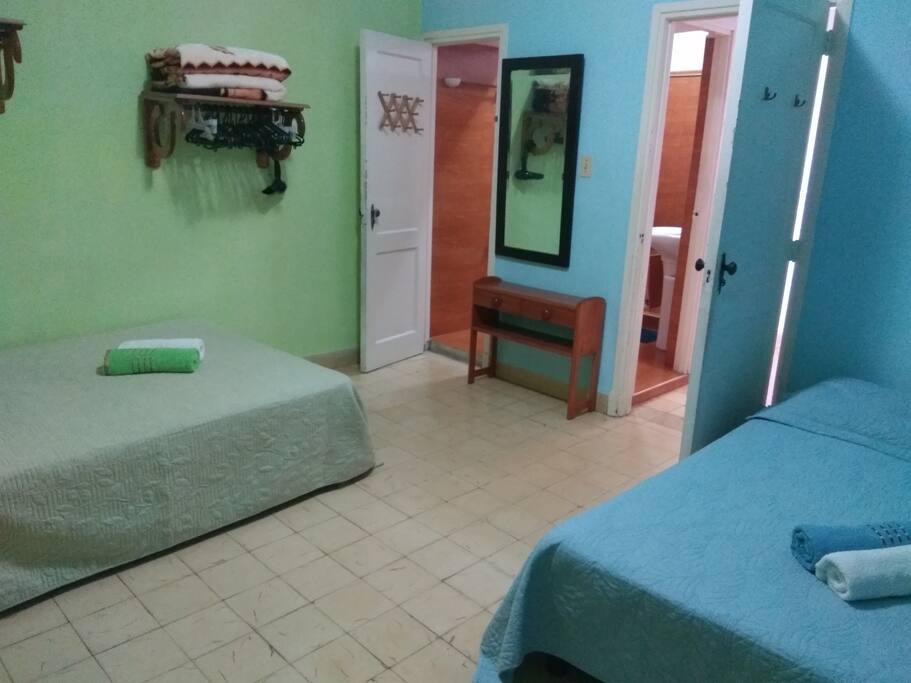 Just 18 minutes away from Old Havana by Classic Car Lines at your doorstep from 1 CUC/ride
BnB Avenida is one of the Most Popular Apartments for Rent in Havana. With an incredible location, you'll be right on the most centric spot of the neighborhood of Miramar.
FULLY SUITED APARTMENT with: Air Conditioning, Hot & Cold Water, 2 Fridges, Gas Kitchen & Oven, Microwave, Automatic Washing Machine, TV, Land Phone Line, Electric Mixer, Rice cooker, Pressure cooker & a prepaid Cell Phone (for free)
The space
You will have an entire apartment for yourself. BnB Avenida is a personalized Hostal experience, where you and your family are the unique guest and the center of our services. We accept up to 4 guests, traveling together.
The following amenities are available for you:
- Air Conditioning (Split)
- 2 Queen beds in the Room + 1 Sofa bed on the living room
- Hot & Cold water home system.
- 2 Fridges
- Gas Kitchen
- Gas Oven
- Microwave
- Automatic Washing Machine
- TV
- Land Phone Line
- 2 Ventilators in the Living Room (although the Natural Ventilation is amazing)
- Electric Mixer
- Rice cooker
The popular double decker bus that goes all around the city and you can get for only 5CUC has at less than 5 minutes walk from us. One of the coolest ways to get connected with Havana.
Please, save the address:
- Avenida 31 #4427 e/ 44 y 46 Apto. 4, Playa, La Habana
(the building has 3 main entrances, you need to go to the second one and ring the BnB Avenida Bell)
Guest access
We provides a set of features to guests so they feel as comfortable as at Home: Air Conditioning, Hot and Cold Water System, a Luxury Bathroom, Fridge, TV and even a Tropical Fish Tank to relax with!
Our country is a place where kids play on the street until late hours, people are kind and sociable. Still, to make you feel safer, we have a double door access system and your keys awaiting for you.
Other things to note
BnB Avenida is registered in ONAT (Oficina Nacional de Administración Tributaria) with the proper rent permit and it is allowed by the Cuban Laws to execute the rent service as a commercial activity by the House Propietor: Lissette Prieto.
Always communicate through Airbnb
To protect your payment, never transfer money or communicate outside of the Airbnb website or app.
Bedroom 1
1 queen bed, 1 double bed
Check-in time is 4PM - 12AM (midnight)
Nice little space that's clean if not in need for some slight refurbishment Key to door is slightly difficult to use. The woman (not lisette) who greeted me was very helpful and friendly. Told me how to get around, local wifi parks , places to eat, etc. Place is a little of the beaten path so you'll need to take a cab to Habana Vieja y el Capitolio (20 peso or 1cuc in cheap cab 5cuc in private cab). It'll be more expensive when you had back to the location. Also it'd be helpful if they posted the house number as part of the Listing address. The cross streets will put you in the area but not necessarily at the building. I walked around for a few minutes before asking around for entry. Overall, I'm pleased with my stay and with the host. I very much enjoyed Cuba.
---
Unforgettable place for many reasons, but I will focus on what future tourists should know before booking. This place is exactly what you should expect for the price. The fish tank in the photos was there, but it was a dark green color and only 1 poor surviving fish. It was so filthy it gave off a terrible smell. The odor tended to bother us every time we opened the door to the apartment after a day of exploring the city. The hosts were very helpful. My boyfriend lost his luggage at the airport and one of the ladies gave him a shirt for him to wear. We arrived late afternoon on a Sunday so all banks were closed and we couldn't exchange our pesos. One of the sweet ladies let us borrow 10 CUC to eat that night. We are truly grateful for that and for the map that was drawn out with all the local cafes available for us to eat. They wanted to make sure we felt welcomed and we did at first; however there was something sketchy about the place. One of the ladies mentioned that a tourist hung her clothes to dry outside after washing and that someone had stolen her clothes. This warning was greatly appreciated. We washed and knew to hang our clothes to dry inside the apartment. We were also warned about the bathroom window being broken. I really hate that I have to share the following, but I think all guests should know what to look out for. The night before we checked out, someone tried to break in the place. My boyfriend heard someone trying to open the back door and he went to check. He yelled, 'Who's there?' and sure enough he saw it was a teenager and the kid ran off. It definitely startled us. If after reading, you decide to book, just be careful. Keep in mind that it is located in a rough neighborhood and that the neighbors are super loud. We thought there was a club around the corner and we went for a walk to check out the place. Turns out the neighbors were just LOUD!
Response from Lissette Prieto:
Hi Alice! We are so sorry for what happened with the dead fish in the tank :( We are fixing it right away. We have someone who setups the apartment before each client arrives who didn't mention us anything about it. We will solve this problem right away. I'm sorry about the luggage at the airport, that makes any trip really down. For sure we will do our best to help, we borrowed you the cash on the first night as yes, banks are closed on Sundays and only ATMs work. I'm sorry you got scared if someone tried to open the back door (something may happen anywhere for rent in Cuba) but it is worth to mention we have BOTH DOORS and ALL WINDOWS in the apartment with an iron fence for extra safety (something not anywhere for rent in Cuba, for sure). About the neighbors noise, that is normal in Cuba. Some of our clients complaint about it, but that is just Cuban's nature :) We thank you for your feedback and for sure we will try our best everyday to improve your trip experience. Bye!
---
Unfortunately our stay here wasn't quite as hoped which is a shame as this place has a lot of potential! The building was so noisy (you can hear people watching their telenovas until early hours and people banging on the doors drunk - some may see it as part of the charm). The apartment is not so accessible to the centre on foot - especially at night but the strip to hail taxis is right outside the door. Make sure to get a collectivo (will be an american classic car) if they say they are 'privada' contest this and say you are waiting for a colletivo as they will charge you 10x more). There was a problem with the water when we arrived so we had to keep switching the water taps outside so that the water would work (just to flush the toilet even). Also, make sure you do not hang your washing outside as all our stuff was stolen - unfortunately we found out the hard way as we were not warned against this!! Also, make sure you ask for the iron if you need it as it was locked away in the cleaning cupboard and I guess you need to ask for the cell phone as we were not offered this. we did not meet Lissette but her aunty Rayssa was very welcoming. Not our best stay in Cuba but if none of this is a problem for you then it is a nice place if you don't want to stay with a family!
Response from Lissette Prieto:
Hi Tamara! The apartment is situated in a residential area. It is normal to hear your neighbors, but I ensure you'll hear them way more in Old Havana. It is more part of the Cuban nature than from how deep walls are :) The water problem was in the whole municipalities in the North of Havana, not under our control other than having the huge reserve of water you could use by doing the switch manually. I'm very sorry about the clothes being stolen :( We thank you for your feedback and for sure we will try our best everyday to improve your trip experience. Bye!
---
If you're going to La Habana then this is definetely the place to stay. The house is very clean, fresh and comfortable. Location, fridge, kitchen, cold and hot water in the bathroom and air unit in the bedroom are definetely a big big plus, but by far the best advantage is mrs. Raysa. She's a very nice and warm person that will help you and assist you in everything you need, and in a country where things work different that you're probably used to you can be sure that this is an exceptional thing. This is an excelent place to stay and I will book it next time I go. Thank you so much for everything mrs. Raysa and all the amazing people I got to know. Until next time! :)
---
Hi! My name is Lissette. I'm cuban & mother of 2 lovely kids. Me and my family live in Montreal and we rent our 2 apartments in Cuba. As it is our home, the apartments are FULLY SUITED to your stay:

- A Local Prepaid Cell Phone and SIM Card (free of charge on BnB Avenida)
- Air Conditioning (Split)
- Hot & Cold water home system.
- 2 Fridges
- Gas Kitchen
- Gas Oven
- Microwave
- Automatic Washing Machine
- TV
- Land Phone Line
- 2 Ventilators in the Living Room (although the Natural Ventilation is amazing)
- Electric Mixer
- Rice cooker

The apartment is situated in the most centric part of the top residential Neighborhood in Cuba: Miramar. You'll be close to the best Restaurant, Bars, Wifi Spots, Classic Car Lines, Havana Bus Tour...

I speak French, English & Spanish, so please, feel free to contact me if you have any question. I'll be more than pleased to reply back.
Languages:
English, Español, Français
Response rate:
100%
Response time:
within an hour
Explore other options in and around La Habana
More places to stay in La Habana: