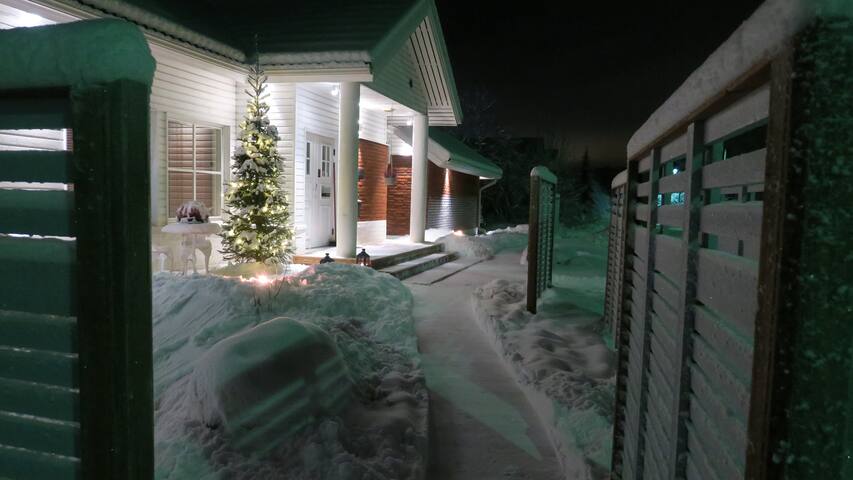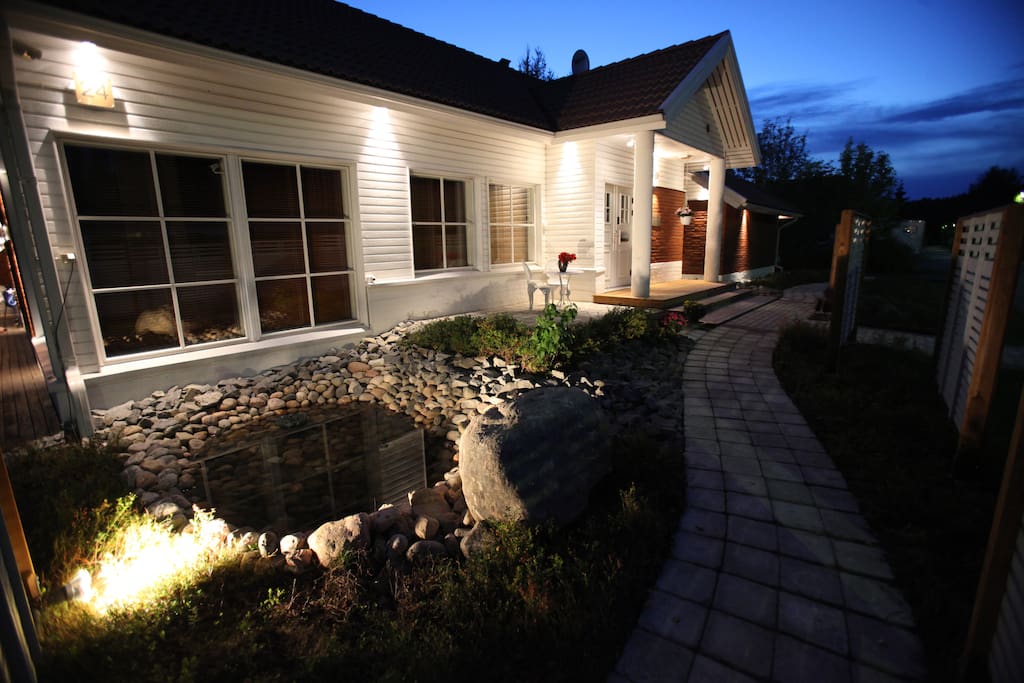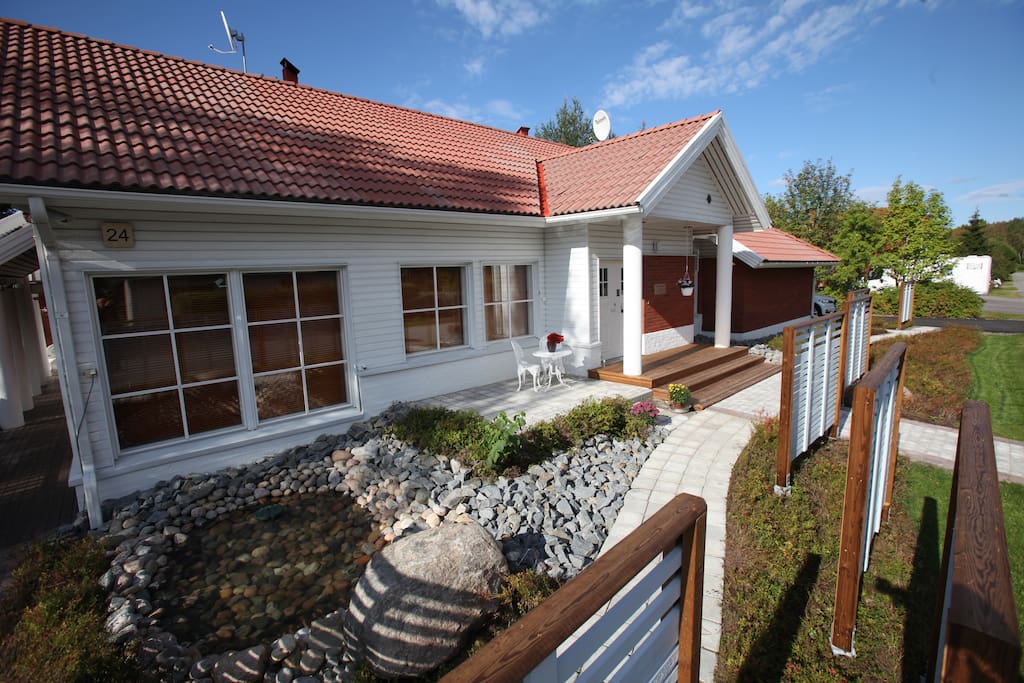 Katajaranta Apartment - Aula
Unique luxury apartment (approx. 270 sqm) situated in the most valuable area with a view to the river. Refurbished 2015, swimming pool, sauna, steam sauna, foot-bath, etc. Bose -sound system. Kitchen, fire place, cozy eating-lounge space.
---
Check In: Anytime after 2PM
Room type: Entire home/apt
---
---
Always communicate through Airbnb
To protect your payment, never transfer money or communicate outside of the Airbnb website or app.
Learn more
---
ACCOMMODATION TERMS AND CONDITIONS FOR KATAJARANTA 24
Only the Laws of Finland and national compensation practices apply to this accommodation, which excludes any foreign compensation policies and potential legislation concerning claims and compensation practices.
Everything related to the accommodation occurs in line with Finland's practices, procedures and laws and only the legal provisions and rights stipulated in Finland apply to the accommodation. This displaces all foreign practices, laws, claims and legal compensation claims or other demands focused on tour operators or accommodation providers.
Translating these Accommodation Terms and Conditions into other languages was commissioned as a matter of courtesy, but in any case of legal dispute, the Finnish-language version will prevail and will therefore be the binding version for both parties.
These Accommodation Terms and Conditions apply to all guests staying at Katajaranta 24 or their guests or people staying at the address in another role, their guests or other persons or organisations staying, visiting or randomly entering the property. These terms and conditions are regarded as being accepted by the person who has signed the terms and conditions or by the person who accepted these terms and conditions when making the booking or availability enquiry, who is thereby held liable for any damages, personal injuries, all other unpredictable or unexpected events and their consequences incurred by themselves and other people staying at and/or visiting the accommodation. In view of the aforementioned, the individual who has accepted these terms and conditions is held responsible for personal behaviour as well as the behaviour of others.
By staying at the Katajaranta accommodation the guest accepts these "Accommodation Terms and Conditions for Katajaranta 24" and releases the accommodation provider from any liability concerning any incidents occurring to the guest or their travelling companions or in any other way to those staying at or visiting the accommodation at the same time.
Upon accepting these terms and conditions, when making an enquiring or booking, the customer and/or guest also releases the accommodation provider, lessee or sublessee, tour operator, property owner or other party from all liability focused on an individual, property or objects, and the party hiring the accommodation is liable to compensate for damages inflicted on themselves or their dependants, as well as being liable for paying compensation to third parties for damages that occur during the period of stay at the accommodation or during transfer journeys.
Similarly, the customer and/or guest is equally responsible for their own actions and behaviour as for the actions and behaviour of all their other guests or their guests.
If a guest destroys, spoils, soils or otherwise compromises the worth of any furnishing, fitting or other items in the accommodation or the value of the property itself, the guest is liable for compensating for the damage they have caused. This rule equally applies to any damages caused by the customer, the guests of the customer and all others present on the property, as if the customer had personally caused the damage.
The party hiring the accommodation, tour operator or similar party shall not be held responsible for damages caused on the guest by a third party or operator, or due to technical malfunction or related incidents, including all cases of force majeure, such as harm or discomfort caused by a drop in room temperature or similar event that cannot be rectified in a reasonable manner during the course of the stay.
The accommodation is located in an area where, depending on the time of year, may have occurrences of insects or other wildlife that naturally live in the environment. Natural occurrences such as these, including the below-freezing temperatures of winter, do not entitle the customer to cancel the accommodation booking or to claim compensation on the basis of such being detrimental holidaymaking factors.
The provision of our contractual regulations and services is legally regulated to the extent stipulated by the Laws of Finland. Any possible conflicts arising from these general terms and conditions shall be resolved by the competent court of justice located in Rovaniemi, Finland.
The original general terms and conditions were written in Finnish and translated into a number of different languages. The translations of the terms and conditions were commissioned merely as an act of courtesy and to help the customer understand the content of the order, and therefore do not provide any personal entitlements. If conflict issues arise due to the content of these terms and conditions or the interpretation of such and there are contradictions or discrepancies between other language versions, the Finnish version of the terms and conditions shall be regarded as the official and prevailing version.
If any of these terms and conditions are incompetent or become incompetent, invalid or no longer binding, all remaining terms and conditions still apply to the customer. In a case such as this, the incompetent condition shall nevertheless be held legally valid in its entire legal scope and the customer shall, in the very least, accept consequences that are similar to those stipulated herein in place of those made incompetent, invalid or no longer binding.

MAJOITTAMISEHDOT KATAJARANTA 24
Oikeudellisesti tähän kohteeseen sovelletaan vain ja ainoastaan Suomen lakeja ja korvauskäytäntöjä, jotka sulkevat pois kaikkien muiden maiden korvauskäytännöt ja sikäläisten lakien mahdollisesti asettamat muut vaatimukset tai korvauskäytännöt.
Kaikki majoittumiseen liittyvä tapahtuu Suomen käytäntöjen, toimintatapojen ja lakien mukaan ja noudatetaan kohteessa vain ja ainoastaan Suomen lakien määräyksiä ja oikeuksia, jotka kumoavat kaikki muiden maiden asettamat käytännöt, lait, vaatimukset ja oikeudelliset korvausvaateet tai muut vaatimukset, mitä tulee matkanjärjestäjään tai majoituksen järjestäjään mahdollisesti kohdistuvana.
Tämä majoittamisehdot on kohteliaisuudesta voitu kääntää myös muille kielille, mutta tulkintatapauksissa sovelletaan oikeudellisesti määräävänä suomenkielistä versiota.
Nämä majoittamisehdot koskevat kaikkia kohteessa Katajaranta 24 vieraina tai vieraiden vieraina tai muussa roolissa kohteessa majoittuvia henkilöitä, heidän vieraitaan tai muussa ominaisuudessa kohteessa olevia, vierailevia tai satunnaisesti käyviä henkilöitä tai tahoja, ja on majoittamisehdot allekirjoittanut tai mahdollisen nettivarauksen yhteydessä varaustiedustelua tai varausta tehdessään nämä majoittamisehdot hyväksynyt vastaava omasta ja muiden kohteeseen majoittuvien tai siellä vierailevien henkilöiden puolesta kaikista niistä tapahtumista, vaurioista, henkilövahingoista ja kaikesta muusta ennalta arvaamattomasta tai muutoin toteutuvasta tapahtumasta ja seurauksista. Kaiken tässä mainitun osalta ehdot hyväksynyt on myös muiden puolesta vastuussa niin kuin on vastuussa omista teoistaan.
Tämän "Majoittamisehdot Katajaranta 24" –ehdot hyväksyessään, asiakas vapauttaa majoittajan kaikesta vastuusta, mitä voi tapahtua matkan ja majoittamisen aikana hänelle itselleen tai seurueelleen tai heidän vierailleen tai muulla tavoin kohteessa samaan aikaan majoittuville tai oleskeleville.
Asiakas ja/tai vieras on nämä ehdot tiedustelu- tai varausvaiheessa hyväksyessään samalla vapauttanut tilat luovuttaneen tahon, vuokraajan tai alivuokraajan, matkanjärjestäjän, kiinteistönomistajan tai muun tahon kaikesta vastuusta, mikä kohdistuu henkilöön, omaisuuteen tai esineisiin kaikesta vastuusta ja on vuokraaja vastuussa itselleen tai oikeudenomistajalleen ja vuokraajalle niistä vahingoista myös kolmannelle taholle, mitä aiheutuu kohteessa olemisen tai siirtymäkuljetusten aikana.
Asiakas ja/ tai vieras on samoin kuin itsestään vastaava kaikista muista vieraista tai heidän vieraistaan samoin kuin itsestään.
Mikäli vieras tuhoaa, turmelee, likaa tai muutoin alentaa jonkin kohteessa olevan esineen, asian tai kiinteistön arvoa, on hän velvollinen korvaamaan aiheuttamansa vahingon. Tämä koskee häntä itseään sekä vieraitaan tai samaan aikaan tiloissa olevia muiden henkilöiden tai tahojen aiheuttamia vahinkoja aivan kuin allekirjoittaja itse olisi aiheuttanut vahingon.
Vuokraaja, matkan järjestäjä tai vastaava ei vastaa vieraalle mahdollisen kolmannen tahon tai toimijan, teknisen vian tai muun vastaavan syyn ja tämän lisäksi kaikkien forse majeure tapausten takia esimerkiksi alentuneen huoneiston lämpötilan aiheuttamasta haitasta tai harmista tai muusta vastaavasta haitasta, jota ei kohtuudella pystytä korjaamaan majoittumisen aikana.
Majoituskohde sijaitsee alueella, missä voi eri vuodenaikoina esiintyä henkilön normaali elämää häiritseviä hyönteisiä tai muita eläimiä, joita voi esiintyä alueen luonteen omaisesti. Tällaiset esiintymät mukaan lukien talvella pakkanen, eivät oikeuta majoittajaa peruuttamaan majoitustaan tai vaatimaan korvausta hänen lomaansa häiritsevänä tekijänä.
Näihin sopimusehtoihin ja palveluidemme toimittamiseen sovelletaan lain sallimassa laajuudessa Suomen lainsäädäntöä. Näistä yleisistä sopimusehdoista tai palveluistamme syntyvät mahdolliset kiistat ratkaistaan Suomessa, Rovaniemen toimivaltaisessa oikeudessa.
Näiden yleisten sopimusehtojen suomenkielinen alkuperäisversio on käännetty monille eri kielille. Käännös on tehty ainoastaan kohteliaisuuden osoituksena ymmärtämisen helpottamiseksi sisäisenä toimistokäännöksenä, ja sen perusteella et voi vaatia mitään oikeuksia itsellesi. Jos näiden ehtojen sisällössä tai tulkinnassa ilmenee kiistakysymyksiä tai jos sopimusehtojen suomenkielisen ja muiden kieliversioiden välillä on ristiriitaisuuksia tai poikkeavuuksia, sovelletaan lain sallimassa laajuudessa suomenkielistä versiota, joka on ratkaiseva.
Jos jokin näiden yleisten sopimusehtojen ehdoista on pätemätön tai tulee pätemättömäksi, lakkaa olemasta voimassa tai ei ole enää sitova, sinua sitovat kaikki muut sopimuksen ehdot. Tässä tapauksessa kyseessä oleva pätemätön ehto saatetaan kuitenkin voimaan koko laajuudessaan sitä koskevan lain sallimissa puitteissa, ja sinun tulee vähintään hyväksyä pätemättömän, voimasta lakanneen tai ei enää sitovan ehdon kaltainen seuraus näiden yleisten sopimusehtojen sisällön ja tarkoituksen mukaisesti.
---
---
---
---
From well before we arrived, to the very end, we could not have asked for better hosts than Jorma and his team. They were simply outstanding! Prior to arrival, Jorma & Tomi recommended various activities and restaurants to us over the festive season, and assured bookings for us. Santa was arranged also for a visit one evening! The accommodations were fabulous, spotlessly clean and with spacious living areas for all to spread out as desired. The pool was thoroughly enjoyed by the kids! A modern, contemporary home with high-tech features throughout, including excellent WiFi, which made us all very comfortable. The immediate environment was great, situated just outside of town, in a country-like setting near the river, but within walking distance of a local supermarket, and only a 5 minute drive into Rovaniemi. Perfectly located if you have a hired car which I would recommend to have, if staying there. Would we stay there again? Absolutely! We highly recommend it to anyone! Jorma, Tomi - thank you for making this Christmas so magically special for us all, and we thank you sincerely for all you did for us prior to, and during our stay. We wish you and your loved ones a very Happy New Year and continued success in 2017!
---
The host Mr. jorma is very nice and helpful ! The house is well decorated and equipped , cozy and tidy. Especially we enjoyed the bath ( steam bath / sauna / swimming pool) so much which is luxury even than hotel . We had an unforgettable trip in Rovaniemi. The house is really very good for family or friends together.
---
Olen paljon matkustava suomalainen.
Haluan tarjota korkeatasoista majoitusta rauhallisella alueella Joulupukin pääkaupungissa Rovaniemellä.
Response rate:
100%
Response time:
within a few hours
Explore other options in and around Rovaniemi
More places to stay in Rovaniemi: