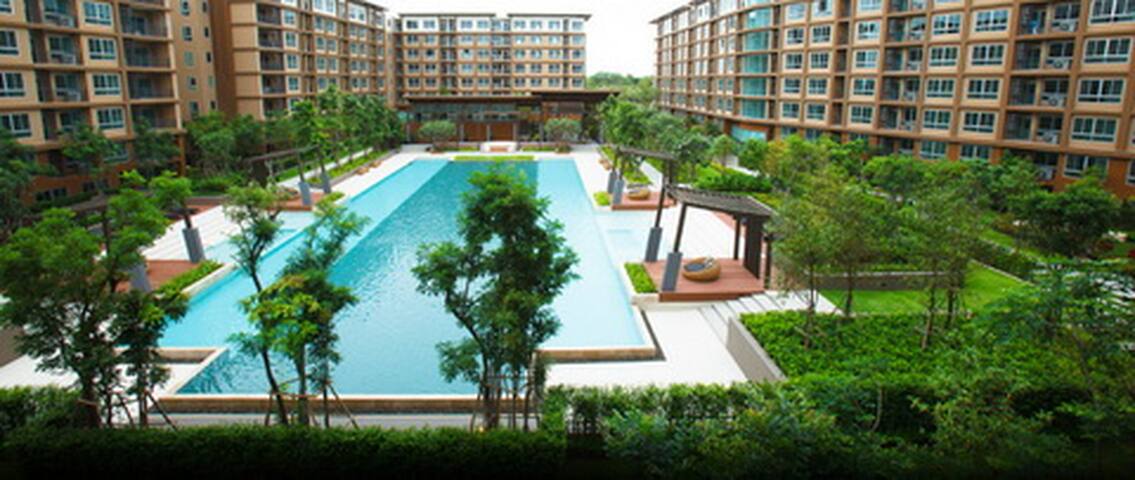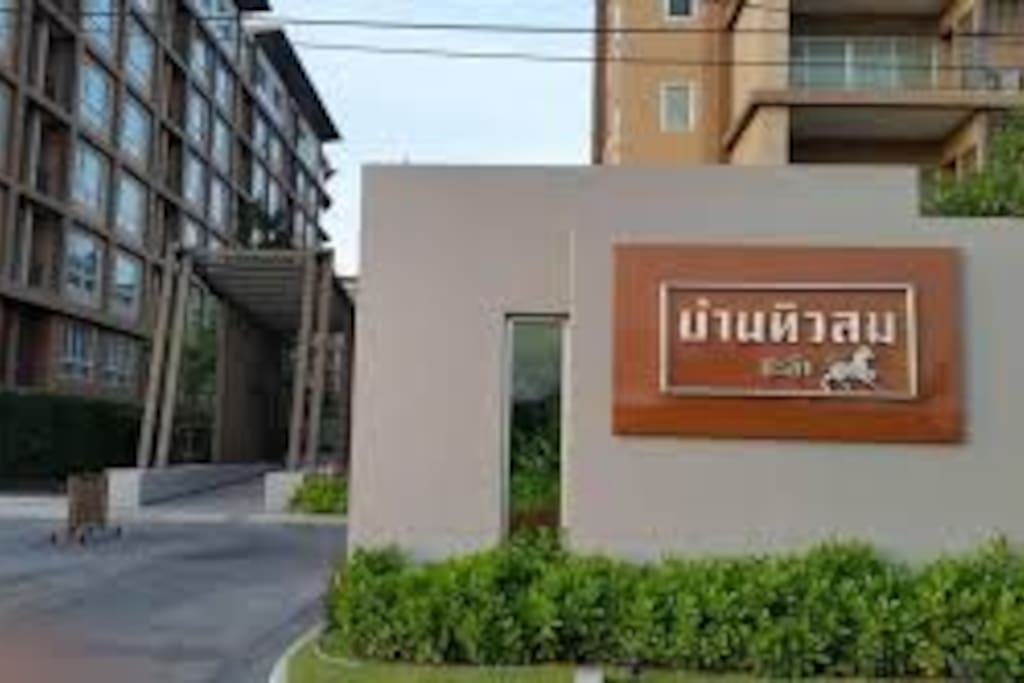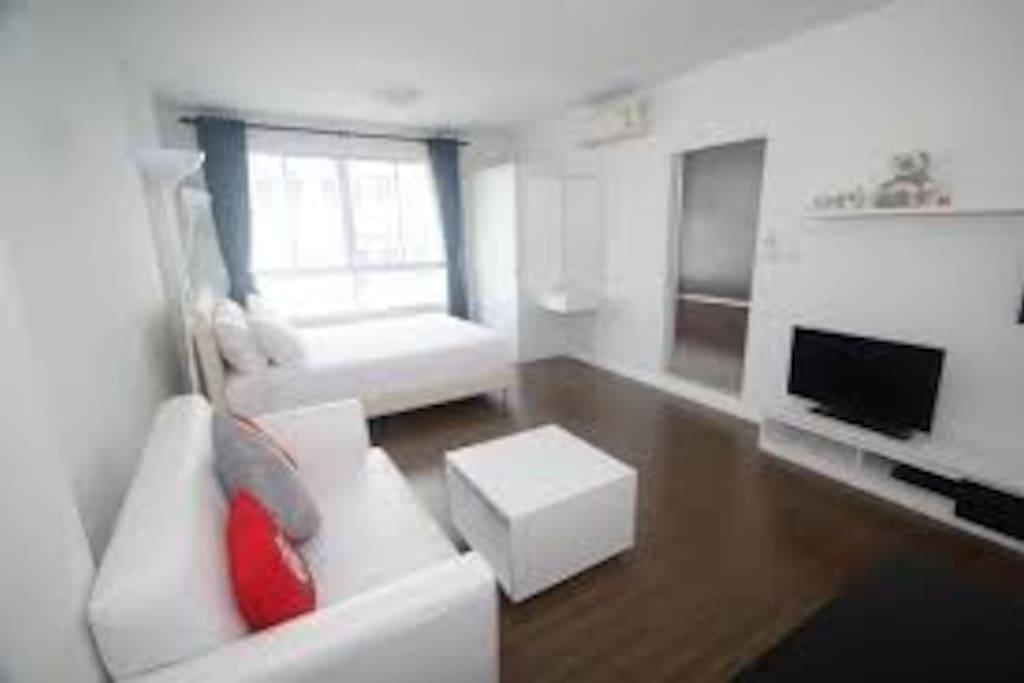 This apartment is located in Petchburi, Frontbeach.The apartment with simple funiture with 1 br and can fit up to 2 persons. Clean bedding available, same as home, absolutely safe and sanitation. Requested min 1 wk & booking advance.
---
---
Check in is anytime after 9AM
---
The complex this apartment is in is fantastic. The pool area is amazing. The complex is close to cha-am beach front and if you don't intend to go many places that aren't the pool and the beach then I highly recommend this complex. It is not really conveniently located if you plan to go to Hua Hin very often but still not too challenging. We had an issue with the air conditioning that was fixed quickly. However the WiFi did not work and it did not seem that Pae tried to fix it over our week stay which was a bit disappointing. There were a large number of stray dogs on the street to the beach and up toward to the main road that would follow and bark at you which may be an issue for some who are not very comfortable with dogs. Overall I enjoyed my time here and the pool made up for any issues encountered during the stay.
---
For those of you that do not know, Cha-am is a small place not too far away from Bangkok that is used for weekend breaks or just for people to go away from the noise of the big city. It is a place to relax basically. Do not expect to find awesome attractions as another beach sites but is affordable, safe and quiet. Within that framework, if what you are looking for is a place to stay and then go and explore the town by yourself, or in my case to attend an event, this is the ideal place as oppose to stay in an expensive resort. The price -value rate you will find here is really great! Pae's place is a one room apartment, with a small kitchen and a washroom. Everything works as intended, it is crispy clean and extremely safe. The facilities in the compound include a very nice 50 m long swimming pool, a small but nice and clean Gym and an area just to lay down and relax. However, the most amazing thing about this place is the service, transparency, and honesty of the people that run it; during my stay, they promptly tried to take care of my needs and answered all of my questions! Should I need to stay again in Cha-am for another event, this is a no brainer. Pae's service is great In summary: Recommendations to make your stay even more pleasant: a.- There is a good and quite fast internet in the lobby, however, the signal would not reach the room. Make sure that you get a 4G for your trip. I used up 2GB in one week. Perhaps a 3GB would be better. b.- Buy food and hygiene items in advance, especially if you don't have transportation. The kitchen available has only a microwave, an electric pan, and a toaster. You can cook eggs and simple dishes but would not be able to cook elaborated dishes. If you use the electric pan, make sure you handle it with care as it will get very hot. c.- If you plan to stay out in the swimming pool or in the rest areas, bring mosquito repellent! (no mosquitos in the room for sure) d.- Outside is quite safe, however, if you rent a bike (I got mine for a bit less than 100 bth per week) be aware that there are quite a LOT of street dogs that will bark and chase you whenever you dare to get into "their territory!" :D hence either you bike fast and/or carry a long stick or something to scare the dogs away. If you come with small kids, is not advisable to bike around with them because of that. You would be better off renting a moped.
---
This place is fantastic! The small apartment has everything you would wish, including WiFi, A/C, a equipped kitchen and a bathroom with warm water. It's great and I had fantastic three weeks there. The best is the pool area and the little gym. Having a cardio session in the morning before jumping in the spacious pool and relaxing in the wirlpool area is simply the best start in the day. There's a bicycle rental shop 300 meters down the road towards the beach and actually a great massage place directly at the beach across from that rental place. The road sides along the beach are packed with food stalls where you can get great seafood and other Thai dishes. Further in the village are plenty of 7/11s to stock up on stuff for the appartment in case you stay longer. I will definitely come back next year!
---
Erinomainen paikka majoittua pidemmäksi aikaa. WiFi ei toimi huoneessa, joka oli ainoa iso puute. Sijainti sivussa, mutta en halunnut keskelle rantakatua. Rakennus ja piha-alue siisti ja turvallinen. Kuntosalilla vain muutama laite, joten pitää soveltaa treeniä (laitteet uusia). Yhteydenpito toimi moitteettomasti Paen kanssa ja hän teki parhaansa että netti olisi toiminut USB-tikulla. Cha-am idyllinen ja rauhallinen paikka, jonne palaan vielä uudelleen. Lämpimästi voin suositella!
---
I love to travel because I 've seen what new horizons, meet people and property and have a cultural exchange. I want you to love to go for travelling in Thailand .Thailand has many things to impress. I am glad to have accommodations for people like me who love to travel . I want…
Response rate:
100%
Response time:
within an hour
Explore other options in and around Cha-am
More places to stay in Cha-am: