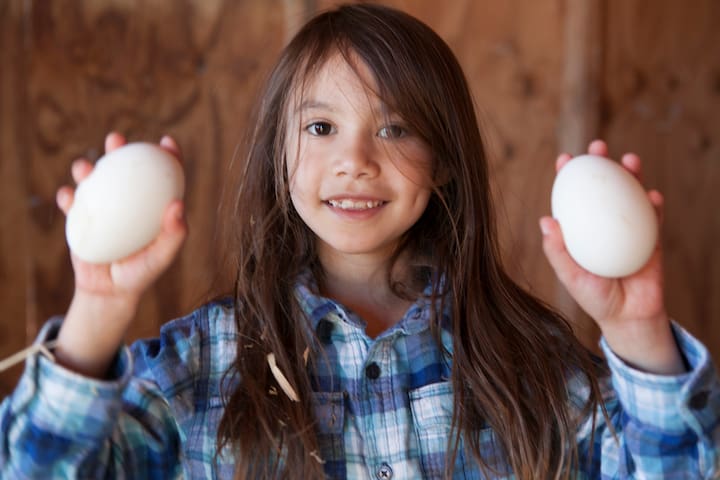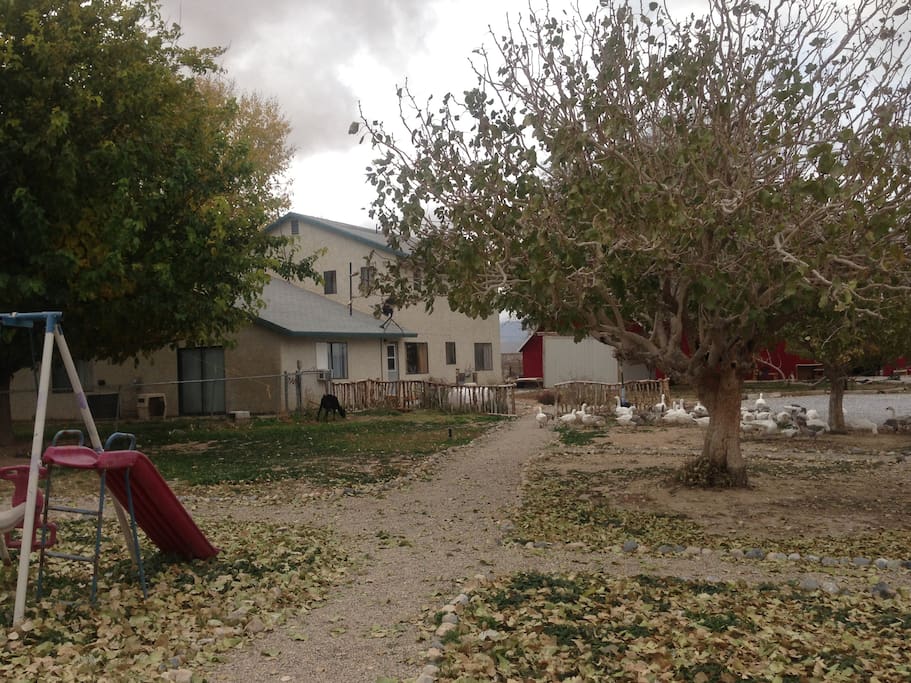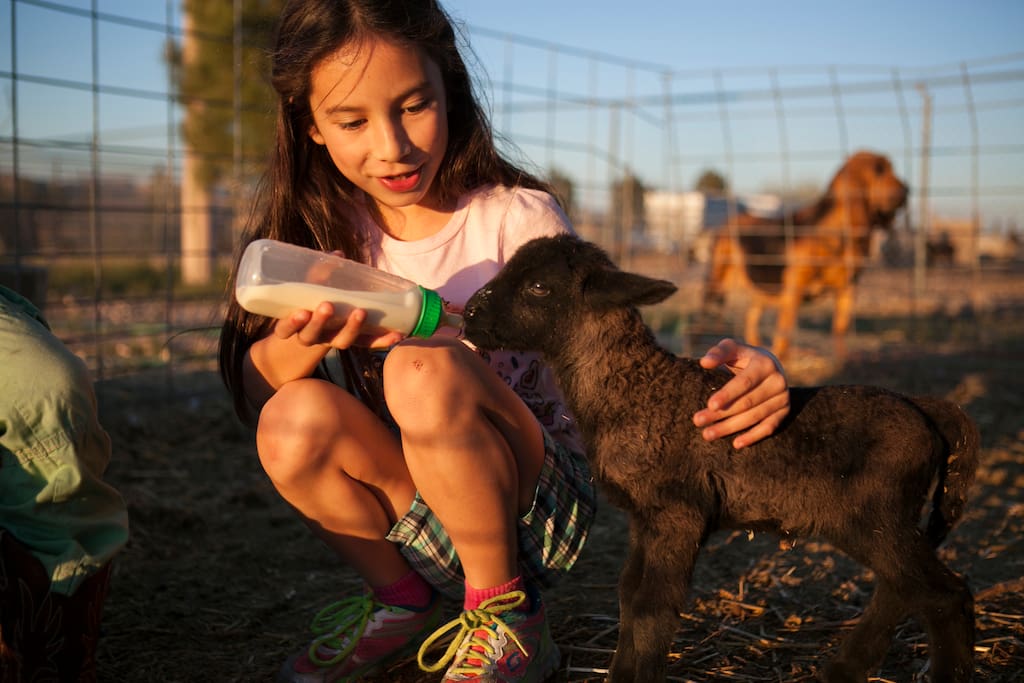 Stay in a rural farm house 30 minutes away from Big Bear ski resorts, 45 minutes to Joshua Tree National Park and an hour to Calico Ghost Town . Located on a real farm, you can feed animals, milk the goat and enjoy the quiet solitude of the countryside. A safe place for your kids to run around and be kids!
The space
Farmstays offer a peek into a rural lifestyle that disappeared for many when the family farm was sold, often generations ago. There is a pace to life on the farm that starts with the early morning wake-up call by the rooster and the sound of the farm equipment and that ends with quiet and the total darkness at night, except for a fantastic view of the stars.
The Flip Flop Ranch farmstay has sheep and lambs, pigs and piglets, cows, chickens, bunches of barn cats (with plenty of kittens), geese, ducks, turkeys, goats, horses and more.
Host a family get together, a business retreat or a hangout with friends! We even have weddings here in our big red barn!
"Just being on a farm is good for the soul."–Scottie Jones farmstay US
Your visit starts off with a free tour through the farm to learn where things are and to gain some basic knowledge about what we do and the types of livestock we raise.
We also offer other activities if you want to fill your day or you can just rest and relax and have a nap!
Main home Beds are as follows: 2 full beds in room 1 downstairs, 2 queen beds in room 2 downstairs, 1 king in bedroom upstairs, 1 full in bedroom upstairs.
All beds will be freshly made with clean white linens and there will also be fresh bath towels.

There is no smoking permitted inside the home and unfortunately, we are unable to accommodate any pets. Guests found with pets at the property will result in an immediate forfeiture of the remaining reservation days and loss of the security deposit.
Signing of a Guest Occupancy Agreement, Participation Agreement for each visitor and copy of drivers license will be required upon confirmation of reservation and may be sent via e-mail, text or US mail and is also available at our Flip Flop Ranch Farmstay website.
Guest access
The entire farm house is yours to use, including the kitchen with full amenities. Feel free to wonder the farm and go into the petting zoo pen whenever you like to hug the fluffy sheep.
The most important activity to consider is the "art of relaxation." When you find yourself surrounded by natural beauty, slow down, breathe deeply and appreciate it. Watch a sunset, go bird-watching, take a walk through the desert, listen to the livestock, read a good book or just sit quietly and let your mind wander. Blue skies, clean, fresh air, starry nights and the sounds of silence are all included in your airbnb stay.
Interaction with guests
All guests get a free tour of the farm. Some guests come just to relax and others come for the farm. For the last group, we've added extra activities to give you a better farm experience! This helps keep the cost down for those of you who just want to keep things simple.
Extra activities available:
Feeding and milking with the farmer (twice per day): Included
Mozzarella cheesemaking class $150
Learn to rope: $100
Sheep shearing/wool spinning class: $300
Farm crafts time: $50
Guest may be greeted by the farmer but if we are out running errands a combo lockbox is on-site for 24 hour key access upon arrival.
---
---
Extra people $29 NZD / night after 8 guests
Security Deposit $730 NZD
Weekend Price $584 NZD / night
Always communicate through Airbnb
To protect your payment, never transfer money or communicate outside of the Airbnb website or app.
Learn more
---
Check in is anytime after 4PM
This is our family home. We ask that you treat it as if it was your own, and enjoy it as if it was yours as well. Please do not exceed 15 persons in the home at any time as this is regulated by the county and any complaints of overbooking of the maximum allowed (15), can cause the reservation to be canceled without refund.
Cleaning fee includes customary bathroom sanitation, vacuume, dusting and standard cleaning of entire 2,700sf home including laundering linens and making all beds. However, Guests are required to wash all soiled pots/pans/dishes and remove all trash and perishables from the property upon check out. A free dump site is available nearby with directions at the property. Our cleaning crew charges $25/hr for any excess cleaning or trash removal, if required.
No Pets & No Smoking inside the home is allowed. Guests found in violation of this rule will be asked to depart immediately and forfeit their entire $500 cleaning deposit.
Guest Occupancy Agreement and the Participation Agreement signing is required and is available at (URL HIDDEN)
"GUEST OCCUPANCY AGREEMENT"
THIS AGREEMENT, entered into this __th day of __________, 20__, by and between: Flip flop Ranch, as Owner, and: _______________________, as Owner's Guest.
Primary Guest information is: _____________________
Principal residence: _______________________
_______________________
E-mail: ____________________
CA Drivers Lic #______________
Telephone # ________________
1.PROPERTY: Owner rents to Guest and Guest hires from Owner the "premises" described as: One Furnished 5 bedroom, 2 bathroom Home (aka:Farm House) located at:
9522 Donaldson Road
Lucerne Valley, CA 92356
2.TERMS: Guest agrees to pay the full rental amount of $______, an exit cleaning fee of $165.00, optional trash removal fee of $50, plus Airbnb booking fees in advance, and a refundable $500 security deposit prior to occupancy. All fees and security deposit may be collected by (website hidden).
The above rental amount pays for ___ nights on the following days:
Check in Date: ___/___/2015 Check out Date: ___/___/2015
Check in time is 4:00pm and Check out time is 11:00am unless noted otherwise.
3.CANCELATION: Rental Reservations are non-refundable. However, if cancelled by Guest prior to 1 weeks before the reservation start date, 50% of the total reservation fee will be refunded. No refunds or cancellations will be allowed due to bad weather, road conditions, mechanical failure, power outages, act's of nature, sightings of insects, rodents or other animals in or near the property, nor for malfunctions of spas or any other specific features of the property. If for any reason you need to cancel your reservation, Guest must notify the Owner and Airbnb as soon as possible, and confirm your cancellation with Airbnb. Owner may cancel this Agreement at any time. In the event that Owner cancels this reservation prior to your occupancy of the premises, Owner shall, or shall instruct Airbnb to, refund all monies previously paid.
[ ______ ] [ ______ ] Guest initials
4.RELEASE of LIABILITY for RISK (known and unknown): Guest understands and Agrees to hold Owner Harmless against, and Assume all liability for loss of personal property and or injury to himself or any other guest occupant or visitor of the property, by any cause including but not limited to: foul weather, acts of nature, heat, fire, hot water, spa's, electricity, oven/stoves, insects or animals, and further Agrees not to hold Owner liable for any injury or loss of any kind occurring at the property during Guest stay. Guest also agrees to take extreme caution at all times when water, ice or snow are present and assumes all risks of moving in or around the property. Guest understands and agrees it is his responsibility to clear or remove any accumulation of snow or ice, as needed for safe ingress and egress to or from the property, at all times during his stay. Guest also agrees to inform all other guest occupants and visitors to the property of this Release of Liability for Risk and to inform each of them of their responsibilities in assuming risk of injury or loss while at the property. [ ______ ] [ ______ ] Guest initials
5.LATE DEPARTURE AND OCCUPANCY EXTENSION CHARGES: A late departure rental fee, which may be higher than the initial rental rate, will be added to any extension of occupancy past the agreed check out time, subject to prior approval by the Owner/Manager (8 hours or less shall be charged ½ the daily rate).
6.SECURITY DEPOSITS: Security deposits may be used to pay any and/or all of the following charges: Trash Removal ($50 minimum), Unpaid rental amounts, Late Departure fees, Excessive utility usage, Locksmith or re-key fees, Cost for repair of damages or replacement of Property Equipment (Spa's) or Furnishings, Cleaning of property after departure, including extra cost for excessive cleaning of spa and stain removal or cleaning of any smoke/ash, vomit, pet, urine or blood stains or residue, and/or any damages whatsoever beyond normal wear and tear. In the event that damages exceed the amount of the security deposit, or are discovered after the return of Guest security deposit, Guest agrees to pay all cost/charges for any damages caused as a result of their stay, immediately upon being informed of said fees or damages.[ ______ ______ ] Guest initials
7.GUEST INSTRUCTIONS: Guest agrees to follow all instructions contained in or made a part of this Agreement and/or posted at the property. Failure to follow said instructions may result in unforeseen injury or property damage to which Guest hereby assumes full responsibility, even if said damages are not known at the time of check-out or if they become known after the return of Guest security deposit.
[ ______ ______ ] Guest initials
(website hidden) ORDINANCE RULES: This property is located within a residential community and controlled by City Ordinances regulating the Transient Occupancy of Private Homes. This Home is Licensed for a maximum of 15 occupants. Any violations of Law or excess occupancy of the property may result in civil fines and/or immediate forfeiture of the rented property without refund. Only Guest signing this Agreement may authorize another guest/occupant for entry into the property and he/they is/are responsible for controlling occupancy at all times. Guest may not authorize a total of more than 15 guests or occupants, including him-self, at any time.
[ _______ _______ ] Guest initials
9.ALLOWED USES and RESTRICTIONS: The premises may be used for any lawful residential use in accordance with the laws of the city and state where the property is located. Excepting the following additional restrictions: No parties or social gatherings with more than 15 persons at any given time. No amplified music or sounds so as to be heard outside of said rental unit. At no time may the property be used for automotive repair tasks or the conduct of any business activity, including the production of film or photographic materials for any commercial use or purpose, without the prior written consent of Owner. [ ______ ] [ ______ ] Guest initials
10.NON-SMOKING: All properties are non-smoking. Any guest found in violation of this rule will be charged a minimum additional housekeeping fee of $50.00 Smoking is permitted outside provided ashes and butts are properly disposed of in fire safe cans.
[ ______ ] [ ______ ] Guest initials
11.PARKING: Parking of up to 3 Guest's registered vehicles is permitted on elevated parking deck year round, and 3 more cars on sloping driveway any time except winter months (November-March) or any time freezing weather is expected. Any damages caused or resulting from failure of Guest to follow these rules will be the sole responsibility of Guest.
[ ______ ______ ] Guest initials
12.MAINTENANCE AND ALTERATION: Owner and Guest shall make every effort to maintain the property in good condition during Guest stay. Guest agrees to report any items not working as soon as possible to Owner and understands that unforeseen repairs may be required during their stay. Guest further agrees to allow Owner to schedule repairs of any items not working as soon as practically possible but that repairs are not guaranteed to be completed during rental days. Guest shall not repair alter or move any furnishings nor install anything including decoration or temporary items inside or outside of the home without prior written consent of Owner.
13.CHANGE OF TERMS: The terms and conditions of this Agreement are subject to change by Owner, after the expiration of the original rental period, upon giving 24 hours advance written notice via e-mail or fax.
14.INSURANCE: Guest acknowledges that no insurance is provided by Owner and Owner's insurance does not cover Guest's personal property or any damage caused by fire, smoke, heat, cold, water, rain, theft, war, acts of god, acts of others, or any other causes, nor shall Owner be held liable for any such losses. Guest is hereby advised to obtain his own insurance policy to cover personal loses.
15.RIGHT OF ENTRY AND INSPECTION: Owner, his agents, employees or subcontractors may enter, inspect, service or repair the rented premise at any time in the event of an emergency or suspected Guest departure. Owner shall give Guest 24 hours notice of intent to enter the premise for the performance of cleaning services, scheduled maintenance or repairs. In the event that Guest is required to temporarily vacate the premises for work to be performed, Guest shall receive 24 hour advance notice by Owner of need to temporarily vacate space. Guest hereby agrees that Guest will be solely compensated for his temporary displacement by a reduction in rent corresponding to the portion of the premise required to be vacated for said number of days. No other compensation shall be offered to Guest for moving expense or any other expense associated with temporary vacation of the premise or portion thereof.
16.ADDITIONS AND EXCEPTIONS:________________________________
Please call 24 hours in advance to verify availability of an earlier check-in, or a later, up to 4:00pm, checkout without penalty.
17.REMEDY AGREEMENT: In the event of any breach of this agreement or any dispute hereunder, all parties, their heirs and assigns consent to the judicial jurisdiction of the County of San Bernardino, State of California. Should any disputes arise by and between the parties to this Agreement, their heirs or assigns, the prevailing party shall be entitled to its actual attorney's fees and cost in relation thereto.
18.ENTIRE AGREEMENT: This agreement constitutes the entire agreement between Owner and Guest. No oral agreements have been made. The undersigned Guest's are jointly and severally responsible for all obligations under this agreement and shall indemnify the Owner for liability caused by the actions (commission or omission) of Guest, their guests or invitees.
19.RECEIPT OF AGREEMENT: Guest hereby certifies that he/she is fluent in the English language, has read and fully understands this agreement and has received a complete copy of this "Occupancy Agreement".
___________________________ __________________________________
Guest Date
This Agreement shall be deemed accepted by Owner upon Guest complete acceptance and signing of this Agreement, and confirmation of receipt of all rental amounts due and as evidenced by the issuance of Airbnb Confirmation number ________.

FLIP FLOP RANCH PARTICIPATION AGREEMENT
MEDICAL RELEASE INFORMATION
Participant's Name: _______________________________________ School:____________________________
Date of visit: ________________Grade: _______ Date of Birth: _______________ Male _ Female __
Name of Parent or Legal Guardian (if Participant is minor)
Name: _________________________________________________Relationship: ___________________
Day Phone: _________________________ ___ Cell Phone: ___________________________________
Email: ___________________________________________
Address: ____________________________________(URL HIDDEN) City: _____________________
State: __________ Zip: __________
Doctor's Name: ____________________________Doctor's Phone Number:____________________
Medical Insurance Provider:_______________________________ Policy#:________________________________
Emergency Contact(s)
Name: ___________________________________ Relation: ______________________________
Email: __________________________________
Day phone: __________________________ Evening phone: __________________________
Cell phone: ________________
Medical
**Please be as detailed as possible to ensure your child has the best care while at Flip Flop Ranch.
Allergies: Bee Stings Environmental Medications Food/Drinks Other (Please describe any of the allergies listed):
I understand that Flip Flop Ranch staff does not carry epinephrine for the treatment of allergic reactions which might occur during the our programs. If my Minor Participant has a known life- threatening allergy, or if I have been advised that he or she should be prepared for a possible serious allergic reaction, my Minor Participant has been provided with auto- injectable epinephrine and a physician's instructions for its use, and I have instructed my Minor Participant to have these available at all times during the Program. If my Minor Participant is enrolling in the Program as part of a school or other group, I have also informed the person in charge of the school or other group of this allergy and any applicable physician -prescribed protective measures.
Are there any medications your child takes regularly? If so, please describe in detail:

In the event of an emergency, if I cannot be reached, I authorize any adult chaperone or Flip Flop Ranch staff to obtain medical care for my Minor Participant.
RELEASE AND INDEMNIFICATION
At Flip Flop Ranch, you and/or your child may participate in a wide variety of outdoor activities, which may include hiking, exploring the natural environment, stewardship activities (for example farm tasks such as planting or harvesting), and working or interacting with animals (including goats, sheep, chicken, ducks and bees). I understand that outdoor activities during a visit to Flip Flop Ranch expose participants to a variety of risks, foreseen and unforeseen, some of which are inherent and cannot be eliminated. These inherent risks include, but are not limited to, environmental risks and hazards, including plants, insects, snakes and domesticated and wild animals; and unpredictable forces of nature such as weather. For myself and/or my Minor Participant, I agree to assume, to the fullest extent of the law, the risks of participation, known and unknown, inherent or not, and whether or not such risks are described above.
I, an adult Participant or Parent or Guardian of a Minor Participant, for myself and on behalf of that Minor Participant, agree to release, indemnify, protect, and hold harmless, and promise not to sue, Flip Flop Ranch and/or its affiliated institutes, and/or any of their respective officers, directors, employees, contractors, and insurers (the "Released Parties"), with respect to any and all claims, demands, damages, losses, or liabilities, including, but not limited to, claims for personal injury or death, which I or my Minor Participant may suffer, arising out of or in any way related to my, or my Minor Participant's, participation in the Flip Flop Ranch program. The claims hereby released and indemnified against include those caused by or arising from the negligence of a Released Party, or any of them, but not those caused by or arising from any reckless or intentionally wrong act or omission.
IMAGE RELEASE
I agree that Flip Flop Ranch and its designees may use, without restriction or compensation, my likeness, or that of my Minor Participant, whether in photographs, motion pictures or audio or video recordings, as well as any writing, artwork and/or testimonials created by me or my Minor Participant and submitted to Flip Flop Ranch. I agree that once submitted, these materials shall become the property of Flip Flop Ranch. Visual documentation helps Flip Flop Ranch share and promote its work, connecting people to healthy food, farming and the natural environment. Your/your child's name or age will not appear in any Flip Flop Ranch print or online materials.
I have carefully read, understand and agree to abide by this Agreement.
Name of Participant(s): ________________________________
________________________________________________________________
Signature of Parent or Guardian for Minor Participant Print Name Date
_______________________________________________________________
Adult Participant Signature (if age 18 or older) Print Name Date
You must also acknowledge
Dog(s), cat(s), and other pet(s) live in the house
---
---
---
Serina's farm is a fantastic place to have a real farm experience! So many fun animals to interact with - whether it's feeding, brushing, milking, holding - they are all warm hosts to city folks. We brought our kids (ages 5,5,3&2) and there is something there for everyone. We fed the animals twice per day, much to the delight of our children, brushed Bologne the Pony, milked Midnight and chased Rocky Road around the pen! Adults will find the experience equally as interesting and fun :) Her home is very clean, stocked in the kitchen with lots of different items, and comfortable private rooms for all. We were a little cold one night and she brought over blankets for us right away. Don't hesitate to book this listing - it's a blast and Serina is fantastic!
---
Flip flop ranch is a perfect place to come if you want an authentic farm experience. Serina is very welcoming and her farm is set up for fun and safety (both for her animals, and for your kids). We came in the spring and were able to see not only the full grown animals, but plenty of babies. In the morning, the kids were able to help with the feedings and they said their favorite animals were the goats and the newborn kittens.
---
This place was really great to take the kids and see the animals. You can help feed animals twice a day. The house is super roomy and can fit up to 15 people, probably more if it was allowed. There were some games to use to play with the family. There was no TV which was not a problem in my opinion. No cellphone reception for most of us in the house. No wifi, but didn't say there was anyway so wasn't surprised. If you are planning on doing the snow thing and going to big bear it is close by, however, if you just only want to do the big bear just stay in big bear. It was about 30-45 min to get to the city from here, which wasn't a bad drive at all. I'd bring extra towels. Ask ahead of time for anything and Serena would be sure to help! The roads are a bit scary and dark and somewhat confusing at night so be sure to drive slow it turns into dirt road.
---
We had 5 families staying here and all had a good time. Feeding animals and milking goats are fun. And the rooms are big enough to give every one space. They have a giant living room and dining table perfect that many people we have. Serina is just helpful and friendly. I would recommend this place for retreat and bear mountain travelers .
---
Flip Flop Ranch is a family farm in Southern California that connects people, especially kids, to their food. We help them understand where food comes from and why it's so important to care for their environment and their bodies.
We are a real working farm that helps to preserve endangered species livestock and raise healthy food for the local community.

The rate at which livestock breeds are disappearing is "alarming" and the UN is warning that precious genes could be lost forever.

Traditionally, farmers throughout the world have raised thousands of different animal breeds and plant varieties. However, since today's industrial farms rely upon only a few specialized types of livestock and crops, thousands of non-commercial animal breeds and crop varieties have disappeared, along with the valuable genetic diversity they possessed. Fortunately, a growing number of sustainable farmers, such as ourselves, are preserving agricultural variety and protecting biodiversity by raising "heritage" animal breeds and crops.

We raise heritage breeds such as Dorkings, Cotton Patch geese, Nigerian Dwarf goats, Guinea hogs, Australorps, Ancona ducks and Bourbon Red Turkeys. Heritage breeds are traditional livestock breeds that were raised by farmers in the past, before the drastic reduction of breed variety caused by the rise of industrial agriculture. Within the past 15 years, 190 breeds of farm animals have gone extinct worldwide, and there are currently 1,500 others at risk of becoming extinct. In the past five years alone, 60 breeds of cattle, goats, pigs, horses and poultry have become extinct.

Our gaggle of Cotton Patch Geese is one of the biggest in the WORLD and yet we only own about 50 geese. These geese are so rare that we drove 56 hours round trip (not including the week we spent broken down) to Texas to purchase and bring home one of only a handful of foundation flocks in order to help keep this breed from extinction.

It is of vital importance that we don't let these ancient and unusual breeds perish. Their genes are adapted to harsh conditions or specialized jobs. Our Navajo-Churro sheep, for example, can make it through our blazing desert summers in full wool without hardly noticing while the common industrial breeds would die of heat stroke. Our goal is to help preserve these rare and amazing breeds while also sharing the joy of farming with all of you.
Response rate:
67%
Response time:
within a few hours
Explore other options in and around Lucerne Valley
More places to stay in Lucerne Valley: