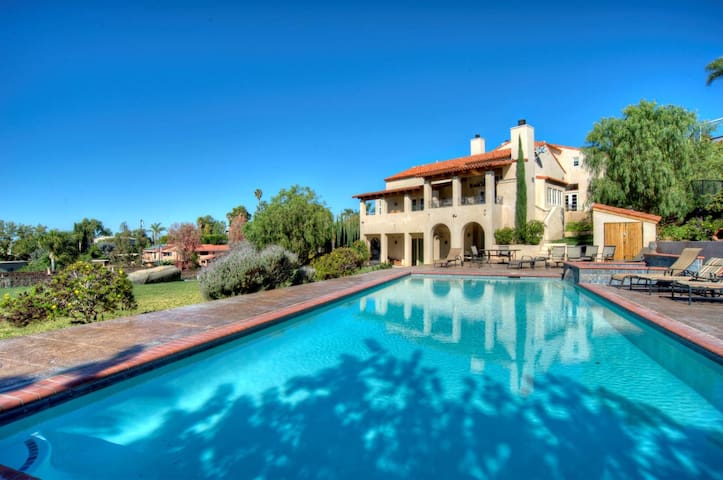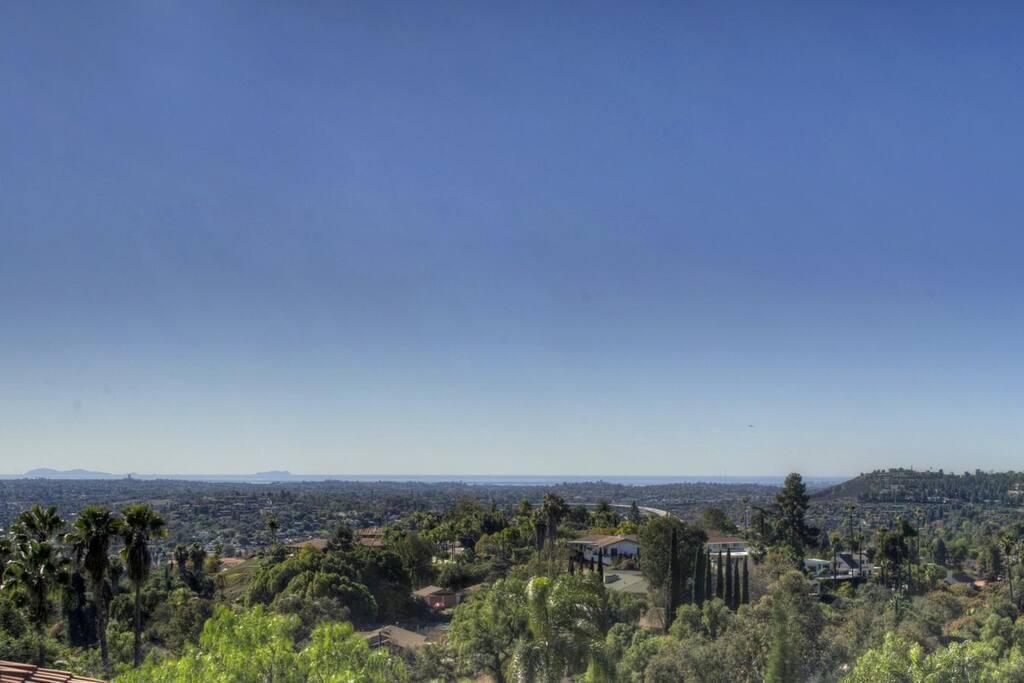 San Diego Vacation Home Ocean/Sunset View Pool/HT
San Diego Vacation Rental Home! Wow House, Huge Italian San Diego Vacation Rental Home, Ocean and Mexico View, Pool, Hot Tub, Great Family Entertainment Home, Central San Diego Location, Near all Attractions, including Stadiums, Beaches, Zoo, Sea World, Downtown, Beautiful Home, Luxury Listing! Romantic Go! Compare Pricing of bottom line.
The space
Wow House! with most bedrooms with assigned Bathrooms. 5 master type suites. 6 large TV, chef Kitchen, extra large pool. view of all San Diego, best climate in San Diego area. 3000 extra square ft of outdoor living. 7000 sqft of indoor living, lots of parking with 2 driveways. private 1 acre lot with huge lawns.
Guest access
whole private house, yard and pool, 1 acre, 10000 sqft of indoor and outdoor living
Other things to note
Such a Stunning Home, you may not want to go to the many San Diego Attractions
---
---
Bedroom 2
1 queen bed, 1 crib
Bedroom 3
1 queen bed, 1 single bed
Bedroom 4
1 queen bed, 1 double bed
Common spaces
1 queen bed, 2 single beds
---
Check in is anytime after 4PM
Self check-in with lockbox
San Diego Vacation Rental Home Notes:
Check in 4 PM, Check out 10 AM, ask about possible early or later check in / out, it may be possible depending on the Calendar.
Address: 4839 La Perla Way La Mesa CA 91941
Important:
Please report anything that does not look right or possible damage right away that you may have notice upon arrival so I will know it was not from your reservation.
Bring your own Beach towels, we supply most everything else except food and drink!
Parking: Please do not park cars within 30ft of the front of the home. It is a safety and damage potential issue. Protect your deposit. No cars on the lawn or edge of lawn. No RV parking unless otherwise agreed on with fees. Main entry and main parking located on upper second driveway.
And when you come back from the beach, please have everyone rinse off the sand with the hose out front to the right of the entry before going or unloading into the house or Pool.
Keep the Pantry door closed at all times when not in use, the refrigerator door can and has damaged by leaving it open.
Remember, following the home rules is part of your contract and will protect your refundable deposit.
Utilities:
Conserve please;
please turn off lights that are not needed. Use water sparingly, California has a water shortage problem. No need to leave on outside lights at night unless outdoors areas are in use, it is a safe Neighborhood. Close windows when rain is in the forecast.
Trash:
Trash and Recycle Bins are located on North side of upper Garage. Trash truck comes Monday morning. I will be sending a worker over to put trash out for the trucks. If you have trash overload by the end of your stay, call me. Remember excessive trash build up or excessive clean up may affect your deposit. It would reflect an event, guest overage or such. Leave things in order.
Furniture:
Try not to move interior furniture around. It will cause damage to floors and walls. If you feel you have the need to move furniture around in the living room please be careful and put it back in place before you check out. If you move the patio/pool furniture around, please replace in proper location at the end of your stay.
Wifi Internet / TV / Stereo:
There is a Wireless Network (Wi-Fi), and active plug in points throughout the home. 50 m/sec
Wireless E18OCA: security code: xxxx, office bedroom and Portico areas. Located under the office bedroom(URL HIDDEN)Amped_titanAP_2.4: security code: xxxx, unit located upstairs sitting room
Netgear73: security code; xxxxx, living room, dining room, pool bedroom 7 and rec room. Unit located in living room
For Movies rated above R rating: xxxx
Pay per View or Ondemand: please keep track of movies and events ordered, you can leave a check on departure if you would please, honesty policy, please.
Intercom system has a radio and CD player for music throughout the home. Bluetooth stereo is located in kitchen area with speaker control in the kitchen, upstairs middle bedroom and master for sound it the den/kitchen, upstairs sitting room and main master bedroom. There is also a Pool area blue tooth portable stereo which is really cool available for $200 and $100 deposit.
Exterior Doors:
A little tricky,
To unlock, turn lock knob or Key until click and then push down lever.
To lock, lift up lever first and then turn lock knob until click, test, sometimes you have to lift lever hard twice or close door hard but do not force lock knob.

Pool and Spa:
Pool service is on Fridays and Tuesdays but can vary depend on pool services schedule. Plastic ware and Pool Towels for Pool area can be found in the butler's pantry lower cabinet, (secondary Kitchen)
Spa control pad is located on Pump house Door. Just push the spa button, jet, waterfall or light buttons, do not use the menu buttons. Keep flip door shut so rain can't get to control pad. Again! Do not mess with the menu or make any adjustments to the pool temperature. Additional fees/$ involved with higher temperature settings and longer heat cycles. Reason below. Just call me to adjust it for you.
The Solar and heat pump is set on a schedule from 9am to 7pm. Please do not use or turn on the pool heater. It will be pre-set for winter, summer will be preset solar. Do not mess with the pump schedule or turn off solar heating pump system. The solar heater is set for 82 degrees, pool heater is set for 82 degrees. This should be more than sufficient. Although the pool is often warmer than 84 degrees, heater settings above 84 is not included in the rental pricing. Call if you would like a higher setting or extra night time or early morning pool heating for additional fee, but it should be comfortable for all guests as set. The higher the temperature the higher the cost to maintain the pool. Higher temperatures above 90 degrees promotes algae which can cause swimmers ear and PH problems for you or the next guests.
Do not leave spa on for more than necessary. It is set for 103 degrees. If you are finished with the spa, Please turn it off. If left on excessively, it is wasteful. Also the pool won't heat with spa heater on, so the longer the spa is on the cooler the pool gets. Please call Rosie for any pool issues at (PHONE NUMBER HIDDEN)
Use Carabineers on Pool area Safety gate latches to prevent little ones access to pool area
No Pets in pool, they can damage the pool plaster and could affect your deposit.
No Glass containers in or around pool or spa area!
No gum in and around pool area! Super important!
Please put all Pool furniture that was moved back in place, before you check out.
Please don't leave umbrella open when not in use. The wind will take it next door.
Floaties or safety vests for kids located in pool closet next to outside pool bathroom
BBQ:
Treager BBQ, just turn it on to desired temp but make sure the fuel bin is full, supply underneath unit. Use High settings for Steaks and Burgers. Directions and Recipes available under unit. When finishing up BBQ or turning off, it is very important to use shut down mode for 10 minutes then you may turn the switch to off.
Kitchen and Bathrooms:
Dishwasher drawers cannot handle soiled dishes and such, so rinse first. Don't forget you can use full size dish washer in the butler's Pantry by the second sink.
Bedroom 7s shower takes awhile before hot water gets there, same deal in pool bath/shower.
Try to avoid using garbage disposal, use only if necessary, septic system is a natural system that can't handle solids.
There are Ice makers trays full of ice in the subzero freezer drawers.
Do not put anything in toilets other than toilet paper; again, septic system cannot handle anything else but …..
Plungers are located under the sink cabinet in the bathroom off the kitchen area staircase or Pool bathroom.
Again, Plastic ware for Pool area can be found in the butler's pantry, (secondary Kitchen)
Yard and Sprinklers:
Please, if you get a chance, water potted plants every three days, entry court yard, patios, verandas, pool area and in and around house.
Upper sprinklers yard goes on at 2 am, Lower yard goes on 4 am. So it should not affect your stay.
Gardner may come by to service yard during longer stays, I will call for permission first. If you need sprinklers off for a short time for some reason, Call me! Don't mess with the timers.

Keys:
The Lockbox for initial access is kept on the outside of the front door Portico on the upper driveway. The code is xxxx. Please replace and keep key in lock box so that if main key is lost or if someone is locked out, it will be there for this purpose. We have left your two sets of keys on the kitchen counter. One key for main entry and the other key is for office, rec room and laundry.

Security and Fire Alarm System:
There is a security and fire alarm system that is in place. We do not activate the security system when the property is occupied to avoid false alarms unless otherwise requested.

Heat and Air-conditioning:
There are five zones, please use only when located in the separate zones. One in master suite, upstairs sitting room, kitchen entry, great room and office. Please do not leave on when you leave the property or with windows and doors open. Once home, the areas will cool or heat quickly. You will find that it is quite comfortable without use. Ocean breeze comes up every day through the valley at 2pm like clockwork. Actually we would appreciate limited use. California has extremely high energy costs. Please turn off on your departure.
Living Rooms and Common Rooms:
Please eat and drink in the designated Dining areas, if you eat in the Bedrooms or Living Rooms, you will have ants on you within two shakes of a sheep's tall. Please no sugar drinks in the bedrooms or non eating areas.

Lighting:
Outdoor lighting for the lawn and pool area is located in Downstairs Pool Bedroom 7. Outdoor lighting for the front entrance and upper driveway is in the laundry room. Outdoor lighting for the pathway down to the pool is located in the dining room. Outdoor lighting for the lower driveway is located in the rec room. Please turn off exterior lights when areas are not in use.
Laundry:
If you would like a laundry service, we can provide it for a small additional fee. Do not overload washer or dryer.
Extra bath towels and bed linens are located in linen closets, in upstairs hall next to sitting rm or in the Laundry room.
Extra soap, lotion, toothpaste, toothbrushes, shampoo, etc is located in Laundry rm for those who may have a need.
Maid Service or Laundry service: Feel free to call me for maid service. If not agreed on in the contract, additional fees will apply.
Garage:
We keep our personal belongings in the garage, so it is locked up and kept separate from the house, if you really need use of garage it may be worked out for addition funds.
Pets if negotiated: Remember Pets are not allowed. Only by case by case at owner's discretion and approval. There are additional fees involved. Don't jeopardize your deposit.
No Smoking:
There is no smoking on the property. Some vacation renters tell us they don't smoke, yet we find burnt outdoor cushions and smoking butts around the property. I suggest if you must cheat you hide the evidence because we are forced to now access a $20 per butt (found) policy. So if you see a butt from a previous renter, pick it up because you may be access. Also please let us know if you find any damage of any kind from the previous renter. Thus far everyone has received their deposit back and we would like to keep that way. Five Stars!
Baby, Infant and Child:
Extra High chair, pac n play, booster seats, safety barriers/gates and etc are all located in the closet just outside the kitchen entry under the upstairs staircase or in the downstairs pool bedroom closet. Please clean and replace after use. Crib is located in bedroom 2 upstairs. Additional Pac n Play downstairs storage room next to Pool bedroom. Diaper Genie located in closet of bedroom with the crib. Toys located in Den next to the Kitchen. There are additional pac n play, crib and bassinette in bedroom 7 closet that is being converted to a Nursery.
Use carabineers on pool safety gate latches to prevent little ones from venturing out to the pool area unintended.
Misc:
Extra toothpaste and tooth brushes located in Laundry Rm.
For those of you from out of the country, voltage plugs are located on Kitchen Desk.
If you have little ones, keep doors that can access pool area locked or latched up, they are almost child/adult proof in this position, but the house is not child proof by any means.
Play pen and high chair located in downstairs closet or pantry.
Paper towels are in pantry and extra toilet paper is in each bathroom sink cabinet.
Extra soap bars are located in laundry.
Be patient for the time it takes for hot water, there are two tankless water heaters. It will take a while to reach the downstairs shower and the kitchen sink but it will come. Advantage is, endless hot water, but conserve please.
Games, board and video, located in upstairs Den
Plunger, again is located in downstairs kitchen restroom or upstairs bathroom.
No large or excessive fires in the fireplace, the flames can come out and damage the outside top area of the opening. Be responsible. Fire burns above fireplace opening will indicate something amiss.

Check out: Departure: 10:00 am
Please, you can leave the extra food in the refrigerator, Don't throw it away, the cleaning crew will appreciate it.
Please turn off all heat or air-conditioning. Please Please
Please have all dishes cleaned and put away.
Leave bed sheets / linens on the beds so the cleaning crew can remove and replace correctly. Towels stay in the bathrooms also. Just throw them in the shower.
Please turn off all the lights inside and out. Important please.
Please make sure to close all windows.
Call and Report any damage please, I just need to know, I am very understanding.
Make sure access key is in key lock box on front door.
Leave the 2 sets of house keys on kitchen counter.
Please leave check made out to Scott French for PPV / On demand movies and sports that were ordered.
Make sure all TV/SAT remotes are in the designated room in which they belong. Important!
W. Scott French, (PHONE NUMBER HIDDEN). (EMAIL HIDDEN)
Thank you and travel well!
You must also acknowledge
Must climb stairs
---
This is truly a stunning home. We were 12 adults and a few kids and infants in the mix, and the place was big enough for all of us and then some! Scott has stocked it up very well indeed. We also found the high chairs and crib so useful, and thoughtful. Thank you Scott for a memorable stay at your's!
---
Custom Builder and Real Estate Agent who Knows how to manage homes and people. I built this special home myself in 2008, so you get the personal touch. I am a big outdoor person who is available anytime I am not biking or Skiing.
Languages:
English, Español
Response rate:
100%
Response time:
within an hour
Explore other options in and around La Mesa
More places to stay in La Mesa: