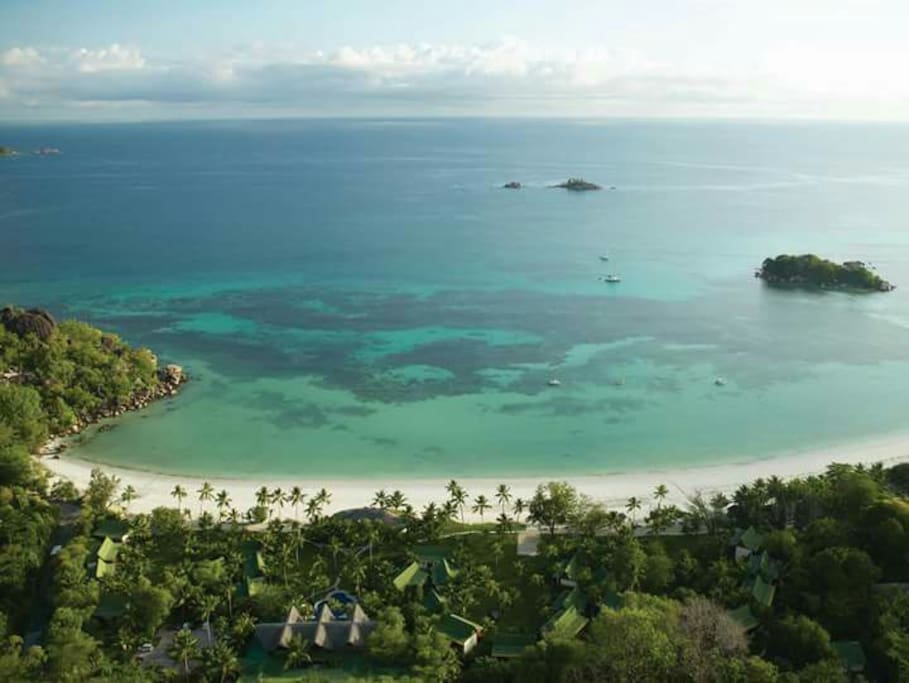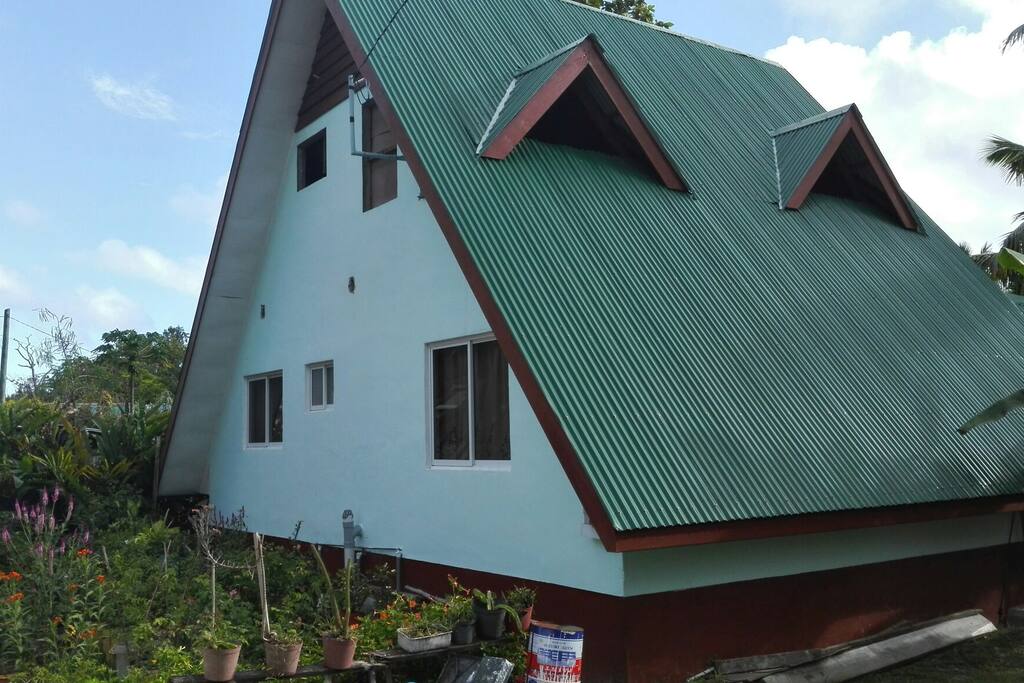 Praslin private room at cote d or
Home away from home. The place is a simple family home. You are welcome to share it with us, your very own aircon private bedroom in the tropical island of Praslin, Seychelles.
The space
My house is a family home of five, but my partner is a way for a month the he comes back a week and again he goes off a month. My eldest son also comes to visit me every second weekend of the month as he lives with my x husband. So the family occupies the upstairs room and bathroom and you ll have your private bedroom downstairs. This is the original concepts of air bnb, living with a seychelois family. We also share the sitting area. Your room is private I nor the cleaner will never enter your room even to clean unless you ask me to.
Guest access
Guest access downstairs totally, from kitchen, cooker, fridge, sitting room, bathroom, veranda etc .... You are welcome and treated as family
Interaction with guests
During the day I'm at work, my 5 and 9 years old are at school and my 2 years old baby Noah is at grandma next door. So many has said thank you to me because thanks to my home on Airbnb they have been able to afford to come to Seychelles. As they always find everywhere else expensive.
Other things to note
Yes WiFi is not free. If you want WiFi note 3 GB is 200rs until it last you. If you use it all then you have to pay again , like a prepaid telephone card method.
---
---
Check in is anytime after 12PM (noon)
No heavy drinking, no smoking inside the house, no outsider outside the booking. Tidy up after yourself. Bring a torch if you plan to go out in the evening. No eating in the room. Note if sheets and towels are stain, you must pay for it. Such as curry stain, hair color stain or do coconut stain. Yes all this happened. Also do not lose the room key. Kindly switch off the aircon or fan when you living the house so as not to waste energy.
---
Staying with Cindy was amazing! I met a beautiful French couple who were also staying there and I wish I was able to stay longer! Her dad met me at the jetty on time and showed me around the local shops and gave me some good advice. He was also able to drive me to Anse Lazio and my next accommodation (for a fee, less than a taxi). He is also a great chef and let us taste some of his cooking. The house is in a great location that is a 5min walk from a supermarket and shops. There is a great family vibe and they are all very loving. I felt so blessed with the experience!
---
My partner and I planned to visit Seychelles and planned to stay with Cindy for 3 nights, however, our flights were cancelled by Ethiopian Airline without any alternative offers provided and we were informed only 2 days before our planned departure. To avoid financial loss, I changed our stay from 3 nights to 1 night, and Cindy accepted immediately and offered us an extra night stay for free the next time we visit as we were charged for one night this time. All in all, we are really lucky to booked Cindy's guest room as she is so helpful and understanding for our unfortunate situation. Looking forward to visiting Seychelles one day and thanking Cindy in person! =)
---
Worst experience ever. I am a frequent traveller and have explored many cities and airbnb hosts (for over 6 years now). My review is not personal but rather objective, these are the reasons why I would not recommend it to other guests: 1) Before having met the host, during her first interactions with us, she asked us to buy cigarettes at the airport for her mother-in-law and boyfriend. To me, not having met your guests yet, this was unprofessional and unexpected. 2) We had trouble getting through customs as she never provided a full address. I later found a message in my inbox from her, asking that we refrain from giving details about our stay at her place (asking us to only provide particulars of our other bookings). I am not sure what the reason for this is, but I don't agree with withholding information from the officials. Perhaps the property does not have a tourism license to host travelers? 3) Upon arrival we arranged for a taxi to take us to the apartment (luckily he knew the host, else getting there would have been difficult without an address or directions previously requested). As we drove out of the jetty area, the host happened to be waiting outside for us. After deliberation, she mentioned she would've picked us up for free (which we did not have prior knowledge of, but was a generous gesture). We got out of the taxi and then the price changed from free transfer to 100 rupees (unexpected, but still a decent price). 4) I asked more than once to get a full address before our arrival, we never got this from her. Hence, we got lost on our way back from the beach the first evening. A local resident tried to help us, but it was difficult since we had no direct address. He had to phone our host. When we then arrived, instead of seeming concerned for the safety and well-being of the guests, the host acted hostile stating that she had shown us where to go before (yet it is difficult to find your way at night with numerous bus stops and no physical address). 5) She has wifi at home but charges 200 rupees for it. When I asked about it, she seemed to have a hostile attitude claiming I wouldn't want to pay it. We bought wifi cards which worked out well and was much cheaper. 6) Our door had a key but was difficult to lock, you have to wiggle it a bit. We asked her in a friendly manner to check it, she responded defensively with: "guests had been staying there for the past two years". We only wanted some guidance. 7) There is no rubbish bin in the room and the water pressure of the bathroom basin is weak - we had to climb into the shower to effectively brush teeth and wash our hands. 8) The house is located in a back neighbourhood and seems unsafe /...
Dear Client Thank you for your lovely comments. It's a shame after welcoming you in our home I find ,you felt this way. It seems you were expecting a 500euro a night kind of room. Five star serviceS for the 49euro room per night you paid, which consist even an aircon apart from its perfect cleanliness as we hire a daily maid to clean the house. On top of that a transfer from the jetty is 15euro and I asked you for only 100rupess for my fuel, when you were about to pay 200roupies to your taxi driver. By the way I did send you a lot of messages, that I was picking you up, is it my fault too, you did not have net work, NO? Another question did you read the details and information's about my home. For a client who doesn't want to pay transfer, who doesn't want to pay THE 200RS wifi FEE UNLIMITED INTERNET FOR TWO,AND WHO DON'T WANT TO PAY 500 EURO ROOMS IN FIVE STAR HOTELS YET CHOSE MY HOME and who left my room in a deplorable filfy state, I have never seen a client leave my room, so dirty as you did. YOU DO WERE EXPECTING TOO MUCH, FROM THE TIME YOU ARRIVED ALTHOUGH I WAS TRYING TO BE NICE TO YOU, I SAW YOU WERE RACIST AND FAKE FROM THE START. YOU said you were lost on your way to my house, when my house is only 7 minutes walk from the beach and I have had over 100 couples staying in my home and they never had any trouble. When you book airbnb, its for you to mingle with the people and how dare you say in the 7 minutes walk to my house you self unsafe, you the first to complain over the two years ive been hosting.WHEN I DRIVE YOU TO MY HOME, I DROVE YOU DOWN THE VILLAGE AND SHOWED YOU WHERE THE BUS STOP WAS, WHERE EVERYTHING IS LOCATED. Finally, for the cigarettes that I asked you the favor, I will normally have refund you. I wasn't asking for free dear and I did not force you to bring it, I just ask you if you can? As for the bin, I wonder if you noticed the big bin under the sink in the kitchen. Because the cleaner will not come in your room to pick up your garbage, we will pick it up from the general big bin in the kitchen. You are the type of clients who has a bad attitude and you expect everyone to be just like you. You the type of clients that are a big discouragements to me to do airbnb. But you know what out of you vicious complaint, I appreciate the 100 positive complaints ive received. People who knows they are coming to live with a family, who has a budget and are not fussy and are understanding. Many thanked me and said if they didn't come to my place they will not be able to afford SEYCHELLES. So your negative comments will only make me stronger.
---
Cindy is a very friendly and inviting host. She does lots of effort to make you feel home. There are two AirBNB rooms, that share one bathroom. Ours had an air-con. The room was basically equipped with everything important. The bathroom was clean and also very well equipped. The room had a key as well. You can use the complete kitchen without any problem. It was really nice to also experience the 'local view' of the Seychelles next to all the fancy tourist places! Highly recommended!
---
We've stayed 6 nights at Cindy's. 5 minutes walk to Côte d'Or beach near the bus stop, very easy to find with help of Cindy. The room is clean and we shared the house with her and the kids, we felt at home. We had a beautiful holidays with Cindy and Marvin. They are helpfull, guide you to the good person to make your holidays safe and awsome. Marvin is one of the best chef I've met by the way ;-) We recomend this place without hésitation
---
Everything was as described. Cindy was friendly and helpful, her husband and parents also. Nice room, nice location, great value. We wanted to see how local family lives and, besides value, that is why we picked this place. We didn't expect air condition but there it was, but only in bigger room. Bathroom is shared with guests in second room. With free wifi this would be above all other accommodations, but that is a problem in whole country. Recommended
---
Friendly, open person. Proud of her beautiful country and heritage. Great cook. Great hospitality and customer care skills. 17years working experiences in the Tourism Industry.
Languages:
English, Français
Response rate:
100%
Response time:
within a few hours
Explore other options in and around praslin
More places to stay in praslin: