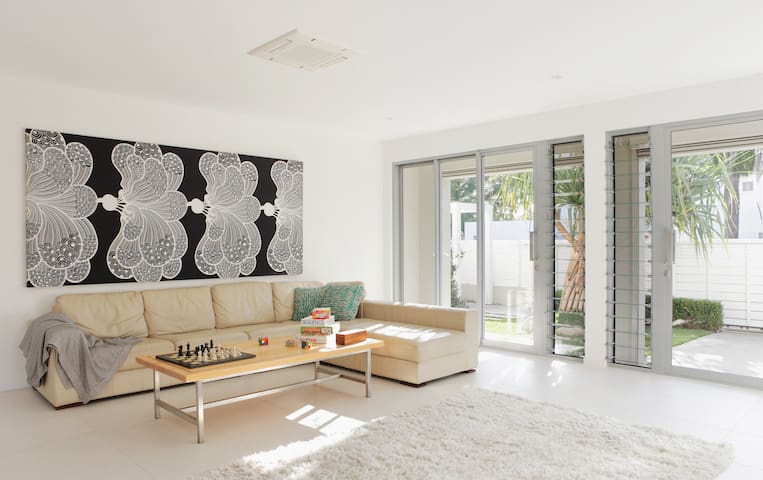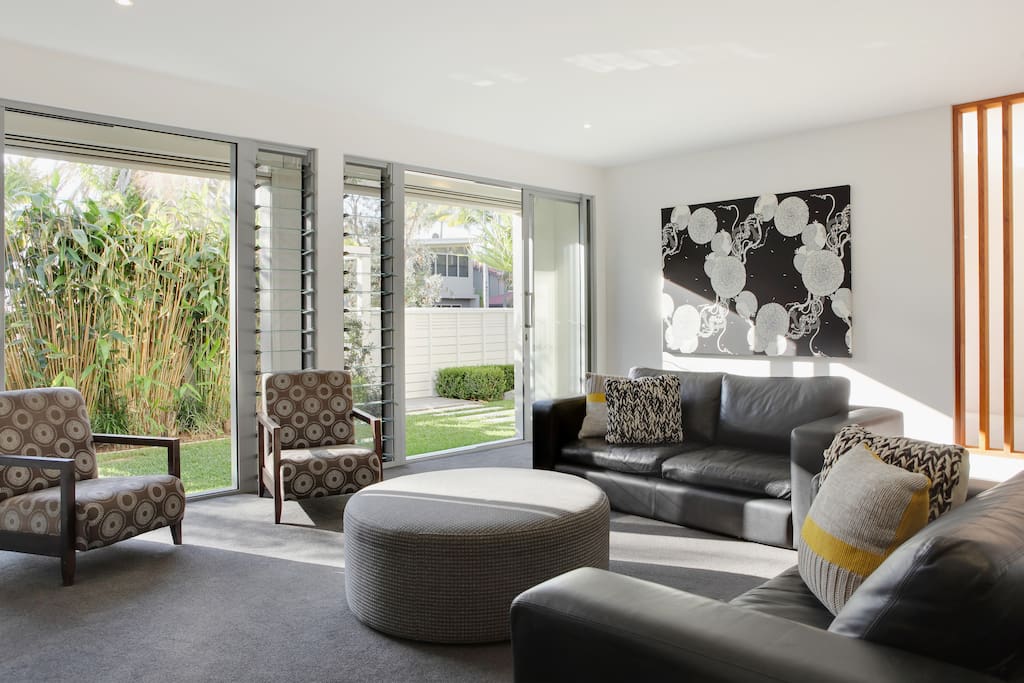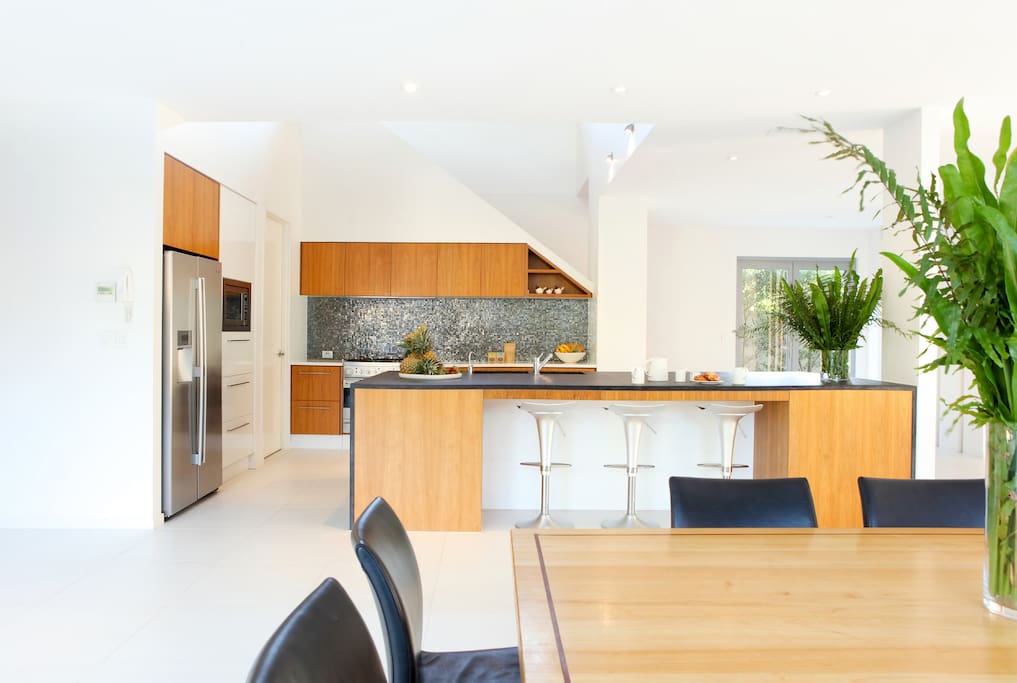 8 Witta Circle, Noosa Heads
Living in one of the most desirable streets in the area, you will be a short walk away from the famous Hastings Street and Noosa Main beach. The spacious holiday home has been carefully arranged over 2 levels by renowned local designers.
The space
This chic and modern six bedroom Noosa holiday rental is nothing short of spectacular.
With six bedrooms and five bathrooms on the upper floor, it is perfect for families who want to enjoy the local
attractions and lifestyle. The lower level of the holiday rental features two lounge areas, a fully equipped kitchen and a
spacious dining area. You will be living in a picture of comfort, leisure and indulgence.
Unwind and take a refreshing dip in the pool or relax in the heated spa. The outdoor area is perfect whether you are alone
or with family and guests – it features an undercover terrace with comfortable lounge chairs, a lawned area and plenty of space.
Located on a residential island just behind Hastings Street and connected to Noosa Parade by a short bridge, you will love being able
to walk to the scenic beach, local restaurants and boutique stores from your holiday rental.
Guest access
Guests have access to the all facilities in this beautiful holiday home.
House features:
Pool – Fully Fenced
Heated Outdoor Spa
Private BBQ
Bar
2 Living Areas
5 Flat screen TV's
Wireless Internet Access
Bedding Configuratio(URL HIDDEN)King Bed(URL HIDDEN)Queen Be(URL HIDDEN)Bunk Rooms (8 king single beds)
Fully-Equipped Kitchen
Fully Air-Conditioned
Interaction with guests
If there is anything you need during your stay we are available 24/7 to provide a high quality personalised service.
Other things to note
Minimum Length of stay is 4 Nights during low season and 7 nights during Holiday and Christmas Season. A minimum 4 night stay is available for some dates during the Holiday Season - please see dates below:
Please note the following prices during Low, Mid and High Season:
LOW SEASON RATES:
4 night minimum stay
Nightly: $845, Weekend: $1,071
HOLIDAY RATES:
7 night minimum stay
Nightly: $1,609
*4 night minimum stay available from 31/1/18 to 4/2/18
XMAS RATES:
7 night minimum stay
Nightly: $2,096
Terms and Conditions:
Use of the Property:
Subject to the terms of these Booking Terms and House Rules, we grant
you the right to use and enjoy the Property for the duration of the Booking
Period.
If you have any queries or require assistance with any aspect of your
Booking, or the Property during your stay, please contact our Agent.
Our Agent may also provide additional concierge services upon request,
and will notify you if extra Service Fees apply.
House Rules:
Comply with the House Rules and our Agent's reasonable directions while
on the Property;
Provide us with a list of persons who will be staying at the Property
(Guest List). Only the people named on the Guest List may stay at the
Property overnight.
Not damage any part of the Property or our furniture, fittings or
equipment;
Not bring animals onto the Property with our prior approval;
Not cause a nuisance to others by making excessive noise or disruption,
obstructing the street or footpath, or by holding parties at the Property;
and ensure that any person whom you allow onto the Property complies with your obligations under this clause.
Personal Belongings and Vehicles:
You are remain responsible for your Personal Belongings and Vehicles,
and they remain at your sole risk while at the Property.
You must not bring anything onto the Property which presents a danger
or hazard to persons or property.
Maintenance and repairs:
We endeavour to ensure that all furniture, fittings and equipment at the
Property is functioning properly at all times. However, if an issue arises,
please contact our Agent as soon as possible. We will use reasonable
efforts to ensure any disruption is kept to a minimum while repairs or
maintenance are being carried out, and appreciate your cooperation.
We are not responsible for any delay, action or inaction of any third
parties such as internet service providers, utilities companies or other
service providers.
We will issue a separate invoice in arrears for any Service Fees, if
applicable.
Credit Card Security Deposit:
Our Agent will take an imprint of your credit card as security for your
Booking, at the start of the Booking Period.
We may charge to your credit card at any time up to 30 days after the
Booking Period for any unpaid fees, or repairs required in relation any
damage caused by you or anyone you allowed onto the Property.
Changes and Cancellations:
We will try to accommodate any changes you request to your Booking,
and adjust the Accommodation Fee accordingly. However, we may not be
able to change your Booking once it has been confirmed.
If you cancel your Booking, we will re-list the Property as available for the
Booking Period, and:
If we are able to re-let the Property for any part of the
Booking Period, we will refund you for a pro-rata amount of
any Booking Deposit and Final Payment you have paid, less a
20% re-letting levy. You are not entitled to a refund of the
Holding Deposit; or
If we are not able to re-let the Property then you will not
receive a refund of any part of the Accommodation Fees you
have paid.
Further payment provisions:
You are responsible for and must reimburse us for any transaction,
processing, dishonour or charge-back fees issued by a financial institution
or payment gateway in the course of making payment.
All fees are exclusive of GST. If any GST is imposed on a supply under this
agreement, you must pay the GST amount with and in addition to the Fees.
We will itemise any applicable GST on each tax invoice.
Our Rights:
Security:
We reserve the right to enter the Property without prior notice if, in our
reasonable opinion:
There is an emergency situation; or
We are requested to do so by law enforcement or
government authorities, but we will give you advance notice
where practicable.
Cancellations by the Owner:
We may end your Booking at any time if:
You fail to make any payment when due, or any payment is
dishonoured or subject to chargeback;
You fail to comply with our House Rules;
We have reason to suspect unlawful activity is taking place
on the Property during the Booking Period; or
We receive complaints about you from neighbours or the
authorities, which we reasonably consider to be serious and
valid, and, if applicable, require you to immediately vacate
the Property and remove your Personal Belongings and
Vehicles. You will not receive a refund of any part of the
Accommodation Fee you have paid.
If the Property becomes unavailable during the Booking Period due to
Force Majeure, and there are no mutually agreeable alternative dates, then we may cancel your Booking and give you a full refund of all
Accommodation Fees you have paid for that Booking.
Indemnity and Limitation of Liability:
Responsibility for own actions
You release and hold harmless, indemnify and defend us and our Agents against any
Claim or Liability from or in relation to:
Any negligence or reckless or intentional misconduct by yourself or
anyone on your Guest List, or any other of your invitees from time to time;
and
Personal injury or property damage caused by your Personal Belongings
or Vehicles; and
Your failure to perform your obligations and responsibilities under this
agreement.
Indemnity:
You agree to release and hold harmless us and our Agent against any
Claim or Liability arising from or in relation to:
Our reasonable actions in denying anyone entry to the Property including for security reasons or non-payment;
Your breach of any law or infringement of any third party
rights; or
Actions taken in relation to this agreement in accordance
with our obligations at law or any order issued by a court of
law or relevant government authority; and
Any breach of your warranties under this agreement.
You indemnify us for any reasonable legal expenses we incur as a result of
your breach of this agreement, including expenses for enforcing payment,
on a solicitor and own client basis.
Agent:
You agree to release and hold harmless our Agent against any Claim or Liability
arising from or in relation to anything done by the Agent while acting on our behalf.
Checking Out:
Check Out Procedure
Unless otherwise agreed or set out in the House Rules, you are required to check out of the Property prior to 10 am on the final day of the Booking Period. Upon checking out you agree to:
Hand over all keys and controllers belonging to the Property;
Remove your Personal Belongings and Vehicles from the Property; and
Leave the Property in a reasonably tidy condition.
General
Definitions
In this agreement:
Accommodation Fees means total rental fees for the Property for the
Booking Period, as set out in the Schedule.
Agent means the agent acting on the Owner's behalf, namely Noosa
Secret Destinations Pty Ltd ACN (PHONE NUMBER HIDDEN).
Force Majeure Event means an event which is out of the Owner's
reasonable control, including without limitation an act of God, or war,
terrorism, riot, insurrection, vandalism or sabotage, or order, law, rule or
regulation of any government.
House Rules means the rules set out in Annexure A or updated by us and
notified to you from time to time.
Personal Belongings means any physical belongings you bring onto the
Property.
Schedule means the schedule attached to the front of these terms and
conditions.
Service Fee means fees for additional services you request which apply
in addition to the Accommodation Fees.
Interpretation
The following rules of interpretation apply unless the context requires otherwise:
a reference to a right or obligation of two or more persons confers that
right, or imposes that obligation, as the case may be, jointly and severally;
a reference to any thing (including any amount) is a reference to the
whole or each part of it and a reference to a group of persons is a reference to any one or more of them;
nothing in this agreement shall be read or applied so as to exclude,
restrict or modify or have the effect of excluding, restricting or modifying
any condition, warranty guarantee, right or remedy implied by law
(including the Competition and Consumer Act 2010 (Cth)) and which by law cannot be excluded, restricted or modified.
Transfer
You cannot transfer any of your rights under this agreement unless you have our written consent.
Costs
All stamp duty, government charges and legal fees incidental to this agreement, specifically including all legal fees incurred in enforcing this agreement on a solicitor own client basis, are the responsibility of and payable by you.
Currency and taxation
Unless otherwise stated, all monetary amounts are expressed in Australian dollars exclusive of GST. If any supply under this agreement is or becomes subject to GST, the GST amount is payable in addition to the monetary amounts defined in this agreement.
Enduring clauses
The parties' rights and obligations under will survive the termination of this agreement for whatever reason.
Relationship between the parties
The parties acknowledge and agree that:
this agreement is for short term accommodation for holiday purposes
and the Residential Tenancies and Rooming Accommodation Act 2008 (Qld) does not apply; and the Agent is acting as agent for the Owner and is not a party to this agreement.
Jurisdiction
The laws of Queensland, Australia apply to this agreement and the parties submit exclusively to the courts of that jurisdiction.
Severability
If any provision of this agreement is ruled by a court to be invalid or unenforceable, it shall not affect the validity or enforceability of any other provision or part provision of this agreement.
Waiver
Any delay or failure to enforce any rights in relation to a breach by the other partywill not be construed as a waiver of those rights.
Entire Agreement
This agreement contains the entire agreement between the parties and supersedes all previous negotiations or agreements in relation to the subject matter of this agreement.
Variation
Any variation or amendment to this agreement must be in writing signed by all
---
---
Security Deposit $2240 NZD
Weekend Price $1199 NZD / night
Always communicate through Airbnb
To protect your payment, never transfer money or communicate outside of the Airbnb website or app.
Learn more
---
Check in is anytime after 2PM
House Rules
Schedule
1. Breach of these House Rules is a breach of the Booking Terms.
2. We and the property owner reserve the right to terminate your rental agreement and to evict from the property, any Guests or Visitors who refuse to follow these House Rules or who cause a nuisance.
Check In and Departure
3. Check in is from 2.00 pm on the Arrival Date and check out is no later than 10.00 am on the Departure Date. You may request to vary these times, but approval of your request is subject to availability, and may incur additional charges.
4. You must advise us of the time of your departure at least 24 hours before the Departure Date.
5. You must secure the property and lock all doors and windows on the Departure Date.
6. All furniture and furnishings must be left in the position they were in when you arrived.
7. You must leave the property in a clean and tidy condition.
8. You must return all keys and remotes to us prior to leaving the property.
9. Lost keys may result in the changing of locks for the whole property at your expense, and will be deducted from your security bond, or charged to the credit card used upon booking.
Number of Guests
10. The number of guests must not exceed the number stated in writing and approved on the Confirmation Notice or subsequently agreed in writing.
11. Fees will apply to any additional guests not approved by us or the owners in advance.
12. Any misrepresentation regarding the number of guests or the intention of your stay may result in termination of your rental agreement, eviction from the property and forfeiture of any monies paid.
13. Visitors may visit you at the property however may not remain at the property overnight.
14. Visitors should not exceed 10 persons at any given time unless by prior written arrangement.
15. All Visitors must comply with the House Rules, and you are responsible for ensuring they do so.
Linen and Towels
16. The property has been supplied with linen, pillows, blankets and towels. These items must be left at the property on departure.
17. Beach towels are not supplied, but may be provided on request.
18. If you require additional services, please contact us. Additional charges may apply.
Housekeeping
19. A standard departure cleaning charge has been built into your nightly rental. If you wish more frequent cleaning or servicing, this may be scheduled at an additional charge.
20. Bookings made for 7 nights or more will receive one mid‐stay complementary service. Bookings made for 14 nights or more will receive one per week.
21. Excessively littered and/or dirty conditions at departure will result in extended housekeeping hours which will be charged against your security bond. We reserve the right to charge additional costs over the amount of your security bond against the credit card used upon
booking.
Parking
22. You must comply with parking regulations and other requirements set out below and show consideration to neighbours and other vehicles.
23. Parking arrangements at the property are as follows:
(a) Parking is not permitted on footpaths, foot path ramps or across drive ways
(b) Vehicles cannot be parked straddling kerbs causing an obstruction
(c) Vehicles parked contrary to signs in an area that is regulated.
Garbage and Recycling
24. You must dispose of garbage and recycling in accordance with the usual practice at the property (as set out below) in the allocated bins, and excess rubbish must not be left in public or common areas.
25. Garbage and recycling arrangements at the property are as follows:
26. Once a week gardeners will come and put bins out for collection
Swimming Pool and Spa
27. The swimming pool and spa must not be used between the hours of 10.00 pm and 7.00 am.
28. No glassware is permitted in the pool or spa.
29. Once a week gardeners will need access for maintenance of pool & Spa
30. Whenever you are absent from the property, you must close all windows and doors to maintain security and prevent rain and water damage.
31. All doors and windows must be locked and secured at night.
32. You must notify us of any security issues, including break ins and theft.
33. Neither we nor the owners take any responsibility for your personal belongings during your stay at the property.
Deck and Balcony Areas
34. You must take caution on outdoor tiles, as all tiles may be slippery when wet.
Parties, Functions & Commercial Activities
35. Parties and functions are strictly prohibited. If you host a party or function on the property, your rental agreement may be terminated, and you may forfeit any monies paid.
36. Photographs and videos taken at the property cannot be used for commercial or advertising purposes or for financial gain or benefit without the written consent of us or the owner of the property.
Disturbance and Antisocial Behaviour
37. Offensive and excessive noise, especially between 10.00 pm and 8.00 am is prohibited and may result in termination of your rental agreement, eviction, loss of rental paid and extra charges for security and other expenses which may be deducted from Security Deposit or Bond under the Booking Terms.
38. You must not engage in antisocial behaviour and must minimise their impact upon neighbours and the local community.
39. For neighbours' privacy and safety, if you utilise the beach area or jetty in front of the property, you must stay directly in front of the property, and not utilise any beach area or jetties in front of other properties.
40. If we receive complaints from neighbours regarding any offensive or excessive noise or antisocial behaviour, a security service will be engaged to respond. The security service has the authority to record call outs. If security is called out the property, you will be charged for the
call out fee, your rental agreement may be terminated, and you may forfeit any monies paid.
41. Strippers, topless waitresses, escorts, sex workers and associated industries are not permitted on the property under any circumstances.
42. No outdoor nudity is permitted on the property under any circumstances.
43. Drugs and illegal activities are strictly prohibited on the property under all circumstances. Alcohol should be consumed in a responsible manner.
Smoking
44. Smoking is not permitted indoors (including the garage) or within 5 metres of any open window or door.
45. You must remove any cigarette butts from the property on departure.
46. If tobacco odour is noted on the departure inspection, a $500 damage charge will apply
Pets
In addition to any additional cleaning and fumigation costs, and will be charged to the credit card used upon booking.
Pets
47. No pets are allowed either onto the grounds of the property, or inside the property under any circumstances.
48. Any pets found to be on the property may result in termination of your rental agreement, eviction from the property and forfeiture of any monies paid.
49. We reserve the right to charge additional cleaning fees to the credit card used upon booking if you have allowed any pets onto or into the property.
Damages, Breakages and Maintenance
50. You must report any damage or breakages to us.
51. We may deduct from your security bond the amount required to repair or replace any items (at our discretion).
52. You must advise us of any non‐emergency maintenance issues at the earliest opportunity during business hours. We will endeavour to rectify the situation quickly and efficiently.
53. You must advise us of emergency maintenance issues at the earliest opportunity. We will endeavour to rectify the situation quickly and efficiently.
54. You must allow repair/service technicians access to the property during reasonable hours. Failure to follow this procedure may hinder our ability to rectify the issue.
Emergency Contacts
For all emergencies call 000
---
---
---
---
A decade ago my husband and I made a choice to relocate our family to Noosa and have never looked back. We are a designer boutique holiday team who enjoy sharing a piece of paradise and local knowledge with all our guests.

Noosa Secret Destinations believes in........

Holidays Fun Luxury Memories Family Sun Happiness Romance

Adventure Surf Solitude Rejuvenate Relax Moments Health Fitness

Friendly Homes Simplicity Easy No Fuss Time Out Food Excitement

Beach Together Friendships Respect Time Away Enjoyment Travel

Live Life Love Life

Holidays are personal to every stay and we like to create your memories.

Let the team at Noosa Secret Destinations help you....
Carolyn, Steven, Julie, Heather, Chris, Jill, Chrisa, Tom & Harry.
Languages:
English
Response rate:
100%
Response time:
within a few hours
Explore other options in and around Noosa Heads
More places to stay in Noosa Heads: