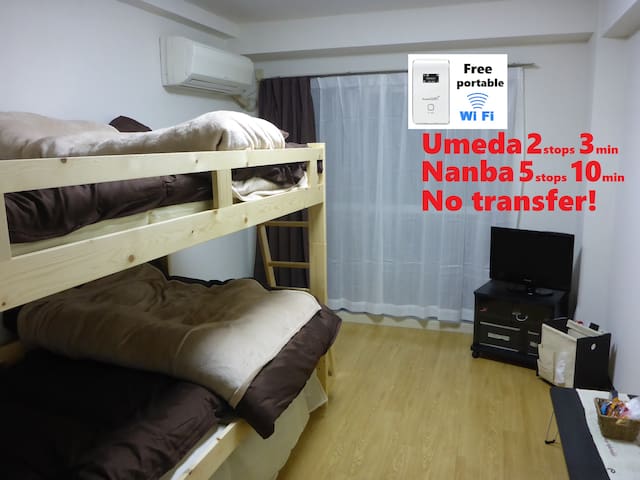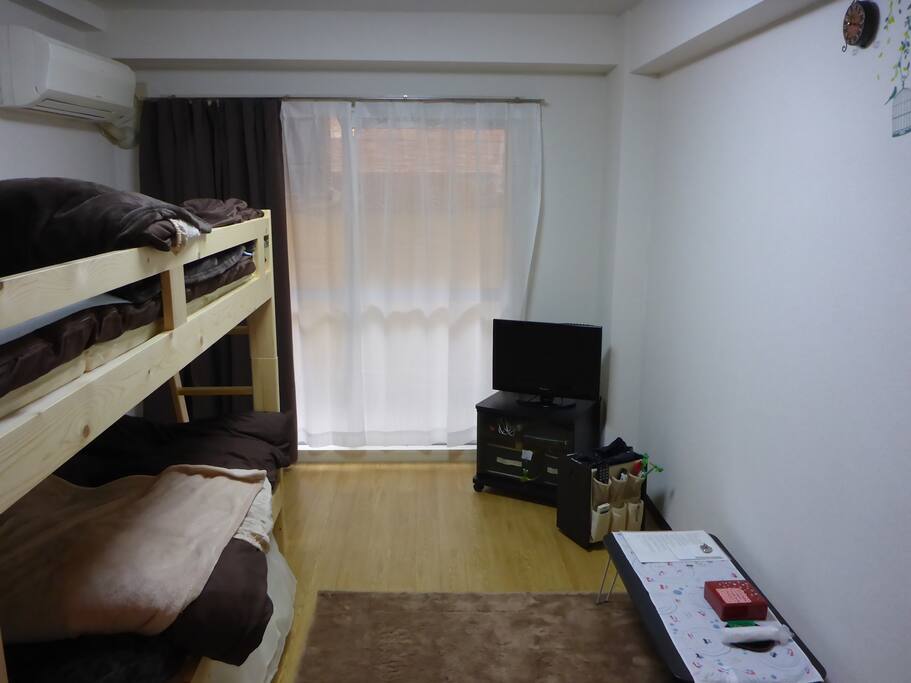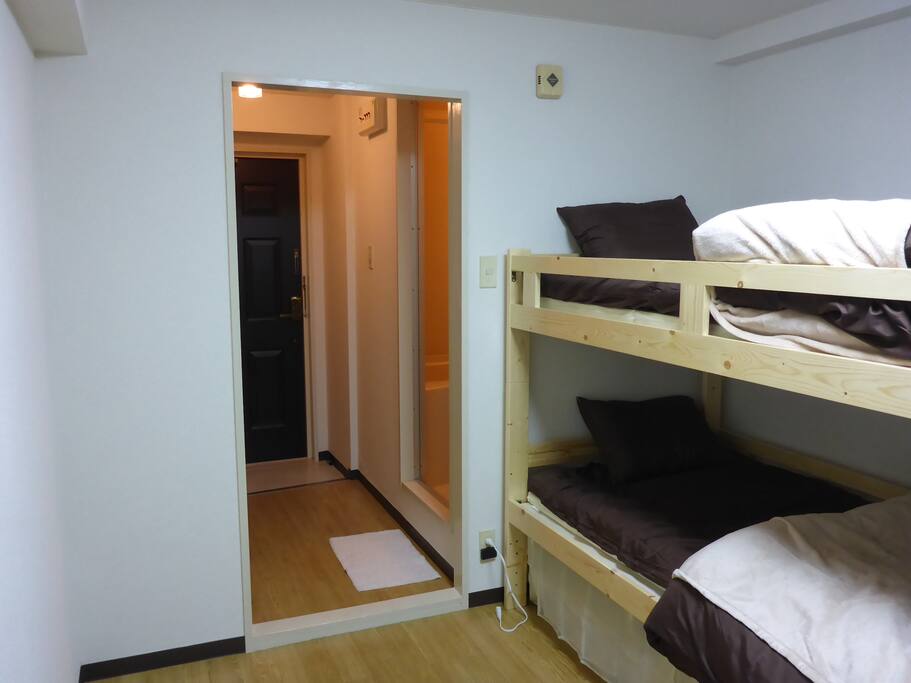 Is this your first time to airbnb? Get discount coupon! Please accept it before registering your membership https://www.airbnb.jp/c/ddc8e5 6 minutes walk to Hanshin Line Noda Station, Sendai Front Line Noda Hanshin Station and Subway Ebisu Station Ebie Eki Station. You can go to popular spots such as Namba, Dotonbori area, Nihonbashi, Kuromon market area, Osaka station, Umeda area without changing, USJ is also 3 stations. Amenity is enriched in good location, too and you can use Pocket WiFi as well. It is a bunk bed 1, a Japanese futon 1 pair (with a mattress), so you can spend relaxing as if you were in your own room without being distracted by other guests. ※ Thank you for visiting all the fields before booking. Also in Shinsaibashi, Dotonbori area, the area is the cheapest! Https://www.airbnb.jp/rooms/(PHONE NUMBER HIDDEN)?sug=50 Please check it.
airbnbは初めてですか?割引クーポンをプレゼント!メンバー登録前にお受け取りくださいhttps://www.airbnb.jp/c/ddc8e5
阪神線野田駅、地下鉄千日前線野田阪神駅、JR東西線海老江駅の3路線ある駅まで徒歩6分!
難波、道頓堀エリア、日本橋、黒門市場エリア、大阪駅、梅田エリアなどの人気スポットに乗換なしで行けて、USJも3駅です。
好立地でアメニティも充実、Pocket WiFiも使い放題です。
2段ベッド1、和式布団1組(マットレス付き)です。貸し切りなので
他のゲストに気を使うことなくまるで自分の部屋にいるようにリラックスして過ごせます。
※ご予約前にすべての欄に目を通していただけます様お願いいたします。
心斎橋、道頓堀エリアにもあります、エリア最安です!
https://www.airbnb.jp/rooms/12163161?sug=50
是非チェックしてください。
The space
It is 1 K room of 18 m² of Ebiee Fukushima-ku, Osaka-shi. It is a bunk bed 1, 1 pair of futon beds, so it's a private type so you can relax and have a free time without concern for other guests. ※ When staying with 3 people, the room becomes narrow. Please note. Only smoking is allowed on the balcony. Since amenity is enriched, cost performance is high.It also has kitchen, cookware etc. Pocket WIFI is all you can use, it is OK to take out, please return it at checkout. It is also in Shinsaibashi, Dotonbori Aria. It is the cheapest in area. Please check it out. Https://www.airbnb.jp/rooms/(PHONE NUMBER HIDDEN)?sug=50
大阪市福島区海老江の18㎡の1Kのお部屋です。2段ベッド1、布団1組です。貸し切りタイプですので、他のゲストに気を遣うことがなくリラックスして自由にお過ごしいただけます。※3名でご宿泊の場合、部屋は狭くなります。予めご了承ください。
喫煙はバルコニーのみOKです。
アメニティを充実させていますのでコストパフォーマンスが高いです。キッチン、調理器具等もあります。
ポケットWIFI使い放題です。持ち出しOKです、チェックアウト時はご返却ください。
心斎橋、道頓堀アリアにもあります。エリア内最安です。
是非チェックしてみてください。
https://www.airbnb.jp/rooms/12163161?sug=50
Guest access
Because it is a reserved type, please relax and have a free time. You can use the furniture of the room freely.The hair rubber and the toothbrush are okay to take away. Amenity is available including shampoo, conditioner, body soap, towel, bath towel, toothbrush, laundry detergent etc. Towels are on TV rack. There are also washing machine, refrigerator, microwave oven, IH kitchen, chopping board, kitchen utensils such as kitchen utensils and dishes, so you can stay without inconvenience even in the long term. The washing and drying machine is located in the corridor of the apartment and it is available for 100 yen for 10 minutes. Please be quiet on the apartment corridor and the balcony of the room.
貸し切りタイプですのでリラックスしてご自由にお過ごしください。
室内の備品はご自由にお使い頂けます。ヘアゴム、歯ブラシはお持ち帰りもOKです。
アメニティはシャンプー、コンディショナー、ボディーソープ、タオル、バスタオル、歯ブラシ、洗濯用洗剤等ご用意しています。タオル類はTVラックにあります。
洗濯機、冷蔵庫、電子レンジ、IHキッチン、まな板、包丁など調理器具、食器類もありますので長期でも不便なく宿泊していただけます。
洗濯乾燥機はアパートメントの廊下にあり10分100円で利用できます。
アパートメントの廊下やお部屋のバルコニーではお静かにお願いします。
Interaction with guests
Basically, the host will meet and hand over the key, we will pick you up at the station and will guide you to the room. Please inform us about the scheduled arrival time and the approximate arrival schedule time by 2 days before check in. * When guests in other rooms overlap time zones, guests who contact you first will take precedence. In case of arrival after 23 o'clock, please inquire before booking. There is a house in the place 3 minutes on foot from the guest house, so if there is a problem rushed soon. We will accept cheap and delicious shops, Osaka specialty shops, travel plan consultation etc!
基本的に鍵のお渡しはホストが会って行います。駅までお迎えに行き、部屋までご案内します。チェックインの2日前までに到着予定駅とおおよその到着予定時間をお知らせください。※ほかの部屋のゲストと時間帯が重なった場合は先にご連絡をいただいたゲストを優先します。
夜23時以降にご到着の場合はご予約前にお問い合わせください。
ゲストハウスから徒歩3分の場所に自宅がありますので、問題があったらすぐ駆けつけます。
安くて美味しいお店や、大阪名物のお店、旅行プランの相談などもお受けします!
Other things to note
If complaints such as house rule violation, neighboring noise come, you will leave immediately (in that case you can not refund). We will charge actual expenses for damage, contamination, loss etc. of indoor facilities, furniture etc. When going out and checking out, please turn off the lights of the room, air conditioner, television switch, please do not forget the locking door as well. In case of staying continuously, we will exchange face towels, bath towels and collect garbage every 2 days Please put used towels in designated basket. Irons are for lending only to guests with business trips. Those who wish to iron out on business trip correspondence please let us know at the time of reservation. Portable wifi is one in one room. In 3 days you can use up to 10GB without speed limit. But you may be subject to speed restrictions on the first day depending on the usage of your guest the day before. Radio waves are bad as it is the first floor of the building. There are almost no problems at the window side and the outdoors. If you want to use the Internet indoors, we recommend that you prepare wifi yourself.
ハウスルール違反、近隣から騒音などの苦情が来た場合は即時退出していただきます(その場合ご返金はできません)。
室内設備、備品等の破損、汚損、紛失等は実費請求いたします。
お出かけ、チェックアウトの際は部屋の照明やエアコン、テレビのスイッチはオフにしてください。戸締りもお忘れの無いようお願いします。
連続してご宿泊の場合は2日ごとにフェイスタオル、バスタオルを交換、ゴミの回収等いたします。使用済タオルは指定のバスケットに入れてください。
アイロンは出張対応のゲスト方のみの貸し出しです。出張対応の方でアイロンをご希望の方はご予約時にお知らせください。
ポータブルwifiは1部屋に1つです。3日間で10GBまでスピード制限なしで使用できます。でもあなたの前日のゲストの使用状況によりあなたは初日にスピード制限がを受ける場合があります。
建物の1階なので電波が悪いです。窓辺や屋外はほとんど問題ありません。室内でインターネットを使用したい場合はご自身でwifiをご用意することをオススメします。
Extra people $13 NZD / night after the first guest
Security Deposit $269 NZD
Weekend Price $54 NZD / night
Always communicate through Airbnb
To protect your payment, never transfer money or communicate outside of the Airbnb website or app.
Bedroom 1
1 bunk bed, 1 floor mattress
Not safe or suitable for children (0-12 years)
Check-in time is 4PM - 11PM
お部屋に入られたら、まずはテーブルの上のハウスルールをご確認ください。
室内は土足厳禁です。土足で入室した場合、クリーニング代として別途2000円頂きます。バルコニーの履物も室内での使用は禁止です。
18歳未満のゲストのみのご宿泊、10歳未満のお子様のご宿泊は不可です。グループ内に1人でも18歳以上の人がいればOKです。
ご予約いただいた人数以上の入室はお断りいたします。ご予約人数以上の入室が発覚した場合は予約日数、人数にかかわらず追加料金30000円をいただきます。しまってある寝具を無断で使った場合、人数以上の入室と見做します。
集合住宅の1室ですので、大声やテレビの音量等気を付けて頂けるようお願いします。アパートメントの廊下やバルコニーでもお静かにお願いします。特に午後9時以降はお静かにお願いします。
室内は禁煙です。バルコニーに灰皿がありますので喫煙はバルコニーでお願いします。バルコニーの扉を閉めて煙や匂いが室内に入らないようにご注意ください。万一、室内で喫煙した場合や室内に匂いが残った場合などは30000円いただきます。
化粧品や血液が付着すると通常の洗濯では落ちません。もし寝具やタオルなどが汚れた場合はクリーニング代として別途2000円いただきます。
お出かけ、チェックアウトの際は部屋の照明やエアコン、テレビ等のスイッチはオフにしてください。消し忘れなどがあった場合別途500円いただきます。
チェックアウトの際はホストにご一報の上、玄関ドアを施錠して郵便受けに鍵をお返しください。万一施錠せずチェックアウトされた場合は5000円いただきます。
鍵の紛失は本件の交換が必要なため20000円いただきます。
悪質なハウスルールやご近所迷惑があった場合は即時退室していただきます。ご返金はできませんのでご了承ください。
wifiは3日間で10GBまでスピード制限なしで使用できますがあなたの前日のゲストの使用状況により、あなたに影響がある場合があります。
You must also acknowledge
No parking on property
It's a neat and tidy dorm, very quiet and cozy. It's good that we can bring the portable wifi everywhere. And Ogu San contacted me everyday to make sure everything okay for our stay, thank you so much.
---
Ogu was an amazing host! She picked us up at the train station even if we booked one day ahead. She gave us very detailed information about the area (where to find a big supermarket, the tram and train (JR) station etc.) and some tips for good restaurants. She answered all our questions during the trip immediately and helped us out quickly when we had some issues with the pocket wifi (she gave us another one and an extra battery for the one we already had). We really appreciated the japanese sweets she gave us as apologize for that, also it wasn't neccessary as she figured it out so fast. The room was very clean and quiet, there were towels, toothbrushes, water and everything we could wish for. Thank you so much!
---
Ms. Izumi is a really nice host. She helped us a lot during our stay. The house has a convenient access from public transportation, supermarket and restaurants. It is a brilliant choice for your trip to Osaka.
---
Izumi's place is just as described. The place is very clean and comfortable. You have the entire apartment to yourself. The location is solid, about 5 min walk from the station and from there it is pretty easy to get around to other places in the city. There are some restaurants near by as well. As a host she was incredibly helpful by allowing me to check in early and meet me at the station. Izumi also communicated constantly to make sure everything was going well.
---
Izumi has been friendly from the start to the very end of my journey in Osaka. She kindly recommended us a really good local ramen store. We waited for the store to open for lunch and there were a number of men in and out during the time we took to savour our tonkatsu ramen. I presume any other place she recommends would be a genuine spot visited by locals. The location is convenient. If you know how to navigate the JR lines with your pass, it is easy to go to places from Ebie station. Do not get mixed to with subway lines and other non JR stations like we did! Izumi even dropped by late in the night when we panicked about running out of toilet paper. She is very responsive and caring. We were late in checking in (missed the last train) and her concern for us not arriving as expected was genuine. The place is small, cosy and clean. The bed does creak, supposedly because I'm a western average weight rather than an asian average weight. There's a flair of cuteness here and there with how the place has been appointed. The pocket wifi was a god send.
---
Izumi-san is a great host and the apartment is still as well maintained as before. She will message on a regular basis to check if everything is alright and whether will there be anything amiss or anything she can assist to make the trip more enjoyable. Her recommendations on the nearby sushi shop and yakiniku restaurant in the neighbourhood were excellent. Too bad I did not went for the Tenshin Matsuri which she recommended during my stay; maybe, next time. Thank you very much again.
---
Hi I'm Ogu,japanese women :)
I love Reading and watching movives & scuba diving and travel.
Eating delicious things tooooo!

We often go to Asia including diving trips, Indonesia, Thailand. Regarding accommodation at that time, we will stay at cheap accommodations such as bungalows and eat delicious local food.
So I thought that it is necessary to have convenient and comfortable accommodation facilities with Japanese hospitality in Japan and I wanted to start a guest house myself.

★ I will reply to 100% as soon as possible in in Japanese or English(within 24 hours).
If you have any questions, please don't hesitate to contact me.

My room is Safety, Clean, Convenient
Policy seems to JapanService「Omotenashi」, Polite, keep Time.
You are the room which can be relaxed for a feeling to be in own room.
Registration, please be in the site with the photo to understand of the your face on the occasion of a reservation. Or, please attach it to an email after a reservation.

I hope you will enjoy your trip in Japan.
Thank you!

中国、韓国の人へ。
私は中国や韓国の文字は読めません。bnbではプロフィールは翻訳されませんんで英語表記でメンバー登録していただくか、またはご予約時に知らせてください。

To Chinese and Korean people.
I do not read characters in China or Korea, and the profile is not translated in bnb, so you should register as a member in the English language, or let me know at the time of reservation.

こんにちは Oguです。
お問い合わせなどには100%、24時間以内にできるだけ早く日本語または英語でお返事いたしますので、お気兼ねなくご質問ください。
ご予約の際はお顔の分かる写真をご登録、またはご予約後メールに添付してください。

私の趣味は読書と、映画鑑賞、スキューバダイビングと旅です。
ダイビング旅行ではインドネシアやタイなどアジアのアコモデーションや
バンガローなどの格安宿に泊まることが多く、
日本にも日本らしいおもてなしのある快適な安宿を!と思い自分でゲストハウスをはじめました。
まるで自分の部屋にいるようなリラックスできる空間づくりを心掛けています。
たくさんの方とお会いできるのを楽しみにしています。
Languages:
日本語
Response rate:
100%
Response time:
within an hour
Explore other options in and around Fukushima-ku, Osaka-shi
More places to stay in Fukushima-ku, Osaka-shi: