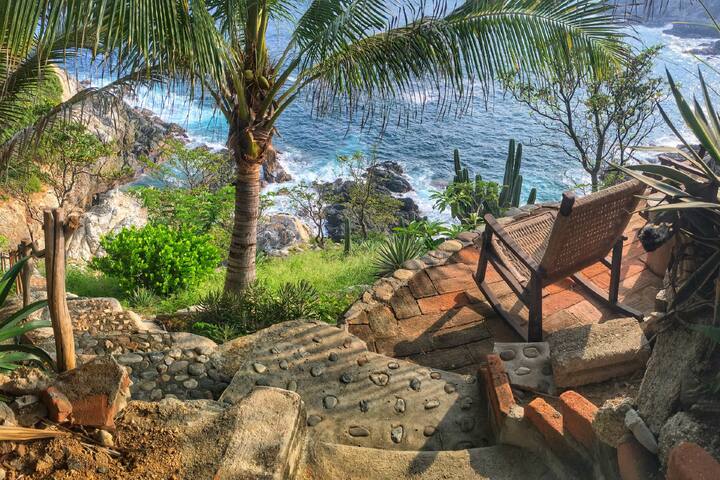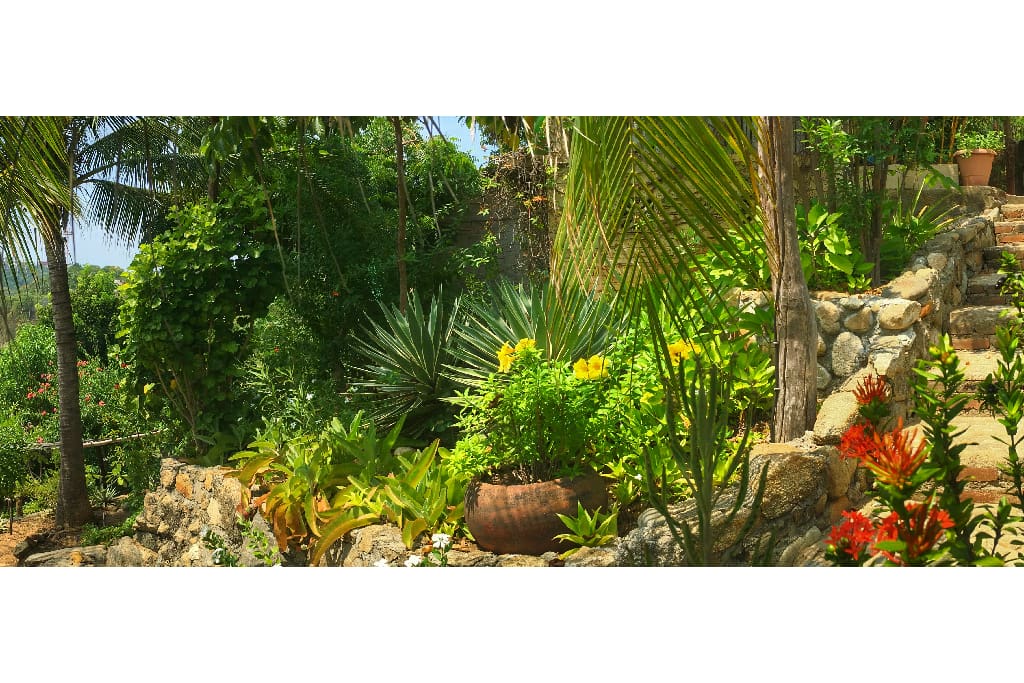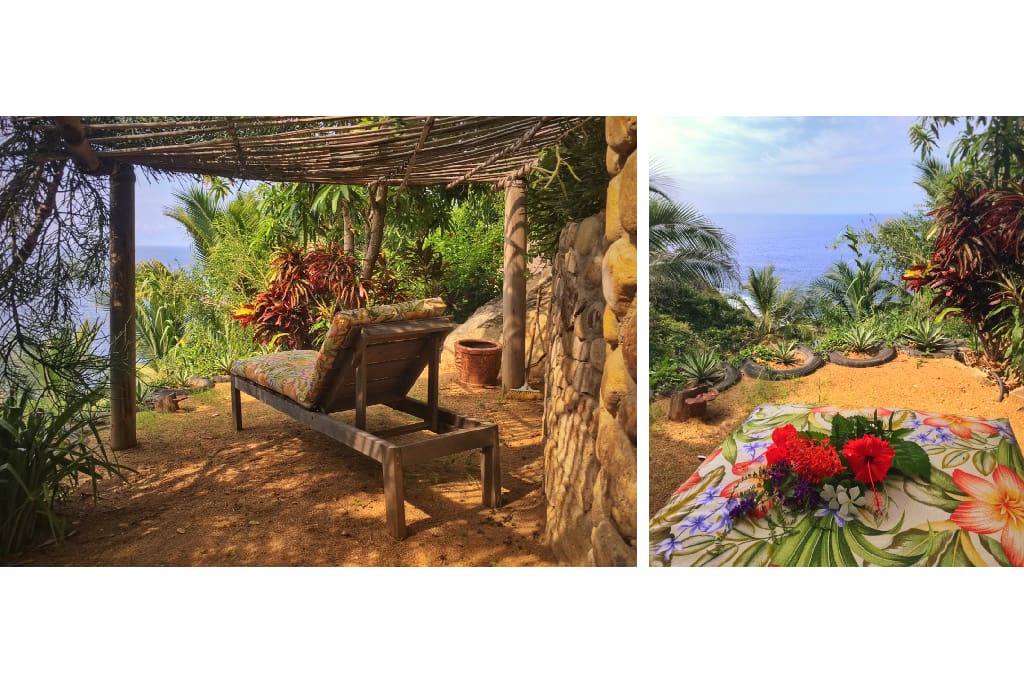 Feel like you're on the edge of the world in your own private paradise by the sea. This two bedroom, one bathroom serene hideaway–surrounded by gardens with fruit trees, flowers and shady nooks for reading or meditation–is just five minutes from the fishing village of Puerto Angel Oaxaca.
The space
Watch turquoise and blue waves swirl around the ancient rocky cliffs. Enjoy the exuberant flowers in a lush, multi-tiered garden with coco palms and fruit trees. Witness stunning sunsets, a dark night sky full of stars. From your perch in a comfy chair, hammock or even from your own bed, gaze out to sea at the lights of tiny fishing boats bobbing in the bay.
Make friends with the animals who wander the property (iguanas, birds, sea crabs). Put your toes in the water or sunbathe on your small but completely private little beach (Playita Bonita) nestled among the giant boulders in front of the house.
Walk or arrange a ride down the hill to enjoy seafood or other local fare from a nearby restaurant. Cook yourself a great meal in a fully equipped kitchen. Or after a day at one of the magnificent beaches in the area, all within 15-20 minutes from the villa, unwind with Netflix on a big screen, smart TV. Connect or work remotely as much (or as little) as you like on the villa's two secure wifi networks.
Enter and exit the property through a private, secure front gate at the top of the hill that can now be easily accessed by car or motorbike on a smooth, newly paved road.
The villa comfortably sleeps six with two separate bedrooms and a fold-out futon in the large, open living-room space that houses the kitchen, living room and a large walk in security closet.
The palm thatched, open-air Palapa Bedroom occupies the entire upstairs floor of the main casa. Sleep soundly with sea sounds and breezes, under a large light as a feather mosquitero over a matrimonial size bed. Enjoy the highest ocean view on the property from the large hammock or the two rocking chairs that are paired with a beautifully handcrafted, raw-wood table. Yes you can see the whales and dolphins right before your eyes for many months from this perch.
The second, large screened-in Cabana Bedroom is just a few steps down the path from the main house–where you'll find another double bed, a wardrobe, night stand and a sitting hammock that overlooks Playita Bonita and the Pacific beyond.
Located between the bedrooms, just steps from each one, is the traditional casa de baño with shower, eco toilet as well as a washing machine and clothes line for your convenience. To bathe in an open yet completely private room looking out over fruit trees and coco palms and the Pacific beyond just might become one of your fondest memories.
Cliffside Villa is the perfect spot for nature lovers, writers, photographers, digital nomads or city slickers looking for a peaceful, serene slice of paradise on the Oaxacan Coast.
Guest access
Guests have access to all rooms including a lock up room for cameras, computers, etc.
Interaction with guests
The property is managed by Lupe and Lupita who will be keeping the gardens beautiful and the casa clean during your stay. They are happy to provide transport (at a cheaper rate than the local taxis), give recommendations and advise, or even cook you a delicious Mexican meal (for a small additional fee).
I do not live on the property. I have a small casa de campo at Ranchito Corzon fifteen minutes away and if I am not travelling I am happy to be of assistance. But trust me. Lupe and Lupita are angels! I have been a member of their family for 22 years. My home and garden is as much their´s as mine.
Other things to note
I will provide a list of places to visit -- waterfalls, whale watching, rafting, and hanging out at one of the 5 0R 6 AMAZING beaches with some excellent restaurants. There is good fishing and my friend Alonzo will be more than happy to take you out. Best to bring your own rod and tackle.
Lupita will shop and cook if asked. She also cleans and changes sheets and towels once a week. There is a washer and clothes line available for your use.
---
---
Not safe or suitable for children (0-12 years)
Pretty much we ask you to practise common sense and respect. Drugs and alcohol are of course your business. However, there are stone stairs that would not be fun to stumble up or down. The other suggestions are sent to everyone before they arrive. What else...we have a sweet gentle dog, Paloma who I rescued a year ago. If a guest is allergic or simply does not like dogs, it can be arranged that she stay elsewhere. Her care and feeding is Lupe's responsibility. She's not a barker or a biter but she's a good protector when you're not there. All guests so far have fallen in love with her. She's a little angel.
You must also acknowledge
Must climb stairs - The stairs are designed with rest stops. I'm in my 70's and I have no problem at all.
Potential for noise - The beautiful sound of the waves crashing on the rocks for some be overwhelming at first but it's loud only once in awhile and no one has ever complai
---
Susan's house is without any doubt the most beautiful airbnb where I had the chance to stay.. The view is incredible as in the fotos and the localisation magical. It's better to rent a car if you stay there to get easily to beaches (Mazunte). Lupe and Lupita who manage the house were adorable and helped us with everything we needed. You should go to Lupita's taqueria which is delicious. If you're looking for a peaceful and relaxing place don't hesitate more and stay in Susan's house ! Thanks again Susan :)
Valentin! Thank you. Lupe and Lupita join me in saying IT WAS A PLEASURE to have you. Paloma too! Please come back and stay longer. For a short stay a car is a great idea but longer, the collectivo's are fun and super cheap... just a suggestion. I pray that the earth quake did not damage your homes OR your well being. What a homecoming! All the very best Susan
---
It is so hard to begin to explain how terrific this stay was. Susan was an amazing host who was great about communicating and giving great ideas for our stay. Her home is an oasis paradise, secluded, lush, and with the most amazing scenic view of the Pacific. You couldn't ask for anything more. Her home was clean, all amenities, and just plan terrific. If you want a drop off the planet experience Puerto Angel and staying at Susan's is the only way to go. Close to everything. We rented a car and advise others to do so if they want to get the entire experience of Puerto Angel, Zipolite and the other surrounding villages. Everything is close by. Sunsets are amazing! We absolutely recommend staying at Susan's home with if you are traveling to the area.
WOW! Thank you. I'm laughing because I completely agree about the experience of staying up there. It IS really special. And your words are so deeply appreciated. But then so are you. Both Kenneth and Javier seemed to really "get it"! All I can say is thanks so much for your warm friendly easy going attitude. Lupe and Lupita agree. Paloma too. we all hope to see you again soon. Sadly I was not able to be there this time but I would make a special effort for the next visit. All the best and thank you so much.
---
The house is a total gem, located right on a cliff near Puerto Angel with stunning views of the ocean from all points in the house. The bedrooms are basic, but the beds are comfy and you sleep like an angel with the wonderful sound of the ocean. Bring mosquito spray, but beds have nets. Well-equipped kitchen and if you're lucky you can hire Lupita's cooking services, which I highly reccommend! There is a nice sitting area/balcony by the kitchen where we spent much of our time at, although it only had 2 chairs and we were 5. You can take the stairs down to the ocean, however the tide was very high so we couldn't really get into the water. Be mindful of all the stairs and open layout of the house, which is not necessarily suitable for children or some adults. The one thing that was a bit challenging for us was the eco-toilet as we were 5 and it doesn't get cleaned up during your stay. It created unpleasant odors and not comfortable for use. Something to consider if it's more than 2 people staying or if you are very sensitive with bathrooms, but if it's 2 people staying it should be bearable. A small price to pay for staying at such an incredible spot! Rent a car or hire taxi service so you can go to nearby beaches like Zipolite and Mazunte. Host provided great recommendations of places in the area which we used and were greatly appreciated. The only thing that could've been avoided was some misunderstanding from the host on our time of arrival. At the end the house was ready when we arrived and everything was resolved, however I didn't appreciate the tone that the host used when dealing with me and the confusion. It created discomfort on my end, which was not nice to have right at the beginning of a vacation.
Thank you Teri for your feedback. Semana Santa is always super busy and communication via cel and internet is frustrating. I apologize for my part in creating discomfort on arrival day. We have decided to stop booking guests coming and going on the same date to make for smoother transitions. I installed a dry composting toilet when I built the house because water usage here on the coast has ALWAYS been a problem. Now it is critical since we have had almost NO rain for 5 years. We are fortunate that we can afford to buy water, sometimes twice a week for the guests and the garden but there are many people in Puerto Angel are not so fortunate. So the real issue is one of community water conservation. Wells are dry in the area. Trucks need to go further to get it. Prices go higher every month. We are committed to conserving water when ever and where ever possible. No composting toilet is "cleaned" after every group of guests or even as you suggest every day. But floors, counters sink and shower are washed with some water and disinfectant every other day. If there is a problem with odor at all, we need to be informed immediately.. The welcome package we send to every guest clearly states how to use it and what to do if there is an odor and asks that we be notified. Until now we have had no complaints about the eco toilet but your comments and suggestions as well as those of the guests who stayed with us right before you have helped us to realize we need to re think how to manage waste in a way will not disturb those who are not familiar with "dry" compositing toilets. The Cliff House is a rustic retreat designed for eco tourists. The eco toilet has helped to create the beautiful garden which makes the house so special. We are not a condo or a hotel with air conditioning and a flush toilet for every bedroom. But we do depend on immediate feed back. So once again thank you so much for letting us know how we can make future visits more enjoyable. BTW four not two chairs for the veranda, done. Finally a word about transportation. Many people who have stayed in the cliff house, including me for many years, are quite happy to walk FIVE minutes down a paved, well lit road to town to take a collectivo or a commionetta and mingle with local people who are so friendly and welcoming to visitors… in order to travel to many beautiful places along the coast. In addition Lupe is always willing to help out and drive folks in his car where ever. Renting a car or a private taxi is NOT essential for a great vacation in this area. Pero todo a su gusto.
---
Susan's place is a marvelous place to unwind and recharge. Serene, private, comfortable , the property offers non -stop gorgeous views and soothing sound of the ocean. Easy access to Puerto Angel and other coastal towns which are a lot of fun to explore, especially with Susan's tips as a guide . Lupe and Lupita, the caretakers, are kind and helpful to the utmost. Thanks to them and Susan, this is simply a great spot to start an exploration of this beautiful area. Thanks for a great visit!
---
We have stayed all over the world in air bnb's - Never, ever have we stayed somewhere so beautiful, so scenic, so private. This place is paradise. Susan was beyond helpful and kind, even when we had to make last minute changes to our arrival time, she accommodated us completely. She is kind and down to earth and actually a very inspiring person. Lupe and Lupita, the care takers of the property collected us from the bus station and took us to the airport for a much cheaper rate than local taxis. So so so kind. Being able to watch the sunrise from the hammock in the main bedroom and strolling down to private beach from the steps was other worldly. The constant gentle whooosh of the ocean made for the most relaxing sleep of my life. Puerto Angel is off the beaten track, and this Villa is an oasis from that oasis. We loved walking into town every morning, getting a collectivo - a place in the flatbed of a truck that drives up and down the coast, costs next to nothing to get to all the most beautiful spots. Stay here. For as long and as soon as you can, beyond beautiful. Thank you Thank you Susan x
---
Susan's Cliffside Villa is one of the most beautiful places I've ever stayed (and as a long-term traveler, I've rented A LOT of Airbnb locations all around the world). This magical place will be hard to top and was a major highlight of my six month trip. My friend and I had an unforgettable time relaxing and exploring Puerto Angel, and Susan is a friendly, generous and helpful host. This is a wonderful spot for nature lovers, people who like to cook (it has a great, well stocked kitchen), and even has a big smart TV (with Netflix!) and wifi for those who need screen time. There are epic views of the cliffs and sea everywhere you turn, and we enjoyed going down to our own private little beach every day to get sun or meditate. And what an amazing garden full of flowers, birds and little animals. We felt very safe and undisturbed there and the property was very quiet at night, and we loved watching the sunsets and stars! The groundskeepers Lupe and Lupita were always willing and happy to give us a lift wherever we needed to go, and for much less than a traditional cab. Susan also helped us get to and from the property and helped me rent a motorbike while in town. Susan's private villa is an experience not to be missed. This place is so peaceful, beautiful and healing that I will most definitely be back!
---
Susan was very accommodating and helpful before and during our stay; we booked our 3-person stay only about 15 hours in advance, and Susan made sure to prepare her home for us last minute! The house is a breath-taking ocean getaway with wide views of the ocean, cliffs, and the extensive and beautiful gardens below. The two bedrooms are completely separate; the main room is a large, open-air flat with a palapa-style roofs, with the kitchen, living room, and walk-in storage closet on the level below. Staying in this room was an absolutely luxurious mix of sleeping on the beach with the all the comforts of a cozy bedroom--we could hear the ocean and feel the breeze all night! The second bedroom is a separate, solitary unit with large, screened windows overlooking the ocean and garden. The shower view/experience is stunning... The town is quaint, small, and charming, and about an 8 minute walk down the hill from the house. Taxis were easy to catch all day/night, and there are plenty of authentic/local food options. Speaking Spanish in this town is a big plus!
We loved having you. Getting the place ready was a bit of a scramble on short notice and I totally forgot to e-mail you the tips and suggestion page I send to everyone. In it you would have learned that Lupe and Lupita the property managers come three times a week to clean the bathrooms, water the garden and to do light house keeping. I apologise if her presence was a bit of a surprise. But you did mention how helpful both she and her husband were. Spanish is helpful but NOT essential. We have had guests who spoke not a work and did just fine. Love the map idea and I will try to post one on the air bnb site. Not sure how to do that but... I'm sure it's possible. You guys were great guests!
---
I am a writer and I live permanently in Mexico and have for many years. I am a committedYogi I practice Vipasena meditation. I love this coast. It is spectacular and still relatively unspoiled. I'm a bit of a maverick, love to laugh and I'm endlessly curious. I have lived in Toro…
Languages:
Español, Français
Response rate:
100%
Response time:
within an hour
Explore other options in and around Puerto Ángel
More places to stay in Puerto Ángel: