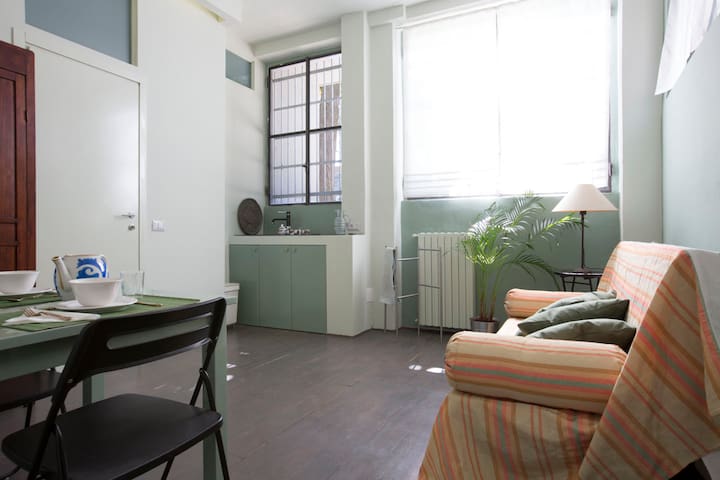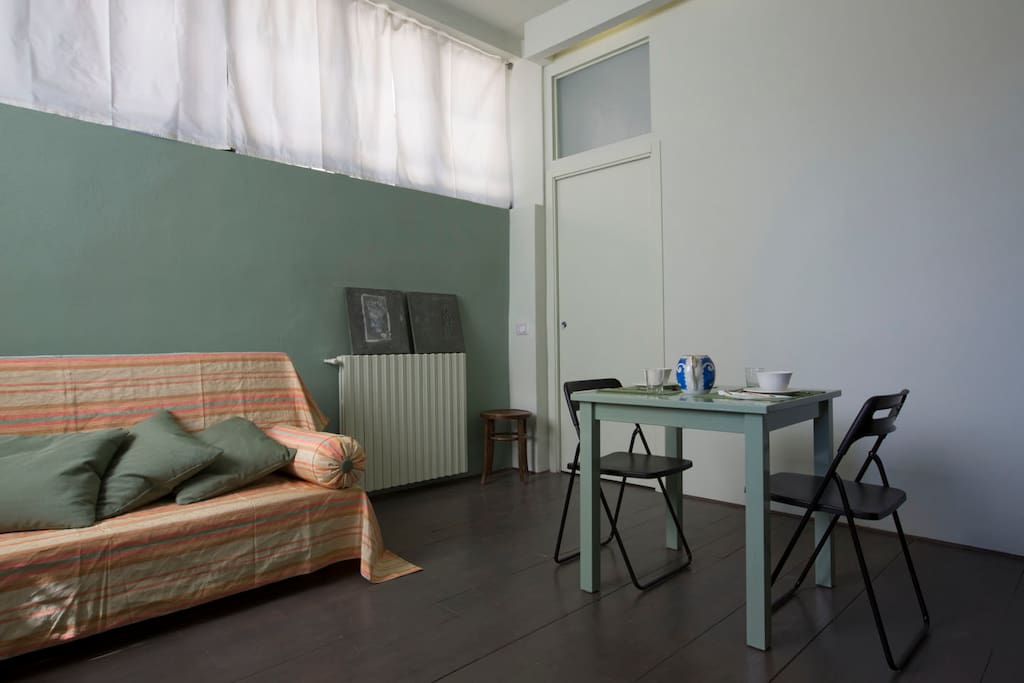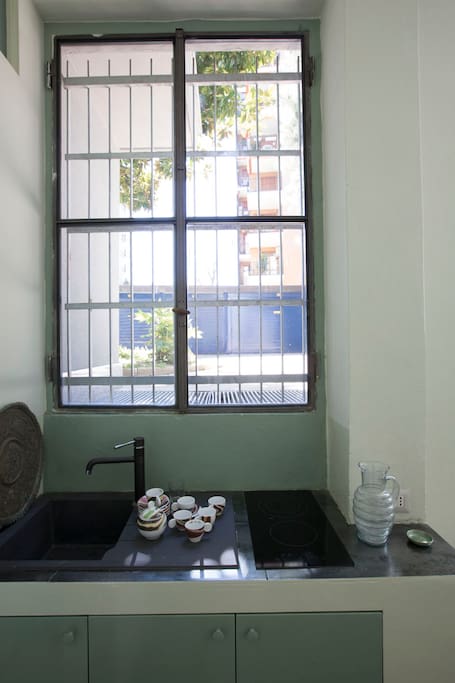 Studio space with kitchenette, direct access to bathroom (shared with the other 2 bedrooms). The apartment is in a renovated and tastefully decorated basement full of natural light, located in the Navigli area and just meters away from Naba academy.
---
The room is owned by a lovely Italian couple and well-located. Cristina & Alessio, who are in charge of communicating with us were nice and my stay was overall OK, but there were some communication issues during the stay- I never received an answer from them where the closest laundromat was, which yoga class is available, etc. The bathroom also had a bug problem which was at times quite bad.
---
The room is situated in an ideal area - very close to Bocconi University (15 minutes on foot) so perfect for an exchange student. There is a weekly fruit and veg market right outside, and the Navigli canals within metres - too many fantastic restaurants and bars to choose from! The Duomo is 25 minutes on foot, or there are tram and metro stops close by. For a self contained 'studio' (sharing only the bathroom) this room is excellent value for money, especially given the location. The sofa bed is surprisingly comfortable (my stay was 4 months and I had no complaints!) and the little kitchen is equipped with anything you need for preparing and storing food. The wifi worked very well most of the time. The bathroom only shared with one other person, which was not an issue at all during my stay - for long periods there wasn't anyone in the other room, so it was effectively a private bathroom. My experience has been incredibly positive - any issues I had were able to be quickly resolved with the host, as well as the landlord, who is around most days because of the yoga business, both of whom were very helpful. I would highly recommend this room!
---
Cristina, Alessio and the owners of this apartment (an elderly Italian couple), are extremely nice and did their best to accommodate my needs over more than 3 months in this apartment. That included bringing in a new table and more shelves to keep my things. You should know that there is a yoga studio in the apartment. This means that most evenings there are people coming in. This never really bothered me, and they let me know before I moved in. In fact I tried the lessons once and they were good, but I didn't have the time to return. I stayed in 3 different rooms in Milan and this was the best. The location is really excellent, right in one of the most lively night districts in the city. Of course that also means that it doesn't get super quiet at night. But it's not a main road and the room is at the back so it's not really an issue.
---
I had a wonderful stay at the apartment in the middle of Navigli. I stayed in this apartment for two weeks and really enjoyed the time. Alessio and Cristina are the perfect hosts and helped me in any kind. You have everything you need in the kitchenette, the room is very cozy and nice decorated and the location great! Very recommendable!!!
---
Recensione scritta dopo alcuni giorni di riflessione. Esperienza non positiva, seguono dettagli (difficile sintetizzarli visto il mese di soggiorno). Posizione comoda per Navigli, P.ta Ticinese o P.ta Genova, raggiungibili a piedi. Fermata del tram n°3 o supermercato a qualche centinaio di metri. Stanza inserita all'interno di un centro Yoga, con ingresso in comune e relativo calendario di lezioni (svolte al piano di sotto). COMODITA' E COMPROMESSI: un po' più piccola di quanto appaia in foto (arredamento disposto diversamente), sono presenti un piano cottura (elettrico), piccolo frigorifero e lavabo; credenza con stoviglie, posate e davvero tanti goodies; completano infine la dotazione appendiabiti, specchio, riscaldamenti e un tavolino per consumare pasti e studiare. Parquet incurato e sconnesso, infissi che lasciano a desiderare, letto comodo ma un po' corto per chi è alto più di 180cm, pulizia iniziale della stanza un po' approssimativa in alcuni punti. Attenzione alla privacy, i finestroni danno sul cortile interno e qualche vicino è un po' troppo curioso. Poca insonorizzazione, specialmente al passaggio di automobili sulle grate del cortile (attaccate ai finestroni). Wi-Fi presente, ma funzionante a singhiozzo (in particolare le prime due settimane): per seguire delle video-lezioni, ho dovuto spesso utilizzare la mia connessione 4G. Bagno in comune: doccia grande, lavandino piccolo (davvero piccolo) e assenza di bidet (andrebbe indicato in descrizione). Phon non presente al mio arrivo, contestualmente ho chiesto anche la sostituzione di un asciugamano (macchiato ancor prima dell'uso)...e qui iniziano i problemi. ASCIUGAMANI: mi rivolgo a Cristina (mai conosciuta personalmente) per risolvere questo problema, in assoluta tranquillità ed (URL HIDDEN) pochi giorni apparentemente si sistema tutto: phon ed asciugamani (un nuovo kit intero) mi vengono fatti recapitare in portineria, ringrazio C. e proseguo nella mia giornata. Ma per Ferruccio (padrone di casa, e colui che mi ha accolto al check-in) non era finita lì: verrò infatti ripreso telefonicamente qualche ora dopo, con eccessiva fermezza e per motivi a me ancora ignoti. Una mia richiesta (legittima) è stata trasformata in una "rimostranza" (parola sua) e un incidente diplomatico...facendomi restare, dopo oltre cinque minuti di telefonata e miei tentativi di risolvere il misunderstanding, sinceramente basito. Mai vissuta una situazione tale da parte di un host, in anni di viaggi su Airbnb. Pur non avendo MAI dubitato della relativa igiene, trovarsi una macchia arancio/rossa su un asciugamano (intonso) bianco non è un buon biglietto da visita per l'ospite. FORMICHE: durante la permanenza, ho ricevuto più visite da parte di questi simpatici animaletti, e in punti totalmente diversi della casa. Fastidioso, ma gestibile. L'ultimo episodio però mi ha fatto dire "basta", in quanto mi son ritrovato il piano cottura letteralmente invaso (con formiche che camminavano persino sui piatti, tenuti SEMPRE puliti): ho avvisato C. via messaggio, chiedendo anche se fosse disponibile un kit pulizia, vista l'urgenza. Non ricevendo risposta, ho dovuto pertanto chiedere ad un amico in zona di prestarmi dell'occorrente: verrò a scoprire successivamente che C. è fuori Italia, motivo della mancata risposta. Ho anche avvisato telefonicamente F. (con qualche difficoltà) dell'accaduto, dopo settimane di silenzio in seguito...
---
Young couple fond of contemporary art and culture.
Response rate:
89%
Response time:
within a day
Explore other options in and around Milano
More places to stay in Milano: