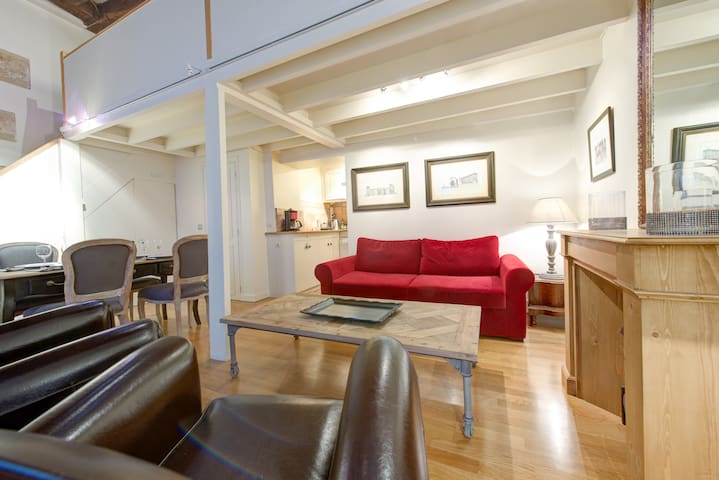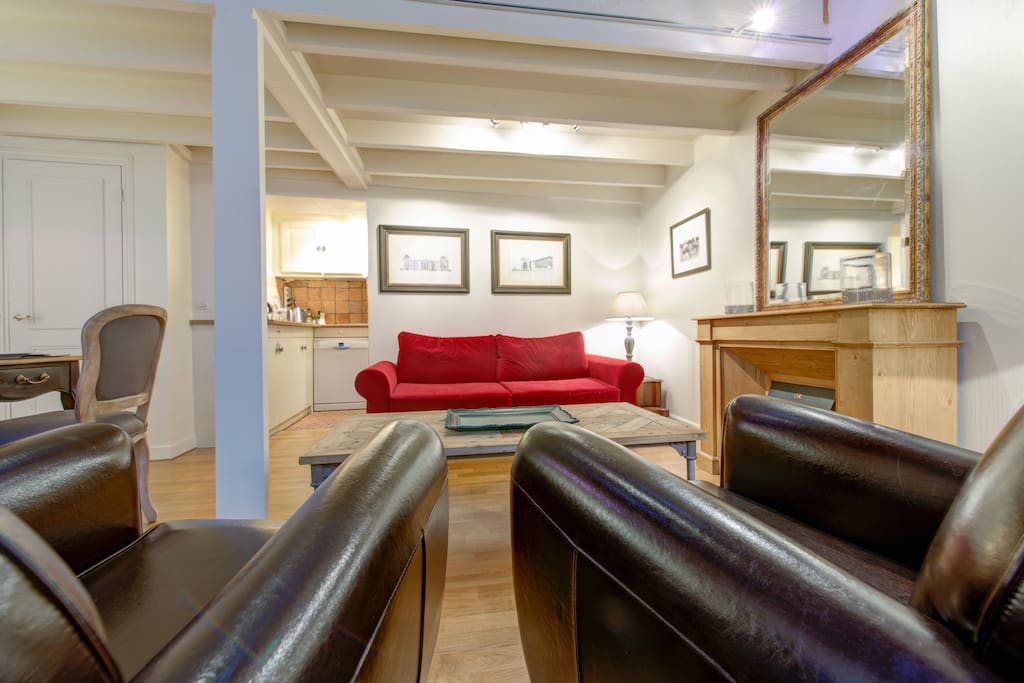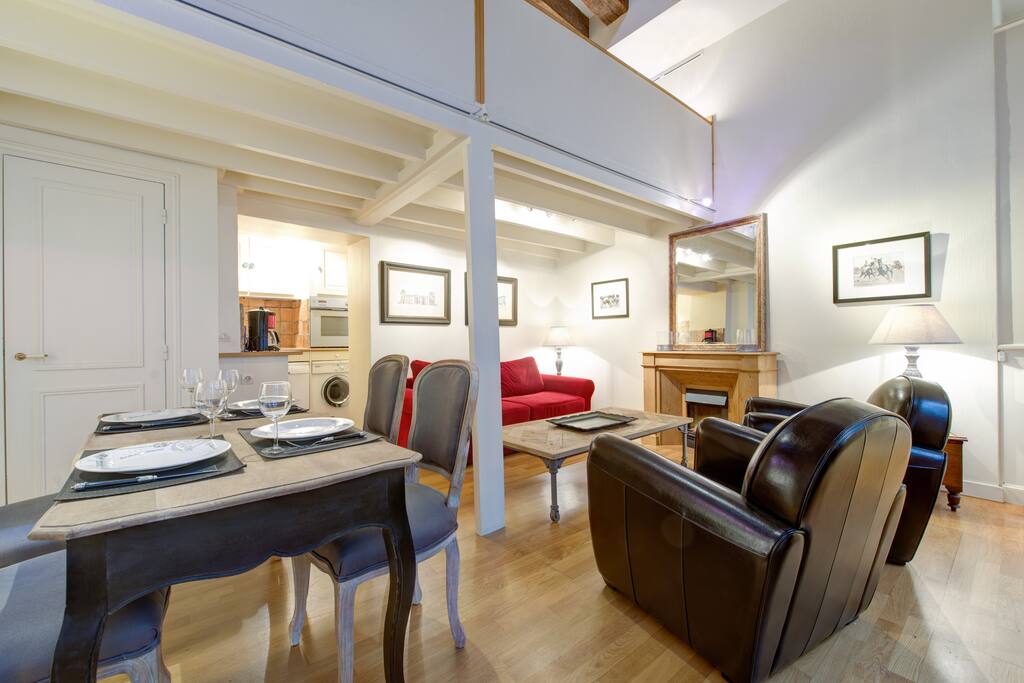 The space
In the deep heart of the historical Marais, located on a pedestrian street, this apartment rental has a very central location in Paris.
The Pompidou Centre is just around the corner. You will be in the heart of one of the most animated areas of the city. Lots of bars and restaurants surround this Paris apartment, as well as all the shops you could expect.. The neighbourhood is as lively by day as by night but remains very safe. You will fall in love with the strolls you can take that will allow you to discover Paris secrets.. The closest subway stops are Châtelet, Hôtel de Ville and Rambuteau.

This apartment is located on the ground floor of a building giving on a lovely paved courtyard decorated with plants. The access to the building is secured by a door with an intercom and a second gate with a magnetic key.
The courtyard itself is not very busy as the access to the stairs for most of the neighbors is located before the second gate. To secure the apartment, the windows are equipped with barrels and the lower parts of the windows have a cover made to visually isolate you from the outside. The apartment is not dark though as the barrels are thin and the windows are large.

This charming 48 sqm apartment has been renovated beginning of 2013. It can sleep up to four guests and it has two levels (a ground floor and an open mezzanine).
The entrance directly gives on the main room, lovely, with an impressing available height as well as a cocooning side thanks to the living-room area partly under the mezzanine. You will be able to stand up without any problem though.
The living area features a convertible couch (sofabed for two people 140x200 with a very comfortable mattress 14cm thick.), two leather armchairs and a coffee table.
The wooden chimney and its beautiful mirror perfectly fit the space. You will be very impressed by the electric heating system installed in the chimney as it will look like a chimney fire, with logs and flames, but with no need to clean or keep under surveillance as it is all electric and totally safe ! The living-room also features a stereo with CD player, dock for iPod and tuner.
The dining table will accommodate four guests.
You will be able to store your clothes in the closets and the wardrobes on the ground floor. Note that there is also another closet upstairs.
Ten steps will lead you to the upper floor, in the bedroom area.
The bedroom features a double bed 140x200 and a bench. It is open on the main room. You can stand up without any problem between each exposed beams, but note that the lowest part of the ceiling, under the beams then, is at 167cm.

The fitted kitchen is open on the living area.

The bathroom is accessible from a small corridor giving on the dining area.
It features a bathtub and a washbasin with a large mirror.
The toilets are located in a separate room next to the bathroom.

This apartment is very pleasant. Decorated with much taste, it has the charm of antique apartments with stones on the wall, wooden floor, exposed beams, high ceilings, wooden chimney, and it has the comfort we can expect from any contemporary apartment.
Perfect for a couple, located in the deep heart of Paris in a neighborhood fizzing with life, this apartment will instantaneously become your haven of peace !
.

























































Données cartographiques ©2013 (Hidden by Airbnb) - Conditions d'utilisation











Signaler une erreur cartographique



























In the deep heart of the historical Marais, located on a pedestrian street, this apartment rental has a very central location in Paris.
The Pompidou Centre is just around the corner. You will be in the heart of one of the most animated areas of the city. Lots of bars and restaurants surround this Paris apartment, as well as all the shops you could expect.. The neighbourhood is as lively by day as by night but remains very safe. You will fall in love with the strolls you can take that will allow you to discover Paris secrets.. The closest subway stops are Châtelet, Hôtel de Ville and Rambuteau.

Standing

This apartment is located on the ground floor of a building giving on a lovely paved courtyard decorated with plants. The access to the building is secured by a door with an intercom and a second gate with a magnetic key.
The courtyard itself is not very busy as the access to the stairs for most of the neighbors is located before the second gate. To secure the apartment, the windows are equipped with barrels and the lower parts of the windows have a cover made to visually isolate you from the outside. The apartment is not dark though as the barrels are thin and the windows are large.

Layout

This charming 48 sqm apartment has been renovated beginning of 2013. It can sleep up to four guests and it has two levels (a ground floor and an open mezzanine).
The entrance directly gives on the main room, lovely, with an impressing available height as well as a cocooning side thanks to the living-room area partly under the mezzanine. You will be able to stand up without any problem though.
The living area features a convertible couch (sofabed for two people 140x200 with a very comfortable mattress 14cm thick.), two leather armchairs and a coffee table.
The wooden chimney and its beautiful mirror perfectly fit the space. You will be very impressed by the electric heating system installed in the chimney as it will look like a chimney fire, with logs and flames, but with no need to clean or keep under surveillance as it is all electric and totally safe ! The living-room also features a stereo with CD player, dock for iPod and tuner.
The dining table will accommodate four guests.
You will be able to store your clothes in the closets and the wardrobes on the ground floor. Note that there is also another closet upstairs.
Ten steps will lead you to the upper floor, in the bedroom area.
The bedroom features a double bed 140x200 and a bench. It is open on the main room. You can stand up without any problem between each exposed beams, but note that the lowest part of the ceiling, under the beams then, is at 167cm.

The fitted kitchen is open on the living area.

The bathroom is accessible from a small corridor giving on the dining area.
It features a bathtub and a washbasin with a large mirror.
The toilets are located in a separate room next to the bathroom.

This apartment is very pleasant. Decorated with much taste, it has the charm of antique apartments with stones on the wall, wooden floor, exposed beams, high ceilings, wooden chimney, and it has the comfort we can expect from any contemporary apartment.
Perfect for a couple, located in the deep heart of Paris in a neighborhood fizzing with life, this apartment will instantaneously become your haven of peace !
.

Features


Appliances
Washing Machine
Dryer
Dish Washer
Convection Oven
Microwave
Mix Convec/wave oven


TV / Internet
Cable TV
TV
Internet
WIFI Internet


Phone
Telephone
Free US/CA Phone Call
Free AU/NZ Phone Call


Situation
Elevator
A/C
Balcony
Terrace
Courtyard view
Street view
Floor: 0
Area (m2): 48


Extras
Toilet not in Bathroom

.

Map






























































































Données cartographiques ©2013 (Hidden by Airbnb) - Conditions d'utilisation











Signaler une erreur cartographique





























In the deep heart of the historical Marais, located on a pedestrian street, this apartment rental has a very central location in Paris.
The Pompidou Centre is just around the corner. You will be in the heart of one of the most animated areas of the city. Lots of bars and restaurants surround this Paris apartment, as well as all the shops you could expect.. The neighbourhood is as lively by day as by night but remains very safe. You will fall in love with the strolls you can take that will allow you to discover Paris secrets.. The closest subway stops are Châtelet, Hôtel de Ville and Rambuteau.

Standing

This apartment is located on the ground floor of a building giving on a lovely paved courtyard decorated with plants. The access to the building is secured by a door with an intercom and a second gate with a magnetic key.
The courtyard itself is not very busy as the access to the stairs for most of the neighbors is located before the second gate. To secure the apartment, the windows are equipped with barrels and the lower parts of the windows have a cover made to visually isolate you from the outside. The apartment is not dark though as the barrels are thin and the windows are large.

Layout

This charming 48 sqm apartment has been renovated beginning of 2013. It can sleep up to four guests and it has two levels (a ground floor and an open mezzanine).
The entrance directly gives on the main room, lovely, with an impressing available height as well as a cocooning side thanks to the living-room area partly under the mezzanine. You will be able to stand up without any problem though.
The living area features a convertible couch (sofabed for two people 140x200 with a very comfortable mattress 14cm thick.), two leather armchairs and a coffee table.
The wooden chimney and its beautiful mirror perfectly fit the space. You will be very impressed by the electric heating system installed in the chimney as it will look like a chimney fire, with logs and flames, but with no need to clean or keep under surveillance as it is all electric and totally safe ! The living-room also features a stereo with CD player, dock for iPod and tuner.
The dining table will accommodate four guests.
You will be able to store your clothes in the closets and the wardrobes on the ground floor. Note that there is also another closet upstairs.
Ten steps will lead you to the upper floor, in the bedroom area.
The bedroom features a double bed 140x200 and a bench. It is open on the main room. You can stand up without any problem between each exposed beams, but note that the lowest part of the ceiling, under the beams then, is at 167cm.

The fitted kitchen is open on the living area.

The bathroom is accessible from a small corridor giving on the dining area.
It features a bathtub and a washbasin with a large mirror.
The toilets are located in a separate room next to the bathroom.

This apartment is very pleasant. Decorated with much taste, it has the charm of antique apartments with stones on the wall, wooden floor, exposed beams, high ceilings, wooden chimney, and it has the comfort we can expect from any contemporary apartment.
Perfect for a couple, located in the deep heart of Paris in a neighborhood fizzing with life, this apartment will instantaneously become your haven of peace !
.

Features


Appliances
Washing Machine
Dryer
Dish Washer
Convection Oven
Microwave
Mix Convec/wave oven


TV / Internet
Cable TV
TV
Internet
WIFI Internet


Phone
Telephone
Free US/CA Phone Call
Free AU/NZ Phone Call


Situation
Elevator
A/C
Balcony
Terrace
Courtyard view
Street view
Floor: 0
Area (m2): 48


Extras
Toilet not in Bathroom

.

Map






























































































Données cartographiques ©2013 (Hidden by Airbnb) - Conditions d'utilisation











Signaler une erreur cartographique















































Check-in time is 2PM - 8PM
Corinne is a Superhost
Superhosts are experienced, highly rated hosts who are committed to providing great stays for guests.
J'habite en région parisienne au bord de Marne, mariée avec 3 grands enfants. J'aime la nature et les animaux, j'adore les voyages et découvrir d'autres cultures. Je suis quelqu'un avec un contact facile assez bavarde et j'aime passer des bons moments entre amis et en famille.
Languages:
English, Italiano
Response time:
within an hour
Always communicate through Airbnb
To protect your payment, never transfer money or communicate outside of the Airbnb website or app.
Explore other options in and around Paris
More places to stay in Paris: