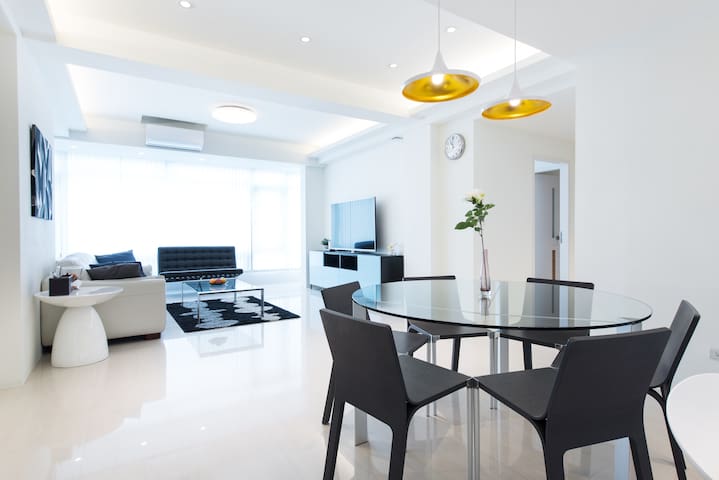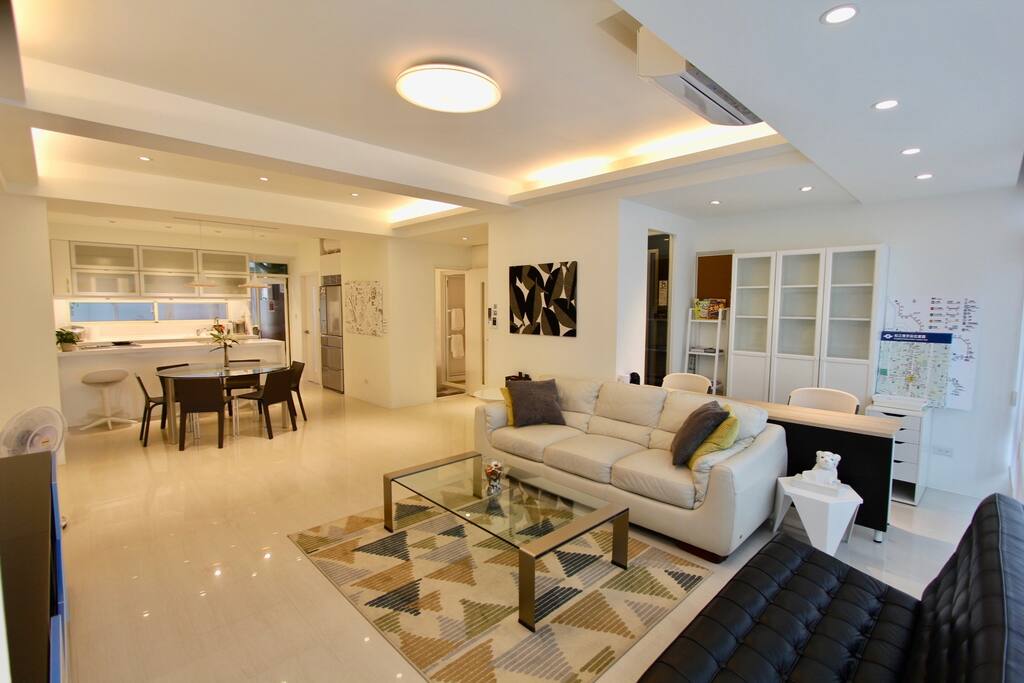 The Songjiang Nanningjing Station is located in Songjiang Nanjing Station. Exit8 (1min). Thank you for visiting my house 1. Interior description: We are a whole apartment, we offer 4 rooms, 2 double beds, 4 single beds, 3 baths plus a total of 130 square meters of restaurants, and we offer 24 hour air ventilation, indoor air is fresh Filter ventilation, coupled with cold air conditioning, quality is completely different. It is our proud that our facilities and equipment are all of the best-of-breed modern high-quality systems in Japan (see 2015 Tokyo Modern Simple Mix Nordic Design) and quality equipment. 2. We are careful: We print in the Chinese and Taipei map of TaIPEI to explore the tourist attractions, and the latest official travel folding, so that guests take the necessary travel. 3. more care about sanitation: Also for the indoor cleaning, personal bedding and towels to send professional high temperature cleaning sterilization and reliable, the floor bright and clean, the guests are quite satisfied. 4. Reasonable price: We provide a certain quality more hope that the room is better than the hotel, the price as long as less than half of the 5-star hotel, the guest six high rating five-star almost full marks. 5. Even if not our guests: if there is a need to help the place, please also hesitate to put forward, we will do our best to help do a good job of national diplomacy to create a better Taiwan. PS. This site is strictly prohibited smoking and drunken trouble to maintain the quality of accommodation. Taipei Diven
這裡四通八達的SongjiangNanjing Station松江南京站. Exit8 (1min)。
感謝您探訪我的House
1.室內介紹:
我們是整層公寓,我們提供4個房間,2張雙人床、4張單人床、3個衛浴加上客餐廳共有130平方米,另外我們提供24小時空氣換氣機,室內的空氣是新鮮過濾換氣,加上冷暖氣空調,品質完全不同。光是我們的設施設備全是日本最新原裝採購的高品質系統(參酌2015東京現代簡約混和北歐設計)及優質的設備)這點是我們足以自豪的。
2.我們用心:
我們印製中、英文台北大地圖探索TAIPEI的各觀光景點,另有最新官方旅遊折頁,讓住客各取所需出發悠遊。
3.更在乎清潔衛生:
另外對於室內的清潔,貼身寢具與毛巾送專業高溫清洗殺菌衛生可靠,地板光亮無塵,住客都相當滿意。
4.合理的價格:
我們提供一定的品質更希望室內優於飯店,價格只要5星級飯店的一半不到,住客六項高評比五星幾乎滿分。
5.即使不是我們的客人:如有需要協助的地方,也請不吝提出,我們都將盡力協助,做好國民外交共創美好台灣。
PS.本場所嚴禁吸菸及酒醉鬧事,以維護住宿品質。
Taipei Diven敬上
The space
Thank you for visiting my listings Thanks for viewing my flat. In order to help you understand the accommodation and save your valuable time beforehand, as follows: In order to help understand living circumstance of the flat, here are some introductions for your reference: 1. Living location Convenient transportation: traffic from the airport, MRT, bus, public bike (UBIKE) are quite close. The flat is located 1.5mins walking from MRT Songjiang Nanjing Station, and also near the transportation site of airport, bus and U-Bike stations. 2. Nearby tourist attractions (within minutes): Sightseeing places nearby (only within few minutes). - Siping Street (4 mins walk) = Siping Street (4 mins by walk). - Guanghua Shopping Center (10mins) = Guang Hua Digital Plaza (10 mins by walk). - Yongkang Street (2 stops MRT 5mins) = Yongkang Street (5 mins by MRT). - Taipei station (MRT 6mins) = Taipei Main Station (6 mins by MRT) - Taipei 101 building & City Station (MRT 11-13 mins) = Taipei 101 building & Taipei City Hall Station (11-13 mins by MRT) - Shihlin Night Market (MRT 14mins) = Shilin Night Market (14 mins by MRT) - line heaven (MRT 2mins) = Xingtian Temple (2 mins by MRT) Raohe Street Night Market (MRT 9mins) = Raohe Street Night Market (9 mins by MRT) - Chiang Kai-shek Memorial Hall (10 mins) By MRT) - Ximending (MRT 6 mins) = Ximenting (6 mins by MRT) -U-BIKE (Songjiang Nanjing station on the 7th exit to provide 38 units, walk 3mins can be rented) = There are 38 -U-Bikes for rent within 3 mins walking from Exit 7 of MRT Songjiang Nanjing Station. 3. Internal facilities (refer to Japan and Nordic Building Interior Planning): Light fine. Full room air conditioning filter PM2.5 ventilation. Soundproof windows. Japan original free toilet. Daikin / Hitachi cold and warm. Sharp Full HD (1080P) 70 "large TV. High-speed WIFI wireless Internet. (With laundry detergent). BOSE sound. Microwave oven. Hair dryer. Thermos bottle. Dishwasher. Japan's top refrigerator. Japan forest water heater (bathroom temperature control) Danish classic chair. Gas quick drying machine and Japan YKK door to maintain you The security. The air is combined with heater, soundproof windows, washlet imported from Japan, Japanese brand Rinnai water heater (temperature controlled by shower room), microwave, wash machine And dryer, hair dryer, water boiler, fridge, Sharp 70 inches HD TV with 1080 pixel, BOSE sound system, Danish classic sofa. 4. Free: spa bottled water. Tea bag. Coffee. Beverage. Toothbrush. Toothpaste. Bath cleaning supplies 5. US brand with a set of towels. Simple fruit and pure cotton warm, the United States Sealy headrest Free stuff: Mineral water, tea bags, instant coffee, drinks, fruits, toothbrush and toothpaste, 6. To provide the latest tourist information page of the Ministry of Tourism, to save valuable travel time with your friends, and to provide a full map of the Taipei tourist attractions (90X120CM) for you to discuss before your trip. Provided free maps and detailed tourist information produced by Taiwan Tourism Bureau. 7. The building is located on the fourth floor of the apartment (no elevator), the interior is clean, the landscape and the structure are safe and safe from the MRT lift (about 130 meters 1 minute) (Indoor space 128 square meters (38 pings)), residential safety and quality is quite good, so to maintain the quality of the building, but also to maintain the quality of the building, but also to maintain the quality of the building, Please keep quiet in the stairs, so as not to affect the living tranquility. The flat is located at the 4th floor (No lifts) of an apartment within 5 mins walking from Exit 8 of MRT Songjiang Nanjing Station. 8. Interior space introduction: 4 rooms. Two rooms (including open kitchen) .2.5 bathroom (master bedroom independent bathroom. Public toilet to provide toilet. Washing room / shower bath). Entrance. Balcony (laundry and clothes Storage room The flat has a Japanese YKK door along with the corridor, there are 4 bedrooms, 2 living rooms including an open kitchen, and 2.5 shower rooms and toilets, a balcony for drying clothes, and a storage. 9. A few seconds walk will take you to the nearest 7 - 11 convenience store, open 24 hours a day. There are also inexpensive full - size supermarkets and Siping shops. There are 2 convenience stores and a supermarket around the corner
感謝您探訪我的房源
Thanks for viewing my flat.
為了協助您事前了解這裡的住宿環境及節省您的寶貴時間,說明如下:
In order to help understand living circumstance of the flat, here are some introductions for your reference:
1.居住位置交通便利:交通離機場,捷運,公車,公共自行車(UBIKE)都相當近。
The flat is located 1.5mins walking from MRT Songjiang Nanjing Station, and also near the transportation site of airport, bus and U-Bike stations.
2.附近的旅遊景點有 (幾分鐘可到達): Sightseeing attractions nearby (only within few minutes).
-四平街 (步行4 mins)=Siping Street ( 4 mins by walk).
-光華商場 (步行10mins)= Guang Hua Digital Plaza (10 mins by walk).
-永康街 (2站MRT 5mins)=Yongkang Street (5 mins by MRT).
-台北車站 (MRT 6mins)= Taipei Main Station (6 mins by MRT)
-台北101 building & 市府站 (MRT 11-13 mins)= Taipei 101 building &
Taipei City Hall Station (11-13 mins by MRT)
-士林夜市(MRT 14mins)=Shilin Night Market (14 mins by MRT)
-行天宮(MRT 2mins)= Xingtian Temple (2 mins by MRT)
-饒河夜市 (MRT 9mins)=Raohe Street Night Market (9 mins by MRT)
-中正紀念堂 (MRT 10mins)= Chiang Kai-shek Memorial Hall (10 mins
by MRT)
-西門町 (MRT 6 mins)=Ximenting (6 mins by MRT)
-U-BIKE (松江南京站7號出口提供38台,步行3mins可租用)= There are 38 -U-Bikes for rent within 3 mins walking from Exit 7 of MRT Songjiang Nanjing Station.
3.內部設施(參考日本及北歐建築室內規劃):
光線佳. 全室空調過濾PM2.5換氣. 隔音窗. 日本原裝免治馬桶.大金/日立冷暖氣.Sharp全高清(1080P)70"大型電視.高速WIFI無線上網.洗脫烘衣機(附洗衣精).BOSE音響.微波爐.吹風機.熱水瓶.烘碗機.日本頂級冰箱.日本林內熱水器(浴室內可控溫)丹麥經典椅.瓦斯快乾烘衣機及日本YKK大門維護您的安全。
The flat is Japanese interior style provided good quality of internal facilities, such as, air interchanger, air conditioner combined with heater, soundproof windows, washlet imported from Japan, Japanese brand Rinnai water heater (temperature controlled from shower room), microwave, wash machine and dryer, hair dryer, water boiler, fridge, Sharp 70 inches HD TV with 1080 pixel, BOSE sound system, Danish classic sofa.
4.免費提供:礦泉瓶裝水.茶包.咖啡.飲品.牙刷.牙膏.沐浴清潔用品
5.採用美國品牌整套毛巾.簡易水果及純淨純棉暖被,美國Sealy頭枕
Free stuff: Mineral water, tea bags, instant coffee, drinks, fruits, toothbrush and toothpaste,.
6.提供交通部觀光局最新的旅遊資訊摺頁,供您與好友規劃行程節省寶貴旅遊時間.另提供全幅台北旅遊景點大地圖(90X120CM)供您在旅遊出發前討論。
Providing free maps and detailed tourist information produced by Taiwan Tourism Bureau.
7.本房舍位於公寓四樓住家(無電梯),裝修後內部乾淨,景觀及結構安全良好,距捷運8號升降電梯出口相當近(約130公尺1分多鐘可到達)可免去長途拖運之辛勞,建築外觀雖然不吸引,但內部煥然一新,乾淨是我們的基本要求(室內空間128平方米(38坪)),住宅安全及品質相當良好,因此為維護本棟居住品質,請於樓梯間保持安靜,以免影響居住安寧。
The flat is located at the 4th floor(No lifts)of an apartment within 5 mins walking from Exit 8 of MRT Songjiang Nanjing Station.
8.內部空間介紹: 4房.兩廳(含開放式廚房).2.5衛浴(主臥獨立衛浴.公用廁所提供馬桶間.洗面洗衣間/淋浴泡澡間).玄關.陽台(洗衣及晾衣).儲藏室
The flat has a Japanese YKK door along with the corridor, there are 4 bedrooms, 2 living rooms including an open kitchen, and 2.5 shower rooms and toilets, a balcony for drying clothes, and a storage.
9.幾秒鐘的步行路程會帶你到最近的7- 11便利店,每天24小時開放。附近也有物美價廉的全聯超市及四平商店街。
There are 2 convenience stores and a supermarket around the corner.
Guest access
High quality affordable full floor space as long as the hotel half (4 rooms 2 hall 3 Wei 1 balcony), the main hope to provide family travel use (from the hotel compartment to avoid the problem), the whole family or friends can Public space together, a total of four rooms, double room 4 (2 bed + bed + bed), a total of 6 beds can be used, up to 8 people, with gas drying machine, can also provide business use The
高品質物美價廉的整層空間價格只要飯店的一半(4房2大廳3衛1陽台),主要希望能提供家庭旅遊使用(免去飯店隔間的問題),全家人或好友可以在大的公共空間一同歡聚,房間共有4間,雙人房4間(2床雙人床+4床上下床),共有6床可使用,最多可供8人,備有瓦斯烘衣機,亦可提供商務使用。
Interaction with guests
We would like to welcome you during the stay, we will be able to assist you, we have a large tourist information to provide discussion, and the other to provide you with a fold to travel to explore the new world in your eyes.
歡迎於住宿期間提出相關旅遊問題,我們將會予以協助,我們備有旅遊大型資訊圖提供討論,另提供摺頁讓您於旅行途中帶著走,去探尋您眼中的新世界。
Other things to note
1. valuables please carry, the site does not accept the guests claim valuables lost claims, with the door to keep the video to protect the passenger financial and personal safety. 2. If accompanied by elders mobility, please communicate in advance to discuss whether it is suitable for admission (the site without lift). We offer a one-time item, provided with a toothbrush, toothpaste, razor, and hair brush for each group. - We offer high quality shampoo, hair care, shower gel, soap, laundry detergent, detergent for washing machines, hand gel and room cleaning supplies. - We offer five-star hotel grade bed linen, pillow and towel in size, and after each guest's check-out, it will be used for professional washing and high temperature sterilization replacement. No need to clean the towel, please put the used towel into the laundry basket. When you leave the apartment please turn off all the lights and electrical appliances. Please note that this is a family stay apartment, not a hotel.If there are neighbors or strangers ask who you are, please tell them you are Mr. Lee's friend, I lend you where we live. In the public staircase please keep quiet. This is a very quiet apartment, I like my neighbors, so please respect them, do not noise in the stairs. We are in our home, offering comfortable and clean quality and first-class equipment, and hopefully you can keep a good condition like to cherish your home. No cooking is available.
1.貴重物品請隨身攜帶,本場所不接受旅客主張貴重物品遺失理賠,備有大門保全錄影,以保旅客財務及人身安全。
2.如有隨行長輩行動不便,請事前溝通討論是否適合入住(本場所無升降梯)。
我們提供一次性用品,所提供之牙刷,牙膏,剃刀,和髮刷每人各一組為限。
-我們提供高品質的洗髮乳,護髮乳,沐浴露,香皂,洗衣精,洗衣機用的洗滌劑,洗手凝膠和室內清潔用品。
-我們提供五星飯店等級的床單,枕巾和大小毛巾,在每次客人退房後將作專業的送洗高溫殺菌替換。無需要清洗毛巾,請將使用過的毛巾放進洗衣籃即可。
當你離開公寓請關掉所有的燈和電器。
請注意,這是家庭住宿的公寓,而不是酒店。如果有鄰訪或陌生人問你是誰,請告訴他們你是李先生的朋友,我借給你我們住的地方。
在公共樓梯間請保持安靜。這是一個非常安靜的公寓,我喜歡我的鄰居,所以請尊重他們,不要在樓梯喧嘩。
我們在我們的家,提供舒適及乾淨的品質及一流的設備,也希望您能保持良好狀況,像愛惜自己的住家一樣。
不提供烹飪。
---
This listing has essential business travel amenities.
---
---
Check in time is 3PM - 11PM
Self check-in with smart lock
房屋守則: Flat rules
1.為維護本棟居住品質,請於樓梯間保持清潔,上下樓梯請務必保持安靜,並降低音量喔
Please keep clean for stairs all the time and keep quiet while going up and down stairs, and out and entering the flat after 22 o'clock.
2.入住請出示有效的身分證件
Please show your valid certificate while moving in.
3.請務必按照預定人數入住
Please do check in reserved occupancy.
4.禁止從事任何非法的行為
It is prohibited for any illegal affair.
5.禁止開派對
No partying
6.禁止室內吸煙
It is non-smoking flat.
7.請勿攜帶寵物、及違法物品
Please do not bring in pets and illegal stuff.
8.請愛惜房內物品及設施
Please do cherish all facilities inside the flat.
9.請勿隨意帶走房內物品及設施,若有遺失或損毀,需照價賠償
Please cautiously use all equipment of the flat and use them in a right way. If anything is damaged, guests must compensate according to the set price.
10.珍惜資源、 請隨手關電源。
Please keep turning off the light while out of rooms.
11.備品間內的備用物品,請勿自行拿取。若有額外需求,請先與我們聯絡。
Please do inform us in advance if you need spare items and do not take any item away without notice.
---
Languages:
English, 中文
Response rate:
100%
Response time:
within an hour
Explore other options in and around Taipei City
More places to stay in Taipei City: