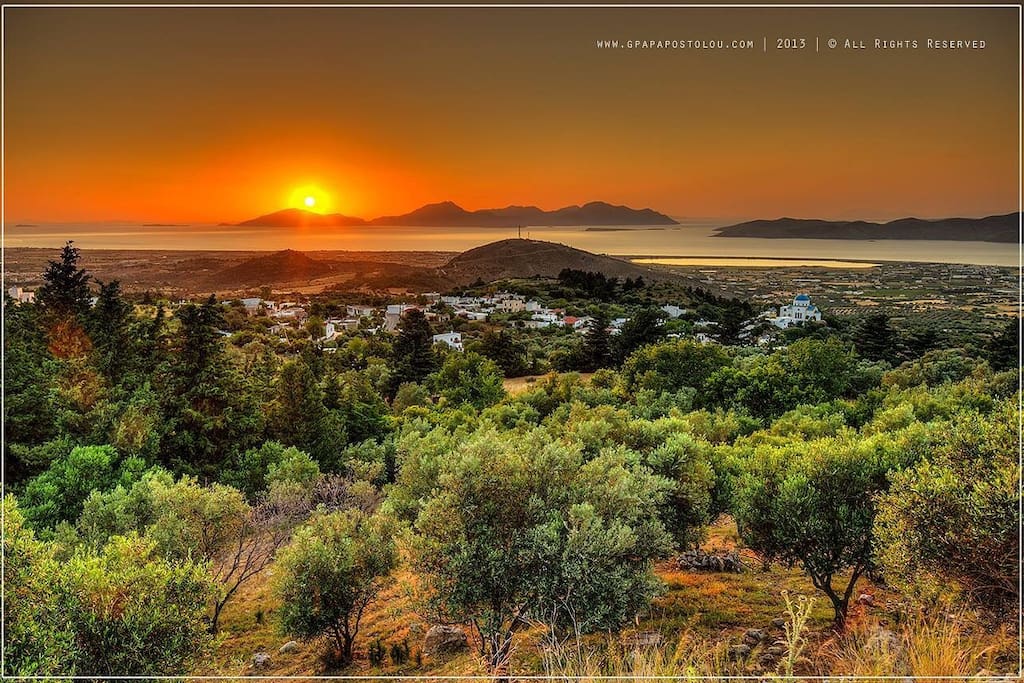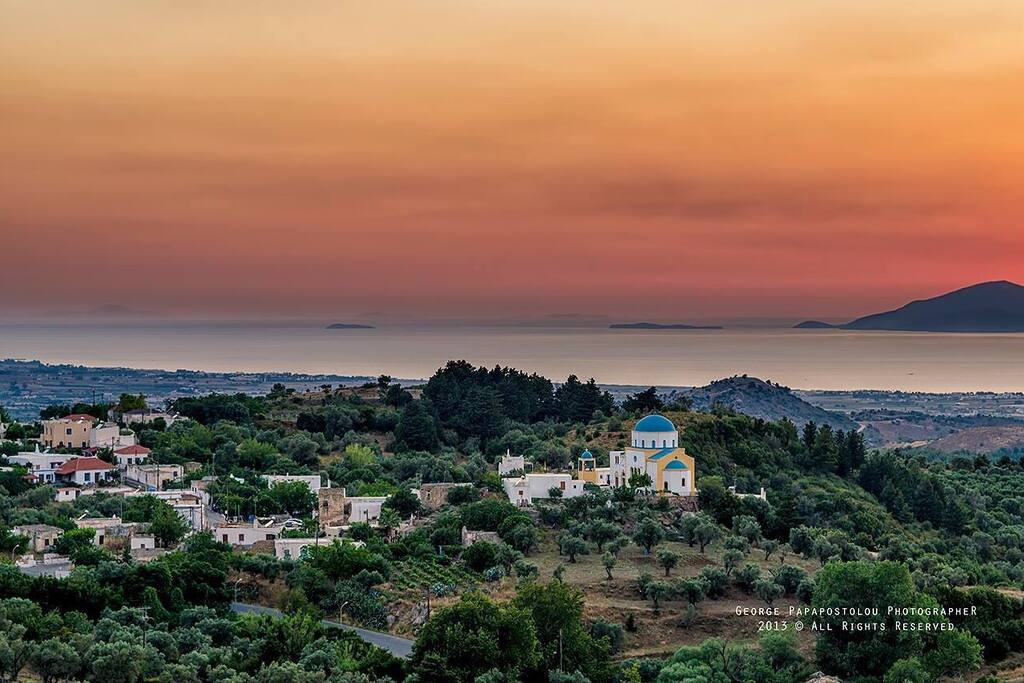 The Potter's House in Lagoudi Kos..
The space
The SunHouse

Dear future SunHouse guest,
I am Mandy and I'm the owner of our lovely little establishment on the hills of Kos, called 'The SunHouse'. Welcome to our page!
The house (42 sq.m.) is lodged on a hilltop, in the most beautiful village of the island, Lagoudi, next to the church of Theotokos' Genesis on a beautiful setting with breath-taking views. This is a place I initially created for myself and my extended family, with lots of loving care, making sure every part and detail of it would fit nicely with the architecture and the traditional techniques used in the area. Being a professional potter, I have been inspired to create a space that reflects my personal experiences with natural materials and have created a series of small artworks which you'll find scattered in various corners of the house.
The house itself is comprised of
- a room with a king-size bed, a sofa-bed, desk and wardrobe
- a kitchen equipped with electric appliances (fridge, stove and furnace), a dining table sitting at least 4 people and another single bed
- a bathroom with shower
- a comfortable, open terrace (40sq.m) with open views to the sea, the perfect spot to relax and bask in the sun
Other information:
The house is fully set up with air-conditioning, internet connection and a T.V., has an easy-access parking space and is ideal for families with children. A wonderful beach is located at a distance of 7' by car/motorbike.
Zia, a traditional village on the mountainside with great tavernas, delicious food, an interesting tourist marketplace and its own amazing views is a close destination, as well as Asomatos, another nearby village, with its well-known traditional architecture, its homemade food and one of the best settings for lovely walks in the peaceful, stone paved streets. Old Pyli, yet another village near by, with a fascinating old castle, in an area distinguished for its natural, unspoilt beauty – an excellent all round locale for those who love hiking or those shorter, refreshing walks in nature.
You will find that Kos, the birthplace of Hippocrates, is nowadays a charming island with attractive shores of turqoise seas and sandy beaches, a long history that has granted it a wealth of interesting things to see and many archeological sites to visit, museums and long routes of bike ways that run stretched along its coasts, offering lots of opportunities for great bike rides.
I'm looking forward to welcoming you to the SunHouse and letting you in the secrets and beauties of our island, hoping to offer you the chance to enjoy a great time in Greece and get to know our time-honored Greek hospitality and friendship!
For those of you interested in the local crafts, I'm also offering the opportunity to participate in the pottery seminars I give in a premise nearby and share with you my experiences and knowledge gained from over three decades of working as a professional potter.

Looking forward to hearing from you,
Mandy

(URL HIDDEN) "The Potter's House"
A)"Το σπιτάκι του Ηλιου"

Το σπιτάκι βρίσκεται στο Λαγούδι, δίπλα στην μεγάλη εκκλησία του (URL HIDDEN) νησί μας η ΚΩΣ ανήκει στα 12 νησιά του νοτίου Αιγαίου.
Το ΛΑΓΟΥΔΙ είναι το πιο ήσυχο και όμορφο χωριουδάκι του νησιού.
Βρισκόμαστε μέσα στη φύση, πολύ κοντά στο δάσος και σε δύο άλλα χωριά. Η ΖΙΑ με υπέροχες ταβέρνες και νόστιμα ελληνικά φαγητά,με θέα και εκπληκτικά ηλιοβασιλέματα.
Ο ΑΣΩΜΑΤΟΣ, ένα χωριό κτισμένο με όμορφα παραδοσιακά σπίτια, με μια εκκλησία μοναδικής ατμόσφαιρας, και σπέσιαλ φαγάδικο, που το κάνουν ιδανικό μέρος για περπάτημα στα δρομάκια, στο πάρκο με ζώα και με κάθε λογής μυρωδικά φυτά και λουλούδια!
Κοντά μας επίσης είναι και το Κάστρο στο Παλαιό Πυλί, ένα απο τα πιο αξιόλογα αξιοθέατα στο νησί και ένα από τα ωραιότερα μέρη του κόσμου.
Απέχουμε 5-7' με αυτοκίνητο ή μηχανάκι απο την κοντινότερη παραλία.
Η Κώς, για όσους δε γνωρίζουν το νησί μας, είναι ένα πανέμορφο μέρος, με πεντακάθαρες, κρυστάλλινες παραλίες,
βουνά με μονοπάτια μέσα απο πλούσια χλωρίδα και πανίδα, όπως επίσης και ένα ευρύ δίκτυο ποδηλατοδρόμων, ιδανικό για βολτίτσες με ποδήλατο!!!
Το μουσείο στην πόλη της ΚΩ (15km από εδώ), οι αρχαιολογικοί χώροι, και η ωραία αγορά της, το κάστρο της Νεραντζιάς,το Ασκληπιείο (τόπος απίστευτης ηρεμίας και θετικής ενέργειας) είναι επίσης χώροι εξαιρετικού ενδιαφέροντος.Η ΚΩΣ είναι το νησί του Ιπποκράτη και έχει μια μακρά ιστορία ως χώρος ξεκούρασης και αναζωογόνησης.
Εδώ στο χώρο μας, για όσους το επιθυμούν και με μικρή οικονομική συμμετοχή, λειτουργεί εργαστήρι Κεραμικής Τέχνης όπου μπορείτε να μοιραστείτε μαζί μου την χαρά της (URL HIDDEN) σπιτάκι του ήλιου"μπορεί να φιλοξενήσει από 2 έως4 άτομα(γονείς με δύο παιδιά)
Δεν είναι υπερβολή αν πούμε πως σας προσκαλούμε στον παράδεισο ....και μαζί με την φιλία μας θα σας χαρίσουμε αξέχαστες διακοπές!!
(URL HIDDEN) Με θερμούς χαιρετισμούς
(URL HIDDEN) Mandy.
Το σπιτάκι είναι ανεξάρτητο, με δύο χώρους .
1ο.κύριο δωμάτιο
με διπλό κρεβάτι, ντουλάπα, καναπέ που γίνεται κρεβάτι και γραφείο
2ο.Κουζίνα με ντουλάπια, ηλεκτρική κουζίνα, ψυγείο, τραπέζι με καρέκλες(4) και μονό κρεβάτι.
3ο Μπάνιο με ντους .Υπάρχει Air Condiτioner.

Η διακόσμηση στο σπιτάκι έχει γίνει με μικρά έργα τέχνης που προσθέτουν στο χώρο ενδιαφέρον και ζεστή ατμόσφαιρα.

4ο.Μεγάλη βεράντα (40τ.μ.) με καναπέ και τραπέζι, ιδανική για ηλιοθεραπεία και με εκπληκτική θέα στο πέλαγος (βόρεια) και στο υπέροχο κοντινό βουνό "Δίκαιο" (νότια). Εδώ θα απολαύσετε ήσυχα πρωϊνά και φανταστικά απογεύματα!

'Ολα αυτά και . . . άλλα τόσα που σας περιμένουν να τα ανακαλύψετε απο κοντά, κάνουν "Το σπιτάκι του ήλιου" μοναδικό.
(URL HIDDEN)
(URL HIDDEN) Φιλικά, Mάντυ.
---
---
Extra people $35 NZD / night after 2 guests
Security Deposit $348 NZD
Always communicate through Airbnb
To protect your payment, never transfer money or communicate outside of the Airbnb website or app.
Learn more
---
---
---
---
My husband and I stayed here for 10 days on our first abroad holiday. It was wonderful! The views are stunning, it was so peaceful and Mandy was so generous and warm to us, even drove us to the next village in the middle of the night when we had trouble with our car!! The apartment was clean and cool, with a beautiful balcony that we spent many evenings on. We loved everything about this apartment. Would highly recommend, and we can't wait to return. Tips: You will need a car to get around but DON'T use (SENSITIVE CONTENTS HIDDEN) maps while trying to get here, it takes you up the steepest and skinniest road, stick to the main roads! The vineyard at the bottom of the mountain (closest vineyard) is well worth a visit. Booking ahead in the restaurants in Zia is worth it, they get very busy in the evening to watch the sunset, although the view from this apartment is just as good!
---
Potter'shouse is a wonderful place to find relax and peace. The appartament has a unique view to the sea, to Kalimnos island and to Turkey. The house is clean, functional with all equipment you need and furnished with care. The atmosphere is full of positive energy. Potter'shouse is in a good position, in the hills (Laguodi villa ge) behind Tigaki and near the beautiful old city of Zia. By car or by motorbike you can easily reach beaches and services. Mandy is the perfect host, a kind and generous woman. She can give you all the information you need to have a good holidays in the island. She really took care of us like a sweet mum! And she is a great artist ( she makes wonderful ceramics) and a perfect cook as well! We strongly suggest to choose Potter'shouse to stay in Kos. Laura and Marco
---
GREAT experience: all was PERFECT. First of all, Mandy, a unique person with a rare kindness. She really made us feel at home and she was helpful all the time with advices and support. She will be in our hart forever! Moreover the house is amazing with an incredible terrace! Comfortable, equipped with all you need, surrounded by nature and with a breathtaking landscape of the coast, the salt lake Alyki, until the Turkish coast. Lagoudi, the village where the house is located, is one of the best location of the island as it is a panoramic zone, almost in the middle, so you can easily reach the main points of interest (one of this is the traditional village of Zia). We relaxed ourself and have recharged our energy and we already miss that peace. Thank you, Mandy, you are THE BEST!
---
This is a beautiful apartment with unsurpassable views of the ocean and the mountains. Located half way up the hills of Zia, it enjoys a constant breeze to keep the place comfortable even in summer heat. I never had to turn the AC on. The village of Lagoudi is small and quaint, the apt. is located right next to a small church. Don't miss the local cafe Grandma's House with excellent homegrown and homemade foods. You need a car or other vehicle to get around, but everything can be reached in a half hour or less, including many attractive beaches and the island's capital of Kos. Mandy is the best host I've ever had with AirBnB. She provides more than is called for and a pleasure to deal with. She lives in the same building.
---
Our vacation in Kos was wonderful, and much of that was due to Mandy's hospitality. The Potter's house is a marvellous location, with amazing view from the balcony of the sea and the beautiful village of Lagoudi. The apartments are beautiful and provided with everything necessary, and you can always rely on Mandy's help if you need anything, and for her tipps on the island. The village is quiet, but some good restaurants are within 5 minutes with the car. Mandy is an extraordinary nice person, and we hope to be back in Lagoudi soon. Thank you Mandy!
---
Mandy's House is a wonderful place and the atmosphere is magic. It seems to be in the movie by Salvatores "Mediterraneo ". The House is furnished with much charm and what of terrace? you could sit all day watching the sea with a glass of beer and a book. But the most important event of a perfect vacation was known Mandy, a wonderful person who I really hope to see again soon. And for the political situation in Greece, I would like to reassure tourists that we never had a problem and people are very kind. Ευχαριστώ για όλα Mandy και μια μεγάλη αγκαλιά
---
Mandy was a great host. We had a beautiful stay and we felt like at home. The apartment was nice, beautiful equipped with an individual style. And the the view the terrace to the sea is amazing. It was a great stay...thanks a lot Mandy.
My dearest Andreas thank you a lot for your nice feeling. You were beautiful quests! You will be always welcome in your Greek home! Thank you also for your coise of my work,! I mean the ceramic vase,was of my loving objects, Iam very glad that belongs to you,you will remember me.thanks. Kind feelings Mandy.
---
Hello everybody! I am Mandy, I am the owner of a small establishment with 4(four)apartments.
I am an optimist and happy ,good heart,person.
I also am a potter and creative many deferent things...giving lessons in pottery and if you want to join us you can have in the same time unforgettable holidays and the pleasure of creating art by clay!
I will be very good care of you and you will enjoy the summer!
I am looking forward to seeing you here!
Languages:
English, Ελληνικά
Response rate:
100%
Response time:
within an hour
Explore other options in and around KOS island,Lagoudi village
More places to stay in KOS island,Lagoudi village: