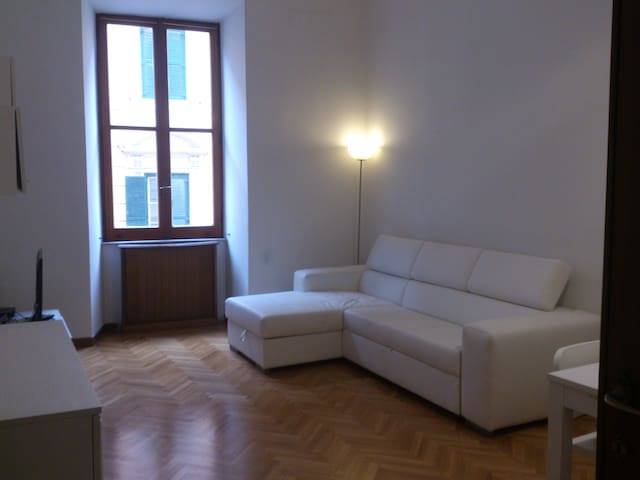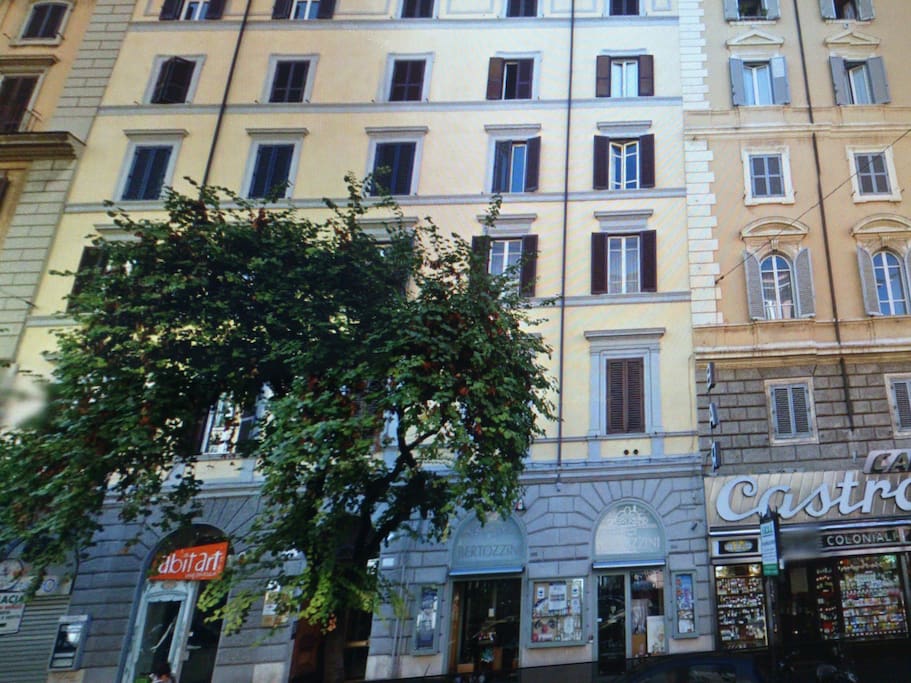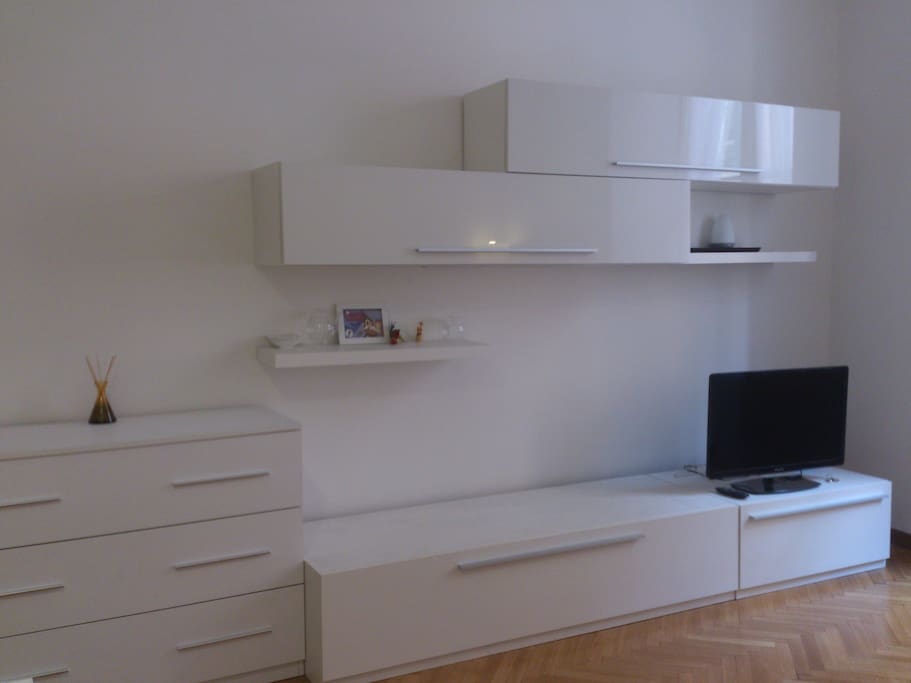 The space
The apartment, on the second floor of an elegant building with a doorman, is in the heart of Rome, in Via Cola di Rienzo 190, 300 meters from Castel Sant'Angelo and the stop of the shuttle to the airport, 500 meters from the Vatican and metroA and 800 meters from Piazza del Popolo, is finely restored and equipped with everything you need for short and long periods (hairdryer, private entrance, refrigerator, freezer, washing machine, private bathroom, kitchen utensils, flat-screen TV, desk, lift , shower, tea and coffee maker, cooking utensils, iron and ironing board, safe, parquet, stove, central heating, kitchen, telephone, wardrobe / closet, living area, cleaning products, household linen , dining table, dining area, hangers, towels, Blu-ray, DVD, sofa).
you can enjoy free late check out at 17:00
Guest access
Guests can access the entire apartment (entrance, living room, two bedrooms, kitchen semi-habitable and bathroom
Interaction with guests
I will not be personally present during your stay (unless you need it), will come the day of your arrival to bring you the keys and show you the apartment, it is possible to agree on the arrival time from as early as 10 am and you can enjoy free a late-checkout at 17
---
---
Check in is anytime after 10AM
The check-in that will always be given by phone or e-mail directly with the management, will be arranged at least 24 hours before arrival.
Payment by bank transfer at time of booking.
Terms of the contract:
The minimum period of the lease is equal to three days.
The maximum period of the lease is equal to twenty-nine days.
The property must be used exclusively for residential purposes and to meet the needs of a transitory nature.
Full payment is due on the day of payment-acceptance, by bank transfer.
This contract is subject to the condition that full payment is not made within 48 hours of booking-acceptance.
The tenant agrees to use the rented property with the diligence of a good father.
The conductor is made guardian of the rented property and is responsible for the loss and damage that occur in the course of the lease, even if caused by fire, if not try to have occurred for reasons beyond his control; It is also responsible for the loss of or damage caused by people who he has admitted, even temporarily, the use and enjoyment of the thing.
And 'expressly forbidden to the tenant to sublet, even partially, the leased asset, of giving in to consideration or contract with others to give on loan the rented property.
The conductor expressly relieves the landlord from any liability for any direct or indirect it derives from the rented property, as well as exempt from any liability for damages that the rented property can provide to anyone and anything.
The tenant agrees to respect and ensure compliance with the rules of the building, and the rules of the condominium.
The tenant may cancel the contract up to ottogiorni before the date of arrival, in which case half of the sum transferred will be retained by the landlord and the other half will be refunded, after deduction of management fees.
L'orario del check-in che dovrà essere sempre accordato telefonicamente o via e-mail direttamente con la Direzione, dovrà essere organizzato almeno 24 ore prima dell'arrivo.
Pagamento mediante bonifico bancario al momento della prenotazione.
Condizioni di contratto:
Il periodo minimo della locazione è pari a giorni tre.
Il periodo massimo della locazione è pari a giorni ventinove.
L'immobile dovrà essere utilizzato esclusivamente ad uso abitativo e per soddisfare esigenze di natura transitoria.
Il pagamento dell'intero importo dovrà essere corrisposto il giorno della prenotazione-accettazione, a mezzo bonifico bancario.
Il presente contratto è subordinato alla condizione risolutiva che il pagamento integrale non sia eseguito entro 48 ore dalla prenotazione-accettazione.
Il conduttore si impegna a usare la cosa locata con la diligenza del buon padre di famiglia.
Il conduttore è costituito custode della cosa locata e risponde della perdita e del deterioramento che avvengono nel corso della locazione, anche se derivanti da incendio, qualora non provi che siano accaduti per cause a lui non imputabili; è pure responsabile della perdita e del deterioramento cagionati da persone che egli ha ammesso, anche temporaneamente, all'uso e al godimento della cosa.
E' fatto espresso divieto al conduttore di sublocare, anche parzialmente, il bene locato, di cedere a titolo oneroso o gratuito il contratto ad altri, di dare in comodato la cosa locata.
Il conduttore espressamente esonera il locatore da qualsiasi responsabilità per danni diretti o indiretti derivantigli dalla cosa locata, così come esonera da qualsivoglia responsabilità per danni che la cosa locata possa procurare a chiunque e a qualunque cosa.
Il conduttore si obbliga ad osservare e a fare osservare il regolamento interno dello stabile, nonché il regolamento del condomino.
Il conduttore può recedere dal contratto fino a ottogiorni prima della data prevista di arrivo ed in tal caso la metà dell'importo bonificato verrà trattenuto dal locatore e l'altra metà verrà restituita, con deduzione delle spese di gestione.
---
This home doesn't have any reviews. If you stay here, your review will appear here.
Explore other options in and around Roma
More places to stay in Roma: