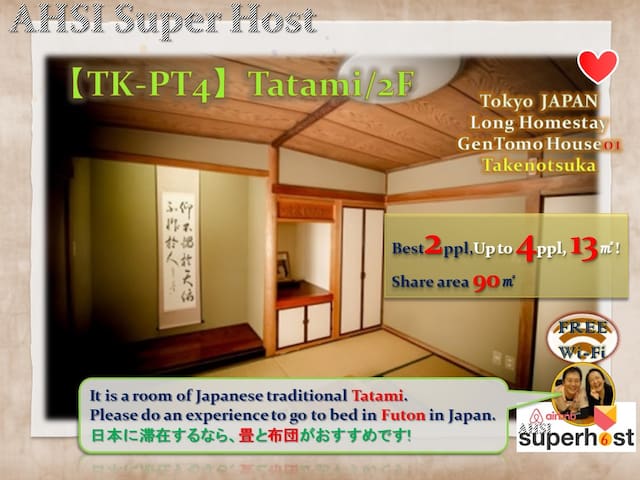 [Listing] Private 8-mat tatami room
[Place] 8mins walk from takenotsuka station
[Access] Tokyo Skytree 20min / Ueno Zoo 19min / Anime Electricity Town 23min / Kabukiza 36min / Roppongi Hills 45min / Tokyo Tower 45min / Tsukiji Market 35min / Odaiba 68min / Tokyo Disney Land 52min
[GenTomo]
Our house is "Long Homestay GenTomo House" to live with families of the world in the house where a Japanese couple lives in.
Stay in our house for a long term and enjoy life looking like a family.
The space
★スペース-Rooms-
★Main room ☆Sub room ※Irregular time correspondence
1.☆(3rd floor, a 10-mat tatami room,futon)
2.※(Female-only, 3rd floor, 12㎡,futon )
3.※(3rd floor, 12㎡, Queen size bed ex)
4.※(3rd floor, 4㎡, one Semi-Double bed)
5.※(Balcony on the 3rd outside, a stone bed)
6.★(2nd floor, a 8-mat tatami room,futon )
Please use the room designated by the host.
We will try our best to meet your request as much as possible, so let us know if you have any requests at booking.
More than twice a day, a team of very cute housemaid does housework in the sharing place, hallway, stairs, kitchens, dining room, communication room, bathroom and restroom, etc. The room and the sheets are tidy and clean before your check-in. It's always kept beautiful thanks to the cleaning charge you bore. Please stay surely.
Guest access
★[Guest Access]
Free Space: hallway, stairs, kitchen, dining room, bathrooms, washing machine, the veranda and the rooftop.
Private Space: host's room, storage space and other family's private room.
Your room might be entered by the host or housecleaner. You have the responsibility tidying up the space that you use. Please keep your belongings neatly.
Please smoke on the rooftop.
Interaction with guests
★[Guest Communication]
Feel free to ask for help or questions anytime.
We enjoy talking to our guests when we're at home, so feel free to have a chat with us!
We usually invite all the guests to join our morning juice serving time to help you to make friends with other guests.
You are welcomed that you treat other families to the dish of your hometown.
As I establish " Ataeaibako; love-giving box " for exclusive use of the dinner, if you cook, please receive a material cost from there.
★[Free Equipment]
Bathtub / Shower / Shampoo / Soap / Towel / Washing machine / Washing powder / Hanger for the washing / Drinking water / Hot water for the drink / Cold press juicer rice cooker / Bake plane / Gas ring / Cassette cooker / Food processor tableware / Seasoning / Kitchen utensil / Water purifier / Barbecue set chair / Table / PC (a host and joint ownership) / Printer / Scanner / Shredder / WI-FI / Umbrella / Iron / Ironing board / Humidifier / Air cleaner / Dryer / Voltage up power supply / Outlet converter / Extension cord / Portable battery charger / Bathrobe / Yukata
Water Free
Alcohols 200Yen/can
Pocket Wi-Fi rental 1000Yen/day
Kimono dressing experience 2000Yen/once
Other things to note
★[Others]
1 24-hour enter free
2 Children under 6 & baby will be counted as 1 adult for 2, and free for 1 child & baby.
3 We welcome a big number of people with intentions of having parties. So please feel free to contact us for that sort of situation.
4 We provide a driving sight-seeing tour. The host family drives as a volunteer and you can travel by a comfortable car only paying the real cost. Tell us if you are interested in it and let's discuss about the tour!
We are looking forward to see you!
Always communicate through Airbnb
To protect your payment, never transfer money or communicate outside of the Airbnb website or app.
Bedroom 1
4 floor mattresses
Check-in time is 5PM - 2AM (next day)
Self check-in with lockbox and doorman
★-House Rules-ハウスルール
Hello to all my guests! Our name is GenTomo.
ゲストの皆様、こんにちは!私たちはGenTomoと申します。
We look forward to meeting you and doing our best on supporting you to make your stay precious for both you and us.
あなたと私たちとの出会いが、お互いの人生においてかけがえのないものになるように、一生懸命サポートさせていただきますのでよろしくお願いします。
-Required things to be noticed when you book-予約時必須事項
Please make sure to let us know the following details when you book.
次の項目は必ずお知らせください。
・Nicknames, ages and sex of all the guests
・ゲスト全員のニックネームと年齢、性別。
・Estimated time of arrival
・チェックイン予定時間
-Optional things to be noticed when you book-予約時任意事項
In addition to the above points, it will help us to understand your situation better if you can also let us know the following details.
次の項目は、任意でお知らせください。
・Your flight number ( or the transportation you are going to use) and its estimated time of arrival
・飛行機の便と到着時間(飛行機以外は、その手段)
・The purpose of your visit and your next destination
・今回の旅の目的と、チェックアウト後の次の行き先
・The reason(s) why you choose to stay with us
・私たちの家を選んでいただいた理由
-Things to be forbidden in the house-禁止事項
・Smoking in the house
・建物内での喫煙は禁止します。
・Entering the host's room ( on the 2nd floor, near front door) without our permission
・ホストの部屋(2階玄関入ってすぐ正面の部屋)への無断立ち入りは禁止します。
~~~~~~~~~~~
We hope our guests to strike up conversations with one another.
私たちの家では、ゲスト同士の交流促進を願っています。
To get the ball rolling, greeting is a good way to have a smooth start.
素敵な出会いの第一歩は挨拶から。
Since you are / will be in Japan, let's try saying some greeting phrases in Japanese. If you are Japanese, let's try using English when you speak to guests from other countries.
せっかく日本に来るわけですから、日本語で挨拶してみましょう。
(日本人は、英語を使ってみましょう!)
Say 'Tadaima! / I'm home!' when you get home or check in.
家に帰ってきたときやチェックインの時は、「ただいま!」
Say 'Okaeri! / Welcome home!' when you hear someone get home.
帰ってきた人に対しては、「おかえりなさい!」
Say 'Ittekimasu!' when you leave or check out.
家を出るときやチェックアウトの時は、「いってきます!」
Say 'Itterasshai!' when you hear someone leave.
家を出る人に対しては、「いってらっしゃい!」
As an opportunity for guests to make friends with one another, we often offer freshly cold-pressed juice in the morning. The serving time can be changed depends on the day, but we usually ask all the guests to get together from 8:30 to 9:30. The breakfast for us is this fresh juice. In the host absence, a guest can treat other guests to fresh juice.
私たちは、ゲスト同士の交流促進の一貫として、朝しばしばフレッシュジュースのご馳走をしています。日によって時間は違いますが、朝8時30分から9時30分を目安にゲストの皆様にお声がけをします。私たちにとっての朝ごはんは、このフレッシュジュースです。ホスト不在時は、ゲストが他のゲストにフレッシュジュースを振舞うこともできます。
Say 'Kanpai! Itadakimasu!' which means 'Cheers! Thank you for the drink!' in English to start drinking. After enjoying it, let's say 'Gochisousamadeshita!' to share the happiness and smiles with everyone.
飲む前にみんなで、「乾杯~。」そして、「いただきます。」美味しく飲み終わったら、「ごちそうさまでした。」と言ってください。みんな笑顔になります。
The cost for the juice has been paid for you by the previous guests who hoped the future guests to get the lovely service like they did. By donating \100 to '与え愛箱' (Ataeaibako; love-giving box) per drink, you can also join the house's circle of love-giving. So it is optional to make a contribution, but you are very welcome to pass your \100 coin onto the next guest to sustain this system.
このフレッシュジュースの材料費は、過去に宿泊されたたくさんのゲストさんたちが、これから宿泊されるゲストの皆様にも同じように素敵なサービスを受け続けて欲しいという思いとともに、毎回100円を任意で「与え愛箱」に入れていただいております。
このフレッシュジュースを飲む事は、過去のゲストさんからの素敵なプレゼントです。あなたがこのフレッシュジュースを美味しく飲み、同じように未来のゲストさんにもフレッシュジュースを飲ませてあげたいと思ったときは、同じように「与え愛箱」に100円を入れてください。
At night, It is greatly welcome to have a drink and chat with other guests in the living or dining room. A wide range of alcohol is available in the fridge with \200 per can if you feel like drinking.
夜、リビングやダイニングで、ゲスト同士の交流の手段として、一緒にお酒を飲み交わしながら楽しく会話をする時間をぜひ作って欲しいと願っています。冷蔵庫のアルコール類は、1本200円で販売しています。
The kitchen is 24h open, so please feel free to prepare snacks or light meals voluntarily to enjoy with other people. Such active attitude of yours will make us very happy as a host.
キッチンは24時間自由に使うことができるので、簡単なおつまみなどをほかのゲストに振舞って頂ければ、さらに嬉しいと思っています。
You welcome that you treat other guests to the dish of your hometown.
みなさんの故郷の料理をほかのゲストに振舞うことを歓迎します。
As I establish " Ataeaibako; love-giving box " for exclusive use of the dinner, the guest to cook, please receive a material cost from there.
夕食専用の「与え愛箱」を設置していますので、調理するゲストはそこから材料費を受け取ってください。
The guest who was treated for the next guest for exclusive use of the dinner " Ataeaibako; love-giving box " using 1,000 yen as an indication.
ご馳走されたゲストは、次のゲストのために夕食専用の「与え愛箱」に、1000円を目安にいれてください。
If you are lucky, you might get to enjoy our home-made healthy meals. Please feel free to join us when we invite you to such opportunities. We will be glad to share with you.
ちなみに、ホストはゲストの皆様に簡単なお食事を振舞うこともあります。
お誘いしたときは、ぜひご一緒していただけるととても嬉しいです。
基本的には健康に留意した食事をいつも作っています。
そんな機会に恵まれたあなたはラッキーですね!
Once you complete check-in, you can come back anytime. However, please be aware that other guests might be asleep late at night. So in that case, please say 'Tadaima' 'Ittekimasu' quietly (Yes, you are still supposed to say those ;).)
チェックイン後の出入りは24時間自由です。
深夜、早朝帯は、ほかのゲストさんが就寝していますので、小さな声で、「ただいま」「いってきます」と言ってください。
We study English very hard currently, but you still might feel inconvenience on communication during your stay. Your speaking slowly and clearly with supportive mind will be a great encouragement for us. We always appreciate it.
ホストは、英語を今一生懸命勉強しています。
なかなかあなたの伝えたいことがうまく伝わってこないこともありますが、「がんばれ~」と応援の気持ちで、ゆっくりとわかりやすく話してください。
Basically, we ask a house cleaner to change the bed sheets, doing the laundry and cleaning the house before the next guest arrives. When you see her while staying with us, please say 'Itsumo Arigatou!' to make her happy and keep this house in even more happiness.
基本的に、ゲストチェックイン前とゲストチェックアウト後の日中に、メイドさんにシーツ交換、洗濯、清掃等をしていただいています。
滞在中にメイドさんに出逢ったら、「いつもありがとう!」と言ってあげてください。メイドさんはとても気持ちよく掃除ができ、より一層素敵な家になります。
Our standard check-in time is 5 pm (Japan time of course. Haha), but we can be flexible with it. In case of when you join in another guest's room, you can bring and keep your baggage in the hallway on the day you check-in, but you can't enter your room earlier than 3pm.
チェックイン時間は17時と設定しています。しかし、臨機応変に対応します。
使用予定の部屋に前のゲストさんが宿泊している場合、部屋に入ることができるのは、早くて15時以降です。その場合でも、荷物を廊下等に先に置くことは許可します。
For late check-in, I cope with adaptation to circumstances. Please come in peace.
遅いチェックインにも、臨機応変に対応します。安心していらしてください。
Please make sure to let us know your anticipated check-in time when you make a reservation. If any change occurs, please also notify us; otherwise we will be worried about you.
チェックイン時間は予約確定時に先にお知らせください。変更になった場合も遅延なくお知らせください。連絡がないと、心配しますのでよろしくお願いします。
Finally, this English transcript was written by Rina who is a lovely Japanese lady stayed with us in March 2016. We would love to show our appreciation of her help here.この説明文の英語は、2016年3月にゲストとして宿泊をしたRINA-sanという素敵な日本人女性が翻訳してくれています。この場を借りて、改めて感謝します。
'Arigatou (Thank you), Rina!'
「ありがとう、りなちゃん!」
– Rina: 'Kochirakoso! (Thank YOU! That's how Gen-san always responded to me )'
You must also acknowledge
Must climb stairs - To the entrance of the second floor, there are 16 steps of linear stairs in two places to the room of the third floor each.
No parking on property - There is a coin parking of 700 yen a day in the 300m away place.
Some spaces are shared - There are a kitchen, dining, the living that guests can take the communication.
Amenity limitations - There are a bathtub and the shower in one place only one by one. So we share it in up to 25 people, you may wait a little depending on a timing.
車で行きましたが近くに24h600円~の駐車場がいくつかあり、便利でした。スカイツリーへの観光は電車でとても行きやすい。ホスト、サブホストがとても良い人で安心しました。キッチンや冷蔵庫、洗濯機も使えるので助かりました。場所は迷うことなく到着。部屋も清潔。アメニティは少なめなので準備していった方が良いかと。 とってもリーズナブルで良い旅になりました。ありがとうございました。
Hi,Mayu-san,Hiroki-san,Reira-chan,Raiku-kun! ☆☆☆☆☆ You are very wonderful guests. Your stay in GenTomo House was very enjoyable. Thank you for choosing our house. You kept your room very clean. We look forward to seeing you again one day. Thank you very much! ☆☆☆☆☆ とても素敵な家族でした。 GenTomoHouseでとても滞在を楽しんでくれました。 部屋をとても綺麗に使ってくれました。 私たちの家を選んでくれてありがとうございます。 また会える日を楽しみにしています。 ありがとう。 ☆☆☆☆☆ TOKYO Long Homestay GenTomoHouse Host Genji & Sub-Host Wing & Chisa & SubSubHost Lauriane(from Canada) ☆☆☆☆☆
---
Everyone, hello!
We are Long Homestay GenTomo house's GenTomo.

Hasband is Genji,Wife is Tomo.

I'm looking forward to being able to interchange with a AirBNB company of all the countries.

When going to Hong Kong, AirBNB was used, and was moved, so it was a host.

We like good fruit and vegetables.

I'd like to enjoy myself through AirBNB with the person who can enjoy an exchange.

みなさんこんにちは!
「ロングホームステイGenTomoハウス」のGenTomoです。

夫はGenji
妻はTomoです。

世界各国のAirBNB仲間と交流できることを楽しみにしています。

香港に行ったときAirBNBを利用し、感動したのでホストになりました。

美味しい果物と野菜が好きです。

交流を楽しめる人とAirBNBを通して楽しみたいと思っています。

あなたにお会いできるのを楽しみにしています。

~~~~~~~~~~~~~~~~~~~~~~~

Fast time Guest (Jan/2015)@HongKong
Started Host (Mar/2015)@Ariake Tokyo Japan
28% Host(Oct/2015)
Change Room (Nor/2015)@Takenotsuka Tokyo Japan
34% Host(Jan/2016)
79% Host(Apr/2016)
84% Super Host(Jul/2016)1st time
02 GenTomo House open(8/1/2016)@Ikebukuro Tokyo JAPAN
84% Super Host(Oct/2016)2nd time
82% Super Host(Jan/2017)3rd time
82% Super Host(Apr/2017)4th time
02 GenTomo House close(6/27/2017)@Ikebukuro Tokyo JAPAN
Get Assistance Hosting Special Invitation(29 June,2017)1st time【AHSI】
82% Super Host(June/2017)5th time
82% Super Host(Oct/2017)6th time

現在は、5箇所の家をGenTomoHouseとして運営しています。
01_TK 東京都足立区竹の塚@GenTomoの本拠地
03_HS 青森県八戸市白銀@Rurico先生の別荘
04_TU 茨城県土浦市大町@Mariさんの別荘
05_KW 千葉県柏市ひばりが丘@Mariさんの別荘
06_EG 東京都江戸川区北小岩@Kenさんのシェアハウス
GenTomoHouseめぐりは楽しいですよ~

☆☆☆☆☆GenTomo House☆☆☆☆☆
01【TK-x】Takenotsuka Tokyo JAPAN
https://www.airbnb.jp/wishlists/50402102

ALL LISTS
https://www.airbnb.jp/users/26386081/wishlists

~~~~~~~~~~~~~~
Languages:
Bahasa Indonesia, Bahasa Malaysia, Bengali, Dansk, Deutsch, English, Español, Français, Hindi, Italiano, Magyar, Nederlands, Norsk, Polski, Português, Punjabi, Sign Language, Suomi, Svenska, Tagalog, Türkçe, Čeština, Ελληνικά, Русский, українська, עברית, العربية, ภาษาไทย, 中文, 日本語, 한국어
Response rate:
100%
Response time:
within an hour
Explore other options in and around Adachi
More places to stay in Adachi: