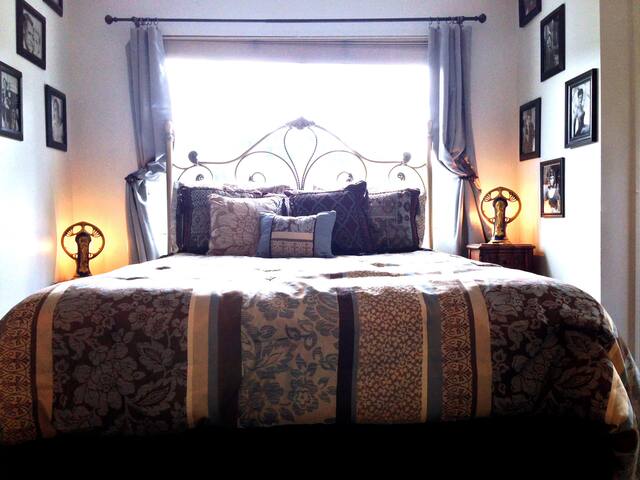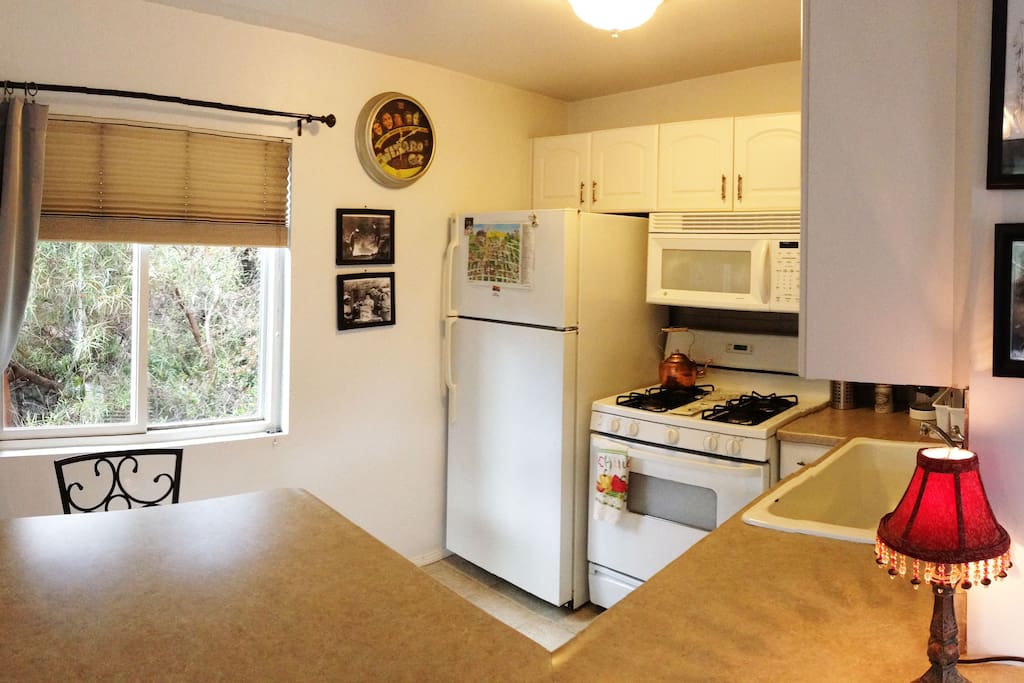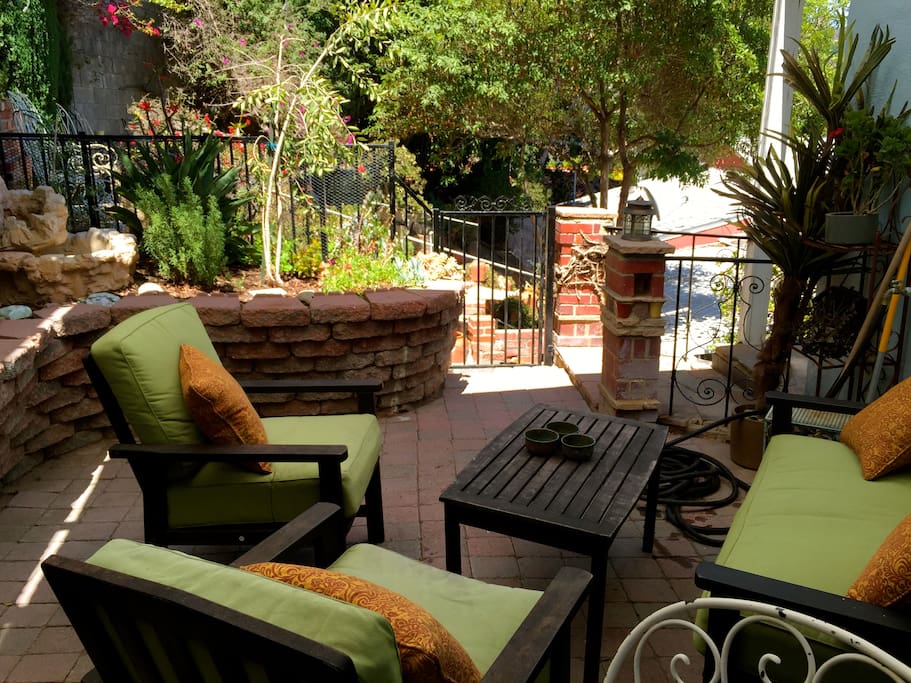 HARRY POTTER Hill_Walk 2 Universal_Top Area_SafeGH
Bright_Clean_Safe_Quiet_Private_Hollywood Glam Themed Bungalow with spacious adjoining patio area. Awe-Inspiring Views Atop Enchanting 1 Of A Kind 1930's Italian Garden. Hand-Crafted Pottery & Carvings. Sunny_Unique & Atmoshperic. Romantic night lighting & green, red & white disco dancing lights! Near_Universal_WB_CBS_ Hollywood_Dreamworks_Paramount. Comfortably suits up to 4 people. There's a reason this is a SUPERHOST listing, be sure to read our reviews! :o) Breakfast available ($1 per item).
The space
Harry Potter and The Walking Dead attractions have opened at Universal Studios! Now they are starting to build Mario Brothers!
Described by guests as "Enchanting", this is a Charming & Private 450 square foot Hollywood themed guest house with a private entrance, front balcony patio with a partial view of the Hollywood sign and private, spacious, gated adjoining covered patio. This gorgeous, newly renovated bungalow sits atop a one of a kind 1930's Italian garden with pottery & hand carvings. Perfect for industry professionals coming into town for projects as well as writers, musicians, artists, business travelers, vacationers and families. Located in one of the most popular areas in Hollywood Hills, we are seconds from Universal, Warner Brothers, CBS, Paramount, Gower Studios, DreamWorks, Hollywood Blvd, Hollywood Bowl, Griffith Park and other notables.
Nestled near the tree tops behind a 1930's estate, this upscale celebrity-filled neighborhood is peaceful, clean, safe, comfy, cozy, tranquil and sunny. Built on one of the only hills in Hollywood made of stable, unshakeable bedrock, it feels like you're in a secluded mountain getaway with it's calming atmosphere, yet is close to all the action (walk up the hill and see the entire back lot of Universal!) You will enjoy incredible views and romantic night lighting through out the yard as well as the fun disco explosion light show for kids of all ages in the main courtyard.
We are the closest location to Universal Studios, since we share the same hill! A 7 minutes on foot and 1 minute away by car. We are also near NBC Studios, Warner Bros., The Hollywood Bowl, Hollywood, Walk Of Fame, Hollywood and Highland, The Chinese Theater, Madame Tussauds, Studio City, North Hollywood, Burbank, Taluca Lake, Griffith Park, Sunset Blvd, Mulhulland Drive, Runyan Canyon, The Hollywood sign, Lake Hollywood, Griffith Park Observatory, Downtown Burbank, Beverly Hills, West LA. and more.
Built on the safest bedrock foundation in Los Angeles for earth quakes, this property has unique, one of a kind gardens, created and built by artist Frank Marino in 1932. Most of the carvings found in the garden were hand made by the artist, with pottery and other pieces imported directly from 1930's Italy. This artistic and one of a kind property retains an enchanting and cozy guest house that is a classy tribute to the days of Old Hollywood starlets and it's glamorous beginnings.
Expect to have beautiful views, lots to do, since everything is so close by, quality rest and a good nights sleep in a comfortable pillow top queen size bed, with an extra faux featherbed on top when you stay in my guest house!! :) The second bed is a full size futon, also with a faux pillow top to ensure a refreshing, cushy, comfy nights sleep. Expect to be close to almost all of the major studios, including Universal Studios :) So far, I've had guests come in for as short as 1 night and as long as 3 months.
FULL PRIVACY, Large 450 sq. foot, self-contained, separate bungalow with gated patio area and balcony front porch nestled near the tree tops above a 1930's house, built in one of the top locations in Hollywood. This charming and completely unique guest house is a tribute to the Old Hollywood starlets. It is secluded, safe, comfy, elegant, chic, quiet, and guests who stayed here from France, described it to me as "enchanting". It's near all the action and most major attractions. (Walking distance to the ENTRANCE of Citywalk is 7 min, 30 seconds by car. Walking distance to the ENTRANCE of Universal Studios-1/4 of a mile-15 minutes on foot, 1 minute by car). Full kitchen, Full bathroom with brand new hardware, Brand new tile and Bathroom mirror, roomy closets, direct TV, Wi-Fi, library of books and movies, heating, air conditioning, fireplace, universal dock audio player, air purifier, brand new 50 inch flat screen TV with sound bar which also connects to your blue tooth to play music, Blue Ray and VCR player, convenient and inexpensive mini bar, atmospheric indoor and outdoor lighting, Front balcony and ample sized private covered terrace area with comfortable seating and a fun "disco light show" in the main court yard, fun for children of all ages.
This Hollywood Hills "Treehouse" is blocks away from the major Studios and in the heart of all the Entertainment outlets and most of the major attractions. This elegant, old Hollywood glamour/starlight themed Guest House is nestled above the Main house which was built in 1932. The Guest house has been completely gutted, renovated and re-designed on the inside. This popular celebrity-filled neighborhood is one of the top sought-after locations in Los Angeles and is safe, secure, private, exclusive, secluded, popular, peaceful and quiet.
• 450 square ft. Studio Guest House - completely private
• Full, large kitchen, seats up to 4, 12 cup coffee maker, 2 microwaves,
oven, fridge, stove, toaster, all dishes, pots, pans, fondue set, all utensils,
needed, glassware etc. provided.
• Lots of counter space
• Full bath room with tub, shower, shampoo, conditioner, lotion, soap,
candle, iron, ironing board, blow dryer, bath towels, beach towels, more.
• Large refrigerator with automatic ice maker with filtered water
pitcher provided.
• AIR CONDITIONING-don't be fooled by places that don't have it and say
you "don't need it"- it can get VERY hot in LA - (106-119 degrees this past
summer! 95 degrees in October!)
• Heating
• Free WI-FI
• Direct TV
• HEPA Air Purifier with UV option
• Fire Place
• Universal All media Music Doc-iphone, android etc.
• Sound bar for TV and blue tooth music streaming
• Brand new Flat screen 50 inch TV with remote
• Blu-Ray player
• Welcome treats provided upon arrival
• Inexpensive mini bar for tired traveler's convenience
• Pillow top Queen size bed with additional faux featherbed topping
• Double size futon bed with additional padding and a faux feahterbed on top for sleeping - very comfortable
• 600, 800 thread sheets & microfiber sheets provided
• Atmospheric 1930's indoor
• Romantic outdoor lighting
• Fun, "disco light show" in main courtyard for kids of all ages
• Beautiful, inspiring views
• Glass French doors
• 3 large windows with rolling hidden screens
• Large ceiling fan (choose lights on or off)
• 2 spacious closets
• French Style Antique Dresser-Hutch with Mirror and Stained glass doors
• Extensive library of 300+ TV shows & movies
• Library of books available for check out
• Beach towels, beach chairs, ice chest provided, Insulated drink container
• Filtered water
• Ice maker
• Clean towels, all bedding provided, extra blankets, pillows and blanket
wraps, foot stool for couch
• Gorgeous Italian tile work
• Painted a peaceful sea blue inside
• Secure, safe, upscale, celebrity neighborhood
• Partial view of Hollywood sign
• Light, Bright, Airy, Quiet and Peaceful.
• Built on bedrock, so no worries about earthquakes!
• No drugs - smoking OUTSIDE only
• No pets allowed
• Double locked security gate, 3 gates in all
• Italian gardens to relax with interesting Italian carvings and brick work
through out.
• This location is close to everything and is known as a celebrity hide out.
• $75 non-refundable cleaning fee (For guests staying 1 or more months, an
additional $50 a month cleaning fee is due)
• $5 fee for parking pass + $20 deposit (refunded when pass is returned)
• Centrally located
• Quiet and Friendly atmosphere
• Close to public transport
• Laundry done by house maid @ $10 a load for guests who stay longer than
a week. (Usually done on Friday's). Cash only.
• Walking distance (1/2 -1 block) to convenience stores, Starbucks, Vegan
Express, Tai Food, gas stations, other restaurants. (Extensive guide
provided).
• Close to freeways & public transportation (metro & bus line)
• Easy to Uber/Lyft (if available, we will uber/Lyft you around).
• Near movie studios, recording studios, Universal Studios, Ellen, Jimmy
Kimmel, Hollywood Bowl, NBC Studios, Chinese Theater, Walk Of Fame,
Griffith Park Observatory, Hollywood sign, Runyan Canyon, North
Hollywood, Studio City, Pasadena, Glendale, Downtown, Beverly Hills,
West Hollywood, Sunset Blvd., The Roxy, House Of Blues, The Viper
Room, Forrest Lawn, Hollywood Forever Cemetery, Santa Monica Pier,
Venice Beach, more
• 45 min. from Disneyland
• 25 min. from beach
• You can take the subway from Universal Studios straight into Hollywood for a day of shopping and sight seeing on Hollywood Blvd, or it's a 5 minute
drive with $4 parking at Hollywood and Highland.
- Please note there are several outdoor stairs to and from the bungalow.
- This is the perfect, one of a kind space for travelers, writers, artists & musicians looking to relax or work in a truly inspiring creative environment with a rich history.
- A very secluded spot. Nice and quiet for writers and other artists. Secluded, safe and secure for celebrities. (There are many celebrities living in this neighborhood). Minutes away from the creative heart of LA & Hollywood attractions & studios.
Plenty of outside space for hiking or just getting away from it all--At the top of the hill, you will enjoy a spacious view of the Universal Studios back lot, and the entire San Fernando valley. On the hill across the road, you can hike the beautiful reservoir (3 miles around the 'lake"). The neighborhood is surrounded by mature trees and there are one of a kind views across the city, valley, mountains, Griffith Observatory, Hollywood sign & reservoir to the ocean. It feels as though you are in wildness although the city is just down the hill.
Sunsets and sunrises are amazing up on the hill overlooking Universal Studios. Only 1 minute from the Hollywood Bowl and 5 minutes from the night-life of downtown Hollywood.
We want your stay to be as nice, pleasant, easy and relaxed as possible.
- 2 min to Hollywood Sunset & Vine less than 1 mile away
- 1 min drive to Universal studios 1/2 mile away
- 10 Min. drive to West Hollywood
- 15 Min. to Rodeo Drove / Beverly Hills
- 15 Min. to Echo park / Silver Lake / Downtown
- 35 Min. drive to the fun beaches and oceans (Venice/Santa Monica)
- 45 Min. drive from LAX /
- 12 Min. from Burbank (BUR) airport
- 12 min. drive to Glendale.
- 5 minute drive to North Hollywood and Studio City.
Adults and children welcome
Room comes with a notebook listing places to see, phone numbers and addresses of some nearby places such as restaurants and Starbucks within walking distance. Also equips you with the rules and regulations of the house as well as an extensive list of Movies and books you can "check out" for $1.
• No smoking inside the guest house - but there is a lovely terrace where you may smoke outside and enjoy a view over the garden.
Guest: "what a special place! unbelievable that you can be so centrally located and at the same time have such silence, nature and even a touch of wilderness in the middle of Hollywood."
* Please note, when staying 10-28 nights, or make a reservation for more than 4 people (1-28 nights), an additional $50 cleaning fee will be due. This is what my cleaning crew charges for additional people after 4 guests.
As of August 15, 2016 Universal has filled the sidewalk with plants, so walking is no longer recommended, although guests are still walking there.
• Please note that if you are staying less than 30 days, you will need to pay
the LA transient occupant hotel tax of 14%, which I am HAPPY to announce airbnb will start collecting as of August 1, 2016!

MONTHLY STAYS: A security deposit of $200 upon arrival. Refunded if nothing is damaged or stolen. An additional $50 cleaning fee is required per month.
Use the INSTANT BOOK Feature and there will be NO WAITING. If the system allows you to book, then that means my calendar is free for those dates! If the dates you want are open, don't wait too long to book, because they could be taken, especially in the summer months. With instant book you don't need a pre-approval from me. My calendar is completely accurate, so if you're comfortable with the instant book feature, go for it! :)
A few Celebrity Residents Past and Present are/have been Cameron Diaz, Johnny Depp,, Justin Bieber, Paris Hilton, Madonna, Justin Timberlake, Robbie Williams, Diane Keaton, Kylie Minogue, Kristen Stewart, Leonardo DiCaprio, Bridgett Nielson, Vin Diesel, Zac Efron, Morgan Fairchild, Randy Quaid, Megan Mullaly, Keanu Reeves, Byron Allen, Ryan Phillipe, Moby, Buck Henry, Dido, Jose Eber, Paul Oakenfold, Christina Applegate, Drew Barrymoer, Eminem, Kanye West, Ryan Seacrest and Nicky Hilton.
On the property guests have access to free parking and an enclosed private, lit patio area attached to the Guest House with comfortable seating provided. Smoking is permitted outside only. Guests have their own spacious kitchen, full bathroom, Direct TV, internet, ice maker, Filtered water, air purifier, 300+ movie library, brand new 50 inch flat screen TV, DVD player, all media player for iphones, ipods, androids, etc., iron with ironing board, blow dryer, beach chairs and cooler, coffee and coffee maker, fireplace, air conditioning, heating as well as their own front balcony adjacent to the large private side terrace area. All attractions are 1-5 minutes away by car with many with in walking distance. This is a celebrity-filled neighborhood, so don't be surprised if you see Kristen Stewart, Morgan Fairchild, Bridgette Nielsen or other notables walking their dogs by the property. It is a extremely safe, secure and upscale neighborhood.
I interact via text messaging almost every day to see if guests are comfortable, have questions, need assistance or need anything. If you are coming in from outside the U.S., getting a US phone while you are here is a MAJOR HELP in communicating, or download the Wazzup app to your phone for texting there. We are usually home during our guests stay, however we stay virtually invisible, as we respect your privacy. We are here if guests need us, yet not here so guests can enjoy their stay :o)
What I love about this neighbor hood is that it's an upscale hide away that is safe, extremely quiet, yet is close to everything in Los Angeles. I love that this is one of the only hills built on bedrock, which makes it more secure for earthquakes. It's fun to run into celebrities in the neighborhood walking their dogs, and the homes here are unique and beautiful. The hill this home is built on is a highly sought after area because of it's convenience, popularity, location, million dollar homes and secure bedrock hill.
There is always Uber and Lyft, however buses are a block away, subway is about 3 blocks away. 12 minutes to Burbank airport. All major modes of transportation are here. I provide a list and a map for all guests who come here. There is a new flyaway bus system to and from the airports, which just opened in Hollywood and is 5 minutes away. Take note: we often will uber/lyft guests around ourselves, if we are available.
* There are steps, please do not drag your luggage and chip them. We can have some one take your luggage up by our resident bell hop. Tips appreciated.
Guest access
Everything from the pathway up to the guest house and the patio behind the guest house is permissible.
Interaction with guests
I am always available to help through out your stay. Reachable through text messaging or phone calls, even in the middle of the night. Onsite help available most of the time as well.
Other things to note
New development: Universal Studios has closed the Barham freeway ramp, so now the ramp will be a few blocks further away.
Harry Potter opened April 2016 at Universal Studios, you can see the castle from the top of our hill. The Walking Dead opened July 4, 2016.
If you are staying 30 days, or make a reservation for more than 4 people, an additional $50 will need to be paid. This is what my cleaning crew charges for additional people after 4 guests.
As of August 15, 2016 Universal has filled the sidewalk with plants, so walking is no longer recommended.
---
---
Common spaces
1 queen bed, 1 sofa bed
---
Not safe or suitable for infants (Under 2 years)
Check in time is flexible
Self check-in with doorman
-Smoking is allowed outside only on the back patio. Ash trays provided.
- There is a $25 fee for Early check-in before 3pm (when available) and for late check-in after 10pm.
-Breakfast can be purchased through the mini bar (cereal, pop tarts & oatmeal) for $1.
-Keep all gates on premises closed and locked.
- Leave the room as you found it (with exception of making your beds).
- Put dirty towels in hamper provided in the closet, if they are wet, please hang on the back of the kitchen chairs upon check out.
- Wash your dishes please.
- if you use the oven and you do not keep it clean, you will have to pay additional money for our cleaning crew to take care of it.
- No unruly noises outside after 11pm.
- No one is allowed on the opposite side of the yard, across from the guest house.
- Laundromat near by, however, you may pay $10 per load of wash to be done by the house maid.
- Leave the property as you found it, please be respectful of our belongings.
- Please remove all garbage & trash from room into bins provide on the street. Blue is recycling, Black is trash.
NO PARTIES or DRUGS
-- Please no shoes on the carpet and rug portion of the guest house once you are inside.
-- If you ruin towels, sheets, blankets, break dishes, take something, etc. you WILL be charged, so be respectful and considerate -- take care of the property and it's contents. Thank you so much! :o)
---
Fawn and John were great hosts, this was our first Airbnb and it could not have been better. They were both really welcoming and Fawn always responded promptly and efficiently to any questions we had before and during our stay. The unit is clean and has everything that you need, it's really quaint and made you feel tucked away from the hustle and bustle of LA, a great welcome tranquil retreat from our busy days out. Great location everything within easy driving distance (that's easy LA style ) Universal studios literally just a 15-20 walk around the corner. Would recommend this property to anyone planning a trip to LA.
---
By far the best bnb I've been to! She showed us the best attractions and food near the house, and the bed was the COMFIEST bed I've ever slept in. Beautiful outdoor seating. I would definitely recommend this to couples! My boyfriend and I could have asked for more. Cheers to fawn!
---
Fawn was an excellent host! Gave us heaps of local insight and was really welcoming. The treehouse was so cute and in a great location, perfect for Universal Studios! Thanks so much for your hospitality Fawn, we really enjoyed our stay!
---
Fawn was an amazing Host! She was very attentive and if we needed anything we were able to communicate freely! High recommendation!!
---
Fawn's place it truly a hidden gem in every sense of the phrase. She was very attentive, checked in on us regularly, and even helped us set up for my niece's 6th birthday surprise. The space is very comfortable for 3-4 ppl and is exactly as Fawn describes it. I loved having a kitchen and the outdoor patio (and scenery) is a treat. I highly recommend staying at Fawn's tree house!
---
Los Angeles, California, United States
Joined in March 2013
I'm Fawn and I'm an easy going, cheerful person who loves hosting people from all over the world. I love to learn new things, travel and I have a heart for children and animals. I'm a recording artist and songwriter. I write songs, sing and compose for a living. I've had a top 10…
Response rate:
100%
Response time:
within an hour
Explore other options in and around Los Angeles
More places to stay in Los Angeles: