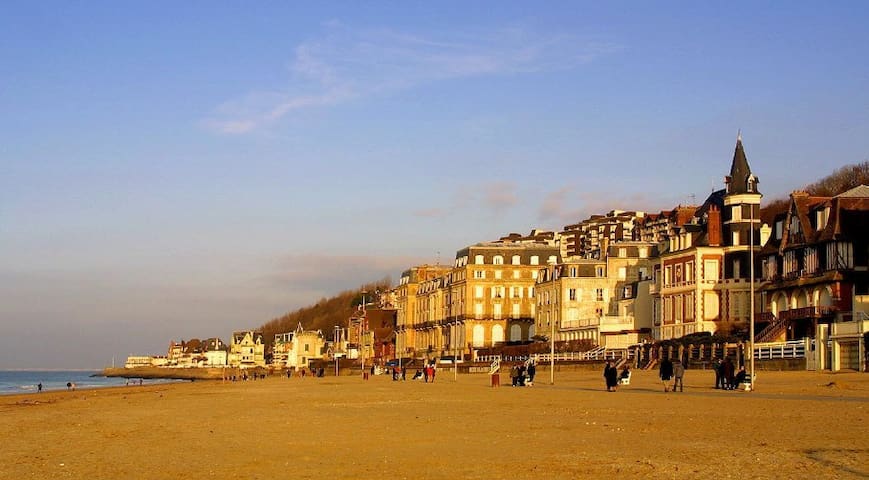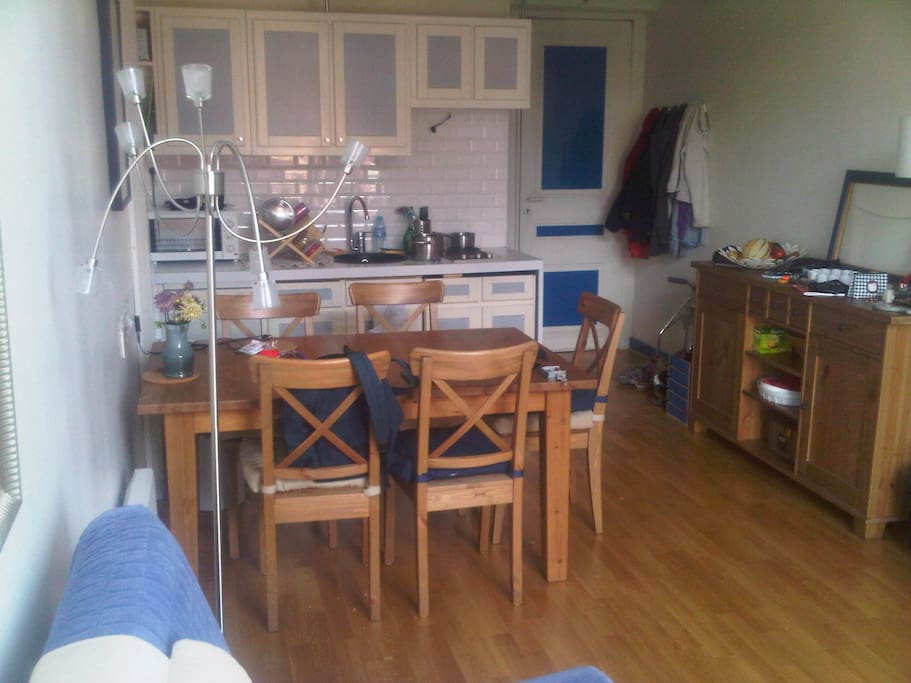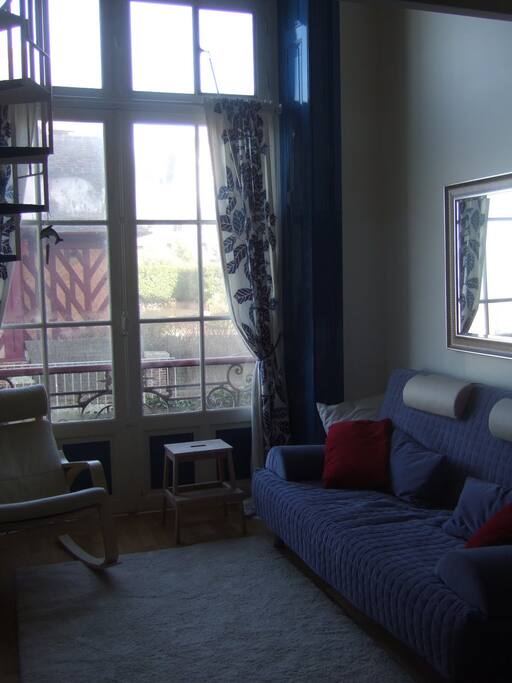 Beachfront apt in select residence
Come relax in this charming studio/duplex in Les Roches Noires in Trouville. An amazing atmosphere awaits you in this former grand hotel. A Romantic place perfect for a family with kids or a couple wanting to spend some time together.
The space
Just a 2-hour drive or train ride from Paris, this newly renovated studio/duplex is in Les Roches Noires in Trouville-sur-Mer, which was formerly a grand hotel, painted by Monet in 1870, and frequented by Flaubert, Proust, and Marguerite Duras. The beach-front apartment faces the ocean and has small but a nicely-equipped kitchen, a full-size sofabed for 2, and full-height mezzanine with twin bunk beds. A queen-size air mattress also is available in case occasional extra sleeping is required.
Spend a relaxing week-end or week or month strolling the beach promenade for delicious gaufres (waffles), exploring the charming fishing village of Trouville, and walking to glamorous Deauville. Also within walking distance you can find sailing, tennis, shopping, open air markets, restaurants, country walks, and just a bike ride away is the Deauville Hippodrome for horse racing. If you have a car, it's just a short drive to a traditional cidrerie (family-run apple cider and calvados), artisanal cheese producers (camembert, pont l'eveque), scenic farms, and the ancient port of Honfleur. The World War II landing beaches and memorials are an hour's drive away.
Note: The apartment is for rent for 1 week minimum during the high season (Summer and school holidays) and for a minimum of 2 night-stay at all other times.
Note 2: For those who like French Literature: The apartment is located directly under the apartment that Marguerite Duras lived in for many years before she died. The view from the window is hence the more or less the exact same view that she had from her windows. It is a pretty amazing experience to read her books sitting down on the sofa, looking at the same sea and beach she was looking at while writing.
Note 3: Absolutely No Smoking allowed.
Note 4: This is noted in the "Amenities" section but I remind it here: There is absolutely no TV, no Internet and no Radio. That's right, no radio or wireless. The only waves you'll hear are... real waves.
---
---
Always communicate through Airbnb
To protect your payment, never transfer money or communicate outside of the Airbnb website or app.
Learn More
---
ONCE YOU ARE BOOKED, I WILL SEND A DETAILED - AND ILLUSTRATED - "APARTMENT HANDBOOK" WITH ALL THE INSTRUCTIONS AND DETAILS ABOUT THE APARTMENT, ALL APPLIANCES, WAYS TO GET THERE AND GET IN.
0) There is absolutely ***no smoking alowed in the apartment*** (even by the widow), due to allergy and safety issues. If you want to smoke, do it outside the apartment please.
1) You can use the large common terrace facing the sea as much as you want but the two rules about it are: No music allowed on it, and no eating on the terrace. We didn't make those rules, this is just how it is in the Residence. But nothing stops you from bringing a beach towel and making a great picnic on the sand, right in front of the terrace.
2) Not sheets or towels or clothing to be hanged from the balcony / open window. It's also one of the rules in the Residence...
3) There is a closed in parking for about 30 cars right in front of the Residence, on a first come first serve basis. You are hence not guaranteed to have a spot in the parking lot if it is high season. However, there is street parking available outside the residence, if the parking lot is full. It is quite rare not to have a spot in the parking lot, though.
4) When it is not summer, there might be renovations going on in the corridors leading to the apartment, or in apartments near-by. This is a very old building, and some renovations of one kind or another are always going on, so we cannot guarantee that there won't be renovations going on in the building at the time of your stay. One particular project is one taking place from January 2013 to June 2103 in the corridor directly outside the apartment. This means you might see a bit of a construction zone when you enter and leave the apartment, but hopefully this will not affect the pleasantness of your stay there.
5) This is an old building, but we have done fantastic renovations to the apartment. We spend a month per year in it. In between the apartment is occasionally rented. The apartment is cleaned up in between rental, so all should be in order. However, this is not a hotel, so please 1) do not expect service like in a hotel and 2) take care of the place while you are there, and before leaving it, as if it was your own, with love and attention.
6) Kitchen: You can use the kitchen and all utensils and dishes as you wish. You will find all the essentials (oil, etc.) above the sink, depending on what the previous tenants have left or bought as extra. IMPORTANT: For dietary reason, we have our own set of dishes, which are in clearly marked Private areas. Thank you for respecting our privacy and not using any utensils or dishes from those closed-in areas.
7) Similarly, in the closet, we have a few shelves marked as private, with our own stuff for when we come spend our vacation in the place. Thanks for respecting our privacy and not using what is on these clearly marked shelves.
8) There is a single gigantic, beautiful French door-style window, 5 meters tall, in the apartment. This is the one thing we have not renovated, together with the ancient shutters (they both date from 1866). Because it is a tall, ancient wood window, you got to be careful while opening it. Once the window is open, you have to open the shutters. These are really tall and heavy shutters. I will send you tips to open and close them, in case you have ever handled a gigantic pair of 150 year old shutter before :-)
9) There is no phone, no internet, no TV, no radio in the apartment. The only waves you are getting are the real ones, from the sea!!!
10) The toilets are on the ground floor. The glass-door shower, double sinks vanity, and washer/dryer, are in the bathroom upstairs in the Mezzanine level. Warning: there is not sink in the toilet, so unfortunately, until we install one, one has to wash hands in the kitchen sink or upstairs in the bathroom. We find this quite inconvenient and apologize for this, but we never got around to install a sink in the toilet, although we are working on doing this at some point.
11) The towels are just for the shower, bathroom, not for the beach. Please bring your own beach towels.
11) On the ground floor, behind the toilets, there is a walked-in closet. Inside that closet are two beach chairs and some beach mats. Feel free to use them. There is also a very practical French rolling shopping cart. This is also the place where we keep toilet paper.
12) Before leaving the place: Make sure all heaters are shut off in case you used them. Make sure the shutters are closed and locked, and the window is properly closed and locked. Put the blue cover back on the sofa bed, and unless you had cleaned and dried them before, leave all the dirty sheets and pillow case on the sofa bed. I will pay the cleaning lady to come and clean them up after your departure.
ONCE YOU ARE BOOKED, I WILL SEND A DETAILED - AND ILLUSTRATED - "APARTMENT HANDBOOK" WITH ALL THE INSTRUCTIONS AND DETAILS ABOUT THE APARTMENT, ALL APPLIANCES, WAYS TO GET THERE AND GET IN.
---
---
We are a family of four, living in France and Washington DC, in the USA. I am the father, Benjamin, and I am French. I spent all my vacation time when I was in France in Normandy, in the Residence des Roches Noires, in Trouville sur Mer, Calvados, France. We ended up buying an apartment there, it is such a magic place. We hope that you will enjoy it when we are not using it - we go there every August. We have equipped the place for being rented. All the people that have stayed there so far have found the place not only comfortable and beautiful but also so special and magical, that we hope that for you too it will be a special place for special moments with your loved ones!
Languages:
English, Français, עברית, 中文
Explore other options in and around Trouville-sur-Mer
More places to stay in Trouville-sur-Mer: