La casa con vista sulla vallata è situata al centro del caratteristico paesino di montagna Arcinazzo Romano,è molto luminosa e spaziosa,è dotata di tutti i servizi, presenta entrata indipendente ed è adatta anche per due famiglie. Come rigenerarsi!!
La casa,situata al centro di un caratteristico paesino di montagna(830m slm) a 80 km da Roma, è composta da 4 camere da letto, di cui 2 matrimoniali (1 camera con ampio balcone) e 2 con letti singoli,un'ampia sala con balcone, una cucina con camino, un grande bagno con vasca e un bellissimo terrazzo con vista sulla vallata. La casa è molto luminosa, adatta per famiglie, con entrata indipendente e con un grande garage per un posto auto. Il paesino è grazioso con aria fresca d'estate e asciutta d'inverno ed è situato a soli 5km dagli Altipiani di Arcinazzo,oasi di serenità con ampi prati verdi e piste ciclabili, e 15km dalle terme di Fiuggi. Come rigenerarsi...!
Il paesino, Arcinazzo Romano , si trova ad un altezza di 830m slm, a 80 km da Roma, a soli 5 km dagli Altipiani di Arcinazzo e a 15 km dalle terme di Fiuggi.
The host canceled this reservation 58 days before arrival. This is an automated posting.
Simone
2016-11-02T00:00:00Z
La casa ha soddisfatto pienamente le nostre esigenze; comoda, pulita, spaziosa. Buon rapporto qualità/prezzo.
Oreste
2016-08-11T00:00:00Z
Cristina o meglio Assunta la mamma è stata molto disponibile è carina sia nel l'accoglienza che nell'assistenza per il soggiorno!! Sempre presente ad ogni nostra richiesta. Grazie di tutto!! Giovanna, Valentina e la piccola Sophy
Giovanna
2016-08-21T00:00:00Z
Room Type
Entire home/apt
---
Property Type
House
---
Accommodates
8
---
Bedrooms
Arcinazzo Romano, Lazio, Italy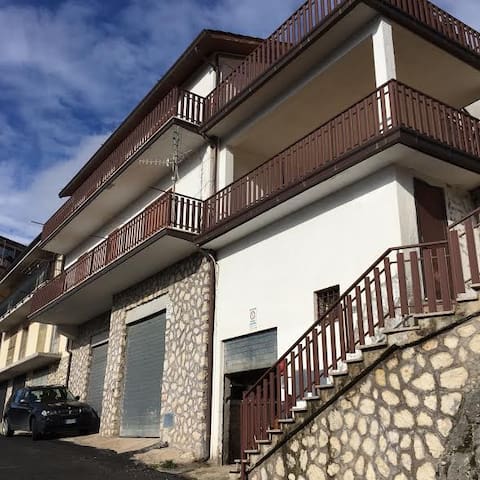 Deliziosa abitazione del 1600 nel centro storico, calda e accogliente tra i monti Simbruini a pochi passi da importanti Siti archeologici e vicino al Monastero di San Benedetto a Subiaco. Offriamo inoltre servizi extra per una pensione completa.
Pizza restaurant/pub, and markets are 5 min walking from the apartment.
One word......Incredible. The entire family is incredible. They grow their own food, press their own olive oil and crush their own grapes into wine. The meal they cooked us was authentic and perfect. The view is priceless with your own balcony. I highly suggest this apartment.
luke
2016-07-19T00:00:00Z
Abbiamo prenotato all'ultimissimo minuto. Nonostante questo, l'accoglienza da parte della famiglia di Clara è stata impeccabile, e molto calorosa. Tutti sono stati molto gentili! L'appartamento è spazioso, pulito e molto suggestivo! La vista sulle colline / montagne circostanti è spettacolare. Il paesino è molto carino, per passare una serata tranquilla. Senza dubbio la migliore esperienza airbnb. Altamente raccomandabile. Despite the very last minute booking, Clara's family was very welcoming and helpful. They were all very kind to us. The apartment is big, clean and very charming, with amazing views over the nearby hills / mountains. The village is nice and calm, perfect for a quiet night. The best airbnb experience for us so far. We definitely highly recommend a stay at Clara's.
Gil
2016-07-17T00:00:00Z
Ambiente spazioso, accogliente e ben disposto. Massima disponibilità e precisione sia dell'host Clara che della madre Rita, bravissima cuoca. Vista spettacolare e un posto tranquillo dove ammirare la bellezza della natura. Posti letto molto confortevoli Per sogni piacevoli. Tanti saluti
elisa
2016-04-03T00:00:00Z
Clara y sus padres rita y giorgio son los perfectos anfitriónes que nos hicieron sentir que estábamos en el mejor lugar del mundo. El lugar es super confortable y absolutamente recomendable para todos aquellos que quieran experimentar la verdadera vida de una familia italiana.
jorge
2016-02-25T00:00:00Z
Room Type
Entire home/flat
---
Property Type
House
---
Accommodates
5
---
Bedrooms
Arcinazzo Romano, Lazio, Italy
Romantic Chalet near Rome (60 Km) nested amongst magnificient views of fields and woodlands. Spacious and newly refurnished , it has all the amenities you need. Guests can enjoy fully fitted kitchen, large private garden with BBQ. Bathroom with shower, TV, AIR Contidioning, fireplace, heating. The Chalet is all for you!! Perfect for couples and families. Pets welcome.
Splendido chalet panoramico realizzato interamente in legno naturale e mattoni in cotto. E' composto da un ampio salotto a vetri al piano superiore con grande divano per godere della splendida vista e zona letto. Terrazza. Cucina spaziosa e perfettamente funzionante, ben fornita di tutto il necessario per cucinare, al piano inferiore. Camino. Bagno privato con doccia. Riscaldamento autonomo. Impianto di condizionamento. TV. Parcheggio. Zona cucina esterna con barbecue e forno a legna. L'alloggio è raggiungibile in 1 ora da Roma (60 Km).
Bellegra (RM) si trova a 815 metri di altezza. Si raggiunge con Autostrada Roma/l'Aquila uscita Castel Madama, seguire indicazioni per Bellegra; Autostrada Roma/Napoli uscita Valmontome, seguire indicazioni per Bellegra. Si raggiunge da Roma con il BUS COTRAL direzione Rocca S. Stefano oppure con il TRENO fino a Colleferro o Valmontone. Servizio navetta Colleferro/Bellegra andata/ritorno, a pagamento su prenotazione.
Lavinia was very friendly and helpful and the house with its view were wonderful. Totally recommend it!
Razvan
2016-10-23T00:00:00Z
Un'esperienza veramente unica. La casa è un vero paradiso terrestre e l'accoglienza è stata a dir poco eccellente.
Antonio
2016-11-13T00:00:00Z
Posto fantastico con vista davvero bellissima a tutte le ore, ancora meglio che nelle foto! Noi ci siamo svegliati all'alba entrambe le mattine giusto per goderci lo spettacolo.. Posto consigliato a tutti!
Benji
2016-12-23T00:00:00Z
Atmosfera incantevole che infonde serenità e riavvicina alla natura e alla semplicità. La vista dalla splendida finestra del piano superiore è meravigliosa. Una casa accogliente e intima resa ancor più speciale dal camino e dalle travi in legno. Il tempo trascorre lento e si va via con una sensazione di pace, pienamente rigenerati. Grazie.
Noemi
2017-02-05T00:00:00Z
Accoglienza ottima, casa calda e accogliente, con un panorama fantastico ! Grazie Lavinia e Grazie Giacomo ! Felice anno nuovo !
Luca
2016-12-29T00:00:00Z
Casa splendida. Come stare in un dipinto. I proprietari deliziosi. Perfetto per riprendere fiato e rigenerarsi!
Luca
2016-11-01T00:00:00Z
Posto incantevole ed isolato tra natura e relax! Adatto a chi vuole scappare dallo stress quotidiano!
Valentina
2017-01-08T00:00:00Z
Location meravigliosa, attimi di relax in assoluta pace…
salvatore
2017-03-07T00:00:00Z
Room Type
Entire home/apt
---
Property Type
Cabin
---
Accommodates
4
---
Bedrooms
Bellegra, Lazio, Italy
A cottage made up of stone and timber built on two storeys, with a large living room, glass window, a couch for two people and a bathroom with sauna; on the second storey there is a double bedroom. Outdoors, there is a large garden with a porch equipped with BBQ and a wooden table. The site is located on the pleasant hills between Bellegra and Olevano Romano. We have currently added two beds, set up in a wonderful Indian teepe available for two extra guests in addition to the four ones.
The cottage is furnished with four beds and there are two extra beds in the teepe, there is also a sauna. The view is breath-taking: it is possible to appreciate wonderful nearby sites, relax and enjoy tranquility, practice archery, farm a garden, dig potatoes, tend the bees, or if you wish to go sightseeing through the several pleasant nearby places.
Have a look at the pictures in the website, they speak for themselves.
Pietro made us feel very welcome, and his house was lovely. Bellegra is quite deep in the mountains though, so if you're expecting to get in and out a lot it might be some trouble.
Sijia
2016-05-31T00:00:00Z
My girlfriend and I had a wonderful few days at this beautiful log cabin. Pietro was very sweet and we really got a feel for the local area as he brought us fresh eggs from his back yard chickens, olive oil from his own olives, home made tart and his own red wine. The cabin was a perfect size for the two of us and although is a little rustic in places, would be comfortable for a small family. The view is beautiful and sitting out on the terrace for breakfast with a strong coffee, fresh bread, local tomatoes, home grown olive oil and mozzarella was everything I could ask for from a holiday in Italy. A day trip to the Monastery near Subiaco was just a 30 minute drive away and is well worth a visit. Pietro stocked up the BBQ with plenty of wood so that we enjoyed a a monuments BBQ to finish the trip with the cats keeping us company. Thank you to Pietro for a fantastic few days of rural escape from the city.
Andy
2016-04-10T00:00:00Z
Pietro's was just as awesome as it looks! He was so helpful with figuring out bus/train routes (lots of websites were in Italian), and took us around to see sites near his home. He cooked some meals for us, and had us meet his friends. Although he speaks very little English, we were able to communicate, and it was great getting to learn about each other and share life with each other for a short while. He is a great host. Only downside is it is a process to get to the Rome from his home if you do not have a car-involves bus/metro/train, but if you are comfortable with that it's no problem! My husband and I figured it out and we're very glad for the experience to stay with Pietro.
Kayli
2017-03-24T00:00:00Z
Staying at Pietro's wonderful house up in the mountains, in the midst of a nature that can only be described as majestic, was absolutely bliss! I could never have imagined the impact it would have on us and the beauty we would see and enjoy. To top it all off, Pietro and his family are wonderful human beings greeting you with a smile and open arms as you arrive. Not only were we invited into their own private home to sit down and chat while sipping on their own made wine, we also got to use their home grown vegetables in our cooking (really adding to that authentic genuin italian feel we really wanted) and Pietro also tipped us off on where to eat and go to explore more wonders of nature. Also, as we got ourselves in some car trouble, Pietro rushed to our rescue and did far more to help us out than we could've ever expected. On those few days we decided to just stay put in the house up in the mountains it was still total bliss. Since we were up in the Italian mountains surrounded by olive trees, kittens and the forever on going buzzing sound from all the animals up there while enjoying a fantastic view, sipping wine and reading books, those days too were magic. As you probably can guess by now, we will definitely come back and it can't be soon enough! Thank you Pietro for a wonderful stay and for making this an amazing experience!
Tina
2015-07-22T00:00:00Z
As described by other guests, Pietro did everything possible to make us feel very welcome. All communication went smoothly and the place is as stunning as shown on the pictures. We stayed only a couple of nights with our 2 year old daughter. If you decide to stay with small kids, getting up to the bedroom via the ladder is a bit challenging, but doable. We loved the place and would come back again. Many thanks Pietro!
Anne
2016-11-13T00:00:00Z
Stunning home just outside Bellegra, with amazing views in all directions. Set amongst olive groves and beautiful gardens. Pietro led us to the house from town and we sat and talked with a glass of prosecco and fresh mozzarella. Cooked steak on the wood fired outdoor fireplace that night; absolutely amazing. Pietro had great advice on things to do in the area. Will definitely be back.
Stephen
2016-07-22T00:00:00Z
It is difficult to describe how perfect this place is - we stayed for 3 nights but could have stayed for a month. Pietro and his family could not have been more welcoming or lovely and this home is truly unique and special. My children will have amazing memories of their time here - meeting Pietro, the cats and dogs and the circle door!! There are many things to do in the area ... spectacular drives and views, little towns, great food ... but it is also tempting to just stay at "La casa", enjoy the olive groves and relax. There is lots of space in this home, both inside and out, and it was perfect for our family of four. The kitchen is well-equipped and easy to use. Pietro was beyond generous with anything that we needed and gave us great advice about places to visit and things to see. He shared his love of this place and it was truly infectious! The accommodations match the host perfectly - charming, serene and original. We are already planning our return. Thank you to Pietro, Pina and Laura for making our time here so special.
Wendy
2015-04-13T00:00:00Z
Pietro's cabin is perched on top of an absolutely amazing hill top with spectacular panoramic views across a beautiful valley. He was very kind and led us to the house from Bellegra by car even though it was late. He even gave us some wine! His dog Fritz and two beautiful kittens quickly became our friends. The cabin has lots of lovely terraces to sit in the morning sun and eat breakfast overlooking the olive groves. We went to the Benedictine monastery around a half hour drive away which was worth the hike up the hill. The landscape here is really inspiring and the house is very individual with lots of cute details such as a round door and a carved olive tree. We would enthusiastically recommend this and it is certainly one of the nicest places I have ever stayed with Airbnb.
Stephanie
2016-06-13T00:00:00Z
Room Type
Entire home/apt
---
Property Type
Cabin
---
Accommodates
6
---
Bedrooms
Bellegra, Lazio, Italy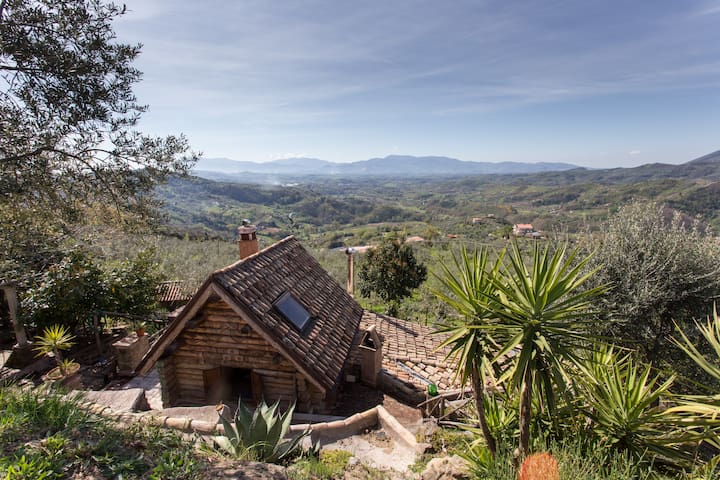 Our house is a fantastic haven from which to live the life of one of the most beautiful villages in Italy, a few kilometers from Rome, where he combines art, history, nature. Ii will enchant its views, the walks between the green of the trails ...
Delightful country house in Subiaco, less than an hour from Rome, which is well connected, on the border with Abruzzo and the wonderful parks that surround it .... a dive in the nature and culture. Our little farmhouse, recently renovated, where you can enjoy beautiful landscapes, will be an oasis from which to enjoy beautiful hikes, will enchant you will enjoy the views and the walks you can spend. A small house consisting of lounge, kitchen with barbecue, two bedrooms (both en suite), has with all amenities, including dishwasher. The apartment is well connected by public transport as a few minutes walk is the COTRAL bus terminal that connects with Rome Subiaco, with Fiuggi, with Tivoli and other small neighboring towns, including the town of Monte Livata.
The neighborhood where the apartment is located is surrounded by greenery, a short distance from a beautiful walk along the river and at the same time just minutes from all services (supermarket, weekly market, post office, town center, etc.).
Rit and her husband Pino were the most wonderful hosts one could ask for. Their home was clean and comfortable and well stocked with food and everything necessary. Their home has amazing views and the Subiaco area is beautiful for hickers and outdoor enthusiasts. The are my new Italian family. Thank you so muich Rita and Pino for all you did to make us feel at home!
Sharon
2015-03-22T00:00:00Z
The apartment was very nice, well equipped, set in a lovely quiet location with excellent views of Subiaco. A good location not too far from Rome and other tourist attractions.The bed was a lovely comfy kingsize bed. The hosts Rita and Pino were very friendly and attentive and looked after us well without being intrusive. A very good holiday. Carlo and Jan.
Carlo
2014-06-30T00:00:00Z
We had a very pleasant stay for six nights at this house in Subiaco. The hosts were extremely accommodating, and when a few problems arose they responded immediately. On two occasions Pino actually personally escorted us on tours of the city. The two nearby monasteries are of considerable interest, particularly that of San Benedetto. The house is just outside the city, at the end of a steep and narrow driveway. It was slightly tricky to find ((SENSITIVE CONTENTS HIDDEN) Maps had trouble with it) but when we followed the hosts' directions we found it. The views from the house were spectacular because of its position. Pino has a small area below the house where he grows a variety of vegetables and fruits, and he offered us fava beans, cherries and fresh eggs from his little farm. The house was exceptionally well equipped. We chose to cook most of our dinners at the house (we were tired of eating out during our month-long trip to Italy), and once we learned to use the kitchen it worked out well for us. We appreciate the very kind hospitality of Rita and Pino.
Marilyn
2015-06-21T00:00:00Z
Maria Rita and Pino are kind and gracious hosts. The house is across the pretty river from the town and up the hill, in an area of trees and vegetable gardens. There are fantastic views of the town and castle, as well as the surrounding hills. It is newly redone and absolutely immaculate, and Maria Rita left us all kinds of food to be sure we were comfortable when we arrived. The internet was down, so they bought a new modem and then drove up to help when we couldn't figure out how to set it up. Subiaco is a very welcoming community with great local food, amazing churches and also hikes.
Carol
2016-09-10T00:00:00Z
Rita and Pino are great hosts! We arrived a little earlier than we previously had agreed but they were ready to meet us and show us around the house. The house was very comfortable and spacious for the 4 of us. What is not listed, the amazing view of Subiaco from the house... at night the entire city is beautifully lit and a joy to sit out on the patio to enjoy. The days are a pleasure, the nights become cool, and the city is welcoming. The house is located 2 minutes from a great restaurant serving local meat and pasta dishes, then with a 5 minute walk you are right in to the city center, we walked up to the Rocca die Borgia in about 15 minutes. This was a great gem and we hope to return in winter when the months are cooler and we can try out the fireplace! A must return and we would recommend this location to families traveling with small children.
Johnnie
2014-09-28T00:00:00Z
Una casetta veramente accogliente e con ogni comfort desiderabile... Cortesissimi Rita e Pino e fantastico il contesto in cui si trova la casa, con splendida vista sul borgo di Subiaco...
Marcello
2016-11-01T00:00:00Z
Wir haben uns bei Rita und Pino sehr sehr wohl gefühlt. Die beiden sind unheimlich zuvorkommend und gastfreundlich und versorgten uns mit frischen Eiern von den eigenen Hühnern und Kartoffeln aus dem eigenen Garten, selbst gemachtem Rotwein und Feuerholz, sodass wir es uns abends nach unseren langen Wanderungen rund um Subiaco, vorbei an Klöstern und Pilgerstätten und abgelegenen Bergdörfern, vor dem Kamin gemütlich machen konnten. Vielen Dank nochmal dafür und alla prossima :)
Christine
2016-09-24T00:00:00Z
Room Type
Entire home/apt
---
Property Type
House
---
Accommodates
4
---
Bedrooms
Subiaco, ROMA, Italy
Charming old building in the heart of the village of 1200 independent, under the tower, completely ecorestaurato, quiet, romantic, climate control, WI-FI.per live hours immersed in the magic of a still landscape over time.
the palace in 1500 is located in a historic village in 1200 newly renovated with ecological paints and time valuing, quiet unique atmosphere, romantic, with all the (URL HIDDEN) off scenic area.
the magic of living in a completely pedestrian medieval village, the charming evening atmosphere.
Andrea is a great Host !warm and romantic location ! Super
cinzia
2016-11-19T00:00:00Z
Andrea's refugio is a lovely place situated on the very top of the mountain. If you are looking for a calm, picturesque getaway, this is the perfect spot. The house is clean and beautifully decorated with nice, little details. Andrea is very welcoming and helpful! He had even left us a traditional Olevano Romano Easter cake! The village is beautiful with a labyrinth of narrow streets and old houses, and we can highly recommend Pizzeria da Sergio (lovely owner!) and Sora Maria e Archangelo restaurant. Note that mornings and evenings can get rather cold in winter/early spring, so bring a warm sweater and footwear for inside use.
Kenneth & Ingunn
2015-04-08T00:00:00Z
Very accourate. The house was really nice!
Dan
2015-01-04T00:00:00Z
PERFECT HOST AT AN ABSOLUTE PERFECT PLACE !
Marianne
2016-08-29T00:00:00Z
Great place to stay. This has been one of our favorite places so far. Way up at the top of a medieval village and parking close by. We highly recommend staying here
John
2014-10-28T00:00:00Z
We had an amazing stay here. It was far more comfortable and aesthetically captivating than we could have hoped for. Andrea was an amazing host and has done an excellent job at renovating the rifugio. Everything we needed was there. Peaceful, cozy and inviting, with gorgeous views from every window. Having a nice little patio that overlooks the courtyard and its amazing vista of the south western valley. Perfect for sunsets and local wine. Our host was very hospitable and kind and we look forward to returning as soon as we can. Exceeded our expectations and would reccomend highly!
Ilaria
2016-07-02T00:00:00Z
Wonderful!
Jerome
2017-03-10T00:00:00Z
We stayed one night in Olevano Romano. It is a very beautiful and friendly village. The 'rifugio' was very comfortable. It is a very special spot and the small house has a lot of style. Andrea is very friedly. We slept very well and had a great time!
Sarah & Mic
2016-09-02T00:00:00Z
Room Type
Entire home/apt
---
Property Type
House
---
Accommodates
3
---
Bedrooms
Olevano Romano, Lazio, Italy
Casa Vacanze Mariclò INN, immersa nel verde della Valle dell'Aniene, località Subiaco (RM), offre agli ospiti la possibilità di trasformare il tempo libero in una vacanza davvero rilassante e stimolante allo stesso tempo. Stanza luminosa e confortevole si presenta con un arredo semplice e accogliente che richiama quello delle baite di montagna. Ampio spazio per parcheggio. Se volete regalarvi una vacanza, fuori dagli schemi, a contatto con la natura e lo sport, contattateci!
Mariclò Inn ambiente ricercato ed esclusivo, mirato a soddisfare ogni esigenza e necessità di turisti e vacanzieri. Le camere sono dotate di Smart Tv, ampio armadio e comodini. Mariclò Inn dispone di 2 eleganti e rifiniti bagni, il primo con vasca, il secondo con doccia. L'ampia cucina completa di apparecchiature, stoviglie ed utensileria (cucina a gas, forno, macchina per caffè, frigorifero, piatti, posate, bicchieri e pentole.) costituisce un punto importante della casa, in grado sia di permettere di cucinare, sia di rappresentare il punto di ritrovo.
Il comune di Subiaco è parimenti noto e apprezzato per il territorio montano, all'interno del quale si estende una faggeta secolare tra le più vaste d'Europa. Il suo Altopiano, di non comune bellezza sotto il profilo naturalistico, si sviluppa su un'area di 3000 ettari e trova protezione all'interno dei confini del Parco Naturale Regionale Monti Simbruini.
Room Type
Private room
---
Property Type
House
---
Accommodates
2
---
Bedrooms
Subiaco, Lazio, Italy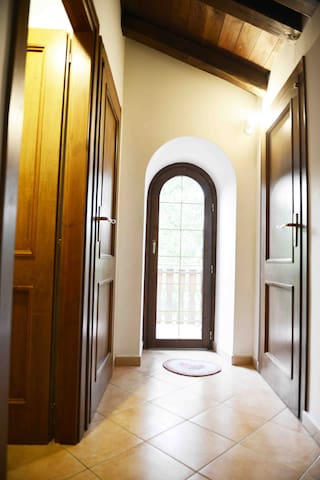 My accommodation is close to right in the main square of the Highlands of Arcinazzo, public transport, direct bus from Anagni, Fiuggi x, x subiaco etc., Art and culture. Subiaco monasteries, Trevi nel Lazio, Anagni, Fiuggi. My accommodation is suitable for couples, families (with children) and furry friends (pets).
Pagamento 20 euro per pulizie finali , indipendentemente dal numero delle notti prenotate. Da pagare sul posto. Per soggiorni da 3 settimane consecutive e oltre, e' richiesto contributo utenze ( gas elettricità immondizia condominio ecc) 50 euro mensili.
It is a lovely little town that it more for those going on holiday! If you are looking for somewhere closer to Rome, I do not recommend but if you don't mind being a bit further and in winter there are 4 busses a day that go to Rome and none on Sundays. It is a nice place to get seclusion but still have the option to go to Rome or areas around here and there are many! There really is a lot to see and it is beautiful! The hosts were very helpful! Serena informed me how to get here and met me at bus station to give me keys and a lot of information about things to see abound do! She was always available if I had questions or concerns. The house is simple but had everything I needed. Overall, I was very happy and would definitely recommend staying here!
Amanda
2017-03-07T00:00:00Z
appartamento centrale, tutti i servizi a breve distanza, arredamento basic ma funzionale, ottimi padroni di casa, gentili e simpatici, consigliato
carlo
2017-01-01T00:00:00Z
Room Type
Entire home/apt
---
Property Type
Apartment
---
Accommodates
4
---
Bedrooms
Altipiani di Arcinazzo, Lazio, Italy
My accommodation is close to the Riding Centre. You will like my accommodation for these reasons: the location. My accommodation is suitable for couples, lone adventurers, business travelers and families (with children).
Our villa is located in a residential center (Highlands 2) with parking included.
The host canceled this reservation 16 days before arrival. This is an automated posting.
Simone
2016-12-14T00:00:00Z
Room Type
Entire home/apt
---
Property Type
Villa
---
Accommodates
6
---
Bedrooms
Altipiani di Arcinazzo, Lazio, Italy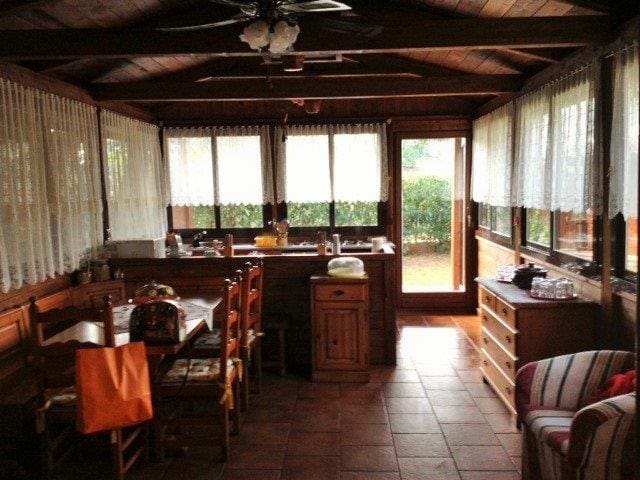 Il mio alloggio è vicino al centro del paese, ai parchi ed agli ampi spazi verdi circostanti e a 30 km. dalle piste da sci di Campo Staffi. Ti piacerà il mio alloggio perché è provvisto di giardino privato e cantina ed è inserito in un residence. E' luogo di villeggiatura estiva soprattutto per chi vive in città ( a pochi km da Roma e Frosinone ) perché è a dimensione d'uomo e a contatto diretto con la natura. Il mio alloggio è adatto a coppie e famiglie (con bambini).
Room Type
Entire home/apt
---
Property Type
Apartment
---
Accommodates
6
---
Bedrooms
Piglio, Lazio, Italy
Il mio alloggio è vicino a arte e cultura, splendide viste panoramiche, attività per la famiglia e ristoranti. Ti piacerà il mio alloggio per questi motivi: l'intimità, i panorami e la cucina. Il mio alloggio è adatto a coppie, avventurieri solitari e famiglie (con bambini).
Room Type
Entire home/flat
---
Property Type
Apartment
---
Accommodates
1
---
Bedrooms
Livata, Lazio, Italy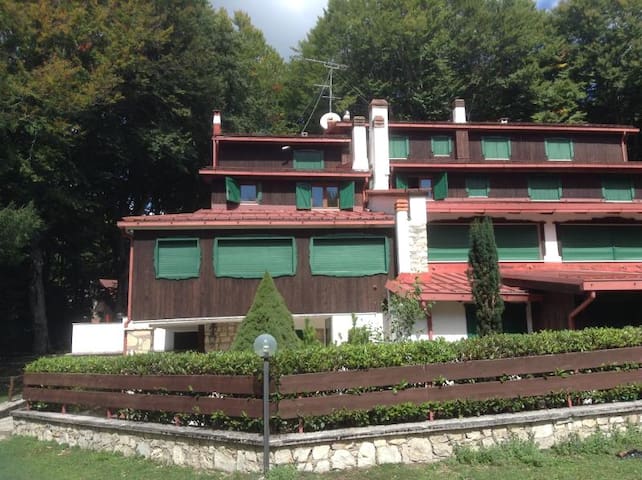 Il mio alloggio è vicino a il centro città e arte e cultura. Ti piacerà il mio alloggio per questi motivi: i panorami, la posizione, l'atmosfera e la gente. Il mio alloggio è adatto a coppie, famiglie (con bambini) e grandi gruppi. Situata nel centro storico di uno dei borghi più belli d'Italia con possibilità di effettuare suggestive escursioni in estate (parco avventura, rafting, canoa, escursioni speleologiche) e sciare in inverno (impianti sciistici di monna dell'orso)
Luciana è stata molto cortese e disponibile. L'unico problema è stato relativo alla temperatura dell'appartamento, che nei due giorni di permanenza non ha superato i 15°C
Rosa
2017-01-05T00:00:00Z
Da Luciana, ci siamo trovati benissimo, io e la mia famiglia (moglie e due figlie). Si tratta di un intero appartamento su più piani con vista bellissima. ottima base per visitare la città ed i dintorni. Pensiamo ancora con nostalgia al Ciambellone che Luciana ci ha portato. Consigliatissimo.
massimo
2016-08-08T00:00:00Z
Room Type
Entire home/apt
---
Property Type
House
---
Accommodates
3
---
Bedrooms
Subiaco, Lazio, Italy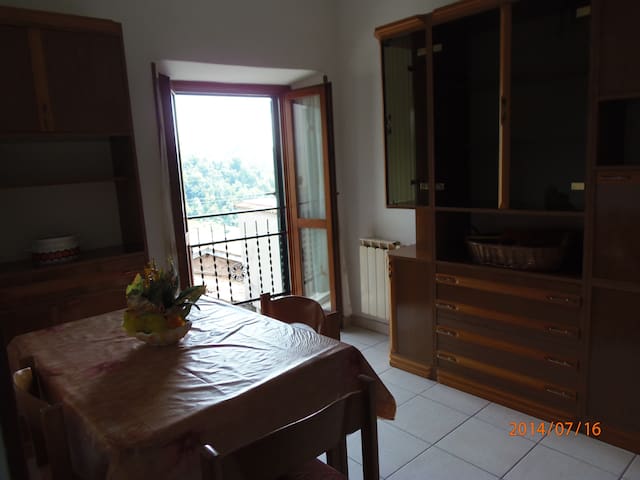 La Petite Maison di APRICUS Casa Vacanza nell'Antico Borgo di Olevano Romano. Panoramico Appartamento dotato di tutte le comodità, per vivere l'incanto del Suggestivo Centro Storico nel territorio della "Campagna Romana", Panoramico Appartamento le Comodità, di Olevano Romano, nel territorio della "Campagna Romana" con tutte le comodità, nell'eleganza e nella tradizione, Arredato con eleganza e accessoriato di TUTTO. Comodo con negozi e servizi a portata di mano. Non Occorre la macchina.
Disponibili anche altre soluzioni.
null
Room Type
Entire home/apt
---
Property Type
Apartment
---
Accommodates
3
---
Bedrooms
Olevano Romano, Lazio, Italy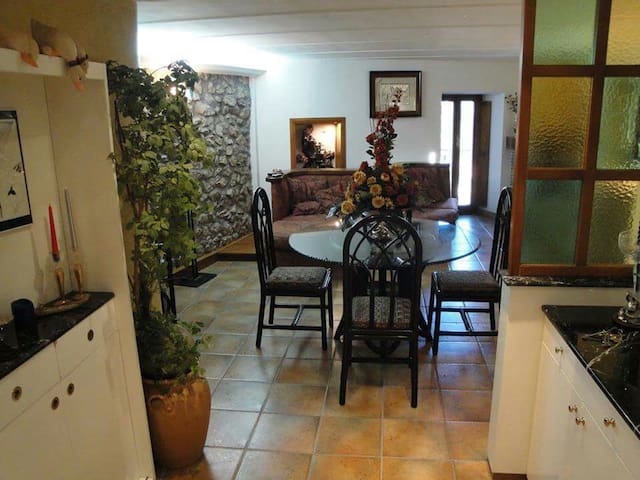 L'intera struttura che, all'epoca, ha rappresentato la prima costruzione di Monte Livata, oggi accoglie al suo interno piccoli appartamenti curati e caratteristici che variano dai 3 ai 6 posti letto. Godetevi delle splendide giornate nella Montagna della Capitale a pochi km da Roma.
L'intera struttura che, all'epoca, ha rappresentato la prima costruzione dell'intera località di Monte Livata oggi offre un complesso di appartamenti unici, immersi in un contesto ambientale di fascino con paesaggi mozzafiato. Il complesso di appartamenti è dislocato su tre piani. Ogni appartamento è curato in ogni particolare, è indipendente di acqua, luce e gas. Molti appartamenti sono già stati venduti; oggi ne rimangono a disposizione venti: sette al primo piano, dieci al secondo e tre al terzo (nelle foto potrete vedere dei particolari di alcuni appartamenti). Monte Livata offre un ampio e variegato ventaglio di soluzioni per l'intrattenimento e lo sport in un ambiente semplicemente fantastico. N.B.: Il costo di 30 euro è considerato per persona a notte. Le spese dei consumi di acqua e luce non sono compresi nel prezzo. Verranno presi i contatori insieme all'ospite il giorno del check in e verrà fatta la differenza al check out. Per vedere i dettagli degli appartamenti è possibile visitare il nostro sito digitando sul motore di ricerca "appartamenti livata".
Room Type
Entire home/apt
---
Property Type
Apartment
---
Accommodates
4
---
Bedrooms
Livata, Lazio, Italy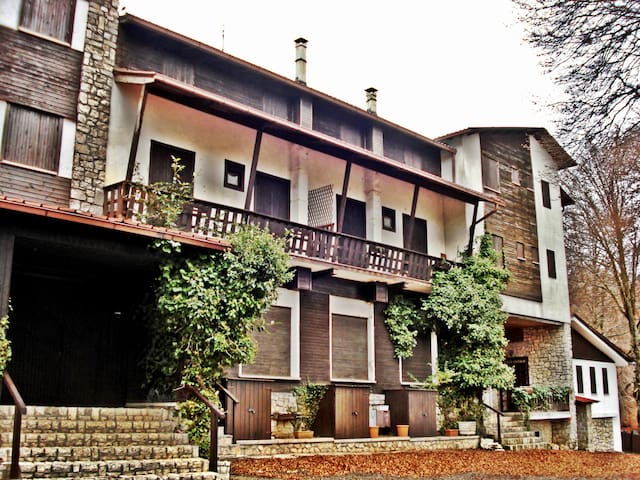 Lovely apartment in Monte Livata Livata.Immerso in verde.Vicino to the commercial area and the Mona from Ski Fields dell'Orso.5 places letto.Salone with fireplace and garden. For a comfortable and affordable tutti.Colazione included.
A double room, a room with bunk bed, nightstand, closet, bathroom, living room with kitchenette, fireplace and single sofa bed, garden.
I love this mountain since I was little, mountain lovers can grasp its precious!
L'appartamento si trova al primo piano di un residence. Il residence è fin troppo tranquillo e certamente ideale per chi vuole rilassarsi. Elisabetta è davvero molto disponibile e di grande supporto. La casa si è scaldata in fretta al nostro arrivo. Abbiamo scoperto solo il secondo giorno che il riscaldamento della camera ha la funzione notte e quindi è possibile spegnere la ventola mantenendo il riscaldamento acceso. Abbiamo acceso il camino... delizioso. Siamo stati benissimo
Marcello
2017-02-19T00:00:00Z
Elisabetta è un host fantastico!! È super disponibile, gentile ed ospitale. Ti fa sentire a casa e ti aiuta in tutti i modi. Veramente da consigliare. La casa è carina....con pochi minuti di macchina si sta sulle piste. È confortevole anche se ovviamente non come una casa di città. Comunque consigliato....noi in famiglia siamo stati benissimo!!
Micol
2017-02-26T00:00:00Z
Elisabetta è stata davvero molto comunicativa e sempre gentile, ci ha offerto la colazione nel ristorante dove lavora e dove, tralaltro, si mangia benissimo. L'appartamento è molto carino, un pò noioso lo scaldabagno che riscalda poca acqua per volta (che comunque è tranquillamente sufficiente per una doccia), basta avere un po' di pazienza. L'ubicazione dell'appartamento è perfetta. Abbiamo soggiornato per una notte in 4 e ci siamo trovati benissimo. Lo consigliamo vivamente!
Martina
2017-01-29T00:00:00Z
Room Type
Entire home/apt
---
Property Type
Apartment
---
Accommodates
5
---
Bedrooms
Livata, Lazio, Italy
Immersa nel verde a pochi km. da Fiuggi Terme. Ideale per vacanza relax. Numerose iniziative estive. Possibilità di cavalcare, fare passeggiate su itinerari escursionistici e per i boschi, rafting e tanto altro... Vicinissima al centro del paese.
Room Type
Habitación privada
---
Property Type
House
---
Accommodates
3
---
Bedrooms
Altipiani di Arcinazzo, Lazio, Italy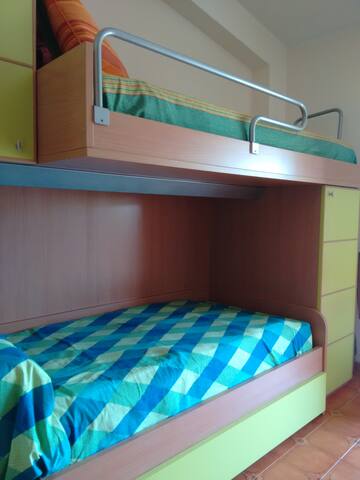 Art, culture and nature: this is the one that offers a stay in a beautiful villa in the country just an hour from Rome
Casa molto accogliente e funzionale. La padrona di casa persona squisita e disponile.
Francesca
2017-01-01T00:00:00Z
Room Type
Entire home/apt
---
Property Type
Villa
---
Accommodates
7
---
Bedrooms
Subiaco, Lazio, Italy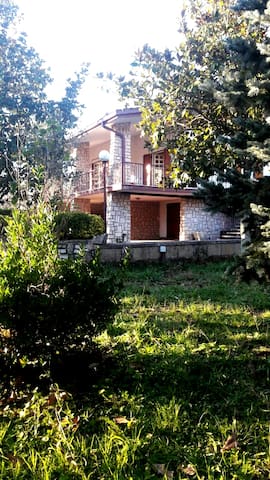 The management is not responsible for personal items left unattended
Room Type
Entire home/apt
---
Property Type
Apartment
---
Accommodates
6
---
Bedrooms
La Forma, Lazio, Italy
Enter dates to see full pricing. Additional fees apply. Taxes may be added.