The Apartment is centrally located, in a plush condominium complex with all basic facilities like gym, elevator, swimming pools and security. Baga Beach is just 1 Km away. Tourist attractions and utilities are close and easily accessible.
This is a pretty pool facing apartment with a panoramic view of the hills in the background which is why this complex is called the "Riviera Foothills". The apartment is Unique as it has an open bedroom layout, with a rustic Portuguese charm in the form of an antique four poster bed and cupboard. Along with this all modern amenities like television with cable connection , refrigerator, oven toaster griller , tea coffee maker , Induction cooker, ironing board have been provided for the guests convenience . An additional sofa cum bed has been provided to facilitate the needs of a small family. Utilities like bed linen, crockery, cutlery and cooking utensils have also been provided. A weekly cleaning is carried out at no extra cost and an additional clean up can be organized at the rate of RS 250/- per day.
The apartment is centrally located in North Goa hence is equidistant (approximately 15-20 min drive) to beaches like Candolim, Vagator and Anjuna. Club Cabana which is rated the best night club in Goa and the Saturday night market are at a walking distance from the apartment. The popular Baga Beach and Calengute beach are about 1 km away.
This is the coolest BNB in goa! Best for for a family of 4 . The place is same as in the pics and the pool is good too. If you find this place available on your travel dates look no further!
Akshay
2016-09-12T00:00:00Z
Rachita's place is a cozy studio apartment situated in the Riveria Foothills Society. It is close to many great restaurants and cafés if one has a vehicle to commute. She is a great host who kept up the communication despite being away on vacation herself. The place is accurately described in the pictures. It has all the necessary things to offer you a comfortable stay. A good place for a couple or a group of three.
Hemalatha
2016-12-05T00:00:00Z
This house meets the owners description 100%. Cozy and convenient, the place has been done up very tastefully. Ideal for 3-4 people. Although, the place is a little off the main beaches, a rental bike/car should solve the problem and in facts makes place for some much needed serenity and solace from the partying madness. No Wi-Fi is a bit of a grouse, which the owner can fix soon. Each other amenities like a fridge, washing machine, cutlery, AC, Oven, stove is taken care of. This is going to be my Goan home in the future :)
Ajay
2016-08-14T00:00:00Z
Rachita 's house is perfectly located in the north of Goa. The society is amazing and classy! Everything was amazing and Rachita was an awesom host! Will prefer to go back
Atul
2016-09-05T00:00:00Z
Nice Place! The apartment was clean and had everything as mentioned! Nicely located just next to Club Cabana and also short drive from Baga or Calangute! Loved the place!
Sanket
2017-02-04T00:00:00Z
Loved the swimming pool
Raja
2016-12-22T00:00:00Z
All good with this appartment.
aditya
2017-01-13T00:00:00Z
A centrally located place in north goa with beautiful scenic view from balcony with all amenities. Perfect stay for friends and family in peace and tranquility. The host response was too good. I would suggest everyone to visit Rachita's place once in Goa. You will love it !!
Shubhank
2017-01-31T00:00:00Z
Room Type
Entire home/apt
---
Property Type
Apartment
---
Accommodates
3
---
Bedrooms
Arpora, Goa, India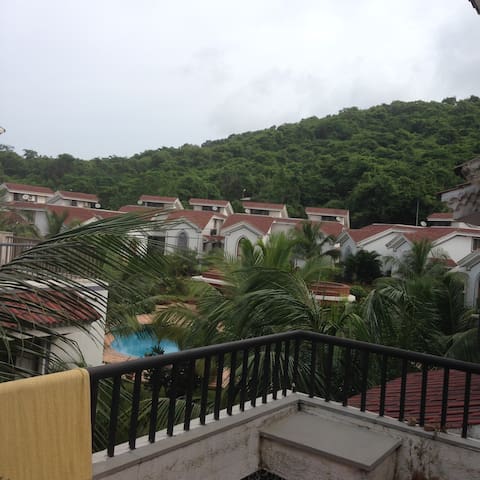 Fully air-conditioned, furnished 70 sq mt self catering one BHK apt 2.5 kms frm Baga beach in Arpora, in a guarded complex Aqua Grandiosa, daily house cleaning. Extremely safe for family, couple n with pool, GYM, lawn, play-area, (paid) Wifi. (SEASONAL PRICING FROM OCT 2017. PL ASK BEFORE RESERVATION REQUESTS.)
Comfort, class and good service can be affordable. THE APT GOAgaga Aqua is a one BHK apt spacious, fully air-conditioned and furnished, with a well-equipped kitchen. It's on the second floor of B block in the complex Aqua Grandiosa, which has a total of 48 apts in three blocks. The elevator takes you to this floor which has four apts, two on either side. THE HALL CUM DINING This space makes you feel fresh with enough day light streaming in with the sunrise and the cool air gliding in through the French windows in the night which have a mosquito mesh to keep the circulation. All windows have the mosquito mesh. With the living room furniture and TV cabinet along with its shelves in tune with the generous dining table like a TT table ;) and the chairs, it makes a family comfortable and feel the value for the money paid. In summers the scorching heat would be offset by the air cons cooling the place to hilt. The fans in place would take care of you in case of a power cut with the power back-up in place. THE KITCHEN The pretty studio kitchen tucked in the corner helps you cook for your family n kids. Purified drinking water from the Aquaguard makes your stay hassle-free. Careful thought has gone into the number and type of utensils and cutlery chosen to make the person handling the kitchen smile happily. (Pl find list of utensils and equipment right at the bottom of the page) - Soon to be added. THE BALCONY It's a cosy space running along the length of the apt from where the sun streams in and the night cools you. The potted plants give you a feeling of connect with your own house. The washing machine is placed in utility area of the balcony with ample provision for drying clothes. The laundry bag, washing machine and the ironing stand are kept here to organise the laundry well. There's also a wall mounted shelf above the ironing stand to keep the pressed clothes. Everything in the apt right from furniture to decor has been hand picked to ensure quality, user-friendliness and style. Linen, towels and upholstery were thoughtfully bought by color-coordinating. The sheer curtains add elegance to the hall and the bed room. THE BEDROOM N BATH In the bedroom we got a three door cupboard with a full length mirror made of which the bigger side is given to guests with a lock. The silky sheers and the heavy curtains give you the privacy and cosiness you crave after a long day of excitement and fun in the Goan sun. Take your pick of the book from the assorted collection we've kept there and curl up in the comfortable bed to a restful sleep. The modern bathroom with its huge mirror and hot water shower washes away the sand and the sweat and helps you step out feeling energised!
LOCALITY I found the location very desirable and that was the first reason for me to consider an apt in this complex. One can walk to Arpora jn or the opposite direction in the Club Cabana side for eateries. Grocery stores and a decent supermarket (LOKESH MINI MART) are right there at the foot of the complex. DISTANCES Aqua Grandiosa entrance is just 800 mts from Club Cabana. From the entrance it would be only 200 mts inside in a modern looking yet rustic area with high rises and smaller houses around. The distance from the beaches would 2.5 kms from Baga beach and 3.5 kms from Calangute. There's a shorter route via Baba Cafe. One could say both these beaches are fairly within 3-4 kms. The Saturday Night Bazaar would be 1 km. The Arpora junction is walkable distance of about the same as 700 mts from the complex in the direction opposite to Club Cabana. Resort Mello Rosa is right opposite to our complex. LOCAL FAVORITES Starlite Restau at Arpora jn turned out to be my favourite. They offer fresh, cost effective meals and a great place for local sea catch. They're open for lunch and dinner. Twenty Three and Sai are two different restaurants that look like twins perched side by side right at the Baga beach road diversion, short of Arpora Jn. They have great food and karaoke etc. They serve all cuisines and food is very good. They're open for all meals. Needless to say, there's an array of eateries and shops cluttering Arpora jn including a Catholic Chapel where mass is held. The eateries are all good and ready for a pick to eat. Fruit/veggie stalls and supermarkets along with a live chicken stall dot the Arpora jn lane in case you want to buy and cook at the apt.
This is the first time that I tried using Airbnb and I must say, it really worked for me cos we found our amazing host Ginza on this platform. Me and my husband stayed at the cozy 1 BHK apartment on Arpora for 3 days recently. We really loved the place and felt like a home away from home. The apartment was just like the way as shown in the photos. Ginza has made sure that all the necessary amenities are provided to the guests. The caretaker guy was also very polite and helpful whenever we needed him. My husband was especially inspired with the cozy decorations inside apartment. Everything was so organized that we did not have to worry about anything. Ginza made sure that we felt comfortable enough, she provided us with details of eateries, cab services, hangout places etc. Her concern for guests' comfortability is really appreciable. We loved the location of the apartment especially, as we could reach Candolim-Calangute-Baga on the west and Anjuna-Vagator-Chapora on the east in a short time as we were staying in the centre :) I loved the small notes provided to guide every guest which made the apartment a totally self-catering one. Especially the medicine and house-wife kit made available was very innovative. I really appreciate Ginza's thoughtfulness in this aspect, as I was suffering from cold and the 'zandu balm' inside the kit relieved me of headache and a blocked nose :D Thanks Ginza and we would definitely recommend others to stay at this place whenever anyone visits North Goa due to the awesome location and comfy stay and services one can avail in here.
Ananya
2016-09-06T00:00:00Z
This was just perfect for a small family as ours, the host was very communicative and kept us updated throughout with all the required information. The host even prepared a small itinerary for us which really helped us plan our trip better. She is the local destination expert period. Her suggestions for restaurants, beaches, places to visit were great and worked really well for us. Overall an excellent super host ! Not to forget, the support staff at the property were very polite and always available when needed. Thanks for hosting us. Thank you Ginza.
Vinay
2016-11-01T00:00:00Z
Highly recommended ...
Deep
2016-11-18T00:00:00Z
We had an awesome stay at GoAgaga. A well maintained ,neat,cozy apartment with all every amenity possible made us feel at home away from home. Ginza is a host par excellence,starting from helping me plan my itinerary(very patiently) to giving me detailed information of places to visit,eateries and going out of the way to arrange smallest of things I asked for. I would highly recommend this apartment to all fellow travelers and will definitely be coming back soon again!
Sangeeta
2016-12-25T00:00:00Z
One of the best places we have visited in Goa is Goagaga.. Thank you Ginza for making our stay at Goa a memorable one.. All of us including my parents loved your hospitality, attention to detail for small small requirement of guests are really commendable..!! And not to mention your apartment is really beautiful..!! After stay at Goagaga, we have visited Club mahindra and to be honest, we didn't liked it much there compared to the services, support, and the feel we had staying at your place, we really felt at home when we were at Goagaga.. Goagaga is indeed a place Par Excellence..!!
Prateek
2017-02-15T00:00:00Z
We had a great time. The apartment had everything we needed and Ginza is a great host. She helped a lot with restuarants and events in Goa. Her staff too were very helpful. Would recommend her apartment for a nice comfortable stay.
Nitin
2017-03-23T00:00:00Z
Great Host, Worth the Stay. Its really a peace of Mind staying at the place
Hemavathi
2017-01-06T00:00:00Z
Absolute value for money with the best in class support by Ginza. Amazing hospitality with detailed suggestions for everything regarding food, enjoyment, places to visit etc. Really would suggest this to whomsoever visits goa
Ish
2017-03-11T00:00:00Z
Room Type
Entire home/apt
---
Property Type
Apartment
---
Accommodates
4
---
Bedrooms
Arpora, North Goa, India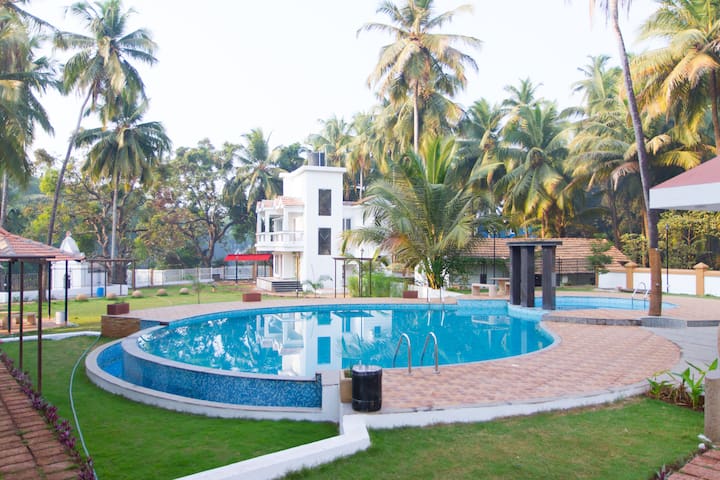 5 Restaurants, Room Service, Luxuriously furnished - Fridge, TV, Cable, 24x7 Hot Water, Security, Verandah, Swimming Pool, Lawns, Broadband Wifi, Between Baga & Anjuna Beach, Walk Times: Supermarket, Water Park, GoKarting, Sat Night Market, Casino all 2-5 Mins
Books, Children's Games, Low cost laundry, housecleaning, toiletries, wall paper, sofa, chairs, table & desk, multi-plug sockets, cable with multiple channels. Can accommodate a child upto 10 years of age comfortably. 50 Square meter size. Free Parking. Free wifi broadband
Center of Activity in North Goa. Right next to Hilton Goa, built & furnished to Hilton standards, 2.5km from Anjuna or Baga beach, Within 5 mins walk - Go Karting, Water Park, Club Cabana, Saturday Night Market, Temple, Supermarket, Budget to Premium Restaurants and Casino
Thank you, Mansi for all your help and engamgement! We felt very well!
Hella
2015-09-15T00:00:00Z
I am going to give a very high rating because this place was exactly what it promised. Comfortable nice room, very nice property, very well placed (geographically). Would def suggest it to anyone looking for such a place. If a friend wants to use airbnb and want to stay in North Goa, i would suggest Mansi's place to them.
udayan
2016-04-13T00:00:00Z
I can rate my experience as nothing but perfect. The place was so beautiful that it has now become the only place I wna stay at. Mansi was extremely helpful. She kept in touch from the moment I booked the venue (which was 2 months before, mind you) till the time we were in the vicinity of Goa. She helped us with local transport as well, despite being distanced from there. The staff is extremely helpful n courteous. The pool is as amazing as it looks, i didn't really want to get out. The location is amazing as Baga, Anjuna n Vagator are at a stone throw distance. I loved the fact it has a working kitchen as I like my breakfast n coffee my way. I just bought some eggs n I was all set. Overall, i don't think I could have asked for a better stay. I don't think a hotel is ever gonna live upto it as I would want to come back again n again, thanks to Mansi..
Geetanjali
2016-08-16T00:00:00Z
I don't know where to start, but let's begin with a five star rating and more. I fall short on words to describe how great my experience was. Couldn't have asked for a better or a more gracious host. Room as described and very homely. Would love to bring my kids here when I have them. Great location. See now I am bumbling and gushing. But what else can one do. Let's just say that my stay in Goa for the entire duration was far more comfortable and relaxed all thanks to Maansi and her hospitality and management. The flat was above expectations , well equipped nothing short of what you can desire for comfort. Help was always just a call away, literally. Thank you so so much Maansi for every thing. Most of all thank God for you having such an amazingly located property. God bless you Maansi. Hope to return.
Sarthak
2016-12-04T00:00:00Z
When you wanna visit Goa, the few things which makes your stay easy are: 1. Co-operative host 2. Nice place of stay with all basic amenities in place 3. Ease of accessibility to all major beaches and shopping places Mansi's place has all these features and she has been a great host in ensuring that the entire stay right from we landed at Goa till our return has been comfortable.
Sahaj
2017-01-27T00:00:00Z
Great location and well maintained. The facility has the right amount of stuff one needs for a comfortable holiday. The disappointment however was there was no clarity of the checkout time, it was mentioned as flexible when I bookef and the previous night at about 10 PM we got a message from the host that we had to checkout at 9AM the next morning(still not the most convenient or standard time) With flight at 2 we wanted to leave by 11 and was huge discomfort for my pregnant wife waiting on the street. The host did apologize, accept her mistake and offer a free stay next time. But the damage was done and this was a not so great ending to an otherwise great holiday.
Jayaram
2015-11-08T00:00:00Z
I loved the stay at Mansi's place. Mansi shared all the relevant details and ensured someone is available for us as soon as we reached. Loved the pool area and the place was also pretty close to the beaches in North Goa.
Prabhas
2016-03-17T00:00:00Z
A must visit and perfect apartment to stay. mansi's apartment is one of the best I have been to till date.i would like to mention following points about the apartment. 1. Great location-its located in between anjuna and calangute right in front of arpora Saturday night market venue. 2. Cleanliness- the apartment has all the amenities required for a comfortable stay. 3. Pool- the pool is just next to the apartment and very clean. 4. Connectivity- the WiFi connection works amazingly fast. 5. Host- Mansi is a perfect host who takes care of every small thing and assists you at every step. 6. Recommendation- mansi's apartment is a perfect place to stay and recommended for everyone.i would definitely like to stay in her apartment again. Thanx Mansi Regards Deepak & Ruby
Deepak
2017-01-07T00:00:00Z
Room Type
Entire home/apt
---
Property Type
Apartment
---
Accommodates
2
---
Bedrooms
Arpora, Goa, India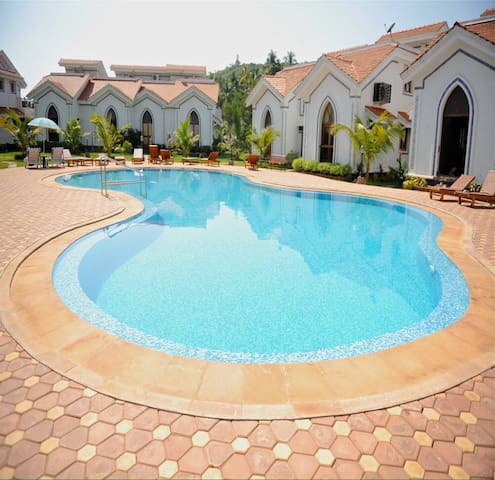 This brand new 3 bed apartment is located in Arpora, an approximate 7 minutes drive from the saturday night market and Baga beach. Equidistant from Anjuna and Candolim beach, A great option for family and friends looking to spend quality time in Goa. An all couples group may want to give this a skip given the privacy issues. To know more, read the 'Description' section below.
My apartment on the 2nd floor is ideal for friends and family. My apartment may not be ideal for three couples as one of the couples will need to make use of the open loft or mezzanine which may interrupt their privacy. Please go through the listing pictures and description prior to completing your reservation. Please note - I do not accommodate all boys/men group. No exceptions made. My apartment perfectly accommodates 6 people and can accommodate a maximum of 2 extra headcounts with the help of 2 air mattresses. There are 2 enclosed bedrooms and an open mezzanine that serves as the third bed space. Each of the three bed spaces come equipped with a queen size bed. During the months of Jan, October and November, the additional head counts are charged extra depending upon the time of the year. You will also be required to deposit INR 3000 during check-in, in the form of security deposit with the apartment manager. This is to cover any damages done to my apartment during your stay or if the house rule no. 8 in particular is not followed. Should you leave my apartment just the way you find it during check in and with no damages, the entire sum will be refunded back to you before you check out.
Experience the bucolic life, Live the sossegado way of life, even if just for a few days. Totally worth it! The local market (20 mins away) is bustling with the fresh catch of the day & a plethora of brightly coloured fruits, flowers & veggies. Arpora lies closest to Baga and Calangute, reachable within 5-7 minutes by drive. The Candolim beach which is 20 minutes drive south, and Anjuna is further north 15-20 minutes away. Shopping - Arpora's Saturday Night market's infectious energy & eclectic wares are definitely not to miss! We have some of Goa's finest & busiest restaurants close by too.Goa offers a myriad of sensory treats-explore, find yours and enjoy!
It was a great stay. Sandesh was simply awesome and made our stay memorable one with his hospitality.
Gaurav
2016-04-22T00:00:00Z
Before travelling, Sandesh was very helpful and responded fast to any questions. He was in Goa when I was checking in, I was impressed when I walked into the apartment, it was exactly like the photos, he made me feel like home and had a great conversation with him. The apartment itself was very clean, simple and ticked every box, the best apartment I've stayed in Goa for sure. Sandesh always kept in contact during the stay. The caretaker took control of checking out and he arranged a taxi at an affordable price. I definitely recommend this apartment for anyone travelling to Goa, as it's located a fair distance to restaurants, clubs, beaches.
Ryan
2016-11-01T00:00:00Z
I stayed at Sandesh's apartment for 3 Nights and would definitely recommend it to everyone! Visited Goa with 5 of my friends and couldn't have asked for anything better for our accommodation. The apartment is centrally located, not more than 10 minutes away from each Of Baga, Calangute and Anjuna beaches. Also not more than a minute away are a couple of cafe's and a small supermarket to take care of any needs from food, alcohol, and even bikes and cars on rent (at Baba supermarket). As far as the apartment is concerned, its located inside a complex with another 10 odd apartments. The property is well-maintained and clean with a gym and swimming pool. The apartment has 3 bedrooms, 2 of them with attached bathrooms. The house is well-maintained and with a well-equipped kitchen. A well-functioning fridge, TV, bread toaster, water purifier were just all we needed to make the stay perfect. The bedrooms and bathrooms were perfectly clean with the bathroom prepared well with shampoo, soap, toothpaste, just like a hotel. A helper cleans the apartment every second day. The care-taker stays 10 minutes away and is very helpful and accessible for anything. Can vouch for a great experience for anyone visiting!
Harsh
2016-06-13T00:00:00Z
Great place. Very helpful. Pics exactly same as the place. I recommend renting mopeds right away as baga beach is a bit far.
Carter
2016-03-13T00:00:00Z
This was my 6th trip to Goa and first with Mr. Sandesh as host. It was the first ever service apartment experience and all 6 of us are glad that we took it. It is a 10min drive from baga and Anjana but away from the din and you can relax peacefully. Place is neat and comfortably accommodates 6. Rooms are far more spacious than regular hotel rooms and at competitive pricing. Neighborhood has all the daily needs available. Mr. Sandesh was helpful in guiding and accommodating the little requests that we came up with.
Samarth
2016-02-29T00:00:00Z
Sandesh's apartment is just awesome. It clearly looks like Sandesh and his staff pay a lot of attention towards the maintenance of the apartment. The apartment is really spacious and well aired. Location wise, it's very close to the baga beach and tons of restaurant nearby as well. All in all, fabulous experience. I highly recommend his place to anyone looking to spend quality time in Goa.
Susan
2016-06-30T00:00:00Z
Great Location as mentioned in the description. Apartment was very beautifully and tastefully done with all the basic and required amenities. Host Sandesh and care taker Arvind both were very helpful and warm throughout. Before, during and after Sandesh was constantly in touch. I enjoyed my stay thoroughly and would like to come back again. Apartment has everything you would need to make your trip memorable and enjoyable. Thank you very much Sandesh and Arvind for the wonderful stay. Hope to see you guys soon.
Viren
2016-02-05T00:00:00Z
Stayed there during 4th weekend of Sep'15. I have booked it through airbnb. The property is a brand new apartment (3 bedroom - with two Air-conditioner rooms)and property is well maintained and Baga is just 2.5 KM to 3KM away from the apartment. and Pool is well maintained. Its exactly same as how it was displayed in the website. Services from the property maintenance staff was good and any requests were timely acted upon (Vinod & other person). Everything you would want to lookout for is almost round the corner (beach, restaurants, bike or taxi rental can be arranged, etc.,) There is no internet connectivity (local Wi-Fi) at this place. and also when I booked this trough my credit card it was showing me to pay in Euro and additonal 3% charges applied (as it was forigen transactions- not sure why) But overall, we had fun (group of 6 people) - worth staying at this place. Thanks.
Prudhvi Raj Reddy
2015-09-28T00:00:00Z
Room Type
Entire home/apt
---
Property Type
Apartment
---
Accommodates
8
---
Bedrooms
Arpora, Goa, India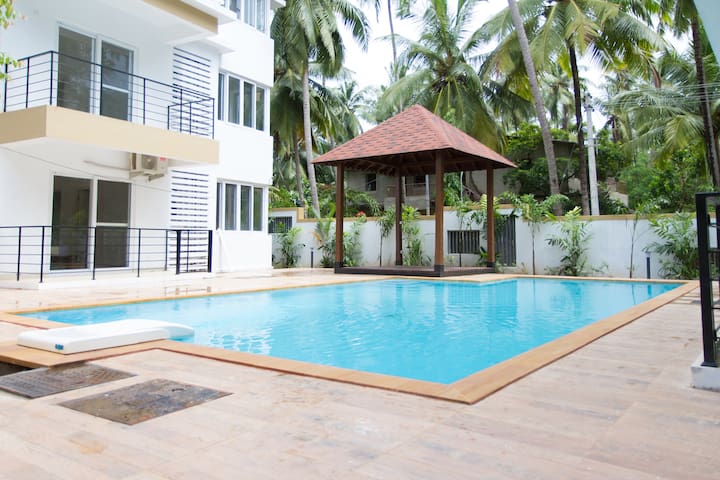 Brand new gated property with serene surroundings full of peace,tranquility & Quiet. 5-10 mins from Calangute & Baga. 0.8 km from Club Cubana, Arpora Night Market, 1.7 km from Brittos at Baga. Easy access to Calangute & Baga on one side & Anjuna & Vagator on other. Separate approach road avoids traffic on Calangute road . You'll love my place for its space, furnishings & luxurious interiors. Well maintained Pool & Gym. Has Aquaguard, micro, cookware, fridge etc Good for couples & families.
A new property, Luxuriously furnished, Spacious, Minutes away from Baga, Club Cubana, NIght Market. Kitchen has Aquaguard, Fridge, TV, Cooking Range, Toaster, Electric Kettle & Cookware to go along Excellent common areas with earmarked Parking, Swimming Pool and Gym
Easy Access as right on the main road. Serene and Quiet Surroundings Minutes away from Calangute,Baga Many restaurants in walking vicinity Centrally located
Going to goa is like going to an old friends place, comfortable, familiar and refreshing. Seeing Sarika's place on air bnb was a blessing. Perfect location yet tucked away into quietness. The gated community is surrounded by greenery, peace and blissful sights. Pool within the community is a huge boon! Sarika's apartment is a self catering one with everything one needs. All appliances are squeaky clean and top condition. The house space is perfect for 2-3 people and the balcony is dreamy. I can't get enuf of that bed! It's soft, springy, cozy .. Just like you would get in any 5 star. Linen feels fresh n fluffy, bathroom is nicely done up. Continuous running warm water .. And the list of goodies is rather endless. The house is kept super neat and cleaning is done on a daily basis. A little about Sarika - she played the perfect host - right from being prompt in her responses, to being there (esp since we checked in really late at night) to calling if anything is required. She was always available over calls or msgs. She was concerned but yet knew how to provide space n warmth. The collection of takeaway menus at the house is a very thoughtful act. Now that I have discovered Sarika's place I would seriously give the usual run down hotels and guest houses a second thought, on my future visits. Great work Ma'am! Keep up. Until next time :-)
gunjan
2016-08-30T00:00:00Z
Sarika was a great host, our whole trip has become more memorable because of her hospitality, her efforts to guide us to visit good places(be it restaurants, clubs, beaches or other places of interest) and most importantly comfortable apartment and good access to all the interested places in Goa. I must say I had stayed at 5 star hotel for more than a month but stay at her apartment was much more comfortable. She has placed more than everything in her house which u may require during your trip. Seriously if I get a chance and sarika allow me I ll definitely stay at her place every time I visit goa. Once again thank sarika for such a lovely apartment..
Vikas
2016-11-11T00:00:00Z
It was one of the best holiday experience even though I have been using AirBnb for more than 3 years..Sarika is a very warm person and a wonderful host ..She took great personal attention in making our stay comfortable even weeks before we arrived with inputs on places to see and provide useful reference on food including home-made food delivery which we found very good..Also during our stay she ensured all our requirements were promptly met right from a need for pressure cooker,extra bedding and Wi-Fi etc.. I have never cane across a host who provided all this without any concern or justification..Also she took personal attention to check on a daily basis whether we are comfortable or need anything..the flat itself is very well-maintained and rival any five-star resort I have stayed in..the apartment complex is in a quiet location and very well maintained..the swimming pool is very clean and they have separate pool for kids..the staff is very friendly especially the manager Anup who was just a phone call away to address any of our concerns and promptly taken care of. Also for family this place is very secure especially if you are travelling with kids..I would highly recommend this place to evryone..this is going to be our destination for future goa trips..once again I would like to thank Sarika for her hospitality and making our holiday memorable
Ashwani
2016-10-31T00:00:00Z
The location of the place is faboulous plus the host is really taking ucaring of you that you feel like home . The property is spacious enough and the house interiors are pretty decent . For a couple it's a best deal one jiij could get. The beds are really comfortable and kitchen has all the basic utensils and (URL HIDDEN) arpora it is one of the best property ever . The staff of these apartment are pretty friendly .nimbybb
Rahul
2017-01-23T00:00:00Z
My wife and I stayed here for a night. The best part of this stay included: well equipped kitchen (RO and microwave), comfortable bed, clean bathroom, easy parking, safe society, wifi and good location with respect to some of the places we wanted to visit. Sarika also accommodated our request for a late check-out, which was super nice of her. I feel this was a good value for the price. A few things that could have been better- location shared with me was inaccurate. This is place is opposite Resort Mello Rosa (use this in GPS). Sarika doesn't live there so she did not know that the neighbors were doing construction work. I would have passed on the apartment had I known about the construction work. We could hear very loud drilling sounds soon after we checked-in and 9 am the next morning again. Sarika was apologetic about this and was also nice enough to speak to her neighbors about the noise. While the workers stopped drilling and loud noise was gone, they continued doing small work which disturbed our sleep. Mr. Anoop is present onsite to help with check-in and other needs. He was polite to talk to and also was nice to show a couple of my friends to the apartment a 2-3 hours before our checkout. While Sarika agreed to a late checkout, Mr. Anoop dropped in 30 mins before to check on us.
Arjun
2016-11-25T00:00:00Z
The apartment is well situated. The market is near by and there are many rental services for scooty and car near by... The flat is as exact as it was shown in the pics. A servent is there for daily cleaning purpose. We will definetly stay there whenever we will come back to goa.
Aakash
2017-02-06T00:00:00Z
The stay was wonderful. Sarika was in contact from the day we booked the apartment anytime we needed her.. the accomodation was wonderful with so much of help and homely feeling.. The manager and the cleaning guy was really very helpful. A very special thanks to Sarika.. She knows the entire area and all the best places near by and also in entire goa.. sarika helped us planning our entire schedule of 5 days.. Bike and car can be rented just by walking distance.. looking forward to rent this place again..
Charmy
2017-02-12T00:00:00Z
Goafiesta is definitely a good place to stay. The host was incredibly awesome all the times helping out wherever whenever required. The place was centrally located to almost all the beaches. Please don't have second thoughts before booking. Cheers :)
Manish
2016-10-05T00:00:00Z
Room Type
Entire home/apt
---
Property Type
Apartment
---
Accommodates
3
---
Bedrooms
Arpora, Goa, India
This is a new apartment situated at a prime location in Arpora-Baga in North Goa with famous beaches like Baga,Anjuna,Vagator,Candolim, Calangute in a radius of 5kms. Other nearest attractions include Saturday night market and Clubs like Cubana,Titos and Mambos close by. It is an ideal place for couples, families and big groups. The beautiful garden view and exotic pool will drain away all your tiredness. So guys what are you waiting for? Just step in, explore Goa and get a life time experience.
This is a 1bhk serviced apartment with one AC bedroom, AC living cum dining room, neat and clean attached washroom, functional kitchen, spacious balcony.
The neighborhood is tranquil yet full of life. There are shops to help you fulfill your basic requirements. Restaurant is at a walking distance. All the beaches and nightlife are in close vicinity. Facility of bike/car on rent is also available in the neighborhood.
The place was so comfortable. It was a safe place with security cams in the entrance. Swimming pool and lift were added advantage. Hospitality was fine.
Baskar
2017-04-10T00:00:00Z
Room Type
Entire home/apt
---
Property Type
Serviced apartment
---
Accommodates
4
---
Bedrooms
Arpora, Goa, India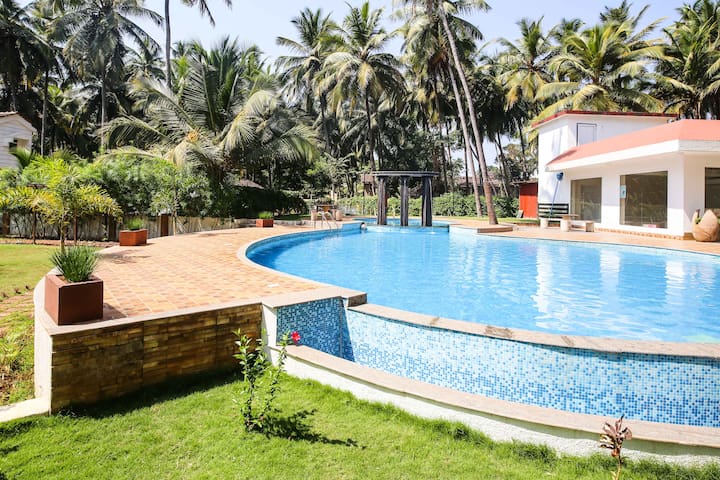 A quaint cottage set amidst lush gardens, overlooking the fields. It comes with its own little garden sitout. With an attached bathroom, flat screen TV, AC and fridge, it would be perfect as a little getaway home right in the heart of Calangute.
Its a cute little cottage with a unique hexagonal shape surrounded by windows on all sides. You can enjoy a quite and peaceful stay in Goa, yet be five minutes away from the craziness that is so uniquely Goa. The room has a large and very comfortable double bed. We have a Diwan on the floor to sit on. There is an attached bathroom and a private sitout out in the garden for you to enjoy a cup of coffee. We also have a fridge and tea/coffee kettle, A/C and fan. We have power backup in case of power failure whereby a fan and light will work in the room. You will feel at peace and can enjoy a beautiful view of the large garden and the fields in front. We have planted a lot of plants that attract birds so if you are interested in bird watching, you will have a chance to see some beautiful species.
We are five minutes away from the busy and ever popular Tito's lane. We are a 5 min bike ride away from the beach. Distance from the airport is approximately 45 km and will take you about an hour to reach. We have a market about 10 mins away. The famous Saturday Nite Bazaar is just a 5 min bike ride away. You have access to a wide array of restaurants and bars in close proximity. We also own a restobar which is located within walking distance. We offer our Airbnb guests a special discount and super service.
A very simple, comfortable place to stay in Goa. It was my first visit North Goa (2nd in Goa); so I didn't have much reference to what kind of place/hotel I should look for. The place is exactly like they have shown in the photos - clean, spacious for two people, comfortable with basic necessities. The hosts - Gitane and her husband Santosh were very accommodating and nice. Although the hosts also stay there (not attached to the cottage), we had ample of privacy. Our flight was super delayed while going to Goa, however Santosh and Suresh their manager were in constant touch with me as to what time I am landing. I reached the place around 1 at night and their manager was awake for us and was not grumpy as we were delayed. They had given us complementary beer too. Santosh was very helpful as to which places we should see in Goa (not the usual touristy ones), restaurants for breakfast/lunch/dinner we should visit. They have super friendly dogs who are extremely playful. In short a very nice place to stay.
Vinaya
2017-03-13T00:00:00Z
The best part of Santosh and Gitane's cottage is that it feels very secluded, yet it's within walking distance to all the great restaurants and the beach. Very comfortable layout, with wraparound windows all along the cottage walls. The bathroom is clean and spacious -- with excellent water pressure and good ventilation. Their helper, Suresh, is an amicable young man who will answer all your questions and help arrange cabs, etc. My advice is to skip the Goan hotels and book this lovely little cottage instead!
Erin
2017-04-01T00:00:00Z
Gitane was out of town, therefore we couldn't meet her. Santosh was available all through and was a fantabulous host. The place itself is a 10 minute walk away from the Baga beach an 3-4 mins on a bike. Being in the middle of a such a busy surrounding, this place is in a very quiet and peaceful neighbourhood - away from hustle and bustle of Baga. Santosh suggested all the nice beaches to visit and restaurants to dine. He was also gracious enough to allow us to check out a few hours late. Overall, a truly enjoyable stay and a highly recommend. I'm going back here for sure.
Balasubramanyam
2017-03-07T00:00:00Z
Great Place quiet, but near the Baga scene if you like clubs, parties, and adventure water sports!
Bill
2017-02-12T00:00:00Z
Great place. It's a ten minute walk to Baga beach, but still manages to be a peaceful and green place to stay. Friendly hosts and cute dogs. Will definitely be back!
Rishabh
2017-02-21T00:00:00Z
Definitely recommend! Supportive hosts!! Everything at doorstep!! Dogs in the property can be a decisive factor for some!! Brilliant property!!
Niju
2017-01-19T00:00:00Z
This was the first time my husband and me decided to stay in Airbnb homestays instead of going for mainstream hotels/resorts in Goa and we can say without any doubt that is was one of the best decisions so far when it comes for overnight stays though we were very skeptical about the property in the beginning but after having conversation with Santosh we were sure of a memorable stay at Anna Mews. The pictures/description of the property offered is exactly as it is put up on the app/website. The owner of the property is as helping, cooperative, social as one could ask for. From giving us early checkin to giving his bike to getting us water in the middle of night speaks of his humble attitude towards his guests. The dogs on the property are super friendly & social. So overall our stay in Goa was wonderful and we would definitely recommend this place for a home away from home kinda feeling:)
Aakriti
2017-03-20T00:00:00Z
2 friends of mine and I had spontaneously decided to go to Goa in our summer vacations, even though it was off-season. Now, when we went, Gitane wasn't available as she was out, but her husband, Santosh, did all the needful. First, the cottage is very comfortable, and can easily fit 4 people. The bathroom and toilet is well maintained, with an exhaust as well as a wall fan (which is quite a relief in the summer vacation). The TV was great too, especially as they have taken even the HD channels pack, which was a great bonus. There is a small fridge provided, which was great to keep our leftovers and drinks. Second, Santosh had the number to almost everything you could want. He hooked us up with taxi services, places to eat, etc. He set up itineraries for us, recommending us places to go to, and he was always very welcoming and helpful. Third, the property itself is very beautiful. It is well maintained, with a hammock between two trees. Gitane's dogs are also very fun to interact with. Fourth, the address itself of the property is great. It is quite close to Baga beach and the Baga beach lane (and of course Tito's lane).
Aryaman
2016-06-06T00:00:00Z
Room Type
Entire home/apt
---
Property Type
Guesthouse
---
Accommodates
4
---
Bedrooms
North Goa, Goa, India
Welcome To The Duchess Suite..Where Hospitality Meets The Bay. One of the top rated service apartments in Goa! We look forward to hosting you at our unique concept of independent, self-catering service apartment! When you stay in our furnished and service independent apartment instead of the regular hotels, it gives you the chance to live like a local while you are on vacation and get your own individual space, which gives you more privacy and freedom than hotels.
Welcome To The Duchess Suite..Where Hospitality Meets The Bay. One of the top rated service apartments in Goa! We look forward to hosting you at our unique concept of independent, self-catering service apartment! I would like to give you some insights on your future stay experience at The Duchess Suite as it is very different as compared to a full service hotel. When you stay in our furnished and service independent apartment instead of the regular hotels, it gives you the chance to live like a local while you are on vacation. You are essentially renting a Fully Furnished home in a residential neighborhood. There are quite a few advantages when you stay here. You also get your own individual space, which gives you more privacy and freedom than hotels. You will get a two luxuriously spacious and comfortable air conditioned bedrooms, an opulent living room with a large TV with Tata Sky besides full kitchen facilities and all related conveniences including washing machine, 24/7 security and car park etc. You will get lot more room in our apartment than with most hotels, which makes our apartment a popular choice for families and groups of friends looking for Vacation Rental Homes or Holiday Rentals! At The Duchess Suite we provide you with a one time Complimentary Welcome Pack to start your stay such as Three bottles water, one bottle of wine, tea, coffee, sugar, a box of cornflakes. In short we,ensure that you will get much better value for money compared to Hotels besides a home away from home experience in our apartments which will make you come back for more everytime. And ensure you that you will never book a hotel again!. Have a lovely stay At The Duchess Suite....
The small village of Arpora in Goa is minutes from the famous Calangute and Baga beach resorts. It merges into Baga at Baga Creek, a small river that ends in the sea on Baga beach. Arpora is a 20 minute walk or 5 minute taxi ride from Baga beach and Calangute. If these beaches are too crowded for you, consider adventuring north towards quieter beaches such as nearby Vagator beach (from where you will be able to explore Chapora Fort) or northerly Ashvem and Mandrem. The Mackies Saturday Night Bazaar is a regular attraction in Arpora, and is a great place to pick up gifts and souvenirs. For a less tourist orientated market, try the lively Friday market in the nearby town of Mapusa. Other places of attraction in close proximity include Go Karting - 5 minutes, The erstwhile Club Cabuna - 5 minutes( And other night clubs,) Watersports at the beach, Delicious Multicuisine restaurants in close proximity. The nearest superstore is Las Vegas which is a 3-5 minute walk away.
No: of pax - 3 Stay - 1st to 4th of April 2017 The photos do not justice to this apartment. It's a thoughtfully decorated place with all possible amenities included. Fully functional kitchen which ensured that even midnight hunger pangs could be addressed. Spacious and clean bedrooms and washrooms which are key in selecting a property. The location is excellent, Anjuna and Baga are 15 mins away and Club Cabana and the Arpora Saturday night bazaar are literally within walking distance, yet the neighborhood is quiet and peaceful. The pool is pristine and inviting. If only the apartment complex could address the issue of power backup, then this is heaven. The host Lucky is extremely warm, non-intrusive yet was always available on call to answer our queries. She was the perfect host (: The caretaker Nike too went out of the way to ensure our needs were met. Don't think twice, this is exactly what you need whether you are looking for a quiet, relaxing holiday or you're the quintessential party animal. Trust me, you won't regret it (: Thanks a bunch Lucky! We'll be seeing you a lot more from now on (:
Rebecca
2017-04-04T00:00:00Z
We reached the premises a bit late as we were roaming around in goa.. but the moment we entered the duchess suite, we were so relaxed and felt too good to be there... It was a beautiful stay and would strongly recommend to people looking out for nice ambience and clean space.. only one regret that we couldn't stay here for longer...
aeshna
2017-01-01T00:00:00Z
A very good choice for Family.
Dhruv
2017-02-07T00:00:00Z
Had a very good time.
Gowtham
2017-04-08T00:00:00Z
Apartment: The apartment is on the fourth floor and its pretty nicely maintained. The interiors are good and the location is nice too. Its 10-15 minutes from Anjuna and Baga. But other places are quite far. Service: Service was a bit under expectations. Don't expect cleaning, towel change and linen change. We stayed there for 5 nights and the host's staff came for one day and dusted the apartment in 5 minutes. Had to pay for extra towels and to clean the dishes. Tips before you book: Bring your own toiletries and if you can really do with one towel and could do your own cleaning go for it! The apartment is nice but everything else you need to manage by yourself.
Rutviz
2017-01-09T00:00:00Z
Awesome place. Must do in Goa.
Isha
2017-02-02T00:00:00Z
My stay here was disappointing, to say the least. The apartment is quite beautiful, and the caretaker was very friendly and helpful. But we found that the host is incredibly rude and borderline terrifying. We arrived at the apartment, and I noticed that the shower was not working. We weren't able to get through to the caretaker at the time. So I contacted her about this, since she had mentioned to us earlier, that we could contact her in case of any issues. Instead of fixing the issue, she started saying we were blaming her for no reason and that the shower was working perfectly well. She told us we didn't have any right to call her and tell her that. I assumed that she might have found my tone rude, and apologised. However, she completely disregarded my apologies and continued to yell and asked us to get out of the apartment, saying that she was very influential. She threatened to throw us in jail, claiming that we were rude to her and that she didn't deserve to be spoken to in that tone. In her words, she thought we spoke to her like she were from some call centre. Later, she tried to contact us and make amends for her behaviour, but it was of little help. I'm not sure if this was a one-off incident, but it completely ruined the mood for our entire vacation. I would strongly advise against staying here.
prajwal
2017-03-28T00:00:00Z
Great location. Located in North Goa.. at the centre of almost all tourist attractions. Highly recommended!
Yashvardhan
2017-03-13T00:00:00Z
Room Type
Entire home/apt
---
Property Type
Apartment
---
Accommodates
6
---
Bedrooms
Arpora, Goa, India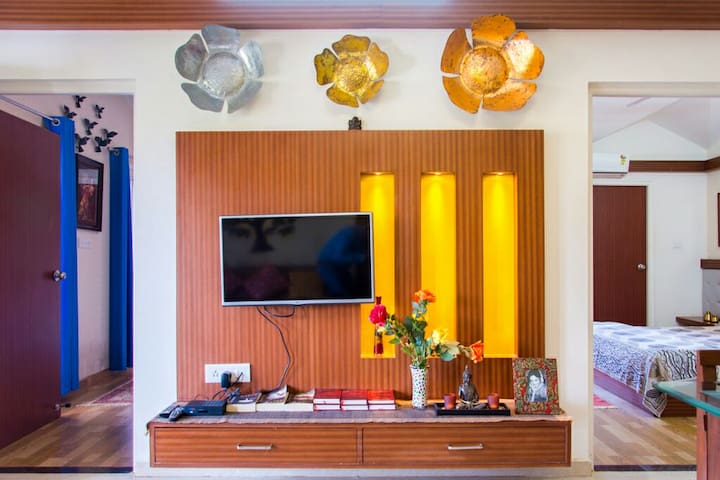 Situated in the heart of calangute, just 5 minutes walking distance to the world famous calangute beach, 10 minutes walking distance to the famous goan club tito's. restaurants, food courts all major clubs, ATMs, supermarkets r just a step away .....
Centrally located in the heart of calangute just 5 minutes walking distance to the world famous calangute beach
Lively place
House was clean and mineral water bottles were kept to welcome us. Neighborhood is average - Good in terms of approach to the market and restaurants, not great in terms of the cleanliness.
Ashutosh
2016-12-24T00:00:00Z
Everything was as per discussion & planned.
sachin
2016-10-17T00:00:00Z
The place is nearby to Baga and Calangute. It's located on bustling Street which provides for some souvenir shopping as well. As a host Terrance is prompt polite and helpful.
Mitul
2017-03-19T00:00:00Z
Thanks and great service.
Jatin
2016-11-25T00:00:00Z
Though I was unable to visit, my friends for whom I booked the place, they totally loved it. Some Main features 1. its on Calangute-Baga road which is centrally located. 2.though its on the crowded road, place is still quite. 3.shops, supermarkets,Hotels (veg/non veg) are on walk able distance. 4.Rooms and other amenities are cleaned. 5. Great host. Will defiantly recommend to others in future.
Sagar
2017-01-29T00:00:00Z
Overall experience at the venue was great, we didn't stay in the apartment for long but whatever time we were in the apartment it was comfortable and it is located near calangute beach so access to the things which u need is very easy
sai
2017-01-01T00:00:00Z
Terrence was a amazing host. The place was clean. It was nice staying at Terrence place. The place was lively. I would love to stay at this place whenever I come to Goa. One small suggestion it would be great if you can provide house keeping everyday to clean the rooms Thanks
Sriramprasanth
2017-03-29T00:00:00Z
Great place for a large group of friends looking to avoid shelling out a bomb in hotel. Some issues like maintenance of the AC, but in terms of location, space and value for money this is a great choice.
Shreya
2017-04-06T00:00:00Z
Room Type
Entire home/apt
---
Property Type
Apartment
---
Accommodates
10
---
Bedrooms
Calangute, Goa, India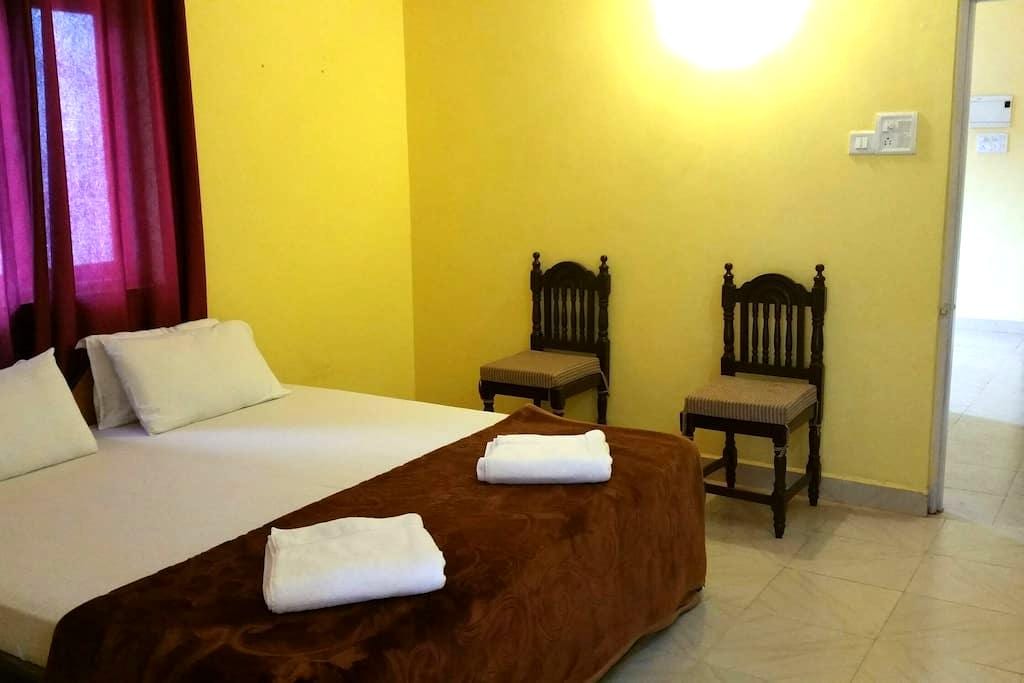 Luxuriously furnished 3bh suite apartment with a large king size bed in each room and another in the large hall, ideal for large groups, friends and family.
Woodstone crib is a modern marvel, has everything you desire. Step into ultra luxurious ambiance and sink into a comfortable & peaceful sleep.
Centrtally located. Walking distance to The Satyurday Night Bazaar, Club Cubana, and very close to Baga beach, Go karting, Splashdown waterpark. Hardly any traffic due to the excellent central location. Closer to Tito's lane too!
nearby food availability
dharam
2017-01-01T00:00:00Z
Jason is a really warm host and the property is at very a good location. I travelled with 6 people and we had a really comfortable stay. Jason as a host kept in touch throughout our stay and was always there to help, be it for accomodation, travel or suggestions for the trip. Nearby attractions include Baga and Calangute beaches, Saturday Night Market, Club Cubana, etc. I would recommend this place highly for people travelling in mid-sized group and looking to stay together.
Ashish
2016-12-18T00:00:00Z
Great place, great host, place in pics and actual are exactly same, good location, Jason is very helpful and is promt in getting you available information for local transport, sight seeing and everything. We were 12 people in 2BHK and we went with a hesitation that how will the place accommodate everyone, but surprisingly everyone was placed extremely comfortably.
Vaibhav
2017-03-13T00:00:00Z
Amazing host, an ideal place to stay in goa
Devyash
2017-02-04T00:00:00Z
We stayed for 6 nights and it was great. Jason had arranged a few trips and rides for us which was a huge help. The place itself can be a little tricky to find at first, but you will. We went for a swim in the pool our first day and it was refreshing. Both the ac and wifi worked great for us. Definitely no complaints with this place
Brendon
2017-04-06T00:00:00Z
Awesome place to stay and enjoy
Ankit
2017-01-22T00:00:00Z
Nice place. Slightly confusing to reach. Once you reach, quaint little place. Good pool. Arrangements were adequate. Room and facilities were nice and clean. Jason was approachable and the staff was helpful.
Sanil
2017-01-29T00:00:00Z
Excellent place.The place needs a better swimming pool.
Rishi
2017-01-25T00:00:00Z
Room Type
Entire home/apt
---
Property Type
Serviced apartment
---
Accommodates
12
---
Bedrooms
Arpora, Goa, India
The apartment is close to the nightlife as well as Anjuna and Baga beaches. Club Cabana, shopping at the Saturday night market and day trips to the beaches are all easily accessible within minutes. If you're a natural light lover, then this place is for you. The entire living space is bathed in natural light. The comfy bed and the greenery surrounding the flat is relaxing and rejuvenating. A self-catering kid-friendly apartment supported by cleaning staff make your stay private & comfortable.
A private apartment in a location that makes access to beaches as convenient as nightlife and is perfect for the day and the night. A fully fitted kitchen and all channel tv allows you to kick back and relax indoors if you'd like to. The self-catering apartment gives you the chance to live independently while having the comfort of a service staff that comes in daily to clean the apartment. This gives you freedom and privacy as well as the comfort of assisted help. The apartment is fully air conditioned and has a fully functional kitchen. We get you started with the basics (bread/butter/milk/water) upon arrival and if you stay for a week or more, we'll also top you up. We love hosting families with kids and if you're travelling with upto 2 kids, then we won't charge for the extra mattress. There is no Wifi at the moment but we are working on it. You can park your bike/car on site.
There is a daily needs shop right across the road from the apartment. Arpora is a quieter part of Goa and offers easy access to Anjuna, Baga and Calangute beaches. Beaches of Goa stretch into each other. During season there are plenty of shacks to choose from. They serve a wide variety of food and drinks and there is something for everyone. Ashvem and Mandrem beaches are a little further off but offer a quieter environment and golden sandy beaches with calmer water. Ashvem beach typically has a small lagoon on the beach and is very good for little kids. Arpora has a buzz at night but is not loud. It has lots of local charm and offers numerous bars and restaurants. The Saturday Night Market is right next door as is the go karting track. Anjuna's Wednesday flea market is also a short distance away and are good browsing grounds for bargain hunters.
Amazing place to stay ... Easy access to all beautiful places of goa It's a spacious one BHK fully furnished If someone reading my review than All I can suggest you .... book this property asap... Thanks Gaurav, will comeback soon
Ravindra
2017-02-15T00:00:00Z
Gaurav is a very proactive host - right from prompt responses to any of the queries to handing out directions to the apartment early in the morning the day you are going to check in. He ensured that he was available on phone at all times and helped us out with any piece of information that we needed. Staying at Gaurav's apartment is truly an amazing experience with the apartment providing everything you'd need. The apartment is well taken care of with the helpers cleaning the apartment every morning. The balcony is spacious and so is the hall. Would absolutely recommend this place to anyone who is looking for an apartment in that locality. Thanks once again, Gaurav, for hosting us. Looking forward to staying at your apartment again sometime soon. Cheers! :)
Richie
2017-02-27T00:00:00Z
Gaurav's apartment is absolutely fantastic. It is a very well maintained apartment & had all the amenities that one would need. My brother & his son had a wonderful stay. Thanks Gaurav... :)
Chris
2017-02-05T00:00:00Z
I'd recommend this place to anyone who is looking for a comfortable stay in Goa and doesn't want to burn pockets on just accommodation. The house has a well equipped kitchen, cleaning staff comes everyday and Gaurav is just wonderful when it comes to making your stay as hassle free as possible. The only downside of the place is that there's no wifi; barring that nothing should stop you from checking into this quiet little house!
Tanvi
2017-03-25T00:00:00Z
It was the best we could get in goa . Amazing property with amazing hosts . Everything needed was already available there . The staff was very kind and helping specially the guard rinku have been helpful in every way possible .Property was situated in middle of the three best beaches in goa . Will definitely stay here again. Thank you mr. Gaurav. :)
Henna
2017-02-02T00:00:00Z
We had a great time in Gaurav's apartment. Nice and small apartment was perfect for two of us. Best to have a vehicle with you to get around for restaurants and stuff. Best touch by the host to have the basics milk, bread, etc ready for us on arrival, much appreciated.
Abhimanyu
2017-03-06T00:00:00Z
Great place! Located close to finest beaches in north goa. Gaurav is pretty helpful with providing reliable local contacts
Rajen
2017-01-22T00:00:00Z
I can guarantee that your every penny will be worth spent in this apartment. The location is very good and is well maintained beautiful house. The support staff is super helpful and will try to help you out every mean possible. I will definitely stay here again and recommend everyone.
Abhishu
2017-03-13T00:00:00Z
Room Type
Entire home/apt
---
Property Type
Apartment
---
Accommodates
2
---
Bedrooms
Panjim, Goa, India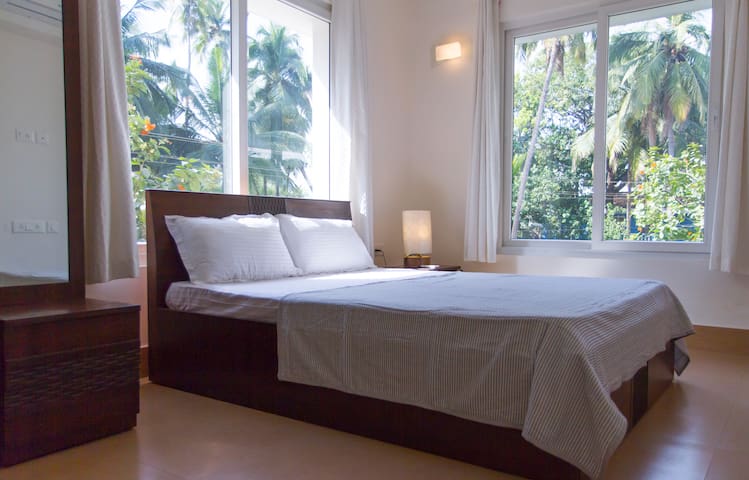 Brand New Property with great views and ambiance 2 Bhk Luxury Apartment 2 Big Rooms with Attached 2 Bathrooms 2 Big Balconies,Elevators 1 Big ac Hall with LED TV,Dining Table,Sofa,Kitchen,Oven Swimming pool separate kids Pool,Club House,Gym, Kids Playing Area. Security gated and parking space 3-4 Minutes drive from Baga Beach 1 Km from Saturday Night Market 500 Mtrs from Club Cubana 5-7 Minutes Drive from Tito's Club 3.5 Km from Curlies Beach Club ,Anjuna 700 Mtrs form Go carting
This newly build apartment situated in very demanding location in Arpora-Baga area , because Saturday night markets and club Cubana just on walking distance from here. This is very spacious fully air-conditioned 2 bedroom apartment with extra large living room and extra large swimming pool with separate kids pool. It has all amenities like hot n cold water, fully equipped kitchen comfortable bedrooms, very clean two bathrooms. Main plus point of This place is location its right in the heart of Arpora. restaurants cafes bars supermarkets are just in 500 Mtrs. Feel free and come to my Apartment there are no restrictions like- Outside liquor, food etc so relax just feel like Enjoying your trip and making it memorable.Calangute and baga are 5-10 mins ride.Most importantly you will find variety of restaurants and cafes which are much more lively and play really good live music in season time n few in off season. Baga Beach is more quieter and cleaner with plenty of sun beds , water sports , shacks, cafes, restaurants etc. I will keep on suggesting the best places to visit and explore Goa through my experiences.
Bike/Car Rental Just Outside, Super market just outside the building Club Cubana : 700 mtrs , Baga Beach : Apporxe 1.5 Km , Saturday Night Market : 500 mtrs Famous Restaurants : 300mtrs Distances are approximate Distances are approximate
this place was walking distance to club cubana . it was really clean and airy. the pool though shared was also very clean . i would recommend this place if you can drive because its not walkable distance to the beach.
Khushboo
2017-03-14T00:00:00Z
Good place it has everything what a tourist need but some communication issues before you check in ..but after you check in it's great.
Amit
2016-12-29T00:00:00Z
Hi All, Please go ahead without thinking too much. Apartment is very clean and very good. Swimming pool is very clean.Location is the center for north beaches and club cabana is on the walking distance. Saturday market is also on the walking distance. Nearest Petrol Pump is around 3 km. Overall the stay was very good. Thanks Shefali
Shefali
2017-03-06T00:00:00Z
Varen was amazing. He made sure there was someone to greet us late in the evening when we arrived late because of our train. The air conditioning was ice cold and in every room. Clean and one of the best things was a water purification system that allowed us to save money on water. Arjit, our main contact, was phenomenal in providing us transportation & recommendations when needed. Only qualm was no wifi, but that's no reason not to book this place. Thank you so much!!!!!
Vien
2017-04-01T00:00:00Z
Room Type
Entire home/apt
---
Property Type
Apartment
---
Accommodates
6
---
Bedrooms
Arpora, Goa, India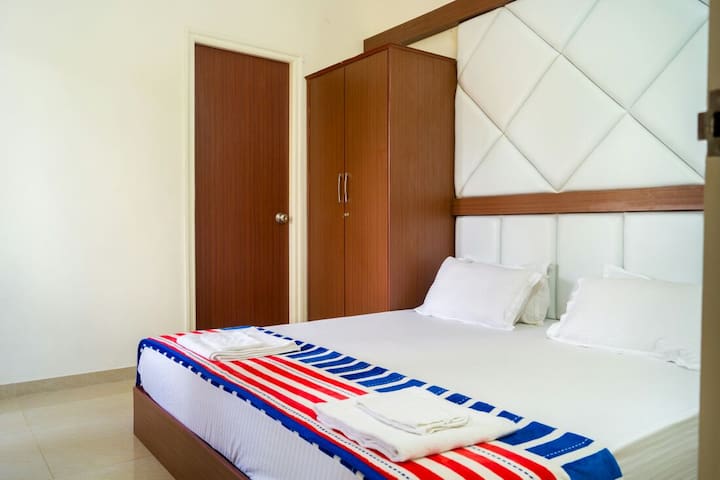 Extremely centrally located, neat & well equipped one bed room Pool facing service apartment(s) are within in 24/7 gated community of the plush Riviera Foothills, Arpora.This particular property is a set of 1 bedroom, drawing, dining & a kitchenette.
This property is a one bedroom pool facing, first floor apartment. We have done it up keeping in mind the comforts one needs when he is out on a holiday. You can expect every possible thing that is essential from Satellite TV to Ironing Board. Some of the Benefits you would enjoy Staying here are:- *Proximity to the Baga, Candolim, Anjuna beach. *Walking distance to the famous "Arpora Saturday Night Market" *Beautiful View from the balcony. *Pool & Gym Facility inside the condor *Modern & comfortable interiors. *Fully functional kitchenette with induction plate, microwave & other useful utensils & electrical appliances. *Availability of special house cleaning service as per your convenience. *Provision of Bath/bedroom linen. *24 hrs water supply (hot/cold) *Air Conditioners in Bedroom & Fans in living room *Ironing Board & Iro(URL HIDDEN)*Bathroom- Toilet roll (Ps Note: Limited Supply) * Fully automatic Washing Machine The Guest can use the swimming pool facility and Gym facility available in the Complex. There is also lift in the Condo Easy access to bike and car Rentals Immediately On booking we will mail you the booking letter. The property manager or we in person will meet you on arrival and show you the house. The contact Number would be shared and we will be in touch through the mobile or mail, however in need or assistance we would be just a call away. *Proximity to the Baga, Candolim, Anjuna beaches. *Walking distance to the famous "Saturday Night Market" Plenty of eating and drinking options 500 meters for the supermarket to meet your daily needs Close proximity to the famous night club of Goa " Club Cubana" Bike and Car Rental The property is about 1500 meters from the beach of Baga. Other beaches are about 4 to 5 km from the apartment and can be easily accessed in bike or Car. The Bikes and Car are easily available for daily rental in Goa. The Apartment has ample of parking Space From the airport you can hire a pre paid taxi or self driven car to reach apartment
It is a quite place in the hub of hustle bustle of North Goa. There are plenty of options to eat and shop with the Saturday Night market at just a stone throw distance away and Baga market at 1km. The Beaches of Baga and Anjuna are very close to the apartment about 1 km and 5 km respectively.
The moment Harry came to know that I have booked his apartment for a couple of nights, he got in touch with me. I asked in advance for an extra bed and Harry arranged one for us prior to our check-in. The security guard at the society entrance noted our contact details and handed over keys to us.
Prateek
2016-05-17T00:00:00Z
It was fantastic living here. The house has all the amenities and is quite spacious. The room from the balcony is wonderful and swimming pool is very clean and well maintained. Would highly recommend it.
Gunjan
2017-01-15T00:00:00Z
The place is well maintained and fairly newly built. Its at a great location if you have your own/rented vehicle. Close to beaches, saturday and wednesday markets and club cubana. We went with 2 kids and stay was wonderful. Pool was well maintained and the view from balcony was nice. Over all, loved it. Harry and Tanna were good host and accomodated our needs.
Puneet
2017-01-08T00:00:00Z
We had a wonderful time in Harry's place. The apartment was clean and well organised. We took our toddler along and he was very comfortable, at times we could cook for him some basic baby food in the neatly arranged kitchenette. It is a cool and quite place to stay and not crowded like in other places. Mr. Harry is a great host, he was just a phone call away. He guided us to really nice place around the Arpora. We enjoyed the food in the Thallasa, an authentic Greek restaurant and the French Bakery close by the location. We wish to come back again to Rivera Foothills again very soon. Thanks, Sarthak
Sarthak
2015-11-11T00:00:00Z
Harry was very welcoming, he was in constant contact to sort out any problem we had and couldn't do enough to help us. The apartment is lovely, great amenities and really nice size and the pool and gym facilities are great too! The security and caretaker also ensured we had everything we needed!
Stacey
2015-06-14T00:00:00Z
Hey Harry, What to say about the stay. It was even better than the last time. The location, the facilities available at the apartment, the kind of feel I have at your place, and the support that you provide during the stay to make it more and more awesome is simply great. In my last visit there was one thing I thought could be improved and that was having an RO. Though, I didn't ask for it last time but during this visit I could see that it was already there. It's just an example of how you take care of all minor and major things to improve the experience of guests at your apartment. I wish I could get the same in my next visit during New Year. Thanks a lot for making this stay memorable.
Shankar
2016-11-21T00:00:00Z
The property was really awesome and was as mentioned in the website hence no complaints in that regards. Harry was always available over the phone anytime for any type of help is required. Me and my family thoroughly enjoyed the vacation at this location. Have referred to friends to experience the same.. Keep the good work harry and look forward to come once again.
Solomon
2016-05-21T00:00:00Z
A great place to stay. Harry and Tanna are excellent hosts. Thanks for everything
Rajive
2016-10-26T00:00:00Z
Room Type
Entire home/apt
---
Property Type
Apartment
---
Accommodates
4
---
Bedrooms
Arpora, Goa, India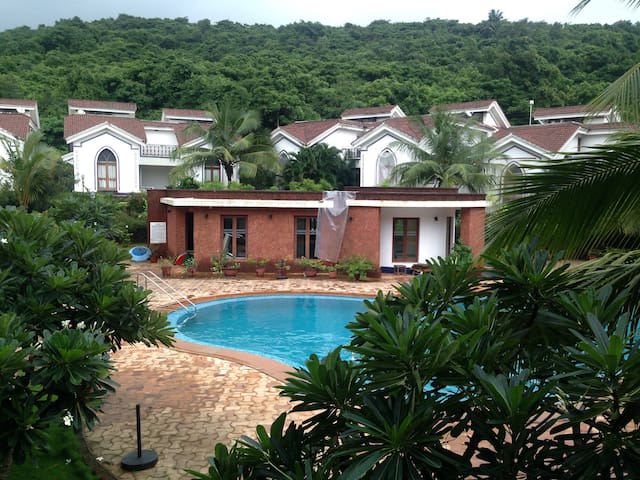 Stay in recently renovated and refurbished 1 RK with all modern amenities in heart of Calangute beach. House is fully equipped with aircondition, bed which can easily accommodate 4 person, attached washroom with 24 hours running water supply.
It is located in heart of Calangute Beach next to shacks, pubs and other tourist places
Place is surrounded by all tourist spots such as pubs, beaches and tattoo shops
It was a great stay at Roshan's apartment. I will definitely recommend people to stay . He is a great host and his apartment is truely value for money. The apartment is exactly how it shows in the picture . The apartment has all the basic amenities for staying. From the time we booked till the time we checked out from his apartment it was very smooth process. Roshan is very prompt with communication He kept in touch with us throughout . The apartment is located within 1 km from the Calangute beach. All together a great stay and highly recommended .
shreya
2016-11-28T00:00:00Z
We had a great stay in Roshan's place..the place is as it is described..Roshan was very helpful starting from the booking and till we reached his place..I will definetly recommend to stay in his place..
Amrita
2016-06-08T00:00:00Z
Simple room near the beach. We were well taken care of during our stay, and have no complaints.
Chloe
2016-12-17T00:00:00Z
Roshan was very helpful during our stay, he guided us for each and every places. Apartment was good and exactly same as shown in the picture. Best place for couples, friends and family, baga beach and calangute is very near from the apartment. We have enjoyed holidays without any problem. Roshan caretaker (Sharan) is also helpful person. Overall we have spent good time in Goa.
Gaurav
2016-02-13T00:00:00Z
The interior looked same as in photo, nice calm place to stay, Host Roshan was in touch, to make sure everything was comfortable for us, overall it was stay at home experience.
Mohanraj
2016-03-11T00:00:00Z
The room was a studio apartment and well equipped with utensils, electric stove, glasses and everything u need. The room was well ventilated and the most impressive thing about this place is its location, you take a left and there is baga u take a right and there is calangute and on the opposite side its very near to Mapusa. The only thing missing was a scrub to wash dishes and its on 3rd floor
Raj
2016-10-11T00:00:00Z
Great place. About 800 mts drive from calungute beach (Titos, sams, etc.) Parking available. The ac works great! Roshan is a cool host!
Vibhav
2017-04-02T00:00:00Z
My stay at Roshan's flat was great. Although, Roshan himself was not there, he made sure to attend to our needs and was a perfect host. Giving the exact location to find the flat, regularly inquiring whether we are comfortable or not and suggesting good events, he made sure that our stay in Goa goes smoothly. Since I went there with family, I was a little skeptical about the flat when I reached there because the society was old and not so clean. But, the flat is exactly as shown in pictures -- clean and organised. Extra mattresses were there, AC was working and there were sufficient utensils in kitchen(Ofcourse, this was the best part for my mother!). Also, the place is close to Baga and Calangute beach and there are many good eating options nearby. All in all, it was nice staying there.
Gagandeep
2016-03-28T00:00:00Z
Room Type
Entire home/apt
---
Property Type
Apartment
---
Accommodates
4
---
Bedrooms
Calangute, Goa, India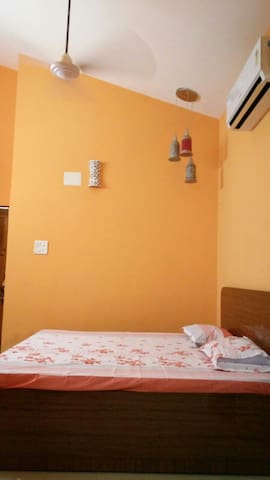 A spacious and cosy one BHK apt fully air conditioned and furnished with kitchen complete, in the heart of Arpora near Club Cabana and Baga beach with great surroundings, a play area for kids, gym and plush pool with a shallow end for kids. 24x7 security, exclusive garage, power back up. Eateries in walking distance. Baga/Calangute beach in 2-4 kms. Caretaker available and daily house cleaning provided. Wifi broadband.
Room Type
Entire home/apt
---
Property Type
Apartment
---
Accommodates
4
---
Bedrooms
Arpora, Goa, India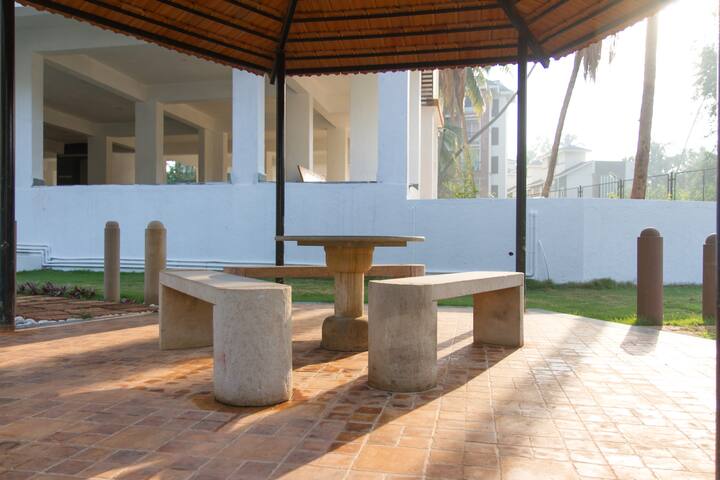 Recently renovated flat with brand new TV, Ac, Bed, Fridge etc. Within walkable distance from Calangute beach, Baga beach, Tito's club etc so you don't have to worry about how to get back while you enjoy the late night candle light dinner at beach.
The flat is in Calangute, North Goa with provision for basic cooking, in case if you are on a budget trip, also to prepare food at home in case you are travelling with small kids and do not want feed them outside food all the time. The place is also suited for travelers who does not want to travel too much as beaches , clubs, shopping places etc are within walkable distance. The flat also has a balcony with granite bench, where you can sip a glass of drink and relax. The caretaker lives next door in case you require his service. The bathroom is equipped with water heater, hand shower, hand flush, shower gel, shampoo etc. We strive to provide you the best value for your money and make your stay in Goa a memorable one without digging a hole in your pocket.
The flat is very close to the major attractions in North Goa, especially Calangute beach, Baga beach, anjuna beach and vagator beach.
Very good location, close to walkable from calangute beach. Good pubs and restaurants close to the apartment. Care taker was very helpful. Sunil coordinated very well and responded to messages and calls.
Sushma
2017-02-08T00:00:00Z
Nice place to stay in. No matter if u are a bachelor or family. Flat is on 3rd floor and building has not got any lift. Or else everything is perfect.
Pratyush
2017-03-16T00:00:00Z
SSunil is a great host. As soon as we landed in Goa sunil helped us with the directions to his place. To be honest the description that is provided has everything from directions to things to visit. we loved it. as we reached the place we noticed that the apt building was old and rustic. we were lil doubtful on what would the inside of room look like. The room was clean and fresh and i appreciate the maintenance done on it. There were a few things which kinda irritated us like wash basin was always clogged, water flow was so slow in shower that we thought shower was broken. commode flush was broken. But apart from this everything was perfect and room had everything that was listed. we loved the neighborhood as its close to baga and anjuna beach, titos lane, churches and restaurants. lot of bike and car rental nearby. Apt building can be little noisy sometimes Sunil was in constant touch with us and made sure that our stay was comfortable when i told him about the problems he immediately took action and informed maintenance. well overall we had a good experience and i liked my stay.
Rajiv
2016-10-27T00:00:00Z
It was an awesome stay . Owner and caretaker both are helpful .
Tapasmita
2017-02-01T00:00:00Z
It's really good experience of such amenities available in so affordable price, also the good connectivity to Baga and Kalangute beach. Really worthy.
Sushant
2016-09-09T00:00:00Z
Sunil was utmost helpful making sure our arrival goes as planned - he answered all my questions within a few minutes. The place is nice, clean, and well equipped. Please put wifi and it's going to be perfect!
Tomas
2016-12-08T00:00:00Z
Sunil is very responsive and is always available on call as he lives in Mumbai.The photos and place are accurate representation. However I would not recommend it for families as it's on the third floor and it's a pain to carry suitcases.The neighbours are also lower middle class and the stairway reeks of beedi smell and dead cockroaches. Families should avoid it.
Srinivas
2017-01-15T00:00:00Z
Nice apartment, loyal owner.
Dmytro
2017-02-13T00:00:00Z
Room Type
Entire home/apt
---
Property Type
Apartment
---
Accommodates
4
---
Bedrooms
Kobra vadoo, Calangute, Goa, India
Very spacious 2 Bedroom apartment on the ground floor! **Self service** Additional housekeeping is chargeable. 3 Balconies. Equipped kitchen. Swimming pool. Private apartment within a Resort property. ** Please do not expect the Resort to provide you with their services as this is a privately run apartment **
We 5 people stayed over there for a week, Stay was awesome all amenities were there as mentioned. but No WiFi. Central place for all the beaches and nightlife. You can rent a Car or bike to reach all the beaches. Just 5 mins away from baga/anjuna. Ashwin was easily reachable through mobile all the time and for the price its definitely the comfort stay with spacious parking and swimming pool
Jagan
2017-02-05T00:00:00Z
Absolutely loved the place, it was a nice private villa.. we had the freedom to do whatever we wanted to... totally loved the experience of living here... Thank you Rohan for your hospitality! Until we come again! :)
Reshma
2017-03-05T00:00:00Z
Overall fine.. need to arrange few things like water, order for to room..
Sagar
2017-01-09T00:00:00Z
The place was as good as the pics given. Definitely worth the money paid. Also located at a good place near to Beaches (Baga Calangute). 10 to 15 mins away by Bike or car. Good silent neighboor hood, with near by locals having a small hotel and serving goan food too. Bikes on rent available just next to the the resort.
Glenn
2016-10-31T00:00:00Z
Worth the price.Very spacious.huge balconies.Eqsy access to all three beaches(Baga,Calangute,Anjuna)A great place to stay in Goa.
Gaurav
2016-11-19T00:00:00Z
Rohan as a Host is amazing person, very soft spoken down to earth. His house location is just perfect, he guide people with right facilities for pick up and drop in budget cost. His reply rating is 10/10, very helpful person any hour of the day. I strongly recommend other travellers to go for his properties in Goa. Hope to see him again next year.
Priyanka
2016-10-06T00:00:00Z
Exactly as advertised and the pool was nice. Great restaurant next door.
Ushin
2017-02-08T00:00:00Z
You will enjoy this place.
Nayana
2016-12-29T00:00:00Z
Room Type
Entire home/apt
---
Property Type
Apartment
---
Accommodates
6
---
Bedrooms
Arpora, Goa, India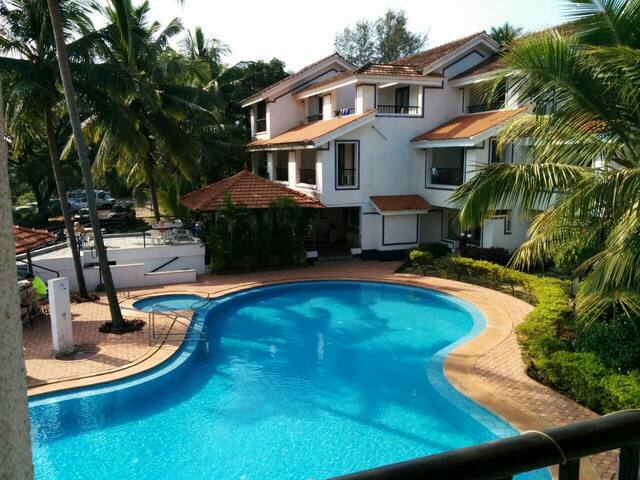 My place is good for couples, solo adventurers, business travellers, families (with kids), big groups, and furry friends (pets). We're conveniently located close to the touristy zones of North Goa with beaches and plenty of options for shopping, wining & dining, clubbing, sightseeing and other fun pursuits. We're also close to the quieter parts of Goa where you can chill out, enjoy scenic vistas, lounge around or explore historical and cultural venues.
The D'Gamas luxe homestay is located at the only crossroads in Assagao, in the sunny state of Goa, which is along the western coast in the southern part of India. This elegant cottage is built on a plot of land that measures 2200 square metres, and shares the space with the D'Gama family's ancestral home, which was built in 1904. Spread over 1000 square metres, the homestay has 2 bedrooms. The master bedroom has a king-sized double bed, en suite (attached) bathroom, and a writing desk, French windows leading onto two little-balconies overlooking the garden. The second bedroom has a full bed that comfortably sleeps 1 adult or two children. It can accommodate two adults as well, but only if they are big time snugglers. There is a large living room and a fully equipped kitchen. The living room has large French windows that open out on to the lawns, letting in ample light and allowing for perfect cross ventilation. A blend of traditional and modern architecture, the homestay is surrounded by lawns, where you can relax on wrought iron garden furniture or chill out on the Portuguese-style veranda.
We are located at the only crossroads in Assagao, Goa and the charming locality is quiet enough to enjoy the calm, and thriving enough to get out and about for pursuits like dining, drinking, dancing and shopping, to name a few.
Good little nice place would recommend to every1 who is in Goa for a short holiday the host and the staff is very friendly keep up the good work!
Kunal
2016-12-30T00:00:00Z
The place is located in a quite neighborhood. Vagator is the closest beach, Anjuna is also nearby. The property is very clean, comfortable, cozy and spacious. It has huge garden areas, Jacuzzi, outdoor seating area. U get entire furnished kitchen with water, microwave, gas stoves, utensils and many other small but thoughtfully placed items . Host is very courteous and polite. overall we Loved the place... and will definitely be back.
Ankit
2017-01-02T00:00:00Z
The D'gamas Homestay was indeed magical, much more than what I expected in one of the most serene areas, as one can get the actual feel of Goa, unobstructed by crass commercialisation. The pics closely resembles the Homestay, infact, it's even better, and the perfect place to detoxify yourself as I experienced, from the hectic city life in Mumbai. I, personally loved the concept of the luxe Homestay, beautifully designed, super comfortable and cozy. One can feel the host passion in minute details, their keen sense of style, in creating a very positive vibe about the place that compelled me to write a review about the experience, so that others too can benefit. Dean & Jessica were really a wonderful couple, very welcoming, attentive, hospitable, informative and more than gracious. They were always reachable, and the place was kept clean and well organised. The broadband Wifi, high quality linen, microwave, Gas stove and all amenities for cooking makes it an excellent value for money. The place is tastefully decorated, spacious rooms, comfy beds, with an outdoor Jacuzzi in a beautifully landscaped garden. It was sheer Luxe, and yet affordable! For Nature lovers, you can see the stars at night, the songs of the birds and a morning walk closest to Nature, Besides the organic vegetables grown inside the lawns. The place is such a tranquil, picturesque and yet a convenient 10 min drive away to the closest Vagator,Anjuna beach, restaurants and night life. And must add, for the dog lovers, it's the perfect and loving place for their pets to stay, as the host have a pet Homestay in their adjoining ancestral home. I felt very comfortable with the thought that they would be taken care off, and they did with feedback on text at every interval. I must again thank the host for making my stay flawless and the best experience ever, I couldn't recommend D'gamas more enough!
Rolland
2017-03-03T00:00:00Z
Awesome. That would encompass the whole experience. The house has been beautifully renovated, decorated with taste, one can feel the love invested in it. Dean is a superb host, always available, kind and caring. Assagao is great neighbourhood, 10 mins to Anjuna or Vagator for all the bustle and 10 to Mapusa for the market or banks. Not easy to find a small house of upscale standing in the area, I truly recommend it and Dean's hosting for any stay in Goa.
Josune
2017-01-31T00:00:00Z
The place is much nicer than the photos, it's very clean and operated by very friendly hosts - Dean and Jessica. It was nice and quiet, great location from North Goa - for beaches like Vagator, Anjuna and beaches further up North. We needed two wheelers to get around but we found a nice restaurants, shops and beaches easily drivable. Vagator Beach is about 7 mins away, restaurants - Gunpowder is a 5 min drive away and La plage is about 25 mins away. Ruta's is walkable, right around the corner and a good place for breakfast. We had a great time and will definitely come back, thank you Jessica and Dean!
Shraddhanjali
2017-01-19T00:00:00Z
Dean and his fiancee Jessica are lovely and accommodating hosts. This property was heads and shoulders above any other place I have rented in India. The floor was spotless and everything was super clean and modern. The house is very quiet and peaceful and has everything you need including filtered water. The house is very well appointed and has a cosy atmosphere. I would be happy to just stay inside the house and never leave to see the rest of Goa. Everything was perfect. I highly recommend staying at Dean's place. My two dogs were happy there as well with the large fenced in property with beautiful landscaping. This was an oasis after traveling in other parts of India. I even left my dogs at Dean and Jessica's dog homestay after I left to travel to Thailand!
Nadia
2017-02-08T00:00:00Z
D'Gamas is an enjoyable place. Bedrooms have super comfortable beds, Living room and Kitchen are new and decked-up, Washrooms are great. The place has a big private lawn and its real fun to laze around in the Villa for the whole day. Above all Dean is a very personable host. We felt like home. We were traveling with our two boys and our dog (Muffin). Definitely recommended! Aarti and Mohit
Mohit
2016-12-27T00:00:00Z
The D'gamas was such a beautiful place. Dean gave us such a good deal that too for the entire villa. The whirlpool tub was a great experience. Dean was always available and very helpful. I will most definitely recommend this place to all my friends. Deans place truly feels like home as you can see that he has put his heart into this villa.
Russel
2017-02-28T00:00:00Z
Room Type
Entire home/apt
---
Property Type
Bungalow
---
Accommodates
4
---
Bedrooms
Assagao, Goa, India