Large room w/ ensuite. King Bed. Highback slipper soaking tub w/ hand-held shower. Walk-in shower available down the hall. Breakfast included in price. Located at the Pryor House Bed and Breakfast--a restored Victorian.
The Pryor House B & B is a restored Victorian house built in 1893. We are within driving distance to all the Omaha/Council Bluffs attractions, along w/ local wineries, antiquing and have a nice bike/hiking trail nearby.
We are located in a small town which allows for a relaxed, friendly and peaceful environment
This location was perfect for us. It's 15 minutes from Avoca in the nicest little community. Pat was waiting for us when we arrived and was so helpful gathering the things we needed (blow dryer, etc.) The room was neat and as described. Really lovely stay and more than enough for breakfast.
Kimberly
2015-09-13T00:00:00Z
Room Type
Private room
---
Property Type
---
Accommodates
2
---
Bedrooms
Shelby, IA 51570, United States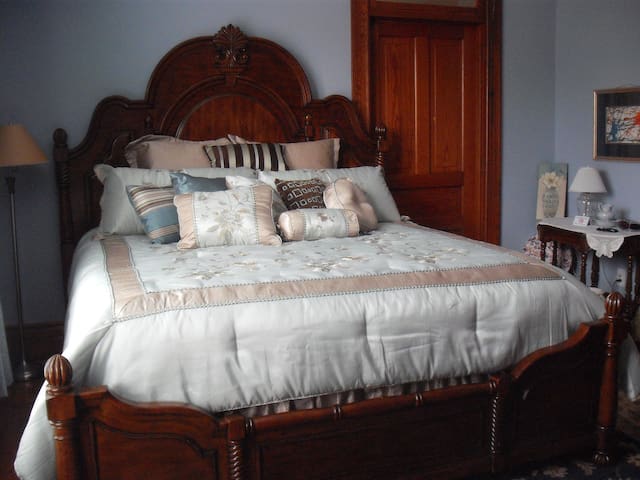 David Block Design Passive Solar home with a beautiful country view. Grill on the deck that over looks the pond or a campfire on the beach. Spend the day swimming or fishing, catch and release! 4 bedrooms with bath available, 2 rooms with lofts and 3 sleeping bags in each. Queen size Murphy Bed also available. $15per guest per night over 10 guests over age 18. Additional fees apply for special events. Please contact us for details.
House is very spacious. Appliances, such as, washer, dryer, stove, microwave, and refrigerator available for use!
This beautiful home is located on 8 acres, black top drive is 1/4 mile from the road. Your only neighbors are corn/soybean fields!
Wonderful house with so many fun things to do. Felt like a resort in that everything we needed was available and we had no need to leave. Large enough that even with 10+ people we never felt cramped. Gary and Diane were very nice, friendly, and helpful to us during our stay. I would definitely stay there again.
Lee
2016-09-12T00:00:00Z
10/10 BEST group vacation home in the Nebraska/IA area! There is no write-up that can do this property justice. It is gorgeous! My husband and his best friends went for an overnight and had the time of their lives. They said it was like staying on a resort! I was able to see all the videos they took during their stay and it was SO cool. I mean, glass doors on a dock over a private pond? It doesn't get cooler than that! Not to mention the unique things that make the house so neat like a fire pole in the center of the home, hidden doorways to nooks, entertainment area, pool, shuffle board and so much more. The outside offers tons of activities from basketball, fishing, paddle boarding and of course the pond. Now I will tell you the best part for any AirBnBer that may want to stay here...Amie! She is the host of the property and manages it for the owners. She made it feel like the home had a personal concierge. She even coordinated a golf trip for the guys! Her communication was outstanding and I was able to bounce questions off her weeks in advance. She met with the group at check-in and did a walk through. Everyone said she was awesome! As an AirBnB host, I told Aime that she inspired me to even improve how I host guests. She's fantastic and if you book their property you can rest assured you will be in great hands. We are planning on booking for our family reunion next year. Can't wait :)
Auburn
2016-09-28T00:00:00Z
Love, Love, Loved it. Held our company retreat here for Memorial Day. 3 families and the kids and never felt like we were on top of each other. So much room, so much to do. The kids loving having the 'super cool' lofts to sleep in. The lake is awesome...very clean, full of fish, and the water trampoline was a blast. The grounds are manicured flawlessly. Inside we had shuffleboard, pool table, and of course the fire pole was a huge hit. Gary and Diane met us on arrival and I'm glad to say we now consider them good friends. Amazingly nice and easy going. We'll definitely be back.
Clint
2016-06-05T00:00:00Z
Breathtakingly gorgeous, high-end home. The only picture that didn't do it justice was the outside lighting: with all the lights on, this house is a showcase at night! I also liked that the inside lights have dimmers. it's easy to get to, with a blacktopped driveway. It's on a hill, with a spectacular, peaceful panoramic view of the rolling hills of lush farmland. We have a ladies family reunion every year and everything about the house and property exceeded our expectations and actually generated excitement with some fence sitters who made the last minute decision to go because of the venue. There was plenty to keep us occupied without needing to go for activities off the property. Lot's of privacy and also lots of big space for a larger group to be together around the kitchen table, and in both the upstairs and downstairs living areas(URL HIDDEN)appreciated the attention to detail in the kitchen gadget provisions. Gary was kind to move a reclining chair for one of our aunts so she could sleep at night.
Debbi
2016-08-30T00:00:00Z
Room Type
Entire home/apt
---
Property Type
---
Accommodates
16
---
Bedrooms
Harlan, IA 51537, United States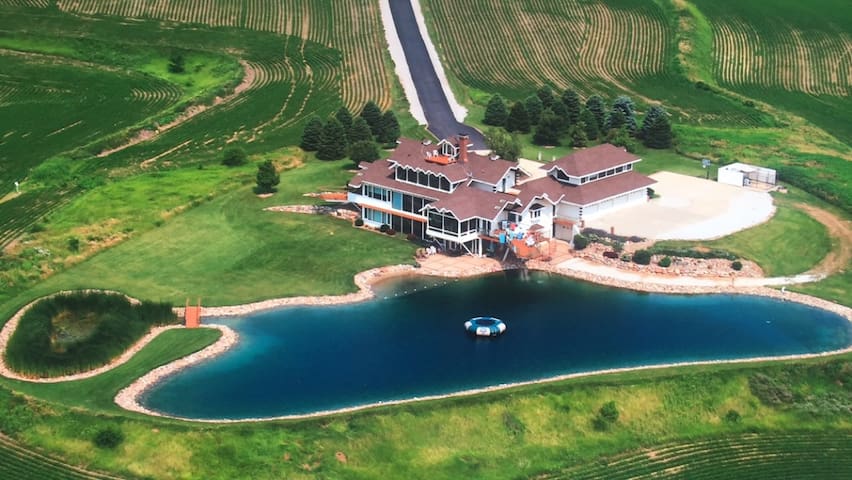 Great studio apartment in Atlantic - perfect as getaway retreat in the Iowa countryside, or as a stop-over on Interstate 80 between Chicago and Denver. This is your private set of rooms on dedicated floor. Located between Des Moines and Omaha.
The space is in lower level of my home. Its been renovated with full living room area, separate bedroom with double bed, dedicated full bath - and even an office room for the traveling businessperson! Xtra guests? - an extra twin bed is available in a second room. A made-up sofa is also available. Large closet, laundry facilities in full laundry room - all in a full studio/style apartment. Space fully furnished. Refrigerator, toaster oven, microwave, toaster and coffee maker all for your private use (there is no stove/oven in the space). You can come and go as you please ! BEST OF ALL - nice person lives upstairs!
With rolling hills and broad stretches of flat plain, Atlantic's natural setting provides ample opportunity for outdoor recreation and scenic home sites. It is busy and progressive with activities and events year round. We are also close to the popular antiquing town of Walnut and the Danish town of Elk Horn.
We didn't spend a lot of time at Karen's place--very busy visiting relatives. However, the "apartment" was well described in the Airbnb listing, and it was a very comfortable and cozy, yet spacious, place that really met our needs. Karen was a most gracious hostess, and she was obviously eager to make our stay a pleasant one. She was very concerned about our comfort. We were greeted by Karen, and she showed us around explaining how things worked. She had fresh lemon cake waiting in our kitchen upon our arrival! What a delightful surprise. She also supplied a very nice simple breakfast for us as well. We would definitely stay with Karen again!
Lois
2016-08-09T00:00:00Z
What a great place to stay! The apartment is very neat and clean. Karen is a great host! I can't wait to stay there again.
Susan
2016-09-16T00:00:00Z
Nice clean and comfortable room.I was pleased to stay there.
Gokhan
2017-01-21T00:00:00Z
Karen immediately made us feel very welcome, she was there to greet us, and allowed us to use space in her garage. We were shown where everything was in the beautiful apartment, given cookies and cake, and left breakfast in the refrigerator. Karen had also gone to the trouble of finding out what restaurants were open for us on a Sunday, which was much appreciated. We visited Oinkers that was recommended, which was great, and also Lake Anita, in the next village of Anita. Lovely. We would love to return to see Karen and stay in her apartment again in the future.
Rachel Paul
2016-07-14T00:00:00Z
Great place for solitude. You have the basement to yourself with a bath, "living room" space, and a nook. All you need! You walk right out into the garage where she shares the it with you, so you don't even have to park outside. It felt like home and I slept well both nights. Karen provides snacks, which I did not expect, but very much appreciated and they were wonderful. She is a very gracious host. I will definitely consider going back when I need some quiet time from the stress of life.
Martin
2016-08-15T00:00:00Z
Karen is a great host! She makes you feel welcome and at home.
Susan
2016-10-13T00:00:00Z
Karen was there to greet me when I arrived. She shared her garage with me so I could park just outside the apartment door. The space is really nice and had everything I needed.
Joan
2016-06-24T00:00:00Z
We loved Karen's private basement apartment! My mom and I are on a genealogy roadtrip and this is the fourth airbnb we've stayed in which has been an extra wonderful part of our adventure. Karen's home is absolutely lovely! This is no typical basement apartment; the basement is spacious and beautiful- Karen has decorated with an eclectic and wonderful mix of unusual antique pieces and native American art. When she says a nice person lives upstairs, she's not exaggerating. In addition to the typical things you might find, she left bagels and cream cheese for us, and lemon pound cake too! I just wish we could have stayed longer. We would definitely come back and highly recommend.
Tina
2016-10-17T00:00:00Z
Room Type
Entire home/apt
---
Property Type
---
Accommodates
4
---
Bedrooms
Atlantic, IA 50022, United States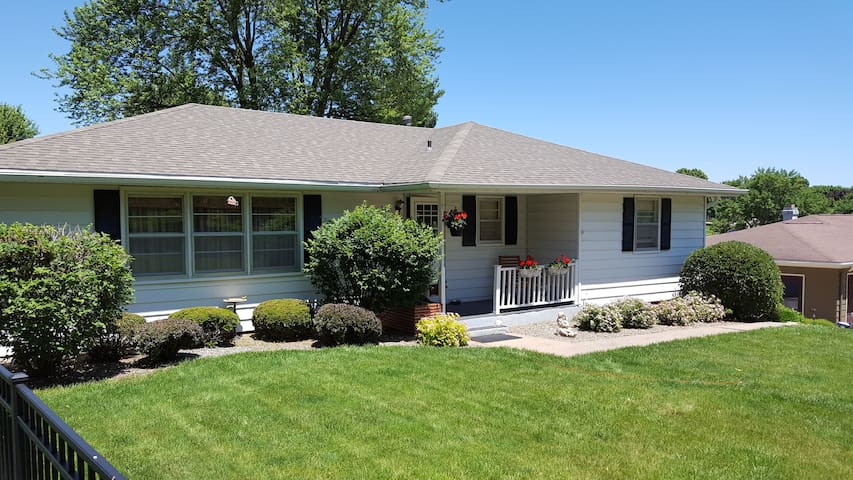 Ernie's Attic is approx 1200 sq. ft and has it's own sitting room, bath, reading nooks and is located on the 3rd floor. It's a large quiet suite, carpeted through out. Extra sleeping space can be added by using our high-rise queen air mattress.
Room Type
Private room
---
Property Type
---
Accommodates
7
---
Bedrooms
Shelby, IA 51570, United States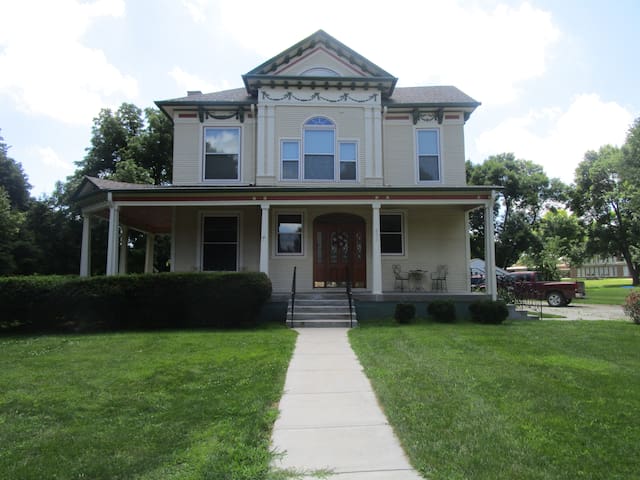 Private bedrooms with private bath/shower and use of full finished basement with bar, foosball table, flat screen tv, surround sound and large sectional couch. We are less than 1/2 a mile from I-80, minutes to the Henry Doorly Zoo, TD Ameritrade ball park, historic Old Market, and only 3 miles to restaurants and bars at the 100 block in Council Bluffs. One bedroom offers a comfortable queen bed the other has a twin bed. Why stay in a hotel when you can have the comforts of home.
Our home is situated on over 8.5 acres in the rolling Loess Hills of Iowa. During the warmer summer months we have a 18' by 36' in-ground pool to utilize. Enjoy the morning sunrises and afternoon sunsets from our porch swing.
No neighbors
Basically, you get the whole basement to yourself with a nice full size bed, private bathroom, TV/cable, big couch, dining table and kitchenette (small fridge - full of drinks, microwave, coffee maker, breakfast bar with stools). The furnishings in their home are simply amazing - with a bit of Southwestern and Western feel. Cassandra and her husband are very busy people, but she did well communicating with me and dropping by to visit/introduce herself and was more than willing to offer ideas/places to go if I needed something or a place to eat. They have 2 sweet dogs (which you do not see if you do not wish to but are so so precious). Cassandra and her family are upstairs and you have the whole basement to chill along with lots of space to take a walk, sit on a swinging bench, or just get a breath of fresh country air. It was a much-needed place to relax. I will surely remember this place the next time I am in the Omaha area, Cassandra. Thank you for allowing me to enjoy your home as my "get-away".
Valerie
2017-03-04T00:00:00Z
Cassandra was a great host, very welcoming and accommodating. Had the entire downstairs to ourselves, highly recommend!
Frank
2017-01-02T00:00:00Z
Great place to just relax - we stayed 2 nights while attending Miss Amazing pageant- great location for our activity - will defiantly stay again next year
Brenda
2017-02-19T00:00:00Z
Beautiful home and location. Hosts are very friendly, kind and helpful.
Lyndsey
2017-02-24T00:00:00Z
Cassandra is so friendly and helpful. This listing has everything you could ever need and more. I really enjoyed staying here, had a great night's rest, and can't wait to stay again.
Alisha
2017-02-21T00:00:00Z
Cassandra and her husband were so nice and friendly. They made us feel right at home in their home. They have a beautiful and clean home. It was awesome and well worth the money because you have the bottom level of their home all to yourself. Whenever I need a local place to stay, this is where it will be.
Valerie
2016-12-30T00:00:00Z
The place was very spacious and had all the essentials. There is also a foosball table and large TV for entertainment
Leonard
2017-03-06T00:00:00Z
The house was in great shape. The accommodations were very private and spacious. The hosts were more than helpful.
Matt
2016-12-30T00:00:00Z
Room Type
Private room
---
Property Type
---
Accommodates
6
---
Bedrooms
Council Bluffs, IA 51503, United States
Large two room suite w/ ensuite. King Bed, reading nook, separate sitting room w/ double hide-a-bed and fireplace. Bath offers airspa tub, walk-in shower and heated towel rack.
Room Type
Private room
---
Property Type
---
Accommodates
3
---
Bedrooms
Shelby, IA 51570, United States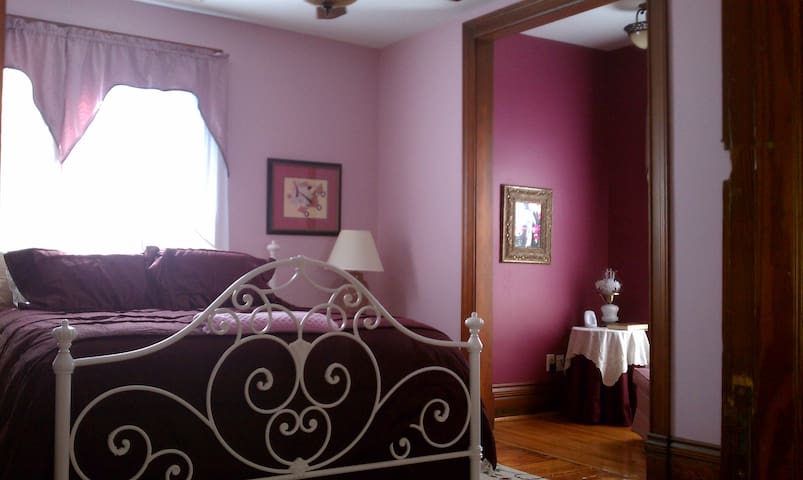 Victorian built in 1893 and restored in 2010, features three suites all with private baths. Larges suite sleeps 6-10, smallest sleeps 2. Includes full breakfast daily, outdoor patio area and indoor public rooms.
Instantly at home. Miss Pat met us on arrival and all rooms (we took over the entire B&B) were ready and perfectly set up. We had a satisfying interaction with her throughout our stay and she tailored to our breakfast needs and times. Pryor House is very comfortable and well restored Victorian home located in a quiet, green, and safe established neighborhood in the small town of Shelby Iowa. We spent a lot of time outside in the calming patio area. Miss Pat even let us clip some flowers for our Mom's interment ceremony.
gary
2016-07-18T00:00:00Z
Room Type
Entire home/apt
---
Property Type
---
Accommodates
13
---
Bedrooms
Shelby, IA 51570, United States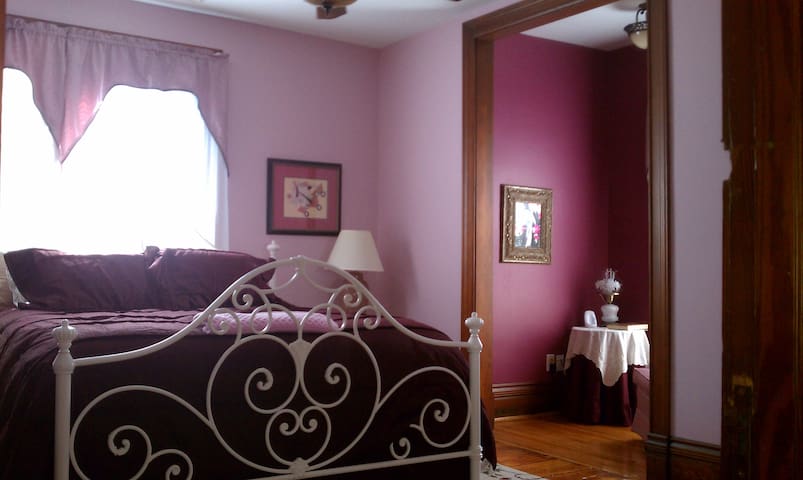 Your home away from home. Tom and Anna's House is a beautifully restored 1912 craftsman style home with 5 bedrooms, 7 beds, 2 1/2 baths and a beautifully finished attic. Sleeps 13. There are four queen, 2 full and 1 twin bed. 1st floor has master bedroom and new bathroom and kitchen. 2nd floor has 4 bedrooms with walk-in closets, 1 full and 1 half bath. Attic has 2 full size beds and Pottery Barn writing desk.
After graduating from Iowa State University with a degree in Veterinary Medicine in 1950, WWII veterans Tom and Anna Flynn moved to Anna's hometown, Kimballton, Iowa, to start his large animal veterinary practice and to raise their growing family. Tom had been an officer with the 28th Infantry Division and seen combat action in the Huertgen Forest and the Battle of the Bulge prior to being taken prisoners. He was liberated April 30, 1945 and was promoted to Captain after returning stateside. Anna had been a 2nd Lt Army Nurse, which is how they met in 1942 and a story all by itself. They purchased this home in 1952 and raised eight children here. If the walls could talk, what stories they would tell. The home is now owned by their youngest daughter, Alice, and was restored in 2014-2015. All renters will receive a complimentary copy of Tom's biography, Unforgettable: The Biography of Captain Thomas J. Flynn by Alice M. Flynn, which is available on-line.
Tom and Anna's House is the perfect lodging for out of town guests, family events and local celebrations. Kimballton, established in the 1880's by Danish immigrants, joins the neighboring town of Elk Horn in celebrating our Danish heritage.
Room Type
Entire home/apt
---
Property Type
---
Accommodates
13
---
Bedrooms
Kimballton, IA 51543, United States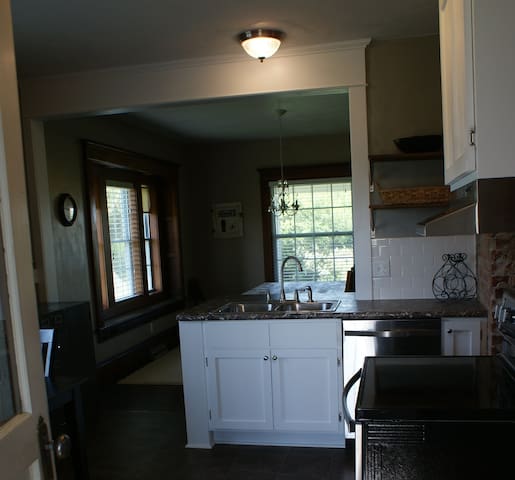 I've got this nice 4 room 2 bath house, but there's only one of me, so plenty of room to go around! It's centrally located in the city of Atlantic just up the street from the modern YMCA.
Nice fenced in backyard with built in grill
Everyone is way friendly here, both my neighbors and the town in general.
Kyle was very nice and very polite young man. The neighborhood was very quiet. The house was very nice inside and out. We really enjoyed staying there and would highly recommend it to our friends and relatives. Nick & Bobbi
Nick
2016-08-23T00:00:00Z
Room Type
Private room
---
Property Type
---
Accommodates
4
---
Bedrooms
Atlantic, IA 50022, United States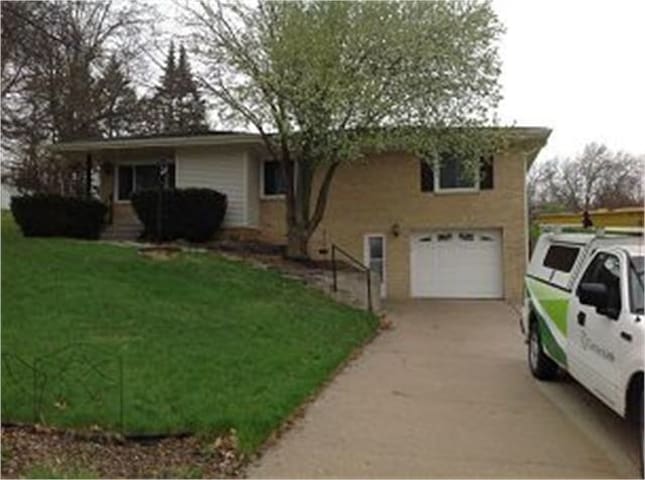 Our cozy barn loft allows you to relax in the country while being close to the city. Make yourself at home in our one of a kind loft.
This space is located above old horse stables that are currently empty. I grew up on a farm in Minnesota, so when I had the opportunity to fix up an abandoned barn loft apartment, I quickly got to work. Changes are being made everyday to update the space. The first floor is empty, with two floors above it that make up our space. The second floor consists of the kitchen, living room, bathroom, and dining room. The third floor consists of the bedroom and a closet/changing area. It is a very unique space that I hope you will enjoy.
This space is out in the country, so it is a very quiet neighborhood. There are train tracks up the road, so you may hear the train go by during your stay. The town of McClelland has a bar that serves great pizza and other food. Council Bluffs and Omaha are a little further away but offer tons of options for food and entertainment.
We had a very relaxing stay at the barn loft! Super rustic, but with gorgeous decor. The hosts were so wonderful and helpful, from suggesting places to eat to offering to come help me with the fireplace when I couldn't figure it out! The fire pit and hot tub outside was an awesome bonus.
Emily
2016-11-15T00:00:00Z
The barn loft was perfect for our weekend to get some work done and to relax! The space is very nicely done and one of a kind. Mary was very easy to work with and responded very quickly.
Ian
2017-01-16T00:00:00Z
Mary's barn is adorable! We were thankful to rest our heads after a day of driving. Thanks for having us!
Katie
2017-01-03T00:00:00Z
Had an amazing stay at the barn! Very welcoming and cozy. Mary was very accommodating and helpful. She even sent specific directions since she knew we would be getting in late. We didn't want to leave! Thank you for a great stay.
Lauren
2016-11-19T00:00:00Z
Our stay was wonderful! Nice, quiet and super relaxing. Everything you could possibly need and more. The people of McClelland are super friendly as well! Would definitely stay here again.
Lucas
2017-02-12T00:00:00Z
This barn loft was an excellent private getaway. Cozy and rustic yet completely modern with all the amenities. Two floors gave it great dimension and the natural light was lovely. I appreciated all the handmade decor, and the horse barn entrance. Such a unique place to stay--we absolutely loved it. Mary was very responsive and accommodating with all her communication. Highly recommended. . . .
andrea
2016-11-30T00:00:00Z
Awesome place! Very unique and cozy. Thanks Mary!
Zach
2016-11-13T00:00:00Z
Mary was very welcoming and we had a great time staying here. The loft was very cozy and rustic, just what we were looking for. We really liked sitting in the portable hot tub. We also enjoyed relaxing and enjoying the view in the morning.
Louis
2016-11-07T00:00:00Z
Room Type
Entire home/apt
---
Property Type
---
Accommodates
2
---
Bedrooms
McClelland, IA 51548, United States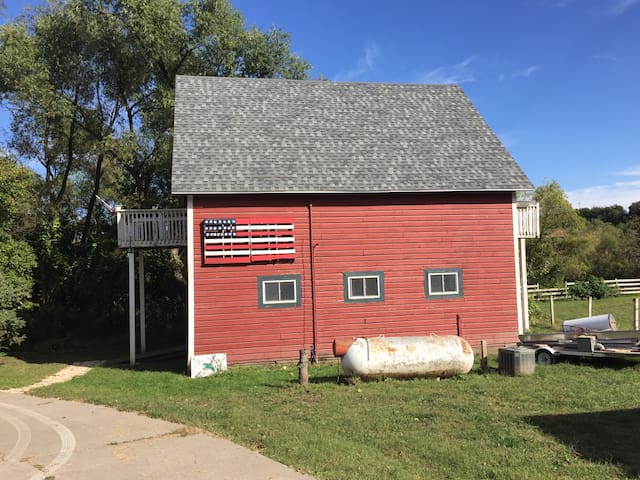 Ernie's Attic is located on the 3rd floor of our Victorian B & B. Two queen beds, queen hide-a-bed, roll-a-way bed. Private bath w/ shower. Approximately 130 square feet. Breakfast included.
The Pryor House B & B is a Victorian restoration located in a serene small town environment. We have a walking/biking trail nearby and are close to wineries, antiquing, and within driving distance to all of Omaha activities
We are a small town and are quiet and friendly. Friday evenings are fun at the local eatery when they have "picking and grinning" every week--local musicians come in and share their talents
Room Type
Private room
---
Property Type
---
Accommodates
6
---
Bedrooms
Shelby, IA 51570, United States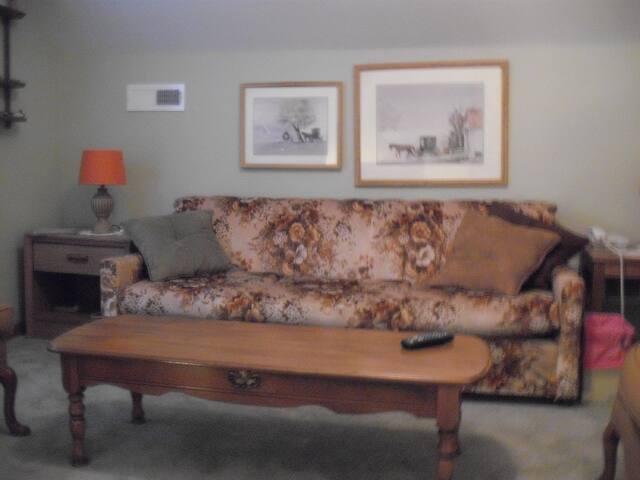 No smoking No pets. Two private bedrooms with double bed. Full bathroom. Fully equipped kitchen. We want you to feel at home in your own private space.
Room Type
Entire home/apt
---
Property Type
---
Accommodates
4
---
Bedrooms
Atlantic, IA 50022, United States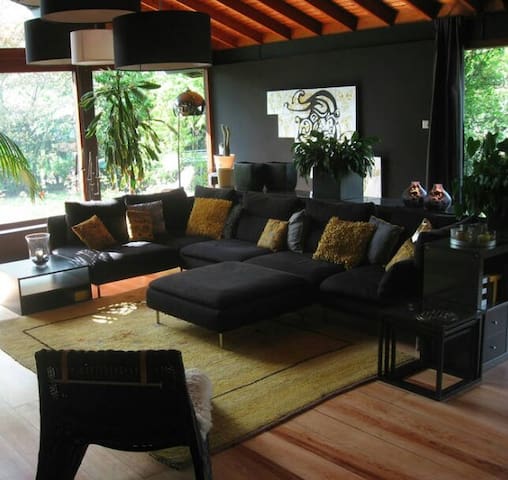 We are in rural Council Bluffs, Iowa but only 20 minutes to downtown Omaha where the Berkshire meeting is held. We are 7 miles to Interstate 80. We are near golfing, shopping and The Old Market.
We are located in Rural Council Bluffs, Iowa on an acreage. We have a newer home that is warm and cozy.
Enjoy a nice, quiet life in the country but only minutes from town.
Room Type
Private room
---
Property Type
---
Accommodates
2
---
Bedrooms
Underwood, IA 51576, United States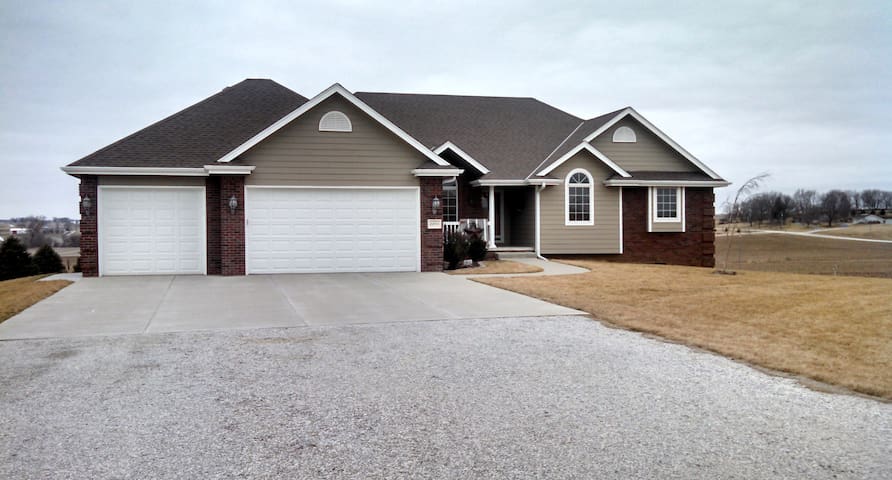 Quiet country home surrounded by family farm. 30 minutes from Downtown Omaha & Council Bluffs. Easy access to Eppley Airport as well. Private quarters with private bath and walkout basement over looking rolling Loess Hills. Pull-out available too
Full bedroom with Queen bed. Private bath with shower. Living room with pull out sofa, if needed. Walkout basement with view of rolling Loess HIlls.
Located on paved roads in the Loess Hills of Harrison County
Room Type
Private room
---
Property Type
---
Accommodates
4
---
Bedrooms
Logan, IA 51546, United States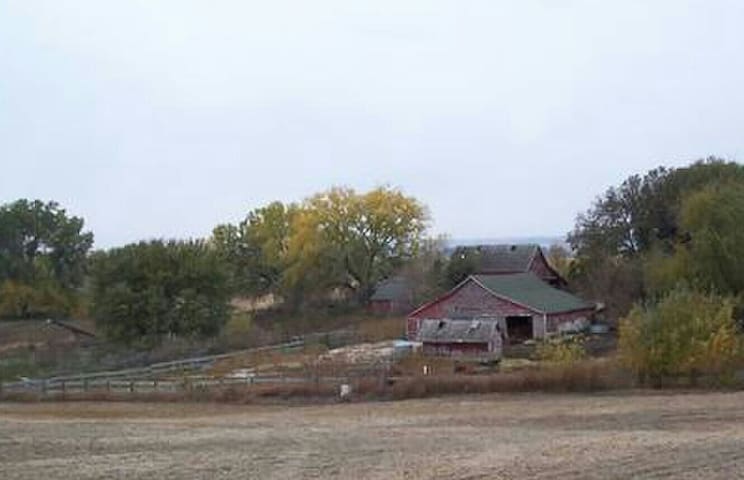 Enter dates to see full pricing. Additional fees apply. Taxes may be added.