You can experience the real Japanese local life in our guest house. Your Japanese mother "Oka-san" is waiting for your stay :-)
- Just 1 min walk to 7-11 convenience store (24h) - 10-15 min walk from the nearest station - 50min to Osaka / 80min to Kyoto / 60min to Arima Onsen / 90min to Himeji - Quiet Residential Area - [FREE] Mom's Home-made Japanese Breakfast - [FREE] Rental Bicycle - [FREE] Rental Mobile Wifi
[Neighborhood] There are 24hr convenience store and big supermarket, hundred-yen store in 5 min walk. Also, Japanese local market is there in neighborhood. You can find cheap and fresh vegetables, meat, fish and so on.
Awesome place to stay. Oka-san is great!
Joel
2016-10-11T00:00:00Z
Place is very clean and neat, specious enough to put my luggage and stuffs!room is warm and I slept very well ! Oka-san(grandma) is really very friendly and helpful! I only stay for a night and seldom stay home but once she saw my running noise, immediately gave me the masks! She is really sweet ! The breakfast Oka-san cooked was really the best Japanese breakfast I had ever taste! Regret that I didn't booked the dinner ! Will definitely get back if going to Kobe again !
Jyarman
2015-12-21T00:00:00Z
I really enjoyed my time in kobe. It's a nice, clean and spacious home and Oka-san was so lovely and warm. Thank you for having me:)
Janine
2017-01-07T00:00:00Z
Very clean, close to public transport. Having portable wifi provided was pretty awesome.
Musashi
2016-12-19T00:00:00Z
The best of all is the host-mother: She is soooo nice and lovely! She created a really tasty japanese breakfast and drove us to the shinkansen-station because of our heavy luggage. It was very easy to communicate with Kaori, the room is calm and very clean, there is all you need and it's not fare away from the train station. It was really easy to find and we felt very comfortable and well cosseted. Thank you sooo much!
Antje
2017-03-18T00:00:00Z
Kobe mother is right! Oka-san was wonderful and kind, offering advice on where to eat and the best ways to get there. All the house rules are written in English for clarity, but my husband really enjoyed being able to practice his Japanese with Oka-san. The Japanese breakfast she made for us was delicious! My only regret is not staying longer; if we ever come back to Kobe, we will absolutely stay here again!
Alexa
2017-03-28T00:00:00Z
This is a great place! Loved it! We were only there for one night, but the whole family made us feel welcomed. The breakfast was way too big! We felt bad that we couldn't finish it! The bath is amazing, you should give it a try on your visit. all in all a great experience. Thank you all!
Maya
2015-09-21T00:00:00Z
The first thing that struck me when I reached was really how friendly お母さん was! She was very helpful in helping me with my itinerary and even lent me a towel for the onsen! The kids were very well behaved and polite, reflecting really good upbringing. Okasan even offered to drive me to the station the next morning, which I gratefully took up. It was a really wonderful experience. Thanks so much!
Qing
2015-07-05T00:00:00Z
Room Type
Private room
---
Property Type
House
---
Accommodates
2
---
Bedrooms
Kobe, Hyogo, Japan
Reservation is located at Nanhai tram "Wakayama City Station" exit within 5 minutes and check the room began to experience Japanese culture is a continuation of the same kind with the convenience of home Only received a daily check-in friends bathroom, toilet, kitchen, living all alone to enjoy the facilities management staff will need to give timely assistance in each room and bathroom entrances are locked, etc. Management staff will greet you come away from the station to the apartment of a friend and happy when enthusiastic guide led our friends to eat, drink entire Wakayama * Since the adjacent traditional Japanese Buddhist temples, there are Buddha inside traditional Japanese Buddhist temples and cemeteries *
Only a group of friends every day to receive a separate check-in and a Japanese-style living room management personnel will provide the necessary assistance in the management of interior room and have timely Locker can be placed suitcases and a large hanging wardrobe can check only personal clothing need to bring personal toiletries toothbrush towels and other bathroom and toilet are all alone clean bathing supplies have been ready for free use for all our friends
Place to stay near the South China Sea tram "Wakayama City Station" There are many nearby station behind local cuisine and shopping stores and old station is Kinokawa sea Fishing ready to bike path next to the river bank Nearby 7-Eleven convenience store and a fishing tackle shop pay parking 24 hours near 500 yen Wakayama Castle to walk about 10 minutes in the Tourist Information (Sightseeing light soil products ã nn center have) can rent a bicycle back to 100 yen
Lung is a helpful! He always keep me updated and gives very clear guidance in finding the place. Thanks to his thoughtful help!
Ric
2016-04-01T00:00:00Z
The host is very helpful. A very traditional Japanese style house. Because of that the partition wall / door cannot be locked. Not feeling too secure as this is the first time to meet the host.
Karen
2016-08-15T00:00:00Z
Venson was an amazing host and helped us find our way around Wakayama. This was our first Airbnb while sharing it with the host, it did not turn out to be an issue with Venson, he kept to himself and was very quiet. I would recommend staying here if you are stoping in Wakayama for a night or two.
Alex
2016-10-26T00:00:00Z
The location is very near to wakayamashi Station and really easy to find. But our host was so kind to pick us up. The house is big and really beautiful. We thank our host again for his hospitality! See us in Cologne ;-)
Corinna
2016-04-30T00:00:00Z
A great experience! the host is very nice!
Ng
2016-06-23T00:00:00Z
Good location and place
Lin
2016-07-04T00:00:00Z
Our family stay here for 2 nights. The house host wait us in the station & also bring us to dining place in the 1st night which is appreciated. But the bathroom, toilet & kitchen are terrible & smelly. We need to clean it deeply before use. Also big cockroaches found & we killed 3 finally. Also Wifi device was not provided in the 2nd day since house host bring out for his usage.
Grace
2016-08-17T00:00:00Z
This house is excellent to my family trip in wakayamasi city, because host wang is very kind and helpful person. He has a good in English and any time gave us sns information it helped us for travel. I recomend this house who for travel first time Wakayama city in Japan.
soohyeon
2017-01-18T00:00:00Z
Room Type
Entire home/apt
---
Property Type
House
---
Accommodates
6
---
Bedrooms
Wakayama, Wakayama Prefecture, Japan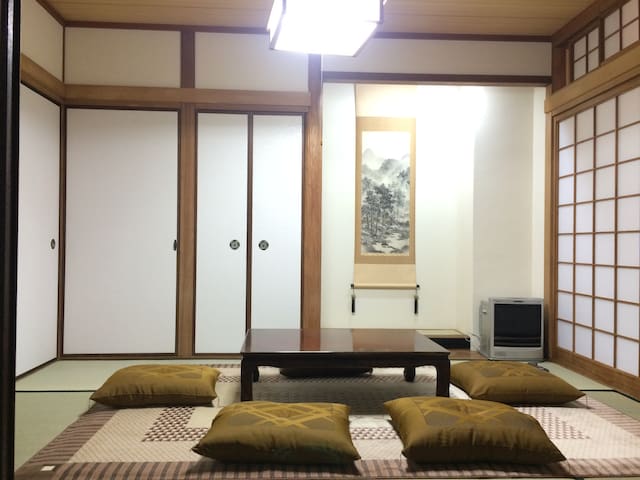 Interior decorated with an old Japanese room, you can relax like your house with tatami. Maximum of 4 people. Free WiFi and PC is equipped! There are many shops because it is in the place that entered the alley of the shopping area. It is 2minutes on foot from Don Quixote(cosmetics, foods 10am~3am ) and 30sec to convenience stores. There is a bar next door. There are many stores that can eat Ramen, Izakaya(like a pub), Yakiniku BBQ, Udon, Bakery, Cafe etc.
Old Japan of the room decorated in the image of, you can relax a warm and welcoming tatami. Bedding is a futon. Maximum of 4 people.
Because it is in place, which has entered the alley of the shopping mall, there are a variety of shops. 2minutes walk Don Quixote and 30 sec. to convenience stores. It is next to you there is also a bar. Shops that can be meals There are many. Ramen, tavern, grilled meat, coffee shop,such as noodles.
Both Hiroko-san and her husband are incredibly nice people, they helped us a lot and explained so much about Wakayama and tourist's spots worth seeing in the area. The hostel itself was very nice, everything was new, clean and just perfect. The location is amazing, it's very close to go wherever you want in Wakayama. Also, not very far from the station (~20min) and very close to the Wakayama Castle. We really enjoyed the time we spend there!
Basia
2016-10-16T00:00:00Z
Nice apartment! Hiroko and his husband Kazu are very good host, they are passionate to show us the city and recomment some great food to us. They gave us a great experience in Wakayama. The house is very clean and comfortable, i will choose this apartment when i come again!
KA YAN
2016-11-30T00:00:00Z
Thank you so much Hiroko and her husband Kazu. We had a great and excellent experience living there. They are nice people and so friendly . They explained a lot about the nearby attractions and told us everything about Wakayama. Also, It was so thankful that they took us from the station to their hotel and took us back to the station after checking out, It really saved us lots of time. For the hostel, I can say it's really a wonderful experience, it's our first time trying the traditional Japanese-style room. We like it so much. The room is huge, clean and comfortable, so we can feel so relaxing to stay there. If you are thinking to stay at Wakayama, here is definitely a suitable place to live. If we come to Wakayama next time, we will choose here again.
Howard
2016-10-30T00:00:00Z
5 stars service.Hiroko and Kazu are the best hosts ever.Spacious traditionnal japanese room and great onsen nearby. Very good adress we recommand.
Alexandre
2017-01-03T00:00:00Z
Great place to stay! A traditional tatami room and most welcoming hosts!
Gudrun
2017-03-05T00:00:00Z
I was really happy to stay in Hiroko hostel. Before going to japan, they helped me a lot in planning the journey of the trip. We met at wakayama station and they drived me to the hostel. Even though i told them the JR to wakayama was delayed, they still wait me at original time. It is absolutely the warmmest service for me. After i entered into the hostel, they continued to provide lots of useful information about wakayama and asked me to raise questions. They are very helpful. The hostel is clean, the location is good. It is near family mart and the 唐吉柯德(激安之殿堂). Although it is little far away from wakayama station, there is a bus going to the station. After i checked out, they drived me to jr station again. Btw, their english is very well. Easy to communicate. Extremely helpful. Must be one of your choices to stay.
Chan
2016-12-18T00:00:00Z
Hiroko and Kazu are very nice and friendly. Many thanks to them. They picked us up and drove us from the Wakayama station to the hostel at he check-in time and also drove us back to the station when we checked-out, which makes our journey much more convenient. They also planned the sight-seeing routes with us with details of the scenic areas, and shown us around in Wakayama. We have had a great time with them. The room size is pretty large, enough for expanding all the three big luggages of us at the same time and still got spaces to sleep and walk around. Bathroom is gorgeous. Location is great, it got delicious ramen restaurant in about 5-10 minutes walk, convenience store right down the corner of the hostel, Donkihote in a few steps of walk. Very quite environment at night and very comfortable. Hiroko's place is suitable for travellers who expect more communication with the host. Nice place, certainly will opt for Hiroko's place next time.
Howard
2017-01-13T00:00:00Z
Good location, and best host ever! the room is clean and cozy. We are very grateful to their service, they take us to the hostel, when we get in the wrong station. Even we loss things at the station, they help us to contact the station staff, fortunately, it can recovery. Highly recommended people visiting wakayama.
margaret
2017-01-07T00:00:00Z
Room Type
Private room
---
Property Type
House
---
Accommodates
4
---
Bedrooms
Wakayama, Wakayama Prefecture, Japan
最寄りのスポットは公共交通機関と家族向けのアクティビティー。我が家の自慢は雰囲気、屋外スペース、エリア。カップル、ひとり旅、出張旅行者、子ども連れファミリーにぴったりです。
The host canceled this reservation 110 days before arrival. This is an automated posting.
Joe
2017-03-27T00:00:00Z
急な予定にご対応いただき本当にありがとうございました!
Takamitsu
2017-03-28T00:00:00Z
很舒适的公寓,离海边和超市,医院都很近,离纪三井寺也只要10分钟走路。适合带家人居住,旅游。
Tie
2017-03-18T00:00:00Z
Room Type
Entire home/apt
---
Property Type
Apartment
---
Accommodates
5
---
Bedrooms
Wakayama-shi, Wakayama-ken, Japan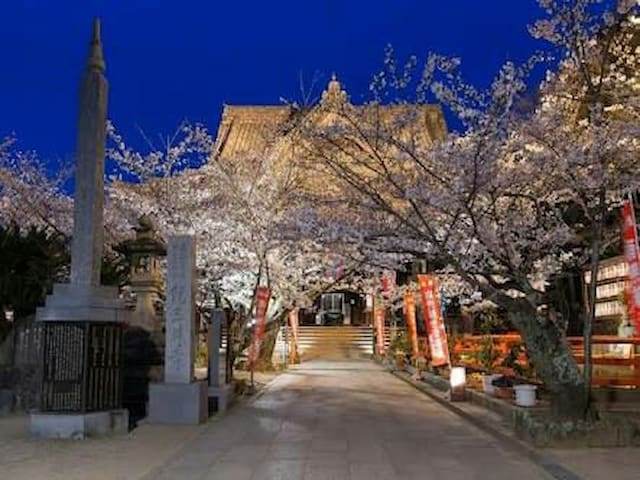 This 200 m² spacious a three storied house was completely remodeled in September. It is ideally located and convenient to many attractions Osaka can offer. 3min to the station, 8 to outlet. Pick up you at the airport toll $25 midnight.
There are hard wood floors throughout the house with AC & Heat. With 5 bedrooms, this house can easily accommodates 12 people. We have 4 beds, 3 Japanese tatami style room. There is a TV in each room.
There are the stations, outlet,bank, posts, supermarkets,convenience stores,foodstreet and SPAs nearby.
a bit slow in the communication. the bed was not really comfortable and I didn't sleep because of mosquitos.
marco
2016-05-18T00:00:00Z
The host is very nice to us and upgrade us to a bigger room because we have a child. The room is nice and clean. The common public living room and kitchen, washrooms are also very clean. We only stayed one night there and the host drive us to the subway station for free the next day. I was upset that there is a rooster outside, waking us up before 5 am. He couldn't stop make loud wake-up calls. I can not sleep at all. Even we had some communication issues, like he didn't give a direct answer in the email, once we met everything is smooth. The host did not tell us that he charges money for drive to the airport ahead of time, but he still very nice to drive us to the subway station, which is only 2 stops from the airport.
Tao
2015-10-01T00:00:00Z
Perfect place for a quick stopover if you are flying in/out of KIX. The place has everything you need for a short stay and the host Wenxiang will personally drive you to&from the airport/station for a small fee.
Alastair
2015-11-08T00:00:00Z
Room is big! Owner is friendly, who can speak English and Chinese. Clean. No noise of flight after midnight.
Zhang
2014-10-19T00:00:00Z
I arrived at station around 9 pm. Mr. Wenxiang picked me up aroung 9:30pm. It was nice service. I stayed only one night for my filght from KIX.
N
2016-08-25T00:00:00Z
The host is a Chinese, who is very considerate to pick us up at the station, and also offer services like sending guests to airport (charge 2500 yens). Well the walls were a little bit thin. You could hear clearly what is going on next door.
潇文
2015-07-17T00:00:00Z
Perfect place to stay for late night arrivals at the airport, the host was even kind enough to stay up and pick us up from the airport at midnight for a small cost. When we got to the place he carried my luggage up for me and we had a beautiful room. Thanks!
Verity
2017-03-10T00:00:00Z
he picked us up from the station and from the first minute was a helpful guide to whatever we wanted to do on our last day in japan. He also owns a shiatsu and acupuncture place where both of us took treatment...which is amazing ,,,, he offers a airport drop and best of all kitchen facilities .... one of the best places we have stayed at... highly recommended ,,,
mirra
2014-10-18T00:00:00Z
Room Type
Private room
---
Property Type
House
---
Accommodates
2
---
Bedrooms
Izumisano, Osaka Prefecture, Japan
Ground Floor: room with bath, toilet and a lawn yard approximately 300㎡ will be all yours. There is a sofa bed and up to 8 Futons can be prepared. Cheese fondue, Sukiyaki, BBQ, and other parties are suitable in this big yard with a 61 person Ropeway
The host is living in the 2nd, 3rd floor so you and your friends can use anywhere from the communal door onwards. Kitchen, toilet, bath, deck terrace and the spacious lawn yard is all yours!
There is an area for villas called Richland, facing the west side of Awaji shore and breath taking sunset spots are only a few minutes by car. In summer you can enjoy a swim at the beach or even try out SUP ( stand up paddle board)
Eiko is delightful, thoughtful and unique person. I used a bus to go to goshiki. But her house is a little far from the bus stop by walk. When I asked her and her son whether I could take a taxi from the bus stop, they proposed that she take me to her house by Eiko's car. So I could go to her house without difficulties. She gave me infomation about restaurant around there. So I enjoyed very unique "kawarayaki"-kind of BBQ using a japanese traditionl roof-. And she perpared breakfast for me. I really enjoyed staying her house. Thank you so much! 瑛子さん、この度はたくさんの素敵な思い出をありがとうございました。たくさんお話を聞け、また朝食においしいキッシュまで頂き、何から何まで本当に感謝しています。また伺います!
藤田
2017-03-02T00:00:00Z
Eiko San is a very warm and gracious lady. She helped us set up BBQ pit and accompanied us to the local supermarket. The main attraction of her place is the garden with BBQ facilities, a big hammock and an old train cabin where you can sit back and relax inside. If not because of the cold weather, we would have stayed outdoor most of the time. But nonetheless, we had a good shabu shabu party indoor the second night!
Kian Khim
2016-12-21T00:00:00Z
Madam Eiko is such a nice host. We arrived there late, and she kept asking if we found the direction and even stood outdoor waiting for us. She was so kind making us a extremely delicious omelet pie as breakfast. Most excited, enjoying the breakfast in her magnificent garden is one of the greatest memory in my life. If you visit his area, Eiko's place is good one to stay.
SONY
2016-07-02T00:00:00Z
It was a great experience for my family. Eiko was a good host, she treated us like a her family, welcomed us so much. We enjoyed our staying at her place. The location is on the country side of Awajishima island, you need to drive to get here. As you can see in the listing, there is a big garden you can enjoy BBQ there. Highly recommend!
kj
2016-05-04T00:00:00Z
Eiko-san was great an ideal host. She lives over the guest room(of course the room is separated from her residential area), and she warmly welcomed us when we checking in. We enjoyed BBQ in the beautiful garden. While me and Eiko-san was chatting for long time, my husband and our little son enjoyed talking lying in the hammock under the starry sky, which was unforgettable moment for our family. The next day, our son had a slight fever and we couldn't go out anywhere, but still we were happy because Eiko-san was always helpful and caring. We had really memorable stay at Eiko-san's place. Definitely recommended host and room. Thank you very much Eiko-san! and hope we could see you soon.
Kaori
2016-09-04T00:00:00Z
What a lovely place! We really enjoyed having some grass to walk around on and some space to relax. Eiko was such a nice person and helped us out so much. She assisted us with our bbq and taught us some great bbq techniques. Unexpectedly, she also made a delicious quiche for our whole family on the second morning of our stay. We really loved our stay there and would happily go back again.
William
2016-06-15T00:00:00Z
We enjoyed the backyard and bbq atmosphere. However, usually prefer a more private airbnb experience. Though our host was very sweet and hands-on. She even made us an unexpected quiche and coffee in the morning.
zoe
2016-05-02T00:00:00Z
A great place to relax and for entertaining, we had a great bbq in the backyard. Eiko was a very welcoming host. The house was quite far away from anything but Eiko drove us to the supermarket. Our Japanese is not great, but we worked it out and were able to communicate with her son before our stay.
Sarah
2016-10-18T00:00:00Z
Room Type
Entire home/apt
---
Property Type
House
---
Accommodates
8
---
Bedrooms
Sumoto-shi, Hyōgo-ken, Japan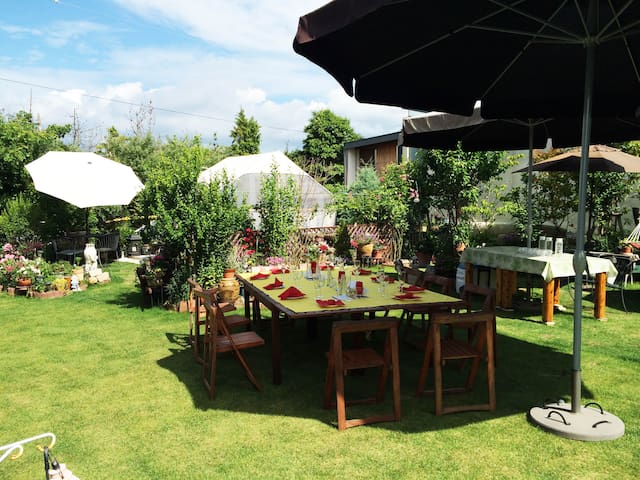 【This is a must-read for travelers who want to refresh from the long flight】 Our advantage is we can give you a great sleep with high quality mattress like a bed made by TEMPUR BRAND Please feel free to contact us about changing check in time,check out time.
This 120㎡ spacious a two storied house was completely remodeled in last year. It is ideally located and convenient to many attractions OSAKA can offer. 3min to the station. 5min to the convince store by bike. There are hard wood floors throughout the house ,this house can easily accommodate 4 people. We have 4 sleeper mattress called Futon in Japanese You can go through Japan and a good sleep in tatami style room ! ☆★☆★☆★☆★☆★☆★☆★☆★☆★☆ 【English】,【日本語】,【한국어】,【中文 簡】,【中文 繁】 【English】 ・Karaoke Unlimited ・Movies, drama and animation unlimited viewing on Amazon Prime ・You can sleep a high quality futon in a Tempur company is making ・There are Bicycle Rental ・Since the company of the president of the host , you can talk business ・ you can exchange culture ・ It is cross-cultural experience of the region in Osaka country side 【日本語】 ☆カラオケ設備有り&カラオケし放題 ☆Amazonプライムサービス加入済み&無料の映画・ドラマ・アニメ見放題 ☆テンピュール社の最高品質の布団をご用意 ☆いつでもホストとの国際交流可能 ☆私たちの町で有名な神社や寺や食べ物の情報が載っているオリジナル観光ガイドブック有り ☆自転車を無料レンタル可能 【한국어】 · 노래방 무제한 · 아마존 프라임 에 영화, 드라마 , 애니메이션 무제한 시청 이 · 당신은 텐 회사 에서 높은 품질의 이불 을 잘 수 하고있다 · 자전거 대여 가 있습니다 · t 의 회사 때문에 【中文 簡】 ·卡拉OK无限 ·电影,电视剧和动画无限上观看亚马逊·你可以睡在丹普公司高品质的被褥正在 ·有自行车租赁 ·由于该公司的T 【中文 繁】 ·卡拉OK無限 ·電影,電視劇和動畫無限上觀看亞馬遜·你可以睡在丹普公司高品質的被褥正在 ·有自行車租賃 ·由於該公司的T
There are station, rinku premium outlet, bank,post,supermarket ,convenience store,shopping street,temple ,Japanese restaurants
decoration is not up dated
mavis_ann
2017-02-12T00:00:00Z
easy walk from Yoshinosato station. we spent our last day in Japan here before our early flight from Kansai airport. There was train that arrived at Kansai airport before 6am (around 640 yen only). Recommended for value stay if you have an early flight at Kansai airport.
Kelly
2017-03-04T00:00:00Z
Close to mrt station. Quite convenient if need to catch up early flight. Only things worry me is the toilet which is too small. But the house is clean and well equipped.
jeff
2017-02-09T00:00:00Z
nice place
Simon
2017-02-16T00:00:00Z
My friend and I stayed only one night, and since we got in really late and left early the next day, we did not get to interact with Mikuto personally. However, communication with him (messages on AirBnb) was extremely prompt and helpful! His instruction to his house and house manual are detailed and thorough. Will definitely stay again!
Kit
2017-03-25T00:00:00Z
Mikuto's house was an excellent stay. I used it as a 1 night accomodation as it is close to the airport. All the photos are accurate. The washroom and toilet is downstairs but the shower is upstairs with your bedroom. If you're not able bodied or elderly you may have some difficulties with the stairs. Mikuto was very fast to reply to all my questions and checkin was very simple. I will definitely use this place again.
Laurence
2017-04-03T00:00:00Z
I am satisfied during the stay. Atsushi was helpful and kind enough to lend me the bike to Rinku Outlets. It was only two hours for the transit between my two international flights if I wanted to be straight back home, I decided to stay overnight in Japan to do some shopping and no stress about short transit. It worked out well and I had the great time to check from shop to shop at the outlet. It is only 10 min bike ride from Ansushi's guest house and it is easy to navigate.
Erica
2016-10-17T00:00:00Z
The room was clean and comfortable. We had to catch an early flight and it was 20min from the house to the airport (560yen by subway). Great stay, we would recommend if you have to catch an early flight or arrive late in the evening.
Sanne
2016-11-09T00:00:00Z
Room Type
Entire home/apt
---
Property Type
House
---
Accommodates
4
---
Bedrooms
泉南郡田尻町吉見, 大阪府, Japan
You can go to Kobe port tower 10 minutes by walk. It takes 1 minutes from Hankyu Hanakuma(花隈) station east gate. It takes 8 minutes from JR&Hanshin Motomachi(元町) station. It takes 2 minutes from convinience store.
Yusuke is an easy going person which makes your stay very pleasant. The place is spacious and very clean. The beds are great, very comfortable! He provides maps, towels, linens, shampoo and gel and other commodities. I highly recommend his accommodation! You will rest in a quiet place which it is at the same time quite centric.
Leyre
2016-12-30T00:00:00Z
Very convenient
民杰
2016-12-30T00:00:00Z
Yusuke's place is great! Easy access to public transportation and only a short walk to many restaurants. The photos don't do his place justice. Everything is literally brand new. The place even smells new. This apartment is larger than most in Japan. There is plenty of floor space to open suitcases and still be able to move around. The shower is full size! Not a tiny unit typically found in Japanese apartments. I'm a pretty big guy so that was a nice touch. Wifi, clean beds, spotless floors, quiet basement unit, a host who was great with communication... this place is pretty much as good as it gets. Highly recommend.
Ethan
2017-03-14T00:00:00Z
Kosuke's place is homey and very convenient to stay. Only 10 mins walk from Kobe port and about 2 mins from Hanakuma train station. Will surely give it a thumbs up!!!
Vernadette
2016-10-15T00:00:00Z
The place is very close to the subway which allows easy access to where you need to get to. I was able to communicate with the host via LINE which allowed me get assistance when required. The room is great value for money. It has only the basic necessities - what you see is what you get. There is pocket wifi which is fast and easy to use.
Anthony
2016-11-06T00:00:00Z
Great stay. The place looks brand new. It's right next to Hanakuma station.
Ruben
2016-10-11T00:00:00Z
Very good!!
Alex
2016-11-08T00:00:00Z
The location is perfect just right next to the subway station within 60ms, you can definitely find it easily, the room is very clean with everything you need, and the host left me a cookie, that's nice, I recommend it.
Apple
2016-12-22T00:00:00Z
Room Type
Entire home/apt
---
Property Type
Apartment
---
Accommodates
4
---
Bedrooms
神戸市, 兵庫県, Japan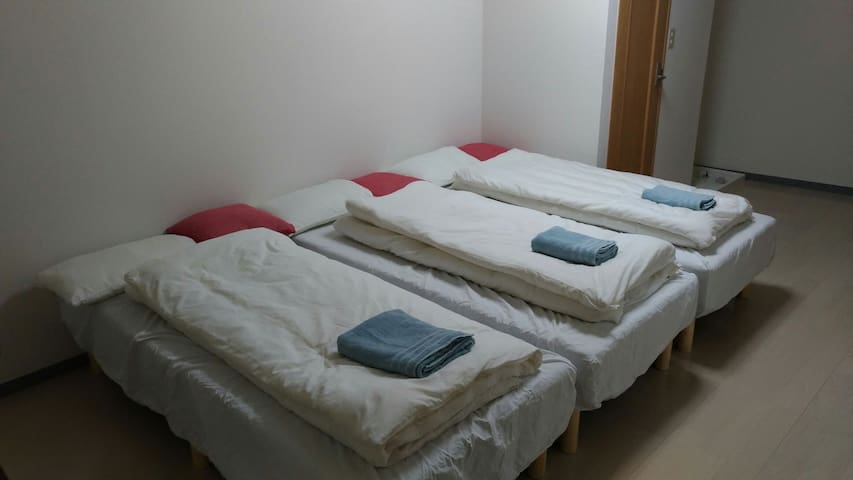 Our apartment is in a fine location overlooking the sea. It is the highest room in the building. You can see the horizon during whole day.There are beaches,onsen, and a few restaurants near here.We have free parking in our apartment.
広々大きなリビングがとても開放的です。
There are beaches,onsen,and a few restaurants near here.
We came here in August. Very nice view. Comfortable appartment. Close to Sumoto beach by car. We had very good time.
Thibaut
2016-08-05T00:00:00Z
The apartment is spacious and well equipped. The view from the apartment is amazing!! We like it so much! :) Just as the weather turned bad in late evening and it got so windy so the noise from that hindered us from taking a good sleep. But other than that, all is perfect!
Ivan
2016-04-17T00:00:00Z
This is a spacious and clean apartment with a great view of the Osaka Bay. It's about a 5 minute walk to the nearest convenience store, Family Mart. We will definitely stay here again when we travel to Awaji Island.
Amelia
2016-07-04T00:00:00Z
Dai's apartment was really great and had a super good view of the sea (imagine waking up and when you look out of the window you see the sea). The place were really comfy and the amenities were 10/10. However, the plates/bowls/glasses were not very clean due to previous guests not washing them after use and the lack of wifi was really not very convenient (luckily for us we had a data sim). Furthermore, the entire apartment block is relatively empty, the same for the adjacent apartment blocks and may be quite quiet in the evening. Overall, it was a very good stay!! Will definitely visit again :)
张
2016-12-03T00:00:00Z
Have a nice stay at this spacious apartment. Host is a a great and helpful person. He tried his very best to help us check in after 5pm and allowed us to check in latest by 6pm. The apartment provide a great sea view. The kitchen amenities can be better if the host able to provide a bigger cooking pot for 4person.
Peggy
2016-11-17T00:00:00Z
Apartment with a great view. The place is exactly the same as those photos, nice house. The only thing that was difficult for us - we got to check in within 1500 to 1700 hours. It's quite tough given that we have to rush down from Kobe (driving) with less stoppages to view the upper Awaji attractions.
Jimmy
2016-08-30T00:00:00Z
Really beautiful apartment with an amazing view of the ocean. Great living room and dining area and the house is clean throughout. Mr Okamoto was very kind and helpful. I'd love to visit again someday soon.
Sean
2016-01-02T00:00:00Z
部屋からの眺望が素晴らしく、また掃除も行き届いており、快適に過ごせる。大きなLDKはまさにリゾートでした。 鍵の受け渡しに細かな配慮をいただきました。オーナーさんにも感謝です。
Kazuya
2016-04-05T00:00:00Z
Room Type
Entire home/apt
---
Property Type
Villa
---
Accommodates
4
---
Bedrooms
洲本市小路谷1278-1, Hyogo Prefecture, Japan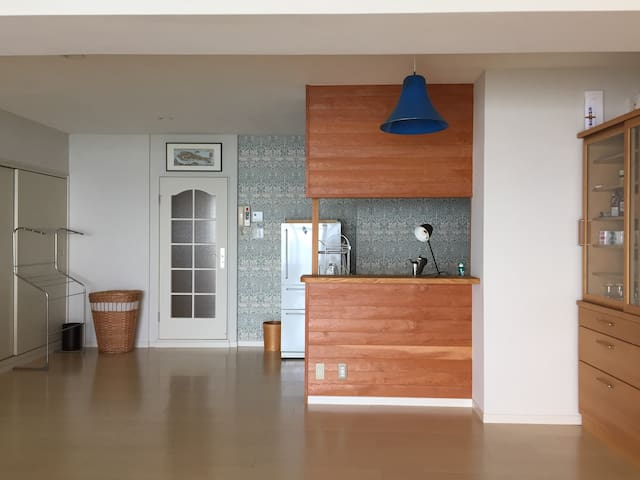 Private room! Adult 3people, Child 1.2people = Max5people Hankyu Hanakuma station/ 1min JR Motomachi station/ 5mins Hanshin station/ 5mins MRT kencho-mae station/ 5mins 10mins to Harborland. 1mins to Motomachi shopping street. 5mins to Kobe chinatown. Good location. Close to convenience store, restaurants. Friends, couples, familys, businessman welcome.
private room. friends/ coupls/ familys/ businessmen Adult 3people, Child 1.2people = Max5people
Good location. Close to convenience store, restaurants. Good for sightsing. Kitano/20mins Harborland/5mins Chinatown/10mins Arima hotspring/30mins
I was the first person to stay in this flat, it was great! Perfect location for travelers, right by the train, lots of food and shopping around. Highly recommended! Will be back for SURE!
Moshe
2017-03-26T00:00:00Z
駅近で近くに商店街もあり、滞在しやすいところでした。
Watada
2017-03-29T00:00:00Z
Room Type
Entire home/apt
---
Property Type
Apartment
---
Accommodates
3
---
Bedrooms
神戸市, 兵庫県, Japan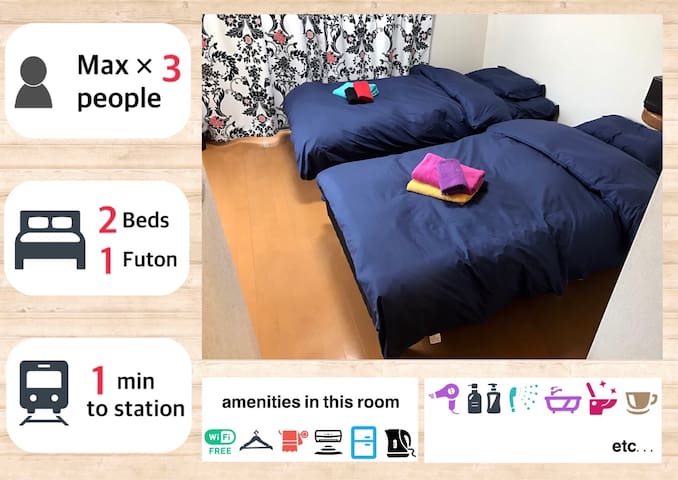 It doesn't get more central Kobe than this. 4 minute walking distance from Sannomiya Station. Beautiful European Designed Building. Sleeps Four Adults. Professionally designed with every amenity you could imagine from Coffee Maker to Hair Dryer. Bring your kids- They will enjoy the big balcony space to play
Located in the heart of Kobe- the apartment is about a 4 minute walk from the main Sannomiya Station hub. Decorated with a European/taj mahal look- the building is completely unique and different than any building in the area. Living facilities are of top notch quality. The apartment sleeps 4-5 adults. Four single beds are available and one sofa in the living room. There are two bedrooms one toilet and one shower room. The shower room has a Jacuzzi to relax after a long day of traveling or working. Television with local Japanese channels, a refrigerator, cooking utensils, mug, NESCAFE Espresso Maker, Toaster and Microwave. From Shopping to local cuisine- Sannomiya is the ultimate location to see modern culture mixing with traditional ways. There is a parking lot directly across our building- about 10 meters walk from entrance to building. It is 100 yen a hour from 11pm to 8am. And 200 yen a hour from 8am to 11pm. Maximum you will pay for 24 hours is 1600. If you walk about 300 meters away there are parking lots for about 500 yen for 24 hours.
Two minute walk from the heart of Kobe- Sannomiya. Very convenient neighborhood. From Shopping to local cuisine- Sannomiya is the ultimate location to see modern culture mixing with traditional ways.
I came to Kobe for a business trip and stayed at Natasha's place for over 50 days. Natasha has been a very gracious host and was always willing to help and go the extra mile to ensure I had a comfortable stay. I remember requesting her for a tea pot in the morning and by the time I returned from work I had a brand new tea pot in the home. Several times over the course of my stay I have asked her for help regarding directions to nearby gym, grocery stores, etc. and everytime she has been very helpful. Towards the end of my stay, I wanted to buy a few things for my kids and Natasha offered to drive me around the town to help me buy the traditional dresses for my little ones. Everytime I needed any assistance during my stay in Kobe, I could rely on Natasha on guiding me through questions. The home is very spacious and ideal for a business/leisure trip, for one/many people. for a family and I would most definitely recommend it to anyone who is coming to Kobe and looking through AirBnB.
Swapnil
2016-07-30T00:00:00Z
Beautiful and spacious home in a very convenient location. The balcony is awesome and the check in process was easy and quick. Everything was very clean and tidy.
Jillian
2016-08-12T00:00:00Z
It was really nice experience in kobe. Natasha's house was easy to find, clean and comfortable. As she said market and convenient store was also close to home and I could walk to nankinmachi, port land, and mosaic too!!
Elina
2017-04-04T00:00:00Z
The apartment is situated in a nice and quiet neighbourhood where you can access to train station and stores within 5 mins. Natasha is a friendly host and offers help to us promptly. Nice stay in kobe!
Joey
2016-08-09T00:00:00Z
Natasha helped everything from getting there and how to best stay at the place. Location was (~5mins walk to Sannomiya) amazing and I genuinely believe this place is as good as it gets anywhere in Kobe in terms of quality and size! I wish there was a WiFi tho.
Jesse
2016-10-01T00:00:00Z
We had a wonderful time here since the apartment was very spacious and close to the stores. Two seperate bedrooms, a kitchen-livingroom and very nice bathroom facilities. Would recommend it to anyone staying in the city. Communication with Natasha was smooth and check-in was easy.
Lara
2016-09-15T00:00:00Z
natasha has been very very helpful at giving us detailed directions to her place and other recommendations! the place is very cosy and clean as well as quiet! highly recommended!!
danny
2016-12-17T00:00:00Z
You will count on a person ready to resolve a y trouble you can experience arriving at a town where almost anybody speaks English. Especially the y were superbin dealing with the unnerving problem of sending bagagge to other place. Thanks Natasha and family
Alejandra
2016-11-05T00:00:00Z
Room Type
Entire home/apt
---
Property Type
Apartment
---
Accommodates
5
---
Bedrooms
Kōbe-shi, Hyōgo-ken, Japan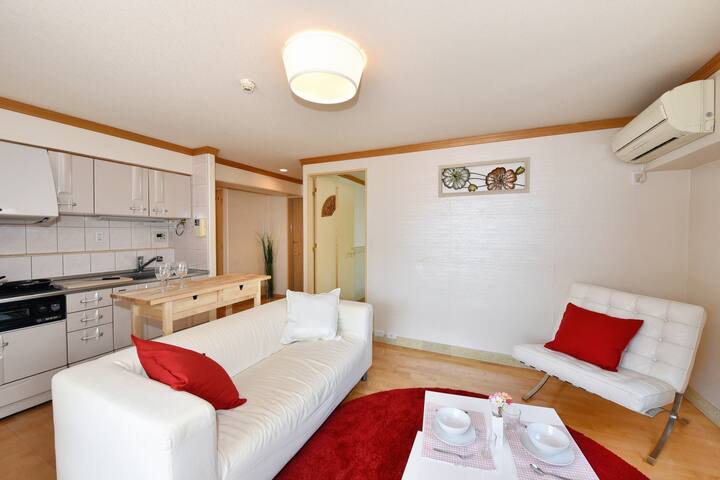 Apartment 403 It was modernized in Sep, 2016! * Clean towels and bed linen * Iron and ironing board * Free use of bicycles and a pocket wi-fi * Children under 6 years of age free * If the room is available, u may be able to check in before 3pm * Try some Origami or Kendama – a traditional game where u catch a ball on a stick * Bedding: Japanese style with futons is made of popular NISHIKAWA for up to 4 people * Book next door too and up to 8 people can stay https://www.airbnb.jp/rooms/15471527
We wanted to create a special ambience using traditional Japanese *  The dining table is made of a single piece of Yoshino cedar wood, fashioned by Japanese craftsmen *  All other furniture is handmade by skilled craftsmen, too. *  All the Japanese tableware is made of traditional Japanese Kiyomizu or Arita pottery. As I am very fond of traditional folkcraft, you'll find carefully selected bonsai, temari (a decorative ball) and kakejiku (hanging scroll) * "Origami"dolls made by my 5-year-old daughter! * Toilet is douche-equipped toilet system.
Convenience store, supermarket, pharmacy, 100-yen shop etc. all close by There is no parking for free but a coin parking is close by our apartment.(about (PHONE NUMBER HIDDEN)yen/24H)
Great place to stay for two people :) loved the traditional touches.
Cassandra
2017-02-17T00:00:00Z
Very great place to stay!! Clean, has tatami rooms for the Japanese feel, and the showers are hot!! Toki-san is also very accommodating and really ensures that your stay is as comfortable as possible. One of the most helpful hosts I've interacted with! The only downside is that it's about a 7-10 min walk from major train stations and that the apartment is on the 4F with no elevator. But other than that, very great place and awesome host! Would definitely recommend here and come back to stay again!! とても良いところです!綺麗で、和式部屋があって、シャワーが暖かくて、良かったです!その上に、Tokiさんはとても優しい方で、早く返事をしてくれました。悪い点は、アパートがちょっと駅から離れていて(7-10分歩き)、そしてアパートが4階にあってエレベーターがありません。でもぜひ、ここで泊まってください!また機会があれば、ここで泊まります!
Laura
2017-01-26T00:00:00Z
The apartment was amazing and Toki was such a great host! Had a great time in Kobe with all the amazing food and places.
Jiacong
2017-01-08T00:00:00Z
Very nice apartment! Clean, modern, well equipped! Toki is very considerate and helpful. You will not regret for this choice!
Xiaowei
2017-04-02T00:00:00Z
Toki-san is very caring and thoughtful hos, he responds queries very fast and always tried his best to help me.
Siew Lan
2016-12-23T00:00:00Z
Toki was an exceptional host...prior to our stay he picked me up from my hotel and drove me to the apartment so that I would know my way. Then he showed me how to get from the apartment to the train station, the shopping centre, the bust stop etc. and then delivered me back to my hotel. After we had checked in Toki kept in touch to make sure everything was fine and when we left he insisted on taking us to the train station with our luggage. A huge thank you Toki for all your help. The apartment is in a residential area of Kobe, minutes walk to the train, bus and shops. It has everything you will need for your stay, we stayed 5 nights. The decor is traditional Japanese, exactly as in the photographs. The futon bed was very comfortable with good pillows and quality linen. The kitchen was very well equipped with traditional Japanese tableware and modern appliances. The bathroom was traditional with a bath and adjoining shower head designed to be used over the bath, which all worked very well. The toilet is separate from the bathroom and is a challenge as it has very small dimensions...not so easy for my 185cm tall husband. The only other problem for my husband was the height of the door dividing the bedroom/living room from the bathroom and kitchen but he soon learned to duck! We loved staying at Toki's place and will definitely stay again. Highly recommended.
Jenny
2016-10-30T00:00:00Z
Everything is perfect. Toki's house will be the best choice if you are going to stay in Gobe.
정호
2016-12-10T00:00:00Z
The apartment was extremely clean and excellently furnished for an unbeatable price! Toki-san was an excellent and communicative host. Though we never met in person, he made us feel welcomed and confident that we could contact him if an issue arose. I would stay here again if I were to go to Kobe once more.
Maya
2017-03-29T00:00:00Z
Room Type
Entire home/apt
---
Property Type
Apartment
---
Accommodates
4
---
Bedrooms
Hyōgo-ku, Kōbe-shi, Hyōgo-ken, Japan
Located in the uptown of the city center of Kobe, it is the old house in a quiet location. Sannomiya, Motomachi, while remaining within walking place also to Kitano-cho, jewels in a good location that can be rich natural also enjoy the Rokko. Of about 25 square meters is the size. We are located very closed to central Kobe area, and also located Near by Rokko mountain. So you can enjoy modern Kobe city and beautiful nature in your Stay.About25㎡
'You can enjoy to stay traditional Tatami room and sleep by Futon. Bedroom and dining + shower + toilet + mini kitchen between 6 tatami second spread. Basin is the mini-kitchen. Accommodation is but can stay somehow 4 people if you use is also a dining up to three people.
Also in Rokko while located in the heart of Kobe will go to enjoy the nature in the vicinity walking It is rocated near Beautifull Rokko mountain and also walking distance for Mid town Kobe. Convenience store are also nearby. Night is very quiet.
Kazu and Rie are very warm hearted. Kazu arranged all convenient pickups for us including picking up at the station, driving us to the mountaintop to see Kobe night view and finally dropping us with our luggage to the JR station. The room is typical Japanese style with tatami bed. Kazu also recommended ishida Kobe Beef which is especially delicious.
ZECHUN
2017-02-05T00:00:00Z
Rie is so kindness! They drop us to Sannomiya station from house. If you need, They pick you up when checked in. The house is so quite and clean. It was good experience. If i go Kobe again, I'll stay this room again.
광서
2016-08-17T00:00:00Z
My hosts in Kobe, Rie and Kazu san live in a lovely traditional Japanese house in the heart of mount Rokko. I was kindly received by them; staying on the second floor of their house I had a kitchen, bathroom and living room, just like a mini apartment, all to myself. I slept wonderfully on the tatami bedroom with the sounds of birds to complete the relaxing atmosphere. Rie and Kazu were generous enough to provide organic juices and tea and coffe for me to drink freely, and even drove me around Kobe since I didn't have much time for sightseeing due to my work. On the days of my arrival and departure they went above and beyond their duties as hosts by picking me up and then driving me of to the trains station. I couldn't be happier in my first experience using Airbb. And if one is a woman and traveling alone this is a perfect place for one to feel safe. My best wishes to Rie and Kazu soon!
Ana
2016-06-13T00:00:00Z
Their house is located in calm residential place. This doesn't mean the house is quiet distant from downtown. I think it is good location to go to everywhere. This house is old Japanese traditional style, so you can enjoy its own old and calm atmosphere. They're kind and welcoming people, truly. You can have their simple Japanese style breakfast, which was really good for me, they can pick up you when you come to Sannomiya station and drive you to your destination sometimes. I could get precious memories because of them! Thank you for all their kinds.
Dongjin
2017-01-31T00:00:00Z
Strongly recommend Rie's house! The best part is possibly not the house itself, which is by all means an elegant and cozy place, but rather than Rie and her husband Mr Kazu's hospitality. They really went extra miles to help us. The house is not located near the Sannomiya station and the famous Kobe port, however you don't need to worry. Kazu will pick you up at the station and drive you to the port. What's more, he even took us to the hill top nearby to see the beautiful Kobe night view. As we planned to go to Mountain Fuji by night bus and didn't know how to pay the tickets, Rie and Kazu helped us solve the problem which is really sweet. Kobe may not be a popular destination for tourists but you should give it and Rie's house a try, and you'll find it really amazing.
艺
2017-03-25T00:00:00Z
Amazing hosts and a really nice place. The house is located in a quiet area, with a bus station and a middle size market in the neighborhood. The room was huge, with a really cozy tatami, a dining table and a small kitchen. The showering room was separated from the washing room. It was a little bit tiny but still fine. The hosts spoke very fluent English, so communication was not a problem at all. The host picked us up the first day and drove us to subway stations for several times. He also brought us to enjoy night views on a small hill nearby. The hostess was also nice and prepared homemade breakfast for us in the morning. If next time I visit Kobe, I'll definitely also want to stay here.
昀
2017-02-06T00:00:00Z
Rie and Kazu are nice people and very responsive hosts. Rie picked us up as we arrived at Shin Kobe Station. Kazu dropped us off at Sannomiya station, even it was Sunday early morning!! Tha place is just as described, clean, cosy, traditional, I would highly recommend.
Istvan
2017-04-02T00:00:00Z
The hosts are very helpful. Drived me to the house and the mountain observatory. this is recommended for all travellers to Kobe.
Xinhui
2016-11-19T00:00:00Z
Room Type
Private room
---
Property Type
House
---
Accommodates
3
---
Bedrooms
Kōbe-shi, Hyōgo-ken, Japan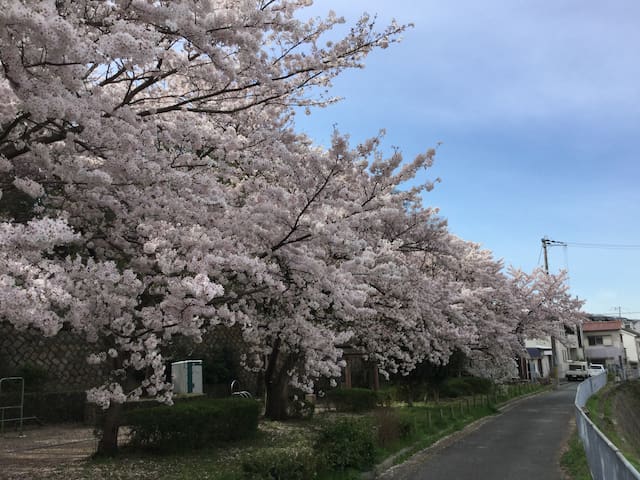 三宮駅より徒歩5分!
5minutes from Sannomiya station by walk. 三宮駅から徒歩5分です! 1minutes from here to Don Quijote. ドン・キホーテまで徒歩1分です! There are 7convinience stores around here, You can go any convinience store in 3minutes by walk. 徒歩3分圏内にコンビニが7軒もあります! This place is very convinient. It's in the center of Kobe city , so you can go anywhere you want! 神戸の中心地なので、とても便利な場所です! You can use this home for family travel, solo travel, business trip, and with your partner. 恋人同士・友達同士はもちろん、一人旅や出張などのビジネスでも御利用いただけます!
近くにレストラン・居酒屋・カフェ・BAR等、沢山あります。 三宮のど真ん中なので、とても便利な場所です。
The apartment is very clean and real close to don quijote. Plenty of restaurants and local joints around. Quiet neighborhood and the host is really helpful and friendly. This is place is highly recommended!
Jimbo
2017-03-02T00:00:00Z
It's very nice apartment for each person who are the frist time visit Kobe . Fully furniture, convenient transportation for example the grocery store , drug store and tourism. My landlord also very kindly person to help us deposit luggages before our check in time. big thanks for him. 非常乾淨且舒適的居住環境,如果你是第一次造訪神戶,且居住2-3天,很推薦這個日本房東。他人非常的有善且客氣,房子的空間很適合兩個人居住,離生田神社很近,且路口就有激安藥妝店,附近也有超市可以很方便的買ㄧ點水果、飲料、餅干。
藝
2017-01-24T00:00:00Z
The place is in great location, the room is clean and has everything you need. Makoto is a super nice host, gave very clear instruction and answered every questions in very short time. I will definitely stay here if I visit Kobe again!
Yashin
2016-12-30T00:00:00Z
We had a very good stay at Makoto's apartment. It was very clean, aesthetic and well equipped with all we needed and even more. Makoto was a highly available host and replied quickly to any question we had. We definitely recommend staying at Makoto's place!
Shir
2016-11-20T00:00:00Z
The place is very clean, comfortable and lovely. It is very close to the city center and nightlife. Besides, it is located in a small street where it is very quite. The host, Makoto, was very kind and effective, his replies to my messages were always fast and accurate. I strongly recommend this apartment and I will choose it again when I visit Kobe.
Diego
2016-12-04T00:00:00Z
Makoto gave clear instructions and house rules, and he was very quick to respond to queries via email. The house was neat and comfortable and had no problems during my stay. Definitely a place to stay in Kobe!
Yoon Je
2016-12-06T00:00:00Z
The room is perfectly prepared! Mr. Makoto prepared more than what hotel usually prepares. I am sure I will make a reservation again if I stay in Kobe next time.
T
2017-01-08T00:00:00Z
Makoto's home was absolutely lovely. He's one of the most thoughtful host and provided more than sufficient items at home for our use (i.e. Hot packs, facial mask, snacks, beverages, etc). Location is very convenient, yet quiet enough for a good night sleep. Thank u for the lovely place which we can truly call "home" for a few nights!
Alicia
2017-03-04T00:00:00Z
Room Type
Entire home/apt
---
Property Type
Apartment
---
Accommodates
3
---
Bedrooms
神戸市, 兵庫県, Japan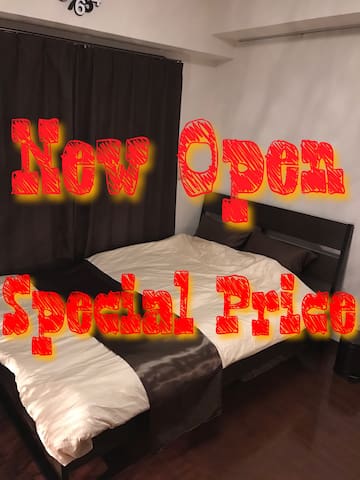 - It is an old Japanese-style in which the image of a Japanese room. - Spacious tatami room has become a style where I am laid the futon in. It can accommodate up to at all times to 3 people. -Two of the shower rooms and one toilet,please use jointly. · Free WiFi and also equipped with PC in the room! - Within walking distance to a convenience store, Don Quixote(cosmetics, foods 10am~3am ) , taverns, restaurants, hot springs.
Old Japan of the room decorated in the image of, you can relax a warm and welcoming tatami. Always 3 persons. It will become narrower, but when it was if you would like..., You can accommodate up to 4 people. We will add a futon.
Interior decorated with an old Japanese room, you can relax like your house with tatami. Maximum of 4 people. Free WiFi and PC is equipped! There are many shops because it is in the place that entered the alley of the shopping area. It is 2minutes on foot from Don Quixote(cosmetics, foods 10am~3am ) and 30sec to convenience stores. There is a bar next door. There are many stores that can eat Ramen, Izakaya(like a pub), Yakiniku BBQ, Udon, Bakery, Cafe etc.
Hiroko and Katzu are really friendly! They pick/ drop us from/to the JR station and even showed us the night market. We had unforgettable stay in their place. Highly recommended!
Rene
2017-01-12T00:00:00Z
Hirokosan is such a very kind person. She can give you suggestion about everything you want. Funny and lovely XD
Rawit
2017-03-17T00:00:00Z
Hiroko and her husband are very friendly and helpful people. they picked us up from the station and even drove us to a laundromat! the hostel is brand new, clean and very pretty. it has the ryokan feel for a fraction of the price. the rooms are comfortable and spacious. this is absolutely one of the best hostels i have been to. great value for money!
Ilona
2016-11-04T00:00:00Z
Owners are so nice and we hv the great time at there.
Marco
2017-01-02T00:00:00Z
Good place, clean and comfortable, hiroko and her husband are very friendly
宗宸
2016-11-15T00:00:00Z
Hiroko and Doi are very friendly.They drive us to the guesthouse and recommend us a good traditional Japanse restaurant. The room is Japanse style. All the space is comfortable and clean. We get everything we need and sleep well. The guesthouse is near restaurant ,convince store and bus stop.
奕潔
2016-10-25T00:00:00Z
It's a great pleasure!! The host couple are very friendly n superb helpful ! We are offered many good advices, pick ups! Even earlier check in ! It was raining when we left, it's so cool to hv car pick up to the station ! They make our trip much easier ! We would miss the place n people n the cats in this city!! We could also take bus to the hostel from the station n then walking for around 8-10 mins! Very good location!
Ida
2016-12-13T00:00:00Z
Hiroko and her husband are very kind , it was so surprise me that they pick up us at JR station and drive us to the hostle, even we were delay for the plane flight. Inside the hostle , it was exactly same with the photo saw in Airbnb. Place nice , clean , and warm. I and my girlfriend love it very much and highly recommend to other traveler to come this place.
Jacky
2017-02-25T00:00:00Z
Room Type
Private room
---
Property Type
House
---
Accommodates
3
---
Bedrooms
Wakayama, Wakayama Prefecture, Japan
You can easy to come this room about 4min walk from JR Kobe station and 5min walk from Kosoku-Kobe station. Size of the room is about 47㎡. I've been trying to keep clean and tidy. ※This room is not self-check-in. I go to pick you up at the station and show you to the room. So please tell me our wait time when you are convenient.
Stations are near, and there are convenience stores, supermarkets, a lot of restaurants in the circumference of the apartment. Daily necessities are comprised. In addition, there is the folding crib so that infants can join. Room size about47㎡ Living & Dining room about20㎡ Bed room about8㎡ Kitchen about5.5㎡ Entrance,bathroom, restroom, washroom about13㎡
You can walk to the main sightseeing spots in Kobe. For example, it is Harbor land and Port tower, Anpan-Man museum. In addition, you can go by a train without transfer to Kyoto and Osaka, Himeji.
Mr. Shro is a very kind people. And this house is beautiful and near JR Kobe station. It's very convenient.
Kemin
2015-11-15T00:00:00Z
We did not see Shiro until the 2nd or 3rd day. The room description was accurate. The neighbourhood was good and central.
Greg
2016-04-04T00:00:00Z
Comfortable apartment, with a very gracious and friendly host Shiro. Shiro picked us up the the airport bus stop at Sannomiya which was very kind. Close to Kobe Station and some very fine izakaya. Highly recommend.
Michael
2016-01-19T00:00:00Z
This place is wonderful. Shiro prepared us everything needed in the apartment. He also came to the station to pick us up and walked us to the apartment. Everything about the place was nice--charming decoration, comfortable bed and bathroom. Highly recommended.
Heather
2016-07-04T00:00:00Z
Very convenient to stay. Kind host, good facilities. Highly recommend.
Sojin
2015-11-08T00:00:00Z
The apartment was spacious for the both of us. It was 2 mins from Kobe station, easily accessible by foot. There is a convenient store right beside the building. The bed was comfortable and cozy. There was everything ready in the apartment for you to use. By foot, you can easily walk over to Mosaic for some shopping and to view the Kobe port tower at night. The night view was awesome. Overall our stay was great!
Hazel
2015-11-25T00:00:00Z
The apartment is clean and tidy with great decoration. It is easy to access from the JR kobe station. Good place to relax. And the host Shiro San is very helpful and considerate. We hope to visit there again!
Cyan
2016-09-16T00:00:00Z
Mr shiro and his wife are very friendly and nice. The apartment is better than hotel,because it have kitchen you can cook anything if you want
正平
2015-12-08T00:00:00Z
Room Type
Entire home/apt
---
Property Type
Apartment
---
Accommodates
2
---
Bedrooms
Kōbe-shi, Hyōgo-ken, Japan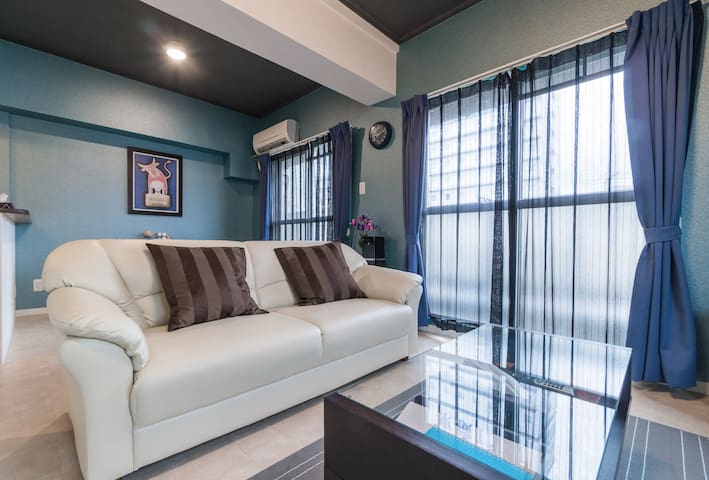 Opened since 1/12 2016 - Best for tourism to Kyoto , Osaka and Himeji - Located 5 minutes' walk from JR Sannomiya Station - A whole apartment for rent - A portable WiFi provided in addition to fixed high speed WiFi in the room An entire apartment for your exclusive use, featuring living and dining space with a dining table. Basic spices are also prepared in the kitchen. You can enjoy cooking during your stay! Bedroom with 1 semi double bed. Perfect for couples or single travelers.
Hi, nice to meet you! ABOUT YOUR SPACE -This whole apartment is for rent. -There is one bed room with semi-double size(120cm) bed -It can accommodate up to 3 people -There is a dining space with a table for 3 people -There is a living room with a sofa bed ABOUT INTERNET You can use a high speed wifi in your room and a portable wifi for free during your stay. You can access the internet all day on the go if you have a smartphone. We have included following things for your convenience: -Cups, plates, spoons, forks, chopsticks -Simple cook wares ( frying pan, electric stove cooker). -A microwave & refrigerator & Kettle for drinking hot water. -Shampoo and Soap. -Bath towel for the number of people staying & a hair dryer. Springtime in Japan means the season of sakura, or cherry blossoms, the unofficial national flower of Japan. If you're here in the season, do make a trip to some of the best sakura spots in the Kansai region! 1. Osaka Castle [Osaka] Price: Free admission; Nishinomaru Garden; 200 yen (daytime), 350 yen (evening light up) Hours: Early April Access: Walk from Tanimachi 4-chome Station (Chuo Subway Line) or Osakajokoen Station (JR Loop Line) Address: 1-1 Ōsakajō, Chūō-ku, Ōsaka-shi, Ōsaka-fu (PHONE NUMBER HIDDEN) Of Note: Over 4000 cherry trees are planted on the spacious grounds of Osaka Castle. A particularly nice place for a picnic is Nishinomaru Park in the castle's western citadel with wide lawns, views of the castle tower and light up in the evening. 2. Expo 70 Commemorative Park [Osaka] Price: 250 yen Hours: Early April; 9:30 AM to 8:30 PM Access: 15 minutes walk from Osaka monorail Koen Higashiguchi station, 20 minutes walk from Banpaku Kinen Koen station Address: 〒(PHONE NUMBER HIDDEN) Senribanpakukoen Suita City, Osaka Of Note: The former site of the 1970 World Exhibition in Osaka was turned into a large public park with over 5000 cherry trees along its paths and around its large lawn areas. There is light up in the evenings. 3. Kema Sakuranomiya Park [Osaka] Price: Free Hours: Early April Access: Short walk from Temmabashi Sta. on the Subway Tanimachi Line or the Keihan Line, Osakajo-Kitazume Sta. on the JR Tozai Line, or Sakuranomiya Sta. on the Osaka Loop Line Address: 〒(PHONE NUMBER HIDDEN) Area including 1-chome, Nakano-cho, Miyakojima-ku, Osaka City Of Note: Nearly 5000 cherry trees line Okawa River for several kilometers. The seemingly endless rows of cherry trees can be viewed from a pleasant riverside promenade or from ships cruising the river. There are also lawn areas with a lot of space for picnics. 4. Osaka Mint Bureau [Osaka] Price: Free Hours: Mid April Access: 10 minute walk from Temmabashi Station Address: 〒(PHONE NUMBER HIDDEN) Osaka Prefecture, Osaka, Kita Ward, Tenma, 1−1−79 Of Note: More than 300 trees of over 100 varieties, mostly later blooming yae-zakura trees can be viewed on the premises of the Osaka Mint Bureau. Every year, the gates to the cherry garden are specially opened to the general public during a one week period in mid April. 5. Kiyomizu-dera Temple [Kyoto] Price: 400 yen Hours: Early April; 6:00 AM – 9:00 PM Access: From Kyoto Station by bus number 100 or 206 (15 minutes, 230 yen). OR 20 minute walk from Kiyomizu-Gojo Station along the Keihan Railway Line. Address: 1-294 Kiyomizu Higashiyama-ku, Kyoto City, Kyoto Of Note: Around 1500 Sakura trees are planted at Kiyomizu-dera Temple, which is one of the world heritages in Japan. It is well-known as a representative sightseeing spot of Kyoto. The view filled with sakura from "The Stage of Kiyomizu" is amazing and shouldn't be missed! I hope you enjoy the beautiful sakura season, and please have a lovely time here :) I look forward to hosting you!
The district is popular for local people because there are a lot of supermarkets, convenience store as well restaurant. Also the access to all places for tourist is VERY nice. There are 3 stations near here. One is JR Sannomiya , Two is Hankyu Sannomiya and another one is subway Sannomiya.
Good location on Kobe,close to tran station, easy walk to city center and shopping area
Jack
2016-11-21T00:00:00Z
Nice house. Quite small for three, but would be nice for two person. Located close to the train station and easy to reach.
Linda
2017-03-02T00:00:00Z
Very nice place close to Kobe station. Communication was fast and everything went smooth. Would recommend to anyone.
Alex
2017-03-11T00:00:00Z
A good place to stay for backpackers that wish to visit KOBE. The apartment took about 10 mins walk from the JR line and is not that hard to find the apartment. Suggested to 2 people because the size of the apartment is not so big for bigger family. I will miss the cold weather in Kobe and definitely will come back again to Kobe. ありがとうございます :)
Aidah
2017-02-12T00:00:00Z
The place was quite small but it has all the necessities. I had a bit of trouble finding the place but if you have access to the internet, that won't be too much of a problem. It is walking distance from the station.
Celina
2017-01-09T00:00:00Z
The place is about 10 to 15 minutes of walking distance from sannomiya station. The place is very quiet and she provided all the things we need in the room. Recommended!
Xiong Ren
2017-04-02T00:00:00Z
A nice small little apartment! The 'small double' is a bit of a squeeze for two people but the place is lovely and is located right near a JR station to connect you to the rest of Kobe. A 5-minute walk down the road finds restaurants, bars & cafes (even a small micro-brewery!). The water, coffee, tea and juice provided was a lovely touch. I would definitely recommend staying here!
Elise
2017-03-20T00:00:00Z
Nice sweet room!Wanna live there again! Suitable for two people or three girls. The way to room is clear and easy to find. Host rely very quickly and solved all my problems. You can cook there.Kitchen is prepared with all you need.
荣燕雯Eva
2017-01-04T00:00:00Z
Room Type
Entire home/flat
---
Property Type
Apartment
---
Accommodates
3
---
Bedrooms
Chūō-ku, Kōbe-shi, Hyōgo-ken, Japan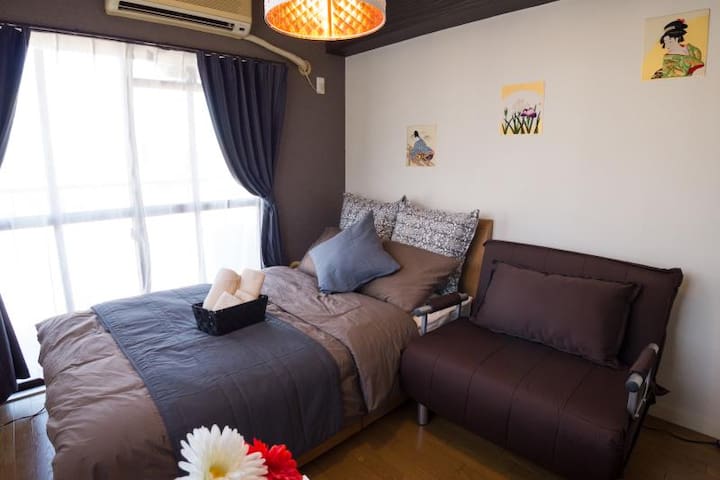 It's located at the center of (URL HIDDEN) an entire apartment. 5mins from Shinkobe station and 15mins from Sannnomiya station by walk.(8min by bus from Sannomiya)You can go to Kitano Ijinkan,Nunobiki waterfall and convenience stores within walking distance as well. ・portable WiFi Internet ・shampoo, conditioner, body soap ・towels ・dishes,cutlery,utensil,pan and pot ・The kitchen is outfitted with appliances ・laundry machine 2semi double size beds,1double size sofa bed and 1futon.
I have a lovely terrace. You can have tea and snacks there!
You can go to Kitano Ijinkan(8min), Nunobiki herb gardens(7min) Nunobiki waterfall(20min) Arima onsen(30min by train) Kyoto(60min by train) Osaka(35min by train) Universal Studio Japan(55min bus or train)
We stayed at Sachiko's apartment in the heart of the hot season, air condition and fan worked efficiently. We slept very well :) She had prepared information to make visiting the city a pleasant experience. When asked her suggestion regarding specific restaurants, she even offered to make reservations for us. The day we left, she kindly offered two bottles of cold water, anticipating our needs. We would come back to Kobe and stay at Sachiko's apartment with great pleasure. Highly recommend ! TIP : It is very nice to do a short walk to Nunobiki waterfall from her apartment.
Philippe
2016-08-04T00:00:00Z
The owner is very helpful. The room is very organized, lovely, and convenient. Definitely will come back one day in the future. Highly recommend
Kevin
2017-01-11T00:00:00Z
Lovely place to stay, convenient location and good communication with host.
Claire
2016-09-27T00:00:00Z
ok
Shyen
2016-10-20T00:00:00Z
Sachiko's place is in a convenient neighborhood for a visit to Kobe and I was able to walk from the city center easily. She was very quick to respond to a question I had and everything in the apartment was as she described. Overall an easy option and good value in Kobe.
Jason
2016-10-22T00:00:00Z
The place is exactly what it looks like in the picture. If you are looking for a luxury place, you may want to try something else. But for this price, this place is totally value for money. Clean and straight forward location. Not right at all the happenings but if you don't mind a little walking to the station (10 mins) or walk back from the main area (20 mins) especially after a full meal, then this place is very good too. There is laundry in the house but is you want dryer service, there is a self-self coin laundry place right downstairs. Overall, a good choice for a small family. There are two beds, plus a sofa bed and extra futons so technically you can have a lot of ppl staying, but honestly, it would be quite packed if you take into account of all the luggages.
Wayne
2016-09-05T00:00:00Z
Great spot, very clean and easy to find. 10/10
Shea
2016-10-20T00:00:00Z
Sachiko-san's apartment was located within 8 minutes walking distance to Shin-Kobe station, so it was extremely convenient for us! The place was clean, bright and tidy, in a very quiet neighborhood with many convenience stores and restaurants nearby. It's also a mere 15 minute walk to central Kobe. Sachiko-san herself was lovely, one of the most thoughtful and friendliest Airbnb hosts we've had the pleasure of meeting! She sent us detailed instructions on how to find her apartment (completed with screen shots!), and offered to help us to make reservations at an excellent Kobe beef restaurant. We would 100% come back to her if we ever stop by Kobe again, and cannot recommend her enough to everyone else.
Wansien
2016-10-01T00:00:00Z
Room Type
Entire home/apt
---
Property Type
Apartment
---
Accommodates
6
---
Bedrooms
Kōbe-shi, Hyōgo-ken, Japan
Hyogo Prefecture - Airbnb
:
Average

4.81

out of

5

stars from

1330

guest reviews
Enter dates to see full pricing. Additional fees apply. Taxes may be added.