Wij wilden graag een groene plek, weg van de stad, om te genieten van rust, stilte, natuur, lekker eten en drinken, vrienden uitnodigen voor een fikse wandeling of fietstocht, een goed boek bij de open haard, ... We hebben gekozen voor een all-in formule. Je 'weekendje weg' wordt niet overschaduwd door hoge afrekeningen van extra kosten want daar hebben we zelf ook een hekel aan :-)
Het huis is een hedendaagse verbouwing van een oude schuur met een fenomenaal uitzicht op het natuurgebied van de Hoge Venen en een perfect zonnige oriëntatie. De woning heeft 2 ruime slaapkamers met aansluitende badkamer. Met een laddertje kan je ook gebruik maken van een zolderkamer met nog 2 aparte bedden. Vloerverwarming, handdoekradiatoren, open haard (voldoende hout aanwezig), gratis wifi, Belgacom flat-screen TV met netflix abonnement, keukenlinnen aanwezig en de bedden zijn opgemaakt. Breng je eigen vinyl klassiekers mee, de Technics platendraaier is ter beschikking. Alles is nieuw, de keuken is hobbykok proof ... (vaatwas, oven, gasfornuis) en alles wat in een keuken nodig is, nespresso machine, waterkoker, mixer, …, is aanwezig. Het ruime zuidterras met schaduwboom heeft een picknickbank voor 8 personen.
Aan de voet van Natuurgebied Hoge Venen, de gedroomde uitvalsbasis voor prachtige wandelingen. Het meer van Butgenbach en het meer van Robertville met Chateau Reinhardstein op 5km. Malmedy op 15km. Fietsroute 'De Ravel' loopt in de achtertuin, deze Ravel maakt deel uit van de Vennbahn, een fietsroute van 125 km tussen Aken (Duitsland) en Troisvierges (Luxemburg). Het huisje ligt ongeveer in de helft van deze route. Op 800m is het centrum van Weywertz met een bakker, een kruidenier, een apotheek en frituur. Via de Ravel kan je met de fiets naar Butgenbach (4km), daar is een Carrefour, Aldi, 3 bakkers, slager, Chinees en Italiaans restaurant en wildhandel Birkenhof… of naar Sourbrodt (5,5km) voor een fantastische beenhouwerij/slager, een groentewinkel en artisanale bakker.
The host canceled this reservation 160 days before arrival. This is an automated posting.
Ajit
2016-03-18T00:00:00Z
Het uitzicht in de tuin is prachtig! In de buurt kan je ook heel mooie wandelingen maken, verplaatsing met de auto (in de zomer misschien de fiets?) was daarvoor soms wel nodig. Het huis is van alle gemakken voorzien en dat vonden wij echt een + ! Geen gezeul met handdoeken, lakens, keukengerei... en 's Avonds gezellig samen rond de houtkachel als afsluiter van een dagje stappen, heerlijk. Het huis was ook heel tof&modern ingericht! De informatie die je krijgt van de eigenaars is heel duidelijk, met tal van suggesties voor activiteiten, waar je iets kan eten, tips voor in het huis, enz...
Evelien
2017-02-05T00:00:00Z
Prachtig gelegen en luxe ingericht huisje met alle comfort wat je je maar kunt wensen! Schitterend gelegen met vele mogelijkheden om te wandelen, stadjes te bezoeken en te genieten.
Hans
2016-12-31T00:00:00Z
La maison est encore plus cosi et chaleureuse en vrai. La vue splendide. La communication avec Liesbeth parfaite. La cuisine super équipée. Essuies, draps de lit, papier toilette, pastilles pour lave-vaisselle et autres sont déjà présents sur place, ce qui est rarement le cas. Merci pour ce chouette séjour !
Hélène
2017-01-24T00:00:00Z
Het huisje was precies zoals omschreven. De inrichting was zeer mooi en uniek en het uitzicht was fantastisch! De keuken was heel uitgebreid voorzien. Het was vooral ook heel leuk dat we onze iPhone met Spotify eenvoudig konden aansluiten aan de geluidsinstallatie. Een goed glas wijn, gezellig vuurtje, leuke muziek en een fantastisch uitzicht maken bijzonder sfeervolle momenten :)
Anne
2017-01-29T00:00:00Z
Mooi huis , heel rustgevend en functioneel ingericht in een prachtig landschap. What you see ( on the pictures) is what you get!
Ilse
2017-04-10T00:00:00Z
Even weg; ontsnappen aan de drukte, genieten van de natuur & de tijd nemen om lekker te koken. Dat was de opzet van ons gezinsweekend. De foto's deden reeds enige verwachtingen rijzen, die ook écht werden ingelost. Hoe zalig is het om op te staan en uit te kijken op een prachtig natuurlandschap?! Een mountainbike trip, een fikse boswandeling,... ideale omgeving. Het was ook erg fijn om gebruik te maken van de complete keuken, die echt hobbykok-proof was :-) De communicatie met Liesbeth is vlekkeloos verlopen. Het enige minpuntje, als ik echt iets moet zeggen, is dat de toegang van de zolder slaapkamer toch echt wel wat gevaarlijk is. We zijn echt nog een beetje aan het nagenieten. Aanbevelingen zullen niet achterwege blijven.
Elien
2017-03-12T00:00:00Z
Wij (2+3k 18/16/16) hebben okt 2016 een heerlijke week doorgebracht in deze woning. Alles hagel nieuw en zeer praktisch en comfortabel ingericht. 2 ruime slaapkamers (2p) met goede boxsprings en nog 2 bedden op de zolderkamer (wat lastig bereikbaar voor jonge kinderen). Keuken zeer compleet, mooie Tv, vloerverwarmig, wifi OK en dan nog die heerlijke houtkachel. De locatie is prachtig gelegen met vrij uitzicht over riviertje en het heuvelland. Wij hopen hier nog eens terug te keren!
Henk
2016-10-22T00:00:00Z
Room Type
Entire home/apt
---
Property Type
House
---
Accommodates
6
---
Bedrooms
Bütgenbach, Région wallonne, Belgium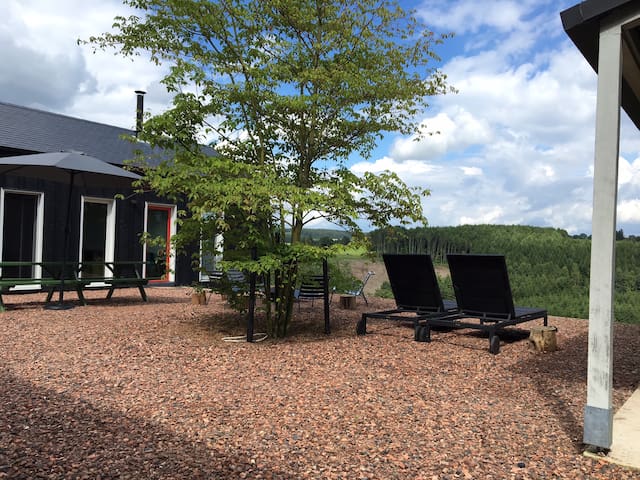 The house is located right at the border of the natural parc "Hautes Fagnes". Update January : Excellent cross country ski conditions with 40cm of snow Ideally for people who love to hike and ride bicycle. One of Wallonias main attraction, the bike trail "RAVEL", passes right through the village. The Formula 1 track of Spa/Francorchamps is only 30 min drive away by car. We offer taxi service to the race for fair rates for up to 6 people. The lake of Bütgenbach is nearby. NETFLIX available
Last month we received our superhost status : we thank our guests for their nice ratings ! We keep on trying our best. The house is exclusively used by the guests only. We live at a different place.
The house is located inside a NATURA2000 area. There is only one neighbour house. From the living room you have a great view on the forest.
We absolutely loved our stay at a very cosy home. The location was a perfect get away from it all and we spent a lovely weekend hiking and exploring the wonderful peaceful surroundings. Ingrid was incredibly helpful and made our stay very special. The house is authentic and decorated with great taste and an eye for detail. Its perfectly well equipped end very clean. There is everything you need for a "feel like home" stay. The house is a pleasant walk to the bakery and village supermarket. A super place to come back. SUPER.
saskia
2017-02-07T00:00:00Z
Ingrid was waiting for us on arrival and kindly showed us around the house. The house is quite spacious and has a cosy fireplace. I went for a weekend with my boyfriend, and it's the ultimate place to relax and watch movies. But also, to go into nature and explore. The house was very clean as well. We would definitely recommend this place!
Fleur
2016-10-09T00:00:00Z
Great stay, Marc & Ingrid are great hosts - their place is amazing. Super relaxed location and the house is spotless - highly recommended!
Mark
2017-04-04T00:00:00Z
Excellent communication with renter, lovely house and most (and best) of all complete quietness. If you seek rest and nature, this is a great spot to be. The house itself was neat, all equipment you need is there and the fire place brings the finishing touch. Can truly state that this place and the renter do their best to give you the holiday you deserve.
Niki
2016-12-19T00:00:00Z
What a lovely house, one of the best AirBnB experiences we've ever had. The house is wonderfully cozy, tastefully furnished and practical. Ingrid and Marc obviously put a lot of care and thought into preparing for new guests, and everything one could ever want, from a nice welcome basket to whatever cooking utensils you need are waiting when you arrive. This includes a big pile of logs for the fireplace, our favourite feature. Communication with the hosts is smooth, and they make every effort to make your stay perfect. Out of the big panoramic windows in the living room, there are no houses or roads to mar the view, only endless trees. The area around Bütgenbach is gorgeous, with plenty of pristine forests to explore, as well as a several very charming, historical towns, like Monschau. Weather in the fall and winter can be unpredictable here and often rainy, but that's the great thing about Marc and Ingrid's house: going out and exploring the area is tempting, but so is just staying inside for a lazy day in front of a roaring fire.
Tom
2016-11-13T00:00:00Z
We stayed two night but was very short. The house is very nice and in very good location specially if you love nature. House has every thing, you can even enjoy the garden and the BBQ area. Marc was waiting for us and he showed us around. He was nice and easy to communicate. For sure will come again and stay for longer period. Moreover, you can try Railbike close to house or do biking or hiking around. Highly recommended house
Nabil
2016-09-12T00:00:00Z
Really beautiful house in a really nice and calm location. Everything was perfectly organized by the two sweet and polite hosts. Thank you very much for everything.
Christos
2016-10-16T00:00:00Z
We had a very nice stay. The house was beautiful and comfortable and the environment picturesque. It is very tidy, clean and complete. The snow in the surrounding area was perfect, we enjoyed cross-country skiing and hiking. After getting back from that we warmed up at the fireplace. Highly recommended!
Jasper
2017-01-23T00:00:00Z
Room Type
Entire home/apt
---
Property Type
House
---
Accommodates
6
---
Bedrooms
Bütgenbach, Wallonie, Belgium
La Villa die Gans, est une maison accueillante et super équipée avec jardin et terrasse. Elle se situe aux abords du petit village très calme d'Elsenborn, un village de la Commune de Bütgenbach, à proximité du Parc Naturel des Hautes Fagnes.
The host canceled this reservation 126 days before arrival. This is an automated posting.
claire
2016-04-22T00:00:00Z
Leuke woning en super uitgeruste keuken!
Jo
2017-03-20T00:00:00Z
Je suis une adepte de la location de gîte à la semaine, pour un we, j ai moi même un gîte en location en France et là j ai été bluffée . Contacts avant la location, réponse très rapide aux question, super accueil à l arrivée mais après '.. Un gîte exceptionnel, du jamais vu en matière d infrastructure, décoration '.. Adresse à retenir pour un groupe d adultes comme nous ou pour des vacances en famille
Françoise
2016-05-02T00:00:00Z
Zeer ruim en mooi huis. Prijs/kwaliteit zeer goed. Sauna & pool/tafelvoetbal zijn pluspunt.
Ward/Laura
2016-12-18T00:00:00Z
Een hele leuke tijd gehad in het huis vab Valerie! We zijn samen met 9 vrienden geweest en hebben genoten. Valerie was erg vriendelijk en behulpzaam indien dit nodig was! We zullen zeker nog eens terug komen!
Cobi
2016-07-21T00:00:00Z
Bij aankomst ontvangen door de buurvrouw alles prima geregeld tegen de avond kwam Valerie nog even langs om ons te verwelkomen Huis is heel netjes en schoon Wij waren met z'n 10e en hadden genoeg ruimte in het hele huis De omgeving is ontzettend mooi en er valt genoeg te zien en beleven in de buurt( er liggen genoeg foldertjes om in te kijken op de posttafel) Het is ons zeeeeer goed bevallen en zeker een aanrader Wij komen zeker nog een keer terug Toppertje
John
2016-08-12T00:00:00Z
Grote eettafel, gezellige zithoek, moderne keuken, veel amusement, mooi uitzicht, leuke tuin
Eva
2016-12-04T00:00:00Z
Room Type
Entire home/apt
---
Property Type
Villa
---
Accommodates
15
---
Bedrooms
Bütgenbach, Région wallonne, Belgium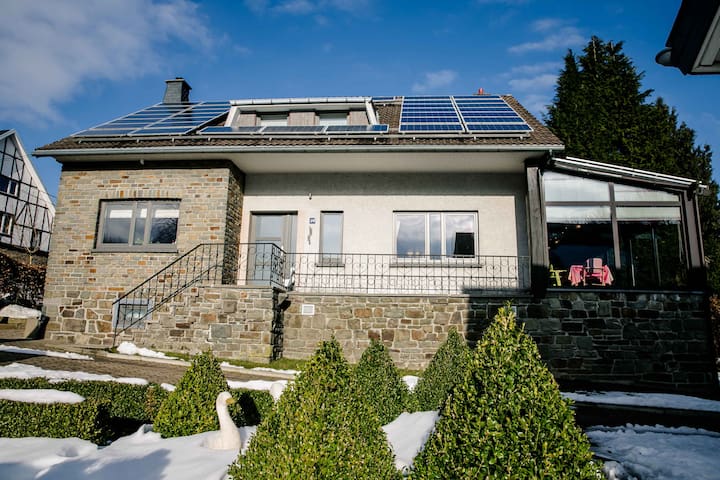 Le Gîte du Chien Vert est un gîte de charme contemporain situé dans les Hautes Fagnes, une région qui offre en toutes saisons de nombreuses possibilités aux sportifs et aux amoureux de la nature. Confort, calme et intimité sont les fils conducteurs du Gîte du Chien Vert. Ce gîte est parfait pour les couples, les familles (avec enfants) et les groupes.
Liebe Gäste Wir haben dort drei Tage mit unserer Gross-Familie verbracht um den 70. Geburtstag meiner Mutter zu feiern (meine Mutter mit ihren fünf Kindern und fünf Enkeln) Es war perfekt! dort angekommen war es eine herzliche und persönliche Begrüßung von Dominique -schöner kaum möglich! Zudem waren frische Blumen auf dem Tisch, eine kühle Sektflasche stand bereit und die Nespresso Maschine war mit frischen Espressokapseln bestückt.... Die insgesamt sieben Zimmer waren alle samt warm und persönlich eingerichtet. Wir haben uns von Anfang an sehr wohl gefühlt und eine fantastische Zeit dort verbracht! Auch der Garten mit tollen Sitzmöbeln lädt zum verweilen ein. Alles ist sehr sauber und einladend und auf hohem Niveau ausgestattet. Jederzeit wieder ! Wir können diese Unterkunft jedem wärmstens empfehlen! Viel Spaß !
Annabelle
2016-09-12T00:00:00Z
Room Type
Entire home/apt
---
Property Type
House
---
Accommodates
14
---
Bedrooms
Bütgenbach, Région wallonne, Belgium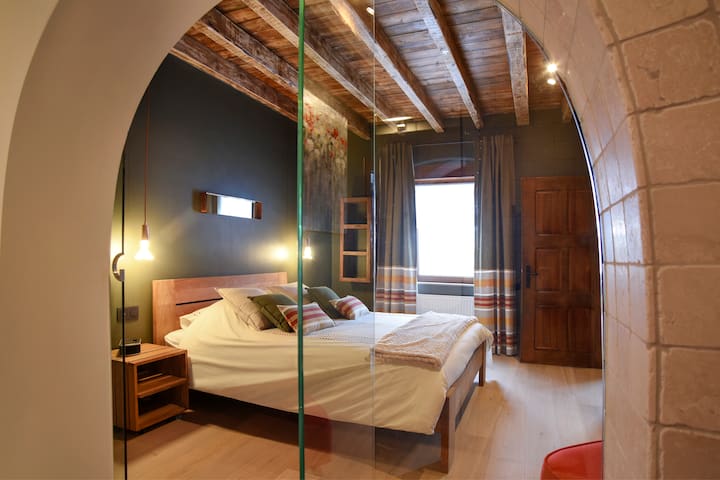 Villadelux Leykaul is a large luxury villa for 26 people located on the edge of the Ardennen and the Eifel in the small town Bütgenbach. The luxurious villa has large living room, luxury bedrooms, bathrooms, kitchens, a recreation room and a garden. ATTENTION: THE PRICES ARE EXCLUSIVE €12,50 BEDLINEN P.P.
On the border of Belgium and Germany in the small village of Bütgenbach is where the hamlet Leykaul is located. Here you will find the villa with the same name. This luxurious and well maintained villa is located in green surroundings in the Ardennes / Eifel. The villa has two living rooms and a nice big kitchen, in the basement you will find a second kitchen. The villa is equipped with every luxury such as a relaxation room with billiards, sauna, solarium and games computer. In the basement you will also find a double room. On the ground floor there is a kitchen with large dining room, luxury seating area with plasma screen, and a place to play a board game together or to retreat yourself with a book. On the first and second floor you will find even more luxury bedrooms and luxurious bathrooms. Villadelux offers eleven spacious bedrooms, two luxury kitchens, four beautiful bathrooms, six toilets, a recreation room, a relaxation room and a conference room. There is also a spacious garden suitable for using the barbeque. From the wooden veranda you have a magnificent view of the beautiful nature. Villa Leykaul offers you peace, quiet and relaxation.
Monschau is located only 8 kilometres away. The villa is also a good base for excursions. Go cycling! There are beautifully landscaped bike tracks in the area. You can also take wonderful walks. Or visit the beautiful castle of Jelhay entirely in the style of the Renaissance from the 16th century.
Was a very good experience and house was excellent. Just the football and pool table need some upgrade. Location is ideal for a group to have walks and is well equipment to feed a large group. Certainly will come back if travel plans are in this area.
Jozef
2016-12-27T00:00:00Z
Gezellig en ruim huisje met voldoende voorzieningen. De speeltuigen binnen en buiten zijn niet in goede staat. De prijs vinden we niet transparant. Er komt ook nog een stevige borgsom bij die cash dient betaald te worden. Niet gemakkelijk bij zo een grote som.
Arnaud
2016-11-06T00:00:00Z
Room Type
Entire home/apt
---
Property Type
Villa
---
Accommodates
16
---
Bedrooms
Bütgenbach, Région wallonne, Belgium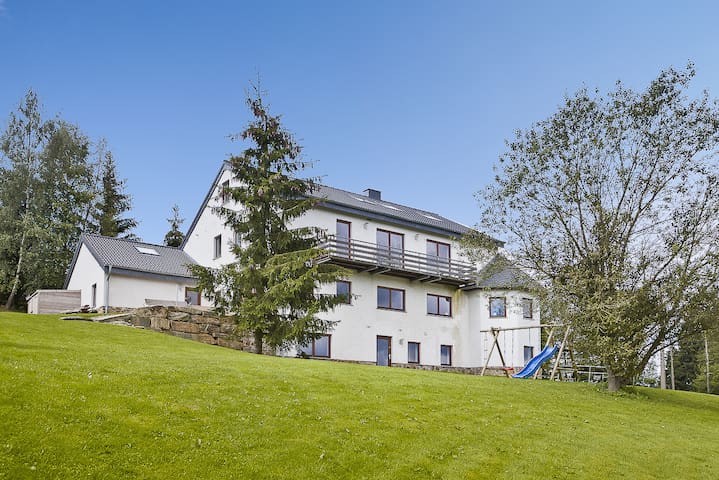 Villa Monschau from Villadelux is a villa for 8 people, located on the border of Belgium in the Ardennes. It is a wonderful family home which is fully equipped for your wishes. In addition, there is a large garden with terrace, gardenfurniture and barbecue. ATTENTION: PRICES ARE EXCLUSIVE €12,50 BEDLINEN P.P. !!
At Villa Monschau you will find a luxury kitchen with living and dining room. There is a fireplace that can provide warmth during cold winter days. On the ground floor there is a luxury bathroom with shower, bath, toilet and sink. Also, you will find a bedroom for three people and a separate toilet. On the first floor you will find a double and a triple room and a luxurious, newly renovated bathroom with shower, sink and toilet. At the back of the house is a terrace and behind that there is a large pasture where your children can play to their heart's content.
From the villa you can make excellent trips in the area. You can go cycling, mountain biking or hiking! Nearby are many authentic restaurants with nice terraces. In te area are many activities you can go to and do, for example you can go 'rail-biking', a bike train that takes you through beautiful places in the area. Or a typical 'Planwagenfährt' which means a covered wagon trip. To put it briefly, a wonderful environment to escape from the busy everyday life.
Room Type
Entire home/apt
---
Property Type
Villa
---
Accommodates
12
---
Bedrooms
Bütgenbach, Région wallonne, Belgium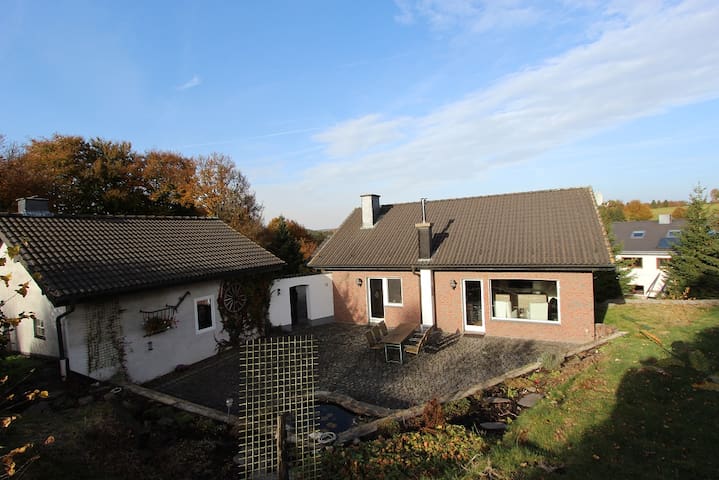 - Modern apartment in the centre of Bütgenbach - 500m from the lake of Bütgenbach - Close to the Ravel for cycling - Free Wifi, TV and roof terrace - Bars, supermarkets & restaurants in the close proximity You are more than welcome to visit us.
Bedroom with 1 double bed, a children bed and a private bathroom for our guests Apartment on 2 levels - Ground floor: kitchen, toilet, living room (with beamer), outdoor seating on a roof terrace with BBQ. - First floor: bedroom, bathroom Restaurants, bars, bakery, supermarkets, mini golf,... can be reached by foot.
Bütgenbach is known as an idyllic touristic town with many possibilities: Next to our flat is a recommendable belgian restaurant, furthermore you can eat italian, chinese or haute cuisine. If you are here, you also need to visit one of our really cute bakeries and drink some coffee - and of course eat some tasty cake. Even a butcher and two supermarkets can be reached by foot. But enough information about food. Many activities are there, too - by day or night: - The sports centre Worriken offers an indoor swimming pool, a beach with some games in the lake, paddleboats, a high rope course, tennis courts, windsurfers and sails courses. - The lake of Bütgenbach also offers many wild places around Bütgenbach - from the beautiful woods directly in the lake. - In the towns centre is a playground, a pétanque ground and you can play minigolf. - By night can we only recommend bar-hopping (possible by foot), because there are three very nice bars you need to visit when you are in small Bütgenbach.
Timo was a great host and everything was as described. The local eateries are all within two minutes walk and all have great food.
Ben
2016-08-30T00:00:00Z
We hebben een goed verblijf gehad bij Timo en zijn vrouw Julia. Prettige kamer met uitzicht over de stad. Goed schoon en een kleine maar fijne nieuwe badkamer. Het hele appartement straalt verfijning en smaak uit. We kwamen drijf nat en smerig aan, maar voor Julia geen probleem; alles kon zo in de wasmachine en daarna de droger. Schitterende omgeving om te fietsen. Van tevoren was er regelmatig contact over het tijdstip van aankomst; door ons gemist, maar toen we er waren liep alles op rolletjes. Ondanks mijn slechte talenknobbel.
anja
2015-10-24T00:00:00Z
Timo en Julia zijn zeer vriendelijk en ze nemen de tijd om alles te laten zien. Het appartement is modern en schoon. We mochten gebruikmaken van alle keukenbenodigdheden, dus we hebben zelf ook een keer gekookt. Het appartement ligt op loopafstand van een meer waar je kan wandelen en zwemmen. We zijn zeer positief over dit verblijf! In de woonkamer is de code van de Wifi te zien - erg handig.
Emma
2015-08-05T00:00:00Z
Nos hôtes ont été sympas, accueillants, souriants et disponibles. Le logement nous a fourni tout ce dont nous avions besoin pour passer un agréablement séjour en cohabitation avec eux. Merci à vous et bonne continuation! :)
Vincent
2015-07-21T00:00:00Z
Zeer vriendelijk, leuke plaats voor een kort verblijf!
Donald
2015-08-02T00:00:00Z
Wir wurden sehr nett empfangen worden, und es entsprach alles der Beschreibung. Die Wohnung war sauber, aufgeräumt und komfortabel. Wir haben uns sehr wohlgefühlt und können die Unterkunft nur empfehlen.
Angelika
2015-11-29T00:00:00Z
Room Type
Private room
---
Property Type
Apartment
---
Accommodates
2
---
Bedrooms
Bütgenbach, Région wallonne, Belgium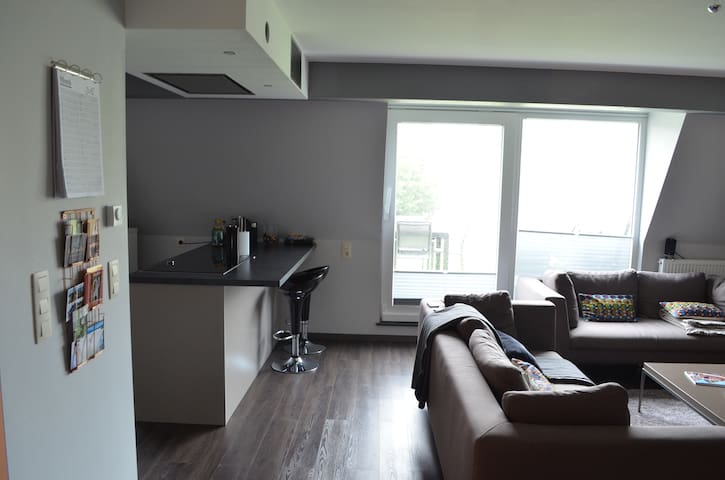 Unsere Ferienwohnung befindet sich direkt am Nationalpark Eifel und ist perfekt für kleine Familien und Paare, die die Landschaft aus Wald und Wasser im Nationalpark hautnah erleben wollen. Die gemütliche Wohnung liegt am Waldrand im Seitenflügel eines denkmalgeschützten Fachwerkhauses aus dem 19. Jahrhundert, in dem auch Hunde willkommen sind. Der Vermieter wohnt im Quergebäude. Zusätzlich zu den drei Betten ist ein Kinderbett vorhanden.
This place is really special! The house is very old but the apartment is a great mix of these original features and all the necessary things you need for a very comfortable stay. Friedegund was extremely helpful and answered messages very quickly. When we arrived there was a welcome bottle of bubbly and the wood stove had already been started so it was wonderfully warm. The apartment was well located for our weekend of outdoor activities, the Eifel National Park is just next door and a great place for a hike or a bike ride.
Rachel
2017-01-29T00:00:00Z
Es war Super ! This is a hidden gem for sure ! Everything, from the romantic candle-lit welcome in the courtyard, to the eye for detail inside and the super-clean very complete and private apartment, were very well taken care of. Close to beautiful walking trails and quaint villages. Quiet setting for a little retreat or romantic get-a-way. Hosts are very kind and are there when needed, but will leave you in private otherwise.
Peter
2016-12-11T00:00:00Z
Friedegund's house is quite magical - a gorgeous, cosy cottage at the foot of the Eifel forest. A wonderful place to get away from the stress of the city, to relax in front of the wood fire, and for long walks or bike rides in the great outdoors. Friedegund picked us up from the train station and offered to drive us everywhere - however there are also plenty of public transport options available. The house is beautifully and lovingly decorated with all you could want or need which makes you feel at home straight away. Friedegund is a fantastic host who took great care of us!
Anika
2017-02-27T00:00:00Z
Die Wohnung ist sehr gemütlich und mit viel Liebe eingerichtet. Es hat uns an nichts gefehlt (selbst einen Schuhanzieher gibt es)! Der Charme des Fachwerks und der Räume ist wirklich bezaubernd und trotz Außentemperaturen von minus 13 Grad wardie Wohnung gemütlich warm und der Holzkamin einfach nur romantisch. Wir waren mit unserer achtjährigen Tochter dort, sie hatte das Einzelzimmer und wollte am liebsten dort bleiben. Die Wohnung befindet sich auf einem "kleinen Gut" im Nebenhaus. Die Kommunikation mit Friedegund war sehr herzlich und immer einfach herzustellen. Das Haus befindet sich direkt am Waldesrand auf einem Wanderweg, den wir uns bereits zuvor in unserem Wanderführer herausgesucht hatten. Besonders groß war die Freude, als wir in unserem Wanderführer "Dumont aktiv" von 2005 auch ein Foto von Friedegunds Haus entdeckt haben. Leider erscheint das Haus nicht mehr in der Neuausgabe. Empfehlen können wir die Wohnung besonders Familien, die Spaß am Wandern haben. Direkt in unmittelbarer Nähe gibt es vielen tolle Wandermöglichkeiten und auch Moutainbike-Strecken, die wir allerdings nicht ausprobiert haben. Wir kommen gerne noch einmal wieder.
Frank
2017-01-07T00:00:00Z
Hans en Friedegund zijn net begonnen met de verhuur, en hebben alles op alles gezet om het een succes te maken. Alles was tip-top in orde, alles veelal gloednieuw en alles brandschoon. De inrichting is heel compleet en als het niet was, dan werd het gelijk gehaald. De inrichting is ook heel gezellig, zodat je je direct thuis voelt. Ook de hartelijke ontvangst en de leuke attenties bij binnenkomst dragen daaraan bij. Heerlijke bedden in een hele rustige omgeving. Perfect om lekker bij te komen en goed uit te slapen. Er zijn enkele doorgangen wat minder hoog, zodat je af en toe moet bukken. Zeker als je 's-nachts naar toilet wilt moet je goed oppassen om je hoofd niet te stoten bij de erg lage slaapkamerdeur. Ze hebben allerlei goede informatie voor de bezoeker om de omgeving goed te leren kennen, waaronder een goede landkaart. Hans zal graag vertellen over de mooie omgeving waarin hij woont. Er is een aparte ruimte waarin 3 of 4 fietsen goed, makkelijk en veilig geparkeerd kunnen worden. Bij Hans en Feindegund geen stress. De bezoeker staat centraal en komt hier niets tekort.
jan
2016-10-22T00:00:00Z
Wir haben uns bei Friedegund sehr wohl (URL HIDDEN) hat uns an nichts gemangelt und wir waren überaus herzlich aufgenommen. Die Wohnung ist im Stile des ganzen Anwesens urgemütlich und umfassend eingerichtet. Mit ruhiger Nachbarschaft und direkter Waldrandlage entsteht ab der ersten Minute das für uns gewünschte Urlaubsgefühl. Die Betten sind ausgezeichnet und wir konnten gut ausgeschlafen unsere Ausflüge in die Eifel unternehmen. Vielen Dank für diese wunderbare Woche in der Eifel.
Lioba
2016-11-05T00:00:00Z
Room Type
Entire home/apt
---
Property Type
Apartment
---
Accommodates
3
---
Bedrooms
Kall, Nordrhein-Westfalen, Germany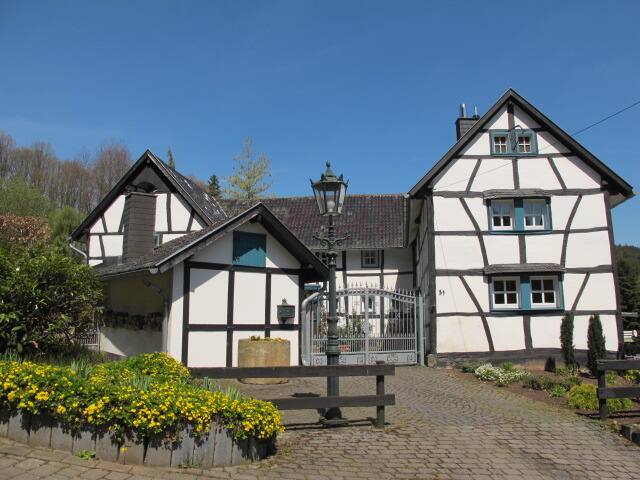 Biete eine schöne, frisch renovierte Ferienwohnung für zwei Personen im ruhigen Ort Kall-Wahlen nahe der Basilika Steinfeld und dem Naturschutzzentrum Nettersheim. Für Fragen stehe ich Ihnen natürlich jeder Zeit gerne zur Verfügung!
Biete eine schöne, frisch renovierte Ferienwohnung für zwei Personen im ruhigen Ort Kall-Wahlen nahe der Basilika Steinfeld und dem Naturschutzzentrum Nettersheim. Die Ferienwohnung mit 55m² besitzt ein Schlafzimmer mit Doppelbett und Kleiderschrank. Das Wohnzimmer ist mit einer 2er Sitzgruppe und einem Sessel ausgestattet inkl. Sat-TV und separatem Essbereich mit Esstisch und 4 Stühlen. Highlight ist der voll funktionsfähige Holzofen, der gerne an romantischen kalten Abenden befeuert wird. Die komplett ausgestattete Küche u.a. mit 4 Kochplatten, Kaffeemaschine, Backofen und Kühlschrank lässt keine Wünsche offen. Badezimmer mit Dusche, Waschbecken, WC, Urinale und BD. Viele Wanderwege und die wunderschöne Eifelnatur stehen zu jeder Jahreszeit zur Verfügung. Interessante Ausflugsziele für jeden Geschmack hält die Eifel auch bereit. Zum Beispiel kann das Naturschutzzentrum Nettersheim (ca. 7km entfernt) erkundet werden oder man fährt zum ausgedehnten Shoppingerlebnis ins ca. 15km entfernte für sein neues Outlet-Center bekanntes Bad Münstereifel. Weitere nahe gelegende Ausflugsziele: Basilika Steinfeld Nationalpark Eifel und Vogelsang Burg Satzvey Kakushöhle Wildfreigehege Hellenthal Kommener Freilichtmuseum .... Unseren Eifelort können Sie bequem über die ca. 10km entfernte Autobahnausfahrt der A1 erreichen. Die Städte Köln, Bonn und Aachen sind nur eine Autofahrstunde entfernt und können auch mit dem Zug erreicht werden. Für Fragen stehe ich Ihnen natürlich jeder Zeit gerne zur Verfügung!
Very cute and romantic place. The flat was perfect and the surrounding really nice for a relaxing holiday. Very recommended.
Ester
2016-09-25T00:00:00Z
The perfect place to relax yourself and escape to the city, amazing Host, thank you.
Davide
2016-12-14T00:00:00Z
Great house near Eifel park. The only con was that the host was not able to speak in English, however she was as helpful as she could.
Noe
2017-04-07T00:00:00Z
Very clean home, quite location, beautiful area.
T
2017-02-11T00:00:00Z
Everything was clean, small fancy town, liked the place !
Robin
2016-11-28T00:00:00Z
Heerlijk appartement in de Eifel, de locatie en uitzicht was heel mooi. wel een stukje rijden naar de dichts bijzijnde voorzieningen en wandelingen die we wilden maken maar dat was helemaal geen probleem. Het appartement heeft echt alles wat je nodig hebt voor een weekendje weg. Christel heeft ons heel goed rondgeleid, ze spreekt alleen Duits maar dat was geen probleem.
Tessa Lauren
2016-11-14T00:00:00Z
Heerlijke plek: mooie regio, lekker rustig (in november in elk geval). Lekker ruime accommodatie en keurig schoon. Goeie keuken en badkamer, fijne houtkachel in de woonkamer maar ook cv. Vooral heel rustig en dat was de bedoeling van mijn verblijf.
Sacha
2016-11-25T00:00:00Z
Die Wohnung von Christel ist wirklich gemütlich und gut aufgeteilt. Außerdem kann man direkt an der Haustüre das Wandern beginnen, da man sofort im Grünen ist! Christel selber ist sehr freundlich und bemüht. Da sie selber mit im Haus wohnt, kann man sich bei Fragen stets an sie wenden. Obwohl wir schlechtes Wetter hatten, haben wir den Aufenthalt genossen und uns sehr wohl gefühlt!
Stefanie
2016-10-23T00:00:00Z
Room Type
Entire home/apt
---
Property Type
Apartment
---
Accommodates
2
---
Bedrooms
Kall, Nordrhein-Westfalen, Germany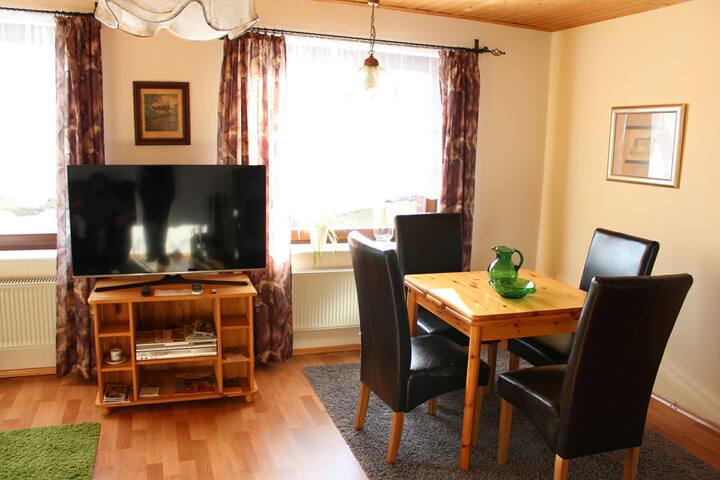 Romantisches Domizil mit Bett vor dem Kamin, freistehender Badewanne und Frühstücksküche mit Blick ins Grüne. Ein Wochenenderlebnis mit rustikaler Kreativität für Individualisten.
Das Atelier befindet sich auf Gut Neuwerk, zwischen den Städten Köln, Bonn und Aachen in der Eifel gelegen. Das Gut erstreckt sich auf 6ha mit einem See und vielen Grünflächen entlang des Flusses Urft am Rande der gleichnamigen Ortschaft. Jeder Wohnbereich hat seinen eigenen Außenbereich. Auf dem Gut leben Esel, Schafe, Hühner, Gänse und freilaufende Katzen und Hunde. Die hier angebotene Unterkunft war über drei Jahrzehnte das Atelier eines bekannten Künstlers und ist nun zum romantischen Wochenenddomizil umgebaut worden. Dicke Holzdielen, der offene Kamin und die freistehende Badewanne unterstreichen den romantisch, ursprünglichen Charme. Die Küche ist mit Kühlschrank, einer Kochplatte, Senseo Kaffeemaschine, Besteck und Geschirr ausgestattet. Wir verzichten in dieser Unterkunft bewußt auf Wlan und Fernsehen.
Room Type
Entire home/apt
---
Property Type
Loft
---
Accommodates
2
---
Bedrooms
Kall, Nordrhein-Westfalen, Germany
Benenberg is een klein en rustig gelegen dorpje midden in de Eifel grenzend aan het Eifel Nationaal Park . (dichtbij Belgische Ardennen ) Het is gelegen op 600 m hoogte en geeft je prachtige zichten over het heuvelend landschap. Het ligt nabij Sistig, Hellenthal, Schleiden en Kall. Met zijn 30 huisjes en 130 inwoners is het een zeer rustige omgeving. In de tuin kunnen de kinderen zich reuze uitleven op het kinderspeeltuig
De Eifel , een prachtige natuur ,waar het leven, de cafe's en ook de restaurants 30 % goedkoper zijn.Dat is nog leuk en betaalbaar op vakantie gaan ! Probeer het en overtuig U zelf.
Ook wielertoeristen , mountain bikers en motorrijders kunnen hier in volle teugen genieten. De Oleftallsperre van Hellental ligt 10km af, de Rursee 25 km. Mooie steden zoals Monschau, Bad Munstereifel, Blankenheim ,Heimbach , enz.... liggen achter de hoek. Voor de kinderen : Aktivipark ,zomerrodelbaan, speeltuin, mini-golf, vogelshows, dierparken , boerengolf
Room Type
Private room
---
Property Type
House
---
Accommodates
14
---
Bedrooms
Kall, Nordrhein-Westfalen, Germany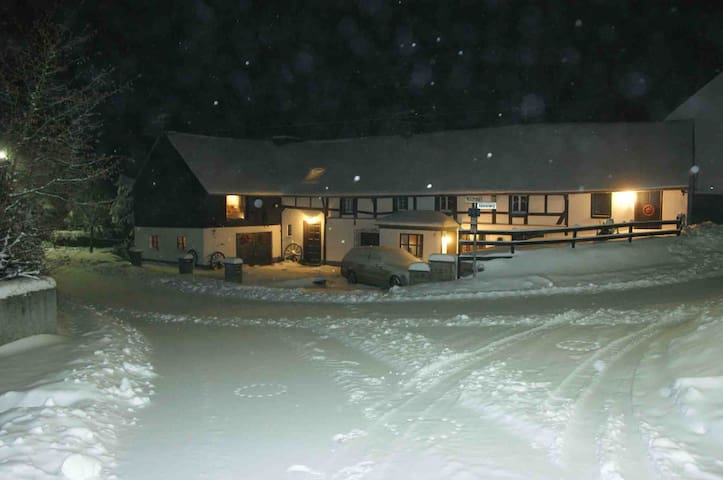 Former forester's house (* 1922) in the forest near the National Park Eifel with sauna, gym, free Wi-Fi, barbecue hut, archery trail
The former hunting & forestry house (* 1922) is located deep in the forest (nature park Hohes Venn-Eifel) on its own grounds of approximately 40,000 sq.meter only a few hundred meters linear distance from the Eifel National Park. Visitors enjoy the peace and can breathe deeply: Located on 500m over sea level, Waldquartier Wackerberg guarantees not only pure air but also a favourable microclimate. On warm summer days, it is up to five degrees cooler than in the cities of the Rhineland as Cologne or Bonn; heat and humidity are practically unknown here. Only a few steps away, enter the "Eifelsteig", one of the most attractive hiking routes in the region. But the region can also be explored by bicycle, on horseback, or - in snowy winter time - with cross country skis.
Despite its unusual location, the Wackerberg forest district can easily be reached by car. The next Motorway (A1) exit is only a 20 min. ride away, the Cologne-Bonn Airport about an hour. Thus, a residence set right in the nature is even a surprisingly good starting point for city trips. Four of the oldest and culturally interesting German cities (founded by the Romans) can be reached in a 40-80 minute drive: Cologne - Bonn - Aachen - Trier Recreational activities range from field trips with National Park Rangers to gyroplane flights starting on a nearby private airfield, from the family trip to Phantasialand Brühl to the racing grounds of the Nurburgring (Formula 1).
What a beautiful appartmant in a very beautifull location! We had our honeymoon in Wackerberg. We were very kindly welcomed by our host and shown around the house. To celebrate our wedding we were given a bottle of tasty Riesling. The appartment really suprised us. What a luxury for this very nice price! The appartment is recently renovated (no old stuff) and very clean. We really enjoyed the 'honeymoon suite' with the big tub, the very good sauna and the cooling down in the swimmingpool afterwards. Though, the swimmingpool was a little to cold for us to go for an ordinary swim. We drank the Riesling while enjoying a fire in the Grillhutte. Every breakfast and lunch were taken in the winter garden. A very ligth area where we could enjoy the birds up close while being nice warmed by the central heating. There were nice blankets, but we only used them for the cosyness :) The area is very nice as well. The house is 2,5 km into the forest, but close enough to town to do your grocery shopping. One nigth we walked to the pizza place to have a schnitzel. We also walked around Vogelsang and Wollsiegen, crossing the old dam. Because we didn't see much wildlife, we went to the Hochwildpark Rheinland. Just 20 minutes drive to a big forest filled with deer and wild boar in their natural habitat. Conclusion; we happely reccomend this appartment to anyone who is looking for a relaxing time away from busy life at a beautiful location.
Grietsje
2015-10-09T00:00:00Z
We have had a marvelous stay at Wackerberg. Both the surroundings and the stay are really amazing: it was one of the best locations we have visited so far through AirBnB! The house is fully equipped for a comfortable stay: from the large and cosy kitchen, the multiple bathrooms, to the very comfortable beds: We haven't lacked anything during our stay! It was just impressive! With regards to our hosts, Manfred and Petra have provided us with a warm welcome and were available for any further questions we might have during our stay. The communication with them went very smooth, which added an additional relaxing feeling about our holiday. Last but not least: the location of this stay is fabulous: right in the middle of the woods, with supermarkets still close by and of course, the many options the Eifel area provides for leisure activities. Our hosts also gave us many good hints on all the possibilities they knew. I would truly recommend this stay to everyone!
Lies
2016-11-05T00:00:00Z
Great place in the middle of the forest, definitely a place to relax!
Niels
2016-11-21T00:00:00Z
Lovely, newly converted building with excellent facilities. Open plan kitchen-dining room, light/airy conservatory on the ground floor, two nice bedrooms and shower room on the second floor and a third bedroom, ensuite bathroom plus spacious lounge area on the top floor. Fantastic long, indoor swimming pool (though the water could have been warmer!). Total peace and quiet as you are in the middle of the forest. Hosts friendly and helpful and location ideal as a base to visit lovely surrounding countryside lakes, mountains etc plus historic cities such as Monschau, Trier etc. Big supermarket in the nearby village of Kall so all supplies easily obtained. Highly recommended!
Tim
2015-08-04T00:00:00Z
We really enjoyed staying at waldquartier Wackerberg. What a great place. A beautiful hideaway in the forest. Perfect for hikes, spotting wildlife and searching for wild mushrooms. We are already planning for a return trip!
Rosalie
2015-09-29T00:00:00Z
We had a great 4 days in Waldberg, we got quick answers on our questions/requests and were welcomed very warmly. All that is necessary to have a great stay was there: nice owners, great and quiet surroundings, well equipped kitchen and accessories, very comfortable chairs, sofas and beds. The Kanzler family also provided us with very good information about the things to do in the area, per theme, which is very helpful. We would definitely recommend this place to others and will come back again if we are going back to the Eifel. Even for our two children (2 and 5) there was plenty of space to play (in and outside) and downhill is a great indoor playground.
Henri
2016-05-03T00:00:00Z
Petra was very nice and made us feel welcome. She gave us a tour of the beautiful house, which is a bit hard to reach by motorcycle, but we knew that in advance. The house is spaceous, clean and comfortable. The surroundings are beautiful, and there are some great roads for motorcycle riders like us. Too bad the pool was temporarily closed, but the sauna made up for it!
Chris
2016-06-28T00:00:00Z
This place is indeed a luxurious hideaway in a magnificient forest. You find it after a long ride through the woods. (a common car can manage the road, but you have to drive carefully) A beautiful house with lots of space, a well equiped kitchen, room to be outdoor and even a lovely barbecuehouse. It was the perfect base to discover the region and the nature around. And, yes, we choose this place because it has a pool. It has a large pool, but unfortunately that pool was not available. It was bad luck for us, because the pool was filled during our stay, and will be perfectly (warm) swimable next week.
Frank
2016-07-24T00:00:00Z
Room Type
Entire home/apt
---
Property Type
Apartment
---
Accommodates
12
---
Bedrooms
Kall, North Rhine-Westphalia, Germany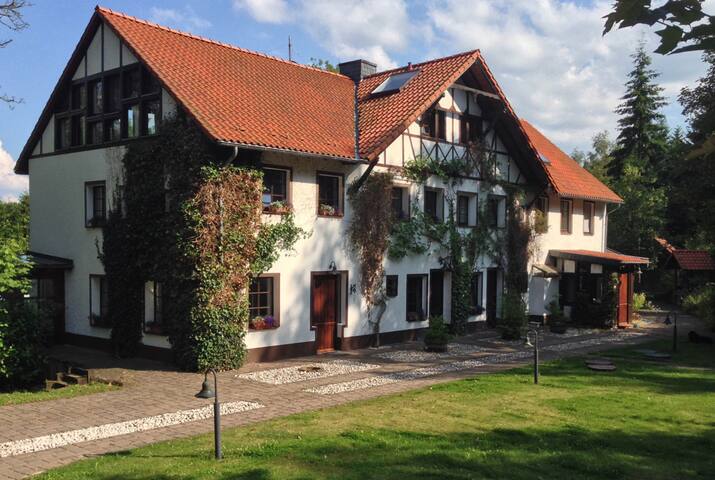 Das Appartement besteht aus 2 Räumen. Es verfügt über ein Schlafzimmer mit Doppelbett und ein Wohnzimmer mit gemütlicher Sitzgruppe, TV und Kühlschrank. Ferner hat sie einen separaten Eingang und ist Bestandteil eines Einfamilienhaus.
Room Type
Private room
---
Property Type
Bed & Breakfast
---
Accommodates
2
---
Bedrooms
Kall, North Rhine-Westphalia, Germany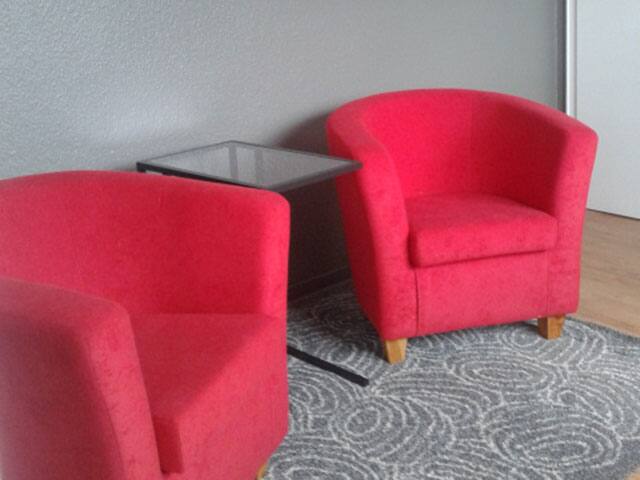 Natur und Ursprünglichkeit treffen auf modern ausgebaute Innenarchitektur. Ein Haus für Menschen mit Sehnsucht nach ursprünglichem Naturerleben. Schlafmöglichkeit für vier Personen. Große Küche mit Esstisch und luxuriöses Badezimmer. Große Außenterrasse mit Blick auf die Esel.
Das Gästehaus befindet sich auf Gut Neuwerk, zwischen den Städten Köln, Bonn und Aachen in der Eifel gelegen. Das Gut erstreckt sich auf 6ha mit einem See und vielen Grünflächen entlang des Flusses Urft am Rande der gleichnamigen Ortschaft. Jeder Wohnbereich hat seinen eigenen Außenbereich. Auf dem Gut leben Esel, Schafe, Hühner, Gänse und freilaufende Katzen und Hunde.
Room Type
Entire home/apt
---
Property Type
House
---
Accommodates
4
---
Bedrooms
Kall, Nordrhein-Westfalen, Germany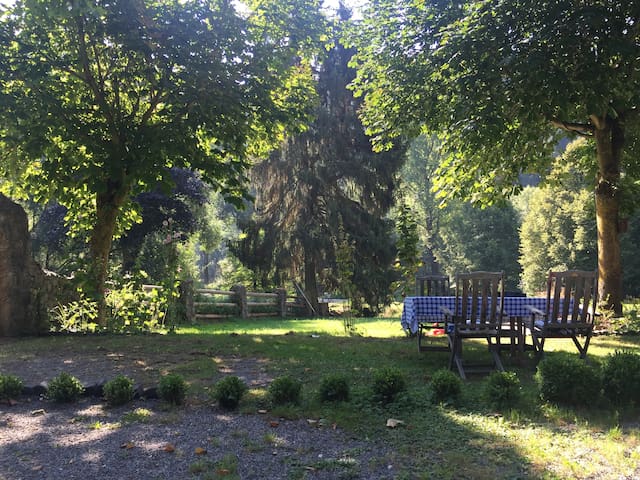 This 2-person bedroom has a bird-rich atmosphere. There are a total of 4 bedrooms and 2 bathrooms in the house. In this cozy bed and breakfast with floral and vintage décor everyone feels at home. There is a wood pellet stove in the kitchen where you can eat a breakfast with eggs from their own chickens,eat a local dish such as "deer goulash with cranberries" or "Sauerkraut a la Petra". On the first floor is an oriental decorated room where you can "chill", read, watch a movie or play a card game. This room is wonderful bright because the house is situated on a hill. It has beautiful views of the countryside garden with fruit trees and sometimes a pony. In the garden there is a covered outdoor area with a sheltered sunny porch where even in the spring and autumn, you can enjoy the sun. The garden has possibilities for an evening campfire where someone with a guitar could make some music. The area is lovely to relax and to walk. Directly from the house you can make walks towards a medieval castle Wildenburg or an imposing monastery from the 11th century Steinfeld that was an important stronghold of the Roman Catholic Church. Also a walk to a Konditiorei with delicious pastries is possible.
Het is een rustige landelijke omgeving waar je heerlijk kunt wandelen direct vanuit het huis. Groene heuvels, beekjes en bos wisselen elkaar af.
Mooi huis op een rustige locatie. Perfect voor grote groepen die zich rustig willen afzonderen van de wereld. We hebben ons er enorm vermaakt!
Jorrit
2016-04-17T00:00:00Z
Een heerlijk huis in een prachtige omgeving. Fijne warme houtkachel om na een frisse wandeling bij op te warmen. Ook in de winter en minder goed weer een fijne plek. Ook onze honden waren van harte welkom, helemaal super!
Iris
2013-09-14T00:00:00Z
Petra und Ihr Lebensgefährte waren sehr nette Gastgeber, die Info der Beschreibung Anfahrt Kall "Beneberg" könnte besser sein, das hat aber nicht an unserem Wohlbefinden geändert. Bis zum nächsten mal Uschi und Rudi
Rudi
2013-06-25T00:00:00Z
Petra is een zeer professionele en warme gastvrouw. Ze geeft betrouwbare en behulpzame informatie over het huis, de omgeving en de route er heen. Haar enthousiasme maakt dat je al hoge verwachtingen krijgt die echt helemaal waar gemaakt worden. Petra en haar partner zijn warme boeiende mensen die er alles aan doen om je een vrij en gastvrij gevoel te geven. Het is een heerlijk huis met alles erop en eraan en de omgeving is prachtig. Wij komen terug!
Philippine
2014-10-19T00:00:00Z
Room Type
Entire home/apt
---
Property Type
House
---
Accommodates
12
---
Bedrooms
Kall, North Rhine-Westphalia, Germany
Dans cette maison il y a 2 doubles et 2 salles de bains avec douche et WC dans le grenier, 1 simple, 1 triple, et une cuisine entièrement équipée sont situés au premier étage.
La maison a
Room Type
Entire home/apt
---
Property Type
Apartment
---
Accommodates
8
---
Bedrooms
Stolberg (Rheinland), Nordrhein-Westfalen, Germany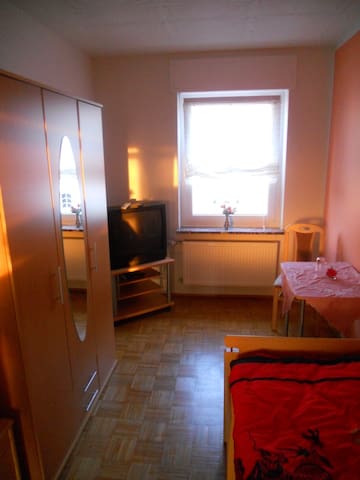 ihr könnt kommen hier ist es schön ruhig,man kann entspannen,und ich bin sehr gern für nette menschen da.
The host canceled this reservation 5 days before arrival. This is an automated posting.
Frano
2016-03-29T00:00:00Z
The host canceled this reservation 5 days before arrival. This is an automated posting.
Valeriya
2017-03-21T00:00:00Z
I stayed at Ellen's place for a couple of days. Ellen is very nice and friendly. Place is clean and good connected with the motorway nearby. There is a parking place in front of the house. Only 200 meters away is a big groceries store. This is a budget accommodation and it is suitable for someone who is making a short break in Aachen during his journey. I had a good time staying there.
Srbislav Loki
2016-05-09T00:00:00Z
Ellen hatte auf ihrer Gastgeberseite angegeben, dass Direktbuchungen möglich seien. Nach Blick in ihren Kalender, der zum gewünschten Datum frei war, machte ich also eine Direktbuchung. Nach der Geldabbuchung stellte sich heraus, dass das Zimmer jedoch dennoch bereits vermietet war. Das Ersatzangebot ( zum gleichen Preis plus Endreinigung) , auf der - zu kurzen- Wohnzimmercoach zu übernachten, war keineswegs zufriedenstellend, da ich die Füße nicht richtig ausstrecken konnte und das Zimmer keinerlei Privatsphäre hatte, da man die Tür nicht schliessen konnte. Alles Weitere steht im vertraulichen Feedback. Also: unter einer erholsamen Nacht stelle ich mir etwas Anderes vor....
Birgit
2016-03-25T00:00:00Z
Sehr nette Gastgeberin; schönes geräumiges Zimmer. Komme gern wieder!
Holger
2016-03-10T00:00:00Z
Sehr nette Gastgeber, zuvorkommend und freundlich! Ellen war sehr bemüht einem einen angenehmen Aufenthalt zu ermöglichen. Parkplätze, Restaurants und Geschäfte in direkter Nähe.
Hanno
2016-03-13T00:00:00Z
Room Type
Private room
---
Property Type
Apartment
---
Accommodates
1
---
Bedrooms
Aachen, Nordrhein-Westfalen, Germany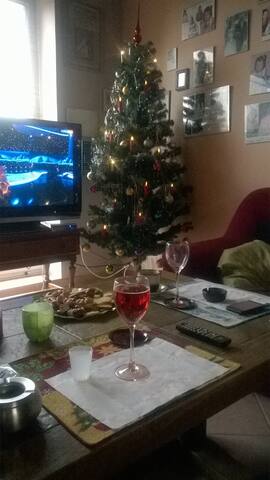 Welcome This house is ideal for seven people and a baby. (adjoining the lodge Coquelicots) The jacuzzi, sauna and solarium are available only for you to relax in Ovifat, on the edge of the natural park Hautes Fagnes
We welcome you in our lodge "Sources Orchids". This one is located on the plateau of the Hautes Fagnes in the small village of Ovifat, just steps away from the nature reserve. This house, which can accommodate eight people plus a baby, (ideally 6 adults, 2 teenagers and 1 baby) respects the architectural style of the country. Its structure gives it a touch of originality, combining the north and fir siding rubble career Warche. From the lodge, you can begin lovely walks in the nature reserve or around the castle of Reinhardstein in the valley of the Warche. In winter, you will practice downhill skiing (2 tracks) and cross country skiing. In summer you can swim in the lake of Robertville and indulge in boating, fishing ... or sip a glass to one of the many terraces of the region. You are sporting? Many mountain biking await you! Inside the house, the first level - one level with the garden offers a living room full of color with cable TV and stereo. The kitchen combines all the comforts (including dishwasher and microwave) to allow you to concoct tasty dishes using local produce. The basement offers a very significant relaxation area after a walk in the woods. The sauna and solarium await you in a warm atmosphere. For the night, four comfortable bedrooms (three with double beds and one with two singles) ensure a restful sleep after an eventful day. Bath, two bathrooms, one with bath, sink and toilet, the other in the wellness section with sink and walk-in shower are available. Have a good stay ! In addition to the garden and terrace, Jacuzzi (for 4 people) invites you to dream and well-being. Enjoy all year of this heat relaxation (38 ° C). Inside, the ground -1, sauna and solarium invites you in a warm atmosphere. A popular area for relaxing after a long walk in the woods sauna Passive Fitness Relaxation and Healing In a Hot Spring spa are three important factors: warmth, weightlessness and massage. Together they offer relaxation and healing. If you immerse your body in warm, massaging water, your body temperature will rise, which dilate blood vessels and improve blood circulation. The buoyancy of the water reduces body weight to about 90%, so that the pressure on muscles and joints decrease, the effect is immediate on the mind and it reduces stress. The massaging effect of a Hot Spring spa is obtained by a combination of hot water and air through the jets. This stimulation relaxes muscles and increases the spontaneous release of endorphins, natural painkillers ...
• Veillez à n'occasionner aucun dérangement. Afin de ne pas déranger les voisins, le calme est requis après 22:00. • NE CONVIENT pas pour fête estudiantine, brulage de pantalon (avant mariage, ...)
The host canceled this reservation 2 days before arrival. This is an automated posting.
Thomas
2016-09-14T00:00:00Z
We had an amazing stay in the Lodge in Ovifat. The house was very clean and spacious. A lot of facilities. Close to the Robertville city centre with a small supermarket, friterie and bakery. Pierre was very friendly and even filled the jacuzzi with additional water on the second day. Very friendly. Would definitely stay again!
Arne
2015-09-11T00:00:00Z
Pierre went out of his way to make our visit as pleasant as possible. The space itself is still transitioning from vacation rental to Airbnb listing, however. In this vein, we were received by Mme Grandjean, a property manager who lives near the rental, who was clearly unfamiliar with Airbnb practices and quite rude and dismissive of us and our needs. She asked additional cash fees for guests, about whom we had already communicated and for whom we had paid at reservation. She also asked for a cash settlement for charges at the end of our stay -- for water, electricity, etc. And though I resisted this -- since we had made a deposit of €250 during our reservation ostensibly for that purpose -- Pierre supported the property manager's position since Airbnb is "slow in reimbursing deposits" (why is this our problem though?). This surprised me, to say the least, and it strictly doesn't comply with Airbnb practices in my experience. In the end, though, for use of the hot tub and sauna all weekend, we paid charges of €130 in cash. Now we are in the position of having to wait to get our initial deposit back from Airbnb, we have no receipt for our cash expenditure, and in the end we had to lay out almost €800 for a 3-day weekend getaway. In addition to this lack of conformity with Airbnb practices, it's important to know that the space itself is not a typical Airbnb listing either. As mentioned, it is more of a vacation rental -- meaning there are no basic amenities on site (towels, sheets, tp, d/w liquid, food items, etc.), though everything else -- beds, pillows, blankets, pots, pans, dishes, etc. are there. So you must be sure to bring all the former items with you or note that, because (as Ms Grandjean clearly said) "there is nothing in Ovifat", you will have to drive 15 minutes to the nearest shop in Malmedy. There is no owner on site either, though Pierre come by Saturday, spoke with members of our party, and due to a misunderstanding, brought a fire pit for our use. The residence itself (half a house, split with a second rental property in the other half -- identical except that the other has a fireplace), is well-appointed but definitely not 4-star. The condition of many items in the kitchen depends on previous tenants, it seems. We found many dirty and broken items in the cupboards, for example. Though clean, this space certainly lacked an air of luxury as portrayed in the pictures. The wifi was spotty at best, and there is no heating on the top floor of the house - which adds to the electricity charges, of course. Otoh, the hot tub (more "warm" than "hot") and sauna themselves, as well as the surrounding area was very nice. Though we didn't mind, the neighbors in the adjoining house were noisy and there are houses in close proximity on every side.
Cheryl
2015-12-21T00:00:00Z
It was a pleasure to stay at Pierre's. The house is very nice but you need to bring a bit of your own equipment though. We had a nice weekend and a very comfortable stay, the communication with either Pierre and Mrs Grandjean was very good.
Anna
2016-11-06T00:00:00Z
een compleet huisje,wat er erg schoon was. lekkere bedden en genoeg zitruimte. er is genoeg te doen in een prachtige omgeving. de jacuzzi was een prachtig verwen moment. we hadden een afvoerprobleem en de eigenaar kwam meteen en loste het op. een puntje voor verbetering is dat de borg na bijna 2 weken nog niet terug gestort is.
ronald
2015-10-24T00:00:00Z
Wir waren mit 8 Frauen ein Wochenende in dieser schönen Unterkunft. Wir haben uns dort sehr wohl gefühlt und wurden sehr freundlich begrüßt. Während des Aufenthalts gab es keine Komplikationen. Das Haus ist genauso wie beschrieben, man muss allerdings wissen, dass es nicht wie es bei Airbnb üblich ist Gewürze, Handtücher etc. gibt. Doch das steht ja auch alles in der Beschreibung. Wir haben zu acht täglich mehrere Stunden den Jacuzzi benutzt und ebenfalls mehrfach am Tag die Sonnenbank. Trotzdem haben wir am Ende des Aufenthalts nur 116 Euro bezahlt. Schlußendlich können wir diese Unterkunft nur weiter empfehlen!
Lena
2016-05-18T00:00:00Z
Heerlijke midweek achter de rug. Prima huis. De jacuzzi is n groot pluspunt.
Iris
2016-08-26T00:00:00Z
Zeer leuke en comfortabele woning. Goede bedden. de Sauna en jacuzzi zijn super. De buurt is rustig en mooi. Reken wel op redelijke energiefactuur. Voor een week normaal gebruik hebben wij 180euro bijbetaald. Voor gas betaal je bijna 2maal de prijs van de leverancier.
yves
2016-02-01T00:00:00Z
Room Type
Entire home/apt
---
Property Type
House
---
Accommodates
8
---
Bedrooms
Waimes, Région wallonne, Belgium
Enter dates to see full pricing. Additional fees apply. Taxes may be added.