Studio para dos personas con cama, cocina, refrigerador, accesorios de cocina. Sanitario y ducha. Entrada privada.
Bonita casa en una zona tranquila de Barahona. Carolina y su madre, que vive al lado, estaban muy atentos. He pasado una estancia muy agradable.
Eduard
2017-02-13T00:00:00Z
Carolina habite la maison à côté du studio, elle a été une hôte très accueillante et chaleureuse, soucieuse de notre bien-être. La maison est propre et équipée avec de quoi cuisiner, ainsi que des moustiquaires et des ventilateurs. Le quartier est assez animé, comme partout en République Dominicaine : chiens, coqs, motos qui deambulent, prévoir des boules quies si sommeil léger !
Laura
2017-03-14T00:00:00Z
Room Type
Entire home/apt
---
Property Type
House
---
Accommodates
2
---
Bedrooms
Barahona, Barahona, Dominican Republic
Rest at our home in a comfortable room with high quality household items. Bathroom just for guests and enjoy the common zones. Quality and cleanliness. Also we can cook for you Breakfast (optional).
You will feel at home, in a peaceful environment decorated with local handicrafts (Haiti - Dom.Rep). There is a bathroom outside of the bedroom only for guests, with basic bath items. The bedroom is equiped with a small desk, and lamps in the desk and in the bedside table, and also with a fan. We have avalaible a mosquito net if you desire it.
We are allocated in one of the safest areas in Barahona, in Blanquizales sector, where renowned people lives. This area has electricity 24/7 and water supply without problems. As a residential zone, we are not used to hear noises from music pubs, the noisy Downtown nor the city center. We have a little supermarket near home where you can buy some things to eat, drink and for hygiene. Also you can use delivery service from other restaurants or pizza. Its excellent location permit to enjoy see-breeze in the afternoon and evening. We are not located near of the city center, around 1,5 km from there, you only will take 5 minutes to arrive to this point by car, taxi or by bus. We are near of the city entry from Santo Domingo, very close to the first Banco de Reservas located in the main road. Because of this location, we can enjoy of the resting and quite environment, without many noises (usual in the city center). You can go out to have lunch or to have dinner in Barahona in different places: Restaurant Brisas del Caribe, Pizzería italiana in the malecón, Carnes Express, PalaPizza, and Sandwich or hamburguers in Barra el Tunel close to the main park. Also you can go out for a drink in the malecón where there are pubs and discos. Big Tree or Everest are common places to have a drink and go dancing.
Laura is a super friendly and helpful host, we actually changed our itinerary to stay two more nights at her place and went on a tour she organized for us in Cachote. The bathroom and the rooms are very clean and comfortable, though rooms are looking at the street and sometimes it's a bit noisy during the night. You can use the kitchen and the fridge and she also allowed us to wash some of our clothes with her very special machine :) She also serves a nice breakfast for 150 peso pp. The tour to Cachote was amazing, Laura arranged everything for us and she was our guide - it was very informative and fun. We also tried other tour operators in the region and most tours run from 9am to 3pm which is mostly transfer time, but this one started at 7am and we arrived home at 7pm which is great value for the money. Both the accommodation and the tours are strongly recommended. Thank you Laura!
Gyorgy
2016-03-31T00:00:00Z
This is definitly one of the beste places we stayed in the Dominican Republic! Laura and her husband Rocky are great, while she picked us up form the bus stop, Rocky made lunch for all of us. Laura offers tours to different places in Barahona. We spend the next day with her, going down south and the day after with her husband to go to the north. The landscape and colour of the water in Barahona is stunning, and we saw Flamingos, alligators and (jumping) leguans. Those days were definatly a highlight of our stay in the DR! Laura and Rocky are great, they always made an effort to help us, translated, looked for a hotel for us when we decided to stay one more day and they already had a booking and were open to personalize our tours with little detours. We really want to say thank you to the two of you again, keep laughing as much as you did with us!!
Philipp
2016-02-22T00:00:00Z
It was very pleasent to be in Lauras house. She herself was not at home during our stay, but her husband Roky was very helpful with everything! The room was clean and the house offers everything you May need. We had a good time in barahona, went out with Roky and got to know dominican lifestyle..
Merle
2016-01-15T00:00:00Z
We were planing to stay at Laura and Rocy's home only for two nights but their hospitality and their possibility how to represent their country were soo great that we desided to stay a day longer. Laura really show us the real life in Barahoma and araund the area. Laura's english is perfect soo we didn't have any troubles with communication and olsow Rocy is starting with (URL HIDDEN) is important to know that Laura is a great turist guide and she can arange you a great trips aroud the area. Their house is modern and extremely clean- it is exactly like you see in the pictures and you feel like you are at home.
Petra
2016-02-19T00:00:00Z
We loved our place in the city! It was comfortable and safe. Larva and Roky were great hosts. Laura is a font of information about the local area. She has a degree in environmental science and she has a passion for it. She was very educational about the local grown organic coffee. Also, about strides being made in the area for environmental awareness. We loved learning about this and it really made our trip so much richer! Thank you Laura and Roky.
Tori
2016-04-15T00:00:00Z
Our stay in Laura's house was really pleasant. The house and room are clean, confortable, and you feel at ease as soon as you get in the house. Laura and Roky are really nice and kind, always willing to give good tips and advises about places to visit. I recommend this place without hesitation. Thank you so much!!!
Rachel
2016-05-08T00:00:00Z
Laura and Roky's place is perfect to stay in Barahona and move from there to all attractions in the south, the place is well located, clean, beds are confortable and they are friendly and helpfull people.
Rafael
2016-10-30T00:00:00Z
Laura and Roky were awesome hosts and their place is just as welcoming as described. We had 2 great days and the tour through the national park to bahias de las aguilas we had with Laura was beautiful. We can really recommend it! Muchas gracias! Arthur and Ari
Ari
2016-04-07T00:00:00Z
Room Type
Private room
---
Property Type
House
---
Accommodates
3
---
Bedrooms
Santa Cruz de Barahona, Barahona, Dominican Republic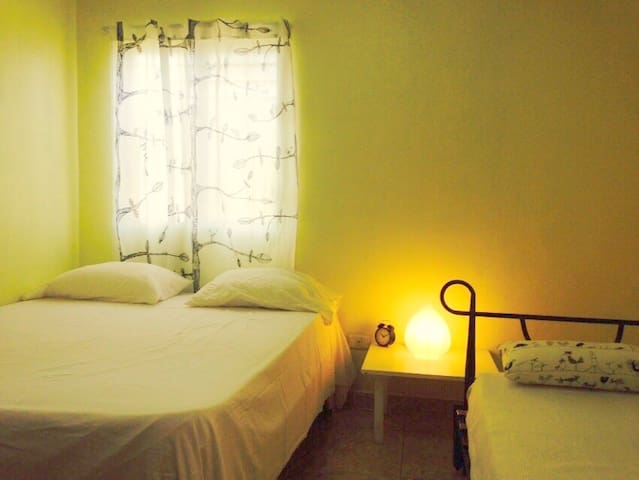 Our house is cool and comfortable, it is perfect to spend good family or friends time. The house is on the beautiful beach of La Cienaga when sometimes you can surf. Hope you like it! It can accommodate 8 people but you can manage to accommodate up to 10 if needed . Guests will have direct access to the beautiful beach of La Cienaga. I won't be always there because I live in Santo Domingo but I have someone always available to assist you during your stay.
It can accommodate 8 people but you can manage to accommodate up to 10 if needed .
Jean Pierre is a far responsive guy, it was very easy to communicate with him. The house is right on the stone beach, where the water is very nice but it's very hard to swim because waves are high. What we didn't like of the house is that there is no ac and no mosquito nets, so you can consider it full of mosquitos. The house is quite big with 3 bed rooms, 3 bathroom and a beautiful patio with view on the sea. On this patio there is a open air kitchen but the fridge was full of old things. Probably left but someone who was living there. The house is located in a very poor area 30 minutes (on a street on bad conditions) from Barahona, where no police station or restaurants are available. Going back and forth to Barahona to done out would be complicated. Security in the house is not available. We left our rented car right in front of the house and we felt that, based on the bad reputation of DR, that would have been a risky bait for someone searching for tourists. The risk of any kind of assault would have probably been very low, but its cost very high. IMHO this a nice house for locals, not for tourists.
paolo
2017-03-07T00:00:00Z
Lovely place!
Liisi
2017-03-20T00:00:00Z
Room Type
Entire home/apt
---
Property Type
House
---
Accommodates
8
---
Bedrooms
La Ciénaga, Barahona, Dominican Republic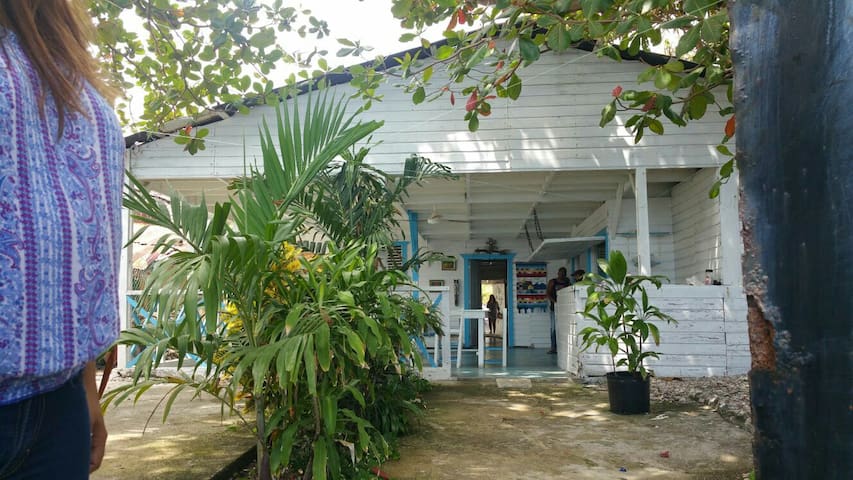 Nuestro increíble y cómodo alojamiento cuenta con dos habitaciones con aire acondicionado cada una con su baño y también cuenta con tres cómodas camas para su su feliz descanso. tiene una hermosa vista al mar y al bulevar.
Esta próximo al malecón,la Iglesia católica,el parque central, a los distintos lugares de diversión y próximo ala playa el saladilla y otras mas.
Es un barrio tranquilo con una vecindad amable y sobre todo la paz que se siente cada noche y al amanecer . Para un buen descanso.
Room Type
Private room
---
Property Type
House
---
Accommodates
5
---
Bedrooms
Barahona, Barahona, Dominican Republic
Bonita casa en un remanso de paz con una magnífica vista y a 10 minutos de las playas de La Caobita y El Uvero. Aparte de la habitación doble y dos individuales, en la sala acomodamos dos camas inflables, y abajo, en el comedor hay un sofá-cama con dos colchones individuales. La casa dispone de una familia que vigila la propiedad. Hay que llegar con vehículo propio 4x4 o camioneta y traer la comida. Si se desea que se le cocine se acuerda con anterioridad.
Grupo de amigos íntimos y familia
Desde Barrera bajando por la carretera hacia la playa de La Caobita, hay un desvío de camino de tierra hacia la playa del Uvero. Trae un buen vehículo!
Room Type
Entire home/apt
---
Property Type
House
---
Accommodates
8
---
Bedrooms
Azua, Azua Province, Dominican Republic
My father is the real host since I don't live with him, I help him with the bookings since he doesn't speak English, he only speak Spanish but he is adorable. His real name is Luis but you can also call him Pito. The house has authentic local fruits.
My house offers the authentic lifestyle experience of town.
Is safe and offers authentic lifestyle of the city.
Hemos pasado unos momentos muy agradables en casa del padre de Dansel. Luis nos ofreció un cuarto con ventilador y con dos camas. Nos contó de varias opciones para cenar. Él era muy amable y nos trató como parte de su familia.
Luzian
2016-04-06T00:00:00Z
Room Type
Private room
---
Property Type
House
---
Accommodates
3
---
Bedrooms
Santa Cruz de Barahona, Barahona, Dominican Republic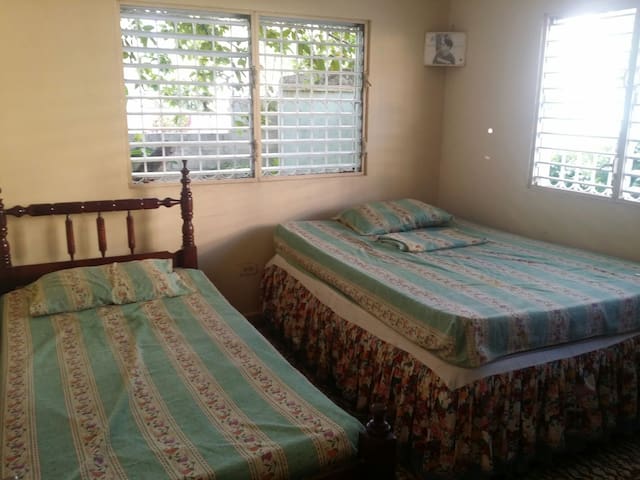 Barahona - Airbnb
:
Average

4

out of

5

stars from

25

guest reviews
Enter dates to see full pricing. Additional fees apply. Taxes may be added.