The host canceled this reservation 3 days before arrival. This is an automated posting.
Natalie
2016-11-15T00:00:00Z
She was very welcoming, very helpful with showing us around. Offered to teach us a yoga class in her studio and even ride her horses! The apartment was very nice, country style literally in the country. It had everything we needed and more. I'd definitely stay here again.
Patrick
2016-10-30T00:00:00Z
Very beautiful place. There are bicycle tracks. Fine possibility of a quiet rest.
Mashtaler
2016-08-04T00:00:00Z
Eigentlich waren wir nur auf der Suche nach einem Schlafplatz während einer Veranstaltung auf Kloster Banz (in der Umgebung war alles ausgebucht). So sind wir in die Nähe von Burgpreppach gekommen .Waren dann so angenehm überrascht, dass wir dort gern noch länger geblieben wären! Es hat einfach alles gepasst, nebst dem freundlichen Empfang auf dem ehemaligen Bauernhof, haben wir die Abgeschiedenheit vom üblichen Touristentrubel, sehr genossen. Der Besuch im benachbarten Königsberg lohnte sich. (Ein Dank nochmals für die Empfehlung!) Die Wohnung war mit sehr vielen liebevollen Details komplett neu eingerichtet. Es war schön das Frühstück auf der gerade fertig gewordenen Terasse im Grünen mit Morgensonne zu genießen um anschließend dann durch die weiten Felder und Wiesen der Umgebung zu streifen. Damit war die Reise eine wirklich schöne Erinnerung an diesen Liederabend auf Kloster Banz . Danke !
Willi
2016-07-05T00:00:00Z
Hallo! Meine Freundin und ich haben insgesamt 3 Nächte in Judiths Appartment verbracht. Wir wollten ein wenig abschalten vom Alltag, Ruhe haben und eine schöne und gemütliche Unterkunft auf dem Land und genau das haben wir angetroffen. Das Appartment ist wirklich mit viel Liebe eingerichtet worden und wir haben uns im Appartment, sowie auf dem Hof, mit den Tieren und den Menschen die dort Leben&Arbeiten sehr wohl gefühlt. Die Lehmwände sorgen für ein gutes Raumklima und es war angenehm kühl an den heissen Tagen;) Mann wird morgens von der Sonne, die durch die Fenster strahlt geweckt und fällt abends in ein gemütliches Federbett. Da Judith ihren Gästen Frühstück und Abendessen zusätzlich anbietet, haben wir das gerne angenommen und es war super lecker. Selbstgebackenes Brot, Brötchen, Marmelade und dies auf eine liebevolle Art zu bereitet! Die Burger mit selbstgemachten Kartoffelspiralen darf man sich nicht entgehen lassen! Wir haben uns auf die Räder geschwungen und die Landschaft genossen und durften mit Pferd Luna ausreiten;) Judith bot uns an an ihrer Yogastunde teil zu nehmen, was wir gerne taten. In dem kleinen Dorf besteht die Möglichkeit vom Imker direkt Honig zu erwerben, der übrignes sehr lecker schmeckt! Judith hat sich wirklich Zeit für uns genommen und uns gerne den Hof und seine Bewohner vorgestellt. Judith ist eine tolle Gastgeberin und eine liebenswerte Person. Danke Judith für die schöne Zeit!
Lena
2016-08-25T00:00:00Z
Wir haben uns bei Judith sehr wohl gefühlt. Sie hat uns sehr freundlichen empfangen und die Umgebung war einfach wundervoll ländlich und ruhig. Die Fewo ist sehr gemütlich und mit viel Liebe zum Detail eingerichtet. Es herrscht dort eine ganz besondere Atmosphäre, in der wir uns sehr willkommen gefühlt haben! Wir kommen gern wieder! Ganz liebe Grüße von Ingrid und Arnd und auch an den lieben Opa!
Ingrid
2016-08-11T00:00:00Z
Een heerlijk rustige plek in een bosrijke omgeving, ideaal om te ontsnappen aan de drukte. Heb je meer nodig dan rust dan kun je via Judith ook nog yoga of massages regelen of volpension als je zelf niet wilt koken. Er zijn veel wandelmogelijkheden in de omgeving, fietsen zijn beschikbaar en ook een mooie stad zoals Bamberg is op een redelijke afstand te vinden.
Brigitte
2016-10-06T00:00:00Z
Der Aufenthalt bei Judith und Michael war sehr schön. Ihr Empfang war herzlich und die Kommunikation verlief von Anfang an reibungslos. Das Appartement ist genau wie auf den Fotos zu sehen. Schön hell luftig und großzügig, liebevoll mit kleinen persönlichen Details eingerichtet. Eine ruhige ländlich gelegene Wohlfühloase in der wir uns sofort entspannen konnten. Coburg ,Bamberg und viele schöne kleinere Orte sind in weniger als einer Stunde zu erreichen. Abends brauchte man nur noch ins kuschelige Bett fallen. Ajurvedisches Frühstück, selbstgebackenes Brot und tolle Salate sowie heimische Speißen konnten wir bei Judith frisch zubereitet bekommen und brauchten uns so um nichts zu kümmern. Es blieb kein Wunsch offen. :)) Vielen Dank für den tollen Aufenthalt.
Nika
2016-07-11T00:00:00Z
Room Type
Entire home/apt
---
Property Type
Apartment
---
Accommodates
2
---
Bedrooms
Burgpreppach, Bayern, Germany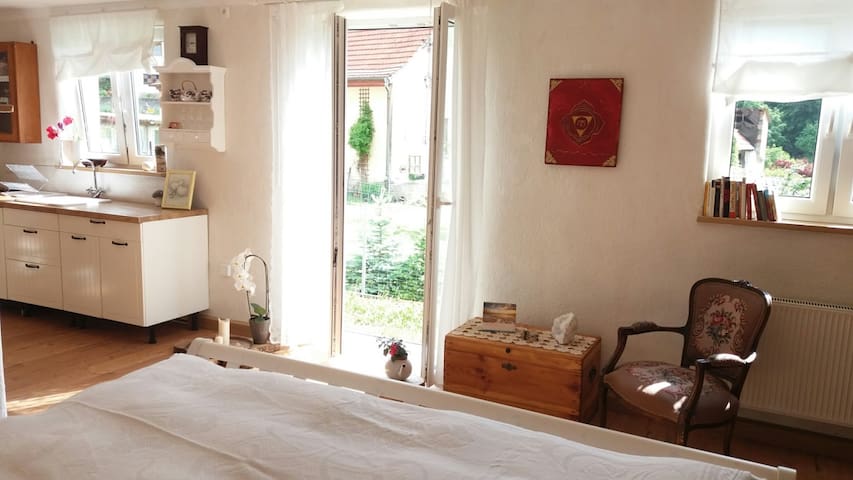 an ecologically restored separate apartment, approximately 40 square meters, in the lovingly expanded loft of a small barn, a source of inspiration for people who enjoy quiet and relaxation or who wish to work in a peaceful atmosphere
COTTAGE BY THE THREE SPRINGS an ecologically restored separate apartment, approximately 40 square meters, in the lovingly expanded loft of a small barn, a source of inspiration for people who enjoy quiet and relaxation or who wish to work in a peaceful atmosphere; * for overstimulated city-dwellers seeking rest and recuperation in the countryside; * for a single guest or couple, child also welcome (yard for play, books and games, and a south-sloping field) * for visual artists, visiting stage directors, singers, stage- and costume-designers, etc., who need occasional lodging (there is a piano available in the workroom); * for translators and writers from Germany or elsewhere (languages of the German landlords include Italian, Dutch, English, and French, as well a basic knowledge of Spanish, Swedish, and Persian/Farsi); * for congenial people of all sorts looking to escape the hectic pace of daily life in the serenity of natural surroundings; * for artists who would like to live as "artists in residence" in surroundings free of agitation This apartment—refurbished over an extended period of time with much energy and "heart's blood"— is situated behind the main dwelling at the foot of a large mixed-fruit orchard where we apply the principles of natural conservation and keep a beehive. Next to the property are three historical wells, still in their original state, which yield the purest water and feed the adjacent pond, where fish and ducks swim. Rent: € 45 per night or € 275 per week, with an additional final cleaning charge of € 15 This property in the socalled Heilige Länder ("Holy Lands"), the popular designation for the southern Hassberg Hills region of Lower Franconia, was a matter of "love at first sight" for us when we acquired it in 2012, and our feeling for it has only deepened. Long untenanted, with fallow gardens and mixed-fruit orchard, it seduced us into undertaking a lengthy resuscitation project. The sandstone house from 1865, with its old climbing rose and the espalier pear tree warming itself along the wall, has a chiseled quotation over the old front door that immediately stirred our emotions: THE BLOWING WIND SHIFTS CONSTANTLY AND RIVERS FLOW WITH SHIFTING FORCE NO STREAM HAS EVER FLOWED UPHILL NOR EVER TIME TOOK BACKWARD COURSE Our ensemble includes a mixed-fruit orchard, our "Garden of Eden," whose fruits—old varieties—our guests may pick without being expelled from paradise ; a former sandstone barn where small animals were stabled, the upper floor of which is the atelier apartment with visible roof beams, an integrated kitchen nook, and a separate bathroom with shower, toilet, and sink; a cottage garden, reawakened to new life, and the former workroom of a carpenter and painter—it was she who started the project of ecologically restoring the main house - this workroom, which also contains the piano, is also available upon request. "Dream Goals": — laying out gardens on the orchard meadow — manageable undertakings in the workroom, among other things
Local Area Ditterswind is a village one can easily become familiar with. It contains a small castle, with goats and a small wild park, that has been restored by the Bavarian Monuments Preservation Bureau; a lovely old church; a fishpond that also serves the fire department; a "peace" linden; friendly, open inhabitants; and a helpful "mom and pop" store. Ditterswind is sub-district of the Maroldsweisach Marktgemeinde ("market township"), affectionately known to the local people as "Maro," a township situated in the Hassberg Naturpark ("nature preserve"), that has distinguished itself through the model fostering of existing buildings rather than the uncontrolled growth of new construction. You will find marked hiking and biking paths in a lovely landscape; an old and charmingly situated outdoor swimming pool and a modern one high up in Altenstein and Ebern respectively, with various thermal baths at a distance of some 20 km.; and a large number of castles, ruins of medieval castles, and Celtic plateaus with ruins in the surrounding area. All of this offers many possibilities for a ruminative vacation and/or one that is rich in variety. The highly intuitive may detect areas of special energy on the Staffelberg and Veitsberg heights, and in the vicinity of the so-called Heilfelsen ("healing rocks/cliffs") in Rotenhahn and Lichtenstein. We were told on a guided tour that the term "Holy Lands" for our region did not necessarily arise from the piety of the local population or the like, but could also be interpreted as meaning "healing or salutary lands." (In both English and German "healing" and "holy" have the same etymology.) Re Hospitality Franconian restaurants serve the specialties of the region at reasonable prices. We also recommend the "Heckenwirtschaften" ("hedge or broom winerooms") in the timber-framed wine-growing villages, where a clean home-made wine and a small menu invite travelers to make a stop (as long as a spray of broom is hanging on the door). The city of Coburg (ca. 25 minutes away) offers high-quality performances in its marvelous Kurfürstliches Theater, if you feel the need for culture. No less enjoyable is the E. T. A. Hoffmann Theater in Bamberg (ca. 35 minutes). And then, of course, there is the Würzburg Theater (ca. 50 minutes). Würzburg and Bamberg are both World Cultural Heritage sites. Schweinfurt (ca. 35 minutes), for its part, is seductive for its first-rate art collections. The loving gaze we cast upon the Hassberg landscape is what accounts for the various photographs you see, which are not arranged in any chronological or seasonal order. There are information brochures available in the Atelier House. And of course we ourselves can help you with any additional questions.
Everything at the cottage by the three springs was amazing, most of all the hosts themselves. We arrived late in the evening, but they were there to great us with warmth and kindness. The house is in a very small village in a beautiful area surrounded by nature. If you have a car you can get really easily to Bamberg, Würzburg or Coburg (all of them worth visiting). The house itself is a real beauty and organised carefully to the smallest detail. We felt like home from the first moment and this is mostly because of those lovely people. We have no words to describe Gerda Maria's and Klaus' kindness. They were always there for us but at the same time very descreet. They spoiled us with home made goodies which we enjoyed so much, while Klaus showed us around the beautiful garden and his bees (By the way his honey is an experience on its own). We had some interesting conversations with them and we only wish we could stay there longer to enjoy more of everything. Truly, we could not have chosen a better retreat for the end of summer than this home and these amazing hosts. We promise to come back :)
Aviram
2015-09-06T00:00:00Z
We had a great time at Gerda Maria and Klaus' lovely cottage. The studio is beautifully decorated and we felt very much at home. Our daughter slept in the antique cot so we didn't need to bring a travel cot which helped to minimise luggage. The kitchen is well equipped and the hosts provide a choice of groceries the guests can use for a small compensation (coffee, teas, pasta etc.). We also had some salad from the garden and Gerda Maria made amazing cake in the weekend. The location was also perfect for the city escape we were looking for - a small village in a beautiful nature reserve with lots of walks, little towns and castles to explore in the vicinity. Thanks Gerda Maria and Klaus, we really loved our stay and might well come back in the future :)
Michael
2016-10-02T00:00:00Z
Our hosts greeted us very nicely on arrival. They were very welcoming and provided local information which was very helpful. They showed us around the property and were very informative and pleasant. The property was better than the description. It was in a beautiful setting which isn't quite captured in the photos. The neighbourhood was lovely and peaceful which is what we wanted. Our hosts recommended a concert in a local cafe on our last night which we thoroughly enjoyed as it was full of locals.
Jayne
2016-07-16T00:00:00Z
We stayed with Gerda and Klaus for three nights in August 2015. Simply put, it was a truly magical experience. 3 Quellen is situated in a quaint Germany village about 45 mins northwest of Bamberg. The experience of travelling around this part of rural Germany far exceeds anything you will find in guidebooks, and you can easily get to larger towns/tourist destinations like Bamberg, Bayreuth, and Wurzburg. As hosts, Gerda and Klaus were outstanding. The communication (despite my poor German) was excellent, both prior to and during our stay. Gerda and Klaus went well beyond the call of duty to ensure that we were comfortable, offering home-made jams, honeys, and locally-baked organic cakes. Gerda's attention to every detail shows in the decorating of the loft-barn apartment and their property as a whole. Klaus's able appreciation of the area assisted us in finding our way around the countryside. Our accommodations in a renovated barn-loft were immaculate and extremely comfortable, striking a perfect balance between privacy and interaction. The sense of care that Gerda and Klaus brought to our experience was outdone only by the capacious scope of their hearts. Gerda and Klaus are not only superlative hosts, but superlative human beings. Do yourself a favour and stay at 3 Quellen if you are in the area. You won't regret the experience!!!
Coby
2015-08-03T00:00:00Z
We thoroughly enjoyed our 3 night stay with Gerda Maria and Klaus. They responded quickly to our reservation request, supplying lots of information, directions, and a very warm welcome. The Atelier House is stunning, the gardens even more beautiful than in the photos, and the rural area around Maroldsweisach gave us a taste of the Franconian countryside. This is definitely a place to "get away from it all." Hiking paths are close by, and one day we drove to Bad Staffelstein to sample its spa. (Definitely worth the trip.) The kitchen in Gerda Maria and Klaus's apartment is well equipped and there was enough food in the refrigerator to make shopping and life easy. Gerda Maria's supply of jams and the complimentary bottle of homemade apple cider were much appreciated. We definitely, definitely recommend Atelierhaus bei den 3 Quellen for a restful holiday!
Carol
2015-05-31T00:00:00Z
Gerda Maria and Klaus welcomed us open-hearted and this is the perfect word to describe this couple. We stayed for three nights and can definitely recommend this place. The apartment has everything you need and it just has the perfect size for two people. Communication with Gerda Maria was really uncomplicated and she did everything to make us feel comfortable during our stay. There is only one thing left to say, as an Iranian: Dastet dard nakoneh, Gerda Maria. Merci!
Azadeh
2015-09-21T00:00:00Z
Die Unterkunft, die Umgebung waren zauberhaft und Gerda Maria und Klaus wie wohlwollende Freunde.
Anja
2016-09-27T00:00:00Z
Gerda Maria und Klaus sind sehr zuvorkommende und aufmerksame Gastgeber. Die Atelierwohnung ist großzügig aufgeteilt, mit gehobenem Standard und liebevollen Details ausgestattet. Mich erwartete ein voller Kühlschrank. Nebst Eiern waren darin Butter, Senf, selbst hergestellte Marmeladen, selbst gepresster Apfelsaft, Sekt, Wein und Bier zu finden. Gegen einen mehr als fairen Obulus konnte ich mich an dem Inhalt bedienen. Desweiteren gab es zur Begrüßung Mohnkuchen. Sehr lecker. In einem Holzkasten gab es genug Urlaubs-/Ferienbroschüren aus der Region. So konnte ich mit diesem Infomaterial in der näheren wie weiteren Umgebung von Ditterswind sehr schöne Unternehmungen durchführen. Am letzten Abend haben Gerda Maria, Klaus und ich noch Gespräche über Persien und die Welt geführt. Gerne wieder.
Thomas
2016-02-13T00:00:00Z
Room Type
Entire home/apt
---
Property Type
Apartment
---
Accommodates
2
---
Bedrooms
Maroldsweisach, Bayern, Germany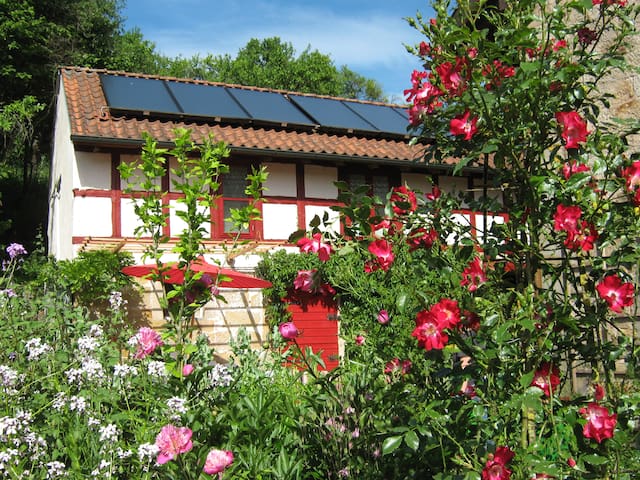 Cerca il tuo recupero da lavoro e sulla città di tutti i giorni rumori? Qui troverete riposo nella natura, le foreste, le distanze aperte, in bicicletta e sentieri escursionistici il triangolo centro benessere e una bella casa dopo una giornata intensa. Il nostro appartamento è di 70 metri quadrati, bagno ha (bagno e doccia), una cucina completamente attrezzata ed offre nel sole della sera relax sul balcone. L'esperienza - Vacanze e cultura nella zona invitano solo uno come noi siamo! Benvenuti nel paese! Il prezzo è per 2 persone
Voi vivete in un appartamento indipendente con vasca da bagno e doccia, lavatrice e camera da letto, soggiorno con angolo cottura e balcone con sole della sera. Nelle vicinanze ci sono sentieri, una pista per le famiglie, l'ex "striscia di confine verde" (l'ex confine. Inner-tedesco come esperienza storica), un negozio, un ristorante, castelli e laghi. Lontano dai rumori delle grandi città si arriva qui per riposare. Chi è alla ricerca per il benessere, prende tre bagni, le città di Coburg, Heldburg circa 8 km e Bad Königshofen circa 10 km sono facilmente raggiungibili in auto in pochi. I bambini sono i benvenuti, l'appartamento è dotato.
Die Unterkunft ist ruhig gelegen, die Gastgeber sind sehr nett. Wir kamen spät an und fuhren früh wieder ab! Somit hatten wir leider nicht viel Zeit dort. Das Bad bietet ausreichend Platz um sich auch zu zweit fertig zu machen!
Regina
2016-09-04T00:00:00Z
Es war sehr schön und die gegend war sehr ruhig und entspannt ganz wie erwartet.
Eugen
2017-01-22T00:00:00Z
Pozdrawiam Ine i jej męża. Przywitanie byłe ciepłe i serdeczne. Miejsce wspaniałe do wypoczynku. Gospodarze mili i serdeczni, byliśmy traktowani jak członkowie rodziny, było to bardzo wspaniałe z ich strony. Będąc w tym rejonie odwiedzimy ich znów z prezentami, aby oni poczuli te ciepło również od nas. Serdecznie pozdrawiam i polecam wszystkim te miejsce 100%.
Andrzej
2016-08-11T00:00:00Z
Vielen Dank für die 2 schönen Tage! Wirklich herzlich und freundlich wurden wir von den Gastgebern empfangen, in einer tollen und komfortablen Ferienwohnung. Die Landschaft ist ein Traum, das Neueröffnete deutsche Burgenmuseum per Pkw sehr gut erreichbar und überall im Umkreis gibt es Thermen und Solebäder. Entspannung pur. Wir sind begeistert. Danke für den schönen Aufenthalt. Bis zum nächsten mal! Michael.
MIchael
2016-08-15T00:00:00Z
Die Ferienwohnung ist ruhig gelegen und top ausgestattet. Die Gastgeber haben uns herzlich empfangen und waren jederzeit sehr nett und hilfsbereit. Jederzeit zu empfehlen.
Nicole
2017-02-07T00:00:00Z
Room Type
Entire home/apt
---
Property Type
Apartment
---
Accommodates
3
---
Bedrooms
Hellingen, Thüringen, Germany
The apartment decorated in Shabby-Style is located on the 1st floor. The small, cozy terrace and the adjoining garden are at your disposal. We are surrounded by beautiful scenery with hiking and biking trails. There are to discover many castles and castle ruins. For art and culture lovers, hikers, cyclists and peace seekers :)
The apartment has 1 bedroom with 1 double bed, living room, kitchen and bathroom. It is furnished in a cozy Shabby-Style. A small cozy terrace and the garden are for use. We are a small community in the Hassbergen, surrounded by beautiful scenery. On the hiking and biking trails around the many old castles and ruins can be discovered. The cities of Bamberg, Coburg and Schweinfurt are within 40km. They offer a wide range of art, culture and history. An ideal starting point for excursions to wine and beer Franken :) For active holidaymakers, walkers and of course peace seekers.
What a beautiful and peaceful place! Where antiquity meets the modern. Apartment set in a truly exquisite house and a gorgeous garden in a serene Franconian village with astonishing nature and scenery. The hosts were wonderful, caring, helpful and above all a great family, sincerely taking care of us and our needs. We have enjoyed so much every bit of our stay and whenever we find time again, we will definately visit again! Much love and thank you again!
Nenad
2015-07-16T00:00:00Z
Very beautiful, stylish house, prepared carefuly for guests. We have found everything we need for comfort stay and nice details - sweets, tea. Place is silent, suitable to relax.
Aiste
2015-07-28T00:00:00Z
We were warmly welcomed at the place. The house is big and there was enough privacy for everyone.
Lukas
2015-05-26T00:00:00Z
Wir waren begeistert von Claudias schönem Haus aus rustikalem Naturstein. Es ist wirklich traumhaft gelegen und von sattem Grün sowie einem liebevoll angelegten Garten umgeben. Einfach ideal zum Entspannen und Kopf frei kriegen. Die Ferienwohnung war sehr sauber und aufgeräumt. Die Schlüsselübergabe klappte problemlos über die Schwiegermutter- welche uns sehr freundlich empfing. Die Ferienwohnung war wie auf den Fotos liebevoll und funktional eingerichtet.
Jessica&Bastian
2016-05-29T00:00:00Z
Wunderschöne Ferienwohnung in einem tollen Haus mit Garten. Wir hatten ein super Wochenende. Claudia ist eine hervorragende Gastgeberin, vielen herzlichen Dank!
Philipp
2016-07-25T00:00:00Z
Gemeinsam mit unserem Sohn haben wir 6 sehr schöne Tage in Franken verbracht. Die Wohnung entsprach genau unseren Vorstellung. Die Fotos hatten nicht zuviel versprochen . Sehr herzlich empfangen wurden wir von der Tochter . Süßigkeiten ,Getränke und eine super ausgestattete Ferienwohnung warteten schon auf uns.
Daniela
2016-07-13T00:00:00Z
Wir (ich, meine Frau, unsere zwei Kinder) haben drei Nächte in Claudias Ferienwohnung in Burgpreppach verbracht. Die Wohnung besteht aus Wohnzimmer, Küche, Schlafzimmer und Badezimmer - ideal für eine Familie. Die Zimmer waren schön eingerichtet und alles war absolut sauber. Wir haben Verwandte in einem Nachbarort besucht und deswegen wenig Zeit in Burgpreppach selbst verbracht, aber die gesamte Region ist landschaftlich sehr idyllisch und reizvoll. Wir würden auf jeden Fall wieder hier Übernachten!
Christian
2015-05-17T00:00:00Z
Eine tolle großzügige Wohnung in einem tollen Haus. Sehr idyllisch gelegen. Wir haben die Stille sehr genossen. Prima war, dass wir bei den warmen Außentemperaturen nachts das Fenster auflassen konnten, da es ein Fliegengitter gab. Die Küche ist super ausgestattet, das Bett riesengroß ... Alles war top organisiert und hergerichtet. Kann ich uneingeschränkt weiterempfehlen!!!
Sabine
2016-09-12T00:00:00Z
Room Type
Entire home/apt
---
Property Type
Apartment
---
Accommodates
3
---
Bedrooms
Burgpreppach, Bavaria, Germany
Egal ob Kurzurlaub, Arbeit oder nur auf der Durchreise.... Die Wohnung befindet sich in der Altstadt, nur wenige Meter vom Marktplatz entfernt. Hofheim ist der ideale Ausganspunkt für Wanderer, Radfahrer, Naturfreunde und Ruhesuchende.
Die Küche und das Wohnzimmer sind im 1. Obergeschoss des Zweifamilienwohnhause untergebracht. Über die Innentreppe gelangen sie in das geräumige Schlafzimmer sowie das Bad sind im Dachgeschoss (wegen der offenen Innentreppe ist die Wohnung nicht für kleinere Kinder geeignet). Die Wohnung steht ihnen natürlich zur alleinigen Nutzung zur Verfügung. Das Bett ist 180x200 cm. Bettwäsche, Dusch- und Handtücher sind natürlich inklusive. Die Küche bietet alles was ihr für die Zubereitung von kleinen Speisen benötigt. Backofen mit Kochfelder, Geschirr, Töpfe, Pfanne, Besteck, Kaffeemaschine, Toaster, Geschirrspülmaschine und eine Kühlgefrierkombi sind vorhanden. Für die Wäsche steht eine Waschmaschine und ein Wäschetrockner im Bad. Parken ist in der Straße vor dem Haus kostenlos möglich. Die Städte Schweinfurt, Würzburg, Coburg und Bamberg sind mit dem PKW problemlos zu erreichen und eignen sich ebenso als Ausflugsziel wie der wunderschöne Naturpark Haßberge mit seinen zahlreichen Burgen, Ruinen, kleinen Dörfern und Städtchen.
So good we had to come back! Thanks Thorsten.
Hans
2016-10-28T00:00:00Z
Thornton was a warm, friendly host. He has gone to a lot of trouble to provide everything you could need and a bit more, even chocolates! The apartment is spotlessly clean and modern, while the village is full of charming old buildings. We would love to go back to stay in this apartment again and explore the area which is very beautiful.
Hans
2016-10-18T00:00:00Z
Sehr nette persönliche Begrüßung, tolle Unterkunft, selbst Wasser und Obst gab es. Der Ort ist ruhig, ideal zur Erholung oder als Ausgangspunkt zum Wandern.
Karla
2016-10-16T00:00:00Z
Die Wohnung ist traumhaft schön, äußerst geschmackvoll eingerichtet, liebevoll dekoriert und supersauber! Leckere Marmelade im Kühlschrank sowie frisches Obst und Mineralwasser rundeten die Gastfreundschaft noch ab. Wir kommen gerne wieder und können diese Wohnung absolut und uneingeschränkt weiterempfehlen! Danke an unseren Gastgeber!!!
Ute
2016-10-30T00:00:00Z
Ein sehr schöne und geräumige Unterkunft. Der Empfang mit Obst und Getränken ist ebenfalls sehr sympathisch und gestaunt habe ich, dass sogar Butter und selbstgemachte Marmelade für's Frühstück im Kühlschrank bereit stand.
Patricia
2017-01-10T00:00:00Z
Sehr sauber, wunderbares Badezimmer. Ein insgesamt toller Aufenthalt. Gerne wieder.
Waldemar
2017-01-03T00:00:00Z
Sehr schöne, kleine, saubere Wohnung. Gemütlich und liebevoll eingerichtet. Wir würden jederzeit wieder buchen. 1*
Belinda
2017-03-19T00:00:00Z
Room Type
Entire home/apt
---
Property Type
Apartment
---
Accommodates
2
---
Bedrooms
Hofheim in Unterfranken, Bayern, Germany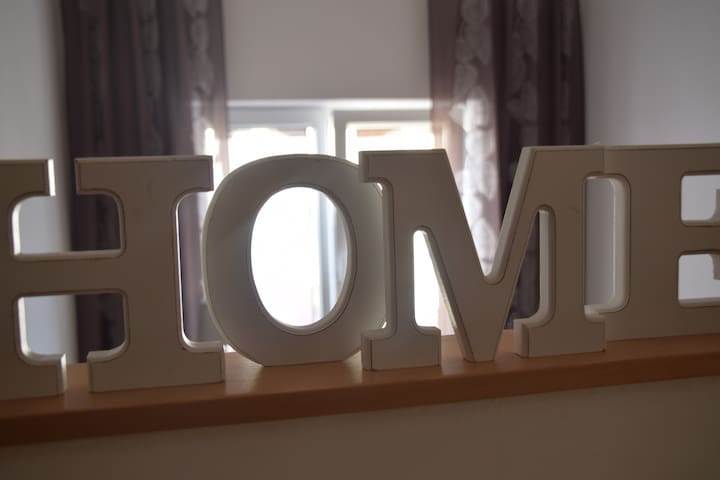 Renovated in 2014. 1-bedroom apartment can accommodate 2 people. The apartment has a fully equipped kitchenette with seating, an open sleeping area with TV connection, a shower room, and a living room in the conservatory. Entering is possible through a separate entrance. The quiet, secluded location in the district Dörflis the romantic half-timbered town of Königsberg (10km) invites you to relax. The cities Schweinfurt (40km), Würzburg (70km) and the World Heritage city of Bamberg (30km) are easily accessible and perfectly suitable as a destination. In the neighboring village there is a Gutsgasthof, can be eaten very well in the. Parking is available directly in the yard.
Very friendly people, exelent appartment increadibly clean. I recommend it with all my heart.
Katarzyna
2016-08-03T00:00:00Z
Ich habe mich sehr willkommen gefüllt. Es waren der Tisch sehr liebevoll geschmückt und Getränke im Kühlschrank. Wirklich super. Danke
Nina
2016-10-05T00:00:00Z
Sandra ist ein ganz liebenswürdiger Gastgeber. Das Appartement ist toll ausgestattet, die Küche hat alles was man braucht, sogar Gewürze, Essig und Öl für Salat usw. usw., alles ist vorhanden. Ein besonderes Erlebnis ist es, dass in der Nacht völlige Stille herrscht, was man heutzutage eigentlich gar nicht mehr kennt. Und wenn man noch was braucht,- keine Scheu, wird besorgt! Der Wintergarten läßt viel Sonne herein, wenns zu viel ist gibt es eine Beschattungsmarkise. Und außerdem eine Terrasse und einen Garten. Eine super Location! Völlig abgeschieden inmitten der Natur der Hassberge und doch in kürzester Zeit verkehrsangebunden auf der Autobahn. Danke für Deine Gastfreundschaft! Hartwig
Hartwig
2016-06-21T00:00:00Z
Die Wohnung liegt sehr schön und sehr ruhig mitten in Franken. Die Gastgeber waren super freundlich und haben sich unglaubliche Mühe gegeben, dass der Aufenthalt für uns schön wurde.
Paulina
2016-07-31T00:00:00Z
Die Gastfreundschaft und Herzlichkeit der Gastgeber ist nicht zu übertreffen! Meine Eltern haben sich sehr wohlgefühlt und kommen wieder!
Katharina
2016-08-10T00:00:00Z
Es war sehr schön bei Sandra. Die Unterkunft ist prima. Toll gelegen und mit einem schönen Wintergarten. Ich kann die Unterkunft uneingeschränkt weiterempfehlen.
Nora
2016-09-12T00:00:00Z
Sehr freundliche und herzliche Gastgeber. Die Wohnung ist mit allem notwendigen ausgestattet, was man für einen Urlaub braucht, sauber und rein. Einziger wermutstropfen: das WLAN ist meist nur auf der Terrasse zu empfangen - wers braucht. Aber das soll ja geändert werden. Danke. Gerne weiterzuempfehlen
Dieter
2016-06-15T00:00:00Z
Room Type
Entire home/apt
---
Property Type
Apartment
---
Accommodates
2
---
Bedrooms
Königsberg, Bayern, Germany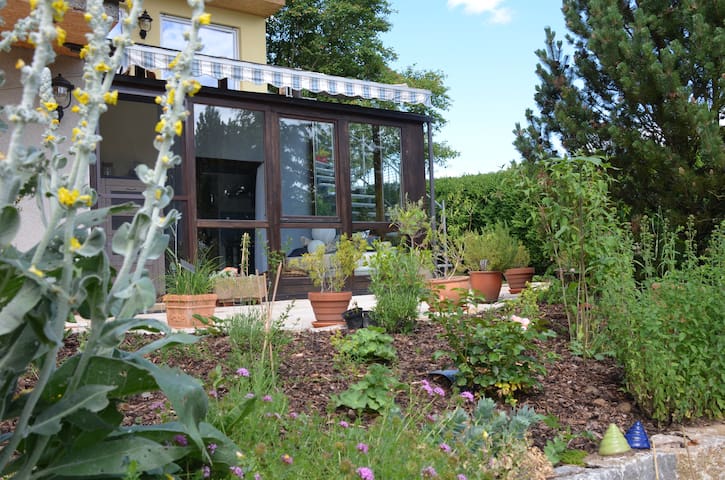 Direkt an den Hängen der Haßberge gelegen, mitten am Kirchberg dominiert seit Jahrhunderten unser edles Bauerngehöft "Haus Christiansn". Der ideale Ausgangspunkt zum wandern unserer eigenen Wanderrouten, zum radfahren, Motorrad fahren oder einfach nur zum erholen.
Liebevoll renoviert vereinigt das Anwesen gediegenes Ambiente mit modernem Flair. Eine ca. 50 Quadratmeter große Wohnung mit kombiniertem Wohnzimmer mit voll ausgestattetem Küchenbereich, heimeligem Schlafzimmer sowie Kinderzimmer mit Etagenbett sorgen für Wohlbefinden. Flachbildschirm und WLAN sind selbstverständlich vorhanden.
Direkt nebenan befindet sich das fränkische Dorfgasthaus "Altes Backhaus" - bekannt für seine Spezialitäten aus dem Steinbackofen. Ebenfalls direkt angeschlossen befindet sich das Vereinsheim der Landjugend Nassach, welches bei vorheriger Buchung perfekt als Seminarraum, Proberaum für Chöre oder Theatergruppen etc. genutzt werden kann. (Bitte beachten Sie hierzu auch die Möglichkeit unsere Gruppenunterkunft (bis zu 19 Personen) zu buchen.
In der Wohnung fehlt es an nichts. Alles da, komplette Küchenausstattung. Man braucht nichts. Essen sollte man schon eingekauft haben, man muss sonst mit dem Auto zum nächsten Supermarkt fahren. Bei schlechtem Wetter gibt es genug Alternativen im Umkreis, ansonsten ist man von wunderbarer Natur umgeben und kann tolle Wanderungen machen.
Carina
2017-04-12T00:00:00Z
Room Type
Entire home/apt
---
Property Type
Apartment
---
Accommodates
4
---
Bedrooms
Aidhausen, Bayern, Germany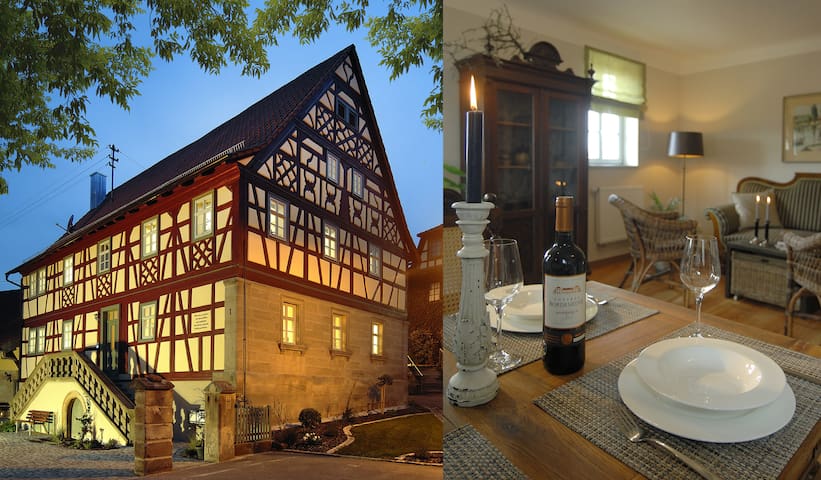 Das Haus befindet sich am Rande eines kleines Dorfes (200 Einwohner) am Rande der Haßberge. Im Dorf gibt es ein altes unbewohntes Schloss, einen Hügel weiter das jüngste Schloss Bayerns.
Das Haus befindet sich am Rande eines kleinen Dorfes (200 Einwohner) am Fuße der Haßberge. Im Dorf (Wetzhausen) gibt es ein altes unbewohntes Schloss, einen Hügel weiter ein weiteres. Man kann hier wandern gehen, Ruhe haben. Im Dorf selbst gibt es nur einen Metzger, der nächste Supermarkt ist 4 km entfernt. Die nächst entfernten Städte (etwa 25-30 km) sind Schweinfurt und Bad Kissingen. In Bad Kissingen gibt es im Sommer ein hochkarätiges Musikfest (Klassik). Es gibt mehrere Kurorte in der Nähe, die Thermen haben. Auch die Rhön ist nicht weit entfernt. Ganz in der Nähe gibt es ein feines Theater. Das Haus, in dem die Wohnung im ersten Stock liegt, ist aus den 50er Jahren und sieht nicht so toll aus. Leider riecht es im Treppenhaus auch manchmal nach Katzen. Aber nicht in der Wohnung! Diese wurde renoviert (außer den Fenstern, das kommt noch) und ist sehr gemütlich. Sie hat einen wunderbaren Blick und man kann sich darin sehr wohl fühlen. Es gibt ein Schlafzimmer mit einem französischen Bett, ein kleines Arbeitszimmer mit Schreibtisch und eine Wohnküche mit Balkon. Das kleine Bad hat eine Wanne. Die sieht nicht so toll aus, weil Vormieter sie mit einer falschen Farbe gestrichen haben, aber sie ist geputzt. Es gibt einen Fernseher. Und, Achtung: Die Wohnung hat Ofenheizung. Warmwasser kommt über einen Boiler. WLAN im Haus. Die Wohnung wird bewohnt von Benjamin, der natürlich nicht da sein wird, wenn Gäste kommen. Bitte nicht in der Wohnung rauchen.
Unten im Haus wohnt eine Frau, die gehbehindert ist, mit ihrer fast volljährigen Tochter. Die Wohnung nebenan gehört jemanden aus Berlin, der selten da ist.
We enjoyed our permanence in the flat only for one night. the flat is spacious and full equipped and in front of the house there is a lake. Also the host is very friendly relaxing and nice time Many Thanks
Francesca
2016-08-26T00:00:00Z
Wir haben uns bei Anne sehr wohl gefühlt,netter unkomplizierter Kontakt und eine sehr angenehme,gemütliche Atmosphäre in der geschmackvoll eingerichteten Wohnung.Schöner kleiner Balkon mit Abendsonne und Blick ins Land.
Jürgen
2016-06-26T00:00:00Z
war alles gut!!! sehr nette Leute
Arman
2016-09-30T00:00:00Z
Die Wohnung war wirklich schön und mit viel Liebe zum Detail eingerichtet. Auch die Vermieter waren uns gegenüber freundlich, hilfsbereit und konnten uns "Insider-Tipps" für Ausflüge geben! Auch an dieser Stelle bedanken wir uns noch einmal für die schöne Zeit und dass alles problemlos funktioniert hat! :)
Judith
2016-08-21T00:00:00Z
Schön eingerichtet. Sehr sauber. Idyllische Lage. Mehr gibts nicht zu sagen. Hat uns gut gefallen!
Sebastian
2016-07-02T00:00:00Z
Die Unterkunft ist ein Traum und Erholung pur! Sauber, Ordentlich und sehr schön gelegen. Ein kleiner Willkommensgruß, Landkarten und Veranstaltungen erwarteten uns auf dem Küchentisch. Ich würde jederzeit gerne wieder hin :)
Florian
2016-07-11T00:00:00Z
Room Type
Entire home/apt
---
Property Type
Apartment
---
Accommodates
2
---
Bedrooms
Stadtlauringen, Bayern, Germany
Meine Unterkunft ist zwischen der Residenzstadt Coburg und der Welterbestadt Bamberg in der fränkischen Obermainregion gelegen. Die mittelalterliche Altstadt von Seßlach ist der Start für Aktivitäten und Erholung. Regionale Kunst und Kultur mit vielen Festivitäten, Restaurants mit gutem fränkischen Essen und lokalen Bier- und Weinsorten, familienfreundliche Aktivitäten (Fahrrad-, Wander- und Bademöglichkeiten) bieten die besten Voraussetzungen für einen abwechslungsreichen und erholsamen Urlaub.
The host canceled this reservation the day before arrival. This is an automated posting.
reinhard
2016-12-12T00:00:00Z
Room Type
Entire home/apt
---
Property Type
Apartment
---
Accommodates
4
---
Bedrooms
Seßlach, Bayern, Germany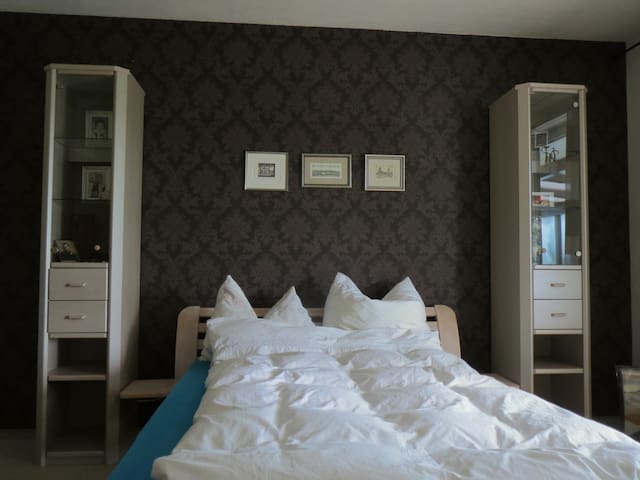 Our family house is located in Eggenbach (district from the market Ebensfeld) below the Sanctuary of Mary pain - between the Upper Main Valley and the Itzgrund. The apartment is designed for 2-3 people.
From the apartment you can start many day trips and sightseeing, or be pampered in the near Obermaintherme: Bad Staffelstein, Staffelberg, Kloster Banz, Vierzehnheiligen Basilica, Lichtenfels, Kronach, Kulmbach, Bayreuth, Sanspareil Rock Garden, Seßlach, Coburg, Schloss Rosenau, Schloss Ehrenburg / Coburg, Veste Heldburg, Wildpark Schloss Tambach, Gößweinstein Castle, Schloss Seehof, Bamberg, Giechburg , Giechburg-Gügelkirche and Obermaintherme
The host canceled this reservation 83 days before arrival. This is an automated posting.
Jörg
2016-04-08T00:00:00Z
Unterkunft entsprach der Beschreibung. Die Sauberkeit war sehr gut. Zum Weiterempfehlen!
Sonja
2016-11-01T00:00:00Z
Es war bis auf das kleinste Detail alles vorhanden, was für einen bequemen Aufenthalt nötig ist! Sehr sauber und einfach zum Wohlfühlen.
Jeanna
2016-08-01T00:00:00Z
Geweldige locatie. Prijs kwaliteit verhouding erg goed. Vriendelijke toegankelijke verhuurder. Goede ligging om omgeving te leren kennen.
Jean
2016-08-08T00:00:00Z
Room Type
Entire home/apt
---
Property Type
Apartment
---
Accommodates
2
---
Bedrooms
Ebensfeld-Eggenbach, Bayern, Germany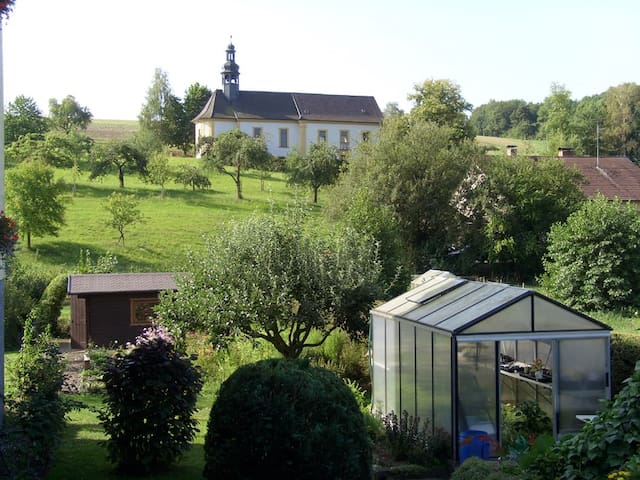 Stettfeld is located directly at the Weinradweg in the beautiful Maintal. No matter whether you want to visit hiking, cycling or excursion destinations like Bamberg, the Obermaintherme, Vierzehnheiligen, Kloster Banz .... from Stettfeld everything can be reached in a short time
Our quiet, bright, non-smoking and pet-free apartment is 65m². The apartment has a fully equipped kitchen. The apartment is certified for 2 persons according to the German Tourism Association with 4 stars.
We only spent one night here but wish we could have stayed longer. The flat is spacious, clean and well equipped. We were warmly welcomed even though we had booked rather last minute and arrived late. The little village is in a beautiful spot and there is clearly lots to do and see in the area. We will definitely come back and spend more time here. Great place, great host.
Lauren
2016-08-05T00:00:00Z
It is a beautiful house. From the moment we walked in we felt in love and we wished we could have spent longer time there. Nice backyard and clean. Everything you need, it is provided in the house. We loved it!!
Jason
2016-07-19T00:00:00Z
All prior information we received were accurate and we found the house all right. It was really great to have the entire apartment just for us! We spent only one night there, but it would be perfect for one week for sure. It has equipped kitchen and big living room, so you feel like at home!
Veronika
2015-04-28T00:00:00Z
Marco was a super host who made us feel very welcome in Stettfeld. Communication with him was excellent. The accommodation was exactly as described, very quiet and peaceful and really five star. Very central location for visiting lots of places. Rained on us in Bamberg so we'll have to visit again.
Heather
2015-08-22T00:00:00Z
We slept in the house for 1 night. The appartment is complete with all things you need for a short and longer stay. The house is on a nice spot, uphill with good views. The bed in the livingroom/kitchen is in the winter not the best place for a good sleep (if you are with 4 persons).
Tim
2015-12-20T00:00:00Z
We had a great experience staying at this place, Marco welcomed us very kindly. The apartment is better than we expected, very high quality and carefully arranged to make any stay a pleasant one. The yard and the view are a very positive addition, but we stayed for only one night and couldn't take advantage of all that was available, but if we get back, we'll make sure is for longer, seems to be worth it.
Cosmin Gabriel
2015-10-16T00:00:00Z
It was great place to stay. Very cozy place, and nice view, too. Pretty big and everything was set for stay. You can cook, of course. I want to visit again. See you next time~
HEERYONG
2016-02-04T00:00:00Z
hallo marco your house is perfect. we had good time during we staid.
hyung won
2016-07-29T00:00:00Z
Room Type
Entire home/apt
---
Property Type
Apartment
---
Accommodates
4
---
Bedrooms
Stettfeld, Bayern, Germany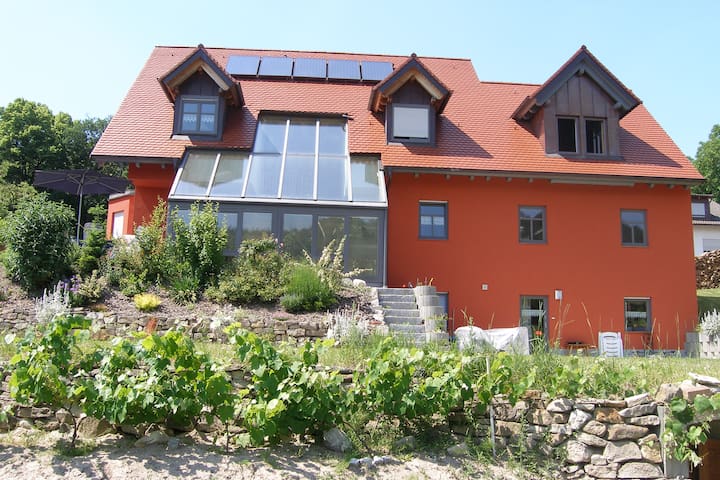 Biking, hiking, swimming in beautiful Franconia ... between Bamberg and Coburg
is very quiet, cycling and jogging right outside the door, shopping on the spot, 2 Franconian restaurants on site, lake at the site
hello thank you very much for this coopetration. That was pleasure to stay at your place. Perfect comunication and all service. With BR Olga
Olga
2016-06-05T00:00:00Z
Anita's Airbnb is perfect! We enjoyed being bit out of town, and her place was beautiful, comfortable, quiet and well-stocked. We enjoy having a kitchen and bought groceries to eat at the house. There was a washing machine and great weather / space for line drying outside. Our beds were comfortable and everything worked as expected. We had a parking space right out front and wifi was fast. Although Anita wasn't there for much of our stay, she checked in with us to be sure all was going well. Could not have asked for a better stay!
Heidi
2016-09-27T00:00:00Z
Perfect, perfect, perfect!! We loved staying at Anita's house! Wonderful hosts, beautiful location, house is awesome. Highly recommend it! We will definitely be back in the future!! Thank you for a wonderful stay! Judy, Jody, Katie and Sam
Judith
2017-04-03T00:00:00Z
This apartment was better than we expected and so perfect for our family. We truly felt like we were in a home away from home. Anita and her family are so nice, helpful and hospitable. The apartment has everything you could need, it was comfortable and spacious for our family of 4. My wife and I had our own room and our 2 daughters each had their own separate sleeping rooms. The neighborhood is peaceful and beautiful. We love it here and plan to come back.
Gerhard
2016-12-28T00:00:00Z
As a foreigner, traveling abroad, we were all quite ready for the rest and relaxation after several days of travel. This was the perfect spot for us to rest our heads for the night. (Originally, we had planned to stay for a few nights, but unfortunately, we were inconvenienced by construction in the area that severely impacted our stay.) Happily, Anita was able to work with us through all of this most graciously. A beautiful home and a beautiful area. Highly recommend a beer at the local bar across the street in this quaint town.
James
2016-04-22T00:00:00Z
This is a lovely house near to Bamberg. The hosts made us feel very welcome and saved us from hunger! We arrived during a religious festival and no shops were open for two days. We were given a food hamper to help us out and it was well received...thank you. If you are a coffee lover then you'll love this place as there are 5 ways of making coffee! The house is spacious and has its own entrance. We really liked it here and highly recommend it.
Nick
2015-08-19T00:00:00Z
We had a great time in the place! The apartment was perfect for us, to me looked even better than the pictures. Well equipped too, very homely. Anita and her mother were great and very welcoming, really nice to meet them. Ebing is a quiet little town, it's a good base to go to Bamberg, Coburg, and all the castles, monasteries and sights in the surroundings. Would definitely stay again.
Maarten
2015-06-17T00:00:00Z
My family and I cannot express how much we enjoyed our time at Anita's home. It was an oasis to return to after a long day of sight seeing. It had all the amenities and comforts one needs while traveling. Full kitchen, washing machine, and comfortable beds are just a few features that made our stay perfect, so much so that we asked to extend. It was wonderful to meet Anita and her mom, along with Izzy, the luckiest dog ever! Thank you so very much:)
Lori
2016-07-19T00:00:00Z
Room Type
Entire home/apt
---
Property Type
Apartment
---
Accommodates
4
---
Bedrooms
Rattelsdorf, Bayern, Germany
My house is near Bamberg, Coburg, boars, Hassfurt, Zeil am Main, German Burgwinkel Altenstein, Lichtenstein, Eyrichshof, Burgpreppach, Coburg, Kloster Banz, Sanctuary Vierzehnheiligen, climbing Banz, Thermal Bad Staffelstein, swimming boars Monster excavators Park Rattelsdorf Wild Park Tambach, Kids Playland Frohnlach, Say path through Lichtsteiner rock labyrinth, wine tasting. My accommodation is good for couples, solo travelers and Business Travelers.
Room Type
Entire home/apt
---
Property Type
Apartment
---
Accommodates
2
---
Bedrooms
Ebern, Bayern, Germany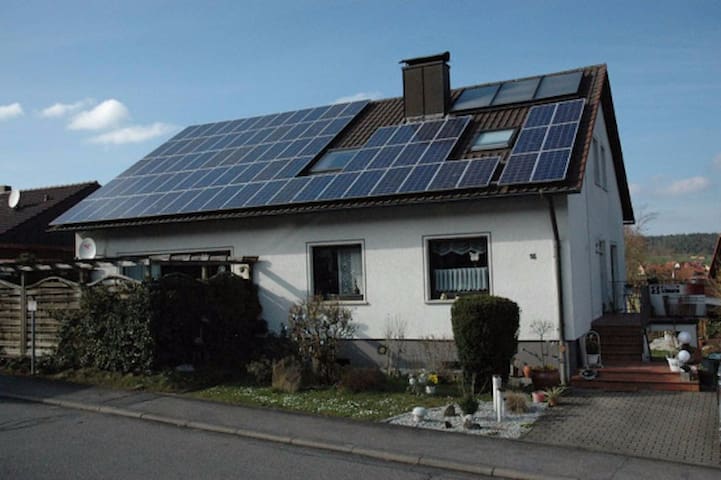 Here it is possible the rooms in a sensational property in 97483 Eltmann to rent. There are 6 shared apartment of 16m² to 30 m², spread over two floors. As the common room there ca.25m² an approximately 50 m² large living-dining room (incl. Fireplace) with adjoining kitchen (about 11 sqm) and pantry (ca.5m²) and the dining room. A shared balcony can be used for smoking or relax. The decor in the living room, kitchen and bathrooms is very high.
Sehr nette Gastgeber, es gab sogar Kuchen :). Alles war perfekt, VIELEN DANK!!!!
Tq
2016-08-14T00:00:00Z
Wir hatten in Eltmann einen ganz tollen Aufenthalt. Wir haben Silvester 2016 hier verbracht mit 4 Päärchen. Die Kommunikation und Organisation war völlig reibungslos und freundlich. Die Wohnung ist absolut klasse und Marios Eltern, die unten wohnen, haben uns sogar den Ofen angemacht, weil wir Stadtkinder keine Ahnung davon hatten. Die Küche ist schön funktional und es ist super viel Platz. Die Nachbarschaft ist dörfisch, ruhig und die Menschen sind sehr nett. Sehr zu empfehlen.
Christopher
2017-01-02T00:00:00Z
Room Type
Entire home/apt
---
Property Type
Apartment
---
Accommodates
6
---
Bedrooms
Eltmann, Bayern, Germany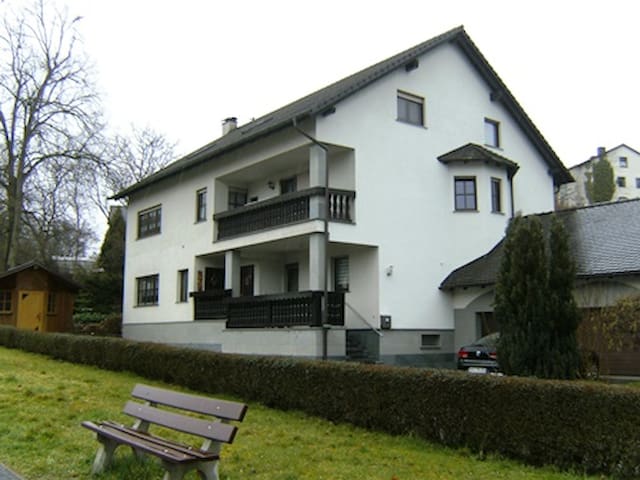 *more pictures coming soon* *GARDEN/YARD IS NOT AVAILABLE FOR USE CONSTRUCTION/RENOVATION ** but the patio/Terrasse is available * there are Bike roads and hiking throughout the Steigerwald. We are 15 min. from Bamberg 20 min from Hassfurt
Room Type
Entire home/apt
---
Property Type
Apartment
---
Accommodates
3
---
Bedrooms
Oberaurach, BY, Germany
We offer relaxing days between Schweinfurt and Bamberg in beautiful Stettfeld. The two-room apartment has about 65 m² Light-filled kitchen with a sunny breakfast terrace. The built-in dining table seats four people. Modern living area with sofa bed, Sat / TV flat screen, free Wi-Fi. Bathroom with walk-in shower / WC; Washing machine. Bedroom with double bed 180x200 and space for a travel cot and a large closet.
Room Type
Private room
---
Property Type
Apartment
---
Accommodates
4
---
Bedrooms
Stettfeld, Bayern, Germany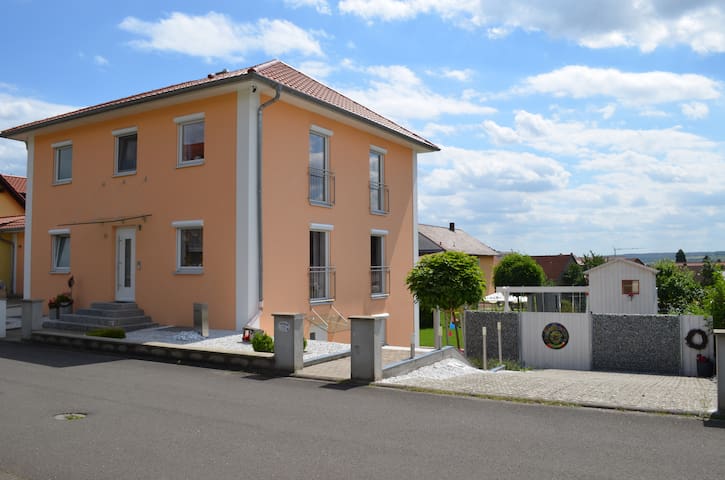 AB 12/09/2016 FIRST rentable - ALL NEW The redeveloped apartment is centrally located in the wonderful old town of Coburg Veste inclusive view. In the middle of the Gastro mile Coburg and yet totally quiet. Shopping opportunities, restaurants and bars are just around the corner. A few minutes walk you reach attractions, train / bus station, park, theater, fitness center, cinema ... IN SHORT >>> SUPER LOCATION - A BEAUTIFUL NEW APARTMENT FOR TOP PRIZE :)
We have refurbished the entire apartment and refurbished. Quite everything available and NEW >>> bathroom, kitchenette, living room / bedroom, 2 x single beds, desk, TV, wireless Internet, dishes, pots / pans, utensils, kettle, microwave, iron and ironing board, fresh bed linen and much more :)
Everything was Perfect ! Fast communication, more friendly and perfect place in the Center of the City . Super ! Thanks ;)
Gerardo Michele
2016-12-14T00:00:00Z
Super !
Markus
2017-01-29T00:00:00Z
Tolle Wohnung mit perfekter Ausstattung und super Lage in der Innenstadt! Die Schlüsselübergabe verlief freundlich und unkompliziert. Nima hat immer schnell und zuverlässig auf unsere Fragen und Anliegen reagiert! Wir kommen gerne wieder!
Nabila
2017-02-04T00:00:00Z
Nima ist ein super Gastgeber, sehr zuvorkommend und verlässlich. Hat alles sehr gut geklappt. Absolut zu empfehlen.
Maria Agnès
2016-12-24T00:00:00Z
Super Lage, schöne Wohnung. Hatten eine gute Zeit in Coburg! :)
Bianca
2017-03-02T00:00:00Z
Super netter Vermieter, mega Lage zentral in der Innenstadt. Einfach zu empfehlen!! Komme gerne wieder
Andreas
2017-03-25T00:00:00Z
Super zentral gelegen und ganz neu renoviert - hat alles, was man braucht: kleine Küche, sauberes Zimmer mit zwei Betten, helles Bad, Schreibtisch, WLAN, TV und einen Blick auf die Veste Coburg.
Thilo
2017-01-27T00:00:00Z
Die Lage ist super, die Wohnung auch, es ist alles neu renoviert, ruhig und einen tollen Blick auf Coburgs Wahrzeichen.
Lothar
2017-03-08T00:00:00Z
Room Type
Entire home/apt
---
Property Type
Apartment
---
Accommodates
2
---
Bedrooms
Coburg, Bayern, Germany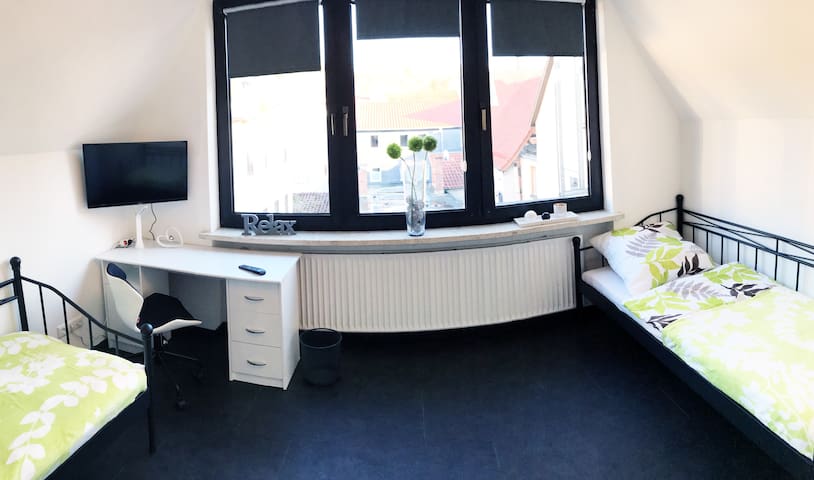 Fully equipped apartment, 70 m2, with sauna. Bedroom with full-size double bed. Comfortable bed couches in the living room. Two 46cm-high mattresses for 5th and 6th guest. Prize applies for 2 guests. Each further guest 25€/night. You are 12 km from Bamberg (10-15 min. by car to center, motorway access). Parking in front of garden door. Internet access. Oven, washing machine, TV. No cleaning fees. Supermarket and Franconian restaurant / brewery 3 min. by car.
My village is situated between the Franconian beer region around medieval Bamberg and the vine region to the west. Good to explore both.
The house with the apartment is situated in a quiet surrounding.
Lovely host and lovely place . My friend and i where on a roadtrip and wanted one day to rest (and he needed to work). This was perfect for us. Everything is well designed and comfortable and convenient and spacious. The place was very clean and there was some food for us and teas and snacks. I was allowed to do my laundry which was great! We didn't explore the town I was there to finally laze about and I used the sauna ( 5euro extra for each person ) which was lovely whilst my friend worked. We both enjoyed this relaxing break . Thank you !
Sammar
2016-10-23T00:00:00Z
Agathe was a very nice host. She welcomed us by arrival and prepared everything for us. The place was big, clean and comfortable, the surroundings quiet and idyllic. Everything was great.
Kejia
2016-11-19T00:00:00Z
Agathe made us feel very welcome. The apartment is very spacious and comfortable. We would have been very happy to stay longer. Agathe provided us with cake and the following day accompanied us to Bamberg and was a tour guide for us along with her husband George. The apartment is an easy drive to Bamberg and there is public transport as well. I would highly recommend this apartment
Hugh
2016-08-28T00:00:00Z
We arrived late to the apartment, Agathe greeted us and showed us around, she even put some water and fruit for us. The place is BIG and can hold a family easily. The village was very quiet. we stayed only for 1 night so not a lot to say. We came with a car and didn't have problems with parking places
amir
2016-10-01T00:00:00Z
very nice appartement with lots of space. everything was very clean and the communication with Agathe perfect. Extremely nice where the little extra's like food for our dogs, some food and two bottle of water for us. despite the soft matresses we slept quite well. wish we had more time to stay longer.
Paul
2016-09-30T00:00:00Z
The host canceled this reservation 11 days before arrival. This is an automated posting.
Eva
2016-09-06T00:00:00Z
Agathe's apartment was amazing! Very spacious and warm and with a sauna! Perfect for a romantic getaway! Thanks Agathe!
Francisco
2016-12-09T00:00:00Z
This was a wonderful find! Incredible apartment, very spacious and bright, fully equipped, spotless, and very comfortable. Not too far from Bamberg. We are only sorry that we didn't get to meet Agathe, but her son was very nice and helped us get settled. We had to go to the next town to get food, but it wasn't very far, and there was a very large modern grocery store about 6 km east. If you are coming by bicycle you should know there's a bit of a climb to get to Agathe's from the Main bicycle path.
Lois
2016-09-28T00:00:00Z
Room Type
Entire home/apt
---
Property Type
Apartment
---
Accommodates
5
---
Bedrooms
Viereth-Trunstadt, Bayern, Germany
1

–

18

of

251 Apartment Rentals
Enter dates to see full pricing. Additional fees apply. Taxes may be added.