NOELLE CHARLES-MERRILL - Own a little piece of Historic Byron! Charming turn of the century farmhouse with yesterdays charm & todays features. Updated & meticulously maintained. Private large fenced yard, huge driveway, screened porch, designer paint, newer carpet & much more. Farmhouse Couture at its best! See Virtual tour
Room Type
Entire home/apt
---
Property Type
House
---
Accommodates
2
---
Bedrooms
Byron, CA, United States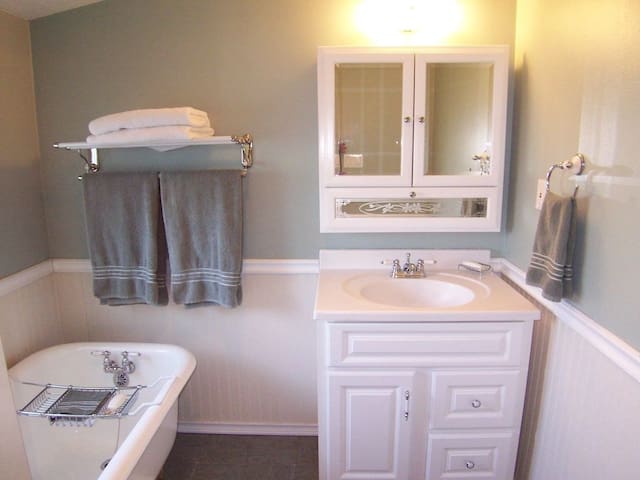 Come spend some sometime and discover the beauty of California - on the California Delta. This is a 1800 SF open floor plan- house on deep water and can accommodate large boats - 20 min to fast water. Calm, peaceful and classy you will love waking up to the sun and your deck. We love living here, and the supermarket, stores, restaurants and coffee shop are only a walking mile away!
On the deep water access, massive Viking gas stove and gourmet kitchen with skylight, quiet and peaceful sleep. Wonderful open floor plan. Upscale feel. House is fully tiled with traverine tile throughout. There are three comfy rooms with queen sized beds. Two baths; the hall bath has a jacuzzi tub, and the master has dual, his and hers showers with a skylight.
We love that we are central to all wonderful day trips in California. We are part of the California delta- a thousand miles of fresh waterways - champion fishing and exciting boating and water sports. Come stay in the middle of ranch and farm country - getting your fresh fruit and nuts from the local growers. Come sample our award winning wine from up and coming regions. Two wineries are less than 2 miles away! Explore an hour and some change - San Francisco, Napa, beaches (half moon bay), Silicon Valley, Apple, etc). A couple + of hours away is Yosemite, Carmel and Tahoe all making a perfect weekend - or just enjoy the view from the back yard - your private deck and dock.
We only stayed 1 night but it was very relaxing and peaceful! Sorry we didn't get a chance to meet, we hope to enjoy your home again soon & enjoy your company. Fabulous place to stay even for a short time!!
Dana
2016-09-24T00:00:00Z
Beautiful home right on the water. It had a large amazing deck with comfortable seating and nice views. The kitchen was impressive! We loved the open layout that let us cook and have conversation at the same time. It was convenient to have access to the boat dock to tie up our boat. K & K were responsive and welcoming.
Stephanie
2016-10-23T00:00:00Z
Rented the whole house for just one night (darn!). All 6 of us enjoyed the peace & quiet of this lovely home and relaxing deck. Pictures are right on! Unfortunately we didn't get to meet K or K, but enjoyed our emails and definitely enjoyed our stay. Will come again if the need arises! Thanks!
Brian & Judy
2016-09-11T00:00:00Z
We had a great time, super location, comfy house, all good!
John
2016-10-09T00:00:00Z
Ken and Kat agreed to let my company host a team building event at their lovely home in Discovery Bay. They were very accommodating and helpful. They had breakfast treats, bottled water, coffee and tea ready when our team arrived. The setting on the water, the comfort and cleanliness of their home and the general vibe was perfect....beyond exceptional.
Kim
2016-09-28T00:00:00Z
Fiance loved the place. They had an awesome weekend.
Brandon
2017-04-02T00:00:00Z
We had a nice time staying at Ken's house. It was nice, peaceful and relaxing. It's was our first time to Discovery Bay and we really enjoyed it. Ken was able to provide us all the necessary info making the trip convenient.
Joe
2016-09-17T00:00:00Z
Yeh house was very clean and it was well stocked. The outside patio area was awesome.
RIchie
2016-12-27T00:00:00Z
Room Type
Entire home/apt
---
Property Type
House
---
Accommodates
6
---
Bedrooms
Discovery Bay, CA, United States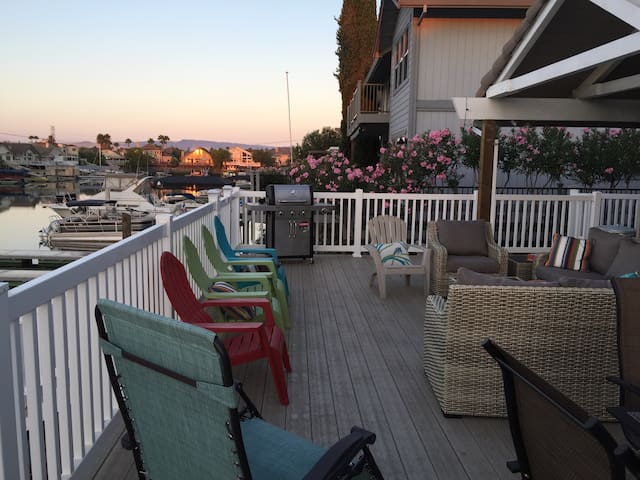 Get away from it all and relax in our beautiful waterfront home in Discovery Bay! Situated along Willow Lake, enjoy the sunset on a warm summer's evening with your favorite people by your side. Our home is also less than a hour away from San Francisco and Napa Valley.
Enjoy this amazing waterfront 3 bedroom with plenty of activities right outside your door! This updated and spacious home, has a beautifully appointed living room with a pool table, open floor plan, and updated kitchen - perfect for cooking and enjoying family time. This gorgeous residence is a fantastic accommodation choice for families looking to get a taste of California while still having all the comforts of home. The spacious first bedroom has a luxurious and comfy king size bed and attached full (URL HIDDEN) second bedroom features a comfy full size bed. The third bedroom can accommodate 3 or 4 comfortably with a queen bed and full size futon bed. There is a second bathroom as well. The gorgeous backyard sits against the water and is a wonderful spot for relaxation. The deck is spacious and perfect for picnics outside. There is a driveway to park 2 cars.
Activities in this beautiful area include sailing, golf, swimming, water skiing and boating. Also fishing right from the deck. You can also choose to go to wine country or San Francisco in just an hour drive from the house or go hiking to Mount Diablo.
This house was extremely relaxing and comfortable with a gorgeous view off the deck. We could not be happier and hope to return some day! BTW we had 4 kids and it worked really well. You need to monitor them near the water (obviously) but they loved it too. Eat outside with a view of the water, cuddle up and watch a movie together, the whole thing was tons of fun.
Sara
2017-03-31T00:00:00Z
Really nice spot !
Thomas
2017-03-19T00:00:00Z
I love It!
Kay
2017-04-02T00:00:00Z
Room Type
Entire home/apt
---
Property Type
House
---
Accommodates
8
---
Bedrooms
Discovery Bay, CA, United States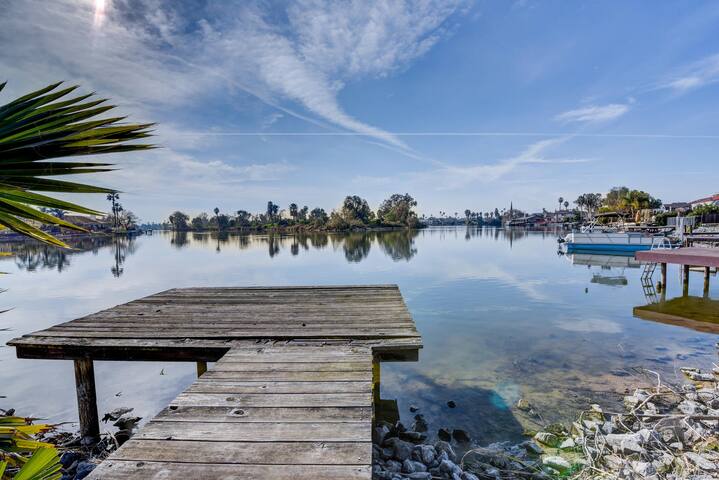 You've worked hard all week, it's time to take some time off and relax at our special lake house in Discovery Bay. With a view like this from your backyard you won't believe you are just a short drive from SF or East Bay. Fish, BBQ or just R&R.
This newly renovated lake house is so special to our family. My boys love to fish, swim and play in the front yard. Every time we are here we feel like we have traveled thousands of miles. The stress just melts away. **THE HOUSE IS LOCATED ON THE LAKE SIDE SO THERE IS NO ACCESS TO THE DELTA AND BOAT LAUNCHING IS NOT ALLOWED. HOWEVER, THE DISCOVERY BAY YACHT HARBOR IS LESS THAN 2 MINUTES AWAY AND BOAT LAUNCHING IS ALLOWED THERE AND THERE IS ACCESS TO THE DELTA.
This is the cutest neighborhood. Everyone is so friendly but they respect your privacy. During X-mas there is even a boat parade that goes by all the houses on the lake! The marina is a 3 minute stroll where you can dine at the Boardwalk Grill or grab a (email hidden) or shop along the boardwalk. There is a 24 hour Safeway grocery store about 5 minutes away along with Starbucks, CVS a Sushi restaurant, McDonalds and more. Brentwood is 20 minutes away. There they have EVERYTHING, movie theater, restaurants, shopping and depending on when you come, there are many festivals as well. Last but not least there are several peach, cherry, apple… orchards, fruit stands and even wineries only a short drive away. **THE HOUSE IS LOCATED ON THE LAKE SIDE SO THERE IS NO ACCESS TO THE DELTA AND BOAT LAUNCHING IS NOT ALLOWED. HOWEVER, THE DISCOVERY BAY YACHT HARBOR IS LESS THAN 2 MINUTES AWAY AND BOAT LAUNCHING IS ALLOWED THERE AND THERE IS ACCESS TO THE DELTA.
Amy's place was spacious, calm and quiet, just as we hoped. We loved doing our morning PT jogging around Disco Bay. The deck was nice, especially our 2-year-old son loved to play on it. Regrettably the water in the delta was not very attractive, and we did not swim in it. Newly renovated kitchen and the appliances were perfect for our needs. The AC upstairs was not powerful enough for our preferences, but we left the bedroom windows open in the evening for some hours and got the rooms to cool down nicely. We could visit again.
Paula
2015-06-26T00:00:00Z
Discovery Bay is such a clean, enjoyable community and Amy's house fits the mold. The view of the lake from their back patio is just a perfect setting. As great as the house is, I can't say enough about the owners and how willing they are to ensure you enjoy your stay. I had a family emergency during my stay and without getting into detail, I will say that Amy and her husband made every effort to help where they could. It was sincerley a warming experience to wittness that kind of support.
Arthur
2015-11-29T00:00:00Z
Amy was a fantastic, accommodating host. Her home is even more beautiful than the pictures show.
Donny
2016-06-08T00:00:00Z
Easy, clean, releaxing, peaceful and a really great view!
Nick
2015-09-22T00:00:00Z
Had a great time at Amy's beautiful home in Disco Bay. Large indoor and outdoor areas to enjoy with our group. Close to the boat launch which made for easy access to the Delta. Will definitely be returning for another great weekend here!
Jeremy
2015-05-04T00:00:00Z
Beautiful house and great location. We had a really peaceful and relaxing stay here, and the host was helpful and responsive in every way.
Arrun
2016-09-18T00:00:00Z
Amy house is amazing! Recently renewed, wooden and cozy furniture and floor. We had a great time, with a superb view on the lake. Really recommendable to enjoy the view from the terrace. Amy was a super helpful and easy going hosting. We did not have the chance to meet in person, but all run smooth and easy. Ferran
Ferran
2016-07-20T00:00:00Z
Amy was a lovely host. Her home and the neighborhood are perfect for a relaxing getaway.
Adrian
2015-09-14T00:00:00Z
Room Type
Entire home/apt
---
Property Type
House
---
Accommodates
6
---
Bedrooms
Discovery Bay, CA, United States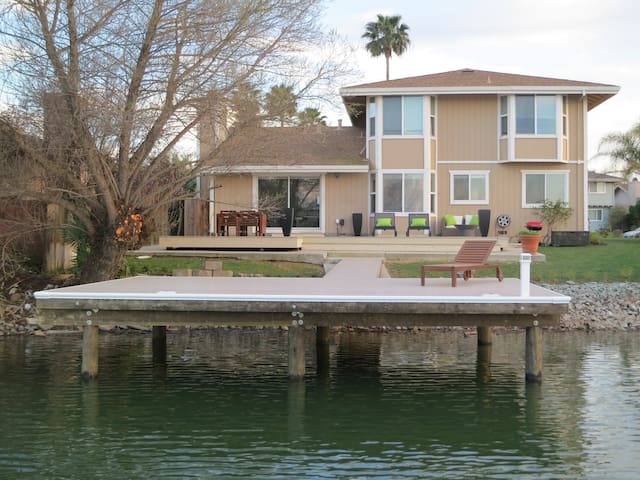 For more information please watch the video link or copy and paste the below link on your browser. (URL HIDDEN) 3300' beautiful home great for, boating, fishing, etc. Perfect for rewarding your employees w/a retreat or a peaceful gathering w/friends & family. Patio & lounge chairs for sun bathing & relaxation. 2 king, 3 queen size beds, 2 futons, pool table+
You can enjoy the following activities in this beautiful area: Sailing, golf, swimming, water skiing and boating. Also fishing right from the deck. You can also choose to go to wine country or San Francisco in just an hour drive from the house or go hiking to Mount Diablo.
A Safeway, fast food and gas station shopping center is withing 10 minutes of the house.
House was easy to find, clean, spacious. Nice view and amenities
Abigail
2016-09-12T00:00:00Z
This house comes as advertised, for the most part. The house has a great layout for a nice relaxing weekend on the delta. The back deck is awesome, as is the dock. We had very little in the way of criticism. The only issues were no cable TV, despite the house having a very nice TV in the main room, and no usable cues for the pool table. The cues were there, they just had broken tips. My only other picadillo would be the lack of a gas range, as I love to cook, and hate electric stoves. But that is really just a personal preference, and not something that I feel the host should change. We had a great time at this house and absolutely recommend it to anyone looking for a great spot to have a modest get-together in a fantastic location.
Fletcher
2016-09-25T00:00:00Z
We have a unforgettable Christmas here,everything is perfect and comfortable,Hope to come back soon.
Ronnie
2016-12-26T00:00:00Z
Amazing house! It was everything in the description and then some. Beautiful setting in a quiet neighborhood with lots of space.
Doug
2016-05-13T00:00:00Z
Host was lovely. We had everything we needed and the house was gorgeous. Monte was simultaneously responsive to communication and hands off, which was just perfect for us. The deck is gorgeous and the sunsets! Wow! Would highly recommend and would be delighted to stay again.
Rachel
2015-11-15T00:00:00Z
Monte has a nice place. We had wonderful time. Hosts are very responsive and helpful. Overall we had a good time.
Satish
2015-11-23T00:00:00Z
Monte was a great host checking on us when we arrived and answering any questions we had promptly.  The home is beautiful, inside and out.  We enjoyed the fireplace and playing pool. The kitchen has all the pots and pans and dishes you need for a home cooked meal. The towels are well stocked and linen is available for every bed and futon in the home.  The view from the back deck is stunning and was a great back drop for lovely wedding photos.  We had a great time with family, the space and all the comforts of home only added to our great wedding celebration.  
William
2016-03-06T00:00:00Z
The house is just as described, spacious, clean and had great lay out. It's a great house to entertain large groups. The back patio is phenomenal with multiple tables, chairs, chaise lounges and hammocks. The house is well stocked with extras that don't seem like a big deal at first, but end up making for a much more enjoyable experience... towels, patio chars, blankets, plates, utensils and garbage cans. The pictures don't do this home justice. The location has it's upside and downside. The upside is how close it is to the nearest retail locations. There is a Safeway, Starbucks, McDonalds, and CVS within a two minute drive. The downside is how far it is from fast water on a boat. It takes about 25 minutes of cruising through 5 mph/no wake zone to get to fast water, so be prepared for the trip out and back. Also, just a head's up - the TV in the living room is great (a large flat screen), but he TV stations are limited. I am a huge sports fan and ESPN is not part of the cable package at the house. Overall, I would highly recommend this home. The house was beautiful and I actually think it looks better in person than it does in the pictures.
Justin
2016-09-06T00:00:00Z
Room Type
Entire home/apt
---
Property Type
House
---
Accommodates
12
---
Bedrooms
Discovery Bay, CA, United States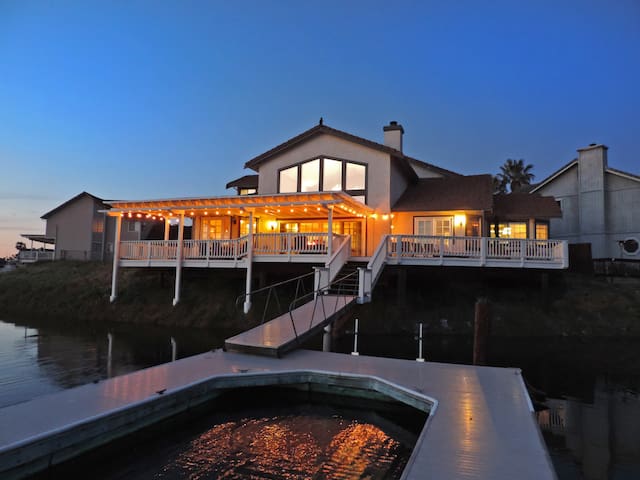 Beautiful, spacious 3300 sq. ft 2 story home with deep water access. access to side of dock for your boat. 2 paddle boards also included for your enjoyment. Large deck with your choice of propane or charcoal BBQ! Beautiful granite kitchen and baths. Entertainment room offers pool table, card table, and air hockey. 4 bedrooms can sleep 12 total. Master bedroom offers Jacuzzi tub and dual showers.
Close to fast water
Room Type
Entire home/apt
---
Property Type
House
---
Accommodates
12
---
Bedrooms
Discovery Bay, CA, United States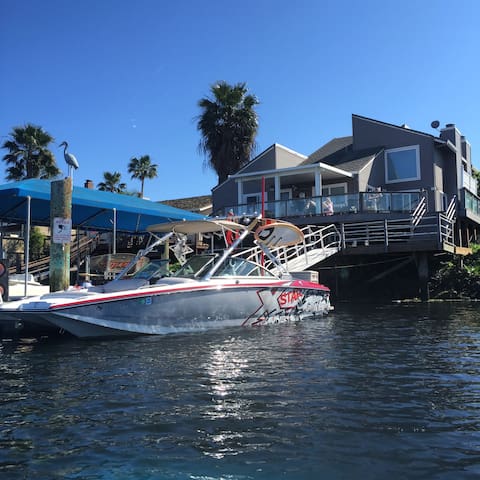 1.3 hour from San Francisco, 1 hour from Napa wineries, and located along a secluded cove with Delta river access, this cozy home offers awesome views from the deck, and is a great place to kick back and relax with family and friends! Amenities include BBQ grill, 2 kayaks, pedalboat, rowboat, and a deepwater berth/boatlift. Water is nice for fishing, swimming, kayaking, boating and lounging on floats. Park your boat at your backyard. fruit-picking farms are here too. Go for it on Summer months !
Indoor: Keyless access to the house Two-car driveway Formal dining room High-speed internet (wifi) HDTV with local channels and HDMI hookups Integrated wall speakers with 3.5mm headphone input (plug in your iPhone/iPod/mP3 player to listen to your favorite music!) Separate bar area with sink Fireplace (pellet-fueled) Storage leather ottomans in bedrooms, entry way and living room. Fully-equipped kitchen: - electric stove & oven - full-sized refrigerator/freezer with ice maker - dishwasher - microwave - toaster & toaster oven - coffee maker (coffee & condiments too) - basic pots and pans - cooking utensils & knives - cooking oil + common condiments - serving trays & pitchers - plates, bowls, cups, and utensils Available by request: (make sure request is made at least one weekend before check-in) - blender - waffle iron - panini press - small rice cooker (1-5 cups) - large rice cooker (3-10 cups) - hot water maker - electric hand mixer - Crock-Pot (slow cooker) - quesadilla maker - iron+ironing board Master bedroom: - attached bathroom with double sink, shower, and large bathtub - walk-in closet Outdoor: Large stainless steel Infra-red Charbroil propane grill Two-tiered deck decorated with fresh hanging plants, sago plants, and a huge tropical- like plant and more... Padded lounge chairs and a set of beautiful adirondack chairs Outdoor dining table with chairs and umbrella Large adjustable free-standing tilt umbrella (cantilever) Deepwater berth and boat hoist Water toys and multiple life jackets on the dock - single-seat kayaks (2) - 5-seat pedalboat - 5-seat rowboat - pool noodles/lounger
Quiet, residential neighborhood developed around the 80's, about 7-minute drive from the following: - a shopping center with Safeway supermarket, CVS general and drug store, gas station, McDonalds Restaurant, Starbucks, Subway, UPS store, a salon and other specialty restaurants and pizza places. - Discovery Bay Yacht Harbor, which features a boat launching area, berths for larger boats, fishing and tackle shop, restaurant, and gift shops - Lots of farms nearby for fresh fruit and produce for sale and to pick yourself such as peaches, nectarines, cherries and corns if these fruits are in season. - RV parking/resorts located nearby along Highway 4. About 15 minutes away on Highway 4: - 15 mins. drive to the city of Brentwood and Antioch, where shopping centers offer lots of restaurants, Target, Kohls, and other big box retail stores, pet store, Lowes and Home Depot hardware stores and movie theaters. Beyond this area; can visit these places by car and/or public transportation - about 1.2 hour from UC Davis - about 1 hour to Sacramento, California - about 1 hour from UC Berkeley - about 1 hour away to Napa Valley, wineries, and 1.4 hours to San Francisco - about 1 hour from San Jose/Silicon Valley - a big golf course right here in Discovery Bay for golf enthusiasts.
This house is a great Disco Bay getaway! The lower deck has two patio tables with plenty of space for group meals. The dock has a handy boat lift and even has kayaks and a paddle boat for cruising around close to the house. Inside, the kitchen and bathrooms are modern and spacious. Air conditioning is available if it gets too hot, otherwise the ceiling fans are great. Garnet is a gracious and responsive host. Overall, a wonderful stay!
Leslie
2016-08-07T00:00:00Z
GarNet made this family trip easy and smooth for everyone. The house was very clean and she was an awesome communicator. I would love to stay in this home again.
Joel
2016-11-13T00:00:00Z
We were able to check in early. Everything was very nice and very clean. It was nice to be able to use the kayaks and paddle boat. Discovery Bay is over an hour away from San Francisco. Truly a beautiful home(URL HIDDEN)
Doreen
2016-09-24T00:00:00Z
What a great house with an amazing view. We can't wait to do it again.
Leah
2016-08-29T00:00:00Z
Garnet was very quick and helpful in responding before our trip to questions we had. During and after the trip, also quick to respond. The home was exactly as described. Wonderful cozy home! We loved it! Our family and visitors also thought the home was perfect and would love to rent it again! The water was more green, allege, then usual but thats just due to the lake water. I was just at the delta a few weeks back and it wasn't nearly as green as this time, however still nice and the location was perfect! Great home and Great host!
Crystal
2016-08-04T00:00:00Z
My associates had rented GarNet's home and had a very nice time. They said the place was beautiful and peaceful. Everything was exactly how it was described. We would definitely stay there again.
Annie
2016-07-31T00:00:00Z
This is a reasonably priced home at Discovery Bay. We were their first guests so some things were still being ironed out. There was a problem with the AC that the host was not aware of until our stay. They were very proactive in communicating with us and attempting to get a repair man out to the home for repairs. The AC was not fixed due to it being a holiday weekend but we appreciated them trying. The house was a nice 3 bedroom on the water that provided a great vacation for us. The only other thing I would say was a concern was that check in was at 3pm and the owners were still there cleaning out the refrigerator and until approximately 4pm. Overall a lovely home and we enjoyed our stay.
Heather
2016-07-05T00:00:00Z
We had a very pleasant stay at Garnet's discovery bay home. Very spacious home, clean, well equipped with all amenities required for large groups. We enjoyed the back yard with a barbecue grill and access to the bay - nice evening hang out place. The neighborhood was quiet and idyllic with the Safeway supermarket, restaurants about 10 mins away. Garnet was prompt with any queries and was kind enough to ship over some things that we left at the end of the stay.
Felix
2016-07-24T00:00:00Z
Room Type
Entire home/apt
---
Property Type
House
---
Accommodates
10
---
Bedrooms
Discovery Bay, CA, United States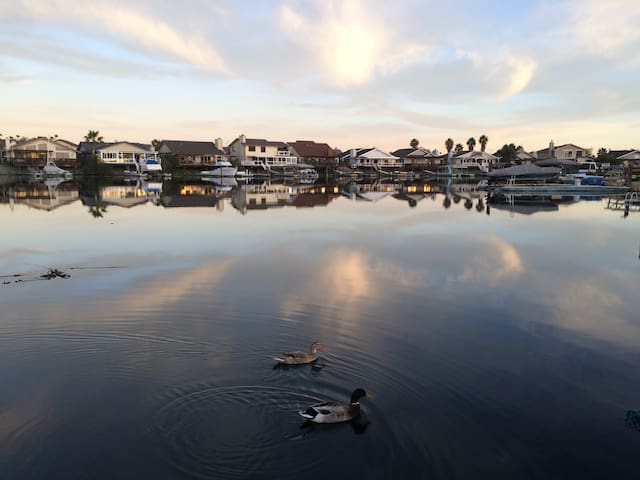 Vacation house in golf club
Golf club
Yachat Club & Golf Club & dog park &CVS & Safeway &BOA ATM
Room Type
Private room
---
Property Type
House
---
Accommodates
2
---
Bedrooms
Discovery Bay, CA, United States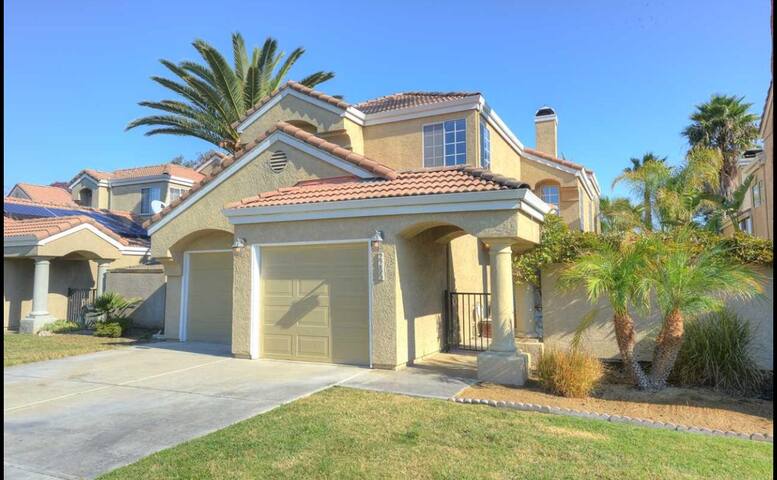 Beautiful waterfront home in a calm deep water location with a double U boat dock (one with hydro hoist). Great location for summer time water sports; fish, ski, wakeboard, paddle board and jet ski with access to fast water in less than 1 mile from our private dock. Large deck with BBQ, perfect for family dinners =)
Less than a mile from fast water
The house was beautifully decorated, with an open floor plan that made for a perfect family visit. The deck on the water had enough seating for our extended family of about 18 people. The young people enjoyed the paddle boat immensely. Stacey welcomed us with a basket of essentials. She was also very responsive to any questions that we had, getting back to us within a few minutes. The kitchen had everything we needed for cooking. There is a Safeway right down the road (ask for a club card for the discounts). The bedrooms were a nice size, and the kitchen has two seating areas for a large group of people. As my husband put it - "you hit it out of the park on getting this house". We would highly recommend this house and the host. We hope to be back!!
Theresa
2017-03-26T00:00:00Z
Room Type
Entire home/apt
---
Property Type
House
---
Accommodates
10
---
Bedrooms
Discovery Bay, CA, United States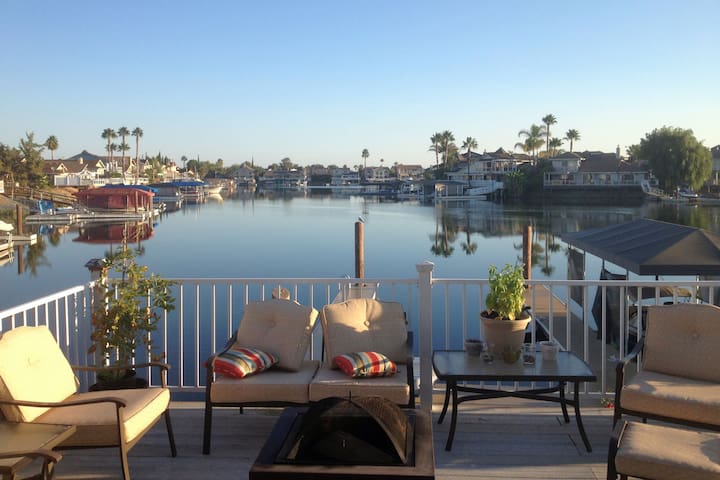 Awesome, fully furnished 2-story house on peaceful Willow Lake in Discovery Bay. Wake to the sound of geese and other water fowl as the sun rises. Find peace in observing snowy egrets and great blue herons on your back dock, eager to catch fish basking in the shallow depths. Enjoy sundown on the lake with your special someone, favorite beverage, watching the fish jump and taking in the view of Mt. Diablo in the distance. Special pricing for longer term reservations (stays of 45 days or more)
+ Comfortably sleeps 6 + Air Conditioned + Pool table & game room + Big screen, smart TV + Fireplace + Bar + Fully equipped kitchen: refrigerator, dishwasher, double oven, microwave, toaster oven, keurig coffee maker, etc. + Half bath downstairs, off kitchen/ bar + Back Deck looks out on Willow Lake with a view of Mt. Diablo + Propane BBQ grill on back deck + Sunsetter awnings that roll out to shade the full length of the deck + Private Dock; great for fishing, swimming, boating (electric motors only) + Master bdrm suite (new king size mattress) with private bath, + 2 Lake View bay windows in Master + 2 more upstairs bedrooms (new queen size mattresses) + Upstairs bath + Bath towels & bed linens provided + Full size Washer & Dryer
Scenic walk (3 blocks from the house) to *Discovery Bay Marina, Yacht Harbor *Boardwalk Grill (casual dining, 4.5 stars) *Marina Shops
We were visiting relatives in the area and this was a great location for that. We were within walking distance of the marina and Captain Morgan's. The back deck, the awning and the view were very relaxing. Great fun there. Nice kitchen and easy to make breakfast. We enjoyed the stay.
Thomas
2017-03-13T00:00:00Z
Serene environment to sit and relax. Loved the view. Bedrooms and beds were extremely comfortable. The hostess was very cooperative and friendly. Card room and pool table were fun to have, even though we didn't get to utilize much.
Beverly
2016-12-26T00:00:00Z
Room Type
Entire home/apt
---
Property Type
House
---
Accommodates
6
---
Bedrooms
Discovery Bay, CA, United States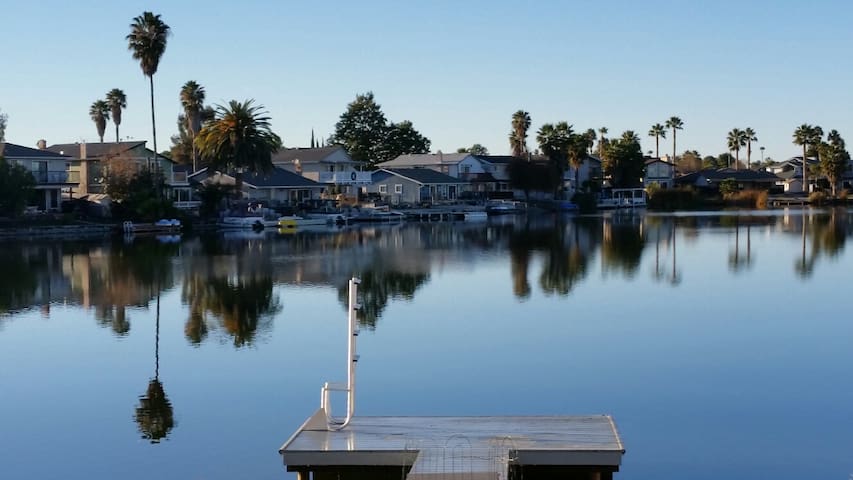 Spacious single story home on the water with open floor plan and lots of natural light. Perfect for any age, including families with kids. Located at the end of a waterway you won't encounter boat traffic making it an ideal spot to fish and play!
Highly desirable single story home with open floor plan! The house has a built in radio and intercom system with volume controls in each room and on the deck.
Located just half a mile from Safeway (full grocery store with deli), CVS Pharmacy, Starbucks, gas station, banks, dining, etc. Also just a 2 minute walk to a small neighborhood park where kids can play. The park is fenced and has a bench and table for adults to sit and supervise.
We had a fantastic time at Katherine's house. She was very quick to respond to messages and very helpful throughout the process. The house was lovely (especially the outside deck!). I would highly recommend this location for a nice relaxing weekend and nice outdoor dining and cooking.
reza
2015-10-26T00:00:00Z
The house and area was beautiful. Very comfortable and the neighbors were very pleasant.
Matthew
2015-07-27T00:00:00Z
This is a very nice home with a lot of good amenities such as soft water and filtered drinking water. The patio is amazing. Plenty of room. Great kitchen and BBQ. And Catherine was very accommodating and welcoming.
Ralph
2015-10-19T00:00:00Z
We booked this house for the new year eve (and day before) and absolutely loved it. House was clean, open and has a beautiful view of the lake. Listing is pretty accurate in describing the property, only thing is that the TV was not working but Catherine notified us well before the reservation as the previous host found out and there was not enough time to replace it. Although I never met Catherine but she communicated well and we had no issues whatsoever in finding the house and checking in. She, in fact, agreed to our request of late checkout as well. If I get a chance, I will definitely stay again.
Rahul
2015-01-02T00:00:00Z
The listing description and pictures were accurate. The house and neighborhood is very warm and inviting. My group was in the area for work and it was a nice to come to a home rather than stay in a hotel. The place was perfect for our 3 week stay. We bought groceries in the nearby grocery and just really enjoyed being in a comfortable home setting. We didn't get a chance to enjoy and take advantage of the waters but the setting is amazing. Would recommend the house to anyone in the area.
john
2015-02-01T00:00:00Z
The host canceled this reservation 131 days before arrival. This is an automated posting.
Adam
2016-03-03T00:00:00Z
Room Type
Entire home/apt
---
Property Type
House
---
Accommodates
8
---
Bedrooms
Discovery Bay, CA, United States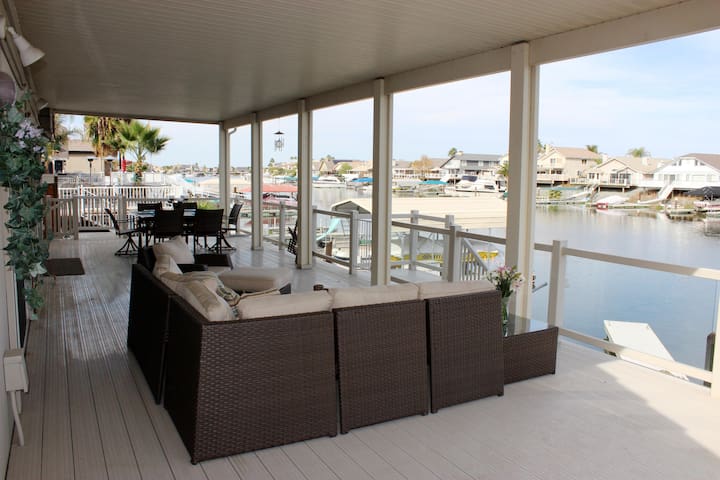 With just 5 minutes fast water river access from the dock this home is an an ideal waterski/wakeboard/ fishing resort destination home from late may through late september and fishing/hunting year round. It's a great waterfront family summer getaway ideal for a large family or two to three families with children, a large gathering of friends. The interior features a large open kitchen/dining and high ceiling living area with access to a large outdoor deck and beautiful long views of the water
Kitchen is well stocked with utensils, pots and pans etc. Please start the last load of dishes before you leave Garbage and recycle cans are located along the garage side of the house in an enclosure.
Convenience Market and Gas Station (2 mins) Boat Ramp and Marina/Gas Dock Shopping (5 mins) Groceries, Restaurants (8 mins)
Room Type
Entire home/apt
---
Property Type
House
---
Accommodates
10
---
Bedrooms
Discovery Bay, CA, United States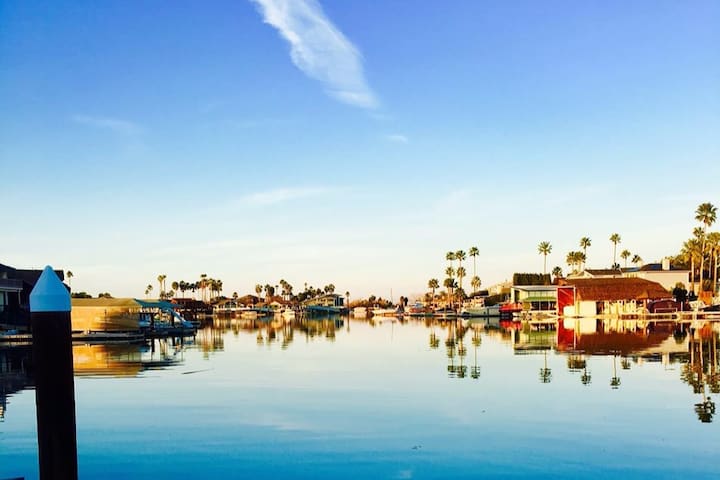 Enjoy your private room with crisp pressed linens in a comfy queen bed. Your private attached bath with tub shower offers fluffy towels, toiletries, hair dryer....and anything else you might need. Upon rising, enjoy your coffee (weather permitting!) on a patio with views of the golf course!
Wow, Jane and Don were wonderful! Very lovely couple. Expecting us and greeted us with open arms. Their home is beautiful and Jane is a very talented decorator! Ended up having wine with them and chatting about our lives till late evening. Jane made us an over the top breakfast! Fresh juice, fruit, eggs and bacon but she also made a "dutch baby" pastry too die for! The back yard patio is super cute and comfortable. Beautiful at night especially with all the cool lights in the trees,etc....Lots of Hawks flying around and the beautiful view of the golf course. The bedroom was so cute, comfortable bed with cool linens and beautiful towels with everything you need if you forget anything. (I forgot a toothbrush and they had one for me! I would definitely stay again if in the Discovery Bay area. Went to a few restaurants while there the "Boardwalk Grill" on the water (lovely out on the patio) and Sports Bar and Grill / Steakhouse. Both were very good.
Richard
2016-07-09T00:00:00Z
Jane was very polite and the home was well kept!
Dan
2016-09-18T00:00:00Z
Jane and Don were so welcoming! They left us some lovely cookies at night and cooked us an amazing breakfast in the morning! Their company was lovely and they made us feel right at home! I would encourage anybody to stay with them and hope to be able to stay with them again!
antonia
2016-10-16T00:00:00Z
My stay with Jane was absolutely wonderful! I could not have asked for anything better. She and Don created an experience that completely exceeded my expectations! Being from the beach myself I felt right at home from the get go. Their home was comfortable for me, like a fresh, clean, bright yet cozy beach cottage (just minus the ocean breeze!) I felt so pampered and taken care of and yet they were so easy-going and mellow that they were not overbearing in any way. From the luxurious white linens and bath essentials to the exceptional cleanliness (I am very allergic to cats and never even noticed that one lived there!), the whole experience felt like I was in a fancy resort! Only this was better because it came with Jane and Don's excellent company and conversation, not to mention their seriously fantastic gourmet breakfasts made from fresh local ingredients! What wonderful people and hosts! Don even went out of his way to give me a ride to the wedding I was attending across town. If you are heading to their area, skip the hotel, stay with Jane and Don. You won't be sorry!
Tandis
2016-09-12T00:00:00Z
They're very nicea dwelcome... Love the place!! i'm so impressive with your place..we'll back again...
Tiffany
2016-07-03T00:00:00Z
I enjoyed my stay in Discovery Bay at Jane and Don's place. They are wonderful hosts and the house is beautiful! It's well maintained and it's on a golf course. What more could you ask for? Some might think that Discovery Bay in August is too hot, but this home is positioned in a way that it doesn't get too much sun, which is nice. In the past, I've stayed closer to the water in Discovery Bay, which is also nice, but I wasn't able to swim this time anyway, so it all worked out. Jane and Don serve breakfast everyday and they even set a wonderful table on the patio for me and three of my old college friends - complete with place settings from Williams and Sonoma and sparkling water! Boy, were my friends and I impressed!
Dianne
2016-08-23T00:00:00Z
Jane was an amazing host !!!!!!she cooked us breakfast both mornings we were there , and she's a great cook. She should open a bed and breakfast. 200% recommend this place and jane
Bob
2016-11-25T00:00:00Z
Jane and Don are excellent hosts, from the initial contact (Jane responded to my request to stay in 2min), to an impeccably clean home and a wonderful breakfast the next morning. Thanks for a great experience!
Alan
2016-08-07T00:00:00Z
Room Type
Private room
---
Property Type
House
---
Accommodates
2
---
Bedrooms
Discovery Bay, CA, United States
Have the ultimate California getaway by staying at this outstanding Discovery Bay home! Offering a prime waterfront location, this 3-bedroom, 2.5 bathroom home which sleeps 8 will truly let you experience the best of the Bay Area.
Featuring 3 bedrooms, 2.5 bathrooms, and 2,800 square feet of beautifully appointed living space, this gorgeous residence is a fantastic accommodation choice for families looking to get a taste of California while still having all the comforts of home. You'll immediately fall in love with the property's wonderful open concept floor plan, boasting multiple large family gathering areas on the deck, in the living room, and upstairs in the spacious entertainment loft. Prepare delicious home-cooked meals in the expansive fully equipped kitchen before gathering around the adjacent dining table, which features a cozy fireplace and picturesque views overlooking the bay. Every meal feels like a special occasion when dining in the elegant formal dining room! You and your kids will be able to spend quality time together as you savor your meals. Should you need to do any laundry during your stay, an in-unit washer and dryer are provided for your convenience. Your favorite relaxing spot will quickly become the property's private deck, perfect for outdoor dining and faces the water, where you can sit back under the 2 patio covers and outdoor ceiling fans, one with water misters. Here you can admire excellent views of the water, as well as views overlooking the dock and other homes along the waterfront. When you're ready to hit the water, enjoy safe swimming for the kids and adults (it's within the 5mph/no wake zone) and boating directly off the home's private attached dock. The dock is the perfect spot to kick back and watch your kids splash around in the water. From boating and swimming to waterskiing, jetskiing and fishing, this prime waterfront location is perfect for enjoying many different water sports!
2 public boat launches are available within minutes, and then you can tie up your boat at the home's private dock. The house also features a pedalboat available for guest use. Be sure to bring your SUPs (stand-up paddleboards) and kayaks for even more water fun! Evening hours are sure to have you floating in the warm waters directly off the dock. And, if you're not in the mood to cook, there are many restaurants you can easily boat or drive to - local favorites include Discovery Bay Marina Boardwalk Grill and Orwood Marina for an outstanding brunch. Although this house sits on the water, you'll have easy access to a variety of exciting land-based activities and attractions - within just 2 miles of the property, you'll find a great golf course, parks, tennis courts, and swimming pools. Your kids will definitely want to visit the nearby waterpark. If you're in the mood for some retail therapy, there's a new large shopping center nearby, in addition to a marina with restaurants and shops only 2 miles away. You can walk to the nearby Starbucks and pick up all your food needs at the large supermarket, Safeway. Next door to the Safeway is a 24-hour CVS drugstore. You'll also find the Discovery Bay Yacht Club within 2 miles. No matter what season you plan to visit and regardless of how you plan to spend your time, this astounding Discovery Bay vacation rental house will quickly become a place you love returning to at the end of the day!
We had a great stay. The house was well equipped, clean and the back deck is amazing. The owner, Porter was very nice and accommodating.
Shane
2016-05-24T00:00:00Z
Room Type
Entire home/apt
---
Property Type
House
---
Accommodates
8
---
Bedrooms
Discovery Bay, CA, United States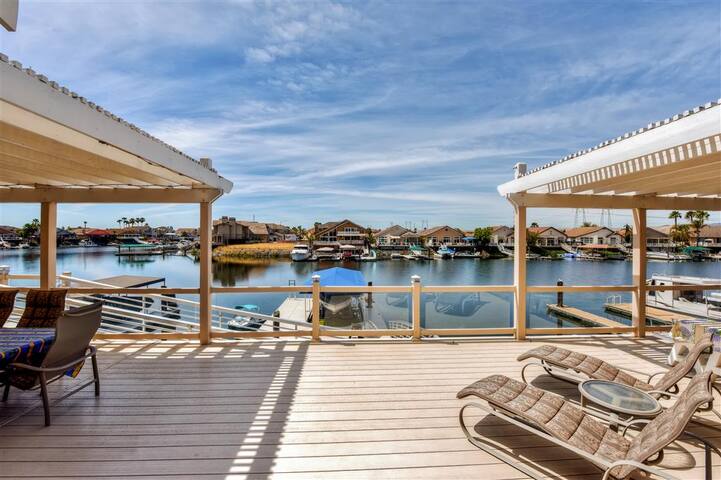 Safeway & CVS & subway &BOA &Chase Bank & Sushi & Chinese Food & Breakfast
Room Type
Private room
---
Property Type
House
---
Accommodates
2
---
Bedrooms
Discovery Bay, CA, United States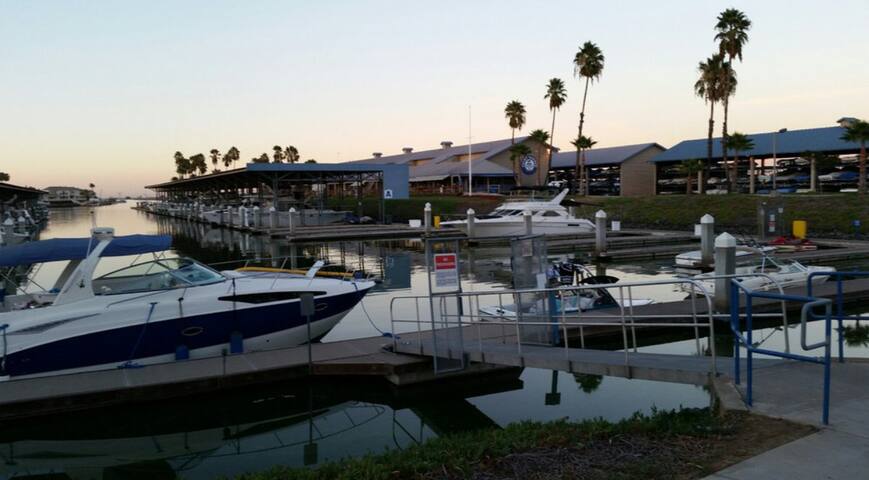 5 Minutes to fast water! Bring your ski, wake or fishing boat for your ultimate vacation on the water. Newly remodeled (2016), 4 bedroom 2 ½ bath with 2850 sq ft home, ready for your family vacation, company event or large get together with friends
Large Water Front Home in Paradise – only 5 Minutes to fast water for your ultimate boating vacation. Bring your ski, wake or fishing boat for your ultimate vacation on the water. J
Room Type
Entire home/apt
---
Property Type
House
---
Accommodates
12
---
Bedrooms
Discovery Bay, CA, United States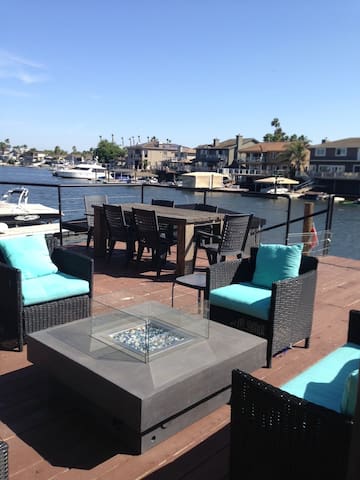 Well appointed and newly renovated 3 bd, 2 ba house, large dock and deck with deep water access to Delta. Large living room, master bedroom and open kitchen with gorgeous view of water and Mount Diablo. Canoes, kayak and paddles included.
Come to Discovery Bay, just >1 hour away from the Bay Area, but you will feel completely transported to another world. All your stress will melt away. Fishing, boating, jet skiing, canoeing, kayaking, stand up paddling, swimming or just relaxing are all possible.
Quiet and peaceful neighborhood . Community pool and park nearby. Marina with public launch, restaurant, and shops a few blocks away. Safeway and other shops and restaurants a few minutes away.
Our host was great at making sure our stay was set up and we were welcomed into his vacation house. The host was great in communication prior to our arrival at the house. The home was nice and clean and met all our needs. We would rent the house again.
Sheldon
2016-04-25T00:00:00Z
Cool place me and my family had a great time. Will be returning in the future! Thank you!
Mark
2016-11-13T00:00:00Z
Room Type
Entire home/apt
---
Property Type
House
---
Accommodates
10
---
Bedrooms
Discovery Bay, CA, United States
Reuniting with long-lost relatives? Hitting the water for a family reunion? This may be the perfect getaway! With this house there's room for luxurious amenities, home-like comforts, and plenty of memory making. Upstairs and downstairs kitchens make this the perfect multiple family destination. Our clients are not only renting a home, they are selecting a vacation experience. We make sure everything meets your expectations for a luxury vacation. See our VRBO listing for all our 5 star reviews!
The large back decks have eastern exposure out of the afternoon wind and sun with fast water 6 minutes away. Enjoy the included stand up paddle boards, sit on kayaks, and the pedal boat. We have one of the safest swimming areas with no current and little boat traffic in the bay.
Public golf is available at the Discovery Bay Country Club on most Mondays. Tennis courts, bocce, horseshoes, baseball diamond and community park are nearby. There an updated community center 1 mile away that has more tennis courts as well as a pool.
Room Type
Entire home/apt
---
Property Type
House
---
Accommodates
14
---
Bedrooms
Discovery Bay, CA, United States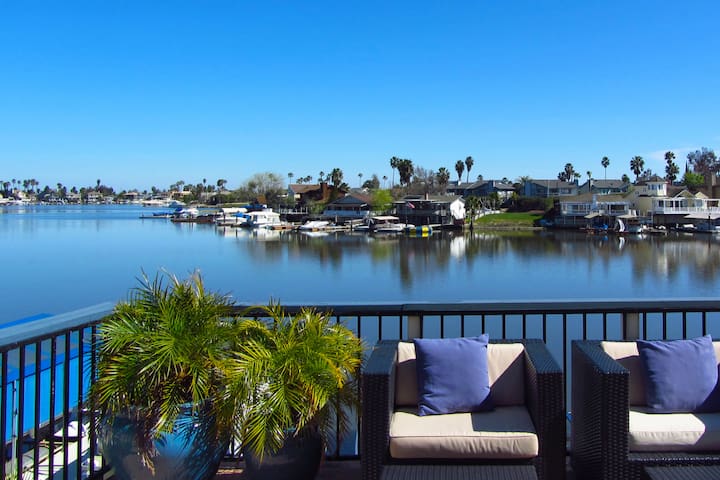 1

–

18

of

31 Home Rentals
Enter dates to see full pricing. Additional fees apply. Taxes may be added.