We are at a height of 900 meters in a lovely valley between the Lake Como and the many mountains which surrounds us, 2 minutes from the town of Casasco. The apartment is elegantly furnished and accurate in every detail.
The apartment has an autonomous heating and a fireplace, private parking, free wifi and TV. The kitchen has a stove, microwave, refrigerator, dishwasher, kettle and coffee machine. A small basic equipment will be available (oil, vinegar, salt, coffee, tea, sugar etc.) The bathroom is with shower. Bedlinen and towels are available. 2 city bikes and a mountain bike and two pairs of snowshoes are also available to the guests.
We were picked up just outside the village and warmly welcomed by our gracious hosts Claudia and Daniele, who guided us to our place. Later they invited us to their stunningly beautiful home, where we had a lovely evening together. Throughout our stay we were very well taken care of by them. In our apartment we kept being stunned by the spectacular views over the mountains and a piece of Lake Como in all weather conditions. The rare times we met neighbours, these were very friendly too. The apartment surpassed our expectations, and the gigantic terrace came as a big surprise and is an abosulte asset to the place. As it was high summer, we didn't use the open fire place nor the terrace gas heater. There are several BBQs, and a huge parasol on the terrace available. We spent a splendid time on top of our mountain, where we could relax and work thanks to an excellent wifi connection. We were very happy to get to know Claudia and Daniele, and later on, their son Michele. We came across three very wam and special individuals.
Beer
2016-07-23T00:00:00Z
Nice cozy house with a spectacular view! Located at the base of a great hiking mountain. View of the church and. Lake como are amazing when its clear.
Jack
2016-03-31T00:00:00Z
Communication with Claudia was very easy, friendly and efficient. She took care to ensure that she was at the apartment when we arrived and took the time to explain things to us and give us some information about the local area. The apartment itself is lovely, warm, comfortable and the view from the balcony looking over lake Como is lovely. We enjoyed watching the sunset over the lake and mountains whilst staying nice and warm under the patio heater. In terms of equipment, there's everything you could need during your stay. The recent addition of bikes was much appreciated. The area is great for cycling (even if it is hilly) and also for hiking. It's also fairly quick to reach the water front of both lake Como and lake Lugano. There's also plenty of decent restaurants and bars in the nearby town of San Fedele d'Intelvo. Only one friendly word of warning to future guests; if you have a very wide car or you're not very confident with distances, there's a lovely narrow passage to get through in the village of Casasco just before the house. You can get through no problem, don't be put off, but for those used to wide motorways, it could come as a bit of a shock.
Andy
2016-11-01T00:00:00Z
We can definitely recommend a stay in this flat. The kitchen is well equipped, it is very clean and the view from the balcony is stunning. An advantage for hikers is that you can start numerous tours there, so you don't need your car to get to the starting point. Claudia is a lovely host, quickly responds to questions and tries to help in any way she can in case that a problem occurs.
New
2016-09-15T00:00:00Z
Claudia nous a réservé un accueil très sympathique Elle a passé du temps a nous expliquer le fonctionnement des appareillages et des lieux à visitee
Jean Claude
2016-08-02T00:00:00Z
Bei Ankunft wurden wir, obwohl es spät abends war im nahegelegenen Ort abgeholt und zum Haus gebracht. Wir wurden wunderbar willkommen geheißen und für ein morgendliches Frühstück war auch bereits gesorgt. Das Appartment und die Umgebung sind sehr schön. Der Blick von der Terasse auf den See und die umliegende Bergwelt ist herrlich. Ein Ort für ein entspannendes Naturerlebnis. Die Ausstattung war sehr umfangreich und hat an nichts zu wünschen übrig gelassen. Claudia war sehr zuvorkommend und freundlich. Die Kommunikation klappte immer reibungslos. Es hat uns sehr gefallen. Gerne wieder.
Joana
2016-09-23T00:00:00Z
Bellissima esperienza. La casa è accogliente e molto ben attrezzata. La terrazza le da una marcia in più e permette meravigliosi momenti di relax con una vista spettacolare su valle e lago. La posizione è ideale per raggiungere numerosi sentieri escursionistici. Claudia e Daniele sono ospiti discreti ma davvero accoglienti e disponibili e rendono il soggiorno ancora più speciale curando la preparazione dell'alloggio nei minimi dettagli.
Simona
2016-08-17T00:00:00Z
Io e la mia ragazza insieme al nostro cane abbiamo soggiornato nel periodo di Capodanno presso l'alloggio di Claudia, la casa era piccolina ma molto confortevole inoltre la disponibilità e la gentilezza di Claudia e di suo marito è stata ottima!! esperienza davvero consigliata!
Francesco
2017-01-01T00:00:00Z
Room Type
Entire home/apt
---
Property Type
Apartment
---
Accommodates
2
---
Bedrooms
Casasco D'intelvi, Lombardia, Italy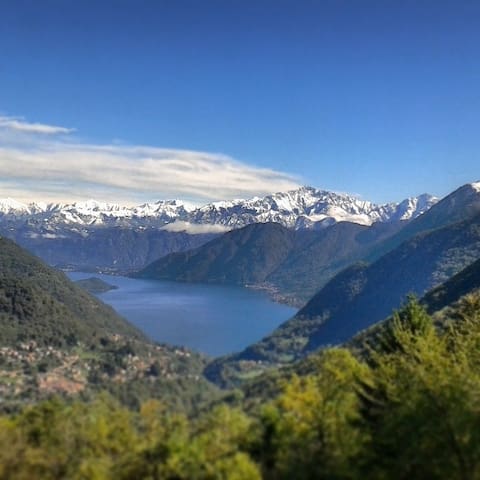 "Il Pulcino di Maria" si trova a Moltrasio, un magico borgo situato a pochi km. dalla città di Como, sulla sponda occidentale del Lago di Como. Ai miei ospiti offro un accogliente appartamento mansardato dotato di un ampio soggiorno con camino e due sofà, uno dei quali si trasforma in un comodo divano letto per due persone, una cucina modernamente attrezzata, una camera da letto matrimoniale, un bagno con doccia e per finire due balconi dai quali si gode una vista spettacolare sul lago.
"Il Pulcino di Maria" si trova a Moltrasio, un magico borgo situato a pochi km. dalla città di Como, sulla sponda occidentale del Lago di Como. Moltrasio è un ottimo punto di partenza per visitare il lago, Milano e la vicina Svizzera con Lugano e il suo lago. Sono io, Maria, ad occuparmi principalmente dei miei ospiti, ma anche mia sorella Dindi con suo marito Luca sono sempre disponibili a dare informazioni e consigliare itinerari culturali e naturalistici. La nostra magnifica gatta Mirta, invece, si limita ad osservare incuriosita il via-vai e talvolta si lascia accarezzare. Ai miei ospiti offro un accogliente appartamento mansardato dotato di un ampio soggiorno con camino e due sofà, uno dei quali si trasforma in un comodo divano letto per due persone, una luminosa cucina modernamente attrezzata, una spaziosa camera da letto matrimoniale, un comodo bagno con doccia e per finire due balconi dai quali si gode una vista spettacolare sul lago e sulle montagne circostanti. Se richiesto, posso mettere a disposizione un lettino con sponde, adatto per bambini fino a 4 anni. Il nostro giardino è ampio, su due livelli, con diversi angoli dove rilassarsi, un lungo tavolo sotto il portico dove fare colazione, un altro tavolo, sotto una quercia, dove pranzare e cenare, un'amaca nella quale lasciarsi cullare leggendo un libro e delle sdraio sulle quali crogiolarsi al sole. Da noi i bambini sono i benvenuti e potranno giocare indisturbati sotto l'occhio vigile dei genitori. Al piano terreno della nostra casa si trova il locale lavanderia con lavatrice (no asciugatrice!) e ferro da stiro; su richiesta, questi apparecchi elettrodomestici sono a disposizione dei nostri ospiti.
MOLTRASIO Le origini di Moltrasio sono molto antiche, risalgono ai tempi dell'antica Roma e forse ad ancor prima. Il nostro paese è praticamente suddivisibile in 3 ampie zone: la zona a lago, la zona centrale e la zona alta. Per conoscere Moltrasio bisogna infilarsi un paio di scarpe comode e percorrere a piedi le sue tortuose strade e le sue ripide scale; sono numerose e portano ovunque, lasciandovi scoprire angoli incantevoli e personaggi particolari. Zona a lago Troverete ville antiche con magnifici giardini, che in passato hanno ospitato personaggi illustri. Ad esempio, in Villa Passalacqua, all'inizio del 1800, soggiornò il compositore catanese Vincenzo Bellini ed è proprio in questa villa che ebbe l'ispirazione per comporre le opere "La Sonnambula" e "Norma". Nella Villa Le Rose Sir Winston Churchill fece una breve vacanza nel 1945, mentre Villa La Fontanella fu per diversi anni proprietà del famoso stilista italiano Gianni Versace. Ora queste ville sono abitate per lo più da facoltosi industriali. Nella zona a lago troverete alcuni ristoranti, una pizzeria, un bar, una gelateria / wine bar, un lido con una piccola spiaggia ed infine la SPA nel Grand Hotel Imperiale. Zona centrale La zona vicino alla chiesa è il nucleo antico, il cuore del paese. Entrate nella chiesa parrocchiale dedicata ai Santi Martino e Agata! Ve lo consiglio con tutto il cuore. Contiene opere d'arte che meritano di essere ammirate, ma soprattutto vi si respira serenità e pace. Le sue campane scandiscono le ore durante la giornata e suonano a festa nelle grandi solennità. Poco lontano dalla chiesa parrocchiale si trova la piccola Chiesa di Sant'Agata (XII sec.). E' un gioiello romanico con un crocefisso ligneo decisamente stupendo ed un prato che la circonda molto grazioso, dove saltuariamente vengono organizzati concerti di musica sacra. Nella zona centrale si trovano alcuni piccoli negozi anche di generi alimentari e un bar. Il supermercato più vicino è a 3 km di distanza, nella città di Cernobbio. Zona alta La parte alta del paese, dove si trova anche la mia casa, era abitata in passato da contadini. La vista sul lago e sulle montagne circostanti è decisamente unica e da qui partono tutti i sentieri verso i monti sovrastanti. IL LAGO DI COMO E LA CITTA' DI COMO Un "must" è: "Godersi il lago direttamente dal lago" . Il servizio di navigazione permette di fare suggestivi percorsi e durante la maggior parte dell'anno è possibile partire direttamente dall'imbarcadero di Moltrasio. Ammirerete così i tipici borghi, quali Lenno con la scenografica Villa del Balbianello, scelta più volte come set cinematografico, ad esempio per "Star Wars", la graziosa Isola Comacina, Tremezzo con il museo e il giardino botanico di Villa Carlotta, Bellagio con gli splendidi parchi di Villa Serbelloni e di Villa Melzi d'Eril, sino a giungere a Varenna con l'esclusiva Villa Monastero. Per concludere, sulla punta estrema del lago, di fronte a Gravedona, si trova l'Abbazia di Piona, un raro gioiello dell'architettura romanico lombarda, dove è ancora possibile acquistare rimedi di erboristeria e liquori prodotti dai monaci cistercensi seguendo antiche tradizioni. Nella vicinissima città di Como sarà gradevole visitare il centro storico, ricco di storia e di arte a partire dall'età romana fino ai giorni nostri, con diversi musei, una pinacoteca, alcune chiese antiche ed il Duomo, nonché il quartiere razionalista e le opere di Terragni. Dal 1400 al 1900 la zona del comasco era conosciuta per la produzione e la lavorazione della seta e tutt'oggi la città di Como è considerata la capitale mondiale della seta per la creazione del design che rende unico ogni (URL HIDDEN) di seta. Per saperne di più vi consiglio di visitare il Museo Didattico della Seta e il Museo Studio del Tessuto – MuST (Fondazione Antonio Ratti), entrambe a Como. Naturalmente sono molteplici anche le occasioni per fare shopping. ATTIVITA VARIE Partendo direttamente a piedi da casa mia, c'è la possibilità di fare la suggestiva passeggiata lungo il Sentée di Sort che porta sino a Rovenna Alta; da qui, sempre a piedi, si può scendere a Cernobbio (una passeggiata di circa ore 1.45) e tornare a Moltrasio in battello. Escursioni più impegnative sono quelle al Monte Bisbino, al Monte San Bernardo e al Monte Colmegnone dalle cui cime si gode, nelle giornate limpide, una vista mozzafiato che spazia dal lago, alla pianura fino a Milano e all'Appennino, sino ad arrivare alle innevate Alpi. Inoltre si possono percorrere i numerosi sentieri che collegano i vari alpeggi sulla "Via dei Monti Lariani". Magnifico è pure il giro da Moltrasio a Como in battello, quindi la salita con la funicolare fino a Brunate; da qui si può arrivare a piedi alla località Monte Piatto e al paese di Torno (una passeggiata di circa ore 2.30) ed infine rientrare in battello a Moltrasio. Nel vicino borgo di Carate Urio vi sono interessanti pareti attrezzate per gli amanti dell'arrampicata. Se amate nuotare, ci sono alcuni punti pubblici di accesso al lago oppure presso il Lido di Moltrasio. Il Grand Hotel Imperiale a Moltrasio dispone di un'attrezzata SPA. Alcuni centri offrono l'opportunità di noleggiare motoscafi, barche a vela, canoe e kayak. Un'altra interessante alternativa è scoprire il lago dal cielo: un volo in idrovolante con partenza dall'idroscalo di Como. Sul versante eno-gastronomico sono numerosi i ristoranti dove si possono gustare piatti e prodotti tipici della cucina lariana.
To summarise, Maria's apartment is the most beautiful apartment we have ever stayed in. It is so well set up and furnished very tastefully making it feel like a 5 star hotel. Then you walk out to one of the two balconies and the rating jumps to 6 stars. To complement all this Maria as a host also provides 6 star service. She helped us a lot planning our 1 and a half days on the lake to maximise our experience and she also introduced us to her family who were really friendly. Thank you all for a wonderful Lake Como experience. We will be back.
Ozana
2016-07-09T00:00:00Z
We are so happy to have met Maria and stayed at her beautiful apartment! We arrived late at night, and Maria was so patient with us and even met us at the car park so we all walked up to her home together. There are a lot of stairs but it's very rewarding and worth it! Waking up to the amazing view was more than I could have imagined! Plus, the apartment was very well done and even nicer than the photos. Maria was an incredible host, and helped us with even the smallest of details (making sure we had an iron to press my husband's suit). I highly recommend this location...you will not be disappointed!
Megan
2014-09-21T00:00:00Z
Maria was extremely warm and helpful and could not have done more to make sure we had everything we needed. The apartment is exactly as it looks in the pictures and the views are idyllic. Montrasio is gorgeous and a walk away (although you do need to be in good shape to walk back up the hill post dinner) - quaint italian small town with a few shops and lots of lovely places to eat. We only wish we could have stayed longer...
Alice
2015-09-07T00:00:00Z
Our stay at Maria's beautiful home was nothing short of amazing. The property itself was stunning and the views were exquisite. The apartment was immaculately clean and beautifully decorated- hands down the nicest Airbnb we have ever stayed in! Maria was so friendly, kind, hospitable, and knowledgable about the area. She went out of her way to ensure our stay was perfect, and for that we are truly grateful. I highly recommend Maria's home to anyone looking for a place to stay in Lake Como!
Hannah
2016-09-03T00:00:00Z
Maria's place was absolutely amazing. Stunning views, tastefully set up furniture, and a fully functional apartment. But the best part is Maria herself, who always ensured that our stay was good throughout.
Gokul
2015-03-30T00:00:00Z
We enjoyed a lovely 2 night stay at Il Pulcino on our way back from Tuscany. The apartment had everything we could of wanted including some incredible views. The welcome from Maria was very warm, and made our stay even more enjoyable. Maria was really helpful with local knowledge. I didn't read the full details properly, so please note there is quite a climb up many steps from the car so pack wisely but believe me it's worth it as the views are stunning.
Ivan
2014-08-26T00:00:00Z
Maria was fantastic! Not only does she have a beautiful place, but she went above and beyond in accommodating us. She connected us to the best restaurants and was able to answer all our questions. 5 stars all the way!
Jake
2015-03-15T00:00:00Z
My friend and I enjoyed our stay at Maria's place. The apartment is bright, spacious, extremely clean and has some amazing views over the Lake Como. The kitchen has everything one might need for breakfast. Our favourite part was enjoying an evening glass of wine by the fire talking about the travel experiences of the day.
Pavel
2015-11-02T00:00:00Z
Room Type
Entire home/apt
---
Property Type
Apartment
---
Accommodates
4
---
Bedrooms
Moltrasio, Lombardy, Italy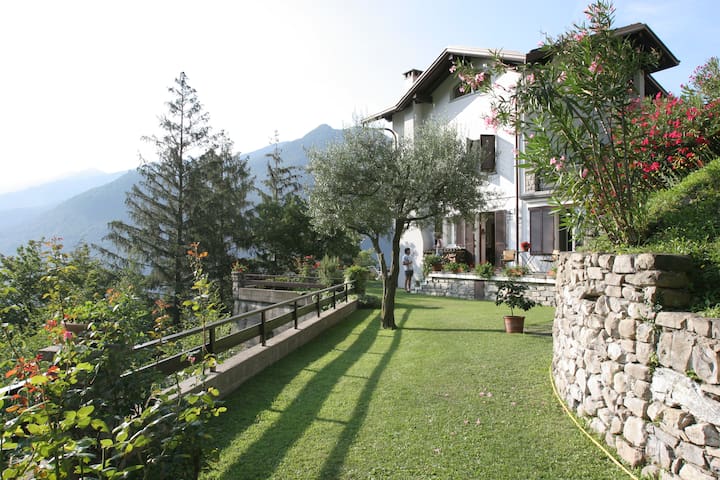 Appartamento esclusivo con vista mozzafiato sul lago di Como, ampia terrazza (200mq) da cui è possibile ammirare uno splendido panorama. Dotato di ogni comfort, l'appartamento dispone di quattro posti letto,cucina equipaggiata e bagno.
Appartamento esclusivo con vista mozzafiato sul lago di Como, ampia terrazza (200mq) da cui è possibile ammirare uno splendido panorama. Dotato di ogni comfort, l'appartamento dispone di quattro posti letto,cucina equipaggiata e bagno.
Moltrasio è un tipico paesino del lago a due passi da Como che si contraddistingue pr la sua fusione tra paesaggio naturale e comodità, proprio perché a pochi minuti in auto è possibile raggiungere supermercati, bar e ristoranti. Inoltre la vicinanza della zona al confine permette di raggiungere la Svizzera in 10 minuti.
Great balcony view overlooking the lake. Hosts were very friendly and helpful at all times.
Tom
2016-06-28T00:00:00Z
This was a cozy place with stunning view of lake Como. The apartment is very clean and conveniently equipped with all necessity for a comfortable stay. High recommend!!!
Feifei
2016-12-24T00:00:00Z
Beautiful area very small one room. Drive way dangerous to drive . We lost power and host was unavailable
Jean
2015-10-06T00:00:00Z
Great place, with great views, Riccardo was great, our stay was very good. Once I mastered the turns in the driveway I was good. I was new to driving in Italy (first day) so the roads were a bit of a challenge for me but the staying here was a nice place to relax. I am very happy I started my travels through Italy here. Thanks Riccardo!
Keith
2015-12-30T00:00:00Z
Riccardo exceeded my expectations of what an AirBnb host would be like. This was the first time i have used AirBnb and can't say enough about how hospitable riccardo was. He voluntarily drove us to and from the train station and was also extremely helpful if we had any questions about the surrounding area. This property is a very beautiful, private, and clean space that is accompanied by a panoramic view of the lake. 10/10 would recommend.
Mitch
2016-12-11T00:00:00Z
Riccardo is a kind and accommodating host full of useful tips about locations and activities based on your requests and preferences. The property enjoys an amazing view and the apartment offers everything we needed. We greatly enjoyed our stay and would certainly come again. Thanks, Riccardo!
Lorenzo
2016-04-11T00:00:00Z
Stunning place in the hills overlooking the lake, as others have said the pictures really don't do it justice. Riccardo was always available and really friendly and helpful. Such an amazing way to spend our time away, and if we decided to come back to Lake Como would stay here without hesitation.
Yusuf
2016-07-31T00:00:00Z
Arriving to Riccardo's hilltop wonder was an unexpected and thrilling experience. You truly are staying on the slopes of the majestic mountains of the Como Region. Riccardo was welcoming, pleasant and very responsive. The views are better in person and the accommodations were spot on to what you see in the post. The location as ideal as well.
Guy
2016-06-13T00:00:00Z
Room Type
Entire home/apt
---
Property Type
Apartment
---
Accommodates
4
---
Bedrooms
Moltrasio, Lombardia, Italy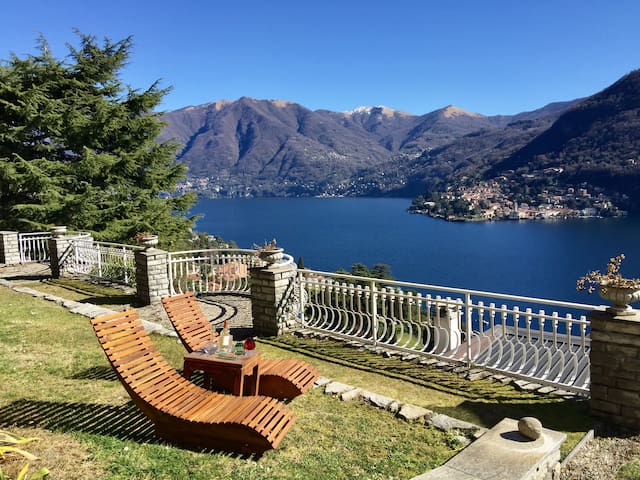 La Ca 'in the village, a small accommodation on Lake Como in the village of Tosnacco in Moltrasio. In the past, an old shop where they worked and wove wicker baskets
Ca in the village is a small accommodation on Lake Como in the village of Tosnacco in Moltrasio. In the past, an old shop where they worked and wove wicker baskets. Inside, a double bedroom, a well-kept bathroom with classic health and a comfortable shower. A kitchenette complete with sink, refrigerator, induction plate, kettle, coffee-maker, cookware, cutlery and dishes. A cave with a comfortable sofa and TV area for your evenings relaxing or for rainy days. In outside a charming little private space with partial lake view, equipped with table, chairs and umbrella.
The Ca in the village promises a pleasant stay for lovers of nature and relaxation. You will have the opportunity to follow magnificent and beautiful trails overlooking the lake and the "trained" in about 90 minutes you can reach Mount Bisbino (1325 Mt.), where in sunny days you can admire Milan and Monte Viso. I hope you can soon visit this ancient place.
Room Type
Entire home/apt
---
Property Type
Apartment
---
Accommodates
2
---
Bedrooms
Moltrasio, Lombardia, Italy
Cosy one room flat with stunning panoramic views on Lake of Como. Quiet and peaceful, it is at 5 minute walking from the nearest road through the characteristic stone paths.
Masonry kitchen, fireplace, washing machine. The bathtub is partially inside a small cave
A few kilometers far from Como, renowned for the Villas and the gardens, Moltrasio is the ideal destination to visit and enjoy the Lake.
Room Type
Entire home/apt
---
Property Type
Apartment
---
Accommodates
2
---
Bedrooms
Moltrasio, Lombardia, Italy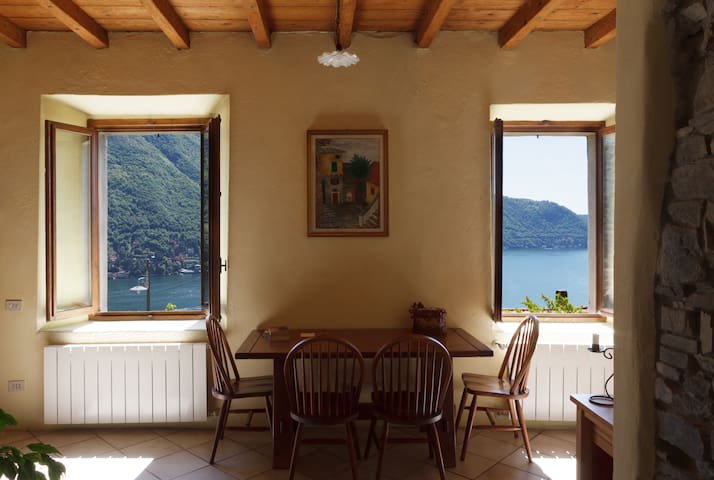 The charm of Lake Como, just a few minutes from the motorway! Comfortable flat with access from the garden and extensive view of the lake. Free WiFi, outdoor reserved car space, garage for motorcycles, bus stop very close, to reach the pier, 10 minutes walk.
The apartment is on the garden floor of the family house, situated on the trail that leads to the ancient stone quarries. Ca' de Sass owes its name to the moltrasina stone ('sass' in the local dialect) with which it is built and mined locally. In the living area, furnished with contemporary furniture, there are a french size sofa bed, dining table and fully equipped kitchen unit with induction hob, oven, microwave, fridge-freezer, small appliances, set of pots and pans. The sleeping area, separated from the living room, hosts an antique iron, double bed and the closet. The bathroom - with shower, toilet, large sink and mirror - a hairdryer and washing machine. Aligned and supplied iron. The garden is equipped with sun beds, big umbrella and armchairs.
The village center is a few minutes walk down through narrow roads, you can find a newsagent with foreign papers, a coffee bar, a bakery and a small grocery store for daily shopping. Continuing the descent, towards the lake, you find hotels, restaurants, coffee shop / ice cream gelateria, pizzeria, rental boats and beach. Here there is also an historic villa which in the past centuries have seen illustrious guests and that still guard the privacy of famous people. Not far from the house, but going up in the opposite direction towards the mountain, you will reach the stone quarries or intersect interesting routes of varying difficulty, including "Senteé di Sort" that leads to the village of Rovenna, or "via Linera" that leads to Carate Urio. Continuing towards Monte Bisbino you will meet "Via Lariani mountains", hiking with its 124 km that allows to arrive in 4 stages, remaining at high altitude, up to Sorico, top of the Lario. Moltrasio, with the neighboring Cernobbio and Como, boasts a significant artistic heritage and a lively calendar of events throughout the year.
Mara was such a kind host. She picked us up from the train station, and took the time to take us to the supermarket. She was not intrusive at all, but was always happy for a chat or to help any way she could. The location was beautiful. Close enough to the ferry that can take you anywhere. Thanks for making our stay extra special Mara!
David
2016-11-26T00:00:00Z
Myself and my boyfriend had a lovely time at Mara's home. It was a good base to travel all up the west coast of the lake. I would recommend getting a car if you are staying here as Moltrassio itself is quite quiet. The flat was so clean and Mara was so helpful even though we couldn't speak any Italian!
Emily
2017-03-10T00:00:00Z
Mara was an excellent host!!! And the place was beautiful and very confortable, more than we expected.
Alejandro
2017-02-12T00:00:00Z
If I could rate my experience at Mara's 6 stars, I would. Mara went above and beyond as a host! She took us to and from the train station, to the supermarket, gave us a tour of Lake Como, and even treated us to coffee :) The place itself is absolutely perfect: amazing views, stocked full of everything you need, and really clean. This is the best experience I've had on Airbnb. Mara is a very special person and so is her home! If you get the chance to visit Moltrasio, this is the place to go. We loved our time here.
Natalie
2017-01-03T00:00:00Z
Mara was the perfect host. We were very pleased with her hospitality and on our first night upon arrival Mara drove us around Moltrasio for a short tour to help us get our bearings in the area. Mara also offered constant support during our stay such as recommendations and advice and was always very quick to respond to our messages. The apartment itself was even more beautiful than the photos suggest. The view was perfect and the space itself was larger than we expected it to be. The area itself was great too and public transport was very easy to navigate. We got buses and ferry's on a daily basis to go to various areas of the lake and also enjoyed some nice walks. I can't thank Mara enough for how welcome she made us feel. I also recommend Trattoira del Vapore in Cernobbio (5 minute bus ride away), a wine bar where we enjoyed some complimentary Italian tapas on a Friday evening. We also ate at Moltrasio restaurant 'Trattoria La Moltrasina' on various occasions for pizza and local dishes. They do a great lunch time deal for €12 and was only a 15 minute walk from the apartment. Highly recommend!
Louis
2017-03-06T00:00:00Z
We have had a really wonderful stay at Cà de Sass! Mara is a very kind and attentive host - we have felt very welcome and cared for. The beauties of Lake Como are wonderfully complemented by this apartment - very clean, neat and everything you need with spectacular views. A total relaxation. Mille gratzie, Mara!
James
2016-11-12T00:00:00Z
Great host, beautiful and magical place!
Irene
2016-11-17T00:00:00Z
La vue depuis l'appartement est magnifique tout comme l'accueil et l'attention de la propriétaire. Ideal pour ceux qui aime la randonnée et monter des marches car les abords du lac de Côme sont tres pentus. Appartement tres propre et bien équipé. Seul bémol, la route tres passante qui se fait entendre meme si l'appartement est situé en hauteur par rapport a la route et qui rend egalement la place de parking un peu dangereuse.
aurelien
2016-10-14T00:00:00Z
Room Type
Entire home/apt
---
Property Type
Apartment
---
Accommodates
3
---
Bedrooms
Moltrasio, Lombardia, Italy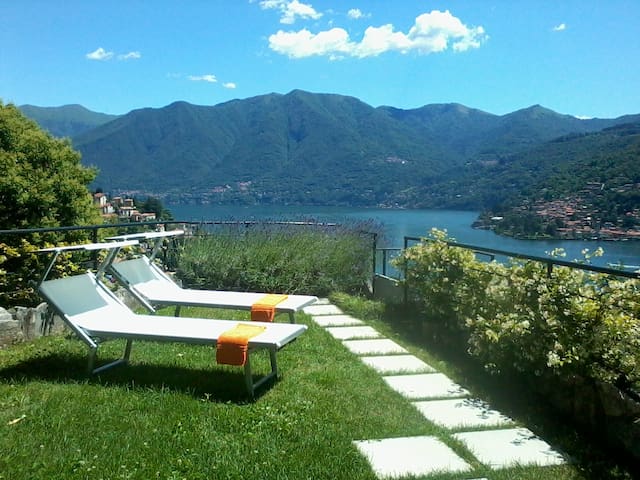 My place is close to Lugano, Lake Como and Milan. You'll love my place because of the amazing views and the relaxed atmosphere while you are centrally located to visit Ticino & Northern Italy. My place is good for couples and families with young children (Sofa Bed available). The Apartment is located on the Ground Floor of a bi-familiar house. We (me and husband) live on the first floor with our cat Mitzi. We provide a fully equipped kitchen with a Nespresso coffee machine.
When you wake up in the morning you can have your breakfast in the living room or on the terrace with breathtaking views of the Alps.
The Neighbourhood is very quiet, almost no street noise, close to many beautiful hikes (Monte Generoso, Monte Bisbino, Monte San Giorgio) and surrounded by nature.
Vi spenderade två veckor här för att utforska Comosjön, Milano och Luganosjön med bil. Lägenheten ligger i markplan och har en egen uteplats med sol på dagen och kvällssol. Våra barn kunde leka på tomten samtidigt som vi åt. Foxtown outlet ligger bara några minuter från huset. Mataffärer likaså. Kylen har ett frysfack. Vi köpte is på BP så vi kunde göra goda drinkar och njuta av utsikten som är fantastisk.
Alexander
2016-08-23T00:00:00Z
Room Type
Entire home/apt
---
Property Type
Apartment
---
Accommodates
2
---
Bedrooms
Morbio Superiore, Ticino, Switzerland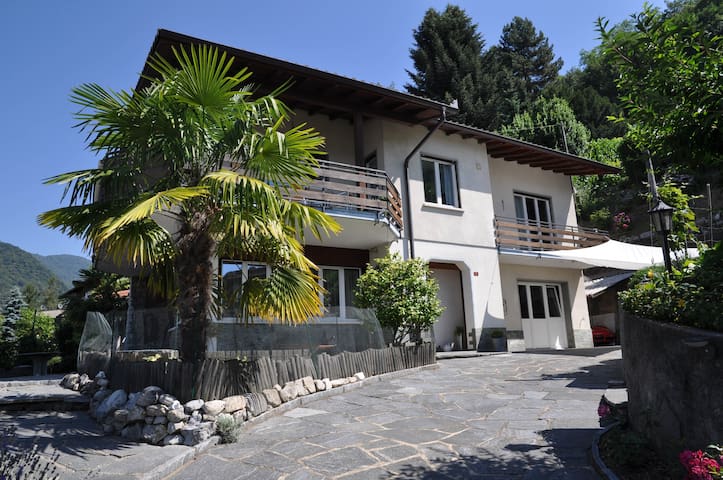 Il mio appartamento è situato nell'antico borgo di Moltrasio ed ha un affaccio sul lago che vi lascerà senza parole. L'ambiente è accogliente e adatto a coppie che desiderano vivere il lago e gustarne la sua quiete ma con la possibilità di muoversi comodamente!
La vista del lago a 180 gradi
Our stay at Moltrasio was fantastic. The apartment was very clean and well equipped. Only the induction stove needed some practice until we were able to cook our meal. The view out of the Windows is so beautiful! Marzia answered very quickly and gave us a perfect location plan to get to the house and even helped with finding the next ATM and grocery store. I warmly recommend the stay at La Madonnina 2!
Janika
2017-01-01T00:00:00Z
What a beautiful place and a stunning apartment! Lynda was extremely helpful in everything we asked. It was exactly what we needed to re-charge ourselves and completely relax. Quiet village and some great places to eat! Thank you very much Lynda and we will be coming again! Mali
Mali
2016-08-21T00:00:00Z
Un séjour parfait : repos, calme, beauté du paysage ... L'appartement est exactement comme sur les photos. Une vue magnifique sur le lac (le lever du soleil y était somptueux) et tout le confort à l'intérieur. Pour l'accueil on doit se débrouiller, heureusement que les voisins nous ont aidé à trouver l'emplacement qui est au milieu d'un petit bout de village typique et trop mignon : petites rues piétonnes en escalier. J'ai adoré le lieu et l'appartement en lui-même pour le calme et la beauté. J'y serais volontiers restée 10jours de plus !
Clairanne
2016-08-09T00:00:00Z
Très belle vue sur le lac.. Appartement rénové avec goût et très bien agencé.. Geste de bienvenue avec une bouteille de vin.. Place de parking difficile.. Très agréable dans l'ensemble..
fabienne
2016-10-23T00:00:00Z
Je ne peux donner un avis sur l'hôte de cet appartement "Lynda", car hélas je ne l'ai pas vu!!! Pour l'appartement, il est conforme aux photos.
stephane
2016-08-14T00:00:00Z
Deliciosamente decorado departamento to con absolutamente todo lo necesario del hogar y una envidiable vista de Lago di Como. Importante, si son cuatro adultos, dos de ellos deben de ser energéticos, porque una de las camas está en un tapanco y dos, es importante que quien rente el departamento lleve auto, es difícil conseguir taxis y el súper más próximo está en Cómo. Moltrasio cuenta con pocos establecimientos comerciales incluyendo restaurantes.
Fernando Ernesto
2016-08-28T00:00:00Z
Room Type
Entire home/apt
---
Property Type
Apartment
---
Accommodates
4
---
Bedrooms
Moltrasio, Lombardia, Italy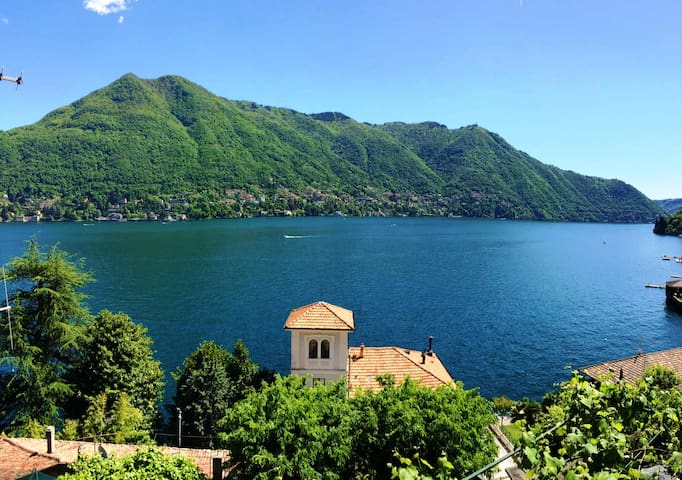 The apartment in Moltrasio is located in the upper part of town (Tosnacco), so it offers an amazing view of the lake, even from the bedroom. The living and dining area has a comfortable pull-out sofa for sleeping two extra people and the large bathroom is well appointed with a 'tropical rain' shower on natural stones.
Room Type
Entire home/apt
---
Property Type
Apartment
---
Accommodates
4
---
Bedrooms
Moltrasio, Lombardia, Italy
A luxury apartment located in an upscale area of Lake Como. This two bedroom apartment with period features and classic décor is part of the villa Hocevar which has a rich and colourful history complete with private shared gardens within the Villa and a stunning lakeside pool. The villa was built is 1829 and originally named the Villa Bellini after the famous Italian operatic composer Vincenzo Bellini who lived here.
Room Type
Entire home/apt
---
Property Type
Apartment
---
Accommodates
4
---
Bedrooms
Moltrasio, Lombardia, Italy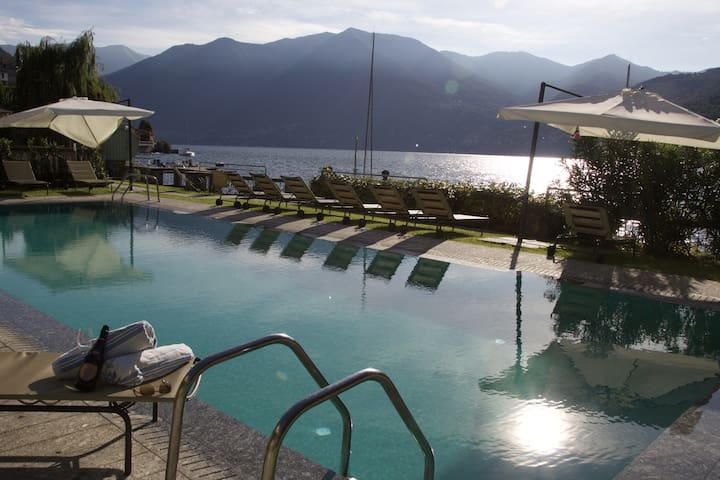 Situato in collina immerso nella natura con giardino privato e stupenda vista lago.Possibilità di escursioni a piedi o in bicicletta sulle montagne circostanti o gite sul lago di Como o nella vicina Svizzera.Dista dal piccolo paese di Casasco 1km e dal centro abitato più grande di San Fedele Intelvi 5km .Distanza dal lago di Como 15 km
l'allogio presenta una camera matrimoniale ampia con letto matrimoniale e letto singolo da aggiungere se necessario,una cameretta con due (URL HIDDEN) balcone con tavolino dove si gode una splendida vista lago.
Logement très bien très propre. Quartier très calme, vue magnifique sur la montagne et le lac. Pour les randonneurs ç est le bonheur des sentiers de randonnée partent au pied du logement. Très très belle région. Juste les route un peu étroite.
aurelie
2016-08-13T00:00:00Z
Room Type
Entire home/apt
---
Property Type
Apartment
---
Accommodates
5
---
Bedrooms
Casasco D'intelvi, Lombardia, Italy
Romantic lake view flat in the heart of the old village of Moltrasio, with large private terrace and garden both facing the lake. (URL HIDDEN)
Plan of the house From the large terrace covered with grapevine – so you can dine al fresco -,you get into the sitting room with well-equipped kitchen (dishwasher, oven) fireplace, sofa bed which sleeps 2 people. Bedroom with double bed and sleeping loft reached by a ladder fixed to the wall - ideal for energetic kids. A cot for baby, highchair and toys is avalilable. Breathaking view from the terrace , the flat is in a house recently restored with fired brick floor, fireplace and loft with beams showing. Bath with shower. The apartment has all comforts – washing machine, dishwasher, oven, modern TV , internet connection. location It is situated in the center of Moltrasio , a charming perched old village , with shops, bar,bank. The flat is a few minutes' walk to the lake and pier. You can take the boat to go to Bellagio or Como ( 1/2 hour). In Como next to the pier is the railway station to get to Milano or Malpensa airport. Moltrasio is a few kms from world famous Villa D'Este and George Clooney's villa.
It is situated in the center of Moltrasio , a charming perched old village , with shops, bar,bank. The flat is a few minutes' walk to the lake and pier. You can take the boat to go to Bellagio or Como ( 1/2 hour). In Como next to the pier is the railway station to get to Milano or Malpensa airport. Moltrasio is a few kms from world famous Villa D'Este and George Clooney's villa.
Giovanni was easy to contact about the booking and met us at 8pm as discussed. We really liked Moltrasio as an area to stay and 10mins walk to the ferry is great. The clock was really quite loud (but I am a very light sleeper) and there are no curtains in the main bedroom, but I can't complain about any of it as we had a really amazing time and can't recommend Lake Como enough.
Ellen
2016-08-30T00:00:00Z
The host canceled this reservation 95 days before arrival. This is an automated posting.
Audrey
2015-05-12T00:00:00Z
We spent great times in giovanni appartment. The view is wonderful and the village very cute.
Laure
2016-05-08T00:00:00Z
Had a lovely stay in Moltrasio; people very helpful. Giovanni was very helpful & welcoming. Flat was clean, beds comfortable & our kids enjoyed the loft. Would readily go again.
Sonia
2015-04-08T00:00:00Z
Our stay at Giovanni's apartment was absolutely amazing. The moment we unlocked the door we were greeted with the most breathtaking view of the village and the lake. The flat was a great size with a great little kitchen. Eating breakfast on the balcony was the highlight of our days. Giovanni's lovely dad picked us up from the ferry, even though it was only a short stroll up the road. We felt like a local staying in this lovely village. Giovanni was friendly and quick to respond in all our communication. I cannot recommend our stay here more highly. Moltrasio was a beautiful village to stay in. Thank you for sharing your home with us!
Jess
2016-05-04T00:00:00Z
We have been welcomed by Giovanni's father at the boat's arrival. We found him very friendly and he explained us how to use the appliances and where were the shops around the house. Unfortunately, the next day was a public holiday and the cooperative shop was closed but there was the little shop just next to the door that was opened. The appartment looks exactly as described and the view from the terrace is just fantastic. We would have loved to stay a little longer. We would stay there again with great pleasure and recommend the stay at Giovannis's.
Muriel
2015-04-27T00:00:00Z
A wonderful place to stay with charming Italian character. Had everything we needed. Close to ferry and local small delicatessen run by a lovely, helpful couple.
Jo
2016-06-12T00:00:00Z
Very nice place with a perfect view over lake Como. Gino is a very kind and helpfull host. We enjoyed our stay very much and we had memorable breakfast on the balcony every day with the view over the lake. Stable Wifi, parking 3 minutes from addres. We can reccomend this nice place and we would be more than happy to stay there again if we ever visit this area of italy again. Best regards Benjamin.
Benjamin
2014-07-26T00:00:00Z
Room Type
Entire home/apt
---
Property Type
Apartment
---
Accommodates
4
---
Bedrooms
Moltrasio, Lombardy, Italy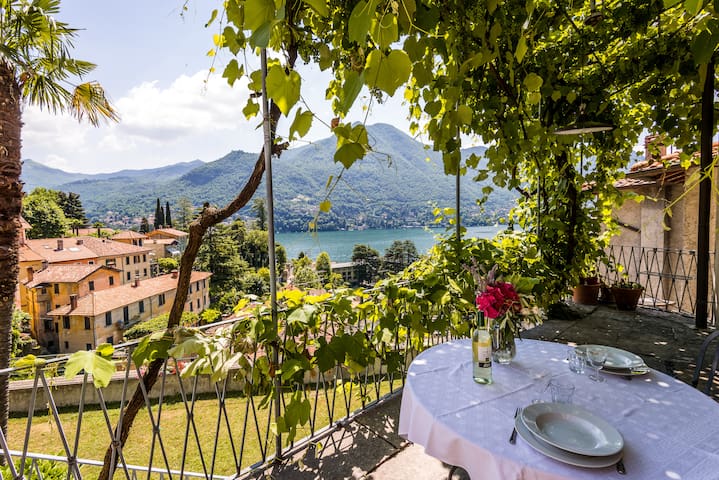 Ti piacerà il mio alloggio per questi motivi: La casa è un oasi di pace, dentro e fuori casa. L'arredamento è semplice ma caratteristico. Tutto è molto armonico, il grande camino vi riporterà indietro nel tempo..
Room Type
Entire home/apt
---
Property Type
Apartment
---
Accommodates
4
---
Bedrooms
Occagno, Lombardia, Italy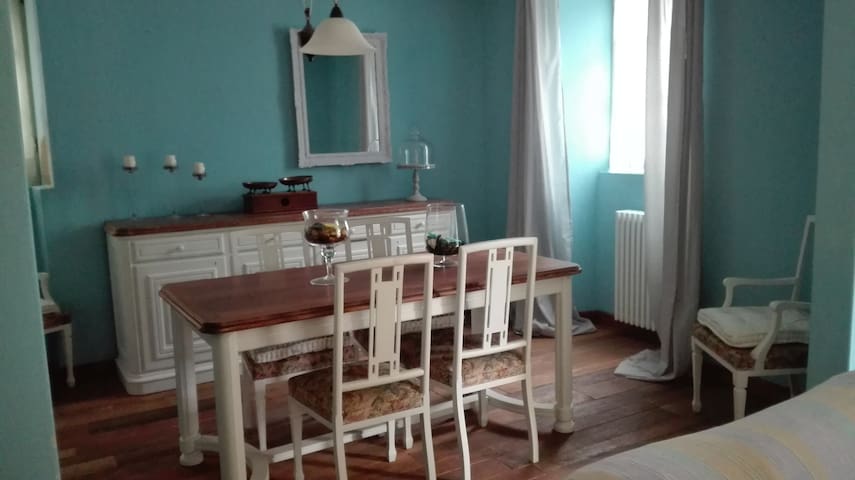 In old house of 1820 completely restored and furnished CERNOBBIO Rent complete with every comfort, apartments of about 70 m / q lakefront, private garden and garage. dishwasher oven complete a few km from "Bellagio / Menaggio / Como / Lugano Above Villa D'Este..a overlooking the lake. Private garage included.
Tranquility'...
From start to finish, our stay with Vittorio was absolutely fantastic. His home is gorgeous and the views from the apartment and terrace are breathtaking. He graciously drove us in to town one night as we did not rent a car (it's a quick, 1.5mi walk in to town in case you're thinking of just visiting w/o a car) and brought us a delicious breakfast both mornings of croissants, meats, cheeses, and coffee. Cernobbio is a quaint, quiet town but central to Como (and less touristy) and you can catch the ferry up to other village towns easily. I can't recommend this place enough! Thank you Vittorio for such a lovely stay!
Erin
2015-09-07T00:00:00Z
Stayed for a few days in Italy for our Anniversary and decided on this apartment due to recent reviews and photos. Getting there was a bit of an adventure due to inexperience of driving but once we arrived the location and apartment were amazing. Vittorio was waiting for us as we arrived 2-3 hours later than we anticipated but he was very accommodating and proceeded to show us around the beautiful and well kept apartment. Highly recommended for anyone wishing to visit the Lakes with amazing view and an amazing place to stay.
Ming
2016-09-22T00:00:00Z
Be prepared for a million dollar view. The view from the apartment is breathtaking. We couldn`t get enough from watching the lake and the landscape from the terrasse as well as the apartment itself (there is a gret view from the living room/kitchen and from the bedroom). But please keep in mind, that the apartment is not too easy to find. You should definitely call Vittorio before you go into a too narrow street on the way to the apartment! With his help it is no problem to get there - without nearly impossible, I guess. Vittorio is a great host. He is very helpful - starting with getting to the apartment, but also with restaurants nearby, things to do around etc. The apartment was very nice, well equipped and perfectly clean. Vittorio brought a real good breakfast to the apartment on every morning. We enjoyed our stay very much and will definitely come back!
Benjamin
2015-09-05T00:00:00Z
The appartment is furnished and decorated with good taste, nice location in Cernobbio. Actually the appartment looks better than in the pictures and the view on the lake is splendid ! Vittorio and Ramona were two excellent host with a true sense of hospitality. It was very much appreciated. We enjoyed the visit they recomended and breakfast served in the appartment. I strongly recommend the appartment to anyone stays in the area of Lago di Como.
Anthony
2014-09-10T00:00:00Z
The place was absolutely adorable. With a great view. Vittorio was very helpful. The pictures were a true representation of accommodations. You need to have plenty of time to visit the towns because you are on the southern tip of the lake. Everything was beautiful.
Mary
2016-05-20T00:00:00Z
everything was just perfect! vittorio is a great host! thank you so mutch!
eve
2016-06-11T00:00:00Z
This apartment and our host, Vittorio, were absolutely amazing. You will find no better view and terrace than the ones here. The host also kindly brings you breakfast every day. We loved our stay and would definitely recommend this Airbnb for a short or (Very) long stay. Thank you for this wonderful experience!
Adriana
2015-07-28T00:00:00Z
Vittorio is a Nice host and very helpfull, he gave us two suggestions for restaurants. They were great! And the appartment is perfect, it was really clean and everything was there. And it has a great view! You dont get a better view anywhere!
Niels
2015-08-04T00:00:00Z
Room Type
Entire home/apt
---
Property Type
Apartment
---
Accommodates
2
---
Bedrooms
Cernobbio, Lombardy, Italy
La casetta si trova nella zona delle cantine a Capolago, ai piedi del monte Generoso. È situato vicino ai negozi e ai mezzi di trasporto pubblico, con i quali in circa 10 minuti si é a Mendrisio. L'appartamento é stato recentemente ristrutturato ed abbiamo scelto un arredamento semplice ma moderno. Inclusi nel prezzo gli ospiti dispongono del Wifi e della Swisscom TV. É un alloggio è adatto a coppie, chi viaggia per lavoro e famiglie (con bambini).
Room Type
Entire home/apt
---
Property Type
Apartment
---
Accommodates
3
---
Bedrooms
Capolago, Ticino, Switzerland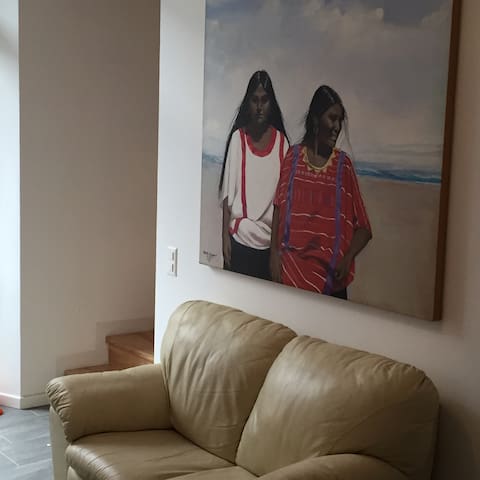 This apartament is unique because has an amazing lake view and one of the most romantic spot of the Como Lake, close to the VIP GIanni Versace villa (400m). Double shower with emotional lights the balcony and the large bedroom are simply fantastic.
This tranquil Italian condo is beautifully designed and boasts two private balconies for four guests to sit back, relax, and delight in the gorgeous lake view. Ideally located on a bus route, guests can easily frequent the city center of Como and its historic works of art, churches, gardens, museums, theaters, and parks. Make reservations for a boat trip to explore Lake Como nearby, and come home from a day of sightseeing to your relaxing condo retreat. This romantic rental has an open and welcoming feel. High white-washed wood-beam ceilings, natural stone walls, and large picture windows greet you upon entry. The cozy living room has a comfy sofa, fireplace, and stocked entertainment center for intimate movie nights. The dining room is spacious and has multiple views of the outdoor beauty. The light, bright stocked kitchen has stainless steel appliances, and includes a dishwasher and a plenty of workable space for guests to prepare group meals. There is one bedroom and one full bathroom: the elegant bedroom has a double bed, and the luxurious bathroom has a soaking tub and a chromotherapy shower. This home has two sofabeds, providing four guests adequate space and comfort, and a half bathroom for additional convenience. WiFi is available during your stay, as well as a cable TV with a DVD player, stereo, and a washer/dryer to enable guests to pack lightly and stay awhile. This Lake Como condo rental is perfect for a relaxing family vacation, or adventurous getaway with friends. Spend evenings sharing a bottle of local wine from one of two private balconies, and relish in unforgettable views. Explore the nearby Italian villages bursting with great eateries, art, and historic culture. The Swiss Alps are 80 miles away for hiking or skiing. Create lasting memories at this idyllic Italian getaway, we invite you to book this fantastic condo rental now!
The host canceled this reservation the day before arrival. This is an automated posting.
Ekaterina
2016-05-25T00:00:00Z
My wife and I spent 3 days in this newly renovated and perfectly designed apartment. Looks even better then on the photos. Nice view from 2 balconies and all windows towards lake Como and the surrouding hills. The apartment is very comfortable, clean and has fully equiped kitchen. It is very quite. The service was nice. Como city is in 10 minutes drive (free parking was available). We would highly recommend this apartment. Just right for those who wish to escape from the city for a few days. Would like to try other properties managed by Gianluca.
Sergey
2016-03-31T00:00:00Z
Romantic one bedroom and 1 1/2 bathroom apartment with a private parking space, very well equipped kitchen, fast WiFi, and bathtub and spacious rain forest shower. Ten minutes from Como on a quiet street with an unobstructed view of Lake Como. A one week stay in the area was perfect. Everything that Gianluca promised was delivered and more!
Ronald
2016-11-29T00:00:00Z
Gianluca was very responsive and helpful. We were able to find the apartment easily and when we arrived ahead of schedule we were able to enter the apartment early. There was a bottle of wine waiting for us in the fridge which was so nice after a long flight. The apartment is lovely and looks just like the pictures. The view from every window is incredible! We would often look out the windows and say to each other "look where we are!" An added bonus in this apartment is the small room/alcove off the bedroom which was a perfect place to put our daughters portable crib. We enjoyed drinking wine and eating cheese on the balcony and decided that we should have spent our whole week in Italy in this apartment, we really loved it. Moltrasio was the perfect town for us and was only a 45 minute drive from Milan airport (Malpensa). When I travel, I like to avoid the crowds and get to know the local people as much as I can. Moltrasio felt like a small village with very friendly people - every one we passed on the street said "ciao". You can hop on a ferry and visit the more touristy towns very easily (and the ferry ride is worth it purely for the views). There is a great store that is a 10 minute walk away with very friendly owners who let me practice my Italian with them. If you need a bigger grocery store you can get a ferry to Como otherwise it is a 10 minute drive. There are lovely restaurants in Moltrasio as well. One night we went to a restaurant which was more like having dinner at a local's home - named Crotto Val Durino and 2 minutes walk from the apartment. They spoke very little English and we spoke very little Italian yet we still managed to communicate and get to know them via hand signals and a little cheating by us with (SENSITIVE CONTENTS HIDDEN) translate. We sat on the balcony overlooking the lake. This was probably the best night of our whole trip. Overall I highly recommend Gianluca's apartment. I want to go back!
Nellie
2016-06-22T00:00:00Z
It is a very nice appartment with a beautiful view. We have really enjoed this short trip to como staying there!
Tatyana
2017-03-12T00:00:00Z
We liked the village with its friendly people. Spacmially the alimentari, the bar and the restaurant Trattoria la oltrasina (all close to the kitchen) are very likable. There are plenty of boats that take you to Como or the villages around Moltrasino and there are various hiking tours that start in Moltrasino. To the apartment: It was designed with taste and perfect beside the kitchen. Here we missed some stuff in the kitchen e.g. a cover for the pan or a jar for tea or tea-cups in the same style. But the balconies and the lake-view made us forget these details.
Jon Andrea
2017-03-17T00:00:00Z
Had a great stay at the pad, which has wonderful views of Lake Como from the windows. Very spacious for 2 people, clean and well located in Cernobbio with easy access to all parts of Lake Como. It was a little difficult to find initially as the street is off another street and can be tricky to spot on the GPS. Check-in took some time as the person with the key had to drive in from another part of Lake Como. But I would stay here again as it was a wonderful place to come back to and wake up in.
Murteza
2016-10-16T00:00:00Z
Beautiful home with stunning views of the lake. Well appointed with plenty of dishware, pots, pans, etc. Easy parking outside of the home. Stores and restaurants are not entirely close by, and a long walk down to the ferry to get to anything.
Andrea
2016-10-23T00:00:00Z
Room Type
Entire home/apt
---
Property Type
Apartment
---
Accommodates
4
---
Bedrooms
Moltrasio, Lombardia, Italy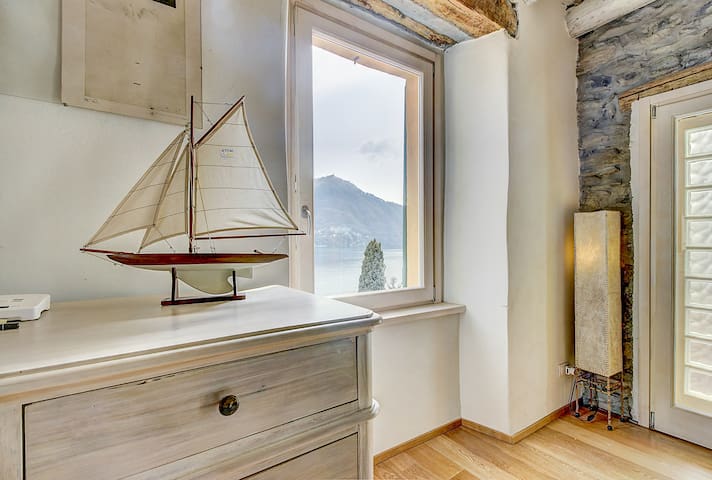 The apartment consists of bathroom, living room , kitchen and two bedrooms in a villa overlooking Lake Como , with private garden and terrace. The villa is the Rose Castle in Moltrasio a lovely town near Como. Laundry is a payment service.
Located in one of the most beautiful and romantic places of Moltrasio , along the avenue leading to the church of Sant'Agata ( pretty Romanesque church that dates back to the eleventh century ... ) and Villa Passalacqua (which became famous for stays of Vincenzo Bellini that in this villa composed his most important works such as Norma , Sonnambula ... ) , this house is in the green, in an oasis of peace and tranquility just 5 minutes from the lake , it has got an apartment for 3 adults and 2 children , consists of 2 bedrooms , 1 double and 1 single , bathroom , kitchen and living room.
We are next to Villa Passalacqua in Moltrasio, less than 10 minutes from Grand Hotel Moltrasio. The town is magical, one of the best places in Como Lake.
BELLISSIMO BELLISSIMO!!! This was amazing in everyway, the property was better then the pictures, spotlessly clean throughout. View was incredible. Our host was very helpful and nothing was too much trouble. Moltrasio is a beautiful small village, very non commercial. Staying for a week? Maybe do a good food shop in Como, as one very small mini market and bakery. Few restaurants, can recommend the lido for day and night... Just perfect!!!
Stuart
2016-08-11T00:00:00Z
The host was lovely, very welcoming and easy to arrange with. He lives below the property so is available, without being instrusive. On arrival the fridge had some welcome goodies and some wine which was a lovely touch. The apartment itself is deceiving, the photos dont do it justice. It has an amazing balcony overlooking the lake and with a beautiful old church in the vista. The house itself is well decked out, comfortable and has character. Nice and clean too.
roz
2014-10-07T00:00:00Z
This apartment was one of the highlights of our trip to Italy in terms of accommodation. the assistance from Nicola in getting the right public transport to get to Moltrasio and then the fabulous welcome from him when we arrived was very much appreciated. The way he and his mother go out of their way to assist and make you feel at home is exceptional. We arrived in the afternoon and not having to go out again that day because of the well stocked fridge including wine was a very pleasant surprise. In terms of the villa it was extremely well appointed and the view from the balcony was so good we tended to bring food back and have dinner outside on the balcony soaking in the view. We only wish we could have stayed longer!
Peter
2015-07-18T00:00:00Z
I honestly can't describe how wonderful this apartment and the hosts are. We had a fresh amazing cake when we arrived, the most incredible beautiful view you could ever hope for, clean comfortable and well decorated rooms. My fiance got sick while we were staying here and the host took him to the doctor! Truly some of the nicest and most hospitable people we have ever met. Thank you for EVERYTHING!! We can't wait to come back and stay here again.
Lisa
2016-07-05T00:00:00Z
Are you ready to be spoiled? It appears that the one true desire of the Pini family is to make guests in their home feel as welcome as possible. Our visit was wonderful! Jennifer and Jimmy
Jennifer
2015-06-28T00:00:00Z
Our stay here was simply wonderful. We highly recommend this place to anyone looking to visit Lake Como and the area. The apartment is very large, consisting of two separate floors, two bedrooms, a kitchen, a living/dining room, and a terrace. The terrace was our favorite place to have breakfast and evening drinks before or after dinner with spectacular views of the Lake and the 13th Century church located just feet in front of the home. Nicola and his mother were extremely gracious and welcoming hosts who stocked the refrigerator with fruit, prosecco, and even baked us a chocolate cake! We truly felt at home. The village of Moltrasio is a sleepy and charming town that is just a five minute drive from Cernobbio. The boat/bus terminal of Moltrasio is a five minute walk away (although note: it is down, (and then back up when you come home) a very steep path) and you can catch ferries to anywhere in Lake Como. The parking spot which comes with the home is essential and very convenient. The beds were comfortable enough and it was very quiet at night. We would highly recommend this place and would love to come back!
G.
2016-05-24T00:00:00Z
What a beautyful and calm place! The apartment has an elegant and fine interior and the huge balcony with its great view is stunning. We were welcomed warmly and the coordination of the arrival and check out worked out perfect. This offer is highly recommendable!
Oliver
2015-07-06T00:00:00Z
This was an absolutely wonderful place to stay. The apartment is stunningly beautiful and is also very well-kept and clean. This is easily the best Airbnb I have ever stayed in. Nicola was a great host--incredibly nice, offered us a ton of information on what to do in Moltrasio and Lake Como broadly (we took his advice and rented a boat one day and did the Greenway di Lago walk another day), and bore with us even though we don't speak any Italian! Furthermore, Moltrasio was a wonderful town to stay in. It's much less touristy than some of the other towns in the region and had a good handful of great restaurants. Overall, I highly recommend this apartment!
Natalie
2016-07-17T00:00:00Z
Room Type
Entire home/apt
---
Property Type
Apartment
---
Accommodates
5
---
Bedrooms
Moltrasio, Lombardy, Italy
Top view house on lake, very well fornished. Relaxing and pictoresque town. Closed to Como and easy to reach once left the autoroute.
Cosy and beautiful brand new apartment in a typical house 2 floors in Moltrasio(Como), a nice town on lake Como. The town is very closed to Como 15 min by car and easy to reach from the Highway just 10 min from Como lake exit. The view is grate and you can enjoy the surrounding nature and context of this beautiful region. The House is in a quite corner of the town with an amazing view on lake it has a nice balcony with a nice graperuit tree that make picture frame where you can sunbath after you've toured the lake , There's a fully equipped kitchen at your disposal, with a confy nice table where you can have your meals after or before your day trips on lake . There is a nice typical restaurant near the house very closed to the house if want to eat without cooking. There is a huge window from kitchen that allow you to take all the best in. There is a living room with two sofas where you can relax or used it as second room if you are more than two person. Rooms: One bedroom with double size bed. There are two confy sofas in case an extra bed is needed. Wooden parquet pavement for a warm feeling. Very easy access by car, and 5 minutes from the highway exit. Parking zone is 50 meters from house. WIFI access in the near local restaurant. There is plenty to do so we are now and will be very happy once you're here to stay at your disposal and give you all recommendations you need to make your stay unforgettable in this amazing place!! See you soon! PLEASE NOTE: the apartment is totally brand new and just on websites. SOMETHING ABOUT THE LITTLE TOWN MOLTRASIO: Moltrasio is beautiful little typical town by lake Como, the property is right in town. Few minutes walk from the lakeshore, enjoy an enchanting promenade to the ferry that will take you discovering the magic of the lake, or stop by the beach where you can take a nice swim, sunbath and enjoy a drink. From the house you will want also to breath the feeling to stroll around the ancient medieval streets of the town, or hike the panoramic trails up on the mountain with amazing lake views. Bars, restaurants, pizzeria and gelateria are in town. Rent a boat service and wakeboarding is available in the town. Visit all famous surrounding towns by the lake like Cernobbio, Como, Menaggio and Bellagio in only 15/20 minutes drive, via bus or via ferry. The town of Laglio (now famous for George Clooney's house) is 5 minutes by car. Switzerland is also very close (border is 10 min drive, Lugano 40 minutes, Outlet shopping center 20 minutes) Just ask me for more infomation I have all suggestions for your nice stay!
MOLTRASIO as all other towns on lake Como, has stairs or hills to climb to go around and reach places. Many roads are made of stones and the surfaces is a little bit irregular. To reach my house you have 30 steps from the road, that is not to much compared with other houses dislocate in town and in other places around lake, some places are connected to the road by 1000 steps.
Great apartment! Couldn't ask for a better view. Paolo arranged to pick us up from the station and dropped us off when we left which was great. The apartment was very well equipped and clean and comfortable.
Jessica
2015-07-13T00:00:00Z
Nice house overlooking Lake Como just 10-15 mins walk from Moltrasio town which is a small town with some restaurants along the main road. The ferry station is located in town with a friendly staff. From this ferry station you can catch a boat ride to Como town and most other towns including Belaggio on the South Western extension of the Lake. My wife and I were glad we didn't drive because of the narrow roads and good ferry system. Moltrasio like the other towns is built on a hill so be prepared to exercise those legs! The house is really comfy and we appreciated the absence of TV which would have been a distraction. Paolo was really hospitable picking us up from the train station and sending us on the last day. The cabinets were stocked with kitchen essentials. Very private place with friendly neighboring restaurant serving simple authentic Lake Como food.
Kam Weng
2015-05-12T00:00:00Z
Paolo was a great host and picked us up as well as dropping us off at the train station which was really excellent as I don't think taxis in Como are that regular/frequent, and clearly above and beyond what you'd normally expect of a host. The flat was clean and exactly as described. The main attraction of course was the view, which was spectacular! Sitting on the balcony looking out on the Lake was truly amazing. One thing to stress is they lack of wifi, so make sure you're prepared with maps (although Paolo had provided a number of these and brochures, including ferry times) and other reading materials. If you need wifi, there was free access at the Moltrasio ferry port, c. 10-15 minutes walk away. Luckily, we want to stay here to get away from social media for a while so it was perfect. Moltrasio itself is a small town on the lake, with some nice restaurants/cafes in the town centre itself. By ferry, Cernobbio (our favourite place on the lake) is 15 minutes ride away, Como c.30 minutes and Bellaggio about 50 minutes on the fast service. We had a really great time and would definitely return to Paolo's apartment if/when we return to Lake Como!
Zara
2015-08-02T00:00:00Z
we had a great time in Moltrasio. It's a fantastic location to stay. Paolo's flat is just brilliant. And very handy. We loved it and we might come back next year!
Aurelia
2013-08-16T00:00:00Z
Paolo's apartment is great with absolutely amazing views. The apartment is high on the hill and in a very quiet neighborhood. The kitchen was the best equipped of any place we've stayed in through Airbnb. We love to cook and always appreciate it when an owner provides visitors with cooking essentials. Paolo also provided breakfast items and snacks, which is always appreciated. Paolo was very welcoming and made our stay wonderful. I would highly recommend his place for a quiet retreat
Kenyon
2014-05-26T00:00:00Z
This was a truly lovely apartment to stay in...the views were spectacular, the rooms were immaculate and very nicely presented, and we were very comfortable. I loved the location.. Moltrasio is a beautiful town and it was easy to walk in to catch the ferry or go to the cafés. And it was not crowded at all, even though it was high summer. I would come and stay again in a heartbeat. The only thing to watch out for is finding the place... We arrived late and Paolo kindly waited for us, and ended up getting in his car and finding us. What we hadn't realised was that streets in Italy can be just a path or steps, so we had problems finding it.
Pam
2014-08-19T00:00:00Z
Absolutely stunning!!!!! Best place we have stayed in Europe!! The view is breathtaking and the apartment is spacious with everything you could need. The town of Moltrasio is beautiful and without the crowds of the bigger towns on the lake, but an easy boat ride away. Paolo is an amazing host. So helpful. We will be back.
Angus
2013-08-22T00:00:00Z
We stayed for 5 days in Paolo's beautiful Apartment. The place was clean and cosy. Parking spaces are in around 50m available. From The apartment you have a wonderful view over the lake. Moltrasio is a cute village with some little stores and two good Restaurants directly at the lake. We'll definetly come back to this beautiful Place and this nice apartment...
Nadine
2014-06-08T00:00:00Z
Room Type
Entire home/apt
---
Property Type
Apartment
---
Accommodates
2
---
Bedrooms
Moltrasio, Lombardy, Italy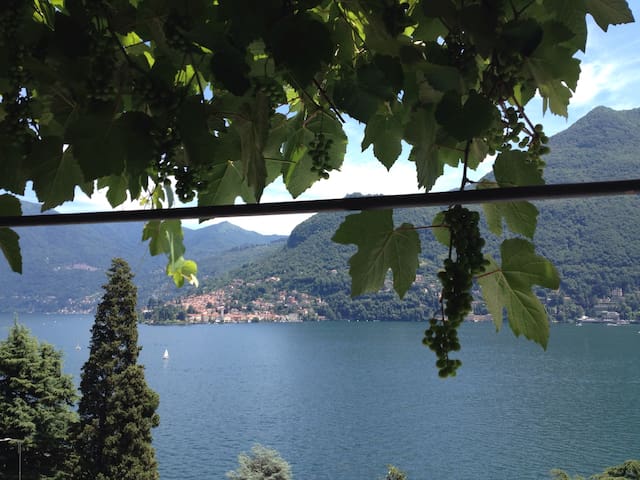 1

–

18

of

300+ Apartment Rentals
Enter dates to see full pricing. Additional fees apply. Taxes may be added.