EXCEPCIONAL FULLEQUIP HOUSE WITH AMAZING LANDSCAPES. I RECOMMEND READ THE ASSESMENTS. THE CLEANING IS THE MOST IMPORTANT FOR MY BUSINESS. FREE WIFI, NETFLIX, CHANNEL, SATELITE, TV, TV3D 46``,GAMES, OPTIONAL COT AND HIGH CHAIR, PRIVATE PARKING TWO DOUBLE BEDROOMS. THE LOCALIZATION IS PERFECT TO KNOW ALL THE ALICANTE´S COAST: SAN JUAN BEACH, ALICANTE, LA VILA, ALTEA, EL ALBIR, CALPE...THERE IS A BEACH 500 METERS WITH A BEACH BAR
Magnific house, you will enjoy of incredible landscapes . It¨s an special place. FULLEQUIP: TV 3D 46´´,NETFLIX, CHANNEL, SATELITE TV, FREE WIFI, MAGNIFIC KITCHEN, BOARD GAMES, OPTIONAL COT AND LONG CHAIR, THREE TERRACES: INCREDIBLE FLAT ROOF WITH SHOWER, FRIDGE AND LIGHT. AMAZING LANDSCAPES
It´s an special place. You should come!!!. PLEASE READ THE ASSESMENTS
It was great to stay at Ricardo's apartment! There are two amazing balconies with sea view - we were always having breakfasts at the one on the ground floor even thought it was winter, plus big roof terrace with spectacular view! Ricardo was really nice and hospitable, showed everything around in the flat and gave recommendations on restaurants and bars around. The only weaker point was the bathroom - we were 5 people and it was a bit tricky to schedule our shower-times with only one shower. But it was very minor inconvenience, otherwise really great stay and I definitely recommend it!
Anna
2017-01-03T00:00:00Z
From the start, our host Ricardo was very quick to respond to communication. He met us and showed us the apartment and explained about local facilities and towns to visit. On arrival, the apartment was just as expected, even the weather was as good as the pictures. The surrounding complex was quiet and had a shared pool but we had it to ourselves most of the time. The nearby restaurants were both very good and good value. Overall we had a relaxing time and would recommend the apartment for adults because of balconies with low handrails and steep steps it could be a challenge for children or elderly to make the most of the different levels.
David
2016-09-13T00:00:00Z
Ricardo's apartment can only be highly recommended. The views from every floor are just stunning. The interiour is pretty modern and everything is very clean. Overall definitely a place you want to spend some time. Thanks Ricardo we enjoyed it a lot!
Boris
2017-03-06T00:00:00Z
Very clean, modern apartment in a beautiful rustic Spanish style village development. Ricardo was a perfect host, he was here when we arrived to exchange keys and relevant information and was able to accommodate our late flight by letting us stay in the apartment. Would not hesitate to recommend his apartment, plenty of room for 4 guests. Fabulous sun terrace on roof with .comfy sun beds
Cyril
2016-12-21T00:00:00Z
Amazing views. The roof terrace is spectacular and so quiet. The housing complex was also very pretty and Ricardo's house very contemporary. We had breakfast every day on the terrace and it was a real sun trap. Ricardo was fantastic. He was very attentive and answered our messages straight away. Even when we stupidly locked ourselves out of the house (when the door shuts it locks itself) he was very quick to sort it out for us. The pool area is also lovely. We managed to catch the bus to Campello and we then caught the tram into Alicante which was nice. Ricardo also recommended for us to go to Altea which was lovely. Walk up the hill to the old town and have meal on the water front. We wish we had stayed longer. Thank you Ricardo. We will return.
Kelly
2017-04-11T00:00:00Z
The apartment is marvellous, located in a very quiet pueblo area. everything you need is there. Ground floor a kitchen fully equipped and a dining and living area, a toilet, TV and wifi and a balcony with wonderful views on the sea. First floor two bedrooms, one with French balcony and sea view. top floor the roof terrace for sunbathing and stunning 360° view. It is recommended to hire a car as the apartment is located a bit outside of El campello. Garage parking is also available. Ricardo was always available and helpful, check-in and check-out very smooth and easy. I only can recommend this place and definitely will come back.
Manuela
2016-11-10T00:00:00Z
Heaven! I can't speak highly enough of our stay in this wonderful apartment. If you are in search of a truly relaxing, peaceful and luxurious getaway then this is your place! We had a car so getting around to the nearby beaches and restaurants was very easy. Ricardo was a pleasure to speak with and made the stay that much more enjoyable! Would definitely recommend to couples and hope to be back in future.
Stephanie
2016-10-05T00:00:00Z
This apartment is perfect. You can`t expect more! Everything you can imagine is there. Ricardo is very friendly and everything ran very smoothly, when we had some questions he always gave us best recomendations. The view from apartment is even better than you can see on pictures. I`m sure I will come back there! Thank you Ricardo!
Martyna
2016-09-10T00:00:00Z
Room Type
Entire home/apt
---
Property Type
House
---
Accommodates
5
---
Bedrooms
El Campello, Valencian Community, Spain
Nice villa, direct access to the sea. Amazing views and incredible location. Private swimming pool, close to sand beach 100m.
Quiet neighbourhood, international neighbours, close to tram and good access to highway and airport.
Nicest town in Costa Blanca!
The location of the house is perfect, just on the sea coast, in a quiet residential area. The house is spacious and equipped enough to comfortably accommodate 12 persons. The furniture and equipment is not very modern, but for this price it is more than ok. I definitely recommend this place.
Czesław
2017-02-11T00:00:00Z
Después de haber tolerado la suciedad y deterioro de la casa nos encontramos con la petición del dueño de 200 euros por haber retirado una mesa de marmol que se balanceaba y suponía un peligro para los niños. Mesa que nos debía de haber avisado como estaba. Menos mal que usamos el sentido común y no la dejamos como la encontramos si no otras personas podía haber sufrido un accidente.
Amparo
2017-03-12T00:00:00Z
La casa está en un enclave espectacular, encima de un acantilado donde hay unas escaleras que puedes bajar hasta el mismo mar. Es un mar de piedras, pero con un fondo espectacular, perfecto para hacer snorkel. La piscina también es fantástica y en un cuartito parecido a un trastero tienen un montón de cosas de mar y buceo con las que los niños, y nosotros, nos lo hemos pasado en grande. La casa es amplia y tiene unas vistas espectaculares, el salón parece que está metido en en el mar. La casa, en definitiva, tiene muchas cosas buenas, pero también alguna que podría mejorar. Principalmente la limpieza. Falta una buena limpieza a fondo en toda la casa. Jose, el anfitrión, nos espero hasta la una y media de la madrugada para darnos las llaves de la casa y ha estado siempre pendiente de nuestras indicaciones. Poniendo todos estos factores en la balanza, repetiría en esta casa, sin dudarlo. Sería una experiencia Airbnb perfecta si se mejorase ese pequeño pero importante detalle.
Óscar
2016-10-09T00:00:00Z
Room Type
Entire home/apt
---
Property Type
House
---
Accommodates
12
---
Bedrooms
El Campello, Comunidad Valenciana, Spain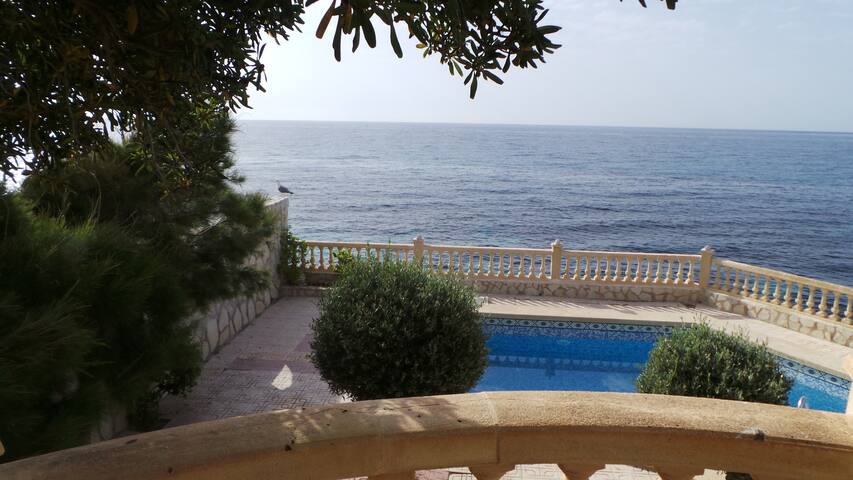 Perfect 3 floors townhouse with private terraces with barbacoa and amazing sea view from the private solarium. The townhouse has 3 bedrooms and fully equipped kitchen. Moreover, it has huge community territory and pool with direct access to the gravel beach, sandy beach is just 50 meters away.
Big and newly furnished and renovated townhouse with amazing beach front location and almost private beach, ideal for family vacations or for those who wants to relax, but stay close to the big city. Two beaches: gravel beach and sandy beach.
Room Type
Entire home/apt
---
Property Type
House
---
Accommodates
8
---
Bedrooms
El Campello, Comunidad Valenciana, Spain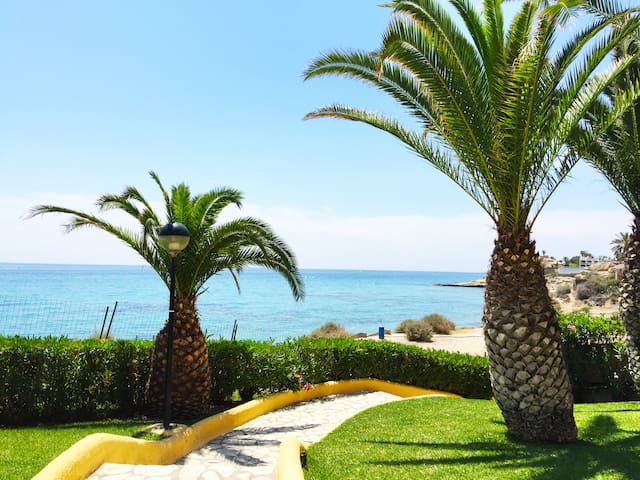 Se trata de una casa en primera linea de playa, muy amplia, de dos pisos, y con un jardin delantero, y otro trasero. El patio delantero da en frente a la playa, y a la parada de tren. Lo que hace este hogar muy cómodo, además de bonito. Cuenta además con una piscina y una cancha de padel comunitaria. Por todo esto, lo hace idóneo para fines de semana de escapada o una semana de desconexión.
Por otra parte, quería añadir que dispongo de una barbacoa, que pueden usar los huéspedes; colocada junto a una mesa amplia para cenar hasta ocho personas. Además, dispongo de un cuarto de juegos lleno de juegos y muñecas, que también pongo a disposición de aquellas familias con hijos.
Se trata de una zona muy calmada en la que apenas hay gente (salvo en temporada de verano claramente), en frente de la playa. Si sois de dar paseos por la playa, a un lado tienes CABO DE HUERTAS, una serie de plataformas rocosas con un faro, y bastante tranquilo y relajante. Al otro lado hay un puerto, idóneo además para pescar. Y cerca también se encuentra una playa nudista.
Room Type
Private room
---
Property Type
House
---
Accommodates
8
---
Bedrooms
El Campello, Comunidad Valenciana, Spain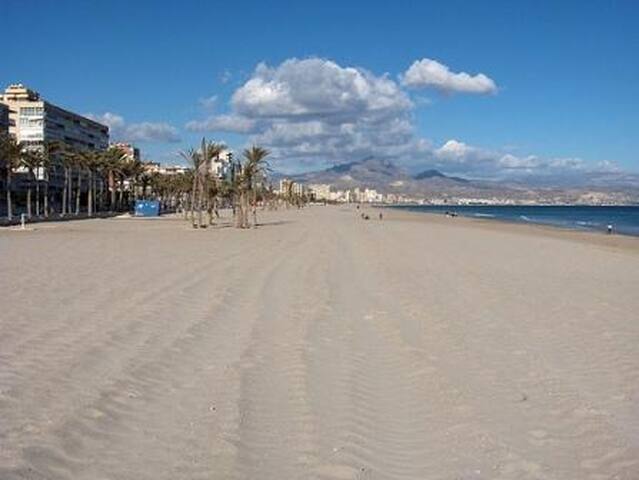 Os vais a encontrar con una casita muy coqueta donde se respira calor de hogar, con un porche precioso para relajarse y sentir la naturaleza, así como un jardín que niños y mascotas pueden disfrutar. Realmente una experiencia que querréis repetir
Lo que hace único esta casa es su situación cerca del mar y de la montaña. Además cuenta con unas instalaciones de primera calidad.
Lo que más predomina es la tranquilidad,y el buen ambiente relajado y cuando te cruzas con alguna persona son amables y relajados.
Juan José has a very charming home with a lovely garden and pool. The house is decorated and furnished with good taste. There was a lovely kids house in the garden that was well used by the kids. We thougt Juan José was very very friendly and helpful. We would go back with pleasure.
Stella
2016-09-15T00:00:00Z
Juan José has a very charming home with a lovely garden and pool. The house is decorated and furnished with taste. There even was a kiddy house in the garden that was like a treasure for our son. We had a lovely time and Juan José has been very friendly. We would go back with pleasure.
Jean
2016-07-09T00:00:00Z
The house is big and comfortable. Big fridge and dishwasher. Juan Jose is really friendly and helpful. He replied very fast when we had any questions and even came by to check if everything was ok. tip: there are 2 entrances, make sure to find the gate in the front of the house (tomtom leads you to the backdoor).
Cleo
2016-10-18T00:00:00Z
La casa era estupenda, llena de comodidades, muy buena ubicación. Juanjo se portó muy bien con nosotros y fue muy amable, lo recomiendo a todo el mundo que quiera desconectar unos dias
Jersan
2017-01-02T00:00:00Z
Ha sido un viaje muy agradable. La casa es muy acogedora y bonita, agradable y muy bien (URL HIDDEN) pequeña chimenea nos caldeo los primeros dias. La zona muy bonita y tranquila. Ideal para unas vacaiones tranquilas. Mi perra y gato estuvieron felices. Aunque no coincidi con Juanjo estuvimos en continuo contacto. in duda repetiremos.
Ana
2016-03-29T00:00:00Z
La casa es una monada y los niños disfrutaron mucho del jardín y la piscina.Todo muy bien!
Raquel
2016-05-16T00:00:00Z
La casa está genial. No le falta detalle. Ideal si vas con niños. El dueño se ha preocupado por todo. En general todo muy bien.
Alma Isabel
2016-06-13T00:00:00Z
Nous avons passé un très agréable séjour chez Juan José. Très fonctionnelle et confortable, coquette et bien située, sa maison convient parfaitement à une famille avec des enfants. En outre, Juan José est un hôte prévenant et accueillant. Pasamos una estancia muy agradable en casa de Juan José. Muy funcional y confortable, bonita y bien situada, su casa perfectamente conviene a una familia con niños. Además, Juan José es un huésped atento y acogedor.
Vincent
2016-07-16T00:00:00Z
Room Type
Entire home/apt
---
Property Type
House
---
Accommodates
5
---
Bedrooms
El Campello, Comunidad Valenciana, Spain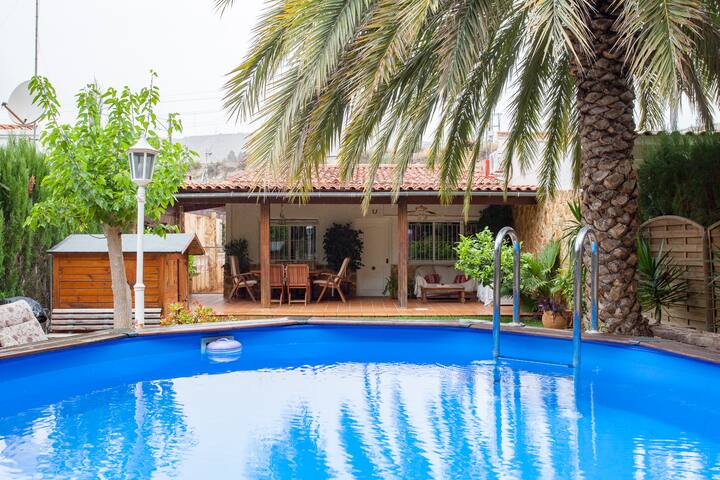 300 metros del mar, del tranvía Bella piscina colectiva del 1 de junio al 15 de setiembre , Jardines de infancia, Tres terrazas, 1 con vista sobre mar. Residencia muy familiar. Uso personal de la casa el julio el agosto.
Vivienda es muy funcional. Bella terraza con vista sobre el mar. Piso muy funcional y 2 cuartos de baño que pueden recibir a dos familias guardando cada uno su intimidad. Lava vajilla, lavadora Las sábanas y las servilletas son surtidas. Los gastos de limpieza y el lavado de las sábanas toallas es de 60 euros no es facturado por pago en línea . Se paga en directo a la entrega de las llaves .
Me gustan los jardinillos muy bien mantenidos. La piscina espaciosa con su restaurante . La pequeña playa tranquila detrás de la urbanisacion
Our stay in El Campello was great. The weather was wonderful and the beach was just lovely. The house was great and we loved the tarrace on the roof. We had breakfast there every morning watching the sunrise.
Conny
2015-10-19T00:00:00Z
Le logement est comme décrit dans l'annonce pas de surprise il est juste top pas loin du tram et de la plage. La vue est sympa sur le toit terrasse. Les clim y sont les bienvenues en été. le quartier est calme.
Cédric
2016-09-11T00:00:00Z
Room Type
Entire home/apt
---
Property Type
House
---
Accommodates
7
---
Bedrooms
El Campello, ALICANTE, Spain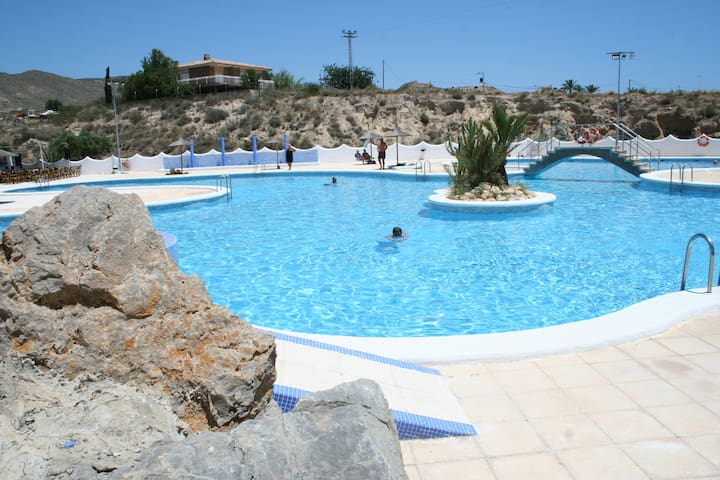 Wonderful villa with spacious plot and private swimming pool, 3 bedrooms 2 bathrooms. Between Alicante and Benidorm. 10 min walk to the sea, 10 min walk to the shop, 10 min drive to Carrefour supermarket. Perfectly suitable for family with children
quiet and peaceful
Room Type
Entire home/apt
---
Property Type
House
---
Accommodates
6
---
Bedrooms
El Campello, Valencian Community, Spain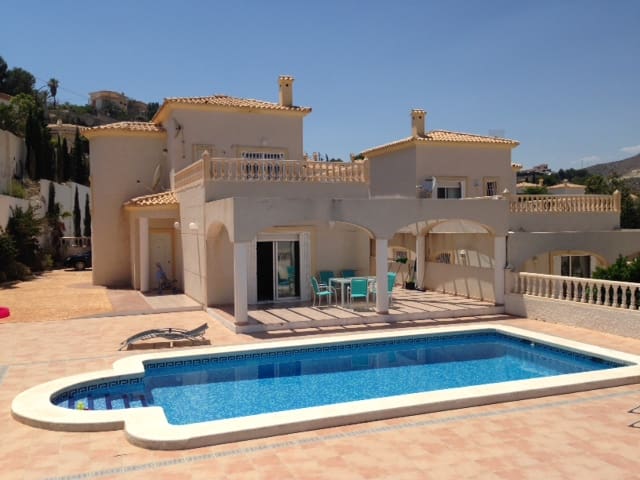 Casa bungalow de dos plantas en Zona playa Amerador, con dos habitaciones, cocina, salón comedor y dos baños uno con ducha y otro con bañera. Tiene electrodomésticos y menaje de cocina. Está cerca de la playa, a unos 400 metros caminando. Two floors bungalow in Playa Amerador, with two bedrooms, kitchen, living room and two bathrooms one with shower and one with bath. It has appliances and kitchen utensils. It is close to the beach, about 400 meters walking.
Hay camas para cuatro huéspedes, y un sofá-cama en el salón en el que caben dos personas más. En total 6 huéspedes. There are beds for four guests, and a sofa bed in the living room that accommodates two more people. In total 6 guests.
Zona residencial tranquila. Quiet residential area.
Very nice, clean and comfortable house for reasonable price. Hostess is very affable and helpful.
Oleksii
2016-10-16T00:00:00Z
We had a very good stay at Carolina's house! It was clean and spacious and was perfect for our family of 5! Carolina was easy to get in touch with and was very helpful! It was easy to get to the beach and the town! Top notch!
Ulrika
2016-07-10T00:00:00Z
We found the house to be very comfortable and spacious - perfect for our requirements. The balcony and patio areas are particularly nice. The house is situated in a peaceful area close to the tram stop, beach and some cafe/restaurants. It is also possible to walk to central Campello. Carolina is a very kind and helpful host. Thank you for having us to stay!
David
2016-09-07T00:00:00Z
Ninguna queja del anfitrión. Encantadora y amable. Perfecto todo!
Miriam
2016-07-31T00:00:00Z
Sitio perfecto para unas vacaciones tranquilas con la familia. Carolina muy agradable y atenta.
Jessi
2016-08-22T00:00:00Z
La casa es muy bonita y espaciosa, la zona es bastante tranquila, aunque alejada del nucleo urbano, imprescindible ir con coche. Carolina es una chica muy simpática y aunque nuestra estancia fue corta simpre fue muy fácil comunicarse con ella.
Wilmer
2016-08-10T00:00:00Z
La casa de Carolina es muy bonita y acogedora. La zona es muy tranquila y está cerca de todas las mejores playas de El Campello. Toda la casa estaba en perfecto orden y con todas las cosas necesarias para disfrutar de unas buenas vacaciones. Ella fue muy atenta a nuestra llegada y nos dio explicaciones para encontrar tiendas y sitios de interés. El lugar es muy recomendable y ella es una perfecta anfitriona interesada por sus huéspedes. Realmente es un lugar para regresar y volver a disfrutar de unas vacaciones tranquilas y familiares en un sitio de playa excelente. Las comunicaciones tanto con Alicante como con el resto de las poblaciones están muy cómodas ya que está muy cerca de la para de Tram. Sin duda volveremos
mayte
2016-09-04T00:00:00Z
Room Type
Entire home/apt
---
Property Type
House
---
Accommodates
6
---
Bedrooms
El Campello, Comunidad Valenciana, Spain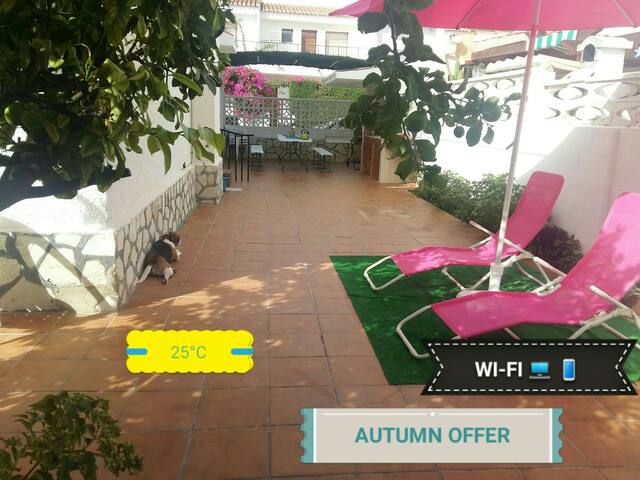 Casa adosada con aire acondicionado, Wi-Fi a 200 m de la playa. Urbanización con muchas zonas verdes, piscina, parking, zona infantil y pistas de tenis. Casa tiene un patio de 60m2 con una gran mesa y barbacoa y otro patio mas pequeño.
Casa adosada muy cercana a la playa Muchavista en el Campillo. Tiene 3 dormitorios. Dormitorio principal tiene un balcón y su propio baño con una bañera pequeña. Otro baño tiene una bañera grande. En la planta baja esta salón muy amplio que tiene salida a un gran patio-terraza con una mesa y una barbacoa. Esta cubierto con un toldo para protegerse del sol. La cocina esta equipada con todo tipo de electrodomésticos necesarios, utensilios etc. Hay otro patio que sale a la parte de sombra y también tiene mesa para comer.
La casa esta situada en un sitio muy tranquilo a 200 metros de la playa Muchavista. Hay un bar-tienda a la salida de la urbanización donde se puede comprar cosas de primera necesidad.En calle en frente de la paya esan bares, restaurantes y cafeterías. Urbanización tiene mucho espacio común con piscinas, amplias zonas verdes y su propio patio.
Room Type
Entire home/apt
---
Property Type
House
---
Accommodates
6
---
Bedrooms
El Campello, Comunidad Valenciana, Spain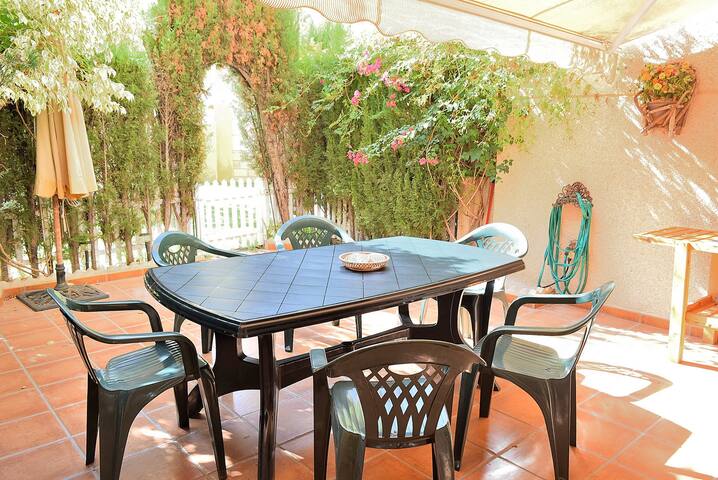 Located in the amazing Alkabir community, where you can enjoy the swimming pool, parks, bars and semi private beach and all within 2 min walk. The house has a big terrace to eat in summer and a balcony with views to the sea.
The marvellous Alkabir community
It has wonderful common areas. Perfect for families
Nice hosts, nice house with everything we needed, but without air condition and Alkabir area is very closed off and far from the next town. The beach is not good for children since it´s a rocky beach with no sand to play in. There is no shop in Alkabir, and no sunbeds in the swimming pool. It´s a place where you kind of have to have a car to enjoy.
Erla
2016-08-14T00:00:00Z
The host canceled this reservation 9 days before arrival. This is an automated posting.
Antonio
2017-04-04T00:00:00Z
The apartment was ok. In need of some tlc. The community is nice enough and the pool great. We loved the fact there were fans in the rooms and a toaster and kettle. It is a bit out of the way of the supermarket and shops but easily reached by tram (two stops). the beach was close and relatively private. Very rocky though so sand shoes are recommended. There are a couple of restaurants in the complex with pool tables and table soccer. Average food but relatively cheap. Overall it was ok if you just want to laze by the pool and get a tan
Kitty
2016-07-12T00:00:00Z
Room Type
Entire home/apt
---
Property Type
House
---
Accommodates
6
---
Bedrooms
El Campello, Comunidad Valenciana, Spain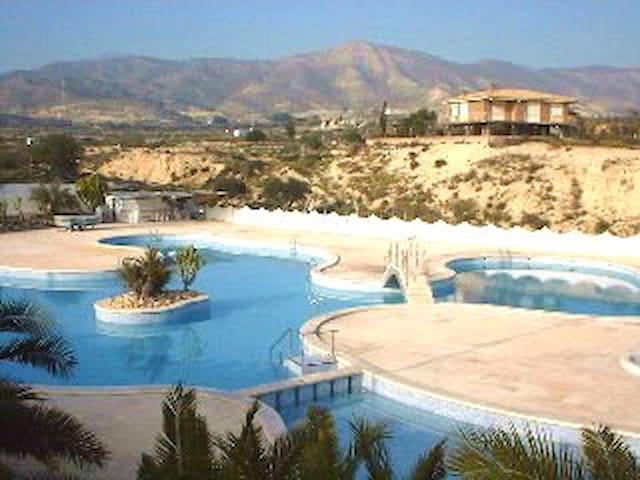 Schönes, ruhiges und gepflegtes Haus in Kuestennaehe, ca 300 m zum Strand und Hafen für Max 4 Personen. Das Haus verfügt über einen eigenen Pool, Garten und Terassen, Grillplatz und Gartenliegen mit Polster.
Room Type
Entire home/apt
---
Property Type
House
---
Accommodates
4
---
Bedrooms
El Campello, Comunidad Valenciana, Spain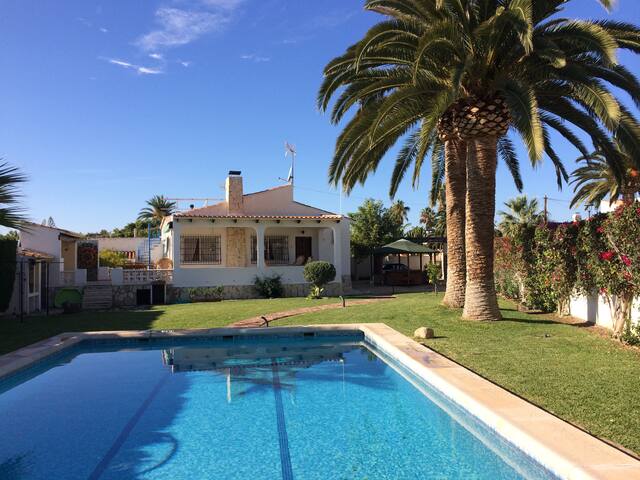 The house is located in Coveta Fumá, near El Campello. It is situated right in front of the sea, and offers breathtaking views of the Mediterranean sea. It also has a direct private access to a small beautiful cove. The villa is registered in the Tourism office with the registry number VT-444183-A
This beautiful villa includes 5 bedrooms, 3 bathrooms, a fully furnished kitchen (bottom-freezer refrigerator, washing machine, dishwasher, oven, microwave, nespresso coffee machine), and a comfortable living room with sliding doors to a terrace offering breathtaking views of the Mediterranean sea. The house has undergone a partial renovation (bathrooms, doors, painting) during winter 2017. There are as well several outdoor spaces around the house and a pool (21.5 square meters, between 1.0m and 1.35m deep, not heated), they are for guests' exclusive use. The property has a direct private access to a small beautiful cove, with steps down to the water where you can swim and do tide-pooling. There is also the possibility to practice snorkeling, there are different fish and invertebrate marine life to observe. The cove is rocky as shown in the photos, so it is advisable to wear shoes apt for swimming.
Coveta Fumá is a peaceful residential area located in Campello, between Alicante and Benidorm. There is an area with some bars and restaurants and a small convenience store located within a 15 minutes walk (note that the area is hilly) In El Campello (within a 10-minute drive), there are plenty of services (bars, restaurants, supermarkets) and a family-oriented tourist offer. Some of the supermarkets (e.g. Mercadona) offer the possibility of doing the shopping on-line and having the shopping list delivered at the house For a more intense nightlife offer, Benidorm or Playa San Juan (both at a 25-minute drive) are good candidates. In a 40-minute drive radius following leisure alternatives can be found: - Several nice small villages such as Altea, Calpe, Castell de Guadalest... - Trip boats to Tabarca island, leaving from El Campello - Scuba diving in El Campello, Altea... - Sailing boats rental - Visit to vineyards (Enrique Mendoza, Bodegas Parcent...) - Several golf courses (Alicante Golf, Bonalba Golf & Spa, Club de Golf Don Cayo...) - Terra Mitica (thematic park) and Aqualandia (water park), in Benidorm.
Host was helpful with his communications and provided all the required information. There was also a local representative to welcome us and help us out with anything else.
Jim
2015-09-27T00:00:00Z
Very nice stay. Ignacio and Petra were very helpful and always easy to reach. Thank you for a lovely holiday!
Line
2016-10-20T00:00:00Z
We spent one week at this beautiful residence. The view is breathtaking (especially the sunrises which can be observed right from the house) and the sea is very suitable for swimming despite the rocks. Igancio was very helpful, always reachable and made us feel comfortable at the villa. We had an amazing time and can safely recommend this place to everyone who is looking for a calm and relaxing vacation.
Corinne
2016-09-11T00:00:00Z
This was our first time using Airbnb and we weren't sure what to expect, but Ignacio's villa was exactly what I imagined when I first dreamed of spending a week on the coast in Spain. The house is beautifully situated with steps down to the water where there is excellent tide-pooling to be had and swimming too when the wind is down. The rooms are comfortable and the common areas bright and clean. The kitchen is well equipped and we especially enjoyed grilling outside with wonderful fresh fish from the El Campello grocery store. Best of all are the outdoor spaces around the house, where you can follow the shade (or sun) all day by moving from terrace to terrace, enjoying different views of the sea, garden, and pool as you go. We ate every meal outside. Our 8 year old daughter loved the pool, and it has a gate you can lock to keep younger children safe. The tram is only a few minutes walk away and we found it to be a very good way to get around, enjoying day trips into Alicante and Benidorm. The area is very hilly, which made walking a little challenging for the older generation, but they managed. My husband and I had a great hike up to the tower visible from the house, and found some excellent views there. He says the only bad thing about the place was having to leave, and I have to agree. We could easily have stayed another week, or forever. Ignacio was a wonderful host, arranging transportation for us, providing maps and area recommendations, and communicating well throughout.
Nicole
2016-06-26T00:00:00Z
Ignacio was very fast in all replays and made us feel very comfortable. Since he couldn't meet us he arranged everything through a very kind lady who helped us with all we needed. The house is just wonderful, it has a perfect spot next to the sea and also have terraces in all directions around the house. It is even more beautiful than the pictures The kitchen had everything we needed and outside is a huge grill. Pool is very nice and clean. Very close to the house is small beach and even closer is a playground for children. All in all is it a very relaxed neighborhood We had a perfect time!
Nic
2015-06-15T00:00:00Z
The villa was delightful and exceeded our expectations. We needed space for ourselves and 3 daughters with their partners and were looking for a pool and easy access to the sea. The AirBnB entry accurately described the property but didn't do justice to the extent of the outside space or how picturesque and convenient the location was. Minutes from both the main road and coastal tram service. Ignacio was an outstanding host and as well as providing a comprehensive welcome pack of essential groceries and a delicious savoury pie he returned later to guide us to local facilities. When we enquired about the possibility of renting sailing dinghies he went out of his way to supply us with details and contacts. We all had a wonderful time.
Trevor
2015-08-02T00:00:00Z
The villa was absolutely amazing, like on the pictures and we spent a wonderful week there with friends. It is big, clean, has all the amenities, lots of beautiful outdoor spaces and gorgeous views. It's perfect for families or a group of friends. We had an 18 months old child with us as well and there are lots of toys for kids and a cot. It's in a quiet neighborhood, but still close to the tram stop which brings you to Alicante or Benidorm in half an hour. Ignacio was very helpful providing directions to shops or ordering taxis for us. I can highly recommend this villa.
Nicole
2015-08-16T00:00:00Z
Hemos pasado una semana de vacaciones. La casa es muy bonita, es incluso mejor que las fotografías de la publicación. Todo muy limpio, con todo tipo de detalle. El entorno y las vistas son espectaculares. Ignacio el dueño y Petra la chica que nos atendió a la llegada, estuvieron en todo momento pendientes para que no faltase de nada, muy amables. En definitiva es un sitio para volver.
Emilio
2015-09-12T00:00:00Z
Room Type
Entire home/apt
---
Property Type
House
---
Accommodates
10
---
Bedrooms
El Campello, Valencian Community, Spain
Perfect house for your holiday in Spain. Situated in a tranquil and beautiful neighborhood on the seaside in Coveta Fuma, close to Alicante. Lovely house with big garden and sun all day, 2 double bedrooms + extra foldaway bed, baby's cot and , modern kitchen/living room/bathroom. 100 metres to beach.
The house is 20 minutes drive from Alicante airport. Coveta Fuma is on the coast, quiet with a few cosy restaurants and cafes, but close to El Campello with all its facilities. The nightlife of Benidorm is a 30 minute tram ride away. The property is walled, so safe for children.
The nearest stony beach is 100m away,but if you walk for 10 minutes you find the sandy beach in front of Coveta Fuma which is excellent for small children since it's very protected in all kinds of weather. At the Coveta Fuma centre, you will find 5 or 6 small restaurants and bars with a children's play area in front. Long sandy beaches at El Campello with different outdoor sports in the summertime, and lots of cosy restaurants, bars and cafes along the beachfront.
We had a very comfortable and relaxing 2 weeks in this lovely house. The garden is a real respite and invites to just sit and enjoy the surroundings, but there are equally enough places to go and explore on foot, by bike or car. The tram is only a few minutes walk away and very convenient if you don't want to use a car! It takes you along the coast in both directions, to Alicante via the long beach in El Campello, or via Villa Joiosa towards Benidorm, where you can change for another short ride to places like Altea Old Town, or go up into the mountains for hiking. Sella is very pretty. We found the house has everything we needed, a washing machine, fully equipped kitchen, and comfortable beds. As we were travelling in March, it was great to know that we could also us the heating if needed at this time of year (we didn't really, it was nice and sunny most of the time) and of course the aircon will come in handy when temperatures rise. There are also two small beaches/alcoves nearby for a quick dip in the sea in summer. We really appreciated the lovely area where the house is - Coveta Fuma has some amenities and a few restaurants/shop (if you want a big supermarket, Carrefour has everything and more), but Coveta Fuma really is a very nice, well-kept, clean and quiet area away from the tourist masses and hussle and bustle of the large resorts, it's a pretty little area, lots of nature and we enjoyed taking walks in the evening. People were friendly and always helpful! Best of all, the sea is only minutes away. Overall a big thumbs up, we were happy that we found this lovely house as the high-rise blocks and busy bars of larger resorts are not quite our "thing". Alicante has some nice shopping, museums, restaurants and the old town and castle are worth a visit. Many thanks, hope to return!
C
2017-03-25T00:00:00Z
Great house in the calm and peaceful neighborhood. There is everything you need in the house to make your stay smooth and comfortable: starting from the towels for any purpose and finishing with the WiFi and all appliances needed. The house itself is a bit far from all the popular El Campello beaches, however there is a local one in 3 mins walk with almost no people on it. Also there is a tram station in 5 mins walk. If you rent a car (what we actually did from the day one) - there will be no problems at all to get around. Rein helped us remotely with all the questions we had throughout our stay, his neighbor Boushra was also very welcoming and supportive. There is a great guestbook available in the house with all the tips needed, even with the list of the best restaurants around. We all enjoyed our stay a lot and would definitely get back here next time. Highly recommend to everyone!
Taras
2015-07-12T00:00:00Z
We loved staying here!! The house is great both inside and outside, with a big garden where we had BBQs with fresh seafood from the local market. The house has everything you need, very new and modern kitchen and bathroom, WiFi, amazing shower and very comfortable beds. We travelled with a baby, and the house has everything you need for a baby which was perfect for us. The area is beautiful and peaceful, very safe for children, great views, nice to go for walks or running, and beaches only minutes away. El Campello is 10 minutes away with great restaurants. Many other places to visit in the surrounding area, and the tram is only 2 minutes from the house if you don't have a car. The tram ride to Villajoyosa is beautiful with great ocean views. Its the perfect holiday house with everything you need to have a great holiday! We are coming back!!
Adnan & Ingvild
2015-05-02T00:00:00Z
This Villa is an amazing place for a family vacation. Very comfortable facilities, great garden for kids to play, inflatable swimming pool, air conditioned rooms, 2 bicycles with children's seat. There are two nice rocky beaches- one 3 mins away, another- 5 mins away. I would recommend bringing shoes for swimming with you. If you forget, you can always buy them on the spot- 7.50 a pair. Than there is a very very nice sandy beach about 10 mins by bike away (or two tram stops). I would recommend bringing a bicycle helmet with you especially for the kid. We were once stopped by police inquiring about the kid's helmet. We didn't know what to say, but they were super nice and just wished us a nice day and asked to be careful. Since the tram stop is very close to the house (5 mins walk max), you can easily reach the destination by public transport and explore the coast by bike without renting a car. The hosts were very responsive. I was struggling to turn on the stove one day (it is a more advanced version than we use at home) and I got a reply with instructions within a few minutes. Totally recommend and we would love to come there again. Huge thanks to the hosts for warm welcome!
Nastia
2016-08-29T00:00:00Z
The house is great and it is located in a beautiful and very peaceful area. It is exactly as on the photos, it's very comfortable and fully equipped. There is everything you may need during your holidays, starting from the towels and beach umbrella and finishing with WIFI. There is also absolutely everything you may need in the kitchen. The house has air conditioning which is really useful - we've been there in the end of August/beginning of September but the temperatures reached 40 degrees. It is very close to the rocky beach and maybe 10 min walk to the sandy beach. Tram stop is 5 min from the house. It is really easy to get there from the airport even without a car. The tram is also a great way to discover the coast. I can recommend visiting some nearby villages as they are really charming. Rein is a great host. We had some doubts regarding reaching the house from the airport, Rein replied very quickly and provided us all the information we needed. I can truly recommend this place to everyone who is looking a nice and calm vacation spot. We had really great holiday there and would love to come back again!
Aleksandra
2016-09-08T00:00:00Z
Nous avons passé de belles vacances durant ces 15 jours. Cette maison est très agréable pour des vacances : cuisine bien équipée, coin barbecue bien fonctionnel, place de parking pour la voiture, terrasse ombragée qui nous permet de profiter de l'extérieur. Le quartier est calme et résidentiel. Nous avons bien profité des plages de El Campello et de La Vila Joiosa (bord de mer plus typique) avec une température de l'eau plus qu'appréciable. Les enfants ont apprécié de jouer dans les vagues, et les parents aussi !!!! Pour un 1er séjour hispanique, il fût réussi ! Nous avons fait le plein de soleil et donc de vitamines D ! Cela nous donne envie de recommencer.
Anne
2016-08-06T00:00:00Z
Ottima villetta con un giardino fantastico. Rein è stato gentilissimo e ci ha dato tutte le informazioni necessarie per godere al meglio la sua casa. Utilissimo anche il libro delle informazioni trovato in soggiorno.
Paolo
2016-06-26T00:00:00Z
Una casa perfecta para descansar, con una jardín muy grande y agradable. Tiene todo lo que se puede necesitar y en buen estado. Eso sí, imprescindible coche para moverse por la zona o a las playas de El Campello. Recomiendo esta casa para unas vacaciones en familia.
PATRICIA
2015-08-22T00:00:00Z
Room Type
Entire home/apt
---
Property Type
House
---
Accommodates
5
---
Bedrooms
El Campello, Comunidad Valenciana, Spain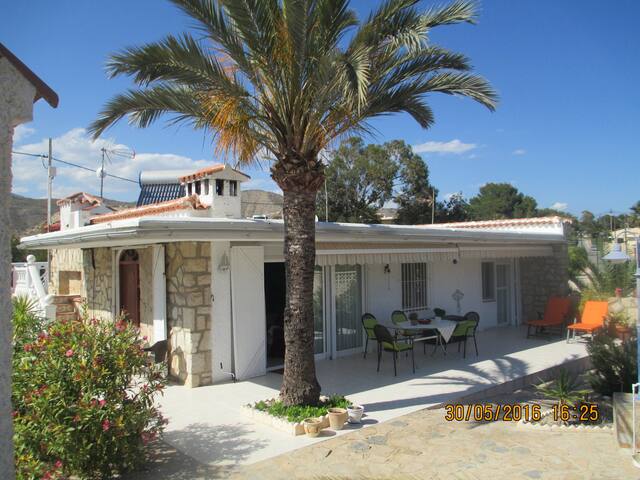 Prachtige villa met zeezicht dakterras en privé zwembad. 3 slaapkamers 3 badkamers. Ruime eet en woonkamer met zeezicht.
In korte omtrek is er voor een ieder wat leuks te doen en te beleven
The host canceled this reservation 71 days before arrival. This is an automated posting.
Ronnie
2017-02-14T00:00:00Z
Room Type
Entire home/apt
---
Property Type
House
---
Accommodates
8
---
Bedrooms
El Campello, Valencian Community, Spain
Reformed apartment, only 50 metres from the beautiful sandy beach. Its a quiet, familiar, sunny, spacious aparment with a lovely terrace with partial see views. 500 metres from public transportation that will bring you to Alicante city. Please be aware the building has no elevator. Just fully renovated house with all amenities for a great holiday. 2 bedrooms plus a confortable sofabed. Air conditioning and a big terrace perfect for summer nights and a brand new kitchen. Charmimg, with a chic bathroom. I will be happy to help you with any enquiry about Alicante/ El Campello area, such as restaurantes, places of interest.. or any other special need. El Campello is a quiet village, but the house is located 50 metres from a beautifull and lively see walk/boulevard where you could find all kinds of shops and restaurants. Walking distance from a Alicante Tranvia (tram) that will bring you in 15 min to Alicante city center.
Very happy I choose this apartment. I was very last minute looking for a 2-bedroom place to stay close to the beach in El Campello and even though I only reserved it at around 18h.00 in the evening, communication was quick enough to enable me getting in there by 20h00. Very nice place, very quiet this time of year. Good 2 persons bed in the main bedroom - nice bathroom - 2 mins walk from the beach - working internet and AC/ Heater. All good! Will go again!
Sjoerd
2017-02-06T00:00:00Z
it's a nice and clean place close to the beach of El Campello and well connected with Alicante
Radu
2017-03-05T00:00:00Z
lækker lejlighed som ligger centralt på alt hvad man står og har brug for. vil til hver en tid anbefale denne dejlige lejlighed,
Frederikke
2017-02-26T00:00:00Z
Irene очень доброжелательная хозяйка, проявляющая заботу о гостях. Квартира имеет стильный современный интерьер, который полностью соответствует заявленному и прекрасное месторасположение. Чистота, есть все необходимое. Спокойный район и недалеко от моря. Irene very kind hostess showing care of guests. The apartment has a stylish modern interior which completely corresponds declared and a fine location. Purity, is all necessary. The quiet area and near the sea.
Natallia
2016-09-16T00:00:00Z
Die Wohnung war - wie auch beschrieben - sehr schön und modern eingerichtet. Wir haben uns sehr wohl gefühlt und würden die Wohnung jederzeit wieder mieten. Auch die Gastgeberin war sehr nett und zuvorkommend.
jose
2016-08-18T00:00:00Z
Огромное спасибо Irene за предоставленное жильё. Великолепная квартира, в доме всё абсолютно есть. Irene отличная хозяйка! Рекомендую квартиру всем, кто любит море и уют. Many thanks to Irene for providing accommodation. Magnificent apartment in the house has absolutely everything. Irene excellent hostess! I recommend the apartment to anyone who loves the sea and comfort.
LEONID
2016-07-30T00:00:00Z
Room Type
Entire home/apt
---
Property Type
House
---
Accommodates
4
---
Bedrooms
El Campello, Valencian Community, Spain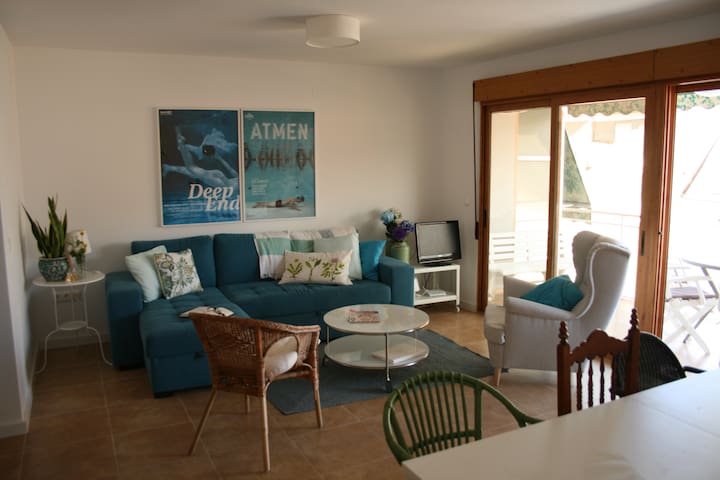 Te va a encantar mi lugar debido a que es un lugar tranquilo, céntrico y cerca de la playa. Mi alojamiento es bueno para familias (con hijos), grupos grandes, y mascotas.
Room Type
Entire home/apt
---
Property Type
House
---
Accommodates
13
---
Bedrooms
El Campello, Comunidad Valenciana, Spain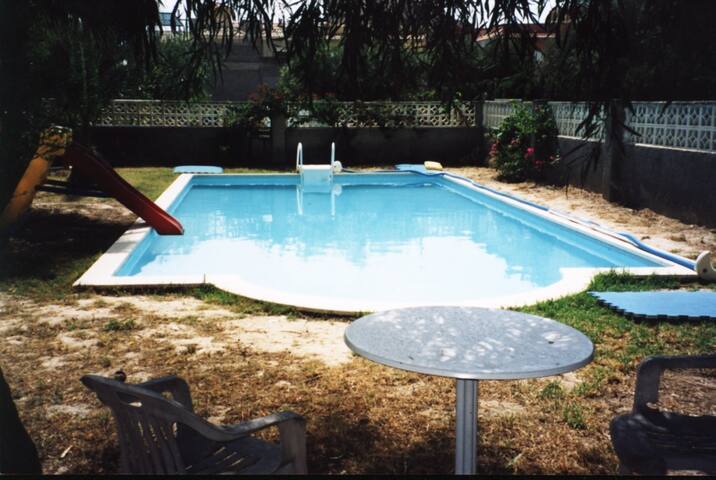 Lovely family holiday home 100 meters from the beach with communal swimming pool, airconditioning in all the bedrooms, WiFi, washing machine ans sunny roof terrace with sea vieuws situated in a quiet aerea of the green park Neptuno in La Coveta Fuma with his hilly lanes and nice small coves.
Casita is a lovely family holiday home situated in the popular Neptuno complex with 2 bedrooms (1 with a double bed and 1 with 2 single beds), a bathroom with bath, fully equipped kitchen and cosy living room situated at the ground floor and another additional bedroom (with a bunk bed) and second bathroom situated on the roof terras with own entrance. Casita also has a nice patio, balcony and roof terras to enjoy the Spanish sun or just take a rest outside in the shadow.
The lovely urbanization of Neptuno has a bar/restaurant housed in the centre of the complex just next to the pool. The pool has a separated children´s section. Neptuno is based very close to the very heart of Coveta Fuma with it´s winding, hilly lanes and abundance of green trees. It is a very short walk in one direction to the small sandy cove of Cala Mig and the hilly lanes ideal for lovers of walking. In the other direction there is the flat road leading to the TRAM station and fully stocked supermarket open seven days per week in the summer season. Just a short walk over the TRAM stop, is the Plaza of Coveta Fuma, with its selection of bars, restaurants children´s play area and church.
The casita was wonderful--we were very sad to leave. Wim is helpful and lovely and most welcoming. Five stars!!
Lynn Ramsson
2016-04-25T00:00:00Z
Wim's house is great. and he has also been very attentive and present to us during our journey. thank you Wim!
sophie
2017-04-06T00:00:00Z
Just got back from a very good holiday at Casita Coveta Fumà. Wim's villa has everything you could need for a comfortable stay (ie roof terrace, TV in multiple languages, washing machine) and is located 5 minutes from a tram that runs between Alicante and Benidorm which makes it a great base for seeing the local area. Would definitely recommend staying here to anyone who wants a beach holiday or to explore the Comunitat Valenciana!
Joseph
2016-09-25T00:00:00Z
We had an Excellent vacation in Cuverta fuma. The place were nice, clean and quiet. The kids loved the Pool and It was simply easy to tale the train to El Campello. We had some Problems with toilet, but Wim fixed It in an half hour, SUPER. A place we would like to return to.
Allan
2016-07-05T00:00:00Z
Heerlijke tijd gehad in Casita Coveta Neptuno! We waren er met twee personen en een hond van 14 januari tot 11 februari 2017. We wilden eens ervaren hoe het was om in de winter naar Spanje te gaan. Hoewel het in jaren er niet zo koud was geweest is het ons goed bevallen! Het huis is comfortabel ingericht met lekkere bank in woonkamer, goed uitgeruste keuken, Nederlandse zenders op de TV en WIFI die prima werkte. Twee tweepersoons slaapkamers met kasten en de bedden sliepen heerlijk. We hebben logees gehad! Badkamer met wastafel, toilet en fijne inloopdouche. Op het balkon 's middags heerlijk van de zon kunnen genieten. Gaskachel in woonkamer aanwezig en die in deze periode wel nodig gehad. Boven terras met mooi uitzicht en nog een slaapkamer met stapelbed en badkamer met douche, maar daar hebben wij geen gebruik van gemaakt. Het huis ligt op een parkje met een (onverwarmd) zwembad dat er prachtig uitziet. In de buurt op loopafstand is een klein supermarktje met lekker vers brood, een pleintje met restaurantjes (Nederlandse) en een strandje. Ook een goede openbaar vervoer verbinding dmv tram die rijdt tussen Alicante en Benidorm. Kaartjes in de tram zelf te koop. Hond mag er niet in. Bijna nergens eigenlijk! Ook niet op het strand. Wel is er een hondenstrand in ElCampello aan het einde van de boulevard. Die is trouwens geweldig! Met leuke winkeltjes en restaurantjes en palmbomen! Het was fijn dat er ook een wasmachine aanwezig was! Het huis is gezellig ingericht, wij voelden ons er meteen heel thuis. Wim was zeer vriendelijk en hulpvaardig en wij zijn zeker van plan om terug te komen!
Carla
2017-02-11T00:00:00Z
We werden vriendelijk door Wim de verhuurder ontvangen. In ons huis aangekomen, wat er ruim uitzag vertelde Wim het eea over het huis en de omgeving. Alles was aanwezig in het huis het ontbrak aan niets. De bedden waren prima evenals de bank in de huiskamer. Het zeezicht in la Coveta Fuma, niet vanuit de woning,was ronduit schitterend alleen het strand was minder. Het strand in El Campello maakte dat ruimschoots goed. Veel goede en goedkope eetgelegenheden op loopafstand en zelfs eentje op 10meter waar je ook een heerlijk drankje kunt gebruiken. Parkeermogelijkheden voldoende voor de auto in de buurt. Kortom we hebben genoten. Bedankt Wim!
José
2016-05-25T00:00:00Z
Room Type
Entire home/apt
---
Property Type
House
---
Accommodates
6
---
Bedrooms
El Campello, Comunidad Valenciana, Spain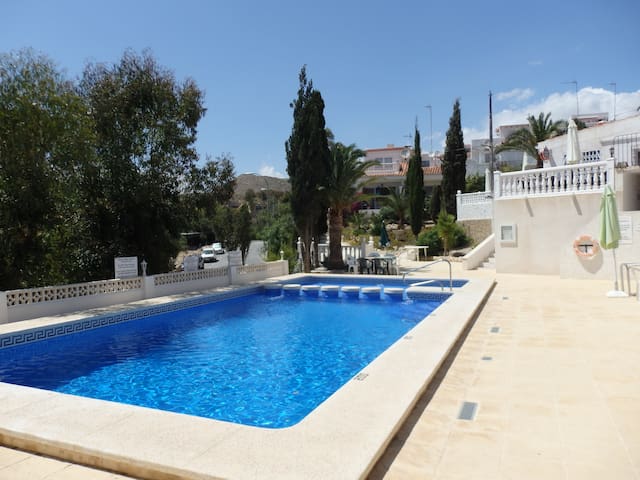 Cosy semi-detached house in a Urbanización with large community pool (Juny-September) restaurants, bars and beach nearby. The Small fishing and holiday village of El Campello is only 5 minutes away by car. Alicante Airport only 30km away.
Semi-detached house with complete household (95m ²), 3 bedrooms, 1 WC, 1bath. With fireplace, air conditioning with heating. Kitchen with Covered terrace (9m ²) and solarium (15m ²) . Small garden with 55m ². Access roads to the motorway just 2 km away. Beach and tram stop is only 450m away. Nearest supermarket and center of Campello about 1, 5km. In the residence there are some restaurants z.T. with staple foods such as baguettes and milk.
Great appartment, plenty of space. Stayed for 9 days with family. Everything available in appt. for your convenience. Only remark is that bathroom/toilet and kitchen area could be cleaner. Was very hot in bedrooms during our stay, but our host resolved this problem quickly by supplying a portable aircon. Central location, within 5 min walk to Alkabir swimming pool. Great pool, although high season not so crowded. Pool bar desent prices, tasty food. The pebble beach by foot is not suitable for kids. El Campello beach is better. Our host Olaf responded promptly in case of assistance. Overal we had a very nice stay and would recommend!
Sharon
2015-07-20T00:00:00Z
We were here in December and January. So this will be a winter review. Usage of the fire place and the two heatings made our stay comfortable. About the house: you get what you see in the pictures here on AirB&B. It is clean and has everything you need. It is close to the Amerador tram stop, which is very convenient. Just make sure you have the access key to the Alkabir residential erea port on the tram stop side. Prepare to speak Spanish as the local key-lady only speaks Spanish. She talks quick and gives a quick (but efficient) intro tour of the house. The rooftop terrace had a lot of sun, from the mornings upto 16:00 pm. In the garden you enjoy about two hours of winter sun in the afternoon. El Campello is a nice and quiet town in the winter. Be sure to check out the menu del dia (menu of the day), 3-course lunches, in restaurant Campello Cerveceria located at Calle Hernan Cortez 5 in the centre of El Campello, just off the main boulevard. It is a cosy and typically Spanish place with good service, and authentic and fresh food. For us it was often the main course of the day.
erja
2016-01-17T00:00:00Z
The host canceled this reservation 139 days before arrival. This is an automated posting.
Anna
2016-01-19T00:00:00Z
The overall impressionis very good. Good value for money. Olaf is a very helpfull host. Prior to the the visit he gave us all the possible instructions on how to get to the house. Very quick to answer all our quetions in correspondence. As Olaf does not leave in Spain on the day of arrival we were met by a nice spanish lady leaving in one of the houses of the urbanization who gave us the keys and showed the house. We also found a bottle of champaign in the freege which was a nice surprise. The House itself is completelly as it appears on the pictures. A leaving room and kitchen on the ground floor, a badroom and master bathroom on the first and childs badroom on the second. Very clean and neat. The pool within the urbanization is very nice, big anв have a children's section, always two lifeguards. Some issues (though not very important): Only german channels on TV, knives in the kitchen need to be sharpen (could not found a sharpner), no teapot (no leaf tea in local stores too), seems that all neighbours have dogs, microwave is different from one shown in the pictures and does not open.
Irina
2014-06-25T00:00:00Z
We had a very nice stay at El Campello. Olaf's house has a very nice balcony on the roof with an great view ! We recommend to rent a car, it's easier see other places . We visited "les fonts de l'Algar" and "laguna salada de torrevieja", 1 hour away but it was worth it . Thanks to Olaf !
Maelle
2016-09-30T00:00:00Z
Kellemes környék. Jól felszerelt, szépen berendezett lakás. Igazi mediterrán hangulat. Köszönjük, hogy ott lehettünk.
CSILLA
2015-06-15T00:00:00Z
Nuestra estancia ha sido inmejorable, nos hemos sentido como en casa. La vivienda es preciosa y muy acogedora. Tiene todo lo necesario para pasar unos días inolvidables en familia. Nos gustaría repetir en un futuro.
Loly
2014-07-18T00:00:00Z
Nous avons passé de très bonnes vacances, très bel appartement bien agencé, bien équipé avec un extérieur grand très agréable. Nous recommandons sans hésitation !
Sophie
2016-04-03T00:00:00Z
Room Type
Entire home/apt
---
Property Type
House
---
Accommodates
5
---
Bedrooms
El Campello, Valencian Community, Spain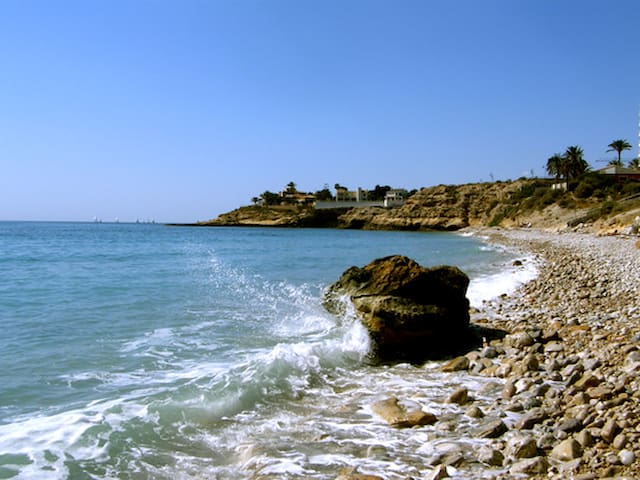 1

–

18

of

163 Home Rentals
Enter dates to see full pricing. Additional fees apply. Taxes may be added.