Nordic style house in the countryside. Ideal to get away. Big double bedroom with plenty of space for additional bed and a cradle. Ideal to enjoy natural surroundings. We love sailing too and we set sails weather permitting.
Nordic style house in the countryside. Ideal to get away. Big double bedroom with plenty of space for additional bed and a cradle. Ideal to enjoy natural surroundings. We love sailing too and we set sails weather permitting.
Our home is within a small countryside village with a few other houses. We live within a couple of minute walk of a local bakery, so we can enjoy just made croissants in the morning with a cup of good coffee. Depending on the season we propose a walk to the nearby beach or sitting by the fireplace with a blanket and a good book. Nearby is Betanzos old town where you can enjoy "tortilla" at its best.
Adelaida, Javier, and Rodrigo make a wonderful family, along with their two dogs and Pavarotti, the bird! We had a little trouble finding the house as (SENSITIVE CONTENTS HIDDEN) maps took us a slightly wring path. Javier patiently guided us home. And what a marvellous home! Everything in there is architected by Javier (who, needless to say, is an accomplished architect himself by profession). It was a joy walk-in the house and marvel at his use of wood and concrete. Loved the place. It belongs in the pages of Dwell but made very welcoming and homely by the people. We had requested Adelaida to treat us to local seafood and what she served was mind blowing in color, exoticness, texture and taste! It was clear she took a ton of effort and put creative thought into it. The chat with them over dinner and then later over tea, over breakfast next morning were special. It was more than our definition of an ideal stay, what more can we say? Anil and Urmila
Anil
2016-05-14T00:00:00Z
Our stay at Adelaida and Javier's was great!!! They have put a lot of thought into designing such a beautiful home! They are both wonderful hosts. Their dogs are absolutely gorgeous and their son was very sweet! We definitely felt at home as soon as we walked through the doors! During our stay we had breakfast with the family each morning. The breakfast was delicious and we had some great conversations with Adelaida and Javier - they are very inspiring! Also, they both had great food recommendations for the area. We would definitely recommend the stay at Adelaidas and Javiers and if we ever return to the area we would definitely stay here again.
Jess Lynn
2015-09-14T00:00:00Z
Adelaida and Javier were amazing hosts. The house and property were beautiful. They made me feel welcome and at home. They provided accurate information about the home. It was fun to have dogs around to interact with. I was able to walk to the sea from where they live.
Jill
2016-07-19T00:00:00Z
Extremely nice house designed by the couple with sea views from the bedroom! This is a great place to relax, catch up on sleep and eat well!
Simon
2016-08-23T00:00:00Z
We stayed with Adelaida and Javier for two nights and it was absolutely delightful. We booked this place to get a break from the cities and relax and it was just perfect for that. The surroundings are equally beautiful whether you are inside the house, outside in the garden or in the nearby area with panoramic views over the ría. The room and bathroom was clean, inviting, spacious and felt luxurious with nice details everywhere. But the main event is without a doubt Adelaida and Javier, who with their kindness gave us a great experience. They really took their time to make us feel welcome as their friends in so many ways: They took us for a long walk, we had memorable conversations over breakfast and dinner and they made us feel so at home. Adelaida's delicious dinners are recommended, too. This is definitely a unique experience and we highly recommend it.
Jonathan and Natalie
2015-08-15T00:00:00Z
WOW! We spent almost a week with Adelaida and her family in this amazing villa on the Ria de Betanzos and it was very relaxing and extremely confortable. Adelaida and Javier are perfect hosts: caring, hospitable and full of attentions. I absolutly reccomend this accomodation to visit the beautiful Galicìa!
Marcello
2016-08-19T00:00:00Z
We very much enjoyed the unique experience of staying in Adelaida and Javier's beautiful house. They were very welcoming, the luxurious room and large bathroom beautiful and all amenities perfect. We loved meeting and playing with the dogs, including the new pup Blanca. Adelaida cooked us a wonderful seafood meal and we enjoyed great conversation over dinner and breakfast with them and son Rodrigo. We stayed for 3 nights and that was a perfect base to see the wild coast to the north and visit Betanzos, Sada and A Coruna closer by. There are great restaurants in the area and plenty to see. a great privilege to stay with a lovely family. They spoke very good English too and provided great advice on places to visit.
lynden
2016-05-30T00:00:00Z
A warm and friendly reception in a marvelous house is only the beginning of a special stay that you will memorize a long time. Definitely our best AirBNB experience ever.
Kai
2015-07-21T00:00:00Z
Room Type
Private room
---
Property Type
House
---
Accommodates
3
---
Bedrooms
A Coruña, Galicia, Spain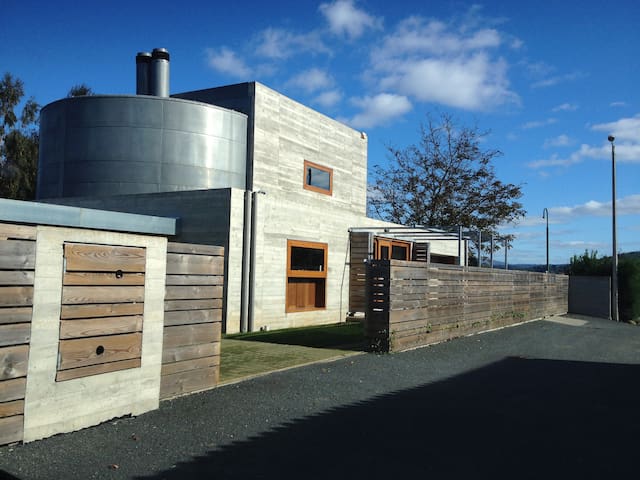 Iria's house make me feel a bit jealous because it was too beautiful :) We have a problem in finding the place and Iria came to pick us up with her car. The house is a truly piece of art with a truly Galician atmosphere. Iria was really kind and friendly, taking breakfast with us and spending a lot of time talking about everything. The best place to stay and resting during your trip in Galizia! Highly recommended.
Lisa
2016-08-21T00:00:00Z
Iria is a perfect host, who immediately made us feel like friends! Her home is a hidden piece of paradise in the beautiful galician forest. The room is quiet, clean, spacious and tastefully decorated. We enjoyed a quiet and delicious breakfast with Iria, she is an inspiring artist. We will repeat the experience soon. We promise. Thanks Iria.
Belén
2015-08-25T00:00:00Z
Iria was "un sol". The house is even more amazing than it looks in the pictures. It has "encanto" even on rainy days. I was able to walk to the nearby pueblos with Rocco, the lovely dog that resides as well in the house to buy a few groceries and necesities. And Lucas the donkey adds to the charm as well. All in all an amazing experience. I hope to return!
Andi
2015-08-14T00:00:00Z
Iria's house is a dream, it looks like coming out of a fairy tales book. The room is very big, clean and comfortable and so is the bathroom. The common spaces are simply amazing, the small back garden in particular is lovely. We enjoyed the company of the cats, the dog Rocco and the donkey Lucas. Iris was a lovely host, we had long chats and we felt like friends in the end. We couldn't hope for a better experience. Strongly recommended to countryside lovers.
alessio
2016-08-16T00:00:00Z
Stay at Iria's house is like to be in a magic world...everything tells a story like her wonderful art. She is an amazing woman and she created a place where you feel home...Adorable are also Rocco, Lukas and the cats family!
Alma
2015-08-18T00:00:00Z
Nuestra estancia en esta casa tipica gallega ha sido un placer. Iria nos hizo sentir como en nuestra casa tan pronto como llegamos. Es un sitio con mucho encanto y tranquilo. La habitación es muy amplia y comoda. Iria nos dejó todo lo necesario para el desayuno y el aseo y la comunicación con ella fue muy fluida y buena en todo momento. Los habitantes peluditos de la casa son también encantadores, especialmente Roco, que se llevó estupendamente con nuestra perrita Ayla. Sin duda, un lugar muy recomendable.
Ruth
2016-08-09T00:00:00Z
Room Type
Private room
---
Property Type
House
---
Accommodates
2
---
Bedrooms
A Coruña, Galicia, Spain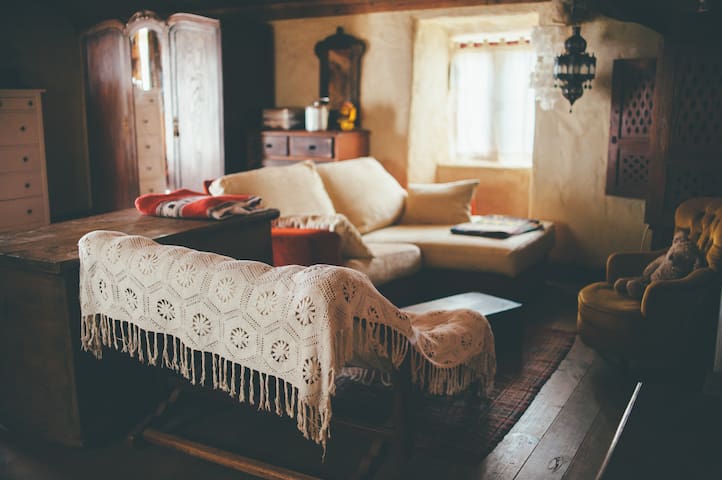 Townhouse, very spacious and bright (view 4 winds). Wood boiler and electric heating. With ample parking space. About 10 minutes from downtown Coruna. Near bus stop, supermarket and cafes. quiet and friendly country atmosphere. You can add an extra bed or a portable crib, the room is very spacious. You are welcome to our home!
Ideal for couples
Feáns is a neighborhood 3 km from Corunna. It is very quiet and nice
Room Type
Private room
---
Property Type
House
---
Accommodates
2
---
Bedrooms
A Coruña, Galicia, Spain
En suite rooms. Fully equipped communal kitchen. Free Wifi. Secure parking spaces. Bus stop across the road. 20 min drive to city centre and nearby beaches. Quiet residential area overlooking city and atlantic ocean. Ideal for couples and families.
The rooms are spacious and en suite.
This is an upper-end residential area overlooking A Coruña. It is very safe and quiet.
The house is situated outside the centre of A Coruña. But by bus and by car it is easy to go to the centre. The parents of Miquel live in front of the house. And they welcomed us very friendly. The house is seem like in the pictures. Thanks for your hospitality!
Mirella
2016-08-02T00:00:00Z
Our hosts were super friendly, uncomplicated and caring. They told us the best places to eat and for going out. The flat is really nice and clean and we enjoyed our stay very much.
Sinje
2017-03-26T00:00:00Z
The place is Nice and clean.Miguel Parents were very nice and welcoming!
Charles
2016-06-12T00:00:00Z
The host canceled this reservation 13 days before arrival. This is an automated posting.
Cristina
2016-08-21T00:00:00Z
Tuvimos algún problema para ponernos en contacto con él antes de la llegada pero finalmente él mismo se puso en contacto con nosotros a través de otro medio el mismo día de la llegada. Por lo demás todo perfecto, Miguel y sus padres son unos anfitriones de 10, éramos 5 personas y nos dieron 4 de sus habitaciones y la cocina de la planta de arriba entera para nosotros. Incluso nos hacía falta alguna utensilio de cocina y nos prestaron uno suyo sin ningún problema. Las vistas maravillosas y encontramos la casa perfectamente gracias a las indicaciones de Miguel. 100% recomendable.
Sergi
2016-08-10T00:00:00Z
El anfitrion nos recibió muy bien, nos hemos sentido como en casa, la casa muy comoda y bonita y la distancia al centro de La Coruña a diez minutos en coche, y la parada del Bus en la misma puerta. Todo muy bien
SEBASTIAN
2016-04-15T00:00:00Z
El trato a sido magnífico, y la casa es muy bonita y espaciosa. Están a 5 minutos del centro, y ha resultado una muy buena experiencia. Saludos, y hasta la próxima !!
Teresa
2014-08-22T00:00:00Z
Familia de Miguel nos recibió y asesoró acerca de todo con mucho cariño. La casa esta lejos del centro pero un ómnibus te lleva en nada. Estacionar en el centro de Coruña es una locura así que fue mejor. La vista desde la casa es buenisima
Silvia
2016-08-04T00:00:00Z
Room Type
Entire home/apt
---
Property Type
House
---
Accommodates
5
---
Bedrooms
A Coruña, Galicia, Spain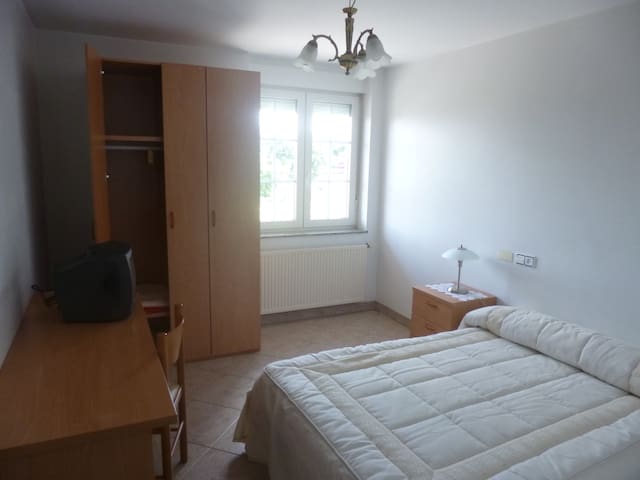 House located in Fiobre, at the mouth of the estuary of Betanzos, enclave belonging to the Natura 2000 network 20 km. A Coruna and 45 km. Santiago de Compostela. Designed in the 1960s by Ramon Vazquez Molezún (National Architecture Award), it has 140 square meters, divided into four half floors. Pool, two porches and garden. The farm has direct access to the beach Cabana.
Trato cordial por parte de María y Tete. La localización es estupenda, el hecho de que la casa tenga acceso a la playa dice mucho a su favor, así como de las vistas. Cuenta además con piscina y una zona amplia para dejar uno o varios coches dentro de la parcela. Quedamos satisfechos con la casa, sitio bastante recomendable para pasar unos días y ver Galicia.
Alejandro
2016-09-06T00:00:00Z
La maison et son environnement est fantastique. Nous avons passé un agréable séjour. Nous remercions Maria et Tété qui nous ont très bien accueilli chez eux. Ce sont des gens chaleureux et font tout pour que le séjour se passe le mieux possible. Nous reviendrons l'année prochaine !!
Gilles
2016-08-15T00:00:00Z
Room Type
Entire home/apt
---
Property Type
House
---
Accommodates
6
---
Bedrooms
A Coruña, Galicia, Spain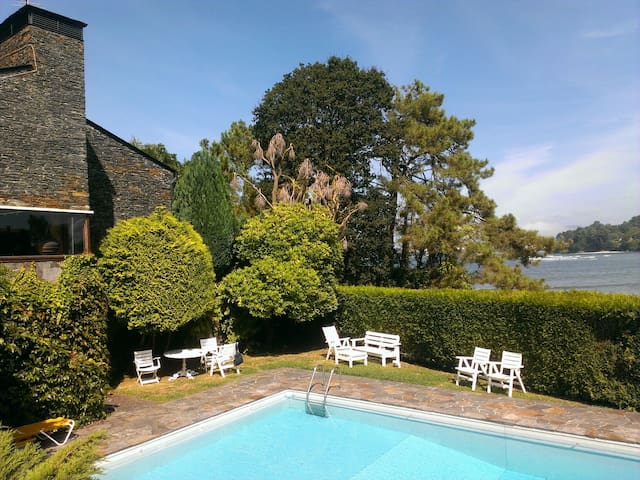 Dolores es una mujer extraordinaria te ayuda todo lo que puede en cuanto a excursiones y rutas que no debes perderte, siempre está pendiente de que estés bien, su casa es muy acogedora y cómoda está en un lugar tranquilo pero a la vez cerca de A Coruña, para nosotros ha sido un placer estar en su casa
Carmen
2016-08-13T00:00:00Z
Todo el tiempo estuvo disponible para hablar con nosotras. Nos dejó café y cosas para desayunar. También se ofreció a darnos un paseo por Coruña. Se necesita coche para desplazarse .
Amparo
2016-07-29T00:00:00Z
No lo dudéis, recomendado al 100%. La estancia ha sido perfecta. El apartamento está limpio y muy bien equipado. Dolores es muy simpática y atenta. Sin duda repetiría.
Jose
2017-02-25T00:00:00Z
Un alojamiento y una anfitriona de 10. Tanto el alojamiento como la localización era perfecta además de tranquila y Dolores no nos ha dado problema respecto a la hora de llegada siendo más de media noche. Los 2 perrotes que tiene, un encanto y super educados además de mimosos y el mío encantado de jugar con ellos. Recomendado 100% en todos los aspectos. Muchas gracias por la estancia Dolores. Si volvemos por la zona contamos contigo.
Celeste Rosa
2017-03-25T00:00:00Z
Room Type
Private room
---
Property Type
House
---
Accommodates
2
---
Bedrooms
Oleiros, Galicia, Spain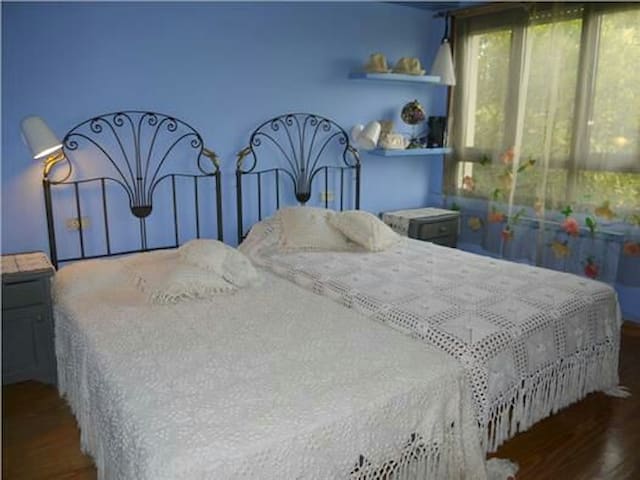 47m2 room in terraced house, pleasant rural environment, 10 minutes from the city. With pool, beaches very close and interesting to know Galicia routes.
Room Type
Private room
---
Property Type
House
---
Accommodates
2
---
Bedrooms
Oleiros, Galicia, Spain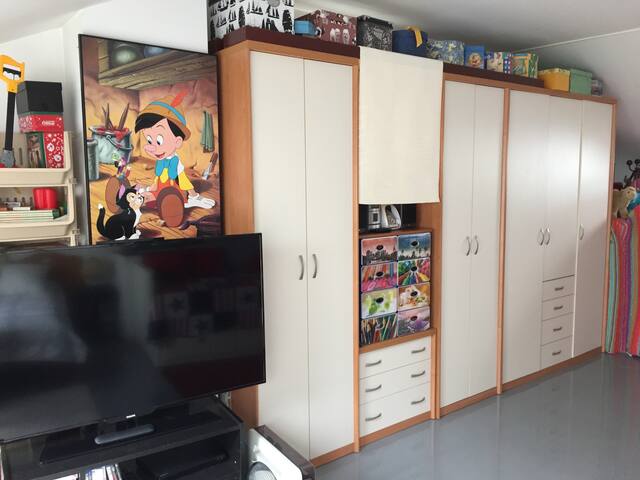 Small recently restored house, warm and friendly, located 1.5 km from the town of Santa Cruz.
The house has two bedrooms (both with double bed) and two bathrooms. The cozy kitchen-living room is furnished with great taste by the owners who are interior decorators. It has all the necessary services such as utensils, towels and bedding.
It is ideal to visit the Galician coast, from the Rias Baixas Rías Altas until, through the Costa da Morte. Besides, it is well connected with the interior of the community and its capital Santiago de Compostela.
La casa de Oleiros es INCREIBLEMENTE bonita. Esta en una zona muy tranquila y residencial al lado del mar. La casa es mucho mejor que las fotos aun, es espaciosa, muy limpia, nueva, cocina estupenda, dormitorios amplios, vigas de (URL HIDDEN) una casa impecable típica de galicia. Los propietarios y Carlos son encantadores, nos informaron de todo y nos ayudaron a tener una estancia inmejorable. The house of Oleiros is AMAZING. this is a a typical galicia house, space, clean, lightly, quiet, 2 rooms, sofa bed, ekiped kitchen...Its near by the sea, delicious restaurants and near la Coruña if you want to visit the city. I high recoomend this house if you want to relax and enjoy Galicia.
Rosa
2016-02-22T00:00:00Z
Sólo podemos dar las gracias por todo a María y Ricardo. Su casa, su cercanía, su ayuda , todo fue perfecto. La sensación que nos dejó el finde fue la de acertar en todo. Si buscas un buen alojamiento, muy bien situado, muy limpio, completísimo y muy acogedor, no lo dudes. Volveremos pronto!
Elena
2016-01-17T00:00:00Z
La casita es pequeñita pero está muy bien equipada
Mónica
2017-03-20T00:00:00Z
Room Type
Entire home/apt
---
Property Type
House
---
Accommodates
4
---
Bedrooms
Oleiros, Galicia, Spain
Gran casa en una zona tranquila, con varias casas unifamiliares al lado y chalets adosados. Paseos tranquilos por la zona. Centro comercial a 10' andando y a 1' en coche. Cerca de muchas playas preciosas como Bastiagueiro o Santa Cruz (15' andando, 2' coche) y muchas más. A 10' en coche de Coruña y parada autobuses a 10' andando. Ideal para vacaciones tranquilas y con acceso rápido a la ciudad de Coruña si queremos diversión. El precioso Paseo del Puerto de Sta Cruz a 2' en coche.
Es una magnifica casa con 2800 mts2 de parcelana para difrutar
Esta en Santa Cruz a 1 minuto en coche del centro del pueblo y a 20 minutos andando del mismo. A 15 minutos andando e la Playa de Bastiagueiro. Está en una zona de chalets. Cerca de una urbanización de chalets adosados
Room Type
Entire home/apt
---
Property Type
House
---
Accommodates
8
---
Bedrooms
Oleiros, Galicia, Spain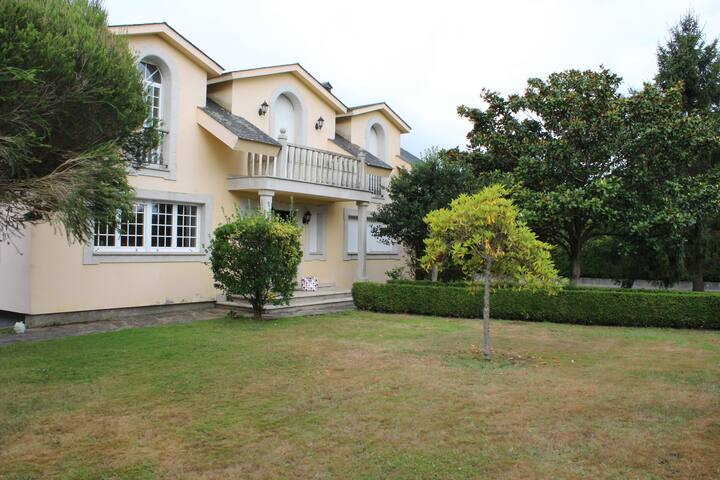 Villa dans un complexe privé avec piscine et des courts de tennis et de paddle, situés à proximité des plages et 11 km de La Corogne
Room Type
Private room
---
Property Type
House
---
Accommodates
2
---
Bedrooms
Oleiros, Galicia, Spain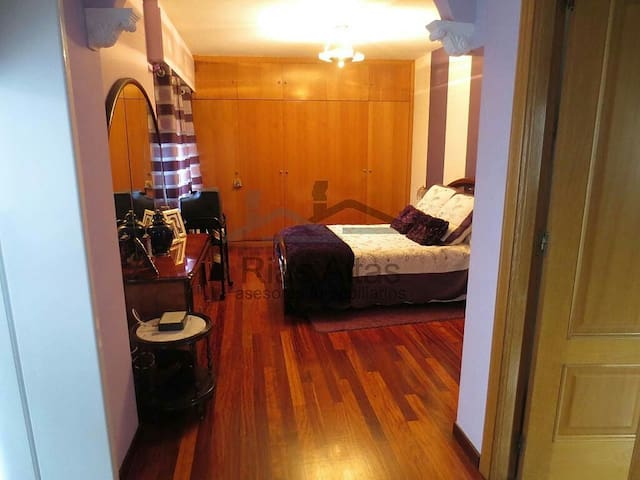 the house is very nice, clean and from good design! Beatriz made us find things for breakfast and made us very happy!
Antonello
2016-08-16T00:00:00Z
Las fotos reflejan la casa, de diseño cuidado. La zona es muy tranquila pero a cierta distancia de la playa (5-6 km). Tiene servicios muy cerca y muchas cosas para ver en un radio pequeño. No conocíamos la zona y nos gustó mucho.
Jose
2016-08-24T00:00:00Z
Room Type
Entire home/apt
---
Property Type
House
---
Accommodates
6
---
Bedrooms
Oleiros, Galicia, Spain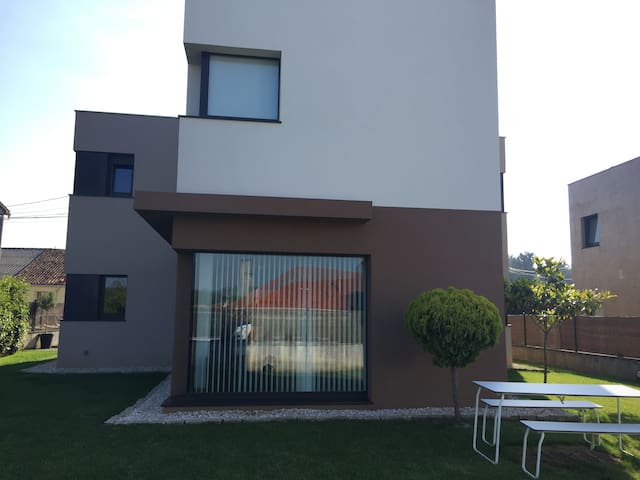 Con cocina totalmente equipada, dos salones, estudio, 4 dormitorios, 3 baños, cuarto de lavadora-secadora-plancha y un gran garaje-sótano. A 2 minutos de Betanzos, a 4 de la A-6 y AP-9, a 10 de la playa, a 25 de Coruña y a 50 de Santiago y Lugo.
Una experiencia muy positiva. La casa esta completamente nueva y equipada. Todo fenomenal. El anfitrion muy atento y simpatico, nos compro algunas cosas para que desayunaramos. Cuenta con todo el equipamiento en la cocina, asi como detergentes, vajillas,gel de baño, de ropa...etc. Persianas automaticas, sensor de movimiento q enciende la luz... etc. Muy completa. Y muy bien ubicada, asi como muy tranquila. En fin, una experiencia muy recomendable y muy positiva.
Asun
2015-09-03T00:00:00Z
La descripción de la casa es 100% correcta. La casa está nueva, recién construida, todo está muy bien y muy limpio. José fue muy simpático y nos ha ayudado con todo. La casa está situado en un pueblo muy bonito con una gastronomía excelente: hay que probar la Tortilla de Betanzos!! :)
Juan
2015-09-14T00:00:00Z
nos explico como funcionaba todo. Nos dejo para desayunar el primer dia y nos llamo para preocuparse si estábamos bien. Muy enrollado.
Cecilio
2015-12-12T00:00:00Z
Casa bien equipada y limpia, todas las habitaciones son grandes.
César
2017-02-22T00:00:00Z
Nuestra estancia en Betanzos fue muy agradable. La casa es amplia, estaba impecable (casi a estrenar), y disponía de todos los electrodomésticos y comodidades necesarias (electrodomésticos, sábanas y toallas limpias, televisión, etc.). Además, se encuentra en una zona muy tranquila, y a la vez, cercana a los servicios básicos (hay una zona comercial con varios supermercados a unos dos minutos en coche, y también el centro de Betanzos está muy cerca). En definitiva, es un muy buen lugar para pasar unos días de descanso, y para establecer el "campamento base" para visitar varios lugares emblemáticos de Galicia.
CRISTIAN
2015-08-22T00:00:00Z
Jose Manuel nos hizo sentir como en casa y fue muy amable. La casa nos encantó, era espaciosa y no nos faltó de nada. La cocina estaba equipada hasta el último detalle. La casa dispone de lavadora, algo que es de agradecer en un viaje largo como el que hicimos. Las camas muy confortables y al contar con 4 habitaciones de matrimonio y 3 baños completos no tuvimos problemas 4 personas, aunque la casa podría albergar hasta 8 personas comodamente. Nos encontramos todo muy limpio y cuidado. Sin duda repetiríamos sin pensarlo.
Cristian
2016-05-05T00:00:00Z
La casa es muy grande, muy espaciosa y totalmente (URL HIDDEN) tal cual aparece en la foto. Todo está muy nuevo. El trato con los caseros ha sido perfecto. En general ha sido una experiencia muy buena, totalmente recomendable!
Cristian
2016-07-25T00:00:00Z
Alojamiento espectacular!Quedamos encantados con el sitio, entorno rural pero a 2 km de Betanzos donde hay sueprmercado, restaurantes, (URL HIDDEN) casa espectacular, limpia, con todos los utensilios necesarios para un fin de semana y más! Calefacción con muy buen funcionamiento y comunicación con el anfitrión muy rápida y eficaz! Casa muy recomendable para pasar unos días de desconexión, gracias por todo!
Marta
2017-02-12T00:00:00Z
Room Type
Entire home/apt
---
Property Type
House
---
Accommodates
8
---
Bedrooms
Betanzos, Coruña, Spain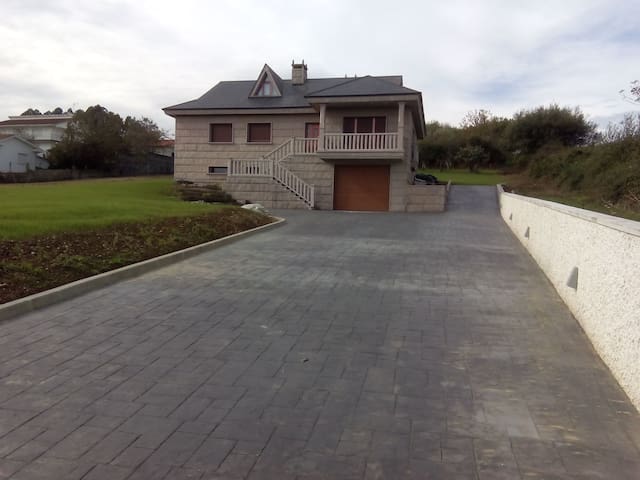 Located in a very quiet neighbourhood of the old city, this house was restored in 2009. The project concept is to match modern and vernacular architecture. More about us at cidadexardinpaisaxe wordpress.
The building has a patio to give light and ventilation to every room in the house. The distribution has prioritized the creation of open spaces. A sliding screens allow you to divide the space into bedrooms, one with double bed and one with two armchairs that become single beds. The house also has a dressing room / laundry room and two full bathrooms. The 40m² living room has a traditional balcony and is furnished with a sofa double-bed. In addition to these six places in the attic you can install an extra bed for children, covering a total of seven. The dining room has a table for 10 people and the fully equipped kitchen has access to the patio for drying clothes. The house is furnished and equipped for their use throughout the year, has central heating and in summer is very cool and airy.
The historic center of Betanzos is a very peaceful place to live, some guests have come to spend some time to study or work at the university and enjoyed the peace and quiet of the neighborhood. The neighbors are very friendly and hospitable people, willing to lend a hand at all times. Close you can find all the shops and services needed to cook at home or if you prefer to go to a restaurant you will find very near the nicest sites of Betanzos.
Great apartment in a great location! Little difficult to find initially but that was minor! Close to shops and restaurant and Jose was very accommodating. Would recommend it to anyone travelling through and we will definitely be staying there again on our next travels.
Alastair
2016-05-28T00:00:00Z
Jose has a lovely loft apartment in Betanzos, a small city 20 minutes outside of La Coruna. It's a great location if you'd like to be away from the big city, close to beaches with easy access to the Rias Altas coastline. The apartment is right down the street from a plaza filled with cafes, restaurants and markets. The apartment itself is a beautiful duplex, with lots of light, comfortable sleeping areas and a great kitchen. It's extremely clean and well-decorated. Jose is a gracious, flexible and communicative host. Would highly recommend this flat!
Laura
2012-07-29T00:00:00Z
Jose and his family made us feel very welcome. They have created a beautiful home in the middle of a lovely, traditional, Spanish town. We were sad to only be there for one night and would love to return to Betanzos.
Paul
2015-09-24T00:00:00Z
Thank you Jose and Elena! I had a wonderful 3 week stay. The home was accomodating, an excellent location, friendly neighborhood, easy parking, fully functioning appliances and showers! The location was prime for easily walking to downtown Betanzos. Cafe Lanzos up the hill was a welcoming and great treat each night for futbol games and free Wifi. My family, and friends truly enjoyed themselves. Jose was a great communicator- English and Spanish. He was reliable as well!
SELINA
2014-05-03T00:00:00Z
Lovely house in Betanzos old town
David
2016-09-19T00:00:00Z
House is wonderful in a beautiful town. The house is modern and beautiful. Highly recommended.
Gisella
2016-07-08T00:00:00Z
Jose and Emilia kindly accommodated our last-minute request to stay in their lovely house. It is a large place in beautiful Betanzos, a small medieval city. The house is comfortable, well stocked with cooking equipment, and thoughtfully organized. It is laid out on two floors, each with its own full bathroom. The sleeping areas are separated from each other by sliding panels, so if you need absolute privacy or noise isolation, this isn't the place. But my friend and I were very happy in this gorgeous place, and especially taken with the little garden in the middle of the house. In our haste, we hadn't read the description carefully enough, so we hadn't noticed that the Internet has to be requested in advance, but we found a friendly little tea house a couple of blocks away. We did stumble a bit finding the place--though there is what looks like a bell at the street address, the entrance is actually around the corner.
Andrea
2015-06-02T00:00:00Z
Amazing!!! Jose and Helena prepared the house with care and love! Hospitality and friendship! Perfect!!!! My staying there for a month was my dream coming true, thank you very much for being so nice and gentle :) And Betanzos!!! What a place!! wonderful! Warm regards, Esteves,M.
Marilise
2013-10-30T00:00:00Z
Room Type
Entire home/apt
---
Property Type
House
---
Accommodates
6
---
Bedrooms
Betanzos, Galicia, Spain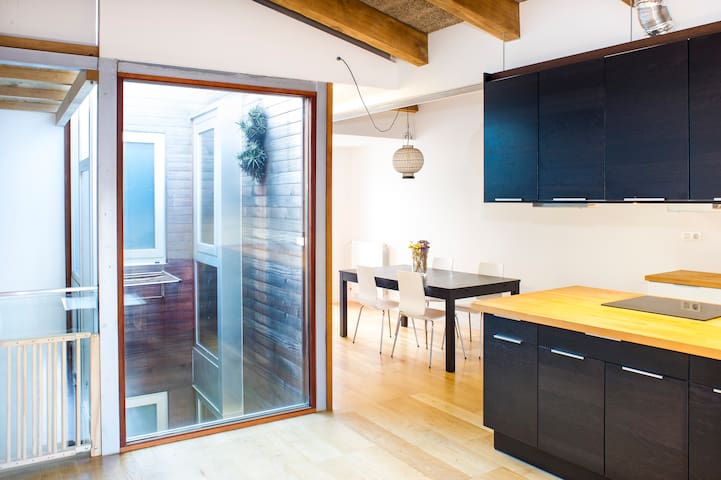 Esta casa ha sido restaurada de forma exquisita recientemente. Tiene cuatro plantas de 40 m2 cada una. Dos amplias habitaciones con baño completo, salón de estar y cocina comedor con aseo. Localización en conjunto monumental del patrimonio nacional
La vivienda tiene cuatro plantas. en la planta baja está situada la cocina completa y el comedor. También hay un aseo. En la planta primera hay un amplio salón con impresionantes vistas al conjunto monumental, dotado de un sofá cama. En la planta segunda, amplio dormitorio con cama de 1,50 m y baño completo. También tiene balconada típica. En la última planta, hay dos camas individuales y baño completo. Ideal para alojamiento de 4/5 pax
En pleno casco histórico de Betanzos. Municipio situado en la etapa central del camino inglés de Santiago. Dispone de cafeterías y restaurantes próximos, comercio y mercado municipal. Es una experiencia única recorrer sus calles cuajadas de edificios históricos y degustar su excelente gastronomía.
Silvia is a fantastic host! Her home is beautiful, and located in the quaint historic district of Betanzos. Silvia went above and beyond to ensure that our stay was nothing but fantastic. I especially recommend this place to pilgrims hiking the Camino; it's a perfect place to relax!
Andy
2016-06-30T00:00:00Z
We realy enjoied our stay at your house. It was an interesting experiance to sleep in such an old place. Old but very updated. You can see that Silvia has realy tought of every detail. Thank you for taking care for our breakfast, we highly recommend people to stay at your place :-)
Sandra
2015-09-30T00:00:00Z
Beautiful house, great location and Silvia was very helpful. Highly recommended. Betanzos is a lovely town too with a nice vibe at the weekend.
Gary
2015-09-21T00:00:00Z
This place is great, spacious bedrooms and fantastic facilities, the place is very well kept and is nicely decorated. Silvia has also labelled everything very nicely and she even has a map with direction and suggestions for nearby places on the wall. The house is beautiful, authentic and very well located, everything is within 5 min walk. I didn't get to see Silvia, but that was not an issue at all, she was always responsive to queries and providing all the information needed. Highly recommended!
Ernesto
2015-09-14T00:00:00Z
Staying in Silvia's house in Betanzos was our first airbnb experience and it was all very positive. Betanzos is a friendly small town with beautiful buildings and delicious food and wine. The description of Silvia's house is very accurate, yet on arrival it was even more charming than we had ever imagined. The house is in the heart of the old town, part of an old square with two churches and a market. Bakeries, shops and bars were a short stroll away. We felt very welcome on arrival. The kitchen was thoughtfully stocked, the bedrooms and bathrooms were lovingly prepared. We enjoyed exploring the town and soaking in the local life whilst sitting on the doorstep sipping coffee or wine. Betanzos and Silvia's house were perfect destinations.
Charlotte
2015-05-25T00:00:00Z
We had a good time in Bentazos. The house is just lovely. The pictures give you a real impression how the house really is. It couldn't be situated better. Also check in and out is convenient and swift! Thanks a lot Sylvia for sharing this beautiful house.
Yann
2015-07-17T00:00:00Z
It is one of the most beautiful locations in Betanzos, the house is just wonderful! Silvia makes is even more enjoyable - welcoming you with a survival package! Could not be better!
Herbert
2016-05-24T00:00:00Z
Nos encontramos muy a gusto en la casa di Silvia. Sitio encantador, con muchisima historia, restaurado con gusto y con todas las carácteristicas originales intactas. De verdad fue una estancia muy positiva. La casa estaba limpia y no nos faltó nada. Y el pueblo, Betanzos, un encanto.
Claude
2016-07-03T00:00:00Z
Room Type
Entire home/apt
---
Property Type
House
---
Accommodates
5
---
Bedrooms
Betanzos, Galicia, Spain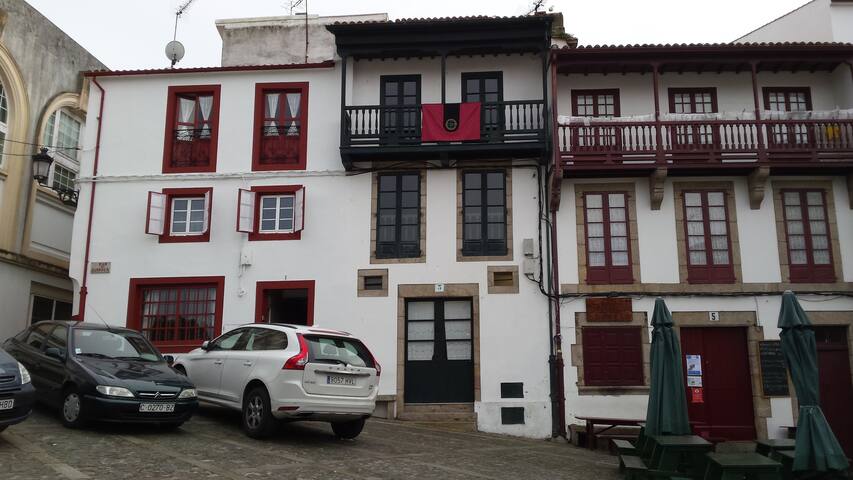 La Casa Santa Cruz est situé dans une belle villa, décorée avec un goût exquis et serait digne d'un article dans un magazine et la décoration intérieure.
A l'intérieur, il dispose de trois chambres, deux salles de bains avec bain à remous, équipé de tous les appareils, salon, salle à manger et terrasse. Nous soulignons également le jardin, terrasse avec barbecue et un parking et un accès Internet privé Wi-Fi. Le chalet est un bâtiment spectaculaire divisé en logements distincts.
La ville de Santa Cruz, à seulement 7 km. La Coruna, est devenu un quartier résidentiel avec de nombreuses plages, des parcs, des jardins, un magnifique front de mer et de nombreuses autres attractions générales en fait une destination de vacances idéale.
Una muy buena localización... al lado de Coruña y de las playas, en un entorno rural.
Raquel
2016-11-13T00:00:00Z
Todo perfecto. Las fotos son muy veraces.
Toni
2016-12-28T00:00:00Z
La casa es bonita y acogedora.
Naiara
2016-09-04T00:00:00Z
Room Type
Entire home/apt
---
Property Type
House
---
Accommodates
8
---
Bedrooms
Oleiros, Galicia, Spain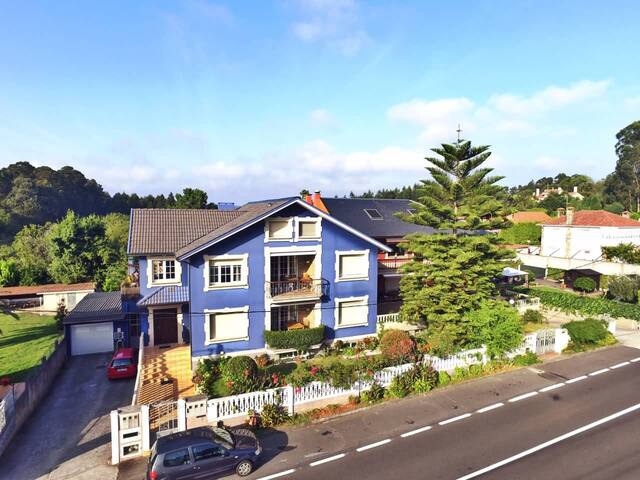 Farm house with shared single room rented. Fully equipped kitchen-living room, bathroom, tv, wifi, terrace, ... linens and towels. Pets Allowed. Private parking in front of house. Possibility to rent another double bedroom also announced on Airbnb.
Room Type
Private room
---
Property Type
House
---
Accommodates
1
---
Bedrooms
Oleiros, Galicia, Spain