Our accommodation is nestled in green countryside in a strategic position in the top of Grappa and the Asiago plateau. Ideal for a relaxing holiday, culture, sports. A short distance from the Venetian cities of Venice, Vicenza, Padua, Treviso, Verona
The house is newly built. The cozy atmosphere has a very personal style that recalls the furniture and the way of living simple and typical traveler. The spaces are large, both in the living area in the sleeping area. The large garden is filled with plants and flowers and offers a relaxing space that is difficult to resist and where children can play in complete safety. Guests can also enjoy a beautiful patio with a fireplace to cook delicious barbecue and party outdoors.
SERVICES: Nearby a few minutes walk or drive you can find everything you need, shopping center, pizzeria, rotisserie, fuel distributor, pool with spa, gym, etc ... CONNECTIONS: only 3 minutes by car there is the small Cassola railway station, from there through the rich colors of the Venetian countryside and landscapes can be reached directly in less than an hour Venice and Trento, or by changing the line in Bassano del Grappa Castelfranco Veneto or you can take the direct line to Bologna, Padua or the direct line for Verona Milan.
Room Type
Private room
---
Property Type
House
---
Accommodates
2
---
Bedrooms
Cassola, Veneto, Italy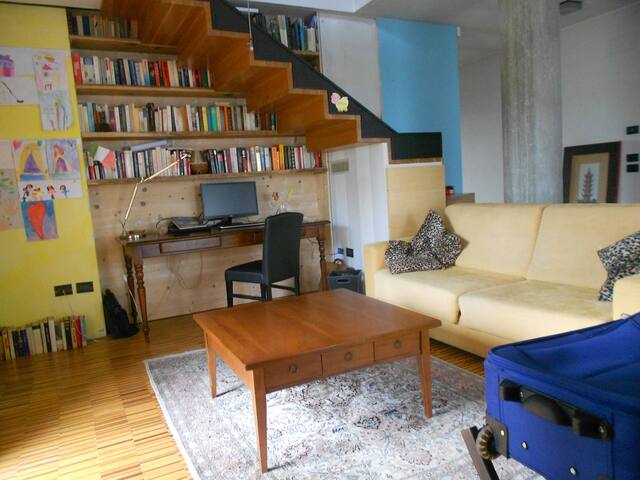 Country house between Bassano del Grappa and Asolo.
An italian countryside villa only for you. Stylish country house in Veneto just 6 km from Bassano del Grappa. The house is only 10 km from the beautiful city of Asolo and close to other old cities like Castelfranco, Cittadella and Marostica. It's conveniently situated just one hour by train or car from Venice, Vicenza, Padua or Verona.That's the right choice to experience Italy in Style! You can rest in the patio after your long day sightseeing and taste a good wine of our region... I'm a big traveller and I lived for a while abroad so I love to meet people from all around the world and share my experiences. I can speak french, portugues and of course english. You can enjoy the fast wi fi internet, the garden and the traditional breakfast. I designed every inch of this house with a keen eye to details... I hope you are gonna enjoy it!
We had a nice stay at Luca's house. The house is very clean, quiet and fully furnished (it's great to have speakers in almost all rooms with a jack to listen to music!). The breakfast was also good. We just had a heating issue the first night but Luca did his best to fix it quickly. I highly recommend this place for a lovely journey!
Benjamin
2015-02-14T00:00:00Z
Luca's house was simply outstanding. The location is quiet, by a stream with lots of privacy and a secure property/parking area. We bought food from town and cooked our meals at home and ate in the beautiful garden. The house itself was so lovely. Plenty of space and decorated very nicely. Luca was great with communication and flexible with check in and check out. He was also very helpful with tips regarding getting around town and to the property. I would recommend Luca's house to everyone.
Tess
2016-09-09T00:00:00Z
Luca met us at the property on our arrival and provided a guided tour of the house. It was easy to find from the directions. The photographs don't really do the property justice, it is beautifully decorated and perfectly clean. The courtyard / driveway is also beautifully presented.
Richard
2015-06-17T00:00:00Z
Staying in Luca's house was wonderful! He is such a great host, we arrived 4 hours earlier and he had everything ready (it was a last minute change of checking in time and he went out of his way to make it possible). The house was beautiful and cozy, very romantic! Located in a beautiful place (nearby Many cute villages, Venezia and the mountains). Great place for a winter or summer holiday! He left for us food for breakfast (eggs, kiwis, yogurts, cafe and teas) I really recommend it!
Luna & Lotte
2015-02-08T00:00:00Z
Luca and his family were so lovely and helpful. The place was so wonderful we would love to go back in a heart beat.
Anna
2015-09-08T00:00:00Z
Luca is lovely and his place is beautiful... truely amazing home!
Kinsey
2015-07-12T00:00:00Z
Luca was a great host. Upon arriving, we were surprised with the staples he left us for breakfast. It was great. On our departure, he went out of his way to help us drop off our rental car, and get to the train station. His 400 year old home, that he and his father restored, was outstanding. Great beds and bathrooms. It was a good location for exploring the Veneto region. We visited Bassano, Asolo, Castelfranco, Cittadella, and Marostica. All wonderful towns with historic sights. There are some great restaurants nearby. Two that we tried were Il Delicato and Da Cioro. We would definitely recommend staying at Luca's place to anybody(URL HIDDEN)
Dennis
2013-10-06T00:00:00Z
Luca was an amazing host. We had such a wonderful time at his place. It was a perfect location for our trip, half-way between Verona and Venezia. We had whole place for ourselves, equipped with everything you need. Luca was also very helpful and gave us lot of advices what to see and how to get there. We just wish we had more time to enjoy his wonderful place.
Lucia
2013-07-29T00:00:00Z
Room Type
Entire home/apt
---
Property Type
House
---
Accommodates
5
---
Bedrooms
Mussolente, Veneto, Italy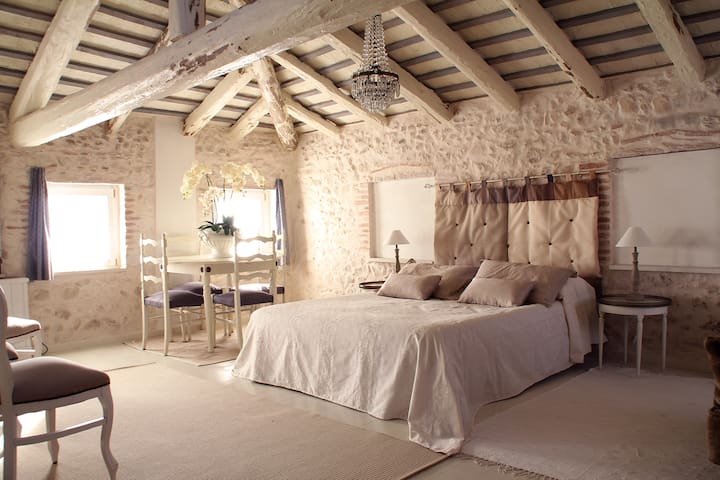 We offer a studio apartment with double bed (on request an extra single bed), kitchen and private bathroom located on the ground floor of a villa in the hills. Beautiful location and large garden. Independent access and free parking. 7 km from Bassano del Grappa
Hill-side house situated in a very peaceful area, just ten minutes by car from Bassano del Grappa. Sunny and panoramic location, with a large wooded garden.
Hilly residential discrict with few houses deep in the green. Roads are not very busy and tranquility reigns.
Our hostess Valentina is a very helpful and attentive person who does her best to make you feel home. She provided us with accurate information about the property which is a really nice, picturesque and quiet rural place on the one side, on the other side it's situated not far from the neighbor town Bassano del Grappa and beside the beginning of all hiking routs and paragliding takes off. A week before our arrival Valentina warned us about the construction site that suddenly opened beside her place about what she did not know in advance. She uprightly told us about it and offered a full refund. We appreciated that much. Fortunately, there was not much noise and dust so it did not bother us. In the apartment you have nearly everything you need. Valentina kindly prepared a set of food at our arrival. We enjoyed our stay at Valentina's place and thank her very much. Recommended from the heart!
Andrey
2016-07-22T00:00:00Z
My friend and I had a great stay at Valentina's apartment, the location was perfect for us to explore the local area and towns of Bassano del Grappa, Marostica and Cittadella nearby. The room was a perfect size for two and it was great to also have some outdoor space, so one evening we had dinner outside with the produce we'd bought from the local markets. Valentina and her family live in the upper villa, so were on hand if we had any queries and even gave us some delicious homemade limoncello to taste. I would definitely recommend the apartment.
Claire
2016-06-29T00:00:00Z
Everything was exactly how displayed in the add. Great little studio - has everything one could need.. lovely family, warm welcoming and uncomplicated handling of everything. Can absolutely recommend this place - great price value balance!
Petra
2017-04-01T00:00:00Z
Ok
Fausto
2016-12-05T00:00:00Z
Valentina and her Mum were very nice and the accommodation was in a very beautiful countryside setting . The room was perfect and very clean and there was everything there for a comfortable stay. I would love to come back and spend a longer time there
Dale
2015-09-30T00:00:00Z
We had a great time, staying at Valentinas quiet, cosy and nice apartment. A bit outside from Barsano, at the countryside, it's a good place to explore the beautiful scenery.
Tobias
2015-08-01T00:00:00Z
A very cozy apartment with a nice garden in the middle of beautiful scenery. it has everything you need. Valentina was very helpful, too. We really enjoyed our stay!
Peter
2016-08-13T00:00:00Z
Very nice villa on green land. You can see the church and houses on the hills. Beautiful area. And a nice and comfortable house. Everything is there also breakfast. Highly recommend if you are looking for relaxation and nature.
Shah
2015-07-14T00:00:00Z
Room Type
Entire home/apt
---
Property Type
Apartment
---
Accommodates
3
---
Bedrooms
Mussolente, Veneto, Italy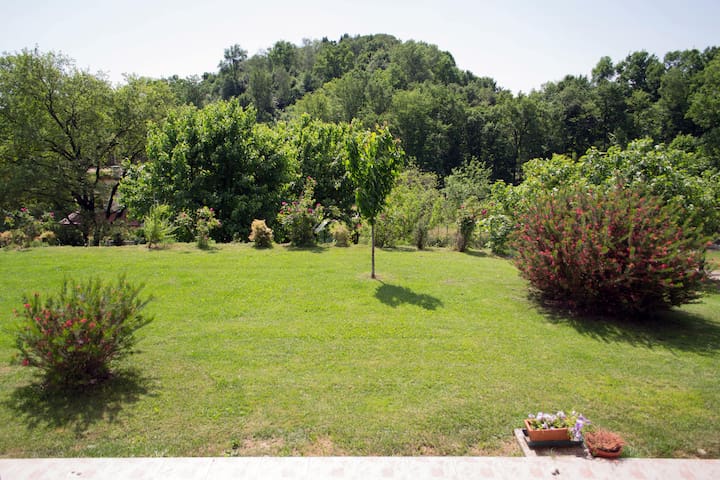 My accommodation is suitable for couples, lone adventurers, business travelers and furry friends (pets). The accommodation is located immediately at the exit of the ring road, 5.6 km from the center of Bassano in the green of our garden with spectacular views towards the mountains. We offer our highest availability with the pleasure of welcome and a comfortable stay. Close to Bassano's historic center and around the relaxing areas such as the mountains and the river Brenta.
L'alloggio si trova subito all uscita dalla tangenziale, 10 min dal centro di Bassano immersa nel verde del nostro grande giardino con la vista verso le montagne.
Close to Bassano's historic center and around the relaxing areas such as the mountains and the river Brenta perfect for those who likes to do some walking in green areas. We are near to some beautiful places as Cittadella, Asolo, Monte Grappa, Venice.
Perfect, clean , all things Ok
Hossein
2017-04-13T00:00:00Z
Erkanda ci ha accolto come membri della famiglia. Abbiamo fatto colazione insieme nel giardino ogni mattina. Posizione strategica per visitare Bassano e la valle del Brenta, consigliatissimo achi piacciono le atmosfere familiari!
dario
2016-10-31T00:00:00Z
Ci siamo trovati davvero bene; un soggiorno da Erkanda lo consiglio a Tutti.
Maciej
2016-10-23T00:00:00Z
Room Type
Private room
---
Property Type
House
---
Accommodates
3
---
Bedrooms
Provincia di Vicenza, Veneto, Italy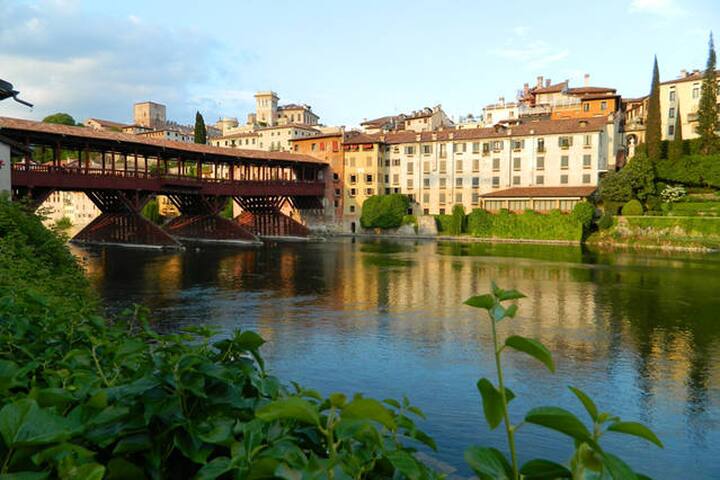 Nice independent house located in the hills between Asolo & Bassano organized in two levels with big enchanting garden. Ample kitchen with living room and cozy bedroom in the mezzanine, nice big bathroom with shower and bath tub. Perfect for relax.
The house has been recently restored, kitchen, bathroom and finishing are new and high quality. Outside there is a wooden terrace with dining table facing the olive tree grove and a lovely hill where you enjoy cycling or walking.
Thanks for the nice stay!
Alexander
2017-01-04T00:00:00Z
This is is a great place to stay . The countryside is beautiful and peaceful.
Joseph
2016-08-19T00:00:00Z
This is a fantastic house with all luxury that is necessary. It is located in a quite neighborhood. The host is very sympathetic and friendly and genuinely concerned with the guests.
Renato
2016-09-27T00:00:00Z
The house and the surroundings were even more beautiful than imagined. It is a very tranquil spot, perfect for switching off and just watching and listening to nature & at times the nearby church bells, which are the only indicator of time, because it's the kind of place you don't check your watch or phone. The house is clearly and cleverly designed; I couldn't think of a single improvement. Elena and Eber are very thoughtful and welcoming. I would love to come back.
Francoise
2016-08-01T00:00:00Z
The house is absolutely lovely: the rooms, the location, the garden... We felt warmly welcome and have spent a fantastic week in Elena and Eber's house. We took bike trips, went sightseeing in all the picturesque Venetian towns around. There's so much to see and experience! One week wasn't enough and we would love to also enjoy the garden in warmer weather.
Kirsten
2016-11-07T00:00:00Z
Elena and Eber are very kind people who welcomed us personally when we arrived (including a bottle Proseco). Their description fitts with the house. It is indeed lovely, with eye for detail. Small, but with everything in it what is required. The house and the spacy garden offer you lots of privacy. Every day we got company from the cats, the dog and... the chicken ;-) So we realy felt "home". We recommend this house for couples who appreciate privacy and quality. The area is not touristic but offers plenty of things to enjoy. The proseco route, Mont Grappa, Bassano del grappa, Padua, etc. Although you need a car, because of the distances.
Philip
2016-07-14T00:00:00Z
What an amazing place, a perfect location and a perfect little house. Great design and attention to detail made this place a wonderful space to spend a week in the Italian countryside. All the amenities you could need are close by, (bakeries, grocery store & an amazing wine shop). We enjoyed climbing Mount Grappa, exploring the Dolomites and local towns of Asola, Bassano and Padua. Can't recommend this place enough. The hosts were really helpful and quick to respond and provided lots of useful advice for things to do.
James
2016-10-23T00:00:00Z
This house is a very nice tiny house with a great view. We really enjoyed staying in this quiet area. The only thing your hear are birds and the church clock (maybe not suited for light sleepers...) The bedroom and the badroom are upstairs on a split level, very cosy, but when your tall as we are you have to mind your head every now and then ;-)
Ruud
2017-04-09T00:00:00Z
Room Type
Entire home/apt
---
Property Type
House
---
Accommodates
2
---
Bedrooms
San Zenone degli Ezzelini, Veneto, Italy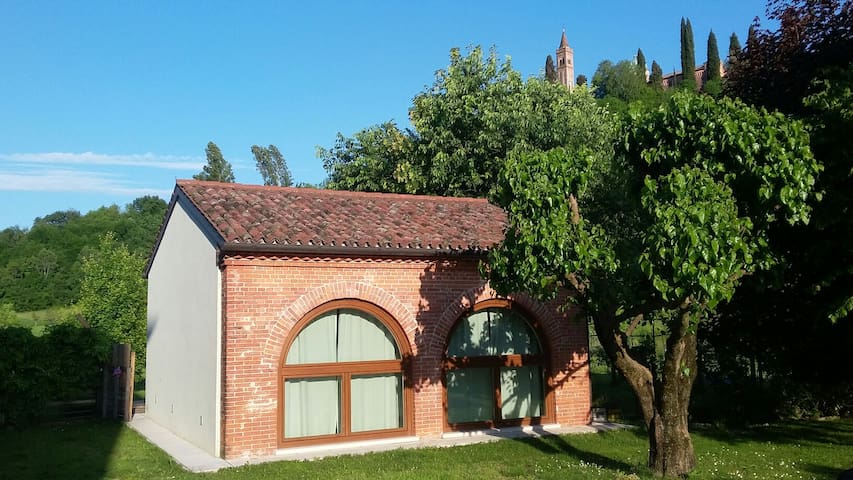 Our 14th century palazzo is in the very center, 20 m from the old bridge. The Lila room is very cosy with a big private bathroom and balcony, breathtaking view on the hills, bridge and river. Homemade breakfast in the kitchen or in the courtyard.
WIFI, towels, soap/shampoo, heating system. Big private and separated bathroom with balcony. Cradle available. The bikes can be parked into the garage!
The palazzo is situated in the storical center, at 2 minutes from the old bridge. Even if the district is quite active, the rooms are quiet!
You have to stay here!!! Our room looked right out on the old bridge at Bassano. The B and B is gorgeous and Julie and Antonio are very gracious and helpful, not to mention Julie is a great cook. Only bad part was the bread she just put in the oven as we were leaving. Made us want to stay another night.
Michael
2016-04-11T00:00:00Z
This was definitely one of the best stays I have had with airbnb. I am sad that i was only there for a day, but next time i hope to be here for longer. The room and location were exactly as described and Julie was an excellent host. She was more than helpful in suggesting places to eat and visit. Well done Julie. Keep up the great work :-)
Hitesh
2016-05-20T00:00:00Z
It was a wonderful experience! We can highly recomend staying here! Charismatic, enchanting place and people! We will defintely come back!
Leontine
2016-07-03T00:00:00Z
Certainly the best place to stay and enjoy bassano ! Nice river sight seeing, charming house with a modern touch and very confortable. It's quiet at night but you are situated next to many nice spots to have a drink or eat, right in the center. However, 5 min walk and you enjoy the calm of the river. Julie will prepare you a good breakfast to start the day, and will host you in english, italian, or even french. We will definitely come back.
Maxime
2016-06-21T00:00:00Z
If you're looking at staying in Bassano, stop looking any further. THIS is the perfect place. We wish we had more than one night there. We stopped at Le 33 between our trip from Venice to Riva del Garda. This place looks like it's coming straight from a magazine. Julie and her husband has been incredible, from preparing our happy hour with a bottle of prosecco on the patio to preparing a very tasty breakfast. We highly recommend it!
Nicolas
2016-07-05T00:00:00Z
One of my best Airbnb experiences. Surely, you can't do better in Bassano del Grappa. Lovely place, great location, super view, great host & family - overall great value. Look no further.
Murat
2016-11-20T00:00:00Z
We really enjoyed our stay in this lovely B&B. Our hosts Julie and Antonio were very friendly, caring and gave us helpful tipps where to go and where to eat in Bassano del Grappa and even in Venice. And also the breakfast was a delight! Self-baked bread and home-made jam, cake, strawberries... We definitely come back again.
Lisa
2016-04-29T00:00:00Z
We were made to feel very welcome at Le 33, from help carrying bags, to maps and storing food in their fridge. The location of the house is great. right in the centre of town. Breakfast was delicious, served in the courtyard, with home made bread and jams, fresh juice and pancakes. Everything was as pictured and very clean and homely. Would definitely recommend if you are travelling to Bessano.
Mandy
2016-07-24T00:00:00Z
Room Type
Private room
---
Property Type
Bed & Breakfast
---
Accommodates
2
---
Bedrooms
Bassano del Grappa, Veneto, Italy
Just a short walk to Bassano's olden bridge and town centre, this is the ideal place for a relaxing getaway amidst the majestic green hills and valleys of a truly unique location. Nearby public transport will easily get you to cities like Venice, Verona, Padova etc. Also not to miss, free-flying, canoeing and the nearby medieval towns of Marostica (famous for its cherries and live chess-game) and Possagno (famous for its works of Canova).
Entire 1st floor apartment - Spacious master-bedroom with own terrace and bathroom. Dining /living area - fully equipped kitchen with microwave, second terrace (ideal for outdoor lunches surrounded by garden area) Comfy double sofa bed in living room Private parking, lift, disabled access
Appartamento delizioso in quartiere tranquillo e carino. Clara è stata molto disponibile e precisa nell'accoglienza. Tutto prefetto, consigliatissimo!
cinzia laura
2017-03-19T00:00:00Z
La casa e' nuovissima, posizione ottima e clara e' un host formidabile...forse la mancanza di internet puo' molestare, ma il resto perfetto
katiuscia
2017-02-05T00:00:00Z
Incontrare Clara e soggiornare nel suo bell'appartamento è stata un'esperienza assolutamente gradevole. La casa è molto bella, pulita e confortevole. E' situata in una zona tranquilla ma tutto sommato vicina al centro. La mia famiglia (e le mie bimbe in particolare) si è trovata benissimo e l'assistenza e la disponibilità fornitaci da Clara sono state eccezionali. L'appartamento è dotato di tutti i confort (riscaldamento autonomo incluso) per rendere un soggiorno davvero piacevole. Clara ci ha anche fatto trovare caffè, latte e biscotti per la colazione! Consigliato sia a coppie che a famiglie!
Paolo
2016-12-09T00:00:00Z
L' alloggio di Clara è molto accogliente, pulito e confortevole, oltre che curato nei minimi dettagli. Clara è davvero molto gentile e carinissima! Vivamente consigliato!
Grazia
2017-03-12T00:00:00Z
Abbiamo soggiornato 5 giorni e ci siamo trovati benissimo!!!!! Appartamento molto luminoso spazioso pulito ed accogliente, vicino al centro ma in una zona tranquilla. La signora Clara molto disponibile e simpatica è stato un grande piacere conoscerla. Ci torneremo e lo consiglieremo ad altri
Cinzia
2017-02-17T00:00:00Z
Alloggio veramente bello, con tutti i comfort Clara super gentile e veramente disponibile con una figlia bellissima
simona
2017-01-02T00:00:00Z
Clara es una excelente anfitriona, la recomiendo 100%. Es una persona cálida, simpática y estuvo siempre dispuesta a ayudarnos en todo lo que necesitábamos durante nuestra estadía. El departamento es aún mejor que en las fotografías y está nuevo, además de limpio y ordenado. Clara aportó bastante para que nuestro viaje a Bassano fuera inolvidable!
fabiola
2017-02-19T00:00:00Z
Già dal primo contatto con Clara ci si può far un'idea di come sarà il soggiorno. Cortese e dolcissima vi accoglierà con molta gentilezza e con altrettanta precisione verranno definite le semplici regole della casa. L'alloggio è molto recente, curato e coccolo. Primeggia il bianco, rendendolo bello luminoso anche grazie alle numerose aperture e i terrazzi, ma comunque l'appartamento è di dimensioni generose. Ottima la fornitura di optional, dagli elettrodomestici, agli asciugamani, ben fornita la dispensa per la colazione e per dei veloci spuntini. A dieci minuti dal centro a piedi, zona residenziale molto tranquilla, verde e sicura. Da apprezzare davvero la disponibilità dell'host, Clara è stata carinissima e molto flessibile, dunque perfetta anche la comunicazione. Sicuramente un luogo da consigliare !
Giovanni
2016-11-07T00:00:00Z
Room Type
Entire home/apt
---
Property Type
Apartment
---
Accommodates
4
---
Bedrooms
Bassano del Grappa, Veneto, Italy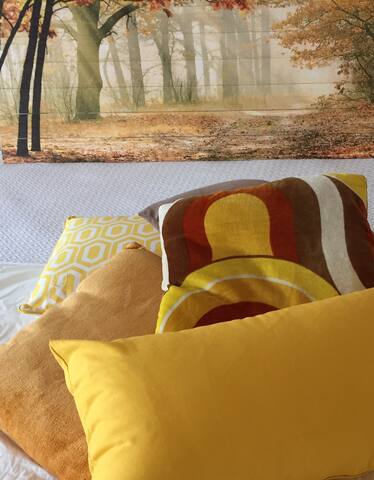 The house is 2 minutes from the old town (15min walk) is close to the multiplex cinema, a shopping center and is located in a 'great location for all directions. Perfect for couples looking for relaxation and comfort.
La casa è grande, accogliente e molto pulita. Eleonora è stata alquanto ospitale e tempestiva nelle comunicazioni. La posizione è comoda e strategica, l'alloggio è vicino a un centro commerciale e alla strada tangenziale che collega Bassano a Vicenza.
Michela
2017-02-12T00:00:00Z
Appartamento accogliente e situato in una zona residenziale. Distante 5 minuti in auto dal centro città. Eleonora è stata molto disponibile. Bassano del Grappa è molto carina e ci torneremo sicuramente.
Lucilla
2017-01-01T00:00:00Z
Eleonora, gentilissima e super disponibile! Posto facile da trovare in macchina, parcheggio davanti al appartamento. Tutto come da descrizione o meglio ancora. Super pulito, silenzioso e funzionale ma con quel tocco personale che ti fa sentire bene. La doccia...fantastica, molto apprezzata ;) ci ritorneremo di sicuro se siamo di passaggio, grazie ancora Eleonora
veronica
2017-01-13T00:00:00Z
Weekend fantastico! Appartamento super accogliente e confortevole, in macchina non molto distante dal centro. Host davvero molto disponibile e gentile! Molto apprezzata la premura nei nostri confronti: ha lasciato sul tavolo del soggiorno una torta di mele bio locali fatta a posta per noi! Ci siamo sentiti davvero a casa! Consigliatissimo!
Dario
2016-11-20T00:00:00Z
Ottimo posto!
Fiodor
2016-12-30T00:00:00Z
Alloggio molto bello, facilissimo da raggiungere. Comodo per il centro città. Host disponibilissima e molto gentile, torneremo presto.
Davide
2016-12-25T00:00:00Z
Eleonora è una padrona di casa deliziosa ci ha accolto con una fantastica torta, ci ha lasciato il necessario per la prima colazione del primo giorno, sempre disponibile a darci informazioni e consigli. La casa è in posizione strategica per visitare molte città.
Flaminia
2017-01-08T00:00:00Z
Room Type
Entire home/apt
---
Property Type
Apartment
---
Accommodates
3
---
Bedrooms
Bassano del Grappa, Veneto, Italy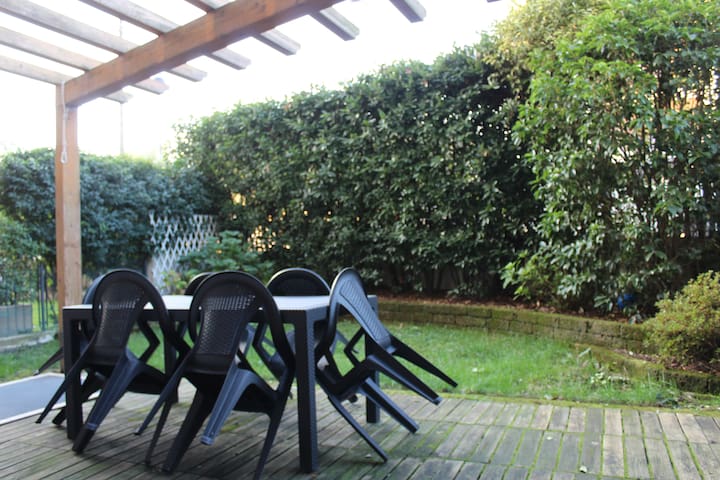 new 80 square meter apartment with a large terrace in quiet area near the center new about 80 square meter flat with large terrace in a quiet zone near the center (1km from historical city center)
The apartment is located in a quiet area near the center. The property is located on top of my lab so 'if you can be of interest to you can also see how a craftsman working today. The apartment is located in a quiet area near the city center upstair my porcelain workshops.
Wonderful and friendly host - he even picked us up from the train station and printed boarding passes for us. The flat was very well-equipped and comfortable and I would highly recommend it.
Katy
2016-09-29T00:00:00Z
Apartment as described; very clean, well equipped kitchen, good shower, big terrace, air conditioning, clean towels. The car park is gated so it's really safe & the neighbourhood is quiet. 20min walk into BdG.
Kelly
2016-08-27T00:00:00Z
Alle and his sister were very welcoming and helpful. The apartment is clean, large, well equipped and has a large private sun terrace. Arriving is slightly off putting as the apartment is in a light industrial area (but no noise or polution), and once inside the location becomes immaterial. 20 minute walk into centre of town.
John
2015-10-01T00:00:00Z
We really enjoyed our stay. The apartment was really spacious and very comfortable. There is everything you would need in the apartment for cooking and a supermarket really near by plus a bar.Sergio is a great host he left us a bottle of prosecco and brought us croissants every morning. He let us use his bikes and we were able to cycle round Bassano which was lovely. I would recommend this apartment it is really good value and Sergio is a very attentive host.
Kate
2015-09-27T00:00:00Z
Our stay was comfortable, relaxing and thoroughly enjoyable. The apartment was clean and had everything we needed for our stay. Apartment is in a quiet area so we slept very well. We found Sergio extremely helpful and we enjoyed our croissants which he left for us each morning.
Amber
2015-05-25T00:00:00Z
Lovely place, we can warmly recommend it! Thank you S for wonderful service!!!
kristiina
2015-06-24T00:00:00Z
Sergio was a awesome host! The apartment is much bigger than in the pictures, there was a huge bathroom, kitchen, living room, bedroom and a rooftop terrasse with view on the mountains. Sergio brought us fresh croissants in the morning and was always available for us. The location is about 15-20 min walk from the old bridge and dowtown but if you have a car it takes 3 min. Bassano is an amazing city and sergio made our stay even better! ThAnk you
Viviane
2015-07-17T00:00:00Z
Great space, lovely patio, perfect location for going dancing at Hangar 383 and going into town for sight seeing and food. Sergio is a kind and responsive host, too. Will definitely stay here again!
Rachel
2015-06-30T00:00:00Z
Room Type
Entire home/apt
---
Property Type
Apartment
---
Accommodates
4
---
Bedrooms
Bassano del Grappa, Veneto, Italy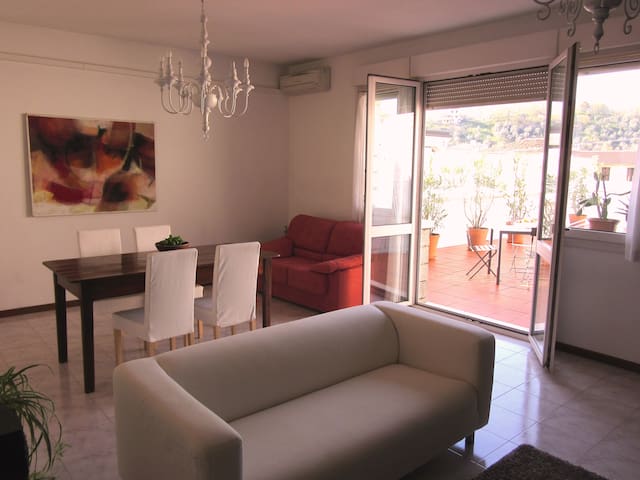 My accommodation is suitable for couples, lone adventurers, business travelers and furry friends (pets). The accommodation is located immediately at the exit of the ring road, 5.6 km from the center of Bassano in the green of our garden with spectacular views towards the mountains. We offer our highest availability with the pleasure of welcome and a comfortable stay. Close to Bassano's historic center and around the relaxing areas such as the mountains and the river Brenta.
L'alloggio si trova subito all uscita dalla tangenziale, 10 min dal centro di Bassano immersa nel verde del nostro grande giardino con la vista verso le montagne.
Close to Bassano's historic center and around the relaxing areas such as the mountains and the river Brenta perfect for those who likes to do some walking in green areas. We are near to some beautiful places as Cittadella, Asolo, Monte Grappa, Venice.
Erkanda is very friendly and helpfull, the location is basic but it's clean. There was a little issue with the heater not working properly but Erkanda was very helpfull to do all she could to keep us warm (fans and blankets).
Nanni
2017-01-08T00:00:00Z
Awesome hospitality. Erkanda was an absolute pleasure to stay with.
Daniel
2016-10-14T00:00:00Z
Erkanda is a very friendly host and communicates very well. We arrived by car, so location was not a big issue. The room and bathroom was very simple but clean. Everything is dated but a good value for budget travelers.
Marcel
2016-09-21T00:00:00Z
Very nice host. Is great for business trips. Erkanda was very nice and her familiy too. Thank you
Andrei
2017-04-07T00:00:00Z
Erkanda and her family were really nice to me. I felt confortable and welcome in her house. There is a small parling place in front of the house for those who go there by car. There is a garden where you can relax, have a beer and talk. The center is 15 min walking and has supermarket, bars and restaurants. It was a plaisant stay! I recommend!!
Hellenn
2016-09-14T00:00:00Z
Good place. Host is very friendly and goes out of her way to make you comfortable. All in all, it was a good couple of days in bassano.
Anthony
2016-10-18T00:00:00Z
Host was nice but the accomodation was far from comfortable.. standard price but room very cheap
Davide
2017-03-17T00:00:00Z
Near to passano town, a fantastic place to visit
Khaled
2017-01-02T00:00:00Z
Room Type
Private room
---
Property Type
House
---
Accommodates
3
---
Bedrooms
San Giuseppe, Veneto, Italy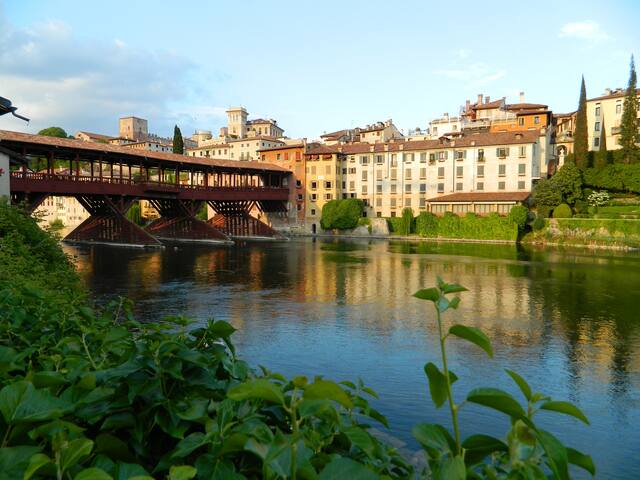 My apartment is near the Ponte Vecchio, Poli Grappa Museum and Ponte degli Alpini. You will like my accommodation for these reasons: privacy, the views, the location, the high ceilings and the people. My accommodation is suitable for couples, lone adventurers, business travelers and families
It is in the historic center just steps from the deck!
The liveliness!
Location location adjacent the Ponte Vecchio, surrounded by eateries and bars. Historic centre is a few short steps away for more eateries, bars and shopping. The accommodation met all the requirements for our 3 night stay and the apartment was wonderfully comfortable with all the necessities at hand. Carolotta was superb in her assistance and we would definitely stay there next time.
Monica
2017-01-07T00:00:00Z
The host canceled this reservation 8 days before arrival. This is an automated posting.
Petra
2017-04-07T00:00:00Z
Comfortable stay, thanks!
jorn
2016-11-30T00:00:00Z
Sehr schöne Lage mitten im Zentrum von Bassano del Grappa und wenige Schritte von ponte Vecchio entfernt. Die Gastgeberin ist äußerst freundlich und hilfsbereit! Die Wohnung ist sauber, modern eingerichtet und sehr gut ausgestattet! Ich kann das Objekt auf jeden Fall weiterempfehlen!
Michele
2017-04-09T00:00:00Z
Carlotta e' stata molto disponibile nell accoglienza e l'appartamento si trova in una delle zone piu' belle di Bassano. La casa e' ben ristrutturata , ma gli spazi della camera da letto e bagno sono ridotti e le finestre non godono di tanta luce.
Allegra
2016-10-28T00:00:00Z
Carlotta è stata veramente molto gentile e disponibile. Consiglio a tutti di soggiornare presso la sua proprietà
Riccardo
2016-11-13T00:00:00Z
Bell'appartamento nuovo e arredato con gusto. La cucina è dotata di tutto il necessario. Si trova in pieno centro, nella zona pedonale.
Elisa
2017-02-12T00:00:00Z
L'appartamento è confortevole,pulito e completo di ogni cosa. Vi consiglio vivamente di andarci,gode di un ottima posizione per riposare di notte.
Caterina
2016-11-20T00:00:00Z
Room Type
Entire home/apt
---
Property Type
Apartment
---
Accommodates
4
---
Bedrooms
Bassano del Grappa, Veneto, Italy
Dom w bardzo spokojnej okolicy, w otoczeniu zieleni, zaledwie kilka minut od zabytkowego centrum Bassano del Grappa. Podczas pobytu będą mogli Państwo uczestniczyć w małych grupach piekarskich i cukierniczych wypieków.
Room Type
Private room
---
Property Type
House
---
Accommodates
3
---
Bedrooms
Rossano Veneto, Vicenza, Italy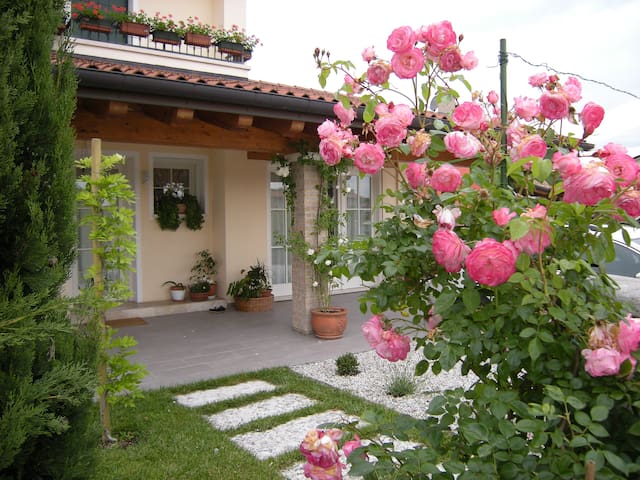 Private eclectic villa
Private villa from the sixties freshly renewed. The house has been decorated by the owner, interior designer and photographer, using original pieces and vintage furnitures. The property has a private garden (700 msq) with palms and a collection of botanical and english roses. On the first level youl'll find a porch where you can dine outside. Entering the house there's a big living room full of light, with 12 metres of windows and a fully equiped kitchen and a bathroom. Downstairs there are 2 wide bedrooms and one bathroom. Bedrooms under renovation, pictures will be posted soon! The property is located in the center of the exagon of middleage cities (Bassano del Grappa 8 km , Cittadella 6 km, Marostica 10 km, Asolo 15 km , Castelfranco Veneto 12 km, Possagno16 km). The train station to Venice (1 hour) is located at 1,3 km. Other interesting cities less than one hour far are: Treviso, Vicenza, Padua.
Peaceful location in a small residential street.
Room Type
Entire home/apt
---
Property Type
House
---
Accommodates
5
---
Bedrooms
Rossano Veneto, Veneto, Italy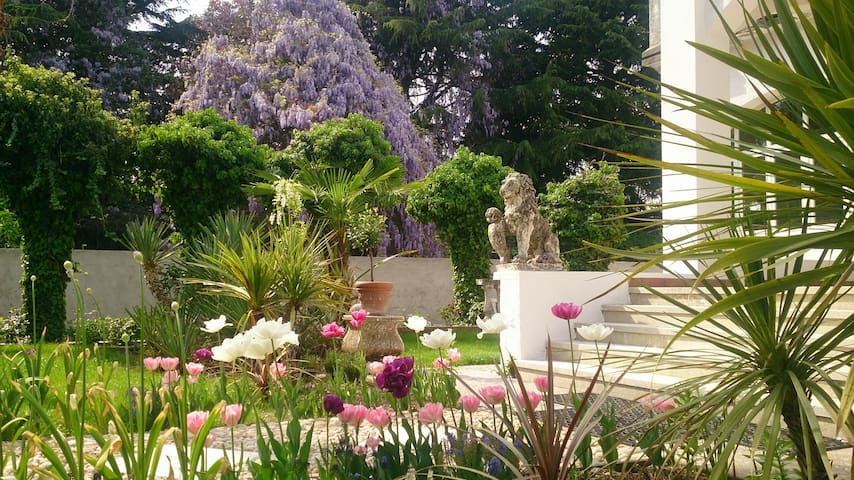 San Martino di Lupari si trova tra le città medievali di Cittadella e Castelfranco. Treviso, Padova, Vicenza, Venezia e anche Verona sono facilmente raggiungibili. La casa è singola con giardino, in campagna e lontana dal traffico rumoroso ma vicina alla locale stazione dei treni. Anche Asolo è a pochi chilometri. Le nostre colline offrono paesaggi indimenticabili. La camera matrimoniale è ampia, altra stanza con divano letto, tavolo e sedie. Bagno esclusivo. Clima e riscaldamento autonomo
Lo spazio che offro nella mia casa di residenza è composto da una camera matrimoniale con studio e bagno privati. Nello studio è presente un divano/letto per eventuale terzo ospite. Negli ambienti si trova anche la TV e climatizzatore per essere completamente autonomi. Questi tre ambienti sono tra loro comunicanti ed a uso esclusivo degli ospiti. La mia casa è inserita in una zona di campagna. A nord abbiamo il Monte Grappa che ci sorride tutti i giorni. Siamo a circa 20 km di distanza sia da Bassano del Grappa, e Asolo. Due località che non hanno bisogno di presentazione. Per chi dovesse averne bisogno, c'è la possibilità di parcheggiare la propria auto all'interno della proprietà protetta e sicura.
La zona di campagna e estremamente tranquilla e rilassante, ma allo stesso tempo vicina ai maggiori luoghi di interesse turistico come Venezia, Treviso, Padova, Verona etcc. Il posto è adatto ad amanti del running e jogging in luoghi immersi nel verde. Strategicamente siamo situati in una zona dove si può facilmente raggiungere altre località d'interesse storico culturale. Per chi lavora, offriamo un alloggio di pace e sonni tranquilli. Inoltre nelle vicinanze, ristoranti e trattorie tipiche sono a portata di mano.
Staying at Tiziana's place, has so far been my best Airbnb experience (after about three years of Airbnb-ing, and having already many awesome experiences!!). My girlfriend and I spent three nights in Titziana's place (including the New Year's Eve); even before arriving there, we were already surprised by Tiziana's kindness when she helped us finding a great restaurant for dinner on New Year's Eve: she basically did everything! I was already late and she called over 10 different places and finally managed to reserve a table for us in one of the best restaurants around. About the house itself, its a modern, beautiful, super-clean, and very well decorated one! You have a lot of space: a very large bedroom (with tv, a very comfortable bed, etc), another room like a study or office (with table, couch, etc), and a spacious luxurious bathroom! And all of this with a modern heating/cooling system, makes it a very cosy place to stay! It's honestly much better than what you see on pictures (the glass sink was one of my favorites :D) Anyway, it's overall super comfortable, and surprisingly underpriced! The house and the area itself is very very quiet! You can sleep really well. (We were by car by the way; and you get a parking spot inside for your car). The breakfast is also as good and complete as everything else! The coffee really tastes good! Authentic Italian! Besides all this, Tiziana is always there for you if you need help. She is not only a great host, but one of the kindest persons we have ever met. We really felt like home there; we were treated so well in Tiziana's house, that for us it was less feeling of being a guest, but rather a family member (I hope the feeling is mutual!) Every morning she was providing us with a perfect plan for visiting the area (if you ask her of course! You can have your own plan if you want to! Generally, Titziana is extremely careful in respecting your privacy, and communication level is totally up to you!). We were surprised by how accurate her instructions were; so accurate to even tell you the best parking spots or even how parking works in each region (and believe me, that can be very tricky in Italy!). And every evening, when we were back, she kindly invited us for tea. What we enjoyed the most, was her company, and our conversations about different things (I should say she speaks almost native English and this is by the way really helpful in Italy!!). About the region itself, its geographically very well located! It's close to many beautiful cities (like Padua, Treviso, Venice, etc.) For Venice, it's really comfortable, and I believe it's one of the best places to visit Venice from: you can take a train from a close-by train station and in one hour you are in Venice! I don't think there is an easier and cheaper way for getting to...
Mohammad Reza
2017-01-03T00:00:00Z
Tizana was the most gracious helpful host, helped us with train travel to Vienna. Anyone wanting beautiful accomodation out of the city only 40min by train we highly reccomend staying here, thank you Tizana for sharing your home with us. Maureen & Steven
Maureen
2016-09-26T00:00:00Z
we need stay only one night...We are sad that left after only it. Tiziana is so amazing and helpful.Great breakfast was included.Her house is clean, confortable,with parking place and with amazing spirit. we loved the place. Hope we can come again!if i can give more than five stars i will give it!!
Aleš
2016-10-06T00:00:00Z
We really loved stay in Tiziana place!!!! The room, house, were wonderful, cosy and very clean. Tiziana made us very welcoming and helped us for the rest of ur trip. She gave us a really good adress for dinner ! We had a really good breakfast. We were sad to don't stay more than one night. Thank you for everything and hope to see you soon .
Caro
2016-11-04T00:00:00Z
The host canceled this reservation 2 days before arrival. This is an automated posting.
Anna
2017-01-26T00:00:00Z
Everything was perfect. Tiziana is very warm and helpful person. The room and house is more nicer than in photos. I hope we will stay there again.
(URL HIDDEN)
2017-04-12T00:00:00Z
Had an amazing time staying at Tiziana's! Really comfy bed, lovely view and a great private bathroom! Tiziana's was a great host, we would definitely stay again! (Took 2hrs to get to Venice)
Josh
2016-09-19T00:00:00Z
Tiziana is a very good host. She really cares that her guest feels good. I can highly recommend a stay at her home.
Manfred
2016-10-03T00:00:00Z
Room Type
Entire home/apt
---
Property Type
House
---
Accommodates
3
---
Bedrooms
San Martino di Lupari, Veneto, Italy
My accommodation is close to art and culture, magnificent panoramic views, restaurants and activities for the family. My accommodation is suitable for everyone, sporting or business travelers and families (with children). The apartment is on the first floor of a quite building, quiet, served with lift. Parking is available and free and is recommended to arrive by car. For those who enjoy walking around the apartment instead you will find many shops and services.
The apartment is 100 square meters with terrace, just finished renovating and has wooden floors and tiles. Bright with three large windows to the south and is on the first floor. The apartment is ideal and spacious for 4 people. It has two comfortable bathrooms and spacious living room. Parking is available and free in the condo.
The area is 2 km from the historic center of Bassano del Grappa, but in the neighborhood there are many businesses, shops, services, restaurants, bars, pharmacy, banks, markets and hypermarkets.
Daniela was great, the walk to Bassano Del Grappa wasn't far at all. Great apartment.
Benson
2017-04-07T00:00:00Z
Il appartamento de Daniella,ed molto lussuoso! Acogliente e molto moderno.Lei ed una host molto gentile.Grazie Daniela
Adriana
2016-12-05T00:00:00Z
La casa è stata ristrutturata da poco quindi è quasi perfetta molto pulita ed accessoriata. La posizione non è centrale ma molto comoda. Siamo stati accolti con cortesia e disponibilità nel risolvere le nostre esigenze di soggiorno. Grazie
Luca
2017-02-19T00:00:00Z
I miei genitori sono stati davvero bene! Ottima location per un weekend in Bassano del grappa. Grazie ed alla prossima!
Stefano
2016-10-24T00:00:00Z
Room Type
Entire home/apt
---
Property Type
Apartment
---
Accommodates
4
---
Bedrooms
Bassano del Grappa, Veneto, Italy
Detached house with spacious rooms, private courtyard where you can park several cars, garden with barbecue grill. Suitable for families with children, tourists, sportsmen, workers, friends and pets. A few minutes of Bassano del Grappa machine is wonderful for sightseeing, museums, wine tastings and nightlife. L 'Hospital is very close, as well as shopping centers, swimming pools, a zoo and many other tourist destinations.
A few minutes of Bassano del Grappa machine is wonderful for sightseeing, museums, wine tastings and nightlife. L 'Hospital is very close, as well as shopping centers, swimming pools and a special zoo for children's happiness.
We was a 12-person group in 3 independent apartments, I do not know exactly what happened with Barbara but I hope that everything was explained with the people who lived there.
Nadrzej
2017-01-15T00:00:00Z
Un posto veramente bello e pulito consigliatissimo.
Antonino
2017-01-06T00:00:00Z
Casa spaziosa su due livelli, ben riscaldata pulita e molto confortevole. Situata in zona comoda per visitare Bassano e gli altri meravigliosi paesi limitrofi. Barbara è molto gentile e sempre disponibile, consigliata.
Luca
2017-01-02T00:00:00Z
Ciao, abbiamo alloggiato nella casa di Barbara nel mese di Gennaio per oltre 10 giorni, eravamo in sei inclusa una bambina di 2 anni. La casa pulita, confortevole e sempre calda. Siamo stati benissimo! Barbara è una ragazza simpatica e super disponibile a tutte le nostre esigenze. La casa è luminosa e dotata di tutti i confort: termosifoni, elettrodomestici, utensili, parcheggio privato. Vicinissima alla zona commerciale ed è a pochi km dal centro storico di Bassano del Grappa. La casa è disposta su due livelli e è in una zona molto silenziosa e tranquilla. Impossibile non sentirsi a casa. 5 stelline per tutto, super consigliata <3
Benedetta
2017-01-30T00:00:00Z
Casa indipendente comoda, spaziosa e con giardino. Posizione tranquilla, ottima accoglienza e puntualità, massima disponibilità. Lo consiglio sicuramente. In futuro ci piacerebbe ritornare.
Enrico
2017-02-26T00:00:00Z
Room Type
Entire home/apt
---
Property Type
House
---
Accommodates
7
---
Bedrooms
San Giuseppe, Veneto, Italy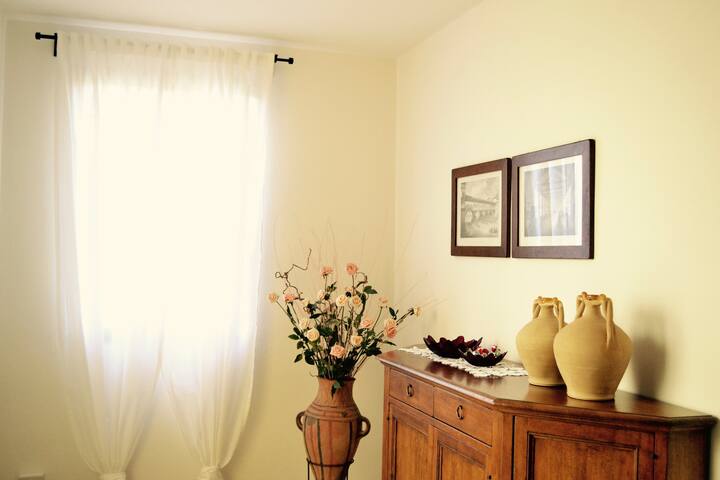 Il monolocale dispone di parcheggio privato coperto, è situato in una posizione strategica a due passi da servizi di prima necessità e per chi ama lo sport è ben collegato con vari sentieri natura .
Monolocale pratico e gestibile per due completo di cucina, bagno, lavatrice, vasca.
In nostro quartiere può offrire diversi servizi, potrete usufruire di un panificio, macelleria, supermercato e una farmacia a pochi passi dall'alloggio. Per chi ama lo sport si può raggiungere facilmente un nuovo percorso natura il sentiero degli ezzelini che collega Castello di Godego ad Asolo o se si percorre nell'altra direzione si può raggiungere Castelfranco a 5 km o Padova a 20 km.
l'alloggio è molto carino, pulito ed accogliente. l'host precisa disponibile per tutto, lo consiglio per qualsiasi coppia voglia trascorrere qualche giorno di relax nella marca trevigiana....
andrea
2017-04-07T00:00:00Z
Room Type
Entire home/apt
---
Property Type
Apartment
---
Accommodates
2
---
Bedrooms
Castello di Godego, Veneto, Italy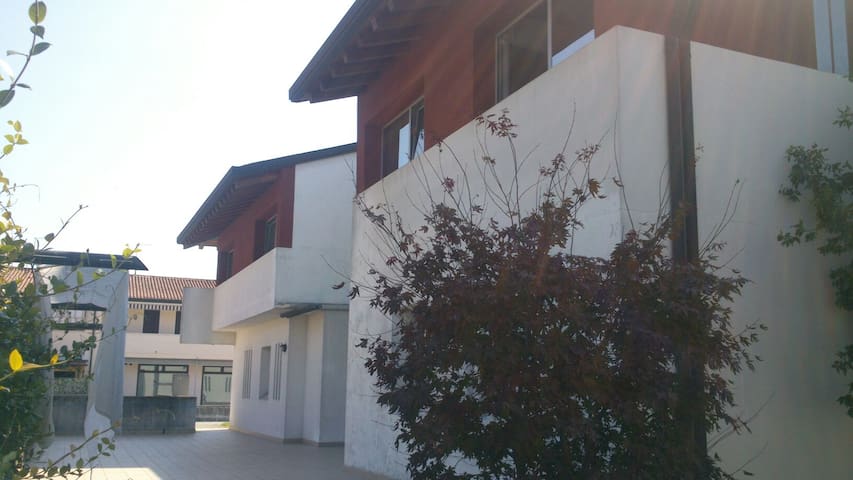 Situated in a quiet green area on the River Brenta, 10 minutes from Ponte degli Alpini. A great place for sport lovers, not far from canoeing center and free flight. It's the perfect place to stay if you want a relaxing homey atmosphere.
It offers a spacious room on the ground floor, with a double bed plus a single bed, with a private bathroom equipped with a shower. It has private parking, disabled access, its own separate entrance, tea/coffee making facilities, wifi connection. Fresh and relaxing room, it faces north with a beautiful view at the mouth of the Valsugana.
Bassano del Grappa is situated on the banks of the River Brenta, in a strategic position between the provinces of Vicenza, Padua, Verona and Treviso and only one hour by train from Venice. In the nearby area you can visit Marostica, city of the famous chess game, Asolo, Castelfranco Veneto, Cittadella and Possagno. In the area also many historic villas. A small town rich in history and culture, known for the famous Ponte degli Alpini, Bassano offers interesting places to visit and several museums, the Civic Museum, the Museum of Ceramics, the Museum Remondini for antique prints and an interesting museum of Grappa. The town organizes various activities throughout the year: Operaestate, Carnival and numerous initiatives ranging from art, to music, to cultural events.
Although I spent only one night, DolceBrenta was a lovely place to spend the time. Breakfast was very good. Carla is a wonderful host.
Paulette
2016-09-24T00:00:00Z
I enjoyed staying here. The room and bathroom were very clean. It was quiet and the bed was comfortable. Breakfast was fantastic and I enjoyed visiting with Carla. She was very helpful. I would recommend this place if you are looking for a quiet little get-away.
Mary
2016-07-05T00:00:00Z
Carla is the most amazing host. She went above and beyond what we would ever expect. She truly welcomed us into her home. Her place is out of the city core but certainly walkable and well worth it. Actually quite a nice walk and nice to come to a calm area after a busy day. Her place has the most wonderful view of the mountains right from your bedroom. The room is large and the bathroom is fantastic. I can not say enough great things about our stay here as it was well beyond what we ever imagined or expected. Carla was even kind enough to help us with things nothing to do with her house. You will not be disappointed staying here and it will add to your trip and a true pleasure to meet Carla and her husband.
Susanna
2016-09-14T00:00:00Z
Carla and her family are absolutely brilliant hosts. We stayed there for 10 days. We had the best time staying with them! B&B DolceBrenta is located in very quiet and beautiful residential area near the banks of river Brenta. It is within walking distance from the centre of Bassano del Grappa. The room is bright and clean with a fantastic view to mountains. It has private bathroom with all the facilities (including washing machine). The bed is super comfy! As the main reason for our stay in Bassano del Grappa was to do paragliding - good night's sleep was very important to us. B&B DolceBrenta was perfect for that! Carla made sure that we felt welcomed and gave us useful tips. She made delicious breakfast every morning! There is a possibility to park your car near the house! If you go to Bassano for paragliding, do know that this place is not far from the landing (Borso del Grappa). It takes less than 10 minutes to get there by car. All in all, we would highly recommend B&B DolceBrenta and will definately return next year! Thank you, Carla!
Liva
2016-04-25T00:00:00Z
The location and room was beautiful. Very quiet and tranquil! We will definitely visit again.
Vicky
2016-10-09T00:00:00Z
I had the most wonderful stay at Carla's place! She kindly picked me up from the train station upon my arrival (and then dropped me off when I had to leave) and lent me a bicycle for the duration of my stay so that I could get into the city center more easily. Her home is located in a lovely area: it is only a five-minute walk down to the gorgeous path along the Brenta river. She made me feel very welcome, prepared delicious breakfast spreads, and provided great restaurant recommendations (the local farm-to-table restaurant, Conca d'Oro, is amazing!). I had a lovely stay and hope to return again the next time I am in the area. Grazie di tutto, Carla!
Sophia
2016-07-03T00:00:00Z
Carla was very nice and uncomplicated. a wonderful location!
Anna
2016-07-17T00:00:00Z
We had a wonderful 24 hours in Bassano, and Carla's place was perfect. We had just arrived on a red eye flight from the US, and Carla was great at communicating with us and letting us arrive a little early. Her directions were good (it's always a little tricky navigating Italian back roads and neighborhoods!). It is a very private space with secure parking and its own exterior entrance. It was impeccably clean, quiet, and beautifully appointed. The bedroom and bath were both large spaces with all the comforts of home. Carla and her family are kind and made us feel so welcome. There was a footpath nearby along the Brenta River that follows to the town of Bassano del Grappa. It was a delightful walk in the morning after a fabulous breakfast prepared by Carla, which included a homemade apple crisp made with the apples from their tree! Awesome, awesome, awesome!
Kellee
2016-09-01T00:00:00Z
Room Type
Private room
---
Property Type
Bed & Breakfast
---
Accommodates
3
---
Bedrooms
Bassano del Grappa, Veneto, Italy