You'll love our place because of the coziness and the serenity. We are a short walk to a pretty beach on Squam Lake where you can swim and put in kayaks/canoes etc. Also, we are very close to Meredith, Moultonboro and Sandwich and many great restaurants. Hiking or walks in the White Mountains are also at your doorstep. Crosscountry skiing is also close by. Our place is good for couples and we are on the premises to meet your needs.
Room Type
Entire home/apt
---
Property Type
Apartment
---
Accommodates
2
---
Bedrooms
Center Harbor, NH, United States
This studio apartment is located on route 25 between Center Harbor and Moultonborough. 5 mins to Center Harbor Beach and a short walk to Lake Kannaska and the boat ramp. The apartment is located in an antique house built on n 1840. It's has a king bed is tastefully decorated, has nice linens and glassware. Small TV, AC WiFi, a microwave, coffee maker and electric fry pan, my favorite. It's very close to restaurants and everything the Lakes Region has to offer.
Thanks Wendy, the apartment was just as described, and it worked very well for us.
Marjorie
2016-08-16T00:00:00Z
The host canceled this reservation 100 days before arrival. This is an automated posting.
Tracey
2017-04-05T00:00:00Z
Honestly one of the best Airbnb stays I have ever had. The location was amazing and the amenities were outstanding. Cable and wifi so easy to use. Wendy the owner was more than accommodating and texted me as soon as I booked to make sure I was all set. The apartment is on top of an antique store that is adorable! She even gives you your own drive way to park in!
Roberta
2016-08-21T00:00:00Z
We enjoyed our stay very much, and Wendy was a great host. She was waiting for us when we arrived; she showed us the apartment and then left us to settle in. There were fresh blueberries waiting for us and fresh lemon water in the fridge, which we really appreciated. The apartment was in a perfect location for us--close to where we were spending time, on Lake Winnepesaukee, and also close to Center Harbor for grocery shopping, etc. It was clean and tidy--ample room for the two of us--with a small kitchen, full sized fridge, small TV, and window AC. The house is located on a busy road, but the apartment is upstairs in the back of the house, so we were not bothered by traffic noise at all. The king-sized bed was very comfortable with plenty of pillows. The shower stall is quite small, but workable. Overall, we found this a great place to stay. There aren't a lot of options in the area, so we were thrilled to have a cozy, comfortable, clean, and private spot with all of the amenities we needed. Thank you, Wendy!
Sandy
2016-08-11T00:00:00Z
Wendy was very accommodating and responsive host. The room is spacious enough for a couple or a single person. Big plus, the drive up to the White Mts thru Conway from Wendy's AirBnB is way more convenient.
Hjoseph
2016-10-10T00:00:00Z
The photos don't even show how comfortable and spacious this one-room studio was. We were entirely pleased in every way. Wendy was warm and friendly and helpful. Our needs were not extensive as we were part of a family reunion 3 miles away where we spent most of our time, so we were at Wendy's to sleep. However, her studio is neat and clean and tidy and sunny. It's decorated very nicely, and has everything you would want (unless you want to cook a lot, which we did not) in every way. We slept very well, too. Thank you, Wendy!
Bonnie
2016-08-08T00:00:00Z
Every year I am banished from my home so the guys can get together for fishing derby. I have spent those days in many different places and this year decided to stay close to home to work. Of course NH being what it is there was a snow storm! There was no problem because Wendy arranged for me to be plowed and checked in frequently. Decorated eclectic, lots of cooking options, plenty of towels. Cozy and comfy, loved the king size bed. Close to restaurants, grocery and lots of outdoor activities!
Linda
2017-02-11T00:00:00Z
Room Type
Entire home/apt
---
Property Type
Apartment
---
Accommodates
2
---
Bedrooms
Moultonborough, NH, United States
It is a simple apartment including a private enterance, Full kitchen , your private grill, & a living area. Guests are welcome to use the second floor deck, as well as our canoes & kayaks. The views are ever changing! The fishing & wildlife are only a paddle away!! The mandatory New Hampshire short term rental tax is INCLUDED. We do NOT charge a cleaning fee to keep our prices lower.
We are offering a -EARLY SPRING MIDWEEK SPECIAL $220 You"ll be in the midst of the lakes & mountains! We are on a shallow pond fishing right outside your door as well at 4 different lakes within 8 miles. We are also within minutes of many hiking trails.
We live on a pond where kayaks & canoes rule !
Paula and Dana were extremely welcoming and helpful with suggestions of local outings. Their home is very private and located on a small pond. We were able to take out either canoes or kayaks whenever we wished. We went for a two person canoe and caught many chain pickerel and perch (so many perch!) using a spinner and Berkeley Powerbait grub. We also had use of a private grill.
Charles
2016-09-05T00:00:00Z
I was visiting Moultonbourough for a friend's wedding and the lodge was a great location to Castle in the clouds, and other attractions nearby. The lodge is in a quiet area and very well maintained. Paula and Dana were very friendly hosts. The lodge provides kayaks and canoes as it is located on the lake. I just wish I had brought some gear to be able to go kayaking in the lake. Overall a good experience.
Ricky
2016-07-18T00:00:00Z
Thank you so much for hosting us in your beautiful home! We were in town attending a wedding and this was perfect for our group of 6--we booked the basement apartment as well as one cozy room upstairs. Beautiful view and so peaceful. If we are in the area again, we would love to come back.
Meghan
2016-08-28T00:00:00Z
Room Type
Entire home/apt
---
Property Type
Apartment
---
Accommodates
5
---
Bedrooms
Moultonborough, NH, United States
Beautiful updated apartment nestled in a prime area of downtown Meredith. A walking park nearby on a canal, nice outdoor deck seating with a grill, comfortable accommodations with beautiful kitchen. The lake, shopping, a public boat launch and several restaurants and bars within easy walking distance. Beautiful master suite with master bath. Everything you need for the perfect summer getaway! There is a 3 bedroom apartment upstairs if interested. Not putting listing just yet, seeing how this goes first:) Have a boat? Bring it!!
Walking distance to the lake and surrounding restaurants yet quiet and off the beaten path. Warmly decorated.
Beautiful year round, shopping and restaurants within walking distance.
Room Type
Entire home/apt
---
Property Type
Apartment
---
Accommodates
2
---
Bedrooms
Meredith, NH, United States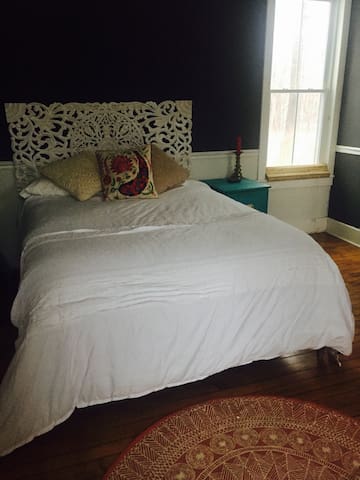 My place is good for couples and solo adventurers.
Everything about this place is perfect.
John
2016-10-10T00:00:00Z
Room Type
Entire home/apt
---
Property Type
Apartment
---
Accommodates
2
---
Bedrooms
Meredith, NH, United States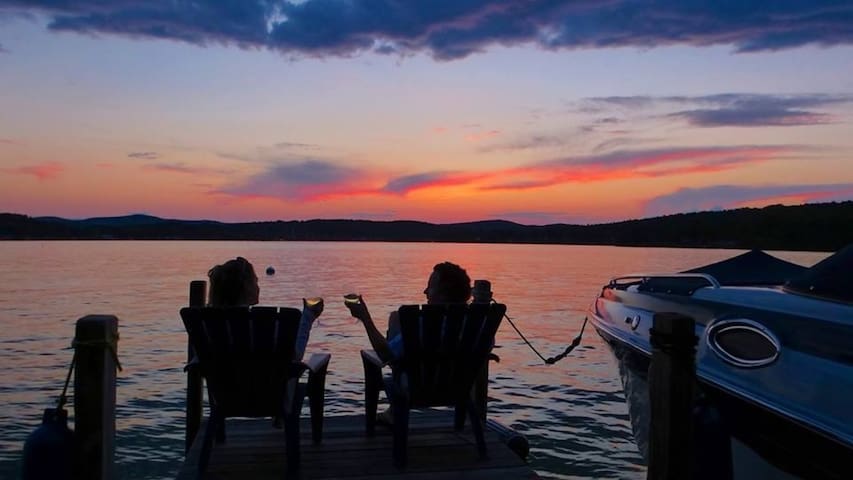 This lovely home is located on 270 feet of prime waterfront. A restful retreat with a large deck for outside dining and relaxing. The beach area is perfect for children. Swim to our picnic table float for lunch, tour the cove in kayaks provided for your enjoyment. Experience beautiful downtown Meredith, only 5 miles away, with great shops and wonderful restaurants. Center Harbor is closeby with hiking and shopping. The dock can accomodate a boat up to 30 feet, or rent a boat nearby.
Great place to stay in a beautiful location!
Karen
2017-01-01T00:00:00Z
La casa es mucho mejor de lo que parece en el anuncio, es fantastica en todo, la distribucion, el cuidado, la ubicacion. Sue tiene de todo, cualquiera cosa que uno pueda necesitar. No Creo que haya muchas casas tan bien equipadas. Genial para vacaciones en familia o Con amigos.
Miriam
2016-09-18T00:00:00Z
Room Type
Entire home/apt
---
Property Type
Apartment
---
Accommodates
6
---
Bedrooms
Meredith, NH, United States
1 BR apartment in Waterville Valley. Sleeps 4, wifi, satellite TV. Hiking / ski/ biking trails right out the back door. Short walk to Town Square. Access to pool facility.
One bedroom apartment in Waterville Valley with kitchen and full bath. Property boundary with White Mountain National Forest. Biking/ hiking / ski trails directly out the back door. Short walk to Town Square. Access to pool facilities. Guest access available to White Mountain Athletic Club. Great location for skiing or summer recreation!
Had a great (EMAIL HIDDEN)fortable, warm, and a short drive to the mountain. My dad and I had an excellent couple of days of skiing!
Aidan
2016-12-22T00:00:00Z
We enjoyed our stay! Scenic and close to the shops.
Neema
2017-02-03T00:00:00Z
Everything was perfect for a weekend trip !
Daniel
2017-01-09T00:00:00Z
House is basically right across from the access road to the mountain. So location is great for skiing. Kevin was a great host and helpful with information about the area. I would stay again for sure!
rich
2017-03-18T00:00:00Z
Kevin's place was lovely, directly across from the Waterville Valley Ski Resort entrance and just down the road from the Nordic skiing area. Everything was very clean, and the fleece sheets on the bed kept us nice and toasty at night. Great for a ski weekend!
Katie
2017-03-25T00:00:00Z
We had a wonderful stay this weekend at Kevin's up at Waterville Valley. We traveled with my husband and I, our 9 year old son and our 4 month old daughter. It was our first time using Air bnb and I will definitely use it again! Kevin made everything from before check in to after our departure so stress free and easy. He was so welcoming and beyond accommodating to our needs. The apartment was so cute! It was very clean, warm, and welcoming. My husband and I loved the bed (so comfy) and our son loved the freedom he had out on the futon. The kitchen was fully equipped with whatever we needed and I was so happy to have a Keurig coffee maker with the 4 month old early wake ups :) The street was nice and quiet. It was beautiful. It was a very quick drive to everything Waterville has to offer. All in all it was a fantastic, quick getaway for us and we can't wait to do it again! We would absolutely return to stay awith Kevin's in the future.
Laura
2017-02-26T00:00:00Z
Easy in and out, and very close to the ski area. Great for a weekend.
Dylan
2017-03-31T00:00:00Z
Great place! Especially for the price. It's hard to find places like this for small groups so we will probably return!
Kennan
2017-01-08T00:00:00Z
Room Type
Entire home/apt
---
Property Type
Apartment
---
Accommodates
4
---
Bedrooms
Waterville Valley, NH, United States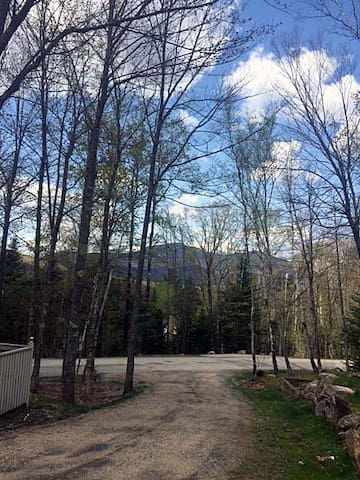 Cozy Condo in Waterville, Valley moments from the slopes. 1 BR 1 Bath, Full Kitchen, Washer Dryer, and full fireplace, includes sofa bed and sleeper chair. Sleeps 4 easily plus 1 more using the sofa chair.
Cozy Ski Condo moments from the slopes, Next to Fitness Center. Lower floor unit, easy access to parking. Free Wifi, HD Digital Cable, and U.S. Phone Calls. New HD TV, and Keurig Coffee Machine.
Great quaint ski village in the white mountains located in the heart of Waterville Valley. The closest to the slopes.
This was my first booking with airbnb and Jack's place was exactly what I was looking for. Great location for skiing and hiking and we had a wonderful weekend in the mountains.
Barbara
2017-01-22T00:00:00Z
Good place for the value- a bit cramped for 5 folks but it worked and was a great location and cute condo complex- bathroom is located through the main bedroom which is pain for those in the living room but it wasn't a problem for us because we were so tired no one felt like getting up to use the bathroom anyway.
Susanna
2016-07-17T00:00:00Z
Absolutely Loved It! This beautiful little condo is in a great location in the Southern White Mountains with great neighbors. We enjoyed every second of our stay here (which is hard with two kids). If you use the WiFi key in your reservation and follow all the other instructions Jack lays out (which are simple and clearly explained), you won't have any trouble. Also, be sure to look for the unit number on the side of the building which can be hard to see at night. Jack is also quick with responses and easy to get along with. Had an amazing stay and look forward to booking with Jack again next year! Highly recommended.
John
2016-08-21T00:00:00Z
We had an amazing time staying in Jacks condo. We had a quick hiccup with the keys that they were prompt to answer our text/calls about and got us into the condo within 10 minutes, very happy with the response. The condo was cozy and had everything listed in the description. It was legitimately 3 minutes away from the Waterville town square which had plenty to offer and 5 minutes to the ski area. I would definitely recommend this to anyone looking for a solid weekend mountain/snowboard getaway.
Matt
2016-01-31T00:00:00Z
What a wonderful way to experience New Hampshire in the Fall! Loved the ski condo thank you Jack, the listing is exactly as is stated and more. Bed was super comfortable, great to have a kitchen to prepare meals and not have to eat out every night, and the fireplace was a treat for those of us that live in a year round warm climate and don't even know the meaning of heaters! the setting is so close to any number of great activities so highly recommended all round.
Verity
2016-10-13T00:00:00Z
Jack's Condo is very cozy and exactly how it is described. The area is beautiful and very scenic. While we did have an issue with the room when we got there, we called Jack and is wife answered right away. They did everything in their power to remedy the issue and exceeded our expectations! They were very accommodating and kind, and we had a wonderful stay! We would definitely love to stay at this condo in the future!
Dana/Michael
2016-08-26T00:00:00Z
Although I never met Jack in person he was quick in answering the phone and it was easy to organise with him to open up the property and to solve any problems/queries we had, and he made sure the heating was on for our arrival. The area was perfect for us to use as a base whilst we explored the White Mountains. The area is a ski resort so does not have many amenities nearby but about a 30 min drive away (Lincoln) had all the shops we needed. The area is really nice, quiet with great views of the landscape. The property was as described, slightly dated but clean, tidy and comfortable, perfect for our needs. We would be happy to stay again and enjoy the fire place some more. Thank you
Robert
2016-10-16T00:00:00Z
Jack is an excellent host going above and beyond to make sure his guests are 100% satisfied. Location is convenient to the Waterville valley village and tons of beautiful hiking trails. Space was a bit damp/musty, but Jack was responsive to feedback. I don't imagine this would be an issue in the colder months or with the addition of a dehumidifier.
Carol
2016-09-03T00:00:00Z
Room Type
Entire home/apt
---
Property Type
Apartment
---
Accommodates
4
---
Bedrooms
Waterville Valley, NH, United States
My place is close to everything Waterville Valley has to offer! Walk to town square, White Mountain Athletic Club, restaurants, Corcorans Pond beach, golf, skiing, trails, family-friendly activities, and nightlife. Take the shuttle to the base of Waterville Valley ski area. Cannon and Loon are only 20-30 minutes away. My place is good for couples, solo adventurers, business travelers, and families (with kids).
My condo is unique because there is incredible greenspace surrounding the Village condos, and you can enjoy the mountain views and sunsets right from the family room, kitchen or patio. I also have a wood burning fireplace and outdoor firepit -great for smores and ambiance:)
Nancy was incredibly hospitable, and her place was so cozy. I was traveling with my 5 year old and my 10 year old. My younger child had a couple of rough times in public, but settled right in as soon as we returned to Nancy's condo. We will definitely stay again and hopefully soon.
Jason
2017-02-19T00:00:00Z
Nancy was very responsive to our questions. Condo is in the middle of the village, with an easy walk to the shops and restaurants. So much to do; skiing, tubing, pool, ice skating, etc. Great for a family vacation.
Janice
2017-02-22T00:00:00Z
Close to Waterville Valley Village, cozy, clean, and relaxing
Katy
2017-01-15T00:00:00Z
Cozy and pretty. We loved the fireplace and the location as we could walk to the restaurants and shops in the village. Nancy was a very good host and was quick to respond to our questions. I highly recommend this rental.
Bj
2017-01-01T00:00:00Z
Room Type
Entire home/apt
---
Property Type
Apartment
---
Accommodates
5
---
Bedrooms
Waterville Valley, NH, United States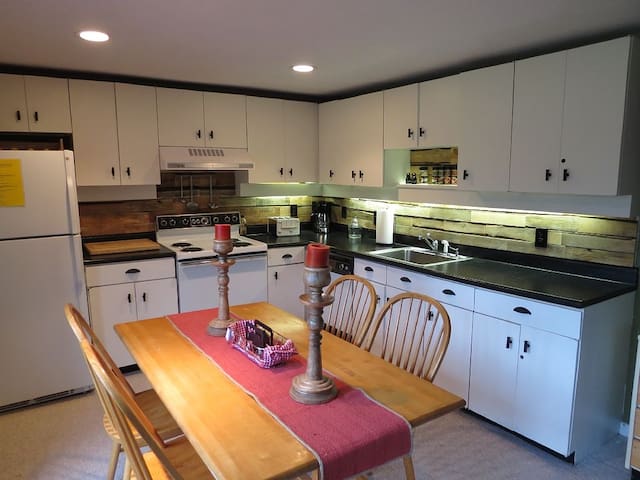 Our full size town house has many features to offer, one being the dynamic cathedral ceiling in the living and dining room. In addition we also have a double-sided fireplace with a full size jacuzzi with a skylight master bedroom! There's also an open kitchen that comes fully equipped with a dishwasher and microwave. There is also an washer and dryer in the town house! This home sleeps four, there are two bedrooms, and each one has two twin beds. There is also one full bathroom and laundry area. The master bedroom is very quite and has a bathroom with a full sized jacuzzi for two with a skylight. Peaking through the window you can see a great mountain view! This view is available directly from the master bedroom window. In addition, there's a television with cable for your enjoyment! Please inquire if you have any additional questions, we can't wait to meet you!
This condo is clean and conveniently located.
Grace
2017-01-10T00:00:00Z
This rental is a three story condo with everything included. The dining/living-room area is airy and beautiful with high ceilings and great light, and a comfortable wrap-around couch. The adjacent (open) kitchen is spacious and well-equipped to cook for a group -- including a very new glass-top stove, microwave, and refrigerator (with ice-maker in the freezer) as well as all cooking implements, plates, and utensils. There is a large island for prep, with stools on the other side for quick snacks and dip. On the other side of the first floor is a sitting area with a smaller couch (with a pull-out bed) and a big screen TV. The two 2nd floor rooms have two beds each, and the 3rd floor master bedroom has a very comfortable queen bed, another TV, and a bathroom with a skylight and jacuzzi shower. The location is ideal, within a 5-10 minute walk to both the Town Square (small grocery, several restaurants, sandwich shop, icecream, and a gift shop), and to the Athletic Center (indoor and outdoor pools, tennis courts, gym equipment). Henry was extremely responsive to our questions and everything was perfectly smooth (we did not meet in person). This is a managed condo with weekly professional cleaning between groups, so everything was spotless (clean linens and towels) and ready when we walked in. We highly recommend, and hope to rent again in the future!
Isaiah
2015-08-19T00:00:00Z
Room Type
Entire home/apt
---
Property Type
Apartment
---
Accommodates
8
---
Bedrooms
Waterville Valley, NH, United States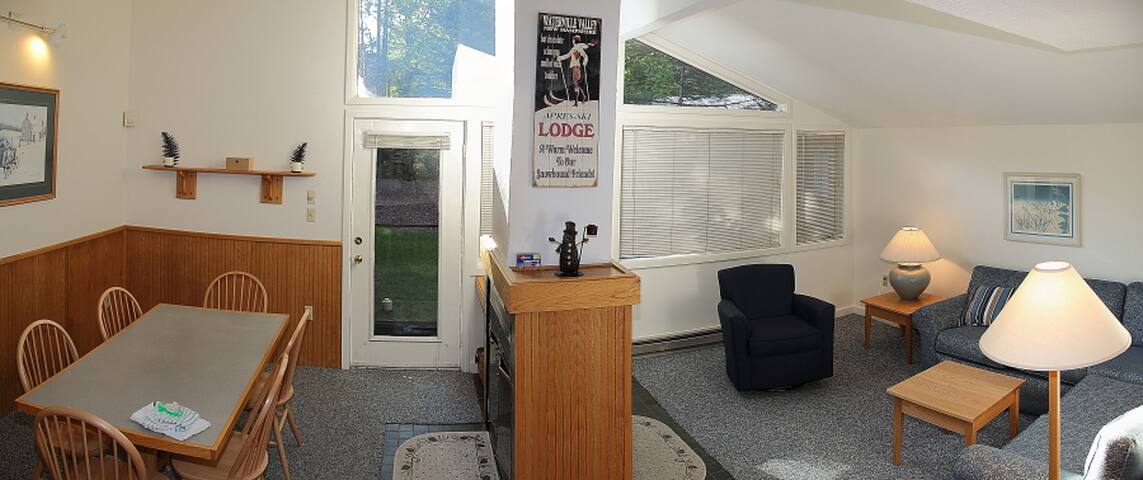 Well maintained updated 4 bdrm, 3 full bath, + den. Beds for 10. On four levels. Very well equipped. Quick walk to town center. Access to health club and tennis club (daily fee). Great local hiking, biking, swimming, golf, and family activities.
Centrally located to all activities in the valley. Park your car and continue by foot, bike, or free shuttle service. Abundance of outdoor activities, family environment, and limited commercialization. Spectacular foliage - unit located on banks of Mad River facing national forest, unobstructed views!
The property is located on the banks of the Mad River with views of Mt. Tecumseh. Listen to the river babble as you relax on the deck or sleep with the window open. All activities are within walking distance within the valley.
Wonderful place to stay! June has done a marvelous job of providing everything one could ever need on a vacation, including starting us off with some homemade buttermilk pancakes, and a welcome bag of goodies. We had 8 people in our party and never felt cramped. We could hear the rushing water of the Mad River directly behind the condo, which made for a nice nights sleep. The kitchen is extremely well stocked, including spices. There is a tremendous amount of storage throughout the entire condo. The first floor contains a very, very large closet, which we stored our golf clubs, coolers, totes, and tennis rackets. There is a bike shed out front, where we were able to lockup our bikes(not that you really needed to lock them). We felt very safe and secure the entire stay. The location is perfect no matter if you wanted to walk, ride bikes, or drive to town square. The athletic club was a nice place to spend a hot day. The bike/hiking trails run very close to the condo, and we visited them frequently. We went ice skating one night in shorts, which was fun. Overall, this is a fantastic place to stay, and we would love to stay here again!
Linda
2015-08-02T00:00:00Z
June was a fantastic host! The home is lovely and situated in such a perfect spot for enjoying Waterville Valley. A small group of us came up to see the autumn leaves and enjoy some hiking in the area--she provided us with some great options and everything was so close! Well appointed and comfortable house--we can't wait to come back for some snow adventures this winter!
Kathryn
2016-10-10T00:00:00Z
UNBELIEVEABLE! We came for a wedding, but will definitely come back again as it was an amazing place to spend some time hiking, viewing the foliage, and exploring. June, greeted us when we got there with her husband. Gave us a quick tour, and her specialty pancake mix (very delicious). Her home is immaculate, and my family loved every second of being there. Located right next to a lot of hiking trails, as well as town center where you can go ice skating, listen to bands in the gazebo, or grab anything from the market or go to dinner. Once you are there, you really do not need your car for anything. Everything is just a short walk away. I look forward to getting back up there next fall. Thank you June for everything.
Jason
2015-10-13T00:00:00Z
The place was located within walking distance to the "town" area of Waterville Valley. Inside was spacious with great views from all bedrooms especially at night seeing the star filled sky combined with the fresh mountain air made for an extremely pleasant experience. All basic needs were met from comfortable beds, full kitchen, coffee maker, BBQ, deck area, plenty of bathrooms and TV/DVD for movie night on those rainy days. Would definitely recommend this place and would come back.
Joey
2016-07-04T00:00:00Z
Room Type
Entire home/apt
---
Property Type
Apartment
---
Accommodates
10
---
Bedrooms
Waterville Valley, NH, United States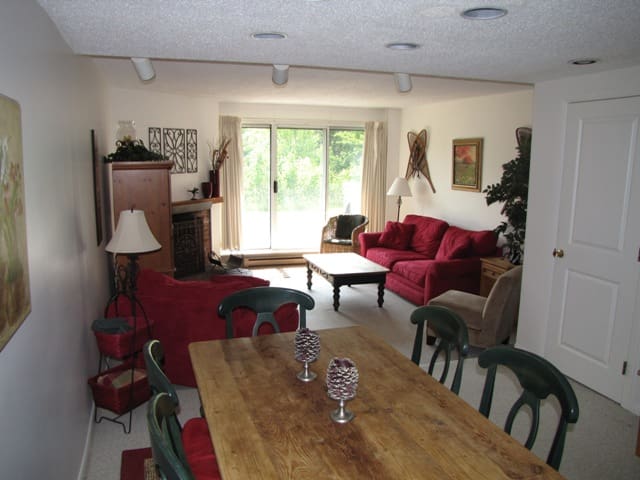 Renovated 125 year old barn. 1 large bedroom, 1 bath, and kitchen. Private patio, spacious yard for kids and dogs. Five mins to Winnipesaukee, hiking, Gunstock, Wht Mtns, Ellacoya, bankofnhpavillion. Come enjoy a relaxing getaway!
Great place, great host!
Christian
2016-08-11T00:00:00Z
I could not be more pleased with our experience at the Old Barn. We were warmly greeted and given a tour. There were fresh flowers and fruit in the unit, which were great touches. The bed was super comfy, and the place was warm and cozy. We enjoyed a fire in the fire pit at night and felt like we were the only people around for miles. In the morning we were greater with delicious banana bread and the Sunday paper. We played with our dog in the back yard and ankles the hammock and tree swings. We hiked Mt. Major and had a great lunch at the tavern down the road. Deirdre was a generous and thoughtful host. We look forward to a return visit!
Althea
2015-11-09T00:00:00Z
We had a great experience staying with Deirdre. It's a perfect location for anybody wanting enjoy all that the Lake Winnipesaukee area has to offer. The apartment was very clean and the grounds are peaceful and well maintained. We would definitely stay here again!
Michael
2016-10-13T00:00:00Z
Deirdre's place is great, cozy apartment with a large bedroom. She bake delicious cake for us as breakfast. The apartment is close to Gunstock ski area, also close to convenience store and restaurant.
Jiacheng
2017-01-02T00:00:00Z
Deirdre is a great host. It was a very busy airbnb weekend due to the Iron Man competition taking place, and yet she was friendly, helpful, AND bake a coffee cake for us! We stayed in the barn and it was quaint and comfortable. Her dogs are the cutest. I would definitely stay there again.
Elise
2016-08-22T00:00:00Z
Deidres home is amazing! It's cozy and private. She made us and our dogs feel right at home. From the fresh baked blueberry coffee cake to meeting Grady her pup we felt so welcomed. She really is a great host answering all our questions and providing us with everything we needed without asking. After this weekend we know for sure we want to go back!
Calvin
2016-12-11T00:00:00Z
Deidre and her family did everything they could to make us feel welcome. She gave us a ride to the marina, where our friend picked us up with his boat, and offered to pick us up after the fireworks. There was a very nice cranberry nut bread waiting outside our door the next morning. The apartment was better than advertised. Very spacious, comfortable, with lots of light and access to the outside space available for our dog. We will definitely be back this winter for ski season.
Christopher
2016-07-05T00:00:00Z
What a wonderful place to enjoy the offerings of this beautiful area. Deirdre's barn-styled apartment is what most of us imagine when we think of coming 'home;' warm, clean, friendly, beautiful. Add to that the generosity of your host and it doesn't get better.
martha
2016-06-06T00:00:00Z
Room Type
Entire home/apt
---
Property Type
Apartment
---
Accommodates
6
---
Bedrooms
Gilford, NH, United States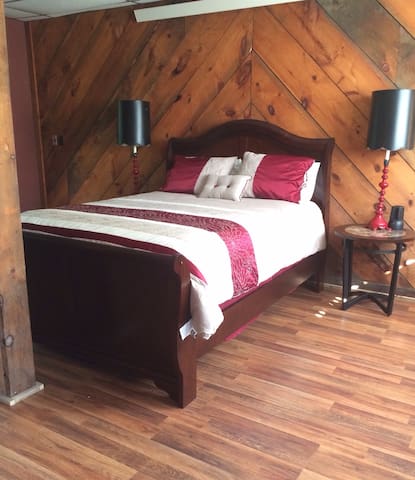 Come for all your Winter fun activities! Our place is steps away (less than .1 mile) from Gunstock Mountain Resort. If ice fishing or pond hockey is more your thing - beautiful Lake Winnipesaukee is a mile away. And add to that our easy access to the NH snowmobile trail system! Our place is good for couples, solo adventurers, business travelers, families (with no more than two kids), and furry friends (pets).
Mountain View is a completely private space, convenient to all the Lakes attractions, yet quite as it abuts acres of woods with trails and wildlife galore right out back. Mountain View Market - a Market/Deli/Pizzaria is right next door for your convenience as well!
Extremely cozy set up that is quite spacious, very clean and felt like a brand new place. Went strictly for a weekend at gunstock mountain, and there probably isn't a better option in the area. Great accommodation, highly recommend.
Brett
2017-01-22T00:00:00Z
Cozy little place, super close to Gunstock, and right on the main road so it's easy to get to.
Hope
2017-02-23T00:00:00Z
This was a wonderful place to stay! Super close to Gunstock and our hosts were friendly and very helpful!
Kelley
2017-03-19T00:00:00Z
I really can't say i've had a better experience then this condo. I've stayed at a dozen or so. Quiet, comfortable, Cozy, and Beautiful! Beautiful views out the window and deck of Rowe and Gunstock. They are literally a stones throw from the main entrance. My dogs loved the back yard area. Very spacey for our off leash dogs. We are very appreciative for everything they have to offer but especially that when unexpected snow arrived on the same day of our arrival, it canceled our day plans. We don't have 4-wheel drive and i just want to go somewhere close until it was time for check in. They messaged me back instantly and said not to worry that they'd have it ready for us within the hour. by time we got to the mountain they were ready for us. This was a huge relief to be able to check in with them several hours before the normal check in time and be safe and sound to weather the snow. After Sunday a full day of hiking with snow shoes on Rowe and Gunstock we were completely beat and to get in the car and drive 2 min was amazing! Absolutely 5 stars all the way!
Angela
2017-03-27T00:00:00Z
We had a wonderful time at Jeff and Jayne's place. It was very well-decorated, clean, and comfortable. Wi-Fi was very fast. We didn't ski, but it is super close to Gunstock mountain. Jeff and Jayne were incredibly accommodating.
Jordan
2017-01-02T00:00:00Z
We had a great time perfect size very cute apartment. Skied at gunstock which was conveniently located less than a mile away. Definitely would want to come back again. Thanks again!
Lindsy
2017-01-29T00:00:00Z
All as described, comfortable and warm. Patio was shared with owner living next door. This was not listed in the description as far as i can remember but was not an issue for me nor affected my stay. Location is right next to the mountain so perfect for skiing.
Bernardo
2017-03-05T00:00:00Z
We had a great time at our stay at Jeff and Jayne's mountain place. The apartment was very nice, well-appointed and very comfortable. The view from the back deck was spectacular, with a great view of the slopes on Gunstock Mtn. We were able to walk right out and go to some nice snow-shoeing trails right from the apartment. And the location is perfect, just a couple of minutes from Gunstock, ten minutes from the lake, and close to several good restaurants. We would stay here again anytime.
Jim
2017-02-21T00:00:00Z
Room Type
Entire home/apt
---
Property Type
Apartment
---
Accommodates
4
---
Bedrooms
Gilford, NH, United States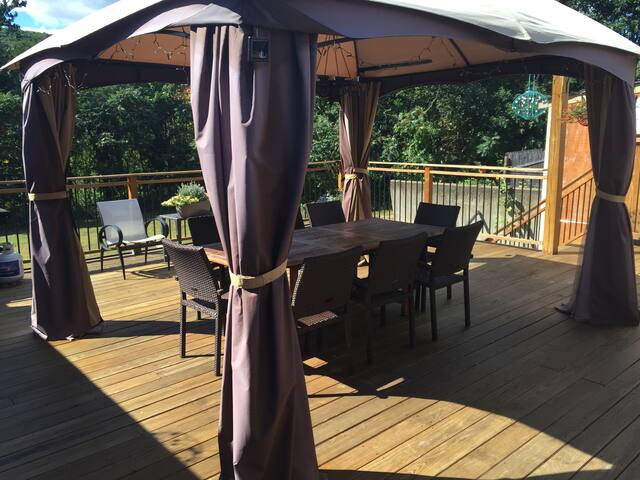 One bedroom apartment in Laconia. One bath with shower, pull out sleeper sofa in living room, full kitchen. Private entrance, third floor walkup in quiet, safe neighborhood, walking distance (three blocks) to town and local restaurants.
We are one block from Lake Winnisquam and have two keewee kayaks for your use.
Quiet, safe neighborhood, 1 block from the lake and 3 blocks from downtown restaurants and shops
This was a very wonderful place to stay. I was in town for work, and this was perfect. Very clean, comfortable, and in a very nice neighborhood. I would recommend this place to anyone wanting a nice place to stay in Laconia, NH. Very Nice!
Sam
2015-09-28T00:00:00Z
We were welcomed and given access to this lovely, super clean, safe, private apartment. It was well appointed but there was still plenty of apace for our things. It was such a good feeling to be there. We were treated to fruit, and cookies and banana bread.
Carolyn
2016-10-07T00:00:00Z
Christine welcomed us with a great big smile. She was very welcoming, charming and gave us a tour of where we would be staying. The apartment was impeccably clean, quiet and quaint. We felt very comfortable and had full use of the backyard. The neighborhood was quiet and very relaxing. There was a small sitting are by the lake, and the other beaches were literally a 5 minute drive. During our stay if Christine or her mom saw us, they would ask how everything was. We even opened our door the next morning and there were fresh baked muffins outside our door. I have used Airbnb before, but Christine takes much pride in providing world-class hosting, and is the reason I would not rent a hotel in this area, but rather stay in this beautiful home. Thank you Christine and Mom!
Curtis
2015-08-14T00:00:00Z
My husband and I thoroughly enjoyed our overnight stay in this sweet little apartment. It had all the comforts of home and the bed was very comfortable. Christine left us home-made cookies and food and beverages in the refrigerator. On the morning of our departure she greeted us with hot blueberry muffins. What a lovely surprise! Christine and her mother were both warm and welcoming and we would certainly stay here again! Thank you for everything!
Patricia
2015-07-15T00:00:00Z
Christine's lovely house is in a quiet neighborhood near the center of the town. Communication with Christine was easy and she was very welcoming. Her apartment was clean and the bed was comfortable. Christine left juice, coffee, fruit and English muffins, which was a nice surprise. We enjoyed our stay very much! Thanks, Christine.
Kathleen
2016-08-07T00:00:00Z
This was the perfect place for our stay. After a long day, we were able to walk two blocks and put my feet in the lake and the kids swam in the cleanest lake - you can see the bottom!
Cathy
2016-08-13T00:00:00Z
This was the perfect spot to stay for our ski trip to Gunstock and were very impressed with our whole experience with Christine. She was very personable and made her place feel like our home away from home. We would highly recommend this place to anyone looking for a comfortable, clean, and cozy place to stay.
Sam
2017-01-08T00:00:00Z
Christine's place was cozy and comfortable, she was very responsive and helpful.
Ravi Tej
2016-12-31T00:00:00Z
Room Type
Entire home/apt
---
Property Type
Apartment
---
Accommodates
3
---
Bedrooms
Laconia, NH, United States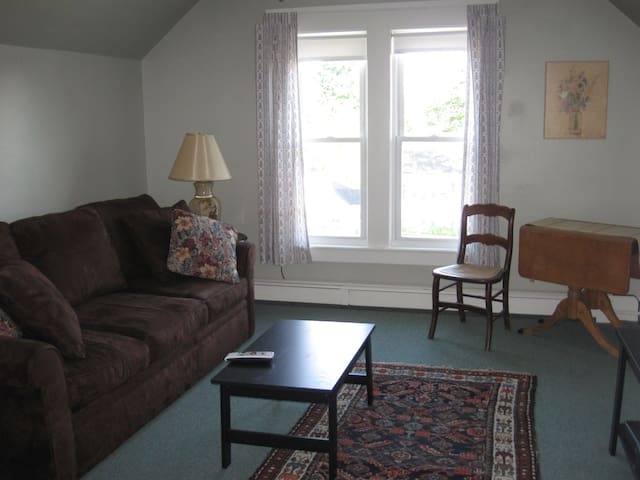 Our place is walking distance to PSU, downtown and the Flying Monkey Theater. You'll love our place, the apartment has been completely renovated and it is fully stocked for your convenience. Very quaint, clean, clean,clean and the amenities of home. One bedroom with queen bed and a full size futon in the family room. Beds are super comfy as that is what we look for when we travel! Smart TV, cable and kitchen fully stocked for cooking. This will be your own little home for you stay!
We have recently completely renovated this space. Granite countertops, new wood flooring, kitchen completely stocked and we have furnished it with comfort in mind. When we travel the first thing we remember is how comfortable is the bed! You will LOVE the bed in this apartment! I'm also a clean freak so you will find the apartment spotless!
The apartment is in a residential neighborhood yet you can walk to downtown, PSU and the Flying Monkey Theater.
This was our first Airbnb experience and Kim made us feel comfortable and at home. The apartment is clean, comfortable, and within walking distance to downtown Plymouth. Kim provided us a list of local food spots and was quick to respond to any questions we had. A great stay overall! We would book again. A wonderful host :)!
Kristina
2016-08-06T00:00:00Z
Spotlessly clean with many details that made the time there better! Netflix and YouTube on the tv for relaxing after a well spent day in the mountains. Stocked kitchen with brand new stove. Bedroom with lots of built in shelving to store toiletries and clothes from your suitcase. Large, bright bathroom with brand new shower. Very well located with a 20 min drive to Squam Lake or 20 min drive north to Lincoln. Enjoyed our stay very much.
Melissa
2016-09-04T00:00:00Z
Everything in the apartment is exactly the same, if not better than the pic! We have spent an amazing night in the room and feel comfortable with every aspect of it! It is really cozy and convenient! And also, Kim is very helpful too. A perfect experience indeed!
DAWEI
2016-10-04T00:00:00Z
Very clean and cozy. Great neighborhood with 5 minute walking to town. Kim is a very responsive host and takes pride in her property.
Michelle
2016-09-11T00:00:00Z
This place was amazing. Very comfortable and adorable. My girlfriend and I went to a show at the flying monkey and it was only a eight minute walk to it. The bed was very comfy. Kim was amazing with communicating
Jeffrey
2016-11-20T00:00:00Z
Perfect little condo for to stay at while my girlfriend and I were visiting Plymouth. Would highly recommend if you just need a place to sleep and wind down.
Keenan
2016-11-14T00:00:00Z
Absolutely loved our stay! Super easy to find. Kim is very responsive and everything to booking to check-in went smoothly. The space is adorable and perfect for two. The space is well thought out, clean and tidy. It's also an easy walk to the downtown area. Couldn't have asked for more.
Jessica
2016-09-26T00:00:00Z
We couldn't have been happier with our stay in Kim's apartment. The place was the perfect size for a couple. The apartment is well equipped for everything you need to relax and enjoy yourself. We got an incredible nights sleep on the super comfortable bed. Plymouth is a cute village to explore before heading to the white mountains which are just a short drive north. I would absolutely stay again.
Ian
2016-08-17T00:00:00Z
Room Type
Entire home/apt
---
Property Type
Apartment
---
Accommodates
4
---
Bedrooms
Plymouth, NH, United States
We have a cool and spacious one bedroom basement space on Lake Opechee. This backyard walk out has a private covered patio area as well as use of the grill, fire pit, canoe and kayaks. Off street parking for one to two cars is available. We pay your 9% lodging tax (NH M&R Tax Lic:061987)
We offer a quiet space in a residential neighborhood. Our basement walk out is very spacious and offers over 700 sq ft of privacy. The suite has a large bedroom with a ¾ bath (shower not tub) and separate living/dining room/kitchen, with a pull out sofa sleeper (bdrm 18x13, Common rm 18x30). The kitchen is minimal with a hot plate, toaster oven, bar fridge and sink but functional for the basics. The comfortably fully furnished suite is for your exclusive use. Also included is a shady private covered patio with outdoor seating and grill and access to common amenities including fire pit, canoe and kayaks. Off street parking for one car but we've made it work for more. Just let me know what you've got. We offer coffe/tea, basic condiments and some sort of snack, but not knowing what guests want or need, we leave the rest up to you. We are both off the beaten path yet close to all the action. Our yard regularly hosts ducks and geese and even wild turkeys in quiet times. The occasional loon will grace our little bay and we always have a few boaters when the fishing derbies take place. Enjoy our dock for boating opportunities, lounge by our firepit, grill a few burgers, or head over to the Weirs or Meredith both barely 10 minutes away. We're also excited to share our newly solar powered home. Get me started on the subject and I won't stop. The house is easy to find thanks to the panels. We would love a longer term housemate relationship with a preference for people with some medical background. Nursing students or short term LRGH employees a plus. Longer terms really only work for one or two people as kitchen facilities are limited. We pay the 9% NH Meals and Rental tax and it is included in your payment. We are world travelers ourselves and the idea behind Airbnb is very appreciated. We hope you enjoy sharing our space.
Lake Opechee is what we refer to as the "local's lake" While right in Laconia, it is mostly surrounded by residential property so visitors do not realize it is separate from Winnipesaukee or Winnisquam but sits between the two of them. This means it offers quieter boating away from the hustle and bustle of the Big Lake. Because of that we are hosts to a waterski slalom course and it is excellent for early morning waterskiing as the waters are calm and undisturbed. We are also steps away from the annual Sled Dog Derby course and less than half a mile from its traditional start/finish area.
Heidi was a great host. Very pleasant and accommodating. Everything was as advertised. Very nice in every way. I would highly recommend this as a place to stay. I am looking forward to a return stay here. Had a wonderful week, thanks Heidi. :)
David
2016-06-20T00:00:00Z
The pictures were very accurate. Beautiful scenery, nice and quiet. You can use the kayaks and fire pit. Made for a great weekend with my girlfriend. Be sure to bring for your own provisions.
Patrick
2016-08-08T00:00:00Z
The host canceled this reservation 50 days before arrival. This is an automated posting.
Brent
2016-07-03T00:00:00Z
Beautiful view of the lake, even though it's "out" right now with the fam, but gorgeous spot. Nice, quiet place.
Rachel
2016-10-20T00:00:00Z
This was a beautiful spacious one bedroom loved the extra beds and blankets the lake was still frozen but it was still beautiful didn't get to meet Heidi she was home but we never ran into eachother we talked over email and she was very nice would definitely go again!
Naomi
2017-03-19T00:00:00Z
It was a lovely apartment with all we needed.
Joel
2017-02-20T00:00:00Z
Heidi was a very helpful host. She promptly responded to messages during our stay there. Although we went during the winter holiday, we still got to experience a memorable time-bbq and having the fire pit going were our highlights. Heidi allowed us to use her bbq grill and she helped us start the fire pit (very grateful). We were also very late upon arrival, but Heidi was awake to welcome us to her home. I would definitely recommend her home if you want a nice getaway to yourself. Her kitchen is small (especially the sink) but that was expected and you can still cook on her burner. Quaint home and neighborhood. I would want to go back for the spring/summer season as her home has a great view and is next to the lake.
yurim
2016-12-25T00:00:00Z
Very family friendly , comfortable place to stay. Close to all beautiful areas of NH yet not in the middle of it all. Beautiful surroundings, quiet. Recommend staying
Denise
2016-12-31T00:00:00Z
Room Type
Entire home/apt
---
Property Type
Apartment
---
Accommodates
4
---
Bedrooms
Laconia, NH, United States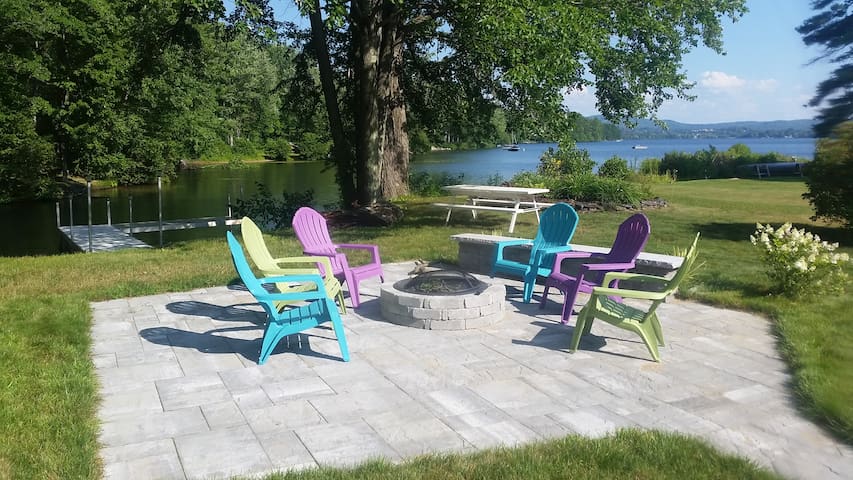 Sunny apt with full kitchen, private deck, shared lake access. Queen bed in bedroom plus fold out Ikea Queen sofa bed in living room. 10 mins to I-93. 30 mins to skiing, wht mtn hiking. Solar electricity. Radiant heat. Property part of Cloverly Cottage (on VRBO). Owners teach movement and do Rolfing. The apartment accommodates up to four persons (extra charge of $30 pp/pn above 2. Children 12 and under no extra charge.)
The beach and grounds are semi private: they are shared by the owners and the guests who rent the summer cottage. There are woods on both sides of the property and, although there is some road traffic, the property is secluded and quiet and the lake stays quiet all year because it is not open to motor boats over 7 hp. Mostly there are kayaks, canoes and small fishing boats. We do have a no pets policy.
The road by the property is popular with people in the town for walking and jogging. The houses are few and far between. Many houses on the road are summer occupancy only. In winter there are some hills to travel on close to the property. The town does a good job of plowing and sanding but sometimes it can be slippery if there is fresh snow or ice.
My mother and I had a very comfortable stay . We loved the location and the apartment was very cozy. Kevin and Galen were great hosts.....would highly recommend them.
Diane
2015-10-16T00:00:00Z
My stay was excellent. The apartment is spotless, fully equipped with everything you could possibly need, and lake adjacent. The property is solar powered which is soooo coool!! In addition, the apartment has heated floors which was extremely unexpected. Kevin was very nice. We came and went from the property for various tours and sight seeing in the area and had a great time. The property is remote, so this is for travelers who just want a quiet getaway. I would definitely recommend this airbnb to friends and family looking to stay in NH.
Novalee
2016-05-31T00:00:00Z
Great stay at Squam Lake. This apartment is part of a larger property but we never saw another person! So it was like having a lakeside acreage to ourselves. Artsy accommodations, everything you'd need in a kitchen to stay for days and days- access to kayaks, canoe, dock. Very nice bed, although seemed small but really comfortable. Windows all around with a decent glimpse of the lake, but it's not directly on water. Be sure to read hosts written directions, do not follow GPS to this property you will end up somewhere else on the lake! There are few services nearby do be prepared before you arrive.
Vicki
2016-10-15T00:00:00Z
Kevin was very accommodating, flexible, and welcoming. The property was beautiful, spacious and very comfortable. Situated on a beautiful lake, we enjoyed the quiet of being in NH in late October. the privacy of the cabin made us feel like it was our home away from home. Serene and relaxing. Can't say enough positive things!! Highly recommend!
Lynn
2016-10-23T00:00:00Z
This place was beautiful and very cozy! In a quiet secluded area, but was also very easy to get to. Place was very clean, and hosts graciously offered to prep the fireplace before our arrival. Definitely 5 out of 5 stars!
Kevin
2016-02-14T00:00:00Z
We are speechless. Words can not describe our stay. The place was exactly what we needed for some Rest and Relaxation. The cottage was very clean. Saw Kevin a few times and the caretaker. They were great and very helpful. Got a bonus foot massage-Relief Reflexology from the caretaker, who did an excellent job on my foot. I have plantar facilities and heel spur problem. My foot hasn't felt this good in months. We would highly highly highly recommend this place. Planning on renting the larger Cloverly Cottage in the future with friends. Kevin, you will be seeing us again. Thanks for offering your home to us. Kelli
Kelli
2016-07-10T00:00:00Z
The apartment was clean and comfortable and had most everything that we wanted. It was a little hot the first night and we had to go buy a fan so we could sleep properly. The hosts were very kind. Overall we had a good time.
Kathryn
2016-08-01T00:00:00Z
Love this place!! Beautiful, private getaway. Super friendly hosts. Everything you need for an escape.
Rebecca
2016-08-08T00:00:00Z
Room Type
Entire home/apt
---
Property Type
Apartment
---
Accommodates
2
---
Bedrooms
Holderness, NH, United States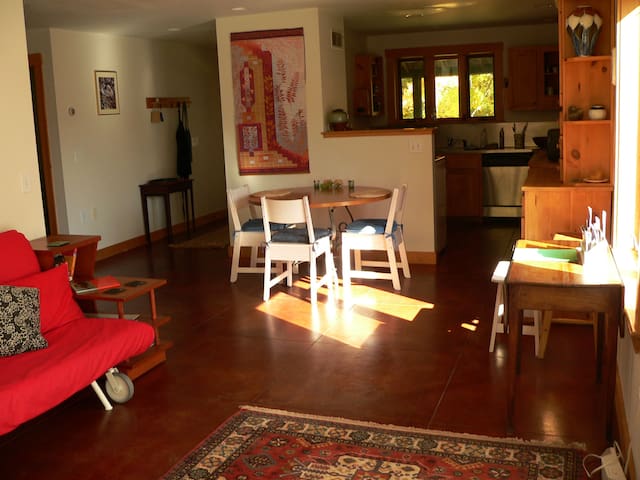 Our place is good for couples and solo adventurers spending time in the Lakes Region and beyond! Quiet and cozy and minutes from the interstate, it is an ideal place to rest between mountain and lake excursions!
We really enjoyed our stay, it was the perfect apartment. Very clean very private and extremely well-kept. And our host couldn't of been nicer. They were very easy to communicate with and made us feel very welcome. We wouldn't hesitate recommending their accommodation to anybody. I hope we get an opportunity to stay there again if we are in the area.
Fintan
2017-03-26T00:00:00Z
Room Type
Entire home/apt
---
Property Type
Apartment
---
Accommodates
2
---
Bedrooms
Sanbornton, NH, United States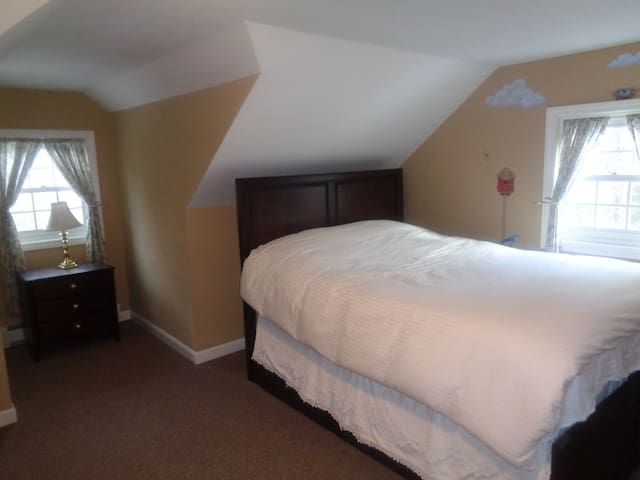 Center Harbor - Airbnb
:
Average

4.82

out of

5

stars from

482

guest reviews
1

–

18

of

56 Apartment Rentals
Enter dates to see full pricing. Additional fees apply. Taxes may be added.