A perfect Thames River Cruise from Old Windsor! Chateau Gato is a cozy riverside cottage by the Thames thats the ideal holiday base to access Windsor Castle, Thorpe Park, Legoland, Ascot Racecourse, Henley Royal Regatta and The City of London.
The house, a traditional 1940s cottage, is spacious and light. It has a huge master double room, a cosy double attic room, a twin attic bedroom and a self contained apartment. In Addition there is a 4 person luxury Teepee in the garden. The property sleeps a total of 12 guests and several rooms can be setup with either twin single or double beds. The dinning room boasts breathtaking 180 degree river views. Chateau Gato is a tranquil riverside haven nestled on a secluded leafy bend of the River Thames in Wraysbury. Minutes from the historic town of Windsor and the academic town of Eton. The Chateau provides the perfect retreat with a homely and charming atmosphere, a peaceful garden and easy access to many local attractions. A quiet riverside get-away for people who want to experience the picturesque English countryside and enjoy a relaxing time away from the hustle of the city. The cultural attractions of London are a short distance away. With a total of 4 bedrooms, the house can easily accommodate 10 people, with extras also possible on fold out furniture: Upstairs includes a double room, a twin room and a private bathroom. Downstairs the spacious Master Bedroomwith an ensuite and there is also a self contained apartment with its own bathroom and a kitchenette/laundry room. The dinning room boasts breathtaking 180 degree river views and the living room has access to the terrace garden. The kitchen is newly appointed with modern Bosch appliances and a natural wooden worktop. We are 15 minutes by car from Slough Rail station which has a frequent express train to Paddington Station (20 min) providing easy access to urban London. We are a 15-20 minute walk to Sunnymeads Overground Rail station. Windsor Station, Windsor Castle, Legoland, Thorpe Park and The Magna Carta Memorial are all a few minutes by car. Heathrow Airport is 15 mins drive by car and there are frequent bus services directly into the airport. Gatwick airport is approximately 40 mins by car. Wraysbury Villiage has a wonderful Gastro Pub called The George Tavern with an amazing menu and sunny beer garden. Windsor boasts a wealth of bars, restaurants, sightseeing and and entertainment. French Brother's Thames Cruises depart frequently from their mooring just nearby, on regular guided cruises to Windsor Castle.
The neighbourhood is peaceful and very Olde English, There are several classic english Pubs within walking distance, as well as scenic walks around Wraysbury's numerous freshwater lakes, National Trust parks, and along the Thames..
Chateau Gato was the perfect retreat for our weekend getaway, we could not have found a more ideal location. The house itself is wonderful and looks even better than in the pictures. It is in a beautiful secluded setting with amazing views of the river, but also easily accessible to various nearby towns. James our host gave us a very warm welcome and was extremely helpful. I would thoroughly recommend staying here to others and would hope to stay again in the summer months!
Sofie
2016-03-29T00:00:00Z
We had a fantastic time at "Chateau Gato". Great house and beautiful location - exactly as described in the images. James is a great host and was very supportive. We highly recommend this location.
Claudio
2016-10-09T00:00:00Z
Had a fantastic couple of days in the House. It is so beautiful, more so than the pictures suggest. James was a wonderful host and very helpful in the build up and during our stay. Would highly recommend!
Jessica
2016-08-30T00:00:00Z
Amazing house in an amazing location. Watching the river, the birds, the boats from the dining room is an endless delight. We spent there a wonderful time for a family reunion : parents + 4 adult children. We cooked all our meals in this very convenient fully equipped kitchen. To be absolutely fair we have to mention the Heathrow flightpath : depending on the wind the planes can fly pretty close to the house at the rhythm of one every two minutes. Most Londoners are used to the flight path, we kind of are but maybe not everybody is. To be clear, this would not prevent us to come back to this wonderful house if we had a chance.
JB And Bree
2015-03-16T00:00:00Z
The host canceled this reservation 49 days before arrival. This is an automated posting.
Sajid
2015-10-16T00:00:00Z
We stayed at James's place for a long weekend to celebrate my partner's 30th birthday. We were joined by 6 friends and we had a great time sitting in the garden, eating and drinking. We had everything we needed and had a easy trip to Windsor as well! A lovely weekend had by all!
Steph
2015-08-24T00:00:00Z
Even better than it looks in the pictures; they do not do this incredible place justice. I had my 30th birthday party here and my girlfriend and I both agree we had the best day of our lives. The layout is well designed for large numbers of people with multiple entrances to all of the rooms (and even some of the toilets!). The floors are all wooded/laminate which means no guilt over muddy carpets or spillages. The property itself backs out on to the Thames with very little nearby to disturb you or for you to disturb. The sun sets over the river giving you sun until it goes away. Our host made us feel welcome and was incredibly relaxed which only helped keep the experience stress free. Thank you so much from the bottom of our hearts.
Bobby & Ana
2014-06-09T00:00:00Z
James was always helpful in the run up to our stay, and quite flexible as well. Everything we needed was ready and in place for our arrival and there were no unpleasant surprises. The B&O speaker system in the living room is also amazing! The only things that weren't quite so good were the oven and the hob - both worked fine, but they were just a little slow. The place and views are definitely as good as they look in all the photos, especially when the weather is good. One thing to bear in mind is that there is no path on the side of the river where the house is, so if you want to go for a walk you need to cross the river somehow (which isn't that easy.) All things considered, we really enjoyed our stay (if only the weather were better) and everyone loved the place.
Raj
2016-05-23T00:00:00Z
Room Type
Entire home/apt
---
Property Type
House
---
Accommodates
12
---
Bedrooms
Wraysbury, United Kingdom
The Old Boathouse is a holiday cottage in the picturesque village of Laleham on Thames, on a quiet lane leading directly to the river. Ideal for visiting local attractions Legoland Windsor and Hampton Court or a short train ride into central London.
Fully equipped property sleeping up to 6 in three double rooms. I can also supply a travel cot for baby. Amenities include gas central heating, power shower, fitted kitchen with dishwasher, washer and tumble dryer, living room with gas fire, flat screen TV with SKY satellite TV, WiFi, dining room, roof terrace and courtyard garden. Three lovely local pubs and a village shop are within walking distance. Children and dogs welcome!
Laleham village boasts three traditional pubs each serving fantastic food, the 12th century All Saints church (mentioned in the Domesday Book), village shop, hair salon, veterinary surgery and Spanish restaurant. Enjoy fantastic walks along the banks of the Thames river towards either Penton Lock and Staines or around beautiful Laleham Park towards Chertsey Lock.
Lovely little house close to the river. Perfect for our trip to see family in and around London, and a wedding in Egham. Stayed with three small children and the set up was great, especially the toys & DVDs! Lovely touch with the breakfast basics provided at check in.
Sarah
2016-01-27T00:00:00Z
The location is great and the place itself is exactly what you think it will be; neat, clean, charming... Really liked the house and recommend it!
Tim
2015-07-02T00:00:00Z
What a lovely little place this was. We felt most welcome when we walked in the door. Great location for relaxing, in a peaceful environment, lovely area to walk and stroll along the river bank.
Julie
2016-04-20T00:00:00Z
We had a great time here. The books and toys for the children were especially useful and the cottage was comfortable and in a fantastic location. Melanie was so helpful. We will definitely come again.
Zen
2015-07-16T00:00:00Z
Although we didn't end up meeting Melanie, she made us feel welcome and was available for questions and concerns via texting. The Old Boathouse is on a quiet lane in a quiet village, but it is not far from lots of things to do. Everything was comfortable, with a genuine "lived-in" feel to it. We felt very much at home there. The bed was a bit firmer than we are used to, but it was OK. Beware of the uneven steps up and down and through various doorways! Hazards of old dwellings, we are discovering. A bonus is a sunny terrace above the kitchen with a lovely view of the interesting and pretty houses around. Be prepared to park at the end of the lane, if you are coming by car, but be careful not to block the Red House driveway!
Kay
2016-07-11T00:00:00Z
We had a great time staying in Melanie's cottage. It is set in a beautiful little village and the surroundings are picturesque and so well located. The pictures don't do it justice! Melanie was an excellent host and really made us feel welcome and was particularly accommodating given that we were delayed arriving. Would recommend the listing to anyone travelling to the area. Thanks Melanie!
Glendon
2015-04-06T00:00:00Z
We had a wonderful Stay at this cute cottage! It is a perfect spot, located close to London, Legoland and next to the river Thames. Our 4 boys had a great time, we enjoyed the courtyard and the terrace! It has a new kitchen and bathroom as well and also Free Sky TV (which we did not use as the weather was too nice!) The owner, Melanie, is extremely helpful. On arrival there was bread, tea, milk and fruit. We felt very welcome and really loved our stay. We might be back!
Iris
2015-04-11T00:00:00Z
A lovely cottage in a great location. Had a very comfortable stay, would make a repeat visit.
Ahmed
2015-12-25T00:00:00Z
Room Type
Entire home/apt
---
Property Type
House
---
Accommodates
6
---
Bedrooms
Staines-upon-Thames, United Kingdom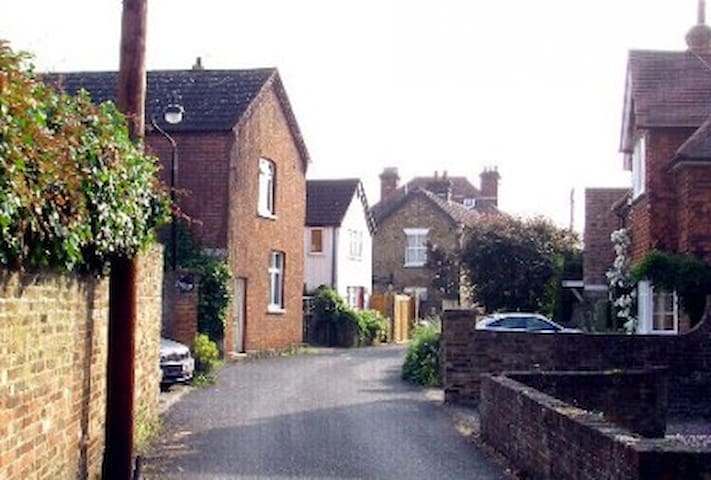 Near Heathrow airport by bus, and free parking. 안녕하세요, 저는 한국인 입니다. 한국어로 문의 주셔도 답변 드리도록 하겠습니다.
Big and nice room with double sofa bed, table and 50" TV with DVD. There is a 24HR Tesco Extra, Ashford Hospital which are 5 mins walk away. The property is fully gas central heated and is in the quiet area. Free WiFi and road side free parking avaliable.
The Neighbourhood is very quite and peaceful. Ashford Surrey train station is a 15 min walk from the property. Windsor Castle is 6 stops from Ashford Surrey station. Windsor Great Park and Virginia Waters is 4 stops away. Easy access to Richmond Park, Bushy Park and the Royal Botanic Gardens in Kew. If you are travelling on holiday, you can park your car on the kerb for free until your return. No parking restrictions are in place on our road.
Peter was kind and very attentive. Communication was excellent. Room was fine, bed comfortable and bathroom clean. The house is well located s it is very close to the airport. Peter woke up early in the morning to drive us to T5.
Federico
2016-02-14T00:00:00Z
Peter was very heplful and kind. House was very close to heathrow airport and peter picked us in low price. His wife was also very kind. She offered delicious breakfast. We really enjoyed our time in peter's house.
se eun
2015-12-30T00:00:00Z
Peter is a very kind and helpful host, and his family is lovely. Good location if you need a place close to Heathrow for a flight out or in...All you need is there. One thing, and I'm sorry to have to say this, but 2 young kids in the house does not make for peaceful sleep.....
Rual
2016-11-14T00:00:00Z
Superb location for the airport, and Peter and his family are warm, welcoming hosts
Ian
2016-11-22T00:00:00Z
Made us feel welcome.we were even given a hot water bottle to heat the bed..lovely comfy bed. Thanks for the breakfast. It's ideal place to say if travelling to or from Heathrow. We would come and stay again.
Lynn
2016-03-25T00:00:00Z
Very handy for T5 and other LHR terminals. Room is Ok for an overnight before early AM flight from LHR. Peter offered a lift-for cash- to the airport and this was really appreciated as we had to be there at 04:45 Space to park the car there too which is a great bonus. Public transport option to T5. Would stay again for an overnight early AM flight. Peter was a great host.
Nigel
2017-02-03T00:00:00Z
The host canceled this reservation 23 days before arrival. This is an automated posting.
Laura
2016-12-23T00:00:00Z
PETER WAS UNDERSTANDING TO MY SPECIFIC SITUATION OF COMING LATE TO HIS HOUSE AND WAS ACCOMMODATING. HE HAS A FINE FAMILY AND GREAT ATTITUDE. I RECOMMEND HIS PLACE TO ALL. MEIR
Meir
2016-11-16T00:00:00Z
Room Type
Private room
---
Property Type
House
---
Accommodates
2
---
Bedrooms
Stanwell, middlesex, United Kingdom
Cozy small single room 20 min walk to Woking station. 20 min drive from Heathrow Airport. 8 min drive to Mc Laren Technology Centre. 15 min drive from Longcross Studios. Grocery store, laundrette, chinese, italian and indian take away close by. Quiet area, bus stop (28) to station round the corner.
Semidetached house on very quiet Horsell Village road. The lovely small single room features a very comfortable bed, bed side table, lamp, hangers, and a small table. Bathroom is shared.
Very quiet road in friendly Horsell. 15-20 min walk along the canal to the Railway Station, or short drive/journey by taxi/on bus. Taxy fare is £5. Free off street parking.
Simona's place is perfect. Exactly as advertised. She rescued me at the last minute and I had a very good nights sleep. Thanks
Nick
2016-12-03T00:00:00Z
I had a lovely 1 night stay at Simona's place. She is very welcoming, and the room and bed were warm and comfortable. The bottle of water in the room was a thoughtful touch. I walked along the canal to get there which was picturesque. I heartily recommend a stay at Simona's
Adam
2016-10-19T00:00:00Z
Very friendly and helpful thank you very much
Gavin
2016-10-07T00:00:00Z
Another very pleasant stay... thank you!
Louise
2016-02-12T00:00:00Z
cozy place felt like home. thanks!
patrick
2016-10-02T00:00:00Z
Simons was lovely to deal with and very understanding when she realised I had booked the room for a colleague and not for myself. He has said that all was good at the accommodation .
Philip
2016-09-23T00:00:00Z
Relaxing experience in a friendly family home with a kind and considerate host.
Jesse
2016-07-13T00:00:00Z
An excellent place to stay. Simona, her husband and the children are lovely and very welcoming. They could not have been more helpful and accomodating. The room was immaculate and perfect for a stay of 1 or 2 nights. The house is a family house and is lived in: so don't expect a show home but everything was perfect. Free parking in the street which is safe. Lovely people Lovely place and very reasonably priced as Woking is an expensive area to find accomodation. I will definitely be back. Thank you Simona.
Steve
2017-03-04T00:00:00Z
Room Type
Private room
---
Property Type
House
---
Accommodates
1
---
Bedrooms
Woking, Surrey, United Kingdom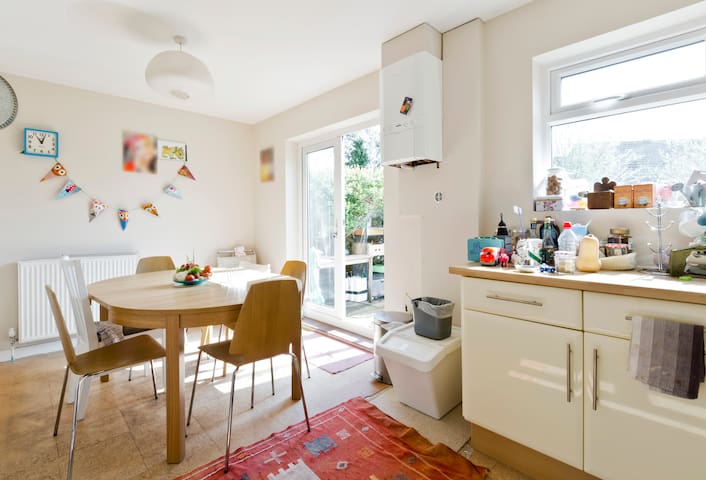 Double room within a 2 bedroom house tucked in the corner of a small & extremely quiet cul-de-sac located just 3 miles from Heathrow airport, 4.5 miles from Twickenham Stadium and just a mile from Feltham Station; you can catch a train directly to London. Free parking directly outside house. The room is clean with plenty of storage, towels, a TV & WIFI. Use of the kitchen, bathroom / toilet upstairs and toilet downstairs. A limited choice of breakfast for you to prepare yourself.
A quiet, comfy, airy & bright double bedroom upstairs at the front of the house with double bed, TV & WIFI. wardrobe, shelf & drawer space. central heating & towels. Everyone appreciates a full length mirror! there's also a hair dryer & straighteners for the ladies!
My home is located in a small, quiet cul-de-sac of 10 houses in Feltham, Middx. Close to all amenities including several supermarkets, launderette, several pubs, train station, Hatton Cross Tube station (10 min drive), airport, bus stops, parks and fast food. Free parking directly outside the house. For London - FELTHAM RAILWAY STATION - 20 min walk or 5 min drive but parking not free. TIP: driving through Feltham High Street can be slow & painful (depending what time of the day it is)..... it's quicker to walk! For LHR Airport - HATTON CROSS TUBE STATION - 12 min drive or H26 bus - between 30 & 35 min journey time. TIP: get an Uber Cab or a lift; either directly to the Terminals or to Hatton Cross Tube station which will also take you to any of the Terminals. All the information you need is in the Hand Book.
I felt so welcomed and taken care of it was incredible, Such a warm cozy home and had a great experience and time there.
yamuna
2016-10-06T00:00:00Z
Karen was brilliant, very accommodating and a lovely host. Would definitely recommend staying with her.
Matty
2016-09-12T00:00:00Z
The host canceled this reservation 13 days before arrival. This is an automated posting.
JUNHONG
2016-05-17T00:00:00Z
Karen was a great host! Lovely comfortable room in a quiet area close to the airport! Perfect for travellers and cabin crew. Would definitely stay here again.
Natalie
2017-04-09T00:00:00Z
great as always...
Bradley
2017-01-27T00:00:00Z
What a beautiful home. A place of tranquility and positive energy. Karen is the perfect host. Nothing is too much. Home away from home. Everything you need for a stay before your flight. Comfi bed and lovely room. Close to airport but no noise. Parking ideal. Will be back! Couldn't have chosen a better place x
Martina
2017-02-23T00:00:00Z
very nice place, quiet and clean
Lijun
2017-02-19T00:00:00Z
It's a very clean, sweet and warm house, I love it very much. And Karen is very kind and helpful, I do enjoy my stay there. Thanks for everything!
Starry
2016-12-25T00:00:00Z
Room Type
Private room
---
Property Type
House
---
Accommodates
2
---
Bedrooms
Feltham, United Kingdom
Cosy double room with own bathroom in quiet residential area. 2 min walk to Chertsey main line station into London Waterloo. Easy access to London Heathrow airport and M25. Close to BP , Shepperton studios. 15 miles away from Hampton Court Palace. Very close to the river Thames and pretty countryside. My place is good for solo adventurers and business travellers.
Great place to stay sarah was very accommodating and a friendly, helpful host
Sam & Emilie
2016-12-16T00:00:00Z
Great place to stay, convenient location,nice house, sarah was very helpful and accommodating
Sam & Emilie
2016-12-23T00:00:00Z
Once again, fantastic stay with Sarah!
Sam & Emilie
2017-01-20T00:00:00Z
Great place, great location and Sarah was really helpful and friendly
Sam & Emilie
2017-01-13T00:00:00Z
Nice house, friendly host, ideal if you are in that area.
Dave
2017-03-16T00:00:00Z
Sarah, having a great personality, was a 'Perfect' host even from initial contact. Despite being under the weather herself nothing was too much trouble. The accommodation is beautifully finished, furnished, immaculate due to Sarah, conveniently positioned, with free off road parking within the vicinity. You have sole use of the main bathroom. A comfortable bed in a double bedroom with a desk. Should I be in the vicinity again I will definitely stay here if available! Sarah has three cats which she has been transparent about. She offered to keep them separated from me. Which I found unnecessary myself. You would not, by the way know that cats lived in this property, as it is so clean. All I can say is 'Thanks Sarah' for a lovely haven after a hard days work.
Anthony
2016-12-08T00:00:00Z
Sarah's place was a perfect AirBnB experience. Lovely bedroom with double bed and private bathroom. Use of lounge/kitchen which was lovely. Very clean. Great communication prior to stay/easy to make arrival and departure arrangements. Good location for nearby train station. Sarah was a very welcoming and friendly host - I immediately felt at home. Thanks so much!
Katie
2017-03-24T00:00:00Z
Lovely welcome by both Sarah and her 3 cats :) everything as described, clean, quiet and great location for my work.
Neli
2017-03-29T00:00:00Z
Room Type
Private room
---
Property Type
House
---
Accommodates
1
---
Bedrooms
Chertsey, England, United Kingdom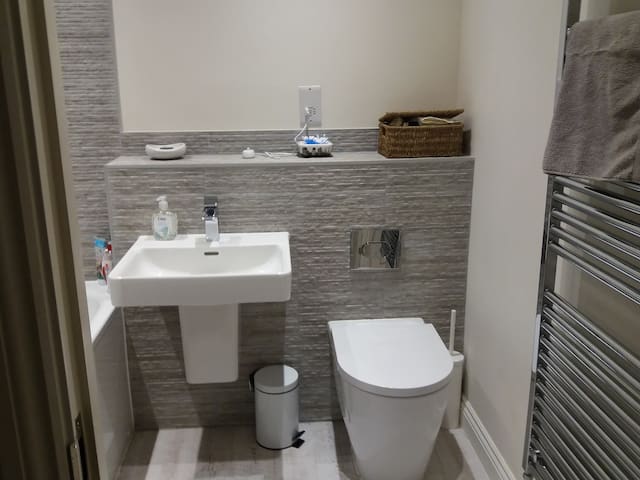 Beautiful self containd annexe adjoining a Grade 2 listed building built in circa 1550. It has secure parking via automated gates included CCTV. The annexe has a separate private entrance away from the main residence. Private bathroom and electric shower inclusive within the room with gas central heating. 30 seconds walk to Homewood Park and St Peters Hospital, 1 minute drive to J11 M25.
Self contained and total privacy.
No neighbours therefore no worries in terms of noise.
Room Type
Private room
---
Property Type
House
---
Accommodates
1
---
Bedrooms
Chertsey, England, United Kingdom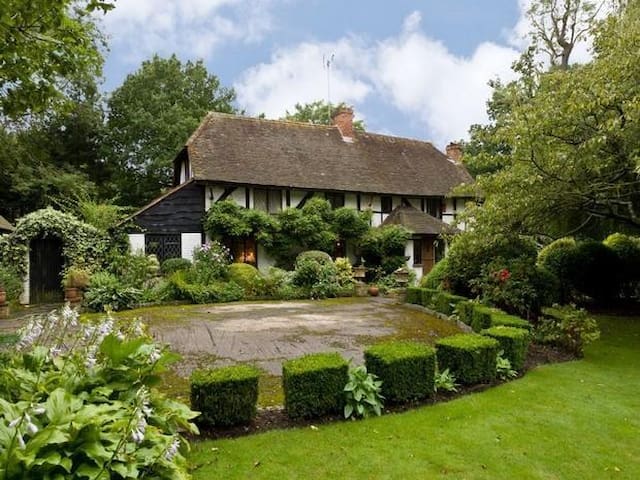 A warm, clean and comfortable single room is available in a spacious detached house with a double garage in one of the nicest areas in Chertsey in a quiet cul-de-sac with following benefits: 3-5min walk to the train station(30-40mins to waterloo) and town centre. 3 min drive to M25. (SENSITIVE CONTENTS HIDDEN) are friendly, polite and young professionals. Fully furnished kitchen, parking space for 5 cars with additional off street parking, shared bathroom and separate WC.
Room Type
Private room
---
Property Type
House
---
Accommodates
1
---
Bedrooms
Chertsey, England, United Kingdom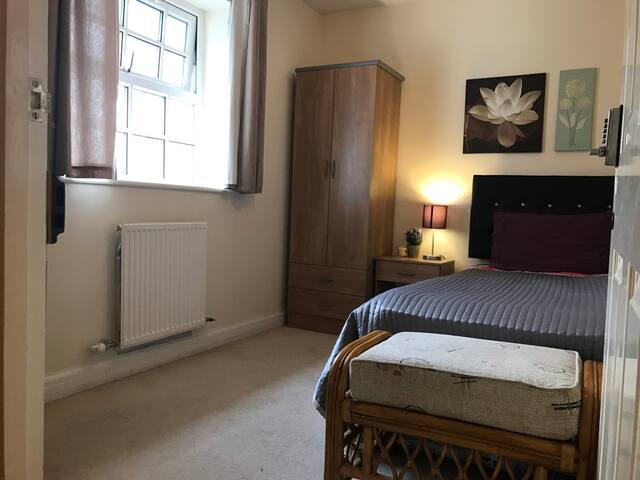 Great double room in a huge English house near Thorpe Park, Heathrow Airport, Windsor Castle and Lego Land
Room Type
Private room
---
Property Type
House
---
Accommodates
2
---
Bedrooms
Chertsey, England, United Kingdom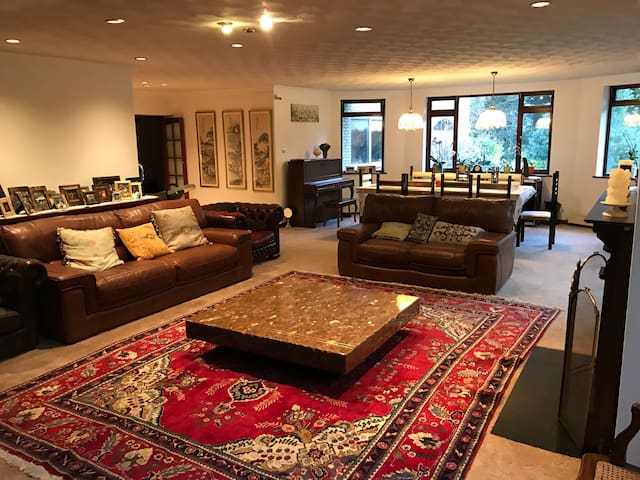 Pleasant Double bedroom with TV. Shared bath, shower and toilet facilities.
Graeme was very friendly and accommodating. Couldn't recommend him highly enough. He very kindly gave me a lift to my race as well! Very comfy bed and a good night's sleep. Couldn't ask for more :-)
Rioghnach
2017-02-26T00:00:00Z
Room Type
Private room
---
Property Type
House
---
Accommodates
1
---
Bedrooms
Chertsey, England, United Kingdom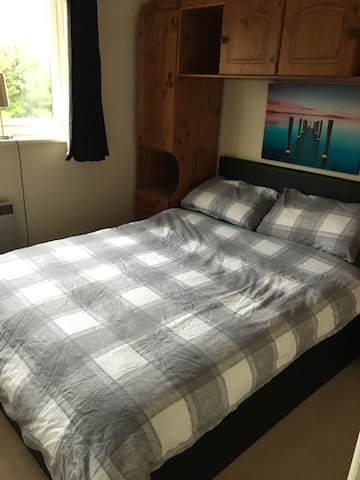 We are happy to provide a very large bedroom on the 2nd floor of our home. The room includes 1 Superking bed & 1 double. Nicely decorated to a high , luxury standard with a sitting area with leather sofa, tv & table. Bathroom with walk in shower and separate bath , granite sink. Featured on To B n B The Best, Channel 5, episode 32
A large luxury room , sleeping max 4 people with sitting area, sofa, table & tv. Tea & coffee making facilities. This is a luxury room so would be perfect for a wedding night. A luxury package can be arranged with champagne, breakfast in your room & use of the hot tub at the end of the garden. Access to the room can be arranged from 9am. The inclusive charge for this package is £200 per night. The room could also be used for the evening before a wedding along with our other room ( sleeping 6 in total ). Bride & bridesmaids can get ready in this large space & have access from 9am the day before the wedding. Champagne, orange juice & a continental breakfast can be arranged to be eaten in the room, garden or kitchen. Cost for both rooms & package £350.
Shepperton is a lovely small town on the River Thames and home to Shepperton Studios. We are within a few minutes walk of the High Street where you will find everything you need including restaurants, supermarkets, petrol garage, greengrocers, butchers etc. We are a five minute stroll to a train station with a direct line to Waterloo, London. Lovely pubs and river walks nearby. Hampton Court, Brooklands Museum, The Royal Parks, Windsor Castle , Heathrow airport plus much more all a short drive away. River Thames a 5 minute stroll away with Shepperton towpath & lock nearby.
Four of us stayed for one night as the BnB was well located for a wedding at Oatlands park. Nicole was amazingly accommodating as we all arrived at different times from different places and she was so welcoming to us all. The room was beautifully presented, very clean and had everything we needed and the shower is really good! The beds were very comfortable and plenty big enough. I cannot recommend Nicole and her husband enough for being so helpful to us all with our different travel arrangements and logistical needs! We went to the Red Lion for a drink by the river the following day which was absolutely lovely. Thank you so much! If we are ever in the area again we know where we will be staying!
Harriet
2016-08-08T00:00:00Z
We had a great 1 night stay with Nicole. Warm greeting and then left to relax and come and go easily. Very large room with everything we needed, great shower! Walking distance to shops and restaurants. Highly recommend.
Michelle
2017-02-01T00:00:00Z
We had a wonderful stay at Nicole's house. The room was big enough for our family and as nice as on the pictures. Nicole was very welcoming and gave us good tips for an evening in London. The train connection to London is very convenient and Thorpe park was only a 10 min drive. Would definitely come back. Olaf & family
Olaf
2016-10-11T00:00:00Z
A great stopover whilst visiting Mercedes Benz, Brooklands. Nicole was very hospitable and greeted us upon arrival to her beautiful home. The room on the top floor was perfect and accommodated my husband and I along with our 16 year old son perfectly. We ate out in Walton on Thames at a great authentic Italian restaurant recommended by Nicole. Unfortunately we didn't walk by the Thames, as it was raining, but on another occasion we would. If we ever find ourselves back in this neck of the woods we'll return. Many thanks.
Mary
2016-08-23T00:00:00Z
3rd time I have stayed here. perfect!
Jo
2016-09-01T00:00:00Z
My colleagues stayed in this room and enjoyed a wonderful stay - would highly recommend
Sarah
2016-10-28T00:00:00Z
Another great stay at this truly lovely airbnb!
Jo
2016-09-14T00:00:00Z
Beautiful house, in perfect location for both Shepperton and Longcross studios. Very clean and welcoming. Would definitely stay again. Thank you x
Heidi
2016-06-17T00:00:00Z
Room Type
Private room
---
Property Type
House
---
Accommodates
4
---
Bedrooms
Shepperton, United Kingdom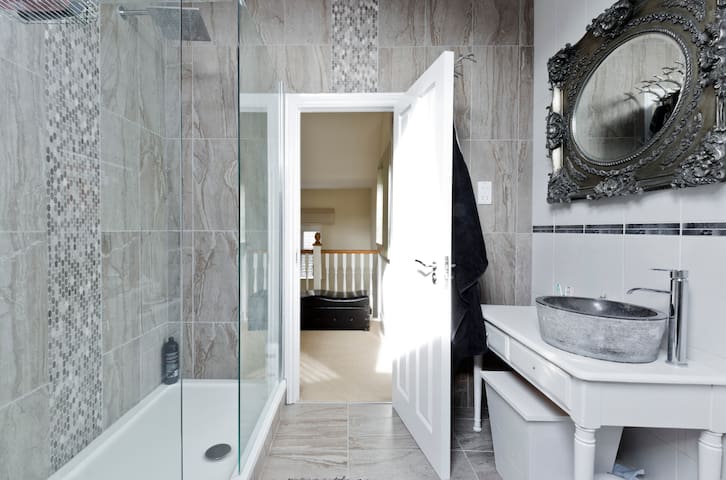 Close to London but room for the family! Walking distance to River Thames with pubs by the waterside. Walk or cycle into town centre of Shepperton or Walton-on-Thames. Trains close by for easy connection to London. Historical attractions within 10 minutes drive eg Hampton Court Palace. The house has all of the mod cons needed for a pleasant and comfortable stay. Please note there is no direct parking at the property but there is secure, private parking 150 yards away.
Room Type
Entire home/apt
---
Property Type
House
---
Accommodates
4
---
Bedrooms
Shepperton, England, United Kingdom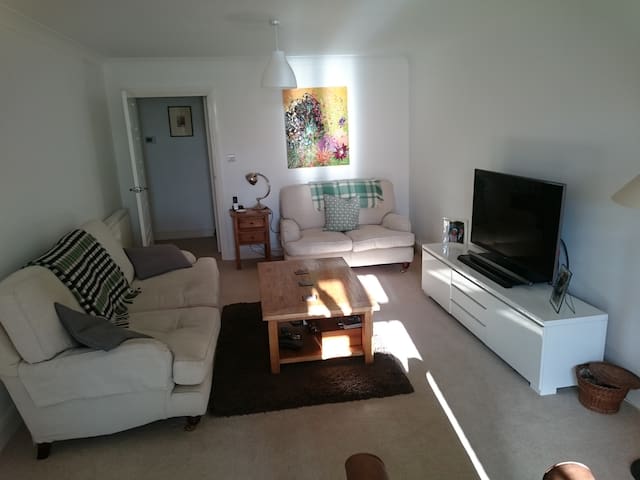 Single or double room on the first floor of our family home. Facilities include shared bathroom with a showers/WC. Bedding & towels supplied. Kitchen, living room available to share. Easy access to Heathrow & Windsor, Ascot & Shepperton studios.
Single room is ideal for one person. Double room sleeps 2 people comfortably and family room available up on request sleeps 4 close to Shepparton Studious 10-15 min walking distance, Easy acces to Heathrow Airport, Windsor, Ascot
Friendly Neighbourhood,
I really enjoyed my stay here. Mariya and her family were great hosts and made me feel very welcome. The room was clean, pleasantly decorated, cosy and warm with a lovely view of the lake. I was working at Shepperton Studios so it was an easy walk to work with the train station only a short distant away from the house.
Thayna
2015-01-19T00:00:00Z
Marie and family was very friendly and definitely made me feel at home.
Rose
2015-06-11T00:00:00Z
They responded quickly to my very late booking and adjusted their schedule to accommodate me. They were very trusting, congenial and gracious. They made me feel welcome and safe in their home. I simply cannot find enough praiseworthy words to describe my experience!
Ted
2016-08-16T00:00:00Z
I really enjoyed my stay with Mariya, Richard, Alex and Ginny the cat! Fantastic, cosy room in a lovely home. M&R did everything to make me feel welcome giving me the option to join them for chats or just let me get on with what I needed to do. Both excellent hosts and I would highly recommend them. Thank you to you xx
Emma
2016-02-11T00:00:00Z
Mariya was a great host. Made me feel very comfortable, the place was nice and perfect location for anyone working at the studios.
Freek
2016-05-29T00:00:00Z
Another relaxing stay at Richard and Mariya's. Great company and I couldn't recommend more highly.
chris
2016-06-21T00:00:00Z
I stayed for one night. I was given a warm welcome, was made to feel at home and enjoyed my stay. Handy for Shepperton Studios and would certainly stay here again.
Edmund
2015-12-04T00:00:00Z
Mariya and Richard were wonderfully warm and welcoming to their home and very helpful in contacting and sending detailed info about their location next to an unbelievable lake adjoining their back garden. Staying for a week it was a huge bonus being able to chat with them on summer evenings in their back garden. I can't reccommend Mariya and Richard highly enough and I'll be back to stay with them when working in the area in the future.
Nic
2015-07-16T00:00:00Z
Room Type
Private room
---
Property Type
House
---
Accommodates
2
---
Bedrooms
Shepperton, United Kingdom
Great spacious room overlooking the garden in a big detached shared house. 2 minutes to local shops with convenience stores open from 7am to 11pm. 5 minutes to the train station to connect to London in 35 minutes, Windsor in 20 minutes and Thorpe Park via Train and Bus in about 25 minutes. On road parking available. Large lounge/diner with digital TV and large dining area. Safe quiet road and town, three local pubs within walking distance. Kingston, Twickenham, Walton, Windsor, all close by.
Large Double Bedroom with new bed and furniture and new carpeted house. Very spacious and ideal place for a rest, to get your head down after or before a flight or explore Windsor, London and Local attractions like Hampton Court. Full bathroom with shower and also shower room with toilet available and shared with household. Access to kitchen for tea and coffee and light food preparation. Clean and well maintained house with young professional housemates.
Lovely village type town, with a full array of shops 2 minutes away and superstores a short drive that are open 24 hours. Lots of open spaces to walk and see nature. The town is well connected by road and rail to all of the UK.
Very happy to stay at Des's place, clean, pleasant place to stay in a good location. Any problems were quickly resolved would stay again if in the area.
Adam
2016-09-16T00:00:00Z
Des is an excellent host and works very hard to make sure that everything that you might need for your stay is available. I would definitely stay with him again.
Steve
2015-09-27T00:00:00Z
Room Type
Private room
---
Property Type
House
---
Accommodates
1
---
Bedrooms
Shepperton, United Kingdom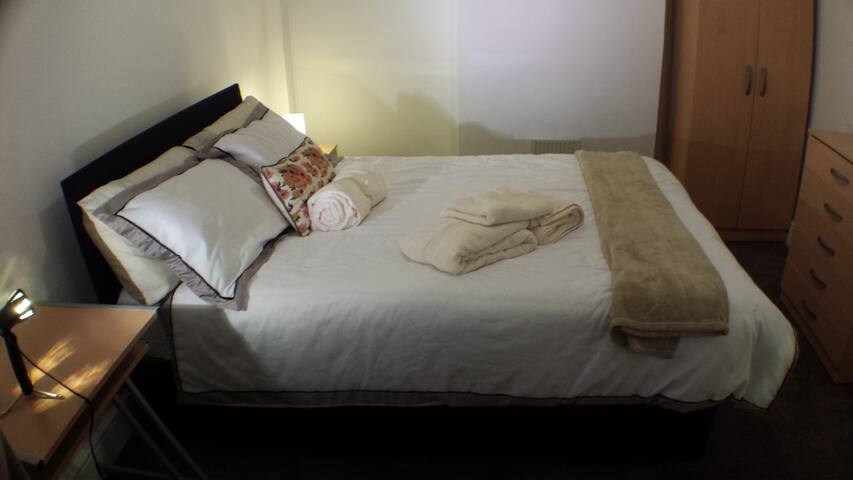 Shepperton double room. Nr Thames, Shepperton Studios, Heathrow, London, Hampton Court, Thorpe Park, M3, Kempton. Drive, garden, shared bathroom, lounge (TV) & kitchen. Bedding, towels, wifi, cereal/ toast breakfast. Pizzeria/carvery, garden centre, cafe & newsagent nearby.
Comfortable double room in family home. Built in wardrobe, cupboard, tv, towels and local information in room. Unlimited tea coffee and hot chocolate to help yourself to in kitchen. Double bed and single put me up for child if needed. Includes cereal and toast breakfast. Shared bathroom and kitchen. Can cook yourself an evening meal using fridge oven microwave and if staying longer you can use the washing machine and tumbler if needed. Can collect guests from local station at reasonable times if agreed in advance. Can share drive or park on road as quiet street. We are happy to welcome you!
Shepperton / upper halliford/ sunbury Peaceful family home with the convenience of nearby bus train and road networks to London, Heathrow, M3 and M25. Beautiful River Thames nearby with Shepperton marina, cycle ways and footpaths. Nearby countryside. Located between Shepperton and Sunbury in Upper Halliford near Squires Garden Centre. Shared facilities, recently decorated and carpeted, bathroom with shower bath and wc and additional downstairs wc. Large garden with table tennis, slide and trampoline. Nice view of farm behind. TV in room, self serve drinks in kitchen, wifi, local information. Rabbits and hamster as pets.
Lynn was a great host. The room was clean and tidy.
Jessica
2016-10-02T00:00:00Z
Lynn was very welcoming and I enjoyed my stay there
Patrick & Natalie
2016-12-02T00:00:00Z
Kind and welcoming hosts, who let us come back late- we were at a friend's wedding nearby.
Xavier
2016-08-08T00:00:00Z
I stayed with Lynn Mark and James for 4 days. They made me feel very welcome and I definitely felt part of their family during my short stay. The bed was very comfortable and the shower has good pressure. I made my own breakfast, porridge, but there were lots of other options. Lynn even texted me prior to a supermarket trip to see if I needed anything. I'll be happy to return.
Geoff
2016-04-23T00:00:00Z
A friendly host and family, great room, very helpful and accommodating.
Constance
2016-11-11T00:00:00Z
Lynn was extremely hospitable and although I arrived before her she had explained she may be late. She kindly offered me a lift to the supermarket with her family and waited for me whilst I picked up some supplies. The room was as pictured. In the morning she left out breakfast which was nice. On arrival on the second evening, the family were putting up their Christmas decorations. Again Lynn kindly invited me to participate, but unfortunately, I was unable to due to work I needed to complete, but a thoroughly nice gesture all the same. Lovely family and host hope to see them again!
Glenys
2016-12-07T00:00:00Z
Lynn was extremely friendly and made me feel very welcome. She went out of her way to make sure I had everything I needed. The bedroom was ideal for my stay. I highly recommend!
Ryan
2016-07-22T00:00:00Z
My host was very welcoming and also incredibly flexible when i had a last minute change of plans which involved a VERY late check in. The room was well presented and facilities were great. Parking for my (large) van was available on the street and i honestly cant think of anything further they could have e done to make my stay easier. Would definitely stay again.
Frank
2016-10-05T00:00:00Z
Room Type
Private room
---
Property Type
House
---
Accommodates
2
---
Bedrooms
Shepperton, Middx, United Kingdom
An extended three bedroom terraced home conveniently situated in a popular cul de sac in Sunbury On Thames within walking distance of the Sunbury Train station and amenities. lounge diner, fitted kitchen, two double bed, 1 single bed and garden.
Room Type
Entire home/apt
---
Property Type
House
---
Accommodates
4
---
Bedrooms
Shepperton, United Kingdom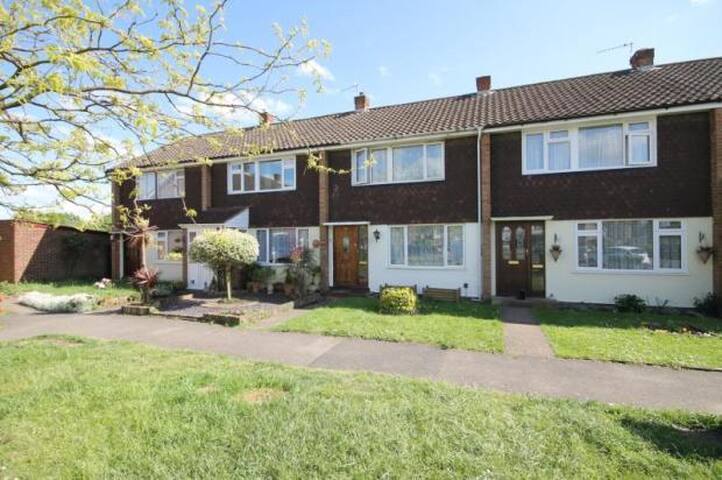 Great double room, with ensuite bathroom and parking available (on request), 8 minutes from the town centre & Woking station (London Waterloo is 25 minutes and Railair coach link to Heathrow is half hour). Woking is a great base to explore London and countryside
The town house is quiet and peaceful, we look out onto trees and have the local birds visiting our bird feeder throughout the day, you can easily forget that we are so close to the town centre.
We have a great pub, Tesco metro, fish and chips, pizza and all you can eat buffet about 5 mins away. The town centre with every thing is about 8 minutes away, there are two shopping malls and plenty of places to eat and drink, a theatre, multi screen cinema. I can recommend the best places to go. Woking Park, the Leisure Centre with gym and pool in the park are literally on our doorstep, about 3 minutes away. There are also some excellent canal and woodland walks I can recommend and a great art gallery nearby.
It was a great stay at Mark's. Mark is very friendly and the house is cosy and well decorated. I really enjoyed the stay at Mark's.
Juntian
2016-09-30T00:00:00Z
Mark was very welcoming and especially given relatively late hour of my arrival greeted me with the immediate offer of a tea or coffee making me feel instantly at home. Greta host, the room was super, very quiet and private with my own bathroom for the stay. Would recommend without hesitation.
Simon
2016-01-15T00:00:00Z
A very friendly welcome with a cup of freshly brewed coffee. A Great location for me, allowing me the rare treat of walking to the office. A very comfortable stay and wouldn't hesitate to book again .
Graham
2015-07-30T00:00:00Z
A very modern, clean & lovely property..
Stephen
2015-08-05T00:00:00Z
What a delightful couple. We were looking for a house to buy in the Woking area so stayed overnight. Mark gave us plenty of tips for things to do around town and made us feel at home. Highly recommended.
Chris
2015-07-04T00:00:00Z
I stayed for one week and I enjoyed my stay there. Mark & Junell are very welcoming and friendly. The room is also great and as it is described. The location is near the station and the town centre. I definitely recommend this accommodation!
Marcel
2015-08-30T00:00:00Z
Had a lovely stay with Mark and Junell, room was comfortable and quiet and as described in the advert. Also a few little extras that they'd put in to make my stay more comfortable. Mark and Junell do an excellent job of making sure you are welcome and comfortable and go out of their way to ensure your needs are catered for. A thoroughly enjoyable stay with two wonderful hosts. Can't rate highly enough.
Hans
2016-02-06T00:00:00Z
Mark and Junell were super friendly and helpful. The room is comfy and spacious. Would happily recommend to anyone needing to stay in the area.
Matthew
2015-10-03T00:00:00Z
Room Type
Private room
---
Property Type
House
---
Accommodates
2
---
Bedrooms
Woking, Surrey, United Kingdom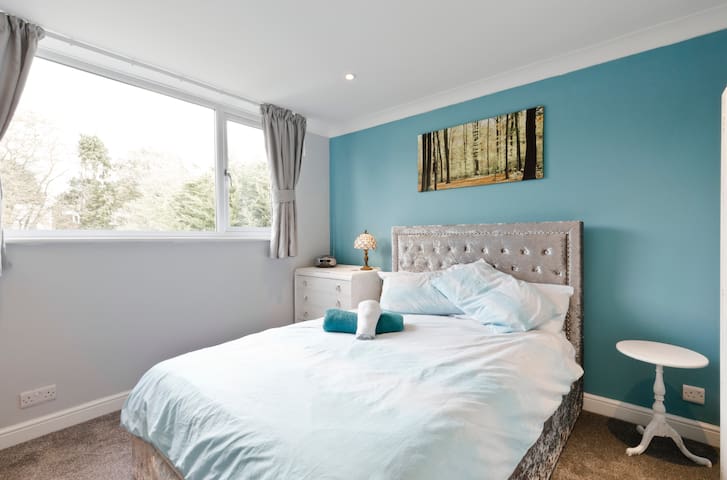 A small comfortable house in a quiet cul-de-sac in a pleasant commuter town 25 miles from London and 15 miles from Heathrow Airport (Terminal 5). The house is 12 minute walk from the Woking mainline station with 13 trains an hour (at peak times) to Waterloo Central London (journey time 25 minutes) PLEASE NOTE HOWEVER: - Woking is a quiet suburban town. If you want to stay in the brights lights of London then this accommodation is probably not for you. Please review the map to see exactly where my house is and its proximity to London. Also Woking is 45 minutes from Heathrow Airport by coach or I also can meet you at the airport and drive you to my house (dependent on flight arrival time). You just pay for petrol/gasoline (approximately £5-£10 depending on time). So if you are likely to be jet lagged then one night here before heading off to stay in London may be a good idea I have two bedrooms that guests can be used. If you are a couple then you may use the larger bedroom (Kingsize bed, stripey duvet in the pictures). When I have no guests this is my bedroom and therefore does contain my "stuff" however some draws and the partial use of the wardrobe will be free for you to stay during your stay. If you are a single traveller you will be given the smaller bedroom (spotty duvet cover in the pictures) which contains a single bed and storage units. You will be welcome however to use all facilities of the house. I am the perfect host because due to work and other commitments I am often away! So you may very well have the house to yourself. I may have other guests however particularly Tuesday and Wednesday so these evenings may be busier. Other facilities Wifi Central Heating Cable TV Help yourself to bread, cereals, tea, coffee, etc There is a large supermarket 5 minute walk away for all your other needs. This is "no frills" accommodation which is reflected in the price. The house is a standard built British "starter" terrace house and by no means could be called "spotless". I clean weekly or between guests however if you are use to sterile environments then please be aware that this house may not be for you. The cost is low because I do not view this as a business. My motivation is helping guests and visitors to the UK, London and Surrey. It is a peaceful town location (being at the end of a long cul-de-sac there is no traffic noise, being close to a railway line however you do get train noise, mainly in the single room, although not at night). I hope that, because of the relaxing ambiance, this is an ideal first (or last) night accommodation from which you can then go and explore London or the countryside of the South East of England. You are very welcome or course to stay as long as you want. If you need any help and advice on what to see or where to stay I would be happy to advise. Thank you for reading. I hope to hear from you soon. Alun
Long quiet cul-de-sac with mainly "starter" homes, so lots of couples and young families. Lots of free parking if you drive. Very safe and very convenient for the Supermarket (Morrisons is a 5 minute walk away) and Woking Town Centre (about 10-12 minutes away). There is a bus to Guildford very nearby as well
Alun was very helpful and cozy. His place is only 10-15min from town center and Woking station. I stayed Alun's place for a week and he made my stay very comfortable:) Thanks Alun!
Kumy
2016-03-17T00:00:00Z
Mr. Willis was gracious enough to collect me from the Train station and proved to be same during my stay at his home. I only saw him at the begining and at the end of my stay. The house is suitable for short or long stays. Good Transport Links and Shopping nearby.
Nikla
2012-05-02T00:00:00Z
Alun was helpful, flexible and informative, as well as continuously easy to contact via email, text and mobile phone. The accommodations are basic but good value, and the location is very convenient.
Neville
2012-12-08T00:00:00Z
A late notice placement for work required me to stay near Woking/Guildford and Alun was brilliant in organising it late in the day. A lovely house and excellent host. Great Airbnb-er!!
Daniel
2013-06-02T00:00:00Z
Alun was a friendly and welcoming host. His communication with me prior to arrival was excellent and his home was ideal for what I needed, a quick stopover before heading to London the following day. I highly recommend Aluns home. P.S. -- Have fun in Brussels!
Kevin
2013-11-01T00:00:00Z
Alum is a wonderful host, he came to find us at the airport and then led us to the supermarket and we covered the area around his neighbourhood so that we can move by ourselves. He helped organize us to take the transport and he recommended us some sympathetic areas to go to visit to. We recommend alum as host and thank him too again for his help and his kindness during our stay.
Julie
2012-08-13T00:00:00Z
Alun was a utterly wonderful. I practice serious meditation and the type of person you want to meet is someone who quietly spoken, sensitive and subtle. Alun ticked all the boxes and made my stay a pleasure.
Michael
2016-01-24T00:00:00Z
Alun is the nicest host ever! The first time we met at the airport when he picked us up we instantly knew what kind of host he is. Kind, polite, warm and such a gentleman. The house is cosy. The room is so comfortable. The bathroom is big and clean. Everything is spotless. You can have coffee and breakfast and use the kitchen. We love quite places so this place is perfect. The train station is within walking distance where it takes you straight to Central London. Alun and his cosy place definitely exceed our expectations in every way and would definitely stay here again if we are back in London!
RH
2016-02-08T00:00:00Z
Room Type
Private room
---
Property Type
House
---
Accommodates
2
---
Bedrooms
Woking, England, United Kingdom
Chertsey - Airbnb
:
Average

4.87

out of

5

stars from

881

guest reviews
1

–

18

of

189 Home Rentals
Enter dates to see full pricing. Additional fees apply. Taxes may be added.