Comfortable and cosy, our ancient chalet in the middle of the mountains can accommodate up to 5 people. It is easily accessible by car, just 30 km from Ljubljana the capital. An ideal starting point for hiking or traveling around Slovenia.
Perfect getaway house for somebody who wants to relax in the middle of nature. This chalet, on the footstep of the Slovenian capital Ljubljana, is situated in the very heart of the regional nature park "Polhograjski dolomiti". Picturesque countryside dotted with lonely farmhouses and ancient villages, steep slopes and mountain peaks topped with churches is ideal for hiking, mountain biking or just quiet family holidays in the middle of nature. You might think that time has stopped here! Only 30 km from Ljubljana, the house is accessible by car or by public bus twice a day. Built in stone, this more than 300 years old chalet, can accommodate at maximum 6 people. There is master room with balcony, children room for two and an extra sofa bed in the living area. Kitchen is fully equipped (dish washer, oven, glass ceramic hob) but in nice weather you can also take advantage of totally equipped summer kitchen on the terrace stretching around the house. At the neighbor farmhouse you can buy organic home produce like fresh milk, eggs, meat, vegetables and seasonally cheese and their home made charcuterie. For more information what to do and explore in the area there is a guide in the chalet but do not hesitate to visit also web site of the local tourist association "Turisticna zveza Dolomiti" or simply "(URL HIDDEN)
No light pollution, no noise pollution, 100% nature. When did you last see the stars in the sky? :)
Everything was perfect. The location is a true paradise, the view is splendide, the house was spacious, comfortable and beautiful, everything was clean. Do not hesitate one second to book!
Melanie
2013-06-25T00:00:00Z
Amazing tale house in the heart of the mountain. Close to Ljubljana (wonderful city). Matevz we will come again :)
Ivaylo
2012-07-20T00:00:00Z
Really nice experience in this chalet in middle of the hills. If you are searching a quite place where relax yourself this is your perfect place. The house has everything you need. 30 Km from Lubiana, but I suggest to try also to stay in a place like this to understand Slovenian life. House clean and warm. Everything was great! ciao!
ANNA
2013-04-28T00:00:00Z
what a great place to stay! Up a windy road, on the top of a hill, in the middle of nowhere. Stunning views, perfect chalet for the two of us. Even though the weather wasn't great, we had brilliant views of the stormy lightning from the balcony. Magic! We explored Ljubljana, we went to the mountains from Bohinj, we swam in lake bled, we had a day in Piran (a longer drive than we expected), we drove over a crazy road to go to Skofja Loka, we relaxed a lot!! Although we didnt meet Matevz, he was a great host and he's thought of everything. I wondered what it would be like to have no wifi, but it was actually a nice break from the pressures of life :-) We would fully recommend it.
Beth
2014-07-01T00:00:00Z
Matevz house is great place to relax, all around is pure nature with cows, donkeys and forest. The view from the house balcony are incredibly, green hills in morning clouds, fresh and clean mountian air, everything is just perfect! Inside the house you have everything you need, not for a short holiday, it is house for living, complete kitchen with dishwasher and oven, central heating, TV with satellite, bathroom with washing machine, cute children room... The house is very clean, spicy... I highly recommended this host!!!!!
Ivana
2014-10-09T00:00:00Z
We loved it!! The chalet had everything we could want and more. The location was beautiful and perfect for day trips to Lake Bled (about one hour north) and the Lipica Stud Farm (about one hour 20 minutes south). We are a family of seven and found the house to be perfectly suited for all of us to sleep and eat. (The children loved the small bedroom... it was magical!) The children spent most of their time exploring outside which kept them quite busy. We made a fire in the outside grill area and enjoyed the peace and quiet (even with five children) immensely. One of our absolute favorites!!
Stacey
2012-10-22T00:00:00Z
We just had a wonderful time in this old and beautiful chalet with our kids and cannot anything do but recommend it! - Beautiful nature, friendly neighbors and a beautiful country to discover for the whole family. Our host was especially lovely: quick answers to all of our questions and help, if we needed some. The house is very well equiped with everything you may need. Also, we've had great weather scenarios: blue sky and green gras but also one night a thunderstorm that was beautiful to watch from the balcony (not dangerous). If you go there you should know, that you may need a car or bicycle - that's what we would recommend - to get to the next grocery or so. Lubljana is not far and in about 1.5 hours you can get to Bohinje and Bled with fantastic mountains and lakes too. Even near by the chalet is a possibility to go swim if it's too hot: we found the "Blise Therme" about 5km from the house. A little creek not known by travel guides with a little guesthouse too :-). Thank you Matevz!
Carola
2013-08-01T00:00:00Z
If you're searching for a little piece of heaven on earth, then you'll find it in and around this beautiful chalet in Slovenia! This place has been my "home" for a week and I enjoyed my stay thoroughly from the very first moment I arrived. It's equipped with everything you could possibly need, very clean and charmingly decorated and it smells absolutely wonderful! The view over the rolling hills right in front of your door and the peaceful silence and fresh air is more than perfect to find some rest and relaxation. Yet it's not that far away from Ljubljana and a good starting point for day-trips through Slovenia. Matevž himself is a very kind, helpful and great host who'll make sure that you can feel at home. I'd love to come back one day!
Iris
2014-05-03T00:00:00Z
Room Type
Entire home/apt
---
Property Type
Chalet
---
Accommodates
5
---
Bedrooms
Dobrova-Polhov Gradec, Slovenia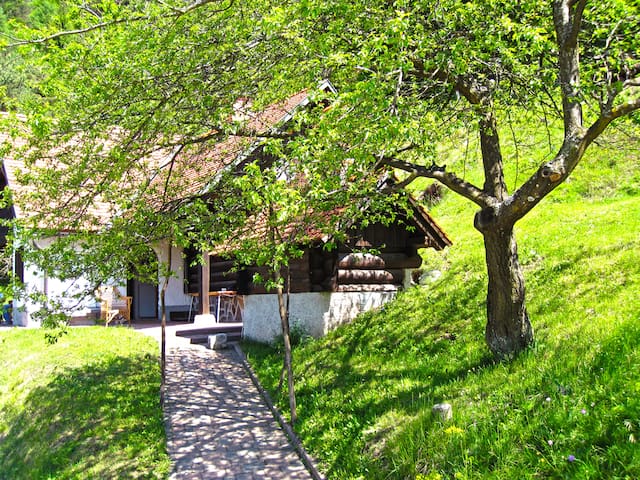 Newly renovated, one bedroom apartment located in the city center. 100 meters from the train station and 300 meters from the main square.
This bright, newly furnished apartment is located on the second floor of a classical apartment block. The building does not have an elevator. The grocery store is just across the street. In the apartment there is a fully furnished kitchen connected to the living room with a fold-out couch, a bathroom with shower and a separate bedroom with a double bed. The apartment is fully equiped, the kitchen contains all the necessary utensils including a water heater and toaster, tv and radio in the living room.
The apartment is probably the best located just 100 m from the train station and 3 minutes walking from tree bridges in the quiet street. The grocery store and the art cinema is just across the street.
Fabulous stay! Ivana's place was very spacious and well-equipped, and she was a lovely host. We were welcomed with beer and wine in the fridge, and she gave us local recommendations. Beautiful, clean apartment and close to everything. Thanks!
Laurie
2016-12-02T00:00:00Z
Ivana was really helpful, she waited for us at the parking garage and carried or luggage with us to the apartment. She had told us there would be a free parking space in her garden, but in the end it wasn't possible to park there so she offered to refund half of our parking costs which we found really thoughtful. She even reminded me after our stay that she wanted to pay us back! Ivana gave us a lot of useful tips and she even had cooled drinks in the refrigerator and a bottle of wine for us to drink. This made us feel very welcome! We really liked the light and spacious apartment, so incredibly near the Presernov Trg, with everything you need! We didn't stay very long, but we definitely would have if we would have had more time, Ljubljana is a great city and the apartment was really really nice!
Eline
2016-08-25T00:00:00Z
Staying in Ivana's place was one of the smartest moves I've ever made. She is not only lovely, but very helpful. She was waiting for me with a big smile, filled with information for someone who's never been to Slovenia. It also helped that her place was just spectacular, in a spectacular location.
Sevinc
2016-07-05T00:00:00Z
A comfortable and cosy apartment located within walking distance to the town centre. Ivana was really prompt in meeting us at check-in and we had a lovely stay in her apartment.
Veronica
2017-02-22T00:00:00Z
Ivana is a friendly and thoughtful host. The apartment is in a great location - grocery store across the street and only a short walk to the center of town. She left us beer and wine, which was very thoughtful. The building is very quiet so we had a great nights sleep. Parking directly on the street - parking meter.
elizabeth
2017-03-26T00:00:00Z
A gorgeous apartment a stone's throw away from the train station and the centre - perfectly appointed for all the sites. The flat is well-equipped, homely, comfortable and we were offered complimentary fruit, water, wine and beer which was very much appreciated! Ivana stayed in touch throughout to give us recommendations and kindly allowed us to check out late. Highly recommended - we'll be back here if we ever return to Ljubljana! Super host indeed!
Sarah
2017-04-06T00:00:00Z
Ivana was very flexible with our late arrival, and was waiting for us at the apartment. The place was nice and exactly as in the description. Only coffee machine was missing. Perfect location near downtown. Also very quiet.
Markus
2016-12-20T00:00:00Z
I am working in Ljubljana during this summer and stayed in Ivanas apartment for a couple of weeks. I enjoyed to have this cosy home during may stay which is located totally in the center of Ljublajana. Ivana is really helpful and carrying, if there are any questions. For everyboday who will visit Ljubljana next, decide for this home and enjoy!
Claudia
2016-08-06T00:00:00Z
Room Type
Entire home/apt
---
Property Type
Apartment
---
Accommodates
2
---
Bedrooms
Ljubljana, Ljubljana, Slovenia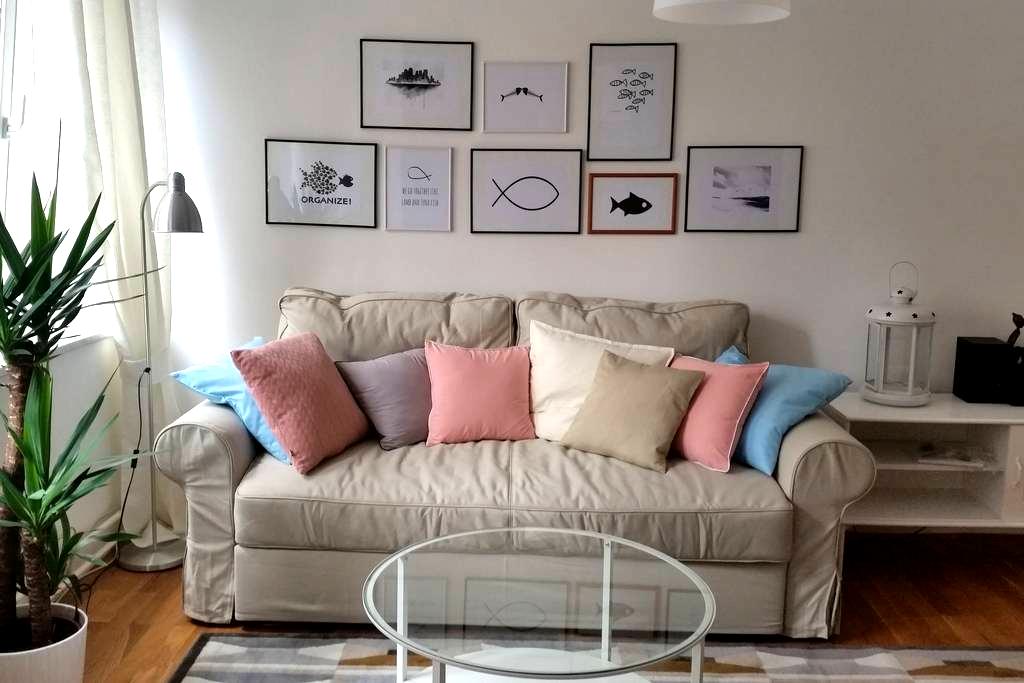 53m2 LOFT is placed in an old tobacco factory on the edge of the city center. Great location to start you trip to Ljubljana or Slovenia and parking available at the property. Full of light and sun, with big windows to fully enjoy your stay. Please note that the building itself is from 19th century and a bit "outdated" from the outside. The apartment is not new but we try to keep it clean and well maintained.
Vintage space with high ceilings and original hardwood flooring is situated in an old tobacco factory building, refreshed in 2016 with a completely new bathroom. This loft is designed to give you a fantastic stay in peaceful, artistic atmosphere that you won't find anywhere else. The apartment consists of two floors. Bedroom is in the upper floor of the duplex. Kitchen with dining table, bathroom and living room with sofa are downstairs. Apartment is equipped for travellers and you will get all the basics you need, including: + fresh towels, clothes washer/dryer in bathroom + cooker (2 spots), microwave, fridge & freezer, toaster, cutlery, dishes, glasses in kitchen + fresh linings, chest of drawers, hangers in bedroom + HD 42" TV with XL program scheme in living room + Free super-fast Wi-Fi everywhere :) + 2 free bicycles.(let us know in advance if you want it) + Air conditioning
Miha's apartment is exactly as it appears in the photos. It is clean, welcoming and quirky in its design, which we loved. The location is only about 10-15 minutes walk from the city centre and has a 24 hour bakery and a few lovely cafes even closer than that. (We really liked 'Bazilika Bistro'!) Miha is friendly and easy to chat to, and was a great host. We phoned him on arrival at his building and he came to meet us, showed us to the apartment, provided a map and talked us through some of the key sights, things to do and places to eat in the city. Thanks to Miha for providing the 'little things' too - it was great to come in after a long time travelling and have a drink (teabags and juice were provided) and a shower (shampoo and fresh towels in the bathroom). We did not need to contact him during our stay, but he was clear that if we needed anything at all we could just give him a call. Overall this was a great Airbnb experience - lovely host, a handy location and the apartment was a wonderful place to come back to after a busy day.
Andy
2016-10-23T00:00:00Z
The apartment was great! The apartment is a short walk away from the tourist attractions. We rented a car in Slovenia and had no trouble finding parking at the apartment.
Samantha
2016-09-10T00:00:00Z
Miha was friendly and welcoming, straight away he showed us key points in the city and events to try. The apartment was absolutely lovely to the point we did not want to leave. It had everything you would need. It was very clean and comfortable. If I come back to Ljubljana I would most definitely look to staying here again.
Charlie
2016-07-25T00:00:00Z
this is a great place to stay! everything as described and really close to the center. the nearby 24/7 bakery has everything you need even on a Sunday evening. Miha was a very polite host. I can only recommend that you stay there
Reinhard
2016-09-06T00:00:00Z
I had tons of questions about our trip to Slovenia, and Miha patiently answered them all. The loft was fantastic, and the location walkable to all the sights Ljubljana has to offer. Excellent apartment and wonderful host!
Elizabeth
2016-07-20T00:00:00Z
Really cool apartment for a few days stay in Ljubljana. Easy walking distance to the city centre - highly recommend going for the Xmas lights! We didn't use the bikes in the end but they would have been cool to explore the city on had we had more time. Miha was flexible on check in times, friendly and helpful. The apartment itself is so cool, love the mezzanine bedroom. The building is old so it does mean that the floors and walls are quite thin - the neighbours coming home at 4am were quite loud but that's not the fault of Miha, just comes with the property! Overall a great stay, and would recommend it. Also highly recommend using GoOpti for transfers back to the airport.
Claire
2016-11-27T00:00:00Z
Absolutely beautiful loft. We loved everything about staying here, and it just made Ljubljana that much better.
Mike
2016-08-01T00:00:00Z
Cool studio apartment - really clean. 15 mins walk to old town. Miha was also really friendly and easy to get in touch with.
ryan
2016-09-11T00:00:00Z
Room Type
Entire home/apt
---
Property Type
Loft
---
Accommodates
3
---
Bedrooms
Ljubljana, Ljubljana, Slovenia
Welcome to Kong's home,enjoy morning coffee,tea or evening drink in the little garden. My place is closed to highway which makes quick and easy to the center (10 mins by bus, 20mins by bicycle ,40mins for walk ). there is public parking area outside,for free.
jen poskytovat čínské snídaně. jedná se o 3 pokojový zařízený byt v tiché čtvrti na Šiška. Tento pokoj je největší. To má 18 metrů čtverečních. Rozkládací pohovka velmi pohodlně, když neexistuje žádný hosté Vždycky jsem si odpočinout na rozkládací pohovce v poledne. Pokud chcete, je zde matrace pro další dvě osoby. Všechny pokoje jsou prostorné a světlé, má krásné nádvoří a odpolední čaj může být použita jako místa. V kuchyni je plně zdarma k použití. Samozřejmě, tam jsou pohostinní domácí. Ona se specializuje na autentické čínské kuchyni Autobusy do centra města pouhých 10 minut. Chůze rychlá může trvat až 30 minut. můžete použít kolo zdarma.
Public convenience facilities, including buses, supermarkets, banks, post offices, libraries, kindergartens. Well, maybe you do not need kindergartens. Public green area are ample.
It was very comfortable apartment for one week staying
Maxim
2017-01-15T00:00:00Z
I enjoyed my stay at Fanhui's place a lot! She is very welcoming, helpful and easy-going about check-in and check out times. Her places is clean, big and comfortable, and if you get to try it - her food is pretty outstanding! To get to the center, the location is easy to take a bus from or you can reach the center by a nice nature walk through the neighboring recreation park. Full recommendation to stay at Fanhui's, especially for this reasonable price! I will come back one day :)
Enrico
2017-04-06T00:00:00Z
Fanhui is a really good host. Friendly and kind. The house is really cute and clean. The room, like in the announce is spacious and bright. The only problem was the big window wall in front of the entrance. This doesn't made us feel totally comfortable at the beginning, being a couple travelling. Over this little problem of intimacy everything was ok. We spoke a lot, mostly about food. She cooked for us an amazing chinese dinner (the best ever!). She even healed my headache with needle therapy. A great travel in a beautifull city, with a nice host.
Caterina
2016-12-10T00:00:00Z
We love Fanhui!!! She was so kind and welcoming. We are so happy we were able to stay with her. Her apartment was beautiful and very clean. Great location and INCREDIBLE Chinese food!! Best food ever. We would love to stay with her again. She is the best. :)
Tyler
2016-11-07T00:00:00Z
Initially the host was excellent. She was incredibly fast at responding to our messages and was every kind in letting us have the room when we booked only a few days before arriving. She was also very welcoming when we arrived and cooked us some amazing Chinese food on the second night. However when we got the house we found that there was not a key available for us to use. We had previously agreed with the host that if we agreed to a £445 security deposit then we would be allowed a key. We found this a quite inconvenient as we always had to check that the host was home before coming back. We found the room the be very clean however there were no curtains (just thin see through material) and the door was frosted glass, therefore lacking a lot of privacy. The room looked out into the garden and due to the lack of curtains this meant that the when the host was in the garden they would be able to see into the room at all times. This made us feel very uncomfortable and awkward, it also meant we had to change in the bath room. We felt as though we had no privacy, which was incredibly disappointing. When walking to town we found the walk to be around 50 minutes, not 30 minutes as described. Overall the flat was a lot further out than we first expected.
Beth
2016-08-26T00:00:00Z
Nice room/apartment in a quiet residential area. The place is a bit away from city center, but it is perfectly connected with public transport. A big supermarket and one of the best local bakeries are 5-8 minutes walk away. Despte the bed in fact is sofa-bed, it is very comfortable. Room is nice and equipped with everything you need for normal stay. My only regret was that all these books on the book-shelves were in Chinese :) Maybe it is not the best place for people who are looking for full privacy, as the room's door is not closed properly and also the room is fully visible from the porch, which is occasionally used as a second entrance. For me - not problem at all, but some guests could find it uncomfortable. Fanhui is really nice host. No problem with communication.
Boryan
2017-02-02T00:00:00Z
Very kind host. The room is huge and the house is also very clean, top!
Gianluca
2016-11-30T00:00:00Z
Nice enough of a place. No complaints.
Patrick
2016-10-02T00:00:00Z
Room Type
Private room
---
Property Type
Apartment
---
Accommodates
4
---
Bedrooms
卢布尔雅那, Ljubljana, Slovenia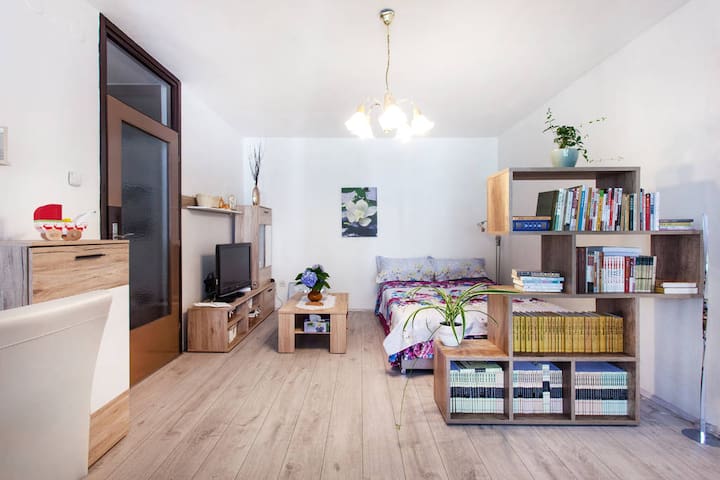 Two private rooms in the heart of the old city town, between Ljubljana castle and the river. Everything here is walking distance and the area is lively with bars, restaurants, galleries and all public transportation.
The apartment is home to two students, a couple, and we like to keep the atmosphere relaxed and as comfortable as possible. We rent out two simple rooms equipped with a single bed, a desk and a chair so you can work from your own room if needed, but you should also feel free to use the common space and just hang out with us. There is an open-space living room with cozy furniture and a tv, a fully equipped kitchen for cooking your own meals and a shared bathroom with a washing machine you can use. The towels, linen and of course free Wifi is provided. If you'll prefer to roam around the city on a bike we are happy to lend you one, just ask!
The historic centre is very safe, beautiful and fun area where you can experience everything within walking distance. As soon as you exit the apartment you find yourself in the alley full of little shops, cafes, galleries, restaurants and bars not far from night-life clubs and public parks. You can stroll down the river bank or take a walk uphill to Ljubljana castle for a view on the whole city.
I felt like you, very warm people gregor and is girlfriend, a great localtion 5 minutes from the center.
Vitor
2016-07-15T00:00:00Z
It was perfect even if it was very very short for me ( 1 night only) The hosts were very helpful and easytalking. The room is small but the flat is cool. I recommend it for the perfect location right beside the river and the bars/Resto.
yael
2016-08-13T00:00:00Z
Really cosy flat, the location is great and the hosts are welcoming, I would definitely recommend it! :)
Christy
2016-07-18T00:00:00Z
Cozy loft at great location. Friendly young couple with open-minded attitude towards different cultures, particularly Asian cuisine . Well-equipped kitchen with variety of high quality cooking oil , mostly are organic sort of stuffs. Truly impressed by the modern design of this unique loft and would highly recommend it to those who are looking for a cozy home away from home. My heart-felt thanks to Anja who spent time to help me out with some Slovenian reading comprehension, as well as to Gregore who was always easy-going and was ready to taste Asian stuffs to show his acceptance to different cultures. I feel so lucky to have the chance to meet the young couple who are open-minded to Asian cooking and different cultures, which made my short stay so relaxed and comfortable. Surely I will come back with more of my small jokes to make you laugh !
DAN
2016-03-04T00:00:00Z
From the moment I arrived, I felt right at home with Gregor and his wonderful companion Anja. They not only extended to me the best in hospitality, but we also "clicked" on an interpersonal level, and that enriched my stay immensely! We ending up spending quite a lot of time together, and for me that was the true essence and vibe of being in their beautiful city - even more so than seeing all the wonderful sights, people and cafés there. I will forever treasure the time I spent with Gregor & Anja! And I look forward to seeing them - and staying at their cozy place in its great location - again.
Scott
2016-08-28T00:00:00Z
I was only in Gregor's beautiful loft for a brief night, but him and his girlfriend could not have been nicer! Very welcoming and laid back people. The location is tough to beat as well! Tremendous value!
Matt
2016-04-02T00:00:00Z
Gregor was a lovely host! The location was excellent, couldn't be any closer to the busy party of town! Lots of restaurants just below the apartment block, and bus stop just right outside which takes you straight to the main train station. Gregor and Anne had tastefully decorated the apartment, and being on the top floor (a loft), it is relatively quiet at night even with the window slightly open. Will be back if I get the chance to visit Ljubljana again one day! Thanks!
Angela
2016-06-15T00:00:00Z
Gregor is a welcoming person, and I enjoyed a lot staying at his flat. It's a nice and cosy, comfortable place, and he gave me some good advice to go around and discover the city.
Robin
2016-03-17T00:00:00Z
Room Type
Private room
---
Property Type
Loft
---
Accommodates
1
---
Bedrooms
Ljubljana, Ljubljana, Slovenia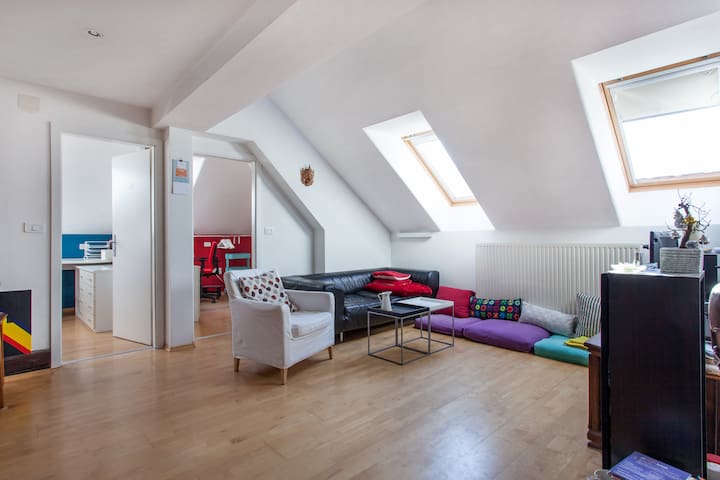 Located in city centre, offers you 6min walking distance till ljubljana main train station,13min till Preseren square,a dinning table with a view of Ljubljana castle and fully furnished cozy interior. There are grocerys and restaurants in 5 min walking distance. Free parking and outside garden area are just another bonuses :) Completely renovated 30m2 studio apartment and a kind host will offer you everything you need for a comfortable stay in Ljubljana. We also welcome your pets!
Apartment is newly renovated and perfect size for 2 people. Its light and clean, with a view of Ljubljana castle. Free parking infront of the building and garden with table and chairs inviting you for a morning coffe or an evening rest in a hammock.
Location of the apartment is at the end of a main train station of Ljubljana. Very convenient for anyone who will arrive with a bus or a train. There is no need to use taxi or have any additional costs to arrive to here. It offers a parking with your own parking spot and a garden with table and chairs inviting you for a morning coffe or an evening rest in a hammock. In the close neighborhood (1-5min) is a chinese restaurant,Zmaj fast food, Hoffer grocery... 2min till bus station and 2 min till bicycle rent station. 5 min walking distance there is also Metelkova city and Orto bar guaranteeing you best parties in Ljubljana!
Room Type
Entire home/apt
---
Property Type
Apartment
---
Accommodates
2
---
Bedrooms
Ljubljana, Ljubljana, Slovenia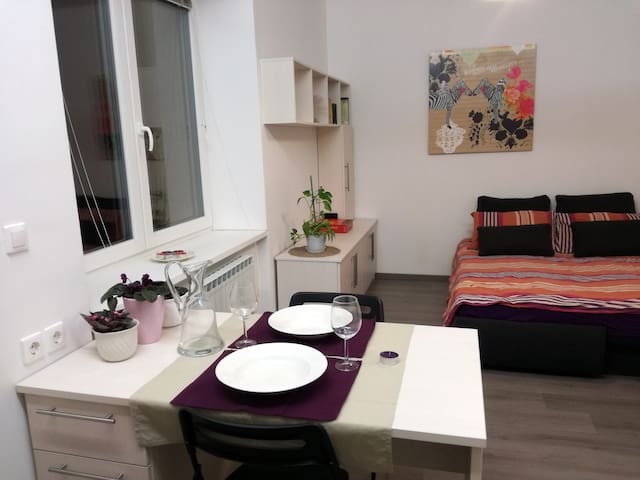 Very spacious apartment with a huge balcony . Comfortable for 2,3 or 4 guests. It is located in a quiet and safe neighborhood, 15 min walk from the centre and 5 min walk to the beautiful green park TIVOLI. Welcome!
The spacious, bright and cosy apartment with big balcony and air condition. It"s comfortable for 2,3 or 4 people. Closest grocery store is 2 min away. Towels and linens are included. Free parking&COFFE and a GIFT for guests who stay a minimum of 5 nights! KITCHEN -fully equipped including fridge,hob,microwave,plates,glases,cutlery,cooking utensils,washing machine BEDROOM -very comfortable bed for (PHONE NUMBER HIDDEN)) LIVING ROOM -flat LCD TV -free WI-FI -comfortable pull out sofa for 2 person(150x200) -air condition -FREE PARKING AND COFFEE BATHROOM -towels -toilet paper -soap
- 10 m away is restaurant Govinda"s ( vegan food ) - 10 m away is Calimero caffe with great coffee - 15 mins walking distance to centre - nearby shops, post, bars and lovely recreation green park TIVOLI with fitness center and swimming pool -Just 5 minutes walk to the new Beer cellar Pivnica Union -10 minutes by walk to swimming pool ILIRIJA
Elvis and Lea were very kind with us. The apartment was clean, with a very nice terrace. Everything was ok.
Eugenio
2015-10-13T00:00:00Z
Clean, comfortable apartment perfect for us as a couple. The descriptions are accurate and great communication before and on arrival. About a 20 minute walk to the centre but we did the "longer" route via Tivoli Park - lovely! Small bedroom, as stated, well equipped kitchen and comfortable living room for relaxing in. Will definitely recommend!
Kara
2017-02-21T00:00:00Z
A charming well equipped little apt with a nice balcony. Very friendly and helpful hosts. The city center is in a walking distance. I rented a car for a couple of days and got a good parking spot for it from the hosts.
Jaakko
2016-08-25T00:00:00Z
Nice, clean apartment with large social area and a large well equipped kitchen. Bonus additions of a terrace and friendly dog sometimes found in the courtyard. 15-20 minute walk to the main town and bus/train stations. Would stay again :)
Curtis
2016-10-25T00:00:00Z
Amazing little find and perfect for 2 people. Has everything you need and within a quiet area. A very easy walk to all of the sights of the City also
Kaye
2017-01-24T00:00:00Z
Stylish and cosy apartment and very very friendly and helpful hosts. Thanks so much!
Andrey
2016-06-29T00:00:00Z
Beautiful apartment and so close to the city center. Wonderful host who was consistently there when we needed her. She helped us to find the place and even helped us to the parking. Very accommodating and so sweet! We are already planning on staying again.
kiley
2016-09-21T00:00:00Z
It is a lovely place to stay at. We were with 3 people and had all the room we needed. It is very clean, well equipped and feels a bit like a real home. Also the location is perfect. The centre is easy accessible on foot. We rented a car and made use of the free parking spot. Lea is a very friendly person, very quick in response and helpful. All by all, a wonderful experience!
Wouter
2017-02-10T00:00:00Z
Room Type
Entire home/apt
---
Property Type
Apartment
---
Accommodates
4
---
Bedrooms
Ljubljana, Ljubljana, Slovenia
Apartemnt is newly renovated and is good place for families, big groups... or for anyone who want to spent a good time in Ljubljana and who want see and experience a lot of different things. Apartmnet is situated on the 1st floor of the building, across the street you also have a city bus. Apartment is near city center too and only a few minuts of walking you have a post office, fitness gym, grocery store. Just step out explore every corner of beutiful Ljubljana and let the city suprised you.
Apartment is located near the city center just 10 minuts with city bus. You can use the elevator of the building where the apartment is located.
It was my very first time booking via the airbnb, my experience was great. I enjoyed my stay in this apartment. It felt like home, its not far from the city center. My host was always available for any assistance. Thank you for hosting me Viktorija.
Nthabiseng
2017-04-08T00:00:00Z
Room Type
Entire home/apt
---
Property Type
Apartment
---
Accommodates
4
---
Bedrooms
Ljubljana, Ljubljana, Slovenia
Experience the ancient imperial city of Ljubljana! Our fully equipped apartment is the perfect base to explore the city in all directions.
A different way to visit and enjoy Ljubljana! Beginning with May 2016 we are able to offer our guests an apartment in a unique location, right in the heart of Ljubljana. The 70 square meters apartment is situated in a smaller apartment building, which is located just 100 meters (300 feet) from bus station (5 stations from downtown or 2,5-5 € with taxi). You will also be within a 20 minutes walking distance of the City-center. For your convenience, Cable-TV and Wireless Internet are provided.
Peaceful and close to the downtown at the same time.
We didnt see Andrei in person but his father was there for our needs. The appartment had everything we could wish for: the furniture was top notch and sanitary supplies were provided. We had an amazing stay :)
Maurice
2016-07-24T00:00:00Z
Very clean, host answers fast and does his best to make your stay a good one. His father was there to open the door for us. Apartment: One nice "master"bedroom with a double bed, one bedroom also clean, but very basic, with two single beds (not shown on pictures) We were happy to stay here, communication and cleanlyness very good.
Jan
2016-06-05T00:00:00Z
Very clean and specious apartment. Andrej is welcoming and friendly. Highly recommended
Tufan Barış
2016-08-25T00:00:00Z
Our stay was very comfortable. The host was friendly and helpful. The place is in good condition and fully equipped.
Marcel
2016-08-23T00:00:00Z
Great home, good location nice neighbourhood and of course Andrej was a great host.
Darko
2016-09-25T00:00:00Z
The flat is a bit far from the center but there is a good transport link! There was everything we needed and it is close to a supermarket. It was very clean and large enough for 7. We had a great time and we recommend Andrej !
Ophély
2016-07-11T00:00:00Z
Lovely spacious and clean flat.. happy to recommend to other travellers
Bruce
2016-09-29T00:00:00Z
Really nice place, clean and a good location and a friendly host!
Linde
2016-07-06T00:00:00Z
Room Type
Entire home/apt
---
Property Type
Apartment
---
Accommodates
7
---
Bedrooms
Ljubljana, Ljubljana, Slovenia
Our comfortable apartment is located in very calm area of Ljubljana, around 20 minutes walk from the city center. A bus station is around the corner and the closest grocery store is 3 minutes away. Free parking in front of our house.
The apartment is fully furnished, has cozy living room with a kitchen, one bedroom with double bed, a bathroom with a tub, the toilet and a separate storage place. In the living room there is a fold-out couch for another two persons to sleep.
Our neighborhood is very calm and our street is actually a blind alley so there is not much traffic. Supermarket, public transport, swimming pool (Kolezija - (URL HIDDEN) University area (Veterinary, Mathematics, Computer science, Physics and Institute Jozef Stefan) are around the corner. Shopping mall, ZOO, sports park, fitness and golf course are also near.
Stasa and Primoz were very welcoming and helpful. Stasa very kindly picked us up at the train station upon our arrival. The apartment is lovely. Probably the best Airbnb that we have stayed in. It was very clean, modern, spacious and inviting. It looks brand new. It has everything that you would need for a stay in Ljubljana. We would highly recommend this apartment! It is a real treasure!
Lorna
2016-04-29T00:00:00Z
We were welcomed by Staša Elina's sister, Karina. The description fits the reality. The flat is in the suburbs, about 20 min walking distance from the centre. The flat was really well equipped, we could tell that much thought and effort was put into the design.
Ádám
2016-08-05T00:00:00Z
We stayed only one night at Elina's place. Unfortunately we didn't meet personally, her sister was who help us with everything. She was very kind and flexible, I felt we can arrange everything with her. The apartment looks better in real life, it was super clean and tidy, fully equipped and in great neighborhood. So I only can speak about the hospitality and the place also in superlatives (the city is also a beautiful place, really worth to visit), our whole trip was an overwhelmingly positive experience :) Hvala!
Ádám
2016-05-30T00:00:00Z
The hosts helped us to find a train to Budapest the next morning and the apartment was very clean. However we did not have any hot water to shower with upon arrival and then once heated only enough for one very quick shower. I would allow a minimum 20 minute walk into the city centre and there is no door on the bedroom so not be suitable for groups requiring some privacy. Overall it was a dissappointing stay since we had high expectations of the 'superhost' label, as in the past we have always loved staying with superhosts.
Ellen
2016-12-20T00:00:00Z
Our stay at the apartment was perfect! Stasa and Primoz made us feel really welcome and they very helpful with picking us up and getting us to the bus station. The apartment was perfectly clean and we felt like home. It had everything you need, we could prepare a big new year's eve meal for us in the apartment :) The location isn't as far away as we thought in the beginning. If you walk straight into the centre, you will need 10 minutes. Because of the cold winter we sometimes took a taxi from the centre, which only cost 3 euros, so that was no problem at all. We will come back soon :)
Anna
2017-01-02T00:00:00Z
Extremely helpful and welcoming hosts. The apartment was clean, comfortable and stylish. Good location for exploring Ljubljana, situated in a quiet neighbourhood 15-20 mins from the centre.
Rebecca
2016-09-27T00:00:00Z
The hosts were very welcoming and helpful. These people care about their guests' well-being and comfort! The apartment is very clean and modern, well equipped, good wifi internet, good kitchen, nice bed... and tastefully decorated too. It was a great home for a full month. I will be recommending this place to anyone who comes to Ljubljana!
Steven
2016-04-13T00:00:00Z
We had an amazing stay in Staša's apartment! We were welcomed by her lovely son who showed us the modern, clean apartment. It is in a nice, quiet location that is a leisurely 20-30 minute walk along the river to the old town. I believe there is a quicker way to walk to the old town, but the river is a nice walk. The apartment had everything we needed. There were 4 of us (two couples) and we found the apartment very comfortable. Staša and family were always available to give local advice in person and by email. The maps and guides in the apartment were very useful too. They are a very thoughtful family and made our stay very enjoyable. This was an excellent base for us to explore the city of Ljubljana and the surrounding areas by car. We only wish we could have had more time in this amazing city! 3 days was not enough and I'm sure we will be back to explore more of beautiful Slovenia.
Gemma
2016-06-05T00:00:00Z
Room Type
Entire home/apt
---
Property Type
Apartment
---
Accommodates
4
---
Bedrooms
Ljubljana, Ljubljana, Slovenia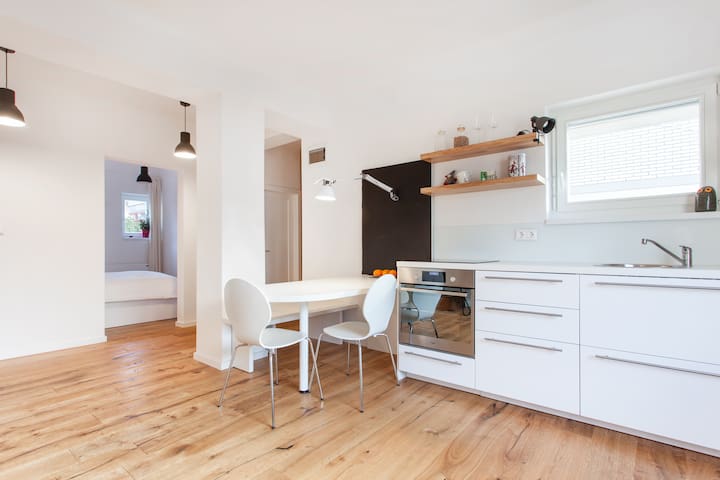 We are happy to invite you to our lovely city center apartment. Located right in the center of Ljubljana, just a hop away from the famous Ljubljana castle, Dragon bridge, and fresh local market. If you are interested to enjoy a Slovene evening of food and wine just contact us. We love to cook traditional Slovene food for our guests for a small fee. If you have any food allergies we can always adapt to that. We are confident you will be very comfortable at our place. See you soon!
We have a cozy, clean room with a large double bed waiting for you. Fluffy pillows, soft cotton sheets and blankets will make you feel comfortable. The room is nicely furnished and decorated. There is a desk for you in case you need to do some work or plan your next trip. You can store your belongings in the closet and full size mirror.
There is only one thing we need to say here. We are located right in the center of Ljubljana with a view of the castle. Staying with us gives you a great advantage of being able to explore Ljubljana by foot. We are just a minute away from the Dragon bridge and a local market place. Tourist info center is 100 m away. With a short stroll by Ljubljanica river you can reach Prešeren Square, Triple bridge and stop for a break in one of the many restaurants and bars.
Best AirBnb-hosts we have ever met. There is nothing more to add. Just perfect! We are really thankful that Maya and Syed had been our host!
Janis
2016-05-25T00:00:00Z
The apartment is in an excellent location, right in the city centre and just two minutes from the Dragon Bridge. The path to the castle starts right in front of the apartment, and there is a farmer's market just a minute away. The apartment is very clean and modern. The WiFi is very fast and the bed was very comfy. Syed and Maja are very nice hosts. They provided free breakfast and coffee, and I ordered dinner from Syed which was one of the best meals I had while travelling around the Balkans. I highly recommend the apartment.
Laurence
2016-05-20T00:00:00Z
great host and experience. wonderful location in an awesome town. very accommodating of my early arrival time. thanks again!
Lori
2016-10-06T00:00:00Z
Maya welcomed me warmly into her home -- she's just a very friendly person! She had great communication throughout, and made flexible check in arrangements with me. Her apartment is very comfortable and is ideally located to explore Ljubljana. If I end up in Ljubljana again, it would be a pleasure to stay there again. Thanks for being a great host, Maya!
Sarah
2016-09-25T00:00:00Z
Maya was very kind with us, his appartment is so nice and very well located. When you are at Maya's you feel as if you were a real Ljubljana inhabitant Thank you very much
Paulin
2016-09-08T00:00:00Z
Maya and Syed where great hosts, the flat itself is really nice and in a perfect location. We had a nice chat when we arrived and they gave us lots of information about Ljubljana, Slovenia and Croatia :) they also had lots of books and maps about Slovenia. We would definetly come back :))
Christina
2016-09-20T00:00:00Z
Maya and Syed are absolutely awesome and their apartment is great! We had a fantastic time in Ljubljana and that was partly due to a big friendly welcome, some helpful advise on attractions to visit, super convenient location and a clean and well equipped apartment. Trust me let Syed cook for you it is totally worth it, sooo yummy!!!! Thanks guys, you rock.
Joel
2016-06-25T00:00:00Z
The location was perpect and the house was also nice. I really recomand this!!! The host was very kind and nice!
Jinkyung
2017-01-20T00:00:00Z
Room Type
Private room
---
Property Type
Apartment
---
Accommodates
3
---
Bedrooms
Ljubljana, Ljubljana, Slovenia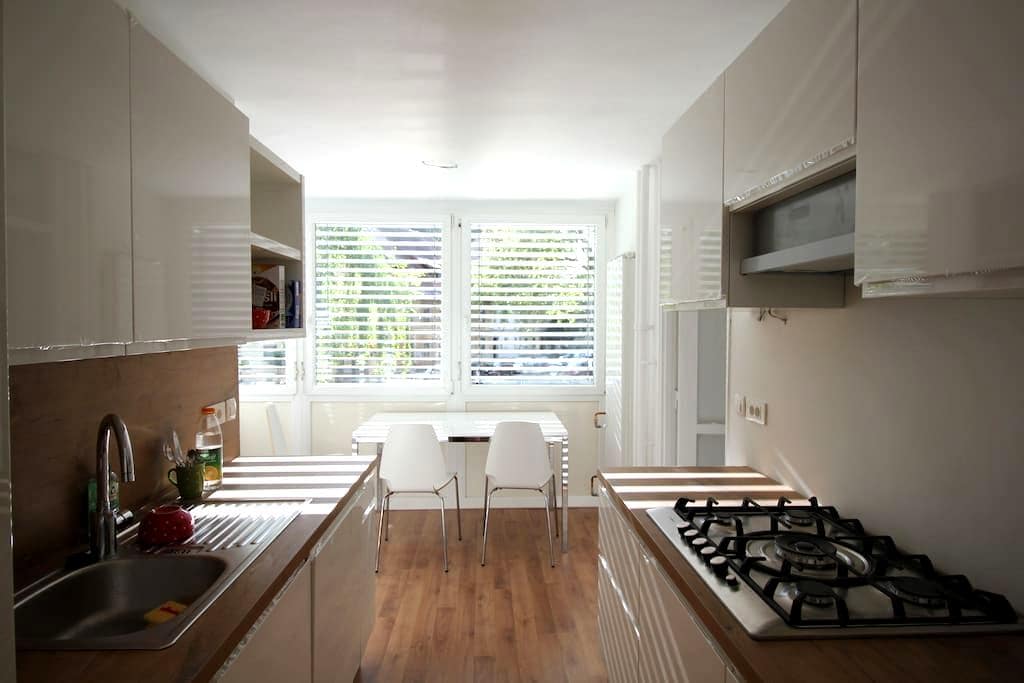 Two rooms and a bathroom directly under the castle of Ljubljana, in a vintage renovated house. The app is homely, clean, and the location is as good as it can be in Ljubljana, walking distance to everything in the city. Parking is about 5min away.
You will be staying in the centre of the centre, in an upper floor of a vintage house. At your disposal are two bedrooms, and a brand new bathroom. There is no kitchen, but you will not need one, cause there are a bunch of restaurants and cafe's all around. :)
as the house is located in center, all the best restaurants are around, walking distance, museums as well,to the park Tivoli there is a 15 min walk, and there you can walk or jog and enjoy.
Nina did a wonderful job of communicating with me and ensuring that all of us made it to her place without any problems. She is a very warm person and we had a great conversation over tea and coffee in the morning. For those wanting to stay in a quiet location in Ljubljana's old town, this is a great option.
Jono
2015-10-20T00:00:00Z
Nina's apartment is very easy to find and only a short walk from public transport. It is only a few minutes from the apartment to the main street, through the old town, where there are many bars and restaurants as you walk towards the castle square. there are also the riverside bars with the shopping areas on the other side of the river. The room is clean and comfortable with a kettle for making hot drinks, the bathroom is spacious with a bath and separate shower cubicle. Nina is a very pleasant person and I would have no hesitation in staying there when I next return to Ljubljana
Andrew
2016-10-13T00:00:00Z
Nina's place really is perfectly located! Within a minute you are in the middle of Ljubljana. The view you have from Nina's room is beautiful as well. In the room we found lots of useful information about Ljubljana and its surroundings. Nina is a friendly host who answered all our questions! All in all, it is a really nice accommodation.
Lisa
2015-08-20T00:00:00Z
Lovely cosy place in the center of lubljana. Nina was welcoming and had fresh fruit to welcome us
stephan
2016-05-31T00:00:00Z
Nina is a delight! We arrived early, but she was so nice to welcome us and let us drop off our bags. She even took the time to go over a city map with us and make a few restaurant recommendations. The space is nice and the bed is comfortable. Our last morning we had a lovely breakfast with Nina including her homemade marmalade and fantastic conversation about history, travels and politics. She is truly a great person.
Cheryl
2016-07-07T00:00:00Z
Great location, quiet, but close to the centre. Nina is a great host, friendly and helpful.
Marc
2017-01-05T00:00:00Z
Staying at Nina's was great. The house is at the heart of the city, very easy to go from there everywhere. The room itself is spacious and we had toilet only for us which was very comfortable too. Nina was super kind to us, helping with a very early check in. Thanks Nina!
Caro
2016-09-02T00:00:00Z
Nina made my boyfriend and I feel very welcome and was an excellent host. The listing looks even better than in the pictures! I personally loved the bathroom as it has a very nice shower and bath tub and is also quite spacious. The room was very comfortable, clean, cozy and nicely decorated. Above all, the location of this flat is perfect! Right in the city centre :) I would highly recommend Nina's place and will surely stay here again if I come back to Ljubljana.
Alisha
2016-08-26T00:00:00Z
Room Type
Private room
---
Property Type
Loft
---
Accommodates
4
---
Bedrooms
Ljubljana , Ljubljana, Slovenia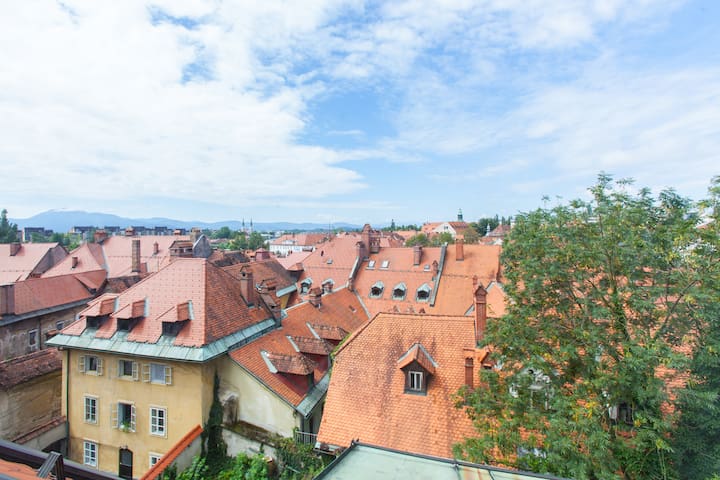 My place is close to parks, art and culture, and restaurants and dining. You'll love my place because of the location. In 5 minute walk you can be in the center. My place it is good for 1 to 3 travellers.
It is new and very clean. There it is place and equipments for four but it is small.(20m2)
The apartment is small but there is everything you need : it's well equiped, mordern, clean and it's close to the center, so perfect for your stay!
Pauline
2016-11-13T00:00:00Z
Very nice, comfortable place.
Žan
2016-10-27T00:00:00Z
The location is great, everything was well indicated and prepared. We've had a great time in Ljubljana :)
Melchior
2017-02-12T00:00:00Z
The house has everything you need, except for wi-fi, but you have the city's wi-fi. Amazing hosts, nice and friendly ! The house was clean and simple
Joana
2016-07-06T00:00:00Z
A small place but very central. If you plan on being out of the house often, it's perfect. Petra was very responsive and messaged back quickly. The TV didn't work at all but we were told it was getting fixed soon. Overall a cute place!
Samantha
2017-01-12T00:00:00Z
Perfect !!!!!!!!!
Vas13
2017-03-02T00:00:00Z
Great place, clean and central
Euan
2016-10-09T00:00:00Z
My partner and I stayed here for only one night as we were catching a flight from Ljubljana the next day. The apartment is located about a 10 minute walk from the town center and central bus and train stations. Petra was very flexible with both a check in and check out time, met us at the station and walked us to the door which was nice. Although the location was great, we did not feel the apartment was as described. Firstly, the apartment is VERY small - just large enough for two people. The apartment has no WiFi (Ljubljana has citywide free WiFi but it does not reach the apartment) and no windows or ventilation of any kind (which we felt should have been included in the description) which made for quite an uncomfortable evening in the summer heat. There is one door that opens directly onto the street which is made of frosted glass and the walls either side of the door are also frosted glass. We could see outlines of people walking past outside under the street lights (I don't know if people outside could see us). The apartment has a fridge but no oven (there is a hot plate next to the sink).
Kierhan
2016-07-10T00:00:00Z
Room Type
Entire home/apt
---
Property Type
Apartment
---
Accommodates
3
---
Bedrooms
Ljubljana, Ljubljana, Slovenia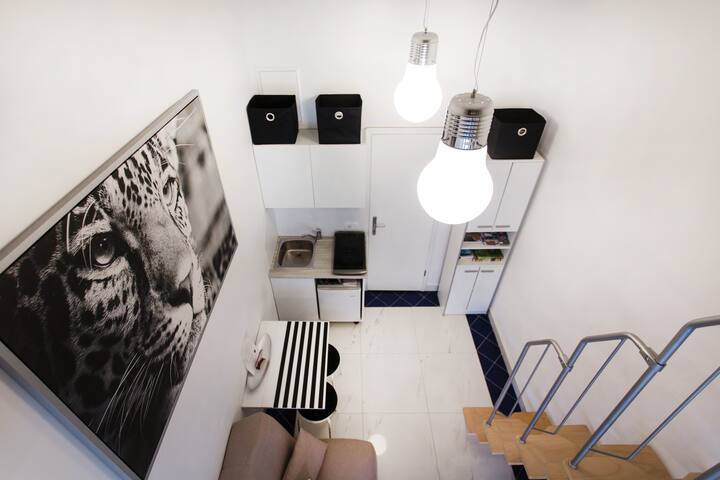 The lovely and comfortable small apartment is located in the old city centre on the ultimate place in pedestrian zone among organic stores and eco solutions. This gives you an ability to feel all the old Ljubljana ambient in the sustainable way. It is warm, clean, tidy, well equipped, practical, sustainable oriented, human rights friendly small apartment in old building from the 19c. It is a cruelty free zone, a zone of vegetarian values. The hospitable host puts all his heart in what he does.
Benefits: - Ultimate location in the strongest centre of Ljubljana (few steps to the Three bridges, The Prešeren's square - main square, Ljubljana castle etc.). - All photos were made by official Airbnb' photographer. - Help and support in basic Ljubljana introduction/orientating by host. - Meeting on arrival in Ljubljana. - Due to the host availability for you and his warm hospitality it is more homestay accommodation. The apartment is an ENTIRE HOME though. The apartment host is very hospitable kind, friendly and sunny guy, who put all his heart in what he does. - Particularly oriented for people with sustainable way of thinking (eco, bio etc) and very suitable for vegetarians and vegans. - Charming, practical, smoke-free, veggie oriented and cosy place for your stay: It's the charming, eco/organic and healthy oriented, comfortable small (studio size) apartment, which is the perfect for 2 persons and for relatively short stays. It offers an incredible experience of living in the most filmed and colourful street in the city, just 1 minute from the main central square and 10 seconds from the nearest store. It combines modern and old bourgeois spirit. It is consisted of living room with a sofa which is nice for especially romantic time spending, including watching Smart TV with all its opportunity. In the room is also a little laptop table with all necessary tourist information on it. A small, clean kitchen corner gives you everything you need. Near kitchen corner is a dining area with cute old bourgeois wooden eating table and two chairs with neat orange pillows. A space also contains a wardrobe and the luggage place (please, mind the parquet). - It is a smoke-free apartment (smoking is prohibited), so if you are not smokers It will ensure your pleasant stay. - It's eco and nature oriented space, human rights friendly apartment. - The apartment's location in very suitable for eco/organic fans, vegetarian, vegan and other healthy food oriented people due to the favourable location, maintenance practises and free benefits in the kitchen. - Due to my family spiritual traditions and values, the apartment is sort of temple, it is zone of vegetarian values. It is aimed to every single guest who bears high people values, but cooking/roasting/baking parts of animals in apartment is strictly prohibited. Thank you for your empathy, understanding and respecting spiritual values. - The apartment is heated with eco remotely controlled heating system which give a very pleasant feeling of warmth, particularly in the colder time. The advanced DAIKIN eco air-conditioner is aimed for the summer time cooling (A+++). - Because my family is very clean-loved all the essential apartment surfaces are gently cleaned with a highly effective eco disinfectant, including positive probiotic. Also linen is well washed and disinfected. - I do care of nature that's why my cleaning means are eco/bio/organic/natural. If you will decide to stay at the Bouquet residence, you will receive: - Comfort and cosy stay in the old city centre - Eco wi-fi (with lower radiation signal of antenna) - Samsung Smart TV (if you need some additional channel, tell me and we will try to manage it) - Eco LED bulbs lighting - Remotely controlled eco-panel ceiling heating - Dakin advanced professional eco air-conditioner (for the summer time). - Eco/organic/natural detergents - Well washed and disinfected linen and towels - Bed with an orthopaedic mattress, limited with the wooden frame (190cm long) by both sides !!!! IMPORTANT for tall people!!! - Electrical fireplace as a pleasant ambient decoration in winter time. - Fridge - Kettle - Teapot - Plastic cutting mat - Iron - Hair dryer - Luggage place - Wardrobe - Little laptop table with necessary tourist information - Laundry basket for washing needs (for longer stay) - Clothes horse (on demand) - Washing mashing with a dryer option is in the anteroom, it is shared one. Just tell me and I will kindly help you in a washing organising. In the kitchen you will receive for free: - eco/organic tea (a lot of kinds) - eco/organic pepper - eco/organic vinegar - eco/organic virgin sunflower oil - eco/organic sunflower oil for cooking - eco/organic cane sugar - himalayan salt - drinkable water (water in Slovenia is drinkable and of high quality. Also it is very tasty) - rice supply (on demand, if you really wished to). - of course all essential kitchen instruments, including centrifuge for salad, are also available.
The city centre is very well organised and have a lot of lovely places. It is possible to make some introduction to Ljubljana and go for tea together :) I do recommend to walk along the river of Ljubljanica and visit Špica, known by its ancient archaeological reveals, its little restaurant and rest zone. You can also float with a boat and afford a little fluvial entertainment. We also suggest you to walk through Tivoli (park), to climb on Ljubljana Castle, visit Slovene ethnographic museum and the old Roman wall. The flat location is very favourable, particularly for organic, vegetarian and vegan fans. One minute away and you can find organic shops like: Kalček, Zrno do Zrna, vegan and raw vegan restaurant Ajdovo zrno, organic (eco) market (every Saturday it's big). Ordinary food market works everyday, despite Sunday. We are prepared to show you everything. 8 minutes by feet and you will reach a great vegan restaurant Loving Hut with very delicious affordable prices (almost opposite the main railway station).
Siyan is a fantastic host, the apartment was comfortable, clean and in a very nice location. Would come back any time !
Johannes
2017-01-29T00:00:00Z
Siyan and Pravko were amazing hosts. They were very flexible with check-in and even met us so they can walk us to the apartment. The amount of information they provided on local places to check out was very helpful and we can't get over just how warm they were. The place was extremely clean and very centrally located. Couldn't recommend the apartment more for a single person or couple traveling through Ljubljana.
Sissi
2016-05-30T00:00:00Z
Sijan was a wonderful and helpful host. He provided us with information about Ljubljana, provided us with delicious vegan snacks and even collected us from (and arranged) our transfer from the airport. The apartment is emaculately clean and comfortable, as well as being within a short walk of all the sites in Ljubljana Old Town. I would really recommend this as a place to stay if you are travelling to Ljubljana.
Emily
2017-04-02T00:00:00Z
Sijan and Pravko are the most attentive, organized and exceptionally lovely hosts. The apartment is beautiful, cute, in perfect condition and in the best location in Ljubljana - in the heart of the old city. Just the best possible place to stay in Ljubljana with the best hosts one can find.
Andriy
2016-11-07T00:00:00Z
Sijan and Pravko were very welcoming and let me feel really at home. They provided me with all the necessary information and were always helpful during my stay. In addition, we even had a great time altogether at the tea house and talking about life. The location is just perfect, the most dynamic alternative street in town, unbelievably close to the Triple Bridge, castle, the open market, colourful cafes and eco food shop is just in front of your window! The apartment is exactly as you see on pictures. Cosy, charming and with all necessities for 1-2 persons.
Alexandr
2016-04-04T00:00:00Z
Sijan and Prav gave us a very warm and friendly welcome. They met us at the train station and offered to carry our luggage to their apartment. As we walked along, they pointed out places for groceries and favorite restaurants. They also pointed out highlights and sites to see. When we arrived there were four delicious apples waiting for us along with a list of helpful translations and maps. They have a beautiful, cozy apartment that is comfortable for two people. They recently renovated it themselves so it felt new even though in a historic building. Sijan was very careful to point out when I made the reservation, that the sleeping area does not accommodate tall individuals. The apartment was very neat and clean and well cared for. It in an excellent location in the center and within walking distance of the train and bus stations as well as many sites. We enjoyed our stay and would recommend staying in Sijan's apartment.
Mary
2016-09-23T00:00:00Z
Sijan & Prav's apt is the best possible place to stay in Ljubljana! It is super clean & tidy and really feel like home. They are the best host right from the beginning helping with my booking, picking us at the bus station, and being very flexible with our arrival and departure schedules. They gave us gd tips on where to eat, have placed maps, language tips in the apt and even gave us some fresh fruits! Dont hesitate to book their apt, you will have a comfortable stay right in the city center, and Sijan & Prav are friendliest host ever!
Winnie
2016-07-09T00:00:00Z
Great location Hosts were very available et gave us some good advices.
Adrien
2016-07-23T00:00:00Z
Room Type
Entire home/apt
---
Property Type
Apartment
---
Accommodates
2
---
Bedrooms
Ljubljana, Ljubljana, Slovenia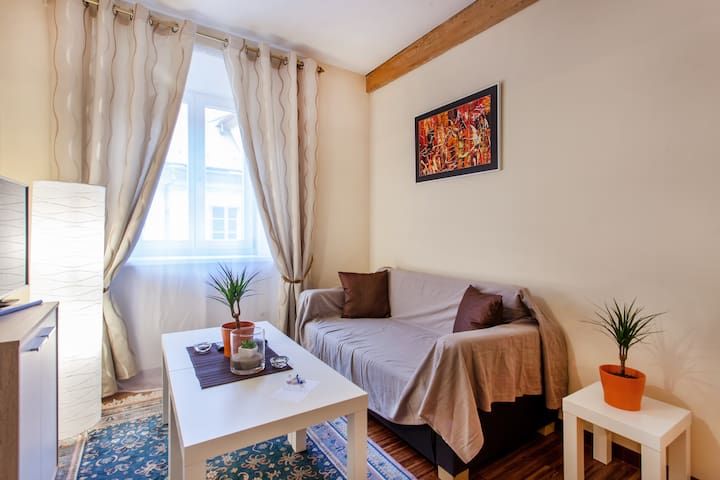 The flat is 15 minutes from the city center by feet. The city bus is two minutes from the flat. The market is 5 minutes from the flat. Sport park is near the house.
Room Type
Entire home/apt
---
Property Type
Apartment
---
Accommodates
3
---
Bedrooms
Ljubljana, Ljubljana, Slovenia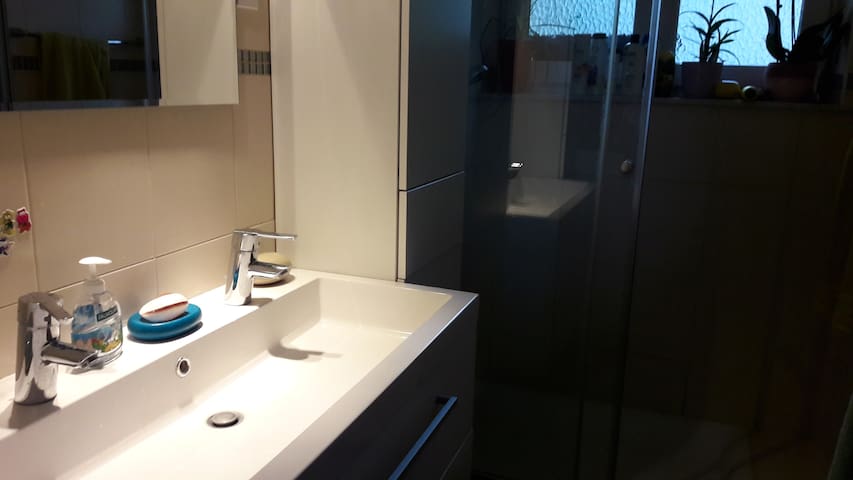 New comfortable studio duplex in the center of Ljubljana with sometimes possible parking for a small car.
Comfortable studio duplex in the center of Ljubljana. Equipped with all the commodities: free WiFi, TV, washing machine, dishwasher, air conditioning. Free towels and bed linen included. Free parking for one smaller car in front of the building. Located on the top floor of 5 story building (no elevator - 92 stairs) with a view of Ljubljana's Castle. The grocery store (open seven days a week) and bar are on the ground floor of the building. Various restaurants in close neighbourhood. Located only 5 minutes walk to the old city center (Dragons bridge - Zmajski most, food market,...). Public transportation (bus station) and public bike-rental point in front of the building.
It is in the center- not in the oldest city centre but in walking distance to all interesting points in Ljubljana: Nice restaurants, bars and beautiful park on the Castle like the Castle itself are all in walking distance. The main bus/railway station is 20 minutes walk away.
The flat was as in discribtion. Everythinng is new and clean, good wifi. There is a free parking near house that is very important in the center of city). On the ground floor there is a food store. We really liked staying here. Квартира полностью соответствует описанию. Она чисмтая, комфортабельная. Дом находится в блоке домов (20а-20b-20c), они никак не разделяются, имейте это ввиду. Ориетируйтесь по остановке. В доме на первом этаже пекарня, два магазина. Дом в центре города, все в шаговой доступности.
Kamil
2015-06-17T00:00:00Z
Sasa was an AMAZING host! She is super responsive from start to finish. She was was ready to greet us when we arrived and gave us a quick explanation of the house rules and went over the important information, which was very helpful. Also, she provided some guides and really great information about Ljubljana and recommendations on what to see, plus, she even had a nice little surprise for us when we arrived. Super thoughtful! The apartment is fantastic! Super clean and very modern, which fits our style perfectly. The bed was comfy, the bathroom was great, and tons of storage for a great stay. It is on the top floor, so not the easiest for all to get up to, but well worth it for the awesome views! Also, it's only a short 5 minute walk to the center of town, which is perfect for avoiding the noise, but still being close enough to everything. I would 100% stay here again if we came back! Thanks for an amazing stay!
Charlie
2015-12-25T00:00:00Z
Very clean and tidy apartment with lovely views over the river. The space was well used and well laid out, perfect for couples. The apartment is very close to the city centre and has grocery shops very close by
Alina
2016-11-20T00:00:00Z
We loved staying at stairway to heaven. A lovely, modern, clean studio that is not too far from town (10-15min walk from the three bridges). The area felt quite safe to walk home late at night. Sasa was a great host- very helpful and accommodating. Brilliant value, we would recommend!
Hayley
2015-09-19T00:00:00Z
We stayed at Stairway to Heaven for two nights and absolutely adored it. Less than a 5 min walk from the old town, you can see the Castle and the Ljubljanica river from the apartment. It's bright and airy, and really felt like home whilst we were there. Sasa gave us recommendations on a map, and helped us book an airport transfer. Ljubljana is a beautiful city, and I'd completely recommend booking with Sasa for your stay! :)
Lex
2016-04-22T00:00:00Z
Kind host, great design, cosy flat and great location. I highly recommend the experience.
Bojan
2017-03-05T00:00:00Z
Our weekend was amazing and Sasa's apartment, and her hospitality, was one big part of it! This is an cute and anormously well-designed apartment with al you would need for living. It is easy to see that it is an apartment of an architect. At last: you should al take your time to sitt down at the café right across the bridge: Kavana Rop. Great personal and taisty food :)
Moa
2016-04-18T00:00:00Z
Before the arrival, Sasa was very communicative and sent me very detailed directions to the apartment. She welcomed us joyfully and showed us all the details about the apartment, which one is very well equipped and tidy (washing machine, dishwasher, wifi...). She was also available during our stay if we had any questions. This was the perfect place to rest a bit before ending our trip through Slovenia, and also to enjoy this nice city of Ljubljana. I recommend heartily.
Lucien
2015-06-01T00:00:00Z
Room Type
Entire home/apt
---
Property Type
Apartment
---
Accommodates
4
---
Bedrooms
Ljubljana, Slovenia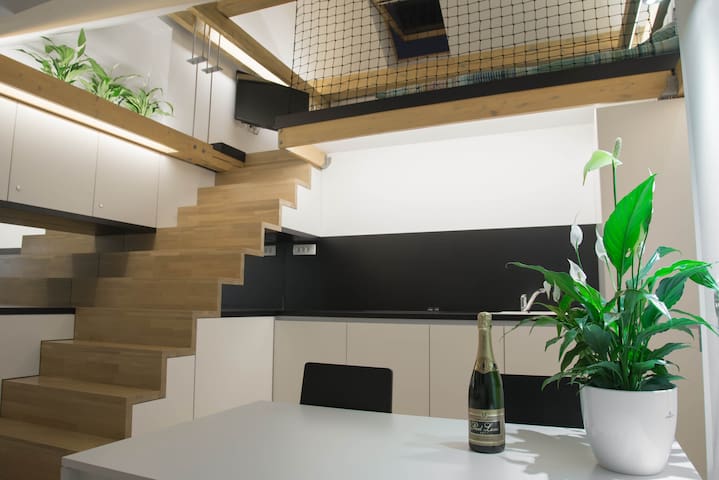 Our three room apartment is centrally located and has a real artistic and bohemian vibe. The room is very big with amazing balcony which offer a great view on Alps on one side and city centre on the other. Perfect for young artistic souls.
The house, located in strict centre, is one of the traditional houses from the year 1900. The apartment is very big with high ceilings and is equipped with the artistic and bohemian touch. There are 5 young artist living in apartment what makes the place full of positive and creative energy.
Everything what Ljubljana is famous for is located practically next to the building. There is something for everybody within walking distance. Tourist attractions, good restaurants, city night life, museums and many more all in the neighborhood.
We enjoyed staying at Mihas place. Excellent location! We were met by a friend of his who was extremely helpful, she went out of her way to help me with a specific problem. Great time. Thanks!
Chantelle
2016-07-24T00:00:00Z
Pros: great position of the flat both to the city center and main bus and train stations, a spacious room with a nice balcony. Cons: unfortunately, too dirty for my taste. Btw, regarding "There are 5 young artist living in apartment what makes the place full of positive and creative energy.". Well, actually, artists do not live in the flat, only airbnb folks.
Andrea
2016-09-24T00:00:00Z
We had a lovely time staying at Miha's fun apartment, which is perfectly placed to explore Ljubljana! Miha kindly let us use his washing machine and gave us top tips and an epic doodled map to guide us around some of the alternative sights during our visit. The room was exactly as pictured and they have speedy wifi too (though you'll probably be out and about enjoying the city). Thanks Miha!
Tom
2016-06-09T00:00:00Z
Best place to stay! Don't think just book! Excellent fantastic and quirky and cool and comfortable and amazing location! Though couldn't meet Miha but his friend checked us in and was very helpful and full of excitement! Also we had booked for two people but a friend joined us from Milan and Miha did not even charge for her! Really enjoyed our stay!
Priyanka
2016-09-21T00:00:00Z
We loved our stay in Miha's place. The apartment is amazing and the room was very cosy. The flatmate was so very helpful and friendly. The location was perfect to explore ljubjana and also very close to the bus and train station to explore the rest of Slovenia. Thanks for having us.
Ida Lykke
2016-08-06T00:00:00Z
Although we didn't meet Miha but I still appreciated all his kind helps. he helped us to buy train ticket and paid it for us before I sent him the money, that was really generous help for us so we could continue our trip. The flat was very interesting like the student residence, we could find everything we need but the toilet was a little bit scaring. hahahaha my sister couldn't go to toilet at night..but for me it was super funny. I totally recommend to stay with Miha and you are going to enjoy it.
Cheng
2016-08-13T00:00:00Z
Everything was very good,we thank him very much.
marina
2016-09-08T00:00:00Z
The place is excellent for visiting and living in the center of Ljubljana, with all the popular spots in walking distance. The room is spacious and clean and stepping out of the door, you'll find yourself amidst the lively part of the city (although some may find the traffic a bit noisy). We were received very welcoming and Miha is a great open, friendly and helpful guy who recommended some nice places to go. Overall a very pleasing experience and we'd love to come back :)
Channah
2016-07-15T00:00:00Z
Room Type
Private room
---
Property Type
Apartment
---
Accommodates
3
---
Bedrooms
Ljubljana, Slovenia, Slovenia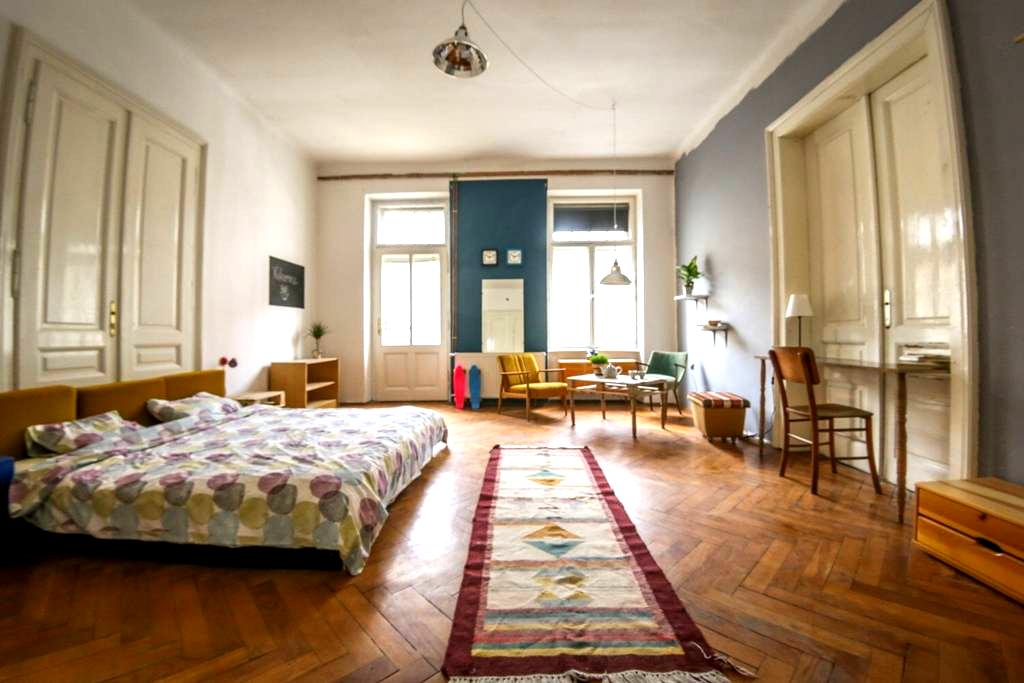 We are renting nice and cosy apartment in old city centre of Ljubljana. The apartment is located on the first floor of bourgeois house with elevator. The house was completely renovated few years ago. The apartment has a kitchen with cooking area and refrigerator, bathroom with shower, double bed, TV, Wi-Fi, air conditioning and PC with internet connection and 250 movies on it. Everything you need (shops, markets, bus station, restaurants,cafes, hairdressers) is located just a few steps away.
My place is close to restaurants and dining bars, Slovenian fruits and vegetables market grown by local farmers,supermarket, public transport, family-friendly activities,ZOO, boat cruising along the Ljubljanica river, etc. You'll love my place because of the location, the neighborhood, free city ride around the city centre with electric car. My place is good for couples, solo adventurers, and business travelers.
Room Type
Entire home/apt
---
Property Type
Apartment
---
Accommodates
2
---
Bedrooms
Ljubljana, Ljubljana, Slovenia