The studio is 45m and it has a bedroom with two beds (one double and one single), a wardrobe and a dresser, it also has an open space for a kitchen fully equipped with a fridge, cooker with gas and dining room and a single bed that you can use it as a sofa too, finally it has a bathroom.
The house is next to Krios beach and only a few steps from the beginning E4 path. The house is located in a large farm of 10 acres of olive trees, which enables visitors to discover the beauty of nature.
The house is unique because it is next to one of the most beautiful and clean beaches. At the same time the visitor has the opportunity to come close to nature with only a walk on the farm and see our chickens and our coats.
Great place to enjoy the beach or to hike to Elafonissi beach ! Niki and her family were very nice with us. As we hadn't a car, Niki come to take us with her car. It can be a good place to stay in family too.
Edouard
2016-08-21T00:00:00Z
Five stars are not enough for Niki's hosting :( Her place is like paradise, slightly away from the town but if you like me enjoy being in the silence of nature, this is the spot that you have to choose in southern Crete. The apartment is inside a farm, big, with good furniture and inside a wonderful farm just on the beach. Niki went out of her way and picked me up with her car, gave me their amazing local products and always checked if everything was ok. If it was not already clear, really recommended!
Stefano
2016-07-19T00:00:00Z
Niki was a really great host! We were treated almost too good as she drove us back and forth to Paleochora, invited us to dinner with her dad, had drinks with us in town and showed us around - she was quickly considered as a friend :) we hope to come back another time to enjoy the company with her and her family, the farm and the raw nature from Krios to Elafonissi. Paleochora was a cosy town as well.
Leif Even
2016-09-22T00:00:00Z
The host canceled this reservation 38 days before arrival. This is an automated posting.
Laura
2016-08-14T00:00:00Z
As a couple, we had some great time in Niki s place in Krios beach :) the place is very well located to enjoy the wilder west southern coast of Crete! Niki was very present and proposed many helps, she's very nice and kind, so as her family next house! ;)
Paul
2016-07-25T00:00:00Z
I spent some very special days in Niki's house: it's simple and allows you to live like Greeks. It's a walking distance to an amazing beach
Simone
2016-08-17T00:00:00Z
Very good, the location is excellent, We have great time there. Niki was very nice to us
Jan
2016-09-19T00:00:00Z
Next to the sea, this was excellent! The next biggervillage and shops and supermarkets are a bit far, but when you have a car, this is no problem. Niki and her family are so friendly and warm. Thank you*
Ronja
2016-09-09T00:00:00Z
Room Type
Entire home/apt
---
Property Type
House
---
Accommodates
4
---
Bedrooms
Chania, Crete, Greece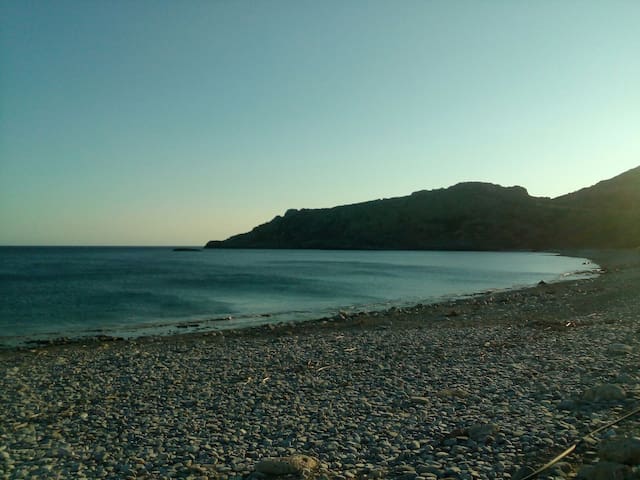 IN THE CRETAN INLAND, 15 MINUTES FROM THE MOST BEAUTIFUL BEACHES OF THE ISLAND, WAITING FOR YOU, AN OLD CRETAN TRADITIONAL HOUSE, WITH HUGE GARDEN. A PLACE THAT WILL TRAVEL YOU BACK IN TIME AND WILL BRING YOU IN CONTACT WITH THE TRUE CRETAN NATURE.
THE HOUSE HAS FIVE MAIN ROOMS, TWO KITCHENS, THREE CLOSE BATHROOMS AND ONE OPEN BATH (IN RUINS OF A TURKISH BATH). THERE IS BBQ AT COURTYARD B & TRADITIONAL WOODEN OVEN AT COURTYARD A. YOUR STAY ISN'T THE COMMON WAY OF LEAVING IN A HOME. YOU WILL HAVE THE SΕNSE OF "STAY AT COUNTRYSIDE". THE HOUSE (IN FACT BLOCK- HOMES) IS AN OLD TRADITIONAL HOUSE (NO RECONSTRUCTION). YOU WILL BE FRIENDLY WITH THAT; OTHERWISE YOU WILL NOT CHOOSE THIS HOUSE FOR YOUR VACATION. YOUR DAILY TIME YOU WILL SPEND MOSTLY OUTSIDE AT COURTYARD, GARDEN SITTING OR AT THE "POOL"... THE "POOL" IS AN OLD STONE WATER TANK WITH WATER FROM LOCAL SOURCE. AT THE HUGE GARDEN THERE ARE 2 TREE HOUSES AND A SMALL "UNDERGROUND" HOUSE. OUTSIDE OF THE ENTRANCE THERE IS PLENTY OF SPACE FOR MORE THAN 10 CARS!
LOCATION IS AWESOME, SO YOU WILL HAVE THE CHANCE TO GOT THIS FEELING OF LIVING IN NATURE, AND ENJOY ALL THE BEAUTY THAT ISLAND OF CRETA CAN GIVE YOU,MOUNTAIN AND BEAUTIFUL BEACHES AT THE SAME TIME.. AT THE VILLAGE OF VOUTAS, THERE IS A MARKET WITH THE LOCAL PRODUCTS,WITH FRESH EGGS, COFFEE SHOP AND TAVERNA.. CITY OF PALEOCHORA IS 15MIN. AWAY, FOR ANYTHING ELSE YOU COULD NEED.. IT HAS A PLENTY OF RESTAURANTS AND TAVERNAS, COFFEE PLACE'S, SUMMER CINEMA, AND NICE NIGHT LIFE AS WELL.. THERE ARE PLENTY OF GREAT SPOTS AROUND TO VISIT, AND WE WILL BE GLAD TO SUGGEST YOU AND HELP YOU WITH YOUR PLANING, IF YOU WISH..
It was a fantastic house with all what we need! Thank you Myriam and Spiros for all! You have a little paradise and we would like to return one day ;) Thanks to Aladin and Suzanna, the housekeepers near the house, very kind people, and really helping! We are very happy to spend time in Voutas and in the magic house ;) Vénussia & Basile (and co!)
Vénus
2016-07-23T00:00:00Z
Nous sommes revenu depuis très peu de temps de notre voyage et nous sommes revenu enchantés. La maison est fabuleuse avec son bassin ,ou coule une source ,et ses cabanes dans les oliviers ,elle est même protégée du vent. elle est très confortable mais reste authentique avec tous ses recoins plus charmants les uns que les autres. on à adoré touts les meubles fabriqués à la main et tous les petits objets charmants disposés ici et là. tout ça nous à plongé dans une ambiance très poétique . pour tout ça encore un grand merci à Spyros et Miriam pour votre acceuil. Merci aussi à Aladin (le gardien qui habite dans un village à côté) et sa famille qui ont vraiment veillé à ce qu'on ne manque de rien et avec qui on à passé de très beaux moments. Le village de Voutas est génial et il est à côté (on y allait à (URL HIDDEN) y à une rue principale avec un restaurant à chaque bout (qui font une cuisine tout à fait fabuleuse et pour un prix très très raisonnable). il y à aussi une épicerie/bar bien achalandé qui à une très bonne connexion internet. les gens du village ont aussi été très accueillants. la région est fabuleuse , il y à tellement de choses à voir ! et en plus pas trop touristique. à très bientôt et encore merci pour ce séjour fabuleux! Manu,Gizoo et Louise We are back since very little of our trip and we are delighted income. The house is fabulous with its basin, sink or source, and huts in the trees, it is even protected from the wind. it is very comfortable but still authentic with its most charming corners as each other. we loved to touts furniture handcrafted and all the little charming objects placed here and there. all this to us immersed in a very poetic atmosphere. for all this still a big thank you to Spyros and Miriam for your Home. also thank you for Aladin (the caretaker who lives in a village nearby) and his family who really made sure that we lack nothing and with whom we spent in beautiful moments. Voutas village is awesome and it is next (we walked in) .there to a main street with a restaurant at each end (that make a kitchen just fabulous and for a very reasonable price). there also at a grocery store / bar well stocked with a good internet connection. the villagers were also very welcoming. the region is fabulous, there so much to see! and in addition not too touristy. see you soon and thank you again for this fabulous stay! Manu Gizoo and Louise
Gisoo Et Manu
2016-06-19T00:00:00Z
Room Type
Entire home/apt
---
Property Type
House
---
Accommodates
16
---
Bedrooms
Chania, Greece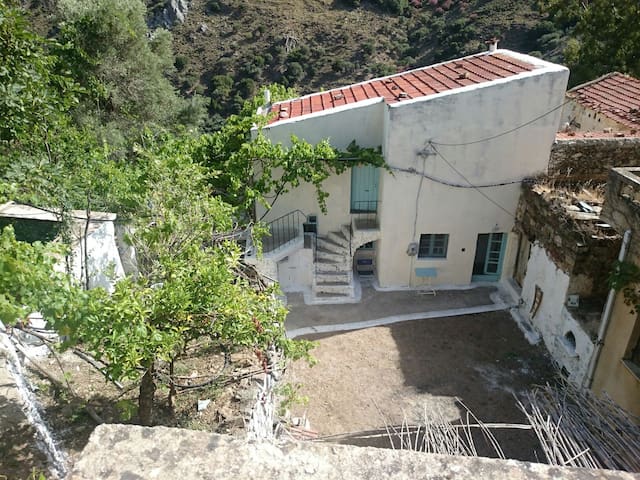 Our recently renovated old house in a "secret" village offers 100% relaxation. It is ideal for nature lovers and since no-one actually lives there, you can enjoy privacy,nature and find yourself on the beautiful beaches of south Crete in just 15-20'.
Faleriana is an old village, close to Paleohora (about 15Km away), with no permanent residents. Therefore, peace of mind is guaranteed there. The house is recently renovated, with all the amenities and a double bed on the loft. It is decorated with thing from grandma's old house.
The place there is ideal for trekking lovers, since there are many nice trails where you will see plants of many kinds as well as many herbs that they grow in a totally natural way. You can also enjoy many kinds of fruits, oranges, apples, pears, and other seasonal fruits and of course many many olive trees! There is a spring of natural water there and chestnuts around it. In Faleriana, you can fully relax by listening only to the sounds of nature.
We spent 11 weeks enjoying the hospitality and generosity of our host Odysseus. The location is stunningly beautiful with a unique remoteness that it would be difficult to find in much of modern europe. The house although small proved itself more than adequate even given the extended length of stay we enjoyed. The journey to Paleochora is approximately half an hour but with the opening of a new cafe in the nearby village of Voutas now providing food it is not always necessary to make the trip into Paleochora if you wish to eat out or just go out for a drink. All in all a memorable stay.
john
2015-08-24T00:00:00Z
It is a great spot to relax and to watch the stars in the night from the lovely porch of the house. The house is fully equipped with the things you need during a holiday. The way from the " main road" towards the house is quiet adventurous, but if you get used to it it is normal in the end of your holiday! I recommend a jeep for those roads, which also can be found in a lot of other places on Crete. The only thing which you can hear up there are the sheep, the goats and the wind. The perfect place for to read a book. The way down to Paleochora takes you around 30 Minutes. In Voutas is a small supermarket and 3 taverns where you can have some simple meals. In Paleochora you can find good restaurants and a lot of nice beaches.
Susanne
2016-08-07T00:00:00Z
Fantastic! Ideal place to rest and discover the South West of Creta. Quiet, beautiful, and a welcoming host with a big heart. The place is fully equipped. Perfect for a couple. And a nice view on the mountains.
clément
2016-07-22T00:00:00Z
A very special place in the mountains, 15 km from Paleochora. Quietness, olive trees, goats, sheep, birds. A good place for loners. Very simple, basic living. A nice view. Odysseas welcomes you friendly. A car is needed. We had only a Fiat Panda, but a 4x4 is preferred. We also stayed at Odysseas' house at Paleochora. That's the opposite: also quiet, but more luxurious and spacious, with a nice german shepherd and chickens as company. It's build on a hill and you can see the Lybian sea. Here you find a very good bed, shower and kitchen. We were very happy to stay at both places!
David
2015-05-19T00:00:00Z
A very cozy house, tucked away from the crowds in an unforgettable setting. Surrounded only by nature, we enjoyed the view of the mountains, sheep and goats, the smell of herbs, olive-, orange-, lemon-, fig- and pomegranate-trees all growing around the house. An enjoyable 300-m-walk takes one to a mountain spring with incredible tasty water. Odysseas is a most welcoming, accommodating and extraordinary generous host. This is a truly special place for anybody who loves nature, tranquility and authenticity. We just loved it!!! Thank you Odysseas for the great time!
Misha
2014-09-24T00:00:00Z
Odysseas was already waiting for us at the arranged time in the nearby village. Afterwards he led us to his charming stone house. The road was not as bad as we had expected before. Raki, Ouzo and a bottle of Cretan wine etc. were as a present on the table. Soon after our arrival we were enjoying the beautiful terrace. Really a calm place, only the birds were singing. We will keep Odysseas as a very friendly man in our mind. Many thanks for his heartiness!
Cristina
2015-04-24T00:00:00Z
Odysseas was very friendly and welcoming to us from the moment we arrived. He met us at the bottom of the lane and gave us gifts of grapes, homemade olive oil and raki when we arrived at the house. His cabin is in a very safe, rural and peaceful location and perfect for anyone who wants to get away and be surrounded by nature. The pictures don't do justice! We had a wonderful 8 day stay there.
Valeriy
2016-10-16T00:00:00Z
For those who love nature and want to hear the sounds of birds and enjoy the beautiful landscape of traditional Crete it's a must to stay at this place. Our host was very helpfull to make us feel at home in his cosy&nice cottage in the mountains. The place is tucked away in the surroundings of Voutas near Paleochora where there are several nice walks and all kind of interesting historical places to visit. It takes about 30 minutes to reach Paleochora for shopping, swimming and to go out visiting one of the many restaurants. But eating at home on your own terras while having a bbq and looking at the stars is something you 'll never forget...
Greetje
2017-04-07T00:00:00Z
Room Type
Entire home/apt
---
Property Type
House
---
Accommodates
2
---
Bedrooms
Palaiochora, Crete, Greece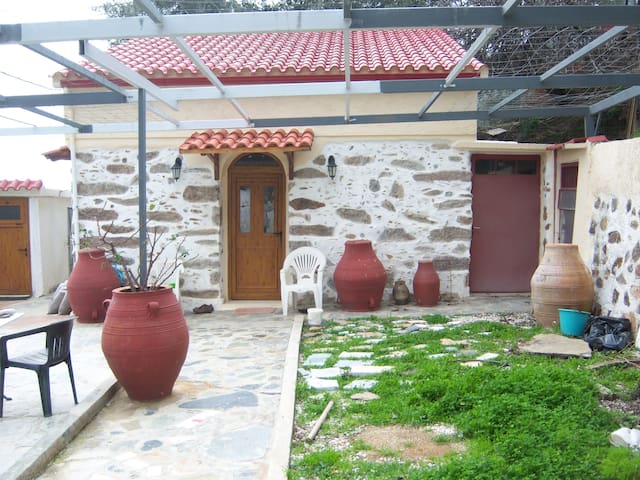 A large family home, fully equipped with gorgeous view of the sea and minutes away from beaches of Paliochora, able to accommodate 6 people in beds and 2 extra on couches. Fully airconditioned with fast wi-fi, fully equipped kitchen, large gardens and open spaces, barbecue facilities and 2 bathrooms
Our large home is perfect for families or large groups of friends who want to spend their summer vacations in beautiful Palaiochora. This is a 200 sq. m. 2storey house with a large private garden plot, beautiful views, verandas and barbecue facilities located at a few minutes of driving distance to Paliochora village and the numerous famous beaches of the region. Our home is fully equipped offering all needed modern amenities for spending some days of quality vacations under the hot Cretan summer sun and the beautiful beaches of South of Crete. • Kitchen A fully equipped kitchen with a fridge/freezer, cooker/oven, dishwasher for preparing your own meals. Full sets of pans and pots, glasses, plates, cutlery and various essentials. • Bedrooms There are four bedrooms in the house. On the ground floor, there is a bedroom with a double bed, equipped with its own closet and window views. On the upper floor, three more bedrooms can be found. A large bedroom with a single bed, a master large bedroom with a king sized bed and private veranda with beautiful views to Grammeno beach and another bedroom with a single bed and a sofa bed that can sleep one or two more people. • Bathrooms There are two Bathrooms in the house. The ground floor has a large bathroom/WC and upper floor a smaller shower/WC space. • Outdoors Large open lawn paved spaces and fields of olive groves surround the property. Barbecue facilities are present for you to use. List of amenities and equipment present in the house • Aircondition in all rooms • Wifi free and fast • TV, Sattelite channels • Fully equipped kitchen: fridge/freezer, pans/pots, glasses, plates etc • Kettle, Espresso coffee maker, Toaster, Dishwasher, Outdoor barbecue facilities • Linens and Towels provided, Washing Machine • Iron & Hair Dryer
Paleochora is a big village in south-west Crete. Located on a small peninsula it has been a popular place for many years because of its good beaches and pleasant surroundings.
We stayed here in September for a week and had such an enjoyable time. We were four females age 80, 53, and 2 x 19 year olds. The home is very spacious (which is what I was looking for given the age range), exceptionally clean, bright, airy, peaceful and safe. The photos are a true reflection of the property. There are beautiful unspoilt beaches within walking distance and several amazing Tavernas with delicious food. We hired a car which I believe is a good idea as it makes exploring and trips to Paleochora (about 7 minutes easy drive) much easier. For us we loved the fact of being slightly out of a town and in a small community where you could take a walk round small agricultural roads, experience a different side of life and become a local. Communication with Nikos was very easy and Antonis the local man was incredibly helpful. Our stay was thoroughly enjoyable for all, young and old, and highly recommended and I hope to return in the not too distant future as I really love this area of Crete and the Cretan food.
Louise
2016-09-19T00:00:00Z
Nikos war sehr freundlich und hilfsbereit, sogar alle extrawünsche wurden umgehend (!) aufgegriffen und erfüllt. Wir hatten eine herrliche Zeit in einem freundlichen haus mit unbezahlberer Aussicht. Vielen dank.
Alexandra
2016-10-21T00:00:00Z
Room Type
Entire home/apt
---
Property Type
House
---
Accommodates
8
---
Bedrooms
Paleochora, Greece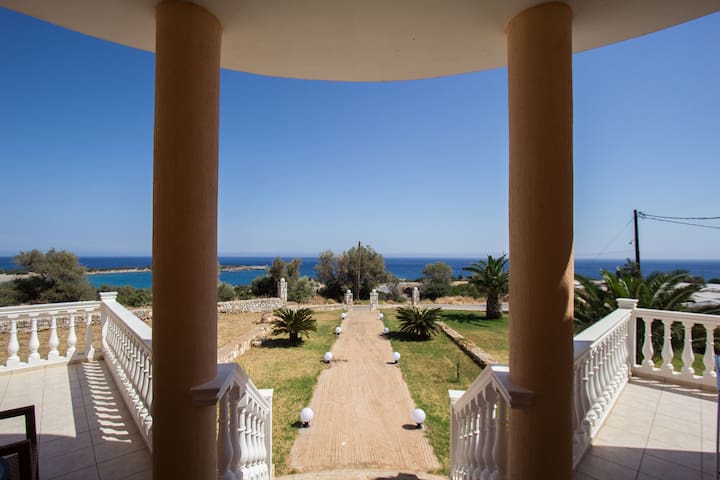 The house is close to the wonderful sea, with spectacular views, quietness, green. This is a house which has infinite views of the Libyan Sea, very close to beautiful beaches in Elafonisos, in the village of Paleochora. It is a stone house, 200 years of the Turkish occupation, it was completely renovated in 1985 and until today the house constantly updated. It is 160 square meters, with 5 bedrooms, 1 large bathroom, 2 kitchens, with upper floor and basement, fireplace, stove, parking.
Room Type
Entire home/apt
---
Property Type
House
---
Accommodates
6
---
Bedrooms
Σκλαβοπούλα, Νομός Χανίων, Greece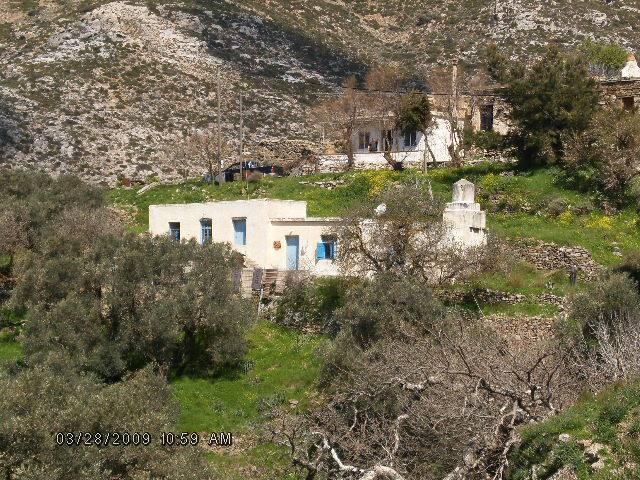 Small house located just 5 klm from the famous beach of elafonisi. With nice views over the village of chrysoskalitissa and the amazing sunset at the Libyan sea.
Nikos was absolutely fantastic. My friend and I had been driving around the island for five days and were looking forward to some restful time on the beach and great food. Nikos' flat was spotless, and when we mentioned a little technical issue, he fixed it within the hour. We ate every meal at his restaurant (make sure to visit!) and followed his instructions to a more secluded beach... It was paradise! Five stars experience Nikos, many thanks!
Susana
2016-07-10T00:00:00Z
Room Type
Entire home/apt
---
Property Type
House
---
Accommodates
3
---
Bedrooms
Moni Chrisoskalitissis, Greece