Let yourself be amazed with this fully air-conditioned Contemporary 2BR/2 BA UPSTAIRS home @Palarivattom with custom made furniture and top of line appliances that will make your stay so comfy that you will never want to go back to hotels anymore ! NOTE: Washing machine located at ground floor. Need to inform caretaker in advance for access.
Brand New Architect designed completed DEC 2015 with almost 1900 sq. feet space upstairs. Bathrooms have full glass shower partition. Mosquito proof. Complete LED lights with false ceiling and indirect lighting and skylight at Dining room Custom inbuilt wardrobe in both bedrooms with lock. Kitchen with inbuilt hood and hob,microwave,refrigerator with freezer, essential kitchen supplies
5km to Ernakulam junction Railway station 3.5km to Ernakulam town Railyway station (North) 500m to Jawaharlal Nehru stadium(pedestrian access) or 1.5km by road 4.5km to LULU Mall Closest Multi speciality hospital 2.2Km away(Renai medcity) 12km to Fort Kochi 25 Km to Kochi international Airport 9km to Infopark Campus Free food delivery menu available at home.
The great : location, rooms, the entire property (the photos don't do justice!), the hospitality of the caretaker Jose, the communication from Jimi and the comfort. The not so great : WiFi speed and the fluctuation in WiFi connection (don't know if it's a kerala thing) Overall: easily better than most business hotels around for a very competitive price.
Sachin
2016-09-05T00:00:00Z
Jimi was in touch through out to make sure things were in place. The property was new and well maintained too. The location was calm and quite, without any disturbance and we did enjoy our stay there. Was tired after travel and Cochin humidity made us wanting for some cold water by the time we reached there and were glad to have basic things like mineral water to drink !!
Srikant
2016-08-19T00:00:00Z
Brilliant and neat everything was.... keep up the work.... Jimmy/ Jos /Shanu
Kiran
2016-11-06T00:00:00Z
Jimi's place is perfect for anyone looking for a place in main city. The apartment is newly built, super clean, well maintained and a fully operational kitchen. Not to forget a beautiful garden to enjoy evening tea. Had a great time :)
Pallav
2017-03-12T00:00:00Z
Hey Jimi, thank you for the stay. The house is amazing, neat and everything is well organised. Completely blown away. The caretaker was extremely cooperative and helpful. I will recommend this to everyone who are looking for a economical but luxurious stay. Thank you.
Praveen
2016-11-13T00:00:00Z
My grandparents, mom, and 2 other relatives stayed at Jimi's place and they were extremely pleased with their stay! There is absolutely nothing that is out of place. The place is clean, peaceful, modern, spacious, well equipped and perfect for both family and friendly stays. Jimi's mother is very welcoming and helpful. It is close to shops and markets. Overall, I strongly recommend this place and thank Jimi and his mother for attending my family so well. 5 star property!
Sanket
2017-03-25T00:00:00Z
Jimi's apartment was in many ways perfect, and matched the description on the listing. Spacious, clean, and very well done interiors. Also, it overlooks a small garden making it perfect for your mornings. Additionally, the surroundings are serene and green, shutting down the city noise with ease. The caretaker was mostly around and available for any help. Would surely recommend this for anyone looking for a great stay in the middle of the city.
Abhilash
2016-10-09T00:00:00Z
This wonderful house we stayed somehow saved us from a disaster! If we stayed in a house with less ventilation and space in extremely hot Cochin it would have been entirely different experience! The house is newly built with modern touch in each and every corner. The very spacious living room, kitchen and wonderful attached toilets with modern fittings and not to forget the air conditioners made things very comfortable there! And yes not to forget the netted doors as extra protection to ensure we are safe from mosquitoes. Our family instantly fell in love with the place. Our lovely host (Jimi's mother) ensure that she was available all the time at our service. She was so kind and ready to help whenever asked! It indeed was home away from home!
Shazra
2016-03-30T00:00:00Z
Room Type
Entire home/apt
---
Property Type
House
---
Accommodates
5
---
Bedrooms
Ernakulam, Kerala, India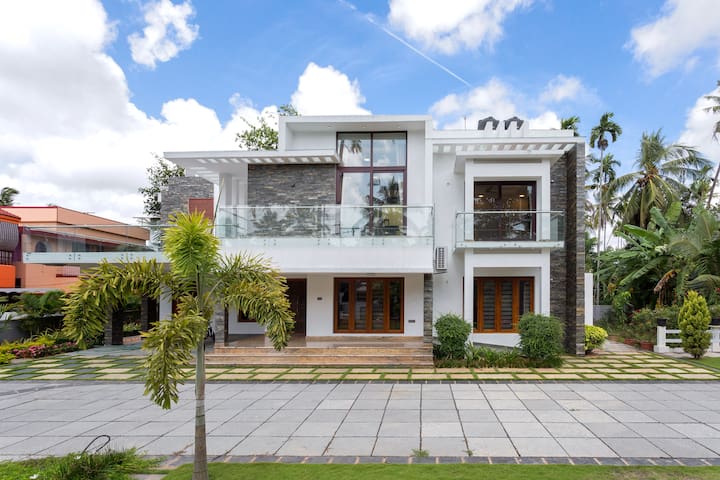 A beautiful, quite studio apartment at the heart of Cochin city. The studio apartment is in ground floor of an independent house, with all amenities including a car park and a cycle for guests to use.
The space is a large studio apartment with the lounge and bed attached. there is a huge kitchen, bathroom and storage area The apartment comes with all necessary amenities a traveller would need; Air-conditioning, hot water, kitchen with required utensils, WiFi, Cycle in the premises, we also offer a motorbike on demad
A beautiful quite neighborhood in the heart of Cochin city. With the major cities major busstand and railway station less than 5 minutes away
Everything was nice and comfortable. Aadi's mother is really a great woman, who help us with everything. Thank you!
Владимир
2017-03-12T00:00:00Z
Nice and big house, house got everything you need and Adi mom is really helpful as well.
Anand
2017-04-03T00:00:00Z
On the first night there was some miscommunication and the place was double booked. However, Adis family was very accommodating and allowed us to stay with them for the night. The next night we stayed at this place and it was as described, a little difficult to find but the hosts were very nice and accommodating. Wifi was good and all amenities were provided. I would definitely recommend this place of you are staying in Cochi and especially if you are planning to visit Munnar as it is very close to the bus station.
Hitesh
2016-04-18T00:00:00Z
This unit was as expected. Small, cozy but big enough to spread out. Clean, throughout. Great location. Close to everything. Walk or cab. Good, food at good prices within a one block walk. Good hosts. Made sure we were welcomed. Highly recommended!
Aamir
2016-07-11T00:00:00Z
We stayed two days here and it was truely the best homestay we could hope for. Aadi's mom was very welcoming and helped us with all our queries. Definitely would suggest this place for anyone looking for a good place to stay with the comfort of home.
MARIA
2016-11-23T00:00:00Z
Very good location... Aadi is very prompt to answer queries... His mother is very welcoming in her house.. House is very clean, easy for public transport. I got more than expected.
Argha
2016-11-14T00:00:00Z
The locationis superb- quiet yet close to downtown Ernakulam. It's close to both the train stations too. Aadi mom is very helpful and efficient. I didn't expect an equipped kitchen, but everything was available for me to do some simple cooking. A very pleasant experience and I'd highly recommend this place to those visiting Ernakulam!
Anita
2016-10-29T00:00:00Z
Great accessibility. Safe neighbourhood. All basic amenities required and beyond were available. The host Aadi's mom was extremely helpful and pleasant. Would love to go back!
Athi
2016-09-01T00:00:00Z
Room Type
Entire home/apt
---
Property Type
House
---
Accommodates
2
---
Bedrooms
Ernakulam, Kerala, India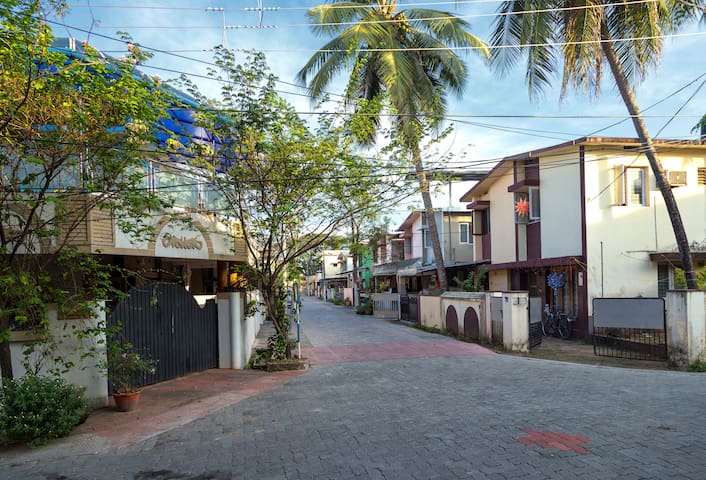 My House is close to the airport ( 40Min ), Railway station (30 Min ), Beach (25 Min), public transport(200mtr) and famous Lulu Mall shopping complex (15Min ) drive away only. My House is good for couples ,Families with kids & back packers. Its a new and well maintained house and its suitable for those who looking for luxurious stay in an affordable price without compromising the safety and security .And I am sure, you will really feel your own homely atmosphere while you away from your town
This is a newly constructed and well maintained 3400 sqft modern house with 3 bed rooms and all necessary facilites including built in wall drops, Air con ,wireless ,TV etc..and indeed a full fledged kitchen too. And this property is located near to the new city EDAPALLY (15 Min Drive ) thus very easily can reach to city and motorways
Varapuzha is in between Cochin international Airport and Ernakulum Railway station, thus its convenient to reach city areas within minimal time and at the same time you are away from over crowded City's pollution and noises. Distance to nearby public hotspots from my house Cochin International Air Port - 24 KM (40 Min Drive) Ernakulam Railway Station -17 KM (30 Min Drive) Lulu Mall - 6 Km (15 Min Drive) Aster Medcity Hospital - 6 KM (15 Min Drive) Cherai Beach -16.5Km (25 Min Drive )
We had a great time!! This is a beautiful, modern, well equipped villa. Balu & his family are very nice and helpful and they are there to help in any way possible. The breakfasts are really good. Highly recommended!!
Ariel & Einav
2016-11-13T00:00:00Z
HI , WE WERE A COUPLE WITH PARENTS VISITING KERELA. we were fortunate to have a stay @ balu james house. we were the first AIR BNB guest to their place. he was perfect and continuely in touch with maps and direction and food preparation help we need , with all positive results. the home was a dream home perfectly designed , very very spacious . away from city crowd in pleasent village atmosphere within reach to city by car in 2 to 5 min . blessed with coconut, banana, tomato plantation balu's parents were really helpfull in all ways from start to end of our stay, they helped us arrage a special vegeterian kerela dinner , breakfast and banana leaf lunch. Really seems like our own parents, MOM could talk in malyalam AND papa onveyed us her feelings and help in english. our city tour by city cab ner them was arranged with a eversmiling driver and ready to show complete city attitude. ola costed rs. 270 from ernakulam north station to balu james house . easy to find with all the videos and directions given to us . the house was modern, wifi was perfect , the tv room was great , bed room was cozy and spacious with new aircons, needs more indian hindi channels. the breakfast was tasty . kitchen was pefect and complete . over all a perfect place to stay from city crowd.
(EMAIL HIDDEN)
2016-10-03T00:00:00Z
We stayed at 'The Heaven' for 3 nights and it was everything we hoped it would be. We booked the entire place and it is probably one of the best villas I have ever stayed at. It has a beautiful garden with many varieties of vegetables and we had lunch in huge banana leaves from the garden. The stay was very comfortable and home-like. The skylight in the living room made the villa look beautiful and its been our favourite part of the house. The hosts stay in Singapore and this huge estate is handled by their parents alone, and its needless to say that they are doing a wonderful job. The villa is located close to the highway and also near many backwaters. All in all, it was a wonderful experience to have stayed here!!!
Murali
2016-10-06T00:00:00Z
Excellant home stay. New property and kept extremely clean. The host was very helpful and always took an extra step to ensure our comfort. The stay is in vicinity to all major spots in the city. Perfect example of how a good stay should be. I highly recommend.
Nivea
2016-12-26T00:00:00Z
The hosts made us feel very welcome by arranging pick up locations with our driver in the local language. They also made us a delicious breakfast and showed us around the house and garden estate. The online listing was very accurate and matched the beauty of the house perfectly. Apart from the slightly difficult to reach locality, the surroundings of the house were very pleasant and complemented our stay well.
Vinoda
2016-12-20T00:00:00Z
Balu's villa was comfortable and spacious for the stay. His parents are very welcoming and we thank them for being so hospitable. Would highly recommend this place.
Saumya
2017-01-28T00:00:00Z
I was travelling with my parents and 2 year old Daughter. We stayed at Balus Place for 2 nights, this is one of the best villas I have ever come across. the bungalow is nestled between an plantation. The stay was very comfortable and the place was super clean. The host Balu was very helpful right from the time of booking. we had a great stay and absolutely loved this place. Hope to be Back soon.
Rosario
2017-04-01T00:00:00Z
Attention to details, right from getting directions to every amenity provided, exceeded our expectations. Balu and his parents are the perfect host. It's secluded, private and lavishly spread out. Although 25kms away from the main Cochin hotspots, an uber or local transport is easily accessible. The property alone deserves a mention, look no further if your considering a stay in Cochin or Ernakulam. Special thanks to Balu's parents who were the perfect host and offered the required privacy and at the same time were very helpful and very humble.
Freeda
2017-02-10T00:00:00Z
Room Type
Entire home/apt
---
Property Type
House
---
Accommodates
6
---
Bedrooms
Ernakulam, Kerala, India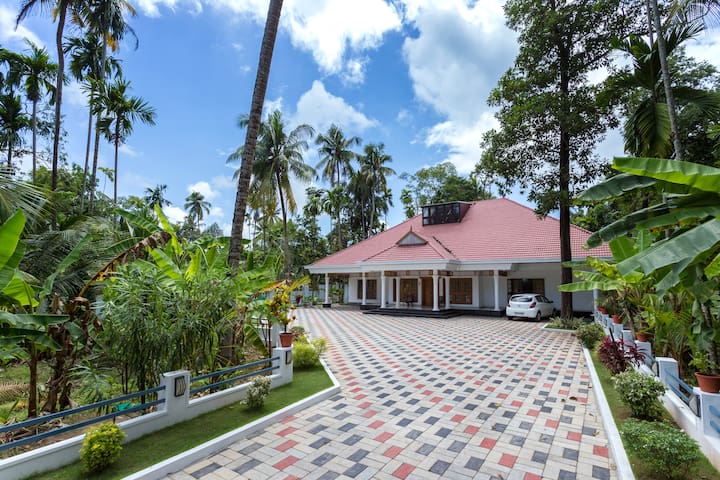 The 280 sq ft room is fully furnished with a king size bed, and a bath tub,24hr hot water supply. It is situated at an ideal location with 24hrs good connectivity. 15 mins from the airport, on the banks of the Periyar river, opposite to a famous historical temple. Cabs,Meals,Beverages can be provided on request. You'll love my place because of the views, the location, the people, and the ambiance. My place is good for couples, solo adventurers, business travelers, and families (with kids).
Perfect for couples, family with kids, business travellers, solo adventurous backpackers.......safe,lush green neighborhood..perfect ambience to relax before you catch your next flight !!
The property is located with a peaceful atmosphere, slightly away from the commercial part of the city, and would keep you away from the trivials of tourist places, but still within close proximity and 24 hr connectivity to all the places. A very famous historical temple is right opposite the house,on the banks of river Periyar. A beautiful country side.........come experience us !!
This was a wonderful place to stay, Sneha and her family were very kind, told me all sorts of places to go, and cooked wonderful meals for me, lunch and dinner! I would recommend this reservation four people arriving into Kochi! Sneha even helped me put a plan together for how where to travel to next and how best to get there! It is very close to the beautiful river and everyone in the neighborhood is really welcoming. Also they have a really sweet dog :) I felt very safe and comfortable! Thank you!!!
Aaron
2017-01-08T00:00:00Z
Really loved the place, the location is lovely, its quiet and far from the hustle bustle of city traffic. The best place for spending with friends and family. The house looks exactly how it is in the pictures. The owner has been accessible before and throughout the trip. Directions given were very precise and the hosts were really helpfull and polite. We will surely be looking forward to come back.
Anurag
2017-01-17T00:00:00Z
Sneha's place is a must stay! It was located in a beautiful and quiet area away from the hustle and bustle of the city. I went walking in the morning and it was beautiful to walk among the trees with few cars. Sneha and her family are very welcoming and friendly people. The room is absolutely beautiful, very spacious and the bed is so huge and comfy! hot water is readily available and it is a quiet place to sleep. I am very grateful to have stayed here. I was lucky to eat an Indian breakfast which was delicious also! Definitely stay here, it is definitely worth it!
Shannon
2017-02-06T00:00:00Z
I stayed only one night to catch the early morning flight on the next morning. Simple but spacious room in a huge house. The mattress in the bed was the deal in this place. So comfy and thick, big enough for 2 people. The maids working on the ground floor were bit noisy in the night time though. One thing I forgot to request, they didn't put the towel in the bathroom. Roll tissues I found in the drawer later. Taking shower was a bit tricky, the water was warm but it took some time to get to know how to use it. Over all, very nice place to stay if you are looking for a place nearby the airport. However, it is not so close to the airport it took around 25mins to get to the airport. (I expected 15mins)
BOYOON
2017-01-30T00:00:00Z
Staying at Sneha's place before my early flight was great. Close to airport. Clean room and bathroom, proper Air Con, strong wifi, and nice people who are willing to accommodate you in whatever you need. Sweet souls thank you for opening your home to me!
Christina
2017-03-24T00:00:00Z
We had a great time staying at Sneha's place. Her husband was very welcoming, and even took us for a small visit around the house with Cherry (adorable house dog). There is a temple and the river near by, it was a nice walk and we even tried fishing! I strongly recommend this place for people who have to catch an early flight. Sneha even organised the transportation in the morning for us.
Ornella
2017-02-05T00:00:00Z
It was a pleasant stay at sneha's place. She was friendly and also guided us and gave us clear directions to her place and also when we were planning to go out. I would love to stay at her place again if i visit kochi again.
Vanathi
2017-01-06T00:00:00Z
A wonderful welcome by the whole of the family! Perfect location for airport transfers. I slept so well and enjoyed an absolutely tranquil arrival in kerala before exploring the city. I highly recommend their home and its total value for money - easily fitting for a family or a huge bed for a couple! Even a bathtub! Thanks and see you again.
Josie
2017-01-10T00:00:00Z
Room Type
Private room
---
Property Type
House
---
Accommodates
2
---
Bedrooms
Ernakulam, Kerala, India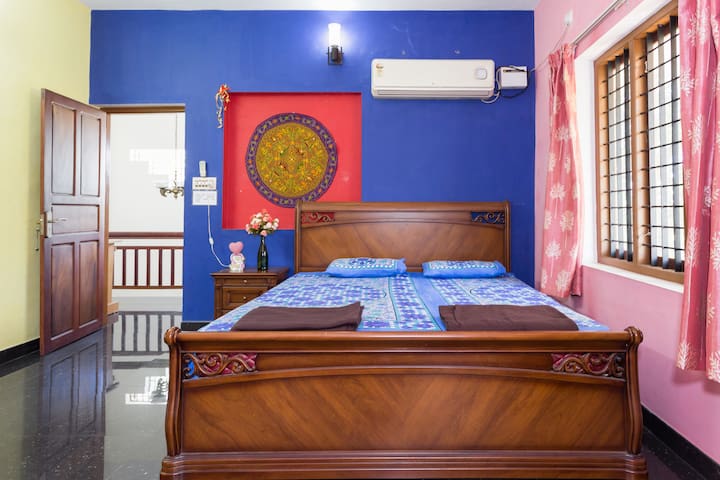 Come and experience the magic in Kanadan heritage @ a budgeted price. It's a fully furnished independent deluxe a/c room's close to vembanad kayal .
Kanadan heritage is located in thevara ,its between Cochin city (4km) and fort kochi beach (10 km).My place is close to Vembanad lake which always flows a gentle breeze to our property. Our property is close to Kerala folklore museum ( 2 km) which is one of the famous museum in India.Malls, supermarket's, medical shops, hospitals and other facilities is located in (5 km) radius from our property.We ensure a pleasant stay with a good hospitality services and experience peace.
Room Type
Private room
---
Property Type
House
---
Accommodates
8
---
Bedrooms
Ernakulam, KL, India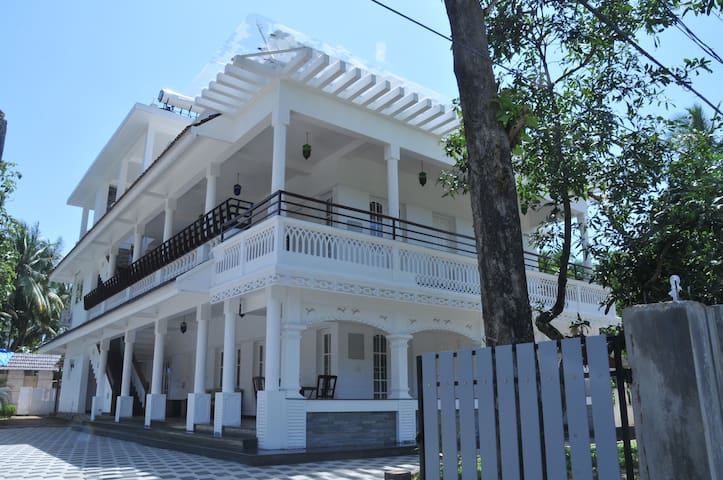 Athithi Homes is a Kerala Government Approved Home stay certified by the Department of Tourism. Here we are committed to help you with a spacious, homely & a safe environment situated in midst of a green neighborhood. You will find a calm and quiet Kerala experience with all modern facilities at affordable rates.
Athithi Homes is well maintained with 3 spacious bedrooms, covered car parking and a large family can be easily accommodated. It even has a large sit-out and also a terrace where you can spend your mornings and evenings lazing around. Athithi Homes is well equipped with all modern facilities such as: 1. Cable TV 2. Refrigerator 3. Wi-Fi Internet 4. Purified Drinking Water 5. Washing Machine 6. 24 Hours Electricity Backup 7. Air-condition Bed Room 8. Cooking Gas with Utensils for Self Cooking 9. Solar Water Heater 10. Covered Car Parking
Athithi Homes is situated in a quiet green neighborhood away from the hassles of the city. Athithi Homes is in the city center close to transportation hubs, leisure destinations and great shopping and dining areas. We live by the golden philosophy "Atithi Devo Bhava" derived from Sanskrit means "The guest is equivalent to God".
I booked this apartment for a bunch of my friends from Europe. They were mighty pleased by the whole experience. The apartment was clean, spacious and furnished nicely. I could not personally meet Nikitha but her concern for her guests ensured that we were in touch constantly. When one of my friends was unwell and stayed at home, Nikitha's mother took care of her (Kerala has earned another kanji lover ). Lastly and most importantly, I would highly recommend this place because of the wonderful hospitality of the hosts and their genuine care and concern for their guests. Thank you for everything Nikitha!
Tess
2016-01-30T00:00:00Z
Fantastic hosts. Nikitha and family were super accommodating. I think the pictures don't do justice to how good the place is. It was spick and span, very nicely done up and beautifully/centrally located. We had a very good time. They even cooked up some amazing pork curry when we said we wanted to try some :) Would definitely visit again. Thank you guys for having us over. See you all soon hopefully
Vinayak
2017-01-09T00:00:00Z
Great host! Organised bicycle hire despite no one in town offering it.
Ishaan
2017-01-31T00:00:00Z
I cannot praise the host or the accommodation enough. Right from the start, Nikita and Pratheesh have been very helpful. The home is big, neat, child-friendly and in a very convenient location which made our trip to Ernakulam city very easy. Wonderful experience, shame we couldn't stay longer. Thanks guys.
Varun
2016-05-04T00:00:00Z
It is a fabulous accommodation. Nikitha is such a friendly and helpful host. She recommended all the places as per our taste to eat and enjoy the town. Coming to the property its a beautiful 3bhk on the first floor in a peaceful area. It consists of three large bedrooms with attached bathrooms, a large kitchen and the attache with a washing machine. Availability of an RO, a toaster and a microwave helps you a great deal. Private and clean house you can enjoy with your family members without any interference always knowing that Nikitha is ever available in the background for any help. The house is very conveniently located near the railway station in Ernakulum to roam around Kochi. We were only there for a day as I had booked the place for a stopover in Kochi for a day before I move onto my vacation in the tranquil lands of Kerala. To my pleasant surprise, I found myself asking for more, much more as a day is just not enough to savour the delicious Kochi nor the comforts at Nikitha's home. Will definitely plan a longer trip the next time!!
Sukant
2016-06-19T00:00:00Z
My three friends and I booked Nikitha's home very last minute. We loved our one-night stay! Nikitha and her family were so accommodating. We were allowed to check in early. Nikitha also got us a driver that allowed us to explore Kochi and Ernakulam for the day. The place was so clean and in a quiet neighborhood. In the sweltering heat, the ACs in both rooms worked amazingly. It felt like 15 degrees. So perfect. They also provided menus of local restaurant so we can order in food. Would definitely recommend and stay again. Thank you so much! PS. Nikitha and her husband have the most adorable little boy.
Rhonda
2016-05-02T00:00:00Z
It was a memorable event and we really enjoyed the stay at Athithi Homes, Kochi, Kerala. The host Ms. Nikitha George was always there for all sorts of helps and it made our trip very enjoyable. She is very knowledgable about the city and the neighborhood and every one around know them. Though the place is in the middle of the city, it is quite, serene and comfortable. As regards the accommodation, the apartment is large, around 1500 sq. ft. with 3 large size Bed Rooms and attached baths, fully furnished kitchen, Dining area, sit out, etc. etc. Cleaning and maintenance was perfect every day. All kinds of home delivery foods available any time during day and night. Transportation, shopping, movie houses, etc. etc. are nearby or within a small ride. Altogether we enjoyed the stay and the host was very helpful and cooperative. They treated us just like family. We have no hesitation to recommend this property to any body looking for a comfortable large place in the Ernakulam city/suburb area at a reasonable price. Also this location is prestigious residential area next to Panampilly Nagar. For verifications please feel free contact us (PHONE NUMBER HIDDEN) or (EMAIL HIDDEN)
Rajan
2016-03-10T00:00:00Z
What a wonderful stay we had. Nikhita and her entire family were excellent hosts. The house was spick and span. Everything well organised. Only regret - Wish we had stayed longer. The house was more than spacious for 5. And the bathrooms were super clean. I can't thank them enough.
Vidya
2016-04-16T00:00:00Z
Room Type
Entire home/apt
---
Property Type
House
---
Accommodates
6
---
Bedrooms
Ernakulam, Kerala, India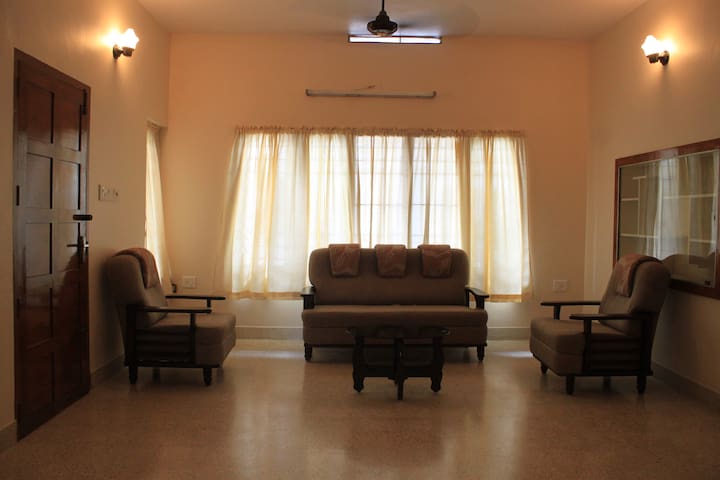 Our Charming Edappally homes with cozy 5 bhk Air conditioned spacious rooms in the heart of the Ernakulam City. The rooms are fully furnished with 4 star category attached toilets. 24hours room service available with Car parking facility. Located 200 Mtrs from the lulu mall. Provides a calm and relaxing environment for travellers with wifi & cable broadcast. We offer Free breakfast with regional and continental choices. 24 hours check in check out. Cleanliness & Well quality hygiene maintained.
Spacious and comfortable
Calm and peaceful
Great homely place. Very close to the main road with the bus stop close by. Also availability of cab (Ola & Uber) even at 4 am was a plus point especially as we had an early morning flight. Very peaceful and calming surrounding give you a beter holiday experience.
Abin
2017-01-01T00:00:00Z
We had a lovely stay in Kochi! Although the house is not in the centre, it is placed in a silent neighborhood. The room was neat and clean and we also got breakfast! Thanks so much!
Jonas
2016-12-28T00:00:00Z
The place is amazing The host will do everything to make you comfortable he is a genuine person. Kitchen is well stocked. The house is in a residential area just walking distance from public transport. a very Kerala type of house my family really liked to be there.
Sushil
2017-01-25T00:00:00Z
We stayed at Abijith's place for a night. One of the reasons for booking his place was the location; Lulu Mall and Edapally church are just a kilometer away and Cochin International Airport is around 22kms from his place. Initially, there were a few hiccups due to the previous guests extending their checkout. Calls were made back and forth but finally the host managed to resolve the issues and we checked in around 5 PM. The room and property was as in the picture. The room was clean. The host provided few basic necessities, which was a nice gesture; this happened for the first time in all our stays across various Airbnb listings. Though the room had WiFi, we were not provided the password despite asking for it. Since we had active data packages on our phones, we didn't push for it further. No hot water in the shower, however we did not cross check on this. All basics for breakfast (cornflakes, milk, bread, eggs, jam, etc) were available in the shared kitchen. Overall our stay was pleasant despite the initial issues.
Shruthi
2017-02-12T00:00:00Z
The place is in a very quiet part of the city and it is great for resting. It's a big house
Alberto
2017-02-21T00:00:00Z
We stayed 8 nights and had a really nice time here. The place was easy to find and everything is like in the pictures. There are three bedrooms in the apartment but only one was ready for guests so we had the whole space to ourselves, including bedroom, bathroom, living area and kitchen. In the beginning of our stay there was no WiFi, fridge or washing machine but day by day we got new items (also new towels, breakfast food, water filter, books, DVDs, ...) So basically now there is everything you need to feel like home! Abijith and his family were available via phone around the clock and fixed all our problems as soon as possible. The place is near Lulu Mall, lots of restaurants and a huge new church. You can easily go to Ernakulam and Fort Cochin by bus (Bus stop 5 minute walking distance) All in all we had a perfect stay, we'd definitely come back!
Marlene
2017-01-10T00:00:00Z
Quiet home, room with ensuite bathroom, but many small issues added up. Power was out for much of our stay (it was on in neighboring homes, but not this one). Many mosquitos in the room. Wifi was unreliable (off when there was no power, slow at other times). We had to ask for toilet paper. The bed did not have a top sheet, so we are slept with the unwashed comforter. We asked for another sheet and were told they would bring it in the morning. The a/c turned off even when there was power.
JACOB
2017-02-11T00:00:00Z
this is one of the beautiful and scenic houses i have ever been to.. its so silent and one can hear the sounds of the nature.. it is so peaceful.. its actually worth the money.
Srujana
2017-02-06T00:00:00Z
Room Type
Private room
---
Property Type
House
---
Accommodates
2
---
Bedrooms
Ernakulam , Kerala, India
Located 2.4 miles from Medical Trust Hospital and 3.8 miles from Rainbow Bridge, Ernakulam this air conditioned villa 300 meter from Kerala Folklore Museum Thevara ferry Road 26/2320B Parackal House Ernakulam (PHONE NUMBER HIDDEN) km from kochi international airport 100 meter from Back water view
Room Type
Entire home/apt
---
Property Type
House
---
Accommodates
6
---
Bedrooms
Ernakulam, Kerala, India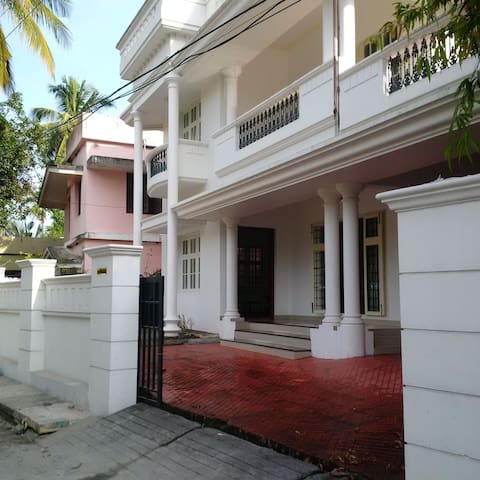 Lake County Heritage home is a 120+ years old ancestral home which blends Portuguese, Dutch and Kerala Architecture. Recently renovated home, nestled near backwaters & surrounded by fruit trees, offers a quiet and private retreat. Bayside room is an air-conditioned room which is situated in the new block of the heritage home. The room has a double bed and can accommodate 2 people. Our place is good for couples, solo adventurers, business travelers, families (with kids), and big groups.
The host canceled this reservation 6 days before arrival. This is an automated posting.
Monika
2016-12-24T00:00:00Z
Room Type
Private room
---
Property Type
House
---
Accommodates
2
---
Bedrooms
Ernakulam, Kerala, India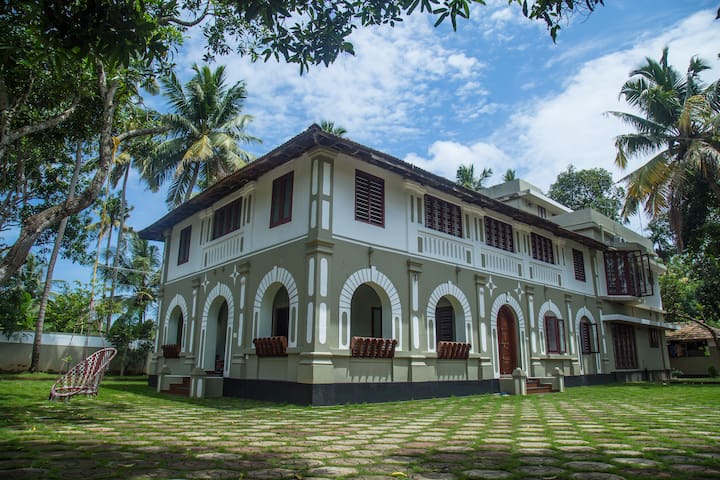 My place is good for couples.
Room Type
Private room
---
Property Type
House
---
Accommodates
2
---
Bedrooms
Ernakulam, Kerala, India
It is in a residential house and situated near to the airport,Rly stn and the bus stand. This is in a residential colony and accesible to places like cherai beach,munnar.Fort Kochi,Thekkady,Athirampally waterfalls, Idukki dam etc.This is centrally
Room Type
Private room
---
Property Type
House
---
Accommodates
1
---
Bedrooms
Ernakulam, Kerala, India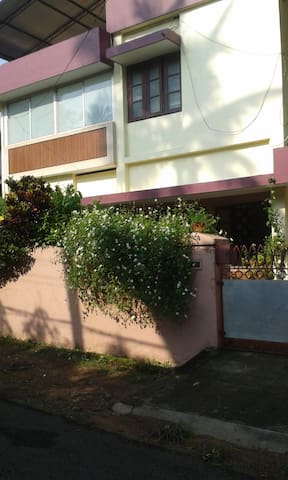 This is a great place for Family with Kids. We have Kochi airport nearby, 3 min away from airport. Also an aesthetic experience in the Villas with all the modern amenities
Room Type
Entire home/apt
---
Property Type
House
---
Accommodates
8
---
Bedrooms
Ernakulam, Kerala, India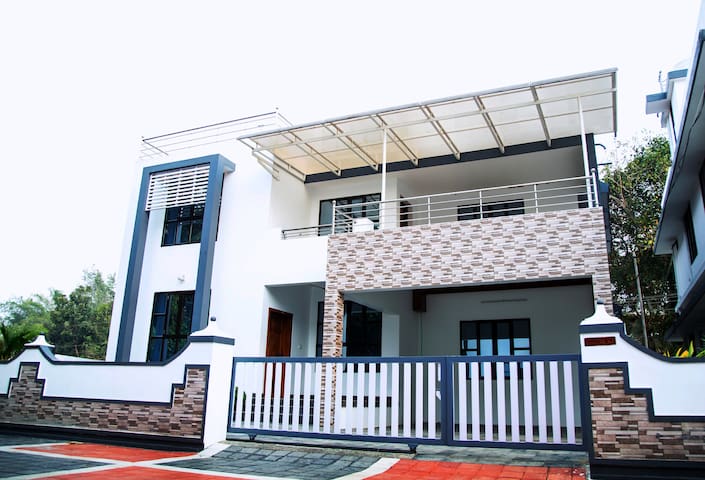 Annapoorneshwari Tourist Home(Karikkamuri Cross Road) is located in the Ernakulam district in Ernakulam, 1.1 km from Medical Trust Hospital and 1.6 km from St. Francis Church Kochi. Free private parking is available on site. Every room is equipped with a TV. The rooms are equipped with a private bathroom. Rainbow Bridge Ernakulam is 1.6 km from Annapoorneshwari Tourist Home(Karikkamuri Cross Road), while Santacruz Basilica Kochi is 5 km away.
Room Type
Private room
---
Property Type
House
---
Accommodates
2
---
Bedrooms
Ernakulam, Kerala, India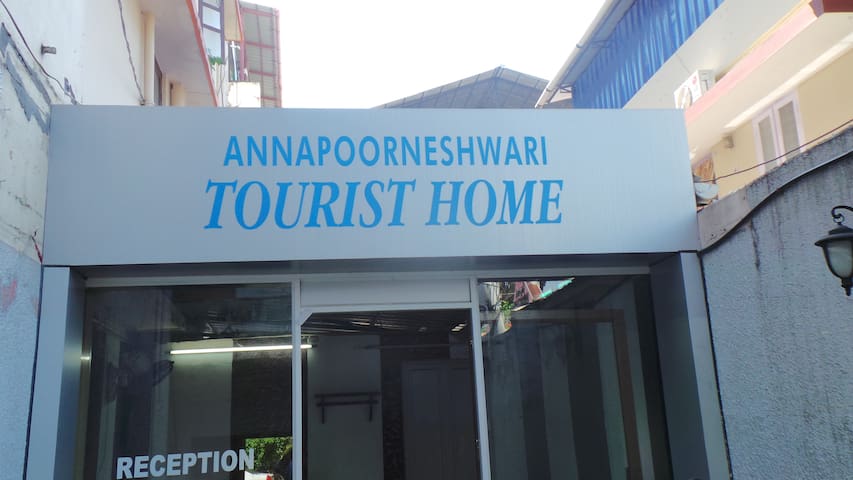 Our House is suitable for discerning traveler who looks for an authentic Kerala experience; for people who want to experience life in Kerala villages not from the cocooned comfort of a star hotel but right down from the heart of the village itself. My place is close to Located a mere 40 minute drive away from the airport, amidst a stately stand of tall teak-wood trees on the banks of the Periyar, Our Property offers home-stay facilities par excellence in an ambience that is scenic and serene.
Away from the hustles of city life, Our Homestay is ideal for nature loving guest with lot of Bird watching options.If it,s Peace, tranquility and total relaxation that you want,our 4 year old property Teak House is a place for you. A Homestay beside the beautiful backwaters in a quaint village on the outskirts of Cochin Where time stands still and life is laid back and leisurely.
Our Place is blessed with scenic beauty, We are part of calm and beautiful Village.
Room Type
Private room
---
Property Type
House
---
Accommodates
2
---
Bedrooms
Ernakulam, Kerala, India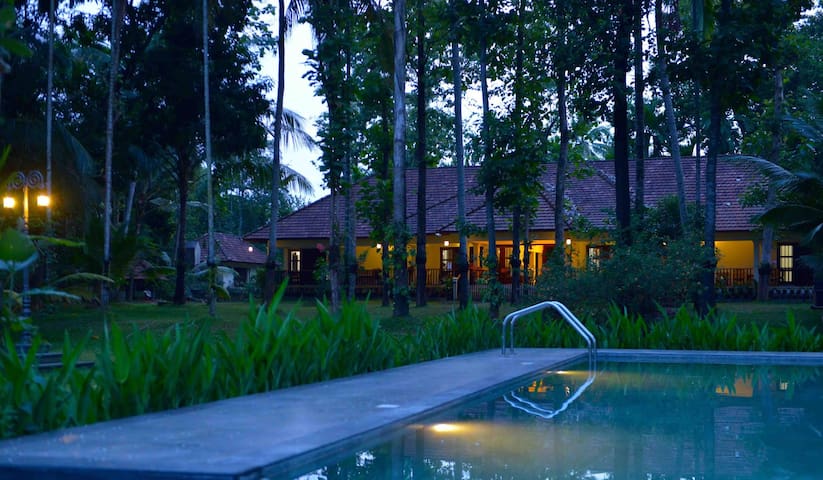 My place is close to Paradise holidays .
Room Type
Entire home/apt
---
Property Type
House
---
Accommodates
6
---
Bedrooms
Ernakulam, Kerala, India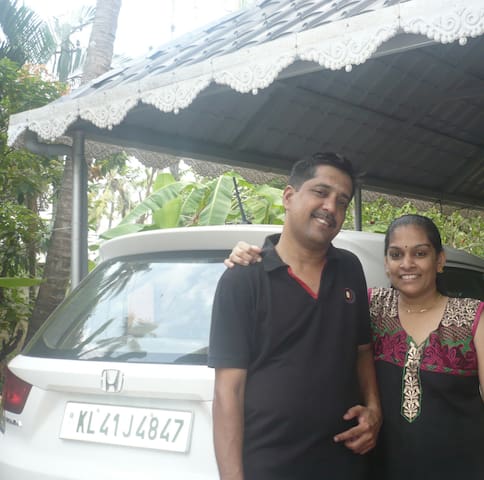 My place is close to City and away from the heavy traffic and pollution . You'll love my place because of it's unique location. My place is good for couples and families (with kids).
Room Type
Entire home/apt
---
Property Type
House
---
Accommodates
4
---
Bedrooms
Ernakulam, Kerala, India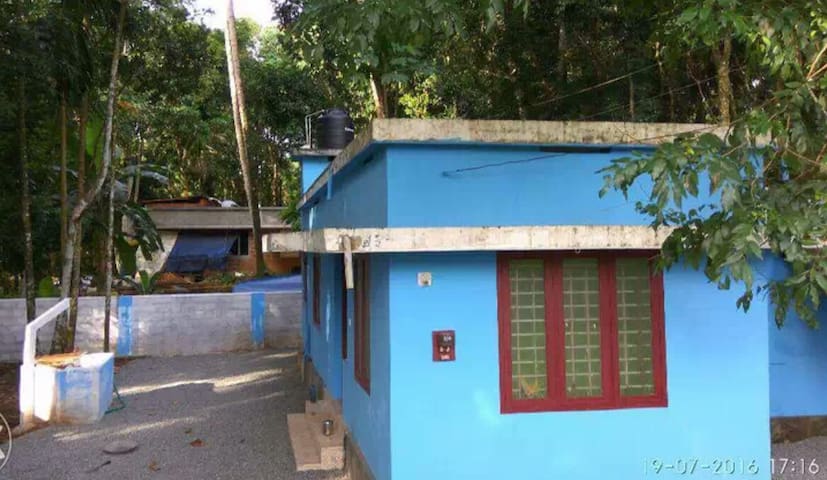 My place is close to Tripunithara which is famous for art and culture. You'll love my place because of the ambiance and the people. My place is good for couples, solo adventurers, families (with kids), and furry friends (pets). You can bring in your own vehicle or else for local commute online taxis like Uber and Ola are readily available.
Anand's place is in the center of the city. Inside a a modern villa complex. Anand and his wife are really great hosts and I had a lovely time. The location is closer to the airport as compared to some other options, therefore I would recommend it to anyone wanting a quick ride to the airport.
Khurram
2017-01-11T00:00:00Z
Room Type
Private room
---
Property Type
House
---
Accommodates
2
---
Bedrooms
Ernakulam, Kerala, India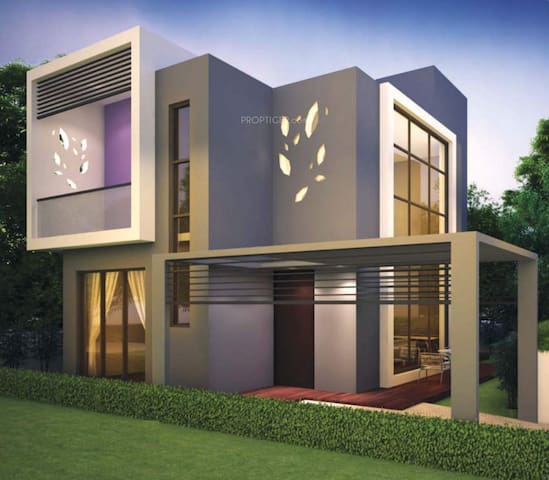 Our home stay faces cherai beach and which brings a pleasant sight of the sea. Angel garden offers 100% homely atmosphere to their customers. Our place which promotes nature and traditional way of treating customers. You'll love my place because of food which we serve; we serve only homely food which is served in Kerala's traditional way. Our,s is not a star rated home stay, but it is simple and humble place where guest can enjoy the scenic beauty of the nature..
Our Space is simple in terms of accommodation. The most unique about our property is that you get a chance to experience elegant village life as well as Beach as we are centrally located.
The Front veiw of the room covers Beach. The 18 kilometer long Cherai Beach is the golden beach of Kerala and is rightly called "The Princess of the Arabian sea". Feel the warmth of the golden rays of sunset infront of our resort. Dolphins are seen here occasionally.The beach is shallow, calm and is ideal for swimming & sunbathing. However the backside side of our property covers calm and vibrant Village life which our guest would love to experience.
Room Type
Private room
---
Property Type
House
---
Accommodates
2
---
Bedrooms
Ernakulam, Kerala, India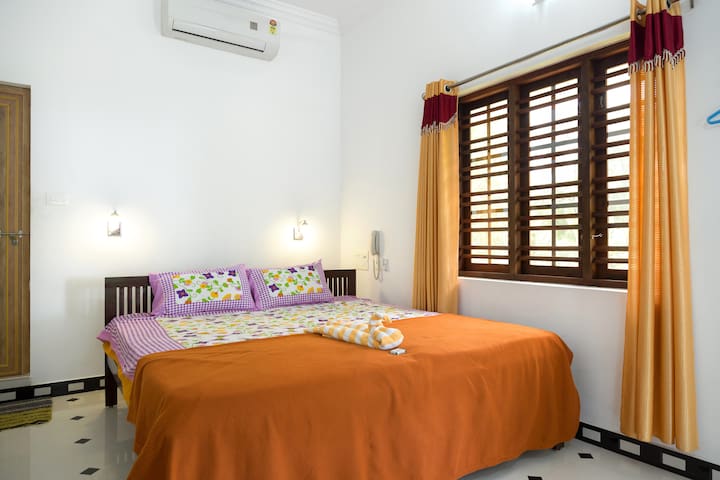 Ernakulam - Airbnb
:
Average

4.59

out of

5

stars from

89

guest reviews