Stay just outside of Santa Cruz for a more affordable rate than the downtown or beachfront prices! Our quaint place is a newly remolded home in a suburban area. It is 30 minutes from outdoorsy, fun Santa Cruz attractions and 35 minutes from beautiful Monterey. You'll love the great vantage point to get to awesome Santa Cruz spots and sights, as well as the comfy bed, the kitchen, and the cozy vibe. Our place is good for couples, solo adventurers, business travelers, and families.
You will have access of the whole place to yourself. You walk into a cozy living room with 2 couches and a TV that has Hulu, Netflix, and Youtube (not cable TV though). The living room leads to a fully stocked kitchen with a built in dining nook. The downstairs bedroom has a comfortable queen bed with a brand new mattress. There is an upstairs loft where we provide a brand new queen sized air mattress that you can use if you would like. There is also a washer and dryer you are welcome to use.
Kelps Place is less than 10 minutes from Highway 1; which will take you north to Santa Cruz or south to Monterey. The neighborhood is very homey and is not far from several grocery stores and shops like Target, Ross, CVS, etc.
Room Type
Entire home/apt
---
Property Type
House
---
Accommodates
4
---
Bedrooms
Watsonville, CA, United States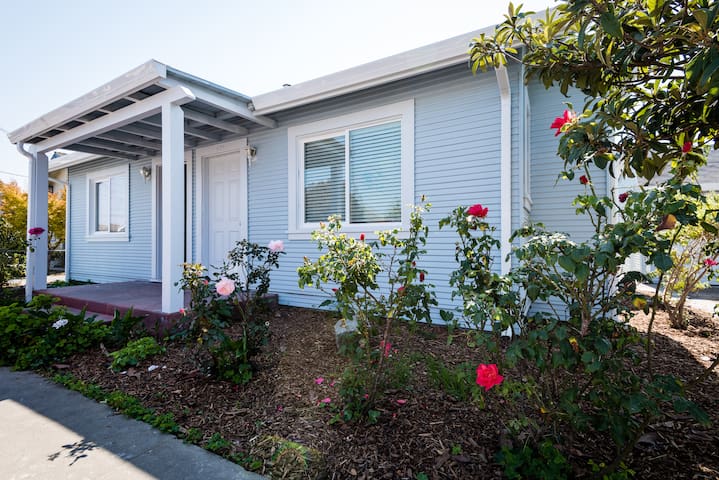 Small private studio in quiet country neighborhood. Includes private entrance and bathroom, kitchenette with fridge and microwave, double bed. Perfect location for visiting the Monterey Bay Area. Located between Monterey and Santa Cruz, 30 minute drive to either. 15-20 minute drive to beaches and state parks. Private auto necessary. Note: The bed is a double futon. There is no TV in the space since I will be renting by the month soon I did not want to invest in a TV for such a short time.
Private studio in typical country neighborhood
Quiet neighborhood located in safe area
Was great for our one night stay for a wedding! Size was really nice and was updated beautifully! Worked out great since we also had our one year old with us.
Jess
2016-10-02T00:00:00Z
Very easy access. This studio is private and practical. The communication with Glna was very efficient.
Jerzy
2016-09-04T00:00:00Z
Lovely people and great, clean and beautiful place. I totally recommend to stay there. You will LOVE it.
Mandana
2016-09-05T00:00:00Z
Accurate description of the place, and nice quiet neighborhood.
Bryan
2016-08-31T00:00:00Z
Check in was easy. Just showed up and the place was as mentioned. Easy check in and check out. Nice place to stay!
Drew
2016-08-29T00:00:00Z
The description was accurate. We only stayed for one night, so I don't have much to say.
Talubezie
2016-09-06T00:00:00Z
Very lovely place!
Michael
2016-08-18T00:00:00Z
Everything is very well , The studio is very nice & comftorable . I will recomend this to anyone who travels .
May
2016-09-11T00:00:00Z
Room Type
Private room
---
Property Type
House
---
Accommodates
2
---
Bedrooms
Watsonville, CA, United States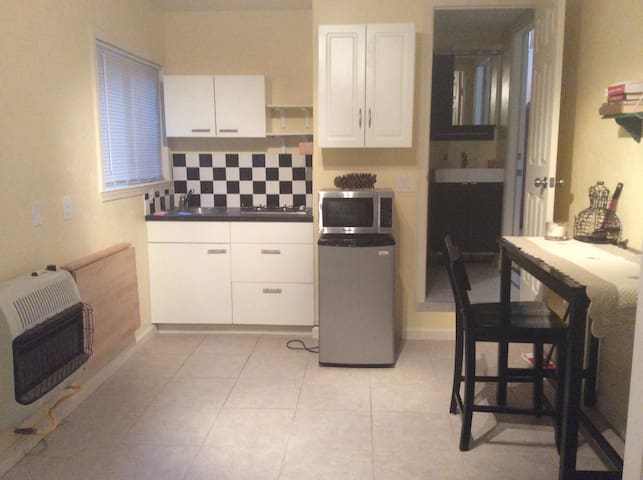 Welcome to our Horse Farm. You can stay in our 1 bedroom "cozy" guest house, on our 6 acre Farm. We have grapes (Syrah), Apples, and Icelandic Horses. Wake up to horse grazing right outside the apartment. We also offer lessons if pre arranged.
This is our guest house on our Horse Ranch. Its a cute modular home with great light and amazing views across our Horse Farm. The horses are let out to graze from 8am to 5pm and a really fun to watch graze, play, and run.
We are the border between Aptos and Watsonville California in the "Aptos Hills" area of Santa Cruz County. We are in the Santa Cruz Appalachian Wine growing region, with several local wineries close by, and close to the Beach. We are 5 minutes from Watsonville (Safeway, Starbucks, etc) and 15 minutes to Moss Landing and Capitola (opposite directions). We are also 20 minutes to Santa Cruz and 35 minutes to Monterey.
We had a wonderful stay at Bruce's horse farm. The apt was a nice size, sunny (big windows) and clean. Kitchen was well stocked with cooking supplies and the bed very comfortable. One of my favorite parts was soaking in the hot tub after a long day of hiking in one of the State Parks. Also enjoyed meeting some of the beautiful horses on the farm. Bruce and his wife were wonderful hosts!
Suchi
2016-01-04T00:00:00Z
We felt so happy to stay here! From the moment we arrived we felt so welcome and comfortable. We honestly didn't want to leave! The pictures don't do this place justice - it is so serene and peaceful here! We didn't want to leave! The hosts - Annette & Bruce - make this place the dream that it is. They were so good to answer our questions and give us suggestions of places to go and things to do while were there. The location is great, too, because the farm is away from the hustle and bustle of the city, and that's what makes it such a wonderful safe haven and a perfect retreat.
Marissa
2015-06-08T00:00:00Z
This place is Amazing. Both hosts and area is just amazing I have no other words I would recommend anyone book this lovely studio. Waking up in the morning, having breakfast and seeing the horses eating their breakfast was the best. Bruce and his wife we're lovely and really made us feel like we were at home. Thank you guys :)
Sophie
2015-06-23T00:00:00Z
We had a lovely weekend staying at Bruce and Annette's horse ranch - it is truly an escape with a beautiful view of the vineyards and horses grazing outside the deck. The kitchen was well-equipped, which we took advantage of for dinner and for breakfast. Bruce was very responsive with inquiries both before the trip and during the weekend. We loved the wine they make onsite (a bottle of which we got to enjoy with our dinner) that we bought two more bottles on our way out!
Catherine
2015-06-01T00:00:00Z
We were in town for my girlfriend's beach wedding at La Selva Beach (15-min away). It was a beautiful weekend and we're so happy to have chosen a beautiful place to stay. We have a 2-year old daughter - and what better place to stay than a horse farm?! We woke up to the sun's ray filling the room, had a nice breakfast made in the kitchen and sat on the patio while we watched the horses grazing nearby. We were able to pet a few of their friendly horses and enjoyed a nice walk around their vineyard. We will definitely be back if we're ever in town again. Such friendly and accommodating people! Thank you!!
Mylanie
2016-04-25T00:00:00Z
Bruce and Annette's Icelandic horse ranch is an island of tranquility in the rolling hills north of Watsonville. The apartment is clean, well-appointed, and cozy, and the surroundings are quiet and peaceful. The photos and description in the listing are accurate. Kitchen is well-equipped. WiFi is excellent. The location is convenient to Santa Cruz, Monterey, and the coastal beaches in between. Bruce was a terrific host, attending to our needs while remaining unobtrusive. He was totally available by text and email and made us feel welcome even before we arrived, providing helpful information and restaurant recommendations. He checked in with us during our stay to make sure everything was going well. He invited us to help feed the horses, and offered the use of their hot tub. We felt like guests staying with old friends! As horse people ourselves, being on the ranch among the Icelandic horses was a special treat. The horses roam the ranch at will and are a moving element of the landscape, lending a magical feel to the place. Several times during the day I would look up from my work or a conference call and see the horses grazing peacefully within arm's length. Overall our stay exceeded our expectations and we were sad to leave. This is a tremendous property that will not disappoint! A huge "thank you" to Bruce and Annette for the opportunity to share their guest apartment!
Tom
2015-02-05T00:00:00Z
This place is a real jem!! Bruce is a very welcoming and gracious host: he even left a bottle of his own wine for us to enjoy (and we did!!). The place is beautiful, cozy, quiet, clean and comfortable! The horse ranch horses are so beautiful), pond, vineyard...amazing! My girlfriend and I had a great time! Strongly recommended!
Alex
2015-07-12T00:00:00Z
My husband and I had such a great weekend here. Originally we were going to stay close to home but decided to try something different I am glad we did! It was so beautiful and peaceful. We got there a little early and Bruce and Annette welcomed us. We felt very comfortable here and enjoyed the quietness away from the hustle and bustle of home. Everything about this place was amazing and we enjoyed being able to walk around their land and pet the horses. I loved waking up to the horses eating right outside the apartment. Bruce and Annette are great hosts! They are both so sweet and friendly. They even gave us some of their delicious wine to enjoy while we were there. This was an all around great experience for us. We will definitely visit again!
Danielle
2015-07-13T00:00:00Z
Room Type
Entire home/apt
---
Property Type
House
---
Accommodates
2
---
Bedrooms
Watsonville, CA, United States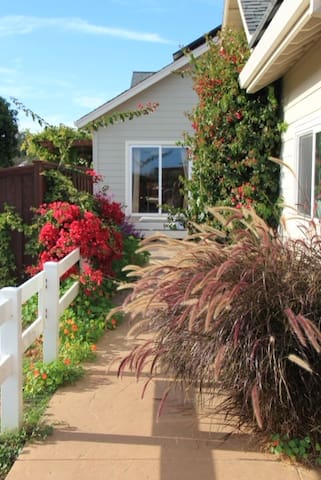 This quaint little house is perfect for up to 4ppl. We have two adjoining bedrooms and a detached bungalow. A large open family room and kitchen with high vaulted ceilings. Open the french doors that lead to the veranda and imagine you are in Tuscany. Enjoy dinner or cocktails under our grape canopy while listening to your favorite music with our bluetooth sound system. Inquire about our shuttle van for a local tour of the area/brewery/wineries. Monterey 40 min,SF 1.5 hrs, Santa Cruz 20 min.
We have a small neighborhood where we all know and respect each other.
Small and safe.
Really beautiful house and an outdoor oasis in terms of different areas to hang out Loved the hammock for reading under the grape arbor loved the outdoor table for alfresco dining; the kitchen is perfect my son liked reading and listening to music right outside the French doors from the family/living room area.
Roz
2016-08-08T00:00:00Z
The house was clean and adorable. Getting access was easy. A convenient store located in walking distance was a huge plus. We loved this place, it fit six kids and four adults perfectly and we will be staying again on our next trip to Santa Cruz.
Christina
2016-06-14T00:00:00Z
We loved to stay here with our family of 5. The house is beautiful, we especially enjoyed the outside area. Jon and Samantha were great hosts that helped us whenever we had questions. Loved it!
Daniel
2016-09-11T00:00:00Z
John and Samantha's quaint Corralitos casita is incredible! This was my first airbnb experience but my daughter has stayed in many and said this was her favorite place she has stayed. It is in a great, peaceful location yet close to many local attractions. It felt safe, is very clean and has tons of beautiful details throughout the house. The outdoor space is like something out of a magazine. Fantastic for relaxing and outdoor dining! I strongly recommend staying at this airbnb!!!
Lisa
2016-07-25T00:00:00Z
This was a very nice spot and the hosts were excellent. I would absolutely stay here again. Thanks!!!
Brendan
2016-07-05T00:00:00Z
We were greeted with a bottle of wine and house instructions upon our arrival. The house was immaculately clean. Samantha was readily available by text whenever we had questions. This house shares a back fence with a market, which is great for any items you forgot to bring. There are many sitting areas outside and we even ate at the outdoor table. We appreciated how quiet the neighborhood was. It is easy to travel to both Monterey and Santa Cruz from this location.
Diane
2016-08-01T00:00:00Z
Welcoming easy communication with Host.... Spacious space.... Loved the outdoor and meditation room....
Nicholette
2016-07-20T00:00:00Z
This was a wonderful (and our first!) Airbnb experience. The house was clean, attractive, inviting, and in a friendly and safe location. We were only a short distance from beaches, beautiful redwood state parks, and bustling Monterey. The hosts made checking in and out incredibly easy. They also sent messages to make sure everything was alright. If I ever get the chance to come back to this area, I would stay in this airbnb again in a heartbeat!
Laura
2016-08-22T00:00:00Z
Room Type
Entire home/apt
---
Property Type
House
---
Accommodates
4
---
Bedrooms
Watsonville, CA, United States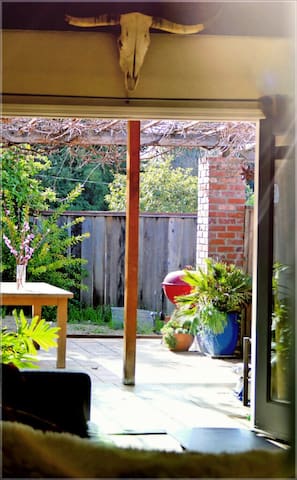 Our beautiful home sits in the foothills of the Santa Cruz mountains in a quiet neighborhood. A coastal ride to Monterey/Carmel (40mi.) Santa Cruz (30 mi) &San Francisco (90mi) Additional private 1 bed/bath available (Additional fees to be included)
Our home offers the option of one bed/bath and for an additional fee we can offer a second private room with a private bath. The second room allows an additional two people to stay comfortably. Ask about surfing or paddle board or bike rental options.
We love our neighborhood because it sits in a quit area outside the city limits near the Santa Cruz foot hills. The neighbors are quiet and respectful of one another.
Theresa and Gary are such gracious hosts! Next time I attend the Monterey Bay Birding Festival I'll try to sign up for field trips that start a little later in the morning or end a little earlier in the evening so I can spend some time chatting with them!
Genna
2016-09-25T00:00:00Z
I had a wonderful stay in Theresa and Gary's beautiful home. I stayed in the bedroom downstairs and it is very clean and private, with a nice view of their backyard. Theresa welcomed me into their home and we had a nice chat getting to know each other a bit. I decided to leave a day early to take my time driving home, but I would have rather stayed and relaxed in their backyard :) I would definitely recommend.
Denna
2016-08-22T00:00:00Z
I was unable to make thevtrip. But much husband and grand nephew went. Both said the house was decorated very nicely, and that Theresa and her husband were wonderful hosts. Nephew loved how attentive they were to his talking atonement about what he has learned in his internship at the aquarium!
MJ and George
2016-07-10T00:00:00Z
We had an amazing time with Gary and Theresa. They were great hosts and we had everything we needed in the room. Gary also helped us with a few recommendations of places to visit while we were there. We would definitely go back on our next trip and would recommend their place to everyone we know.
Satwik
2015-09-07T00:00:00Z
We had a wonderful stay with Gary and Theresa. We were in Watsonville for a wedding over the weekend. Gary and Theresa were really accommodating: they had a neighbor meet us at their place because we were running late, they lent us chairs for the beach, and they let us check out late so we could get a shower before heading to the airport. Wonderful hosts and a beautiful home. Highly recommended!
Stephen and Silvia
2015-08-02T00:00:00Z
We very much enjoyed our stay with Gary & Theresa! The room is tastefully decorated and overlooks a lovely backyard garden, where we enjoyed lounging. Great water pressure in the shower, too. Gary & Theresa are warm and helpful, welcoming our request to store our garden purchases on the patio. We look forward to our next stay!
Maggie
2015-09-27T00:00:00Z
We had such a wonderful time . Theresa and Gary made us feel at home . We were travelling with a 2 month old boy and I always felt at home . Morning coffees and some chit chat was like cherry on top . Lovely house and lovely vicinity . I would always keep this as my first option if we visit that area again.
Madhumati
2016-05-31T00:00:00Z
The host canceled this reservation 2 days before arrival. This is an automated posting.
Christie
2015-07-08T00:00:00Z
Room Type
Private room
---
Property Type
House
---
Accommodates
2
---
Bedrooms
Watsonville, CA, United States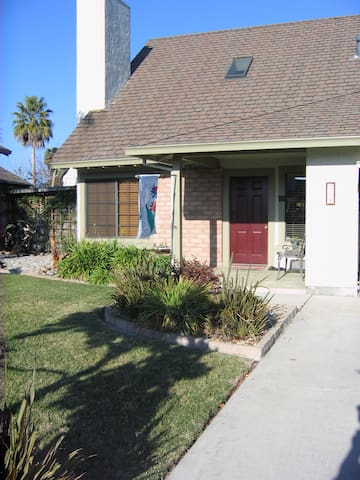 Our place is perfect for business travelers, traveling nurses and relocating professionals. Ideals for those seeking 30 days+. We prefer to meet with our guests prior to accepting bookings so we are assured we can offer the best match for our family and this rental. We have a clean and comfortable home. We are close to restaurants, beach, public transport, family-friendly activities, and nightlife. You'll love our place because of the cleanliness, the high ceilings, and the central location.
Private bath with shower and tub. Full size bed, view of back yard and large trees. Street parking on residential street. Street lights, walking trails nearby, Target, Staples, Ross, Applebee's, Big 5, Nob Hill, Safeway, Starbucks, etc. We also have one cat that is very friendly.
Residential neighborhood
Host is very welcoming and helpful with local knowledge and suggestions. The listing was better than described. The home is clean and well set up the share the common space. I was thrilled to find that the neighborhood offered lots of local walking trails near the slough where you can find many different varieties of birds. It was a lovely setting!
lynn
2016-09-18T00:00:00Z
Clean, quiet, and centrally located to amenities around Monterey Bay. Very comfortable room with bathroom conveniently located on ground floor right off of the family room/kitchen. Kelly and Pablo are super knowledgeable about what the area has to offer. They are really nice and can point you in the right direction for most any activity you would want. I felt safe and completely at ease staying with them.
Brian
2016-06-07T00:00:00Z
Staying here was great, the room was cozy and clean and the entire family made me feel very welcome.Kelly and Pablo are very knowledgeable about the area and interesting things you can see or do. The location is within 10 minutes driving to Watsonville Community Hospital and maybe 30 mins to Dominican so it was very convenient. The weather caused mud slides and highway closings for a good portion of my stay but because of the location I did not have an issues with getting to work that many others had when it rained a lot. I would definitely stay here again.
stacey
2017-02-18T00:00:00Z
Room Type
Private room
---
Property Type
House
---
Accommodates
1
---
Bedrooms
Watsonville, CA, United States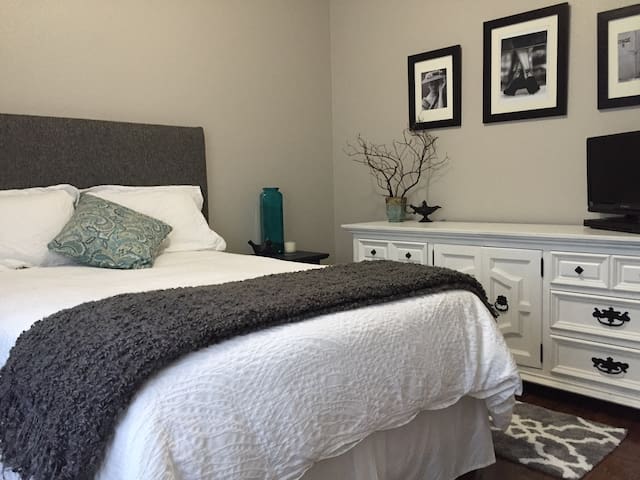 Enter dates to see full pricing. Additional fees apply. Taxes may be added.