My place is close to the airport. It is perfect for those who likes a quiet village like place. There is plenty of free parking around, and exits to Tel-Aviv, Jerusalem, North and South roads, so it is ideal if you plan to discover Israel by car.You'll enjoy the double bed (+ 2 folded beds if needed). My place is good for couples, solo adventurers, business travelers, families with kids and/or small pets.
The studio is separated to 3 spaces: bedroom, kitchen and bathroom, it is air conditioned and has free wifi and cable tv. The kitchen is equipped with microvawe, refrigirator, kettle, small oven, tableware and coffee/tea essentials.
It is a piece of a village in a urban jungle of Israel's center
the staying at Vlad's guest house was pleasent for me. the apartment beside Vlad's house but in the back side and separate from the house so you can feel like in a private home... the apartment was clean and fresh and there is a kitchen that you can cook with all the kitchen tools you need. there is a micro, and big toaster oven, Electric stove...the bed is very comfotable and the air condition is strong and quiet. Vlad helped with any thing that i asked for and even let me to pick oranges from his tree as much that i want. thank you Vlad
Oren
2016-12-22T00:00:00Z
The place is nice, clean and quite! Vlad is amazing host was very helpful and responsive!
Pavel
2017-02-25T00:00:00Z
As others have reviewed, this is a very convenient location when traveling in and out of Israel's Ben Gurion airport. The room provides a nice bed for two with additional fold out mattresses best used for kids but we managed with 4 grown men! The hosts are wonderful and went the extra mile to make us feel welcome and helped get us on our way the following day. We would definitely stay here again!
David
2017-03-31T00:00:00Z
Vladislav is a great host. It is a nice clean place to stay. I would definitely recommend if you need not expensive place to stay
Anna
2017-01-12T00:00:00Z
Vlad is the greatest host ever! He was extremely helpful and has done much more than we expected. We are really impressed and we have to recommend Vlad to all Israel visitors.
Piotr
2017-01-01T00:00:00Z
About the location: easy access from the Ben Gurion (cca. 20 minutes) and to anywhere in the country. Just in the middle of IL. Vlad and Svetlana are the best hosts you could wish. When you stay in their house which is totally separated, you feel like home with friends in the neightberhood. Whenever you have questions or other needs Vlad is there to help you. The TV as well as the mobile we get from him was set to our language in advance, and the mobile phone was a great help with the GPS on the roads. Even the fridge was filled up the basic foods for us. Simply the best hosts ever. Will definitely come back as soon as we visit Israel next time. Thanks for everything again :)
Eszter
2016-11-21T00:00:00Z
We stayed one night at Vlad's place because we had a very early flight the next morning (Ben Gurion Airport is just a 20 minute-drive). Vlad is a really great host, he filled the fridge with everything we needed, he was very easy to communicate to. The guest house is a nice place to stay, hot shower, soft bed. However, it's quite far from the city centre of Tel Aviv, if you have your own car it would not be a problem. The guest house is separately from the owner's house, but the entrance is through the garden of the owner. So, not a lot of privacy which was not a problem for us.
Lissa
2016-11-12T00:00:00Z
A cozy comfortable place with a very nice host!
Sara
2017-02-14T00:00:00Z
Room Type
Entire home/apt
---
Property Type
Guesthouse
---
Accommodates
4
---
Bedrooms
Petah Tikva, Center District, Israel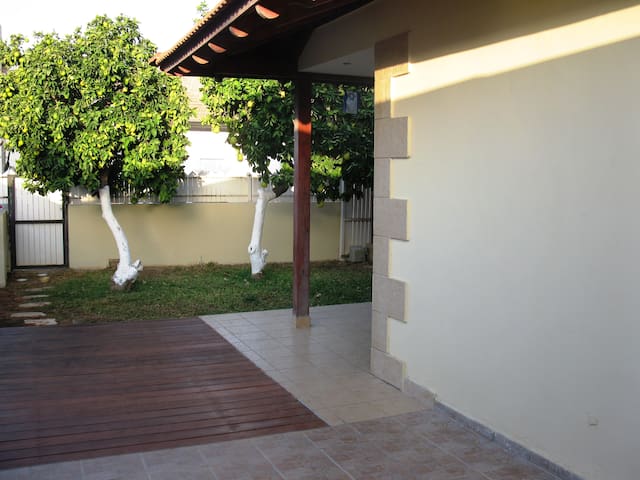 Studio room in a beautiful Jerusalem-stone home in a quiet neighborhood. Bathroom and kitchenette, including small refrigerator, kettle, sink. Closet and lots of natural light. Access to outdoor sitting area. Calm, upscale, suburb of Tel Aviv. Free parking. Right next to a country Club. 5 min. drive to nearest mall, 5 min. walk to grocery store. 20 minute drive to Tel Aviv, or you can take the bus – bus stop is just a few minutes away on foot! drive to Jerusalem 50 min.
A nice room, a beautiful house, ....great !
Fabienne
2017-04-02T00:00:00Z
Room Type
Private room
---
Property Type
House
---
Accommodates
2
---
Bedrooms
Savyon, Center District, Israel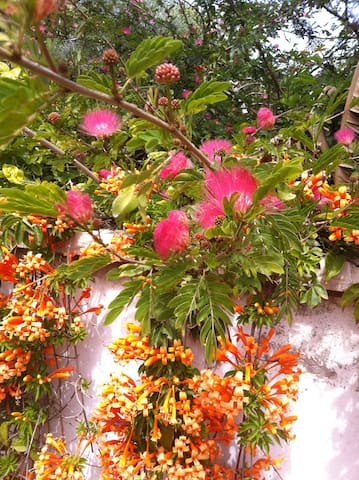 A World Class Luxury residence situated on Savyon, Israel's most prestigious area. 25 minutes from Tel Aviv and 45 minutes from Jerusalem. This stunning residence design and build and offers the finest of quality and detail imaginable. Outside, a large swimming pool, an Italian gazebo, a children's pool and a beautiful garden. The garden is decorated with 25 bronze sculptures, trees and fruit trees. There is a gas barbecue on the terrace. outdoor seating fire pit made of stones Liquidations.
Room Type
Private room
---
Property Type
Villa
---
Accommodates
2
---
Bedrooms
Savyon, Center District, Israel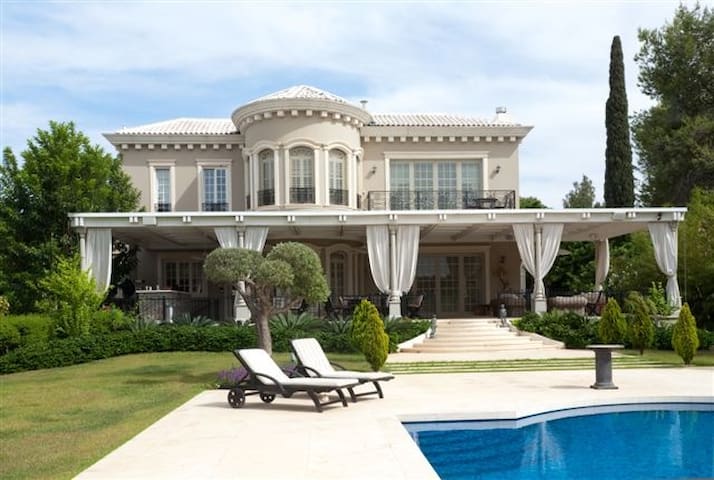 Charming and cozy apartment with 120 square-meter garden in the center of Givatayim. The apartment is located 5 minutes walk from a shopping center bars and restaurants. 5 km from the beach in Tel Aviv, 2.5 km from Azrieli Center and Sarona market
Apartment with a lovely garden which was rebuilt three years ago. The apartment is equipped with a modern kitchen fully equipped The apartment is located 5 min drive from Sharon Azrieli Towers Market and It has 4 bedrooms. One room with double bed One room with twin size bed One room with a bunk bed One room with a single bed + pull-out bed. Fully equipped kitchen includes a stove, oven, dishwasher, refrigerator and freezer, and a variety of cooking utensils. Spacious eating place X BOX Console with dozens of games. Satellite TV including VOD
Room Type
Entire home/apt
---
Property Type
Apartment
---
Accommodates
8
---
Bedrooms
Givatayim, Tel Aviv District, Israel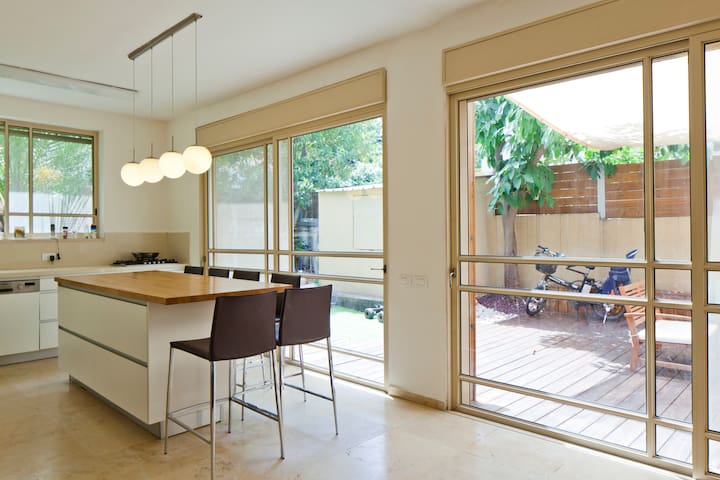 Student Haven (Bicycle included) is a comfort space located in a quiet but uprising city in central area, easy access to Bar Ilan University, Uno Academy and Sheba Health Center.
Cozy room and colorful room with double bed, and closet. This is a great place if you are looking for short to long terms stay in order to apply/study in Bar Ilan University or Ono Academy (which both are 20min walk, 10min bicycle), visit Tel Hashomer (Sheba) hospital or base, or just looking for a nice cozy place that is in the center of everything in Israel - a good basecamp for travels.
Some quick stops around the place, your can find; a bakery and a coffee shop, pizza restaurant, laundry and dry clean, supermarket, bank, public transport. There are some parks and squares nearby, and a shopping mall with cinema, bowling, restaurants and other stores in a 15min walk distance. The house is located in a very safe neighborhood, it is close by to schools, kindergartens and it is common to see people walk around in every hour of the day.
I really enjoyed the stay at Kiryat Ono. Ora is a very kind and supporting person, who keeps everything clean and does everything one can do as a private person. Her family is very lovely and open-minded. I can recommend everyone to book this place. For excursions, I can recommend Abraham tours (hostel place gives 10% discount). Ich habe die Zeit bei Ora sehr geschätzt und sie ist sehr hilfsbereit. Während meiner Zeit waren auch viele andere Deutsche da. In der Regel sind viele Leute beruflich für Praktikas dort, weil dort wichtige Krankenhäuser und viele Start-up-Firmen in der Nähe sind. Bis zum Strand sind es rund 45 Minuten. Für Ausflüge empfehle ich Abraham tours (Hostel Schlafplatz gibt 10% Rabatt auf die sehr früh beginnenden Rundreisen).
Marco
2017-03-31T00:00:00Z
Beautiful clean comfortable with really nice hosts. Thank you for memorable stay.
Yossi
2016-06-10T00:00:00Z
Muy buen lugar, es un departamento cómodo y confortable, cada uno tiene privacidad en su habitación; los anfitriones excelentes personas, siempre dispuestos a ayudar y a hacer que uno sienta que no esta solo en un país extraño. El vencidario es seguro, cuenta con un centro comercial y me consta que es muy cerca de Sheba Medical Center. Para mí una excelente experiencia, Muchas graciass por todo Ora y Nimrod!!
Loren
2016-04-10T00:00:00Z
Room Type
Private room
---
Property Type
Apartment
---
Accommodates
1
---
Bedrooms
Kiryat Ono, Tel Aviv District, Israel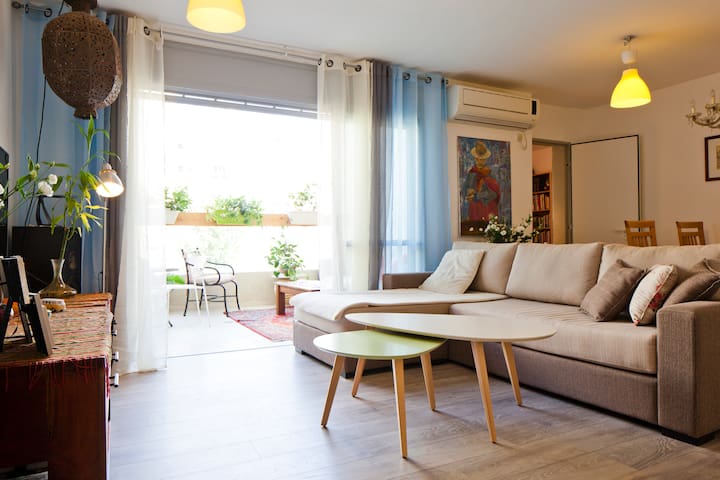 We love our sunset view balcony, big and kosher kitchen, lot's of parks and parking space. Near route 4 with convenient transportation options. Shabbat elevetor, timer, plates & kettle. Late checkout on Shabbat and Holidays. Possible to leave stuff here early in the morning.
The apartment was very nice, spacious and clean. Oren and his wife wife were very nice and helpful hosts. They helped us with the bused and let us know the neighborhood, he even gave us a ride to the bus stop. Would definitely recommend this place.
Meir
2017-01-14T00:00:00Z
Oren is a very nice person and it has a very nice apartment. The apartment is well located in a very calm residential area. Still, it is a bit far from the center of Tel Aviv. Overall, the experience in his apartment was excellent, the apartment was very clean and comfortable for us during our last day in Jerusalem. Oren is very nice and welcomed us to this place. I definitely recommend Oren's place to anyone planning to stay in Tel Aviv.
Luis
2016-12-31T00:00:00Z
Great apartment, very clean. Easy check in, good geolocation near tel aviv. thank you so much)
Valentin
2016-10-21T00:00:00Z
A great apartment! especially for Shabbat/weekend or holidays! ( close to synagogues ) Oren and his wife are great hosts, attentive and flexible, easy communication prior and on the day of arrival . The apartment is amazing, specious, on the tenth floor, nicely decorated and with high end equipment. It is great for families that keep kosher and also 'shomer Shabbat' as we had all the related amenities we needed (samovar, pre-set clock, hot plate etc.) . The hosts' attention to details such as kosher signs in the kitchen and Shabbat equipment really made this experience great, my parents were also pleasantly surprised as it was their first airbnb experience. We highly recommend!
Dafna
2017-02-11T00:00:00Z
We had a wonderful long weekend at Oren's apartment. He and his wife and baby are very friendly and wonderful people and super easy to communicate to, who left us their apartment with everything that can make you feel good and happy. Besides, the beds, mattresses, and blankets were so soft and comfortable, more than in the best hotel:)) The apartment is beautiful, clean, furnished with good taste, full of light, modern, with wonderful balcony and view. The roads there enable you to get fast to every place you need. If you keep Kosher, you have all the facilities needed. We definitely recommend this place and we will come again whenever it will be free.
Hagar
2016-04-24T00:00:00Z
Thanks, Oren. We the family enjoyed our stay at your place. The place has a very nice atmosphere that we can feel relaxing and feel at home for the whole Shabbat weekend, not just for adults but also for kids. The place is kid proof. There is a park across from the street. The view of the city is breathtaking at night while relaxing in the balcony. Again, I highly recommend this place if you want a nice, neat and comfortable place to feel like a home. My family thanked me for the wonderful time. Much thanks to Oren.
Karen
2016-08-21T00:00:00Z
Wonderful
Tamar
2017-01-07T00:00:00Z
great host great apartment,great neighborhood,highly recommended
yakov
2017-03-04T00:00:00Z
Room Type
Entire home/apt
---
Property Type
Apartment
---
Accommodates
6
---
Bedrooms
Giv'at Shmuel, Center District, Israel
a nice room in our department which is in the center of israel, 15 minute from airport and we can arrange a pick up for you.
The host canceled this reservation the day before arrival. This is an automated posting.
Alex
2017-04-13T00:00:00Z
Adair was amazing!! He picked me up from the airport and was very accommodating. Thanks adir!
Eleanor
2017-02-21T00:00:00Z
Great host! Adir is very helpful and nice! Nice spot to stay that is close to airport. Thank you, Adir!
Laura
2017-03-31T00:00:00Z
Adir is een geweldige gastheer! Je voelt je direct welkom en de kamer is heel goed. Het was zelfs mogelijk mijn bagage voor de officiele inchecktijd vast af te leveren zodat ik niet de hele dag hoefde mee te dragen. Behulpzaam, vriendelijk en je voelt je bij Adir direct thuis. Ook voor het vervoer naar het vliegveld staat Adir voor je klaar!
Monique
2017-03-06T00:00:00Z
Room Type
Private room
---
Property Type
Apartment
---
Accommodates
1
---
Bedrooms
Ganei Tikva, Center District, Israel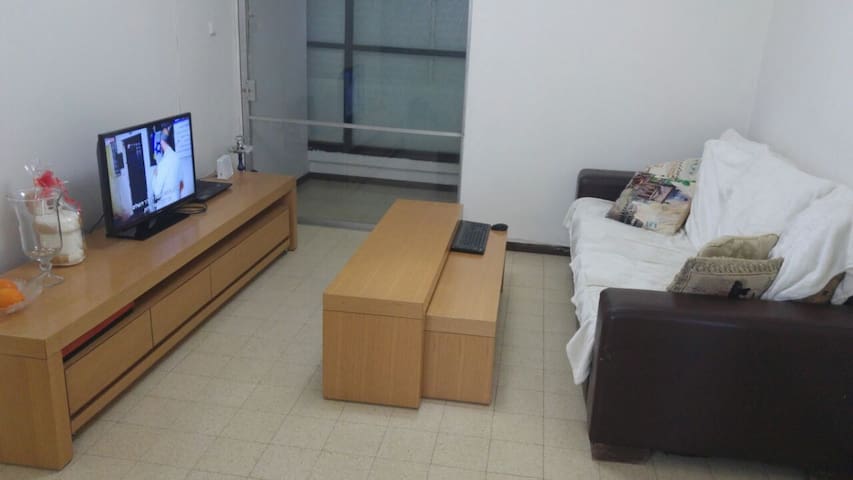 Great Location: Just 10 km/ 7 miles from Tel Aviv, near Bar Ilan University, Tel Hashomer Sheba Hospital and major highways and 20 min to airport. Peaceful privacy: Quiet, sunny fully furnished renovated apartment attached to villa with a private entrance Free parking next to front door and enjoy sun or shade in the garden Can accommodate up to 4 people in 2 rooms and 2 double beds, 1 bathroom and kitchenette Amenities include cable TV, WIFI, Aircon/Heating in each room, Kitchen table . Nearby: 10-15 min walk – coffee shops, swimming pool, Mall, parks, playgrounds. Tel Aviv by taxi ($20-$25) or bus ($2.50) If you need anything during your stay we're right nearby, including finding a babysitter.
Very nice apartment, adjacent to a nice villa. The apartment is in terrific condition. It's nicely furnished, and is spotless clean. AC works very well, and there's plenty of room to hang your clothes. Robert went out of his way to be accommodating and helpful.
Gadi
2012-10-15T00:00:00Z
We had a great experience staying in Robert and Sylvie's apartment. The apartment is well maintained and very clean, and is equipped with everything you need for food, laundry, etc. There is ample storage space for luggage and all belongings. Linens are changed weekly. The owners live very nearby and make themselves available anytime. They are nice and helpful people, family-minded, and helped us with any details which came up during our stay. We were a family with young children staying there for almost three weeks, and found this accommodation more than appropriate for our needs. Would definitely go back there again!
Ilana
2014-01-07T00:00:00Z
I've stayed in the villa a number of times before. As in the past, this stay was perfect. The place is immaculately clean. It's spacious. There's reliable good WiFi. There's also reliable, quiet AC that kept it cool despite the sweltering heat and humidity of early September in Israel. There's plenty of parking nearby. The unit is about 20m from a quiet street, which means it's very peaceful and quiet all throughout the day and night.
Gadi
2015-09-14T00:00:00Z
I loved it. Robert and his family made me feel welcome and taken care of. Attention to details, checking on me and asking if anything else is needed. Will definitely stay with Even's again. Recommend to others. Yuri
Yuri
2013-12-15T00:00:00Z
Enjoyed staying at this place located in a residential area (yet fairly accessible to grocery shops, neighborhood mall and sports centre), which was quite peaceful and quiet, with available nearby street parking at all times. It's a small and cozy private ground floor apartment, which was found in good conditions and very clean. I was quite delighted that more-than-basic amenities were provided and apartment was professionally cleaned once a week.
Carolina
2016-09-22T00:00:00Z
We stayed only one short night as we had to fly out in the morning, but Robert was extremely helpful. He guided us in (you definitely need a GPS to find the location), and even provided us with a scale so we could weigh our luggage for our flight out in the morning! Thanks Robert, we'd love to stay there again when visiting Tel Aviv.
Chris
2014-05-21T00:00:00Z
We thoroughly enjoyed our visit in Robert's apartment! It was extremely clean and had all the important amenities including: a well equipped kitchen, washing machine, excellent shower, blackout shades, WIFI, and quiet air conditioning. We were also delighted to have the apartment cleaned once a week professionally while we were there. We would highly recommend the apartment!
Rachel
2014-07-07T00:00:00Z
This was a great stay. I was doing research at Bar Ilan University for a month, and besides airbnb there weren't alot of real options. This place worked out perfect for me. It is a private little basement apartment with a kitchen, living room and bedroom. Robert, is extremely nice and friendly and very easy to communicate with. I would highly recommend this place!
Andrew
2016-07-31T00:00:00Z
Room Type
Entire home/apt
---
Property Type
Apartment
---
Accommodates
4
---
Bedrooms
Ganei Tikva, Israel
A fully equiped spacios 3.5 bedrooms, family appartment. The apartment is located in Kiryat Ono - A Tel Aviv subrub - with good connections to the major sights in Israel
A fully equipped spacious 3.5 bedrooms, family apartment. A master bedroom with private shower, 2 bedrooms with two separate beds in each room (2 beds fitting smaller children, and a roll out bed) and a smaller room (3 meters* 2 meters) with mats covering wall to wall. Large kitchen and living room, with veranda. The apartment is located on the 7th floor. The apartment is fully air conditioned. WIFI is available.
A quite suburb of tel aviv - a shopping mall is 300 meters away.
This apartment had plenty of bedrooms and bathrooms for our five-person family, and was very centrally located for us. We walked to the grocery store and the mall. The parking garage was a very nice bonus, and everything worked out great for us for the week-long visit.
David
2016-08-10T00:00:00Z
Room Type
Entire home/apt
---
Property Type
Apartment
---
Accommodates
8
---
Bedrooms
Kiryat Ono, Tel Aviv District, Israel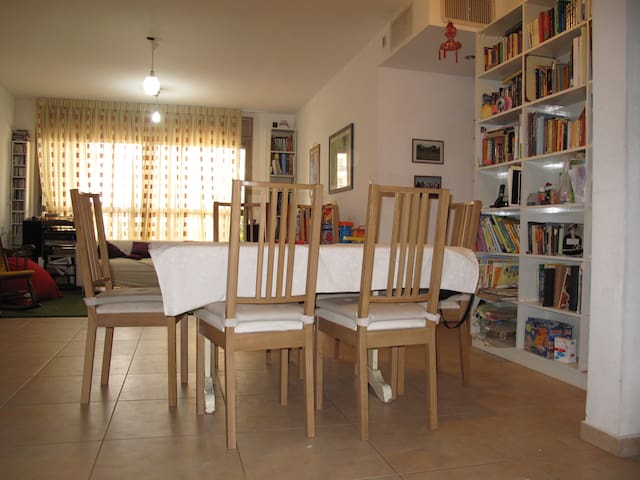 Luxury upper Apartment,Private and Big - from the main entrance after taking the elevator you have some stairs to the second floor ,Newly Designed, Fully Furnished, Bathroom, Kitchen, Large open terrace (BBQ area). 15 min. drive To Tel Aviv,40 min. drive To Jerusalem, nearby the BGU Airport. Cafes, restaurants, mall within walking distance.
Separated and Private Entry. Large,Cozy Space ,All NEW and CLEAN.
Quite and blossom, several kind of restaurants and coffee houses, banks, hair dresser, PostOffice , Change and much more.
Orly was extremely friendly and unbelievably helpful. We were arriving Friday night and all stores would obviously be closed on Shabbat, Orly suggested to do a small shopping for us, which surprised me a lot, since I'm the one traveling with kids and should've known better. I gratefully accepted her offer :) When we arrived, we had everything we needed!!!! Shopping and even a flat iron, which I only asked about but Orly had it ready for me. About the (URL HIDDEN) very cozy! Newly renovated. Very convenient. Lots of space, clean, quite apartment. I simply LOVED IT! And truly LOVED Orly!! She is an extremely good person, which I value a lot.
Zina
2016-04-10T00:00:00Z
Orly was extremely friendly and flexible to our changing conditions, we really appreciate it
Igor
2016-03-25T00:00:00Z
Me and my husband stayed at Orly's Aprtment for the one night. We didn't stay long, but for the time that we were there it was very spacious,clean, comfortable and nice. Orly gives very clear instructions about how to get in to the Aprtment. The Aprtment was perfect bec it was less than a 15 min drive to the airport.
Esther
2017-02-09T00:00:00Z
Don't let the staircase leading to the flat despair you( it's not clean and off putting) However , once you get to the landing of the stairs the place is great , clean , spacious ,well equipped has all you need at an Airbnb. It's close to the airport and not far from tel Aviv , a great shopping center near by that has great coffee shops restaurants. The hostess Orly was very helpful and was always just an Email or phone call away if I needed anything.
Sariel
2017-03-29T00:00:00Z
Orly was a good host. She met us outside the building to make sure we could find our way and get us settled in. The location of the apartment is great for proximity to the airport, since we needed a place to sleep for a few hours before catching our next flight. Although we didn't get the opportunity to spend a lot of time at the place, the large terrace was the best thing about the place, especially for taking a rest on a warm summer evening (with a drink!)
Alia
2016-07-17T00:00:00Z
Orly's place is perfect. Close to the airport and easy to get there, even at night. We didn't see Orly, but the communication with her is so easy and fast, that looks like she is with you every time you need her. The apartment was clean and ready for our late check in. She sent us the instructions. The space is so perfect that we gonna stay again in few days, for one more night before leave Israel.
Franck
2017-01-25T00:00:00Z
This place is fantastic!! I think we were their first guests ever-- and the place is BRAND NEW. Beautiful huge open kitchen... CLEAN and very open and comfortable. The hosts were also very helpful and went above and beyond by filling the fridge with bottled water and juice. The location is very near to the airport TLV but we wished we stayed there for our entire time in Tel Aviv! My only complaint is that our time there was too short!!! 5 STARS!
Jaclyn
2015-10-06T00:00:00Z
That was the second time I stayed in this apartment in my trip to Israel. I spent one night when I arrived and one night when I was leaving the country. The first one, I didn't enjoy the place because my flight landed later, so I just slept to the next morning drive to my final destination. But this time I spent all day in the apartment and could enjoy it. The place is open and bright. Alot of windons and a big terrace with a very good view of the airport. The apartment is very quiet, since it is at the top of the building. Orly answer all my messages very quickly and the check in and out is simple with all the instructions very clear. There is a lot of restaurants, cafés and a walking distance mall. You will stay 10 minutes away of the airport and is very easy to get there by public transportation, cab or even by car. I truly recommend.
Franck
2017-02-08T00:00:00Z
Room Type
Entire home/apt
---
Property Type
Apartment
---
Accommodates
5
---
Bedrooms
Yehud Monoson near Tel Aviv, Center District, Israel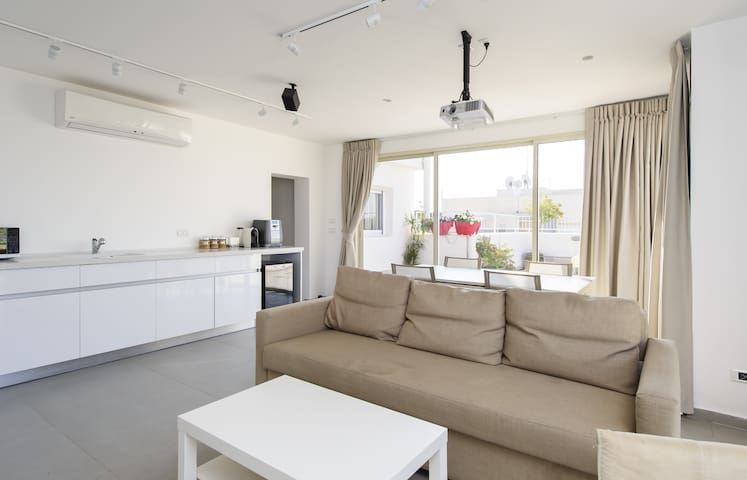 My place is comfortable, redecorated and clean, located in a quite green neighborhood ,yet , very close to Coffee shops , restaurants, mall and supermarket. best location for travelers in Israel :17km/ 20min to the airport, 14km/20 min from center TLV and the beach , close to road 6 and public transport. close to Sheba Hospital and Bar Ilan University. My place is good for couples and solo adventurers.
Very nice. Koby & Galit are very friendly, they even left some groceries items for the first day in the fridge. I will definitely recommend it to anyone in the future.
Eitan
2016-12-08T00:00:00Z
Thank you Kobi, the place was comfortable and suitable for our visit.
Tally
2017-04-11T00:00:00Z
So much kindness and being extra accommodating .... from giving us usage of the bicycles to a bottle of wine and tasty snacks on our arrival. Will be back! Thank you Thank you!!
Richard
2017-02-28T00:00:00Z
Really nice apartment. Koby was very nice, I arrived at 6 in the morning instead of 2, which was no problem and he even offered me to drive me on New Year's Eve... thanks for everything!
Ken
2017-01-01T00:00:00Z
Nice quiet spot, not to far from the airport. Koby is very easy to communicate with.
Jacob
2017-03-24T00:00:00Z
Thank you Kobi for hosting our guest. She had a nice time in the apartment and said you are a lovely couple.
Nofar
2016-09-11T00:00:00Z
Très bon accueil, logement très propre et fonctionnel, Mais nécessité d avoir une voiture pour se déplacer.
Anna
2017-03-11T00:00:00Z
Room Type
Entire home/apt
---
Property Type
Apartment
---
Accommodates
2
---
Bedrooms
Ganei Tikva, Center District, Israel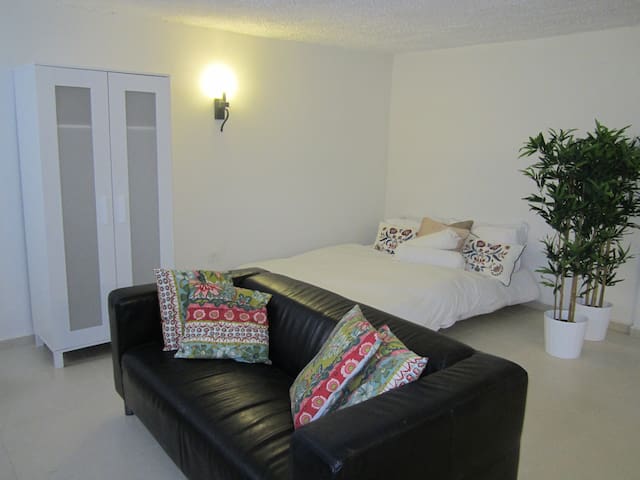 My place is close to the center of Ganey Tikva - minutes of walk to everything including mall, Qiriat Ono and a lot of green areas. It's less than 30 minutes drive to the heart of TLV, the airport and parks. It's about 40 minutes drive to Jerusalem and less than 2 hours to the dead sea. You'll love my place because of the calm and cosy neighborhood and apartment . My place is good for couples, families (with kids), and big groups.
Room Type
Entire home/apt
---
Property Type
Condominium
---
Accommodates
6
---
Bedrooms
Ganei Tikva, Center District, Israel
A nice private living room with a view at the 20th floor. Private bathroom ensuite. Separate door. Good also for students for long term. Near Bar Ilan University and Qiryat Ono College. Many restaurants, a country club, A Gym and a garden park in 3 minutes walk.
Room Type
Private room
---
Property Type
Apartment
---
Accommodates
2
---
Bedrooms
Kiryat Ono, Tel Aviv District, Israel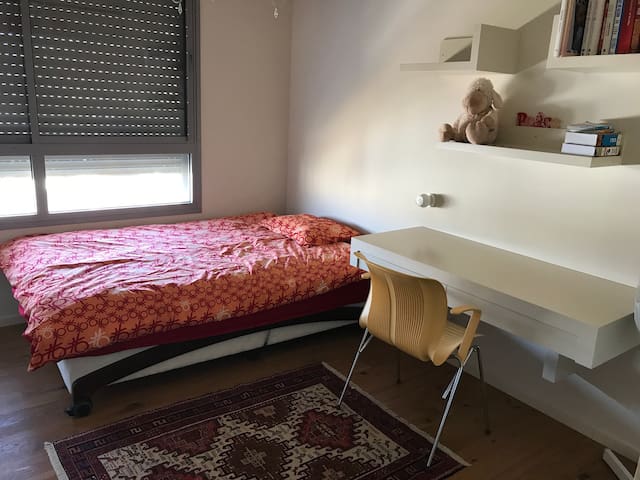 My place is close to the airport and the city center. My place is good for couples, solo adventurers, business travelers, and families (with kids). Only 20 mintues to Tel Aviv and 40 minutes to Jerusalem.
(URL HIDDEN)
The host canceled this reservation 121 days before arrival. This is an automated posting.
Kenneth
2017-03-20T00:00:00Z
This property is tucked away in a small community near the town of Petah Tikva about 15-20 min from Tel Aviv. Israel is a wonderful destination and this property was centrally located for driving to all locations, Jerusalem, Haifa, Gallilee, the dead sea were all in easy reach. The host was available for advice and assisstance and left us some lovely oranges to enjoy during our stay!!!
Timothy
2017-01-02T00:00:00Z
Very nice apartment with a great view on plantations of oranges and clementines. The apartment was clean and good enough for up to 4 people. And when the weather was good we were anyway all the time on the great Terrasse. There is one bus within a few minutes walk which takes you to Petah Tikwa (21) and also within 20-30 minutes walk you can get to Gannei Tikwa/Kiriyat Ono, where there are more buses which take you to Tel Aviv and the Hospital Sheba Medical (55), and also to other parts like Givatayim, Ramat Efal, Bnei Brak and so on. We had a car what made us very flexible, because you are in a way on country side but also in the city. We had also our 2 year old child and our dog with us. The owners where very nice and helpful in every way they could. Definitely an option for another time.
Barei Efraim
2017-02-27T00:00:00Z
The host canceled this reservation 153 days before arrival. This is an automated posting.
Zoe
2017-03-20T00:00:00Z
Room Type
Entire home/apt
---
Property Type
Apartment
---
Accommodates
6
---
Bedrooms
Kfar Ma'as, Center District, Israel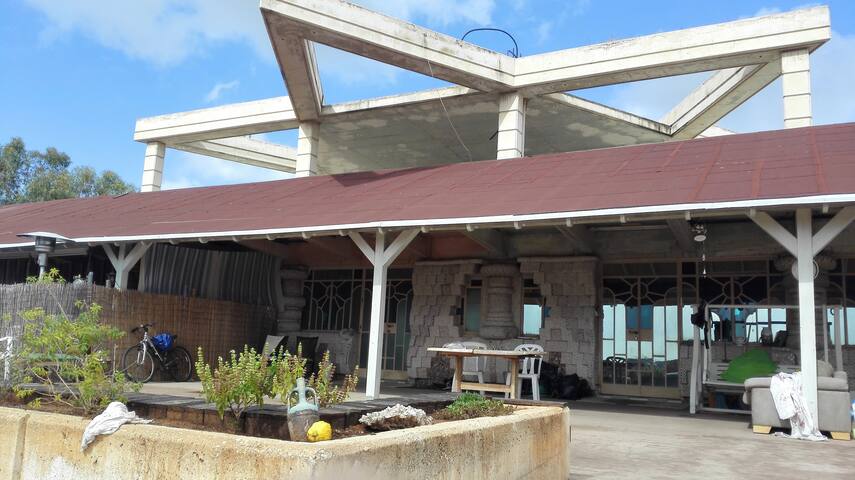 Perfect centrally located one of a kind apartment Enjoy the city and tranquility with a walking distance to Cafe, gym, mall and a free parking.
A beautiful spacious, artistic , fully furnished and equipped villa apartment with panoramic garden view and gated parking. Surrounded by organic fruit trees and private entrance in a peaceful neighborhood just 10 km/ 7 miles away from Tel Aviv. (bus 2.5$ / 5am-12am, taxi20$ 24/7) The apartment is located in a small town: Ganey Tikva with a 5 minutes drive connection to all major highways: no 4./north, no 1./Jerusalem, 20 min drive to Tel aviv (you can park your car at "Park&Go" and use city shuttles), Bar Ilan University, Tel Hashomer hospital etc '. This is your Perfect location/crossroad for an ideal stay in Israel. Free gated parking next to front door. Can accommodate up to 5 people in 2 rooms, 1 King size double bed and 2 comfortable sofa beds and kitchen stocked with just about everything you need for your stay, should you need anything else we'll be there for you ... Amenities include: luxury shower room, cable TV / per room, WIFI, Aircon/heating, washer and dryer, local Sim card for unlimited calls & Internet and plenty of room for a barbecue or just relax and enjoy our tanning beds and plan your trip in Tel Aviv and elsewhere in Israel... This is Your ideal place to explore Israel!
Enjoy the city and tranquility, our villa is surrounded by gardens and is so nearby to Tel Aviv and got just about everything you need to make your vacation fabulous . Walking distance to shopping center, supermarket, bakery, mall, country club, SPA & massage and more... Very friendly and relaxed environment.
We had a great time and it felt like home. Warm welcome in Israël. Thanks again for every help and hospitality you gave us.
Erna
2013-05-06T00:00:00Z
Hi- I can't speak highly enough about my experience staying here Not only was the apartment exactly as advertised, and in pristine condition, but Dana and her Mother were fantastic hosts. They greeted me warmly and brought me a fantastic apple cake and were always available for questions or if any problems (there were almost none) had to be resolved. Dana even helped me negotiate a much better price at the local gym (about a block and a half away) I plan to stay there in my future visits. You cannot go wrong by staying here. They are wonderful Ken
Ken
2015-01-21T00:00:00Z
I would recommend this venue to any one who wants a warm welcome.
mimi
2015-11-10T00:00:00Z
Very nice and peacefull location. Warm welcome. I will probably come again. Maurice
Maurice
2014-05-25T00:00:00Z
We had a very pleasant stay in Dana's apartment. Everything was as described and better. We arrived quite hungry in the middle of the night and the fruit, vegetables and snacks Dana had prepared for us really saved us. The communication was perfect and we can only recommend everyone to stay in this beautiful apartment!
Michaela
2016-09-29T00:00:00Z
We arrived quite late. We found a beautiful apartment ready and welcoming; Somebody had been thinking of us, knowing precisely what our needs are going to be and they left for us cakes, cookies, chocolate, wine, cold beer and not to mention the array of other ingredients we were going to prepare our first breakfast with. Everything Dana and Shoshana, her mother, prepared for us was like that: guessing our needs and completely responding to them. There are also more than adequate supply of bedding and clean towels; they even thought of supplying all personal toiletries in case you forgot to bring anything with you. The WiFi, TV, all kitchen amenities worked really well and enabled us to cook excellent meals throughout our 10 days stay. Soon after arrival we found the delightful garden where we could have our meals under the protective shade of the tree. However, our hosts' generosity was not limited to the welcoming stage but continued throughout our stay with endless friendly gestures and help. At no time did we find this intrusive. To the contrary, we had full privacy and we could perfectly enjoy the tranquility of the neighborhood. Another great advantage of this amazing villa was the sense of security that we felt within the confines of the house. It was easy going everywhere by car as the place is located near some of Israel's main road. We highly recommend this place for anyone considering a holiday in the area.
Orly
2015-05-25T00:00:00Z
We stayed at the Ganei Tikva apartment for three nights and overall had an excellent experience. The apartment has a separate entrance and is part of a larger gated villa. The apartment is small but well organized. We were 4 people (2 adults and 2 children) and did not feel cramped although we were mostly there to sleep and out most of the day. Be aware that there is no privacy in the sleeping quarters as it is an open space design. The location is excellent and close to public transportation if you don't have a car ( although this is recommended). Dana stocked the apartment with everything you could need and then some. We had a small problem with the AC which was promptly dealt with. Overall this is an excellent choice for a couple or small family that want to stay in a central location with a "cottage" atmosphere.
Ora
2015-06-24T00:00:00Z
Another wonderful stay at Dana's place. Once again the kitchen was,stocked with basics and extras too like a, bottle of wine and cakes,chocolates, and snacks. The rooms were spotless and had all the amenities one could wish for. Parking on the premises right near the apartment. Communication with Dana is excellent and she is,always ready to help. GREAT location. Walking distance to a supermarket and a great coffee house. We came to Israel for the birth of our grandchild, and Dana even suprised us with a beautiful bouquet. We would definitely stay here again and highly recommend.
Elana
2015-09-13T00:00:00Z
Room Type
Entire home/apt
---
Property Type
Apartment
---
Accommodates
5
---
Bedrooms
Ganei Tikva, Israel
completely renovated 3.5 rooms apartment for short-term rent. The apartment has a fully equipped kitchen, 2 TVs, cable TV, Internet, bedding, towels. Another plus is that it's 15min ride from the airport!
The apartment is close to hospitals, super markets, malls and sea.
Great, spacious apartment with everything one might need. Lots of public transit nearby as well as a grocery store, pharmacy, pizza place and McDonalds, which is very convenient. The Petah Tikva market is a short bus ride away or could be walked to in 15-20 minutes. Communication with Zeev was very easy and quick, he was always there if I had any questions. Another plus is that it's 15min ride from the airport! I recommend this apartment for anyone needing to visit Petah Tikva.
Rimma
2016-03-11T00:00:00Z
The house is exactly as it shown by the photos. It is comfortable. Zeev was very nice and helpful. We recommend this house. We will use the house in the future.
Yael
2016-08-26T00:00:00Z
Very welcomed, considerable, flexible & friendly, fairly accurate, nice neighbourhood. Communication with Zeev was very easy and quick, he was always there if I had any questions.
Carmine
2016-07-04T00:00:00Z
Zeev's place was clean & roomy the neighborhood is very quiet you have a bus station and a supermarket next to the apartment which is quite convenient Zeev himself was flexible with as about the hours and a very pleasant person.
Dror
2016-01-18T00:00:00Z
Very welcomed, considerable, flexible & friendly, fairly accurate, nice neighbourhood.
Efraim
2016-01-06T00:00:00Z
the host was readily available and was very flexible and cooperative in responding to my requests in a timely manner.
Ilana
2016-10-12T00:00:00Z
Отличная уютная квартира со всем необходимым. В действительности даже просторнее, чем кажется по фотографиям. Хозяин - очень приветливый и готовый помочь с возникающими вопросами. Остались очень довольны! Всем рекомендую этот вариант для проживания, особенно длительного.
Изабела
2017-01-05T00:00:00Z
Room Type
Entire home/apt
---
Property Type
Apartment
---
Accommodates
7
---
Bedrooms
Petah Tikva, Center District, Israel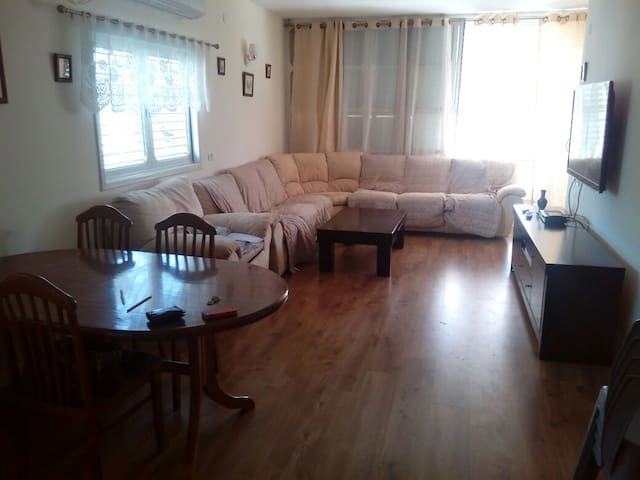 КВАРТИРА ИЗ ДВУХ КОМНАТ/ БОЛЬШОГО САЛОНА/СПАЛЬНЫ//ТУАЛЕТ ДУШ/ КУХНЯ ВСЕ ДЛЯ ПРОЖИВАНИЯ ВСЕ ПРИДМЕТЫ КУХОНЫХ ПРИНАДЛЕЖНОСТЕЙ ИМЕЕТСЯ АПАРАТ ФИЛЬТРОВАНОЙ ВОДЫ 2-ОЙ ЭТАЖ 55 КВ МЕТРОВ 1 bedroom which is second floor of the buiding 55square meters consists of the big living room bedroom spacious bathroomwith all upgrade appliances and kitchenware plus filtering water machine ready for use.Enjoy your stay!!!
SPACIOUS APARTMENT IN THE CENTER Petah Tikva after major repairs on the street. ROTHSCHILD CLOSE TO ORDER Bolnitsa who come TREATED RESTING most optimal variant, the bus stop in all directions just below the house!
CENTER OF THE COUNTRY FROM THE SEA MINT 20 large shopping malls are all close by CHIC BAZAAR
Really accurate description. If anything, Baruch's home exceeded our expectations! Really spacious, and all necessary utilities included. Spacious cooking area, as well as lounge and eating area. Would definitely recommend to any travelers coming through the petah tikva area. Home is located right above bus stop to take you wherever you need. Tel aviv is less than a 40 min bus ride.
Eitan
2017-01-08T00:00:00Z
Excellent - the apartment is well equipped, everything works perfectly, easy free parking on nearby streets, public transportation right in front of the building, couldn't ask for more :)
Tal
2017-02-04T00:00:00Z
Very cozy flat with an amazing host, well located and comfortable
Reynaldo
2017-02-23T00:00:00Z
The apartment is excellent. Exactly as indicated in the pictures. Appliances working perfectly. Modern apartment. Baruch went out of his way to help us check in at 5 am! All was perfect.
Guy
2016-12-30T00:00:00Z
The apartment interior looks newly renovated and beautiful. It is exceptionally clean with good quality appliances like TV, washing machine, dryer, oven, stove, and a great water filter system. There is a bus stop right downstairs of the apartment which takes you directly to Tel Aviv. There is also a shop area with a Mcdonalds, a bakery, a supermarket, and a pharmacy/lifestyle shop about 10 mins walk from the apartment. Baruch, the apartment owner is especially helpful and flexible with special requests. We stayed for a month and would highly recommend this place.
Siu Xian
2016-06-01T00:00:00Z
Wow ! This was one of the best experiences I've had on airbnb by far. The host was incredibly helpful and kind. He listened to our requests and concerns and did everything to make us feel comfortable. He was very attentive and gave a lot of information about the local area. The apartment is in a good location, close to transportation and stores. Very clean and neat and has everything you need to really feel at home. I highly recommend this location and working with Baruch in general - you will not regret it. I am very lucky to have found this listing - which definitely made our stay in Israel a lot more enjoyable.
Elona
2016-06-22T00:00:00Z
Communication with Baruch and Tatiana was excellent all along. We were greeted in person when we arrived and showed around the apartment to make sure everything was ok and to our satisfaction. The apartment is impeccable, spanking clean and very convenient. The kitchen is well equipped and has everything you need for cooking and serving meals. The location is great: at the nearby street corner you have frequent bus service that can take you anywhere in the greater tel aviv area - to Tel Aviv, Ramat Gan, etc. and beyond. Baruch and Tatiana were very attentive to all our needs and answered every question very promptly and helpfully. We would gladly recommend this host and place! Thank you so much, we will surely stay here again when we visit the area.
Ray and Sigal
2016-12-13T00:00:00Z
Nado zametit, chto eto nash perviy opit s airbnb, po etmu mi bili memnogo vstrevojeni kak vse proydet. Proshlo vse na 100% otlichno i tem samim Xotim virazit blagodarnost Baruhu, kotoriy vsegda bil na svyazi esli bili kakie to voprosi. Magazini i zentr goroda ryadom, viezd na glavnie dorogi zanimaet bukvalno 5 minut i ne bilo nikoda problem s parkovkoy ryadom s domom. Kvartira tochno, kak opisana: sovremennaya i ochen uyutnaya , est vse dlya udobstv i daje bolshe. Ryadom s domom est daje bolshaya bolniza. Mi otdoxnuli ochen xorosho v etoy kvartire i nadeemsya provesti nash sleduyushiy otpusk v etoy je kvartire.
Eugen
2016-09-21T00:00:00Z
Room Type
Entire home/apt
---
Property Type
Apartment
---
Accommodates
3
---
Bedrooms
Petah Tikva, Israel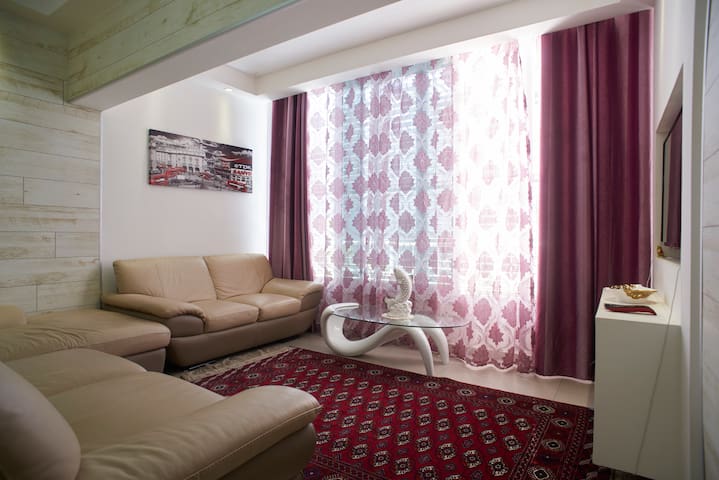 "THE ROSE" is located in a quiet neighborhood, ONLY 15 minutes from TEL AVIV TOWN CENTER ! and 20 minutes from Tel Aviv INTERNATIONAL AIRPORT. "THE ROSE" welcomes openly people from all backgrounds.
"THE ROSE" is suitable for couples, couples with a child and singles, which are looking for a quiet comfortable apartment with all the advantages of a full privacy! Surrounded by a lot of restaurants, coffee shops, a big Mall and a lot more activities.
The neighborhood offers a supermarket (AMPM) opened 24 hours, a coffee shop, jogging trails, a park, a JIM free open space, an open public swimming pool with a JIM center during the summer seasons and more.
Room Type
Entire home/apt
---
Property Type
Apartment
---
Accommodates
3
---
Bedrooms
Yehud, Center District, Israel
Enter dates to see full pricing. Additional fees apply. Taxes may be added.