Onze mooie gerenoveerde vakantiewoning is voorzien van alle hedendaags comfort maar met behoud van de sfeer van weleer. De compleet uitgeruste keuken baadt in het licht. Op de binnenplaats van de voormalige vierkantshoeve kom je helemaal tot rust. De ecologische zwemvijver met steiger over het water, is de ideale ontspanningsplaats voor iedereen!
Gasten kunnen gezellig tafelen aan een extra lange kloostertafel. In de living zijn er 2 zithoeken, ideaal om kinderen en volwassenen een eigen plek te geven.Op de benedenverdieping bevindt zich een slaapkamer voor twee personen. Op de bovenverdieping bevinden zich twee familiekamers die elk onderdak kunnen geven aan vier personen. U slaapt er luxueus in extra lange boxspring bedden. Elke kamer heeft een eigen badkamer met toilet, lavabo, douche of bad. De buitenruimte is uitnodigend. Op de binnenplaats is het gezellig genieten van een BBQ, je snuift er de sfeer van vroeger op. Tuintafels in teakhout en strandstoelen zijn aanwezig.
De streek heeft heel wat te bieden aan mensen die willen genieten van rust en natuurschoon. Op 200 m van het domein kan je aansluiting vinden tot een fietsroute om zo de omgeving te verkennen. De nabij gelegen dorpen en steden nodigen uit voor een trip. De stad Diest ligt op 12 km van de woning, Zoutleeuw op 10 km, Sint Truiden en het Schulens Meer in Herk - de- Stad op 15 km ,Tienen en Hasselt liggen op een 20 tal km. Informatie over bezienswaardigheden, recreatiedomeinen met zwemgelegenheid, natuurparken, kaarten met wandel-, fiets- en mountainbike routes vind je in de vakantiewoning.
From the initial conversations with Greet via Email we already knew we were in good hands. Upon arrival Greet waited for us with a warm welcoming and was very pleasant and talked to us about things that we can do around the area and we felt like we were at home, the 6 of us :)
Tomer
2016-05-02T00:00:00Z
It really was awesome! The house is so beautiful. It offers a lot of space to chill out, to have a great dinner at a big table, to cook together with a lot of people, to sit on the terrace or just to watch fire in a cozy corner. Greet offered informations for some activities around the countryside. We were there with 9 friends over New Years and we really enjoyed everything. The sleeping rooms are huge and you can choose between double oder single beds. The beds are very comfy by the way ;) Also Greet was very kind, open for all questions and the communication went very well. We will come back when the Sauna and the Swimming Lake will be finished and we are already very looking forward to that :) thanks again Greet. It really was awesome!
Carolin
2016-01-03T00:00:00Z
We had a fantastic stay at Greet's beautiful home in Belgium. There were six of us there for a weekend getaway and we couldn't have picked a better spot. The home is even more stunning than the pictures show -- spacious, open, airy, light, and comfortable. There were plenty of comfortable beds with lovely linens, modern bathrooms and kitchen, and lots of light. Greet was a wonderful host -- communication was easy leading up to the trip, and she met us upon arrival to show us around. She gave us great tips about what to do in the area and even arranged for a local B&B to deliver a delicious breakfast for us one morning. :) We hope to come back again next year!
Deborah
2015-11-16T00:00:00Z
Een prachtig huis en weelderige tuin waar wij door het mooie weer heerlijk van hebben kunnen genieten. Gerenoveerd met mooie, duurzame materialen, het is echt een huis waarin je je zen voelt. Erg genoten van onze wandeling in het nabijgelegen Vinne natuurdomein, echt een goed bewaarde natuurschat in Vlaanderen!
Patris
2016-05-09T00:00:00Z
Prachtige gerenoveerde boerderij! Ideaal voor een groep vrienden of 2 gezinnen die samen een weekendje weg willen. Alles is tot in de puntjes verzorgd. Super mooie locatie en zeer vriendelijke gastvrouw. Je gaat ongetwijfeld met een zalig gevoel terug naar huis!
Marijke
2016-06-06T00:00:00Z
Onze groep volleybaldames hebben super genoten van het mooi , ruim huis! Alles was tot in de puntjes verzorgd. De zwemvijver zal zeker een meerwaarde in de zomer gaan betekenen in de toekomst! Wij komen zeker nog eens terug! Geetbets en omstreken heeft zeker veel te bieden voor wandelaars en fietsers.
Monique
2016-12-11T00:00:00Z
Top weekend gehad in Geetbets! Het huisje is perfect in orde en is gelegen in een aangename ongeving. Aanrader!
Jens
2017-01-02T00:00:00Z
Intens genoten van ons familieweekendje in deze prachtig gerenoveerde hoeve! Gezellig en ruim binnenin en een prachtige tuin om tot rust te komen! Een échte aanrader!
Julie
2015-08-17T00:00:00Z
Room Type
Entire home/apt
---
Property Type
House
---
Accommodates
10
---
Bedrooms
Geetbets, Vlaams Gewest, Belgium
Rustig gelegen gezinswoning in kindvriendelijke straat met volledig omheinde tuin in Halen centrum. Met sauna en fitnes. Op wandelafstand supermarkt, apotheek, brasserie, sportcentrum, bank, openbaar vervoer(busverbinding Diest-Hasselt) speelpleinwerking zomer. Tegen fietsroutenetwerk(fietsen aanwezig), Diest Halve maan, slag der zilveren Helmen, schulensmeer (linkhout).nabij Hasselt (17 km), Leuven (30 km), Diest ( 7km) alle info op berr(URL HIDDEN) de booking is enkelvia airbnb.
Er is keuze van kamers afhankelijk van je samenstelling van reisgenoten partners, kinderen verschillende koppels, babybed en kinderstoel aanwezig.
Het Schulensmeer te Linkout op 3 km museum Slag der zilveren Helmen 500 m van centrum met brasserie en café 800 m van supermarkt SPAR of Delhaise aan fietsennetwerk oude spoorweg naar Tienen (1 uur fietsen) info : berr(URL HIDDEN)
This was my first AirBnB experience and Bart was an amazing host. The house is so spacious and well equipped. The suburb is peaceful with shops within easy reach. With a large family of 6 I couldn't have imagined a more comfortable stay in a new country. Thank you Bart!
Aslam
2017-03-26T00:00:00Z
Bart is a wonderful host! he was very nice, provided us with all the essential info about the place (he even put together a website about the house and surroundings). The trip was a birthday surprise for my boyfriend, and Bart even left for him a bottle of champagne as a birthday present, which is incredibly lovely! the house was amazing and exceed my expectations. all the essentials are provided, towels, toothpaste, even hair condtitioner, or toothbrushes. It's amazing how well Bart prepared the place for his guests. The rooms were very clean, spacious and modern. Sauna was great, and very easy to use. Overall, that was probably the best house ive ever used through airb&b. Thank you so much Bart!!!!:)
Joanna
2017-04-02T00:00:00Z
Room Type
Entire home/apt
---
Property Type
House
---
Accommodates
8
---
Bedrooms
Halen, Vlaanderen, Belgium
Ik woon vlakbij het centrum met leuke restaurants en gezinsvriendelijke activiteiten en achter mijn huis vertrekt het fietsroutenetwerk, langswaar je prachtige tochten kan maken door het mooie Haspengouw.. Je zult genieten van deze gezellige woning met veel licht. Mijn ruimte is geschikt voor stellen, solo-avonturiers en gezinnen (met kinderen).
Miet's place is value for money -- the prices were generally quite high in the area and this was a cheap alternative. The communication was excellent and the check-in, check-out very flexible. The house is large, comfortable and quiet in a residential area. The second bedroom is a kid's room in the attic and the two children single beds are quite small for two adults. Cleanliness can be improved (compared with other Airbnb places I've visited) -- this is a typical place that is inhabited by the owner and hence some dust and small things here and there are evident.
Akis
2017-02-27T00:00:00Z
Very nice and calm house. The bed is very confortable.
Audrey
2016-09-26T00:00:00Z
Modern, cozy house with all amenities in a very quit neighborhood. Excellent value for money.
Luc
2016-08-02T00:00:00Z
We really enjoyed our stay at Miets house. It is located in a quiet neighbourhood, easy to find. The house was clean and comfortable. Miet was very helpful with all our questions and overall a friendly hostess. Highly recommended :)
Maja
2016-07-30T00:00:00Z
The host canceled this reservation 10 days before arrival. This is an automated posting.
Carmen
2016-07-03T00:00:00Z
Fijn huisje en er werd goed meegedacht over hoe we de sleutel konden krijgen. Zeker aan te raden !
Rieneke
2016-07-03T00:00:00Z
We hebben hier harstikke fijn van genoteb en goed uitgerust kunnen slapen om zo dus volgende dag vroeg naar F1 race te kunnen .. zodoende zouden we het zo weer opnieuw doen nogmaals bedankt
Junior
2016-08-29T00:00:00Z
Heel tevreden over ons verblijf. Mooi gezellig huis. Communicatie verliep zeer vlot. Wij komen graag terug!
Mieke/ Kris
2017-01-29T00:00:00Z
Room Type
Entire home/apt
---
Property Type
House
---
Accommodates
4
---
Bedrooms
Sint-Truiden, Vlaanderen, Belgium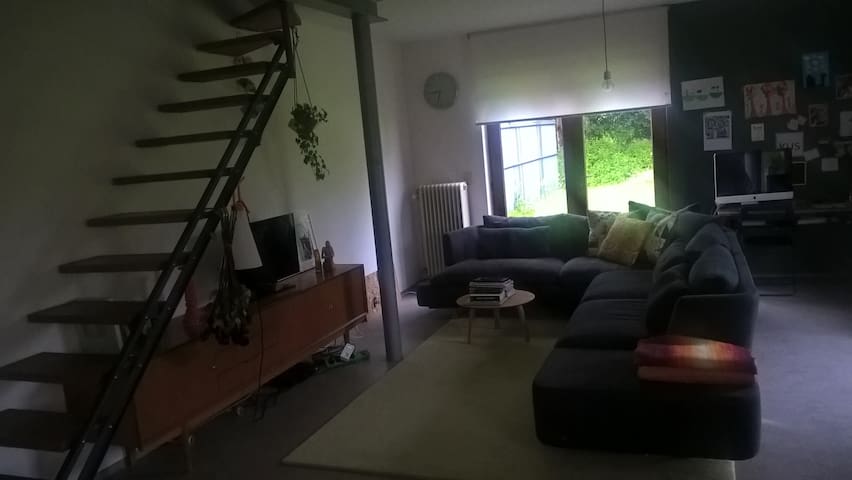 Metstermolen is een heerlijk erfgoed logies voor 6 personen. Het huis heeft 3 comfortabele slaapkamers met eigen sanitair. Het gelijkvloers heeft een knusse huiskamer met houtkachel, een ruime woonkeuken met alles erop en eraan,... Er is een eigen terras met bbq en je kan er heerlijk genieten in de tuin.
Metstermolen "Molenhuis" is lovely guesthouse for 6 persons. The house has 3 bedrooms, each with bathroom / toilet. The
We actually stayed in the Bakery (see https://www.airbnb.nl/rooms/1776306, we originally wanted to stay there, but it was taken and we then booked this one, but it freed up again so Frank offered us the Bakery to stay in). Frank was very nice and friendly, the location is very peaceful and quiet, but I would definitely recommend coming by car (buses exist, but go only every thirty minutes). Sint-Truiden is more of a collection of small villages than one small town. If you want some peace and quiet with your partner for a short time, I can definitely recommend it! The house has much more flair and character than a soulless hotel room you can get for the same price. Plus, I definitely recommend the breakfast (10€ pp), which is definitely worth it!
Jan
2014-10-05T00:00:00Z
Alles was tot in de puntjes georganiseerd. Mooi en schoon. Geweldige omgeving om te fietsen. Gezellige jongens die je ontvangen en antwoorden hebben op alle vragen.
Harry
2016-10-18T00:00:00Z
Een heerlijke uitvalsbasis om een aantal toeristische attracties van Limburg te verkennen. De kinderen vonden het ook heel leuk en wilden liever nog iets langer blijven. Het huis is veel groter dan je zou denken en heeft echt authentieke charme. De tuin is een gigantisch pluspunt, wat is die prachtig!
Evelien
2017-04-09T00:00:00Z
Superleuk huis, branden haardvuur, gevulde koelkast en heerlijke bedden. Een aanrader!!
Edward
2015-02-28T00:00:00Z
We hebben van een heerlijk weekend genoten in het prachtige molenhuis van Frank. Bij aankomst op de sfeervolle binnekoer van het huis werden we harteleijk en met een brede glimlach ontvangen door Frank. Meteen kregen we een rondleiding door zijn pand. Het bleek veel groter en nog indrukwekkender dan de advertentie deed geloven. Ook de tuin was enorm. In de advertentie staat een prachtig terras, maar verder door is er nog een gigantische vijver met kikkers en een terrasje middenin.We mochten overal gebruik van maken. Frank was een fantastische gastheer. Hij informeerde meteen naar speciale wensen, haalde nog een parasol en vroeg ons hoe laat we wilden ontbijten. Daarna liet hij ons in alle rust verder genieten van al het pracht en praal van zijn huis en tuin. We wilden graag in de buurt gaan wandelen, maar we zijn niet verder geraakt dan de tuin zelf. Met een apperitief op de vijver en een bbq op het terras aan huis waren al onze wensen al voldaan. Het was een heerlijk moment van rust en kalmte waar we met volle teugen van mochten genieten. s'Morgens hebben we genoten van het ontbijt. Zoals afgesproken kwam Frank om 9uur met verse fruitsla, yoghurt, lekkere pistoletjes, sneetjes brood en croisants. En ook nog eitje, wat kaas en hesp en lekkere confituur. En daarbij een tasje koffie en thee. De vogeltjes op de achtergrond en een zonnetje door de zacht ruisende populieren. Zalig! Rond half twaalf zijn we vertrokken met een warm afscheid en de belofte om veel reclame te maken. Het was meer dan geslaagd.
katrien
2015-06-14T00:00:00Z
Room Type
Entire home/apt
---
Property Type
House
---
Accommodates
6
---
Bedrooms
Sint-Truiden, Flanders, Belgium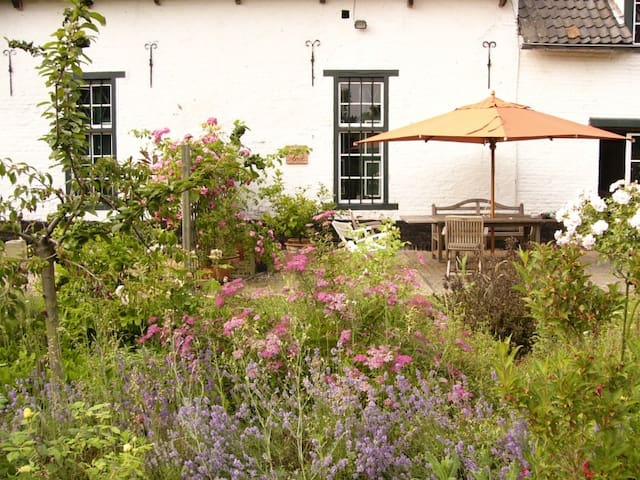 "Guesthouse Accomododo" located in the beguinage in the city center. 40 square meter guest room. The ground floor is completely at the disposal of our guests, orangery, garden, bedroom, bathroom, separate toilet. As well as tea and coffee making facilities and a fridge. Breakfast package can be put ready. Station, swimming pool, recreation area and Warandepark Crescent walkable. Free parking nearby, outside the beguinage.
The second double bedroom can be closed with private bathroom. A separate toilet is available only for guests.
In the beguinage are regular activities take place like exhibitions in the lobby and cinema Friday in the auditorium of the Cultural Center. The "Gasthof 1618" serves Hageland cuisine the cafe "The Chapel" has the most beautiful terrace in Diest,
Het was heerlijk vertoeven in het begijnhuisje van Jan en Julia! We werden heel vriendelijk onthaald door Julia en konden onze fietsen binnen stallen en opladen. We mochten de hele benedenverdieping gebruiken, ruimte genoeg. Alles was netjes, er lagen pantoffeltjes én een badjas klaar. En 's morgens konden we genieten van een heerlijk ontbijtpakket, wat eigenlijk niet voorzien was! Heel erg bedankt Julia en Jan!
Bieke
2016-11-13T00:00:00Z
Toffe en unieke locatie, zo goed als in het hartje van de stad met een zee van rust. Spijtig dat er geen andere vorm van ontbijt beschikbaar is dan een ontbijtpakket. Voor ons was dat geen probleem want we hadden tijd om in de buurt lekker te ontbijten (de info ivm ontbijtlocaties was niet up-to-date).
Stephan
2016-08-15T00:00:00Z
Room Type
Private room
---
Property Type
House
---
Accommodates
2
---
Bedrooms
Diest, Vlaanderen, Belgium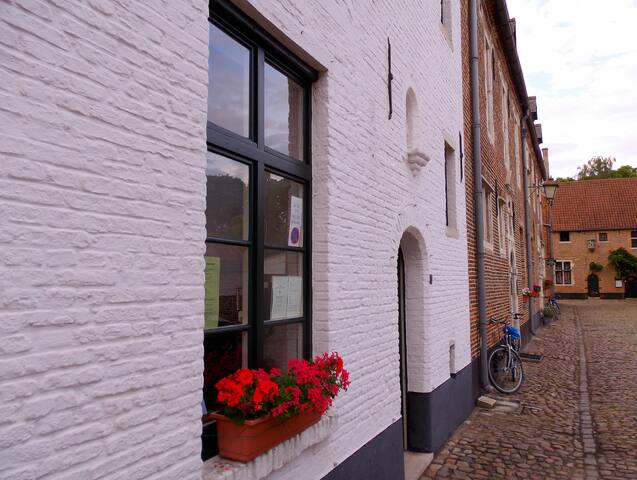 My house is located in the city center of Diest. It's located close by the railway station, the city center park for a quiet and relaxing time, the shops and restaurants. Also a couple of touristic attractions like the citadel, the recreation area (the halve maan) and the ancient walls are close by. The place is renovated, with a brand new bathroom, living area and has a well equipped kitchen. There's also a little garden Sleeping: there are two bedrooms for in total 4 persons. Welcome!
downstairs: living area and dining room, bathroom and kitchen. There's a storage room and a small city garden. upstairs: one master bedroom and a study room. One level up there's another bedroom for 2.
The area is quite and very near the city center. The beautiful cerckel park is just around the corner. The ancient river the flows through the city center is newly renovated and made visible. The ancient church and houses of te beguinage are at walking distance, like the citadel and the recreation area of the "halve maan".
A warm welcome from Tim, even though we were running a bit late. A nice location, free parking nearby, clean, cozy and spacious. A wonderful place to stay!
Jennifer Lynn
2016-10-11T00:00:00Z
Spacious livingroom and beautiful bathroom. Fully eguipped kitchen with coffee machine. Safe and quiet neighbourhood area.
Anna-Liisa
2017-04-02T00:00:00Z
It was a great place to stay. Clean and with all the thing we need to have a wonderful time.
Diogo
2017-03-26T00:00:00Z
Tim's place was perfect for us. Tim is very kind and his house is in a great location.
Patrick
2017-03-19T00:00:00Z
Thank you Tim for another great stay! Clean, comfy, cozy, nice location and great host!
Jennifer Lynn
2016-12-14T00:00:00Z
Tim's house was perfect for us. His parent met us at the house and we had everything we needed. They even bought us bread! Because we had jetlag, the set up meant that the children could sleep while we were awake. Overall we were very happy. I said to my husband that it felt like staying at a friends house!!
Jennifer
2016-10-01T00:00:00Z
Clean and cosy apartment. A lot of useful tips from Tim!
Valentina
2017-01-12T00:00:00Z
Zeer vriendelijke ontvangst. Al het nodige was door Tim voorzien. Een zeer goede prijs/kwaliteit verhouding!
Boudewijn
2016-09-11T00:00:00Z
Room Type
Entire home/apt
---
Property Type
House
---
Accommodates
4
---
Bedrooms
Diest, Vlaams-Brabant, Belgium
The building with a listed façade and inside almost completely renovated is right on the market square, shopping, restaurants and eateries. Free parking is available within walking distance to the Citadel. The location is, despite directly in the center, in a quiet area. The bedroom is suitable for couples, solo and business travelers. Bathroom is shared with the owner.
Prachtige rustige kamer in 't centrum van Diest. Correcte afspraken. Joviale mensen. Zeer goedkoop. Niet twijfelen(URL HIDDEN)
Erwin
2016-12-23T00:00:00Z
La ville de Diest est une jolie ville et le logement est hyper bien placé. Nous avons été très bien accueillis et la chambre est grande, la salle de bains et les toilettes sont séparées (sur le même palier). Nous devions passer deux nuits chez eux (dimanche, puis vendredi) mais avons dû annuler le vendredi suite souci de santé d'un membre de notre famille, ils ont été très compréhensifs. C'était une parfaite étape pour nous avant notre séjour à Center Parcs.
Pascale
2017-03-13T00:00:00Z
Prettige ontvangst door vriendelijke eigenaar. Veel tips over de omgeving die aansloten bij onze interesse. Een kort maar heel goed weekeinde gehad. Hartelijk dank hiervoor, Titia en Hilbert
Hilbert
2016-12-05T00:00:00Z
We hebben een fijn verblijf gehad! Fijn ontvangen en een heel relaxte sfeer. We voelde ons meteen vertrouwd. De kamer en het huis zijn erg netjes en comfortabel. Ondanks dat je midden in het centrum bent is het rustig. Parkeren bij de citadel was ideaal qua loopafstand en gratis.
Carlijn
2017-02-05T00:00:00Z
De eerste keer AIRBNB en gelukkig kwamen we terecht bij Luc en Anne. Een mooie accomodatie kamer en douche / bad. Daarnaast heeft Luc de gastheer ons een goed gevoel gegeven al gelijk bij de aankomst. En dat is zo gebleven tot ons vertrek. Een fijne ervaring en aan te raden.
walters
2017-03-18T00:00:00Z
Zeker voor herhaling vatbaar!! Binnen 5 minuten rijden was ik van de snelweg op plaats van bestemming. Ik kon dicht bij het huis parkeren. Moest wel een parkeerbon uit de automaat halen maar deze was kosteloos in de avond en nacht tot 9.15 uur de volgende ochtend. Ik werd bijzonder vriendelijk ontvangen en het voelde meteen vertrouwd. Men voelt goed aan of je open staat voor een praatje of direct op jezelf wil zijn en alles wordt gerespecteerd. Het bed was fijn met een goed matras. Weinig omgevingsgeluiden in de nacht al zou je anders verwachten middenin het centrum. In de ochtend heerlijk gedouched en kunnen afdrogen met comfortabele handdoeken. Ondanks spitsuur net zo snel de stad uit als ik er in kwam. Al met al voor mij een perfect adres als ik op 'doorreis' ben. Mijnheer en mevrouw Elshout; bedankt!
Monique
2017-01-13T00:00:00Z
Room Type
Private room
---
Property Type
House
---
Accommodates
2
---
Bedrooms
Diest, Vlaanderen, Belgium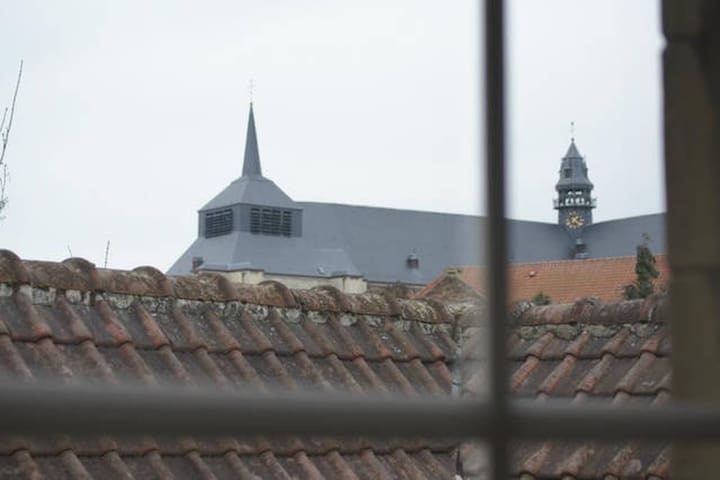 Landelijke woning, deel van een groter complex, rustig gelegen nabij het fietsroutenetwerk. Ingang volledig privé. 500 meter van het openbaar vervoer, goede verbinding met Hasselt. Op verzoek: ontbijt en gebruik van fietsen.
Volledig afgescheiden leefruimte, aparte ingang.
dicht bij Hasselt, duizendjarige eik, schulensmeer, fietsroutenetwerk, omloop Zolder, ...
Thank you for welcoming us to your wonderful house. Excellent excellent excellent in all categories.
Ali
2016-09-03T00:00:00Z
We had a great stay at Vandevenne's place. It's a tidy, comfy and secluded hideout when you need to be in the area. Thanks a lot, Viktor!
Teun
2017-03-02T00:00:00Z
We had a lovely stay. It was in a very nice quiet area. The kitchen was equipped and plenty of towels provided. A very clean home and the pics represented what it looks like. The host was very thourough and helpful. The only concerns was WiFi was lacking. But overall experience was A+
Linda
2016-07-28T00:00:00Z
The host canceled this reservation 11 days before arrival. This is an automated posting.
Marijke
2016-10-31T00:00:00Z
Mooie stille locatie, maar wel dicht bij voorzieningen. Ruime woning van alle gemakken voorzien.
Marianne
2016-09-11T00:00:00Z
We hebben een aangenaam verblijf gehad. De woning is afgescheiden (al kan je de aangrenzende buren soms wel een beetje horen). De keuken, woonkamer, veranda, badkamer (met goede douche) en slaapkamer zijn ruim en proper. het terrasje achteraan het huis is leuk. rustige omgeving (met zwakke 3/4G-ontvangst). goede en vriendelijke communicatie vooraf met de gastheer. goede plek om 's avonds tot rust te komen na een dag Pukkelpop :-)
Bart
2016-08-21T00:00:00Z
Helaas hebben wij moeten annuleren ivm een sterfgeval. Victor is hier erg coulant mee omgegaan. Dank daarvoor.
Annet
2016-12-18T00:00:00Z
Het feit dat we hier terugkomen zegt al genoeg. Prima plek om de omgeving te ontdekken en heerlijk rustig.
Anton's
2016-08-15T00:00:00Z
Room Type
Entire home/apt
---
Property Type
House
---
Accommodates
4
---
Bedrooms
Lummen, Vlaanderen, Belgium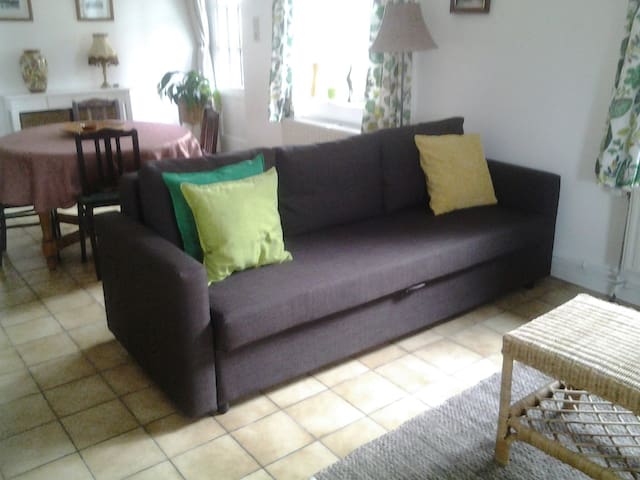 Bovenverdieping van open bebouwing 1 kamer met tweepersoonsbed, 1 kamer met 2 eenpersoonsbedden en 1 kamer met eenpersoonsbed. Badkamer met toilet en douche. Gelegen vlakbij een fiets- en wandelroute.
Grote speeltuin voor de kinderen, vertrek van fietsroutes
We had a very pleasant weekend at Yvette's house. She is very friendly and social, we enjoyed sharing her house: everything we needed was right there, the place is very clean and comfortable. For the children there is a playground just across the street, equiped with even a go-cart track and miniature golf. Thank you very much for the hospitality!
Inneke
2016-05-10T00:00:00Z
Yvette was a very warm and friendly host. She is a perfect example of why AirBnb can be such a good service and experience. Her home was beautiful and located just a couple minute walk to a large public park/playground which was great for our young children. The location was very, very convenient - easy to get to and easy to walk into the town centre to restaurants and cafés. Perfect for families. Thank you Yvette for hosting us, especially on such short notice!
Dave
2016-05-07T00:00:00Z
We felt as if we were friends staying for a few days. Yvette gave us small boxes of chocolate and provided extra towels for us. She went above and beyond by providing a wonderful breakfast each day, (which was much appreciated) and transferring our laundry from the washer to the dryer. I hope we get the opportunity to return to Alken, Belgium.
Lara
2016-04-29T00:00:00Z
Vriendelijk ontvangst, nette kamers, lekker ontbijt
Ben
2016-11-26T00:00:00Z
Leuke locatie in een alleenstaande woning tegenover een parking. Slechts op 15 min rijden van hasselt. Perfect voor gezin. Mooie kamers
Ben En Kathrien
2016-11-27T00:00:00Z
Yvette contacteerde ons al een paar dagen op voorhand om af te spreken wanneer we aan kwamen. Rustige buurt
geert
2016-04-05T00:00:00Z
Room Type
Private room
---
Property Type
House
---
Accommodates
5
---
Bedrooms
Alken, Flanders, Belgium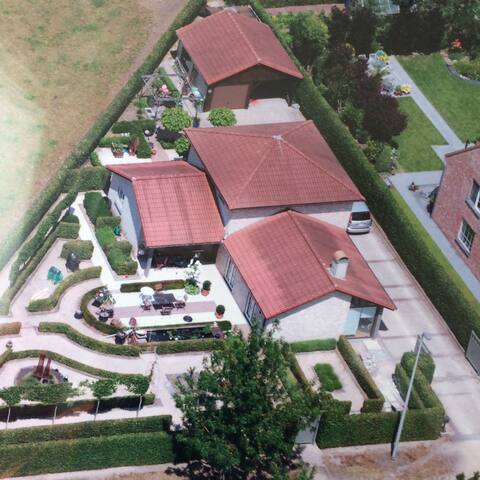 Addendum is situated in a quiet location a few minutes away by car from the center of Hasselt. Small and comfortable house with fully equipped kitchen, washing machine and dryer. Ideal for 1 to 2 people. Rental short and long term are possible. If you want good service ratio / quality / service, you will not be disappointed.
- 1 to 2 persons: ideal for short and long rentals. - 3 or 4 people: ideal but only for short rentals because a person sleep on the sofa and another person will sleep on a folding bed. The sofa and folding bed are in the living room is a coast of the bedroom.
quiet, green location near the country of Hesbaye there to make very beautiful walks on foot or take the bike but also very close to downtown and shopping. Tourists can easily combine city and nature. The businessmen appreciate being able to rest in peace after a day's work and appreciate the fact that we are located close to major roads and the city center of Hasselt.
The host canceled this reservation 6 days before arrival. This is an automated posting.
Bruno
2016-12-11T00:00:00Z
A very nice house lovely interior fully equipped the perfect place to stay .Pascale takes care about everything if you got any problems ask her she will help
Tobias
2016-10-03T00:00:00Z
The host canceled this reservation 31 days before arrival. This is an automated posting.
Ellen
2017-01-16T00:00:00Z
Room Type
Entire home/apt
---
Property Type
House
---
Accommodates
2
---
Bedrooms
Hasselt, Vlaanderen, Belgium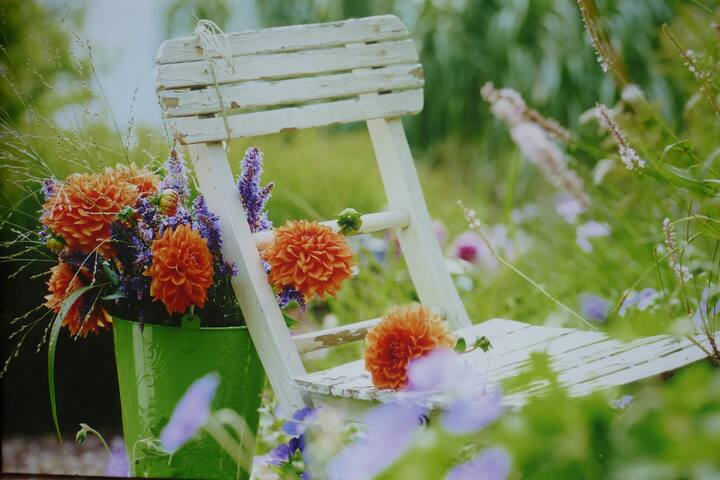 Basic room with lovely view on meadows and forest in our house. We have a huge vegetable and flower garden, and whereas our house is situated close (30 minutes by car) to the beautiful historical university town of Leuven, we live in very quiet and peaceful surroundings!
Beautiful view and lots of space, but basic.
Our neighbourhood is fantastic, for Belgium it's wide and spacious, with many fields and hills. You can take long walks. A five minute drive away is a shopping centre for all your needs, but where we live it's quiet with little traffic. Our garden is very peaceful and rekaxing.
Room Type
Private room
---
Property Type
House
---
Accommodates
2
---
Bedrooms
Sint-Joris-Winge, Vlaams-Brabant, Belgium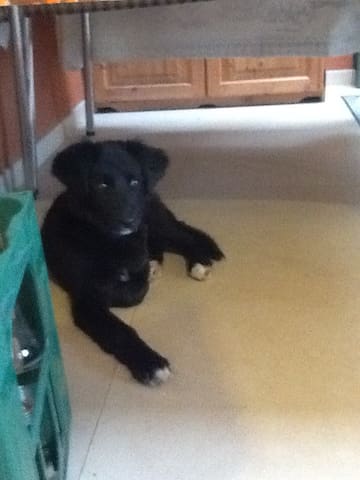 My boyfriend and I love to travel. Since we both enjoy using AirBnb for our stays, we also welcome you in our renovated house, next to a quiet green square. It's a 10-min walk to the train station & city centre. We speak English, French and Dutch.
The house, built in 1930, has been completely renovated by us in the past few years. The double bedroom is situated on the second floor, garden-side.
We live next to a quiet green square where there's plenty of shops (supermarket, bakery, etc.) and banks. Most of them are also opened on Sunday.
Géraldine & Stijn have a lovely house in a nice neighborhood very close to the center of Hasselt. The listed room fits the description very well. Géraldine & Stijn were both great hosts and very helpful which made my trip a bit sweeter. Would definitely recommend staying there on your next trip to Hasselt!
Sandra
2016-04-05T00:00:00Z
It was a great welcome and after a tour in their house Géraldine gave us a few tips for dinner. Their house is just 10 - 15 min walk to the city-centre, perfect to explore Hasselt.
An
2016-11-05T00:00:00Z
Lovely, big, modern and clean house! Lovely owners! All it was perfect!
Giulia
2016-11-26T00:00:00Z
The host canceled this reservation 26 days before arrival. This is an automated posting.
Charlotte
2016-02-29T00:00:00Z
Warm welcome. Perfect room ( good bed ) . Clean ! Inspiring !
Johannes
2017-04-02T00:00:00Z
Geraldine and Stijn were amazing hosts, they welcomed us into their house warmly and were flexible with check in and out. The appartment was amazingly beautiful and the room was spacious and comfortable. Also, their cat, Mira, was sooo cuddly and calm, we couldn't stop petting her all the weekend. All in all, we had a great experience and we faced no problems during our stay.
Athanasios
2016-04-26T00:00:00Z
Aangename ontvangst. Ongedwongen sfeer. Leuke kamer.
van synghel
2017-02-03T00:00:00Z
De advertentie klopte volledig met de realiteit. Géraldine en Stijn hebben ons vriendelijk ontvangen en enkele handige tips meegegeven, waardoor onze eerste avond in Hasselt perfect kon starten. Het is zeer aangenaam om er te verblijven, gelegen op een boogscheut van hartje Hasselt. Met andere woorden, een aanrader!
Charlotte
2016-10-30T00:00:00Z
Room Type
Private room
---
Property Type
House
---
Accommodates
2
---
Bedrooms
Hasselt, Vlaams Gewest, Belgium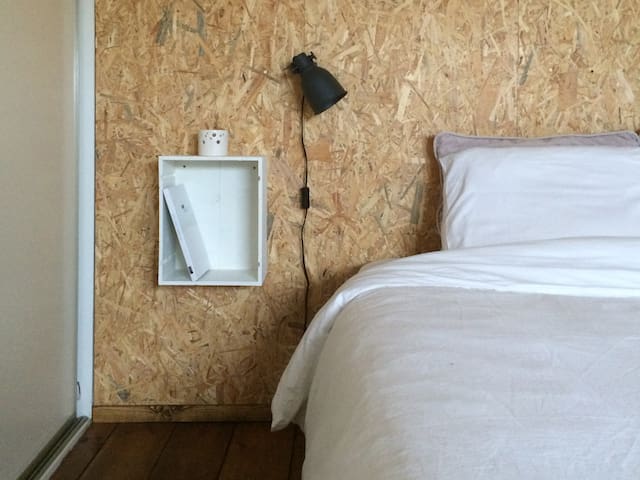 Een charmante kamer in een mooie 20e eeuwse art-deco woning met grote stadstuin, gesitueerd aan de rand van Hasselt, 12min stappen Kamer + aanpalende badkamer(douche) en toilet op de tweede verdieping waardoor deze een intiem en privé karakter heeft
You are welcome in this charming little city Hasselt , between Belgium,Holland and Germany, easy for travelling to Brussels, Antwerp, Liège, Maastricht, and other locations ; easy travelling by train or bus to many places around include a lot of green area !
Op tien minuten van het centrum zijn diverse culturele activiteiten in het centrale cultuur Centrum van Hasselt met een uitgebreid aanbod van concerten , expo. Diverse musea , o.m. Modemuseum, Jenever Museum , Lithérair Museum ,Stellingwerf Museum, Gallerijen , Dienst voor Toerisme "Maastrichterstraat " nabij de grote Markt Shopping ! Hasselt is de vijfde belangrijkste Winkelstad van België, een grotendeels verkeersvrije city en divers Culinair aanbod !Huren van fietsen gratis maandag tot zaterdag,( IO tot I7u30) achterkant Stadhuis
Casa Noeky has been my home in Hasselt for a couple of weeks during my business trips in Hasselt. Nicolas is a local (professional artist) folk in Hasselt who knows the city very well. It helps a lot what to do and where to go in Hasselt. This is the best stay I had in Hasselt and will surely stay in Casa Noeky again next time. Thank you so much, Nicolas! See you next time. Your house is strongly recommended. Cheers!
Maria
2017-03-26T00:00:00Z
Staying at Hugo's house was very pleasant. The bed were a Dream Come True. We had a really good rest! The room was clean as well as the private bathroom. Hugo was really helpful and easygoing. He helped us with some tips about our short staying in Hasselt. We recommend this BoB fully!
David
2016-10-30T00:00:00Z
Nicolas is really a great host. He makes you feel comfortable and welcomed.. I came a bit late in Hasselt and he was so kind to offered to fetch me from train station. It was really a big help. The room is big with private bathroom and well lighted. Strong Wifi connection. Very creative arts (painting, sketches and sculpture ) are all over the his house. It was fascinating. The Bus stop just outside the apartment. The shopping central area is walking distance. Nicolas gave me a lot of tips and directions where to go around the city and where to dine, also he let me use one of his bicycles one Saturday. I really enjoyed roaming around the city. Thank you very Nicolas for all the tips and kindness. I will surely r commend your place place to my friends and colleagues when they visit Hasselt. Cheers!
Maria
2017-03-11T00:00:00Z
Our stay at Nicolas place was fine. Value for money.
Evert
2017-02-26T00:00:00Z
Hugo was the best host one could wish for. Very helpful instructions beforehand and a very welcome feeling when arriving. He drove us to our location and even offered us a glass of good wine. The room was nice and well accommodated, he provided a good spot for our motorcycle and his house was a pleasure to look at. Many artistic creations. We felt right at home. Thank you for being our host!
Haroen
2016-04-24T00:00:00Z
I'm back again for the second time. I agree with the comments of the other guests for Nicolas that he is not only a great host but the sweetest host, too. I've enjoyed the convenience and comfort in my stay in Nicolas apartment. Sometimes he invited me to join him for a tea or coffee and talk about his art collections. Thank you Nicolas! I will surely come back again when I'm in Hasselt for another business trips. Alles Gute!
Maria
2017-03-19T00:00:00Z
Hugo was the sweetest host! I booked his place for my two sisters for whom it was their first time using Airbnb, and first time in Belgium! He picked them up at the train station, dropped them off the next day across town to meet me, etc. he was SO accommodating! At night when they arrived he prepared sandwiches and tea/juice. His place was beautiful - even better than the pictures. Highly highly recommend this place and thank you Hugo for being a fantastic host!
Jaymin
2016-03-28T00:00:00Z
Ondanks een misverstand met het uur van inchecken door mijn schuld een aangenaam verblijf gehad. Aanrader!
Dave
2016-01-02T00:00:00Z
Room Type
Private room
---
Property Type
House
---
Accommodates
2
---
Bedrooms
Hasselt, Vlaams Gewest, Belgium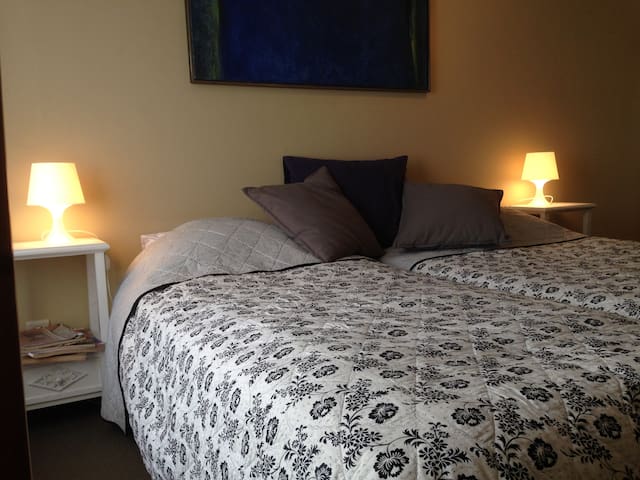 vzw The Sun Gate is located in a quiet, green, multicultural neighborhood in Hasselt. Besides resourcing with music and crystals, accommodation is also offered in two beds to a maximum of 5 guests. In the morning you will be pampered with a delicious breakfast buffet. The small fairy front yard is exclusively for guests (where you can smoke, of course). You can enrich your stay with the unique experience of a concert with Crystal Healing.
The Red room offers accommodation for 2 to 3 people, with a choice of either a double or 2/3 single beds. The Beige room offers accommodation for 2 persons with a double bed. As a guest, you have your own bathroom with separate communal toilet. There is a bathroom with tub / shower and a separate shower. On the beige room has its own sink. Parking is free and you can see the car from the window of your room.
Guesthouses association The Sun Gate is located in a quiet, green, multicultural neighborhood in Hasselt. In the center of Hasselt there are dozens of cozy restaurants.
Prima !
Lien
2017-04-09T00:00:00Z
Mia et Marco sont des hôtes très accueillants et très disponibles. Zen attitude !
Roseline
2017-04-02T00:00:00Z
Room Type
Private room
---
Property Type
House
---
Accommodates
5
---
Bedrooms
Hasselt, Vlaanderen, Belgium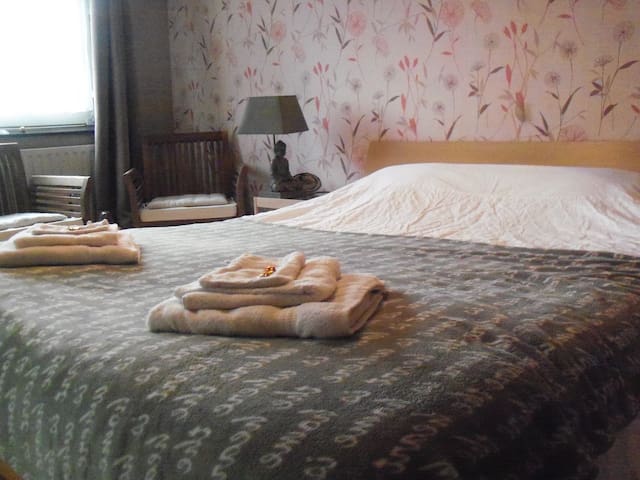 Our roomy attic guest suite is your private retreat. You get the entire top floor to yourself, your own bathroom and easy access via the front door and stairs. Great views and lots of light from two large skylights. Convenient location near city center, just 5 minutes' walk from the train station.
Large, airy attic room with great views of the surrounding area. Complete privacy, since your room is at the top of the stairs with an empty floor below. This room is perfect for a single person, a couple or a family of three.
We are situated between the inner and outer ring roads, just a 10-minute walk from the city center. The best fries in town and a laundromat are located across the street. There is a bakery/grocery store nearby, and a neighborhood restaurant serving breakfast, lunch and tapas 2 blocks away. There is limited street parking but the public lot down the street (Parking Astrid, 300m from our house) is 2€ per day.
everything was as described, perfect location for our weekend. diana was very welcoming and gave us great tips on the neighbourhood.
kirsty
2016-02-01T00:00:00Z
The room is beautiful, looks exactly like on the photos or even better. Clean bedroom and bathroom, the location is good too.
Emese
2016-09-24T00:00:00Z
The accommodation is near to the station and well connected. Diana was kind and borrowed us the heir dryer we needed. The room was clean and spacious, the beds really comfortable. The only negative aspect was the bathroom without a door so directly connected to the bedroom like a big open space so not very easy to manage if you are with not so intimate friend.
Alice
2016-11-26T00:00:00Z
Diana's attic room is so beautiful! Gorgeous views and great location. I had a amazing time, she is a wonderful host !
Georgia
2017-03-30T00:00:00Z
There is everything you need! Totally recommended! Great large bed :) (We could leave our bikes inside the house)
Aleksandra
2015-08-03T00:00:00Z
Lovely place to see Hasselt. Beautiful room, everything you need is there!
Frans/Sandra
2015-08-01T00:00:00Z
Everything was as described, perfect location for our few days. The room was very clean and also so cute.
arianna
2016-05-20T00:00:00Z
Diana's room was very cute and well located; very close to the city centre and train station! The room was cozy, and the bed was even more comfortable than my own. Diana was a lovely host and made sure that we had everything we needed. Great experience :)
Chelsea
2016-07-04T00:00:00Z
Room Type
Private room
---
Property Type
House
---
Accommodates
3
---
Bedrooms
Hasselt, Flanders, Belgium
An oasis of calm situated along walking and cycling routes in the middle of a nature reserve. The sunny south-facing terrace offers a magnificent view over the garden. Paalse near the lake, the Basilica of Scherpenheuvel and the abbey of Averbode.
It was our second time in Innekes house and it was as great as the last time :)
Sandra
2016-11-22T00:00:00Z
Inneke and her father are the perfect hosts! When we arrived they both waited for us and showed us everything around the house. It has been very helpful, especially for the use of the fireplace! The house itself is beautiful , very cosy inside with a fantastic view into the big garden and forest. We spent amazing 3 days for New Years Eve in Inneke's house and are now thinking of returning for summer. I recommend this house to every guest who is looking for a comfortable and quiet stay in Belgium.
Anna
2016-01-02T00:00:00Z
It could not have been better! We (9 people) had an amazing time in Innekes house and would love to come back. She and her father were very friendly and made us feel so comfortable. The house looks exactly, almost better than on the pictures. Thank you!
Sandra
2016-07-04T00:00:00Z
We visited Diest in April and received a great welcome by Inneke who showed us the main features of the house and made sure we were settled in nicely. There was a lovely log fire burning and plenty of wood to keep the evening chill away! Our 3 children loved exploring the garden and seeing the deer and horses that were around, and this was a great location for us to explore.
Matthew
2016-04-08T00:00:00Z
We had a great weekend in this nice house in the middle of nature. The host was very friendly, replied very quickly to our questions and managed all our last minute requests. As we were the first guests, there were some details that were not yet 100% perfect (no trash bags), that's why we give 4 instead of 5, but we provided all our feedback and so the next customers will surely put a rating of 5! Thanks again Inneke and we will surely recommend it to our friends. Cheers
Michel
2015-08-09T00:00:00Z
Inneke and her father were very lovely hosts. We booked the apartment the night before and they were very nice and accommodating for us. The house itself was incredible as well, with an amazing view and beautiful land.
Matt
2015-10-25T00:00:00Z
An inrcredibly nice host! And a really beautiful house and surrounding area to stay! Could not be better! Best regards, Vladimir and all members of Rigna Folk
Vlada
2015-09-30T00:00:00Z
such an amazing stay at inneke's beautiful farmhouse! a very clean, quiet and comfortable home with a nice outdoor patio that includes great woodland views. inneke was very helpful and friendly with great communication and even went out of her way to pick up some bread, butter, nutella, etc for breakfast. i couldn't have asked for a better night.
brian
2015-08-20T00:00:00Z
Room Type
Entire home/apt
---
Property Type
House
---
Accommodates
9
---
Bedrooms
Diest, Vlaams Gewest, Belgium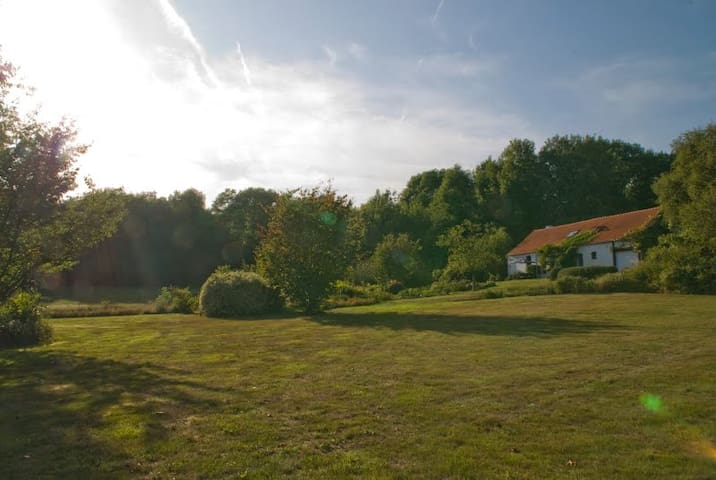 Nice room on the first floor, 5 minutes walking from the city centrum, the bus stops in front of the door and it is a 10-minute walk to the station. There is a small city garden and a nice patio for a quiet moment, shaltered from wind and rain.
The nice room offers 2 beds wich can be put together or used separateley. You can enjoy a cup of coffee, thea or water whit a tasty snack. There is tv, internet and free WIFI.
There are a lot of bicycle routes in and around the city. You can rent a bike for a small price a day on several locations.
Mireille is a very friendly and welcoming host and shared a hearty breakfast with us during which we had a good chat. The house is lovely and clean and perfectly located for everything that Hasselt has to offer. I recommend this accomodation highly. Thank you Mireille.
keith
2017-03-05T00:00:00Z
Mireille is very friendly. Her house is very well located only 5 min walk from the center and you can park your car for free in front of her garage. And we had the pleasure to have for to taste the bread she makes her self!!!
Cécile
2017-02-19T00:00:00Z
Mireille made us feel very welcome, we could not have asked for a better host. She was so lovely! The room and the beds were clean and comfortable, and we could use the kitchen as much as we wanted. A very good Airbnb experience:)
Johanne
2016-02-29T00:00:00Z
Lovely host, lovely room, lovely house, lovely value and just a great experience. A fantastic experience for me as Mireille was more like a mother than a host! The room was spotless, the location was right near the centre of Hasselt. The breakfast was delicious and really healthy. Mireille who has a really healthy diet makes some of the best Yoghurt and fruit I ever tasted. She offered me what I want for breakfast but I was really glad to choose her Yoghurt and fruit. She made me really feel at home and was kind enough to offer the use of the living room. Nothing was too much trouble for her. I knew by the pictures in advance what a nice place Mireille has. What I didn't know is that being there is even better. Mireille really is the perfect hostess and is a great ambassador for being a host. One of my best ever experiences on AirBNB. If I go to Limburg again I would only choose Mireille's place or not go at all. It was the best that best can be. Choose her place. I promise you won't regret it.
John
2016-07-30T00:00:00Z
Everything was perfect, both arrival and departure was smooth, we were pleasantly surprised that Mireille prepared breakfast for us. Communication was easy, Mireille immediately replied to my messages. I totally recommend.
Jitka
2015-11-15T00:00:00Z
Nice B&B, cozy room, good Breakfast, friendly host, close to the center. I can recomment this place.
Jenny
2016-09-24T00:00:00Z
Mireilles house is very clean and neat. She has good guide material, and made a great breakfast we enjoyed in her nice company.
Julie
2017-02-05T00:00:00Z
Mireille was extremely welcoming and the description in her listing was accurate. She did a great job making us feel at home, particularly with serving breakfast(!), and the room was cozy and comfortable.
Davin
2016-01-31T00:00:00Z
Room Type
Private room
---
Property Type
House
---
Accommodates
2
---
Bedrooms
Hasselt, Vlaanderen, Belgium