Unser kleines Jagdhaus liegt direkt im Biophärenreservat Rhön, einen Steinwurf vom Rotenmoor entfernt auf ca. 800 m Höhe an reizvollen Wander- und Mountainbikewegen. Ideal auch zum Langlauf fahren. Es ist rustikal eingerichtet und wird mit zwei beheizt.
Alleinlage im Biophärenreservat Rhön Der Garten bietet viel Platz zum Spielen und Ausruhen. Liegen, Grill, Terrassengaritur sowie Kinderschaukel, Sandkasten und Weidentipi sind vorhanden. Außerdem haben für Gäste mit Pferden eine Pferdekoppel auf dem Grundstück eingezäumt. Gerne können diese mit Absprache mitgebracht werden.
Die "Einzigartige Alleinlage in der Rhön" ist Programm. Das Häuschen liegt ruhig und idyllisch zwischen Wiesen and Wald. Per pedes oder mit dem Auto ist die Unterkunft ein guter Ausgangspunkt für Unternehmungen vor Ort bzw. in der Rhön. Die Küche ist großzügig inkl. einer Vielzahl von Küchenkleingeräten ausgestattet; die Terasse hält Extras wie Liegestühle, Sonnenschirm und Sitzpolster für die Gartenganitur bereit. Für zwei Personen ist die Bettensituation perfekt. Darüber hinaus lassen sich die Schlafmöglichkeiten sicher optimieren. Katja war eine freundliche und sehr hilfsbereite Gastgeberin. Wir würden wiederkommen.
Manuela
2016-08-01T00:00:00Z
Uns hat es bei Katja sehr gut gefallen. Das Haus war sehr sauber und es stand sogar ein hübscher Blumenstrauss auf dem Tisch. Das Haus steht in absoluter Alleinlage am Waldrand mit Blick auf grüne Wiesen. Vom Haus gehen einige Wanderwege direkt ab. Man hört noch nicht mal eine Strasse. Das Haus ist wie auf den Fotos zu sehen total gemütlich und für 4 Personen super geeignet. Es war alles vorhanden. Bei Fragen konnten wir uns jederzeit an Katja wenden. Danke für die schöne Zeit!
Theresa
2016-05-18T00:00:00Z
Wunderbarer Ort. Inmitten der Natur. Haus ist rustikal und zweckmäßig. Gastgeber sehr nett und engagiert.
Hannes
2016-05-30T00:00:00Z
Alles Super, Lage, Haus, Umgebung, Gastfreundschaft, Service, Alles Super Gerne wieder!
Stefan
2016-12-18T00:00:00Z
Wir haben hier zu viert ein verlängertes Wochenende verbracht. Die Hütte ist super gemütlich und mit allem ausgestattet was man so braucht. Die Lage ist wirklich schön, ruhig und einsam. Man kann von dort aus super wandern. Wir würden definitiv wieder kommen! Vielen Dank!
Lisa
2017-01-08T00:00:00Z
Ein ganz besonderes Wochenende in einzigartiger Alleinlage mit herrlichem Blick, dazu ein mehr als vollständig ausgestattes Haus mit allem was man sich wünscht! Katja und ihr Mann sind sehr nette und hilfsbereite Gastgeber, besser kann man es nicht machen. Der Preis ist gerechtfertigt, man muss allerdings die traumhafte Alleinlage mögen, für manche könnte es zu einsam sein, für uns war es perfekt! Wenn es sich ergibt, kommen wir gerne wieder. An dieser Stelle noch einmal recht herzliche Grüsse an Katja, Annette und Thomas
Thomas
2016-10-09T00:00:00Z
Die Unterkunft ist super schön und sehr ruhig im Grünen gelegen. Das Haus ist sehr gemütlich und sauber, dazu top ausgestattet mit wirklich allem, was man braucht. Katja ist eine prima Gastgeberin. Die Kommunikation im Vorfeld war sehr unkompliziert. Bei unserer Anreise hatte Katja sogar (ohne, dass wir danach gefragt hätten) ein Kinderbett für unsere Tochter aufgebaut, und zur Begrüßung ein paar Bio-Eier fürs Frühstück mitgebracht! Insgesamt also eine sehr empfehlenswerte Unterkunft mit sympathischer Gastgeberin. Auf jeden Fall zu empfehlen!
Dana
2016-08-14T00:00:00Z
Die Gastgeber sind unglaublich lieb und immer zur Stelle, wenn man noch fragen hat oder etwas benötigt! Das Haus ist mitten im nichts und so wollten wir das auch. Es war ideal um mit den Kindern wieder einen gemeinsamen "Nenner " zu finden und ohne Handy / TV sich zu amüsieren. :-) Alles in allem war es besser wie unsere sonst üblichen CenterParcs Aufenthalte!!! Dankeschön!
Melanie
2017-01-15T00:00:00Z
Room Type
Entire home/apt
---
Property Type
House
---
Accommodates
5
---
Bedrooms
Gersfeld (Rhön), Hessen, Germany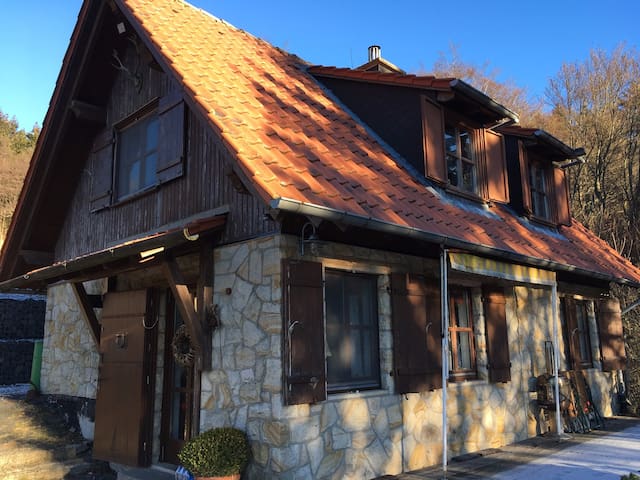 Kleines, gemütliches und zweckmäßig eingerichtetes Ferienhaus mit separaten Zugang in einem schönem, grünen Garten. Nur 10 Fußminuten in die Innenstadt.
Kleines, ca. 20 m² großes Ferienhaus mit Duschbad und Kochnische. Hier ist alles vorhanden was Ihr zur Selbstverpflegung benötigt. Im Spitzdach ist eine ca. 1,3m breite Matratze als Schlafgelegenheit vorhanden. Weiterhin gibt es noch im Wohnraum ein ca. 1,2m breites Klapp- Schlafsofa. Parkmöglichkeiten gibt es direkt vorm Haus. Ein großer Garten, Terasse und eine Veranda zur Mitbenutzung. W- Lan auf der Veranda verfügbar.
Noch zentral gelegen und nahe der Fuldaauen. Supermärkte, Diskounter, Metzger, Bäcker, Ärzte, Fahrradverleih usw. in der Nähe.
I would highly recommend this property. The family are really lovely and helpful. Showers great and they supply everything you need even a hairdryer!!. I have left an English guide and map there as all the info in German. 10-15 min walk to town and bus stop really close. A fabulous experience in a lovely city. Many thanks to the family.
Sharon
2016-06-06T00:00:00Z
The cottage was just as advertised - cute, homey, and clean. I had a wonderful stay and enjoyed being so close to the center of Fulda! I'd definitely recommend.
Alicia
2016-07-23T00:00:00Z
Nice and cosy place near city center.
Christian
2016-06-23T00:00:00Z
Staying at Daniels place was great. Nice appartment in a beautiful garden, exactly everything I needed. Daniel was very friendly to welcome me and show me the house. Very helpful when needed. Everything was very neat and tidy. In the kitchen there were many things free to use, like coffee, thea, oil, salt, sugar etc. This is certainly not standard in every appartment. So very convenient. For the other things you might need there's a supermarket across the street. The house is perfectly located at walkingdistance from the trainstation and citycentre. I liked my stay very much, everything was as aspected and perfect and great! Thank you Daniel!!
Robin
2016-10-04T00:00:00Z
Daniel was a wonderful host. He was always prompt and easy to communicate with and his family was extremely welcoming and helpful when I arrived. The house was exactly as described, very clean and comfortable with a great atmosphere. In addition Daniel's backyard is wonderfully landscaped. I only wish I'd had more time to enjoy and relax in it.
Jared
2016-05-14T00:00:00Z
Alles prima, kleines süßes und shclichtes Ferienhaus genau wie auf dem Foto. Wir waren leider nur einen Tag da, waren aber sehr zufrieden! Vielen Dank
ute
2015-05-28T00:00:00Z
Wir haben uns hier sehr wohl gefühlt - das Häuschen ist sehr gemütlich und Daniel und seine Familie waren sehr freundlich und zuvorkommend. Optimale Lage dicht am Zentrum und dicht am Fuldaradweg. Kurz und gut: einfach empfehlenswert!
Barbara + Henning
2015-09-01T00:00:00Z
Super tolle und gemütliche Unterkunft, Preis-Leistungs-Verhältnis ist wirklich tip top! Wir haben dort 4 Nächte verbracht und hätten sofort verlängert, wenn es möglich gewesen wäre. Super nette Gastgeber und jederzeit hilfsbereit. Man hat dort wirklich alles was man braucht. Falls man nicht weiterweiß ist Familie Schmitt sofort da um zu helfen (Wegbeschreibung, Tipps usw) Jederzeit wieder!
Nele
2016-08-24T00:00:00Z
Room Type
Entire home/apt
---
Property Type
House
---
Accommodates
2
---
Bedrooms
Fulda, HE, Germany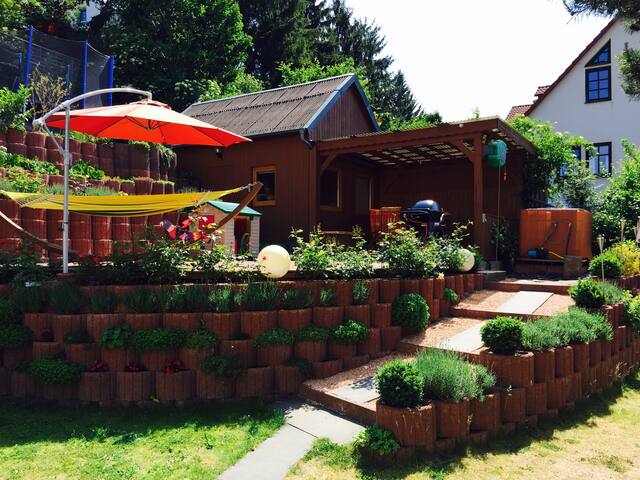 Our completely renovated small cottage in the heart of the Rhon accommodate 4 persons. It lies in the resort Hilders in a quiet location. Furnishings: bedroom, children's room, bathroom, kitchen and living room including dining table, porch and garden.
Our little cottage (52 sqm) in the heart of the Rhon accommodate 4 people and is ideal for families or couples. The house was completely renovated in 2013 and decorated in a Nordic style. It is family and child friendly. A private parking is available. The house is located on the outskirts of the resort Hilders in a quiet location and is your starting point for an unforgettable holiday Rhon. Equipment: -Bedroom -Nursery With bunk beds -Bathroom with a shower -fully equipped kitchen with small storage room -living Room including dining table - beautiful view of the Milseburg -Veranda With sitting Front Garden with deck chairs, umbrellas and seating unit -own Parking Even bring are bedding & towels!
The property is situated in Germany in the heart of the Rhon. It is a few kilometers from Hessen's highest mountain, the Wasserkuppe and the Milseburg away. There are many bike paths, outdoor swimming pool Ulsterwelle and numerous hiking trails in the vicinity. A highlight is the Milseburgradweg extending of Petersberg near Fulda on Hofbieber on a total of 27 km to Hilders. On the former railway line and the 1,172 m long tunnel Milseburg is traversed. But even in winter the Rhön is the perfect place for ski and snowboard fans. Located next to the residential area there is a small ski lift and at Wasserkuppe ski resort not far away all winter lovers will get their money. For children there is near the Rhon Park Raiders, a large indoor play area, the Dream Theater Kleinsassen, and the wildlife park Gersfeld. On the Wasserkuppe there is also a summer toboggan run for young and old. The 30 km away Fulda invites with its special flair to stroll and take a stroll, and offers many historical sights. In Hilders itself contains a Rewe with drinks market, Edeka, a Lidl, and other small shops in the village.
Welcoming couple with a bottle of wine... good start... Very quaint little one-level cottage with great views of the rolling hills - we were unlucky with the weather - otherwise you could have sat on the veranda enjoying the view. There were horses and sheep to watch too. The cottage was reasonably equipped - fridge, cooker, coffee percolator, hi-fi, TV. No broadband but this place is really in the wilds so this is what you would expect. The local town is quite quiet - you can easily park there - there was a fantastic restaurant at the top with free broadband and local trout. There is also a huge Lidl and Rewe (A little like Tesco) to supply anything you need. Be aware there are road works from Frankfurt to the area - The diversion signs are miniscule and then peter out... Once you get there you're fine. The neighbours live far away and we hardly saw them but weirdly every day at 6.30am they decided to go-a-strimming in stereo as if they were in a completion - Why? Parking was "interesting" - perhaps I am a bad driver but we chose to park on the lane rather than outside the chalet as the wheels on our hire car gained no traction after the first attempt - It was only a few yards to walk but you may need a torch (which they have). One thing to remember if you are not a German - they charge extra for electric and water - never experienced this anywhere but I believe this is normal practice - We spent about 20 Euros so not too bad just not what I expected. All in all a great, quiet back-water find - If you want to see the Rhon area (a beautiful area by German standards but not a dot on the lake district or the Cotswolds) a great place to be based. Cannot comment on what it would be like in winter but I guess very pretty and snug...
morton
2015-08-02T00:00:00Z
We had a good time in the Nordischer Charme. It is a very cozy and quiet place, surrounded by lots of green. Elisa gave us a warm welcome and everything in- and outside the house was neat and clean. Rhon is a beautiful area with a lot of possibilities to entertain ourselves and our one year old son. The only drawback of the place was that there were a lot of wasps (we stayed there in August).
Nienke
2015-08-13T00:00:00Z
Very responsive, kind, and generous hosts. The cottage is as adorable as it looks in the pictures, and the town and country side were beautiful during the summer. I had a lovely time.
Kira
2015-07-25T00:00:00Z
We had a great time in Hilders. The cottage is cosy and private. It's in a nice scenic area. If you want to relax for a while and have some quiet time, this little cottage is perfect! It is a beautiful area to hike and bike. The towns and villages around Hilders are a bit sleepy, but we didn't mind because it was not the purpose of our visit.
sietske
2016-08-22T00:00:00Z
We had a very nice time in your lovely house! It was so nice and beautiful. All in the house. Also outside. We enjoy the geest vieuw! Inside everywhere i look it was with very much attention ingericht ( i don't know the right word) The bed was very good , and the kitchen everything was there you need!! Very great elisa you can be very proud off this nice home!!! Thank you for staying in your houseWith kindly regards, Rian en Mieke
Rian
2015-07-28T00:00:00Z
We stayed at Elisa's cute house and had a wonderful time! It's really a nice and clean house with 2 separate bedrooms. Small kitchen but with everything you need. We will try to come back sometime. Our kids loved the garden. It's not fenced. So you have to watch small kids.
Amarin
2014-08-04T00:00:00Z
We loved this little apartment! Easy to get to and in a beautiful area with peaceful surroundings. Elisa's mum was there to greet us and even supplied a nice bottle of wine :) There is so much to do and see in the area but unfortunately the weather didn't hold up for us. Even with the bad weather there is still a lot of activities. The place was very clean, had everything we needed and the town of Hilders is only a few kilometers away. All in all a great location and we hope to go back someday. Thanks!
David & Marita
2015-06-21T00:00:00Z
Eine tolle Unterkunft, bei der man vom ersten Moment an in den "Urlaubsmodus" schalten kann. Kommunikation einwandfrei und auch der Empfang und das Zeigen des Hauses durch Ilona war perfekt und sehr angenehm. Für den Garten sind zwei Liegen da und auch ein Grill ist vorhanden. Wirklich empfehlenswerte Unterkunft.
Dieter
2016-08-29T00:00:00Z
Room Type
Entire home/apt
---
Property Type
House
---
Accommodates
4
---
Bedrooms
Hilders, Hesse, Germany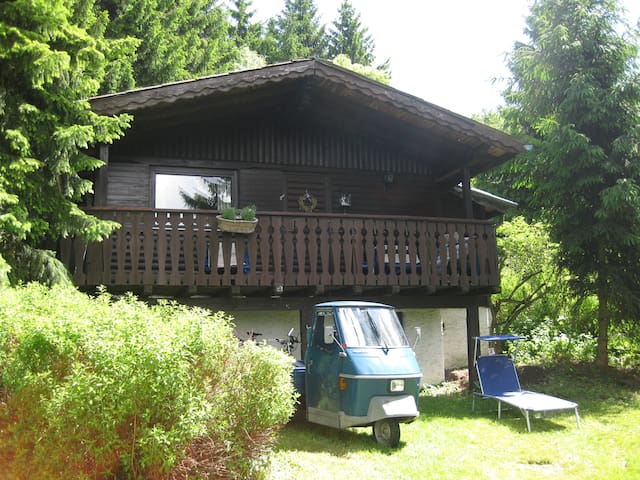 Wir lieben unser kleines Häuschen aus vielen verschiedenen Gründen;-) Vor allem ist es in Familienbesitz seit 3 Generationen, ist liebevoll renoviert und es liegt ruhig und doch mittendrin!;-) Das gemütliche Dachgeschoss wird vermietet und wir freuen uns, dass sich alle Reisefreunde dort wohlfühlen. Wichtig: Es gibt keine Küche, aber eine Tee-Kaffee-Ecke mit Kühlschrank, Geschirr, Gläsern etc. (siehe Fotos). Größere Menschen über 1,75 müssen in den alten Türrahmen den Kopf einziehen;-)
Die Unterkunft liegt 10 Gehminuten von der Innenstadt entfernt in einer ruhigen Seitenstraße. Das Haus wurde 1896 erbaut und ist seitdem im Familienbesitz. 2003 wurde es liebevoll und weitgehenst originalgetreu renoviert. Vermietet werden 2 Schlafzimmer (2 Doppelzimmer) im Dachgeschoss mit kleinem Wohnzimmer und Bad mit WC und Dusche. Es gibt KEINE Küche, jedoch eine kleine Tee-Kaffee-Ecke zum freien Gebrauch;-). Bettwäsche und Handtücher sind natürlich vorhanden. Durch die Dachschrägen, Balken und Holzböden ist es einfach gemütlich und kuschelig. Gäste über 1,75 müssen bei den Türrahmen den Kopf ein bisschen einziehen. Da sich im Haus eine Massagepraxis und eine Psychotherapie und Coaching Praxis befindet, läßt sich der Urlaub auf Anfrage mit einem Wellnessprogramm verschönern. Fühlen Sie sich wie zu Hause!
ist die Beste der Welt!;-) Wir sind eine große Familie. Ich liebe unsere Strasse, da sie sehr ruhig gelegen ist und doch nur 10min. zu Fuß von der Innenstadt weg. Auch kann man von der Haustür aus zu Fuß in die nahegelegene Fuldaaue zum Spazieren gehen und sofort Natur genießen. Quasi um die Ecke gibt es mehrere Bäcker, Metzger und Supermärkte, Buslinien. Ein Fahrrad steht zur Verfügung:-)
The rooms are bright and airy. Loved the history that Anne shared with us about the number of families that stayed in the house post-war. Do take her warnings about the height of the ceilings into consideration - not a problem for us but a 6 foot person will have quite a bit of bending to do. Great place and great host.
Dave
2016-05-04T00:00:00Z
I don't know where to begin. This apartment is so thoughtfully decorated and comfortable. It's a place I'd be eager to live, not just stay for the night. Everything you might need is available, and it's easy walking distance to groceries, bakeries, and more. The downtown area is also adorable and fun to walk. Anne is also my favorite AirBnB host. She made me feel so at home, and we ended up grabbing dinner together in town since she was free. She has such a warm and welcoming demeanor. I highly recommend staying in this apartment! I wish my schedule had allowed for a longer stay.
Lindsay
2015-10-09T00:00:00Z
Anne was kind, considerate and attentive. Everything was perfect! If I'm ever in Fulda again it will be my number one spot. Thanks Anne!
Melissa
2016-10-09T00:00:00Z
We had a nice time at the clean appartment of Anna. It is clean and cosy. There is some coffee and tea to welcom you. Fulda has a nice centre wich is a few minutes by car. In the neigberhood there is a small bakery that opens at 5.30 with nice croissants.
Marlou
2016-07-15T00:00:00Z
Sehr süße Wohnung und eine nette, zuvorkommende Vermieterin! Alles gut und jederzeit gerne wieder.
Jan
2016-06-06T00:00:00Z
Super gemütliche herzliche Unterkunft. Es hat an nichts gefehlt. Jeder Zeit wieder gerne. Vielen Dank! Kann ich nur empfehlen.
Alena
2015-12-19T00:00:00Z
Tolle, liebevoll eingerichtete Unterkunft, genau wie beschrieben! Auch wenn wir Anne leider nicht persönlich kennenlernen konnten, war der Empfang durch Ihre Mutter sehr herzlich und es hat alles reibungslos geklappt. Wir haben uns super wohlgefühlt und es war alles bzw. sogar mehr da als man benötigt / erwartet hatte. Einfach top! Man kann zudem auf der Straße kostenlos parken und ist in etwa 15 Minuten zu Fuß in der Stadt (Parkhäuser gibt es ebenfalls an jeder Ecke). Zum Frühstücken/Brunchen hatten wir uns bei der großen Auswahl für das "Ideal" entschieden - super mit kleinen Kindern. Liebe Anne, vielen Dank für diesen rundum gelungenen Kurzaufenthalt. Wir kommen gerne wieder, wenn es erneut Richtung Norden geht!
Michaela
2016-05-17T00:00:00Z
Gemütliche Wohnung und nette Gastgeberin! Alles top
Vaia
2017-01-18T00:00:00Z
Room Type
Entire home/apt
---
Property Type
House
---
Accommodates
4
---
Bedrooms
Fulda, Hessen, Germany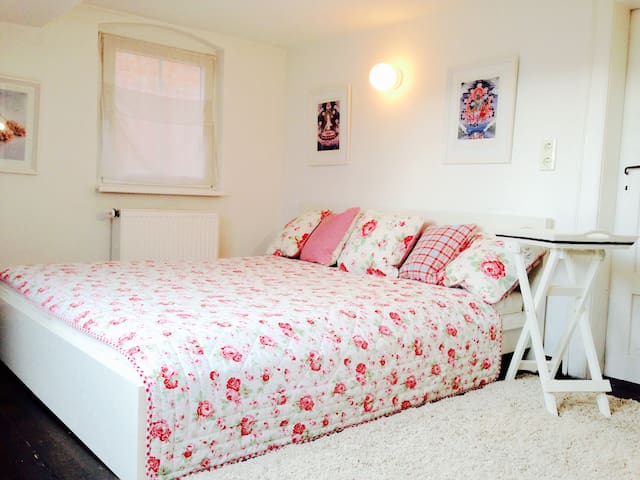 Welcome to our Finnish blockhouse Berg.erleben Time for rest and nature ... a second home in the Rhön. My accommodation is good for couples, lone adventurers and business travelers.
Das Blockhaus verfügt über 2 Ferienwohnungen. Auf Wunsch kann auch eine einzelne Ferienwohnung gemietet werden. Die Ferienwohnung "Kleiner Wolf" (ca. 50qm) befindet sich im EG , "Ginkgo" (ca.45qm) im DG Ausgestattet sind beide Wohnungen mit Wohnküche, einer Sitzgruppe, TV, Bad mit Badewanne bzw. Dusche und einem gemütlichen Schlafzimmer. Ein Kamin sorgt für Behaglichkeit bei Regenwetter und im Winter! Genießen Sie die Aussicht auf Wiesen und Wald auf dem Balkon bzw. der Holzterrasse. Der Garten lädt ein zum Entspannen. Ihre Fahrräder und Ski können Sie bequem in einer Gartenhütte unterstellen. Ob Sie zum Wandern, Ski fahren, Fahrrad fahren oder Reiten kommen….lesen, malen oder einfach mal ausspannen möchten, Ruhe finden und Kraft schöpfen.
Wir haben unsere Zeit im Holzhaeusschen sehr genossen und wuerden jeder Zeit wiederkommen. Es war so gemuetlich,ruhig, romantisch -perfekt zum runterkommen. Die Kueche ist mit wirklich allem ausgestattet was man braucht, vom Toaster ueber Wasserkocher, Kaffeemaschine,Brotschneidemaschine, Eierkocher und und (URL HIDDEN) hat an nicht gefehlt. Alles ist sauber und toll eingerichtet. Da steckt viel Liebe und Herzblut drin. Besonders hervirzuheben ist, dass wir persoenlich emofangen und auch verabschiedet wurden von den herzlichen Gastgebern. Vielen dank fuer alles und bis hoffentlich bald.
Erik&Teresa
2016-12-28T00:00:00Z
Room Type
Entire home/apt
---
Property Type
House
---
Accommodates
4
---
Bedrooms
Hilders, Hessen, Germany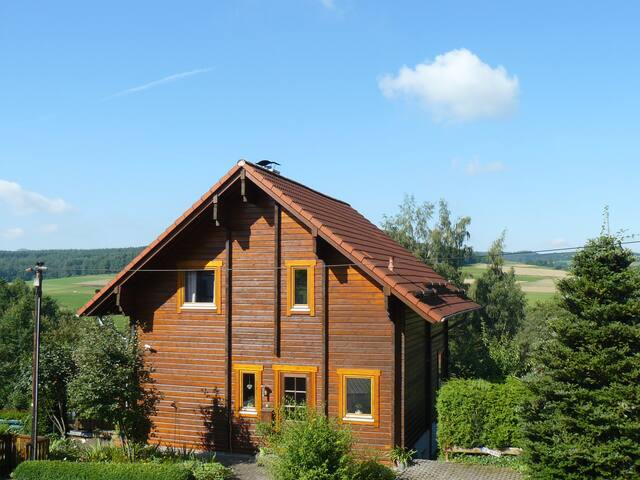 Das Ferienhaus verfügt über einen Sonnenbalkon und bietet Ihnen ein großes liebevoll eingerichtetes Schlafzimmer zum Träumen, ein Badezimmer mit Dusche und Badewanne und eine sehr gut ausgestattete Wohn-/ und Essküche sowie ein Wohnzimmer.
… im Ferienhaus Casa Maria, dem Ferienhaus der besonderen Art.... Lassen Sie sich von unserer Homepage schon in einen Kurzurlaub in unserem 4-Sterne Ferienhaus entführen. Klassifiziert nach den Kriterien des Deutschen Tourismusverbandes und bestimmt auch nach Ihren Wünschen erwartet Sie eine Ferienwohnung oder besser ein Zuhause auf Zeit, in dem es sich sehr gut leben lässt. ... und lassen Sie sich überraschen von einem modernen Design: elegante & zeitlose Einrichtung, warme Farben und viel Platz für Sie ganz alleine. ...Klein aber fein, denn wir legen größten Wert auf familiäre Atmosphäre, Gemütlichkeit, Freundlichkeit und absolute Aufmerksamkeit. Probieren Sie's doch aus! Ihre Familie Neubauer
… liegt in der Gemeinde Ehrenberg im Ortsteil Wüstensachsen. Also nur knapp 6 Kilometer von der Wasserkuppe, dem höchsten Berg Hessens, entfernt. Ehrenberg erwartet Sie mit seinen vielfältigen Freizeit- und Erholungsmöglichkeiten am Ort. Durch die zentrale Lage erreichen sie auf kurzen Wegen viele Sehenswürdigkeiten der Rhön.
Die Ferienwohnung 'Casa Maria' hat uns über Ostern ein gemütliches zu Hause gegeben. Die Beschreibung passt genau, die Wohnung ist sehr groß und schön eingerichtet. Wir haben uns sehr wohl gefühlt und kommen gerne wieder. Vielen Dank für den Streuselkuchen! ;-)
Sabine
2015-04-06T00:00:00Z
Die Wohnung ist schön und mit Liebe eingerichtet. Da sie in einem separaten Gebäude liegt, hat man nicht das Gefühl jemanden zu stören, wenn man spät nach Hause kommt. Es fehlt an nichts (voll ausgestattete Küche mit Spülmaschine, Bademäntel, Handtücher, DVD-Sammlung, Wander- und Reiseführer für die Region). Ein Parkplatz ist direkt vor der Tür. Die Gastgeber sind sympathisch und hilfsbereit. Wir bekamen leckeren Kuchen und Brötchen gebracht. Ein einfaches aber empfehlenswertes Restaurant (Haus zur Wasserkuppe) sowie ein Supermarkt sind in 2 Minuten zu Fuß zu erreichen. Die Wohnung liegt optimal, um die Ausflugsziele Wasserkuppe, Rotes Moor, Kreuzberg und Point Alpha zu erreichen. Wir kommen gerne wieder.
Thomas
2016-11-01T00:00:00Z
Eine tolle Wohnung, sehr hilfsbereite Gastgeber (Fahrservice bei An- und Abreise und zum Einstieg ins Rote Moor, Tipps für Touren, Einkauf und Restaurants vor Ort, leckerer selbst gebackener Kuchen!) und die Wasserkuppe und weitere tolle Ziele (Rotes Moor, Schafstein, Pferdskopf, Schwarzes Moor, Kreuzberg...) "um die Ecke" - die Rhön hat uns trotz wechselhaften Wetters sehr gut gefallen, vielen Dank und ein Wiedersehen ist nicht ausgeschlossen!
Rudi
2015-05-28T00:00:00Z
Room Type
Entire home/apt
---
Property Type
House
---
Accommodates
2
---
Bedrooms
Ehrenberg (Rhön), Hessen, Germany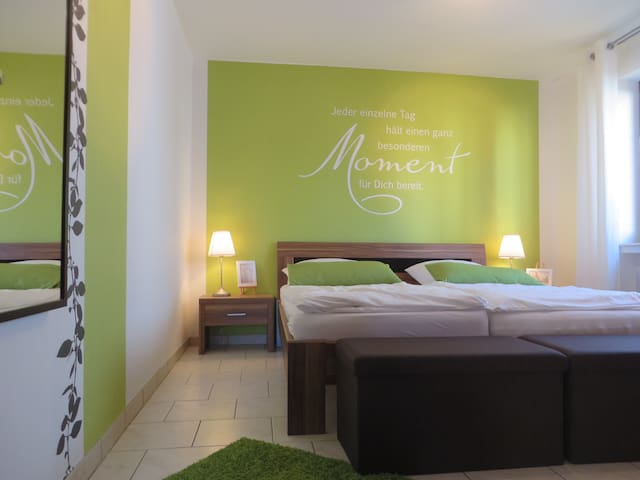 Our house is located close to the station (7 minutes to walk). The room is in the cellar but clean and neat. There is an extra bathroom and a small kitchen with fridge and cooker. In the living room is a n oven. The entrance is separated from ours.
Our room is in the cellar, but clean and nice. There is one bed for two people. Although our house is located closely to the railway station (5 minutes to walk) you cannot hear any trains. There is a refrigerator, a boiler and an electric stove for you. Moreover, there are some good bakeries offering good breakfast, which are not far from here. Therefore it is easy to discover the city by foot. And if you want to chill out, you can sit in our garden or the terrace, which is lovely.
Our neighbourhood is calm. We live close to the city center.
We had a great stay. The host was very welcoming.
Donald
2015-08-21T00:00:00Z
This was my father and my first Airbnb and it did not dissapoint! Frau Feldmann was there awaiting our arrival even though we were hours late due to flight delays! She was very accommodating. The room was more than a (URL HIDDEN) was an entire floor! It was clean and comfy. I couldn't have asked for a better place to stay in beautiful Fulda. Danke für alles!
Michael
2015-06-25T00:00:00Z
I can recommend staying in Fulda if you are holidaying in central Germany. . Everything was great. Thanks Felix and the family for everthing. The room and facilities were wonderful for two nights and would be a great place for a longer stay too. A great relaxed beginning to my "Urlaub in Deutschland". I would defintely stay again.
Ross
2014-05-21T00:00:00Z
Quiet place, lovely environment, spacious clean room(s) and very close to the centre of Fulda. I received a very friendly welcome. I will definitely be going again. Highly recommended!
Winfried
2016-10-26T00:00:00Z
I want to say that this is a very good option for travellers in Fulda. The House is very conveniently located. Near train station, City Centre, shops. But the main advantage is a very kind and attentive owners, always ready to help their tenants. Highly recommend to all this accommodation. Mikhail (Russia(URL HIDDEN)
Михаил и Соня
2014-08-15T00:00:00Z
Excellent experience. I was incredibly confortable and though reviews were good, i didnt expect the room to be this clean, cozy, home-looking and warm. Book this room ASAP, you wont regreat. Hostess, incredibly nice, made me feel like i was home, i felt i had privacy, that my personal space was going to be respected and it did, even if i try to find something bad or at least "not that good", i couldnt. Definitly would stay here everytime i want to go to fulda. Thanks a lot!
jaime
2016-06-01T00:00:00Z
This is my second time booking with Felix. I booked this for my friend and she loves the place. As always, the room is clean with Wifi, spacious and close to the train station. Highly recommend it.
Maggie
2016-06-30T00:00:00Z
Felix arranged everything and I was received very well by his family. They have a beautiful and very cozy home and in a perfectly convenient location. Everything went smoothly and I felt very comfortable.
Carolina
2016-03-05T00:00:00Z
Room Type
Private room
---
Property Type
House
---
Accommodates
4
---
Bedrooms
Fulda, Hesse, Germany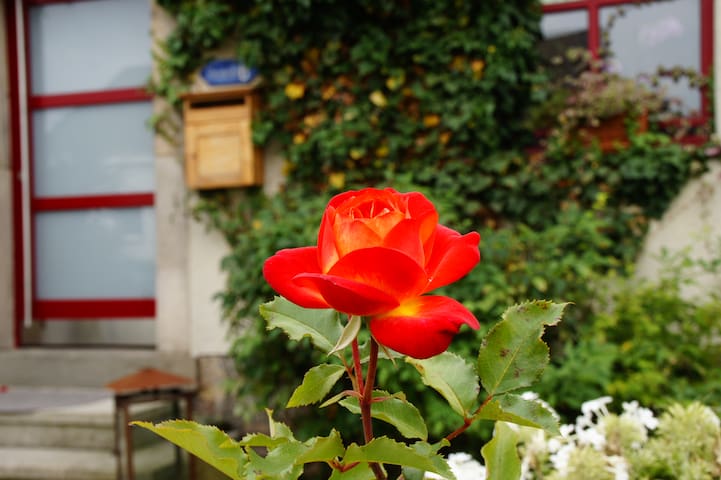 Der Bungalow 21 in der Ferienanlage RHÖN RESIDENCE liegt am Waldrand mit direktem Zugang zum Wald. Ideal für Hund und Herrchen. Im Hotel RHÖN RESIDENSE, keine 200m entfernt, befindet sich ein großzügiges Schwimmbad mit Sauna, das Sie gegen Eintrittsgebühren benutzen könne. Hier können Sie auch an dem reichlichen Büffets gegen Voranmeldung teilnehmen. In der Gaststätte KNESHECKE gibt es Grillgerichte, die Sie im Sommer auf der großen Terrasse genießen können.
Room Type
Entire home/apt
---
Property Type
House
---
Accommodates
3
---
Bedrooms
Dipperz, Hessen, Germany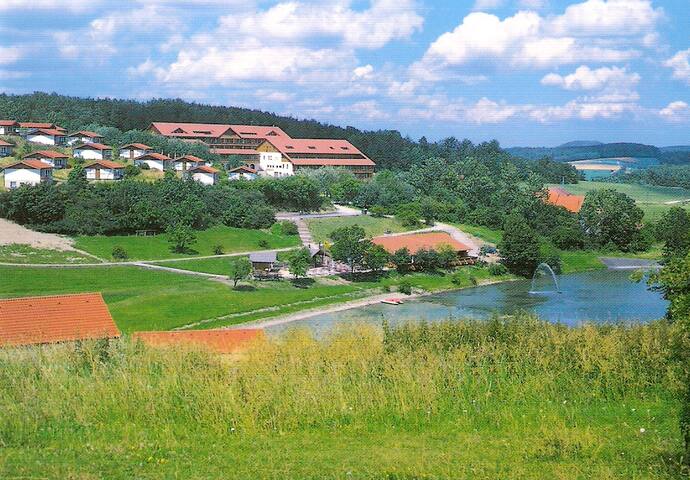 Die Wohnung ist zentral gelegen im beschaulichen Kurort Gersfeld. Restaurants, Cafes , Supermärkte und Läden des alltäglichen Bedarfs sind alle fußläufig in unter 10 Minuten erreichbar. Die Wohnung ist eine eigenständige Unterkunft mit seperaten Eingang im Anabau unseres Hauses. Du hast also deine Ruhe aber bei Fragen sind wir Nah. Die Unterkunft ist besonders gut geeignet für Paare und Familien (mit Kindern). Ausgestattet mit geräumiger Wohnküche, gemütlichen Schlafzimmer & Bad. Wir freuen uns
Room Type
Entire home/apt
---
Property Type
House
---
Accommodates
4
---
Bedrooms
Gersfeld (Rhön), Hessen, Germany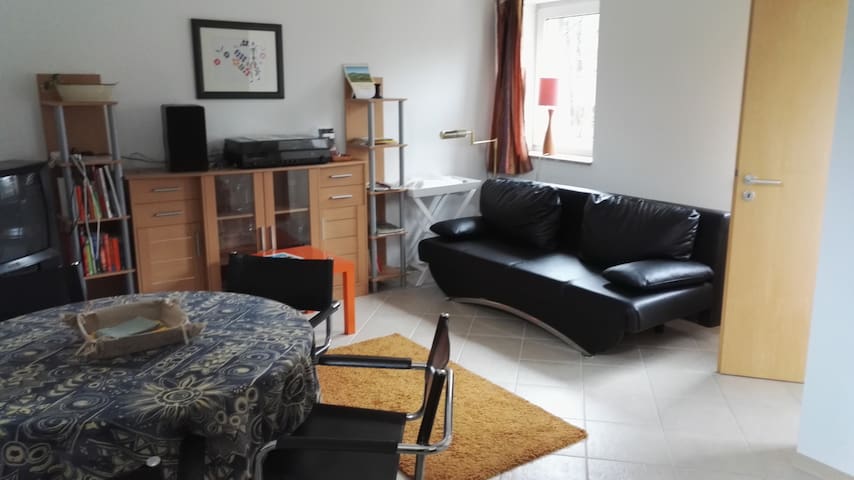 Villa Thea is rural in the small village Kilianshof on the southeast side of the Kreuzberg surrounded by the Bavarian Rhon. The house is very quiet and tucked away in a large garden on the south and with great foresight towards Black Mountains. The house is for 2-4, max. 8 people. The decor is 4 star standard, incl. Wi-Fi, Smart TV, sheets, towels, BBQ, trampoline and much more. We heat with wood. For families with children and small groups.
Eine sehr engagierte, flexible und sympathische Gastgeberin. Toller Ausblick ins Grüne, schöner Garten und ein gut ausgestattetes Haus. Top!
Marcel
2017-03-11T00:00:00Z
Room Type
Entire home/apt
---
Property Type
House
---
Accommodates
8
---
Bedrooms
Sandberg, Bayern, Germany
The house is located in the Biosphere Reserve Rhön 30 km away from Fulda and close of Bavaria and Thuringia
Room Type
Entire home/apt
---
Property Type
House
---
Accommodates
14
---
Bedrooms
Hilders, Hessen, Germany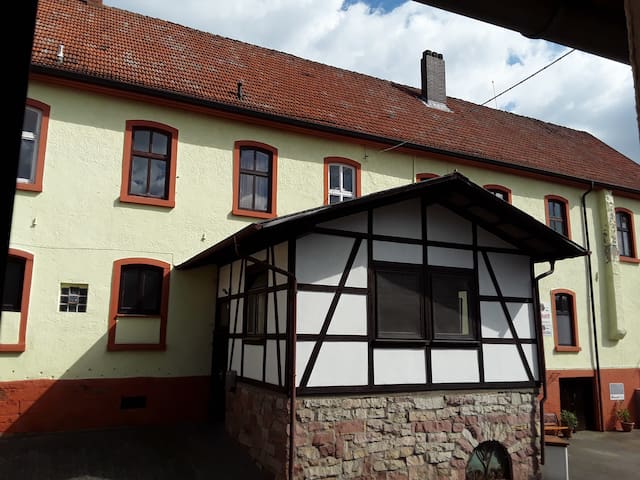 This ground floor apartment is perfect for couples and families. It has a living room, a kitchen, a bathroom and two bedrooms, all lovingly furnished. There is high-speed Wi-Fi and three 49-inch flat-screen TVs.
Some things are particularly beautiful when viewed in the appropriate context. You can sleep as long as you like at the Gästehaus Fulda. It gets really cozy in bed when you remember that you sleep in a former bakery. While you cuddle up into the pillows again, the people who built this beautiful house kneaded the dough diligently in the bakery for all the delicious things you could buy in the bakery shop a few hours later. If you have slept in and your stomach signals that it is time for breakfast, you will find everything that belongs in a good breakfast within 50m distance in the new bakery.
Schicke Unterkunft mit vielen Highlights, schnelle und hilfreiche Kommunikation mit der Gastgeberin. Die Anbindung an Fulda ist ebenfalls gut. Ein Tegut Einkaufsmarkt ist in ca. 10 Minuten zu erreichen, ein Bäcker ist direkt um die Ecke. Wir hatten einen schönen Aufenthalt :-)
Desirée
2017-03-12T00:00:00Z
Room Type
Entire home/apt
---
Property Type
House
---
Accommodates
5
---
Bedrooms
Fulda, Hessen, Germany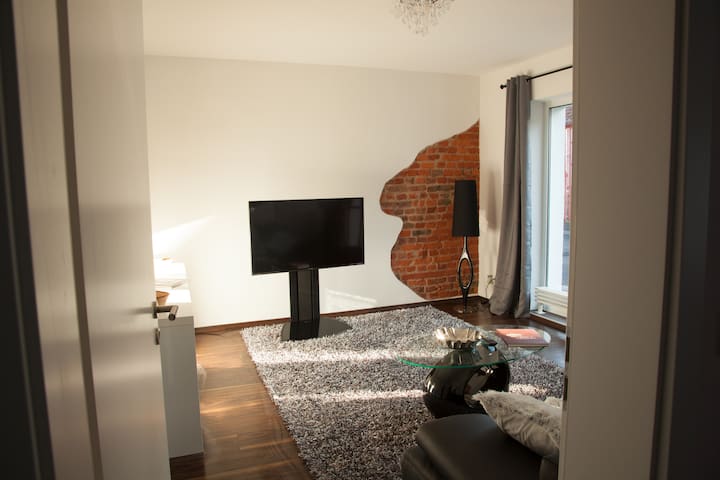 Hallo und Herzlich Willkommen in unserem Haus. Die Unterkunft bietet insgesamt für fünf Personen Platz (3 Privatzimmer) und liegt in einer verkehrsberuhigten Straße. Biete auch eine Ferienwohnung an: https://www.airbnb.de/rooms/2834476?s=frMc
In diesem Inserat wird 1 Einzelzimmer mit TV und Schreibtisch angeboten. Ein Bad mit Dusche, Badewanne und WC sowie ein separates WC stehen zur Verfügung und werden gemeinschaftlich (noch 2 weitere Privatzimmer) verwendet. Die Endreinigung ist inklusive und wird nicht zusätzlich berechnet.
Dirlos, gelegen im Vorland der Rhön, ist ein Ortsteil der Gemeinde Künzell im osthessischen Landkreis Fulda. Die Barockstadt Fulda ist lediglich 7 km entfernt und bietet Sehenswürdigkeiten wie den Dom, die Orangerie, das Stadtschloss inkl. Park, die schöne Altstadt usw. Auch das über die Grenzen hinaus bekannte Schloss Adolphseck mit seinem großen Park indem das "Fürstliche Gartenfest" alljährlich stattfindet, ist in unmittelbarer Nähe. Das Therme & Spa Resort "Sieben Welten" ist in nur 3 km zu erreichen und lädt zur Erholung und Entspannung ein. Die Wasserkuppe, auch der Berg der Flieger genannt, ist in 20 Minuten mit dem Auto zu erreichen. Das Naturschutzgebiet "Schwarzes Moor" sowie die Milseburg, das Kloster Kreuzberg, das Kletterparadies "Steinwand" und viele Sehenswürdigkeiten mehr, lassen sich in nur wenigen Autominuten erschließen.
This place is highly recommendable. Rosemarie is a kind and considerate host. Everything was very clean, tidy, and comfortable.
Alex
2017-03-05T00:00:00Z
Rose is a very nice person. The house and room is great. She even prepared a timetable of bus. Very sweet! I felt welcome and flexible there. I will recommend to visit there with a car, that will be more than convenient.
Anna
2015-11-28T00:00:00Z
Rosemarie is an enthusiastic host, welcoming and incredibly helpful. I spent four nights in a very cozy and practical single room and the house is located only a few kilometres from Fulda and the Rhoen area. The surrounding countryside is very quiet and traditional. This house is a perfect starting point for whom intends to practise outdoor sports in the Rhoen and on the Wasserkuppe. Thank you again Rosy!
Stefano
2016-03-11T00:00:00Z
Rose ist eine fabelhafte und sehr herzliche Gastgeberin. Zimmer und Bad waren sehr sauber und nett eingerichtet. Leider hatte ich nicht viel Zeit mir die Umgebung anzusehen, aber ich komme gerne mal wieder!
Anna
2015-06-11T00:00:00Z
Liebe Rosi, vielen vielen Dank für Deine herzliche Gastfreundschaft. Ich habe mich sehr wohlgefühlt. Führt mich mein Weg wieder gen Süden, buche ich erneut. Alles tip top - viele Grüße, KD
Klaus-Dieter
2016-10-30T00:00:00Z
Ich hatte wirklich eine sehr angenehme Nacht bei Rosemarie, eine total nette Gastgeberin. Das Zimmer ist top sauber und gemütlich; und Rosemarie hat sogar noch Taxi für mich gespielt! Kann ich nur empfehlen!!
Stefanie
2014-09-27T00:00:00Z
Meine Übernachtungen bei Rosemarie waren sehr gut und die Beschreibung der Unterkunft entspricht voll und ganz der Realität. Ich komme gerne wieder.
Anne-Kathrin
2014-12-06T00:00:00Z
Rose ist sehr nett und hilfsbereit. Die Wohnung ist schön eingerichtet und groß. Ich habe mich sehr wohl gefehlt. Ich empfehle es gerne weiter.
Günter
2014-07-05T00:00:00Z
Room Type
Private room
---
Property Type
House
---
Accommodates
1
---
Bedrooms
Künzell, Hesse, Germany
Zimmer in Einliegerwohnung mit Bad. Gertenblick. In ruhiger Wohnlage. Zu Fuß zumThermalbad "Sieben Welten" 4 km bis Fulda Bahnhof
Room Type
Private room
---
Property Type
House
---
Accommodates
1
---
Bedrooms
Künzell, Hessen, Germany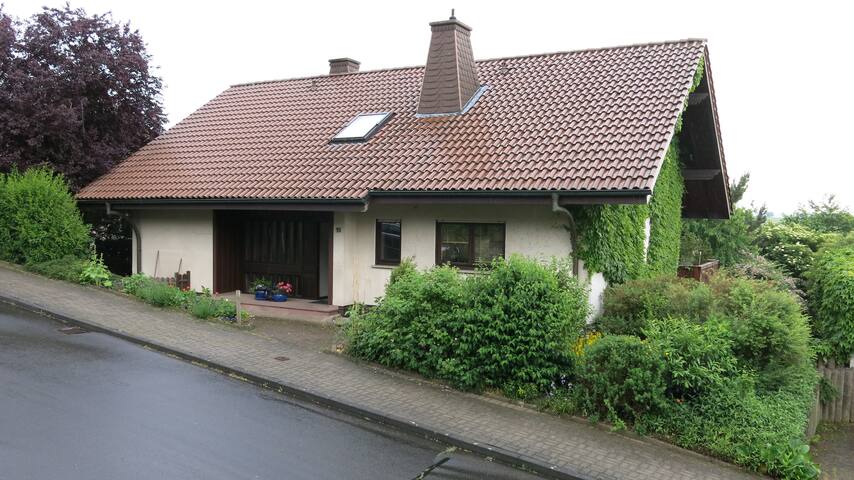 hell, freundlich und stilvoll eingerichtete 2-Zimmer Wohnung in unserem stadtnah und ruhig gelegen Häuschen im Fuldaer Haubental mit Blick ins Grüne. Schlafzimmer mit Doppelbett, Wohnzimmer mit Schlafcouch MULTY von LigneRoset, gute Matratze, Togo Couch, Schreibtisch, W-Lan, LCD Fernseher, Einbauküche mit Ceranfeld und nespresso Kaffeemaschine, Wasserkocher und sonstigen Küchenutensilien, Tisch Duschbad mit WC, Fön Kinderreisebett kann bei Bedarf besorgt werden Mietpreis für 2 Pers.
Wohnung: - 2-Zimmer Wohnung (ca. 45m²) im EG eines Einfamilienhauses mit eigenem, separatem Eingang - ideal geeignet für 1-2 Personen (3. Person auf dem Schlafsofa möglich) Für Leute, die lieber getrennt schlafen wollen, super geeignet, weil sowohl im Schlafzimmer als auch im Wohnzimmer vollwertige Schlafmöglichkeiten zur Verfügung stehen. Für ein Kleinkind kann ein Reisebett aufgestellt werden - Schlafzimmer mit Doppelbett 140x200 - Wohnraum mit Schlafsofa 160x195 und Schreibtisch, - Küche - Bad (Dusche, WC) - ruhige Lage im Grünen und trotzdem stadtnah - gute Parkmöglichkeiten an der Straße direkt vor der Wohnung, oder Parkplatz in einer Nebenstraße am Ende des Grundstücks - Fahrräder können verschlossen abgestellt werden - WLAN - Schreibtisch - Radio / CD - TV (SAT-TV) - Handtücher 1 groß, 1 klein p.P. - Fön Küche: - Kühlschrank - Herd (Ceranfeld) Backofen, Dunstabzugshaube - Kaffeemaschine nespresso - French-Press filterloser Kaffeebereiter - Wasserkocher - Tisch (80x80) mit 2 Stühlen - Besteck, Kaffee- + Ess-Geschirr 6-Fach - Töpfe, Pfanne, Schneidbrett, Brotmesser etc. Außenfläche: - Sitzplatz mit Liegestühlen für schönes Wetter Die Wohnung ist ideal für 2 Personen. Es steht im Wohnzimmer ein vollwertiger Schlafplatz zur Verfügung. Die aufklappbare Schlafcouch hat eine extra gute Matratze (160x195 cm) und kann gerne genutzt werden, wenn getrenntes Schlafen gewünscht wird....oder auch für eine dritte mitreisende Person (3. Person gegen Aufpreis) Anreise/Abreise: Check-In ab 14:00 - 19:00 (davor/danach nach Absprache möglich) Check-Out bis 11:00
Ruck zuck im Grünen Radweg in der Nähe Waldwanderweg in unmittelbarer Nähe Wanderung durch die Auenlandschaft an der Fulda entlang bis in die City und darüber hinaus bis zum Barockschloss Adolfseck (URL HIDDEN)
Bei Helmut im Apartment war alles super. Die Kommunikation leif reibungslos ab und alle Vorabsprachen wurden eingehalten. Helmut antwortet schnell und ist immer bemüht. Auch eine späte Anreise war nach Absprache überhaupt kein Problem. Das Apartment ist sehr modern eingerichtet, alles sehr schön. Auch Kaffeee und Tee standen zur freien Verfügung. Alles in allem hatten wir einen schönen Aufenthalt. Gerne wieder und weiter so!
Christian
2016-10-13T00:00:00Z
Alles war wie beschrieben und für uns einfach perfekt, mit vielen schönen Tipps für Fulda und einem sehr aufmerksamen Gastgeber.
Achim
2016-10-06T00:00:00Z
Helmut war sehr nett und hilfsbereit! Die Unterkunft selbst war genau wie beschrieben, sauber und genau richtig für ein paar Tage Ruhe und Entspannung in Fulda. Die Lage der Unterkunft ist perfekt sowohl für Ausflüge in die Umgebung, als auch um in die Stadt zu fahren. Die Kommunikation mit Helmut war sehr nett. Er hat sich viel Mühe gegeben, um uns den Aufenthalt angenehm zu machen. Helmut hat uns auch mit Tips für unseren Wanderausflug weiter geholfen. Wir würde eine Buchung jederzeit weiter empfehlen!
Christine
2016-10-08T00:00:00Z
Helmut ist ein sehr freundlicher und fürsorglicher Gastgeber. Die Unterkunft ist gemütlich, sauber und ordentlich. Zum Zentrum ist es nicht weit und wir haben uns hier gut erholen können. Ganz dicke Empfehlung von uns!
Gunnar
2016-08-28T00:00:00Z
Sehr nett Vermietter, heute muessen wir sehr frueh fuer eine Pruefung aufstehen. Herr Helmut denkt danach, dass es wenig Bus am Samstag gibt. So fahrt er uns zu Hochschule. Sehr sehr danke!
Maike
2017-03-11T00:00:00Z
Wir haben drei wunderbare Tage im schönen Fulda erleben dürfen. Die Unterkunft war sehr einladend und mit viel Liebe zum Detail eingerichtet. Zudem war alles sehr sauber und wir wurden mehr als ausreichend mit Infomaterial versorgt. Helmut und seine Frau sind zwei sehr nette Gastgeber, zu denen wir gerne wieder zurück kommen :) Danke für alles!
Na
2016-09-25T00:00:00Z
Kleine, aber sehr schöne Wohnung. Etwas außerhalb, dafür aber mit schöner Aussicht. Die Wohnung ist gut ausgestattet, mit allem was man braucht. Helmut hat uns freundlich empfangen und war sehr zuvorkommend. Insgesamt waren wir sehr zufrieden und hatten dort zwei schöne Tage.
Nicole
2016-12-30T00:00:00Z
Es hat uns sehr gut gefallen. Alles ist sehr sauber. Helmut ist ein äußerst freundlicher, sehr unkomplizierter Gastgeber.
Alexander
2016-12-04T00:00:00Z
Room Type
Entire home/apt
---
Property Type
House
---
Accommodates
3
---
Bedrooms
Fulda, Hessen, Germany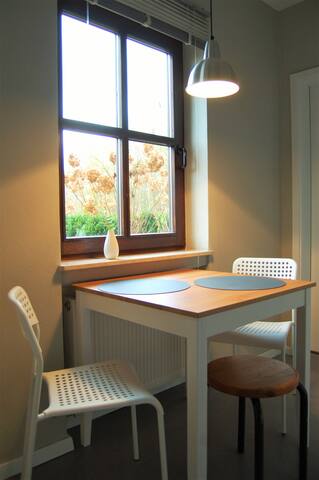 Es steht Euch alles für eine gute Selbst - Verpflegung zur Verfügung. Gemütliches Souterrain Küchen - Zimmer mit kleinen Extras wie : Wasserflasche, Regionales Bier im Kühlschrank, Obstkorb, kostenloser Kaffee und Tee ,Kosmetika & Föhn im Bad , Handtücher so oft ihr wollt und Bettwäsche . Das Bad erreichen ihr durch den Flur und steht euch allein zur Verfügung. Schnell erreichbar von Bahnhof & Autobahn. Taxikosten Hbf 15 Euro Bus alle 30 Min Ab Abfahrt Autobahn 10 Min 5 Min zur Messe
Küche: Kühlschrank, Ofen, komplett Eingerichtet mit Tellern, Gläsern, Besteck, Töpfe , Pfannen, Schüsseln, Kaffeemaschine mit Kaffee und Milch, Zucker incl. so wie eine Teeauswahl. Obstkorb und Wasserflasche auf dem Zimmer. Bettwäsche und Handtücher incl.
Harmerz liegt ruhig aber zentral. Zur Messegelände sind es ca. 5 Min mit dem Auto. Schöne Wanderwege direkt vor der Tür. Natur pur. Bäcker und Metzger befindet sich in unserer Straße.
My experience with Karina was great! The room was warm and cozy and the coffee and tea that she provided was particularly delicious. There is a backyard next to the room that was great for sitting and relax listening to the wind in the threes. The environment was quiet which provided a very pleasant night of sleep! I totally recommend it for anyone who needs a place to stay and chill out.
Adam
2016-10-17T00:00:00Z
The host canceled this reservation 4 days before arrival. This is an automated posting.
Luzie
2017-02-14T00:00:00Z
Alles sehr entspannt. Die Anfahrt ist etwas verwinkelt, aber auch mit großem Auto machbar, aber ein Auto ist defenitiv zu empfehlen. Alles in allem sehr angenehm.
Alexander
2016-08-08T00:00:00Z
Hat alles super geklappt, in dem Zimmer+Bad ist alles was man braucht. Besonders das Kaffee- und Teeangebot hat mir gefallen :) Absprachen haben auch gut funktioniert. Karina hat immer schnell geantwortet und mit Hilfe der Wegbeschreibung habe ich das Haus schnell gefunden. Kann ich auf jeden Fall weiterempfehlen!
Michelle
2016-03-03T00:00:00Z
Sehr gemütliches Zimmer, mit allem ausgestattet, was es zum wohlfühlen braucht! Karina war sehr freundlich, alles in allem ein sehr kurzer aber toller Aufenthalt.
Andreas
2016-02-23T00:00:00Z
Sehr netter Empfang durch die Gastgeberin, ein Zimmer sehr ruhig gelegen im grünen. Alles super.
Andreas
2016-05-22T00:00:00Z
Ich habe mich bei Karina super wohl gefühlt. Sie und Ihre Familie haben für alles gesorgt was man sich wünschen kann. Ein nettes aufgeräumtes Zimmer mit Küche und ein sauberes Bad. Mehr braucht man nicht.
Lars
2015-09-18T00:00:00Z
Karina war eine super nette Gastgeberin, war vor Ort als wir ankamen und hat uns alles super erklärt. Bei Fragen war sie so gut wie immer erreichbar in ihrer Wohnung (im gleichen Haus). Die Ausstattung war genau wie in der Anzeige beschrieben und alles war super sauber. Wir haben uns wohl gefühlt und hatten eine schöne Zeit in Fulda (vor allem auf dem Weihnachtsmarkt)!
Sebastian
2016-12-02T00:00:00Z
Room Type
Private room
---
Property Type
House
---
Accommodates
2
---
Bedrooms
Fulda, Hessen, Germany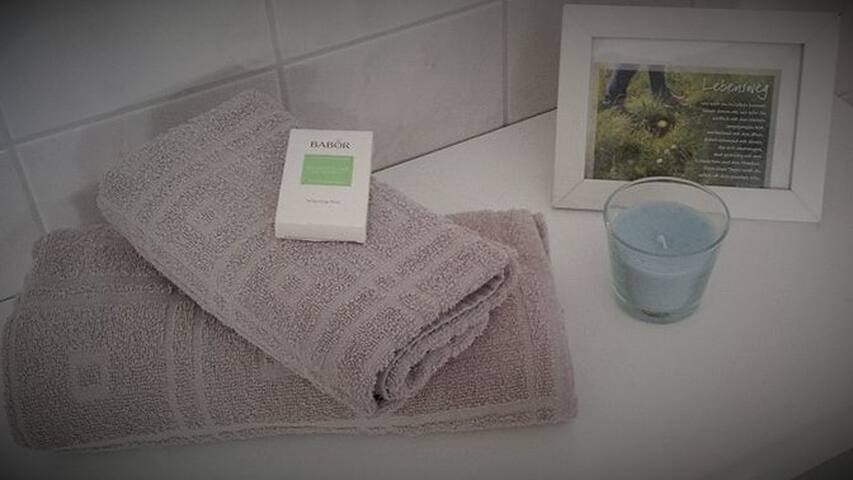 Room in a ecological loghouse for people who are sensitive & with aesthetic demands. Much more personal than a hotel but with the comfort of it. Small but charming!
YOU MAY BOOK IMMEDIATELY IF YOU AGREE WITH ALL MY CONDITIONS & TERMS I HAVE WRITTEN HERE & IN THE DESCRIPTION OF MYSELF! I offer a small but very cosy and very calm and light room for one person in our ecologically built home. It has an outstanding good sleeping climate. The timber piling is of Aleppo pine simply waxed with natural oil & waxes. (Please keep off water & liquids from it). The curtains are made of pure linen; the bed coverings are filled with wool or duns. And all the linen is washed with ecological, vegan laundry products (see the picture) !!! ** eventually I can offer one or even 2 supplementary beds in another sleeping room. Just ask me. The bedrooms all have Mains disconnection relays (demand switches) so that during the night, when YOU switch off the last light in YOUR room, no more electricity is under the room! The bathroom with a shower cabin is next door to the sleeping room. Both are on the ground level which is at mezzanine level. TOWELS, shampoo & shower gel (Natural & Organic ranges) etc. are PROVIDED! I offer this room WITH or WITHOUT breakfast – and: there are different variations of breakfast: very small à la Française or quite considerable in an Anglo-Saxon way. Have a look at the pictures. All these Variations of breakfast are made with 100 % organic products & vegetarian or vegan if required. Please tell me the exact ingredients of your favourite breakfast about THREE DAYS before your arrival as I have no stocks of those. The simplest is you choose one of those I offer. Parking place for your car is in front of the house. The house has a porch, as seen on the pictures, where from you have an outstanding view on top of the baroque city of Fulda.* A bus stop - it is called Fulda-Galerie Mondrianplatz (Mondrian Square) - is at 300m, diagonally in the south west from the house. There you may take a bus No 5A or No 5B (on the opposite side of the street) to the main station or the city; the main station is exactly 4 km from the house. A schedule is available here or we check the timetable at the internet. We live in a residential area. I love to pamper my guests. I used to be an air hostess. (!!!) - I like you appreciation! !!! It is very important to me that my house remains free from chemical fragrances, scents, weird odours and scents from genetically modified substances, such as FABRIC SOFTENER!!! That is why the apartment is highly recommended for sensitive and allergy-ridden people. This is also the reason why I EXPECT THIS attitude FROM MY GUESTS. THEREFORE: I BEG my guests, NOT to use sleepwear which has been treated with CONVENTIONAL CHEMICAL LAUNDRY AGENTS + SOFTENER. THE FACT IS: Unfortunately, this chemical scents accumulate in the clothes and it takes up to five laundries with ALMAWIN, ECOVER, SODASAN, SONNET, KLAR, HELD (Switzerland), soap nuts or some other detergent from the Organic & NATURAL DIVISION until this ENERVATING accumulated and omnipresent scent of former softeners (etc.) is gone. I provide t-shirts & pyjama/short pants & other WITHOUT CHEMICAL SCENT, if you really want to book my room - I'M NOT TO BE ABOUT TO DO ANY COMPROMISE! Nobody knows as much as I do about these scents last on the bed and in the room and how long I have to live with them after the guest has departed, far more than 14 days! You may have a radio. WIFI is provided You may use the garden and the terrace on the porch; there are relax and sun lounger. I speak German, English, French and Luxembourgish. You may tell me all of your requests – we will find a solution! * Fulda is a city in East Hesse, Germany; it is located on the river Fulda and is the administrative seat of the Fulda district. *Middle Ages* : The Benedictine monastery of Fulda was founded in 744 by Saint Sturm, a disciple of Saint Boniface, as one of Boniface's outposts in the reorganization of the church in Germany. It later served as a base from which missionaries could accompany Charlemagne's armies in their political and military campaign to fully conquer and convert pagan Saxony. The initial grant for the abbey was signed by Carloman, the son of Charles Martel. The support of the Mayors of the Palace and later, the early Pippinid and Carolingian rulers, was important to Boniface's success. Fulda also received support from many of the leading families of the Carolingian world. Sturm, whose tenure as abbot lasted from 747 until 779, was most likely related to the Agilolfing dukes of Bavaria. Fulda also received large and constant donations from the Etichonids, a leading family in Alsatia, and the Conradines, predecessors of the Salian Holy Roman Emperors. Under Sturm, the donations Fulda received from these and other important families helped in the establishment of daughter houses Johannesberg and Petersberg near Fulda. (from wikipedia)
The neighbourhood mainly consists of one family houses, some bigger houses with flats. Good possibilities for walking, jogging in the nature
I had a most enjoyable and comfortable stay with Sonia. The room is extremely clean, tidy, quiet and peaceful. The bathroom is lovely, bright, modern and very clean as well. Sonia is a most gracious and courteous guest, a very kind and thoughtful host. Their home is in a delightful location and is ideal as the bus trip into Fulda is just 7 minutes. I highly recommend!
Jenny
2016-05-02T00:00:00Z
Sonia is a wonderfull persone and host, very calm, delicate and welcoming. She was very helpfull to me, she picked me at the train station and the next day brought me to my permanent apartment by car (cuz there was no bus from her place). The place itself is charming and cozy, though a little far from the downtown.
Elizaveta
2015-01-17T00:00:00Z
No words can express how thankful I am to both Sonia and her husband, they might have been the kindest persons I got to meet during my stay in Germany (and I did meet a bunch of nice people fortunately). She provided me with maps and some tourist guides when I arrived, which were very helpful during my whole stay in Fulda. The room was very nice and spacious, just like in the pictures. The bathroom was always clean and the natural soap & shampoo were great. In summary, it was a really nice experience and if you're in between choosing a hotel/hostel or an airbnb place, I would definitively suggest to go to Sonia's house ;)
Federico
2015-09-06T00:00:00Z
I had a warm wellcome and a pleasant stay. It feels like visiting a friend that you knew before. The house and the room is so beautiful and comfortable. I felt totally refreshed after a long tiring road trip. I would definitely like to visit Sonia once more, as soon as I have to be around there.
Ugur
2014-01-18T00:00:00Z
This cosy room is extremely clean and nice. Not small at all, there is plenty of space for your luggage and belongings. Beside it, there is a private bathroom. The lovely family that lives in the house does everything they can to make your stay as confortable as possible. They keep putting fruits and fresh water in the bedroom, they give you a free small ride by car if you need, or make arrangements for longer rides. They research bus schedules, car rentals, ..., for you - very helpful! For a small fee you can have a delicious eco breakfast prepared with much care. Great hosts!
Rugart
2015-09-21T00:00:00Z
If you would like to feel like home, I recommend to all travellers this room. It is indeed a cosy, healthy and tasteful room! Close to the nature, you could see the European hare coming from the fields early in the morning and also various birds. Very good location if you would like to visit Fulda downtown as well. Mrs. Welter is very kind and you will really want to return once you have been there!
Dian
2013-08-01T00:00:00Z
The host Sonia is a very great human being. She welcomed me very warmly as if your family members are welcoming you in your own house. The room was absolutely clean and looked much better than the pictures in the listing. The neighborhood is very good. One cannot find a better place in Fulda than Sonia's house. It has all the amenities required for the stay. It is a sweet home away from your home. She pampers her guests a lot, taking care of every minute details. God bless them and my best wishes for her.
MANU
2015-05-08T00:00:00Z
What a friendly host. Offered me much more than I needed. Unique clean quiet room. Thank you a lot Sonia!
Basel
2017-01-27T00:00:00Z
Room Type
Private room
---
Property Type
House
---
Accommodates
2
---
Bedrooms
Fulda, Hesse, Germany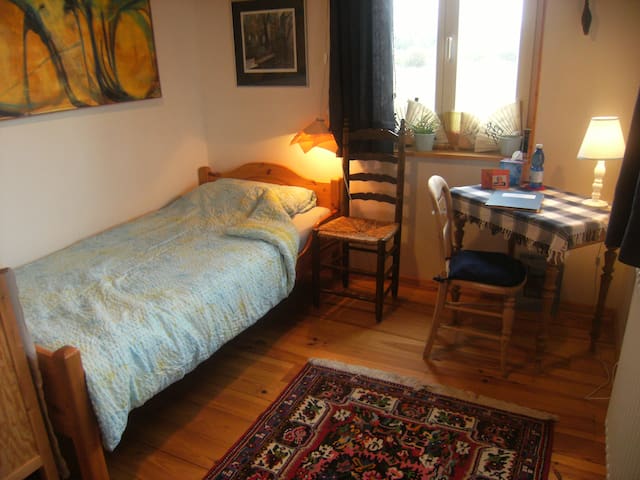 Unsere liebevoll eingerichtete Ferienwohnung bietet 4 Leuten Platz und liegt ruhig nur 2 Km von der Innenstadt entfernt. Einkaufsmarkt, Stadtbushaltestelle, Restaurant und Messe Galerie sind fußl. in wenigen Minuten erreichbar
Unsere lichtdurchflutete Ferienwohnung besteht aus einer großen einladenden Wohn/Eßküche, einem großen separaten Wohn/Schlafraum mit gemütlicher Sitzecke, einem großzügigen Duschbad ,einem Abstellraum und einem Eingangsbereich mit Schrank. Es stehen insgesamt 3 Betten und ein Gästebett zur Verfügung. Außerdem ein Kinderreisebett und ein Kinderhochstuhl Sie ist mit Fußbodenheizung und elektrischen Rollos ausgestattet. In der Küche befindet sich alles Zubehör und Elektrogeräte die man zum Kochen braucht. Bettwäsche steht selbstverständlich auch zur Verfügung. Auf der großen Südterrasse können Sie schon morgens den Tag mit einem Frühstück beginnen. Hier beginnt der Urlaub schon am Morgen.
Fulda Galerie ist ein relativ neu erbauter Stadtteil von Fulda der sich in den letzten 10-15 Jahren entwickelt hat. Bis Fulda Innenstadt sind es ca. 2 km. Messe Galerie Gelände befindet sich nur ca. 500m entfernt. Stadtnah und doch sehr erholsam. Einkaufsmarkt und Restaurant sind fußläufig in wenigen Minuten erreichbar.
Jutta's flat is very spacious and clean. It has an excellent kitchen and bathroom. We found our stay to be very comfortable and Jutta was very welcoming. I would happily recommend this place.
Brendan
2014-09-21T00:00:00Z
Die Wohnung ist perfekt und sehr liebevoll eingerichtet. Die kleine Terrasse und der schöne Steingarten tragen zu einem angenehmen Urlaubsgefühl bei. Jutta ist eine umsichtige Gastgeberin, die es versteht, den Aufenthalt zu einem unvergesslichen Erlebnis werden zu lassen - selbst wenn sie gerade ein paar Tage verreist ist :-) Die Nachbarschaft ist ebenfalls sehr angenehm, guter Autobahnanschluss und ein Supermarkt in Fußnähe ergänzen das angenehme Ambiente. Wir kommen gerne wieder!
Christiane
2014-08-11T00:00:00Z
Wir haben uns in Fulda-Galerie bei Jutta sehr wohl gefühlt. Die Wohnung ist sehr liebevoll eingerichtet, es ist genügend Platz für vier Personen und die Sonnenterrasse war bei dem tollen Wetter, das wir hatten, klasse! Vielen Dank für die Gastfreundschaft, wir können "Mediterran wohnen in Fulda" auf jeden Fall weiterempfehlen.
Franka
2015-07-12T00:00:00Z
Die Wohnung ist sehr hell und ist schön und gut eingerichtet, hat ein grosses Bad mit Reduit, die Wohn-Küche und das Wohnzimmer sind sehr gemütlich. Wir (4 Freundinnen) waren 3 Nächte bei Jutta und haben uns sehr wohl gefühlt. Das einchecken war unkompliziert. Die Begegnung mit Jutta war herzlich. Wir würden uns wieder bei Jutta einquartieren, wenn wir wieder nach Fulda zu einem Musical fahren.
Verena
2016-07-19T00:00:00Z
Die Ferienwohnung ist sehr ordentlich und sauber, absolut zu empfehlen! Das Bad ist sehr groß und auf dem neusten Stand. Weiterhin ist Fulda-Galerie eine schöne ruhige Gegend und mit dem Auto ist man auch sehr schnell in der City. Optimal ist die Wohnung für 2 Personen (im Doppelzimmer).
Natalie
2014-10-17T00:00:00Z
Vielen Dank an Jutta für die schöne, aber leider viel zu kurze, Zeit bei Ihr. Wir (2 Erwachsene und 2 Kinder) haben uns am Pfingstwochenende sehr wohl gefühlt. Fulda-Galerie ist ein wenig außerhalb von Fulda, dennoch traumhaft gelegen. Uns hat es sehr gut gefallen, in Laufweite gibt´s einen Edeka für alles Notwendige. Die Unterkunft war sehr sauber, alles war problemlos und wir hatten einen echt netten Kontakt mit Jutta, die stets zur Hilfe war (z.B. Dosenöffner ;-)). Wir kommen sehr gern wieder.
Matthias
2016-05-17T00:00:00Z
Alles in allem ein super Aufenthalt in einem sehr sauberen Appartment! Wir haben uns sehr wohlgefühlt und empfehlen die Location gerne weiter. Die Vermieterin ist freundlich und aufmerksam. Jederzeit wieder!
Cornelia
2016-12-05T00:00:00Z
Alles perfekt !!
Peter
2016-11-18T00:00:00Z
Room Type
Entire home/apt
---
Property Type
House
---
Accommodates
4
---
Bedrooms
Fulda, Hesse, Germany