Enter your check in date in the format dd-mm-yyyy
Enter your check out date in the format dd-mm-yyyy
Listings you can book without waiting for host approval.
Enter dates to see full pricing. Additional fees apply. Taxes may be added.
This July and August, you can try one of these 100 highly-rated homes, at all price points, and experience a local's view of Sonoma. 24-hour check-in, Instant Book, and local wine and snacks let you just sit back and enjoy your trip.
This charming cabin is located on Upper Campbell Lake 36K west of Campbell River on the Gold River Road/Hwy 28. It has a beautiful view of the lake in a quiet, lightly populated area.
The cabin offers a respite from the pressure and commotion of urban living. You can relax on the deck which extends across the front of the cabin. Also, enjoy your coffee in the morning sun or appreciate the shaded comfort of the back deck on hot days. A short walk downhill will take you to the waterfront with its swim float and moorage area. There is an assortment of inflatable toys and life jackets available for guests use. Access to the water is via a ramp or a ladder. Sorry, there is no beach. On the way down there is another deck offering a view up the lake and a potentially relaxing place to lounge. There are several places nearby where you can go for a walk if that is what you like to do. I live on the neighboring lot and am available most days. If there is anything you need I will happily lend it to you and will help out if that is necessary. There is a functional phone at the main house and guests are welcome to use it.
The area is lightly populated and residents are agreeable. There are two labs at the nearest neighbors but they are seldom out on their own. There is lots of parking space at the cabin. There is room for a trailer, motor home or a tent if guests require the space for one. There is no public transportation in the area. The queen size bed is in the loft which is open to the main floor of the cabin. The adjacent room has a bunk with two single mattresses and a single bed. There is a double hide-a-bed in the cabin's main room. Thus 7 can sleep at the cabin comfortably. Notably, the outside tub has hot and cold running water.
The cabin was the perfect place to relax after a long day of adventures in Strathcona. Everything was clean and comfy and the nice hot shower warms you up quick after a dip in the crystal clear lake!
Josh
September 2016
Our trip started with getting lost, but Diane quickly solved that by coming out to rescue us! The cabin has a beautiful view of the lake and we felt at home, nestled between the trees. It's so all well laid out that you can't want for anything, she's thought of it all! Some of the bonuses included wifi (if you stood near the main house) and a kayak for the kids to use. We went into strathcona provincial park to hike and access some flat beachy areas. It's so quiet and peaceful, both at the cabin and the surrounding areas.
Sarah
July 2016
Our family vacation was so enjoyable thanks to Diane's very cozy, rustic cabin! Beautiful lake view by day and thousands of stars to gaze upon at night while lying on the dock. Loved the art on the walls.
Francine
August 2016
We very much enjoyed our 3 night stay at the Cedar Creek Cabin. Diane is a very accommodating and gracious host. The cabin is perfectly cosy, clean, very well-appointed and in a great location. The view of Upper Campbell Lake is stunning. The lake is deep, clear and warm... great for swimming! The cabin is very close to many popular Strathcona Park hikes. Only two things might make this property less of an option for some people: the property has a pretty steep driveway that limits access for larger rec vehicles; and there's also quite a few stairs down to the water (it's *definitely* worth the effort though!). Overall, we loved the cabin and hope to return soon.
Mary
August 2016
Cedar Creek Cabin was a perfect family get away. The cabin was cosy and the deck provided a beautiful view of the lake. The outdoor bath tub was a real treat. Diane gave us a warm welcome and was able to make recommendations of places to visit. Located close to Strathcona Provincial Park it is an ideal location to explore the park and Buttle Lake. There are lots of good trails within the park which we found especially good for small children as well as there being rocky beaches to enjoy.
Sarah
July 2016
It was a truly remarkable experience to stay in Cedar Creek Cabin. Diane is a charming host and always willing to assist and go the extra mile. It is a very peaceful environment and an excellent place to unwind
Robert
August 2016
Diane is a really nice person and it was a pleasure to stay at the Cabin for 3 nights. The cabin is charming, although keep in mind that this is kind of an old place, so there could be some humidity (we arrived after 2 rainy days), some old webs around (although we have not seen any spider during our stay), but nothing discouraging even for people who love their comfort zone. I mean, this is a cabin in the woods :) so... take the whole package and relax, enjoy warming yourself by the fire with an incredible view and tranquility without noise. Place's not so difficult to find, amazing surroundings, this a cool place for people who want to go hiking or just enjoy the quiet nights. We weren't lucky enough with the weather to fully enjoy the terrace but it seems well equipped. We can only recommend the Cedar Cabin for your stay around Buttle Lake.
Damien
October 2016
Cedar Creek Cabin is located at the bank of the lake unprecedented in it's beauty. The view of the lake serves as main design of the cabin interior. The cabin itself is small but extremely pleasant and well-planned. Diane keeps it clean and cozy. We are a family of five, but we felt we perfectly fit into the cabin's interior. One of our favorites highlights of the stay was the dock on the lake. We had a small accident upon our departure from the cabin. Diane and Diane's grand-son went out of their way to help us out. Thanks!!!!
Bella
August 2016
Room type
Entire home/apt
---
Property type
---
Accommodates
7
---
Bedrooms
2
Comox-Strathcona D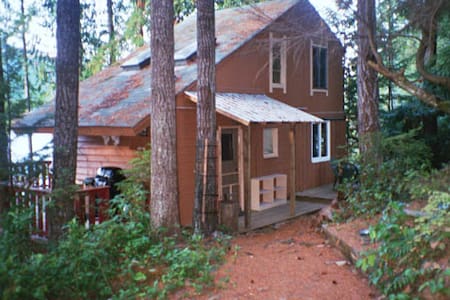 Main Floor: 3 bedroom, Bathroom, Dining Room, Kitchen, Living Room & Laundry are / two refrigerators & deep freezer - Bsmt: 2 bedrooms, bathroom & living area and office / Covered patio w bar-b-q / fenced yard / r.v. parking / carport / dry room
Quality - Fully Furnished Five Bedroom home. Maximum 5 adults - children welcome! All bedding, appliances, ask to see our inventory list. There is nothing to bring except your clothes and food staples! You will have the entire home to yourselves. Enjoy the bar-b-q under covered deck.- We are a phone call away..... Need additional housekeeping? How about a fishing guide? a float plane? No problem - Just ask!
Numerous trails to beaches on local rivers. Gold River is the entrance to Nootka Sound, one of the premiere sports fishing destinations on the west coast of Vancouver Island, B.C. Fine Print: 5% GST (Goods and Services Tax) applicable on rental amount. Security Deposit is requested for Hydro Usage, breakage or missing items. Note: Deposit amounts differ for nightly, weekly or monthly rental - Please feel free to ask!
Room type
Entire home/apt
---
Property type
---
Accommodates
5
---
Bedrooms
5
Gold River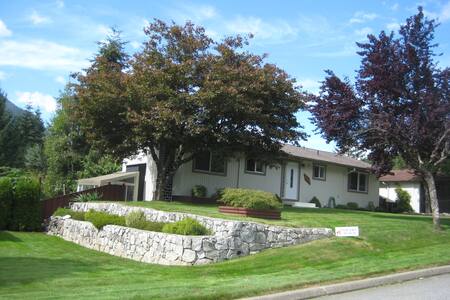 Remote and Relaxing Our cabin is situated lakeside, sheltered among the trees with views overlooking the lake and your own private dock. Put your feet up and enjoy the view from the six-foot wrap around deck, or snuggle up inside where our solar-powered home creates a quiet and cozy atmosphere and all you can hear are the sounds of nature and the warm crackle of the woodstove. Our cabin is a place to get away from your worries and get back to nature.
We respect your privacy but live within walking distance if you need us.
Most of the cabins in the subdivision are only used part time. There are 4 families that live here all year long.
Upon arrival, our hosts met us to provide our keys and make sure we had everything we needed including cut firewood, which was free of charge. There was already many supplies provided including dishes, towels, extra bedding, etc. They even left us a bottle of wine and chocolates, and treats for our dogs! The cabin was cozy and had an amazing view of the lake below. Being dog owners, it was very nice to be able to let them roam free. The hosts were also very knowledgable of different trails for hiking. We are very much looking forward to visiting again in the summer. 10/10, 5 stars, and two thumbs up!
Aleksandar
January 2017
Room type
Entire home/apt
---
Property type
---
Accommodates
4
---
Bedrooms
2
Campbell River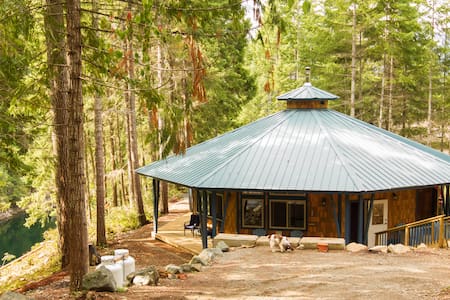 Quality fully furnished split level Five bedroom home - 4 queen size bedrooms - 1 king size bed with small office area - Entrance(s) main (living room) rear patio (off kitchen) basement entrance / carport - dry room - private parking
Unique 5 bedroom (four queen size beds - one king size bed) split level home with patio off kitchen. Guests enjoy the entire single family home to themselves Totally Furnished!!!!!!!!!!!!! All appliances - small and large - including bar-b-q - 25 cu. ft. deep freezer - ask now to see an inventory list - even includes a 'pastry cutter'. Need additional housekeeping - a fishing guide - a float plane? just ask!
Numerous trails to beaches on local rivers. Gold River is the entrance to Nootka Sound, one of the premiere sports fishing destinations on the west coast of Vancouver Island, B.C. Please note 5% GST (Goods and Service Tax applicable) Security Deposit for Hydro usage and breakage differs for two night stay, weekly and monthly duration - please ask for details!
Ken was a great host! We met with him in nanaimo before heading up island. He greeted us with delicious and fresh baked brownies for our trip up and our stay. The house was beautiful and clean. Came equipped with all the fixings so we could make meals and what not. The house is in a perfect setting with great views and it was quiet. It truly was a home away from home!! Thanks so much, Ken!!
Christa
September 2016
Room type
Entire home/apt
---
Property type
---
Accommodates
5
---
Bedrooms
5
Gold River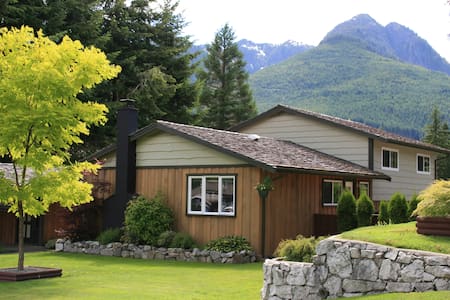 Walk out basement home living room, sun room and large deck off sun room. Two bedrooms and bath up and two bedrooms and bath down. Laundry Room with Deep Freezer - Dry room in carport - All Appliances bar-b-q, weekly housekeeping, lawn care incl.
Four Bedroom(s) with Four Queen Size Beds. Two Bedrooms and bath up with Two Bedrooms and bath down. Kitchen, Dining Room, Living Room, Sun Room with Large deck! You have the whole home to yourself. Enjoy yourselves! We are a phone call away..... Need additional housekeeping - a fishing guide - a float plane? Just ask.....
Numerous trails to beaches on local rivers. Gold River is the entrance to Nootka Sound, one of the premiere sports fishing destinations on the west coast of Vancouver Island, B.C. 5% GST (goods and services tax) applicable on all stays. Security deposit is for hydro usage and breakage. Please note there is difference of deposit required for two night stay, weekly and monthly duration. Please feel free to ask!
Room type
Entire home/apt
---
Property type
---
Accommodates
4
---
Bedrooms
4
Gold River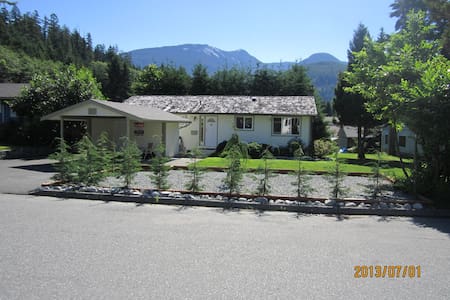 Top floor 3 bedroom slopeside condo in Blueberry Hill! Ski out from the front door - ski back through the village for a short walk back! Gorgeous view of the slopes - Kids can play and toboggan outside as you watch them from your windows. Comfortable and well appointed, this top floor unit is nice and quiet. Indoor parking is included. Unit has a master with ensuite, a second bedroom with queen and a third bedroom with 2 bunk beds. Can sleep 10 in a pinch.
Blueberry Hill is in a great place to stay up on Mount Washington! Unlike Deer Lodge and Bear Lodge where your kids are quickly out of your sight and their list of rules grows longer and longer, Blueberry Hill is a friendly and convenient place where you can have some great family time. We spent many years bringing our kids up here and wouldn't swap with any other location on the mountain. You can walk out the front door, step into your bindings, and ride/ski straight down to the Hawk chair or the Magic Carpet ride. At the end of the day simply head down the beginner hill and take the turn into the village. You can ride all the way to Foster's place, take off your skis/board and simply walk about 150m back to your front door. We have a ski locker conveniently located on the ground floor where you can lock up your skis/boards when not in use. There is a sauna in the building but to tell you the truth I've never used it so I can't tell you anything about it. The suite has washer/dryer so you can deal with your wet/dirty clothes. There's a full size stove and dishwasher as well as a microwave oven so you can prepare a meal for 1 or 10 easily. All the things you'd expect to find in a kitchen are there. We've swapped out our gas fireplace for an electric one pending the resolution of some issues that the building had with the current fireplaces. There were some problems with fireplace remote controls turning on fireplaces in different units. This hasn't proven to be an issue for us as the gas fireplace has always been more of a nuisance than a feature - it's not that large of a space and it's very well insulated so the gas fireplace tended to make it way too hot way too fast. In future we may return to gas but for the time being the unit has thermostats controlling electric heat in each room and an electric fireplace in the living area. Please read through these details as they'll answer many questions and avoid confusion. LINENS In order to keep our rates low we do NOT provide sheets, pillow cases, or towels. Our guests bring their own. Some bring sleeping bags for their kids. Blankets/comforters and pillows are provided. KITCHEN While there are often condiments etc. present we do not replenish these. If you have any food requirements, spices, seasonings etc. be sure to bring these with you. Don't count on there being any food products whatsoever as these are not something we supply. We do provide a dishwasher pod for each day you stay. If you require more you are free to bring along your own. We DO provide dish detergent, dish cloths, sponges etc. There are glasses, plates, and cutlery for at least 8 people present. There's baking sheets, coffee maker, etc. All the 'typical' things you would expect to find in a kitchen are there. You should be able to cook pretty much anything you want to. PARKING We have one spot in the underground of parkade #1 where you are free to park your car. Please do not park in any spot other than the one indicated as there are no extra spots and if you do you will likely incur the wrath of another tenant. GARBAGE, RECYCLING, CLEANING All garbage and recyclables must be taken to the appropriate bins in Parkade #1 There is a $75 cleaning fee added to each stay. This is the same whether it's one night or ten nights - it's $75. BUT - it could be more so read on.... Our cleaning service charges one of two rates. IF all the garbage and recycling is removed IF all dirty dishes have been run through the dishwasher and IF any dishcloths etc have been washed and dried THEN then we get charged $75. This is the cleaning fee that we always charge. IF, on the other hand, the service has to wash dishes or dishcloths or take garbage/recycling out THEN they charge us $125 and we WILL charge the extra $50 against your security deposit We do not make a penny on cleaning - we charge you what they charge us. We charge a $75 cleaning fee on the assumption that you will remove your garbage, do your dishes, and wash/dry any dishcloths you use. If you do not do so we will deduct $50 from your security deposit to offset this cost. Within a week of your booking you will receive an information package by email so please ensure that you have a valid email address that's accessible to you from wherever you are. Inside the package will be details on where to get your keys and the combination to the ski lockers etc.
Blueberry Hill can be found by turning onto Nordic way as you come up the hill past the Sunrise quad chair. Follow Nordic way to Henry Road. Turn right on Henry Road and Blueberry Hill is the large condo complex near the top. Ski out is right outside the front door. Ski back in is on the far left side of the bunny hill coming back. Turn into the village and go as far down and as far left as you can go. You'll end up between some house about halfway up Foster's place at the road. You'll see Blueberry Hill from there. You'll have to walk across the street, between the houses on the other side of the street and another 50-100m back to your front door. WHAT HAPPENS IF THE MOUNTAIN ISN'T OPEN? Ok - this is always a sticky point. There is no simple way to offer refunds on airbnb as the service fee will be charged to guests regardless of my cancellation policy. So... this is what we do. IF THERE IS NO SNOW - ie the mountain is open but the runs are all closed due to lack of snow. By all I mean *all* other than, say, the bunny hill. This policy doesn't apply if part of the mountain is open but not the part you prefer. In this case I will move your reservation to another date of your choosing. I believe this can be done even to confirmed reservations on airbnb without any cost to anyone. A refund wouldn't help you here anyways as you would lose the airbnb service fee regardless so this policy affords you the most protection. IF THERE IS SNOW BUT THE MOUNTAIN IS CLOSED FOR OTHER REASONS - such as bad weather, power outage etc. Sorry - but this is just the nature of a ski resort. No refunds or changes will be offered.
We had a great time! The grandparents were so happy to have a warm space to spend time with the kids...and my wife was even happier to not HAVE to brave the cold with our little baby (if she didn't want to). They got to relax in the condo while we all went and ski and snowboarded our hearts out. Also, having a fridge and kitchen that we could make and eat our own food was perfect. No unnecessarily expensive lodge food. Everyone said how amazing the space was. It was perfect for relaxing and spending time together. The location also was great! It's just a short ski down to the lift so you don't even have to drive anywhere in the morning. I thought at first that it would be a little less convenient than bear or deer lodge, but not at all. Plus, there were none of the rowdies to deal with like they get up there. We went tubing at night with the kids and just listening to and watching some of the stuff going on up there we knew we made the right choice. The only thing was we wished we looked in the closet earlier. There were the perfect "sleds" for the kids. We bought crazy carpets, but they already had everything there! We'd highly recommend this place to anyone especially those with small kids.
Hiromi
December 2016
Very welcome. Great instructions.
Tim
December 2016
This is a great place for a single- or two-family trip. Amazing view from the suite of Mt. Washington, and a great ski-in ski-out location. Also, there is a great spot right in front of the condo for kids to toboggan.
Steven
January 2017
Luxry and Clean fast and nice response
Minkook
December 2016
We really enjoyed our stay, the place , we had a perfect t view of the fireworks and torch run right from the living room window. Loved the underground parking. The ski in ski out, it all made for a beautiful family vacation.
Chantale
December 2016
The host canceled this reservation 355 days before arrival. This is an automated posting.
Kate
Nice unit, clean and well-stocked. Great views and ski-in and out-near a lift. We enjoyed our stay!
Susan
January 2017
Room type
Entire home/apt
---
Property type
---
Accommodates
8
---
Bedrooms
3
Comox-Strathcona C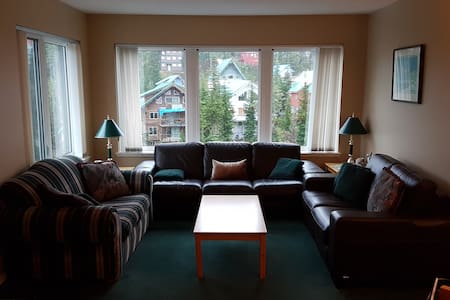 My place is close to the city centre, art and culture, and parks. You'll love my place because of the cosiness, the views, the location, and the people.
Room type
Private room
---
Property type
---
Accommodates
4
---
Bedrooms
1
Tahsis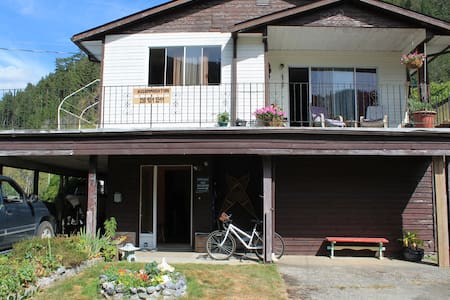 This space includes two bedrooms, each with a double bed and one complete bathroom. People may rent one room for $40 or both for $70.
Walking distance from nearly everything: grocery store, liquor store, rec centre, school, seniors' centre, museum and information centre. Very little.
Our host was warm and welcoming and available for questions before and during the stay. This listing is inexpensive with clean washroom and bedding/linens.
Connie
August 2016
What a great 'find' in Tahsis! Our rooms were clean, comfortable and affordable. Stephanie communicated with us several times to make sure we had the address and directions to her place. Would certainly recommend this to anyone looking for accommodation in Tahsis.
Paul
May 2016
Stephanie made us very welcome. The accommodation is basic, but in line with the description and with the rest of the location. Tahsis is a community struggling to come to terms with the closure of the main employer of the town, 15 years ago, which coincided with a collapse of the local economy and a contraction of the population to s flat was as described and she treated us really well...
Pietro
August 2016
The host canceled this reservation 41 days before arrival. This is an automated posting.
Scott
2 nice rooms, I could pick which one I wanted. The whole lower floor is for use, really nice bathroom with towels ready for use. I stayed 2 days, it was really easy and cozy to live there.
Timothy
June 2016
I had a very easy time getting settled into Stephanies cozy abode on the river. I would defenitely stay there again in the future and i plan too.
Alex
September 2016
Three of us stayed at Stephanie's place. We had our own space, basically the entire downstairs of the house, with bathroom and a place to eat our granola for breakfast. Stephanie was very accommodating since we rolled in pretty late at night. She was super friendly and helpful and we had a great time at the Tahsis Artisan's Coop.
Shawn
August 2015
Room type
Private room
---
Property type
---
Accommodates
4
---
Bedrooms
1
Tahsis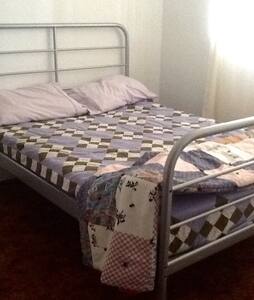 Come and enjoy our beautiful two bedroom condo on Mount Washington, Located in Blueberry Hill, looking out at the spectacular Strathcona Park with a view of Mt. Albert Edward. The condo is spacious and fully equipped for hosting private dinners. The dining room comfortably seats 9 guests with 2 at the bar. The living room is cozy with a big tv and gas fireplace to keep you warm! All together the condo can accommodate a max of 8 people. :)
Enjoy the comforts of home! Bring your gear and relax after an exciting day on the mountain. Strathcona Park, and Mount Washington Alpine resort I'm a cell phone call away if needed
The condo has a great view of Mt Albert Edward and is steps away from the mountain ski lifts.
Fantastic stay! Gorgeous views. Loved how there was breakfast options supplied. Family friendly. Loved having the 2 bathrooms.
Lisa
January 2017
The host canceled this reservation 10 days before arrival. This is an automated posting.
Sue
Enjoyed an incredible Christmas weekend at the apartment. Good comfortable size. Two bathrooms were great. It was very tidy and clean.
Stephan
December 2016
Great little treasure at the base of Mt. Washington. The place is very spacious and has a great set up. Walking distance to the hill. The condo is right at the bottom of the bunny hill, which is perfect after a long day on the slopes. It has a very warm and inviting vibe as well. It came with all the essentials and I know the consensus between the group and I was it was a great value for the location. I highly recommend this spot!
Thomas
December 2016
Anuschka's condo was a great Mount Washington stay. Conveniently located close to the Ravin Lodge and the Main Day Lodge, so some of our group could snowshoe or snowboard. The condo had everything we needed to make meals and have a great nights sleep. The grocery store on the mountain has changed and has a very limited selection of anything, so be sure to bring all the food you need.
Lisa
December 2016
Room type
Entire home/apt
---
Property type
---
Accommodates
6
---
Bedrooms
2
Comox
My place is close to Mount Washington bottom of the Green Chair, family-friendly activities. You'll love my place because of The location, the 2-car garage, the easy ski in and out, the layout, the cosiness, the kitchen. My place is good for couples, families (with kids), and big groups.
Brief description: It has a very friendly layout that sleeps 10 in 4 bedrooms, and is located near the bottom of the mountain where you can ski in and ski out. Unique to this development is your own private, two-car garage, which makes unloading then reloading your gear warm, dry and easy. The townhouse is located close to the bottom of the green chair, just adjacent to the Creekside condos. It is an easy ski-in and ski-out. Bottom floor: Bonus, there is a two-car garage, so you don't have to shovel your car out. The garage opens to the entryway where the skis and snow toys can be kept (dry room). There is space to hang clothes and leave your boots in the entry way and there are ski racks in the garage. Main Floor: The kitchen with a dishwasher, stove, fridge, microwave, toaster, coffee maker, popcorn popper, kettle, cooking supplies, dishes and silverware. The dining room joins the kitchen with a bar, which has bar stools. The dining room also has a big table that seats 10 people. The living room has: a gas fireplace, TV, VCR, DVD player, stereo, a sectional couch, and two lazy boy chairs. There is a bathroom with a shower and tub on this floor as well. Top Floor: All 4 bedrooms are on this floor, with the following sleeping arrangements: two bedrooms with queen beds, two bedrooms with a bunk bed in each with a single on top and a double on the bottom. One bedroom has a TV with a VCR, which is good place for kids to watch a video. There is also a bathroom on this floor with a shower and bathtub. Also on the top floor are a washer and a dryer with laundry soap. The whole place is yours.
Conveniently located near the bottom of the green chair, in close proximity to the cross country ski trails. You can load on the Green Chair or the Hawk Chair. Directions: On your way up turn left on Nordic Road 2 kms from the top of the mountain, and drive towards the Raven Lodge and the cross-country skiing area. Turn right on Henry Road, which is the first right. Turn left at the second left turn after you enter Henry Road. Clean Up: Bedding and towels are supplied. There are no housekeeping services, thus you need to clean it yourself so it is ready for the next people arriving. There is a woman living on the mountain that you can hire to clean. It is up to you to contact her and arrange the details and payment. Contact her prior to your stay: Brigitte Liss at Blissfully Clean, (250) 937-1765, blissfullyclean@outlook.com. Please let me know your email and phone number so I can get you the door code before you arrival. My number is 250-204-3141 Email parkviewplace@shaw.ca
Shane was a fantastic host, very easy and relaxed, we thoroughly enjoyed our stay and would definitely recommend visiting!
Sam
October 2016
Was exactly as described & then some!! :)
Kendall
December 2016
Very cozy winter getaway! Great location just seconds away from the slopes. Clean and comfortable. I definitely recommend this place to anyone looking for a relaxing vacation on Mt. Washington
Colette
January 2017
Great Condo! Was much bigger then expected and fit 10 very comfortably. Loved the living room set up, and the long wooden table was perfect for group dinners/card games at the end of the night. We had a great stay!
Kristin
December 2016
This is a warm, comfortable place to stay that is walking distance to both the Nordic and Alpine lodges. The main living area on the 2nd floor is fantastic with a large table and a super-comfy extra large sectional sofa. The four bedrooms upstairs allow those looking to have a quiet moment or get some sleep to do so. We would happily stay here again!
Cam
December 2016
Room type
Private room
---
Property type
---
Accommodates
10
---
Bedrooms
1
Courtenay