Step back in time in this historic Farmhouse built in the late 1800's. Located off Hwy 43, nestled among tall pines overlooking 100 acres of field and pine forests. Bring your family and sit on the the wraparound porches. A great resting place before hitting the beautiful Alabama beaches that are 1 1/2 hours away. We are minutes away from restaurants, shopping and adventures at Old St Stephens Park . From May- August swimming is available in Jacksons Spring fed 100x400 pool. Give us a try.
You can have your kitchen stocked with meals ready to cook and serve. A southern menu is available by a local caterer upon request. You can chose breakfast items, lunch and dinner entrees. This will be arranged between Host and Guest. .
We are located on 200 Acres. There are walking trails on the premises. Our home is located close to Summer's Place, but the home is very private.
Room Type
Entire home/apt
---
Property Type
House
---
Accommodates
6
---
Bedrooms
Grove Hill, AL, United States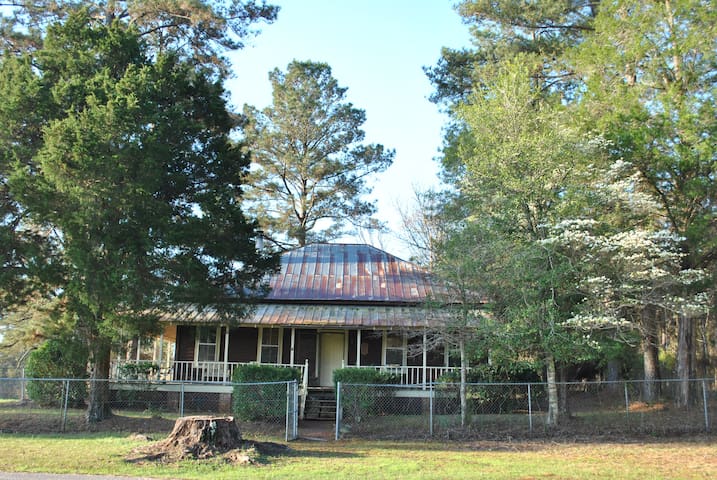 My place is close to all of the local restaurants. Just a 10 minute drive will place you in the heart of Downtown Monroeville and all of the city's rich history. You'll feel right at home in this Alabama abode. With brand new appliances and furniture, all that is missing are some happy travelers. My place is good for couples, solo adventurers, business travelers, and families (with or without kids).
This place is a gem! So beautifully decorated and immaculate. Cassie was easy to communicate with and added so many little touches that made my stay that much more enjoyable. I was in town for a charity bike ride and was thrilled to find a foam roller and bike trainer waiting for me! Above and beyond all expectations!
Patti
2017-04-01T00:00:00Z
Exceptionally clean and Cindy was a great hostess! We will definitely stay again!
Susan
2017-03-23T00:00:00Z
Room Type
Entire home/apt
---
Property Type
House
---
Accommodates
4
---
Bedrooms
Monroeville, AL, United States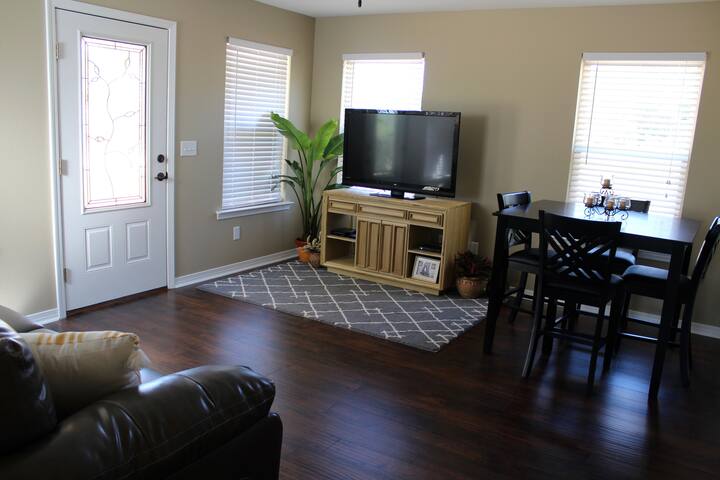 1860 Antebellum Plantation Mansion Romantic Outdoor Orangerie Sanctuary and Cappucino, Espresso, Cocktails for your Enjoyment
Pool available for 25$ surcharge
One hour to Montgomery Half hour to Selma Half hour by ferry to Gees Bend Two hours to Mobile Two hours to Birmingham Two hours to Gulf Shores Beach and Irange Beach Fifteen minutes to Alabama River Five Minutes to Blackbelt Treasures featuring amazing Alabama painters and craft Artists
Room Type
Private room
---
Property Type
House
---
Accommodates
10
---
Bedrooms
Camden, AL, United States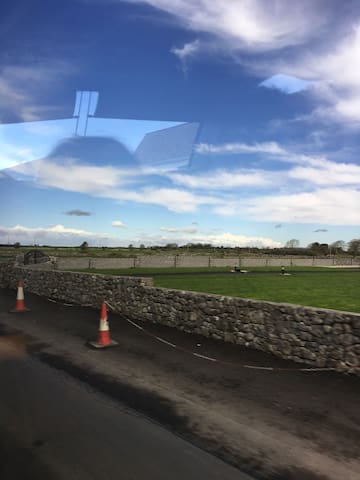 Apartment in my home in the country surrounded by farm land and timber land. This is South Monroe County. It is about 17 miles N. of the Creek Indian Casino. Towns around are Atmore and Monroeville. Close to Claude Kelly State Park. under 12 free. There is one queen size bed in a private room. The couch is not full size but would be good for a small person. One twin air mattress. PLEASE READ...this is an apartment and not bed and breakfast. Bring your eats Walmart and other stores 17 mi. away.
It is my home located in a farming area.
Ronald's place was absolutely brilliant! He describes it as "no frills" but this is my no means an accurate description - everything is immaculately clean, most things appear brand new and the bed is super comfy! We are going back to stay for my birthday because we had such a relaxing time :) thanks, Ron!
Jennifer
2016-02-09T00:00:00Z
The comfortable bed, country setting, pool and hot tub coupled with the full kitchen, full fridge/freezer and oven makes this place my first choice over the vast majority of hotels. Anything you need from a kitchen is already here. Its a very peaceful setting and should be kept as such.
Joshua
2015-05-15T00:00:00Z
It's a good place to live
Yuanda
2017-03-13T00:00:00Z
Ronald Brooks was most helpful and answered all of our questions. The house, although in farm area was less than six miles from my Fathers house and very easy to find and drive to. The addition was clean, well kept and had all the comforts of home. The kitchen was well stocked as was the bathroom. We had free wifi and there was a blue ray player in the living room
Bob
2015-09-27T00:00:00Z
Perfect experience from beginning to end. Great fast communication with Ronald. We stayed several days and enjoyed cooking out on the grill, relaxing in the hot tub and even swimming in the pool. This place is out in the country and let me just say the stars at night were big and bright! We were traveling lightly so it was nice to have the washer/dryer available. Full kitchen with most everything you would need to prepare meals. Highly recommend this charming place in the country. :-)
Michael
2016-04-06T00:00:00Z
Ronald was extremely helpful with our trip, we were driving from New Jersey to New Orleans and needed to make a stop in Alabama to split our trip up. He was extremely understanding with our changing arrival time from 2am to 5 am. If you need a flexible stay, he's great! His yard was really cool with a hot tub, pool, some palm trees and even some cows next door.
Julia
2016-10-28T00:00:00Z
Very easy to communicate with and great hospitality! All you need from a fully stocked kitchen to dvds and games to the pool and hot tub(our faves)!! A beautiful, quiet get-away! We will definitely be back!
Melanie
2016-10-08T00:00:00Z
Ronald's place is a gem. Seriously. It's down a dirt road, there's not much around, and you really have no idea what to expect. We've been staying in Airbnbs for almost two weeks now, with a stop in a different city every night. Ronald's place was one of the best. It has absolutely everything you could need and is immaculate. Seriously, the place is cleaner than my own house! He's also a carpenter, and I didn't confirm with him, but I think he made most of the cabinetry and the furniture in the place. :) We had a lovely dip in the hot tub after we arrived, and the space was perfect for what we needed. The scenery is gorgeous, and you can watch cows graze on pasture while you do dishes. :)
Jessica
2016-12-13T00:00:00Z
Room Type
Entire home/apt
---
Property Type
Apartment
---
Accommodates
4
---
Bedrooms
Atmore, AL, United States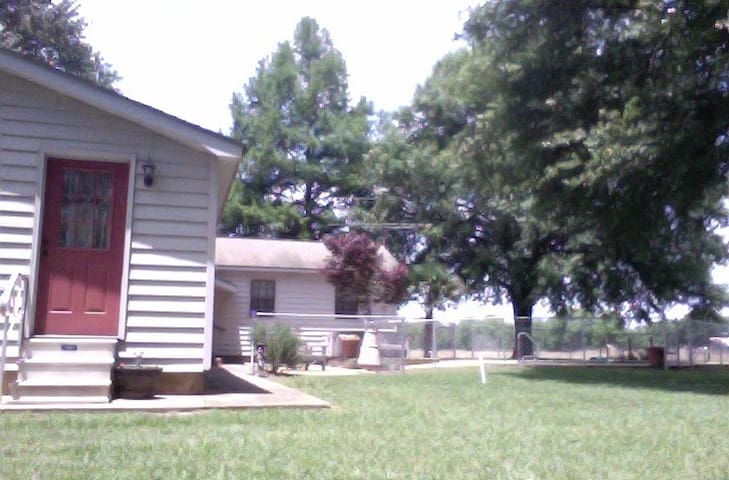 One bedroom with an small kitchen and dining. You have your own private bath area. It is the same location as the other apartment with the same outdoor photo's. Close to the Creek Indian Casino, 2 parks, Monroeville's To Kill a Mocking Bird, kids under 12 years old are free. There is one queen air bed.
The apartment was remodeled in the last months of 2015. There are a lot of new things including the the bathroom. One large room and one small bathroom. PLEASE READ...this is an studio apartment and not bed and breakfast. Bring your eats Walmart and other stores are 17 miles away.
This is a farming area. Please see my other listing. I do not wish to copy and paste here.
Very nice option. The rooms is comfortable and cozy. Kitchen being a not big one, still includes everything necessary. We also enjoyed hot tube, that was really super hot and great in the cool evening. Ronald is a great host - he always ready to help! Thanks for everything
Vlad&Irina
2017-03-15T00:00:00Z
Great cottage in the country!
Eric
2016-12-21T00:00:00Z
Ronald was a great host. We had a really good and quiet time at his place. We truly recommend it.
Michika
2017-01-21T00:00:00Z
This place is absolutely wonderful!! I can't say enough good things about it! Ronnie is a great host, and thought of every little detail! There was everything you could ever need in the apartment! And the got tub was fantastic after a long day driving! Can't wait to go back!
Melanie
2017-04-02T00:00:00Z
All the reviews were true. This was a beautiful place with everything you need and more. Ronald was a very nice guy. He was quick to respond every time we texted him. He came around to greet us when we arrived. The studio apartment is beautiful and spotless. Ronald built it himself! He says he is going to work on the lawn in front of the studio in the spring, so we would love to go back and see it. We highly recommend the place.
Jonathan and Sue
2016-02-22T00:00:00Z
Cannot say enough good things about this place and Ronald. The pictures do not do it justice at all. First of all, the drive out there is amazing. So much space and beauty. Then, when you get there it's just as beautiful, if not more! Ronald was there to greet me when I arrived and showed me where everything was. He is so, so sweet. It rained most of the time I was there, which made the already-cozy little haven even cozier. It's very spacious and has everything you need. A great electric fireplace, stove, microwave, toaster, pots and pans, washer/dryer, tv/DVD player, etc. I could go on. I went for a getaway by myself to get ready for the new year, and everything about this place exceeded every expectation I had. I will DEFINITELY be going back!
Natalie
2017-01-01T00:00:00Z
Great spot. Good resting spot between destinations, even though it added about 35 mins or more to my drive. Ronald was available and friendly and helpful. I would have liked to know where the thermostat was, i searched for a long time (too late at night to bother host). Forced air was loud, too cold and too hot at times. Too bad on a night with perfect weather. That probably wouldn't bother most people, but it caused me not to sleep very well. I should have asked him earlier didn't think of it. Was nice to have washer dryer, tv, fridge etc. The place is cute and very well equipped, good design for comfort and plenty of space around for recreation.
Carol & Michael
2017-02-24T00:00:00Z
You will love the place when you get it! Nice place to stay in. Clean, good price and really worth it
Hasan
2017-03-26T00:00:00Z
Room Type
Entire home/apt
---
Property Type
Apartment
---
Accommodates
2
---
Bedrooms
Atmore, AL, United States
French Country home with private guest suites with kitchenettes and ensuite bath. Private rooms with private or shared baths depending on availability and Aunt Sissy's Cottage, a turn of the centry 2 BR/1BA Farmhouse. Rates are per room at main house. Aunt Sissy's Cottage rates are $150 per night which includes 2 bedrooms and fully furnished cottage with kitchen.
Wind Creek Casino, Movie theater, Bowling alley, Magnolia Branch Recreation Area
Foster is like your fantasy host: organized, clear, kind, and fantastically thoughtful. From the basket of crackers and water bottles in the room, to the hefting of my bag over uneven flagstone, to a five-star breakfast, he demonstrated professionalism across the board. The home is spacious and charming; the location is unbeatable, and the fruit trees, irresistible.
kathryn
2016-11-24T00:00:00Z
Room Type
Private room
---
Property Type
Bed & Breakfast
---
Accommodates
4
---
Bedrooms
Atmore, AL, United States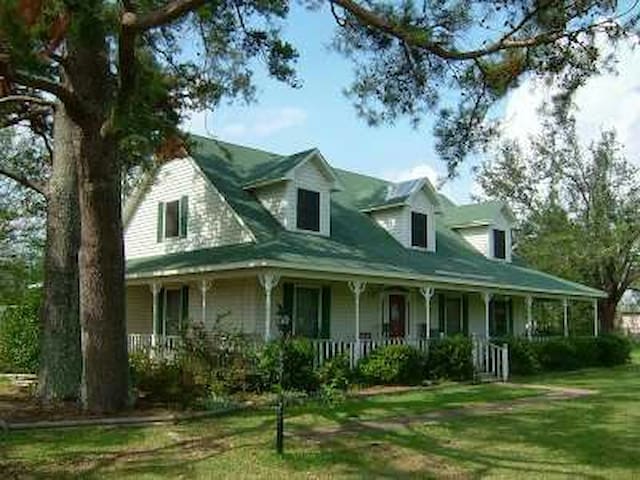 My nice and cute home with king size beds is proudly welcoming her guests.
Room Type
Entire home/apt
---
Property Type
House
---
Accommodates
6
---
Bedrooms
Vinegar Bend, AL, United States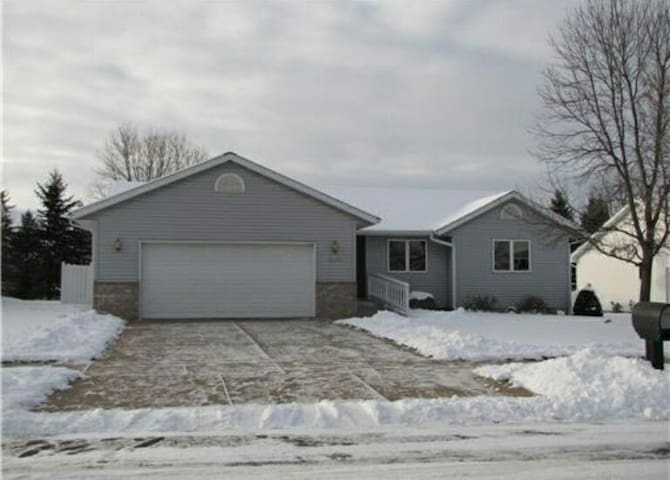 Enter dates to see full pricing. Additional fees apply. Taxes may be added.