My studio is the located in West Legon within easy reach of the airport, public transport, business, shopping and leisure facilities. It is secure, compact, and convenient. Great as a short term base in Accra for visitors on a budget
This is a converted studio over a shop and accessed from the street by a spiral staircase. It is equipped with wall mounted TV, Microwave, electric plate, electric kettle, toaster, rice cooker. There is also a mini gas cooker for use in the event of power outtage
A nice up and coming neighbourhood with a few shops and offices and lots of new apartments being built in the area. There is a supermarket on the corner and restaurants nearby. It is quiet and peaceful at night. However from 6am weekdays you may hear the traffic from the road below.
Nice cozy private place. Very attentive hosts.
Art
2016-12-11T00:00:00Z
Oyaba's place was very comfortable for my husband and I. The place looked just as good as the pictures. Cabs were easily accessible because it was just around the bustop. Definetely it was a good value for money
Ejiroghene
2017-02-13T00:00:00Z
Made to feel very welcome and a great wee space to chill out. A bit far out if you want to go to centre of Accra but I didn't so fine with me. Would go back there again depending on work. Thanks Oyaba!
Jacqueline
2016-09-26T00:00:00Z
I had a great stay at Pemba Studio, it's clean, quiet and safe. Communication with Oyaba and Enoch went smoothly and it's a great value for money! You should definitely go for it!
Saran
2016-08-23T00:00:00Z
The rental is nice. The place is very small but it was well equipped. Oyaba is quick to repsond and solves problems quickly. She checks on you often.
Bonquisha
2016-08-15T00:00:00Z
Hello. We stayed one week at Oyaba's Pemba Studio. The studio is very ok for the price. No luxury of course. But it is just as described. And everything in town is easy to reach from there and we always felt safe. We enjoyed the communication with Oyaba and especially her brother Enoch and other family members were very helpful and we are really grateful for their help.
Marco
2016-05-16T00:00:00Z
The location is easy to get to and easy to get a cab from. Located above a business, it is very quiet at night aside from trucks on the main road. It was the perfect size for just me but might be a little tight for multiple people. Although Oyaba was out of the country, Enoch was very helpful and called to check on me frequently. The price is quite a steal and you are getting what you paid for.
Sidney
2017-03-23T00:00:00Z
Clean and safe
Renee
2016-12-20T00:00:00Z
Room Type
Entire home/apt
---
Property Type
Apartment
---
Accommodates
2
---
Bedrooms
Accra, Greater Accra, Ghana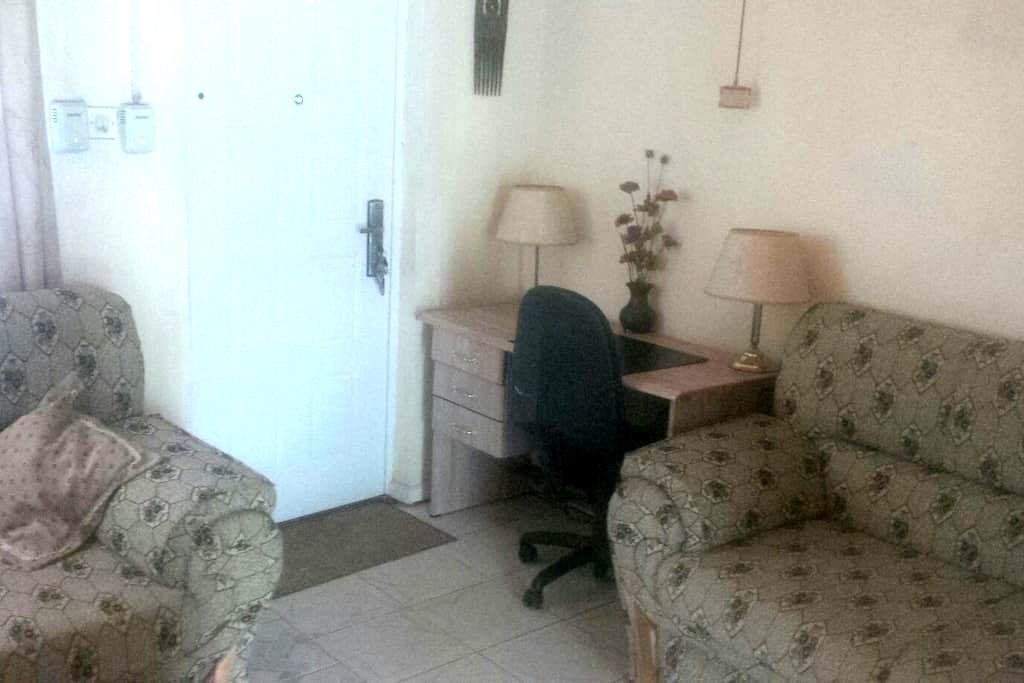 The apartment is on a quiet street in Haatso, Accra. Less than 5 mins from the main Haatso-Atomic road, Supermarket Junction or GCB. Owners live next door and are available to make your stay comfortable. The space is ideal for singles/families.
Linda and her niece Tracy were amazing hosts. Before our arrival her communication was stellar from the details for ourreservation request to the updates. Upon arrival Linda, her niece and the guy who takes care of maintanance were friendly and engaging. While we always felt independent and made ourselves at home the hosts were always there for us when needed but far from intrusive. Everything we needed was provided, the living room is confortable and we spend many nights at the nice balcony. The maintance guy came to clean the house every week and we tipped him alghought that was not at all mandatory but he did always an amazing work. The home is really close to the University of Ghana, Legon, but if you are going to the city center (Osu, or other places) it can take you up from 1.5 hours to get there because of trafic. Also there are no taxis coming around the house, so you have to have a driver or call an uber to come get you. If you have the pleasure of staying here at Mango Lane in Haatso, me and my colleagues highly recommend staying there. For us who came for a research trip and stayed there for a month it was an oasis of peace to come home every night.
Isabel
2017-04-01T00:00:00Z
If singles or a family plans on visiting Ghana, Linda's place is a good choice to relax at. The location has a view of the mountains and with a serene, but yet residential. The location is very quiet as the only noise that I really heard was the rooster crowing in the morning, but that's a good thing! Overall, the place is accurately described and the photos don't do it justice. Everything you need is inside where you can enjoy your stay and while all appliances, etc. worked very well. The only suggestion is to purchase another refrigerator, as it may be time to change it out. Again, I would stay here again without any hesitation! I appreciate the gatekeepers attention to detail and if I needed anything he would tend to the situation. Thanks again.
William
2017-04-12T00:00:00Z
Linda war immer sofortig erreichbar und hat sich immer umgehend bei uns zurückgemeldet. Die Unterkunft ist in einer ruhigen Gegend gelegen mit holprigen Straßen, lokalem Essen und friedlichen Nachbarn. Wir haben uns sehr wohl gefühlt. Das lag auch an Emmanuel, der sich um Haus und Hof kümmert und uns jederzeit mit Rat und Tat zur Seite stand. Alle Annehmlichkeiten wie eine warme Dusche, eine ausgestattete Küche, Klimaanlage und WLan sind vorhanden. Wir haben in Accra eine Studie durchgeführt und für uns war auch die Lage durch die Nähe zur Universität sehr günstig. Für andere Zwecke möchte man vielleicht stadtnäher sein. Die Sicherheit ist ebenfalls hoch. Das Haus ist komplett nach außen abgeschottet und ab Einbruch der Dunkelheit ist ein Nachtwächter vor Ort. Danke für die unkomplizierte und schöne Zeit, Linda!
Kerstin
2016-12-12T00:00:00Z
Room Type
Entire home/apt
---
Property Type
Apartment
---
Accommodates
5
---
Bedrooms
Haatso, Greater Accra, Ghana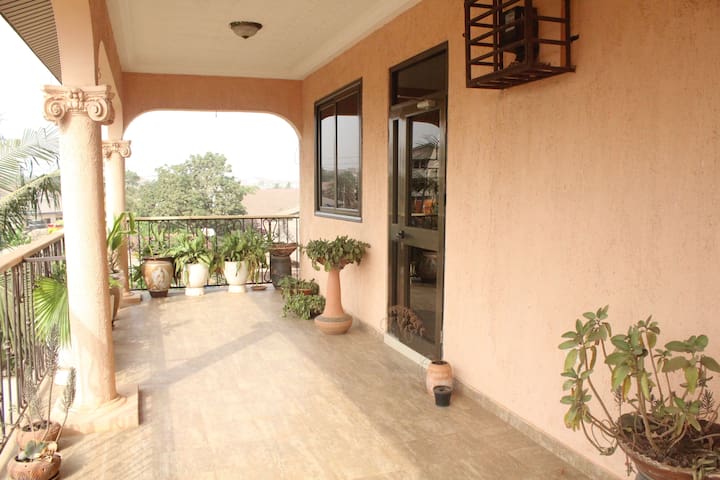 My place is close to family-friendly activities, nightlife, public transport, and restaurants and dining. My place is good for couples, solo adventurers, business travellers, families (with kids), big groups, and furry friends (pets).
Serene
Room Type
Private room
---
Property Type
Apartment
---
Accommodates
2
---
Bedrooms
Accra, Greater Accra Region, Ghana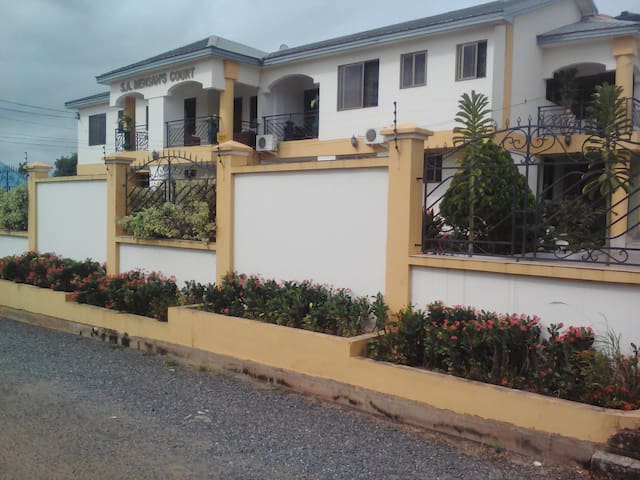 Quiet and secure living space for short trips. A few minutes from University of Ghana and major shopping centres.
Room Type
Private room
---
Property Type
Apartment
---
Accommodates
1
---
Bedrooms
Haatso, Greater Accra Region, Ghana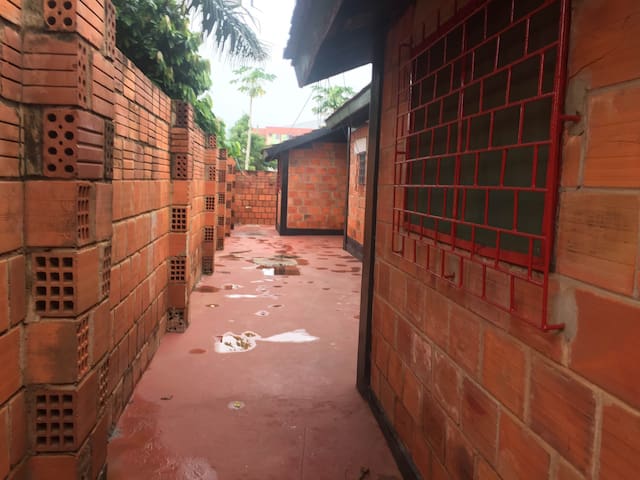 Clean and modern apartment with air conditioner and en-suite bathroom. Very comfortable and private with lovely family. Nice and secure environment with security officers at gate. Big kitchen and living room with satellite TV. Easy transport.
Room Type
Private room
---
Property Type
Apartment
---
Accommodates
2
---
Bedrooms
Accra, Greater Accra, Ghana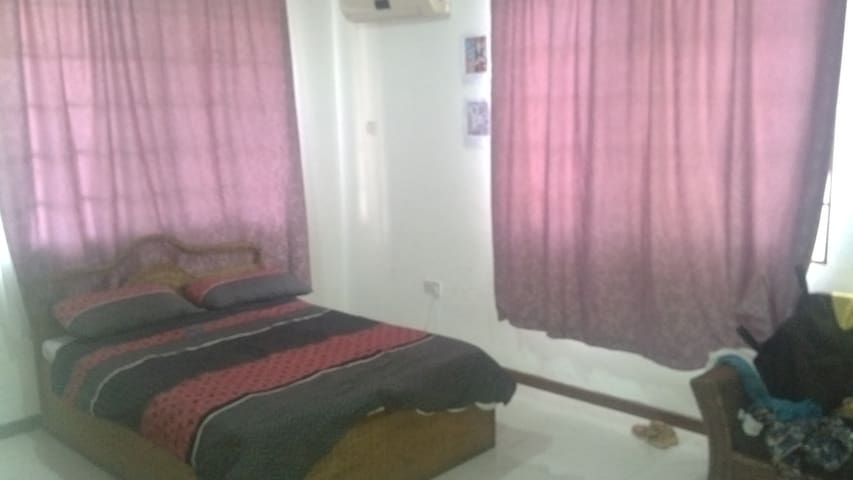 Our two bedroom apartment is fully equipped with the natural feeling of exotic furnishing. 10 minutes drive from the airport and located in a quiet and accessible area of Accra. It gives you the advantage of quick get out to the cities business.
Yes, Mr. John was accommodating and fixed issues (major) as soon as they happened....the apartment did look just like the pictures but the surrounding areas kinda left much to be desired....the last picture on the advertisement left you thinking there was a pool and it looked different from the circular buildings....that picture needs to be taken off...
Vicki
2016-10-24T00:00:00Z
Room Type
Entire home/apt
---
Property Type
Apartment
---
Accommodates
4
---
Bedrooms
Accra , Greater Accra Region, Ghana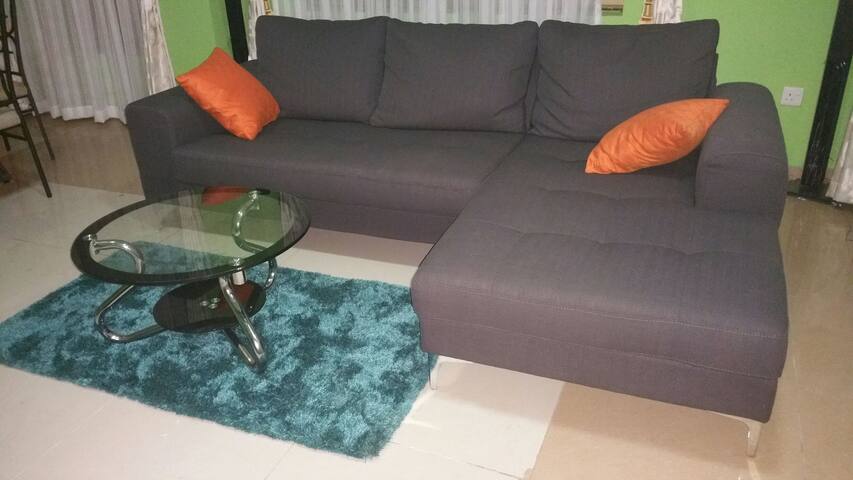 Quiet serene atmosphere, located in North Legon. This 3 bedroom apartment is fully furnished and accommodates up to 6 people. It is elegant, very secure and well appointed. It has a fully equipped kitchen and cable TV.
Room Type
Entire home/apt
---
Property Type
Apartment
---
Accommodates
6
---
Bedrooms
Accra, Greater Accra, Ghana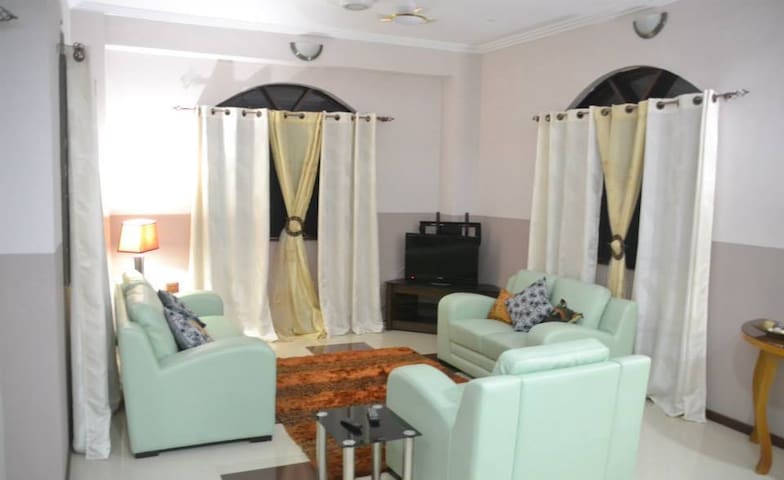 Our comfortable one bedroom apartment in a secure compound with exposed brick and wired and wireless internet has a true city feeling! It comfortably fits two, has a kitchen and is located on a street that gives easy access to a modern bus terminal where you can get good transportation to anywhere in Accra and beyond, and is a couple of blocks from the Achimota Golf Course, 10 minute drive from the airport and a five minute drive from the University of Ghana and GIMPA
Room Type
Entire home/apt
---
Property Type
Apartment
---
Accommodates
2
---
Bedrooms
Accra, Greater Accra Region, Ghana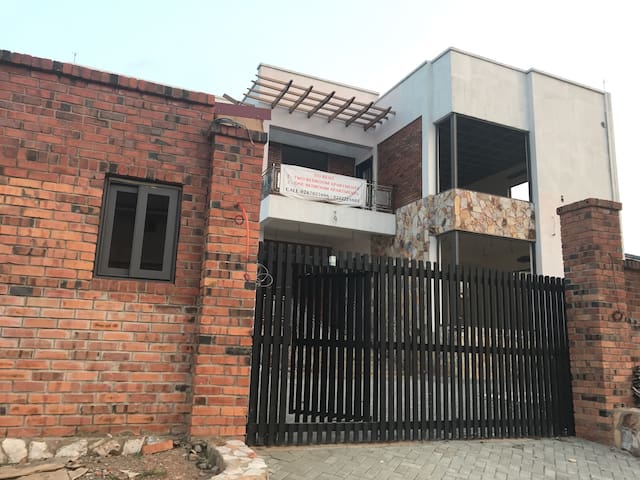 This home is located in a serene environment with a beautiful view of the city of Accra when you get to the balcony on the 2nd floor. The facility is unique but at affordable price with air conditioners, washing machine, meeting rooms, Kitchen, etc. You can rent daily, weekly or monthly. We reduce the rate for weekly and monthly rentals. It is near Achimota Golf court There are shopping malls around where you can easily get all goodies The facility is just a minute walk to take public transport
There are seven bedrooms in all. You rent per room but if you want the entire house reserved for you without any other Guests, you can arrange that with us.
Room Type
Private room
---
Property Type
Apartment
---
Accommodates
9
---
Bedrooms
Accra, Greater Accra Region, Ghana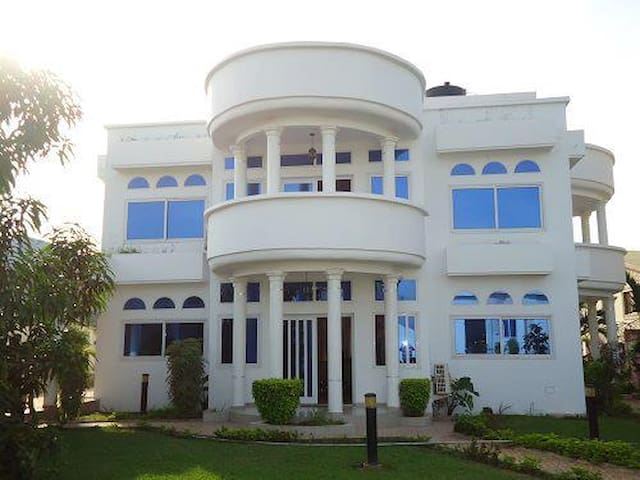 Clean private rooms. You have your own toilet and bath with an extra shared guest toilet! 10-15 minutes walk to the bus station. House located at Achimota gulf hills - orange street. It's pretty a quite area with more of a residential setting.
Spacious - privacy - clean -affordable - nice host!
Quite and clean! Tarred road! convenient to go for walking or running!
ok
Christoph
2017-04-08T00:00:00Z
Room Type
Private room
---
Property Type
Apartment
---
Accommodates
3
---
Bedrooms
Accra , Greater Accra, Ghana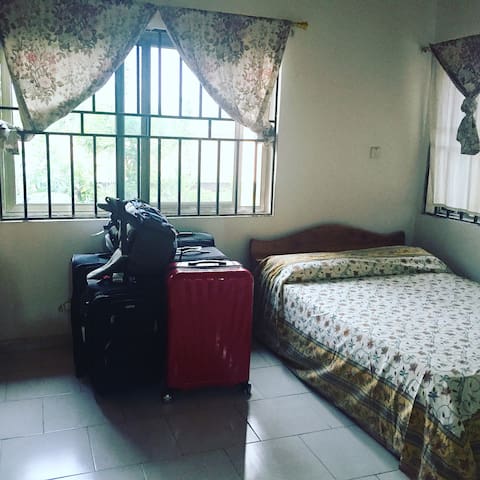 this house is a very comfortable place.situated in a nice and serene enviroment.you have your own privacy.alarm and barbed wires installed in the house.flowing water 24/7.there is also a 24/7 security watch at the main entrance to the house.beautiful
Room Type
Entire home/apt
---
Property Type
Apartment
---
Accommodates
2
---
Bedrooms
Accra, Greater Accra, Ghana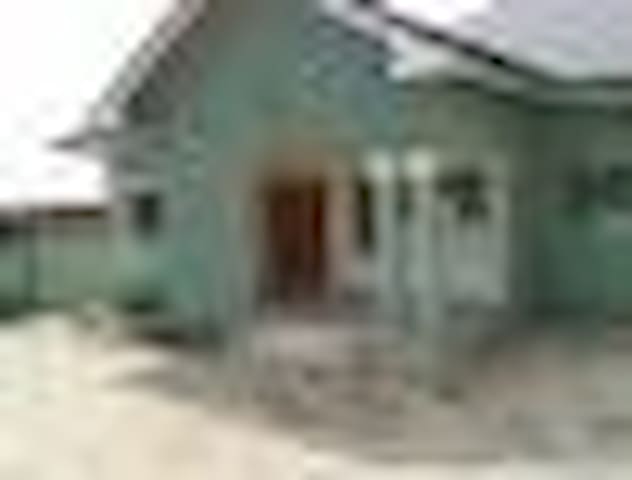 24/7 security, 24/7 water supply, water heater, 1 master bedroom with attached bath whilst the other 3 rooms share a common bathroom with wc. A large living hall, a kitchen, spacious balcony and a tv internet,a 6 chair dining table and washing machine. It is km from the Airport, taking about 20minutes.
A peaceful and relaxing environment
Room Type
Entire home/apt
---
Property Type
Apartment
---
Accommodates
7
---
Bedrooms
Accra, Greater Accra Region, Ghana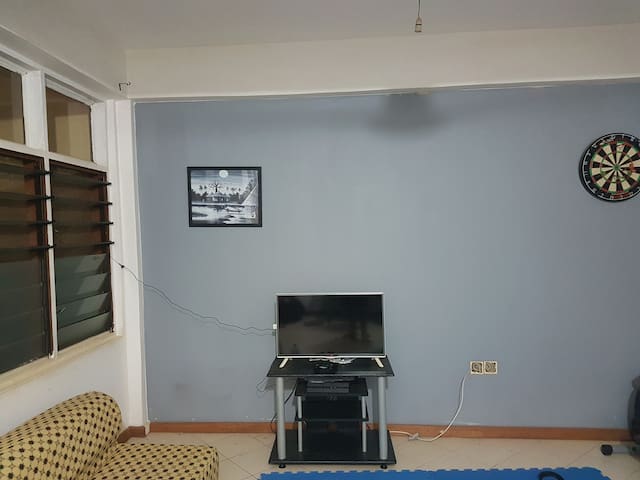 Flora Legacy Luxury Serviced Apartments is in the heart of town, its 5 Min. from Kotoka Intl. Airport, 2 Mins. from Accra Mall , Shops , restaurants and dining, great views, art and culture. You'll love Flora Legacy for its modern and contemporary furnishings .The warm and welcoming environment easily accommodates couples, business travelers and families (with kids). Enjoy a lovely day by the pool or a rooftop barbecue overlooking the beautiful Tetteh - Quashie and airport sky view.
Room Type
Entire home/apt
---
Property Type
Apartment
---
Accommodates
4
---
Bedrooms
Accra, Greater Accra Region, Ghana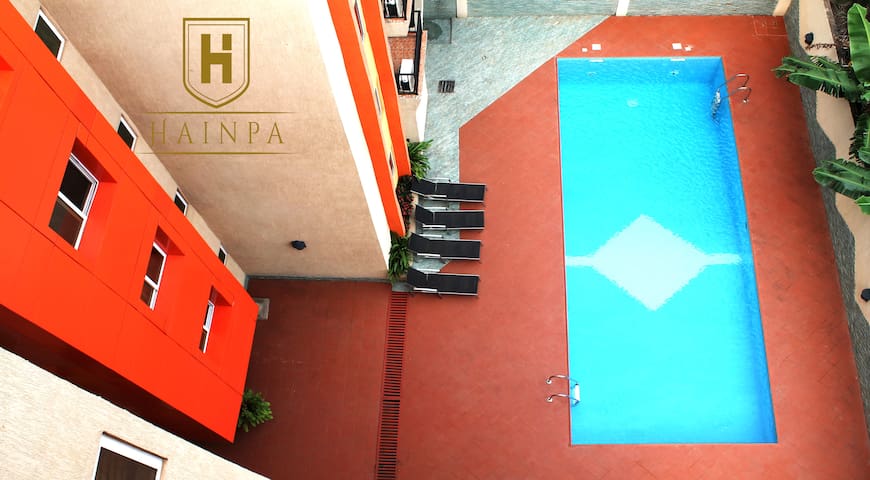 This private apartment is filled with local fabrics and art work, while still decorated to feel like 'home'. Enjoy total privacy in your own space, set in our 'green haven', with badmington and table tennis in the garden. Sip a juice or 'fill up' at the Vegan Cafe, surrounded by fruit trees and flowers. We might drum or play oware with you, or leave you to write your blog. Near to Achimota Mall, or to the busy local shops and bars. Blend in, jump on a trotro at the junction and explore the town.
Welcome! Enjoy a relaxing stay in Accra at Legassi Gardens Apartments- a blend of African roots and Caribbean flair, now with UNLIMITED broadband wireless internet access, with a SOLAR- POWERED option from our provider. The apartments are completely self-contained with a choice of either 2 bedrooms or a spacious studio. They are set in a garden compound, with many trees and flowers; and table tennis and badmington can be played al fresco. There is also an on-site Health and Convenience Store and Vegan Cafe. We offer the apartments with big discounts for long stay /students /interns/ volunteers and single occupants. Location: Our area, Pokuase, is a vibrant and bustling part of Accra with lots of local shopping, bars and 'hangouts' called 'spots'. It is particularly interesting at night as the shopping zone is open very late, with bargains and local foods on sale. The area is ideal for the adventurous tourist, wanting to experience the culture of Accra. Guests can feel free to wander, or just jump on a trotro and blend in. Pokuase is also becoming increasingly more 'Cosmopolitan', with many exclusive 'Gated Residential Estates' in the area. We are around 10 minutes from Achimota Mall, a modern shopping centre with Shoprite and other international stores. We are also close to the shopping and bars of Kwabenya, around ACP area; or 20/25 minutes from Accra Mall off Tetteh Quashie; or 20 minutes from the new 'West Hills' Mall, by car. Apartments: Each of the 2 bedroom apartments can accommodate up to four persons, with 2 people sharing each bedroom; we can also allow a 5th person to use the sitting area with an extra bed or mattress, at a small additional fee. The STUDIO APARTMENTS are for 1-2 persons, and are a completely new build, with fantastic views of the town and beyond, and easy access to the roof terrace.. The apartments are regularly refurbished (usually after each long stay occupant), tiled throughout, and tastefully furnished, with basic kitchenette (with table top cooker, fridge, cooking utensils); sitting area with television and fans; shower room; private patio with seating and shoe rack; and own private front door for entrance. The price is always negotiable; and for long stay guests the rent is paid monthly. The price is inclusive of: -electricity, water, gas -cleaning, washing, gardening, security (although 'tipping' is standard) -full maintenance services-off street parking -wireless internet access -backup generator, which we put on when light is off -our own bore hole water source with a filtration system, so that water can be pumped straight into your tank to avoid water shortages in your apartment. We have international guests from all over Europe, USA and beyond, visiting Ghana for a range of reasons (study, work, romance) all mixing in an Afrohemian atmosphere! Live-in staff are on-site to provide security and assistance whenever needed, and take care of housekeeping, laundry and many errands for tips. The 'ital' or Afro-vegan café is open for breakfast and closes in the late evening. We serve 'italized' Caribbean and local dishes, our own ital recipes and also prepare meals as requested. We are a non-smoking establishment, but provide designated smoking areas when requested. More:... Our walled compound is environmentally cool: lush and green, with seating amongst the many flowers. We also have the ideal eco-conscious alternative to air-conditioning in our apartments: Well-Ventilated Rooms with Super-Sized Windows. Open your windows and enjoy the naturally cool hill-side breeze flowing through your apartment. This is better for your health, gentler on your skin, and completely harmless to our environment! We are ideal for visitors who prefer not to stay in the cramped, noisy and exorbitantly priced centre of Accra surrounded by 'expats', but who are free to enjoy a relaxed stay in 'local' Accra, dipping in and out of the city centre! Sit in the garden and listen to our many birds, watch our garden butterflies, or play a game of 'Oware' under the palm frond canopy.. We are located on a hill just off the Achimota (N6) motorway in a residential area, accessible from either ACP or Pokuase Junction. There is a busy bus station at the junction, where you can get transport all over town, with rapid and frequent loading during the day. Pokuase Train Stop is also only 3 minutes walk away, and you can take a train (when in service) into central Accra, or to Nsawam, twice daily, and back. Our area is the traditional homeland of the Ga people, the historical custodians of the land of the capital city of Accra. If you come at festival times you can take part in exuberant dancing and celebrating with the local people, and enjoy the regalia of durbars honoring the local chiefs. There are also sacred shrines to the Ga people in our vicinity.
This is a very close community, with an active residents association, and neighbourhood watch system in place. I am the Treasurer of the Association, so I make sure that the work gets done! I am well known in the area, and people will always be ready to help you when they know you are staying here.
"Mmofra no asan" (Twi for the children have returned) My wife and I thoroughly enjoyed our stay at our maiden voyage to the Motherland. We felt at home to the point where I felt I had fallen asleep at my grandmother's house! The accommodations were exactly as depicted online and we got amazing value for our money. The lush garden and cool ventilated design made the rooms comfortable without A/C. Room service was on point and the chef created custom dishes on request (we had FRESH chicken). The shop was well stocked and suited our natural lifestyle. There wasn't a washing machine on the premises but were pleasantly surprised to find out that staff offered hand washing and line drying! The location is a good 15 minute walk from the bus station, taxi stand and local market, but it has marvelous views going downhill. The traffic is heavy on the highway there back from Accra central so I'd recommend staying in town until after rush hour (7/8 pm) to save time. Nana and the team were vary accommodating and knowledgeable. Overall we highly recommend it for the adventure loving and first time visitor to Ghana/Africa.
Albrion
2016-12-15T00:00:00Z
Room Type
Entire home/apt
---
Property Type
Apartment
---
Accommodates
2
---
Bedrooms
Accra, Greater Accra, Ghana
We have 1 bedroom with a private hall available for your comfort, security, freedom and relaxation in Accra
This is a chamber and hall self contained separately located in a big house. Sitting room, bedroom, toilet and bath with your own entrance.
David is a very nice host and always ready to help out. While the room he was renting out was not directly available, he managed to find me temporary accommodation for the first 2 nights. After that I was able to move into the room and have my personal space until the end of the time I made the reservation.
Michiel
2016-03-28T00:00:00Z
David is very helpful.I enjoyed staying his place. Actually I could not stay where I suppose to stay,But I stayed nicer place than I booked. I would like to stay his place (URL HIDDEN) was very nice.
Naomi
2016-05-21T00:00:00Z
I made the reservation for the Airbnb property that I selected and I received an immediate response. Upon arrival I was greeted by the host David and he showed me around the facility. The facility is very nice and you have the opportunity to select your room. It was nice and clean and had refrigeration. It is in an excellent location and I was also given a tour of the area. It is approximately two blocks away from the main road and taxis and tro tros run every three to five minutes. There are also restaurants and convenience stores in walking distance. Also, you are only fifteen minutes away from the airport. I have plans of returning to the facility whenever I am visiting Ghana.
Khameelah
2016-01-14T00:00:00Z
Room Type
Private room
---
Property Type
Apartment
---
Accommodates
2
---
Bedrooms
Accra, Greater Accra, Ghana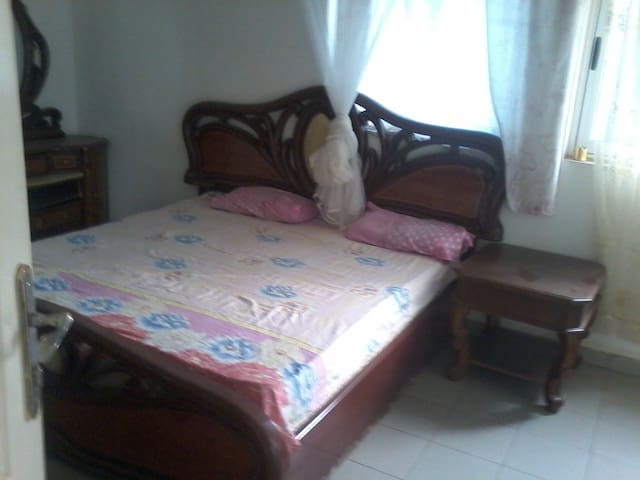 8 units 1 bedroom ultra mordern fully furnished apartments for (URL HIDDEN) in a residential area with 24/7 security.About 20mins from the (URL HIDDEN) road access to town.
Room Type
Private room
---
Property Type
Apartment
---
Accommodates
1
---
Bedrooms
Accra, Greater Accra Region, Ghana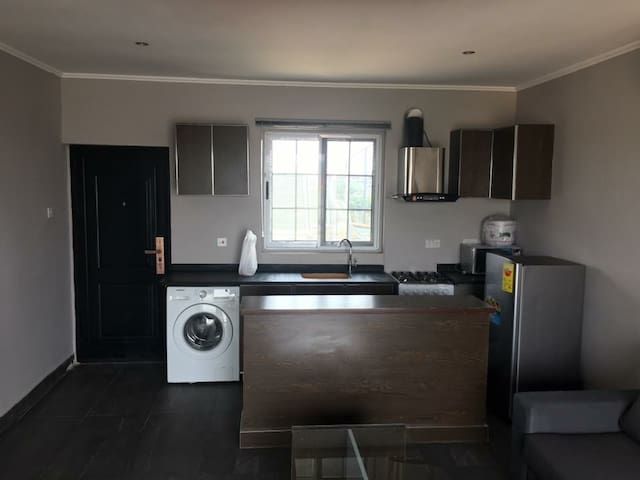 This luxury unit is located on the Fourth floor of The Gallery Condominium, a contemporary apartment condo; a Winner of "Best Apartments - Africa" at the 2015 International Property Awards. Situated @ City Centre of Accra (seven mins drive from the Airport, and five mins drive from Accra Mall). Residents enjoy stylish interiors and hotel like facilities including a gym, concierge reception, swimming pool, 24hrs Security/CCTV.
Open-plan studio with ensuite bathroom Fully equipped kitchen Light, stylish interiors with balcony windows Balcony with outdoor furniture
Located at Tetteh Quarshie, The Gallery Condominium is perfectly situated for accessing the best of Accra's business amenities, retail options, restaurants and night life. NEARBY LANDMARKS: Tetteh Quarshie Interchange (500m) Accra Mall (600m) Kotoka Airport (1.5 km) Airport City (1.5 km) Osu/Oxford Street (3.0 km)
Room Type
Private room
---
Property Type
Apartment
---
Accommodates
2
---
Bedrooms
Accra, Greater Accra Region, Ghana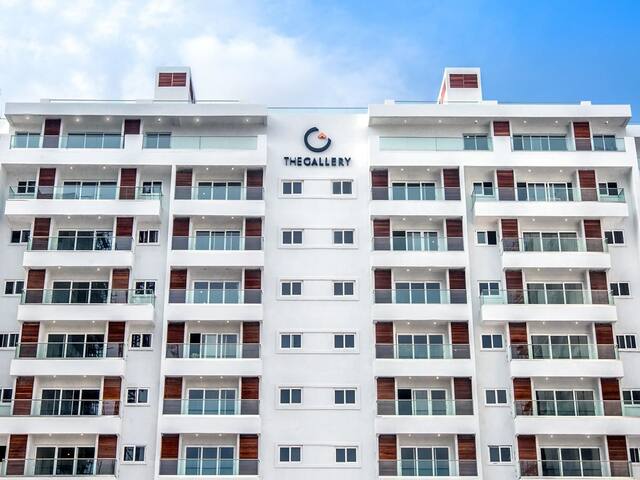 My place is close to the Accra mall, A & C mall and other "hot spots" (restaurants, hospitals, schools and banks) in the East Legon area. Other nearby Landmarks: Tetteh Quarshie Interchange (500m) Accra Mall (700m) Kotoka Airport (1.5km)Airport City (1.5km) Osu / Oxford Street (3.0km) You'll love my place because of the coziness, the views, and the location. My place is good for couples, solo adventurers, and business travelers.
The East Legon area where the Gallery is situated is teeming with good restaurants, bars, and Banks. There are also spa's/massage parlors that are no more than 15 minutes away from the Gallery.
I highly recommend Aheni's place. It was clean, safe and efficient. Her communication before and during our stay was superb. It was perfect.
Madame
2017-04-10T00:00:00Z
The location is excellent and central to most places in Accra. Aheni was very flexible with the check in and checkout times. Will stay here again and also recommend to anyone.
Emmanuel
2017-03-23T00:00:00Z
Aheni is a great host.... she responded to all my enquiries promptly and was flexible with my requests...(I made a bit of changes on my booking). The apartment is clean, the location was good for me since I was attending a seminar near the airport. I never had a chance to use the facilities on site... the pool, etc.... but everything looked just as described. I will definitely stay here on my next trip to Accra.
loise
2017-04-05T00:00:00Z
Great location for work / business / social balance.
Joseph
2017-03-19T00:00:00Z
The flat is a small but cosy studio. Perfect for a couple or a business trip. It has all comforts: AC, microwave, washing machine, oven, cooker, fridge with freezer, digital TV with many channels, balcony. The building complex is very save and well guarded and equipped with a wonderful rooftop pool and a gym. The rooftop has a great view on the city. The buildings and the flat itself are completely new and an underground parking for your car. The location is near Accra Mall and quite close to the airport, that means it's close to the city Centre and to everything what you need. Aheni is simply great, always available for every need, at you arrival you'll find also some water and other small things you might need during your stay. Internet connection available too. Absolutely suggested to anybody who wants to stay in a wonderful place without spending too much!
Stefano
2017-04-01T00:00:00Z
Room Type
Entire home/apt
---
Property Type
Apartment
---
Accommodates
2
---
Bedrooms
Greater Accra Region, Greater Accra Region, Ghana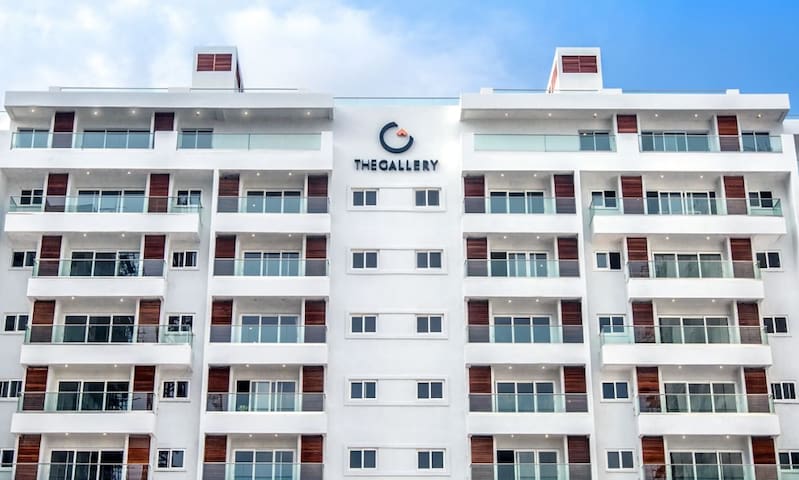 1

–

18

of

123 Apartment Rentals
Enter dates to see full pricing. Additional fees apply. Taxes may be added.