Mein Appartement umfasst ein Wohnzimmer, Küche, Schlafzimmer und Bad sowie einen Balkon in Richtung der ruhigen Anliegerstraße und liegt im 3. Obergeschoss im Herzen Europas größtem zusammenhängendem Jugenstilviertel.
60 sqm flat including living room, sleeping room, kitchen, bathroom, terrace.
Das Viertel bietet in fussläufiger Umgebung einige Lokale, Cafés, Restaurants und Bars. Zudem lädt der Stadtteil durch seine tolle Architektur zum Spaziergang ein. Weiterhin ist in 10-15 Minuten Fussweg das Chemnitzer Stadtzentrum erreicht.
Once again a lovely stay.
Andre
2016-01-16T00:00:00Z
Such a comfortable place to feel home-like. I enjoyed my stay a lot!
Marleen
2017-02-05T00:00:00Z
This is a fantastic apartment in a very nice part of Chemnitz. Everything in the apartment is new/refurbished and there is a nice cosy feel in all rooms. If you intend to stay in Chemnitz through Airbnb this is a highly recommended place for accommodation. And Alexander is a great guy!
Niels
2016-05-27T00:00:00Z
Very good location and condition
Jolanta
2016-10-11T00:00:00Z
Everything about my stay was perfect, Alexander was a great host and the apartment was flawless. The location was great and hosts very helpful.
Andre
2015-11-07T00:00:00Z
This apartment was everything we hoped for and more. It was just like the pictures and was really clean and very welcoming. The building it is in is also beautiful and well maintained. We enjoyed every minute in the apartment and we highly recommend it. The apartment is perfect for up to 4 people. And when it is said, is Alexander May (we ended up calling him Alex) really sweet, flexible and very helpful. Although we arrived very late, we were welcomed with open arms, and shown around the apartment. Thanks Alex. We will definitely come again if we visit the area.
Ulrik
2016-07-17T00:00:00Z
A perfect experience, once again.
Andre
2016-01-30T00:00:00Z
Alexander's flat is a great way to stay in a beautiful part of Chemnitz. The Kassberg region is only 15 minutes walk from the centre, made up of a individually styled houses and villas and with plenty of shops and places to meet. It gives you a feel of the more grand history of the town and a glimpse into a lively, charming town of the future. ... and Alexander is a great host!
Thomas
2017-04-10T00:00:00Z
Room Type
Entire home/apt
---
Property Type
Apartment
---
Accommodates
3
---
Bedrooms
Chemnitz, Sachsen, Germany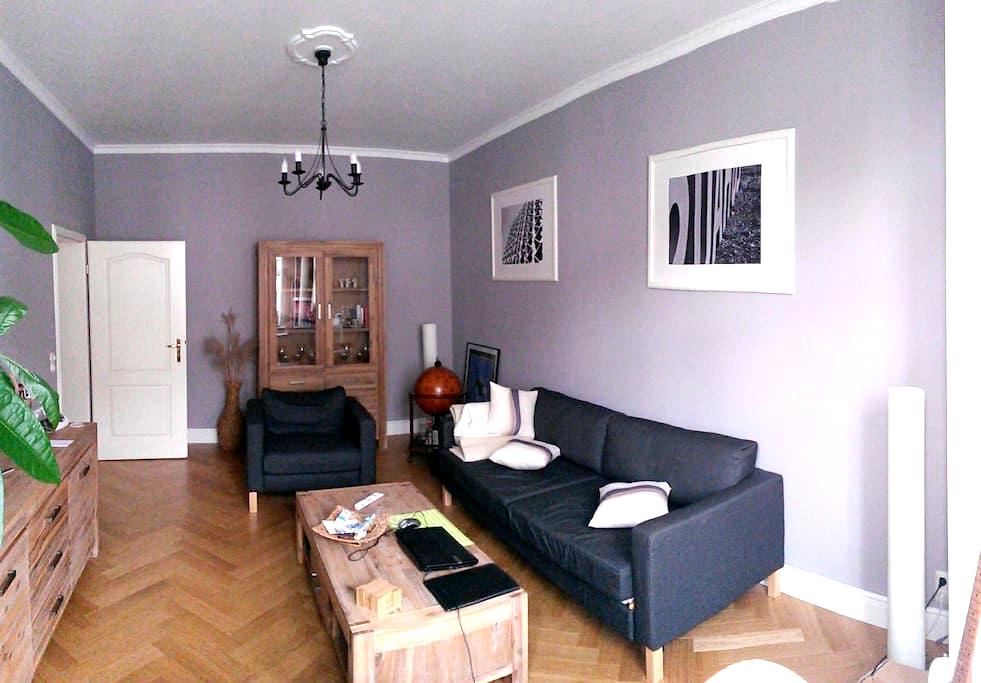 Die komplett neu eingerichtete, geräumige Wohnung liegt in einer ruhigen, von viel Grün geprägten Gegend in Chemnitz-Glösa. Sie bietet eine vollausgestattete Küche, Wohn- und Schlafzimmer, ein großzügiges Tageslichtbad und eine Veranda.
Die komplett neu eingerichtete, geräumige Hochparterre-Wohnung liegt in einer ruhigen, von viel Grün geprägten Gegend in Chemnitz-Glösa. Sie bietet eine vollausgestattete Küche, Wohn- und Schlafzimmer, ein Tageslichtbad und eine Veranda. Im Wohnzimmer steht für einen dritten Gast eine komfortable Schlafcouch bereit. Eltern mit Keinkind stellen wir gern kostenfrei ein Kinderbett zur Verfügung. Im Tageslichtbad gibt es Wanne und Dusche. Die Toilette ist abgetrennt. Ein Autostellplatz ist direkt vorm Haus vorhanden.
One of the best places we've ever stayed. The accommodations were larger than we expected and the hosts were incredibly nice! Everything is very modern and clean on the inside and the gardening on the outside was lovely!
Erin
2016-09-12T00:00:00Z
Sehr tolle Gastgeberin - sauber, freundlich und immer für Fragen verfügbar - sehr empfehlenswert!
Alexander
2017-02-17T00:00:00Z
Es ist eine wunderschöne Wohnung mit sehr netten und freundlichen Vermietern. Ich kann diese Wohnung nur weiterempfehlen wenn man sich Chemnitz und Umgebung anschauen möchte.
Jan
2016-06-27T00:00:00Z
Super Übernachtung bei Kristine. Die Wohnung ist so gut ausgestattet, dass mann sich während eines kurzen Urlaubs und besonders eines langen Urlaubs sehr wohl fühlt. Kristine und Ihr Mann sind liebevoll und exzellente Gastgeber. Die Wohnung ist schöner und größer als auf den Foto. Also, kurz gefasst, nix wie hin und super Urlaub.
Laurent
2016-08-30T00:00:00Z
Es war ein sehr schöner Aufenthalt! Alle Bilder waren genau so vorgestellt wie wir es vorgefunden haben. Die Wohnung war hell und sehr sauber! Kristine hat uns sogar Trinken und selbst gemachte Marmelade zur Verfügung gestellt! Die Lage sehr ruhig ! Wir waren begeistert!
Sabrina
2016-10-12T00:00:00Z
In Wirklichkeit ist die Wohnung noch viel schöner als in der Beschreibung! Das Mobiliar ist neu und man hat viel Platz. Die Gastgeber sind sehr freundlich und zuvorkommend. In direkter Nachbarschaft befindet sich eine wirklich gute Eisdiele.
Janina
2016-06-06T00:00:00Z
Große Überraschung: So eine FeWo hatten wir noch nie. 5-Sterne-Plus. Und dazu noch ein Top-Garten wie aus der Gartenbauausstellung. Absolut ruhige Lage, aber dennoch zentral, alles mit dem Auto zu erreichen. Absolut nette Gastgeber. Die Insidertipps waren Gold wert. Wir kommen auf jeden Fall wieder!
Carola
2016-08-17T00:00:00Z
Kristine war einfach die perfekte Gastgeberin. Genau so stelle ich mir einen perfekten Aufenthalt über Airbnb vor. Zusätzlich zu dem schönen Aufenthalt und der super Betreuung durch Kristine hat Sie sich sogar die Zeit genommen und mich bei meiner Ankunft am Bahnhof persönlich abgeholt. Absolut zum weiterempfehlen! Ich würde jederzeit wieder bei Kristine buchen.
Christian
2016-11-18T00:00:00Z
Room Type
Entire home/apt
---
Property Type
Apartment
---
Accommodates
3
---
Bedrooms
Chemnitz, Sachsen, Germany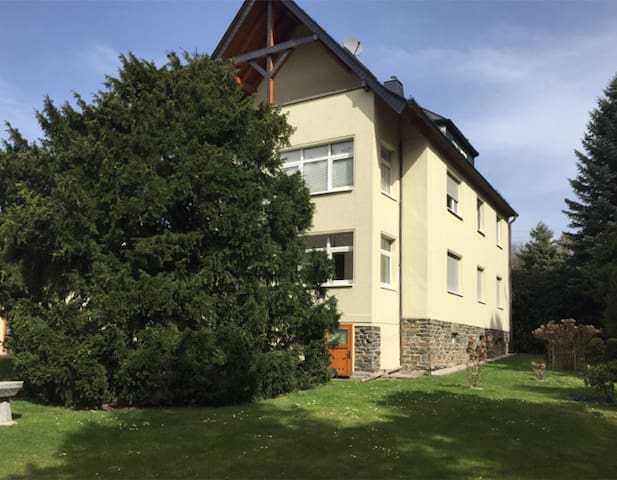 Nur 5 Minuten Fußweg vom Bahnhof entfernt liegt meine Wohnung direkt auf dem Brühl. Die Uni, die Chemnitzer Innenstadt, der Schloßteich sind zu Fuß erreichbar. Du hast ein eigenes Zimmer und nutzt Bad und Küche mit mir gemeinsam.
Die Unterkunft im 2. Stock einer Altbauwohnung ist sehr zentral gelegen und hat den Hauptbahnhof, den Busbahnhof und diverse Haltestellen öffentlicher Verkehrsmittel in unmittelbarer Nähe. Sie kann von 1-2 Personen, evtl. zuzüglich Kindern genutzt werden. Das Bett (140 cm breit) ist ausreichend für 2 Personen, die sich mögen und bei Bedarf kann ich auch noch eine Luftmatratze (130 cm breit) zur Verfügung stellen. Es gibt in der Wohnung ein Haustier: einen Kanarienvogel.
In unmittelbarer Nähe gibt es ein Restaurant und einen Supermarkt (mit großem Parkplatz). Gern erkläre ich Dir auch die wichtigsten Sehenswürdigkeiten von Chemnitz oder helfe Dir bei der Planung Deiner Unternehmungen.
Dagmar is very helpful and enthusiasm. She was waiting for me at the bus station. Btw the apartment is right beside the central bus station and Hauptbahnhof. The room is very cozy and comfortable. Everything was perfect except one little thing - it suddenly ran out of hot water when I was in the middle of the bath. Still it was a happy stay.
yuanyuan
2016-03-01T00:00:00Z
I truly recommend Dagmar's room. It was clean and nice. Dagmar is also very friendly, helpful and cheerful person. She helped me a lot with baggage and with parking my motorcycle! Thank you!
Michał
2015-07-30T00:00:00Z
Dagmar is a very friendly person who tries her best you feel at home in her place. The place is an old building but the apartment is very well maintained and feels warm and cozy. She is quite attentive in keeping your accompany if you like or leave you alone if you prefer. I had an excellent time there with a very friendly hostess. For sure I will come back again someday.
Mohammad
2015-08-08T00:00:00Z
Dagmar was so lovely and hospitable. Really kind and a great clean and spacious place to stay
Jaslyn
2015-04-20T00:00:00Z
Dagmar is a very nice friendly Host! My room was clean and the bed very comfortable! Thank you a lot :) I can just recommend Dagmars place, also because its very close to the city center and the bus station. Regards, Nils
Nils
2014-08-31T00:00:00Z
It was a lovely stay.
Youssef
2017-02-24T00:00:00Z
Dagmar hosted me for one night at her really beautiful flat. Everything is really pretty furnished, in my opinion the room is way better than it looks on the pictures. Dagmar is a truly welcoming host. Do you know those people you feel a good vibe with from the very first moment? Dagmar is one of those. Go there and enjoy Chemnitz!
Chris
2016-02-09T00:00:00Z
Everything was perfect.
Silvio
2015-10-04T00:00:00Z
Room Type
Private room
---
Property Type
Apartment
---
Accommodates
2
---
Bedrooms
Chemnitz, Saxony, Germany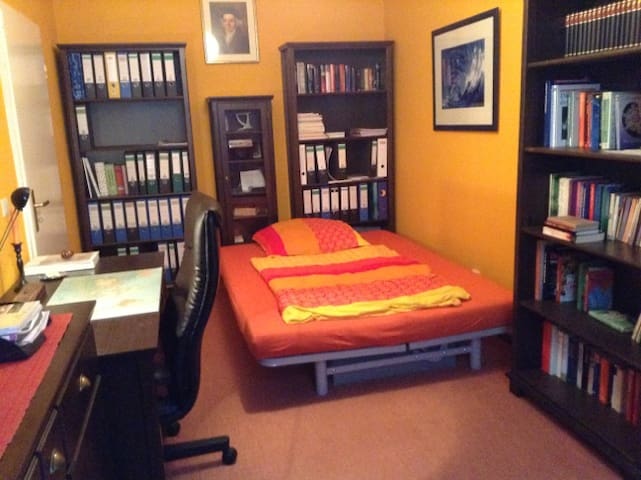 Auf Streifzug durch die schöne Karl-Marx-Stadt?  Auf der Suche nach einem gemütlichen,  zentralen Rückzugsort?  Hier werdet ihr euch wohlfühlen - versprochen! Willkommen in Chemnitz :)
Die Unterkunft ist im Industrial-Stil gehalten und modern eingerichtet.  Es handelt sich um ein gut-ausgestattetes Einraum-Studioapartment mit Balkon. Im stilvollen Schlaf- und Wohnzimmer befindet sich eine Chill-Ecke,  die zum Entspannen und zum Schlafen für bis zu 2 Personen dient. Direkt nebenan befindet sich der Esstisch. Das Studio ist auch multimediatechnisch gut ausgestattet: Hier finden sich Kabelfernsehen,  Bose-Soundsystem und Radio. Wer sich Frühstück oder Snacks zubereiten möchte,  findet in der Küche von Kühlschrank und Herdplatte,  Ofen,  Toaster bis hin zu Wasserkocher und Mikrowelle alles,  was das Herz begehrt. Instant-Kaffee liegt bereit und kann gerne verwendet werden,  Besteck und Teller gibt es natürlich auch. Außerdem gibt es einen Balkon,  auf dem es sich bei gutem Wetter toll frühstücken lässt.  Hier darf außerdem geraucht werden,  die Wohnung selbst ist bitte rauchfrei zu lassen :) Zum Studio gehört natürliches auch ein helles und sauberes Bad mit Dusche.
Im Haus wohnen offene,  hilfsbereite Leute.  Das Viertel ist vom typischen Arbeiterviertel-Stil gekennzeichnet. Die Wohnung befindet sich im zentralen Reitbahnviertel mit fußläufigem Zugang zur Innenstadt mit Bars,  Restaurants,  Cafés,  Bäckern und Banken. In unmittelbarer Umgebung befinden sich zudem auch ein Kino,  die Einkaufspassage "Roter Turm"  sowie eine Post.
Great living room light system :-) Ingenious!
Cristian
2016-12-12T00:00:00Z
Thanks David. A great place to stay right in the heart of the city. Clean and confortable.
Andrew
2016-07-03T00:00:00Z
David's apartment is a great place from which to explore Chemnitz: it's clean, accessible, easy to find and comfortable for one person to stay in for a day or more. David was helpful when we met at the beginning of the stay and his listing was accurate on every front. I can only recommend David's place for future visitors.
Chase
2016-09-23T00:00:00Z
The apartment was nicely furnished and clean. The location was in a nice neighborhood and the building was quiet. It was located just 3 blocks from the central bus lines, which was very convenient. The downtown area was just a few blocks further away, with lots of stores and restaurants. There was no internet access for the apartment, but wi-fi could be accessed at some of the nearby restaurants/cafes.
Karen
2016-04-08T00:00:00Z
The apartment is very cosy, well decorated and clean. The location in Chemnitz is perfect- a walk away from the city centre and public transport.
Karolina
2016-12-02T00:00:00Z
The host canceled this reservation the day before arrival. This is an automated posting.
Leonie
2016-07-08T00:00:00Z
Everything as described. Easy communication and quick response. Looking forward to stay hover at David's place again.
Matthias
2016-12-25T00:00:00Z
Die Wohnung war sauber und sehr ordentlich. David war stets erreichbar, wenn ich Fragen hatte. Ferner war er freundlich und hat dafuer gesorgt, dass ich mich wohlfuehlte. Die Wohnung liegt sehr zentral in der Innenstadt, d.h. die Innenstadt ist fusslaeufig erreichbar. Wenn ich wieder einmal in Chemnitz uebernachten werde, werde ich mit Sicherheit David's Angebot in Anspruch nehmen. Vielen Dank noch einmal an dieser Stelle an David.
Daniel
2015-12-25T00:00:00Z
Room Type
Entire home/apt
---
Property Type
Apartment
---
Accommodates
2
---
Bedrooms
Chemnitz, SN, Germany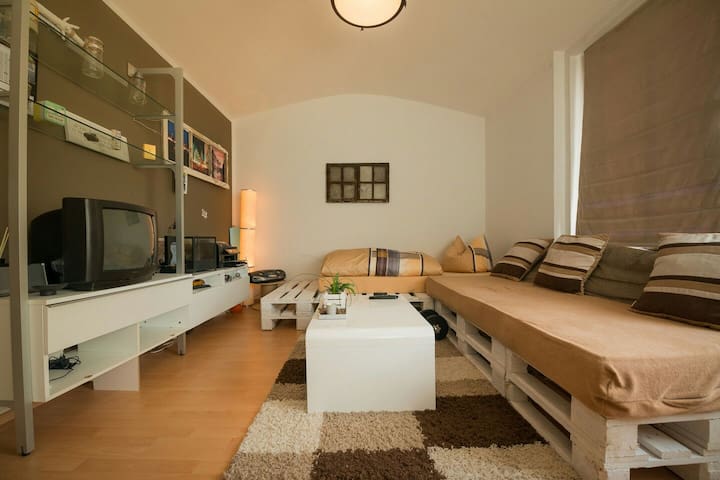 This is the small bedroom of a newly renovated three bedroom apartment with hardwood floors throughout in the 2nd story of the former trainstation "Chemnitz-Borna".
Furnished private room with desk in a shared apartment. TV in room with a couple hundred satalite channels in many languages.
Even with the train this location is one of the quietest and calmest in Chemnitz. There is zero street noise because we are not on a street. Instead, we are surrounded by gardens and forest.
Very nice host, very relaxed. Invited me to a cookout with friends. Would certainly recommend.
Daniel
2014-05-22T00:00:00Z
War alles I.O.
Michael
2017-03-03T00:00:00Z
Perfect place to stay, peaceful, calm and clean. All necessary things are available in this house. Nice flatmate and really practical to reach Chemnitz train station. 100% privacy :). I had relaxed time staying at this place.
Ghulam
2016-08-13T00:00:00Z
He is a very nice guy, he always communicate even when he was not around. I will love to stay in his facility again when next am in Chemnitz
Lawrence
2016-08-06T00:00:00Z
Das einsame Bahnhofshäuschen außerhalb in der Natur hat seinen Reiz, ist drinnen durchaus komfortabel eingerichtet und verfügt über einen netten Vermieter und Bewohner. Meine Tipps: Badeteich ca. 1 Stat. entfernt, Fahrpläne v.a. am Abend checken! Insg. gutes Preis/Leitungs-Verhältnis.
New
2014-07-24T00:00:00Z
Gerrit ist ein netter Mann, Sein ehemaliger Bahnhof ist zwar noch nicht komplett fertig aber die Wohnung und die Zimmer sind Sauber und der Preis ist sehr fair! Danke Gerrit
Leo
2014-05-26T00:00:00Z
Schöne, ruhige Lage, altes saniertes Bahnhofsgebäude. Es fahren Züge vorbei, aber nur sehr selten. Die Wohnung ist sehr sauber und das Zimmer geräumig. Alles gut und unkompliziert.
Christophe
2014-05-21T00:00:00Z
Klasse Unterkunft in einem liebevoll sanierten Bahnhofsgebäude. Vorort - Züge fahren nur noch selten vorbei. Jede Stunde gute Anbindung an das Chemnitzer Stadtzentrum. Wohnung ist neu saniert. Danke dem freundlichen Gastgeber.
Sven
2014-04-02T00:00:00Z
Room Type
Private room
---
Property Type
Apartment
---
Accommodates
1
---
Bedrooms
Chemnitz, Saxony, Germany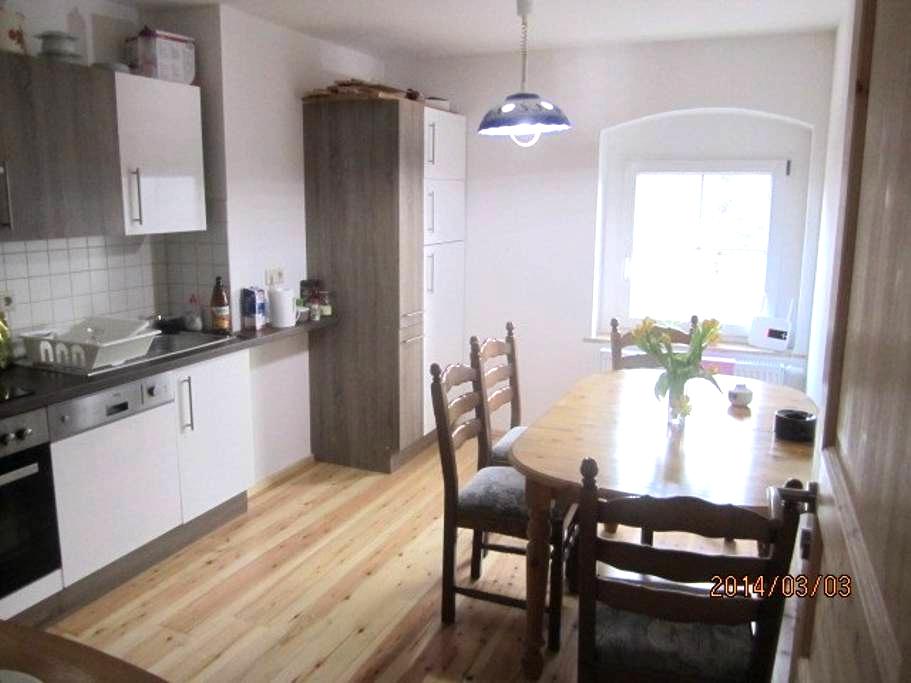 Die Ferienwohnung liegt im Stadtteil Bernsdorf in der Nähe der Universität in einer wunderschönen, ruhigen Seitenstraße. In der Umgebung gibt es viel Grün und das Stadtzentrum kann mit der Straßenbahn, die 3 min entfernt liegt, innerhalb von 5 min erreicht werden. Auch Supermarkt, Bäcker und Fleischer befinden sich in unmittelbarer Nähe. Die Wohnung eignet sich besonders für Familien mit zwei Kindern, die auf dem ausziehbaren Sofa schlafen können. Die TU Chemnitz befindet sich ca. 600 m entfernt
Florian has been extremely nice and helpful. He came to the station to pick us up! The house is very nice, although it is not suitable for more than 2 hosts. It is near to the university campus.
Marcello
2016-10-08T00:00:00Z
The host is so nice person!! He picked up us and helped so many things. The flat was very cozy and comfortable. Kitchen is compact. We recommend on this flat!!
Kyungjae
2016-11-20T00:00:00Z
I was very happy in Florian's apartment. Very well equipped with everything one needs for a pleasant stay. And Florian was a great host, from the check-in till my departure. I heartily recommend Florian's place to anyone coming to Chemnitz.
Ivica
2017-02-24T00:00:00Z
I am sorry to say that the place was very dirty and smiley and we had to leave after 15 minutes, we had to drive 200 KM to go back to the nice clean place we stayed the day before. The Host should keep the bed at least clean, we are human not Animals.
Hamdy
2017-03-27T00:00:00Z
Alles super, Florian hat mich nett empfangen und ist ein entspannter Gastgeber.Das Zimmer ist genauso wie abgebildet. Die Wohnung ist sehr schön groß und ist perfekt gelegen . :)
Qianwen
2016-09-22T00:00:00Z
Schöne Wohnung, Nähe TU Chemnitz.
Sigrid
2016-10-03T00:00:00Z
Wir suchten eine Unterkunft in Uni Nähe, um dort an einer Tagung teilzunehmen und Florians Wohnung liegt ganz in der Nähe. Die Uni ist fußläufig erreichbar, die Wohung liegt in einer ruhigen Straße und ist perfekt eingerichtet. Florian ist ein unkomplizierter und aufmerksamer Vermieter. Chemnitz hat einen bleibenden Eindruck hinterlassen.
Monika
2016-09-19T00:00:00Z
Sehr gut ausgestattete, schlicht eingerichtete Wohnung. War ein sehr angenehmer Aufenthalt. Wir waren zu 4. dort, dadurch haben sich zwei von uns ein Ecksofa geteilt. Für uns kein Problem, aber dessen muss man sich bewusst sein. Super, dass auch die Umbuchung komplett unproblematisch möglich war. Gerne wieder!
Reinhard
2017-03-30T00:00:00Z
Room Type
Entire home/apt
---
Property Type
Apartment
---
Accommodates
4
---
Bedrooms
Chemnitz, Sachsen, Germany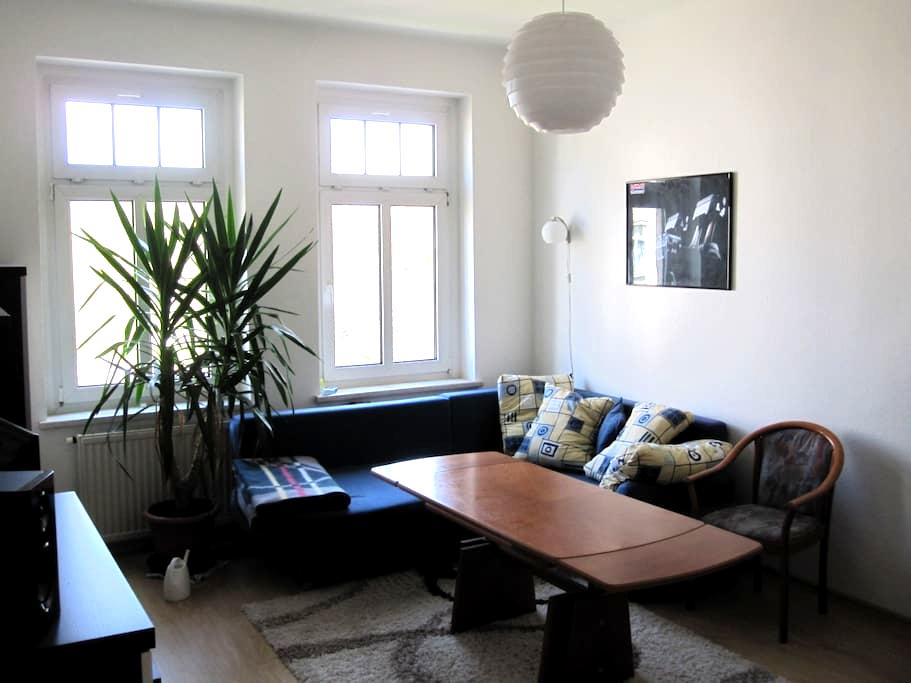 Neu sanierte Gästewohnung am schönen Schlossteich. Zentral und ruhig gelegen!
Great place very good location - everything went well . Can highly recommend
Gunther
2016-07-19T00:00:00Z
We came to Chemnitz to visit Chemnitzer Linux Tage and stayed at Tilo's apparment for three days. The appratment is good and clean. Almost all necessary is available. But there is an additional charge for bed-linen and towels - this charge is paid in cash at check-in. Free Wi-Fi wasn't on the list. But as concierge said that Wi-Fi from Tilo's restaurant at the ground floor is available in some rooms. We were lucky to have Wi-Fi. Special respect for very strong password for Wi-Fi!
Andrei
2016-03-22T00:00:00Z
Tilo hat uns sehr herzlich empfangen und uns alles wichtige zu unserer Unterkunft erklärt. Die Wohnung liegt sehr zentral und viele Anlaufpunkte der Stadt sind innerhalb von 10 bis 15 min gut zu Fuß erreichbar. Wir haben das Wochenende in Chemnitz sehr genossen. Gerne wieder.
Marius
2016-03-09T00:00:00Z
Das Zimmer war sauber und ordentlich. Für ein paar Nächte lässt es sich dort sehr gut aushalten :)
Theresa
2017-01-07T00:00:00Z
Jederzeit wieder. Gute Kommunikation!
Thomas
2017-03-24T00:00:00Z
Unterkunft war super und wie beschrieben. Alles sehr sauber gewesen. Die Concierge im Haus war sehr freundlich. Sie zeigte und kümmerte sich um alles und war offen für alle Fragen. Die Wohnung ist sehr zentral gelegen. Der Schlossteich lädt zum Spazieren und Verweilen ein. In 10' ist man im Stadtzentrum. Wir kommen gerne wieder.
Katrin
2016-08-18T00:00:00Z
Wir hatten ein tolles Wochenende in Tilos Wohnung. Tilo war sehr nett und zuvorkommend, die Wohnung klasse gelegen, ruhig und gemütlich. Und einen langen Tag zu Fuß könnten wir bei sehr leckerem Essen in Tilos Restaurant im gleichen Haus perfekt ausklingen lassen. Also: sehr zu empfehlen!
Urs
2016-02-29T00:00:00Z
Wir waren bereits zum dritten mal Gäste in der Promenadenstraße. Es hat, wie immer, alles perfekt geklappt. Die Wohnung ist ideal für ein paar ruhige selfmade Tage in Chemnitz. Die Wohnung ist sauber und mit allem wichtigen Elementen ausgestattet. Kann also definitv weiter empfohlen werden...ich freu mich auf den nächsten Besuch...eine Gute Zeit wünsche ich...
Christian
2016-07-25T00:00:00Z
Room Type
Entire home/apt
---
Property Type
Apartment
---
Accommodates
2
---
Bedrooms
Chemnitz, Sachsen, Germany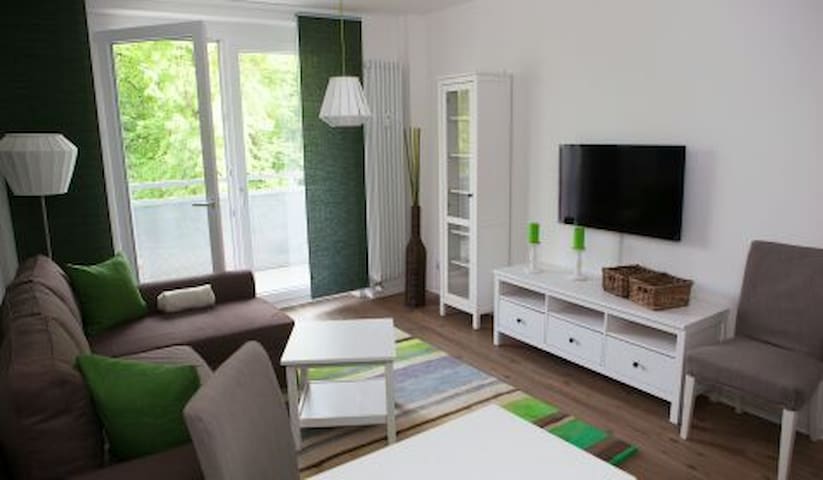 FEWO in Chemnitz, Nähe Zentrum, für 2 Personen, Küche komplett mit Kaffeemaschine, Kühlschrank, Herd und Mikrowelle. Schlafzimmer mit Doppelbett 160x200. Bad mit Dusche und Wanne. Kosten für die Übern. 50 € pro Nacht inkl. Handtücher, Bettwäsche, Strom, Wasser und Energie.
Separate Wohnung
As mentioned before in German and English. Very nice house! All facilities that you need are available. Bathroom with shower and bathtub Spacious appartment with nice livingroom. Close to the city center Max. 10 minutes walk. Restaurants and small shops in the street. The tendant is very friendly and helps with anything that you need
Manon
2016-02-29T00:00:00Z
A beautiful and warm appartment in great location. Only 10 minutes walking to the city center. Comfortable beds. Well equipped kitchen. Nice hostess willing to help. I would recommend it to other travelers.
Aleksandra
2017-01-28T00:00:00Z
We had a great stay. The apartment is incredibly clean and really cozy, it is located in a really cool area just 5 minutes away from the Central Station and the bus station. Annett is a good host and made sure everything worked out.
simone
2015-08-03T00:00:00Z
Sehr schönes apartement. Beautiful apartment, big bathroom (bath and shower!) Nice kitchen woth a bar. More then enough space and facilities
Manon
2015-11-01T00:00:00Z
Mein Freund und ich haben eine Nacht und er Unterkunft verbracht und können diese absolut weiterempfehlen. Es war sehr sauber und die Einrichtung geschmackvoll. Alles wichtigen Utensilien waren da und es hat uns an nichts gefehlt. Tolle Wohnung - wir kommen gerne wieder!
Lena
2016-10-03T00:00:00Z
Sehr schönes wohnung mit alle Zubehör. (Kuche mit Backofen und Mikrowellen, handtuchen, Bettwäsche, Kaffeemaschine etc.) Zentral situiert, nur 10 minuten laufen von stadtzentrum Chemnitz und der hauptbahnhof. Wohnung und badezimmer sind weit. (Bad und Dusche). Ein brotbäcker, BuchGeschäft, Nagelstudio und Sonnebank studio in der strasse. Auch ein paar restaurants. (Frühstück und lunch restaurant um die ecke) Der Vermieter ist sehr freundlich und hilft wann nötig und beantwortert all deine fragen. Really nice and spacious residence. Only 10 minuten walk from the citycenter and main trainstation. Bathroom with Bath and shower Kitchen equiped with oven and microwave There are restaurants and a bakery in the street as well as a small grocery shop. The tendant is friendly and helpfull and will answer any questions you have and help you if needed.
Manon
2016-02-01T00:00:00Z
Das Appartement ist super geräumig und gemütlich, die Kommunikation bestens, Annette sehr nett, und der Übernachtungskomfort sehr hoch :) ...
Matthias
2016-11-12T00:00:00Z
Annett ist eine sehr freundliche Gastgeberin und hat sich sehr nett um uns gekümmert! Die Wohnung ist sehr sauber und groß, liegt nahe dem Hauptbahnhof und man kann gut zu Fuß das Stadtzentrum erreichen. Zudem kann man in der Straße kostenlos parken und findet auch immer schnell einen Parkplatz. Man kann die Wohnung auf jeden Fall weiterempfehlen und sie eignet sich auch gut für längere Aufenthalte.
Carolin
2016-09-25T00:00:00Z
Room Type
Entire home/apt
---
Property Type
Apartment
---
Accommodates
2
---
Bedrooms
Chemnitz, Sachsen, Germany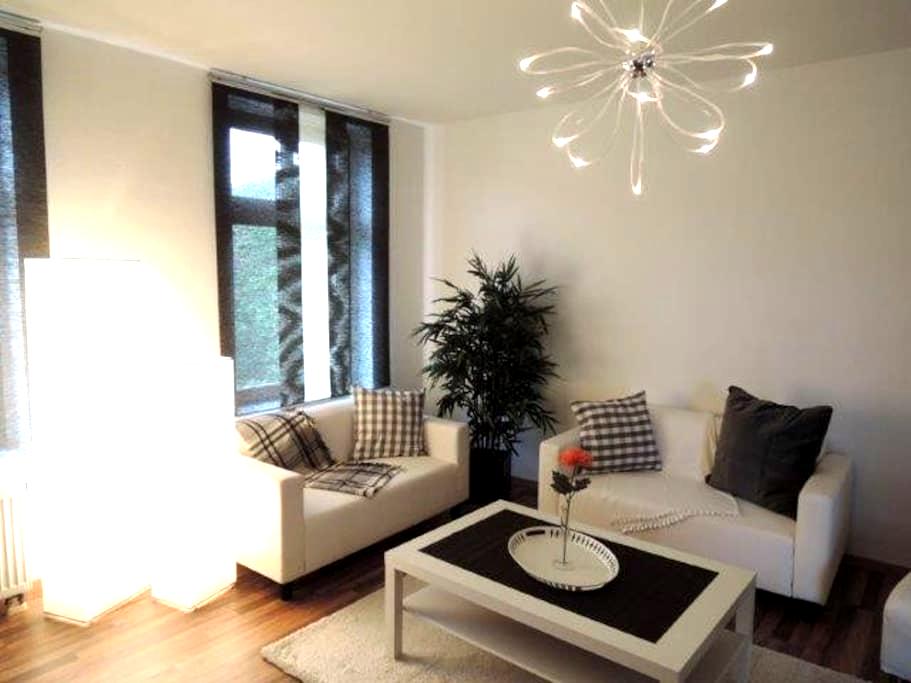 Die Wohnung befindet sich im Bereich Sonnenberg von Chemnitz. In der Nähe bietet ein großes Einkaufszentrum (SachsenAllee), sowie einige zahlreiche Läden (Lidl, Bistros, Bäcker usw.) viele Einkaufsmöglichkeiten. Auch der Hauptbahnhof ist innerhalb von 10 min per Fuß erreichbar. Eine Bushaltestelle befindet sich in unmittelbarer Nähe. Der Ausblick richtet sich auf einen kleinen Park mit Spielplatz vorm Haus. Parkmöglichkeiten sind jederzeit vor der Wohnung möglich. Auch für Unterhaltung in kleinen Bars und Kneipen ist gesorgt.
Die Wohnung ist mit dem Notwendigsten für einen entspannten Urlaub ausgestattet. Die Küche verfügt über alle wichtigen Details (Teller, Tassen, Besteck, Toaster, Kaffeemaschine, Wasserkocher usw.). Es gibt ein Schlafzimmer mit einem Doppelbett (für 2 Personen) und ein Wohnzimmer, was mit einer Schlafledercouch zum Ausziehen (für 2 Personen) ausgestattet ist. Des Weiteren gibt es ein Esstisch mit 4x Stühlen und einer kleinen Stereoanlage. Das Bad ist etwas kleiner und mit einer Dusche, Waschbecken, sowie Toilette voll eingerichtet. Im Flur findet ihr eine Standgarderobe, sowie einen Spiegel und ein kleines Tischlein mit wichtigen Utensilien (Erste-Hilfe-Set, Schuhanzieher usw.). Falls etwas Extra gewünscht wird,bitte vorher anfragen. Versuche alles zu ermöglichen.
- Einkaufsmöglichkeiten: SachsenAllee (ca. 10-15min zu Fuss)(URL HIDDEN) Lidl (ca. 5-10min zu Fuss)(URL HIDDEN) Imbisse (Döner/Chinese) (ca. 1-2min zu Fuss) - Hauptbahnhof (ca. 10min zu Fuss) - Opernhaus (ca. 10-15min zu Fuss) - Fußball-Stadion (ca. 10min zu Fuss) - Zeisigwald (ca. 10-15min zu Fuss) - Innenstadt (ca. 15-20min zu Fuss)
Wonderful host. Immediate responses, speaks English. Very thankful for adjusting dates to fit with my schedule. Place is very clean, and recently renovated. High speed WiFi. Quiet and comfy. It was a good experience and I'll definitely stay here again.
Viktor
2017-03-21T00:00:00Z
Angie ist sehr nett und hilfreich. Uns hat es wirklich gut gefallen.
Marita
2017-02-27T00:00:00Z
Alles da, was man braucht! Sogar einige Kosmetika. Sekt zur Begrüßung. Für unsere kleine Tochter Saft. Hätte nur noch Kaffeepulver gefehlt
Maria
2017-04-09T00:00:00Z
Die Wohnung sieht genauso aus wie auf den Fotos. Check in war unkompliziert und einfach. Angie als Gastgeberin war höflich, zuvorkommend und mega nett. Wir haben uns sehr wohl gefühlt. Gerne wieder. Vielen Dank für alles!! Liebe Grüße aus Stuttgart
Sabine
2017-03-30T00:00:00Z
Room Type
Entire home/apt
---
Property Type
Apartment
---
Accommodates
4
---
Bedrooms
Chemnitz, SN, Germany
Ferienwohnung in ruhiger und doch zentraler Lage. Hier findest Du Ruhe vom stressigen Alltag. Top Ausstattung - kostenloses W-Lan - Handtuchservice Große 60 m² Dachgeschosswohnung im 2 Familienhaus Bus und Bahn in unmittelbarer Nähe.
• 2 geräumige Schlafzimmer mit je einem Doppelbett 200 x 180 cm •WC/Bad mit Badewanne und Tageslichtfenster •geräumiges Wohnzimmer mit amerikanischer Küche •Leseecke mit viel Tageslicht •Küche mit Bardresen und 2 Barstühlen •Geschirrspüler •Cerankochfeld und Backofen + Mikrowelle •Kühlschrank + Tiefkühlwürfel •Toaster, Kaffeemaschine und Wasserkocher •Wohnzimmer mit separatem Essbereich •gemütliche Couch und 32" LED-TV •Stereoanlage •Balkon mit Blick ins Grüne •Neu: Waschmaschine
We very much enjoyed the apartment as it was large and comfortable with all the amenities you need. Also excellent service so we definitely would like to stay here again!
Nicole
2016-06-27T00:00:00Z
Great apartment - very comfortable and fitted out to a high standard. We loved it.
John
2016-05-06T00:00:00Z
We stayed one night but it was a super apartment and we could gladly have stayed more! If you staying in Chemnitz...choose this!
Bhavin
2016-08-04T00:00:00Z
Me and wife stayed at Antje,s place , first of all the lady is great and we was late to get to that place but she was waiting for us i am really thankful for that for her . Nice and lovely house and every thing was perfect . we did had a really lovely time would recommend to every one . Even when we were leaving the place she was wake up for us early in the morning to say good bye . i thank her one more time
Ali
2015-11-28T00:00:00Z
Antje's place is beautifully presented. It has everything you need. We felt very welcome and were able to sit back and relax. We would highly recommend this place.
Elizabeth
2017-03-29T00:00:00Z
We had a great stay at Antje's place. A lovely flat in a great location.
Steve
2017-02-26T00:00:00Z
Wir hatten von Anfang an einen guten, unkomplizierten Kontakt. Die Übergabe der Schlüssel, das Angebot einen privaten Parkplatz mitnutzen zu dürfen und die gut vorbereitete Übergabe der Wohnung zeigten uns, dass Gäste willkommen sind. Die Wohnung ist gut ausgestattet und läßt eigentlich nichts vermissen. Alles was man braucht findet sich in Schub und Schrank. Wir bedanken uns für die Tage die wir bei Frau Braeuer wohnen durften und kommen gern wieder.
Bernhard
2015-07-11T00:00:00Z
Positiv: * Wir wurden sehr freundlich empfangen. * Die Wohnung ist sehr schön aufgeteilt und freundlich eingerichtet. * Der Parkplatz am Haus ist auch vorteilhaft * Die Nähe zum Wald für einen Spaziergang bzw. für den Hund war auch toll * WLAN hat super funktioniert Negativ: * Die Wohnung war kalt und die Heizung sprang nicht an - auch bei 12-14 Grad Außentemperatur nicht. Wir haben die Vermieterin auch darauf hingewiesen - aber hatten auch am 2. Tag das Problem. * Durch das Dachflächenfenster im Wohnzimmer zog es stark * Es könnten einige neue Gläser angeschafft werden * Die Lampe in der Küche war defekt Alles in allem eine nette Unterkunft, die nicht weit entfernt von der Stadtmitte liegt.
Detlef
2015-11-14T00:00:00Z
Room Type
Entire home/apt
---
Property Type
Apartment
---
Accommodates
4
---
Bedrooms
Chemnitz, Sachsen, Germany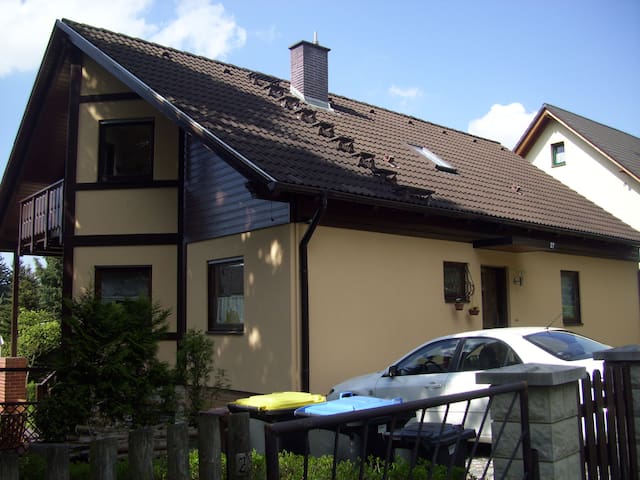 Cozy room with a bed in student apartment (free access no checking). 2 mins walking from TU Chemnitz Reichenhainer Str. and 5min walking to buses or trams. You can reach the center in 10min by tram/bus or 20min walking. Kitchen and bathroom shared with other (SENSITIVE CONTENTS HIDDEN)
Free parking slot 24hours, flexible check-in and out time, cheap price, superfriendly neighbourhood
Remember its a room in student apartment so there are other 5 students living here, who are also lovely but pls consider them during your stay.
The host canceled this reservation 4 days before arrival. This is an automated posting.
Kalaivanan
2017-03-30T00:00:00Z
Room Type
Private room
---
Property Type
Dorm
---
Accommodates
1
---
Bedrooms
Chemnitz, Sachsen, Germany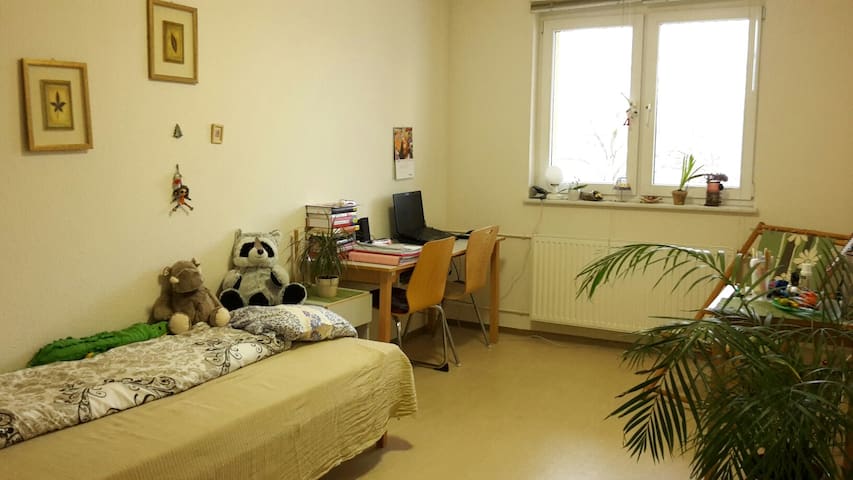 Sehr großes, modernes,gute pflegtes und stylisches Zimmer im Herzen des Zentrums und 5mim bis zu TU Chemnitz. 49 Zoll led TV mit Netflix Einzel oder Doppelt nutzbar..das Zimmer liegt in einer 2 Zimmer-Wohnung +10 m² komplette Küche + Badezimmer .
Im Zentrum ,ruhe und Großes Zimmer
Park in der nähe , schon im Zentrum von Chemnitz
Elyes was a very good host and his room is very nice; it has a private ambiente, is clean and the location is great in the middle of the centre.
Nicola
2016-04-09T00:00:00Z
it was my second visit. Sassi helps you as much as you want. highly recommend !
kiwon
2017-03-05T00:00:00Z
Elyes and his room mate were extremely welcoming and friendly. The apartment is in a great location, clean and a great bed. I would definitely recommend it to everyone.
Rochelle
2017-02-05T00:00:00Z
Just as advertised. Friendly host, excellent communication. Clean and spacious room. Good location right in the center of the city. So, if you need an inexpensive place to stay in Chemnitz, book it with confidence.
Viktor
2017-03-14T00:00:00Z
Elyes was very kind and quick to respond whenever I had a question. The room was warm and comfortable and I had a really good night sleep. I can recommend the location in Chemnitz, because it's really close to everything on foot.
Joana
2016-12-01T00:00:00Z
Nice ok very quiet.
Marios
2017-04-08T00:00:00Z
Very clean and nice. 5 Stars
Marios
2017-01-07T00:00:00Z
Good place and nice host. Accommodatimg and easy to communicate with and always replies quick.
Marija
2016-07-18T00:00:00Z
Room Type
Private room
---
Property Type
Bed & Breakfast
---
Accommodates
2
---
Bedrooms
Chemnitz, Sachsen, Germany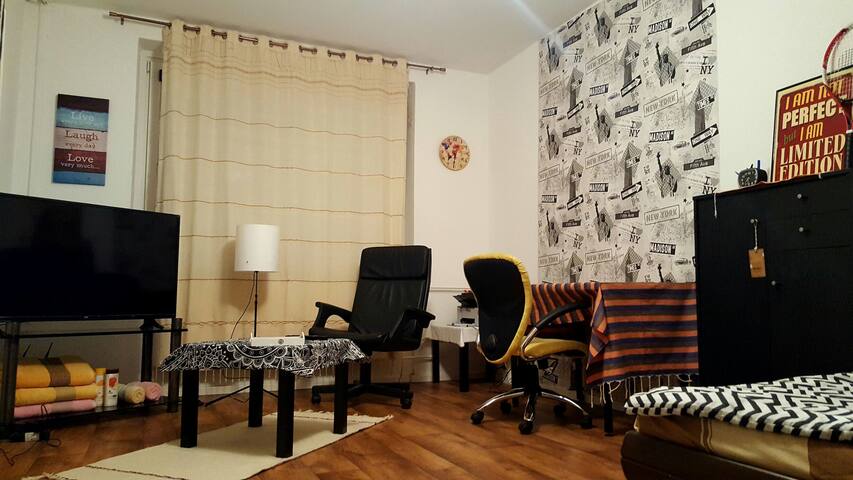 Das Zimmer ist 13 m² groß an der Nord-Ostseite. Zu Fuß sind es grade mal 10 min zur Uni, Innenstadt, Edeka oder Penny. Der Südbahnhof, von dem man schnell zum Hbf oder nach Dresden kommt, ist 5 min zu Fuß weg. Im Innenhof kann man grillen oder einfach nur entspannt sitzen.
Room Type
Private room
---
Property Type
Apartment
---
Accommodates
1
---
Bedrooms
Chemnitz, Sachsen, Germany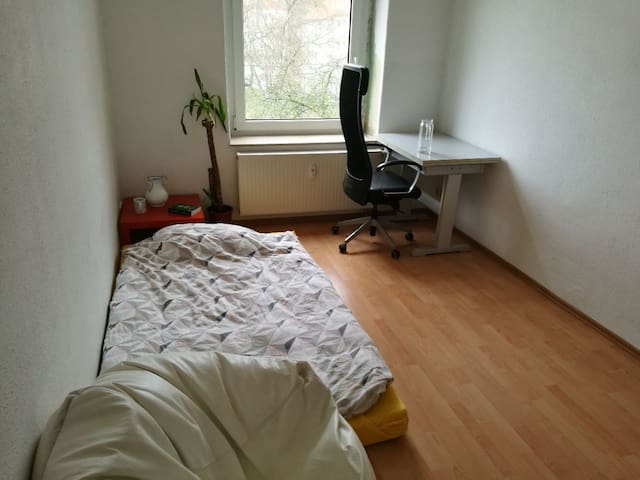 rustikales Zimmer mit Holzboden ... ... Bad in Wohnung ... Toilette 1/2 halbe Etage tiefer ... Haustiere willkommen ... geschützter Balkon ... zentru(SENSITIVE CONTENTS HIDDEN)ah (5-10min zu Fuß), Tram-/ S Bahnhaltestelle & Supermarkt vor Haustür ... Übernachtung im Hochbett ... Schlafsack und Bettzeug im Winter vorhanden, da Zimmer über keine extra Heizung verfügt
sehr urischer unsanierter Altbau ... hohe Wände, knarrender Holzboden & keine Zentralheizung, was jedoch nicht unbedingt erforderlich ist ... das Bad ist noch renovierungsbedürftig und eher nur zum Duschen geeignet, durch Vermieterwechsel aktuell ... die Außentoilette ist jedoch gemütlich ... es ist nicht das reinlichste wohnen, hat aber viel Charakter
Sascha was so nice and our stay was so comfortable :)
Bitar
2016-04-05T00:00:00Z
Simply don't go there. Absolutely dirty, I never have seen something like this in my life. The smell is something between feet and a wet dog. I can't get how is possible to rent a place like this.
Marco
2016-09-25T00:00:00Z
Sascha was helpful and welcoming.
Döme
2016-10-03T00:00:00Z
The host canceled this reservation the day before arrival. This is an automated posting.
Eike
2016-04-23T00:00:00Z
Yes, I can confirm what everyone else has already said - a fantastic host & place to stay. Cheers.
Scott
2016-08-23T00:00:00Z
Hat alles bestens geklappt! Wohnung ist schön groß und sehr nah am Unicampus Reichenhainer Straße gelegen ( 5 min.). Alles vorhanden und gemütlich, Sascha ist ein guter Gastgeber, ich komme gerne wieder.
Eike
2016-04-07T00:00:00Z
Ich war schon öfter bei Sascha und komme immer gerne wieder zu ihm. Das sagt wohl alles: Guter Gastgeber, angenehme Kommunikation, schöne Wohnung in guter Lage.
Eike
2016-10-28T00:00:00Z
Es hat alles toll geklappt und Sascha war ein sehr netter und guter Gastgeber.
Alex
2016-06-25T00:00:00Z
Room Type
Private room
---
Property Type
Apartment
---
Accommodates
4
---
Bedrooms
Chemnitz, Sachsen, Germany
Country life on the outskirt of Chemnitz and on the edge of the mountains called "Erzgebirge". There are chicken and sheep. There are tractors, the well in the house and steep floor. You will find a lot of sights and destinations near us.
Our home is situated in a small village on the outskirts of Chemnitz and on the edge of the mountains called "Erzbirge". It is a small farm with chicken, hares and sheep. Families with children are welcome, but no pet's. There is no health resort tax to pay. For the holiday flat we have remoulded the home of our grandmother in 2013/2014. The accommodations include on 50 qm a Living Room, Kitchen and Bathroom. The WC (water closet) is off the rear exit on the ground floor. The WC mentioned is exclusively used by your family.
Kleinolbersdorf is already a typical village. When you are here you cannot imagine that it belongs to Chemnitz. You can observe a lot of stars at night, in the church across you can find one of the oldest organs in Saxony. Only some kilometres away there is castle Augustusburg with ski slope, a cable railway, a farm with crude milk and so on.
Everything was as described and told. very detailed info before booking and arriving so i knew what to expet and look forward. Family was welcoming, helpful and very nice. Neighbourhood was quiet, beautiful. if i shall go for another trip in that neighbourhood, definately will stay there again
Janis
2015-03-02T00:00:00Z
We had a very comfortable stay at the farm, just 20 minutes drive from Chemnitz and a short walk from the Sternmühlental. We had a warm welcome and the appartment had everything we needed. Perfect for small families, as all equipment for children is available. We can recommend this place very much. Thank you for having us!
W.
2015-02-24T00:00:00Z
Sigrid was amazing! She was kind and very helpful explaining where we could find everything we need. The farm is beautiful, peaceful, clean and quiet. Her family that we met were very kind too. The living quarters are like a smaller cottage but very clean! I would stay here again with my family! When we arrived she offered us homemade yellow plum schnapps/liqueur that was very good! Also, fresh eggs were available for purchase daily. The whole experience was amazing. Again, I cannot emphasize how clean Sigrid's home is. Thank you Sigrid!
Christine
2016-06-27T00:00:00Z
Magical and wonderful place. I will totally recommend this place, the communication was nice, the flat is beautiful, and Sigrid was so so helpful, she help us to get brotchen even at 22.00 hours in a holiday! I will come back for sure in the near future!
Ricardo
2016-01-02T00:00:00Z
Sigrid and her family were very friendly and nice. Communication was fast and easy. The apartment was very clean and tidy. We had a very pleasant stay in a calm village. Perfect place for families with children!
Ugnė
2016-01-10T00:00:00Z
Everything was as it was written. Perfect:) Beautiful place. Sigrid is charming person. Our boys loved toys her sons. We regret that we stayed just for one night.
Anna
2016-07-09T00:00:00Z
We are more than satisfied about our stay at the farmhouse. Everything was available to almost every thinkable detail. We give a thumbs-up to our hostess and her family. The kids loved the surroundings and animals. They were allowed to use the toys and facilities at the farm. The information was well thought out and noted for us in the farm house like grocery shops etc. The location was ideal for us visit Leipzig, Chemnitz and Dresden. We would have loved to extend our stay but will definitely keep this location in mind for our next visit. To our hosts: keep up the great work
Fiona
2015-08-12T00:00:00Z
This was a fantastic place to spend some quality time with the kids. Everday we started the day simply by making a tour to say good morning to all the animals, that took us a least an hour... And the kids adored the little tour on the old tractor. Very friendly housekeepers and lovely kids. give our greetings to opa.
Kristina
2016-07-28T00:00:00Z
Room Type
Entire home/apt
---
Property Type
Condominium
---
Accommodates
6
---
Bedrooms
Chemnitz, Saxony, Germany
Wir haben ein Häuschen mitten in Chemnitz und vermieten ein gemütliches Zimmer unterm Dach. Die anderen Räume nutzen wir zusammen. Wir sind ein Ehepaar und unsere Kinder sind bereits ausgezogen. We also speak english.
Room Type
Private room
---
Property Type
House
---
Accommodates
2
---
Bedrooms
Chemnitz, Sachsen, Germany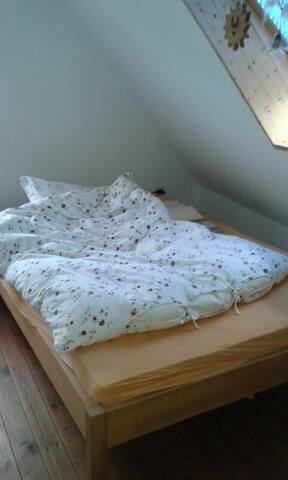 Unsere Wohnung befindet sich auf dem wunderschönen Chemnitzer Kaßberg. Diese, der Innenstadt nahegelegenen Wohngegend, gehört zu den schönsten Wohngegenden in Chemnitz und zieht vorallem junge Leute und Familien an. In unmittelbarer Nähe befinden sich diverse Restaurants, Kneipen (Schräg gegenüber der Wohnung befindet sich die "Maroon-Bar", die die besten Cocktails der Stadt macht ;) und Einkaufsmöglichkeiten (10 Minuten Fußweg zum Edeka). In der Wohnung wohnt neben meinem Freund und mir eine verkuschelte BKH Dame namens Lia, die total entspannt ist und gern mal zum Kuscheln vorbei kommt :) Du schläfst auf der gemütlichen Schlafcouch im Wohnzimmer und hast ein eigenes Bad.
Unsere Wohnung lädt mit ihrem gemütlichen Grundschnitt und den Dachschrägen zum Entspannen und Verweilen ein. Die Treppe in die obere Etage verleiht einen besonderen Flair. Die große Küche bietet viel Platz für gemütliche Mahlzeiten und Kochabende. Durch die beiden Etagen und das Gästebad, das an dein Schlafzimmer angrenzt, hast du deinen eigenen Bereich und kannst dich zurück ziehen, wenn du das möchtest :)
What a nice stay with an amazing couple, very clean room and a beautiful cat
Paul
2017-04-08T00:00:00Z
Obwohl es sich um eine sehr kurzfristige Anfrage / Unterbringung gehandelt hat, lief alles ganz reibungslos. Unkomplizierte Gastgeber!
Thomas
2017-03-17T00:00:00Z
Room Type
Shared room
---
Property Type
Apartment
---
Accommodates
1
---
Bedrooms
Chemnitz, SN, Germany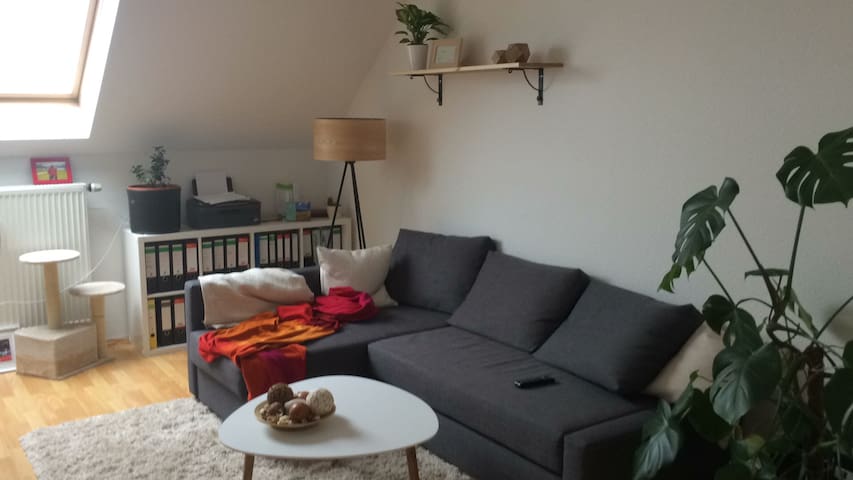 Meine Unterkunft ist in der Nähe von öffentlichem Verkehr, Restaurants und Essen und familienfreundlichen Aktivitäten. Du wirst meine Unterkunft lieben wegen dem Platz im Freien, der Umgebung mit viel Natur und dem gemütlichen Ambiente. Meine Unterkunft ist gut für Geschäftsreisende, Familien (mit Kindern) und große Gruppen.
Das gemütliche Gästehaus Euba verfügt über einen großzügigen Wohnbereich mit Kamin, Klavier und großem Esstisch, der sich direkt an die Küche anschließt. Der Zugang zur überdachten Terrasse ist ebenfalls von der voll ausgestatteten Küche möglich. Auf der unteren Etage befindet sich ebenfalls das Einzelzimmer, eine Toilette und eine Speisekammer. Alle weiteren Schlafzimmer sowie das Badezimmer sind im Obergeschoss. In einem speziell für Kinder eingerichteten Zimmer sind neben Büchern und Puzzles auch Spiele vorzufinden.
Das Haus befindet sich in einem ruhigen Wohngebiet, in welchem vor allem Familien und ältere Menschen wohnen.
House was amazing. Plenty of room. Wood stove was great. Wanda had excellent communication. Would recommend this property to anyone!
Harry
2017-01-20T00:00:00Z
War wirklich alles wunderbar! Das Haus ist toll für eine größere Gruppe! Alles total sauber und nett eingerichtet! Besonders die Terrasse mit dem Grill ist bei schönem Wetter traumhaft! Vielen Dank und gerne wieder!
David
2017-03-31T00:00:00Z
Es gab nur mega positives Feedback von unseren Mitarbeitern die bei Wanda übernachtet haben. Das war unser zweiter Aufenthalt und der dritte ist schon gebucht.
SASA Enerkom GmbH Rocco
2017-03-10T00:00:00Z
Wir hatten einen sehr angenehmen Aufenthalt. Von der Kommunikation bis zum Haus an sich war alles perfekt. Wir haben nochmal verlängert, da wir noch in der Gegend Arbeit haben und das Haus wirklich erstklassig ist.
SASA Enerkom GmbH Rocco
2017-03-03T00:00:00Z
Room Type
Entire home/apt
---
Property Type
House
---
Accommodates
7
---
Bedrooms
Chemnitz, Sachsen, Germany