Hello dear traveler of passage in the area near the capital. Whom you are for the work or the visit of the capital there. We propose you our charming studio of 18 m4. Ordered well functional bright and very quiet.
We propose you our foot on the ground every close friend of the capital. Atypical and very well ordered he ithas a kitchen equipped with two real comfortable beds of a space meal which is easily transformed into workspace. Very functional it benefits from numerous arrangements provided you with for your stay. Extremely bright it is exposed southwest on a raised garden. The atmosphere is in quiet guaranteed! Endowed with a real terrace you can admire there attractive slept by sun but also bask on a very comfortable divan or rock (toss) on a hammock!! For your sleeping around the small cosy nest is equipped with a pullout bed... The pullout bed is a cunning and very practical invention. It is in fact two beds among which the one skips under l At the foot of the building you have all the convenience stores: bakery, Franprix (opened till 9:00 pm) of numerous restaurants, several laundries (for those who would like to stay there longer) caterers, pharmacy the real life of district! Sheets and towels are naturally supplied. The small nest is situated in 8 minutes of the station SNCF(FRENCH NATIONAL RAILWAY COMPANY) of Asnières-sur-Seine. The train will lead (drive) you to the station holy Lazare, the most central of Paris, 1O time. It is the same time (weather) as you will put to go in the center of business of the Defense. The subway station Gabriel Péri of the line 13 and situated also in 10 minutes of the small nest. itwill also drive you in the center of Paris via the station holy Lazare, the Champs-Elysées also and to finish by one other big nd if your legs are tired the bus will lead 238 to you directly to the subway in 8 minutes in the station bridge of Levallois of the line 3. This line also harms the center of Paris via the station holy Lazare then the Opera but also the place of the Republic. Finally for the followers of the autolib the closest station and in only 300 meters. We are user of site for our journeys or our travels. We visit let us compare just like you... We love the clean environments the nice warm people reactives and respectful just like we;)) If this small cosy nest interests you thank you for specifying us in your first one contact your approximate schedules of on-the-spot arrival organization obliges! Thank you in advance.
Vivant animé avec tous les commerces de proximité
Great communication and a very cute apartment!
Kimberly
2017-04-09T00:00:00Z
Great place and great host, been there for Euro 2016. and we've had an amazing experience.
Alen
2016-06-14T00:00:00Z
Nice & clean apartment in a calm neighborhood. The apartment is absolutely convenient in terms of comfort, it has a fridge, TV, balcony, coffee machine, etc... and it looks modern. I would recommend it to couples and individuals.
Livio
2017-03-20T00:00:00Z
Laurent's place is a comfy and cozy apartment that is great for two people. Our stay in the winter we so nice to come back to a warm apartment to rest. It was clean and in a very friendly neighborhood.
Jasmine
2016-12-25T00:00:00Z
Laurent was a great host, we never had a chance to meet but he was super available via text and email and took the initiative on being sure to contact me and make sure I was able to find my way to his apartment and even offered to help me get around. The apartment was very small and so I would not suggest having two people there but if traveling by yourself it is a great option. It is a little bit of a walk to the metro station (about 15 minutes) but once you are at the metro it is very easy to get around. Not a lot of French restaurants in the are either and very little nightlife, but tons of supermarkets and Indian, Chinese, and other ethnic cuisines to choose from. It seemed like more of a family neighborhood than a place to hang out, but that's to be expected as he never claimed otherwise. A great cheap option for a single traveler looking to stay in Paris on a budget (as I was) but not so great for more than one person, or anyone who does not want to walk more than a few blocks to get to the metro. Regardless Laurent was fantastic and very kind and he even was really cool about the glass shelf we accidentally broke in the refrigerator, only charging us 20 euros to replace it and not getting Airbnb involved with the process. He constantly checked in on us and was available anytime we needed to reach him. Very happy with his attitude and accommodation, and the place is very clean and well taken care of.
Michael
2016-04-20T00:00:00Z
Laurent was very helpful in how to get to his place as well as how to work the door to the apartment. Definitely worth a stay!
Maggie
2017-03-25T00:00:00Z
Had a great stay at Laurent's place! He was very responsive and helpful with my questions. They area is also very nice, beautiful and safe with some great restaurants and cafés. The place is small but we made it work for two people. The balcony was also great for relaxing.
Keara
2016-09-11T00:00:00Z
We had to let ourselves into the apartment, there were no instructions to know how to operate anything in the apartment. It was small.
Sue
2016-10-16T00:00:00Z
Room Type
Entire home/apt
---
Property Type
Apartment
---
Accommodates
2
---
Bedrooms
Asnières-sur-Seine, Île-de-France, France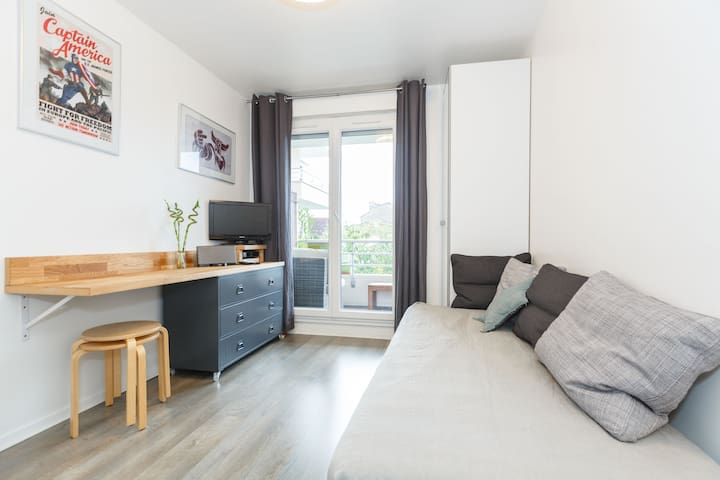 Bright and spacious flat, panoramic view of Paris. Located 5 minutes away from "La Defense" (Metro1/RER A) and "Puteaux" (T2) railway stations and 2 steps away from "Les Quatre Temps" shopping center and La Défense business district.
Located on the 41th floor of a residential tower in the business district of La Defense, this flat has a view on the Eiffel Tower and all over Paris. It has been completely renovated, very spacious, bright and functional. It has two real beds of 90cm which can make a double 180cm bed .
The flat is located in front of one of the largest shopping centers of the region "Les Quatre Temps". There are also within walking distance: bakery, grocery, pharmacy, parks, restaurants.
Great view of the Eiffel Tower, clean, spacious, modern. Minutes to a large mall and metro. We flew into ORLY, took us about an hour to get to place via metro. It's a little far from the heart of Paris, but the gorgeous view more than makes up for it. Easy to navigate to, elevator available, safe neighborhood and residence. Sebastien was great with communication. Would recommend this place to couples and small families.
Magarette
2017-02-12T00:00:00Z
Fabulous views. Very close to trains. Comfortable bed.
Steven
2017-02-06T00:00:00Z
This was an amazing place and Sebastián did everything he could to make it go smoothly for us, including holding our luggage for us after check out time, because someone else had booked the house and allowed us to check in early. I would definitely recommend!
Daniel
2016-12-30T00:00:00Z
Amazing place to stay. The view is just breathtaking, especially at night. We had a great stay at Sebastien's place. The flat was very clean and had everything you need. Very friendly neighbors and doorman. Walk to the metro takes about 5 minutes and the ride to the city center takes another 10 minutes. The huge mall which is located right by the bulding has everything you might need. Definitelly worth the price, will come back again!
Tautvydas
2017-03-13T00:00:00Z
Went to Paris to celebrate an anniversary. Sebastien's place is very clean and spacious. Communication was fantastic and felt v welcomed. Will stay again if I'm back in Paris. Thank you for the wonderful stay!
Yvonne
2016-12-19T00:00:00Z
We stayed at Sébastien's apartment for 4 nights. He wrote us how to get to the tower und how to get the keys. It was really easy. The flat is clean, cosy and that view is awesome!! Close Metro Station La Defense provides good connections to most of the important sights. Sébastien always told us, we can ask him questions!
Vincent
2015-12-01T00:00:00Z
The apartment met our expectation. It was clean and tasteful. The view was amazing. I do think it's much better choice than staying in the city centre. A benefit is that the metro is just 5 mins away.
Snejana
2016-02-08T00:00:00Z
Sebastian was an fantastic host! After mentioning to him that me and my girlfriend were visiting for her birthday, he left her chocolates with a nice message! It was a very thoughtful gesture. The apartment itself is a clean minimal design but has everything you would need for a short break. It hosts breathtaking views of the Parisian skyline. Day or night it is stunning. The location is interesting, in what seems to be a modern financial district boasting architecture you wouldn't usually associate with Paris. The area is initially a bit confusing but Sebastian's directions made perfect sense of it! It is a cool location one station beyond what is considered to be Paris City. This means that a regular ticket + does not cover travel to and from it, but the commute into the centre is still short. We both felt the apartment was perfect for our trip and Sebastian was a very attentive host so I couldn't recommend it more. I look forward to our next stay there
Andrew
2016-01-26T00:00:00Z
Room Type
Entire home/apt
---
Property Type
Apartment
---
Accommodates
2
---
Bedrooms
Puteaux, Île-de-France, France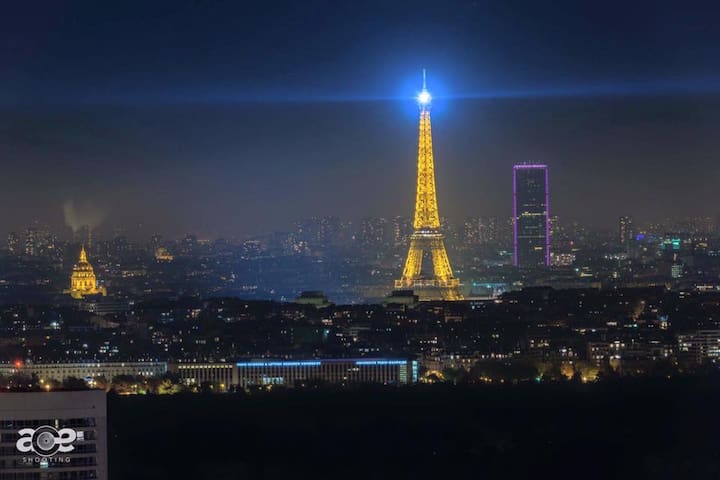 Lovely brand new 2 bedroom flat, light, quiet, fully furnished, with lots of space (wardrobe, laundry), for up to 6 people. Located in a quiet and cosy area, close to all shops and facilities. 10 minutes from Paris city center : 2 stations to go to Gare St Lazare central station, which is at walking distance from Montmartre - Sacré Coeur, the Opera, Galeries Lafayette, la Madeleine...
Lovely fully furnished 2 bedrooms + living room flat, new, quiet, light and functional. Located on the second floor (with lift) of a nice 1930s building in the cosy residential area of Asnieres (Bac area). The street is quiet and one of the bedrooms overlooks the courtyard, ensuring peaceful nights for the whole flat. The flat can host up to 6 people, and consists of a family bedroom 12m2) with a double bed, a second bedroom (11 m2) with a modular 160*200 cm bed which can be folded during the day, and a main room + kitchen (20 m2) with all modern equipment, plus a dressing, a utility room, and a bathroom separated from toilets. The flat is fully furnished : high speed Wifi fiber connection, TV HD, washing/drying machine, dish washer, micro-wave, induction cooking, etc... We will be happy to show you the best routes towards monuments, restaurants, shopping centers and other unusual places in Paris. Contact is easy, as we live 5 minutes away from the flat :) Looking forward to meeting you in our safe and cosy home.
The flat is located within the residential, quiet and cosy BAC area inside Asnieres, and next to the main shopping street of the city (rue des Bourguignons), which makes it a 2 minutes walk to all sorts of shops and restaurants, including a supermarket. The population of the area mainly consists of families, and the city is quiet and safe. It is ideally located between Paris city center and the Business Area of la Défense, attracting many young upper middle class families to settle down.
Thierry was very welcoming and available to any time constraints we had (ex: arriving earlier than supposed to, he allowed us to drop our luggage before 3pm). The neighbourhood, apart from very safe, is also ideal for buying fresh bread every morning and have a nice breakfast at home (and also to cook in the evening after long walks that everyone does in Paris). The location in (SENSITIVE CONTENTS HIDDEN) maps seems further away that actually it is - in 15mts you will reach the city centre (5mnts walking + 10mts train) and trains come very often during the day/evening.
Maria Ana
2016-10-10T00:00:00Z
Thierry is a very nice host! He waiting for us late in the night, the previous comunication was very good, the appartment is clean, cosy, comfortable, bright. The neighbourhood very nice too. The best cheese store at 5 min. 2 wine stores, 3 supermarket, 2 sushi, asiatic food, fruits, flowers, bakeries, pizza, pharmacy, hairdresser, etc. all around the corner. In the other side a residency village, quiet and nice to a walk in the night before to go to bed. Transport was excelent too. No problem to arrive in the night, 10 min to Paris is St. Lazare station. We were thre adults, stay a week. It was the perfect place to be!! Thank you Thierry! We feel we have a home in Paris! 3 Doris, Paolo and Cecilia.
Cecilia
2016-09-11T00:00:00Z
Thierry's apartment was perfect for our Canadian family of 5. We stayed 3 nights and took Paris by storm with our kids (ages 12, 9 and 7). Thierry was incredibly responsive, helpful and informative. He took us on a quick tour of the neighbourhood, pointed out some restaurants and generally gave us lots of good tips. The apartment was blessedly CLEAN, the beds and linens were comfortable and everything was exactly as advertised. We'd stay again in a heartbeat and wouldn't hesitate to recommend Thierry's apartment to friends and family alike. Access to Paris (Gare St. Lazare) was simple and easy. We found ourselves looking forward to 'going home' after the hustle and bustle of each day's sightseeing. Stay here. You won't regret it.
Jean
2016-09-28T00:00:00Z
Thierry's place is stunning, comfortable, and very aesthetically pleasing. Very close to a metro station that is very easy to use to get to attractions like the Eiffel tower. Close to lots of shops and food places and was an extremely enjoyable stay. We experienced issues with our flight and check-in due to the airport shooting and Thierry was more than accommodating, understanding, and helpful in dealing with all of this.
Zoe
2017-03-19T00:00:00Z
Thierry was a delightful host, extremely accommodating and nothing was too much trouble. The apartment was perfect even with three young boys! We loved the local neighbourhood, which is pretty and quiet, and having a local supermarket at the end of the road was fantastic. Highly recommended!
Paul
2016-08-01T00:00:00Z
The flat was lovely - exactly as described, clean, modern and comfortable. 3 adults and 2 teenagers stayed with room to get ready etc. Thierry was so helpful, flexible at meeting times and when we had a query, he was very quick to respond and more than happy to help. Short walk to the train station which took you into the centre. Convenient shops all around including supermarket, bakery... highly recommend and would definitely stay again!
Lizzie
2016-10-29T00:00:00Z
The listing was accurate. It encompassed everything listed. It was a two bedroom home with a living room so two beds and a fold out couch. The apartment was beautiful.. we had a bottle of wine waiting for us to welcome us which was really sweet. His family was there with him when we arrived and after his wife cleaned they let us check in two hours earlier than actual check in time and it was greatly appreciated. One of the only things I had an issue with was the fact that we ran out of toilet paper because we were given three rolls for three girls and an 8 day/7 night stay. He says it wasn't a hotel, which I understand, but it should've been provided per our long weeklong stay. The last thing is that we weren't given direction on how to enter the flat or how to return the keys. I had to email the morning of our travel asking for that information. We came internationally so we couldn't contact. I tried to find wifi but that didn't work so I resulted to making an international call. Other than that, Thierry was very respectful and prompt with his responses while we were there. It was a good experience.
Dayna
2016-11-06T00:00:00Z
very nice apartment, very kind host, very nice place. everything almost perfect, except that my stay has been too short to well enjoy Thierry family hospitality. I'm sure I'll stay again here next time I'll visit Paris grazie Lilit and Thierry
Giuseppe
2016-02-27T00:00:00Z
Room Type
Entire home/apt
---
Property Type
Apartment
---
Accommodates
6
---
Bedrooms
Asnières-sur-Seine, Île-de-France, France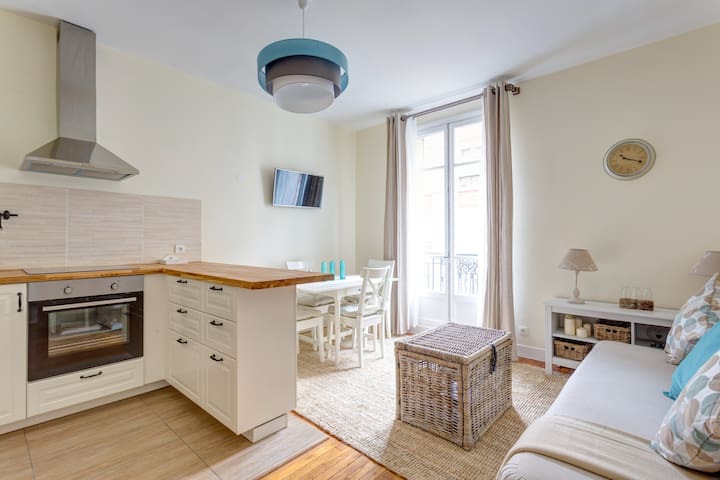 Flat is entirely air conditioned, clearly a plus in case of a Parisian heatwave.Breakfast included.Nearby the business district of "La Défense", 200m from Metro (RER A) 6min ride to Paris. Very enjoyable flat, big living room, very spacious bedroom. Strictly non smoking including balconies.
Continental breakfast included, with homemade "French croissants" and homemade organic bread. The flat is large and spacious, 90m2 in total. The flat is entirely refurbished. The flat has two balconies that are equipped with bay windows which can be opened up to enjoy the weather, or closed during winter to enjoy the view. One where you can sit and enjoy a meal, and one to appreciate the view of the neighborhood and the Grand Arch of La Défense. The flat is entirely air conditioned, . Queen size bed (1m60) very comfortable in your bedroom. Big High Definition TV, home cinema equipment. 300 channels available in the living-room (cinema in French and in English, Various channels in French, English and other languages. High bandwidth WiFi and a phone that can make free calls to more than 100 countries, including phone calls to USA mobiles. Washing machine and dryer, useful even for a short stay. The flat is in a building which is entirely secured (24/7 video monitoring, safety card to access the building). Express metro station (RER A) is 200m away, offering extremely quick access to Paris, 6min ride to Champs Elysées, 12min to exact center of Paris. In case of a booking for 3 people, an additional comfy single bed is added in the bedroom.
Nearby the business district of La Défense, the flat is idealy located at 200m from the express metro station (RER A). A big and lush green park with a lake is just behind the building, fun for all ages. Lots of restaurants and two small supermarkets at a stones throw from my place. Huge shopping mall ten minutes walk.
We stayed at Olivier's apartment for 4 days. I'd say that I've never expected such warm welcome. First of all, he picked us up at the bus station, so we didn't have to worry about transport. He provided us with basic information we need to know and answered all our questions. He even gave us a mobile phone to make sure that we can always call him if we need anything. He also made a coffee for us every morning and his homemade bread is really delicious. It was such a nice surprise that he prepared for us maps, a bottle of water and some snacks. I've never thought that somebody would care so much about us and he definitely did more than I've expected. Another advantage is location of the apartment which is perfect because the subway station is nearby and the shop where you can buy all the necessary things by good prices. The apartment is located in the business district "La Défense" which looks so incredible especially in the evenings. By the way, his apartment is very spacious, but at the same time it's cozy. There is everything you need (Wi-Fi, hairdryer, espresso machine, etc.) and Olivier is always here to assist if you need any help. It was so great to talk with him in the evenings because he knows so much about Paris. He treated us like we're his friends, so it was nice to return to his apartment after a long day. All this time we felt like we were at home and we really wished that we could stay a little longer. Next time we go to Paris, we definitely will be staying at his apartment.
Kristīne
2015-11-13T00:00:00Z
I've stay five night at Olivier's house, it was a really amazing room to stay! Really! Very roomy, bright and clean, the most important, it's very quiet! Olivier always thinks about the feeling of guest. He also provides guests a mobile phone with French number for urgent case. He even picked me up at bus station! I never met a host so great! I could not find more words to recommend you visiting Olivier, you wont be regret!
Min Chuan
2015-08-03T00:00:00Z
When we arrived Olivier made us feel so welcome and gave us excellent advice on using the Metro and visiting the various attractions. He organized online tickets for our visit to Versailles and we shared dinner on a couple of nights. He was very helpful and accommodating and is very knowledgeable about Paris . The location was a little bit out of Paris but it was only a 3 minute walk to the express Metro and a 15 minute ride to the city centre.
Paul
2015-07-14T00:00:00Z
3 things you have to see in Paris: Eiffel Tower, Palace of Versailles, and Oliver ! What host would pick you up from bus depot, buy you wine & other treats, and do your laundry, ALL free of charge ? Not only that, but who else knows how to skip the 4+ hour wait in line at Palace of Versailles AND score a private tour of Louis the 16th's apartment (which is off limits to the public !) for only 7 euros ?! Not to mention... his homemade bread & almond muffins are amazing ! He is like best friend, open minded and very knowledgeable person. Having stayed at Airbnb in 7 countries, Oliver was best Airbnb host, hands down. The best thing I like about Olivers place is its very close to centre and Eiffel Tower by metro. On top of that you can ask him breakfast, lunch or dinner and he will cook it for you for great price. Also Oliver have great deals to dine out in great restaurants with really great discounts offer ( up to 50% ). I would strongly recommend Oliver place for anyone who want to explore Paris with great Airbnb experience. He is very down to earth guy and very chill host. Oliver is the real deal. Pretty sure he is EXACTLY what Airbnb had in mind when they first had vision. They need to use him as a case study, no joke ! I challenge you to find a better host in Paris. Not possible ! Bottom line: stay with Oliver ! You wont be disappointed.
Rocky
2015-08-09T00:00:00Z
Our stay in Olivier's apartment was amazing. First of all, Olivier is a very active host. He will invite you for (SENSITIVE CONTENTS HIDDEN) sessions to help you plan your visit in Paris. He is also very fast in replying our inquiries or questions. He gave us valuable insights in transportation (the navigo pass is an excellent way to travel in Paris) and places to visit. During our Europe trip we stayed at 3 different super host apartments. However, Olivier has hands down beat the other 2 super hosts. Apart from the valuable information, warm welcome, Olivier personally cooks breakfast for us! He makes his own croissant (takes 5 hours to prepare) and bread! Its an unforgettable experience in Paris. Olivier fiercely loves his country and describes what he cooks with passion. He is also an excellent cook, he offered us two different menus, Raclette with different dried meats and vegetables or Duck Confit. We tried the Raclette and was so blown away by it we requested him to cook for us a second time. Olivier charges a modest amount for his meals and i highly recommend you to take up his offer in cooking for you. You wont be disappointed. The apartment is clean, and is the bathroom and toilet. The home is warm and cozy. The apartment is about 2 - 5 minutes walk to the train station, and the neighborhood feel safe as there is a large police station nearby mentioned by Olivier. Overall, we had a very satisfying trip in Paris and Olivier's warmth and friendliness completes it. If we can award him a 10 star we will!
Lie Tju
2016-11-12T00:00:00Z
Beautiful place located in an urban space. The view is incredible, located really close to 2 metro stations, stores are accessible by foot and good food can be found around. Oliver treated us very well. You can have a nice talk in the balcony and the bed was very comfortable. Very cultured place and hospitable environment! Any traveler longing to play piano in Nanterre will be in for a treat at Oliver's.
Jazmin
2015-07-11T00:00:00Z
The stay with Olivier was supper comfortable! Nice bed and really good location, you can get to the centre in 10 minutes. The best part is Olivier makes the best croissant ever! We had great stay and really nice time!
Pingping
2017-01-01T00:00:00Z
Olivier was a great host and made sure that our stay in Paris was very enjoyable and hassle free. His place was great and it's location is quite convenient, very close to the Metro Station. We considered our room was bit hot, so we asked Olivier to turn the A/C on, and it worked perfectly. He also prepared us breakfast which was very good and even drove us to the bus station when we were leaving. Definitely we would Recommend Olivier's apartment and hope we can come back in some other time.
Ricardo
2016-06-14T00:00:00Z
Room Type
Private room
---
Property Type
Apartment
---
Accommodates
2
---
Bedrooms
Nanterre, Île-de-France, France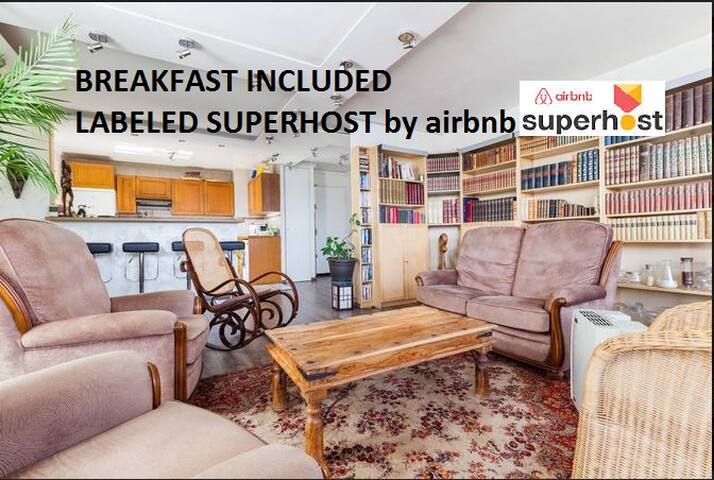 Hello everyone, I offer a room in a new apartment located 5 minutes by tram from the Defense and 20 minutes from Paris. The apartment is 70m2 and has a large terrace of 24m2 to enjoy the weather or have a barbecue.
The flat was very nice and clean. Also the hosts did most they can to relieve whole stay. I can really recommend this room for everybody. We were very satisfied.
Ondrej
2016-06-14T00:00:00Z
Élisabeth and Keita are perfect hosts. I would totally recommend their place for staying. They are very nice and ready to help in every matter. Despite I had a last minute call, they were so kind to accepted me and my friend. Very nice and uncomplicated persons. Nice flat with isolated private room with a big bed. Perfect place for staying. Merci beaucoup! :)
Alexander
2016-11-23T00:00:00Z
Lovely accommodation!
Izabella
2016-12-25T00:00:00Z
It was confortable and the hosts were really nice.
constanza
2017-01-08T00:00:00Z
My experience trying to arrive for the first time was just awful because I was so tired after more than 20 hours flying plus 3 or 4h waiting at the station until they arrive on their place, I needed to ask somebody's help with my baggages because they were to heavy and also how to arrive to right place because they didn't tell me in which stop I needed to stay ... They need to be better hosts, ask if people need something every day, teach them how they like or use to do things as cleaning or washing so people won't do it wrong, more communication so people can feel more comfortable and welcome. I think It's just a matter of empathy and being a good host.
Jazmín
2016-09-30T00:00:00Z
Thanks for being a wonderful host. We definitely recommend them to the AirBnb Community. We had a great conversation and they were very flexible with our checkIn and Check-Out timings :)
Shubham
2016-12-15T00:00:00Z
Easy to communicate with. Clean house and room. Not distributive.
Muhammad
2017-01-22T00:00:00Z
Elisabeth and Keita were very good hosts. They were very nice. Their place is a 2-3 minute walk from the tram. Their internet is very fast.
Jessee
2016-12-07T00:00:00Z
Room Type
Private room
---
Property Type
Apartment
---
Accommodates
2
---
Bedrooms
Colombes, Île-de-France, France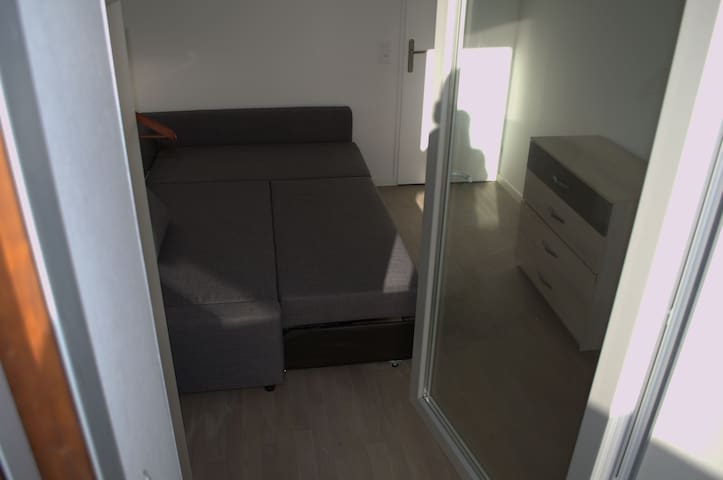 Located close to the Defense and 15 minutes by metro from the Champs Elysées , individual leases one room or two , depending on your needs , with bathroom and WC. Ability to access the rest of the apartment and the comfort of almost 123m2 . Breakfast is included with the reservation. The apartment is non smoking. This room is offered if you want half board * you share this occasion dinner in the company of your hosts (*) 10 € per person The site of the famous defense for its international business center and a shopping center one of the largest in Europe and more than 250 stores , some of which are open on Sundays will welcome you . Discover the 64 works and sculptures that are scattered on the esplanade of Defense. The photo lovers will be interested in playing with the light of the sun is reflected on every turn differently. Ideally located, you will have the opportunity to visit monuments and museums in Paris in record time . 30 minutes to reach the center of Paris by metro , bus, train or tram easy access .
Vous habiterez en plein quartier d'affaires de Paris. Nous sommes entourés de grande tour d'habitation ou de bureaux. Toutes les commodités se trouvent à proximité de notre habitation. You will live right in the business district of Paris. We are surrounded by high rise apartment or office. All amenities are close to our house.
The house is very nice. There are a big shopping mall and supermarket around and the transportation is very convenient. Très Bien!!!
嘉敏
2014-06-08T00:00:00Z
Luc deserves Superhost status. He was very friendly and he shared his mother's delicious muffins for breakfast. We enjoyed the company of the house cat, Zazou. Room was cozy and the location was great. A Chinese restaurant is just downstairs and other restaurants are within walking distance.
Azmi
2015-03-08T00:00:00Z
Luc was very welcoming and friendly, and happy to help. The room was comfortable and tidy and the breakfast was a treat!
Mark
2015-02-07T00:00:00Z
It was a great experience staying at Luc's beautiful home. He was really kind and easy going and the directions given to his apartment were excellent. I highly recommend staying at Luc's.
Gaurav
2015-08-05T00:00:00Z
Great host and a nice person to talk to! I arrived late in the evening but was received very well without problems! For breakfast he made me some tasty cookie and cake as an addittion. Room was nice and clean, he is also very flexible and polite. Five stars!
Michael
2015-02-05T00:00:00Z
Luc and his wife are lovely and friendly hosts. We enjoyed our stay at their apartment, whic is nice and peaceful. The location of is not far from inner Paris and is close to the metro (train). Luc's breakfast is also very nice and yummy. It would have been good to be able to take a shower late at night as we like to stay out late exploring Paris and don't get back until 11pm or midnight, but it is understandable that we weren't allowed to do that since it may disturb other people in the house. Overall, great experience. Thanks Luv and Claude.
Kim & Jacqueline
2015-06-27T00:00:00Z
Luc & Claude are absolutely amazing! They made me feel so welcomed and I couldn't feel more happy to stay at their place. For breakfast I had the best muffin I've ever had and the jams Luc made were so delicious. I had dinner Luc prepared for us and oh man, best stuffed mushroom I've had (once again)! I wish I could speak more French to communicate with them but they still made me feel included in their conversations. I would recommend this place to all my friends!
Jenny
2015-03-17T00:00:00Z
My boyfriend and I totally enjoyed the hospitality that Luc and Claude showed to us. He was friendly and so accommodating. And he is a real good cook too! Every morning's breakfast is guaranteed of you wanting more. The house is cozy and clean, everywhere is so accessible, just about 10 mins walk to the mall, great location and great fellowship. I would definitely come back to stay again if I ever visit Paris once again.
Joey
2014-01-07T00:00:00Z
Room Type
Private room
---
Property Type
Apartment
---
Accommodates
2
---
Bedrooms
Courbevoie, Île-de-France, France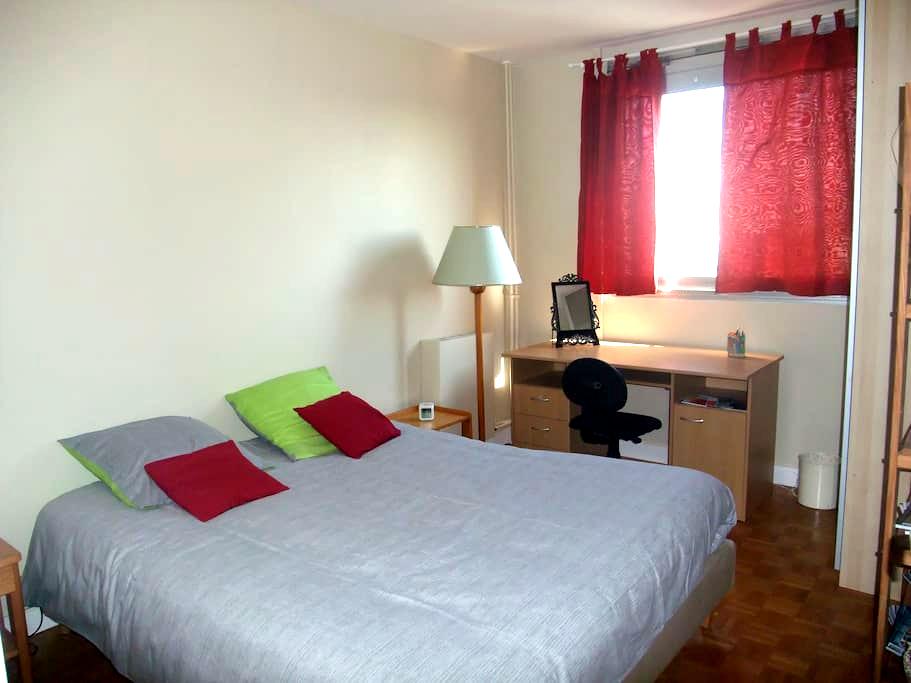 I'm an ensligh teacher, and i rent my 2 beds bedroom in my apartment in Neuilly sur seine, peacefull city 5 minutes away from paris !
We got a warm and friendly welcome from Geneviève. She was very accommodating, and provided everything we needed. The location of the property is great, with plenty of restaurants and within walking distance of Port Maillot. I would happily return and stay again!
Aaron
2016-06-21T00:00:00Z
The listing was exactly as it was stated on the page. The host was invariably warm and offered to help in any way that she could. We felt extremely at home.
Tafara
2016-05-16T00:00:00Z
This apartment is very beautiful and we enjoyed our stay! We recommend this apartment to everyone who wants to visit Paris. Geneviève is such a sweet lady and we thank her for her hospitality. When we arrived we got something to drink which was a very warm welcome. She helped us with everything and told us about the most beautiful places in Paris which we definitely had to see. We could leave our luggage in her apartment the last day, which was quite handy because we didn't had to carry our luggage with us through Paris the whole day. The breakfast was delicious and very French. Thank you for everything Geneviève!
wilma
2015-08-09T00:00:00Z
You can feel by Genevieve like at home. The reason for this is not the room or neighborhood (that is also awesome) but the nice personality of Genevieve. I would strongly recommend to stay there, if you are a looking for a still place after hectic day spended in the streets of Paris...
Adrian
2016-05-01T00:00:00Z
nice and friendly hostess,good breakfast and quiet room,we love everything
sheng
2016-05-09T00:00:00Z
Fantastic, I would say! Everything in place, everything on time. Geneviève is such a great host! A charming and pleasant person with whom having a chat becomes an enjoyable time. The flat is superb and extremely well located. From my experience, the perfect place to spend some time in Paris while keeping a relative calm around. Heureusement je suis tombé par hasard chez Geneviève, je reviendrai sans aucun doute. C'est très bien de rencontrer de bonnes personnes. :)
Vicent
2016-02-09T00:00:00Z
Thank you so much for special stay in Paris, Genevieve!! She is very kindly and cheerful. We enjoyed talking with her in very nice room. I could feel local and typical Paris life. Further, Genevieve prepared breakfast for us! The croissant and coffee made me happy. Of course, room is clean, close to metro station (3 minutes by walking) and neighborhood is safe. Totally, I strongly recommend Genevieve's apartment for one's Paris stay. I really appreciate her kindness and her apartment. Thank you again, Genevieve!
Sho
2016-03-21T00:00:00Z
Geneviève is a very lively lady. I really want to meet her again and discuss many things. She prepared breakfast for me at 4 am and then gave me lift in her car till the bus stop at 5 am. May God bless her. She helped me with my luggage. Thank you so much for everything. The house was very clean and properly organized; I really liked the interior with all the pictures and paintings. Next time I will come to Paris, I would love to stay with you spend some quality time.
Mehreen
2015-10-01T00:00:00Z
Room Type
Private room
---
Property Type
Apartment
---
Accommodates
2
---
Bedrooms
Neuilly-sur-Seine, Île-de-France, France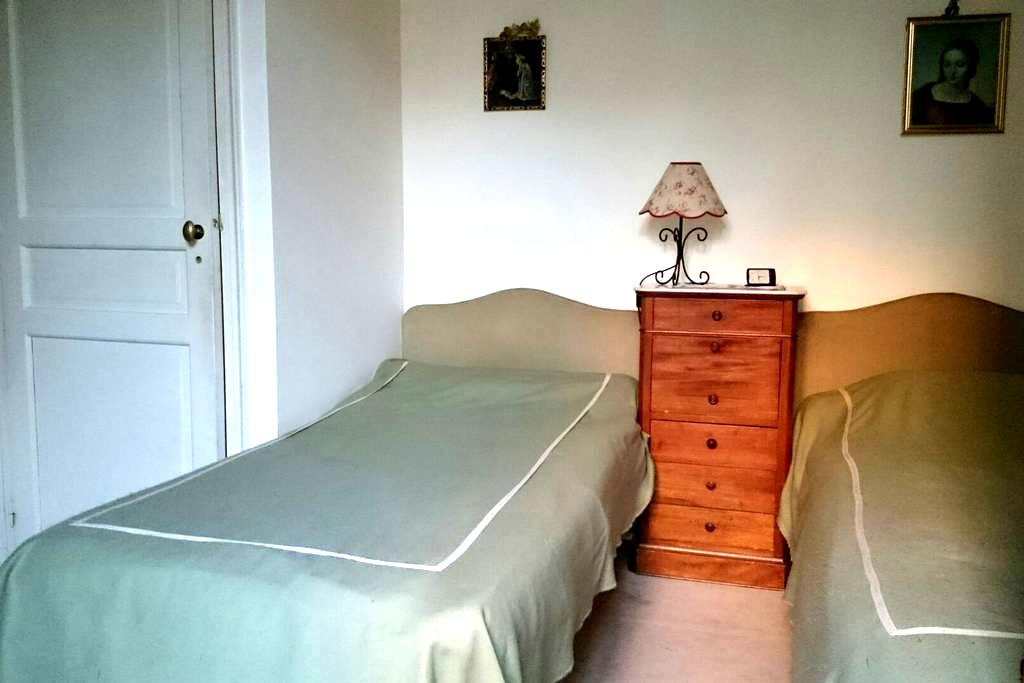 Flat of 45m2 with terrace (3rd floor); Quiet and bright 8-10min walk from the station Houilles / Carrières sur Seine The apartment has an entrance with separate toilet, a bathroom with bathtub + washing machine. The main room consists of the living room of 20m2 with kitchen in the American style. Free access to internet in wifi. There is also free underground parking. Year of Construction: 2017
Room Type
Entire home/apt
---
Property Type
Apartment
---
Accommodates
2
---
Bedrooms
Houilles, Île-de-France, France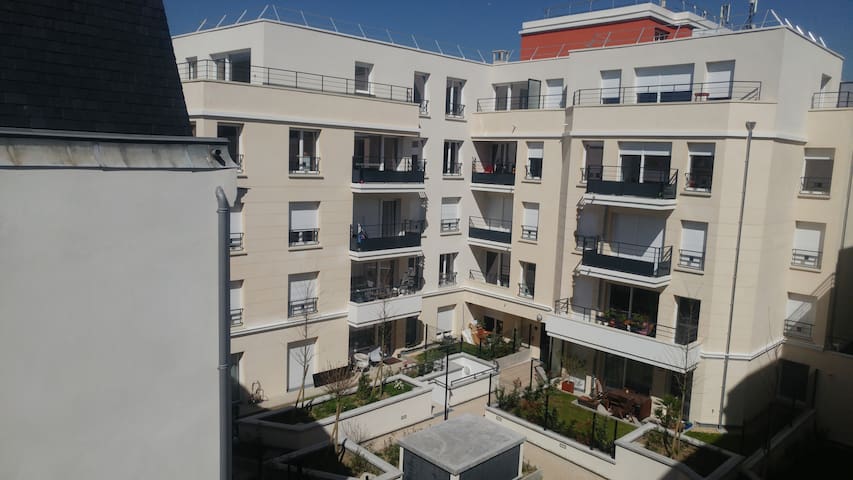 My accommodation is close to transport PARIS CHAMPS ELYSEES OPERA, NOTRE DAME, LOUVRE, EIFFEL TOWER, live RER Disneyland, nightlife. My accommodation is perfect for couples, solo travelers, business travelers and families (with children) has a sofa bed.
It was a very comfortable appartment. Quiet, with space for the car and Lucia is very friendly and helpfull..
Dick
2016-09-22T00:00:00Z
Great appartement 15 mins walk from station. Regular trains 15 mins to Paris
Nigel
2017-03-16T00:00:00Z
Abount 10-15 minutes from the RER. Very clean, newly refurbushed and modern appartment with everything you could need. Private, quiet and with small patio at rear. Thank you.
Barry
2016-10-06T00:00:00Z
Logement conforme aux photos! Très propre et moderne! Rien a dire! Manuela a été très sympathique ! Je recommande !!
Mickael
2016-11-25T00:00:00Z
parfait
Amadou
2017-03-12T00:00:00Z
Très joli appartement tout neuf, très bien équipé et meublé. Hôte très agréable et disponible. Je vous le recommande très fortement
Mahamadou
2016-07-18T00:00:00Z
Je suis retourné chez Manuela cette fois si plus longtemps sa reste toujours super. allez-y.
Amadou
2016-10-20T00:00:00Z
l'appartement ai super , la propreté rien à dire . tout ai à disposition , le lieu ai calme . et l'hôte à l'écoute et très gentille je vous conseille vraiment d'essayer j'ai passer un week-end fabuleux .
Amadou
2016-10-02T00:00:00Z
Room Type
Entire home/apt
---
Property Type
Apartment
---
Accommodates
4
---
Bedrooms
Houilles, Île-de-France, France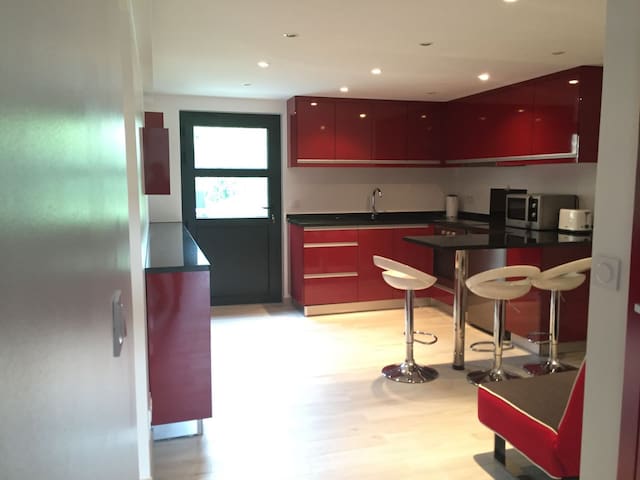 On the 1st floor of a modern and secure building, charming contemporary studio of 32m ² in excellent condition with all the necessary comfort to spend a short or long stay. Parking space available on request. Shops and RER A station at the foot of the building. Ideal location!
Cozy and ultra-bright apartment. Parking space on request.
1min from the train station and trade at the foot of the building
Room Type
Entire home/apt
---
Property Type
Apartment
---
Accommodates
2
---
Bedrooms
Houilles, Île-de-France, France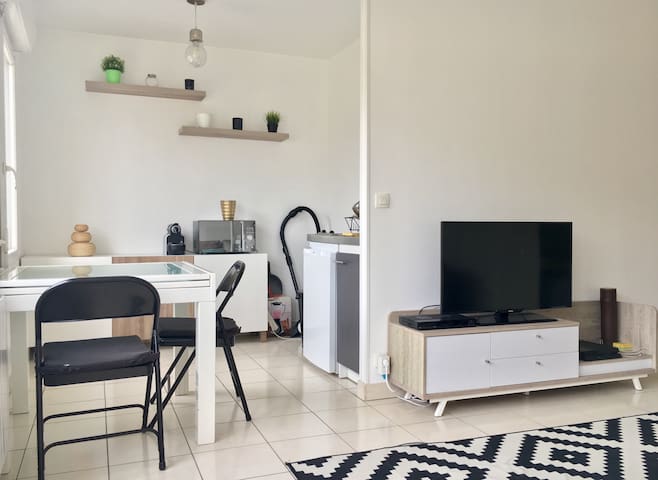 In the heart of downtown, very quiet, 10min walk from the train station, close to the defense and the Champs Elysees, shops near the accommodation (commercial center, bakery, tobacco office ...) Walk to town every Saturday Wednesdays. The 25m2 studio is located on the first floor with elevator, underground parking. functional and dining table. The bed is a comfortable sofa. The bathroom has a shower.
The peace and quiet
The host canceled this reservation 3 days before arrival. This is an automated posting.
Jeffray
2017-01-25T00:00:00Z
Medhi nous a fallicité l'accès en faisant appel à un intermédiaire. Le lieu est parfait pour deux personnes, le logement chaud. La gare (rer A, ligne L) à 10 minutes à pied, quelques commerces sont proches de l'appartement. Bonne expérience :)
Arnaud
2017-01-04T00:00:00Z
Medhi est un bon hôte, disponible pour toutes questions. De plus, il nous a facilité l'accès à l'appartement suivant l'horaire d'arrivé. Le quartier est calme, et la résidence aussi. Le parking souterrain est un vrai plus ! La gare est assez proche à pied, ce qui est pratique pour les déplacements sur Paris. Nous avons juste été déçus par le manque de propreté du logement. On ressent tout de même que Medhi fait tout pour bien recevoir ses hôtes !
Tiphaine
2017-01-15T00:00:00Z
Appartement très bien situé (commerces et RER pas loin), avec un hôte très arrangeant. Parfait pour une personne seule ou à deux. Je recommande vivement.
Manon
2017-03-18T00:00:00Z
Appartement propre, bien situé avec tout ce qu'il faut pour un week end. Mehdi est egalement très sympa et arrangeant. Il nous a attendu malgré notre retard. Je recommande
Paka
2017-01-22T00:00:00Z
Superbe séjour !
cedric
2017-04-09T00:00:00Z
Room Type
Entire home/apt
---
Property Type
Apartment
---
Accommodates
2
---
Bedrooms
Houilles, Île-de-France, France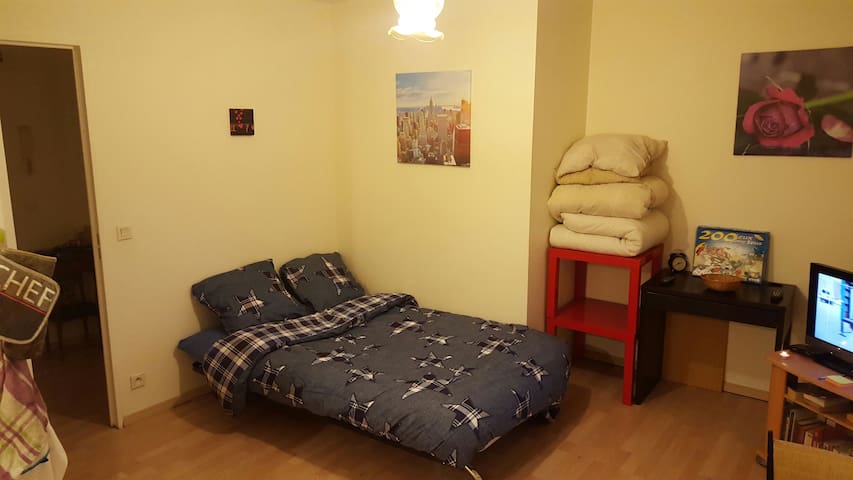 Studio well served at 1 min of the station with the main line RER A Paris which crosses the Champs Elysees, the most beautiful business center of Europe "defense" and paris center "Chatelet". Located on the first floor with elevator and laundry facilities inside the building.
1min At the station, laundry on the ground floor of the building
I stayed in Khouloud's for one month. We met for a very short time since she was leaving France. She was very nice and helpful. She showed me the neighborhood, the supermarket and the bakeries, helped me with getting a Simcard and a monthly transportation pass. She was also very well responsive over my stay. Her place is quite cozy, it is small but is well equipped. I expected the place be cleaner, since it was supposed to be rented for a long period. But it was fine... The neighborhood is quite safe and very close to the metro station. You can find everything you need around.
Saeedeh
2016-08-01T00:00:00Z
Khouloud was a great host and the flat was perfect! Very clean with all the essentials and in a perfect location (2 minute walk to the train station and a 15 minute ride into Paris). I would definitely stay there again and highly recommend it to anyone travelling alone or with one other person as it is a good size.
Aretta
2016-05-08T00:00:00Z
Très bon séjour. Khouloud m'a très bien accueilli. Je la remercie beaucoup. L'appartement était propre et rangé. Rien à redire
Gaspard
2017-01-02T00:00:00Z
Logement pratique et fonctionnel, à proximité immédiate de la gare RER. Propriétaire super sympas !
matthieu
2017-02-10T00:00:00Z
Studio impeccable, tout neuf et propre, facile d'accès avec un GPS et bien situé ! Khouloud étant absente, elle s'est très bien arrangée avec une personne de confiance pour la remise des clés. Cette personne a elle-même été très sympatique et arrangeante pour les horaires d'arrivée et de départ. Très bon séjour, Je recommande !
Marine
2015-08-24T00:00:00Z
J'ai passé un très agréable séjour dans le studio de khouloud. Le studio est très rangé, propre et surtout à deux pas de la station du RER A. Khouloud est une hôtesse merveilleuse! toujours à l'écoute et très réactive. Bref je le recommande vivement!
rym
2015-09-29T00:00:00Z
Très bon accueil, Khouloud et son ami sont très arrangeants sur les horaires d'arrivée et de départ. L'appartement est propre et fonctionnel et idéalement situé pour travailler sur La Défense.
Laureline
2016-04-16T00:00:00Z
Charmant studio, calme,fonctionnel,proche de tout commerce et d'une gare.J'ai passé un agréable séjour.merci.
Michael
2016-06-18T00:00:00Z
Room Type
Entire home/apt
---
Property Type
Apartment
---
Accommodates
2
---
Bedrooms
Houilles, Île-de-France, France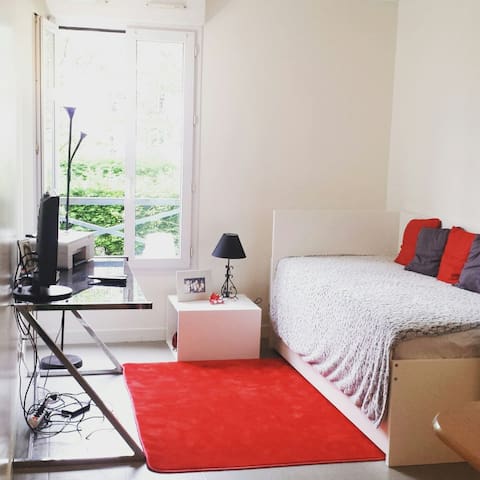 1 minute away from the station and 10 minutes from Paris by train (RER A), this flat has everything you need to enjoy your stay in a quiet place while still being very close to many touristic sites.
1 minute away from the station and 10 minutes from Paris by train (RER A), this flat has everything you need to enjoy your stay in a quiet place while still being very close to many touristic sites. Well located between Paris and Maison Laffite, you'll enjoy being only 10 min away from the Arc de Triomphe or the Chateau Laffite and his racecourse. You'll also be only 15 min away from the department stores "Galeries Lafayette" for an afternoon of typical french shopping! You can also get to the Effeil Tower, Notre Dame or the Louvre within 25min. By car or by bus, you'll easily get to Chatou, the famous Impressionists Island where Renoir painted "le déjeuner des rameurs" et "les cannotiers à Chatou". At last, the Disneyland Park will make for happy kids and parents, 40 min away by direct train. Very comfortably furnished (parking, oven, microwave, dishwasher, Wifi, Cable TV, washing machine...) it has the genuine charm of a French apartment and sleeps up to four persons. Wether on a business trip or just for leisure, you will definetly enjoy your stay.
Camille was a friendly and forthcoming host and helped us navigate the city to find the flat. She gave us all the information we needed to have a pleasant stay and was available through internet and cell phone in case we had questions. The flat was clean and comfortable and exactly as advertised. It was located in a quiet neighbourhood but still very close to public transportation (RER) which was a big advantage for us. I recommend this place to anyone looking to visit Paris and who would like to stay somewhere calm and relaxing.
Stener
2015-05-22T00:00:00Z
Great place to stay!, very modern, clean and neat, it's just in front of the train station so going to Paris is pretty fast, one big plus is the parking place which is inside the building very good :). We had a very good time in this place. Highly recommended
Rafael
2013-06-24T00:00:00Z
I did not actually meet Camille, but she had someone to greet us when we arrived. The flat was lovely, very peaceful, with everything needed for a pleasant stay including a washing machine and dishwasher. The train station was only 1 minute away and it only took about 15 minutes to get to Paris. There was a supermarket and other shops only a few minutes walk away so supplies were easily obtained. I would be happy to stay there again when I return to Paris and recommend it.
Terri
2012-10-01T00:00:00Z
Camille was a very nice host and a person to deal with. Proactively contacted me with check-in time and adjusted to more preferable for me. Helped with location of nearby shops, way to reach Paris. She has nice "tips and FAQ page" on the fridge and replied shortly on all my questions. Apartment is in great location: 2 min to train station and short way to Paris center. Environment is very quiet.
Konstantin
2015-06-18T00:00:00Z
Camille was great and exceptionally helpful. We were early by about 3 hours and so we sat down to have lunch and relax the time away. To our surprise, she rushed over from across the city to open the apartment for us and to show us around. She did not have to do that, but she did and we greatly appreciate it. The apartment is beautifully decorated and has all the necessary equipment. It is very clean and very well maintained. My wife, daughter and I stayed for four nights and we very very happy and comfortable. It had everything we could ask for. It is just opposite the Houilles train station so it is very easy to take the RER A line to the city. Auber in Paris is just 4 stops and 10 min away. The car park is in the basement of the apartment block and is very safe. A wireless remote is provided by Camille to open and close the car park doors. The supermarkets, bakeries, pizza shop, restaurants, etc are all just a stone's throw away - very convenient(URL HIDDEN)
James
2014-11-24T00:00:00Z
Camille is a perfect host! Every detail is taken care in advance. The flat and location are just great!
Maria
2012-10-05T00:00:00Z
Everything was fine! The flat was very clean and cosy. We found a lot of informations about Paris on the table, a map of the town on the fridge, the free WiFi was nice, too. Camille was very helpful and explained everything. We would choose it again.
Eva
2012-10-18T00:00:00Z
WHen we moved in to the Flat we met CAMILLE, we found her very nice charming and smiling girl, she was very helpfull and the flat was good and clean and everything of necessity. She helped us and she was in contact all the time with us to guid us and she tried her best to help us. BUT BUT BUT We had very BAD EXPERIENCE with AIRBNB, when we (me and my girlfriend) reached to the Paris at 9 in the morning and when we reached to Flat, then Camille told us that AIRBNB has cancelled our booking, and AIRBNB did not even bother to inform us that they have cancelled our booking. When i spoke to AIRBNB about this so they have having NO REASON with them to explain. We were on tour but full one day was wasted to contact with AIRBNB, but whole day we were not able to contact them, I rang them, I send them thousands of e-mails, i tried to contact them via their CHAT ROOM, but i was totally unable to reach them and they even did not bother to help me. I dont undersatand if they cannot give the proper service then why they charge the AIRBNB SERVICE CHARGES. Camille again helped us and offered us her flat for only 2 nights and again i paid AIRBNB rent and AIRBNB service charges, I paid Service charges twice for their BAD SERVICE. MY REQUEST TO ALL, MY REQUEST TO ALL, MY REQUEST TO ALL, please make sure till last second that your booking is confirmed and NOT cancelled, As we were for Paris tour not for time waste, We wasted our 2 days out of our 5 days trip. you can understand if you are on tour you want to spend a single minute of your trip, but trust me we wasted our complete 2 days just because of AIRBNB mistake and BAD SERVICE, bad service for which they charged their services charges to give us bad service. . . But once again i will say CAMILLE was nice helping and very co-operative girl, She did alot for us and she gave us morally support and she was always with us in contact with us and it was worth staying in her flat and the flat is just 25 minutes aways from the main Areas.
MOHSIN
2012-10-11T00:00:00Z
Room Type
Entire home/apt
---
Property Type
Apartment
---
Accommodates
4
---
Bedrooms
Houilles, Île-de-France, France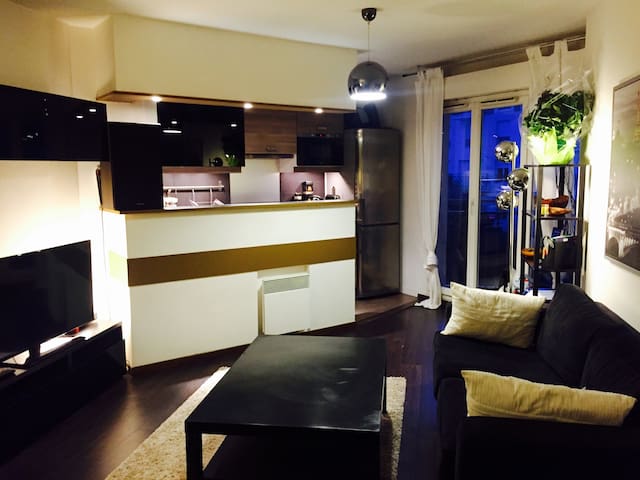 Spacious and bright flatwith all the necessary comfort for a family (6 to 8 persons) Direct Access from Paris with RER A - Train Located from 10 minutes walk of the station (RER A, Train) A parking lot is included
Spacious, bright, comfortable A parking is included
Room Type
Entire home/apt
---
Property Type
Apartment
---
Accommodates
6
---
Bedrooms
Houilles, Île-de-France, France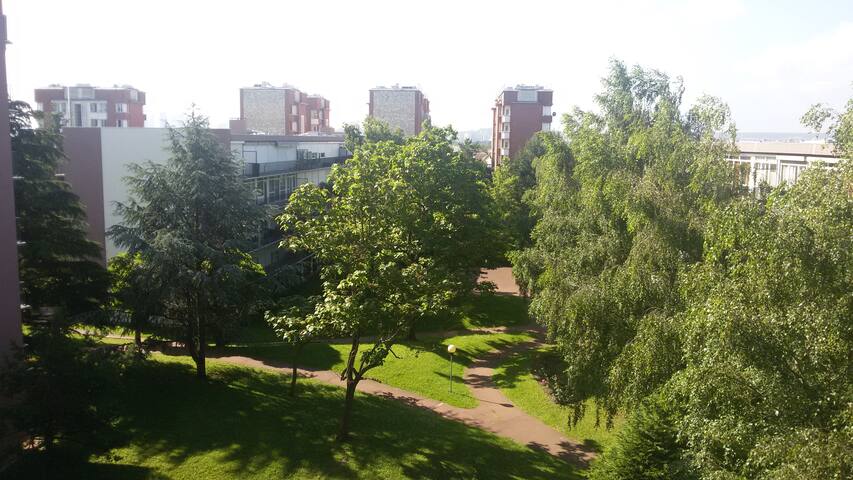 cozy studio near the Gare de Houilles / Carrières-sur-Seine with the RER A and L and J (Defense 5min / 15min Saint-Lazare / 15min Châtelet). Apartment very simple but practical. Just right ;)
Très bon accueil, appartement très bien, très bien situé ausssi et Nicolas est arrangeant, je recommande
Thomas
2017-01-15T00:00:00Z
Très bon séjour chez Nicolas
Adeline
2017-01-20T00:00:00Z
Bon pour dormir quelques jours
Bruno
2017-01-13T00:00:00Z
Studio bien situé avec un bon accueil
Adrien
2017-03-10T00:00:00Z
j'ai passé un excellent séjour chez Nicolas,belle immeuble situé juste à coté de la gare,Nicolas à tout fait pour facilité mon séjour,je recommande ce logement.
adel
2017-01-31T00:00:00Z
Logement très propre et situé juste à côté de la gare
Samia
2017-03-30T00:00:00Z
Room Type
Entire home/apt
---
Property Type
Apartment
---
Accommodates
2
---
Bedrooms
Houilles, Île-de-France, France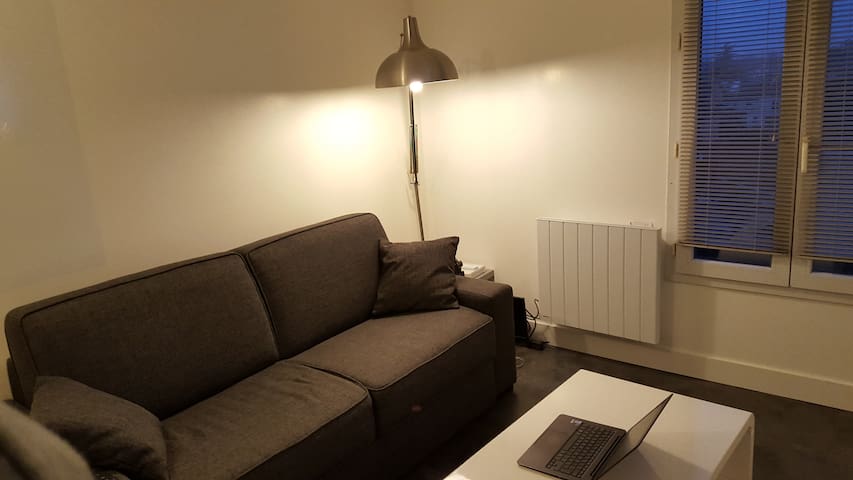 In a secure apartment of 85 m2, I rent a room for one or two people. 5 min walk from the station Coal / career Seine RER A, 10 min from La Defense, 15 min Des Champs Elysées, 20 minutes from the Gare de Lyon, 55 minutes from Disney Land /
The host canceled this reservation the day before arrival. This is an automated posting.
Richard
2017-04-03T00:00:00Z
Appartement conforme à l'annonce proche du RER. Emmanuelle est vraiment gentille et accueillante! Je recommande vivement !
Dorianne
2017-03-30T00:00:00Z
Emmanuelle ainsi que ses filles sont adorables. Personne très interessante, ouverte d'esprit et qui sait très bien recevoir. Je recommande fortement.
Amandine
2017-03-31T00:00:00Z
Room Type
Private room
---
Property Type
Apartment
---
Accommodates
2
---
Bedrooms
Houilles, Île-de-France, France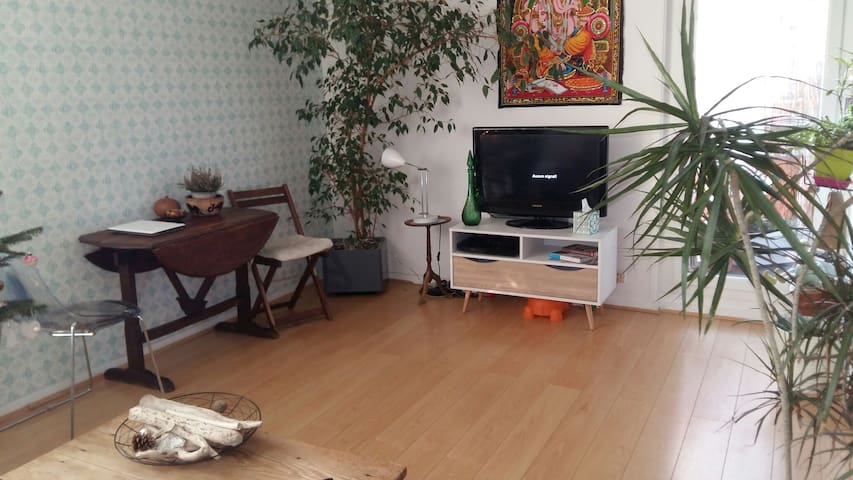 cómodo apartamento en el centro tranquilo, con un gran balcón. Todas las pequeñas empresas y área grande están cerca. ¡Muy práctico! París es servida por el RER A y Transilien (15 minutos). La estación se encuentra a 5 minutos a pie.
El apartamento se divide en una habitación bien iluminada, una gran sala de estar y cocina independiente también. El baño tiene una bañera. El agua está caliente. Hay muchos enchufes para sus dispositivos y wifi.
La zona es tranquila y cerca de todos los servicios. Está a cargo de la vida comercial. Un gran mercado 3 minutos a pie del apartamento se lleva a cabo el sábado y el miércoles por la mañana.
Pas de souci sur le logement: tout correspondait à l annonce. Avons été reçu comme à la maison avec des attentions personnelles. Appartement chaleureux et agréable. Couple sympathique.
Sabine
2016-04-22T00:00:00Z
Room Type
Entire home/apt
---
Property Type
Apartment
---
Accommodates
4
---
Bedrooms
Houilles, Île-de-France, France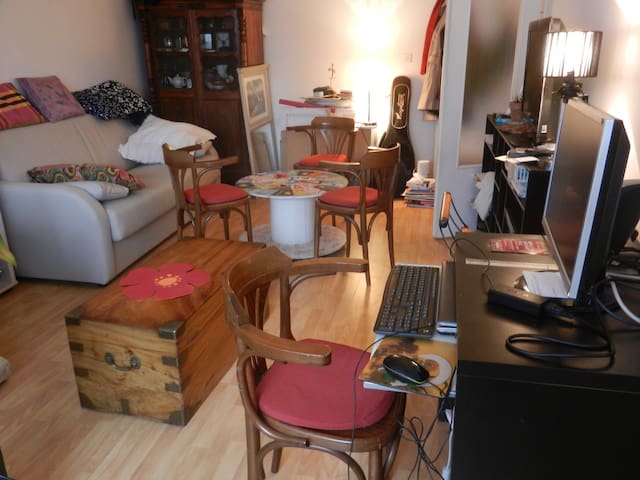 Très bel appartement très propre, calme et fonctionnel. Très bon contact à l' arrivée pour la remise des clés comme au départ. Nous vous recommandons vivement ce logement.
Odile
2017-02-23T00:00:00Z
Room Type
Entire home/apt
---
Property Type
Apartment
---
Accommodates
2
---
Bedrooms
Houilles, Île-de-France, France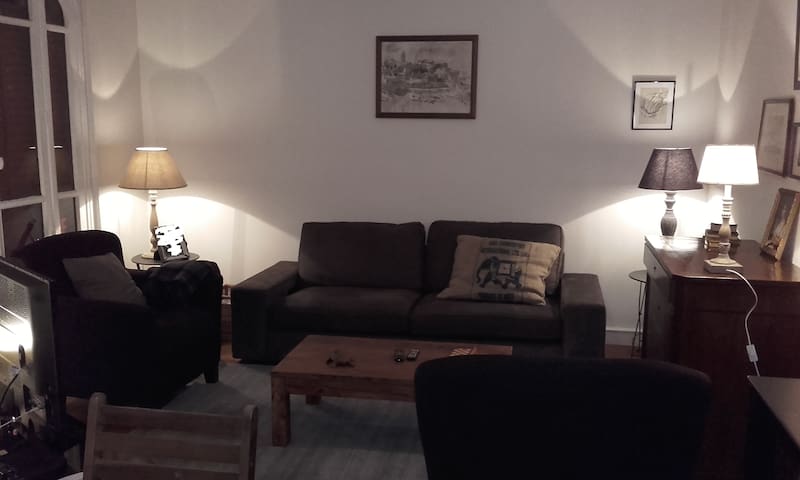 Houilles - Airbnb
:
Average

4.88

out of

5

stars from

836

guest reviews
1

–

18

of

300+ Apartment Rentals
Enter dates to see full pricing. Additional fees apply. Taxes may be added.