Very comfy room for two in very city center of Helsinki. Welcome!
Kati's place is a nice place. Kati is a great host too...
Vinay
2016-10-09T00:00:00Z
Great place in the middle of the center. Very Nice host. Should recommend this place for sure
nicole
2017-04-05T00:00:00Z
Me and my husband stayed in Katis place for 4 nights and it was great. Easygoing host with a nice room in the very center, you dont need any public transport to explore the city. Good price for a room like this! I recommend booking this room (:
Lili
2017-03-04T00:00:00Z
Kati is such a wonder and friendly host. Her flat is well located and she has plenty of great tips for visiting Helsinki! We really enjoyed staying with her!!
Rosario
2017-03-25T00:00:00Z
Nice location, comfortable bedroom, thanks.
Thomas
2017-03-17T00:00:00Z
Kati is a lovely host. She really cares about her guests and makes them feel at home.
Kiana
2017-04-09T00:00:00Z
Very convenient location, close to the station. A wonderful hostess. Spacious room, comfortable bed, clean bed sheets. Apartments are in a quiet area.There are dishes, tea, coffee in the kithen.
Виктория
2017-03-05T00:00:00Z
Kati is a super ice person, you wont see her too much even when she lives in the house but she is always ready to help you.
Nicolas
2017-03-23T00:00:00Z
Room Type
Private room
---
Property Type
Apartment
---
Accommodates
2
---
Bedrooms
Helsinki, Finland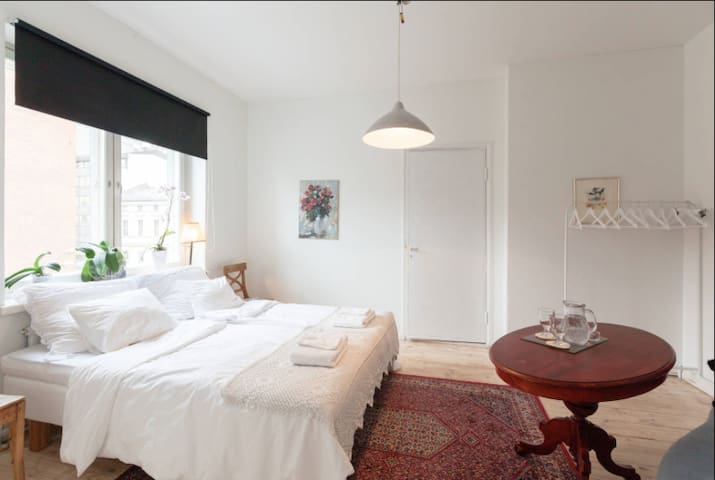 In the heart beat of Helsinki, this fully integrated apartment welcomes you with all nececcities possible. Dishwasher, washing machine with dryer, an Italian double bed. Fully renovated in 2013 with a new kitchen and a small stockholm bathroom.
The Apartment officially sleeps 2 on a double bed, but also has a big & spacious sofa to sleep 1 more. The apartmernt is fully renovated 2013 with a new kitchen and a shiny bathroom. The view from the apartment is open to the small square of Kampintori. Also the traffic is light because it´s prohibited to only pass through with private cars.
The neighbourhood is the main center, anyhow it´s on the side with Kamppi, which has most of the restaurants, movie theatres (Also the historic Orion with the Finnish Film archives), bars and nightclubs. For shopping You have all the major shopping centers 0 to 5 blocks away. And walking down Fredrikinkatu on which the apartment is located, you can find it being the longest street in Helsinki with independent shops carrying clothing, Finnish design, art and anything you can think of. On Summer time You can also take a 10 minute walk to the only sandy beach Helsinki center has to offer.
Perfect location right in Kamppi area, only a 10 minute walk from bus/train station. Everything was perfect and would recommend. Thank you!
Damien
2015-08-01T00:00:00Z
I truly recommend staying at Finn and Solja's place. The location is great and the flat is really cosy. They were also very flexible with letting me in when I was arriving at 00.30 in the night- Thanks for a great stay!
Karl-Oskar
2014-11-22T00:00:00Z
Location is fantastic, right in the centre, easy for buses, trains, metro, etc. Finn and Solja were helpful and accommodating of our schedule. Flat is fine, has everything you might need, and the portable wifi that you can take with you around town is also handy. Bed might be a bit small for two larger people.
Arthur
2015-04-15T00:00:00Z
It was great. The location was perfect for my family. Best location for short-term young visitors who have never visited Helsinki before.
Namkyu
2014-07-23T00:00:00Z
Although it is a little small for three people,this apartment is in a nice location and Finn is very nice house-owner.recommend.
tao
2016-12-18T00:00:00Z
Yes very welcome personally met us at the apartment
Fiona
2015-05-07T00:00:00Z
Finn was there to let us into the apt when we arrived. The location was amazing as it is literally at the center of Helsinki. It was right next to a big mall and there were two big supermarkets so it was very convenient to shop. Three stops from Helsinki main station. Totally recommend this place!
Kaori
2016-05-08T00:00:00Z
The apartment is exactly as in the description. The location is absolutely perfect (city center) and the host very friendly and ready to help. The shower is a bit small so perhaps not for everyone. However, the stay was overall very pleasant. I definitely recommend it
massimo
2015-08-04T00:00:00Z
Room Type
Entire home/apt
---
Property Type
Apartment
---
Accommodates
3
---
Bedrooms
Helsinki, Uusimaa, Finland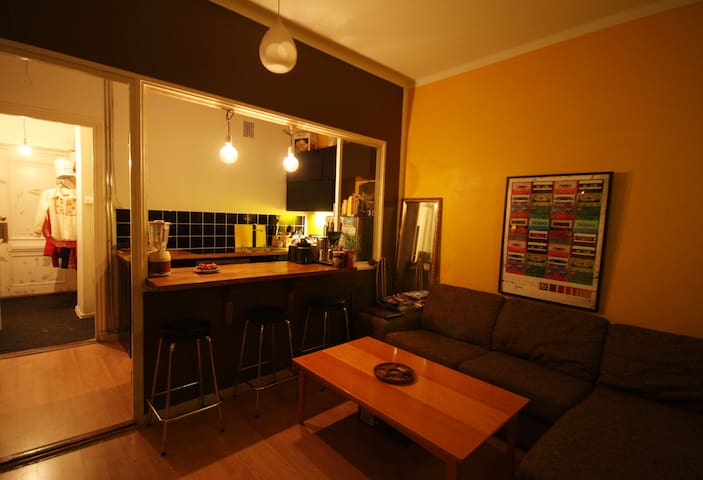 Have you ever thought how living small can make you happier? This is your opportunity to try it out. The little studio, with full kitchen and bathroom, is located in a great central spot of Helsinki. Its fresh and modern décor, efficient layout and use of space make the place comfortable, relaxing and enjoyable. Take an advantage of being in downtown: Kamppi and Central train station, all cental attractions, shops and restaurants are within a short walk.
My place is suitable for single travellers, couples, a group of 2-3 friends, families of three.
Central and very lively neighbourhood. Five minutes walk to Kamppi shopping center and the same to the Stockmann department store, located at the beginning of the same street. Central train station is 10-15min walk or 2 stops by tram. Quick access to the West ferry terminal. Endless amount of shops, restaurants, museums and local galleries - just ask me more, and I'll give you the best recommendations!
The place is small and well suited for up to three persons, however, only in the case of all three being really close friends. The shower was literally the tightest I've ever encountered. However, the location (close to West Harbour where Tallink ferries arrive), cleanliness and, above all, communication with Nadja was on the highest level. Great value for the money (especially, cosidering prices in Helsinki) and the place os excellent for short stays. Will definitely check the availability of this place, when visiting Helsinki again.
Andis
2017-04-09T00:00:00Z
Nice, clean, neat and quite small apartment downtown. Nadja and her husband were great hosts and all went really friendly and smooth. Being downtown is big advantage (also) in Helsinki as distances are huge and public transport is costly. All in all very good experience!
Peter
2017-04-04T00:00:00Z
Good place and nice tiny appartement in Helsinki city center!
Mathilde
2017-04-08T00:00:00Z
Room Type
Entire home/apt
---
Property Type
Apartment
---
Accommodates
3
---
Bedrooms
Helsinki, Finland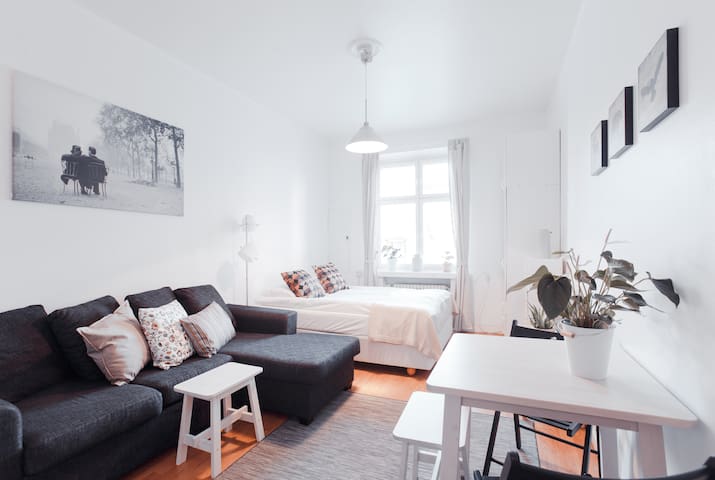 Peaceful studio in the most wanted area in Helsinki. Quiet house Near of everything. Completely renovated. Lovely neighbourhood, lot of trendy shops, restaurants and bars in a walking distance. Free WiFi Some guests has mentioned they felt there was something wrong with the bed. I examined the bed with professional carpenter and yes indeed! There was something to fix. The bed is now fixed stable and solid and comfortable again!
Overall a great value for the location. It's very close to downtown but on a quiet street. That being said we could hear everytime someone in the closed a door or turned on their water, etc. Jori is a great host, he was very kind and took the time to tell us about Helsinki, what to see, how to get there, etc. And went over everything with the apartment in detail. I absolutely loved the vibe of this apartment and the way it was decorated. We only stayed there to nights, but it seemed to have everything we could have needed for an extended stay. The only two drawbacks to this place are a) the shower drain smells of mildew - which Jori is aware of and had talked to the building about several times, so hopefully that gets fixed soon, and b) the mattress for the bed is very thin (more like a foam pad) and you can feel the wood slats you are sleeping on. I'm in my late 20s and woke up several times during each night sore and uncomfortable. Overall I am happy with the experience.
Monique
2017-01-03T00:00:00Z
Jori's studio is exactly as described! It's central, cosy and very charming! Will recommend it to anyone visiting Helsinki.
Tino
2017-04-11T00:00:00Z
Jori is a good host full of off the beaten track suggestions for visiting the city. The apartment has a great, central location (walking distance to restaurants, coffee shops etc.) and its unique character. We had however problems with the wifi which didn't work, while travelling this is really problematic.
Edyta
2017-02-03T00:00:00Z
Nicely located apartment about 10minutes walk to city center!.
Duke
2017-03-23T00:00:00Z
We had nice stay in this atypical decorated flat. Jori welcomed us with an home made ice tea and gave us good advice. Really quiet street with everything close by. We slept well altough the sofa bed is a bit unconfortable.
Emilie & Jonathan
2017-01-22T00:00:00Z
Cozy and well located, nice and unique art atmosphere !
Bazhena
2017-01-18T00:00:00Z
Jori was waiting for me in the flat. He was really nice and gave me a lot of information regarding places to go, to eat and many other advices. The studio is perfectly located at a walking distance from everything. Thanks for making our stay so comfortable and pleasant!
Gabriel
2017-03-03T00:00:00Z
Superb location; quiet neighbourhood, very close to the centre and restaurants, cafes and grocery shops within 2-3min distance. Flat was in very good condition with a very interesting design (see Jori's pics!). All in all, you can tell Jori has hosted before: he will make you feel welcome and fill you in on all the necessary things. I was happy with my choice.
Sampsa
2016-05-05T00:00:00Z
Room Type
Entire home/apt
---
Property Type
Apartment
---
Accommodates
2
---
Bedrooms
Helsinki, Finland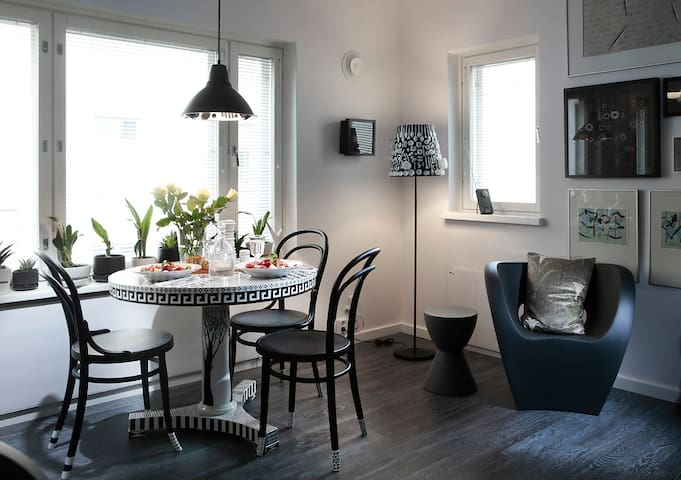 Our apartment-studio is located in the heart of the city, Kamppi, with a comfortable homey feel and a park in front with lots of trees. We have decorated it with Scandinavian minimal style and a hint of vintage in mind. The apartment has a spacious entry way and lots of storage room for luggage. The kitchen is an open style kitchenette that flows into the dining area. The entire apartment has an open plan and the living room is attached to a cute sleeping alcove and more storage space for you. All of the furniture are either design pieces, new or specially made to fit the apartment, like the huge bed! The whole apartment will be just for you and everything in it can be used to make your stay fantastic! BEDROOM, The bed is in an alcove and it's a low futon style frame with a comfortable mattress that is slightly bigger than a queen sized bed (160cm wide), with light dimming curtains to keep it nice and dark. It has two soft blankets and pillows with also extra pillows in the wardrobe should you need them. All the linen is also included in your stay. KITCHEN, The kitchen is equipped with a stove, oven, refrigerator, freezer, microwave, a french press, coffee, tea and all the other essentials you need to cook with! Kitchen towels are also provided. BATHROOM, The bathroom has a shower stall and all the necessities that include toilet paper, shampoo, conditioner, hand soap, nail file, hair spray and other products. We will provide you with a set of towels so no need to bring your own! LIVINGROOM, We have a free wifi for you to use while you are at the apartment. There is a couch that can double as a bed if there are three guests at the same time. A glass coffee table with some magazines and also a bookshelf with some books to read are decorating the living room. All of the wardrobes and shelves are also in your use only. NEARBY, There is a convenience store just on the other side of the street that is open until 12pm on weekdays and until 5am on the weekends. Also restaurants and late night snack places are just a minute walk away. Parking is free on Sunday's and 4€/hour on weekdays and Saturdays from 9am to 9pm, there is a ticket machine for parking in front of our building. TRANSPORTATION, You are already located in the center when you stay in this apartment! The area is called Kamppi and you are just a 5 minute walk from the design district and some nice shopping areas. If you are arriving from the airport, you can take the Finnair bus, it costs 6,30€ and you can purchase the ticket from the driver. It will take you straight to the Helsinki Central Railway Station (20-30min drive) and I can come meet you at the stop or whatever arrangement is easiest for you. The Finnair bus leaves approximately every 15min from the airport so no need for a long wait. You can also take a local bus or train from the airport with a lower fee and they will also get you to the city center in about 30minutes. From the Railway Station it is only a 10 minute walk to the apartment. For extra convenience we also a taxi station in front of our apartment building. INTERACTION WITH GUESTS, I am reachable through out your stay 24/7 and will be delighted to help in any way I can to make your stay the best possible.
We had an awesome stay at Katri's place! Great location and very cosy flat, it had everything we needed. Would definitely recommend to everybody who is going to Finland! Thankyou Katri !
Jake
2016-11-24T00:00:00Z
Katri was a very responsive and communicative host. She did everything she could to make our stay pleasant. E.g. on our last evening the wifi connection couldn't be established for which she apologized and immediately offered to come and fix it. We chose the apartment because it is in a very central location.
Alina
2016-09-27T00:00:00Z
It's a very good place to visit Helsinki. Katri was very nice.
Alexandre
2016-12-21T00:00:00Z
Katri was a great host. She gave us detail instructions on getting to the apartment from the airport and greeted us warmly when we got to the apartment. She was helpful with any questions about both the apartment and the city itself. The apartment is clean, centrally located, and has all the amenities we needed for our stay. Thank you Katri!
Jack
2017-03-12T00:00:00Z
It was really wonderful time to stay katri's house. She is the best host I've ever met! The apartment is nice and located in design district :) I definitely recommend !
가혜
2017-03-01T00:00:00Z
We loved the quiet setting, despite being a short walk away from some lively shops, restaurants, and bars. The place is beautifully decorated. The shower is hot and powerful - especially appreciated in the winter ☺️ Perfect for a couple or lone traveller. Katri's local knowledge was invaluable and communicating with her was easy.
Edward
2017-02-24T00:00:00Z
We stayed 1 night at Katri's apartment and we had a wonderful stay there. The apartment is very nice, you have all what you need inside and it's close to the main places in Helsinki. We received a warm welcoming by Katri and she gave us good tips. I highly recommend this apartment to visit Helsinki
Sébastien
2017-03-20T00:00:00Z
Katri is certainly a "super host." Her apartment could not be in a better location. All of her recommndations for food and nightlife were excellent and the communication before and during the trip were too-notch. I asked her about doing some laundry last minute and she was able to meet me and help me get it done early in the morning after my first evening. I highly recommend her apartment for any stay in central Helsinki.
Andrew
2017-01-16T00:00:00Z
Room Type
Entire home/apt
---
Property Type
Apartment
---
Accommodates
3
---
Bedrooms
Helsinki, Uusimaa, Finland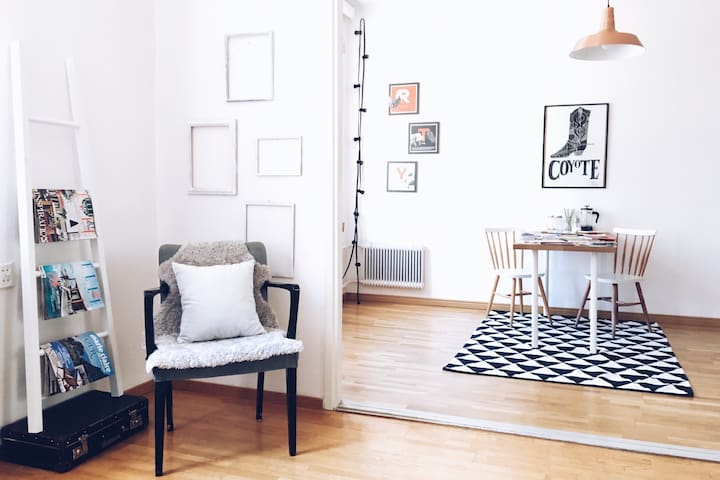 Bright, and quiet room with king size bed 160x200 in renovated elevator building near Kamppi. You'll be in walking distance to restaurants, cafes and much more. You'll be sharing the apartment with additional guests or the family
Walking distance to the Rock Shurch - 2 minutes, National Museum - 3 minutes, Kamppi shopping center and Kamppi bus station, Kamppi metro station - 5 minutes, the Railway station and main bus station with connection to the airport - 10 minutes, to the swimming beach "Sand beach", Kauppatori "the Market Place", Senat Square - 15 minutes Nearest tram stop - 2 minutes, nearest bus stop- 3 minutes. Hundreds of small and big restaurants are within 10 minutes walking distance.
Neighborhood is very quiet and peaceful. Just behind the corner you can find a lot of small cafes and big restaurants, small and big shops, Finnish National Opera, the National Museum of Finland, Kunsthalle Helsinki, the Zoological Museum and many small galleries.
Good for one night, it's central to the old town, you can reach all in about 15 min walk. You get the private space you need. Difficult for parking, costs a lot around there, or late in the evening. Anyway its not easy even to find a parking lot.
Corbinian
2017-03-17T00:00:00Z
The room was as described, spacious and comfortable. The Wifi was also excellent. The apartment was an easy walk to the central bus station and in an excellent position.
Jon
2016-02-28T00:00:00Z
I had a nice time. When I arrived, the host gave me a cup of tea. Since I was a little nervous, I was very happy. In addition, the room was beautiful also widely. It was a great time. If I come to Helsinki, I want to stay again. Thank you.
Madoka
2016-02-09T00:00:00Z
Very nice flat in the City center. Close To all!! Few exchange with Kermen but the goal was To visit Helsinki Many thanks Julie and Julien
Julien
2016-06-20T00:00:00Z
Lovely room for a reasonable price
Swarthy
2016-04-27T00:00:00Z
Had a great stay at Kermen's place. Nice and close to the station so was easy to find. The room was perfect with a very comfortable bed.
Bernard
2016-12-15T00:00:00Z
Nice warm room and good location to go city centre.
Huitzu
2016-04-01T00:00:00Z
Hello people! It is very good hostel. It's located in quite area of Helsinki, but you can reach all famous places in 5-10 minutes such as bars, shops, mega malls, markets, coast of bay where you can enjoy amazing view. What about flat? There is very cool kitchen when you can cook meal for you. There are wifi and tv. All rooms are clean. I enjoyed the hostel. Have a nice trip!
Aleksei
2016-11-04T00:00:00Z
Room Type
Private room
---
Property Type
Apartment
---
Accommodates
3
---
Bedrooms
Helsinki, Finland
Wonderful 2 rooms apartment in the very heart of Helsinki centrum. Railway station, main shopping centres and restaurants - all in the walking distance. Famous Hietalahden tori flea market with nice coffee bars and antik shops just around the corner. Apartment has a modern kitchen and bathroom with all the necessary minor utensils and equipment. New target! Check out hosts positive feedback from here: https://www.airbnb.fi/rooms/9210320
Room Type
Entire home/apt
---
Property Type
Apartment
---
Accommodates
4
---
Bedrooms
Helsinki, Finland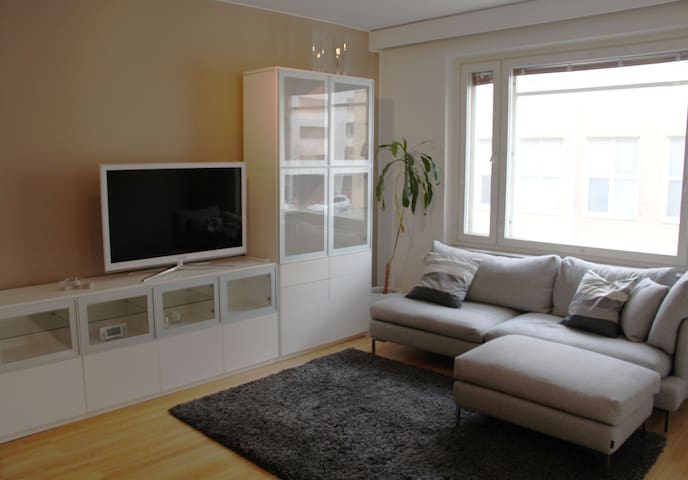 Basic top floor studio located right in the heart of Helsinki. Easy to walk everywhere. One room space, very compact. Very basic toilet and cooking facilities.
Juha is a great host,extremely friendly and flexible! The place is basic, but he doesn't advertise it as anything else than what it is - a small,practical apartment with a fantastic location. I would stay here again.
Tuija
2017-01-07T00:00:00Z
central part of helsinki
Aaron
2017-02-16T00:00:00Z
I stayed 6 nights at Juha's studio for my business. Juha was simply a perfect host, every time I contacted him furing my stay he responded promptly and provided me great information. The studio has everything I needed and good enough for a person who only need a place to sleep like myself. Bathroom is a bit funny - shower and toilet in a very small space so you actually take a shower with a toilet right in front of you. Having said that the entire house was very neat and clean so it didn't bother me at all. Overall, it was a great stay for me. Thanks Juha!
Tomoki
2017-04-03T00:00:00Z
Great location and great host. Highly recommend for lone travelers.
Dongjie
2017-01-14T00:00:00Z
Very nice and clean room. Near by every thing in central Helsinki. Easy access to public transport if you need to go somewhere outside of central.
Jussi
2017-02-02T00:00:00Z
Very nice host. The apartment is very central and cheap and also has everything one would need for a short trip!
Karl
2017-03-13T00:00:00Z
It's a simple but comfortable place, very easy to get to and the check-in also was without problems. Juha was nice and helpful. The portable WiFi is definitely an outstanding plus!
Veronika
2017-03-19T00:00:00Z
This is exactly what I needed, a place to crash and explore Helsinki for one night. The listing is accurate, the apartment is clean and central. Can't go wrong with this deal.
Kingsley
2016-12-30T00:00:00Z
Room Type
Entire home/apt
---
Property Type
Apartment
---
Accommodates
1
---
Bedrooms
Helsinki, Finland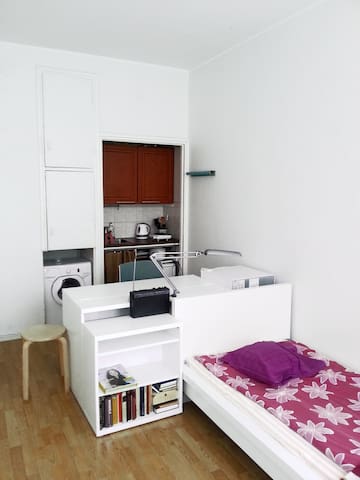 Brand new, beautiful modern apartment in the heart of Helsinki. THE BEST LOCATION you may have during your stay, only 250 meters from the shopping mall Kamppi. There is many restaurants, malls, museums, movie theaters, activities and shops nearby. 40,5m² space, 3rd floor, two-room apt, separate bedroom. Fast FREE WIFI. Quiet and nice neighborhood in the center. Suitable for couples and single travellers. There's a gym downstairs which you can use freely and a sauna on Saturdays from 8pm to 9pm.
Brand new apartment with all the necessities. Locates in the center of Helsinki, Kamppi. I guarantee this is the BEST LOCATION you can possibly get here in Helsinki. It's easy to enjoy the city when you can reach everything in minutes. Public transport isn't even needed. Apartment has fully equipped modern kitchen, cozy living room with large TV and a sofa bed, comfy bedroom, super clean bathroom and french balcony (no smoking). As you can see in the pictures, this is a two-room apartment (not a studio) so you can even have some privacy from each other during your vacation if needed. There is a gym downstairs which you can freely use. There is also a sauna which you can use on Saturday (8pm to 9pm). Towels, sheets, shampoo, coffee and tea etc included. There's washing machine, dishwasher and iron & ironing board. Sofa bed in living room is 140 x 204 cm. The bed in bedroom is 120 x 200cm. The apartment fits comfortably 2 to 3 people. I live here but I'll be away during your stay.
Quiet and nice neighborhood. Even though the apartment locates in the center of Helsinki you can still sleep your nights in peace. This is a quiet building and you can't hear any traffic noises either because the windows face the inner yard.
Saara's apartment is just as she describes - brand new (in a completely renovated building), very clean, and centrally located. I recommend it to single travellers or a couple - the plan is very open, so might not be the best for friends travelling together who appreciate some privacy from each other. Saara was very easy to deal with and replied very fast.
Antti
2017-01-13T00:00:00Z
The location was perfect, the flat beautiful and Saara was such a helpful host!
Jd
2017-01-29T00:00:00Z
Saara's apartment is a clean, modern, and comfortable space. I was traveling solo, but up to 3 people could stay here comfortably with 1 person sleeping on the couch. The location is great. Walkable to shops/restaurants, the west harbor, and it's just a 15 minute walk to the train station. Saara was helpful in answering my questions and getting me set up. I'm really glad I found this spot, and recommend it to everyone.
Joseph
2017-02-05T00:00:00Z
Saara was a great host and the location of the apartment was perfect.
Jake
2017-03-12T00:00:00Z
Saara is very nice! She answers very fast, helps and gives informations about Helsinki. The appartment is clean and nice. A very good location in the city. All is perfect except the bed, that is unfortunately a little too small for 2 people.
HELENE
2017-02-20T00:00:00Z
房東回覆問題有效率又親切,公寓乾淨、設備齊全,附近環境及交通皆方便!另人滿意的住宿經驗!
Chia Chen
2017-03-10T00:00:00Z
Room Type
Entire home/apt
---
Property Type
Apartment
---
Accommodates
3
---
Bedrooms
Helsinki, Finland
For you who aren't satisfied with middle of the road accommodations, this apartment in the heart of Helsinki is newly renovated with all the latest amenities and accoutrements. The building itself is historically valuable and exudes a warm glow of authenticity, making it a perfect place from which to enjoy all that Helsinki has to offer.
The apartment itself has a double bed in the living room and, above the kitchen, there's a loft with two single beds. The bathroom is relatively small but, with the exception of holding family meetings there, it should suffice.
We had a wonderful stay with Joachim! His place was clean, spacious and beautifully decorated. Joachim was also always quick to respond to messages, which was so helpful. We also had a late flight, and Joachim was really accommodating and offered us storage solutions. Thank you for a wonderful stay!
Sipei
2017-03-14T00:00:00Z
Beautiful apartment, very clean and quiet. Excellent location
Paula
2017-04-02T00:00:00Z
Joachim was very accommodating to our early arrival time and made alternate arrangements to have our luggage stored elsewhere for the day. The apartment was exactly as pictured - clean and comfortable. Although small, the high ceilings and big windows made the space feel very open and bright. We enjoyed our stay very much.
Laurel
2017-04-01T00:00:00Z
Joachim is a great person, was super helpful and easygoing. Apartment has all the appliances and everything necessary, close to center.
Eralp
2017-01-28T00:00:00Z
Great apartment, recently renewed with all you need for your stay. Joachim is a very kind person, always available and pleased to help you! Position and location are perfect, very close to the city center. We strongly advise it if you wanna spend lovely days in Helsinki!
Alessandro
2017-01-02T00:00:00Z
This is a beautiful and clean apartment that looks and feels brand new. The kitchen is wonderful with modern applicances. The bathroom is beautiful and modern, albeit small, I am discovering that tiny bathrooms are the norm for Finland. One of the main reasons we chose this apartment was because it had a washer/dryer, which was a godsend! The Murphy bed was a nice surprise, but you should be aware that the 2 single beds share a very small loft space, so if you have more than two people they will be basically sharing a bed. The building was quiet and the neighborhood seemed quite safe. The location was great: close to the train station, harbor, and places to eat.
Mary
2017-03-24T00:00:00Z
Loved this stylish city apartment! Helsinki city centre is within walking distance also there are cafes and restaurants in the neighbourhood. Joachim was easy to reach and communication worked well. I recommend this beautiful home!
Petra
2017-02-26T00:00:00Z
The little Studio is newly renovated and very beautifully designed. There's a lot of storage space in the closet and it is equipped with all the basic things you need. The Studio is closed to the center, located in the Design District of Helsinki and everything important is within walking distance. There are a lot of nice restaurants and cafés around and many little design stores. If you need to get somewhere further away, there's also a tram stop just around the block. Joachim was very helpful with everything and very quick in responding. We enjoyed our time in Helsinki and felt very comfortable in the apartment.
Sarina
2017-02-22T00:00:00Z
Room Type
Entire home/apt
---
Property Type
Apartment
---
Accommodates
4
---
Bedrooms
Helsinki, Finland
Very convenient location in central down town Helsinki with walking distance to central train station and Kamppi bus station or subway within 3 minutes , Beautifully decorated with Scandinavian style, its located in a old building, you have nice view to the city and park, a nice fully equipped kitchen for candle dinner or just walk out to find mass variety of restaurants. For a third person there is folding sofa bed and lot of books to read.
Space is divide with Bedroom and living together and separate kitchen and a toilet, its available with 160x200cm double bed and on request 90x200 Sofa bed.
Beautifully decorated and best place in town just 2-5 minutes walk to all the bars, central train station, bus station and also to the ferry and subway.
Very central, clean and overall good quality. May not be ideal for 3 people, as there's just one room. Wifi speed is decent and the place is pretty warm. We were here at the end of March.
Niki
2017-03-27T00:00:00Z
Thank you for the stay. Everything was ok and Andrew is a great host :-)
Veronika
2016-11-19T00:00:00Z
Top apartment , near Train station and everything ( shopping center , restaurant , bar , Squares etc..) 100% clean .
Glaucia
2015-09-12T00:00:00Z
Very good location, cozy apartment. Good for business traveller.
Antti
2015-11-14T00:00:00Z
The place looked exactly like the pictures, Ray was extremely helpful and very patient, The location must be the best part, basically looking at Kamppi its as central as it gets. awesome stay over all
John-Henry
2015-09-20T00:00:00Z
Andrew was very quick and prompt with getting us set up after we had another airbnb last minute cancelation. However, he said this place was booked (even though it came up during a search) and could he give us this place: https://www.airbnb.com/rooms/12541232?s=vFvg_xes. We have a 10 month old baby and were in a hurry to make sure we had a place to sleep. We took it for the night, but when I showed up later that night (my husband had gone earlier in the day to look at it) I saw it was not baby safe. There was an exposed wiring in an outlet. There was piles of dust behind the bed. There was something sticky with hair in it on the bedroom window sill. The kitchen dishes were on a yellowed and dirty paper towel. Every time you turned on the living room light it flickered. And the neighbors had their tv and music on until 10:45pm and then again at 6:30 am until we left at noon. We asked to cancel our other two days and Andrew did allow that. However, he gave me 15 minutes to pack all my stuff, the baby's stuff, and my husbands stuff and leave. I had contacted him hours before and he only got back to me at 11:45 and told me to leave by noon. My husband was in a meeting so I had to find new accommodations and figure out how to get the baby and all our stuff somewhere else. This is not Andrew's responsibility, but a little more understanding would have been nice. He said new guest were arriving at 12:15, but I was outside trying to figure out what to do and no one arrived. I did appreciate Andrew's quick response, but in the end it was not worth this experience. I would not recommend working with Andrew or the apartment.
Danny & Robyn
2016-09-29T00:00:00Z
Andrew is a very friendly host. We met him for check in and he guided us through the facilities in the apartment. Apartment is situated in the city centre, close to restaurants and supermarkets, but will have to walk about 20 min to get to the train station, or take a tram. Comfortable beds, well equipped. Money for value.
Cathy
2016-11-20T00:00:00Z
Ray's place was absolutely stunning. Centrally located, clean, modern and beautiful! I highly recommend this place!
Arska
2017-01-21T00:00:00Z
Room Type
Entire home/apt
---
Property Type
Apartment
---
Accommodates
3
---
Bedrooms
Helsinki, Finland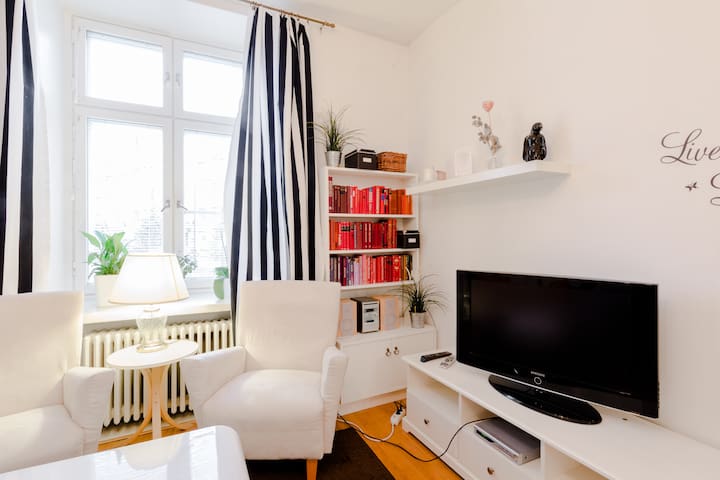 Stylish, brand new, super clean and quiet apartment (5 floor, 36m2). The location is the best possible you could imagine in Helsinki - everything quickly achievable by 2-10min walk. Ideal spot also for business people. All connections nearby: airport buss, train, tram, subway (from airport by bus or train to central railway station=> by trum n:o 9 to the apartment). This great and cosy apartment has a great location either you like museums, good restaurants or shopping or whatever activities.
What a great place! So clean and so many thoughtful touches! The shower is awesome and the bed is comfy. The apartment is really secure and in an area that is just a quick walk to all the main sites. Highly recommend!
Cortney
2017-02-03T00:00:00Z
New apartment with excellence cleaness, cozy place and convenient, Markus and Minna are so helpful and we had a great time in Helsinki!
Anson
2017-01-07T00:00:00Z
Excellent hosts, helpful for all our needs and responded super quick to any queries, couldn't recommend more highly. Apartment is in a great location, clean, very comfortable with everything we needed. Excellent experience all round
Steve
2017-02-22T00:00:00Z
This flat is perfect. It has everything you need during your stay in Helsinki. The host is super friendly, kind and gentle. I truly recommend it for one person or a couple.
Agatino Maurizio
2017-03-14T00:00:00Z
We were happy to stay in this brand new apartment located so close to everything you may like to visit. The apartment is clean and even after few days there isn't dust everywhere as it usually happens in older places. I would recommend this place to everyone. Thanks once more to both of you. All the best. Jana
Jana
2017-03-09T00:00:00Z
Minna was very flexible regarding our arrival time as we were unfortunately delayed at the airport. The flat was perfect and we had a really nice few days over new year. I would definitely recommend this to couples looking for a cosy, central location.
Adam
2017-01-03T00:00:00Z
Because of my late arrival at Helsinki airport, I could not make it to the apartment before midnight. Minna made sure that her husband would be there to welcome me and hand me the keys. Highly appreciated (as well as the little x-mas tree), thank you ! Otherwise, the studio was in pristine condition and very conveniently located (10 minutes walk to the Esplanadi) It greatly contributed to making my stay the blast it was !
Andreas
2016-12-18T00:00:00Z
Minna is the perfect host. Very communicative and gave us the best recommendations to restaurants and a Finnish sauna nearby. The apartment was clean and comfortable. The design was beautiful and the building was safe. I definitely recommend staying in this air bnb.
Chloe
2017-03-21T00:00:00Z
Room Type
Entire home/apt
---
Property Type
Condominium
---
Accommodates
3
---
Bedrooms
Helsinki, Finland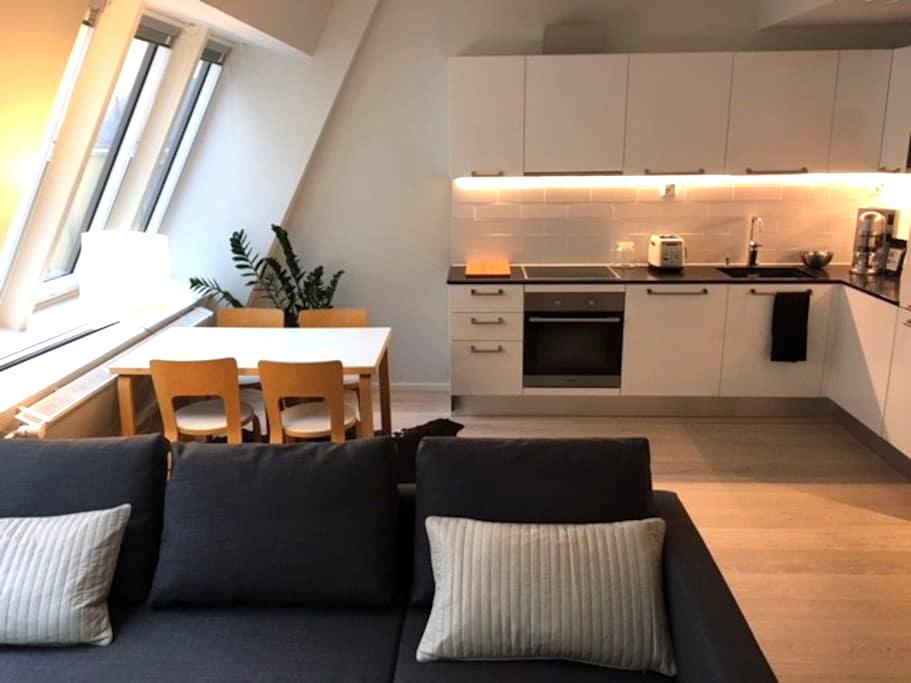 - Great Location in heart of Helsinki - Rooftop apartment with spacious terrace and private Sauna - Accommodates max 4 persons in 1 br and a living room - Comfortable beds with firm pillows and warm blankets - Super clean with freshly washed linen and soft towels - Just ask anything and I will arrange it
Very pleasant, central, modern flat with all the right amenities (not only the sauna and the balcony but also an interesting library). Maria is also a very organised and efficient hosts. I recommend it.
Kamal
2017-03-08T00:00:00Z
Very central location, close to subway and train station. Very light and sunny apartment with large windows, modern furniture, very big deck balcony. Inside sauna is a big plus. Cozy and perfect for your stay in Helsinki
Alex
2017-04-03T00:00:00Z
10/10, everything was spot on.
Riku
2017-02-05T00:00:00Z
Fantastic apartment. Very cosy and modern. Host was available when needed.
Gregory
2017-03-23T00:00:00Z
Beautiful apartment, checking in and out was super easy.
Ruta
2017-02-16T00:00:00Z
Great apt with a very convenient location. Would stay there again.
Nick
2017-03-19T00:00:00Z
Mari is a great host and her place is a true gem. A quiet haven in the sky with everything you will need for a relaxing time in the city. The sauna....well....you will find out....truly wonderful! I must also say it is rare when being away from home, I sleep well. I slept like a log...both nights!! Thanks Mari xx
Fiona
2017-03-26T00:00:00Z
Mari's place is so beautiful that you will feel so comfortable in it. Loved it straight away. Very central, close to shops, restaurants, local bars, public transport. However, the place is quiet which makes it more attractive as you can't hear any noise. Sauna was superb and thanks for sending instructions on how to use it. Place was very clean and warm. We'll definitely come back here. Loved it. Thanks Mari for being a great host to us.
JJR
2017-02-10T00:00:00Z
Room Type
Entire home/apt
---
Property Type
Apartment
---
Accommodates
4
---
Bedrooms
Helsinki, Finland
Kohteeni on lähellä seuraavia: yöelämä, julkinen liikenne. Rakastan tilaani seuraavien takia: kodikkuus ja sijainti. Kohteessani on yksin matkustavat ja liikematkailijat.
Ville's apartment is in the most convenient location in Helsinki. It is extremely close to the city center and offers plenty of restaurants and bars and is ithin walking distance to the tourist attractions like rock church and the cathedral. Ville is extremely responsive and was helpful in recommending the places to see in Helsinki.
Divesh
2016-11-21T00:00:00Z
I really enjoyed my stay at Ville's appartement. It is a very cosy place, perfect for a single traveller. The bed is confortable and spacious. The heating works perfectly. The location is also really nice, next to cool bars and restaurants.
Giacomo
2016-11-28T00:00:00Z
Very small but cozy apartment with good location, provided everything needed.
Inga
2016-09-06T00:00:00Z
Very nice place close to the city center!
Alicja
2016-09-10T00:00:00Z
Great apartment, very cosy and warm, and in a fantastic location. I really enjoyed my stay!
Heather
2017-01-03T00:00:00Z
Everything was the way it was supposed to. Easy to reach from the central railway station.
Saara
2017-04-03T00:00:00Z
The apartment is farther than the address in the Airbnb. It's a few hundred meters more than me and my friend expected. But everything else was good, the apartment is lovely, clean, and the check-in process is easy and covenient.
Lien
2017-01-30T00:00:00Z
Location and overall aspects from the studio are great! Peaceful place :)
Tatiana
2017-03-10T00:00:00Z
Room Type
Entire home/apt
---
Property Type
Apartment
---
Accommodates
1
---
Bedrooms
Helsinki, Uusimaa, Finland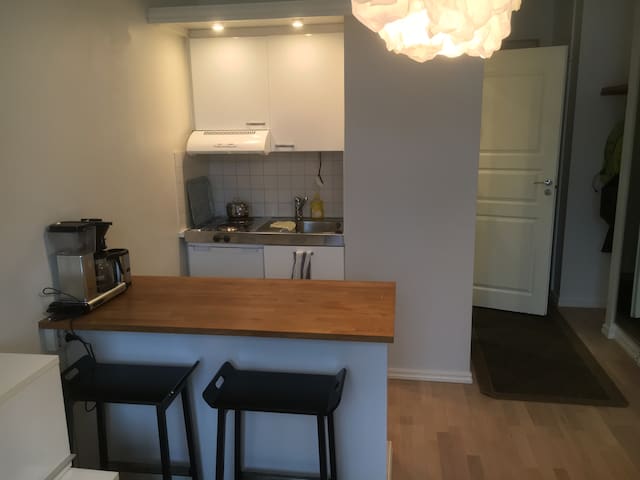 Comfortable and elegant city studio with fully equipped small kitchen and bathroom in the heart of downtown Helsinki . Walking distance to all fancy restaurants, shopping center Kamppi, metro, tram, buses and the railway station. The kitchen is equipped with an electric stove, microwave oven, coffee maker, kettle, pots & pans, tableware plus utensils and cutlery. There is a sleeper sofa , loft bed 120 cm, dinette, flat-screen 47¨ HD TV, clothes iron and ironing board, vacuum cleaner.
Fancy and quiet place in the inner yard of the block.The apartment is fully equipped offering you the following amenities: - Big flat LED TV - Microwave - Ceramic hob - Oven - Fridge with refrigerator - Dishwasher - Toaster - Coffee Machine - Water cooker -Blender - Plates and bowls, pots and pans, cutlery - Iron and ironing board - Hair dryer - Super clean soft bed sheets and towels at your arrival - Coffee/tea - Just ask anything and I will arrange it Upon check in you will be welcomed and you will receive advises and maps for the city (please consider check in and check out time).
My boyfriend and I really enjoyed staying at Sneze's, we are so happy to have chosen her place for my last night in Finland. Absolutely recommended;)
Ayumi
2016-12-08T00:00:00Z
The apartment is clean, and the location is good. It's central but away from the busy streets so it's quiet at night.
Tiffany
2016-09-23T00:00:00Z
This is a great little place. Well-equipped kitchen if you prefer to cook while away (I do). Very close to central area - 5 to 10 mi. walk to rail, bus, major malls. Supermarket on same block. Building pretty quiet. Would definitely stay here again.
Heather
2017-01-03T00:00:00Z
This place is absolutely perfect location in helsinki. Apartment is very compact and i enjoyed to stay there. I can totally recommend this place.
katri
2016-08-03T00:00:00Z
Sneze's place is quite central and I walked to all the major sight-seeing places quite happily. There were many guidebooks to read in the room. Sneze is very kind and hospitable. I felt at home immediately.
Mihoko
2016-08-09T00:00:00Z
Sneze was most welcoming, picking me up at the central station. This was especially nice because the weather was VERY cold and the walk to the BNB would have been difficult in the snow! The apartment was as described, small but comfortable.
Stephen
2016-01-13T00:00:00Z
Everything is great! Felt almost like home
Carl
2016-11-25T00:00:00Z
very nice place and within town center, stylish and comfortable. Recommend !
Lucas
2017-01-22T00:00:00Z
Room Type
Entire home/apt
---
Property Type
Apartment
---
Accommodates
2
---
Bedrooms
Helsinki, Helsinki, Finland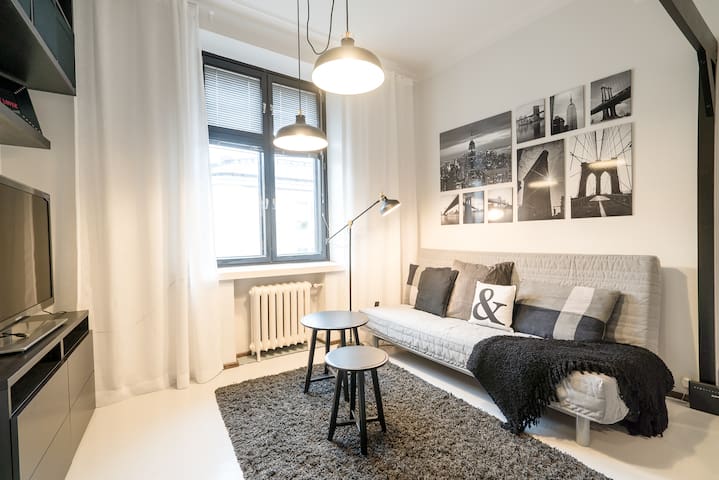 I'm renting out a private guestroom of my apartment, located in Helsinki downtown. The room can accommodate 2 people, there is one double-bed as well as a comfy bunk bed for guests to use. Located close to major sightseeing spots in the heart of Helsinki, the apartment has all necessary everyday services right close by, from convenience stores to restaurants and transportation hubs. I live in the same apartment as this is my home, so please respect that. :)
The apartment is the real Helsinki downtown experience as the building was built in the 1930's before the war years between Finland and Russia. The building and apartment itself are Helsinki's cultural heritages.
The street of the apartment is called "Lönnrotinkatu", in spoken language simply "Lönkka". Lönkka is a safe neighbourhood and located right next to it is the iconic Bulevardi street of Helsinki. There are two restaurants and a cafe right next door from my apartment, as well as a convenience store (350m distance), pharmacy, and a popular market hall nearby.
Room Type
Private room
---
Property Type
Apartment
---
Accommodates
2
---
Bedrooms
Helsinki, Finland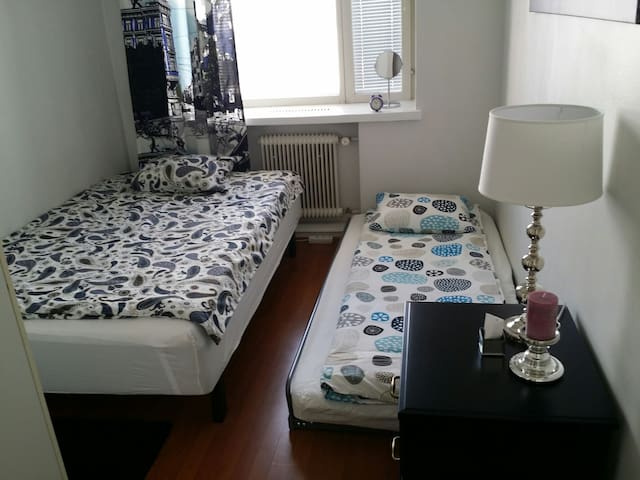 A newly renovated studio with a separate kitchen located in down town Helsinki. The location is perfect and only a few minutes away by walking from KAMPPI shopping center and subway. The apartment is perfect for 2 persons with a queen bed (160cm), but can accommodate up to 4 persons with 2 single beds (80cm).
This is studio apartment 34 sqm with a separate shower and toilet, full kitchen and a very comfortable queen bed (160cm) + 2 single beds (80cm) Towel, sheets, shampoo and coffee are included. No smoking and no shoes inside the apartment. It should also be noted that the silence time is from 9pm to 7 am. Fresh towels and linen are provided for each guest and the apartment is always cleaned up after each stay.
The location is very central with a few steps away from Kamppi shopping center and the subway. There are many restaurants, museums, theaters, night clubs and shops nearby. Although the location is at the heart of Helsinki, the apartment is very quiet and peaceful and windows are facing the inner yard.
Room Type
Entire home/apt
---
Property Type
Apartment
---
Accommodates
4
---
Bedrooms
Helsinki, Finland
Hi guys, thank you for having a look at my place. This studio is situated in the very center of Helsinki, a design district. Therefore, it is super convenient for travelers as well as business visitors to Helsinki. Fully equipped apartment: comfy beds, full size kitchen, bathroom with a washing machine, hair drier, iron and other essentials which will ensure the best stay of yours. Welcome to Helsinki!!!
Great stay at a great place. It's extremely central to everywhere in downtown Helsinki-- close to lots of restaurants, bars, museums, etc. Recommended!
Jeremy
2016-11-30T00:00:00Z
Great location, you can take any kinds of transportation in Helsinki. The house owner gave us accurate instructions to her home before our trip, let us feel safe and clear when we visited Finland at the first time.
SIN U
2017-02-04T00:00:00Z
The Apartment was really nice and good located (near kamppi). Everything was clean and comfortable. It was really nice of the host, because I arrived early in the morning and I could check in 2 hours before normal check in time. This was really nice. But unfortunately there was not toilet paper in the apartment so I had to buy a whole package and leave it there. But except for that everything was really nice and the communication was also really good. Would totally stay there again, even I didn't met the host personally.
Simone
2016-11-05T00:00:00Z
Very good location, easy to come by foot Good host Well equipped kitchen High privacy
Fishery
2017-01-12T00:00:00Z
The place was really cosy and the kitchen is fully equipped. I loved my stay there and I recommand the place
Sarah
2017-01-02T00:00:00Z
Great location, near to the rail way station, great for a short stay.
Justin
2017-02-15T00:00:00Z
This place is in an excellent part of downtown Helsinki, close to many conveniences. Carl had great communication, thanks!
Adam
2017-04-06T00:00:00Z
nice apartment,close to the city center, easy to find and very convenient.
XIN
2017-01-26T00:00:00Z
Room Type
Entire home/apt
---
Property Type
Apartment
---
Accommodates
2
---
Bedrooms
Helsinki, Finland