A lovely studio on the last floor with panorama view on the sea and a huge sunny veranda. Few steps from the beach, ideal for couples who wish to enjoy the sea as well as the city of Athens.
The first thing you will notice as you open the apartment door is the breathtaking 360o view on the sea. You can have your breakfast on the sunny veranda while enjoying the refreshing sea breeze. Then, you may go to the sandy beach which is a few steps away. In the evening, you will feel like living in a postcard, as the sun sets in the sea. The house has a comfortable double bed, so it is ideal for couples or people willing to share it.
The house is in one of the rich and posh suburbs of Athens, only a step away from a sandy beach. The area is quiet, with villas and 5* hotels. Meanwhile, only a few meters away, you will find top quality restaurants and fish taverns. The best clubs in summer Athens nightlife are a 15-minute-drive from the apartment. The city center, where the main monuments and sightseeings are, is easily accessible within less than an hour.
Lovely area, with an amazing terrace that overlooks the sea.The bed was very comfortable and the neighbourhood super relaxed. Mpampis was very helpful in hosting me, and I enjoyed my stay in his cute apartment. Will definitley stay again.
Constantinos
2017-03-15T00:00:00Z
Awesome place to stay, really close to the beach and with great view. The apartment is ideal for couples, well equipped with everything one needs. There is a double bed, air-condition and a small kitchen which is still really handy. The most impressive is the big terrace. Just amazing for chilling out! Throughout my stay, my communication with Mpampis was excellent. He is a really pleasant person and more than willing to help you about everything you might need. Totally recommended. Thank you Mpampis!
Eirini
2016-02-22T00:00:00Z
We had an incredible, unforgettable time in this stunning part of the world. The accommodation is perfection – the most fabulous view of a breathtakingly beautiful sea. We enjoyed three full days here, and couldn't recommend it higher. An absolute gem of an apartment, it had everything we needed and had the best sleep. Mpampis is a wonderful, kind and accommodating host, and we thoroughly enjoyed meeting him. We would return in a heartbeat, and will be recommending this spot for friends and family. Thank you for having us!
Alexandra
2016-11-27T00:00:00Z
Small apartment, clean, very well equipped, with a breath taking view. Owner very friendly and helpful.
Diego
2017-02-13T00:00:00Z
The place was small but had everything you needed. Plus it had a great view from the big terrace in an amazing location. You can get a city sightseeing tour from a minute away from a minute walk away and also get to the beech in the same time, which gives you both a city break and a sun, sea and sand holiday.
Dean
2016-06-02T00:00:00Z
We spend a very very very good stay by Mpampis :-) I recommend it at all! We spend 4-5 days in the city center of Athens and then 4 days by Mpampis, on the sea side, and we really don't regret that choice. Vouliagmeni is a really interesting place to visit (nature, beaches, quiet place). Mpampis came to pic up us in the center of the city, he was really communicative and helpfull: I recommend definitly that flat and that host :-) Thanks Mpampis!
Arlinda
2016-04-03T00:00:00Z
It was a really nice stay in this Appartment. The room was clean and the kitchen really useful. The big balcony is amazing, perfect to enjoy a dinner with sunset! Mpampis had been an amazing host, really available and helpful for us. I would recommend this place. Thank you very much!
Stephanie
2016-04-28T00:00:00Z
It was the best place I've ever been! The apartment is very well located and has a good connection with the city, very convenient for 2 minutes from the beach !! If I go there the next time I pick it up again. Thank you so much!
Maria
2016-09-12T00:00:00Z
Room Type
Entire home/apt
---
Property Type
Apartment
---
Accommodates
2
---
Bedrooms
Vouliagmeni, Greece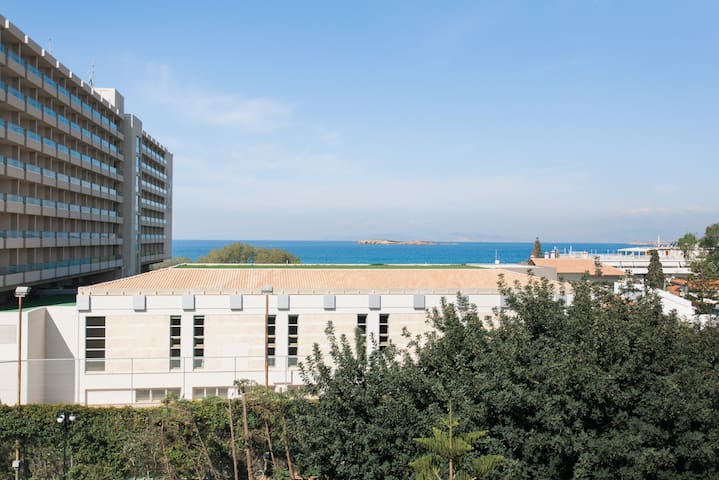 Beautifully situated apartment (of 80 sqm) in the heart of a green residential area by the sea, in one of the most cherished areas of Vouliagmeni. One double bedroom, with an additional double sofa-bed. Semi-open plan marble kitchen, with an airy and light living room giving on to balconies. An easy stroll to the sandy beaches of Kavouri and their promenades (150m), tavernas overlooking the water, restaurants, cafes, a well shaded tennis club and sports facilities and Spa.
In Kavouri, an awe inspiring part of the Vouliagmeni riviera, south of Athens. Beautifully situated, in a peaceful and lush green area, 150m from the sandy beaches. Spacious one bedroom apartment, with a double bedroom, and an additional pull out double sofa-bed in the living room to make room for another two people if needed. The apartment has been fully renovated with a fully equipped, semi-open kitchen (bar, american style). There is a side view of the sea from the balcony, with a peaceful and relaxed atmosphere, yet only a few minutes walk to all amenities: cafes, tavernas on the beach, restaurants and cafes. A two minute ride by car or bus to a gas station, supermarkets, pharmacy, organic food store. A 15min walk away from the local tennis club, open air athletic grounds (running track, football grounds, tennis courts, basket ball). It is a quiet area near some of Southern Athen's best beaches (Astir Beach) and Vouliagmeni / Glyfada's nightlife.
Peaceful and relaxing atmosphere, in the coastal neighborhood of Vouliagmeni, in Kavouri, very green and by the sea. The apartment is around 150 meters by foot along residential roads from the sea side and beautiful beaches, and a few minutes walk to all amenities: cafes, tavernas on the beach and restaurants by the water. It is walk away from a Spa, tennis courts and a dedicated tennis club, open air athletic grounds (equipped with running track, football grounds, tennis courts, basket ball courts).
Sophia's apartment and hospitality were truly amazing. The whole experience was smooth and easy and the apartment is exactly as shown in the pictures (if not better!). Ive lived in Athens for a few years and I know the area where the apartment is located very well and can definately recommend it to anyone who wants to get away from the hustle and bustle of busy Athens. Sophia's apartment is literally a block away from a lovely sea promenade with some of the best seafood restaurants in Athens (such as 'To Garbi'). Its also a 2min drive / 15min walk away from the best beach in Athens 'Astir Beach'. I would definately revisit and highly, highly recommend!
John
2016-06-08T00:00:00Z
Christina could not have been more accommodating and polite to my family and me. Everything in the apartment was in pristine shape. The apartment was perfect for the the four us--two adults and two young children. The neighborhood is quiet and beautiful. The closest beach is a two-minute walk, with many more options within walking distance or a short bus or cab ride. A small, but nice, supermarket is a five-minute bus ride.
Andreas
2015-07-26T00:00:00Z
Great hosts, beautiful apartment and amenities.
Hamid
2016-10-11T00:00:00Z
We were in love with this place! The apartment is even better than in photos. It is super clean and very cozy (believe us, we are crazy about it =) ). The area is quiet, but everything you need just in walking distance. First of all the sea and a small beach just 2 min away from the apartment building. Also, there you can have morning coffee, light breakfast or evening cocktails in the bar with a sea view called Lasithi Cafe. For lunch and dinner there are few restaurants max 5 min walk in the same area. Our favorite was Garbi. Or you can have 17 min walk or 5 min bus ride to get to Testaccio and Rafale restaurants which are also good. Hotel Divani Apollon is 3 min away, there you can easily take a taxi or visit their spa. If you want any bars, clubs and active socializing you can easily get taxi for ~10€ to Glyfada. And finally we would like to thank Sophia so much! Despite the fact that we didn't meet her, she helped us a lot! We asked her many different questions and she immediately answered us, tried to help, even called to various places for bookings or information. Thank you Sophia, you were like a guardian angel!
Yvan & Barbara
2015-09-29T00:00:00Z
fantastic big open space. lots of natural light. great kitchen. the place was immaculate in a great location. will definitely go back.
Tony
2016-10-28T00:00:00Z
Was a pleasure being there for a few days! Clean apartment and quiet nice area just close to the sea. Ideal for a walk and for those who don't want to be in the middle of a noisy place. Lovely host which took realy care of us!
Sasha
2016-04-11T00:00:00Z
Dimitra was extremely hospitable. I felt very at home staying at the apartment. Everything worked perfectly and my stay was most comfortable. The property is very close to the beach as described and also several cafe's and restaurants are within easy walking distance. I would definitely stay here again!
David
2015-08-04T00:00:00Z
Big thanks to Dimitra for make us feel so welcome. This is a lovely place to stay. The apartment is just lovely. The beach is close and there are some nice seafood restaurants nearby. The unit was really clean and tidy and in a nice quite area. It was very relaxing which is what we were after.
Sean
2015-07-07T00:00:00Z
Room Type
Entire home/apt
---
Property Type
Apartment
---
Accommodates
4
---
Bedrooms
Vouliagmeni, Greece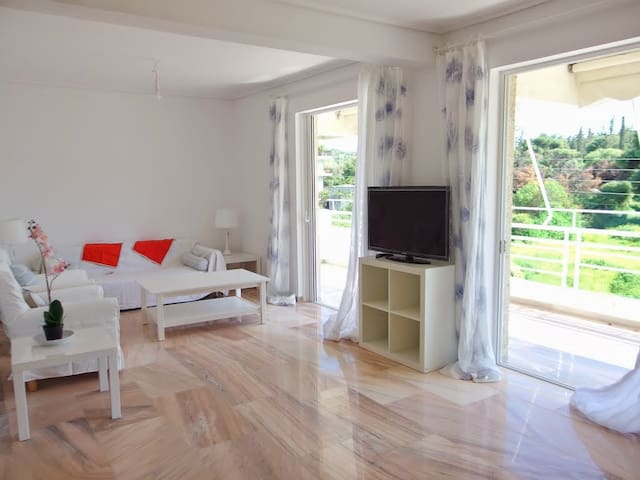 Excellent and ultimate Lush apt JUST 1 block away from sandy beach ! @luxurious south outskirts of Athens called Vouliagmeni Place is at the heart of the Athenian Riviera good 4 couples, solo adventurers, business travelers, families (with kids).
Lush ...Lush...Lush first floor apt at a prestigious building JUst one block away from the beach and adjacent to all fish restaurants and tavernas. There are 2 spacious rooms with huuuge balconies One living room with kitchen with all amenities One big bathroom One room for laundry One more balcony on the other side of the apt
The neighborhood is called Vouliagmeni and it s actually the edge of the greater athenian area and its the posh suburb of the greek rich and famous !
Tolis was very helpful and responsive, his home is beautiful, clean and brand new. I highly recommend it for a couple of a small family to be by the beach!
George
2016-06-14T00:00:00Z
Room Type
Entire home/apt
---
Property Type
Apartment
---
Accommodates
6
---
Bedrooms
Vouliagmeni, Greece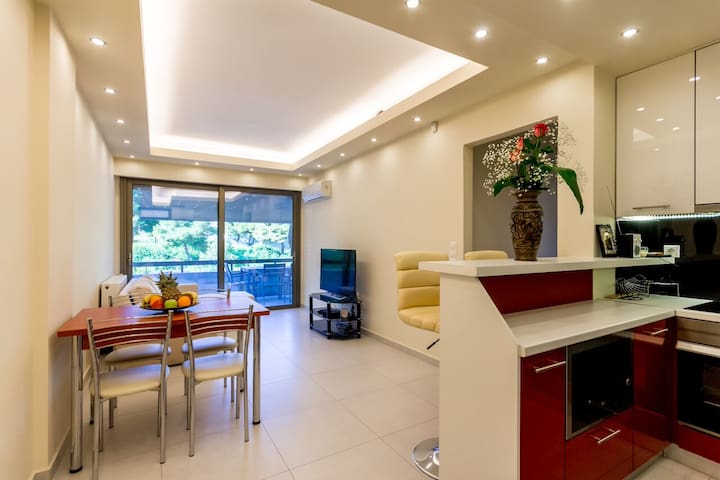 Lovely studio apartment , 200 meters by the sandy beach at the exclusive area of kavouri , fully equipped and cozy for a comfortable staying. Around the area you have a park , tavernas, restaurants , etc . Quiet area with a magnificient view
Our lovely studio apartment is perfectly located surronded by sandy beach, big park , it is modern furnished , a big balcony with a garden view . A very safe and quiet area for enjoying your vacations while in south east Athens
Around the area : Big park for jogging or cycling Sandy beach First class spa/hotel Lake vouliagmenis , spring waters -distance by car : 8 min , bus 122 : 10 min , walking : 30 min * we provide bikes * ask me -Yatch caffeterias with an amazing view to Vouliagmenis riviera -Restaurants and tavernas -supermarkets , pharmacies close to the apartment -gas station
Jackie and her husband were the best hosts!! I realy enjoed to stay at this beautiful appartment! Jackie made absolutely everything for hosptitality and comfort. I deffenetly recomend to stay in their house! This family is very careful, truthful and absolutely beautiful! Time in Greece was unforgetable!!!
Оксана
2016-10-21T00:00:00Z
I stayed with my son and friend in August and we all really enjoyed our vacation. The appartment is equipped with everything you need, newly renovated and most importantly is 2 minutes from the beach. If you want you can take a taxi or bikes and go for vouligmeni and astir beach, which are close by. Jackellind and her husband were always ready to help with anything. Hope we'll come once again.
Anastasia
2015-08-25T00:00:00Z
Jackie and her husband George are great hosts
Patrick
2016-09-28T00:00:00Z
Great flat right next to the beach in a lovely area! Jackelin was the perfect host. So kind and helpful. Would recommend this place to anyone!
Samuel
2016-07-17T00:00:00Z
Jackelin is definitely one of the best and incredible hosts I have ever met. The apartments were exactly like on pics, very clean, cozy and comfortable, you have everything you need there even more. Jackelin was so supportive in everything we needed and answered all questions I had and made so many favours for me. When I have arrived, I had very warm welcome . Will definitely stay in these apartments again.
Julia
2016-06-14T00:00:00Z
Fantastic. One of the best AirBnB experiences I've ever had. The hosts are very sweet and even stocked the place with coffee and breakfast food, all at a very fair price. Lovely spot, lovely terrace, lovely hosts.
Tony
2016-11-08T00:00:00Z
Staying at Jackelin's place was wonderful! She was very nice, helped us with any questions we had. The studio is cute, clean and very close to the beach. We would definitely come back!
Katka
2016-06-01T00:00:00Z
I have booked the apartment for my sister and her husband. They are absolutely happy with their stay. Jackelin and her husband were very kind to meet them at the airport and bring to the place for free They show everything around and explained how to find shops and stops and gave the detailed explanation on everything my sister may need The apartment is very nice and cozy with fresh flowers waiting for the guests You have everything you may require for comfort stay Really amazing welcome and a lot of attention to the guests Later Jackelin's husband was very kind to bring my sister and her husband to the train station Dear Jackelin, many many thanks!!! You are the most great host we have ever meet!) Many thanks
Lucy
2016-05-01T00:00:00Z
Room Type
Entire home/apt
---
Property Type
Apartment
---
Accommodates
4
---
Bedrooms
Vouliagmeni, Greece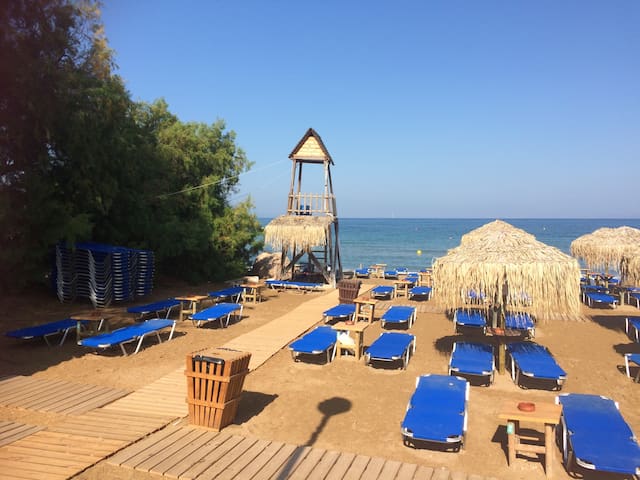 Studio 2 bedrooms apartment (85 sqm) suitable for family or friends. Large sunny veranda with sea view, fully equipped kitchen,TV,Wi-Fi. Quiet and friendly neighborhood. Half a minute walk to the beach, local tavernas and sport facility areas.
Completely renovated 85sqm 2nd floor apartment in Kavouri riviera 150m distance from the beach, with two separate bedrooms one with a double bed and the other one with two single beds, one bathroom, fully equipped kitchen, comfortable living room and large veranda with a view.
The neighborhood is very quiet and friendly and most of the interesting parts of the area are in walking distance. Though it seems that it kind of isolated area of Athens west side riviera everything is very close so it's perfect for those how want to have a quite apartment but yet not far at all from everything else.
Vicky is an excellent hostess and the apartment is much better than in the photos and i cannot recommend it enough. It is in a great location, in a very quiet neighbourhood and most importantly it is clean and offers everything that you and your family will ever need. Vicky welcomed us - although we were late - with a very warm way, showed us everything regarding the apartment and also offered us a bottle of fantastic Greek wine. Thank you Vicky and I hope that we see you again.
George
2016-11-13T00:00:00Z
The place is very close to the beach, Divani hotel and public transport. It is very quiet in winter time and it must be very vivid during summers. Vicky is a great host. The place is very spacious and very well equipped.
Denis
2017-01-29T00:00:00Z
Vick and her Husband really good host and best helper they wonderful persons we not had any problem when we stay in this house , really quite place and near the beach and many fish taverna and she leave in the house many information about area and Athens, she gave us great Welcome to the surprize cold wine and delicious fruits.
Sinan
2016-09-18T00:00:00Z
Vicky is a great host and I can recommend her place of stay to everyone. The apartment is clean, nice, good furnished. Everything you need you will find. The location is great, just 30-40 metres from the beach. We stayed in September, and the beach wasn't clean (there were too much sea grass), but during high season, i am sure they clean. In apartment when ee arrived there were some snacks. Also we found toys for the baby and everything for the beach. That makes me feel warm hospitality and care of the guest. For such an price you can't find something better!
Katerina
2016-09-27T00:00:00Z
The apartment is very cozy, comfirtabke and well equiped. It is highly recomended for families with kids. At 100 meters from the closest beach it was perfectly located for our summer holidays. Vicky and her husband made us feel very welcome and did everything to make our stay pleasant.
ilias
2016-06-30T00:00:00Z
It's not just that place is great place to relax and that beach is just minute away from apartment, but the fact that Vicky and Aristomenis are two of the nicest and most helpful people we've ever encountered makes this place a memory we will cherish forever. We were welcomed with cold bottle of wine, fruits, cake and some snacks which are great after long travel. If you are into running ask Aristomenis for tips on running routes (hint : ask him for directions to pine hill, ascent and views are great).
Zaharije
2016-06-12T00:00:00Z
Vicky war sehr gastfreundlich und hat uns mit allen wichtigen Informationen und Utensilien versorgt, um Athen und Griechenland zu entdecken. Bei der Ankunft in der Nacht sind wir sehr freundlich empfangen worden und es wurde sogar für ein Frühstück am Morgen mit frischen Früchten, Keksen und vielem mehr gesorgt. Während des gesamten Aufenthalts war Vicky gut zu erreichen und gab uns weitere Tipps zu Ausflügen und Restaurants. Die Wohnung ist nah am Strand und auch Athen ist sogar mit den öffentlichen Verkehrsmitteln gut zu erreichen. Es war ein sehr schöner und entspannter Urlaub bei Vicky :)
Natalie
2016-08-10T00:00:00Z
naozaj sme sa citili fantasticky! vicky a aristomenis nas privitali tradicnou greckou uprimnou srdecnostou, v nadhernom zrekonstruovanom trojizbovom byte s velkym balkonom a kompletnym vybavenim pre celu rodinu, kde nechybali ani najmensie detaily v kuchyni ci v kupelni :-) prave cit pre detail od domacich nam umoznoval citit sa skutocne ako doma. pre nas, a aj pre hostitelov to bola prva skusenost cez airbnb a uz vieme, ze urcite nie posledna. vrelo odporucame toto ubytovanie pre rodiny s detmi, aj malymi, okolie bytu je pokojne, s milymi susedmi, ktory nas vitali s usmevom a ponukali akukolvek pomoc v pripade potreby. zaparkovanie prenajateho auta je uplne bezproblemove priamo pod oknami bytu. najblizsia plaz, piesocnata, s velmi pozvolne klesajucou hlbkou (vyborne pre deti) s cistou priezracnou vodou je len minutu chodze od vchodu. hned vedla plaze su tri pokojne restauracie, pozicovna lodi a skutrov a prakticky na kazdom kroku su aj dlho do noci otvorene lekarne s vyraznym oznacenim, svietiacim do ulice. od vicky sme dostali aj komplet informacie o najblizsom supermarkete, miestnej vychytenej cukrarni (waffle house) aj o miestach, kde nakupuju a jedia domaci (odporucame grill zaxos na ulici ermou-vynikajuca kvalita s expresnou obsluhou a 1/3 ceny ako v prvej linii restauracii!). uz sa nevieme dockat, kedy budeme moct prist znovu :-)
boris
2016-06-03T00:00:00Z
Room Type
Entire home/apt
---
Property Type
Apartment
---
Accommodates
4
---
Bedrooms
Vouliagmeni, Greece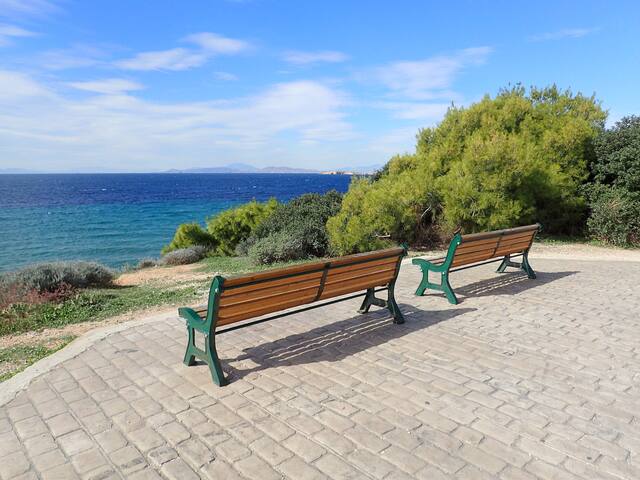 APRIL AND MAY SPECIAL OFFER: 38 EUROS PER NIGHT!! Seaside apartment at Kavouri, one of the most beautiful areas of the southern suburbs, located just 50m from the beach. Easily accessible by public transport, in a quiet neighborhood with all amenities nearby. Recenty renovated and fully equipped. Ideal for couples, families & friends.
56m2 apartment located in Kavouri, the most exclusive area of the Athenian Riviera. It has one bedroom with a double bed and a comfortable sofa that can easily accommodate an adult or two children. Another extra bed for a 4th person or a crib are available upon request. It also has a modern dining area, bright living room with a 3D 47'' smart TV and spacious veranda with outdoor seating. The apartment is renovated and all the furniture and electrical devices are brand new. Fully equipped kitchen (frigde, oven, hot plates, coffee machine) and bathroom (boiler and washing machine). The apartment's greatest advantage is its proximity to the beach, which is just a few steps away. There is a private path in the garden that leads directly to a sandy beach, just 30m away. The building has a huge and blooming garden and the apartment has its own private parking space. The neighborhood is very safe and tranquil, making the place an excellent choice for couples and families. The house is very close to cafeterias and taverns. Easily accessible with public transport, which can take you either to downtown Athens or to Glyfada with its shopping malls and its very lively nightlife.
We had a great experience in Stella's apartment! Her father was extremely helpful and welcoming. He gave us a little tour of what you can find in the surroundings and we had nice dinners at the restaurants he suggested. The apartment was simply perfect, the air-conditioning in the living room was enough to cool down the entire apt and we had lovely breakfast and dinner in the spacious balcony. Finally, the beach was really across the street!We definitely recommend it!
Rossana
2016-07-28T00:00:00Z
It was a real pleasure to meet Stella and her parents and to stay in her apartment. The apartment itself is very nice, well equipped an the photos Stella posted are accurate. Stella's father was kind to meet us and take us on a little tour of the area so we got acquainted with the neighborhood which made our stay much easier. Stella even made a portfolio with all main information (maps included) about the area and public transport info, as well as all emergency phones her guests might need. Center of Athens is some 20 minutes by car from the apartment so we could visit all the sites with no effort. This was one beautiful holiday for us so thank you Stella, Kostas and Helena for your kindness and hope to see you again!
Margareta
2016-08-10T00:00:00Z
Stella and her family are amazing! They did an excursion for us in this area so that we knew all interesting places around. The apartment is situated 1 min from the beach. Sea in this place is very clear. Stella made her place very comfortable, cozy and provided it with everything you need. The apartment has been under repair so now it looks new and tidy. Moreover, Stella provided for every eventuality and gave us a lot of information about buses, places, excursions, clubs and so on. Stella, you are the best host ever, thank you! Strongly recommend to everyone!!!
Annette
2016-07-20T00:00:00Z
Lovely place in beautiful location. Literally just couple of minutes from the nearest beach and promenade with lots of cafes and restaurants. Very communicative hosts. We did not have a chance to see and speak to Stella as she was away this time but her father Kostas was very helpful and shown us all local "points of interest" such as local market, supermarkets, cafe etc. A short journey with him on arrival was very informative. Also flat itself was clean and quite and located in safe area.
Anna
2016-11-02T00:00:00Z
The apartment is very lighted, clean and comfortable. There's also big space for suitcase thanks to the big wardrobe. The neighborhood is very quiet, and the residence is very calm. The living room is very comfortable with a big sofa and a totally new TV perfect for relaxing after sea and tourism trip. Good new fridge and washing machine. We also loved the small table outside to have good dinner and lunch in open air. We chose to go in better beaches than the closest just 10 min walking. Stella's father welcomed us in the best way and let us made a tour of the neighborhood facilities. We hope to come back in future.
Sara
2016-09-16T00:00:00Z
Notre séjour à l'appartement de Stella était juste parfait : la plage à 50 mètres (un portail à passer), les lignes de bus menant aux magnifiques plages de Glyfada, Vouliagmeni, Varkiza. Stella et son papa ont été adorables et nous ont même fait visiter le quartier e nous montrant les commerces proches de l'appartement. Ils nous ont donné une liste de bonnes adresses qu'il ne faut surtout pas louper ! L'appartement est très bien équipé (clim, plaque à induction, machine à laver...) et fonctionnel ce qui a rendu notre séjour d'autant plus agréable. Je recommande vivement ce logement !
Perrine
2016-08-18T00:00:00Z
Room Type
Entire home/apt
---
Property Type
Apartment
---
Accommodates
4
---
Bedrooms
Vouliagmeni, Greece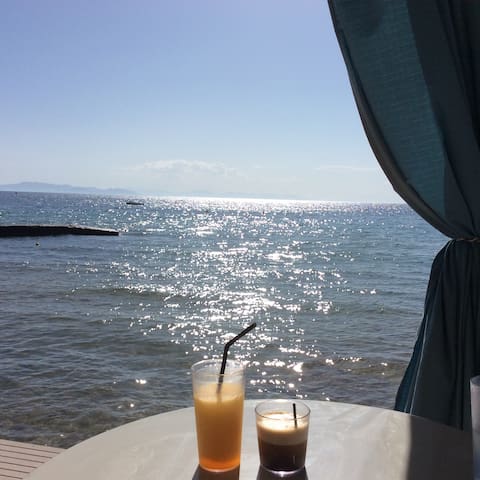 Two-bedroom apart.,steps away from beautiful beaches on the Athenian Riviera. Easy access to the City and shopping areas ( 25 km from City Center. 6 km from trendy Glyfada. walking distance to Voula 72sq.m, wide balconies, spacious reception.
2 bedrooms, 72sm, featuring a large reception, sit-in kitchen, hallway, bathroom and wide balconies. The second bedroom has one pull-out bed and sleeps two. Foldable baby cot can be provided The kitchen is fully equipped with a brand new dishwasher, fridge ,coffee machine, juicer and and oven. Washing machine and all other modern amenities. Iron and iron board, hair-drier. Shampoo and shower gel are provided for one week. Towels and sheets are included. Double glazing in the bedrooms for the street noise and central heating for the winter, air-conditioning in bedrooms, and reception for the summer.
On the best part of the Athenian Riviera, Vouliagmeni enjoys a worldwide reputation for its unique combination of idyllic setting and proximity to the major urban center of Athens. Several of the most beautiful beaches are close and one free very nice beach is 3 minutes walk away from the property. There is a vibrant local market and several cafes and restaurants in Vouliagmeni offering both local and international cuisine (approx.3 kms), and the major shopping area of Glyfada is only 6km away. Within 15 minutes walking distance you can reach Voula another area with supermarket, caffees , restauarnts,pharmacies and a variety of shops The property is next to the main road ,on the coastal Athenian Riviera road, with easy access to to the beach and public transport. There is traffic noise but double glazing windows in the master bedroom minimisez the noise .
Zoi and Alexis are wonderful hosts and I felt very welcome. They are 24h available and are immediately there if you need their help. The apartment is exactly as described in the pictures, very clean and only a short walk away from the beach. I appreciated the dish washer in the kitchen as well as the washing machine very much. This apartment is perfect to have some holidays away from touristic spots and to feel like locals and to enjoy the beauty of this wonderful country. A bus stop is only a few meters away from the house.Thank you Zoi for everything and maybe see you soon again!! I already miss Greece :-)
Sara
2015-09-08T00:00:00Z
Good day Thank you very much for your participation. You are wonderful and hospitable hosts. To you always want to come again. We are very pleased to be your guests. We had a great time in your apartment. Everything was perfect - the apartment, the sea, the sun, the air .. Vouliagmeni great place to relax. Athens also left a great impression.
Сергей
2015-10-31T00:00:00Z
Very bright, clean, spacious and comfortable apartment offering everything you may need. The apartments is equipped as described and looks just like on the photos. Its location is very good: public beach is just around the corner and the bus stop of a bus to Athens is across the street. There is a minimarket nearby and a bigger supermarket within 15 min walk. Several restaurants are next to the beach. Altough we arrived late at night, Zoi's son waited there (Zoi herself was abroad that day) to welcome us. To help her guests Zoi has made a booklet with all useful information about Vouliagmeni and neighourhood (transport, restaurants, supermarkets, etc.). Zoi is amazing, very helpful and friendly host! So far my best Airbnb experience! I would definitely like to come back.
Zuzana
2015-05-21T00:00:00Z
Our host Zoi, is exceptional! She is taking care every single need you may have and making sure that the slightest detail is considered. We were glad to meet Zoi and experience her hospitality and warmth.
Panagiotis
2016-10-31T00:00:00Z
Nice flat within walking distance of the sea. Large comfortable lounge. In main road so a bit noisy but handy that the bus stop is nearby. The host is lovely and very welcoming. Gave us some pistachios from her farm and they were the best we've ever tasted!
Janet
2015-10-22T00:00:00Z
The property was exactly as described and pictured, everything you need and lovely and clean a fantastic location close to the lovely Kavouri beach (3 minute walk!) only four stops away on the 122 bus to the main area of Vouliagmeni with the lovely bars and restaurants. Fantastic hosts, could not have been any more helpful Zoi gave us fresh fruit from the garden, gave us a guided tour of the area and advised on good eateries we really appreciated the lift to the wedding we were attending at the lake. The only negative comment I could make would be the very busy road outside, a bit of a shock to start with but we soon got used to it and the double glazing in the apartment certainly helps a lot. Missing Vouliagmeni already, we'll certainly be back and we'll certainly be taking a property from Zoi!
John
2016-06-03T00:00:00Z
I had a great time staying at Zoi's place. I was staying with my 8 month old baby. Zoi made sure we had everything we needed. She's a very caring host and she is very practical and is there if you need her. The flat was clean and very functional. Perfect location for the beach and there is a great pedestrian path which runs along the sea. I highly recommend this place for 2 couples or for a family of 4.
Darja
2016-05-17T00:00:00Z
I have arranged the set up with my employer that I will be working from Greece for 4 weeks and its been fantastic. One of the most important things for me as a programer was good internet and an air conditioners. The apartment matches the pictures 100%. They have the conditioners in every room so its cool even when the temperature outside was 37 degrees C. Host Zoi and Her husband Alexis are very nice and warm people. I have stayed in their apartment for 4 weeks and came back home today. Received several calls from Zoi during my stay, who asked me if I had everything I need - can't complain they have provided me with everything and even extra - the bicycle(the front wheel is a bit egg-shaped and wobbly, but I think they will replace it soon). The food in the restaurants near by is probably the second best thing after the sun and sea. The food of same quality in UK or Lithuania would definitely cost at least double the price if you ever manage to find something near as close comparing the quality. There were a bit of complications in terms of the logistics during the first couple of days, but I managed to find everything quite quickly. If one is planning to rent a car, there is a company in the shopping center near by - walking distance. You will never regret renting a car or a scooter - take a trip south from Zoi's place in the evening before the sunset. Paradise, really. One CON is that the house is located next to a busy street, but they have the protection "jalousie", probably against the sun, but that also helped to absorbs the noise. Also, worth mentioning that locals speak a very good English, better than in Spain or Italy. Personally I had no language barriers with local folk. From 1 to 10 I rate my stay as 9+.
Konstantin
2015-08-01T00:00:00Z
Room Type
Entire home/apt
---
Property Type
Apartment
---
Accommodates
4
---
Bedrooms
Vouliagmeni, Attica, Greece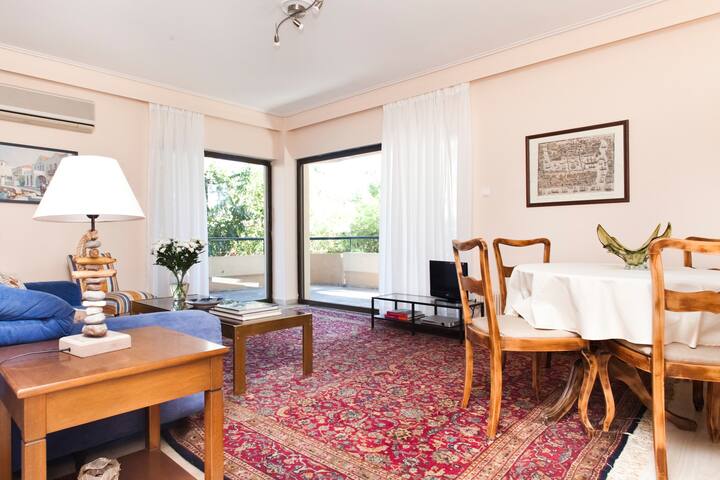 1 bedroom plus 1 living room with big balcony ,cozy furnished apartment , refurbished last year, only 100 meters distance from a sandy free beach. it is located very near the hotel Divani Apollon palace.
Apartment of 60sm REFURBISHED in 2012.. 1 bedroom furnished apartment , 20 METERS FROM SEA in Kavouri (22 km from center).... Fully refurbished in 2012. Description : one spacious air conditioned living room (with pull out double sofa), and another sofa, TV, one bedroom with double bed and one very modern kitchen with all kitchen utensils and bathroom with separate shower. Big balcony with sea vew. Pick up from the airport (transfer) or station can be arranged. The flat is very close to the hotel : Divani Apollon Palace.
Apartments is very well located, about 2 minutes walk to the sea, you can choose a place on the beach on your own preferences. In a building with an elevator, which helps, especially if you come with the shopping. A sufficiently-equipped kitchen with a full-size refrigerator is also a big plus. Apartments comfortably accommodates 4 persons: bedroom with double bed, in living room - leather sofa and sofa that can be transformed if necessary. There is also a folding bed. Mattresses, of course, could be comfortable... Minus-not working air conditioning in the bedroom. I want to pay special attention to the host of apartments, Theo, who took care of beach towels and a portable cooler that you can take to the beach. I want to tell you about the wonderful Lake of Vouliagmeni, which is only 4-bus stops away from the apartments (the bus stop is just a 2-3 minute walk). Very easy access to nearby Vuly, Glyfada, Athens by public transport. The Metro station Ellinico is about 15-20 min by bus. So all the sights of Athens are available despite living in ecologically friendly place with excellent clear sea. Yes, there is a large balcony from which you can see "a peace of" of the sea, and on which is so nice to spend time.
Elena
2013-08-12T00:00:00Z
Theo was very helpful and excellent host. Apartment is very clean and very close to the public beach and nice fish restaurants. There is a plenty parking space free of charge. Overall deserve my full recommendation.
Djordje
2014-06-09T00:00:00Z
Perfect location ! 2 minutes from beach and international hotels! I decided to stay at Theo's apartment In connection with the Posidonia shipping exhibition . Beside the fact that theo is the absolute perfect host, who ensure everything is perfect, the flat is excellent . I liked that the bed was of high quality and that kitchen and bath is brand new. A minus is that it doesn't have internet , but that was solved by stopping by one of the hotel lobbies. It's also easy to get taxi since there are two hotels next door.
Rita
2014-06-06T00:00:00Z
The Apartment is located in a really nice neighborhood. It is just a minute walk away from the beach and the. The Apartment is very clean and perfect for a vacation in this little village. There is enough space for four people and it has everything that you need and even a fantastic balcony. Kavouri is not far away from Athens and you can reach it very easily by bus. Theo the host was very open-minded and even more helpful. All in all our stay in this Apartment was an amazing experience and we are looking forward to visit again as soon as possible!
Lina
2014-08-07T00:00:00Z
Nice apartment! Close to the water.....great location and Theo the owner was very helpful with anything we needed! When in Greece I will definitely stay there again, and thanks for making our stay memorable!!
Stephanie
2013-07-20T00:00:00Z
Very nice appartment nearby the sea. Friendly Host willing to help you in everything. Busstop around the corner. Good connection by bus & metro to Athens centre. Greek are friendly people! We enjoyed our holliday.
Jamila
2014-10-04T00:00:00Z
We had a good stay in the apartment: it is situated well very close to the beach, there are nice restaurants close by that serve delicious greek food. Especially noteworthy is a wonderful coffee place just down the road towards the beach, that serves excellent coffee hot or iced, and yummy lemon-basil ice-cream. There is an even bigger choice of restaurants just 2 km walk or a cheap taxi ride away. There you have different options of restaurants and desserts, gyros, souvlaki etc (for example Ermos street in Vouliagmeni). The apartment itself is well-equipped and spacious, the huge balcony is a great plus, there is a table + chairs so you can enjoy your morning coffee in the open air. Everything works well in the apartment, there is a nice bathroom with good hot water supply, cooking supplies in the kitchen, and also beach towels were provided which is great. Even if you will sleep in the extra bed in the living room, it's comfortable: there's air conditioning there, as well as blinds that will darken the room for the night. Theo was a friendly and helpful host and made us feel welcome. Theo made it clear that we were able to contact him at any point if we needed anything. Theo is also quick to reply e-mails and texts so it's very easy to keep in touch. Everything went very smoothly. Thanks!
Yasemin
2014-09-10T00:00:00Z
Theo was a very considerate host, gave me the information I needed and helped out with some minor problems. He was very attent and kept checking if everything went allright and if anything else was needed etc. The appartment was fine and there was enough room (bedroom, kitchen, bathroom, balcony etc.) although here and there some refurbishment should be done.. The whole stay was however very pleasant.
Petros
2013-07-02T00:00:00Z
Room Type
Entire home/apt
---
Property Type
Apartment
---
Accommodates
4
---
Bedrooms
Vouliagmeni, Attica, Greece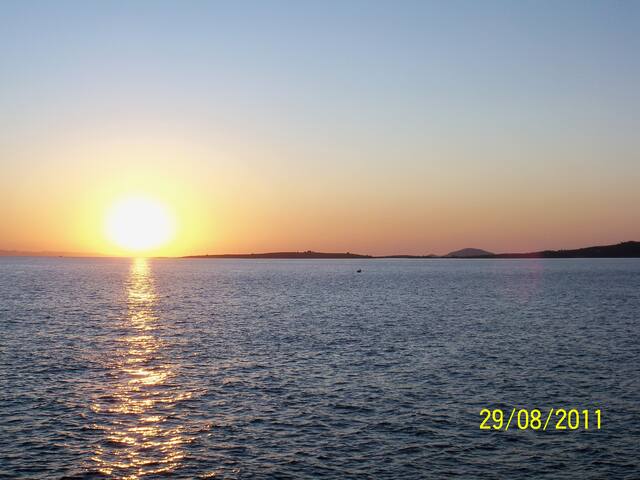 Pretty comfortable compartment accommodates 4-5 people (a double bed, a single n sofa bed). With private courtyard-garden and sea access with the coming out of the front door 20 meters. Ideal for relaxation and close to the city center in Vouliagmeni.
By the sea. 5 meters outside the house there is free Mr Payable beach. There is a hotel with spa. Sunset. Facilities as mentioned plus iron and dishwasher.
Calm Relaxation Beach at 5 meters
Maybe this apartment is not the best one I have ever rented but it was spacious enough and well equipped. We were satisfied and spent very nice week here. The two biggest positives are owner of the apartment (Eupraxia is really great host) and the locality (the beach is just across the street). The public beach was little bit dirty but the sea is really fantastic, especially for children. The only one negative for us was the neighbour's dog which is very good and friendly but barked and howled 1-2 hours every night so it was quite difficult to sleep. But it is an animal only... :-)
Jana
2015-07-07T00:00:00Z
The reservation was canceled 33 days before arrival. This is an automated posting.
Olivier
2015-03-20T00:00:00Z
The reservation was canceled 54 days before arrival. This is an automated posting.
Даниела
2015-04-06T00:00:00Z
Very nice experience. Praxis received me in her house very early in the morning to give me the keys. She brought some food for breakfast and there was some more in the fridge. The house is clean, spacious and very comfortable. A very relaxed terrace just 20 seconds walking from the beach. Great!! I would definetely go back!
Juan
2014-10-02T00:00:00Z
I had a great overnight stay in Vouliagmeni, highly recommend it! So close to the airport, literally steps to the beach. Just sat there all night, it was perfect ;)
Leon
2015-09-24T00:00:00Z
We were welcomed with milk, yoghurt and a nice juice in the fridge. A good way to start our stay in this apartment. We were surprised by the short distance to the sea. It is only a road that you need to cross and you walk directly to the beach. Locals are visiting the beach a lot and it is busy from early morning till late night, but busy in a very nice way. We loved it and so did our little son. The neighbours have a dog, a friendly dog, we never experienced any barking which lasted longer than a minute. The apartment on the inside was really nice. We were happy with the space offered. The kitchen is well equipped, there was a separate toilet and as well a bathroom with a washing machine. Two bedrooms with a double bed in the one and another bed with a topper in the second bedroom. All in one, for us a perfect location and a very nice stay!
Monique
2015-07-13T00:00:00Z
The reservation was canceled 19 days before arrival. This is an automated posting.
Tony
2015-03-19T00:00:00Z
The owner is very friendly and helpful, she picked me up to her apartment and bought me some salad and other stuffs on Sunday, her place is very clean and tidy, and big advantage is very near the beach and incredible sunset everyday, it is a great place to stay for your holidays!
Lijiao
2014-09-03T00:00:00Z
Room Type
Entire home/apt
---
Property Type
Apartment
---
Accommodates
5
---
Bedrooms
Vouliagmeni, Attica, Greece
2 bedroom apartement, one with a king bed and another with a bunq bed. 2 minutes walking from the beach, across the street from the Divani 5 star hotel.
In a quiet street Ekavis street. Very close to the beach
Very nice beach
Rudy wasn't there in person but made sure someone brought the keys to us. Rudy is a very kind and polite person, very helpful throughout our stay. The neighborhood is ideal for being near the beach (walking distance) and near Voula center (5 mins by car). The flat was very clean and functional, noisy at times (weekends) due to the proximity of vouliagmenis avenue.
Antonios
2015-07-22T00:00:00Z
Staying at this apartment was a delight. The place was clean and bright, and the neighborhood was safe. A neighbor gave me a key upon arrival, and everything about the stay went smoothly. The beach is about two blocks away and there are several restaurants that are within walking distance.
Melanie
2016-07-18T00:00:00Z
We loved our stay at Rudy's : the flat was very comfortable (with a lovely balcony and all comforts) and was in a convenient location for us. Very close to the beach and some restaurants, its 5mins walk from the bus stop that brings you to glyfada and Athens. Rudy was very accommodating, since we experienced a couple of change of plans and he left us in the hands a a neighbour that took lovely care of us (as well as provided us with cake :) ). Recommended!
Giulia
2016-08-23T00:00:00Z
The host canceled this reservation 12 days before arrival. This is an automated posting.
Paul
2016-08-02T00:00:00Z
Room Type
Entire home/apt
---
Property Type
Apartment
---
Accommodates
4
---
Bedrooms
Vouliagmeni, Greece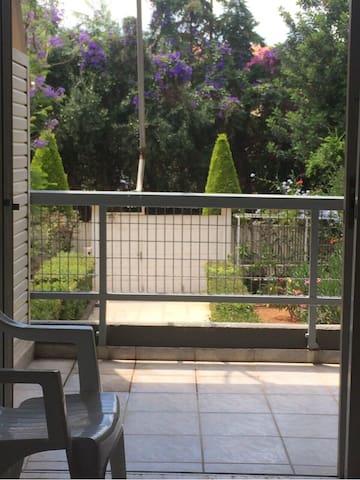 A very well decorated appartment with a private garden in Vouliagmeni with a living room with two sofas/ beds , an open kitchen , two bedrooms and two bathrooms in a very green environment , a homey atmosphere , 20 minutes walking distance from the beach and half an hour by car from Athens.
It is very modern, welcoming apt, with beautiful colors decorated, with a garden view from all windows around, it seems you have a privacy like a self standing home with its garden , even though it is in an apt building. It has full a/ c , Tvs , wifi, alarm , and a nice terrace in the garden so that someone can dine outside ..
It is a quiet and green neighborhood
We had a fabulous time staying in Vouligamenia, The apartment was more than we had expected or imagined. It certainly was large enough for all of us. Gelina went out of her way to makes us comfortable which included stocking up the fridge with goodies! The apartment is situated in a quiet residential area and its location is not too far from the centre, in fact, the two youngest members of our group became accustomed to the walk and enjoyed looking at the various plants and trees. Thank you once again Gelina from us all!!
Patricia
2016-06-03T00:00:00Z
Room Type
Entire home/apt
---
Property Type
Apartment
---
Accommodates
7
---
Bedrooms
Vouliagmeni, Athens, Greece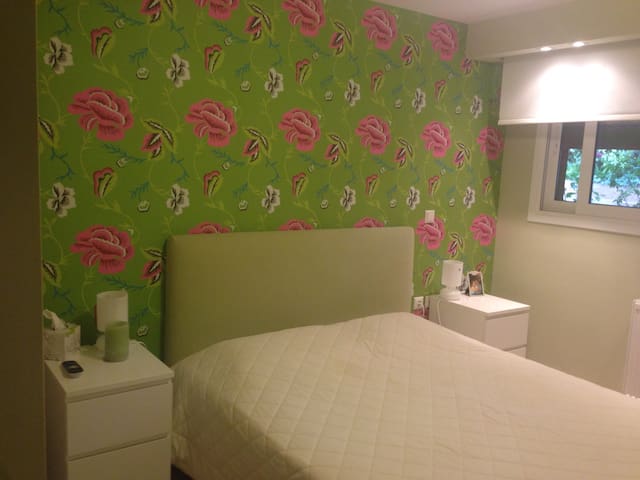 My place is close to public transport,sea,beach,restaurants,forest, parks. You'll love my place because of the location, the people, the ambiance, the outdoors space, the neighbourhood, the pool, the 30'' beach, the near tavern you will love. My place is good for couples, solo adventurers, business travellers, families (with kids), big groups, and furry friends (pets) outside.
MOST EXCLUSIVE BEST BEACH RIVIERA AREA OF ATHENS Unique Exotic Zen Minimal style CONCEPT: We brought the Beach vibes In front of the house INTO the house. Guests 9 people price is for 6 (2 extra kingsize beds + 2 kingsize beds + 1 single bed/sofa ) .. ~ Exotic Beach style Pool with transparent glass overflowing cascade. - 3 master bedrooms - sea view - 3 Bathrooms, 1 with chromotherapy - 1 guests WC with a special room for jackets & shoes, once the concept is oriental /exotic, barefoot & slippers are preferred indoors. - large verandas with amazing Sea View & sand style floors - spacious Sea View Livingroom, High tech kitchen, wonderful floor and exotic Caribbean style interior design decoration. - Tropical Garden Flora. - Zen entrance with bamboo & water flows ~. - Latest technology in everything, smart home, extra safe windows, best aluminum in the market (thin for the viewer and strong safe), automatic drawers etc.. Very quiet and in front of beautiful crystal blue waters Beach. A rare, best located Villa with best ecological materials, wonderful design for Peace of Mind Style, and Harmony of the Soul. Realy a precious jewel for the best living conditions, considering also the very good Energy Flow in the house that has been studied with Care and Expertise on many levels (Physical - Energetic - Emotional - Mental)... SERVICES: Cook - Chauffeur - Butler - Maid for cleaning, and laundry washing of linens towels and clothes upon request ... The Chauffeur drives a Mercedes Jeep until 10 pm .. Enjoy your stay and unique living in Harmony.
The most expensive and nice area in Athens riviera 30 seconds from the beach.
Room Type
Entire home/apt
---
Property Type
Villa
---
Accommodates
9
---
Bedrooms
Vouliagmeni, Greece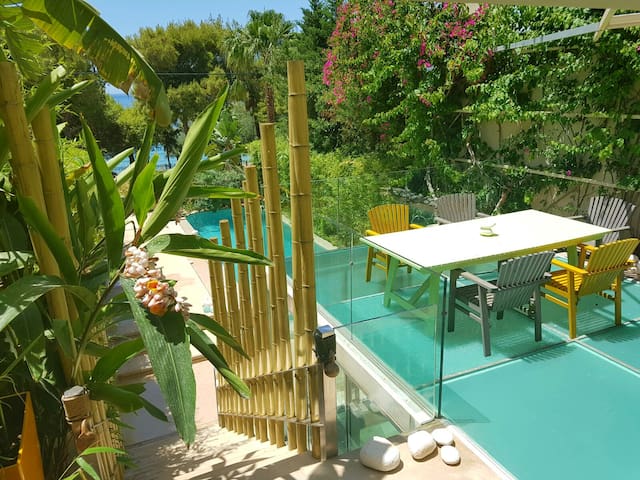 This wonderful house is situated at the colophon of the Athenian Riviera, in Kavouri. It is found beside all the organized beaches, that have facilities like pools, all day custody etc. The house at the 1st level consists of a large living room, dinning place, kitchen, 1 sofa that can be transformed into a king size bedroom and a bathroom. At 2nd level there are 2 master double bedrooms and 1 single bedroom.
The house is located 30 km from the airport, 15 km from the port of Piraeus and 10 meters from the sea.
Room Type
Entire home/apt
---
Property Type
Villa
---
Accommodates
9
---
Bedrooms
Vouliagmeni, Greece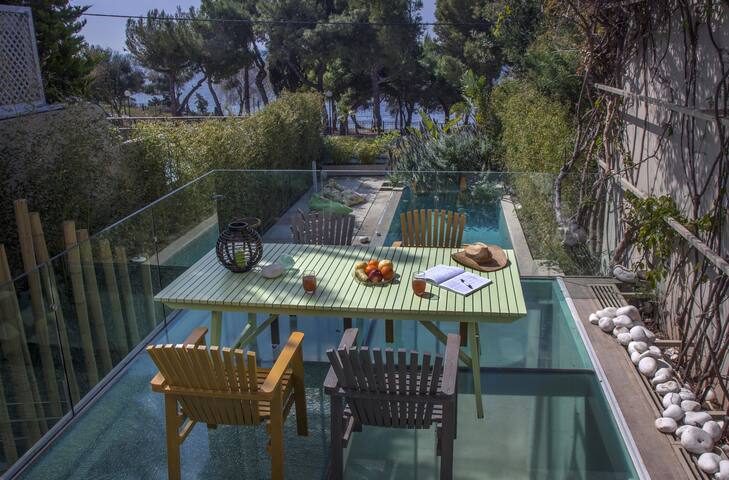 This condo is an exceptional opportunity for a couple to rent. It is situated very near to Kavouri beach, walking distance 50m. It has all kind of amenities. New modern kitchen fully equipped, as well a lovely updated bathroom.
Room Type
Entire home/apt
---
Property Type
Apartment
---
Accommodates
2
---
Bedrooms
Vouliagmeni, Greece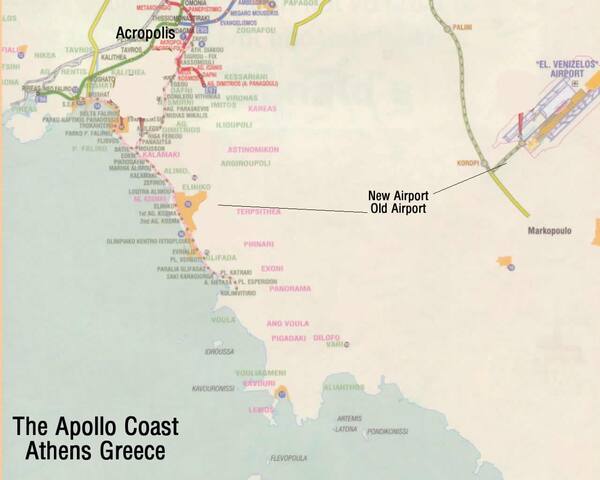 Lying towards the south west coast of Athens, the Villa is situated 300m from crystal waters sandy beach, where you can enjoy waterskiing sailing, windsurfing, paddling or scuba diving experiences. Wineries are 10 minutes drive, in the heart of the Athenian vineyards. A Mycenaean settlement dated 11th century 10min walk from the villa. During your stay you can spoil yourself and enjoy consierge services, mediterranean cuisine and security facilities
Lying towards the south west coast of Athens, our olive garden villa is situated 300m from the sandy azure blue coast of Varkiza, nested in the hills of Vouliagmeni. The house is surrounded by an olive tree garden of 4.000 sqm! The villa has 3 floors in total and it can accommodate up to 8 people. On the ground floor there are 2 bedrooms with double beds and 2 en suite bathrooms. On the first floor a living room with TV and fireplace and a fully equipped kitchen are situated. On the second floor 2 bedrooms and two en suite bathrooms are also situated. Regarding the area, in 300m walking distance, super market, shops, bakeries and pharmacies, as well as bus station with bus to the center of Athens city. There is a bus station as well on the other side with access to Sounio buses. Also, in 300m walking distance, you can visit and enjoy swimming in the beautiful sandy beach of Varkiza. This serenity setting of 300sqm is perfect for any artist, writer composer who want to enjoy privacy and still be a breath away from Athens social venues. The villa is situated about 20km from Athens center. Vouliagmeni is one of the most beautiful areas in the Athenian Riviera. You can enjoy visits to at least 3 wineries that are 10 min drive from the villa. You can enjoy wine tasting of local and french varieties and delicious gastronomy dishes. For more information check the wine roads of Attila or vineyards in Athens. During your stay at the beach you can enjoy windsurfing, waterski and scuba diving experience from exellent proffesionals. For more information check the sailing and windsurfing club of varkiza naovv, the scuba diving club of vouliagmeni and tips about shipwrecks and aeroplane wrecks lying underwater in Athens riviera coastline. You can also benefit from the exellent venue and mediterranean flavours provided, to host your wedding overlooking Athenian Riviera. Glyfada Golf course is 6km, about 8min drive. The villa is 15 min from Athens airport, airport transfers can be provided.
The neighbourhood is very quiet with big terrains overlooking the hills of mountain Imitos from the north and the beatiful sandy bay to the south.
Room Type
Entire home/apt
---
Property Type
Villa
---
Accommodates
8
---
Bedrooms
Vouliagmeni, Attica, Greece
It is a beautiful place next to a swimming pool ideal for a couple or family with a child. It consists of one bedroom a toilet and a single room (living room and kitchen)
Room Type
Entire home/apt
---
Property Type
Apartment
---
Accommodates
3
---
Bedrooms
Voula, Greece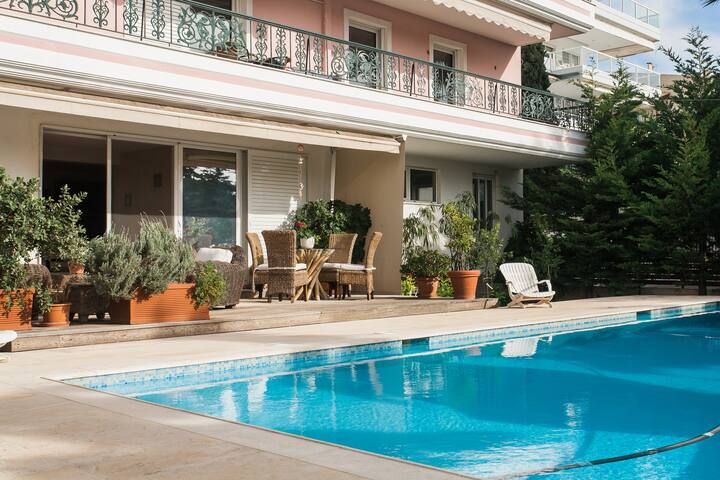 A cozy apartment with one bedroom, with open plan living kitchen that is all familiar at your fingertips! You are watching TV as well as cooking and enjoy your meal in a glass table with red leather chairs for 4 people! The bedroom has a king size bed with Foam mattress for a delightful The lounge sofa becomes a king size bed and can accommodate two more people! Enjoy a Jacuzzi with salts and bubble bath after a fun day at sea.
A single room with kitchen of bright red color, a beige leather sofa for 6 persons, a TV Samsung 42 inch audio system 5 +1 speaker will make your stay a delight. A bathroom with large triangular jaccuzi will relax you from a several hours of swimming in the sea! A kitchen fully equipped with everything necessary for a romantic dinner or lunch. A large terrace to enjoy your coffee or lunch or backgammon. These and others will meet at my home decor with nautical curtains to match both the sea is 50 meters!
The neighborhood is beachfront, with many restaurants, bars, hotels, shops, shopping malls, squares and beautiful beaches!
The stay at your place was pleasant and comfortable. It was especially nice since you allow us to have our Yorkie with us during the stay. The amenities are good and the stay at your place help us tremendously while we are arranging and setting up our own apartment here in Greece. Thank you very much.
David
2016-11-27T00:00:00Z
The host Yiota was great.Very quick with her replies.She was very accomodating to my requests.Lovely lady and very welcoming.Everything listed was available in the house. The house was clean and everything you need in the kitchen and (URL HIDDEN) area was great,close to the beach and buses to take you to airport or port.The area was safe and the apartment building was quiet and people were lovely and friendly. Yiota recommended a friend who has a taxi who was very nice and helpful.Cannot fault anything.
Kathy
2016-06-27T00:00:00Z
Cozy home. We enjoyed our stay!
Angela
2017-01-28T00:00:00Z
Being familiar with the area, The place was perfect in many ways. Clean and comfortable are first thoughts that cross my mind. I would stay there again.
Archemides
2016-12-08T00:00:00Z
A lovely comfortable 17 days in this apartment, and Giota responds quickly to any queries, and is very friendly. The apartment is very well equipped, so you have everything you need. The bed is wonderful – it is a memory foam mattress, so sleep is good, which helps when there are sometimes noisy motorbikes on the main road, but your ear zones them out after a couple of nights. The sofa bed is also very comfortable to sleep on. There are bus stops very close for all the bus routes, and it was easy, and fun, to get into Athens on the 122 bus to Elliniko and then the red line metro to the Acropolis, Syntagma Square, and more. We walked every day beside the sea, in both directions, with good paths to walk on, and beautiful scenes – take your camera! We enjoyed our time in Voula very much.
Jane
2016-12-29T00:00:00Z
We stayed in this apartment on the first floor 2 weeks. Family of 3 people plus a little child. Location of the apartment is very convenient: next to the sea (around 100 meters), next to the beach (around 200 meters), and right next to bus stops (including bus stop to the airport). And around 1 km there is a main street of Voula with a lot of very good cafes and 2 supermarkets. By the way, there is no other way to have a lunch, you should walk to the main street, or you could go to expensive but tasty fish restaurants like Garbi on the beach. First nights were very difficult, because we very well heard cars and especially motorbikes from the road, even with closed windows. We woke up 3-5 times a night. But later it became OK) The floor became dirty so fast also because of location near the road. In the whole we like this apartment. Good size of rooms, convenient location (besides noisy road), nice neighbor who met us, and all useful things we had in the apartment - washing machine, outdoor water faucet for cleaning foots, big bed and sofa, TV (but we could not understand how it works), bed clothes, towels, big spa bath and generally pleasant design of the apartment. Finally, we recommend this apartment to all people who wants to stay in beautiful Voula. Thanks for our vacation!
Alexey
2016-09-14T00:00:00Z
Квартира соответствует описанию. Чисто, все работает. До "нормального пляжа" 7 минут пешком. Район спокойный, соседи тихие. Всегда есть место под парковку. До магазина 900 метров. Очень просто добраться из аэропорта. Остановка автобуса в центр Афин в 350 метрах. Но: прямо напротив окон (10 метров) светофор на очень оживленном перекрестке. Мотоциклы не дают спать до 2-3 ночи. Каждый день. Вывод: для проживания и изучения окрестностей подходит отлично, для отдыха не очень.
dmitriy
2016-10-29T00:00:00Z
L'accoglienza e la comunicazione con Giota sono state davvero ottime. L'appartamento è stato recentemente ristrutturato ed offre tutto il necessario per la propria permanenza. Fermata del bus a pochi metri, mentre supermercati e servizi sono a 10 minuti a piedi. Purtroppo trattandosi di un piano rialzato molto prospiciente alla strada, i rumori del traffico sono particolarmente presenti e la notte non è facile abituarsi.
Claudio
2016-10-13T00:00:00Z
Room Type
Entire home/apt
---
Property Type
Apartment
---
Accommodates
4
---
Bedrooms
Voula, Greece
Enter dates to see full pricing. Additional fees apply. Taxes may be added.