A vacation rental, Mesa Valley GuestHouse is located at the base of the Black Mesa on the Walker Ranch, near Kenton, OK. The area is secluded and private. You are 40 miles from the nearest town, gas station and grocery store. Peaceful, Quiet, and Amazing! Come See Us!
Mesa Valley Guesthouse is a privately owned HOME and secluded in the Valley of the Cimarron River. We have 4 bedrooms, and a den that has a trundle bed and the living room sofa makes out to a queen bed. The nearest neighbor is 3 miles. We are 40 miles from the nearest grocery store and gas station. The nearest Walmart is about 100 miles. Therefore, you must have plenty of gas and food for your stay!
Beautiful country....Peaceful, Quiet......God's Country!
Great Hosts, Eddie and Cerita! We met in person after our hike, and visited for a few minutes as we watched the sun set. Great place! Really quiet and peaceful. On our hike of about 45 mins, we saw a covey of quail, a roadrunner, and a herd of antelope. As we left the next morning, we marveled at the rock formations and how beautiful the area is. Then stumbled onto a flock of wild turkey who were real busy eating grasshoppers. Fun, Fun, Fun!!!
jim
2016-09-15T00:00:00Z
The house was very quaint and the remote location was beautiful. The night sky was lovely. Cerita was very responsive to my questions and was easy to reach. We loved it and would recommend it!
Heather
2015-09-14T00:00:00Z
I normally write a review the same day we return home, but I had to think about this one a while longer. I just couldn't find the right words to describe our very brief but enjoyable stay. I've had to settle on, "Amazing." We had an amazing experience! Cerita is an absolute pro at being an outstanding AirBnB host. The furnishings and the way Cerita communicated with us made us feel very warm and welcome. The house has great TV (dish) and fast, reliable internet. We just loved it and want to return when we can spend more time at the house. In her listing, Cerita points out that the house is 40 miles from a grocery store/gas station. This is 100% accurate, so be certain to get your goods and gas either in Bosie City, OK, or Clayton, NM. Also, if you're on Sprint or T-Mobile, you might have cell-signal issues in that 40-mile radius, so be certain to download offline (SENSITIVE CONTENTS HIDDEN) maps if you're unfamiliar with the area. Thanks, Cerita, for hosting us. We hope to return soon- Nathan and Corinna Hood
Nathan
2016-11-12T00:00:00Z
The stay was great! Really cool place to have discovered. Everything was nice, in order, and felt very homey. I do intend on going back.
Matt
2016-05-15T00:00:00Z
The listing doesn't do this place justice. The views from this area are amazing, and the best part of all is how quickly it changes! From here, you can spend the days exploring the area and the nights star gazing. I especially recommend taking the drive to Capulin Vocano. Lake Carl Etling is another must see, and just minutes away! Cerita is a gracious host and we really felt like we where at home in her guest house. It was clean, comfortable, and cozy! We will definitely be returning!
Jimmy
2016-07-04T00:00:00Z
I needed some peaceful downtime and knew I was at the right place when a flock of wild turkeys visited me at the front door. The hosts were very nice, beds comfy and the house had everything one needed. A beautiful hiking spot located in a beautiful secluded valley.
James
2016-07-09T00:00:00Z
Cerita & her husband were unable to be nearby due to a family celebration. Never the less, she emailed me about the trip and kept in touch by email and phone to make sure we had found the Guest House and that all was well. This was an isolated home, so Certia cautioned us to have enough food for the evening & following morning. The house had a very friendly outdoor cat that certainly made us feel welcome. All electronics [TV] use was clearly explained if we'd wanted to use them. We preferred sitting on the front porch & watching the cows in the field & listen to bird songs. We were so pleased to stay at this Guest House as it was close to our hike at Black Mesa Nature Preserve near Kenton, OK. We very much enjoyed the restful country evening. They had a brochure for Capulin Volcano, not far away. So we took off driving through a very beautiful country road alongside the Cimmeron River on NM 456 highway & about 17 miles of dirt road to the volcano.
Beverly
2015-05-03T00:00:00Z
Everything was available and just as described. The area is gorgeous and the house an interesting mixture of old and additions. Cerita was always available when we contacted her and was willing to go out of her way to provide whatever we would need. I highly recommend this place if you want to get away and relax in the middle of natures beauty.
Richard
2016-08-08T00:00:00Z
Room Type
Entire home/apt
---
Property Type
House
---
Accommodates
12
---
Bedrooms
Kenton, OK, United States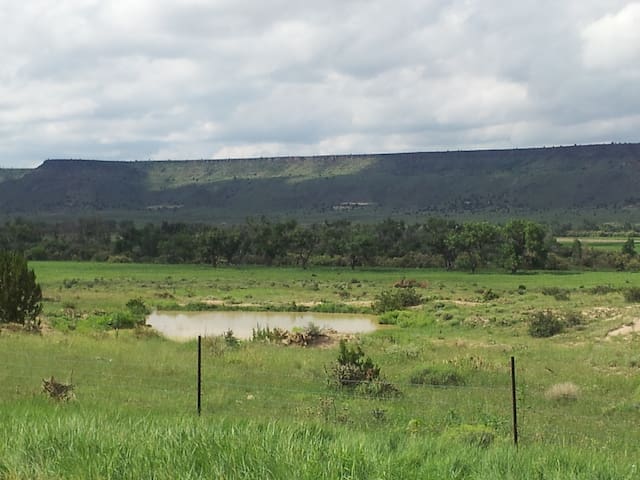 Bunk House is a modernized part of the Great Plains History complete with Dish Network, WiFi and central heat and AC. Perfect for individuals, large groups and events. We are a NON-host lodging with country hospitality. Price is PER ROOM NOT Full fucilities. Full facilities for all rooms and barn for events is $500.00 plus tax.
(URL HIDDEN) We took what my grandfather built for broom corn workers years and years ago which remained in ruins for years after broom corn production died out. We remodeled and modernized it with central AC, Heat, Dish network and WiFi while conserving the rustic beauty of the Great Plains. Complete with four private rooms (each with it's own theme reflecting on parts of our panhandle history) , community bathrooms (3, one large enough and designed for wheelchairs), country barn, lounge/kitchen, cocktail garden, small wedding venue/park area with small pond, and even space for tents. Perfect for individuals or large groups. 15 beds total (1 Queen, 3 full size, 10 twins and one full size pull out couch). We now also, located 6 miles from from Bunk House on State line road have a 2 story white cottage. Originally ordered from the catalog Sears & Roebuck years ago, Lindsey's Cottage is complete with 3 full size beds, 2 twins and one full size pull out couch. We love sharing the Great Plains with people from all around the world. We are on the flats in the heart of the Great Plains known for its starry skies and beautiful sunsets. Located 20 miles south of Black Mesa and 8 miles Lake Etling. Make the Panhandle of Oklahoma a part of who you are :)
We are in the middle of the Great Plains Country side! Peace and quiet. Sunsets, sunrises and STARS!
This would be an excellent education experience for a family. All the rooms were cozy and comfortable. The decor spelled the hard times of previous generations and provoked thought of how lavish an existence so many of us in America experience. This has been an edifying experience.
Dennis
2016-12-31T00:00:00Z
This place is absolutely gorgeous! And, it may be off the beaten path a bit, but trust me - it's more than worth it. In this case, off the beaten path means beautiful antiques everywhere you look, incredible historical photos, spotless rooms and bathrooms, and the entire place smells like a spa! If you had any notion you should stay at someplace closer to the highway - don't. Trust me - come here instead, you won't regret it. In addition to all that awesomeness, these people are some of the most genuinely kind people I have ever met.
Emily
2017-04-07T00:00:00Z
Staying at the bunkhouse was a truly remarkable experience. We were on a road trip and this was the perfect place to stop and regroup, rest up and enjoy a good cup of coffee, an amazing sunrise and the wonderful hospitality of this place and it's gracious hosts. I look forward to our next trip!
garrett and courtney
2017-01-01T00:00:00Z
clean comfy place. best oklahoma hospitality. quiet and relaxing. we will rent this space again!
Alan
2017-03-26T00:00:00Z
Lindsey and her family made us feel very welcome. Lindsey kept in contact with us as we were on our way, and started a pot of coffee early. Her mother and two of her children came over to greet us later in the morning and told us all about the history of the bunkhouse and kitchen. The kitchen was extensive and included a small common area, all the basics, an ice cold pitcher of lemon water, a treat, lots of historical information, antiques, photographs of the family, a piano... around every corner there was something new to discover. We stayed in the Dust Bowl room, which included lots of antiques and memorabilia about local cowboys and the Oklahoma Dust Bowl. It was a very relaxing stay, and we wouldn't hesitate to stay here again.
Gordon
2016-06-18T00:00:00Z
The Bunk House is a very interesting place and seems to have a little bit of everything. Lindsey did a great job of communicating with us before, during, and after we arrived at The Bunk House, and was helpful and accommodating. The bed was very comfortable. It was a very relaxing stay. The Bunk House was a little "off the beaten path", but worked out fine for my hike at Black Mesa... about a 40 minute drive away. Accommodations in this area are very limited!
Don
2016-09-27T00:00:00Z
Wonderful!!!
Susan
2016-12-01T00:00:00Z
Though we texted Lindsey quite late she was super relaxed and friendly! She organized everything and was very reliable. The location is wild and nice :) The next morning we even drove around the country with her dad Parker. And a good lunch. For us it was so cool! Thank you so much!
Chris
2016-08-24T00:00:00Z
Room Type
Entire home/apt
---
Property Type
Other
---
Accommodates
15
---
Bedrooms
Wheeless, OK, United States
My place is close to the center of Boise City, OK.. You'll love my place because of the outdoors space and the comfy bed. My place is good for couples, solo adventurers, business travelers, and families (with kids).
Frankie and Jerry are thoughtful, friendly accomodating hosts. My visit to Boise City was great. The space was comfortable and clean. I slept great. I couldn't ask for more.
Mark
2017-02-22T00:00:00Z
Cimarron Bed and Bath is a hidden gem in Boise City! Frankie and Jerry were quick to respond, kind, and respectful at every stage of our trip to visit Black Mesa, even going so far as to offer us a folder full of information about Cimarron County and Black Mesa. They provided us a lovely and well-maintained half of the duplex they own as our lodging; a very charming home on the inside and out with plentiful decorations, a Keurig, 2 cozy bedrooms, numerous water bottles, and a lovely patio/outside area. I highly recommend Frankie's place to anyone visiting the area!
JOSHUA
2017-03-15T00:00:00Z
This was a business trip and a welcome site at the end of a long day. The hosts were gracious and accommodating and couldn't do enough for me. I certainly felt at home. The apartment was clean, warm and inviting. I highly recommend staying here.
Thomas
2016-11-02T00:00:00Z
Room Type
Entire home/apt
---
Property Type
House
---
Accommodates
4
---
Bedrooms
Boise City, OK, United States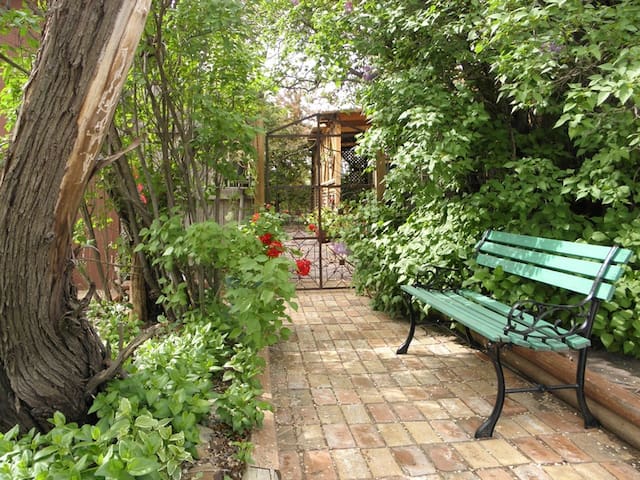 Stay for a night or more at our cozy home. Two twin beds, a queen bed, and character! Accommodations for horses ($25/horse) with our barn just steps away. Feel comfortable knowing your horses are right outside your door. Arena available for use. Dogs and cats welcome too!
Our house gives a real western feel with custom built features throughout. The house has an old-fashioned character about it. This isn't the Ritz, but rather your own private getaway. Gaze at the stars, go for a walk, and let your dog run around in the open space.
We are about 1.5 miles from Main Street which has a grocery store, restaurants, Subway, Pizza Hut, etc. Capulin Volcano is an hour drive; Clayton Lake is a 15 minute drive which boasts famous dinosaur tracks.
Perfect get away place to stay coming from Texas & Colorado. We enjoyed the comfort & peacefulness of this home. Would definitely come back again! (:
Marissa
2017-01-28T00:00:00Z
Everything was great but we decided to keep driving on our journey to OKC as it fit better with our schedule. Thank you for being so accommodating!
Taylor
2016-07-27T00:00:00Z
Such a beautiful quiet home surrounded by cows and grass. We loved the cabin feel to it and it was very comfortable for all 4 of us. Bathroom was super clean. And kitchen was stocked as well:) We were welcomed with cookies and they met us 5 min away to escort us in. It was great. We'll be staying there again if we're ever in Clayton again.
Matthew
2016-09-25T00:00:00Z
The bunkhouse in Clayton was fun. It was very clean, and rustic. The owners were very nice, having homemade cookies for us on arrival. Our dogs had a good time too. If we were ever going through Clayton again well stay again.
Cathy
2015-09-17T00:00:00Z
The hosts were very welcoming and helpful (fresh-baked cookies were supplied as promised). This was a very rustic setting, ideal for tenants with animals.
Tom
2016-02-11T00:00:00Z
The cabin was warm when we arrived, which was so appreciated in the November cold!
Misty
2015-11-27T00:00:00Z
Very comfortable and cute rustic house for a family. The house has all the necessary items. We enjoyed our short overnight stay. Jana was prompt in responding to our request & her parents received us in town We will stay here again on our annual trips to Dallas.
Jai
2015-11-24T00:00:00Z
Jana was very welcoming. The pictures and description were accurate. The neighborhood was quiet. Jana's parents kindly met us in town and led us to the property.
Vera
2015-07-03T00:00:00Z
Room Type
Entire home/apt
---
Property Type
House
---
Accommodates
4
---
Bedrooms
Clayton, NM, United States
Enter dates to see full pricing. Additional fees apply. Taxes may be added.