Our apartment is located in a converted house from the living monument guns barn. From the apartment you can take lovely walks in the vineyards or on a vivarium along the woods. Furthermore, a very nice climbing about to reach 10 min walk from the apartment. The convenient location of our apartment in the triangle very many excursions offer. The Europa Park Rust is about 18 km away.
The property is located in a former barn, which is under a preservation order. She has thick sandstone walls, these are offered in summer for a pleasant climate. Sheets and towels are provided and included in price. A coffee machine making morning getting up easier .. !!
We live in the same house where the apartment is located. We are happy to support them with help and advice available, or respect if they want to be on their own.
It's simply a perfect house. Very clean and nice. Thank you Sandra and Pascal for the nice stay.
Akram
2016-12-23T00:00:00Z
Wir verbrachten eine Nacht in der Ferienwohnung von Pascal und Sandra und waren total begeistert von der ruhigen Lage und der schönen Wohnung. Pascal und Sandra sind sehr sympathisch, unkompliziert und hilfsbereit. Wir würden sofort wieder bei Ihnen übernachten!
Andrea
2016-09-26T00:00:00Z
Room Type
Entire home/apt
---
Property Type
Apartment
---
Accommodates
7
---
Bedrooms
Kenzingen, Baden-Württemberg, Germany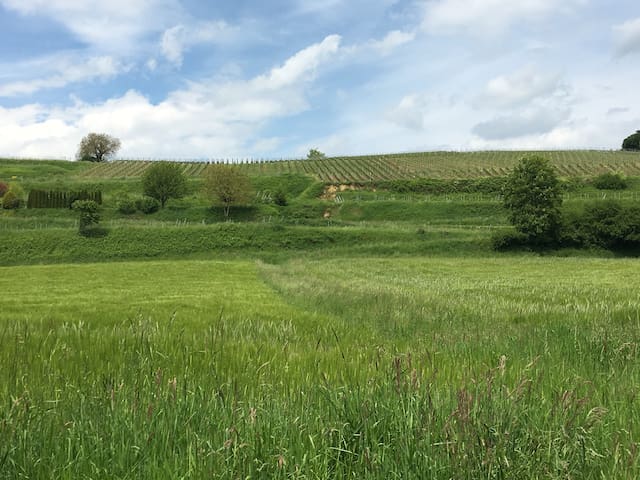 Small apartment (45m²) with sep. Kitchen + bathroom + terrace (30m² in addition). Input sperat. Location downtown, very quiet. Parking no problem. Bedroom with double bed, 3 bed n.Bedarf. Space for bicycles.
Smokers can easily use terrace. We speak French and English.
The hosts were great. amelie accepted our reservation in short notice and provided us everything needed.
Bnaya
2016-09-20T00:00:00Z
We only spent one night here but Amely was extremely friendly and welcoming! My husband and I were traveling with our close friend and our two dogs and although there had been some water damage to the second bedroom and we could not use it, Amely made sure the three of us were comfortable nonetheless. Upon arrival she greeted us at the door, gave us a tour of the home and even left us beers and treats for our dogs. This was overall a very nice stay, thank you!!
Megan
2016-12-18T00:00:00Z
I highly recommend the apartment. Easy access, it has a very nice terrace, and everything you need. The host is very nice and friendly and helps you out with all you need.
Raluca
2016-07-19T00:00:00Z
We loved the house. It was nice and quiet and the courtyard was great. The location is excellent. Jörg was a great host communication was great and the check in was easy. I would definitely recommend this place to friends.
teresa
2015-10-26T00:00:00Z
Jörg Michael welcomed us from moment we booked, answered all our questions, provided us with all the necessary for our stay. We communicated more via messages since we didn't speak her language and she spoke little English. However, we were a little late and she was there to receive us regardless of time. We really appreciate everything. The place was accurate with description (fully furnished, kitchen had everything you needed). We had a great time in this apartment. Very quiet place, loved my time there. Recommend this place. Walking distance to restaurant, five minutes walk from the train station and 9km away from Europa Park.
Jess
2016-06-04T00:00:00Z
We very much enjoyed our stay at Jorg's apartment. It was exactly as described and as much as we would like to keep it our little secret, we wanted to share our positive experience. We chose this apartment as a place to save us a drive home after a long day at Europa Park and couldn't have been more pleased. Even with the late hour of arrival, there was no hesitation by Jorg. We were greeted kindly by a friend, who quickly showed us the apartment, and then showed us the way to a wonderful Greek Restaurant in the area, as well as where bakery's were located if we were interested. Not only did the apartment give us a clean and comfortable place to stay, Jorg had provided us with coffee, juice, milk and beer for our enjoyment. While breakfast is not included in your stay, we were offered delivery of different options of breakfast, for a small fee. There is also a wonderful outdoor patio to enjoy in the morning or evening hours.
Tara
2015-08-22T00:00:00Z
The house was as shown in the pictures and the communication with Jörn was very good and easy. He left us some water, milk, coffee and beer, which was great. The house had everything you might need except some kitchen accessories and it was a little bit cold inside, so I guess it would even be worse in winter.
Oleguer
2015-09-13T00:00:00Z
Very clean appartment! Lots of room and bathroom was very spacious. Was welcomed with free juice and beer in the fridge, and also little chocolates on the bed. Great place to stay!
Jade
2015-11-03T00:00:00Z
Room Type
Entire home/apt
---
Property Type
Apartment
---
Accommodates
3
---
Bedrooms
Kenzingen, Baden-Württemberg, Germany
Liebevoll renovierte Dach-Maisonette in der 200 Jahre alten ehemaligen Pferdepost. Einzigartige Wohnung mit historischen Balken und Freitreppe. Großer Garten, durch den die "Kleine Elz" fließt. Nahe Freiburg, EuropaPark, Kaiserstuhl und Schwarzwald.
Die Maisonettewohnung geht über zwei Geschosse im Dachstuhl der unter Denkmalschutz stehenden alten Post in Kenzingen. Sie wurde in den letzten zwei Jahren liebevoll renoviert. Highlights sind die historische Freitreppe ins obere Geschoss, die authentischen Balken des Dachtragwerks und der Dachbalkon, von dem man die Weinberge und die Ausläufer des Schwarzwalds sehen kann. Durch den Garten fließt die "Kleine Elz", in der Kinder im Sommer baden können - sozusagen unser "Swimmingpool" mit frischem Wasser aus dem Schwarzwald.
Kenzingen ist eine sehr charmante kleine Stadt und (noch) ein echter Geheimtipp. Der mittelalterliche Ortskern ist fast vollständig erhalten und lädt zu Erkundungsgängen durch den Ort ein. Es gibt Restaurants, Cafes und Läden für den täglichen Bedarf, alles nur wenige Schritte zu Fuß oder mit dem Rad entfernt. Der Weinort Kenzingen liegt am Rand des Oberrheintals mit schönem Blick auf Weinberge und Ausläufer des Schwarzwald. Vom Haus aus kann man wunderschöne Spaziergänge und Wanderungen in die nahe gelegenen Hügel mit atemberaubenden Blicken unternehmen. Oder einfach ganz entspannt mit dem Rad durch das Oberrheintal zum Rhein oder nach Frankreich radeln.
Idyllische Lage, sehr gut ausgestattete Wohnung, sehr nette Gastgeber!!
Renate
2014-07-18T00:00:00Z
Room Type
Entire home/apt
---
Property Type
Apartment
---
Accommodates
6
---
Bedrooms
Kenzingen, Baden-Württemberg, Germany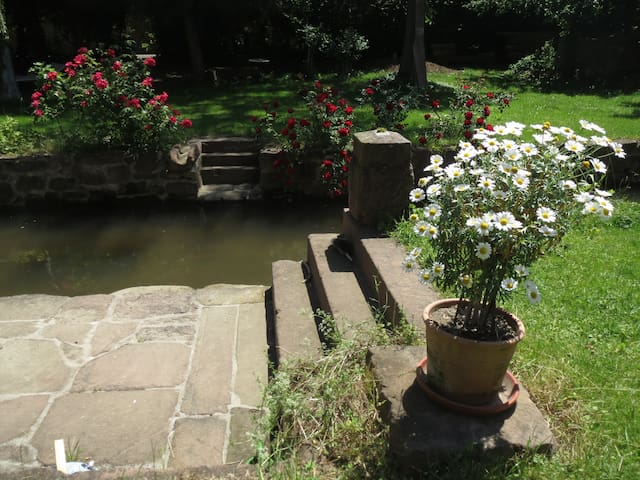 Mon logement est proche de EUROPAPARC. Mon logement est parfait pour les couples et les voyageurs en solo.
Tout le linge de toilette est à votre disposition ainsi que les produits de base : gel douche, shampoing, cotons, produit vaisselle, éponge etc..... Vous disposerez d'une cafetière Senseo, d'une bouilloire, et tout le nécessaire pour vous faire un petit repas.
This apartment is perfect - exceptionally clean, beautifully decorated and stocked with everything you need - towels and shampoo of course, but also tea and coffee making facilities (including cream in the fridge), biscuits, chocolates, cooking facilities (2 hobs, microwave, toaster) and - a lovely touch - salt, pepper and oil. We slept easily on a good mattress. There was no noise during the night and the blinds on the windows kept all the light out. We arrived much later than originally planned but this wasn't a problem. Jeanie and her husband both greeted us and showed us around and were very friendly. Parking was on-site behind a locked gate. Jeanie and her husband really went out of their way to make our stay a success. In our case this was a big deal as we let the door lock with the key on the inside and they came back specially to let us in.
Benjamin
2017-03-12T00:00:00Z
Thank you for all. The room was very clean, very lovely with some details and the Family were very nice and flexible for our Check in ! The Appartement is very close to Europa Park, with the ferry you only Need 15 min. to the Park. Hope to see you Nexttime when we make the next Trip to the parc!!
Marisa
2016-08-31T00:00:00Z
We had a great time at Jeanie's place and would definitely come back ❤️. Thanks for the extra coffee and water
Lennart
2016-09-21T00:00:00Z
5 ️️️️️ appartment! Jeanie and Daniel are very kind hosts, they made us feel at home immediately. Impeccable, cozy place that has an array of extras one can only dream of (in a hotel not to mention any other Airbnb listing). After 5 years of discovering the world with Airbnb, this is by far the best place I have ever stayed at!!!
Nicki
2016-11-03T00:00:00Z
Jeanie has been very clear in all e-mail communication, and when we arrived Daniel welcomed us in a very kind and friendly way! The aparment is lovely, furnished with everything, clean, spacious and very warm. We went to Europapark, that was easy because the crossing of the river with the boat is few minutes away from the flat. Absolutely perfect, thank you! Sara&Matteo
Sara
2016-10-16T00:00:00Z
Jeanie was a great hoster! She prepared a lovely breakfast and did everything we asked for. The communication was good, everything was clean and the house is pretty adorable - we had a perfect stay, thank you for everything you've done! Totally recommended
Lara
2016-11-01T00:00:00Z
Jeanie was a really friendly host and we loved her place :) We found all the necessary amenities, it was really clean and nicely decorated. The neighbourhood was calm and clean as well. It is quite close to Europapark. 15 min from door to door if you take the ferry (free of charge). Thanks for the nice stay!!
Alev
2016-10-03T00:00:00Z
The apartment is very new, spotessly clean and well equipped . Jeannie and Daniel were great hosts and we so enjoyed the conversation with a glass of wine, many thanks for your company.
Derick
2016-09-01T00:00:00Z
Room Type
Entire home/apt
---
Property Type
Apartment
---
Accommodates
2
---
Bedrooms
Rhinau, Alsace-Champagne-Ardenne-Lorraine, France
Apartment in a house . equipped kitchen , fridge, cooking plates , microwave. plates covered pans Shared shower ( You will never see me in public areas , unless you have questions ) Main bed 2 places like click clack + 3 single beds + a camp bed Lafuma if a 6 person . ( So 6/7 places) 7 km from Europa park . propelled ferry (nice ) free ( VL 27 places), ultra fast crossing . in automatic mode booking
I speak english, no problem with communication
Petite ville tranquille, des commerces un grand supermarché, un camping avec piscine chauffée. Séjour de descente en canoe kayak du brunwasser. ( nature rivière d'une rare beauté sur quelques dizaines de kilomètres ) Réserve naturelle exceptionnelle avec oiseaux d' Europe uniques
Philippe's shared space is very comfortable, but rustic. I would recommend Philippe's place if you truly do not have a problem with sharing someone's home. The space is laid out with the guest quarters in what was the living/dining room of a 100+ year old house and it feels a bit exposed, as there are no doors to the guest quarters. We were there for two nights and only saw him when he met us at the door on the first day. He went out of his way to give us our privacy and was very helpful and offered assistance anytime. Merci bouquet!
Heather
2016-06-14T00:00:00Z
With short notice we instant booked with Philippe and arrived to a charming house in a small French town. Philippe was extremely kind and welcoming, and was quick to offer any of his food after our drive. We slept well and took advantage of the many cafes in the area the next morning. Great experience and great host! Would recommend to anyone!
Zachary
2015-12-29T00:00:00Z
Se were a group of five. Philippe was a great host, providing great advices, and friendly reception. The place is spatious, clean and well located from both Europa park, as within the city of rinhau. Would recomend you the location to Any friend of mine!
Carlos
2016-07-11T00:00:00Z
He made us feel very comfortable.
Veronica
2017-01-02T00:00:00Z
Even though we booked very short notice this was no problem at all for Philippe. Location was perfect for a visit to Europapark. Clean beds and bathroom. Good kitchen facilities and very friendly host.
Richard
2016-05-17T00:00:00Z
Philippe nous a très bien accueilli, hôte très discret mais disponible. Nous avions un bon lit et très bien situé pour Europa-park ! À recommander !
Diane
2015-07-13T00:00:00Z
Résidence confortable, Philippe est très accueillant et capable de vous mettre à l'aise dès votre arrivée Merci de cette accueil
Warren
2015-07-14T00:00:00Z
Philippe war sehr zuvorkommend und hat alles schön vorbereitet. Er war diskret,verständnisvoll und sehr hilfsbereit. Herzlichen Dank für diese tolle Unterkunft so nahe beim Europapark!
Vera
2016-03-13T00:00:00Z
Room Type
Shared room
---
Property Type
Apartment
---
Accommodates
8
---
Bedrooms
Rhinau, Alsace, France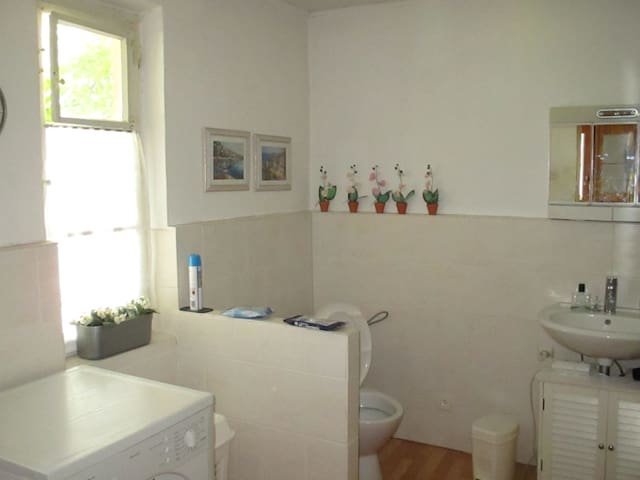 The cozy Dachmaisonettewohnung was in 2013 newly built and furnished. It is located in a classical renovated Medieval house in Freiburg Fischerau - One of the most beautiful streets of Freiburg in the Old Town. The apartment is located on the 4th floor and is spread over 2 floors. On the first level is the bright living room and kitchen and bathroom. In the second level (roof Spitz) is the sleeping area (max. Height 1.60 m) with a bed (140x200). Features of living area: wardrobe, 2 cozy chairs, LED TV, dining table and kitchenette (sink, fridge, cooker). The small bathroom is equipped with shower and toilet. Internet via WLAN (incl.). Kitchenette fully equipped with crockery, cutlery, pots, toaster, etc. Coffee (Senseo) and kettle were available. Special: Original wooden beams (Height 1.85m).
So if you want to visit Freiburg, THIS IS the place to stay. We didn't get the chance to meet Dominick but everything is very well organized. All you need to is really just arrive, pick the key and that's it. The place is exactly like in the pictures, and a very lovely apartment in the old town. The view from the ceiling window is nice at night, you can even see the stars. The apartment has a everything you need to be very comfortable. It is warm (we stayed from late fall and early winter) and very cosy. The neighborhood is great, you're really in the very center of the town, with everything close (walking distance - 2 to 10 min). If we ever get back to Freiburg, we're going to book this again. Perfect place.
Filipe
2015-12-23T00:00:00Z
Perfect location, great apartment! I would recommend it to anyone. We had a really great time here.
Genevieve
2013-08-27T00:00:00Z
The apartment was perfect!!!!! It is in the city center, the host Dominik, is a very nice person, we arrived in Freiburg about 1:00a.m and he was waiting for giving us the keys and showing the apartment. I totally recommend it!!! The apartment is very cosy and it has everything you need! Thanks for everything Dominik!
Elena
2013-06-12T00:00:00Z
Lovely airy bright apartment in a good location. Some issues finding it, though may just be because we didn't prepare properly!
Hannah
2014-08-09T00:00:00Z
Brillant location and value for money. Mind your head if you are exeptionnaly tall thus :-) Only "negative" note (for some people, wasn't a problem for us); I think this is not really the original AirBnB story of someone renting from time to time his spare room/flat as it looked very profesionnaly done (even get an automatic key dispenser at the entrance, so we did not meet Dominik directly). As a conclusion walk your way if you are looking really for a kind of "B'nB" experience with some contacts with a local person, but otherwise the place is just a GREAT deal! definitly a safe bet for a few days in Freiburg.
Arnaud
2014-01-27T00:00:00Z
We had a wonderful time staying at Dominik's apartment in Freiburg. The apartment is very cosy, clean and comfortable. The location is also amazing - right in the middle of the old city. There were enough pots and pans for us to be able to make a few meals in the kitchenette. The bed was very comfortable. It was very easy to find the apartment and get the key using the directions Dominik sent us. Occasionally the wi-fi connection was a bit unreliable but this wasn't too much of a big deal. I would highly recommend the Dachgeschosswohnung!
Catherine
2016-02-22T00:00:00Z
Great location and clean
Brett
2016-03-02T00:00:00Z
We didn't actually meet Dominick, but communication and check in was easy and efficient. The location is absolutely unbeatable! Around the corner from the Feierling Biergarten and near a bunch of good restaurants. The steps up to the top floor can be tricky, but that's to be expected in a historical house. If you're going to Freiburg (and you really should), you should stay here.
Tim
2014-07-14T00:00:00Z
Room Type
Entire home/apt
---
Property Type
Apartment
---
Accommodates
2
---
Bedrooms
Freiburg, Baden-Württemberg, Germany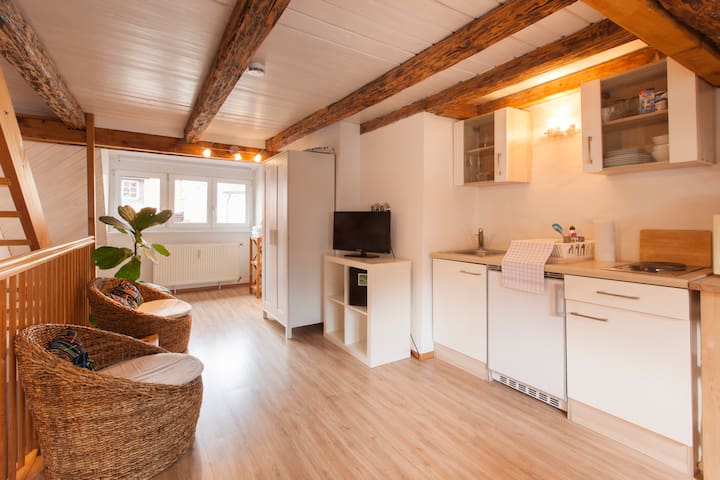 .
Description Our apartment in Freiburg has been certified by the German Tourism with three stars and is located in the Franciscan Road 11, in the Old Town City Hall Square in the pedestrian zone. Can be found in the immediate vicinity there are numerous street cafes, shops and attractions such as the cathedral with a daily market, or the numerous quaint "alleyways and small streams" that invite you to linger. The university, theater and concert hall and Central Station are conveniently within walking distance. The renovated, brand new and stylishly furnished apartment is located in the 3rd Floor (first floor) and is accessible by elevator. The (Non smoking) apartment is very bright and comfortably furnished for 2 persons and is not oriented to the town square, but the quieter Merianstrasse out. It offers in addition to the separate, fully equipped kitchen with dishwasher, two cozy roof terraces (south-west direction) with a partial view of the Old Town Hall. Here you can enjoy breakfast in the morning to see the afternoon relaxing on the couch taking a sunbath or go under the evening sun on the roofs of Freiburg. Surrounding there are a variety of shops such as the Black Forest City, supermarkets, numerous restaurants, a bakery with a cafe and pharmacy drugstore. The tourist information office is located opposite the Old Town Hall. Apartment facilities Our apartment on the 3rd Floor (first floor) is easily accessible by elevator and has a cozy living room with double bed (160x200), as well as built-in wardrobe, chest of drawers, a sitting area and a comfortable dining area. The furniture in oak oiled wildlife give this apartment a stylish ambiance. An LCD TV with USB port and a radio with CD player are also at your disposal too. The living room separated from the bright kitchen is next to a 4 - ring ceramic hob and a fridge with a 3 * freezer, microwave and dishwasher. Ample crockery, glasses, cutlery, pots and pans and other cooking utensils in addition to completing a kettle and coffee maker kitchen appliances. In addition, we offer an iron and ironing board. Of course, hand and bath towels and tea towels and bed linen are ready for you down. The bathroom is equipped with new furniture and a shower-bath, where you will also find a hairdryer. On the two roof terraces offers a relaxing sunbathing and seating and the opportunity to take your meals in the fresh air. By the way, our apartment has clean green electricity from the socket. See you soon, we look forward to seeing you!!
Very good location. Thank you
April
2016-10-16T00:00:00Z
Robert is one of the best hosts we have ever had! Despite of our late arrival and nasty weather, Robert was there to welcome us in his apartment which is just a lovely place: in the very heart of the Old Town, next to the City Hall and Tourist Information. The flat is very cozy and nicely furnished, it has everything one might need (even an iron for fashion-mongers;) ) And of course it was very clean, German quality! Next time we are in Freiburg area, we would love to see Robert and stay at his place again :)
Andriy
2016-04-18T00:00:00Z
Robert was a delightful host. The apartment is very central, great for exploring central Freiburg. It is clean and big enough of one person or even a couple. The kitchen comes fully stocked with necessities like tea, coffee, salt and olive oil. Overall, I'd highly recommend staying in Robert's place.
Stojan
2016-10-31T00:00:00Z
Beautiful and charming apartment in the city center of an awesome city! Robert, the owner was very friendly and always helping besides the different languages! highly recommended!
Susana
2013-09-07T00:00:00Z
I had a wonderful week at Robert's flat in Freiburg. The flat is well laid out, spotlessly clean and well-maintained. There is lots of storage space and the kitchen is well-equipped. The bed is very comfortable. Two small balconies let you sit and eat outside and have window boxes full of flowers and fresh herbs. Big windows let in light and fresh air. The wifi is strong. The bathroom has a full tub and shower, good water pressure and lots of places to put your toiletries. There is keyed access to the building and to the elevator. The location can't be beat. It is an easy 10 minute walk to the train station and a 5 minute walk to a daily farmer's market by the cathedral and a big, modern supermarket in the basement of a department store. Cafes and restaurants are all around. Robert is a great host. He immediately got back to me when I had questions and was very flexible when I asked to adjust my schedule. I was 3 hours late arriving in Freiburg because of delayed luggage at the airport and there was no problem in getting the key. I highly recommend Robert and his flat and would definitely stay there again if I come back in Freiburg.
Becky
2014-07-05T00:00:00Z
Robert was a fantastic host from start to finish. He met us personally at the apartment, showed us around and told us where all the local supermarkets, bakeries etc were to be found. He made us feel very welcome. The apartment itself is lovely, the perfect size for a couple, ideally situated right In the middle of town and only 10 min walk from the train station. The apartment was very clean and comfortable and had all you would really need for a break away including dish washer and hair dryer. Overall we really enjoyed our time here and would definitely rent Roberts apartment again when in Freiburg.
Helen
2017-01-27T00:00:00Z
Nice place, nice space, very well located.
Cai
2013-03-12T00:00:00Z
Can't say enough good things about Robert, the host, and his beautiful apartment. He has been designated a Super Host and there is a good reason for that designation; Robert is excellent! The apartment is extra clean, outstanding location and has everything you need for an enjoyable stay. Do yourself a favor and rent Robert's apartment, you won't be disappointed.
Steve
2017-02-05T00:00:00Z
Room Type
Entire home/apt
---
Property Type
Apartment
---
Accommodates
2
---
Bedrooms
Freiburg, Baden-Württemberg, Germany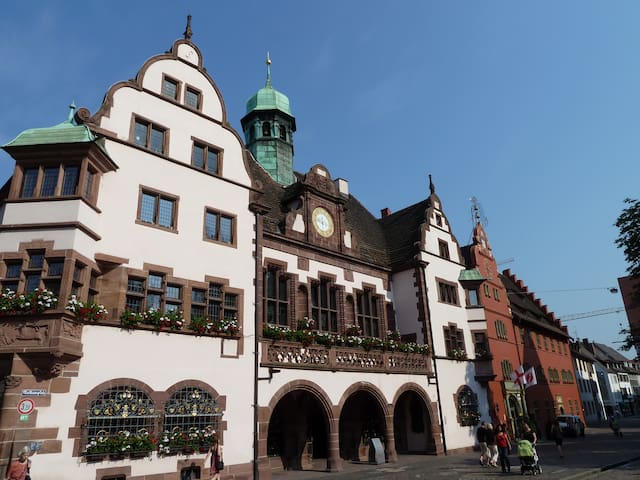 Top Dachwohnung in Freiburg, 20 Min. zu Fuß zur Innenstadt, mit grosser Terrasse, neu renoviert und einer atemberaubenden Aussicht über Freiburg und den nahen Schwarzwald.. Meine Unterkunft ist gut für Paare und Geschäftsreisende.
Die Wohnung liegt im 4. Stock unterm Dach eines stolzen Altbauhauses im Stadtteil Haslach. Von der Terrasse bietet sich ein toller Ausblick über Freiburg und den nahen Schwarzwald. Parken kann man auf der Strasse vor dem Haus ohne Parkschein. Zur Stadtmitte läuft man 20 Min.
Alles TIP TOP gewesen danke nochmal Andreas :)
Philipp
2016-08-31T00:00:00Z
Room Type
Entire home/apt
---
Property Type
Apartment
---
Accommodates
2
---
Bedrooms
Freiburg, Baden-Württemberg, Germany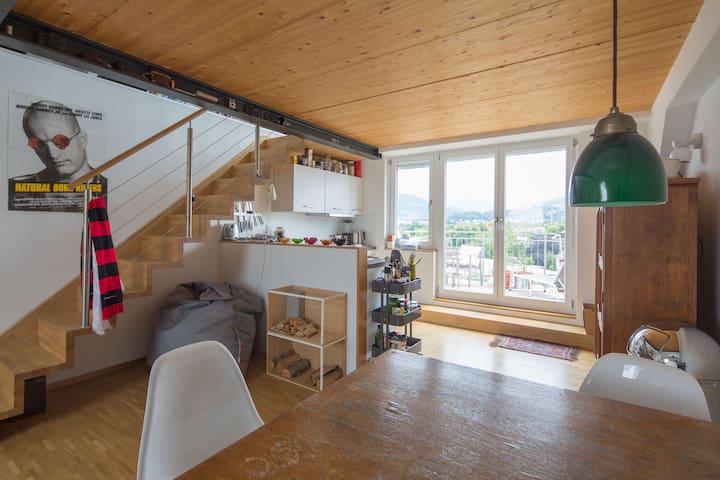 Beautiful, möbiliertes 1 room apartment with fully equipped, modern kitchenette. Fixed bed, flat screen TV, a small, modern bathroom with shower, terrace. Good Verkersanbindung to Basel, Freiburg city, HB and in the Black Forest.
Cot (up to 3 years) with linen prev .. On request bicycles. Short distances to University Hospital and Innstadt v Freiburg. Good transport connection. Good shopping for daily needs v place. Outdoor v place. On request cosmetic treatments can werdenz.B.Gesicht booked., Pedicure, hand., Nail care, spa massage.
Great Leute.Lustig, helpful, open.
Jutta's one room studio was the perfect home base for visiting our relatives in St. Georgen.
Hajo
2016-12-26T00:00:00Z
Great host and a very nice apartment. I would definitely choose again. Thank you so much.
Nicholas
2016-05-02T00:00:00Z
Empfang, Wohnung, Wohlfühl-Charakter war alles supi. Ich bin alleine gereist, fand mich gut zurecht, habe Tipps erhalten und na es war einfach nur gut. Die Wohnung hat vor allem an warmen Sommertagen eine angenehme Kühle, bedingt durch die Bäume im Garten. Der Sitzplatz auf der Terrasse lädt echt zum gemütlichen Kaffee oder Tee ein.
Ute
2016-08-20T00:00:00Z
Eine sehr schöne Wohnung. Alles was wir brauchten war vorhanden. Sehr ruhige Lage und trotzdem kann man schnell im Stadtzentrum sein.
Lothar
2016-10-13T00:00:00Z
eine sehr schöne Wohnung. Jutta ist super nett und hat uns am Bahnhof abgeholt. Wir hatten auch zwei Fahrräder zur Verfügung. Sehr empfehlenswert.
Josephine Ege
2016-07-14T00:00:00Z
Mein Bruder war uns gemeinsam mit seiner Freundin besuchen, daher suchten wir etwas in St. Georgen. Die Whg war sehr schön und Jutta sehr nett. Gerne kommen die beiden wieder ☺
Svane
2017-03-25T00:00:00Z
Jutta ist eine super Gastgeberin. Super nette Kommunikation und sehr herzlich. Die süße Wohnung kann ich nicht bewerten, da sie aufgrund eines kurzfristig eingetretenen Schadens nicht bezogen werden konnte. Dafür hat Jutta sofort eine andere Unterkunft organisiert, die zentral gelegen, top ausgestattet und blitzblank war. Ich kann Jutta als Gastgeberin uneingeschränkt empfehlen und würde jederzeit wieder bei ihr buchen.
Jana
2016-05-14T00:00:00Z
Schöne Wohnung, gute Verkehrsanbindung. Die Verabredungen mit Jutta haben sehr gut geklappt.
Frauke
2016-10-22T00:00:00Z
Room Type
Entire home/apt
---
Property Type
Apartment
---
Accommodates
2
---
Bedrooms
Freiburg, Baden-Württemberg, Germany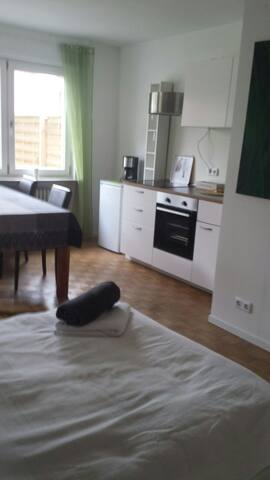 Kleine, süße Wohnung in der beliebten Freiburger Unterwiehre. Zwischen dem Stadtteil Vauban und der Innenstadt gelegen, direkt am Fuße der Weinberge. Einkaufsmöglichkeiten aller Art in 5min Laufnähe. Die Innenstadt und der Bahnhof sind innerhalb von 5 - 10min direkt mit der Straßenbahn vor der Tür erreichbar oder zu Fuß in 20min. Die Wohnung ist 35qm groß, verfügt über ein Badezimmer mit Waschmaschine und Badewanne/Dusche und eine Küchenzeile mit allem, was dazu gehört. Klein, fein, perfekt!
Pärchen, Ehepaare
Room Type
Entire home/apt
---
Property Type
Apartment
---
Accommodates
2
---
Bedrooms
Freiburg, Baden-Württemberg, Germany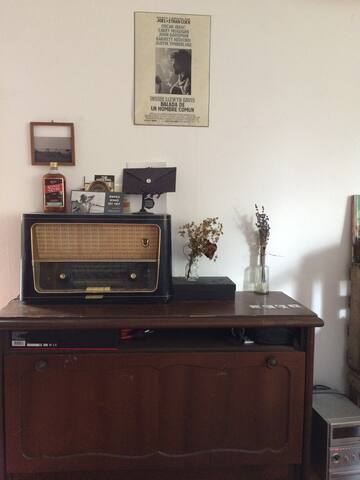 To my joy, every guest seems to feel very much at home at my beautifully renewed appartment in Freiburg. Very Central, stillfull, lightfull and stil quiet it gives you the oppurtunity to rest and enjoy fully the city life, without needing a car and all the stress and costs involved.
Schoenes helles Zimmer in Freiburg Center in netter WG. A litle quiet, sunny garden backyard, a dancing school, are in the same building and can be "used", three great restaurants just around the corner. A beatiful sauna & swimmingpool at 5 min. walking distance. open till 23:00. supermarket open til 24:00, cathedral and much more.... As you wish :-) About every 2. evening and on the weekends, if im not travelling. Most guests seem to enjoy my company. This anouncement is new because until now i have been renting my livingroom through my girlfriends Airbnb account, but I already had about 15 very satisfied guests since one year. All comments can be found under Sandra & Simao. Beautiful meditteranean courtyard and neibourghhood Freiburg-Wiehre. The most beautifull part of freiburg. very green and full of art nouveau architecture. Everywhere cheap good old strassenbahn and free bycicles at my home with wich you can get everywhere in 5-10 min. A litle quiet, sunny garden backyard, a dancing school, are in the same building and can be "used", three great restaurants just around the corner. A beatifull sauna & swimmingpool at 5 min. walking distance. open till 23:00. supermarket open til 24:00, cathedral and much more.... About every 2. evening and on the weekends, if im not travelling. Most guests seem to enjoy my company. This anouncement is new because until now i have been renting my livingroom through my girlfriends Airbnb account, but i already had about 15 very satisfied guests since one Year ago. All comments can be found under Sandra Henss. Beautiful meditteranean courtyard and neibourghhood Freiburg-wiehre. The most beautifull part of freiburg. very green and full of art nouveau architecture. Everywhere cheap good old strassenbahn and free bicicles at my home with wich you can get everywhere in 5-10 min.
Beautiful meditteranean courtyard and neibourghhood Freiburg-wiehre. The most beautifull part of freiburg. very green and full of art nouveau architecture.
The host canceled this reservation 4 days before arrival. This is an automated posting.
Alicia
2015-05-15T00:00:00Z
The host canceled this reservation 11 days before arrival. This is an automated posting.
Verena
2015-05-15T00:00:00Z
The host canceled this reservation 8 days before arrival. This is an automated posting.
Volkmar
2016-09-04T00:00:00Z
My 3-night stay at Simon's apartment in Freiburg began in a complicated manner, as he left town before I arrived and we were having communication difficulties. Checking in was anything but straightforward without the host there, especially late at night, but at least the building is close to the Hauptbahnhof. The apartment itself is moderately spacious and the room for rent is mostly well-kept, however the rest of the apartment needs cleaning and maintenance. The kitchen sink was (permanently?) plugged up and filled, rendering it basically unusable. Wireless internet is not in actuality included in the listing. The basement room in which the laundry machines are kept is a complete unkempt shambles. While my stay here was not certifiably awful, I would personally recommend finding another place to stay while in Freiburg.
Campbell
2014-12-27T00:00:00Z
à ne pas conseiller!!! - hôte non-joignable -réservation confirmée mais oubliée --> à l'arrivée pas de chambre disponible et peu de volonté à nous aider à trouver une solution équivalente -pas de parking gratuit -appartement très désordonné - 1ière nuit: dormi sur le sol d'une salle de danse - 2 ième nuit: organisé par nos propres moyens.
christine
2015-07-31T00:00:00Z
Simon war ein sehr netter Gastgeber mit vielen freundlichen Tipps. Wir hatten tolle Gespräche. Die Wohnung ist sehr gemütlich und super zentral gelegen. Man konnte sich einfach wohl fühlen. Ich kann es nur empfehlen.
Sandra & Tiago
2015-05-17T00:00:00Z
Wohnung war nicht verfügbar, Geld wird aber zurückerstattet, also kein Problem.
Gabriel
2014-12-15T00:00:00Z
Room Type
Private room
---
Property Type
Apartment
---
Accommodates
2
---
Bedrooms
Freiburg, Baden-Württemberg, Germany
Beautiful little bright room (5m²) with television, secretary and shelf in a central location. Two minutes to the tram no. 4 (5 min. To the main station., 9 min. To downtown. 8 minute walk to the recreation area Seepark. Rewe, Aldi, DM etc. around the corner.
Hello and welcome, I offer a nice, quiet, bright, small rooms in a central location in the beautiful Freiburg for one person. The room is furnished with a bed, TV, secretary and Regal. Sheets and towels are included. are living room, kitchen (equipped with everything), bathroom and terrace shared with me. The location: 2 minute walk to the tram no. 4 (5 min. To the main station, 9 min. To downtown), 8 minute walk to the recreation area Seepark. Shops such as supermarkets, drugstore, bakery, etc. There are all around the corner. If there is still any questions, you can write to me like! I look forward to nice guests! :-)
Large complex in U - shape. Right wing is # 7. Apartment is located downstairs.
It was wonderful staying with Markus and Cesar! They were very friendly and accommodating, and made me feel at home in Freiburg. I will certainly try to stay with them again the next time I'm there.
Ian
2016-07-02T00:00:00Z
I arrived late in the night but it was totally fine with Markus, though I informed him about it before hand. The place is exactly what was described to be - quiet, as well as clean. Markus was even kind to offer breakfast considering the amount being asked for the stay, though I was already going for brunch with friends. Nice place and host.
Clint
2016-11-20T00:00:00Z
the room is a little bit small but very clean and comfortable, about 30 mins walk to the old town. so close to supermarket, very easy to buy stuff. Kitchen and bathroom is very comfortable and fully-functioned. the host is very helpful and sweet.
Minh-Tam
2016-08-27T00:00:00Z
Markus was very helpful and welcoming, I had a very enjoyable stay and would definitely recommend!
Francine
2016-06-07T00:00:00Z
This listing delivered on all of its promises and I was pleased to stay there. Markus was very good communicating about getting me to the place, which was conveniently located with respect to the transit system (a little bit of a walk from the central city without transit), clean and perfectly adequate for someone who needs a place to sleep while exploring the city.
Jason
2016-07-07T00:00:00Z
Markus and his partner were very nice and welcoming and I found the place very comfortable.
Mihnea
2016-07-13T00:00:00Z
I had a very pleasant stay at Markus' apartment. Totally recommended.
João
2016-09-29T00:00:00Z
Markus is a kind and generous person,and it is very convenient to get there,you can walk 20min or take a bus.Furthermore,there is a supermarket around the house,cheap and multiple.
罗延丰
2016-08-06T00:00:00Z
Room Type
Private room
---
Property Type
Apartment
---
Accommodates
1
---
Bedrooms
Freiburg im Breisgau, Baden-Württemberg, Germany
Modern, bright apartment on the attic floor with Scandinavian design, real wood parquet and great attention to detail. Large roof terrace with spectacular sky view, chic dining and living room with TV, cozy bedroom, kitchen with dishwasher. Eating out, shopping and tram just around the corner! Close Nature Reserve and Park. Private parking space.
Helle, großzügige Ferienwohnung für 1-5 Personen. Tolle Dachterrasse nach Westen mit Blick auf den Sonnenuntergang, Eßzimmer nach Osten mit Sonnenaufgang über dem Schwarzwald.
Die Wohnung liegt im "Rieselfeld", einem von zwei modernen Vorzeigestadtteilen der "Green City" mit hoher Wohnqualität, Geschäften, Cafés und Restaurants. Das nahe Naturschutzgebiet mit Wald, Feldern und Badeseen lädt zu Spaziergängen und Radtouren ein.
We had a wonderful time in Ulf & Andreas apartment & in Freiburg & the surrounding Black Forest region. The apartment is really quite big with a large kitchen & balcony that catches all the afternoon sun. We didn't meet Andrea but Ulf was super friendly & there is a lot of tourist info at the apartment & bikes on offer too. Can highly recommend.
Lisa
2014-05-25T00:00:00Z
Thank you Ulf and Andrea for sharing your lovely apartment with us and providing all the facilities as indicated. We had a lovely time in Frieberg enhanced by your apartment. Everything met with our expectations.
Robert
2015-06-12T00:00:00Z
Ulf, the host, has waited for us at the apartment. We asked to arrive earlier than the listed check in time, and Ulf made the effort to prepare the apartment for our early arrival though other guests left the same morning. He welcomed us friendly, with a smile and a chocolate bar. He showed us the apartment and answered all our questions, including advice for visiting the area. He even offered us to use his bikes. The listing in the Website was accurate and in fact the apartment is highly equipped and comfortable with attention to small and big details. The bed is comfortable and there are more than enough storage. the kitchen is well-equipped and comfortable. When we asked for a fan, Andrea supplied it in a timely manner with a smile. There is an elevator to the apartment which is located on the fourth floor. Private parking is provided. The neighborhood is a quiet surrounding with many useful shops in the nearby main street, such as, supermarket, bike shop, restaurants, and more. The access to Freiburg and other sites in the area (the black forest, Colmar, etc.) is fast and simple. The communication with Ulf and Andrea during the stay was easy via Whats App, and they responded immediately. We were extremely satisfied with this apartment and highly recommend it. We wish we stayed longer.
Dan
2015-08-07T00:00:00Z
A lovely light, airy apartment well located for the motorway and just a short tram ride from the historic centre of Freiburg. Well appointed, spacious and comfortable accommodation and Ulf and Andrea have gone to great efforts to make it a great base. They made a special bed up for our two year old and were friendly, welcoming and a great advert for the local area. Very highly recommended
Rod
2015-12-14T00:00:00Z
We were made to feel very welcome. Every communication was dealt with promptly and politely. On arrival Ulf took the time to show us around the flat. There was an extremely detailed an comprehensive folder with information on the area and contact details.
Hilary
2015-10-19T00:00:00Z
Ulf's and Andrea's place is awesome! Super comfortable and super complete. We had a great time there and, thanks to a fully equipped kitchen, we cooked a delicious german dinner for our New Year's celebration. Ulf and Andrea were really nice and gave us tips on places to visit in Freiburg and also the Black Forest. They even received us with a delicious chocolate! The apartment is very close to the Freiburg. We had a car but I noticed there was a tram 2min from the apartment that would take you to the city very quickly. There's also a good sized Lidl (supermarket) close by. We loved our stay and would certainly stay there again.
Mariana
2015-01-02T00:00:00Z
Ulf and Andrea are practicing architects and have put their hearts into creating a special space that was home for us for a week! We were sad to leave .... Ulf met us and gave us a run down on the property and locality, it was great to meet him. Comfortable, beautifully fitted out with a fully functioning kitchen - great appliances, coffee machine, full oven and electric stove top, dish washer and lots of lovely clean towels and linen. Separate lounge - dining - bedroom and bathroom/laundry with Bosch washing machine and laundry liquid on the ready. Great privacy on the top floor fully serviced with an ample sized - commercial lift that took both us and our bags to the door. Views to the Black Forest and back! Thoughtful things like pots of herbs on the deck and pot plants shading the windows at the doors. A tram at the end of the street runs every 20 minutes into Freiburg, so you can park the car and explore the altstadt - old town and enjoy a great local Pilsener! We had an amazing week exploring the Schwarzwald (BlackForest) the waterfalls at Triburg and the lake at Titisee were a couple of the highlights with a trip up the cable car just out of Freiburg thrown in. Freiburg is only about an hours drive from Basel in Switzerland - so this home base is really functional for a longer stay to explore if you wish. We made a day trip to Basel and wandered the River (URL HIDDEN) was fantastic! Our thanks to Ulf and Andrea for a great place to stay!
Wyn
2014-07-15T00:00:00Z
Very accessible location - only a 15 minute tram ride to Freiburg Old Town, little park next to the apartment which the children enjoyed, and very close to a couple of restaurants and Lidl. We went with a 6 and 3 year old who both loved playing with the toys in the apartment. Spotlessly clean apartment with everything you need for a pleasant stay - a home from home.
Clare
2016-08-14T00:00:00Z
Room Type
Entire home/apt
---
Property Type
Apartment
---
Accommodates
5
---
Bedrooms
Freiburg, Baden-Württemberg, Germany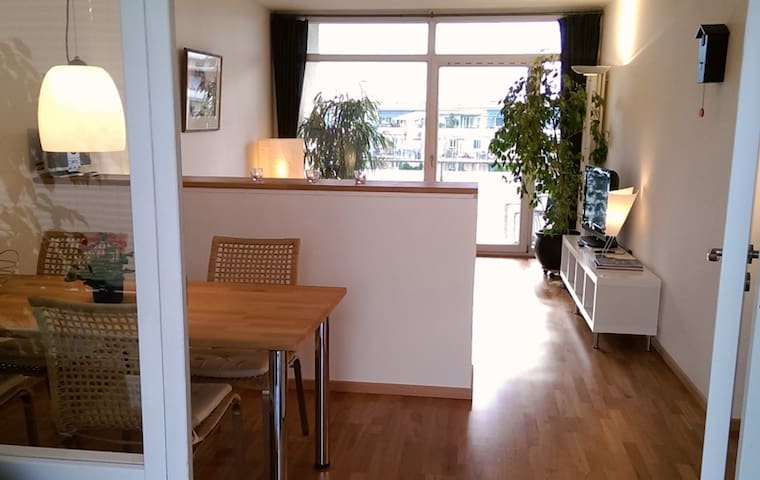 Sehr geehrte Gäste und Besucher, wir bieten Ihnen eine neu renovierte Ferienwohnung (80qm) mit bis zu 5 Schlafmöglichkeiten als idealen Ausgangspunkt für einen Besuch in den Europa-Park. Nur 5 Minuten Gehweg zum Haupteingang Europa-Park.
- Ferienwohnung mit ca. 80qm - Voll eingerichtete Einbauküche - Geeignet für 2-5 Personen - Keine Haustiere erlaubt - 1 Wohnzimmer, 2 Schlafzimmer - kostenlose Parkplätze - Badezimmer mit Dusche, Fön, Handtücher, Gäste WC - Spielzeug für Kinder - Nichtraucherwohnung, Möglichkeit zum Rauchen auf der Terrasse - FREE WLAN - Nur 5 Gehminuten vom Eingang Europa-Park entfernt- Gartensitzplatz / Grillmöglichkeit
Alle gastronomischen Einrichtungen können Sie zu Fuß erreichen. Abends können Sie die gute Ruster Gastronomie kennenlernen. Alle wichtigen Geschäfte wie z.b. Banken, Gaststätten, Bäckereien oder Apotheke sind leicht zu erreichen.
Everything was great at Rita's place and well corresponding to descriptions. Clean and proper with a nice terrace outside. There were some extra sweets provided along with supplies of water, milk, jams etc. The park is very close by car or by foot. Recommended
mandy
2016-07-28T00:00:00Z
Thank you Rita For the Nice stay! It was clean and it was Nice that we could use stuff from the fridge and use the coffee. The house was really nearby Europa park. Rita helpt us to find the restaurant and the supermarked. Thank you very much!! We will recommand it to our friends and Family.
Juan
2016-09-21T00:00:00Z
Très bien reçu, notre hôte nous a même fourni tout le nécessaire pour le petit déjeuner (Jus, café, thé, beurre, confiture). Un rez de maison très joli, et très bien entretenu à 5 minutes à pied d'europa Park
Aurélien
2016-11-07T00:00:00Z
Nous sommes arrivés tard vers 23.30 et Rita et son mari nous ont accueillis chaleureusement et nous ont fait visiter l'appartement. Des attentions étaient glissées partout dans celui-ci comme les décorations de Noël et du chocolat, et même le petit déjeuner. De bons restaurants dans le quartier, mais surtout, l'appartement est situé à 5min à pieds d'europa park, donc économie de parking! On a pu laisser la voiture dans leur parking toute la journée de notre départ. Très appréciable! L'appartement était impeccable et très propre. Expérience parfaite!! Un grand merci et nous recommandons vivement.
Imane
2016-12-18T00:00:00Z
Die Gastgeberin war einfach perfekt, ebenso die Unterkunft, welche die Fotos eher noch getoppt hat. Es gab sogar Essen für das Frühstück im Kühlschrank, Säfte und Wasser. Es gab mehrere Tee- und Kaffee-Sorten und die Küche war selbst zum Kochen mit vielem, was das Herz begehrt, ausgestattet. Die Unterkunft liegt ideal, um zu Fuß in der Freizeitpark zu gehen oder für Einkäufe beim Bäcker. Das Bad ist ein Traum mit mehr als genug Handtüchern OHNE AUFPREIS!!!!!, Duschgel, das Wohnzimmer und die Schlafzimmer sind sehr schön eingerichtet. Es ist ein Ort zum Wohlfühlen. Für Familien vielleicht noch erwähnenswert, die 2. Toilette. Die Wohnung und die Gastgeberin haben eigentlich die Bezeichnung Superhost verdient!!! Ich hoffe, dieser Titel wird ihnen bald zugesprochen. Danke, Danke, Danke !!!!
Alexander
2016-09-06T00:00:00Z
On ne pouvait pas rêver mieux. Appartement dans maison coin jardin privatif. Hôtes chaleureux et très agreables. Emplacement stratégique pour accès à Europe park en 5 minutes à pieds. Le dimanche tout est fermé attention prévoir pour se restaurer autrement plusieurs restaurants à proximité proposent des plats principalement italiens à bas prix. Pour nous chez Garibaldi ambiance cosmopolite à l occasion du match football pour coupe d.Europe . On s.est très vite attachés à eux. Heureusement nous avions l.anglais en commun. Mille merci.
Clarisse
2016-06-22T00:00:00Z
Wir wurden sehr freundlich & herzhaft in Empfang genommen! Die Unterkunft ist super und wir haben uns sofort wohl gefühlt! Fazit unsererseits: absolut empfehlenswert, wir kommen gerne wieder!
Dany
2016-11-13T00:00:00Z
L'appartement est parfait : super propre, confortable, très bien équipé. Tout proche d'Europapark, idéal pour un week end en famille. Les enfants ont adoré. Merci pour tout.
cecile
2016-11-02T00:00:00Z
Room Type
Entire home/apt
---
Property Type
Apartment
---
Accommodates
5
---
Bedrooms
Rust, Baden-Württemberg, Germany
My house is near the Europa Park (10 min. Drive). Public transport links (train station about 1.5 km away), the A5, without hearing from this somewhat. You'll love u because of the very quiet area. Family neighborhood in the small residential area my guest. Radius max. 3km you find the most important shops such as Aldi, Lidl, Edeka, Kaufland, several bakeries. My property is well suited for couples, solo travelers and families.
It was great!!! I've stayed 2 months with my wife and daughter and we felt like home! Very good conditions, nice people, quiet neighborhood and good position (close to Europapark, Freiburg, Offenburg)! Thanks Bernd and Simone for the nice experience!
Costel
2017-01-15T00:00:00Z
Simone and Bernd are very nice and helpful guys, the appartment is also incredible - everything is clean, lot's of place and well equipt with all necessary things. Just great!
Константин
2017-03-30T00:00:00Z
We were 4 girls staying for a weekend in Europapark. The accommodation is very well located, 10 minutes from the park. The apartment is very clean, the welcome was perfect despite the late hour! A truly enjoyable stay, we would recommend!
Marie
2017-04-02T00:00:00Z
Super angenehmer Aufenthalt! Sowohl die Gastgeber als auch das Appartement waren top. Es ist bestens für einen Besuch im Europapark geeignet. Gerne wieder!
Simona
2017-04-04T00:00:00Z
Sehr saubere Unterkunft, gemütlich und ganz in der Nähe vom Europa Park. Durch die Fußbodenheizung schön warm. Schnelle und unkomplizierte Kommunikation mit den Gastgebern. Kann ich uneingeschränkt empfehlen!
Tatjana
2017-04-06T00:00:00Z
Eine sehr schöne kleine abgeschlossene Souterrain Wohnung. Die Wohnung ist gut ausgestattet und hat eine sehr angenehme Fußbodenheizung. Die Sauberkeit war top und es war sehr ruhig. Die Kommunikation und der Empfang war sehr freundlich und unkompliziert. Wir haben uns sehr wohl gefühlt und können die Wohnung rundum empfehlen.
Michael
2016-10-23T00:00:00Z
Simone und Bernd sind hervorragende Gastgeber, freundlich, hilfsbereit und sehr auf das Wohl ihrer Gäste bedacht. Alles super sauber!!!
Roland
2017-02-27T00:00:00Z
Nous avons été très bien accueilli. L'appartement était très spacieux et la cuisine bien équipée. Idéal pour un couple.
Perrine
2016-10-16T00:00:00Z
Room Type
Entire home/apt
---
Property Type
Apartment
---
Accommodates
4
---
Bedrooms
Mahlberg, Baden-Württemberg, Germany
Komplette obere Etage einer Maisonette Wohnung (ca. 60 qm), mit Küche, Wohn/Schlafraum, WC und großer Terasse. Direkt am Naturschutzgebiet. Straßenbahn und Einkaufsmöglichkeit in ca 5 bis 10 Minuten Fußweg. In der unteren Etage befindet sich das Bad mit Dusche und Waschmaschine (geteilt, ein weiteres vermietetes Zimmer). Meine Tochter kommt gelegentlich ihre Kaninchen besuchen, welche ebenfalls in der unteren Etage auf dem Balkon wohnen. Ich selbst bin zu dieser Zeit im Urlaub.
Wir haben unser Aufenthalt sehr genoßen. Da steht zwar "privates Zimmer " aber die Wohnung (Wohnzimmer+Küche+Terrasse+ wc) stand nur uns zu Verfügung. Sehr saubere Wohnung mit eine schöne Terrasse. Zum Stadtzentrum 20 Minuten mit der Straßenbahn. 100% zum empfehlen. Vielen Dank!
Narges
2016-07-30T00:00:00Z
Alexandras Vater hat uns vor dem Eingang, obwohl wir ziemlich spät angekommen sind lächelnd begrüßt und uns die tolle und sehr schöne Wohnung. Die Kommunikation mit Alexandra hat auch wunderbar geklappt. Besten Dank und gerne wieder :)
Roland
2016-07-25T00:00:00Z
Room Type
Private room
---
Property Type
Apartment
---
Accommodates
2
---
Bedrooms
Freiburg, Baden-Württemberg, Germany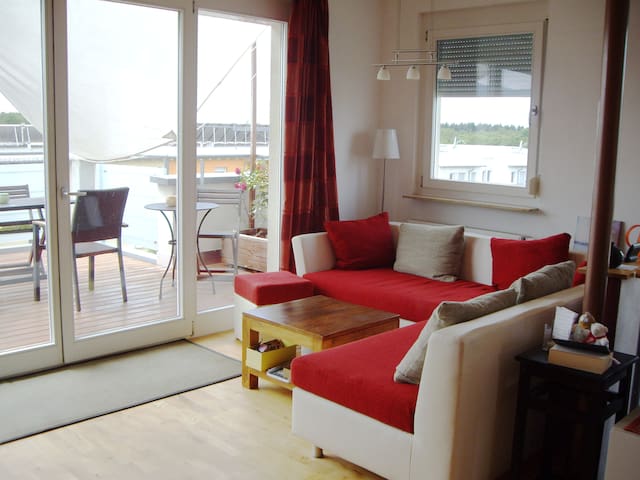 My property has great views and is a family-friendly location. You'll love my property because of their comfort, the light and the comfortable bed. My accommodation is good for couples, solo travelers, adventurers and business travelers. Nearby nature and still live close to town. Pleasant location with rießiger roof terrace. Looking forward to you :)
Very good value for the money we paid. A nice room with a good location. The host was always very polite.
James
2017-04-03T00:00:00Z
Annemarie ist eine überaus freundliche, offene und entgegenkommende Gastgeberin, die unkompliziert und sehr gastfreundlich ist. Die Lage der Unterkunft ist sehr angenehm ruhig und quasi in der Natur gelegen, die Stadtmitte ist gut erreichbar. Das Quartier ist sehr wohnlich und hat einen herrlichen Ausblick.
Stephan
2017-03-26T00:00:00Z
Room Type
Private room
---
Property Type
Apartment
---
Accommodates
2
---
Bedrooms
Freiburg im Breisgau, Baden-Württemberg, Germany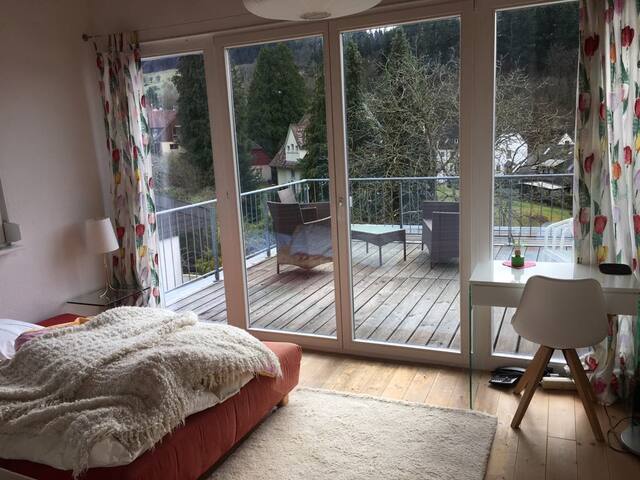 In unserer ruhigen, sonningen 2,5 Zimmer Wohnung im grünen Stadtteil Vauban mit guter Infrastruktur haben Sie einen herrlichen Auslick auf den Schwarzwald und den Schönberg, die direkt vor der Tür liegen und zu herrlichen Wanderungen einladen.
Sie haben hier eigentlich alles: Ruhe, doch auch Stadtnähe, denn die Strassenbahnhaltestelle ist 5 min. von der Wohnung entfernt und Sie sind in 10 Minuten in der Stadt. Wir stellen Ihnen aber auch gratis 2 Fahrräder zur Verfügung, wenn Sie wollen. Wir haben einen Südbalkon mit Markise, Sie können aber auch den Gemeinschaftsgarten nutzen. Die Wohnung noch eine Gästetoilette. Ansonsten sind Ärzte, Apotheke, Gaststätten, Supermärkte in unmittelbarer Nähe. Ihnen steht unsere Garagenplatz in der Solargarage zur Verfügung, falls Sie mit dem Auto anreisen. Besonders reizvoll ist die Grenznähe zur Schweiz und Frankreich, sodass bspweise. Basel oder Straßburg auch unkompliziert mit Bus oder Bahn besucht werden können
Es gibt mittwochs einen Wochenmarkt, auf dem die Bewohner sich gerne treffen, einen Kaffee trinken und regionale Produkte kaufen können.
Room Type
Entire home/apt
---
Property Type
Apartment
---
Accommodates
2
---
Bedrooms
Freiburg im Breisgau, Baden-Württemberg, Germany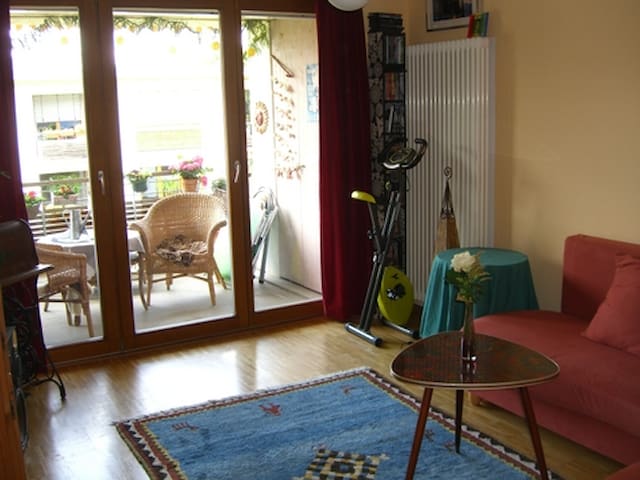 1

–

18

of

300+ Apartment Rentals
Enter dates to see full pricing. Additional fees apply. Taxes may be added.