Our house is distinguished for it`s excellent cookery. It`s charm is hidden in the combination of modern and tradicional karstic alimentary habits. On our menu, is namely the ability to find dishes, that come from the ancient karstic recepies, and at the same time, we are coquetting with the modern culinary. It`s about human health`s friendly goods, that are, as they should be, accompanied with top-level krastic good wine. We offer selection of the best wines from our and other nearest regions.
Room Type
Private room
---
Property Type
Bed & Breakfast
---
Accommodates
2
---
Bedrooms
Komen, Slovenia
A place where time stands still. To pamper body and soul, including walking and cycling tours, tasting local food and wine, in the company between talk and music evenings. Or just to stay to hear the silence, in peace.
Our house is about 200 years old and we are still restructuring it with our hands, trying to preserve its soul. We have several variations for sleeping. A loft with two beds overlooking the sky and the ability to add other mattresses - for sports. Also two rooms for two people each. We have two bathrooms, one outside, the courtyard, and one at home.
Volčji Grad, also known for a well-preserved Iron Age fort, is an old Karst village in Slovenia, about 10 km from the former border with Italy, near the town of Komen. It 'a great place for long walks in nature, biking, meditation exercises, for all those who want a relaxing holiday, away from city noise. It 'also a good starting point for trips to interesting tourist sites. In half an hour by car you are already on the banks of the Soca River, or in the Postojna cave - the most spectacular caves in the world, or even in the magical Trieste. In an hour you can reach Ljubljana, capital of Slovenia, a jewel among the Central European cities.
Our stay in the old farm of David and Martina was by far the most beautiful and best place of our holiday in Slovenia. It was not very easy to find at first, but that was mainly our own fault. And if that is not the case,then that's probably for the best, because wow what a fantastic place! If you are looking for tranquility, a place where time has stood still and sincere hospitality then you need to visit Una magica casa! Amanda, David, thank you so much for a memorable evening and great stay!
Oscar
2014-09-01T00:00:00Z
Martina and David's place is located in a small and beautiful village near to Komen. They have a lovely house that they have rebuilt themselves. It has a special charm... and its owners too! We didn't feel as guests, but as friends. They opened their home to us. Unfortunately we could only stay 2 nights with them. But, if we come back to Slovenia, we would like to spend more time with them. They have two adorable dogs and two cats. This time we have not got the chance to taste David's "cuisine". But we have been lucky to taste his own made wine and other liquors. "Superbe!"
Ricard
2014-08-14T00:00:00Z
It was very nice to spend time in this old and tipical house from the karst and to share this house with Martina and David. They are gentle hosts and it's interesting to have time with them and discuss.
Henri
2015-08-18T00:00:00Z
Oh. I'm so grateful to Martina and David for those three days and a half that I lived with them. They have a lovely lovely house. With a completely unique and wonderful surroundings. But most importantly, Martin and David were absolutely amazing people. Interisting and open-minded. Highly recommend!
Lena
2015-08-22T00:00:00Z
It was a brilliant holiday. Martina and David were so friendly. Breakfast was delicious with home made bread and jam in the walled garden. The dogs are lovely and gentle. Jules and I felt very comfortable and the area around is superb. Totally recommend this place. Seven days were not enough.
malexander
2016-08-20T00:00:00Z
Good choice for peaceful countryside rest - or even to do own work, which was what I came to do. In the night, even during the hottest summer time, the house gets pleasently fresh. Martina & David, their family as well as their dogs and cats created friendly, relaxed and uncomplicated atmosphere. The surrounding Kras landscape is great and so are local "osmice". Sea side is just across the border. Nothing else needed. Hvala!
Marina
2015-07-20T00:00:00Z
I spent only one night at the house - a stop in my drive to Italy - but I wish I can return later. The area is quiet and wonderful, the old house is beautiful. The comfortable guest room opens from the gallery you can see on the photos. Martina and David are great hosts. It was a great pleasure to spend time and talk with them.
Gyula
2015-09-14T00:00:00Z
You MUST stay here! Martina and David (and son, Matjaz) are wonderful people, in this magical home. We felt like long last friends to Martina and David, though we had never met before. They welcomed us and shared stories with us and it was wonderful to sit with them over DELICIOUS breakfast and coffee (and upon our arrival with the homemade spirits) and chat! Martina and David make for wonderful hosts and truly have a magical home because of their interest in you as a guest and traveler. Zak and Zen are great too! Staying here concluded our time in Slovenia perfectly. Hvala Lepa, Martina and David.
James
2014-08-07T00:00:00Z
Room Type
Private room
---
Property Type
House
---
Accommodates
2
---
Bedrooms
Komen, Sežana, Slovenia
Originally a 150 years old Karst house, completely rebuilt and refurnished in 2015, sits in the heart of one of Slovenia's most interesting Karst villages, near old vineyards and the Adriatic Sea. The villa offers you 4 bedrooms and 3 bathrooms, almost 300 square meters of living space plus 1 big covered terraces with spectacular views to the countryside. Villa also includes a finish sauna, massage pool and 200 year old wine sealer. 4 bikes for free on site.
The ground floor is devoted to living spaces of a very large open kitchen and dining room, big salon living room with satellite TV, DVD player, stereo, free Wi-Fi, laundry room (in one of the bathrooms), kids' play area, guest cloakroom and a fire place. The kitchen has everything and is spacy, with an Owen, also microwave oven, dishwasher, The villa also offers free use of 4 bikes and 1 small child bike. You will also find a great and big outside kitchen, including a stone built barbecue, outside table and chairs, deckchairs, house linen, etc., are all provided as well.
1. It was a pleasure to meet such a hospitality people. Prompt reply, quick reactions to the needs, explanations, recommendations etc. were great. 2. Apartment: newly renovated house, clean and cozy, everything inside, 3 bedrooms on the ground and first floor, the 4th is on the rooftop and were not as convenient for us as expected. All the essentials were inside, washing machine, dishwasher, toaster, different kind of pots, glasses, plates. There were no kettle and no microwave, but for us it wasn't necessary. Jacuzzi in the yard saved us from sunny hot days. 3. Surroundings. Beautiful village with lots of vinery choice. We spent unbelievable days. Thanks.
Marina
2016-06-27T00:00:00Z
Room Type
Entire home/apt
---
Property Type
House
---
Accommodates
9
---
Bedrooms
Komen, Sežana, Slovenia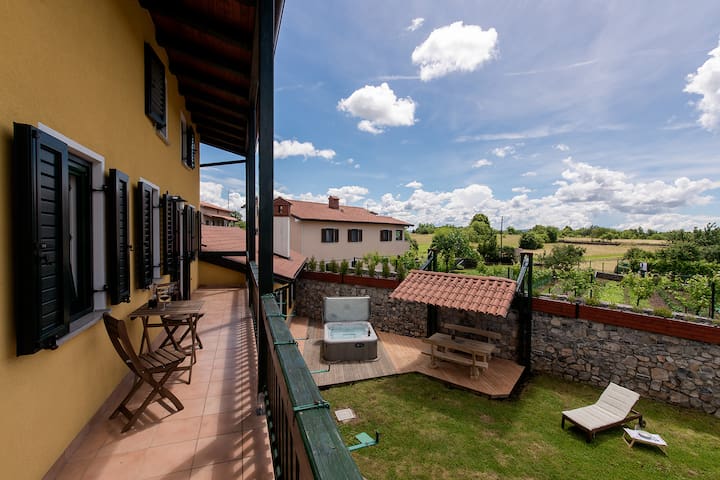 'Hisa pri ovcicevih', is located in the very typical village of Karst, between Komen and Štanjel. Recently renewed, this house offers modern standing in a typical Karstic house. The house offers 3 bouble bedrooms, and one mezzanine bedroom. 2 bathrooms, spacious kitchen and a living room with TV and piano, through the garden you have a summer kitchen with barbecue for summer time. As a typical karstic house there is a cave where guests are welcome to taste some local wine during the stay. 3 bouble bedrooms 1 debrooms with 5 beds(+1) 2 bathrooms One living room Fully equiped kitchen Summer kitchen wine cellar Price 4 persons: 700€/week - 120€/day 6 persons: 850€/week - 150€/day 7 persons and +: 1200€/week - 250€/day
With more than 200m2, the house offer a very confortable stay. The house is appropriate for children, baby cots are available, we also offer a playing room with toys. The garden is also equipped with toys for children.
Gabrovica is a typical Karstic village, located on the top of the hill, with its church and playground for children. The village is very quiet and offers the possibility to resource and enjoys the peaceful of the place. It is also located near all mains touristy places in Slovenia and also Italy. The neighborhood offers many activities as cycling, walking, caving and fishing or just visiting. For caving, you have the possibility to discover caves such as Postojna or Skocjan witch are most touristy place, but also caves as Medvedljak, Vilenica, and more than 10 others if you practice caving more professionally. For walking and cycling, a marked road go through Gabrovica, this one is not difficult and is appropriate for children. Around you have others marked roads such as Pliskina Pot, Kamniška Pot... that make you discover karstic nature with its shepherd shelters, natural fountains, and plants. For fishing, you can enjoy it at Planica or Vogrsko, where we can provide you all information regarding the permit. For visiting : Bled, in the north of Slovenia is far 1h15 from the house, at the same distance you also have Venice in Italy. 1h away you have the peninsula of Piran on Slovenia cost or its swamps salan. Even near or just less than half an hour far from the house you can visit the stud farm of Lipica, where you can discover the Lipizzaner horse race, children can ride pony, play mini golf, adult can enjoy casino or play golf or tennis. Very near you also have Caves of Skocjan or Grotte Gigante in Italy, the medieval village of Štanjel with its local home made products market and guided visit of the castle, Karstic house and Spacal Museum, each Sundays.
Room Type
Entire home/apt
---
Property Type
Villa
---
Accommodates
10
---
Bedrooms
Komen, Slovenia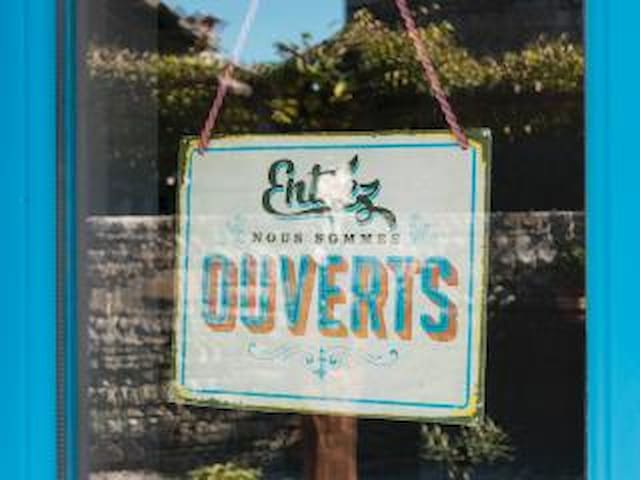 An old stone, farm house in the middle of colorfull Kras(Carso-Karst). Not fare from the sea .....Italy...... mostly renovated in an old stile.....can offer a double room with common bathroom........can offer accomodation for over night. From 6 pm to 9 am with BREAKFAST which includes : home made bread, seasonal domestic fruit , domestic tea, domestic jams and honey, domestic eggs , chees, vegetable from my garden, all 100 natural-bio , no chemicals). .......................................... Im an artist-sculptore, working here at home therefore I can offer accomodation from 6 pm to 9 am ONLY . .. U must be pets lovers . ....here are 2 dogs and 3 cats .There are few buses and trains in the village conected to Sežana, Ljubljana , Nova Gorica,Jesenice....the village Kopriva is a small village , here are no shops or bars. Just a few km away is a colorfull village Štanjel. .....within the house here is also my art gallery where u can see and buy my art work....... The house was feautured in art magazines for its unique restoration. It is good example of a tipical Kras-Karst house . U can find me on my f. b. -matejka belle. By prior arrangement i can cook a dinner ( homemade pasta, vegetable soup.....homemade pastries....), with a glass or two of good local black wine Teran. The price is 21 euros for 1 person. 42 for 2 persons in a double bed. WELLCOME ! Direction : The village Kopriva ( house n. 51) lies on the main road Sežana-Nova Gorica, between the village Dutovlje and Štanjel.
I only spent one night in Matejka, but it had been very pleasant. The house is difficult to find at night, and the villagers not very open ... N.B : the last road on the left before leaving the village! The room is very large and Matejka manages the breakfast great. I even enjoy a dinner and a discovery of local red wine, despite a late arrival, failing to find home (21:15)
Stéphane
2012-08-23T00:00:00Z
Amazing place! Awesome food, quiet location. Will return again!
Sean
2015-10-13T00:00:00Z
Undoubtedly Matejka is a very special personality and so is her's house. It was a special experience to stay at her unique and impressive old house and to see her works in stone in the Galeria she had. The garden, the front yard, the special trees and plants, the vine, the view all of them inspire you. Coffee, tea, omelet with herbs from her garden, just complete the scene. I stayed only one night, but I'm sure I will be back. Warmly recommended!!!
Shmulik
2014-10-16T00:00:00Z
Room Type
Private room
---
Property Type
House
---
Accommodates
2
---
Bedrooms
Sežana, Slovenia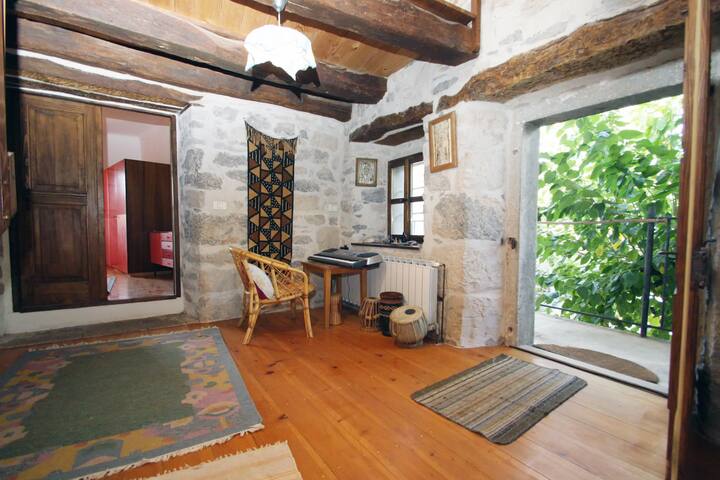 L'alloggio è separato dalla casa in cui abito ed è autonomo. Potete cenare a lume di candela davanti al caminetto acceso o se preferite nella fresca cantina di fine 800 gustando del vino ... per godere in totale relax la vostra permanenza. In caso di late check in chiamatemi sul telefono mobile o mandate un messaggio.
L' alloggio è ideale per una coppia con due bambini; climatizzato, ha la stufa a pellet, tv lcd, wifi; un letto matrimoniale ed uno in mansarda per bambini o ragazzi (non adatto a due adulti) ; la cucina in muratura ed un ampio bagno con doccia. La struttura è nuova così come l'arredamento. Facilities are: A/C, pellet stove, LCD TV and WI-FI.
La posizione è immersa nel verde e nella natura; il silenzio e la quiete lo caratterizzano. L'aria è sempre pulita. La posizione è soleggiata e non si conosce l'umidità. A 1 minuto a piedi si trova il panificio e il supermercato, la farmacia ed il distributore di benzina. The property is surrounded by a green garden. Best features are relaxing sunny lazy days followed by silent quiet nights with fresh and clean air with no moisture at all. In a few minute by walk the guests can find a bakery, a supermarket, a pharmacy and a gas station. There is n. 44 bus stop just in front of the house with direction to Trieste downtown (14km/30min.)
My husband and I stayed with Giulio and were pleased to learn that we were his first guests. Giulio was very quick with his communication and speaks English very well. The houses do not have street numbers so he was sure to give great advice for finding it. The apartment was wonderful! It was modern and very clean with everything you could possibly need with a very comfy bed which I have found to be rare in Italy. The secure parking was greatly appreciated. Giulio was an excellent and very generous who ensured we enjoyed a unique local experience. He gave excellent advice and recommendations for places to see including tips for our travels through croatia. The location is good. Asurina is a lovely quiet town and an easy drive into Trieste (not sure about public transport options). We would definitely recommend staying here :)
Denise
2015-08-23T00:00:00Z
Place was really fiune, znd Giulio was really friendly and helpful planning our trips around with our bikes!
Juan
2016-05-23T00:00:00Z
It was excellent choice! :) No regrets! Julio is polite, hospitable and good person in general. We had everything we needed. Checkin & checkout were smooth.
Alexandra
2016-04-18T00:00:00Z
great place, very clean, fully equipped. and our hosts... simply wonderful! grazie mille Giulio. we will come back.
Damien
2016-06-25T00:00:00Z
We spent a very nice time in Alla Cantina. Giulio and his mother are extremly nice and polite persons. The listing description was accurate, moreover they offered to us even more. The neighborhood is very quiete and beautifull. All the best.
Peter
2015-12-08T00:00:00Z
Giulio and his mother (and Cooti the dog and Nicolo their best friend could not have been MORE welcoming - Everyone was wonderful and we felt immediately at home. A big treat was a home cooked meal on the open hearth (fogolar) on the terrace and over the week Giulio offered us lots of information on places to go and things to see that we would not have found otherwise. He is well traveled, especially in his area and we ventured to a beautiful lake in Slovenia. Also an authentic meal at an omiza in the hills. Then on his suggestion a 1.5 hour one way drive to through Italy and Slovenia to Croatia to have seafood lunch with a view over the Adriatic. The studio apartment is cozy and if it had been a bit earlier in the season we could have made even better use of the outdoor covered terrace. The cellar cantina is very atmospheric too. The location is very central and easy to get to and there is a very good grocery shop a short walk from the house. Very good butcher and friendly and knowledgable staff (with good English! - as does Guilo and his mom). Would love to go back in spring or summer. Grazie mille Tanse!
Llyn
2016-10-10T00:00:00Z
Everything was great. Giulio is wonderful host, always ready to help you and make your vacation awesome. Все здорово!
Alex
2016-06-19T00:00:00Z
Siamo stati ospiti di Giulio per 4 notti in Dicembre. Il tempo non permetteva di usufruire del camino esterna, però la cantina, con un bellissimo cammino grande, si è dimostrato perfetto e accogliente per un grigliata in famiglia. Giulio e sua mamma sono molto ospitali e disponibili, e Cuti il loro cagnolino era un perfetto compagno di giochi per i nostri due Cocker Spaniel. Si sta bene "alla cantina".
Alessandro
2016-01-03T00:00:00Z
Room Type
Entire home/apt
---
Property Type
Loft
---
Accommodates
4
---
Bedrooms
Aurisina, Friuli-Venezia Giulia, Italy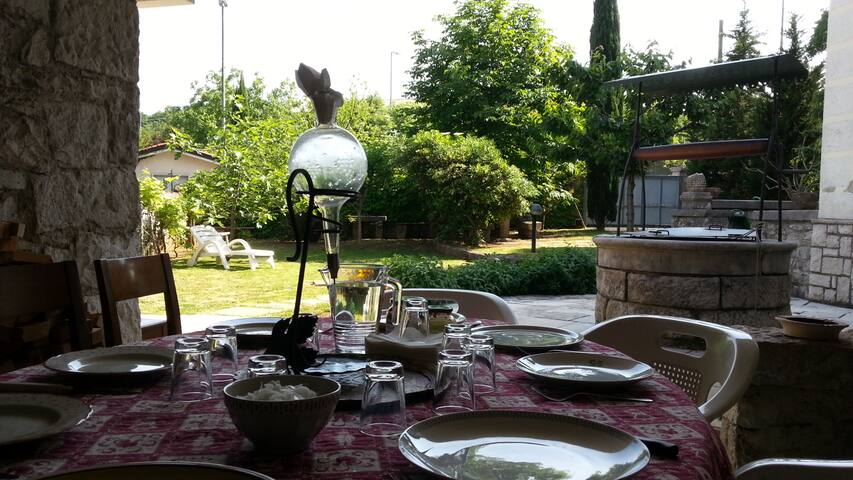 In the centre of Kras (Karst or Carso, if you prefer) lies the village of Pliskovica. Colourful gardens, wild views, peaceful ponds and animals... you will encounter them with our welcome (in the fridge): wine of the village and our salt with erbs
- My home and the village are at the centre of event and courses organized by association Joseph: a bunch of lovers of earth and good company (it may happen that a group of people pops up in the garden but don't worry: they just want to give a look to the place and they will vanish in a second!) - There is one kitchen which, at the same time, is dining and living room, with a 100 year old oven (ideal for cooking bread and pizza) - Bed room is shared (one double room + 1 single bed + 1 pull out bed); then, in the kitchen/living room, you can have an additional bed transforming the sofa into a bed - There is one small bathroom with shower, bidet, basin, washing machine, boiler which distributes hot water in the entire house - From the balcony, you will get a marvelous sunny view of mount Volnik (Lanaro in Italian) which, by the way, draws the border between Slovenia and Italy. - You can use the courtyard which is walled by romantic old walls, an old walnut tree, the view towards south, the valley and mount Volnik - The house is seat of our small center for education and promotion of the culture of Karst; we organise practical courses in gardening in the fields of the village, provide land allotments to people and organise guided visits to the best farms of Karst, both in Slovenia and in Italy
There is plenty of farmers in the village, one beekeeper, two artisans, the beautiful hostel renovated caring for its 200-year old local architecture
Enrico was very easy reachable (sms, mail) and responded quickly. house was clean, situated in a quiet rural community and a friend was waiting for us when we arrived around sundown. optimal for 2. we were there with 2 vivid kids who enjoyed it. but when you think of staying more than a week with more then 2 people you have to consider indoor-space and freedom. the courtyard, the house, the whole situation had a mediterranean touch, could have been tuscany, provence -you name it. when we had a problem with the drain enrico came around next day and fixed it. there is a nearby herb field which is farmed by him and you can have access to sage, rosemary, thyme and so on. there is a small grocery store in the village of pliskovica where you find the basics (bread, milk, cheese, drinks, soap, toilet paper and so on). the nearby youth hostel is a friendly place to have a coffee, play soccer, find give-aways for your friends and get stable wi-fi-access. hiking, biking is fine, the italian coast is 25 minutes away by car. we recommend the pebbly-beach "filtri" just down of santa croce, slightly complicated to reach, or "fiesso" nearby piran (slovenjia), 1h15 by car. trieste not to be missed... all in all: good, quiet, friendly place to stay and to start adventures...
d.gregor
2016-08-21T00:00:00Z
House was warm, clean, and the beds were comfortable. Right after we arrived, Enrico took us to a family run winery where we tried an amazing local wine. Awesome experience all around.
Walker
2015-04-03T00:00:00Z
Envico made us feel like we are at home and he was very caring host. Envico can give you an excellen tips about the surrounding areas and very helpfull when you need and info. from him. The house is very lovely and tidy. It was very good choice we have made by stay at Envico place eventhough we were not very lucky with the weather. However the neigbouhood is very charming and worth to take a long relaxing walk through. Thank you so much Envico!!!
Huong
2014-09-06T00:00:00Z
I can recomend staying at Enricos place. It was located in a nice village. The region got lots of interesting activities. The house is lovley, and Enrico was very friendly and gave us good advice on what to do in the region.
Moa
2015-07-31T00:00:00Z
The house was just as advertised, and in a great location to explore the Karst region. Enrico met us at the house, arranged our evening meal of local foods, and walked up to the local stone carver. Overall an excellent weekend. Even in winter the house had character, and I can imagine in spring or summer it would be a great place to relax and drink some local wine.
Charles
2015-02-16T00:00:00Z
We had a great time here and feel very comfortable. Also our 3-year old son was very happy playing in the garden and discovering the village. Pliscivica is a perfectly located to discover the region. Enrico supports us with every information we need.
Christian
2015-08-07T00:00:00Z
Helo Enrico! It is shame we did not meet, hovever thanks for nice welcome gifts ! We spent 5 night in Pliskovica. Very quiet and rural plcae, people are friendly, lady in local shop nearly learn polish in few days . Perfect for those who look forward to be in heart of vine region. It was 2 of us and our 4 and 2,5 years kids. All good, just you need to have a car, or motorbike, and you have to be prepared for moskitos or other biting creatures. it is a plenty nice places to visit arround of 40 km. nice place it is.
Wiesiek
2015-07-10T00:00:00Z
What a wonderful place! We spent four great days here in this beautiful, old house in the countryside. The house itself is worth visiting, it reminded me of an old farmhouse, but it's newly refurbished with a modern oven and everything. It was a perfect starting point for our day trips in Kras: - to the caves (There a tons of caves in this area, we visited Skocjanse Jame and loved it, but Postojna is also not far and there are many others to explore.) - hiking (For example from Nanos you can see both Triglav and the sea if it's a clear day. Untouched nature, outstanding flora - we saw many wild orchids) - visit the coast (Either Slovenian or Italian coast - even Croatia is not very far) - just enjoy the beautiful nature! Enrico is a perfect host. He knows so much about the area, and he will happily share his knowledge. Also, he knows a lot of people in the village - for us, he arranged a visit at a wine cellar with dinner at a touristic farm. It really was a special experience, we learnt a lot about the regional culture. While we were there, Enrico was always available for our questions. He is a really nice and helpful guy.
Anne
2014-05-30T00:00:00Z
Room Type
Entire home/apt
---
Property Type
House
---
Accommodates
3
---
Bedrooms
Dutovlje, Slovenia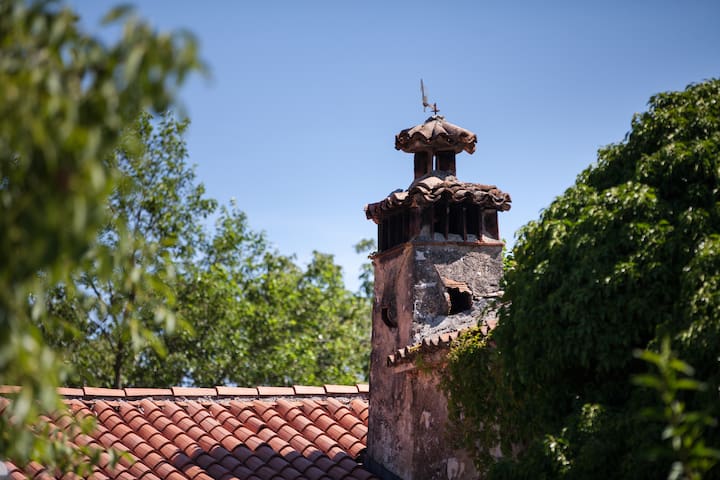 3 Bedrooms, 2 Bathrooms, Natural Setting Close To Beach Il Roseto is a beautiful, modern villa in the most attractive area of Trieste, sitting in the woods, yet a mere 800 metre walk from the fully served village of Aurisina.
Il Roseto is a beautiful, modern house in the most attractive area of Trieste, sitting in the woods, yet a mere 800 metre walking distance from the fully served village of Aurisina, home to multi award winning 'Bunker' Pub, a great pizzeria, great butcher, a scrumptious bakery, several cafes and wine producers selling their wine 'sfuso' - just take your empty bottle with you. Il Roseto offers a very spacious, 180 square meter house, with a huge, fully fitted kitchen, a double, a twin and a single bedroom, two lounges (one with a double sofa bed), a large dining room, a full bathroom with bathtub and shower and another full one with shower enclosure. Off the kitchen opens the most beautiful rose garden with a gate taking you straight into the woods. You can in fact start your treks right from the house garden. The garden offers a pergola, table and chairs, a BBQ, sun umbrella. The house was built in 1999 and re-decorated fully in 2011. Il Roseto is one of several semi detached villas sharing a gated entrance, everything else is private - no shared areas. We have covered private parking for 2 cars. Carso is a limestone plateau sitting behind and above the city and its beautiful, unspoiled coast, running along the Slovenian border. Carso is dotted with small, picturesque stone villages, each with its piazza, its baker, wine producers, small restaurants and the famous Osmiza. Osmiza are the most traditional seasonal venues, actually simple country homes opening up their patios to the public where the owners serve their own wine and charcuteries. Locals spend here many sunny afternoons before or after a long walk in the Carso woods. The area is well know to all nature and sports lovers. People come here to climb, windsurf, cycle, mtb and trek. People also come here for the beautiful sea. Day trips to Slovenia, Croatia and Austria are possible, as well as day trips to Venice or to the nearby dolomite mountains. Every season offers magnificent views and activities that can be enjoyed by travellers of all ages.
Aurisina offers a very well stocked family run supermarket, a chemist, bank, hairdresser, 3 bars, a pizzeria, a pub, newsagent, baker, butcher (with excellent meat). Nearby is a great fishmonger selling top quality local fish. 2 km away you can buy organic cow cheese and 3 km away you have an organic grocery store. Aurisina is the most spectacular part of Trieste and certainly of Friuli Venezia Giulia. Sitting in wild and beautiful countryside yet a mere 10 minutes drive for the city centre, Aurisina offers beautiful landscape, a relaxed atmosphere of gentle people and deeply fascinating countryside in every season.
Great Appartement and even greater host! The room is clean and big enough for two. We tried Ericas suggestions for going out and I just can say: EAT at pampam's and drink at the bunker. Great places in a little town. We've actually been there for climbing and the best spots arround Triest are so close to Ericas House. It was amazing! 5 ️
Philipp
2016-10-22T00:00:00Z
Room Type
Private room
---
Property Type
House
---
Accommodates
2
---
Bedrooms
Aurisina, Friuli-Venezia Giulia, Italy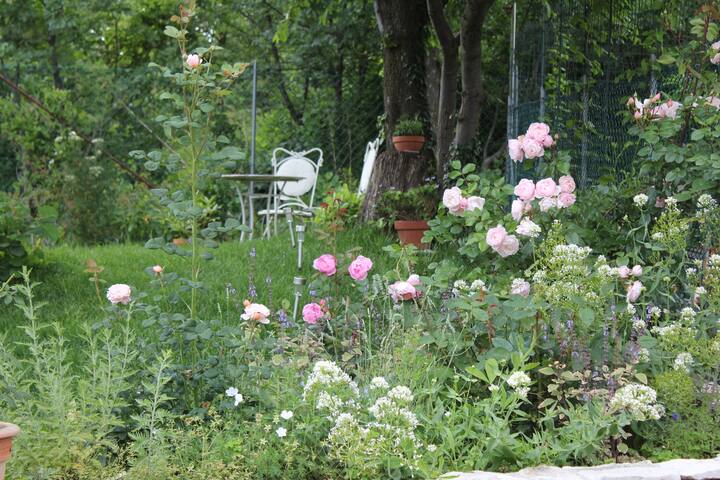 Nested in a small, tranquil Karst village of Kopriva (translates as 'nettle'), this centuries old house, equipped with modern amenities but at the same time packed with traditional charm, offers a truly wholesome holiday experience.
Whether you just want to relax and unwind with a glass of wine, delicious food and strolls in the nature, energize your body and mind by biking in the surrounding hills, discover famous local cuisine or visit some of the world renowned natural, historical or cultural jewels of the region (Venice, Postojna cave, Lake Bled and Ljubljana are all just a day's trip away), our house is a perfect choice for you. Wake up in the morning to the crisp fresh air and bird singing. Sip your coffee overlooking the woods and meadows stretching to the horizon. Rest and stay cool (or warm, depending on the season) in the shelter of thick stone walls … or plan a trip to one of the many surrounding heritage sights. And, if the weather is right, have a barbecue and enjoy your lunch or dinner behind a stone table in the beautiful private garden. With two double bedrooms on the second floor and additional possibilities for sleeping in the ground floor living room, our house easily accommodates a family or a group of up to six friends. Bathroom and kitchen are basic, but equipped with everything you need for a comfortable stay. However, the biggest gem stone of the house is the enclosed garden offering you plenty of space and privacy for dining, sunbathing, playing with your pets or simply relaxing in the shade of the lush grapevine.
Karst region is known for its picturesque roads, historical villages, top-quality wineries and unspoilt nature so whichever direction you take from the village, you will not be disappointed. Here are some of our favourite things to see in a 30 km radius: Historical village of Štanjel (5 km), Pliskovica with a beautiful walking or biking trail Pliskina pot (6 km), Voglje with private ham-drying facility (9 km), Sežana botanical gardens (12 km), Lipica stud farm and classical riding school (17 km), Lokev with ham-drying facility and three private museums: Fabiani Museum Shop, Military Museum Tabor tower and private exhibition 'Radio through time' (20 km), Trieste (21 km) with a beautiful Miramare and Duino castles, connected by a panoramic walking trail and Škocjanske jame caves and natural park (26 km).
My friend Esther and I stayed at Blaz' place for 3 nights. His sister-in-law met us the day we arrived and showed us around the very comfy and cozy house. There was even a bottle of wine from the region to welcome us. The garden area was absolutely lovely to sit in, the rooms were nice, the kitchen was well-equipped as we made our own meals some nights and it was a great stay! We didn't get to explore the immediate town/area much which is something that I regret, but staying in Kopriva was a great, relaxing place to come back to after our daily adventures around Slovenia!
Chelsea
2016-06-28T00:00:00Z
A special home for lovers of peace and quiet. Under a charming and traditional rural appearance, the house hides a full kit for any eventuality guests may have. We do not miss anything and both Blaz and his mother maintained a constant communication with us if we needed help. Near Kopriva, there are shops where you can stock up on everything and good restaurants (Gostilna) where you can enjoy local food. Undoubtedly, both highly recommended place for a relaxing holiday or use as a starting point to explore some of the most emblematic slovenian sites.
Juan Antonio
2016-08-21T00:00:00Z
My, my girfriend and her parents were guests of Blaz. He and his mother showed us everything, answered every question we had and even bought us a bottle of wine and beer to welcome us. Blaz speaks perfect english and his mother speaks german and some english. They are the most friendly, kind and nice people we have met in Slovenia. Contact with Blaz is perfect. You can call, you can text him, he's always there to help you. You can feel that he cares for his guests and wants the best for them. The house is really beautiful outside and inside. It's very clean and cozy. It's well equipped in the kitchen, bathroom. The localisation is also great with a beautiful view of the mountains. Nearest shop is located 5km from the house and they have delicous prosciutto in there :) You can also buy really good homemade wine from the neighbours who are also friendly. Overall, the house is great to active recreation and just to spend the time in the green garden, chill and drink wine. We were very happy to be first guests. We had a wonderful time in there and if someone ever would go to that part of Slovenia, we will recommend Blaz's house without a doubt!
Przemek
2015-08-22T00:00:00Z
We loved our stay at the beautiful authentic stone house! Sitting in the enchanting walled in garden listening to the sounds of birds at breakfast and staring at stars in the pitch black night was relaxing and very nice. There is tons to do in the area, hiking in the Slovenian karst region, caves, wine, seaside in Italy - all a stone throw away. Blaz made our super short notice stay possible in a second. Communication was very friendly, quick and uncomplicated and he organised everything we needed immediately. we will be back!
Rebecca
2016-07-26T00:00:00Z
Ottima accoglienza, gentilezza, disponibilita' e precisione. Vivamente raccomandata per passare un periodo di tranquillita' e relax. Necessaria l'autovettura.
federico
2016-09-25T00:00:00Z
Jolie maison ancienne et authentique, agréable et confortable, dans un village calme. Accueil très sympathique et attentif de la mère du propriétaire. Blasz est très disponible pour donner des informations. Jardin agréable avec une tonnelle pour déjeuner dehors. Bref un endroit charmant à recommander !
Laurent
2016-07-31T00:00:00Z
Das authentische Landhaus in der Karst-Region ist sehr ruhig gelegen und ein guter Ausgangspunkt für Ausflüge in die Umgebung wie z.B. nach Triest. Besonders schön ist der idyllische Innenhof mit schattigen Plätzen unter der Weinlaube. Infrastruktur (Lebensmittelgeschäft, Bar, Restaurant) findet man im wenigen Kilometer entfernten Ort Stanjel. Die Kommunikation mit Blaz war sehr angenehm und unkompliziert. Blaz Mutter hat uns im Haus empfangen und mit hilfreichen Tipps und sogar mit einer Kostprobe des köstlichen lokalen Rotweins versorgt. Vielen Dank!
Helene
2016-08-30T00:00:00Z
Die Kommunikation mit Blaz war einfach und sehr freundlich. Auch seine Mutter, die uns die Wohnung übergeben hat, war sehr unkompliziert und für spontane Lösungen zu haben. Das Haus ist rustikal, aber sehr gemütlich eingerichtet. Ein Wehmutstropfen bei einem so alten Haus ist, dass es leider Spinnen gab, aber das stört wohl nur, wenn man besonders empfindlich ist. Der Garten ist großartig, man kann herrlich an dem kleinen Tisch unter den Trauben im Schatten sitzen oder in der Sonne liegen. Kopriva ist ein kleines Dorf, in dem es allerdings einen eigenen Winzer gibt. Auch in den umliegendenden Dörfern der Karst-Region kann guter Wein probiert und gekauft werden. Alles in allem war es ein sehr schöner Ort, um entspannt die ländlichen Seiten Sloweniens zu entdecken!
Katharina
2016-09-04T00:00:00Z
Room Type
Entire home/apt
---
Property Type
House
---
Accommodates
4
---
Bedrooms
Kopriva, Sežana, Slovenia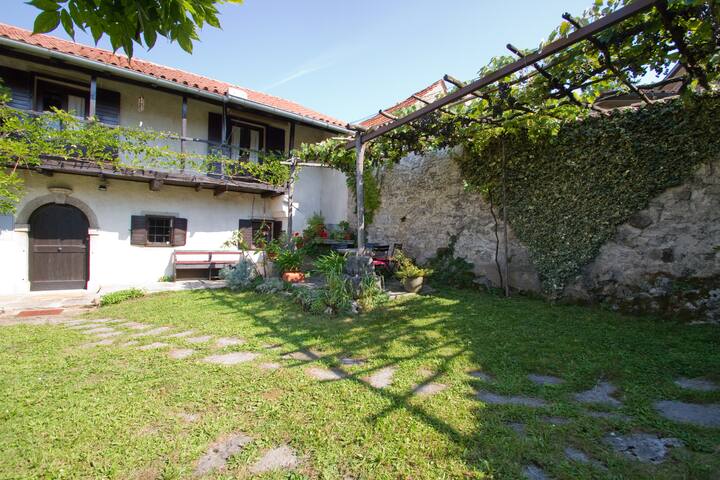 We live in Karst area in a small village with only 100 inhabitants. House is more than 100 years old and will delight anybody who enjoys history and nature. Village (and area in general) is famous by Teran wine and Prosciutto. Italian seashore is only 20 minutes away by car. Great paragliding spot is close by . Also, other famous sites are between 30 - 60 minutes drive.
Our house is 100 years old and with retro furniture. We offer a huge room with one king size bed (2 x 2 m). You can use fully equipped kitchen and bathroom, but the facilities are not new. We suggest enjoying evenings at the large terrace with homemade Teran wine. If you want to try some gardening, we can help you with that too :)
We live in NATURA 2000 area, rich with birds and other wild animals. Trstelj hill is the highest in this area and is right above the house. You can reach the top in 30 minutes. There are also other not demanding hills for hiking. The area is rich in vineyards usually situated at old stone terraces. If you like sea, you need around 20 minutes (by car) to nice Italian sea shore.
A magic parenthese to cloture our holidays in Slovenia. Unlikewise said in another commentary, do not take the forest path as did indicate our GPS or you might end up with a flat tire like us ;p For sure they leave in a quite and lovely place. We wished we could have stayed another day. And for sure we will come back! Thanks for your warm welcoming Anže and Todora.
Stéphanie
2015-08-16T00:00:00Z
*recomended* Anze is such a nice guy, with great friends and a great farm house to stay in. Food was cooked for myself and my friend which was delicious! I hope to go back next year - hopefully the aggressive rooster is gone by then ;)
Ollie
2015-08-17T00:00:00Z
Our stay at Anže's place was a fabulous start to our trip in Slovenia. Location as described, in a small village, away from the hustle and bustle. Had a good time knowing the country by spending time with our hosts who were very friendly and welcoming. Accommodation was basic but the hospitality of the hosts make up for everything!
jonathan
2015-07-24T00:00:00Z
Very welcoming and friendly hosts in a small village. Don't be afraid if your Navi will suddenly choose the forest road, you will safely drive through beautiful landscapes. Accommodation has everything a tourist need and can expect in a rural area. It's also only 25 minutes away from the italian coast with crystal clear water. We were happy to meet Anže and Todora. Highly recommended.
Arseny
2015-08-08T00:00:00Z
Une première nuit en Slovénie dont nous nous souviendrons. Un accueuil chaleureux et convivial que je recommande sans hésiter à ceux qui veulent passer de bons moments avec les locaux et profiter de l'air de la campagne.
pauline
2015-07-19T00:00:00Z
Room Type
Private room
---
Property Type
House
---
Accommodates
2
---
Bedrooms
Lipa, Nova Gorica, Slovenia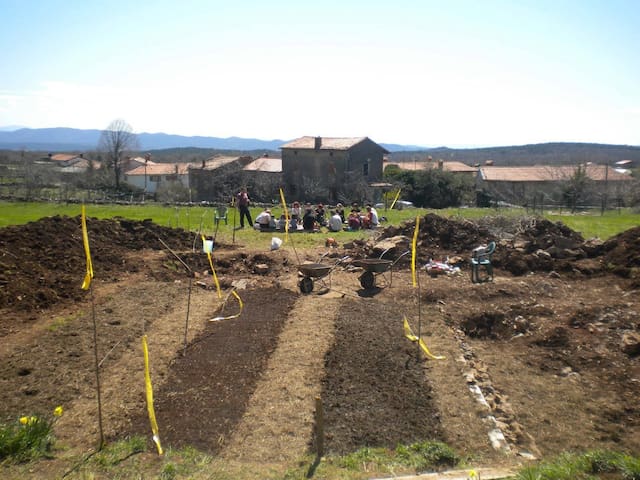 Apartments Štanjelski razgledi were built by reconstructing the ruins of the defense tower, which was build in 16th century for protection against Turkish raids. In apartments are left original parts of the defense tower, like firing and sighting lines which are between 400 and 500 years old. building is located in city centre on the top of the hill, where you can enjoy amazing views on even more beautiful landscape. In the immediate vicinity there are cycling trails and path ways.
When in Štanjel, you can also visit some of the slovenian landmarks (20 km away) like: The Škocjan caves, Postojna cave, Stud farm Lipica, castles Prestranek,Miramare and Devino, Rilke path, Sistiana, Trieste and many more. This location also provides interesting culinary experiences. For all those who like sea, on Saturdays and Sundays there is organised transfer with bus to city Sistiana where you can enjoy gratis beach.
the city is among the safest in EU
We had a lovely stay here, Adrian was very welcoming and even cooked for us! It was one of the best Airbnb experiences we've had. It was great talking to Adrian and he gave us very useful recommendations. The apartment was very clean and comfortable. We would definitely recommend this Airbnb!
Cassie
2016-11-07T00:00:00Z
We had great time at this place, nice clean room with great view, from this oldstoned house. Friendly owner with a lot of tips, advices and recommendations. We would definitely come again.
Kateřina
2016-10-11T00:00:00Z
A pleasant stay in an amazingly beautiful, yet quiet and unspoiled medieval town.
Simon
2016-09-18T00:00:00Z
We had a great stay in Stanjel, thank you to Adrian for looking after us and making amazing breakfasts. The apartment was very clean and has amazing views across the valley. The location is perfect, in the old town of Stanjel right near the beautiful Ferrari Gardens. Our host organised for us to hire his bicycles and gave us great advice on the local area. I would recommend the accommodation to everyone.
James
2016-09-12T00:00:00Z
Room Type
Entire home/apt
---
Property Type
Apartment
---
Accommodates
4
---
Bedrooms
Štanjel, Sežana, Slovenia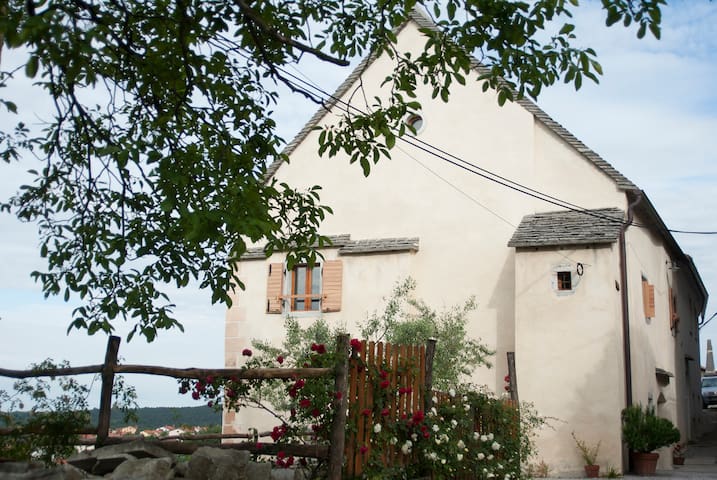 Dutovlje is a beautiful little village in the wine valley or Slovenian Karst. Nearly each neighbor has his own cantina and is happy to have visitors for wine tastings. The house is in the centre of the village. We rent out the ground floor room with a double bed. The access is independend from the rest of the house. Since the bathroom for this guest room is not finished yet, we share the bathroom, the kitchen and the other place if wished as well. The common room has television and fireplace.
Room Type
Private room
---
Property Type
House
---
Accommodates
2
---
Bedrooms
Dutovlje, Sežana, Slovenia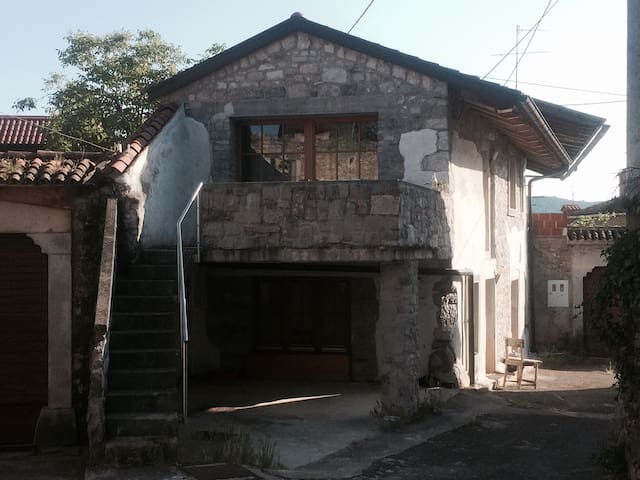 My place is good for families (with kids) and furry friends (pets). Reccomended 1 week stay! Beach is 18 min. away. Free parking space for 2 vehicles. Free WI-FI. Airport Trieste - Ronchi Legionari 30 min. Excellent food and wine in the neighborhood.
Peace, peace, peace. You close the gate and feel like only person in the world. Great starting point to explore.
Golf course and horse farm in Lipca - 20' away. Great cave of Škocjanske jame! Walk path around. Beach resort 20' from house.
The historic renovated house of Branko has a lovely decoration, offers enough space and has everything you need, noteworthy are the dishwasher and the fast internet access. It also has a nice garden with deck chairs, barbecue facility and a fishpond. It is very quiet, located in a small Karst village on a vine road (Vinska Cesta), and is a good compromise to reach places both in Slovenia (e.g. Škocjanske jame, Piran) and in Italy (e.g. Triest, Gorizia). We fully recommend this accommodation.
Christoph
2016-08-21T00:00:00Z
La maison est vraiment belle et chaleureuse. Spacieuse aussi avec ses trois belles chambres. Elle est située dans une région magnifique. Nous avons pu visiter la Slovénie (Lubljana vaut vraiment la peine à 1 h par l'autoroute) et nous avons vu Trieste et profiter de la mer italienne. La maison est située dans un havre de paix et très bien équipée. Nous ne sommes restés que 5 jours, mais nous aurions voulu rester plus longtemps. Branko a tout fait pour bien nous accueillir. Merci.
Véronique
2016-07-24T00:00:00Z
Room Type
Entire home/apt
---
Property Type
House
---
Accommodates
6
---
Bedrooms
Pliskovica, Sežana, Slovenia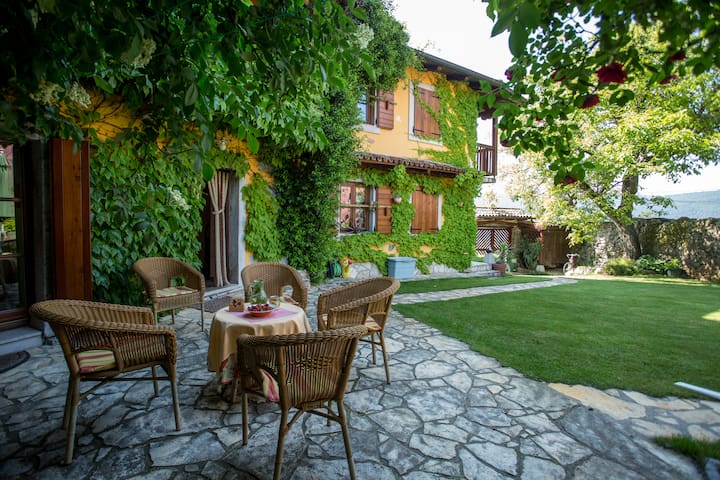 Special boutique hotel for relaxing and circled with impressive nature and many vineyards. First Bio hotel in Slovenia, which offers you a good and quality food and wines with organic certificate, SPA, therapy of complementary medicine, gym, different types of massages and more.
Room Type
Private room
---
Property Type
Boutique hotel
---
Accommodates
2
---
Bedrooms
Hruševica, Sežana, Slovenia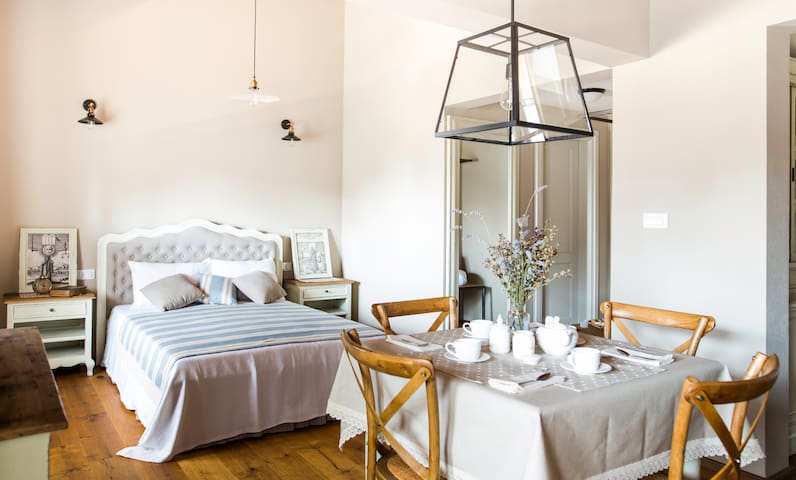 Being secluded from busy roads and motorways, staying at our house renders an opportunity for long walks and enjoying a very interesting countryside
This apartment is a lovely. nicely decorated apartment in the country side. It's in a small village (t have much time to explore, but there seemed to be many hiking paths. Alenka also prepares meals. We had dinner and breakfast. They were very large and delicious. They are available for an additional fee. Alenka does not take credit cards, so be sure to bring cash.
Dara
2015-06-12T00:00:00Z
Thank you Alenka and family for everything!!! The stay at your place was magnificent! We felt very comfortable and welcome and enjoyed very much our stay!!! You are a great host and a great cook!!! Congratulations for your place and for your lovely family!!! We are always happy to come back!!!
Lena
2015-08-01T00:00:00Z
Iba a escribir en ingles, pero te dejo el mensaje en castellano para que practiques. jajajajajaj Gracias por esta estancia maravillosa en vuestra casa. Ademas de ser una gente acogedora y educada, sois un encanto. Siempre con una sonrisa, con unos niños preciosos, y todo Pedrovo, preocupado por nosotros. Una experiencia que nos gustaría repetir. Un lugar increible y un pais precioso. Os recomiendo a todos esta experiencia. Gracias por aceptarnos en vuestra casa
Luis
2014-09-29T00:00:00Z
Room Type
Entire home/apt
---
Property Type
House
---
Accommodates
4
---
Bedrooms
Pedrovo, Slovenia
-
Conveniently located for visiting southwest Slovenia and into eastern Italy, Apartment (58m2) take its place in typical Karst village in the unspoiled nature of Karst, only 10 min. walk from the old town of Stanjel. Apartment is arranged over two levels: the ground floor has kitchen, living room and dining space and a bathroom; the first floor has two bedrooms (double bed and two single beds). Along with two main bedrooms that can sleep four, there is a sofa bed that can sleep two. The surroundings offers unique cycling and hiking tours. It is a good starting point to reach Skocjan and Postojna caves, romantic Duino and MIramare castle, Adriatic beach and Sistiana mare, well known stud Lipica, Soca - Isonzo valley or just simply enjoy the Karst countryside. We love pets and easily accomodate them by prior arragement.
We had a wonderful time at this lovely apartment in Karst. Natasa was a great host, very kind and welcoming with a lot of tips of where to go and what to do in the near sorroundings. The apartment is very spacious and bright and the inner yard and balcony are very nice as well. We were pleasantly surprised and would highly recommend a stay there to anyone visiting Slovenia. It has a great location, easily accessible to many natural beauties of the country and as it's located in a village rather than a city it offers a great feeling of freedom and peace. Thanks for everything Natasa, wishing you all the best!
Irena
2015-07-28T00:00:00Z
We had a lovely time in Natasa's house and it was so special to stay in a traditional Karst home in a small village. The house is spacious and well equipped and we had everything we needed. There is wifi available, but difficult to pick up the signal inside.
Carin
2015-10-06T00:00:00Z
Natasa is a great host: she welcomed us with a refreshing tea, she provided us all necessary information about what is worth seeing. What is more she served us with some fresh vegetable and fruit several times during our stay. We could even taste their home made schnaps and wine. Natasa is really flexible and sympathetic: we could only start one day later as booked, since our son was in hospital, but we could extend our stay accordingly. The apartment is neat, fully equipped exept for the oven. It lies directly by the narrow village road so if you have to leave the window open it can be noisy, but there is not much traffic. There is WIFI in the house although it is only available in certain parts of the apartment. All in all we really enjoyed our stay in that beautiful surrounding.
Nora
2015-07-11T00:00:00Z
We were very well welcomed by Natasa even if we arrived ealier than planned. We appreciated this very beautiful and peaceful place, Natasa's touristic advises and the tomatoes coming from the garden ! Thanks !
raphael
2016-08-12T00:00:00Z
Natasa's apartment is lovely; spotlessly clean and very quiet. Natasa met us when we arrived and gave us lots of information, maps and leaflets and made us feel very welcome. Kobdilj is a great place for visiting Stanjel, Nova Gorica, Lipica and there are plenty of walks and cycle tracks nearby. We have no hesitation in recommending the apartment.
Roger
2015-09-21T00:00:00Z
The apartment is very convenient to visit the Karts region. Stanjel is a very nice village as well the sorroundings. Natasa & family make any effort to ensure a very pleasant staying. The apartment has all that you could need for a short visit. It was a very nice experience and for sure will be a place for a future visit and to recommend.
xavier
2016-08-25T00:00:00Z
Natasa is very very friendly, I feel like at home.
Michael Lee
2016-09-18T00:00:00Z
La casa de Natasa en Stanjel es perfecta para pasar unos días o unas largas vacaciones. Te sientes como en casa, tiene todo lo necesario para pasar una estancia como en casa, es acogedora, está decorada con mucho encanto y además está muy bien situada para poder visitar algunos de los reclamos turísticos más importantes de Eslovenia. Tiene un patio fantástico y agradable. Natasa es una anfitriona insuperable y una amabilísima persona. Nos recibió estupendamente, nos proporcionó toda la información que necesitamos y nos obsequió con algunos de los productos de su huerta y grappa. Para repetir sin duda. Qué pena vivir tan lejos! Muchas gracias por todo Natasa :)
Raquel
2016-08-18T00:00:00Z
Room Type
Entire home/apt
---
Property Type
House
---
Accommodates
4
---
Bedrooms
Štanjel, Sežana, Slovenia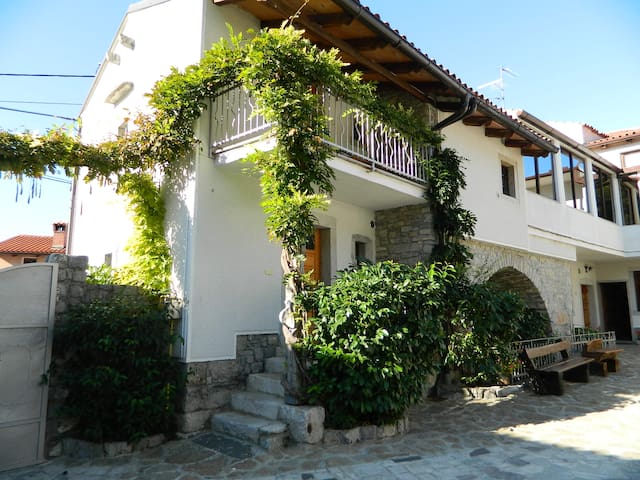 House with incomparable sea view in Prepotto, one of the most characteristic villages of Carso. On the ground floor: fully equipped kitchen and dining On the first floor: three double bedrooms (two with terrace overlooking the sea) and a bathroom
If you 're looking for peace and quiet of a small village, a beautiful garden and spectacular views of the sea combined with the comfort of a nice house, you're in the right place !!!!
Prepotto (Praprot in Slovenian) is one of the smallest and smartest charming villages of the municipality of Duino, just a few kilometers from the sea and a few from the Slovenian border. A special feature is that, despite being more than a village, is known internationally thanks to food and wine of high quality productions: 4 producers of fine wines and award-winning, 4 characteristics osmizze (a sort of pop-up wine bar) and a dairy that produces fantastic cheeses including the famous cheese cave (Jamar). During your staying there will be some food and wine!
First and foremost, Pietro is the friendliest and most hospitable host I have ever had. He works at a butcher shop/winery two corners - the place is a must visit (and you have too book!). The view from the house is astonishing, the sunsets are like on the pictures (or paintings). We spent every evening and night in the garden (chairs are provided) and enjoyed the quiet. The house is spacious, the rooms are comfortable and the kitchen is well equipped if the guests are tired to go for dinner. The beach is a 20 minutes drive, and like most Italian coasts, are full of cars. So you need luck and certain knowledge to find a space, but there is a large garage in a nearby city that always have some spots (of course our host helped us discover this). This place is very suitable to collect a few families together.
Gábor
2016-08-16T00:00:00Z
Wonderful place, the garden was our favorite to spend time together as a family! Definitely check out Lupinc agrotourism restaurant next door as well. Our hosts were lovely and welcoming!
Liz
2016-08-22T00:00:00Z
Accoglienza precisa e calorosa Tutto come descritto , abbiamo passato una settimana molto,piacevole che sicuramente ripeteremo in primavera o estate .
Mario
2016-01-01T00:00:00Z
Buonasera, ci tenevo a ringraziare Pietro per la sua gentilezza e per la sua accoglienza è una persona davvero graziosa; in merito alla casa tutto perfetto una casa spaziosa pulita accogliente e completa di accessori!! Siamo stati bene e se ci sarà occasione ritorneremo senz altro a trovare lui è tutto il vicinato!:)
Roberta
2016-04-26T00:00:00Z
Room Type
Entire home/apt
---
Property Type
House
---
Accommodates
6
---
Bedrooms
Prepotto, trieste, Italy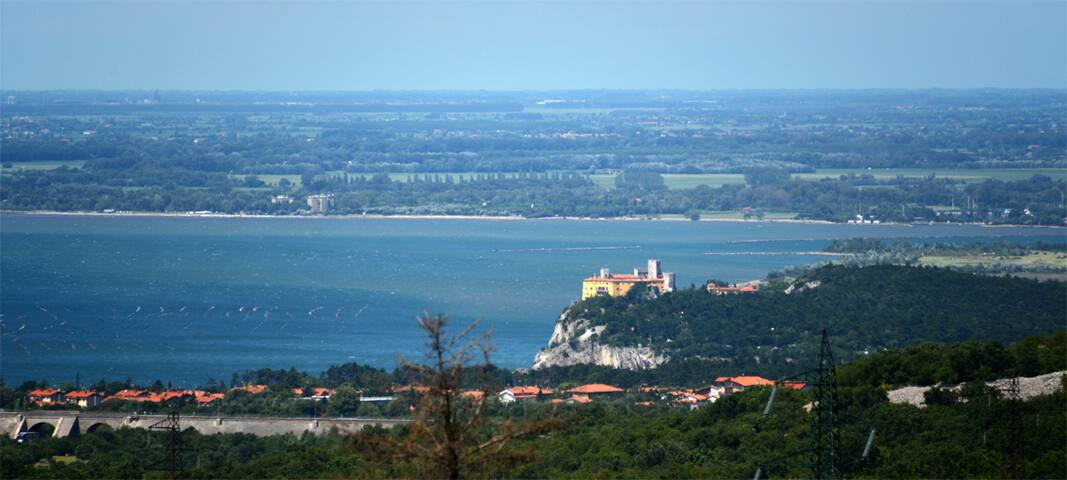 Siamo una piccola azienda agricola a gestione familiare immersa nel verde del Carso triestino, da cui è possibile raggiungere comodamente sia il mare di Sistiana che la città di Trieste. L'alloggio è adatto a coppie, avventurieri solitari e chi viaggia per lavoro.
La camera è dotata di bagno indipendente, terrazzino con tavolo, TV e Wifi, ventilatore, frigo e parcheggio. Nel prezzo è inclusa la biancheria con cambio settimanale e le pulizie finali. Nelle immediate vicinanze potete trovare ristoranti, bar, supermercati, farmacia, edicola...
Farmhouse Radovic really is a gorgeous place for people who want a bit of peace and quiet. The path to the beach is around 25min (or 430 stairs). The hosts were really responsive and helpful - overall, a great stay!
Lisi
2016-08-28T00:00:00Z
Good job! The check-in was uncomplicated, the room really quiet and comfortable. See you next time!
Dario
2016-07-31T00:00:00Z
Flavia war freundlich, die Wohnung sehr grosszügig in der Ausstattung! Grosser Balkon, mit Aussicht in die Natur ! Gerne wiedereinmal !
Deva Abhiyana
2017-04-09T00:00:00Z
Non abbiamo conosciuto direttamente Flavia ma siamo state accolte dai suoi figli, estremamente gentili e molto d'aiuto nel darci indicazioni sui dintorni. Camera spaziosa e pulita, luogo di relax immerso nel verde.
Serena
2016-08-28T00:00:00Z
Room Type
Private room
---
Property Type
Apartment
---
Accommodates
2
---
Bedrooms
Aurisina, Friuli-Venezia Giulia, Italy