Das Apartment liegt in einem Komplex direkt am Meer mit einem direkten und unverbauten Meerblick auf die gesamte Bucht von La Lajita. Sie haben eine sehr großzügige Terrasse, die nicht eingesehen werden kann. Sie haben eine komplette Ausstattung, so dass Sie sich ohne Problem selber versorgen können. Ideal für Leute, die abseits vom Touristentrubel Urlaub machen wollen und das Individuelle suchen. Sie werden es lieben!
Die Ferienwohnung ist ein romantisch gelegenes Domizil direkt am Meer in einem kleinen Fischerdorf im Süden Fuerteventuras. Der Ort La Lajita liegt zwischen dem Kreuzfahrt- & Yachthafen von Gran Tarajal und dem bekannten Ferienort Costa Calma in unweiter Nachbarschaft zum Tierpark Oasis Park Fuerteventura. Hier finden Sie Individualurlaub außerhalb des Massentourismus in erster Strandlinie. Sie können auf der großen Terrasse Sonnenbäder und Ihre Mahlzeiten genießen.
in dem urigen Ort scheint die Zeit still zu stehen - Ruhe pur und eine angenehme Nachbarschaft erwarten Sie.
S ubytováním jsme byli moc spokojení. Byt je umístěný v klidném městečku La Lajita téměř u pobřeží s vyhovující pláží (černý písek + oblázky). Příjemně nás překvapilo vybavení bytu, k dispozici jsme měli i vybavení na pláž - slunečník, osušky na pláž, termotašky. Během našeho pobytu nefungovala wifi, ale hostitel nám dovezl 3G router s provizorním internetem. Večery jsme trávili na velké terase s krásným výhledem na moře. Vytkli bychom pouze hluk od psů ze sousedství, kteří prakticky neustále štěkali bohužel hlavně v noci.
Šimon
2016-09-09T00:00:00Z
Room Type
Entire home/apt
---
Property Type
Apartment
---
Accommodates
2
---
Bedrooms
La Lajita, Canarias, Spain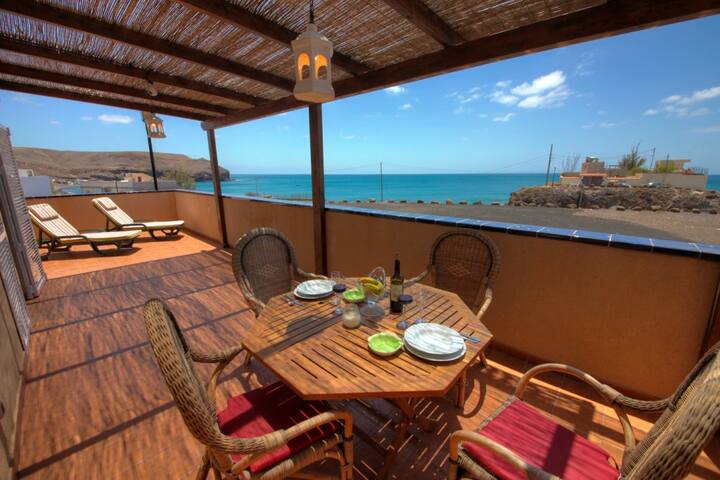 Located on the beach of a small village, outside touristic areas, that allows you to enjoy the island in an authentic way. Come to our traditional house with direct access to the beach. Here, in this small paradise, you can relax completely
The house is located on the seashore. Just wake up and you can swim on a quiet beach. Enjoy your breakfast looking at the sea. At night, you can see the stars and sleep hearing the relaxing sound of waves. The house is perfect for coming with your family or friends. Children will have lots of fun swimming in the sea(URL HIDDEN)
La Lajita is a small coastal town, located outside of touristic areas but really close (only 10 minutes by car) of Jandia, an amazing beach surrounded by a Natural Park with lots of interesting flora, fauna and dune fields,
This was such an amazing place to stay - we can't recommend it enough. My mother and aunt stayed here, while my sister and I had booked a hotel down the road. I was SO sorry we hadn't all just stayed in Arturo and Renata's! We ended up sleeping in the hotel rooms as they were paid for, but spent all day at this home. The hosts thought of everything - so many towels, toothbrushes, wetsuits, boogie boards, wine & chocolates - oh and great restaurant recommendations... (Le Bacarra in the neighbouring village is excellent - especially the King Prawns and Calamare with mojo sauce) It's a relaxed space, so private - the view and sound of the ocean is incredible. Both guests said the beds were super comfortable - and there was space for a full family if needed. We barbecued a couple of evenings too - the stores are so cheap and I'd highly recommend the bakery just up the road..! This is what airbnb is all about - the house is not mad fancy - but it's simple and tasteful and relaxing. Perfect.
blanaid
2015-01-10T00:00:00Z
Amazing place! Don't look any further...this is an amazing hemingwayan beach house experience. Very nice people. And you live in the hut all by yourself, no neighbors, no distractions. Just you and the sea!
Julian
2014-11-22T00:00:00Z
The owners of the house are very nice and friendly people. The description of the house did not divert from what we encountered. The house is located right on the seaside. We loved to hear the sound of the ocean at night. The house is well suited for people seeking privacy. The place is also perfect for swimming - the ocean was very calm compared to Jandia Beach or Corralejo (the beach/view is much nicer in those places but during our stay in November it was impossible to swim).
Mirosław
2015-11-14T00:00:00Z
The perfect place on Fuerteventura!!! The house has got everything you need for your stay in La Lajita and even more... We´d love to sit, eat, drink or relaxe on the huge terrase with the amazing view over the landscape and only the sea and the stars were with us... Renata and Aturo are very friendly, helpfully and everything was just perfect... Thanks for the nice time in your house on the beach!!!
Jörn
2015-11-29T00:00:00Z
We had a lovely week in this beach house. It is quiet and private with amazing access to the beach. We spent all our time on the terrace, which was perfect for our one year old daughter to explore. The village is quiet with no other tourists at all from what we could see. A short walk to the bakery, beach restaurant, village bars and supermarket make for a simple and laid back holiday experience. If you are keen on luxury and all your creature comforts then this isn't the place for you, but we much preferred this set up to the huge hotel complexes we encountered in the other parts of the island. Thanks arturo for the help and especially for buying the bumbo high chair which we got great use from!
Alison
2016-04-17T00:00:00Z
Spent nearly all our time on the huge patio eating and relaxing. If you like to listen to the waves all day... this is the place. Very simple accommodations, but modern, well appointed kitchen. Water is cool (FEBRUARY) but still went in after a little exercise. Art was a very accommodating/welcoming host. Told us to use whatever was there (spices/oils etc). It's a quiet town with a nice new grocery store (Spar). All we needed. Great stay!
bradley
2017-02-04T00:00:00Z
The house is lovely and really is exactly as reviewed by others - right on the beach in a quiet village. A fantastically relaxing holiday. The house was well equipped, with everything we required. Communication was very prompt and Arturo was very helpful when a flight delay meant that we had to change our arrival time, and very welcoming when we finally arrived.
Nick
2015-04-15T00:00:00Z
This place is a paradise on earth ! We loved it and Will Côme back
Labarre
2015-12-23T00:00:00Z
Room Type
Entire home/apt
---
Property Type
House
---
Accommodates
6
---
Bedrooms
Lajita, Islas Canarias, Spain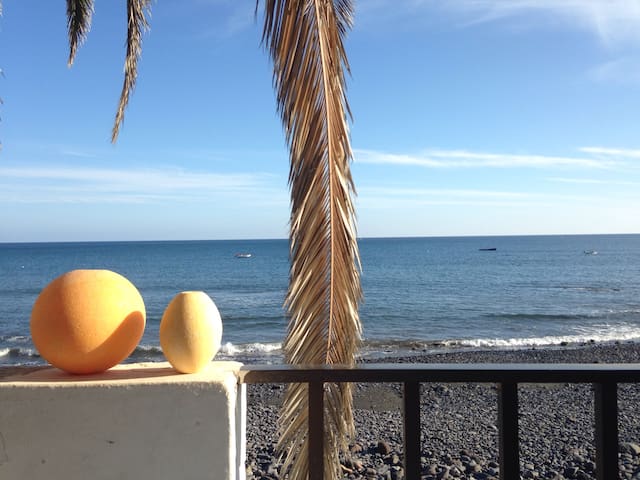 Espectacular villa de lujo, situada en una zona muy tranquila y centrica de Fuerteventura. La Villa consta de todo tipo de confort para hacer de sus vacaciones inolvidables, con 300m de chalet y 1000m de exterior en medio de una gran finca rural.
Consta de todo tipo de conford con unas increibles vistas a la finca y en una zona muy tranquila.
Guaci, Yesi & Nayeli couldn't have made us more welcome! From the first contact giving us directions to the villa, to waiting for us whilst we were delayed in arriving, through offering great ideas for things to do in Fuertaventura they were the perfect hosts! Lovely people :-)!! The villa itself is stunning, the pictures don't do it justice. It's new, but feels incredibly homely, but also almost magical. It has been built brilliantly and fitted out to a very high standard, you'll want for nothing if you stay here. The pool is great, just a little too cold for use in February.... The BBQ area was great to use, and under cover for when it rained. The view behind the villa is stunning and well worth an hour or so to walk up the hill and look back down on the villa. The villa is a few minutes drive from La Lajita where you'll find a small EuroSpar supermarket and a couple of restaurants. The beach is small and unspoilt, one for an evening walk rather than sunbathing on. However, a few minutes drive either way are several more 'holiday' type beaches with plenty to do there and great places to eat at. All in all a wonderful villa to say in and use as a base to explore the island of Fuertaventura, with the help of perfect hosts!
Kevin
2016-02-20T00:00:00Z
Quite a busy road nearby at times, but didn't detract from the fantstic house and views. Would certinly recommnd to others. :-)
Sarah
2016-12-28T00:00:00Z
Great holiday! Many thanks to our hosts! They made us feel very welcomed. Fruits, wine, sweets, and even a tooth paste in the bathroom- that made us feel happy and relaxed arriving so late and tired. The house is well designed, spacious and cosy at the same time. Kitchen is well equipped- good oven, coffee machine. The master bedroom is magnificent! We enjoyed every minute in this house.
Vaira
2017-01-07T00:00:00Z
We arrived at Villa El Valle and were made very welcome, the property just blew us away, these guys have built a fantastic property, a review about the photos really don't do it justice are so true, we are not easily pleased. The fishing town of La lajita is just down the road with a Eurospar, pharmacy, and restaurant and bars. We ate at La Falua and it was excellent. We loved our stay here and if we haven't finished our own property by the time the next visit comes up we shall be staying again. I cannot recommend this Villa high enough it will not disappoint you.
Chris
2016-06-05T00:00:00Z
Ganz wunderbar! Meine Erwartungen wurden übertroffen. Gerne jederzeit wieder! Danke Yesimar!
Sven
2016-09-17T00:00:00Z
An dem Tag als wir angekommen sind war sofort jemand Vorort. wir wurden freundlich Empfangen und eingewiesen. Wenn ein Problem da war kontaktierten wir unsere Gastgeber und es kam sofort jemand vorbei um sich zu kümmern.
Dieter
2016-11-15T00:00:00Z
Wir hatten zwei großartige Wochen in der Villa. Bei der Ankunft wurde schon auf uns gewartet und wir haben alles erklärt bekommen. Das Haus ist sehr großzügig, geschmackvoll eingerichtet und war auch sehr sauber. Der Außenbereich ist sehr schön mit einer beeindruckenden Aussicht. Die Küche ist sehr gut ausgestattet. Kleiner Wermutstropfen ist das Haus liegt direkt an der Straße an der die Autos (wenn auch nur weinige) zügig fahren. Wir werden sicher wieder kommen und können die Unterkunft uneingeschränkt weiterempfehlen.
Melanie
2017-02-24T00:00:00Z
La Villa el Valle de Guacimara est située à la sortie du village direction Cardon. Nous avons passé un agréable séjour dans cette villa qui est superbement équipée malgré la route proche. Tout a été fait pour nous rendre notre passage inoubliable, par notre hôte et sa famille: un grand merci, corbeille de fruits, eaux, café, charbon de bois, produits... La piscine est très bien, superbement éclairée le soir et ainsi que la bâtisse. Le côté terrasse vraiment très agréable pour prendre le pdj ou son repas.
Philippe
2016-08-21T00:00:00Z
Room Type
Entire home/apt
---
Property Type
House
---
Accommodates
6
---
Bedrooms
La Lajita, Canarias, Spain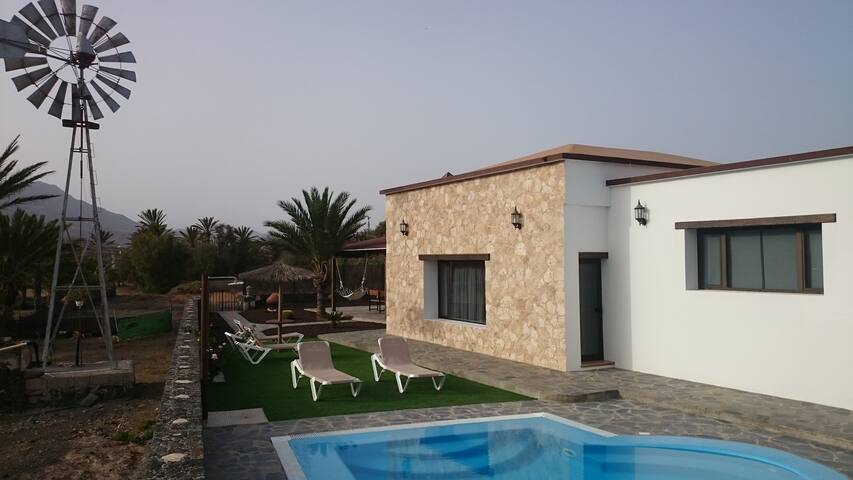 Modern duplex for 6 persons with beautiful views to the beach (100 metres). Kitchen with everything. Air conditioning in the main be-room (suite type with bathroom) Terrace with barbacue and sea views.
Very nice house with awesome sea view. Very quiet area (dead end street) and parking space in front of the house. House was well equiped: best of all the reliable wifi and airconditioning in the master bedroom. Carmen was very fast in answering any questions we had prior to renting and very flexible during our stay. We'll definately return next year!
Alice
2014-09-14T00:00:00Z
Contact with Carmen was easy and she is very friendly and easy going person. House is nice, comfortable with everything you may need. Location is perfect, very quiet place, close to the ocean with beautiful view from the terrace.
Zipek
2015-10-27T00:00:00Z
Nice, beautiful house with sea views, ideal to relax in a quiet street. Me and my wife had a great week these, enjoying the beach sometimes just for the two of us. Carmen was very friendly and helpful, leaving us at ease. We'll came back for sure and recomend the house for couples like us or for a grous of friends or a family, since there is space for everyone.
Luis
2015-07-31T00:00:00Z
We really enjoyed our stay at Carmens place. The appartment is very cosy and welcoming with the beach only 50 m in front of the house. We hade everything, we needed to have a comfortable time!
Julia
2016-03-19T00:00:00Z
Carmen has a confortable house. It has a cozy living room. From the terrace you have a beautiful sea view. Lajita is quite a nice place to stay. You can visit the cozy café restaurant 'Ramon' direct at the seaside. It is crowded by locals. In the morning many times we walked along the beach to the village, bought tasty pastries at Pasteleria Fuerpan and did drink delicious caffe leche at 'La esquino the flei'.
Jos
2016-05-07T00:00:00Z
Awesome location right at the sea... Beautiful house.... I'll be back ;-)
Markus
2012-03-09T00:00:00Z
2 weeks in this beautiful beachhouse and we're completely relaxed! We recommend to rent a car to visit locations nearby (4WD) and we also recommend carmens house for families. All was well arranged and far better than expected. In 2015 we'll visit la lajita again :-)
Heiko
2014-08-08T00:00:00Z
Soggiorno decisamente piacevole, l'appartamento è molto curato, spazioso e fornito di tutte le comodità. Presente la TV ma solo con canali tedeschi. A due passi dal mare, in una zona centrale dell'isola, in una location calma e tranquilla offre la possibilità di buoni spostamenti a 10 minuti dal centro di Costa Calma. Carmen precisa, attenta, sempre puntuale nell'accogliere ogni nostra necessità o problematica. Davvero consigliabile. Torneremo
Dino
2016-04-10T00:00:00Z
Room Type
Entire home/apt
---
Property Type
House
---
Accommodates
6
---
Bedrooms
Pájara, Canarias, Spain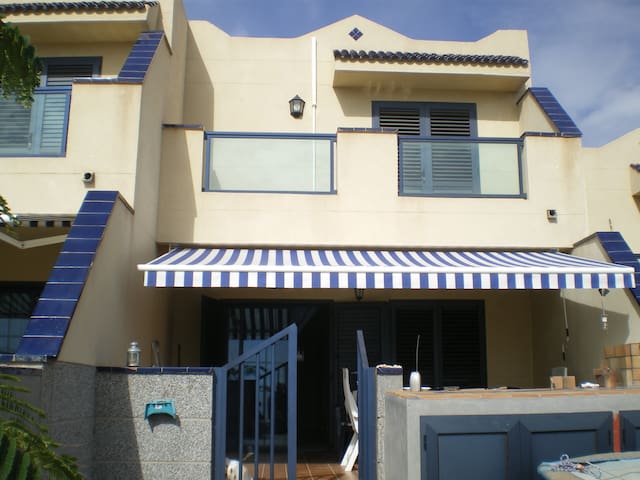 Fantástico apartamento para 4 personas. El apartamento tiene 2 dormitorios y todas las comodidades para una perfecta estancia en la Lajita, televisión con canales Internacionales integrada, toallas y ropa de cama, internet wifi, cocina completa.
Genial apartamento situado en un primer piso, con dos dormitorios, con amplias terrazas y capacidad máxima total de 4 personas. El apartamento está equipado con internet wifi, así como todas las comodidades en electrodomésticos. Dispone de dos dormitorios uno de matrimonio y uno doble, un baño, amplísimo y luminoso salón, una moderna cocina integrada y totalmente equipada. Este apartamento, ubicado en el centro de La Lajita, rodeado de restaurantes, cafeterias, supermercados y una playa inmejorable de arena negra, para visitar a pie, convertirá su estancia en Fuerteventura, en un viaje inolvidable. El apartamento, se encuentra en una calle tranquila. Ven y disfruta de una inmersión perfecta en el encantador pueblo de La Lajita.
Está en una zona tranquila, en el centro de La Lajita, tiene tanto tiendas de alimentación justo en frente del edificio, como farmacia en la trasera, cerca también tienes restaurante LA FALUA el cual recomendamos por su gastronomía y el trato amable del personal, y una hermosa playa de arena negra.
I think we will come back some time....Good place !!
Louize
2017-01-07T00:00:00Z
The host canceled this reservation 12 days before arrival. This is an automated posting.
Matteo
2016-11-11T00:00:00Z
La casa è meravigliosa, ha rispettato le nostre aspettative, terrazzo solarium meraviglioso con barbecue ottimamente funzionante, ideale x 2 max 4 persone. La vista da li è meravigliosa. La casa è attrezzata e abbastanza silenziosa, solo dalla camera da letto alla sera ogni tanto proviene qualche rumore da un pub li vicino ma fino a ore rispettabili. La TV non che l'abbia usata granché ma non prende canali italiani. WI FI perfetto e illimitato. In camera da letto ho consigliato di montare una tenda più oscurante in quanto al mattina chi soffre la luce ne antra abbastanza. Nel complesso la consiglio molto, ci ha fatto trascorrere bei momenti. Ah dimenticavo, fronte casa c'è un supermercato fornito aperto fino alle 21 e a 100 mt un'ottimo ristorante, la Falua in cui siamo andati più volte. Consigliato
matteo
2016-09-17T00:00:00Z
tout simplement parfait, exactement ce que je cherchais
Pascal
2016-08-15T00:00:00Z
La Lajita ist ein hübscher, lebendiger Ort mit wenig Tourismus. Die Unterkunft ist sehr sauber und modern eingerichtet. Alles war da und funktionierte. Die eigene große Dachterasse mit Grill und Blick aufs Meer war absolut toll. Man sollte ein Auto haben.
Kerstin
2017-03-12T00:00:00Z
as schöne Appartement in der Mitte des kleinen Ortes La Lajita bietet ausreichend Platz für 4 Personen. Die Küche ist gut ausgestattet, ein großer Grill steht oben auf der Terasse. Die nur für diese Wohnung zugängliche Dachterasse ist das eigentliche Highlight: eine große Sitzecke am Esstisch, 2 Sonnenliegen und eine Snoozleecke mit Matratzen im Windschatten, viel Platz in der Sonne und im Schatten, der Blick aufs Meer, Sterne gucken ... wir waren begeistert. Der Ort hat einige Möglichkeiten essen zu gehen, einen großen Supermarkt gegenüber, eine Bäckerei und einen steinigen Strand. Er liegt aber sehr zentral zwischen allen Attraktionen am Meer und im Inland. Ein bisschen störend waren die ausgelassenen Partys (spanische Gassenhauer bis Techno) jeden Samstag bis 4 Uhr, die man wohl im ganzen Ort hört. Sehr angenehm ist uns das Gastgeschenk von Getränken und Obst aufgefallen. Sehr freundliche Vermieter!
Uwe
2017-02-15T00:00:00Z
Wie immer konnte ich mich auf das Gespür meiner Frau verlassen. Sie hat diese Location ausgesucht und wie immer wenn wir verreisen das richtige Gefühl bewiesen. La Lajita ist ein wunderbarer Ort mit wenig Tourismus, kein Hotel, aber ein paar nette Lokale mit sehr guter lokaler und internationaler Küche. Das Appartement, besser gesagt die Wohnung, hat wirklich alles was nötig ist. Sie ist sehr schön eingerichtet und sehr bequem. Die Terasse bietet einen traumhaften Blick über die gesamte Bucht. Sie ist nicht einsehbar, man kann sich also dort absolut privat fühlen und bewegen. Ein SPAR liegt genau gegenüber. Alles weitere kann man leicht zu Fuß erreichen. Zur Erkundung der Gegend sollte man ein Auto mieten. Wir haben unsern, leider nur 2-wöchigen, Urlaub sehr genossen. Nicht zuletzt möchten wir noch Alexis erwähnen, der uns warmherzig empfangen hat. Ein wirklich angenehmer Zeitgenosse.
Achim
2016-11-15T00:00:00Z
Room Type
Entire home/apt
---
Property Type
Apartment
---
Accommodates
4
---
Bedrooms
La Lajita, CN, Spain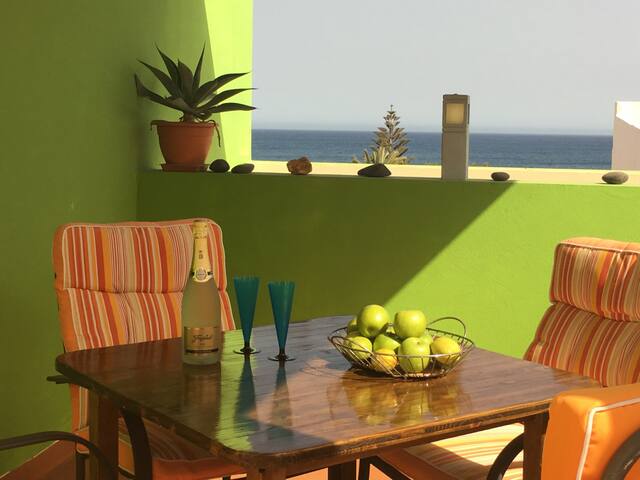 This little semi-detached house is next to a luscious garden centre and therefore enjoys cool shelter from one of the islands very rare green zones. Some of Fuerteventura's world class surf, kite-surf, wind-surf and holiday beach spots (La Pared and Sotavento) are but a short drive away (15 minutes) and provide great options for the more adventurous holiday maker and families alike. The simple roof terrace and garden offer extra space for those who need room to move. The house is a simple, unpretentious dwelling that provides easy access to nearby Costa Calma and some of the other recreational centres in the area. Please note, the monthly rate is only valid if a booking is made for a minimum of 3 months. There is a room with a double bed and bathroom 'en suite'. A triple room and a single room, share bathroom facilities. Visitors have full access to the house amenities and parking is available in front of the door. Single visitors are also welcome for a rate of €20/night. Please let me know in advance. Internet access is a bit patchy and unfortunately can't be guaranteed. There is a small beach within easy walking distance and the nearby fishing village of La Lajita offers the basic necessities for an independent stay. A bus stop at the end of the street provides transport for those who do not plan on renting a car.
Nice and quiet place to enjoy the holidays.
Gorka
2017-01-02T00:00:00Z
Aileen gave us a warm welcome in her house. For us 2 kitesurfers the location and house was perfect for the 2 weeks we stayed, since it was close to Sotavento and supermarket. The house itself was well equipped, clean and maintained, Aileen was kind enough to wash our bed linen and towels after a week, and we could use whatever was available in the house. Parking was easy, since it is next to the Zoo there is a huge public parking area just in front, also it was possible to park on the premise itself behind the gates, but was not needed. We hope to come back next year, and if possible use Aileen house if available.
Chul Hwa
2015-08-28T00:00:00Z
Fine house, richt next door of the zoo. Aileen lives in thuis house And leaves if there is somebody to rent her house. Clean and quite.
vincent
2016-01-05T00:00:00Z
A nice and quiet place in a small town on the island.
Martin
2016-09-05T00:00:00Z
Nice house, lovely host, i wish i could come back soon
Michele
2014-04-28T00:00:00Z
We were a party of six, three married couples. Beautiful house, amazing location. We arrived late in the evening, the host was very friendly and helpful.
Ivan
2016-08-16T00:00:00Z
Lovely house, good location, close to many beaches.
Saskia
2016-11-05T00:00:00Z
perfect arrangement. place looks like on the pictures. nice parking lot for 2 cars. safe area. keys were at the neighbor - perfect welcoming. enough space for 6 people, nice kitchen and living room. the gardens were beautiful. 2 bathrooms - convenient!
Laura
2015-08-04T00:00:00Z
Room Type
Private room
---
Property Type
House
---
Accommodates
6
---
Bedrooms
Pájara, Canarias, Spain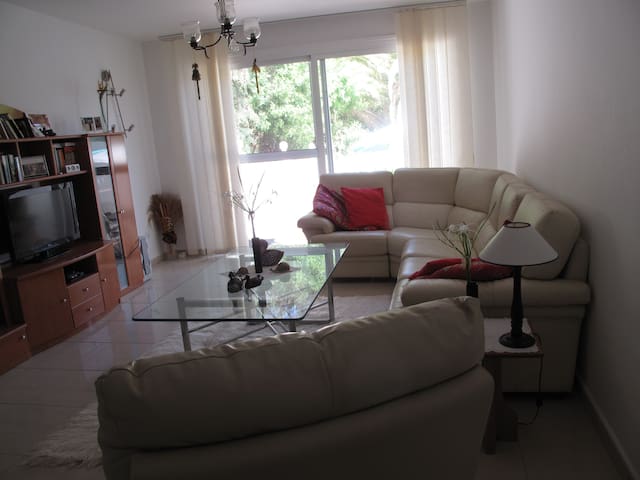 Amplia vivienda situada en un tranquilo complejo familiar a pocos metros del mar.
Location is nice, but the house needs a good makeover and better cleaning
Claudia
2017-03-05T00:00:00Z
Room Type
Entire home/apt
---
Property Type
House
---
Accommodates
4
---
Bedrooms
Pájara, Canarias, Spain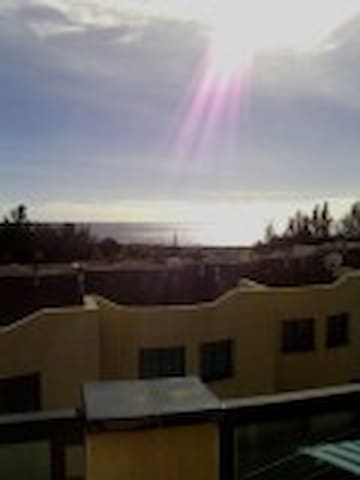 Cómoda y luminosa habitación, en un bonito ático con grandes terrazas para tomar el sol;situado en segunda línea de playa en un pueblo muy tranquilo y bonito donde encontrarás supermercados, restaurantes, gimnasio, escuela de paddel surf,etc.
En el alojamiento encontrarás comodidad y tranquilidad para pasar una agradable estancia
La zona es muy bonita y tranquila. La playa está a unos escasos metros. Hay una encantadora avenida para pasear
I received a very nice welcome to Mar's apartement. The room is very specious. It has a table, chair, and the bed as seen at the picture. There is also a Terrace that can be entered directly from the room. Mar made everything to feel me welcome and home. She supplied plenty of towels, I had my own key, Wifi was working well and of course the weather was great. I also was able to meet some of Mar's friends. The room could be locked seperately. I truely can recommend that place for staying in Fuerteventura ...und natürlich gibt es eine Kaffeemaschine, eine "italienische Espressomaschine" die man auf den Herd stellt, wie sie in Südeuropa weit verbreitet sind...
Marco
2016-11-02T00:00:00Z
Excellent location and home. Could not have asked for a better place to stay. Mar is very nice and helpful and was available whenever we had questions. The apartment was very clean and well kept. Would definitely recommend staying here. Paulina Ó
Paulina
2016-09-05T00:00:00Z
Mar is a very good host. His home is very big, confortable, clean and there is a very large terrace. 1 min from bus stop, 5 min from the seaside and supermarket. I suggest her absolutely. Very good.
ferrante
2017-03-07T00:00:00Z
Mar is a very friendly and easy host. We were late and me phone was without power, but Mar was very flexible with the check-in. The room and the terrace are very big and the bed is really comfortable.
Simone
2017-03-21T00:00:00Z
Staying at Mar's apartment with her was just like being at home, very easy, welcoming and lots of fun. Mar is very helpful and kind and the room and apartment was just beautiful. We also appreciated that Tarajalejo is not as touristic as other places. We will return :-).
Aline
2016-11-20T00:00:00Z
It is near to the football field. Nice, small place close to the sea and all the needed things in a walking distance. We had good relaxing time there.
Kolos
2017-01-25T00:00:00Z
Mar is a very nice host. She is helpful but respecting privacy of her guest. Her flat is in very good condition. Very clean and tidy. The room is very big and of course the bed is excellent :) You can walk directory from the room onto a terrace, which I did to look on stars. Mar, thank you again. I had a great opportunity to relax and chill :)
Błażek
2016-10-01T00:00:00Z
Es war etwas schwierig die Straße nach der Beschreibung zu finden. Über (SENSITIVE CONTENTS HIDDEN) steht dort kein Haus. Mar ist eine sehr herzliche, aufmerksame und nette Person. Die Unterkunft ist bis aufs Bett, schlicht und einfach. Man kann kochen wenn man möchte, Teller, Töpfe, alles vorhanden. Sie sollten aber ein Tuch, um das Geschirr abzutrocknen, mitnehmen. Es macht sehr viel Spaß, spontan etwas mit Mar zu unternehmen. Es ist keine Kaffeemaschine vorhanden. Falls jemand eine alte im Keller hat, können sie diese ja mitnehmen
Inge
2016-10-20T00:00:00Z
Room Type
Private room
---
Property Type
House
---
Accommodates
2
---
Bedrooms
Tuineje, Canarias, Spain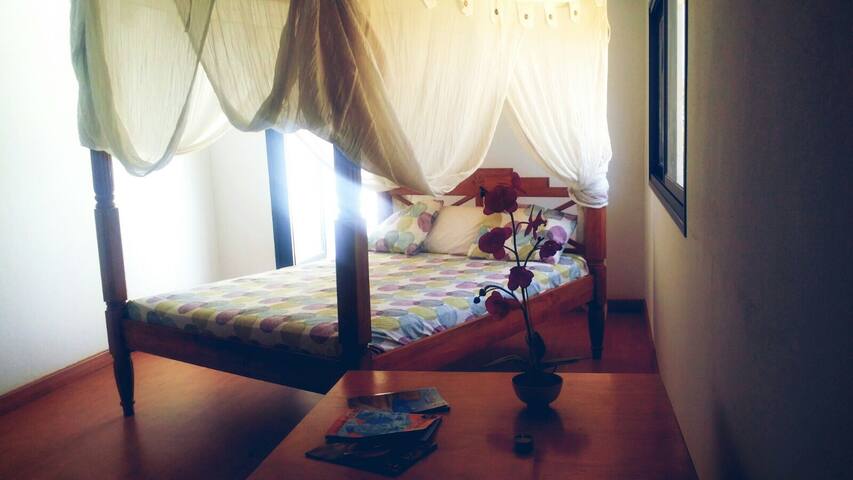 Nice and cheerful studio in a courtyard, with 2 terraces. One terrace with hammock and barbecue, another - with loungers and overlooking the ocean. Very well equipped. Located at an elevated position in Tarajalejo.
Nice and cheerful studio in a courtyard, with 2 terraces. One terrace with hammock and barbecue, another - with loungers and overlooking the sea. Very well equipped. With kitchen, satellite TV and internet. For babies we can provides a cot, high chair, pushchair, various accessories and games. LOCATION. Quiet area, 500 meters from the fishing village Tarajalejo and ocean. The hosts Elvira and Heinz live next door. On request, Heinz offers full body massages. TARAJALEJO. There is a Spar supermarket, several restaurants, including German restaurants, a bakery with a very good bread and pastries. For some more special purchases Gran Tarajal could be reached in 10 minutes by car, taxi or bus. Tarajalejo has been untouched by mass tourism. The one kilometer-long beach of black sand located in a sheltered bay and thus unthreatened by high waves is safe also for children. Not far from the beach there's a nice playground for the kids. ATTRACTIONS. Only 15 km further south from Tarajalejo are Europe's most beautiful beaches of Costa Calma and Jandia. Endless white sand beaches perfect for beach walking and water sports. For families with kids we recommend Oasis Park. It's in nearby La Lajita, 3 km from Tarajalejo. And here you can see many different animals, watch animal shows, go for camel ride and so on. Every Sunday there is Sunday market, where you can buy local products. What else? Water sports like windsurfing, catamaran sailing, diving, fishing with a local fisherman, bicycle rent and island hiking with a guide,... It all is available in this area. For the best sunsets go to the west coast, to La Pared or Aji. All other beautiful places places of the Fuerteventura like Antigua, Betancuria, El Cotillo and Corralejo can be reached by car in maximum one hour. Do you have any questions? Feel free to write to us!
It was a pleasure to stay at the apartment of Walter Gunter and his wife. They are very hospitable and gave us some good tips for traveling. The apartment is very cosy, clean and artistic. We enjoyed the amazing backyard in the middle of nowhere. Fully recommended!!! Thanks, Klemens and Magdalena
Klemens
2014-01-14T00:00:00Z
The apartement is very nice as well as the garden area and the backyard. It's centrally located so you can travel easily within the island. We had some troubles with the internet at first but other than that, we had a very nice stay!
Daniel
2016-08-19T00:00:00Z
For the first time we organized an Airbnb for our holliday on Fuerteventura. We got a very pleasant apartment on the finca Artis Tirma. This we didn't reserved but because of technical problems we got better than expected. That is the nice style of Heinz & Elvira how they solve problems, very well!! We enjoyed our stay so much, the nice quiet atmosphere, the beautiful rural area complete with a heartwarming invitation for the paella with the whole family. It was great. Thanks!!!
Anneke
2014-12-19T00:00:00Z
I found the studio to be a lovely space for a quiet solo holiday on the coast in Fuerteventura. It is beautifully decorated, cosy and very well equiped. I particularly appreciated the fact that Heinz and Elvira had provided all the basics I would need in the kitchen - olive oil, spices, coffee, tea etc. The bed is very comfortable and the whole studio has an atmosphere of calm, which I found really restful. The only slight downside is that the bathroom is small and the shower is quite cramped, though this didn't bother me too much. The bathroom's outdoor location in the studio's private courtyard may also be an issue for some people, though I quite enjoyed it that way. The small town of Tarajalejo has everything a visitor may need - a good beach, supermarket etc. I would particularly recommend the watersports school in the big hotel on the beach. Non-residents can also use the spa in the hotel for 10 euros, which is an extra treat! Communication with Heinz, Elvira and Ibolya was great, both before and during my stay. They sent me clear advice on reaching the house by public transport, offered to take me to the local farmer's market on a Sunday morning and were quick to respond when I needed anything. It was a pleasure to stay with them :-)
Lyndsey
2015-12-19T00:00:00Z
The studio is simple but very nice and with character. We enjoyed the backyard facing the desert, and the proximity of the beautiful beaches of the Costa Calma. But we didn't meet Elvira and Heinz, as they were travelling at the time. If you are expecting "local" human contact, tips or meeting new people, maybe it is not the best place. But we would recommend it if you are looking for something cosy and nicer than all the unpersonal tourist locations in the area.
Léna & Erik
2014-02-19T00:00:00Z
Our stay in the apartment of Elvira and Heinz was very comfortable and cozy. We were very delighted of the atmosphere of the apartment . It neighbor on the apartment a really sweet courtyard to eat and also a great terrace where you have a breathtaking view. The kitchen had all that the heart desire: kitchenware, coffee machine or herbs everything there. The bathroom is an external one, what contributes more to the great charme of the room. Elvira and Heinz live next to the apartment and they where two very lovely and friendly persons who where available all the time when we had problems or questions. The house is located on A little hill in tarajalejo and you need around 10 min. To Walk To reach the nice promenade of tarajalejo. It is a little cute town which is not too touristic . Really nice stay and it was perfect to stay there few days in the south of fuerteventura. Thank you :)
Robert
2016-04-09T00:00:00Z
Amazing, magical place ! We loved it !
LUKASZ
2015-05-07T00:00:00Z
In a very quiet area of Fuerteventura, we had greatly appreciated the intimacy that this place gave to us. Nice view of the desert!
Nicolò
2015-07-01T00:00:00Z
Room Type
Entire home/apt
---
Property Type
House
---
Accommodates
2
---
Bedrooms
Tarajalejo, Canary Islands, Spain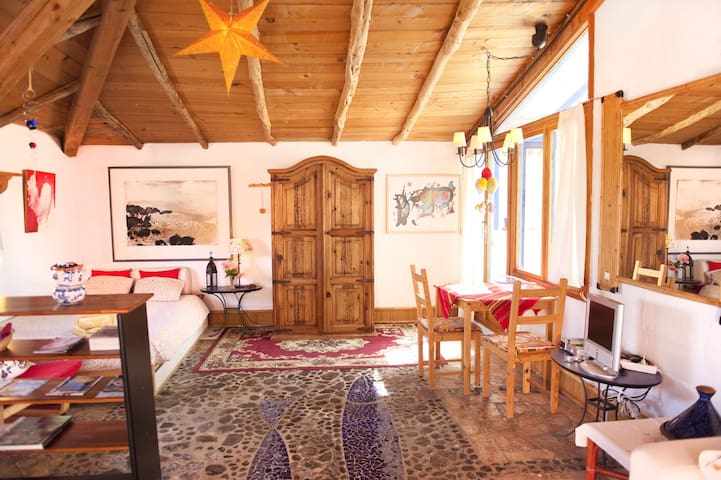 ideal for a quiet vacacines with sea views house. It is in Tarajalejo, a small fishing village. Tarajalejo beach is black sand with a nice avenue for walking. With restaurants, pubs and supermarket
Their views and tranquility. Has room for adult comfortably accommodate 5 people plus baby
Tranquility, security and its beautiful beach.
We have spent a great stay in Inma's flat in Tarajalejo. The flat is very proper, quiet and well located. Inma was very available when we needed help or advices. Nice place to spend some holidays.
Vincent
2016-08-10T00:00:00Z
My girlfriend and I stayed at Inma's place for a week and didn't want to leave. The apartment has practically everything you could need (including great wifi, washing machine, fully equiped kitchen) and a great terrace with fantastic uninterrupted views down to Tarajalejo and the coastline. You can walk down to the beach in around 15 minutes, and there is a wonderful restaurant down there, right on the seafront, called La Barraca. There's also a small supermarket. A car is useful if you want to see the rest of the Island though. Communication with Inma was very easy and quick - we didn't get the chance to meet her but she was always available online.
Megan
2017-01-06T00:00:00Z
The house is amazing and Inma is a wonderful guest. Ready to help and give feed back to our requests.
Andrea
2016-08-04T00:00:00Z
Imna was a great host. The apartment was clean and well equipped as well as nicely decorsted. She made us feel at home making sure we had all the essentials and more when we arrived. We had a wonderful time, thanks Imna.
Noelle
2017-03-30T00:00:00Z
Le logement est trés agreable, la vue belle, le salon d'extérieur trés agreable
Roseline
2017-01-24T00:00:00Z
Muy recomendable y muy buen trato por parte de Inma. Hemos estado muy bien en el apartamento, está genial, con todas las comodidades y muy bonito. Además la zona es muy tranquila y agradable. Repartiríamos sin dudarlo.
basili
2016-08-15T00:00:00Z
Notre séjour chez Inma a été parfait. Le logement conforme au descriptif . Calme. Et il est très agréable de petit déjeuner avec la vue sur l'océan. Tarajalero est village tranquille. Le café en bord de plage est très agréable. La communication avec Inma a été parfaite malgré que nous l'ayons pas rencontré. Logement recommandé si on préfère les villages traditionnel aux grandes stations balnéaire des canaries :-) Merci Inma.
Nicolas
2016-11-19T00:00:00Z
Je n'ai pas eu le plaisir de rencontrer Inma que j'ai eu par téléphone uniquement. Elle m'a semblé très sympathique et m'a bien conseillée. L'appartement est neuf et conforme à la description et aux photos. Il est bien équipé. Il est à quelques minutes en voiture du centre de Tarajalejo, ce qui est très pratique pour les visites.
Eva
2016-10-16T00:00:00Z
Room Type
Entire home/apt
---
Property Type
House
---
Accommodates
5
---
Bedrooms
Tarajalejo, Canarias, Spain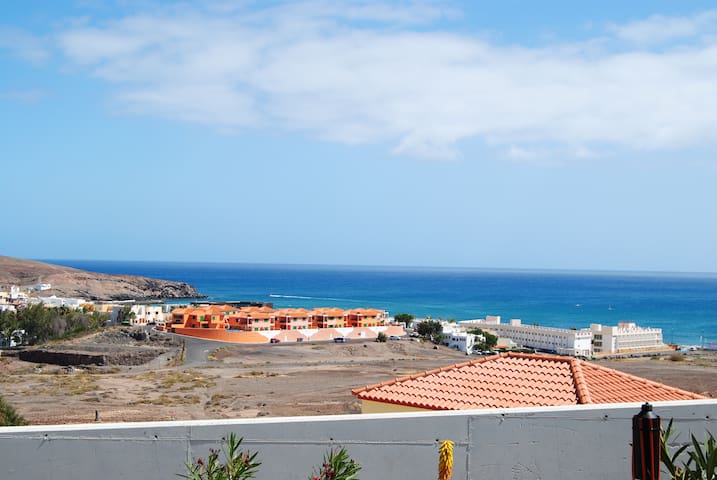 house for all the explorers and water lovers. The best in the house is the atmosphere. You can feel the Fuerte surf vibes. In the house there are 2 private rooms. In each room 2 persons can sleep. One room couple bed, other room two single beds. Good music in the living room - where you can relax. Towels, bed sheets are in the rooms and in the kitchen there are spices. Every Wednesday you can join also workout at 19:30 on terrace.
Enjoy the friendly atmosphere and beautifully landscapes on Fuerteventura. We like to move a lot- that's why the space is made for free movement. There are sunbeds, grill area (outside kitchen), parking space, space where to play some friends games, cinema proector, music plug in, small LIBRARY!
My neighborhood is unique, because has very good restaurants and bars. It is local and you can feel the local vibes, which is actually hard to get somewhere else on Fuerte. Very near (5min walk) is a sea promenade where you can walk or run or just sun bath. Also near is a basketball courte (WE HAVE A BALL) and you can play with us or alone. There is also outdoor fitness. Near is supermarket SPAR and some souvenirs shops. And very, very good beach bar with coctails.
What a lovely relaxing house with two nice host! They where very friendly and we felt very welcomed to share their home. We could use the kitchen and everything. We also loved the location, not too turistic like other parts of Fuerteventura. There is a lovely restaurant (forgot the name) in the villige, You have to reservate for a day before if you want a tipical dish (paella/fresh fish), make shure you do this! Oh yeah, Shake is awesome dog :)
Ellen
2016-10-12T00:00:00Z
Unfortunately I did not meet the host, a friend of him welcomed me into the house. The rest of the stay I basically was on my own in the whole house. (Not that I had any problems with that :) ). The location of the house is quite good, beach can be easily reached via foot, with good restaurants and cafes. Parking is always enough available, quiet nice neighbourhood (as far as I can tell). The only real bad thing was Internet availability. But this seems to be a problem of the whole area, just get yourself an Orange or Vodafone SIM Card and you should be fine. (Or visit the Dixon Cafe which seems to have the best Wifi in Tarajalejo)
Herbert
2016-12-06T00:00:00Z
If you are looking for a chilling place for your surf or windsurf or just relax nature holidays, then it s the right place, and for a perfect price ;) ... the house is well located, you have all the basic you need + a barbecue grill and a small pool, and the Bushman's couple, and their quiet dog and lill cat are rally friendly and nice people... I recomend it for those who dont need a 4 stars all-in hotel but a warm place to feel home ;)
Sébastien
2016-03-26T00:00:00Z
This beautyfull surfing-house was really a home for me. The hosts are very friendly, funny and open-minded. Good vibrations at all!! I highly recommend to stay here. Everything was in a good shape and very clean. Thank you so much! :)
Tobias
2017-02-13T00:00:00Z
Very friendly. A quiet and cozy place. :)
Justinas
2016-08-20T00:00:00Z
Had a really good time. Thank you
Jurij
2017-01-09T00:00:00Z
The host canceled this reservation the day before arrival. This is an automated posting.
Edijs
2017-04-13T00:00:00Z
Cool
Aurélie
2017-03-10T00:00:00Z
Room Type
Private room
---
Property Type
House
---
Accommodates
4
---
Bedrooms
tarajalejo, Canarias, fuerteventura, Spain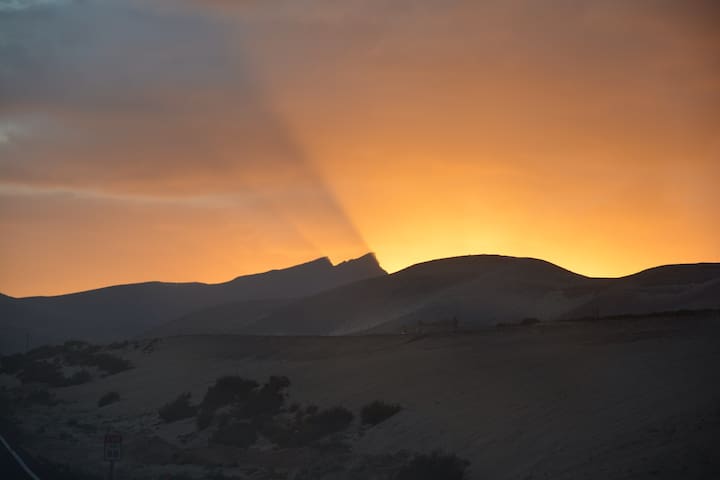 My place is close to the beach, restaurants and dining with local food. 15 min to the windsurf, kite spots. 15 min to the surf spot. 10 min to really beautiful beaches on Fuerteventura.. You'll love my place because of the ambiance and because there is always something to do.. My place is good for couples, solo adventurers, big groups, and furry friends (pets).
Very friendly and nice people. The house is nice and clean. A very nice moment there.
Camille
2017-01-22T00:00:00Z
The host canceled this reservation 55 days before arrival. This is an automated posting.
Sandro
2016-09-11T00:00:00Z
ok
Montis
2016-11-20T00:00:00Z
The host canceled this reservation 2 days before arrival. This is an automated posting.
Mikael
2016-09-11T00:00:00Z
The host canceled this reservation 2 days before arrival. This is an automated posting.
Sabrine
2017-03-18T00:00:00Z
Super relaxed atmosphere, convenient location next to the road shops and beach. Amazing place!
Fabian
2017-01-09T00:00:00Z
The hosters are quite friendly and helpful. The place very quiet and comfortable. I have stayed very happyly there. My only recomendation would be to increase a bit the fee but include the wifi in the room.
Ana
2017-01-07T00:00:00Z
What a wonderful hosts! I ragazzi ci hanno accolto in casa come vecchi amici, invitandoci anche ad una cena tra loro. In casa l'ambiente è molto familiare e rilassato. La stanza è arredata in modo simpatico, la cucina è superaccessoriata. Gli spazi esterni ed il salotto sono grandi e curati. Abbiamo trovato ciò che ci si aspetta da Airbnb: la privacy di una stanza privata e la convivialità di una casa condivisa. A presto!!
Marta
2016-12-20T00:00:00Z
Room Type
Private room
---
Property Type
House
---
Accommodates
4
---
Bedrooms
Tarajalejo, Canarias, Spain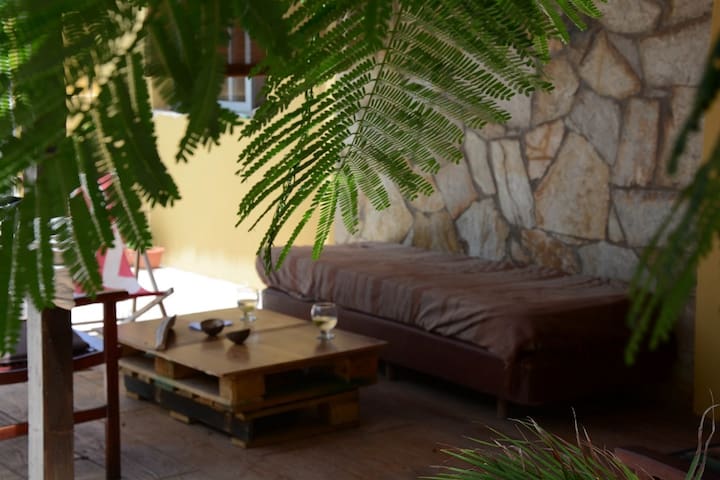 Amplia vivienda/duplex en un complejo familiar a pocos pasos del mar.
Se encuentra a 100m de la playa. Zona muy tranquila. Perfecto para relax.
Pequeño pueblo pesquero de pocos habitantes. Zona muy tranquila donde disfrutar del sol y el mar.
The host canceled this reservation the day before arrival. This is an automated posting.
Yvon
2016-03-15T00:00:00Z
The host canceled this reservation 17 days before arrival. This is an automated posting.
sara
2016-10-18T00:00:00Z
La Lajita está cerca de Morro Jable y Costa Calma. Tiene Playa de arena negra. Zona tranquila a 6Km del ambiente turístico. El alojamiento es un adosado, terraza con vistas al mar. Habitaciones y salón amplias. Aunque hay transporte publico, alquilamos un vehículo para salidas nocturnas. José es un anfitrión espléndido, nos ayudó mas allá de lo necesario para procurarnos una estancia agradable en su casa, implicándose en problema ajeno a la vivienda que nos surgió. Gracias, José.
manuel antonio
2016-08-13T00:00:00Z
Muy contentos. El apartamento es muy amplio y cómodo, y muy bien situado. Gracias!
Liliana
2016-12-30T00:00:00Z
La casa se ajustaba al anuncio. Era una zona tranquila, perfecta como campamento base para moverse por la isla. El anfitrión se ha portado de manera excelente, dándonos todo tipo de información y cubriendo cualquier necesidad que tuviésemos.
Iker
2016-04-01T00:00:00Z
Molt bona experiencia en casa aparellada molt amplia i ubicada en població molt tranquila, amb els serveis bàsics. Amb conexió wifi molt correcta.
Joan Carles
2017-01-04T00:00:00Z
La casa se ajusto al anuncio. Una zona tranquila, perfecta para moverse por el sur de la isla. El alojamiento era muy amplio, con 3 terrazas geniales y estaba a escasos metros de la playa. Excelente acogida, me dieron toda la información sobre los mejores lugares que visitar y se ofrecieron a ayudarme con cualquier necesidad. La única pega es que durante mi estancia Internet no funcionaba.
Juan
2017-03-25T00:00:00Z
Room Type
Entire home/apt
---
Property Type
House
---
Accommodates
4
---
Bedrooms
Pájara, Canarias, Spain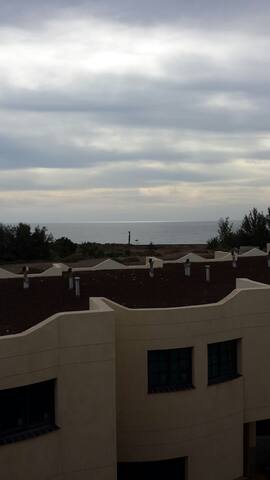 The apartment is comfortable and close to the beach (15 minutes walk) in a quiet residential area. It has got a nice private terrace and all the amenities needed for short and long stays.
Quiet apartment in quiet residential area with private terrace and all the amenities
Quiet and residential area. Locals live here with their families and dogs
The host canceled this reservation 36 days before arrival. This is an automated posting.
Dhiradj
2016-11-12T00:00:00Z
Der Ort und die Ferienwohnung ist sehr schön, die Wohnung sauber und der Ort ruhig. Die hier angesprochenen Hunde haben wir auch gehört aber es hat nicht ansatzweise gestört. Die Betten sind von der etwas härteren Sorte aber auszuhalten. In der Küche ist alles notwendige vorhanden (Kaffeemaschine, Toaster etc.). Die Wohnung ist sehr hellhörig, aber wir hatten ruhige Nachbarn. Alles in Allem hatten wir einen tollen Urlaub und würden wieder kommen.
Maria
2017-01-07T00:00:00Z
Room Type
Entire home/apt
---
Property Type
Apartment
---
Accommodates
4
---
Bedrooms
Tarajalejo, Canarias, Spain
Independent chalet You'll love my space for details of the house, the tranquility of the area, by the nature of the place, landscapes The Villa is located in a perfect spot for relaxation and tranquility, a fishing village that has a beach and recreational place, sports such as windsurfing, fishing, swimming, diving etc. A beautiful avenue along the beach. 10 minutes is Costa Calma.
The Villa has: Living room, bar, sofa bed, decor largely complete with original works Kitchen: fully equipped with household goods, small appliances, refrigerator dishwasher, microwave, oven, induction cooker, grill etc. Solana: with laundry room, washing machine, iron, ironing board, vacuum cleaner etc. Indoor and outdoor pantry closet. All rooms are equipped.
This house is much better than I expected... Everything very good quality in the furnishings, bedding.etc....very well equipped with all that you need for a comfortable stay...a lovely touch to have wine and fruit on arrival! Also loved how peaceful and quiet the area was. Beautiful garden to relax in when not visiting the amazing beaches within 15 mins drive..also loved the local beach and will miss our daily walk along the prom! A fabulous stay,and Raul was very helpful and responded to any messages very quickly..thank you Raul! Would like to return again.
Tricia
2017-03-25T00:00:00Z
Room Type
Entire home/apt
---
Property Type
House
---
Accommodates
4
---
Bedrooms
Tarajalejo, Canarias, Spain
Mein Zimmer ist in der Nähe von Strand und Restaurants und Lokalen.
wonderful stay there it was a pleasure from the start to the end! thanks for everything! what a nice and welcoming team! th house is great and well located.
Brice
2016-11-16T00:00:00Z
very beautiful big house, breakfast is good. Tarajalejo is close to the beautiful beach cofete. Tarajalejo is near the very good restaurant "La Falua" in Lajita
Donati
2017-01-15T00:00:00Z
Buon alloggio, casa confortevole e in zona tranquilla, a poca distanza dal paese e dalla spiaggia.
gabriele
2017-02-06T00:00:00Z
Nous avons passé un bon moment,dans une maison très agréable, une chambre lumineuse et petit déjeuner au petit soin...
jean claude
2017-03-14T00:00:00Z
Room Type
Private room
---
Property Type
Bed & Breakfast
---
Accommodates
2
---
Bedrooms
Tarajalejo, Canarias, Spain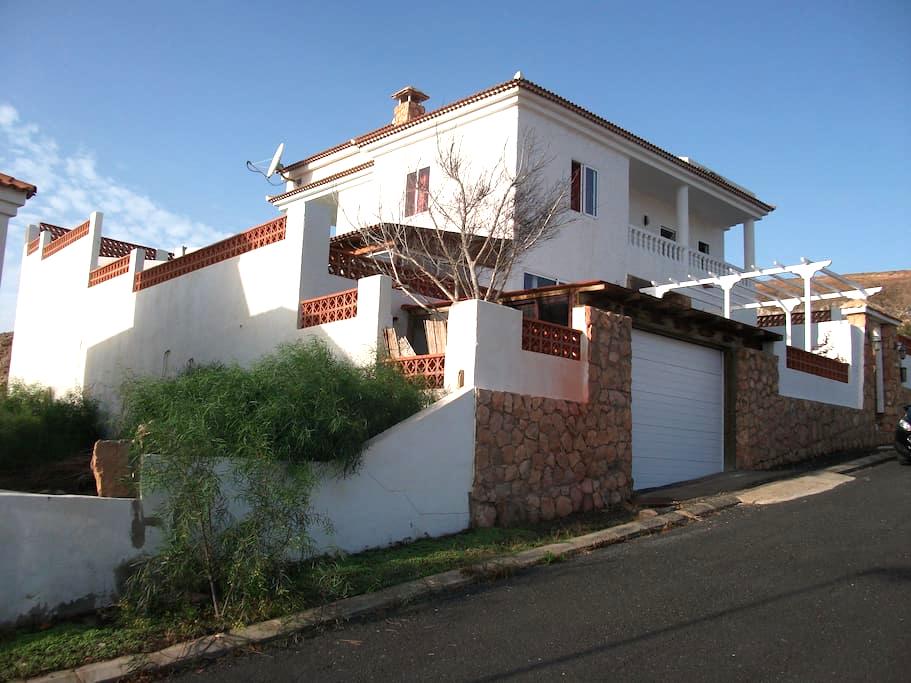 Two-storey house with two terraces, located in the center of town and 30 meters from the beach. The upper floor has 2 double bedrooms (one with terrace and sea views), one single and a bathroom. On the ground floor, large fully equipped kitchen, living room, bathroom and terrace with garden furniture and barbecue
Tarajalejo is a small fishing village which boasts a magnificent beach, a small fishing pier, where you can also practice some water sports, though small tarajalejo has several services (supermarket, cafes, bars, restaurants to eat fresh fish to the shore the sea and 30 meters from the house.
We really enjoyed our stay in Tarajalejo. The accommodation was as listed. Lovely outdoor spaces. Good communication from host. Would recommend.
Patrick
2017-01-02T00:00:00Z
Habitation très propre et conforme à la description, pas de mauvaises surprises. Manuel a su apporter toute son attention pour que notre séjour soit le plus agréable possible. Encore un grand merci à lui. Du point de vue logistique vous trouverez tout dans le supermarché se situant juste en face. Allez voir le boucher, il a passé toute sa jeunesse à Arles et parle parfaitement le français :). Enfin, si vous visitez le musée du fromage à Antigua, n'hésitez pas à faire le plein de fromages de chèvre (4€ au lieu de 26€ à l'aéroport!) Bon séjour .
J Pierre
2017-02-24T00:00:00Z
Ein schönes, sehr gut ausgestattetes Haus, genauso wie in der Beschreibung. Die große Küche lädt zum Kochen ein (Induktionsherd + Spülmaschine) und die davorliegende Terrasse, mit ausreichend Gartenmöbeln, zum Beisammensitzen. Im Wohnbereich gibt es 2 bequeme Ledersofas und einen großen Fernseher mit dem man auch wunderbar Musikhören kann. Ebenso ein gut funktionierendes WLAN. Von dem Balkon im ersten Stock und der Dachterrasse hat man einen schönen Blick auf den Dorfplatz und das Meer. Der lange Sandstrand, ein gut sortierter Supermarkt, Bars, Restaurants alles ist nur wenige Schritte entfernt. In Tarajalejo wohnt man abseits vom Massentourismus und es ist ein guter Ausganspunkt, um die Insel zu erkunden. Der Besitzer ist sehr freundlich und hilfsbereit, An- und Abreise haben perfekt geklappt.
Sabine
2017-02-06T00:00:00Z
Muy cómodo y fácil de encontrar. Esta en una zona tranquila de la isla, a medio camino entre el norte y el sur. Ideal si quieres un sitio tranquilo con todo lo necesario alrededor, y luego tienes un coche para moverte. La casa en sí muy bien, éramos 5 y hemos estado perfectamente.
Fer
2017-02-15T00:00:00Z
Просторно, прекрасный балкон (с хорошим видом на океан) и великолепные террасы. Полностью оборудованная кухня и рядом супермаркет. Свободные места для парковки. Хорошее место для уединенного и размеренного отдыха на острове.
Sergey
2017-01-12T00:00:00Z
Room Type
Entire home/apt
---
Property Type
House
---
Accommodates
5
---
Bedrooms
Tarajalejo, Canarias, Spain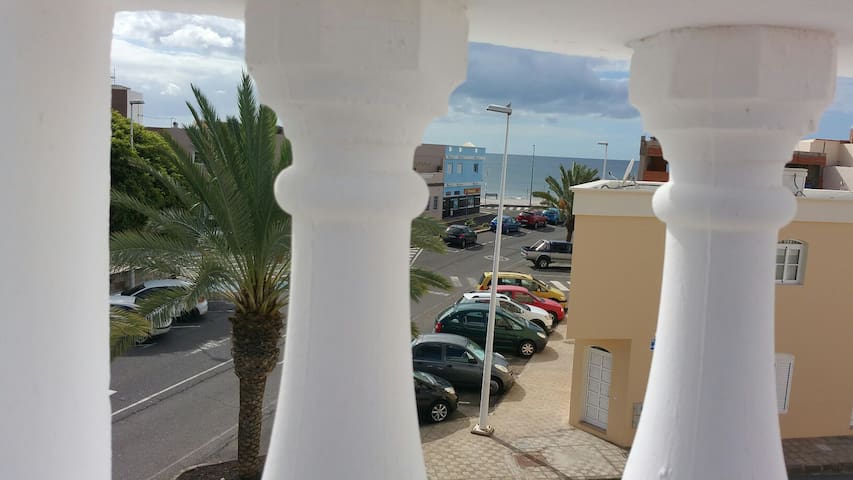 My house is near the park, the city center, public transport and nightlife. You'll love my guest for a cozy and very large living space. My accommodation is good for couples, solo travelers adventurers, families (with children), large groups and furry friends (pets). I speak German Polish and a little English.
Room Type
Entire home/apt
---
Property Type
Bungalow
---
Accommodates
6
---
Bedrooms
Tarajalejo, Canarias, Spain