Private quiet apartment near Auburn, CA. One Bedroom apartment in the lower level of our house with separate entrance. New bathroom, Cal King Tempurpedic, and two Full's, small fridge, Gas Stove, microwave, TV,and Internet. Enjoy the Pool with a View! $729. per week.
Enjoy our downstairs area of our home which we have converted into a two room apartment with it's own entrance. Relax at the pool with a great view of the trees and wildlife. Comes with a gas stove, microwave, toaster, coffee maker and small fridge. Gas and wood BBQ to use as well. Some of the latest movies on DVD, Cable TV with 100 channels, Very Fast Internet at 75mbs Prices include 8% Occupancy Tax Free bottle of wine with your stay! Just one mile away is Christina's American Bistro serving Breakfast, Lunch, or Dinner. We also have a grocery store, pharmacy,, and pizza parlor in Meadow Vista. If you love wine, Bear River Winery is just a half mile away. Many other great boutique wineries near by. Plenty of activities like Gold Panning, Golfing, Fishing, and Kayaking on the American River. Auburn is the endurance capitol of the world and hosts the Tevis Cup and the Western States 100 mile run. Old Town Auburn offers some great dining and Micro Brewery's. We love our community of Meadow Vista and enjoy our charming small town. We're around two thousand feet in elevation. The pine trees are amazing. and smell wonderful. Feels like you are coming home to a private retreat. Located only five minutes from I-80 and only ten minutes from Historic Auburn , California. We have a Pillow Top Cal King in the bedroom, and two Full size beds in the living room. Normal Check in is at 3pm, and check out is noon. We are flexible with those times if scheduling permits.
Near Auburn, California, Colfax, CA, Forest Hill, CA, Cool, CA, Georgetown, CA. The Gold Country is a great place to visit with a lot of activities for any lifestyle.
Dave and his wife waited up for us when we showed up late and made sure we were settled in. Also had a bottle of wine in the room - definitely made us feel welcome! The home itself was very nice, we highly recommend it.
Adam
2015-09-07T00:00:00Z
From the multiple fluffy towels, warm and comfortable bedding, new pillows and lightly stocked kitchen, we were blown away by how nicely setup this Airbnb was prior to our arrival. They even childproofed the pool area! Our hosts were very friendly and made the place like a home away from home. So much so, that our 4-year-old started calling it our vacation house and his cousin did too. They enjoyed watching the kid-friendly movies provided for them and the space to run around inside. Kari helped us gather what we needed to make the kids a toasty fire the first night and gave us a great orientation to the Airbnb. The space felt larger than the photos provided. We'd recommend anyone with a small family passing through en route to the snow or looking for a quiet vacation getaway in the summer to Dave and Kari's place.
Malyn&Rafael
2016-02-15T00:00:00Z
What a wonderful place to stay! Clean, quiet, and in a great location. Dave an Kari were wonderful hosts! Thanks for a relaxing place to stay!
Mick and Jen
2016-06-28T00:00:00Z
Dave and Kari we're beyond excellent hosts. In all honesty, my friends and I we're booking a place last minute and just needed somewhere to crash, but Dave and Kari's beautiful apartment and generous hospitality convinced to hang out longer, even have a full movie night. When we arrived at the space after a full day of cross country skiing, my friend's first comment was, "Damn, this is the nicest airbnb I've ever stayed at". We we're just settling down for dinner when we received a call from Dave asking if everything to was our liking, to which we answered and invited him and Kari down so we could meet. We ended having a lovely conversation with them both, Kari even recommended one of the most beautiful hiking trails I've ever seen. All-in-all, my friends and I had a lovely stay and would definitely recommend all of our friends to stay with Dave & Kari. I may even come back during the summer season to stay here again!
Nick
2015-12-22T00:00:00Z
The listing was not accurate. IT WAS BETTER THAN PORTRAYED :). I'm so happy I stayed here. I could have so easily boarded in some institutional hotel but wanted a different experience. That is the beauty of Airbnb-it's more than the lodging, it's the experience. Dave and Kari were so incredibly accommodating I loved how they both met me upon my arrival, stayed in close contact with me through my questions and correspondence and literally everything promised was delivered. When I would email a question, they would CALL me in order to ensure my questions were answered. Their place is AMAZING. It's super-clean, super comfortable, and the pool was a perfect little mecca in the midst of the forest. I visited Auburn, Folsom, Forest Hill, and Cofax and allw ere within driving distance with little to no traffic. I say this because anyone can stay in a hotel but this was so wonderful and totally commutable, not some place in the sticks off the beaten path. On the contrary, it was ultra cool, totally comfortable and wonderful and pretty much fantastic. Highly recommended.
Jill
2015-07-21T00:00:00Z
We had a wonderful stay at the "Gold Country Private Retreat". Dave, the owner, met us when we arrived and showed us the living space. He also provided great recommendations on restaurants. We went to breakfast at Katrina's and he was right the food and service was great. The stay itself was just what we needed and the place was just right. We highly recommend you stay here when you are in the Auburn area.
Mark
2015-05-19T00:00:00Z
Dave was communicative, accommodating, and very helpful. The space was cozy, comfortable, and well appointed! We loved it and hope to go back again - was a great in-between point between SF & Tahoe so we could reduce the driving on both ends but get in a nice day at Donner.
Divya
2017-01-16T00:00:00Z
Dave and Kari greeted us and showed me around the apt. It was just what we needed for our stay. Everything was clean and all I had expected. I highly recommend this apt. Very quiet too.
Cheryl
2015-11-28T00:00:00Z
Room Type
Entire home/apt
---
Property Type
House
---
Accommodates
4
---
Bedrooms
Meadow Vista, CA, United States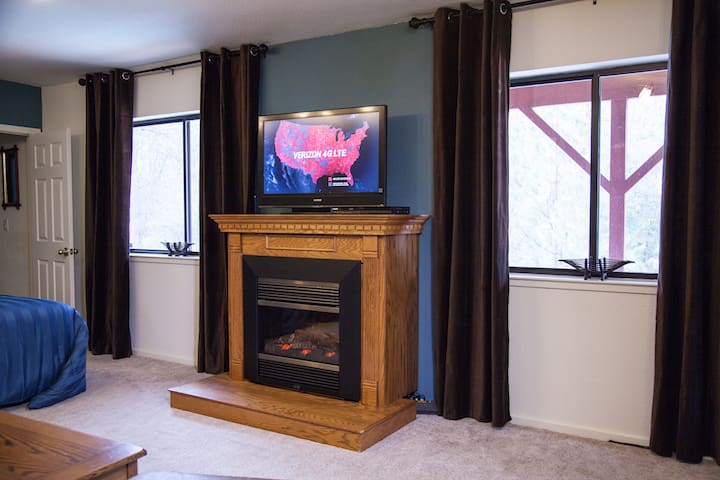 Just fully remodeled, this home offers a clean modern twist in a quiet country setting. It is an amazing getaway for a family, or an individual looking for the ultimate retreat away from daily life. This is a vacation home - not private residence.
The second you walk in to the house, you'll be greeted by high vaulted ceilings and a beautiful newly remodeled, modern kitchen with a large island for friends and family to gather around. The kitchen is fully stocked with everything needed to make a gourmet meal- you just need to bring the ingredients. Your morning coffee is provided- you have your choice to make a cup of drip, French press, or good old fashioned coffee maker. There's also a bedroom (Queen bed), bathroom, and access to the spacious yard. Upstairs, you'll find a large master suite with a Cal-King bed/mattress and an attached bathroom and private deck. Next door to the master is a small bunk room with twin bunk beds. There's also an open TV room / game room, equipped with wireless internet and AppleTV for your entertainment. During the warm summer months we put a bed outside on the sleeping porch. There is a full size aero-bed with bedding and a portable crib in the closet down stairs.
The neighborhood is quiet and peaceful, allowing you to fall asleep on some nights to the soothing sounds of crickets and frogs. You are only a 2 minute drive away from a grocery store, restaurants, and parks. So you really do get the best of both worlds here: isolation, quiet and a big property to roam around - with lots of nearby hiking options, or if you want a bit of the feel of small city life, you are just minutes away.
Sarah was great at checking in with us to make sure everything was going well and even made some suggestions on what we could do in the area. We had a very relaxing weekend outside of the city. The home was very spacious and accommodating. I thoroughly enjoyed being out in nature and being able to really relax.
Chris
2016-06-20T00:00:00Z
Sarah was easy and fast when it comes to communication beforehand. She answered all my questions and assured that we find the place in the dark. She also left flowers and a bottle of wine on the counter which was really sweet.
Julia
2016-04-15T00:00:00Z
The house was very clean and had everything we needed (except for microwave, but it was not big deal!). It is at a very good location, away from the city, a very relaxing environment. There is a small pond by the house and also deers as neighbors! The description matches the house accurately. We were able to enjoy the fire pit, bbq and hot tub! Had an amazing time!
Pralisa
2016-12-18T00:00:00Z
It was quite an amazing house. Very quiet, spacious, and had every tool/amenities we wanted. We had a very enjoyable and relaxing stay here, and would definitely return in the future.
Allen
2016-08-22T00:00:00Z
This home is unreal! The location is beautiful, and Sarah thought of everything :-) My favorite memory of the weekend: I enjoyed a nap in the hammock. Sarah was an extremely hospitable and communicative host. I hope to visit again!
Belinda
2016-06-27T00:00:00Z
The house and our stay were amazing, could not have been better. It was better than described and it was truly our home away from home. Clean, inviting, full of amenities and comforts. The kitchen was fully stocked with every thing we needed for a gourmet week including a gas grill. Wifi was fast and reliable. It is located minutes (literally 2 minutes) from an amazing grocery store. The list of instructions left for us was clear and well thought out and put us in good condition to start the week. Sarah (owner) was totally responsive to all of our needs including providing some toys for our 2 year old and Liana (property manager) was close by and very helpful. This house gets our highest recommendation. I just wish we could upload our own pictures to show you how happy we were and what a great time we had.
L. Brent
2016-06-01T00:00:00Z
Wonderful home in a beautiful location - perfect place for my students who were in the area for a rotation. Internet connectivity was excellent - which was very important to them. The only glitch was a short power outage one day due to bad weather - not something the host could control at all!
Peggy
2017-02-24T00:00:00Z
Easy, comfortable place to stay. Secluded but not far from shops. Quiet. It was a great place for the family to get together.
Richard
2016-12-29T00:00:00Z
Room Type
Entire home/apt
---
Property Type
House
---
Accommodates
8
---
Bedrooms
Meadow Vista, CA, United States
Come enjoy our entire home situated in a quiet area of the foothills in the majestic Sierra Nevada Mountains. It's on 1 a acre parcel with towering pines and oaks. Barbecue, dine in the beautiful greenhouse, or swim and lounge by the pool.
Airbnb has changed their booking procedure regarding children up to age 2. We are happy to host infants under the age of 1 for free. Any guest over the age of one is counted as a full guest. We have lots of amenities for toddlers! We have 4 bedrooms, 2 bathrooms, and a bonus room for the 9th and 10th guests. As well as a foam mattress for an 11th guest in a common space. We stay in the house in a separate apartment at the front of the house but stay out of the way during your stay (we do not enter the house while you are with us unless invited). Our entrance is separate from yours and our apartment is not connected to the house. We will be parking in the garage and possible you will see us walking from the garage to our apartment on the front end of the house. The upstairs Suite has 3 bedrooms and one bathroom. The downstairs suite has one bedroom, one bathroom, and a large family room with a big screen TV. The bedroom configuration is: Upstairs Suite Bedroom 1- Queen Bed Bedroom 2- Two Single beds and a "toddler bed" Bedroom 3- Queen Bed One bathroom with a walk-in shower Downstairs Suite Bedroom 4- Queen Bed One bathroom with a tub/shower Family Room (can be used as a 5th bedroom for guests 9 and 10)- A Queen size air mattress can be set up. This mattress inflates to sitting height and has a built in headboard, it is not flat on the ground. It is a top of the line air mattress. There is also a foam mattress for an 11th guest in a common space. We do not rent the Suites separately, so if you book the property, you will be the only guests. We do not smoke and our entire property is non-smoking. Lingering smoke smell on bedding may incur extra cleaning charges after your departure. We are not able to host your pets. Pets of family and friends may not visit. If you invite guests to visit for meals or plan to host extra guests for an event there will be an extra cleaning charge.
You can enjoy two forks of the American River, gold discovery and mining sites, day trips to Lake Tahoe, the Napa Valley, or San Francisco. We are also a large wine production area with more than 30 wineries within 30 minutes of Sunrise House.
A group of friends and I did a trail race near Auburn, and we rented Don and Kathy's house as a home base/landing spot for the weekend. It ended up being the perfect spot. Their lovely house is big!, with multiple large common areas and a big kitchen--there were 9 of us total, and there was more than enough room for us to gather together and/or have our own space as needed. Don and Kathy couldn't have been nicer, and had lemonade, homemade cookies, and a big bowl of fresh fruit waiting for us upon our arrival. There is a big backyard and a pool that would be perfect for outside hangouts during the summer months. Don and Kathy were there over the weekend, staying in their master suite, which is a bit separate from the rest of the house, so we had our privacy, but they were available to help with questions if anything came up. Such a lovely spot, it made our race weekend easy and relaxing, and a super value compared to what impersonal cheap hotel rooms would have cost our group.
Lisa
2015-03-08T00:00:00Z
This is an amazing place. We first planed to go skiing, after we see the house, we decide to stay in the house and enjoy the place instead of go skiing, because it's so good
jian yu
2017-01-02T00:00:00Z
This place is amazing! Don and Kathy are very nice and helpful. Surely recommended!
I-Chun
2016-12-31T00:00:00Z
This venue was wonderful. My fiancé proposed to me here and the owners were super helpful. They took the time to understand what he wanted in order to make the night special and they provided wonderful service! We had a romantic dinner in the beautiful greenhouse (it even had a water fountain) and Kathy who made it! It was delicious and she even took the time to carve hearts into the butter for rolls and the raspberry cream on the chocolate cake's platter. After dinner they gave us a quick tour of the venue before retiring to their separate quarters –it was just the right amount of interaction. We didn't even notice they were still there It's a beautiful dream house and it has a library that any fan of Beauty & the Beast will admire (that's why my fiancé picked it). The owners left out a nice breakfast and the customer service was overall fantastic. Beds were comfortable and pool area was perfect for a hot summer night. Would recommend to anyone looking for a romantic getaway!
Timothy
2014-06-22T00:00:00Z
The pictures do not do this piece of HEAVEN justice!!! This was by far the best air bnb house I have every stayed in. I hosted a girls weekend there and I know that we all agree. We will be BACK! You won't find better hosts! Everything was perfect!!!
Jaclyn
2016-09-06T00:00:00Z
We had a wonderful time spending the weekend at Don and Kathy's lovely home. From the fresh cookies to the breakfast spread to preparing rooms for our arrival to giving us full use of their backyard, we felt welcomed and comfortable. There were a bunch of us gathering for a reunion weekend and the house was spacious enough to accommodate all of us while still feeling empty. Thanks for a great visit, we would love to come back and visit the next time we're in Auburn!
Sarah
2016-09-25T00:00:00Z
What a gift Don and Kathy have created not only for themselves but for the people they invite into their home. Although the house is large enough to sleep 10 very comfortably, somehow it still manages to feel cozy even for two people. My wife and I immensely enjoyed the setting, location, and size of the property. (And though they don't expect you to spend any time with their adorable cat, my wife couldn't get enough of her.) Don and Kathy have thought of everything, and they even had some food for us upon arrival. We cannot recommend their home highly enough and look forward to returning -- this time with friends.
David
2015-09-27T00:00:00Z
Don and Kathy's house was B E A Utiful. We have a group of 10 up for the New Year and we all fit comfortably. They have a wonderful property and the owners are sweeter than pie. I loved cooking is their spacious kitchen and we loved eating dinner out in the glass house. When I read the listing, it did sound like they were staying in a completely different building, but they actually stay in the main house in the front room. It was certainly no big deal and we never say them. I would stay there again, no questions asked. They were a nice drive away from SF and Sac, as well as a nice short drive from Tahoe. Thank you Don and Kathy for sharing your home. Best Solveig and Hans
Solveig
2016-01-03T00:00:00Z
Room Type
Entire home/apt
---
Property Type
House
---
Accommodates
11
---
Bedrooms
Meadow Vista, CA, United States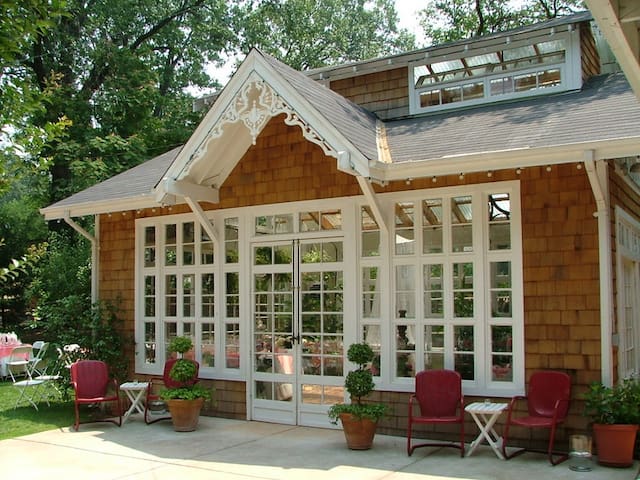 Enjoy the beauty and serenity of our green-built, passive-solar home, set on 4 acres of riverfront, with an island and swimming hole. A one bedroom apartment, w/ great room & full kitchen, a private covered lanai, & produce from our organic garden.
This is a one bedroom apartment on the ground floor, and includes: • 1 queen bed • 2 couches that fold out into double beds (Much more comfy than hide-a-beds!) We also have 2 double high queen air-mattresses, if you would prefer to keep the couches for sitting on. • Full kitchen • Bathroom with walk-in shower (no tub) • Covered lanai • Barbecue The walk to the river takes just a few minutes and is a 200' elevation change. The path is wide and switch backs a few times. We have a very friendly Australian Shepherd and 6 goats that are great entertainment! We might even have some goats' milk ice cream or hot raw cacao milk to share! We also have veggies and fruit from our garden to share, depending on the season. We are generally above the fog and below the snow during the winter months. With easy access to the mountains for hiking, skiing, etc. If you are interested in a RELAXING or HEALING RETREAT, I offer massage and therapeutic bodywork, acupuncture, medical qi gong treatments (Chinese energy work), and private and group qi gong exercise instruction, which is great to do by the river! At One River Medicine, we have a pharmacy of over 300 herbs on tincture and in bulk, and our own line of herbal teas. Please Note: * Please read house rules before contacting us. * The cleaning fee is $100 if there are more than 2 guests. * Holiday rate is $165 for up to 2 people, plus $25/person/night for additional guests. * Names and ID required of all guests that are not related to the booking guest. * Cell phones don't work well, if at all here. We do have a landline dedicated to the apartment. * Prices include 8% occupancy tax. * We are flexible about check-in and check-out times when the schedule permits.
We are in a rural community, yet just 10-15 minutes from Auburn. Meadow Vista has 2 parks. The bigger one has a paved walking path around a pond and ball fields, and a play structure and picnic areas. The smaller park has a swimming pool. We also have hiking/mountain biking trails which can be accessed just a mile or 2 from our house. The town of Meadow Vista has a grocery store, bank, post office, pharmacy, small café, and our wellness center, One River Medicine. Auburn has a lot more to offer for shopping, dining and theater.
A few friends and I stayed at the Bear River Retreat over 4th of July weekend. It was a magical experience. Linnie and her husband were so welcoming! We had an amazing time relaxing by the river, swimming the swimming hole and picking fresh veggies from their beautiful garden. I cannot recommend this pace enough and I can't wait to go back!
Ariel
2015-07-04T00:00:00Z
As a couple getting away from a big city and looking for a quite noise-free environment to relax for few days, we found this river-front place to be the exact match. Linnie and Tyron are the best hosts you could ask for. They offered us fresh vegetables and fruits from their garden, and let us pet the goats and the cute Australian Shepherd, named Bodhi. They also provided us with herbal teas, many different types, each for a different mood; very much appreciated. The house is super clean, and equipped with all you need for living. The river is magical; you walk for few minutes down a trail and find a super quite and secluded river to swim, fish, relax, etc. If you need to know anything about the area and activities, or need to learn how to fish, garden, milk goats, etc, you can ask Tyron; he is the nicest, with a super positive attitude. As far as activities in the area, rafting in the american river (class II and III if you're a beginner in the south fork), Samantha's ice-cream, and Linnie's herbal shop are recommended.
Naser
2016-07-05T00:00:00Z
Lovely week spent at Linnie's! The apt is clean and well provisioned, the setting is glorious, with access to secluded swimming holes, robust garden, the quiet bleating of goats and Bodhi, an adorable and engaging Australian Shepherd. Linnie and Tyrone were great hosts- definitely recommend!
Marcy
2015-08-14T00:00:00Z
Linnie and Tyrone's home and property are magical. The space is wonderful, the garden bountiful, and the energy is vibrant. We so appreciated being able to pick food form the garden everyday, hang with the goats and dog, and the unbelievable serenity of the river. Incredible swimming holes and sculpted rocks; we could have spent days playing around the river. To be so close to the bay and see no people on that river all day long, what a gift! Especially loved the generous selection of teas and remedies! Could not give any higher recommendation. Wonderful place, wonderful people, great vibes. As advertised and more!
Joshua
2015-09-07T00:00:00Z
Room Type
Entire home/apt
---
Property Type
House
---
Accommodates
4
---
Bedrooms
Meadow Vista, CA, United States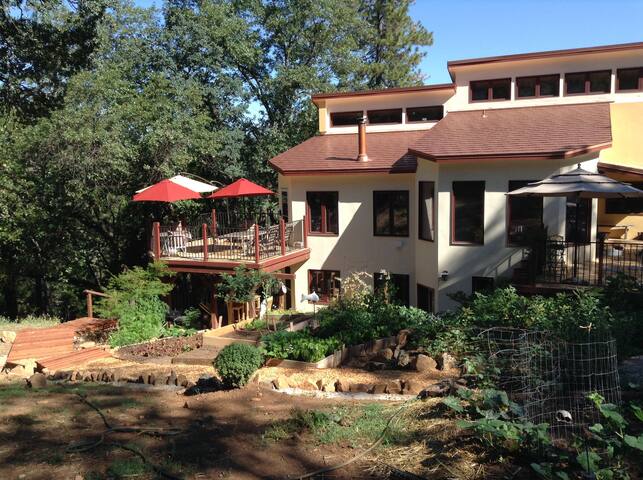 Private quite two bedroom with full kitchen. Surrounded with filbert, cedar and pine trees. Sleeps Six, Cal King Pillow Top, three twin beds and extra deep sofa. Full Stainless Steel kitchen with commercial gas stove. Large dinning table, fireplace, small Fire Pit, and charcoal BBQ. Just ten minutes north of Auburn, California. Three minutes from I-80 Applegate Exit, Gold Panning and many running and hiking trails in the area. Cable TV with 100 channels, Very Fast Internet.
Private house on six acres in the Gold Country. . Private quite two bedroom with full kitchen. Surrounded with filbert, apple cedar and pine trees. Sleeps Six, Cal King Pillow Top, three twin beds and comfortable extra deep sofa. Full Stainless Steel kitchen with commercial gas stove. Large dinning table, fireplace, small Fire Pit, and charcoal BBQ. Just ten minutes north of Auburn, California. Three minutes from I-80 Applegate Exit (Where the Chain Control is located). Come visit Old Town Auburn, many great wineries and Micro Brewery's. Kayaking, Gold Panning and many running and hiking trails in the area. Cable TV with 100 channels, Very Fast Internet. We have a smaller rental on the property if you are looking to book for more than six people: The Artist Loft: (URL HIDDEN) Free bottle of wine with your stay! Weekly Rate: $.925. Monthly $2925. Pets Welcome. We charge $50. plus Placer County Tax of 8%. Cancellation Policy: Full refund 14 days prior to arrival, 50% 13 days or less to arrival. Except VRBO fee's. Normal Check in is at 3pm, and check out is noon. We are flexible with those times if scheduling permits.
Dave's place is a nice little house in the woods. It's very close to highway 80 so it's really convenient to get to. It is only about 45 minutes to an hour to soda Springs so you can ski easily from there. We stayed there two nights in the winter and it was just fine it is clean and will set up including Wi-Fi and television.
pat
2017-02-24T00:00:00Z
This is a great place. I find that Manny times and I use airbnb alot is the host and hes willingness to resolve any inconvenience that makes for a great stay ..thank you dave
Jose
2016-10-31T00:00:00Z
Room Type
Entire home/apt
---
Property Type
House
---
Accommodates
6
---
Bedrooms
Meadow Vista, CA, United States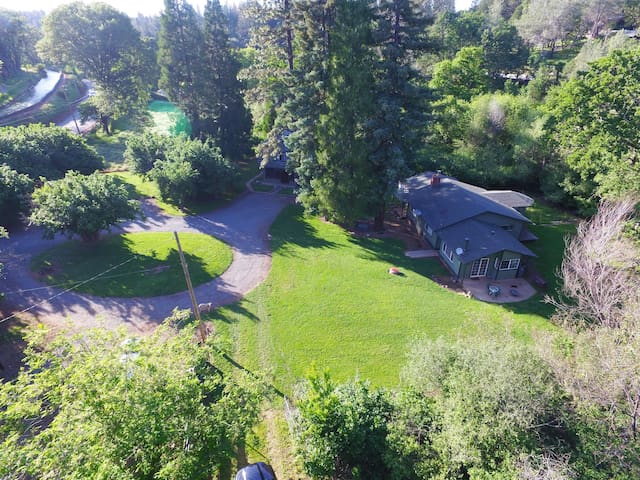 2150 square foot house on Lake Combie in the Sierra Foothills. Private Dock with boat rental/water toys available. Lake views from every room. Amazing, private 2 acre oasis. Beautiful remodeled master suite. Parking and sleeping for 6. Please note: Placer County charges an 8% transient occupancy tax for short term rentals. This will be due at booking, in addition to the cost shown by Airbnb.
The house sits on 2 acres, looking over Lake Combie.
Quiet end-of-street location
My husband daughter and I loved this get-away home! The house and location was perfect! We stayed there for 2 nights and spent most of the time at the lake. The house was clean, comfortable and felt like home. We cooked all our meals there and loved seeing all the birds. Our trip was blessed with a Golden Eagle perched on the tree outside of the mater bedroom. It was a beautiful way to spend a summer weekend together! Thank you Teel and Mike!
Susan
2015-06-21T00:00:00Z
Room Type
Entire home/apt
---
Property Type
House
---
Accommodates
6
---
Bedrooms
Meadow Vista, CA, United States
This ranch style single level home sits on 7 wooded acres with access to Lake Combie. Wooden floors and antique furniture give this place a homey feel. Care taker on site to assist with questions or problems. Open floor plan with hot tub and sauna.
Susan is a lovely lady. She had everything set up for an enjoyable stay at her home. The description is very accurate and the home and grounds are lovely. The lake is close by and is private. It is incredibly peaceful to go sit in the evening and relax on the dock. We went out almost every night. The interior is beautiful, I think it's kind of a mixture of mountain cabin and Italian Villa. Beautifully decorated. TVs work, cable, internet, coffee maker, extra linens, washer dryer, full kitchen, lots of seating for dinner, beautiful back porch, hot tub, deer in the back yard, everything is just beautiful. Really enjoyed our stay.
Lorraine
2016-07-08T00:00:00Z
This is a fabulous house! A hidden gem!! Everything is in working condition which is important to note. Wifi is stable. It's super spacious and quiet. Total lot size is 7 acs which equals to 4 standard size of soccer field (yeah it's BIG). I really can't tell where the backyard ends coz it leads to Lake Combie (very steep though both walking & driving but we succeed with 3 little kids). We had great time there kayak, reading and competing stone throwing. All 3 bedrooms are located at the end of hallway. Half bath is very close to front lobby which is useful during cooking/eating/chatting/gaming time. Master suite is top notch, shower, tub, double vanity, view, size, everything! The other 2 rooms share a bathroom which is not so convenient coz it got more than enough space to build another full bathroom (just my wish). Kitchen is very well equipped, we made several meals during our 2 nights stay. We also enjoyed soaking in the ready-to-use hot tub a lot, so relaxing after a long ski day! P.S, (1), there is a tenant living in the next in-law suite (separate entrance). He's also a care taker if you need any help. (2), there is only old school tv, so we actually didn't watch any.
Gigi
2016-02-14T00:00:00Z
We thoroughly enjoyed our stay and the house was very spacious and kid friendly! Wifi was great and the main tv has a roku (though no cable) but the family room tv has cable so it was convenient to have kids in one room and adults could watch something else in the other room. There's plenty of dining space between the formal dining room and the breakfast table and counter. The tree swing in front yard was an added bonus for the kids!
Michelle
2017-01-01T00:00:00Z
We loved our stay in this lovely peaceful home! We loved the comfy beds, the hot tub, etc. We want to come back! This is such an amazing view of the countryside. Thank you so much for offering your home as a vacation rental! It provided a wonderful vacation for us as we celebrated my mother's 95th birthday. We cant wait to come back!
Zoilita
2016-12-13T00:00:00Z
Room Type
Entire home/apt
---
Property Type
House
---
Accommodates
8
---
Bedrooms
Meadow Vista, CA, United States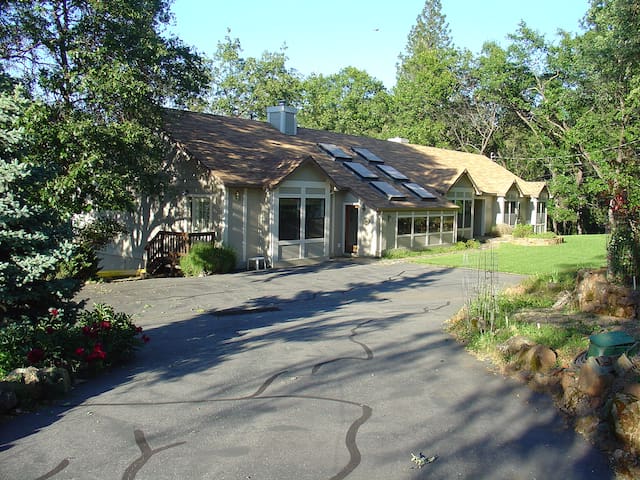 My place is close to Grass Valley, located in the subdivision of Alta Sierra close to the Alta Sierra Country Club.. You'll love my place because of It's location and within a short distance to downtown Grass Valley and Nevada City. There are great hiking/biking trails, wineries and restaurants to visit in the Gold Country! It has high ceilings and great views of South Nevada County from the deck, accessible from the master bedroom..
I've just recently added more photos. Just getting used to the site. Thanks! Mark
Beautiful, safe neighborhood. 4 star golf course within walking distance.
Stay was great! Mark made us feel at home. Private room with private bathroom & beautiful balcony view!
Karla
2016-12-23T00:00:00Z
Very comfortable room, with private bathroom (shower). Beautiful wooded setting. Mark is a very warm and welcoming host, very helpful and gracious. No television but there is internet access.
Linda
2017-03-20T00:00:00Z
Mark is an excellent host who is eager to keep his guests comfortable. He is also a wealth of information regarding the local area. His house is spacious and charming, and the room clean and well-kept. The house is located about 15 minutes from downtown Grass Valley, and less than 25 minutes from downtown Nevada City (both towns are well worth a visit and may surprise visitors with the number and variety of shops and amenities).
Ting
2016-12-27T00:00:00Z
Room Type
Private room
---
Property Type
House
---
Accommodates
1
---
Bedrooms
Grass Valley, CA, United States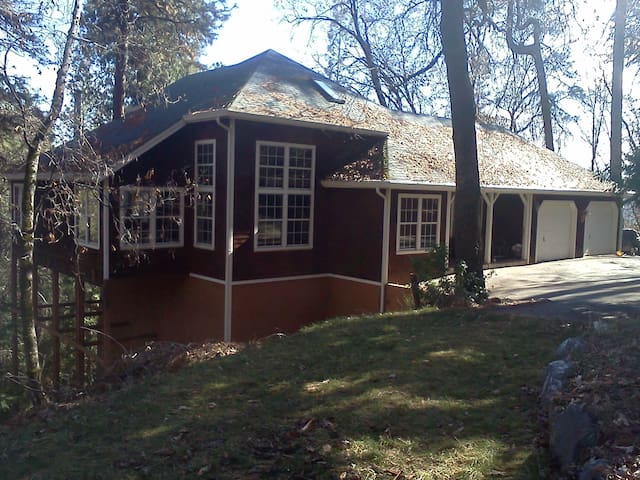 Grass Valley Award-winning "green" lakefront retreat on 8 secluded acres of forest. Nestled in the Sierras the glass walls of this contemporary home completely open to the forest and magnificent lake views. Featured in Sunset Magazine, completely off-grid, this showcase home is perfect for a romantic getaway. Private trail to lake and canoe for guests' use. 10 minutes from historic gold rush towns. Designed by renowned architect, Michelle Kaufmann. See our lotus lake house website for guest reviews. "Build it Green" and "Keep the Sierras Green" certification. Dog-friendly.
Quite a majestic place. If you love design in any medium, you will without a doubt enjoy this fine piece of architecture, AND if you love the great outdoors, THIS is the place for you! I had stayed here a total of 5 days, enjoyed serene views, canoed every single day, and disconnected from the 'world'. I can't say I've enjoyed a road trip so much, and I've been on quite a few. This one will stand out in my memory for a long time. Barrie / Tod are also incredible hosts, they did everything to make our stay welcoming, icing on the cake. Will definitely be coming back here.
Charles
2011-08-12T00:00:00Z
Great place, great location. Would love to visit again.
Sankaet
2017-01-02T00:00:00Z
We loved this quiet get-away. Tod was super accommodating, and at the cabin, was a lot of information, as well as board games, dvds, music (because there is no internet connection at the cabin). It really felt like everything we needed was there, just bring our food and clothes! We were also surprised to find a small canoe we could use. My husband is an experienced canoer, so we were able to take it out a little. Super nice. Would definitely recommend!
Jennine
2015-03-31T00:00:00Z
Had a really great stay at the Lotus Lake House. The house is beautifully designed with a lot of great details, and the stars at night from the deck (which is awesome) are amazing. The kitchen is well-equipped, and there's a canoe available to explore the lake if you're adventurous. Highly recommended if you're heading to the Grass Valley area.
Sean
2013-03-04T00:00:00Z
Incredibly cozy and relaxing! Everything you need is there to really enjoy your time in the middle of nature. Saw and heard lots of animals (and few human noises- boats). The lake is much closer than it appears in the picture. Couldn't ask for more!
Steph and Byron
2015-04-07T00:00:00Z
We had a wonderful time at prefab green glass house. Checking in was incredibly easy. We loved opening the glass doors onto the deck, it made the space feel so much larger and more open. The view is beautiful - tall trees and the lake. We loved canoeing (and capsizing). It felt very private and spacious.
Melissa
2015-04-20T00:00:00Z
We had a great time at the Lotus House. Barrie & Tod have created a lovely place for you to enjoy. We loved that the kitchen and outdoor grill are perfectly primed for use. The evenings and mornings were as quiet as anything I have ever experienced, very relaxing. The house setting, nestled into the pine forest overlooking the nearby Rollins Reservoir was beautiful. We also enjoyed taking the canoe out onto the reservoir in the early morning to experience the shifting light over pristine waters before others appear. The house is a 10-15 minute drive to the town of Grass Valley and be sure to visit the fascinating Empire Mine for a gold rush experience. 5 miles further is another gold rush town, Nevada City.
bryan
2015-05-04T00:00:00Z
We had a fantastic stay. The cabin is just amazing, a perfect retreat in the woods. Bring enough food for your entire stay, you don't want to leave the place for a even second while you're there. And cooking with all windows and doors open in the middle of a forest, breakfasts on that patio, just perfect.
Jan
2015-07-13T00:00:00Z
Room Type
Entire home/apt
---
Property Type
House
---
Accommodates
2
---
Bedrooms
Grass Valley, CA, United States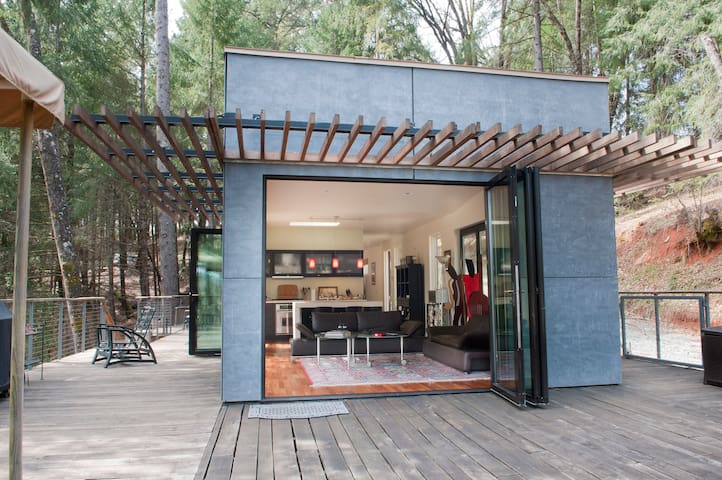 Milk & Honey Cottage is a getaway that's "good for the bones and sweet for the soul." This retreat is nestled in a country neighborhood, just off of the Auburn wine trail, and minutes away from Hidden Falls, historic Old Auburn, Downtown Auburn, The American River, hiking, dining & coffee shops.
Our private cottage is a quiet, peaceful retreat, just off of the wine trail, yet just a 4 minute drive into the historic town of Auburn, Ca. Enjoy this private space, on our 1 acre property, seperate from the main house, with it's own separate driveway entrance.
Our neighborhood is a quiet, wooded, bird sanctuary with a country rural feel, yet very convenient to activities, dining, shopping, hiking, etc.
I've used AirBnB frequently and this was the best experience so far. The pictures and description of the property are 100% accurate. Erica and her husband are warm and generous hosts. The neighborhood is charming and tranquil. The cottage is very thoughtfully stocked with all of the household amenities one would need. The kitchen is fully stocked with pots, pans, plates, silverware, spices, plenty of tea choices etc. The baked items were great for breakfast/tea-time. Communication and instructions were excellent. We will definitely be back. Highly Recommended!!
Amar
2016-11-13T00:00:00Z
This was the best experience yet on AirBNB. I have stayed at quite a few places but this was the best-appointed places of them all. Erica had everything ready for us and was very responsive with questions and information. We had everything we needed and more! I would definitely come back and stay.
Grant
2016-10-21T00:00:00Z
Erica's place was a diamond in the rough! It was so much more than the listing indicated. It was quaint, clean, comfortable and private. Erica had provided maps to trailheads for some of the most awesome hiking in the area. She provided staples and great treats upon our arrival. The evenings were cool and we had the use of the most awesome pellet stove which kept us warm and toasty. She was always available to answer questions and provide information about the area. I would drive out of my way to stay here again; one of the best airbnb experiences we have had!! Way to go Erica!!
Christopher
2016-11-12T00:00:00Z
The Milk and Honey cottage is incredible-- by far the best airbnb experience I've encountered! Erica is wonderful, and she stocked the cottage with everything we could possibly need and more. Particularly helpful were the recommendations for hikes and local attractions-- Auburn and the surrounding areas are beautiful and definitely worth exploring. Chocolates, pastries, bathrobes, fresh flowers, board games, and a cozy pellet stove fire were just a few of the many luxuries that made for such a fun and relaxing getaway. I will definitely be returning to the M & H cottage!
Ryan
2016-12-10T00:00:00Z
Loved it !!! Nice little getaway really peaceful and comfortable !!!
Luis
2017-02-16T00:00:00Z
The cottage is beautiful and so thoughtfully put together. Its obvious that a lot of effort and care has been put into this Airbnb (theres even railings and a little bench in the shower if you need such things). Erica is a top-notch host, one of the most gracious and kind people I've come across in my Airbnb adventures. I would definitely recommend the Milk and Honey Cottage to anyone!
Lauren
2017-02-20T00:00:00Z
Erica is amazing! The house is fantastic! The pictures perfectly describe this cute cottage. Every time I are in Auburn I will only stay here.
Jocelyn
2016-12-11T00:00:00Z
We didn't get a chance to meet Erica but she was extremely friendly and communicative our entire stay with any questions we had. The cottage was so welcoming and cozy, would 100% stay here again!
Michelle
2016-12-23T00:00:00Z
Room Type
Entire home/apt
---
Property Type
House
---
Accommodates
4
---
Bedrooms
Auburn, CA, United States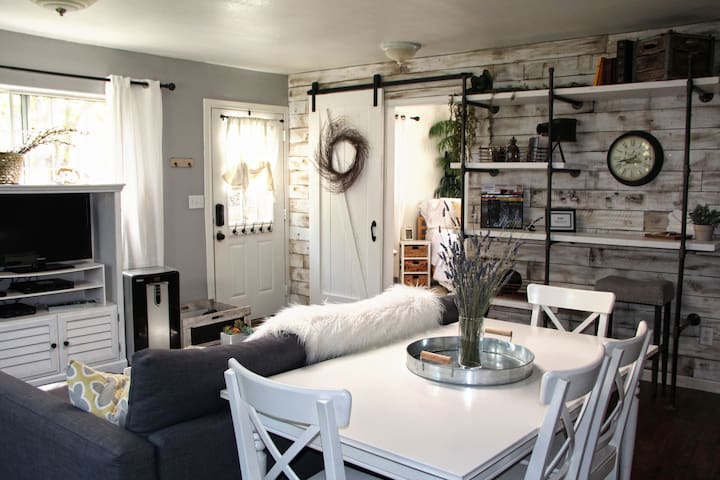 Come and stay at this luxurious farm retreat nestle in the middle of organic family farm on 35 acres. Ever wonder how cheese is made? Here at Blue Oaks Ranch we raise dairy goats, dairy sheep, and Jersey cows, who provide us with fresh milk to make a variety of cheeses, yogurt and butter.
Your accommodations are an elegant two-bedroom apartment that is entirely yours with a private entrance. Located above a three-car garage, the deck has beautiful, pastoral views. Enjoy the tranquility of the Koi fish pond without the noise of the city. Open your window to hear the sound of the waterfall and the lullaby of late night frogs and crickets.   Inside, enjoy quality hardwood floors throughout the guest quarters and all the amenities you can imagine within them. We aim to please! Central heat and air conditioning and a fully equipped kitchen just for you!   Outside you can enjoy the beautiful gardens and koi pond. In fact, we are proud to say that Blue Oaks Ranch was recently featured in the Soroptimist International of the Sierra Foothills' 23rd Annual Spring Garden Tour!   Blue Oaks Ranch is a working farm. We make farmstead cheese in our on-site creamery using our own fresh milk. Some of our cheeses are aged over a year! Romano, Peccorino, Vaccino, Capprino, Manchego, Tome, Fontina, Gruyere, and Quark are among the cheeses Ruth makes with a little bit of talent leftover from being raised in Switzerland. We have farmstead cheese available for sale. This means that we make it here using milk from our own animals! If the cheese is not "farmstead," then the milk is shipped in from a different farm to make the cheese. Are you there to check and make sure this process has been clean? Do you know what the animals who produce the milk that make the cheese are eating? We do! Our animals only eat organic food and pasture grass, which is not sprayed with weed pesticides! Our milking process is very sterile and clean! Come and watch! Our pigs are vegetarians! Really, a vegetarian pig? Yes, really!
Blue Oaks Ranch is located in California, halfway between Auburn and the twin cities of Grass Valley and Nevada City. You are also just an hour's drive to the historic town of Truckee and just 1.5 hours to beautiful Lake Tahoe. Nevada City remains the most complete gold rush town in California today, with many historic buildings and sites to visit. You'll find yourself transported back in time to the old days of California when saloons, gunfights, and horse-drawn carriages were regular amusement. Grass Valley and Nevada City are well-known for a wide variety of excellent restaurants, including the world-famous New Moon. We are also home to many local breweries and wineries. If wine is of interest to you, our trusted and experienced companion, Amy, will be happy to guide you for a fee to many of the local wineries, both in Placer and Nevada County. Grass Valley and Nevada City host many events throughout the year. If you like festivals, you're sure to enjoy the diverse selection to choose from, including Strawberry Music Festival in May, Father's Day Blue Grass Festival in June, Worldfest Music Festival in July, the famous Draft Horse Classic in September, and the Celtic Festival in October. The holidays are always a special time in the Gold Country. Nevada City holds Victorian Christmas in December, were men and women walk around in the most extravagant period outfits. You can also celebrate Cornish Christmas in Grass Valley November through December. If you like nature, you're just minutes to the Tahoe National Forest. Both the American River and Yuba River are incredibly popular for river enthusiasts, and kayaking, secluded swimming holes, breathtaking mountain views, and much more await you! If you come in the winter, there are many popular ski resorts, like Squaw Valley, Alpine Meadows, and Northstar, where you can ski, snowboard, toboggan, sled, and ice skate. For more information on restaurants, places to visit, events, plays, and other entertainment, visit The Center for the Arts or the Nevada County/Grass Valley/Auburn Chamber of Commerce websites. There's so much to share with you about our ranch, please feel free to call us after making your reservation if you have further questions. We would truly love to have you here and share the ultimate homestead farming experience!
Ruth and Eric were very welcoming hosts. They made us feel right at home with the cozy apartment and treats waiting for us. We thoroughly enjoyed our tour of the farm and absolutely loved the farms cheese and milk. I look forward to visiting again!
Alexis
2016-09-30T00:00:00Z
Staying at Blue Oaks Ranch was such a wonderful experience. It completely surpassed my expectations. Eric was very welcoming and communicative and very helpful and Ruth was so charming. It was a joy to meet her and chat with her in morning before I left. I was very happy that I got to meet her. The house was immaculate and so beautiful and very clean... just gorgeous and little goodies and treats and little comforts..earplugs, white wine in the fridge, red wine on the counter and chocolate were left out for me as well as organic toiletries and coffee, tea lovely granola etc. They are very thoughtful, generous and charming hosts! And then there's thier gorgeous property... also immaculately cared for and maintained. An absolutely beautiful setting. Rolling pastures and woods and gardens with the sweetest and most precious and friendly animal friends, cats and dogs, sheep and cows and even an emu to wander and share time with . Absolutely beautiful place! Sorry to have had only one night there. Will definitely be back for a longer stay!!!
Marguerite
2016-09-27T00:00:00Z
What a beautiful farm with lots of amazing animals. The space is beautiful too and not far from most things in the area. We will definitely stay here again.
Sara
2017-04-08T00:00:00Z
We loved our stay at this artisan ranch. As an artist I had many inspirations to paint. Ruth and Eric are lovely people, very friendly. Be prepared, bring your own food because they are off the beaten path; which is good, for quiet, but no quick run to the store (12 miles from the nearest store). Best to arrive in the daylight as the GPS does cut out as you are arriving. No cell service (that's a good thing!) All in all a wonderful stay. We will be back.
Daniele
2017-01-27T00:00:00Z
Highly recommended, a working boutique ranch with all amenities and a wonderful scenery
Carlos
2017-01-08T00:00:00Z
This area of Grass Valley is very scenic with rolling hills, rock outcrops and Oak trees speckled across grassy fields. The apartment is comfortable, clean, and has everything you need. Eric and Ruth welcomed us to their busy, working farm and we enjoyed meeting all the happy animals. It's a special little spot.
Paige
2016-12-27T00:00:00Z
Gorgeous setting on a busy ranch. Bring cash for AMAZING hard and soft cheeses (goat, sheep, cow) made by host Ruth. Taking home some Salami, Sausage, and fresh Milk are a MUST life experience unlike anything commercial. FYI Ruth does NOT do breakfast like stated by the listing, we can totally understand she is extremely busy! Excellent local coffee beans ready to brew for the AM. Some considerations- The main photo for this listing is actually the Main House, and the unit for rent is detached but next to the main residency above the garage. This means we were close to everything going on, which was a lot on this highly functioning homestead. I'd come back for learning more about making cheese, keeping animals, and becoming part of homesteading as a whole. There was a decent amount of space in the unit, there could have been more seating in the living room. If you are a dog person, there are at least 4 property dogs at this rental, two of which lived around the unit the entire time. They were suspicious at first, but warmed up to us and our dog. There were a good amount of general farm sounds including barking, bleating, clucking etc. Some barking very late and very early. We had to remind the Beagle to stay off our dog-smelling car. It is a well trained dog's paradise, lots of walking on-site around a plethora of farm life, or off-site along the creek and farm roads. There is a gated patio with a short fence we used to allow our dog to sun bask while we had coffee taking in the farm activities. We were lucky enough to see a Guardian dog play mutually with a pair of cows. Great wineries locally, including Naggiar who stayed open late for us on a rainy day(URL HIDDEN)
Sterling
2016-03-16T00:00:00Z
Ruth and Bob Staying w Ruth, Bob, and having time to meet the animals was one of the best choices we have made all year. Ruth is instantly warm and wise, and a force of nature. By the time you wake up, she'll have birthed 3 lambs, milked Besse the jersey cow, and prepared a fabulous oatmeal breakfast with all the fixins she learned growing up in switzerland. You'll wish you were more like her. Bob is kind, gracious, and cool. He'll share his insights with you. He'll share with you the stories of each piece of art in their beautiful home. You'll appreciate his warm gestures. We can not possibly describe in words just how warm and welcoming they are. We were treated like family. The Apartment: We stayed above the carriage house in the 2 bdrm apartment. It is exactly the right balance of cozy and spacious. Large comfortable beds, a huge kitchen, and a warm shower. We sat on the deck in the late evening and felt that the countryside belonged to us. We fell asleep surrounded by a deep comforting silence. That is, until the Baa-aa-aa of the mama sheep called to us after sunrise. Awesome. The Farm. Oh. My. God. Goats! Cows! Cattle! an Emu! Sheep! Doggies! Cats! Bunnies! You can watch, help, or simply snuggle. The animals are treated with the utmost respect. You'll fall in love with each of them, and learn to appreciate the cycle of life from the most honest church of all... the barn. Oh and did I mention fresh cow's milk, eggs, and cheese! The Property: Rolling pasturers, a pond, a vegetable garden. We stayed Friday and Saturday nights and assumed that we would go into Grass Valley or Nevada City for dinner and nightlife. But once we arrived on the farm, the idea of leaving for anything seemed like a bad idea. We will be back - again and again(URL HIDDEN)
ian
2015-12-13T00:00:00Z
Room Type
Entire home/apt
---
Property Type
House
---
Accommodates
6
---
Bedrooms
Grass Valley, CA, United States
Recently remodeled (January 2017), comfy one-bedroom "Ranch House" in a country setting on creek-crossed acreage offers a peaceful getaway convenient to either Grass Valley/Nevada City or Auburn. Sleeps four. Well-behaved pets welcome! No pet deposit. If you're relocating the the area, it's a perfect landing spot as you shop for permanent digs, replete with a solidly roofed, 8x8x6 storage shed and a second storage shed for bicycles.
The Ranch House offers a quiet, magical setting with several, shared acres to run about, and a smaller, gated, private yard. Sit with a cup of locally roasted coffee while taking in the view of pastureland and tree-covered foothills. There's a good chance you'll see sheep, deer or wild turkeys! Comfortably sleeps four people: sink into the "heavenly" style queen bed in the bedroom, or enjoy the supportive firmness of the full-sized futon/sofa in the living area. Put your culinary skills to work in the fully supplied kitchen, admiring the garden and pasture out the window over the sink as you scrub vegetables. An island breakfast bar awaits those who might sit and admire your cooking prowess. If it's time to lounge, flop onto the futon or pull up chairs to gather 'round the flat-screen TV. Enjoy access to Netflix, Youtube, Hulu, or other web-based services (no cable), or pop in a Blu-Ray disc. Stepping down from the living area, the sunroom offers a European farmhouse-style dining table that seats four, or up to six if you get cozy, and is placed at a picture window that offers a dramatic, pastoral view of fields and hills. Dine and sip as you relax into the feeling of being away from it all. There is also a nook for reading, sketching, or an intimate chat... On a warm day, perhaps you might carry your tray out to the grapevine covered patio for a dining experience tucked into the shade. Relax with a bath at the end of a day filled with a couple laps around the mile-loop road, marathon frisbee sessions in a field, and wading (or panning for gold!) in the year-round creek. Come breathe in some fresh, country air! Two storage sheds are offered for your bicycles or, if you're in the middle of a relocation, your worldly possessions. Utilities included, with a woodstove for extra coziness in the colder months.
Located in South County, convenient to Grass Valley and North Auburn amenities. Private road with very little traffic (typically five cars a day, max) offers partially shaded walking, jogging, or cycling loop of about 9/10 of a mile.
This is a great place, midway between Grass Valley and Auburn with fabulous views, a creek and both farm and wild animals. All the photos are completely accurate and the place was as warm and cozy as could be. MaryJane was helpful and attentive while being respectful of my privacy. I had a great stay away from all the hustle and bustle, yet conveniently close to other places I needed to be. I hope to visit again.
Tracy
2017-03-26T00:00:00Z
Very comfortable accommodations. The setting allows for a good walk on the road. Quiet and peaceful.
Nancy
2015-11-15T00:00:00Z
We LOVED our stay in this cozy place. The house in itself was very clean, the neighbourhood lovely and quiet, and MaryJane was very accomodating! Although we stayed only one night, we strongly regretted having to leave and are looking forward to come here again and stay longer if we are in the area! Bonus points for the arbor, our breakfast was memorable!
Thibault
2014-09-20T00:00:00Z
We only stayed one night, but what a nice little house. We felt very comfortable, cozy and homey. Everything needed was available. it was a little cold outside so we built a fire in the woodstove, very nice. Although the base board heaters also worked good if you needed to take the chill off. Kitchen seemed to be well stocked with items needed for cooking. Bed was comfortable and it was quiet. I would love to stay longer sometime.
sara
2014-04-28T00:00:00Z
We were in town for the wedding and loved the place. There were three humans and two pups who took full advantage of the property. We enjoyed the backyard every morning, the full kitchen, and the rest of the space. Would come back again.
Michelle
2016-05-31T00:00:00Z
We had a great time there and appreciate the Host and how they treat the quests! This was our 2nd stay there and it went just as well as the first time!
Karen
2016-04-15T00:00:00Z
Beautiful area & very peaceful. Clean cute house where you'll have a wonderful time!
Cheryl
2014-09-25T00:00:00Z
Very clean and comfortable place to stay while visiting Grass Valley. Mary Jane was super accommodating and hospitable. We had a great stay and loved the location that is really central to both Grass Valley and Auburn. Thanks again Mary Jane!
Matt
2016-03-22T00:00:00Z
Room Type
Entire home/apt
---
Property Type
House
---
Accommodates
4
---
Bedrooms
Grass Valley, CA, United States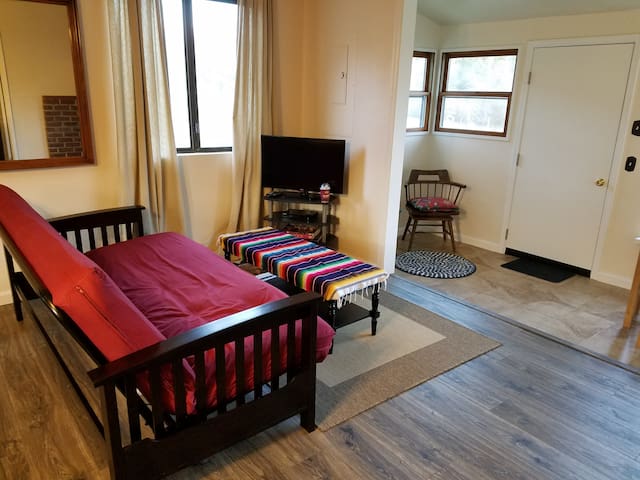 This charming little 2B Granny Bungalow is a small home located directly behind the main house on a 5 acre property in a country setting, but, close to Auburn & Grass Valley. This clean and tidy "Granny Unit" is like staying in small fully furnished guest house of someone you know.
This spacious granny unit cottage is located on the outskirts of downtown Auburn in a quiet country setting yet just 15 minutes away from Downtown Auburn or 20 minutes up to Grass Valley and Nevada City fun. We are located on scenic 5 acre property in a quiet neighborhood within 5 minutes of amenities and 15 minutes to the town and Hwy 80 freeway, yet in a country setting with grassy fields and horses. In this beautiful "Gold Country" area it is very quiet and relaxing with white country fences and lazy horses eating in the pastures. You can hear birds chirping and the bullfrogs croaking from the serine fishing pond in the evenings. Situated as a darling guest unit directly behind the main home, this private space has all of the comforts of home and close to what the "GOLD COUNTRY" has to offer, such as rafting down the American river, many boutique wineries and craft breweries. The Nevada County Fairgrounds is a 15-20 minute drive from us, along with Empire Mines, Fast Friday Motorcycle speedway, Museums, small town shopping venues, Antique shops, Auburn County Fairgrounds, Folsom and Rollins lake for boating, skiing and fishing, and many popular recreational areas, hiking and biking trails, with horse trails too ! Northern CA is a great place to get away. The warming flames of the Pellet stove heats the majority of the home, plus a electric fireplace In the large master bedroom and cozy wall heater in the bathroom. The second spare bedroom is quaint and simply decorated with a single bed, but please note, although mists guests do not mind, this guest will need to go through the master bedroom to get to the bathroom. This granny unit has a fully functioning kitchen with fridge, microwave, stove, dishes & utensils, coffee maker and cookware. You also have your own small fenced private backyard and a washer and dryer inside the unit for your convenience. A well behave pet is welcome. We offer a spacious, clean, well decorated and furnished home at a good value. No daily maid service, as a washer and dryer is provided, long term guests will be self service cleaning and washing of provided towels/linens, etc. (please inquire about bringing your horses)
Quiet and serine. This small working ranch country setting exterior - spacious, clean, well decorated interior, with original artwork and roomy 700 sq ft small home interior space that is furnished with some nice antiques and offered at a good honest value, located on a 5 acre ranchette in a residential yet rural quiet setting.
Great stay. Accurate description, clean, comfortable bed, easy check-in and super easy check-out, nice quiet location yet easy to find and not far from services. Nice little enclosed spot to let dogs out late at night or first thing in morning. Would stay again and would recommend to a friend.
joan
2016-10-10T00:00:00Z
This was one of my all-time favorite AirBnB places. SUPER accommodations, beautiful setting, fantastically responsive host Cindy, EVERYTHING TOP NOTCH! I have family in the area so this place will stay in my address book
Danielle
2016-09-02T00:00:00Z
We enjoyed our stay at Cindy's. It was exactly what we expected from the pictures and description. The place was clean and comfortable. It was a great place for our dog too.
Casey
2017-03-27T00:00:00Z
From the description and pictures we were expecting more then what we got.
Laura
2017-03-05T00:00:00Z
We love staying at Cindy's cottage. Fireplace and pellet stove in the house give warm feeling throughout our stay. Cottage is in a very nice farm house neighborhood, 20 mins from city Auburn. We check in late at night so the roads was a bit hard to see and find. Cindy was very kind to turn on lights in the house and left us some bottle water. For nature lovers,this is definitely the place to be in,national forests and lakes are within reached, air is fresh and deers walk freely in open everyday. Strongly recommend cidy's cottage for everyone.
Kang Hong
2016-11-23T00:00:00Z
Extended my stay at Cindy's to three months. Having people like her as hosts are the reasons why this site works. Thanks again!
Thomas
2016-08-21T00:00:00Z
It was perfect. Cozy and clean with enough space for all that we had brought with us. We were going to the dog show in Grass Valley. I am very thankful that Cindy welcomed our dogs and us. It is hard to find a place that will accommodate all our dogs without having an issue with the number of dogs.
Verla
2016-09-05T00:00:00Z
Cindy is a fantastic host and her description of both the cottage and its surroundings are exact. The area is grassy, rolling hills and nice homes on well-kept, private horse ranches. Having stayed for a month, my resting heart rate dropped 13 bpm after my first week. I've never seen deer more often than during my month on this ranch. Every morning and throughout the day, doe and trailing fawn feed and stroll right outside the front door. It is private, secluded and secure. It is also very roomy and comfortable and Cindy went well out of her way to set up one of the bedrooms as a large office/study for me.
Thomas
2016-06-25T00:00:00Z
Room Type
Entire home/apt
---
Property Type
House
---
Accommodates
3
---
Bedrooms
Auburn, CA, United States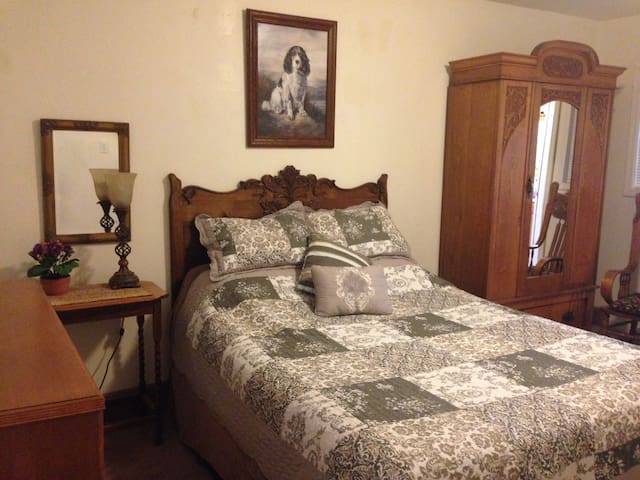 Though our home is nestled in the forest, it is easily accessible via I-80; a mere 2.8 miles off that main thoroughfare. The accommodations have a private entrance for guests to come & go as they please. Our place is good for couples, solo adventurers, and business travelers. We are also a great option when I-80 is closed - use the instant-booking option and we will provide additional instructions.
Please note: Local law requires we advise guests that $3.60 of nightly fee is a Transient Occupancy Tax that will be paid to Placer County on the guest's behalf. Our accommodations feature lots of privacy, remarkable views, and in the warm months, a large deck for morning coffee & complimentary pastries. We have nearly 6 acres with a beautiful park-like area - perfect for a picnic lunch.
I'm going to start off by saying the location is awesome. I love all the trees it is surrounded by. From the moment we drove up I knew we would love it. The bed was comfortable, the bathroom was clean and we enjoyed the cookies that you baked for us. Definitely get extra awesome points for the toilet light, the soft warm blanket on the bed, and the Scentsy in the room!! Thank you again
JDizzle
2017-01-06T00:00:00Z
Amazing hosts who provide delicious baked goods and all the cleanliness of a hotel. Easy communication through out our stay. Oh and the best was the beautiful land to explore right outside our door. The nature was alive with color and feeling. Lovely room to stay warm in and come home to. I would definitely come back :)
Tatiana
2017-01-22T00:00:00Z
This is great private secluded place in the forest, not very far away from the freeway. Directions provided by Allie were perfect. Room was heated when we arrived. Coffee and fresh cookies were available. It has private entrance so it is easy to come at your convenience. Wifi was also working. Overall this is great place and will come back again.
Ketan
2016-12-31T00:00:00Z
The place was beautiful, the room cozy, clean and inviting and the pastries delicious!
Carmina
2017-03-18T00:00:00Z
Awesome little place, check in could not be easier. The room is also quite lovely and well equipped. The minifridge in the room is A+++++. I wish more Airbnb's had those!
Andrew
2017-03-12T00:00:00Z
My boyfriend and I are skiers and generally like to stay in Sacramento but this place was even better than staying in Sacramento! It was way closer to the slopes, super clean, so hospitable with the home-baked goods, and very comfortable. Only suggestions would be to bring your own shampoo and conditioner because they supply hotel-like shampoo that isn't too nice on the hair.
Anne Marie
2017-03-25T00:00:00Z
This beautiful room is in a fantastic location for those who love the feeling of being in the woods, but also want to be close to things to do. The bed is extremely comfortable and the coffee bar they have in the room is fantastic! Gary and Allie were exceptional hosts that have clearly put time and effort into making your stay as comforting as possible. P.S. You have to try their homemade hot cocoa!
Cody
2016-12-11T00:00:00Z
We have already said everything we had to say.
Elizaveta
2017-04-07T00:00:00Z
Room Type
Private room
---
Property Type
House
---
Accommodates
2
---
Bedrooms
Colfax, CA, United States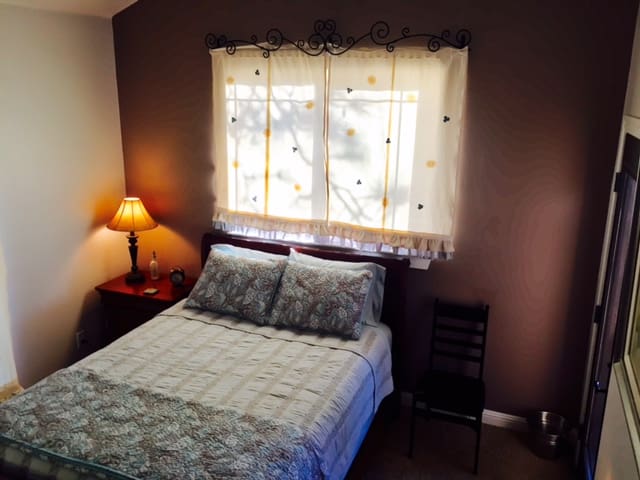 Quiet street in golf course community 10 minute drive from Grass Valley. Great location for Grass Valley-Nevada City or Nevada County Fairground events. Completely separate space - bedroom w- Kitchenette, bathroom and separate entrance and patio.
Separate entrance, private room, full bathroom and small patio. Kitchenette with small fridge, microwave, 2 burner cook top. Coffee maker, toaster, etc. Shared laundry room with extra half bath. No cable or live TV, but a selection of old VHS movies. WiFi for your computer or tablet.
Public golf course within walking distance, quiet neighborhood, great place for a brisk walk around the nearly 1 and 2 mile loops on Edward and Alta Sierra Drive.
Our stay in Joanne's studio was fantastic. The space is very cute, well equipped and homey. The bed is comfy and extra blankets and pillows were provided, and there were so many little details that made us feel very well taken care of. She was relaxed about our check in and out times, which was very helpful to us because we have a toddler and things often take longer than expected. This was our first time staying in an airbnb, and we loved that Joanne stopped by in the morning to see how we were doing as we had missed each other when we checked in.
Molly
2016-07-03T00:00:00Z
We loved this place! It is exactly as shown in the pictures. We never did see Joanne, our schedules were both busy, but she checked in several times with messages to see if everything was ok. The neighborhood is so quiet and peaceful. I loved hearing the geese in the mornings and evenings. We are planning on coming back next year and will stay here if it is available. It was comfortable.
Denise
2016-09-11T00:00:00Z
Joanne was such an amazing host! The room was comfy and welcoming, and Joanne even left us some drinks in the fridge as well as snacks and toiletries (in case we forgot to bring certain items). She even brought us a bottle of wine when she introduced herself. She respected our privacy and space during our stay but was super easy to get ahold of for questions. We will definitely be back here if possible next time we visit the area!
Bethany
2016-10-16T00:00:00Z
The host was very welcoming. She even left us a bottle of wine on our first night. The fact that there is a ref, microwave, mini kitchen and laundry feels like home!
Luz
2016-09-25T00:00:00Z
Joanne's place was everything advertised. Good location in quiet neighborhood. Convenient to Grass Valley and Nevada City.
Brad
2016-09-05T00:00:00Z
Joanne communicated quickly each time we messaged her. This was very reassuring. The privacy and quiet of her guest studio included caring amenities, even a table outside to eat our breakfast in the sun and fresh air. We will return the next time we come to Grass Valley.
Cynthia
2016-07-24T00:00:00Z
The room was adequate, and a great price for a place to stay in the area! The bed was too soft for our backs, and it was quite warm at night. The kitchenette is totally equipped for someone to stay and cook if they would like. There were an assortment of snacks and drinks available which we enjoyed. The price is perfect for those looking for inexpensive accommodations!
Diane & Jeff
2016-08-22T00:00:00Z
Joanne's studio was comfortable, clean, and had a more substantial kitchen than most places I have stayed at. And what a bonus to be able to use her awesome high efficiency washer and dryer! Hers was the first place I have stayed at thru Air B & B that had laundry available. The studio is in a nice neighborhood, all of the neighbors were very friendly, waving and saying hello as they went on their daily walks. All in all, Joanne's place is a great value and I would recommend it!
Amy
2016-06-25T00:00:00Z
Room Type
Private room
---
Property Type
House
---
Accommodates
2
---
Bedrooms
Grass Valley, CA, United States
12 mins. to downtown Grass Valley 1 m. off HWY 49 Tranquil year round creek & labyrinth Downstairs, separate entrance PV bedroom Qn bed. 2nd rm Qn futon & Qn airbed, dining table & mini kitchen, PV bath. Well behaved potty trained dogs $15/dog/night, non smokers only, no perfumes or colognes.
Quiet, serene location with tranquil sound of the creek to lull you to sleep on warm nights. Comfortable beds with cozy infrared reflection comforters & magnetic or memory foam pads. Coffee, tea & oatmeal will be awaiting you for your first night's stay. Mini frig & kitchen is available for you after that.
Quiet neighborhood. There is a oak/pine woodland 12 acre green belt behind our property with access to a year round creek. Hammock, chair & table provided along creek in non rainy months. Labyrinth is available for walking in non rainy months as well.
The neighborhood was peaceful and felt somewhat remote without actually being far out of town. Our host was gracious and informative, and made herself available to answer questions or problem solve. The space offered more than enough room for the 3 of us and we were very comfortable.
Amy
2016-07-17T00:00:00Z
We had a really nice, though brief, stay at the labyrinth. Judy and David - and of course Chai - were great hosts. They were welcoming and accommodating and gave us some good suggestions for restaurants and also things to do in the area. We came for the Draft Horse classic and the labrynth worked out very nicely. Its an eays 10 mins or so into Grass Valley, 15 to Nevada City. The place itself is quite tranquil. They've done a very nice job of providing a comfortable, usable space for their guests. It worked out very well for the 3 of us - plenty of space. They make the entire back area available for their guests. It would be very easy to sit, read a book, sip wine, or simply relax for hours in the hammock down by the creek. Unfortunately we just didn't have the time on this trip to fully enjoy the grounds, though we enjoyed the time we did have. We would definitey stay again with Judy, David and Chai - and certainly recommend it to others.
Keith
2016-09-25T00:00:00Z
The space was very comfortable for my family of 5, we slept well and enjoyed being near the creek. Judy was very helpful, welcomed us warmly and helped make our stay very nice.
Blair
2016-02-28T00:00:00Z
Judy and David were very kind, helpful hosts. Their spot is cozy, clean, and close to town, perfect for our quick trip. We would definitely stay again :)
Natalie
2016-01-24T00:00:00Z
This is a real gem. My boyfriend and I wanted to go up to the Yuba River for the weekend (Saturday and Sunday) so we stayed the night at Judy's place. We were able to bring my dachshund which was a real plus. She wasn't there when we arrived so we enjoyed pizza on the outdoor cafe table and relaxed by the creek. She was super welcoming and available. We had all the necessities-a comfortable bed, nice bathroom, Mini fridge, hot plate, and a lovely dog run. She brought us some granola, instant oatmeal, and a nice peach and nectarine. I meditated by the creek in the morning and the soft trickle of the water was a perfect back drop. This is a great deal and I would absolutely stay here again.
Jennifer
2016-08-15T00:00:00Z
Staying with Judy and David was a joy! The space was nice and clean. The accommodation for our dog was perfect. The parfait breakfast with fresh coffee was so wonderful! I found the labyrinth and creek to be calming - just what we needed for our weekend away. Would 100% stay here again and will recommend to friends who travel up to the grass valley area. Thank you!
Allison
2016-08-07T00:00:00Z
My stay at Judy's place was great. Very clean and cozy. Judy welcomed us with her lovely dog at the door and hosted us for a great stay.
Eric
2017-03-25T00:00:00Z
Clean and nice.
Rob
2017-02-12T00:00:00Z
Room Type
Entire home/apt
---
Property Type
House
---
Accommodates
6
---
Bedrooms
Grass Valley, CA, United States
My place is just minutes from downtown Grass Valley and 15 minutes from Nevada City. I'm close to parks, rivers, art and culture. My place is good for couples, solo adventurers, business travelers, and furry friends (pets). My home is just a tad rustic and woodsy, yet provides all modern amenities like wifi and your own large screen TV with 250 channels/HBO. I also provide full access to all common areas and the coolest cat you will ever meet!
Friendly, quiet, rustic and very woodsy
Awesome Host. Very welcoming. Derek called me a few days before I arrived and asked me if there was anything he could do to make my stay comfortable. He was very sensitive to my needs and made me feel like home. Beautiful spot. I loved my stay. Thank you Derek.
Penny
2016-12-05T00:00:00Z
Derek is very friendly and welcoming host who expects every detail for your comfort. We were in a house surrounded by a fabulous forest. The interior of the house creates an incredible atmosphere. And add to that the fireplace and the purring of a cat and stay in this house will be unforgettable!
Anna
2016-12-19T00:00:00Z
Great!
Paul
2016-12-26T00:00:00Z
Derek is a great guy with a great room in the woods.
Hans
2017-03-29T00:00:00Z
Derek made us feel very welcome, even set out fruit and coffee for the morning. We practically had our own mini-living room with couch & TV plus the bedroom which was an unexpected benefit. The house is, as described, surrounded by trees but just a 5min drive from Grass Valley and Nevada City amenities.
Emily
2016-12-14T00:00:00Z
Room Type
Private room
---
Property Type
House
---
Accommodates
2
---
Bedrooms
Grass Valley, CA, United States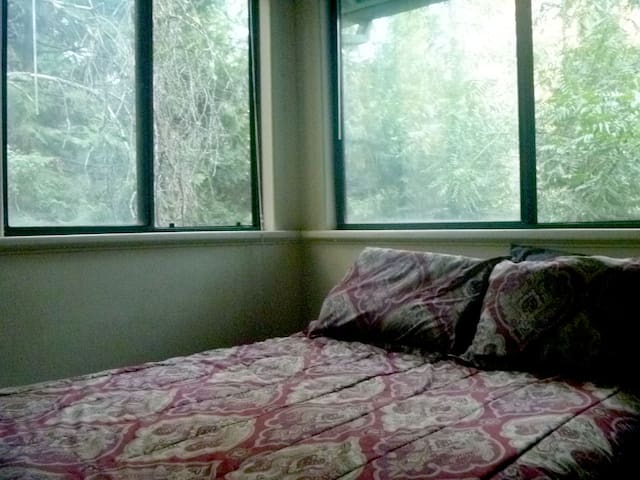 Located just 15 minutes from Auburn, Secret House is located on the edge of the North Fork of the American River Canyon. The spectacular views are complimented by the comforts of home that you will find in the Forest Room, American River Room, and Door Room. DirecTV and high-speed Internet access are among the technologies available for your use. Three newly renovated, private bathrooms are stocked with amenities for you to use during your stay.
A stay at Secret House includes access to three bedrooms and a great room. First, the Door Room includes a California King bed with a new Casper mattress, hotel-quality bedding, sliding glass door with a view of the North Fork of the American River and access to the Secret House wrap-around deck, a 55" television with Netflix and Hulu Plus content, and an adjustable ceiling fan. The Door Room includes access to an ensuite bathroom with a large shower that includes multiple shower heads. Additionally, the Door Room is directly adjacent to the third bathroom, which contains a bathtub. The American River Room includes a queen bed with a new Casper mattress, hotel-quality bedding, window with a forest view, a ceiling fan, and Dyson Bladeless Heater that will allow you to enjoy a customized, comfortable night of rest. The 40" television includes a Chromecast that will allow you to stream content from your mobile device while it is connected to the provided high-speed Internet access or the quality connection with any of the major US carriers (EXCELLENT cellular coverage). A portable Bluetooth speaker may be used to stream music while resting in the American River Room, relaxing in the patio furniture on the wrap-around deck, or hiking on the 150 acres of hiking trails located adjacent to Secret House. The American River Room is connected to a private restroom that was recently remodeled. A ceiling-mounted heater adds additional comfort to the shower, complete with a rain shower-head. Linens and toilettries are available for use during your stay. The Forest Room includes a large desk and workspace, as well as a comfortable futon. The Great Room includes access to the Secret House kitchen, living and family spaces, and a formal dining area. Additionally, the sofa in the family room can convert to a sleeper sofa. Secret House is located five minutes from the town of Foresthill (to the east) and Auburn State Recreation Area (to the west). Whether traveling in the Foothills for business or pleasure, Secret House is your home away from home.
Eaglecrest is a private, gated community that is home to 30 residents that enjoy the peace, quiet and majesty of the North Fork of the American River. 150 acres of trails for hiking and biking on the rim of the North Fork of the American River Canyon are accessible from the community.
The house was amazing! The deck has a beautiful view, the house itself is very nice and cozy (but with plenty of amenities). It was perfect for a tranquil getaway.
Max
2017-03-12T00:00:00Z
This house is amazing! Beautiful view out the back as pictured. Jared has thought of everything in this house. Bedding, spare blankets, heaps of plush towels, shampoo conditioner etc. My husband and I stayed in the America room, which is across from the study. The study becomes the spare room. We had our 22 month old on the foam mattress and our 4.5 year old on the air bed, in the study. In between the two rooms is a bathroom. So that end of the house was a great set up for our family. We had another couple with us that stayed at the other end of the house in the master suite. There are security cameras in the living space. The kitchen is very very well stocked. All in all amazing place. There are also lots of boardgames there too.
Rachel
2017-02-20T00:00:00Z
Beautiful home, spectacular view and the host, Jared, made it feel like home. Every little detail was addressed from a packet of clear instructions to decorations for the holiday that we arrived (St. Patty's) to refreshments in an ice bucket and an incredible chef's kitchen with a pantry for those little things that we missed buying to cook a meal; it was all thoughfully considered. The hot tub with the stunning view of the sunset was a perfect way to wind down after a day of running the Western States trail. Can't wait to stay again!
Hayley
2017-03-19T00:00:00Z
Awesome scenic view. Awesome house. Just a great house to do a getaway weekend.
Mo
2017-02-12T00:00:00Z
Room Type
Entire home/apt
---
Property Type
House
---
Accommodates
6
---
Bedrooms
Foresthill, CA, United States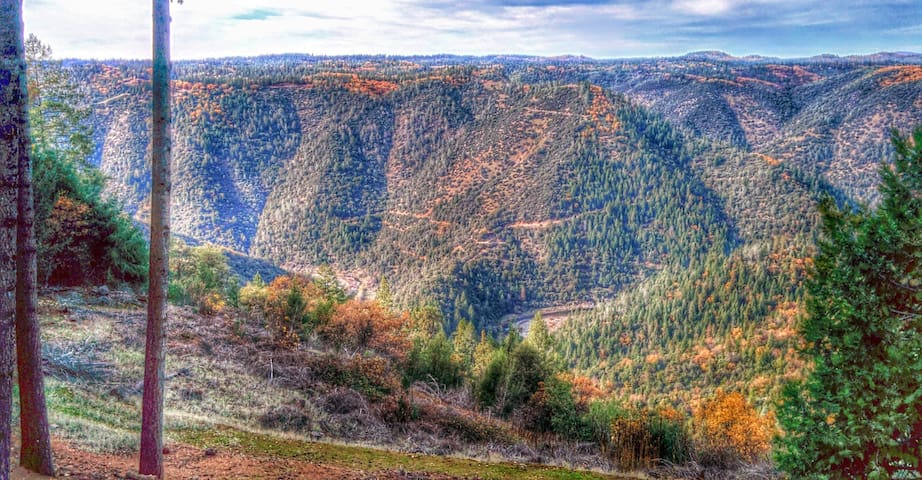 1

–

18

of

61 Home Rentals
Enter dates to see full pricing. Additional fees apply. Taxes may be added.